I often hear people talking smack about NASCAR and how boring it is. I just have one thing to say to you guys. GO TO AN EVENT! Just go one time.
My first event was a local one at Irwindale Speedway just a few miles from my home. It was incredibly fun to watch and I was hooked from then on. There is much more for me to understand about this kind of racing, but the dollar for dollar entertainment value can not be beat!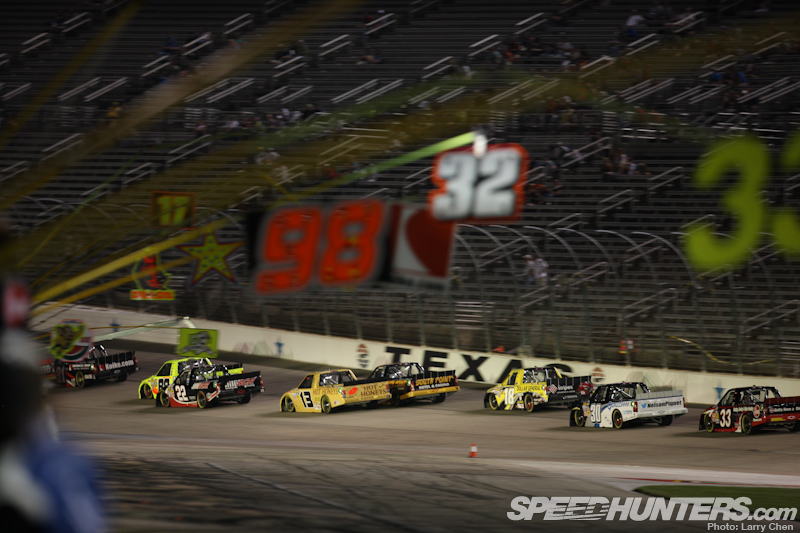 Usually when I am at a race I have many responsibilities in terms of capturing images and important moments, but luckily for me I had a chance to relax and just enjoy shooting the WinStar World Casino 400.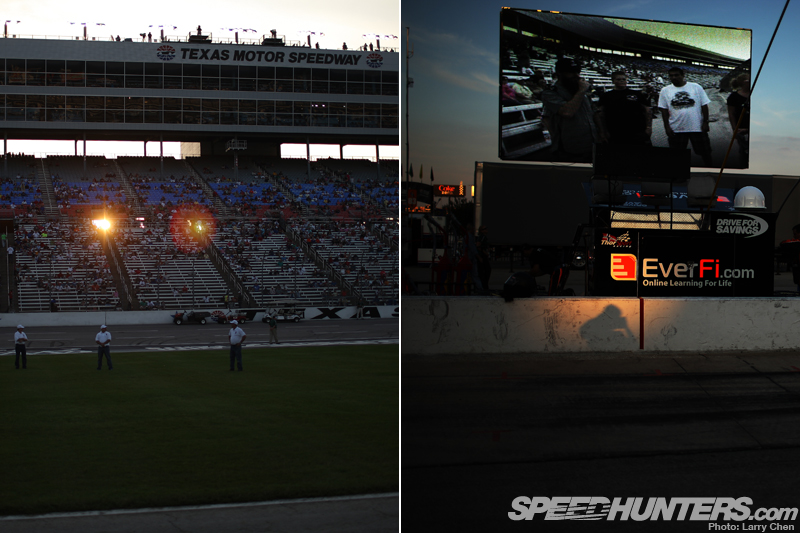 I shot the exact same race the year before so I kind of knew what to expect, but I was eager to take in the sights and sounds once again. As twilight set in the sun peaked through a tiny opening in the massive stands. It was absolutely stunning.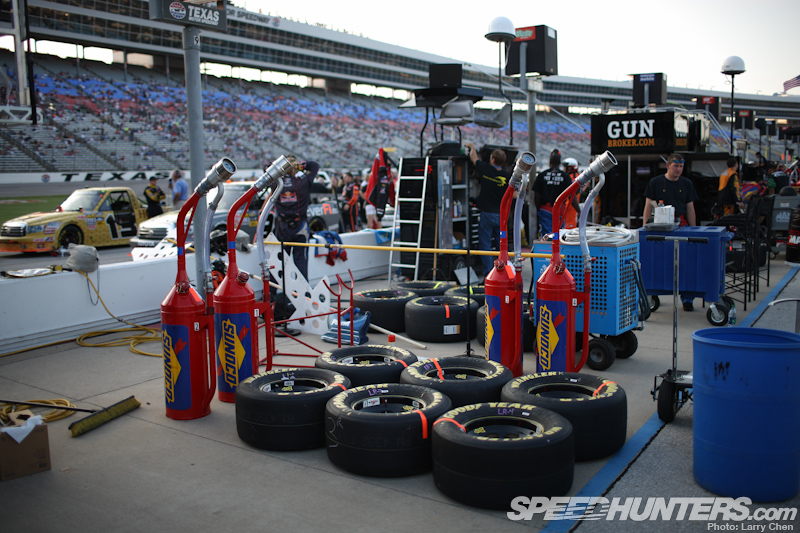 The moments before the race are absolutely hectic in the pits. There were just so many people walking around the hot pits, everyone with a very specific job.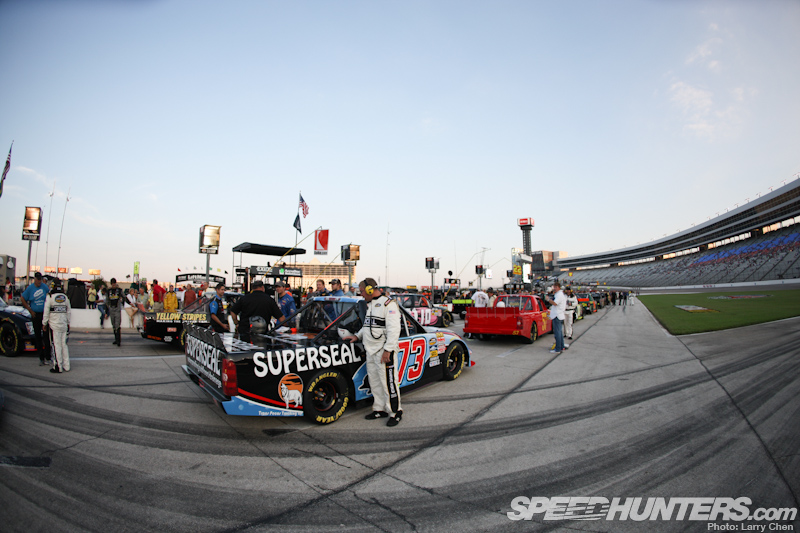 All the cars (trucks?) were already lined up as I walked onto the track.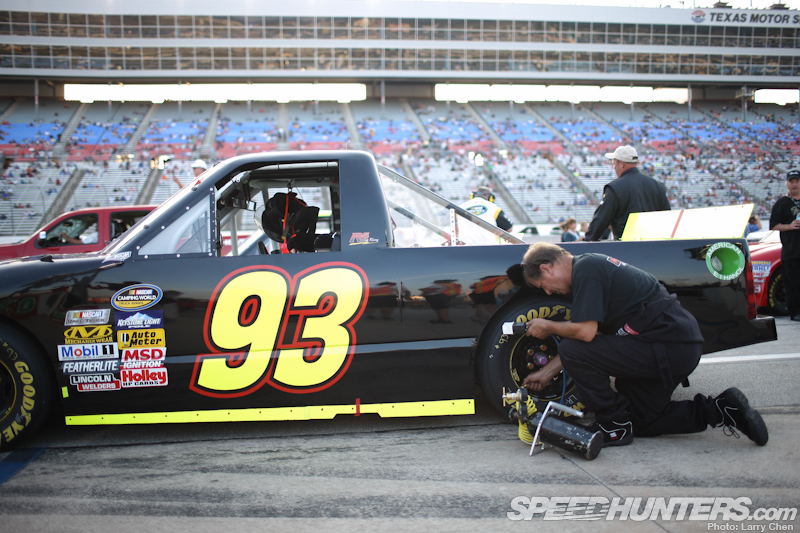 This was the perfect time to do last minute checks like tire pressures etc…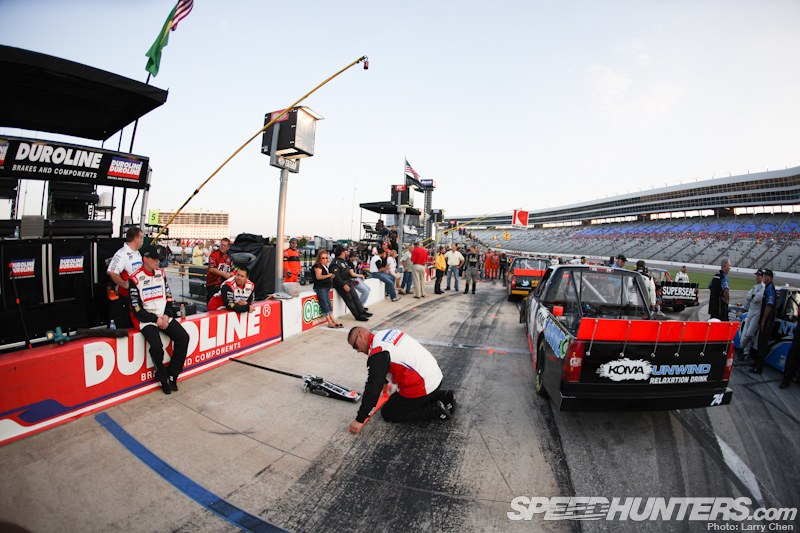 This was also the time to to mark your pit area with neon tape.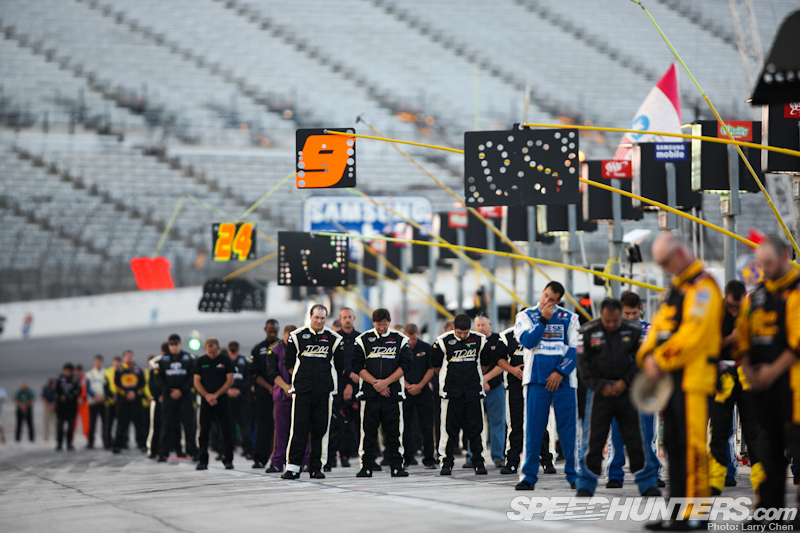 Pretty soon everyone bowed their heads in prayer as the Reverend said a few words, most of which was asking for a safe race.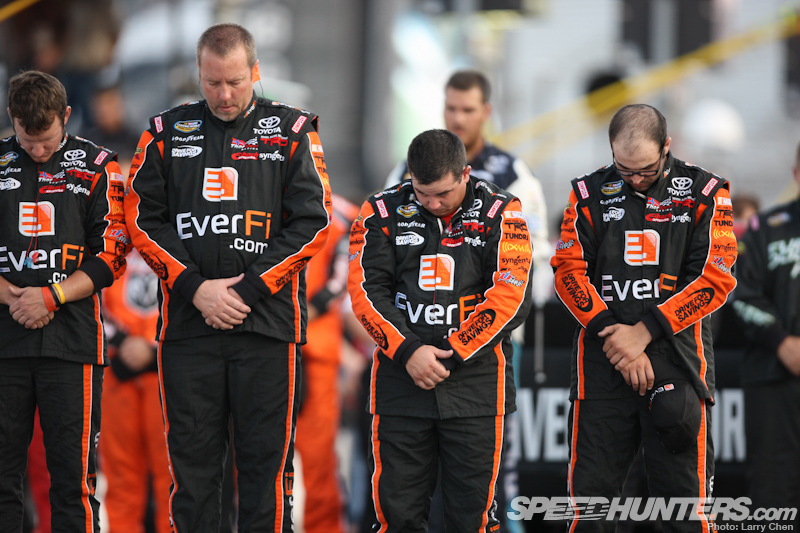 This is just one of those calming moments before hours of intensity. I can only imagine what is going through the teams heads right now.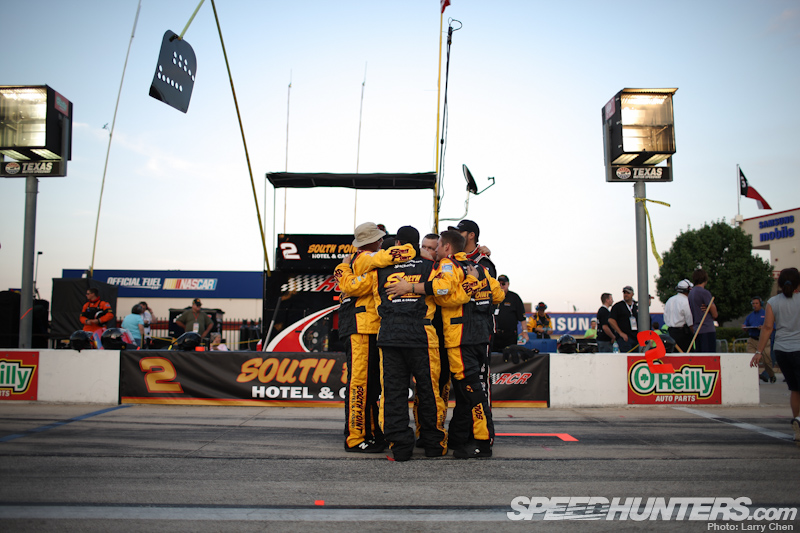 Afterwards teams had individual prayer sessions and last minute team meetings.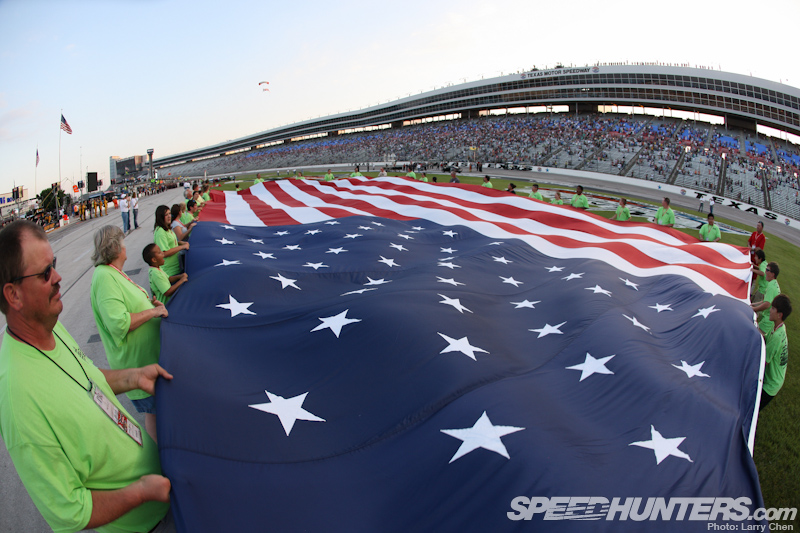 The national anthem was played as skydivers touched down on the grass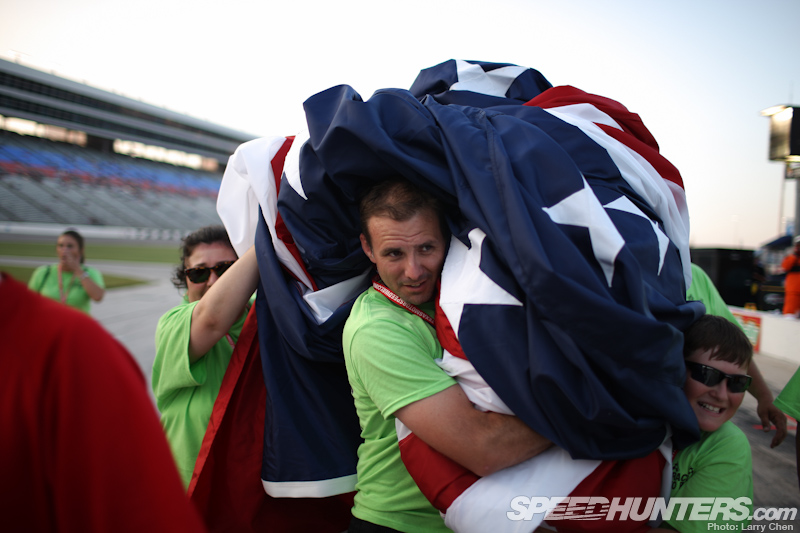 The giant flag was quickly hustled off the track and everyone left pit lane.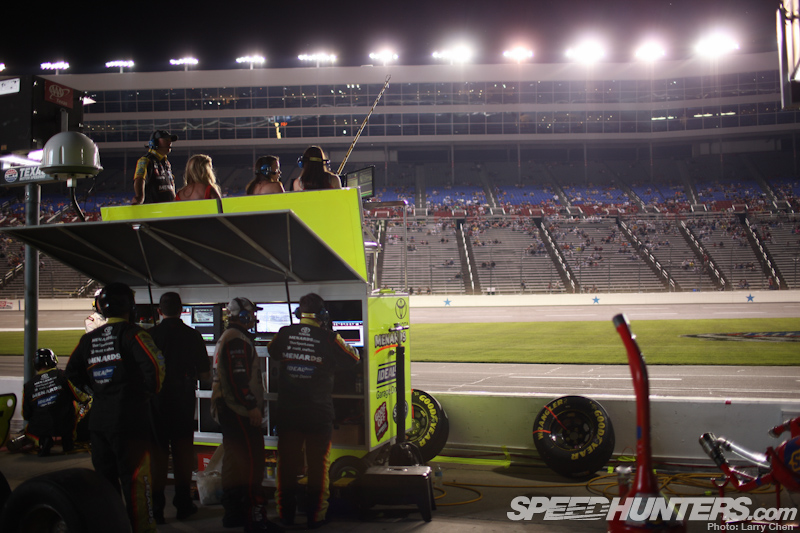 These three girls look like they are fishing, but that pole holds the sign that lets drivers know where their pit area is.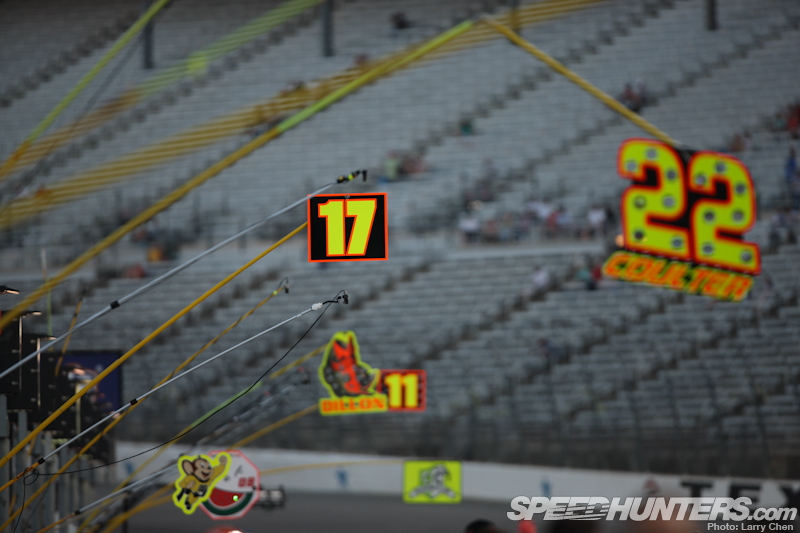 This is actually one of my favorite things about NASCAR. I love the personalized signs.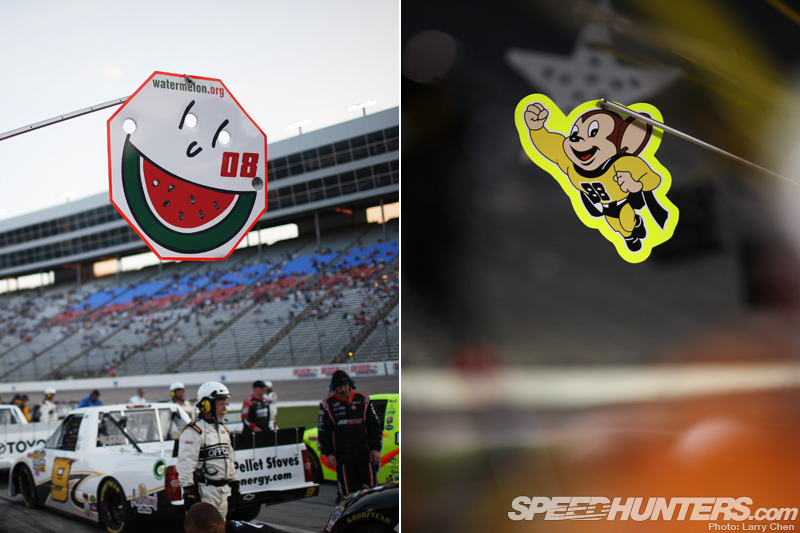 The designs include memories of my childhood, and some that are just strange.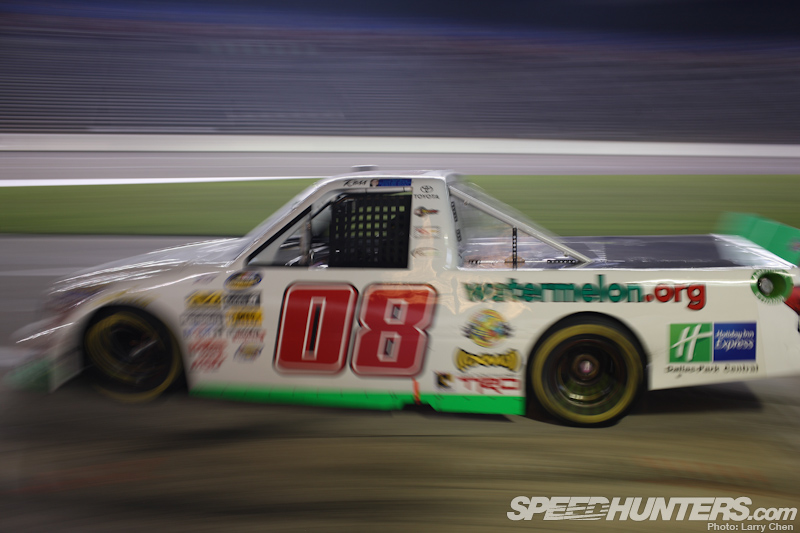 Which also brings up the interesting sponsors of this series. Who knew watermelon had a website?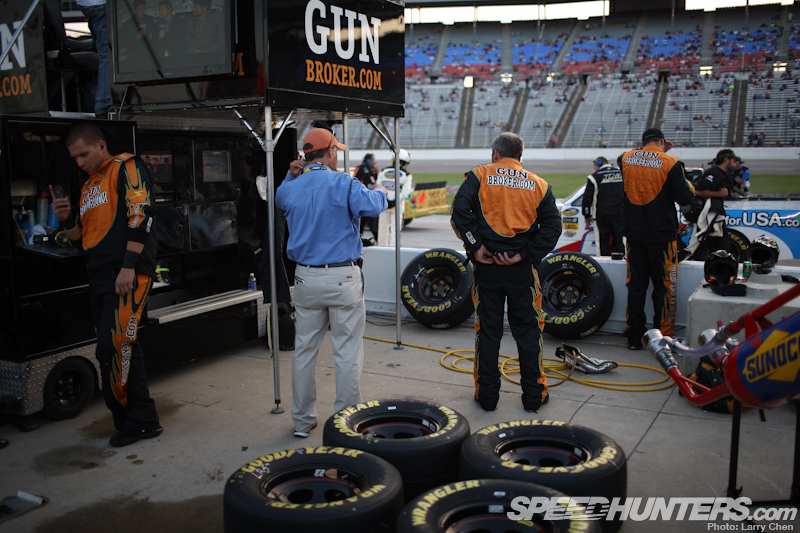 It does not get as American as this title sponsor. I'm just glad they are big fans of racing.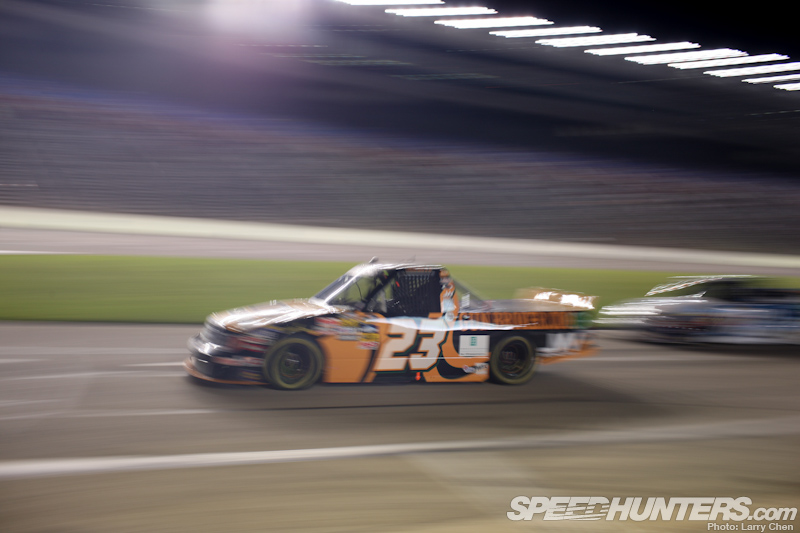 This is what the professional drifting world needs, weird but interesting sponsors.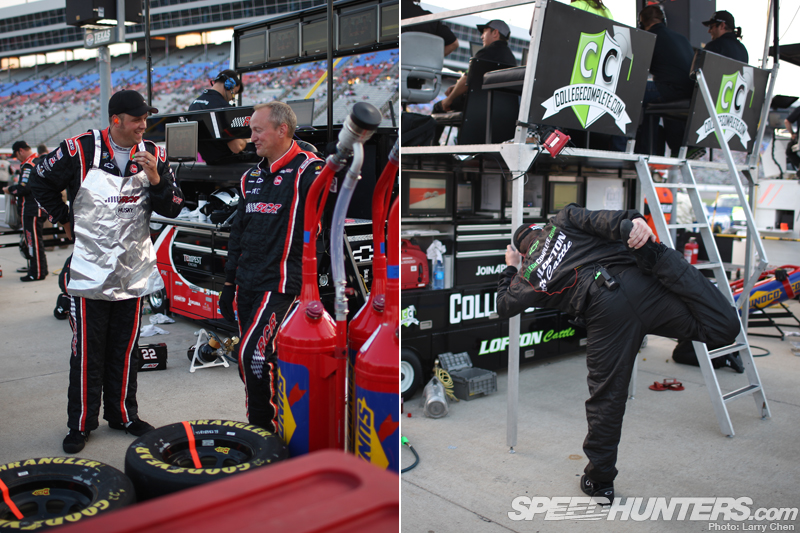 So as everyone was getting ready for the start I decided to head to the outside of the race track to get my start shot.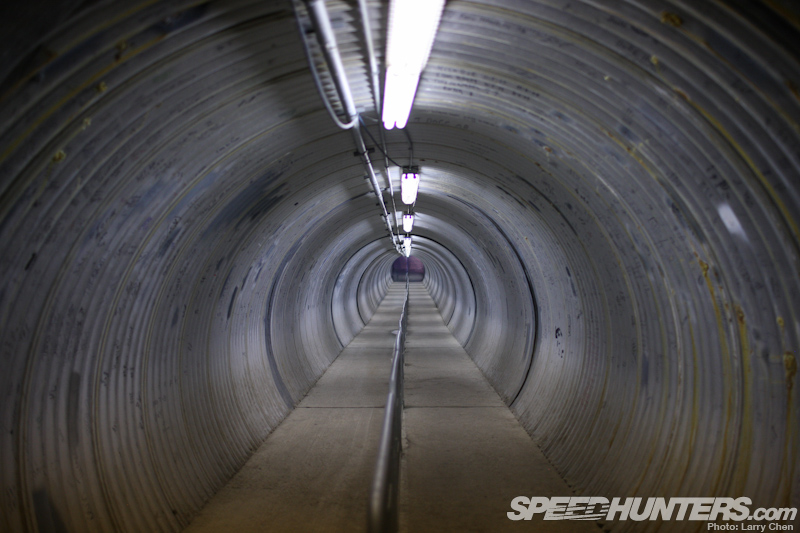 To do that I have to pass under the track through this tunnel.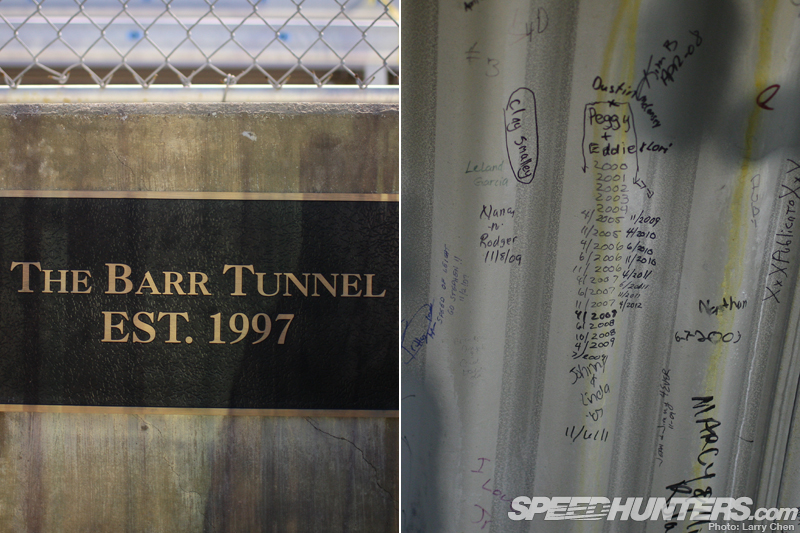 I found it interesting that they don't paint over the wondering messages that are left all on the outside of this tunnel.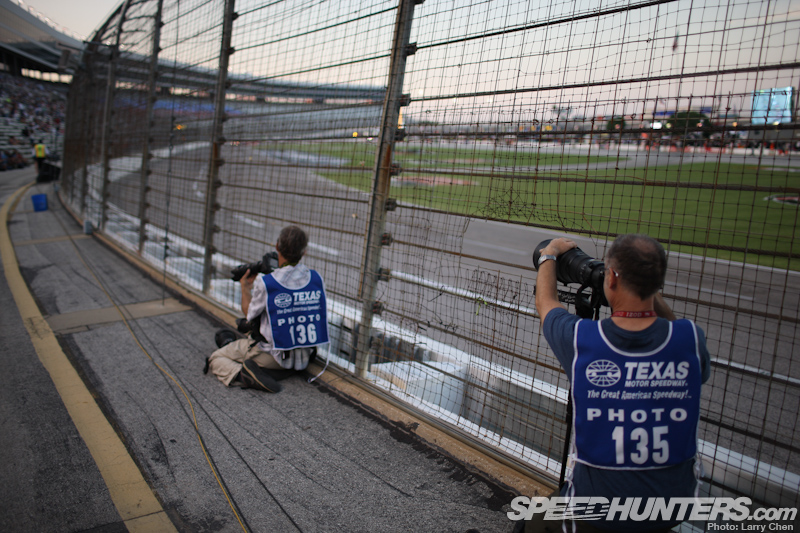 I was in this exact same spot one year ago, but this time they enlarged the photo holes, which also makes it a larger debris opening.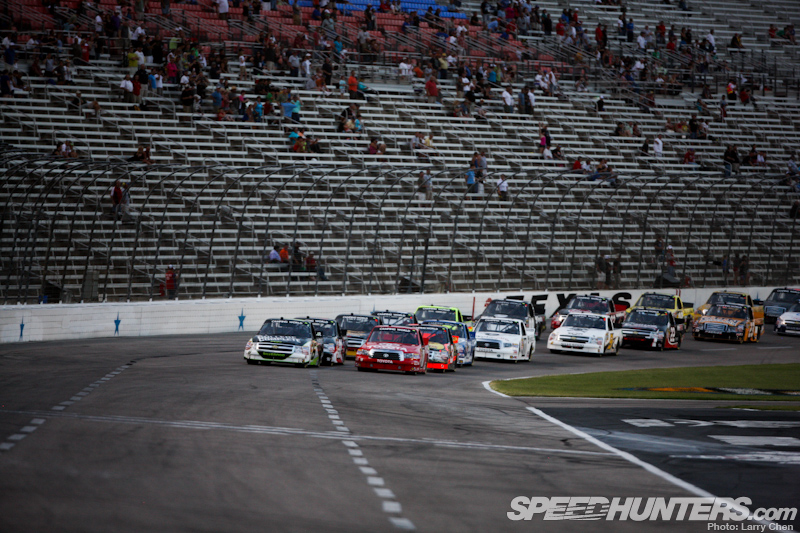 The crowd stood up as the cars came around for the green flag…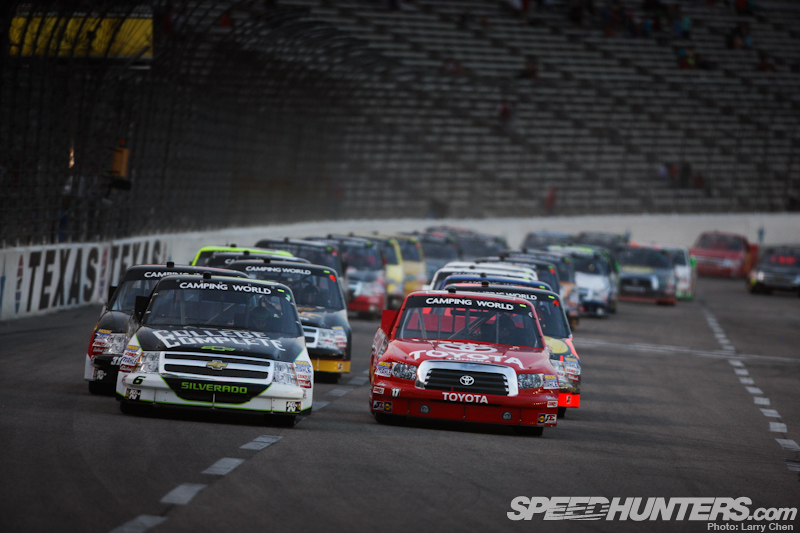 …and the race was underway. I turned my body and lens away from the fence and I closed my eyes. The thunderous roars of these trucks shook my entire body. Kind of like standing next to a top fuel dragster during launch, but a longer duration.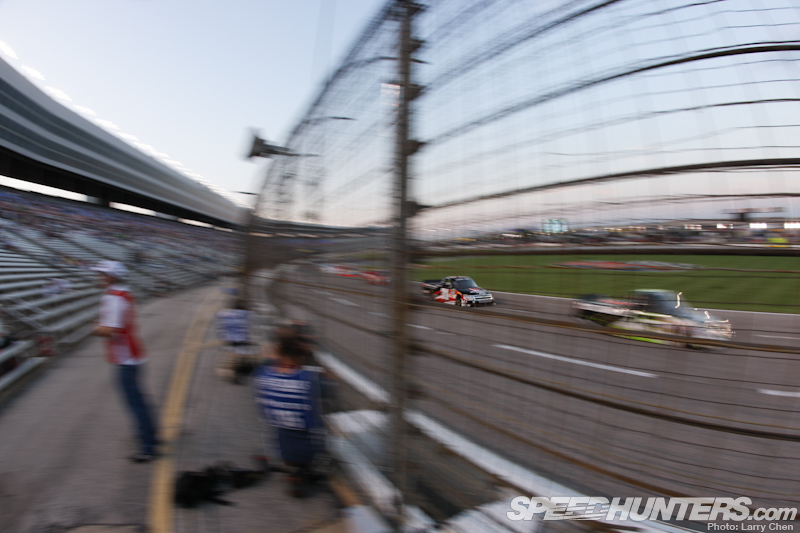 As I opened my eyes I got pelted in the neck with a pebble. It was traveling a such a high rate of speed that it almost broke my neck skin. Ouch.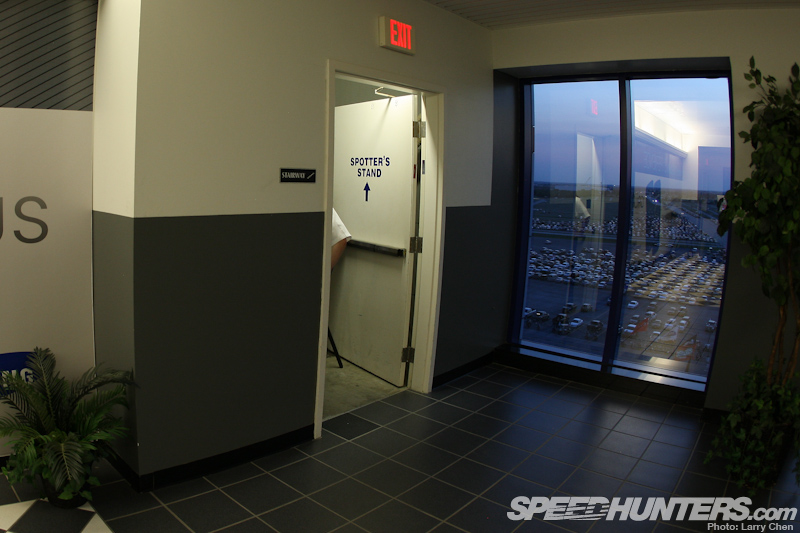 I decided to leave that dangerous shooting location and move to another equally dangerous location – the roof.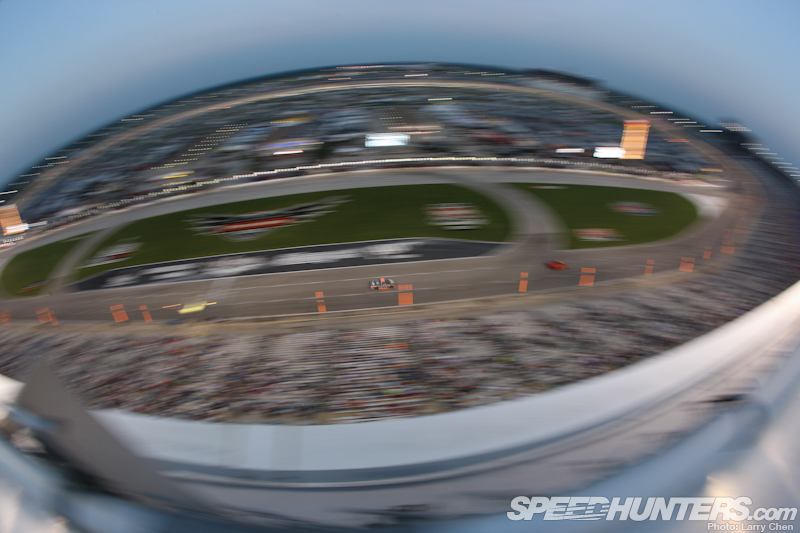 There I found a great overhead view of the entire track.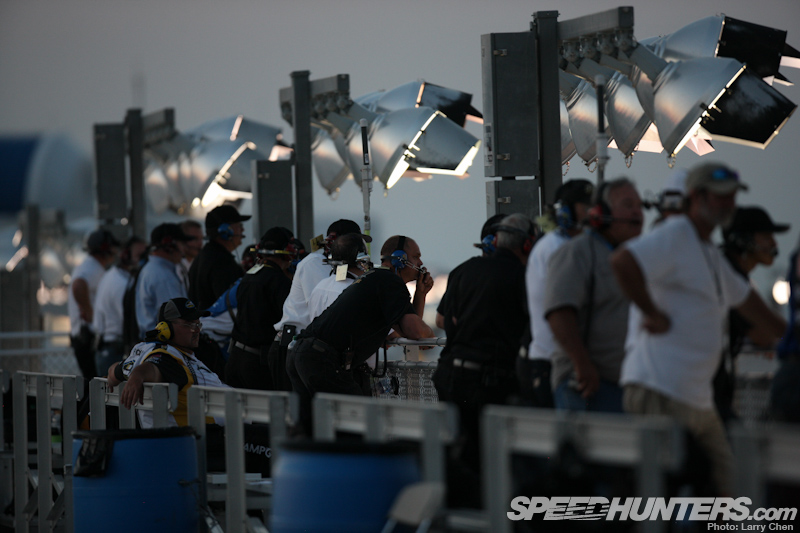 This was also where the spotters stood as they relayed information to their drivers.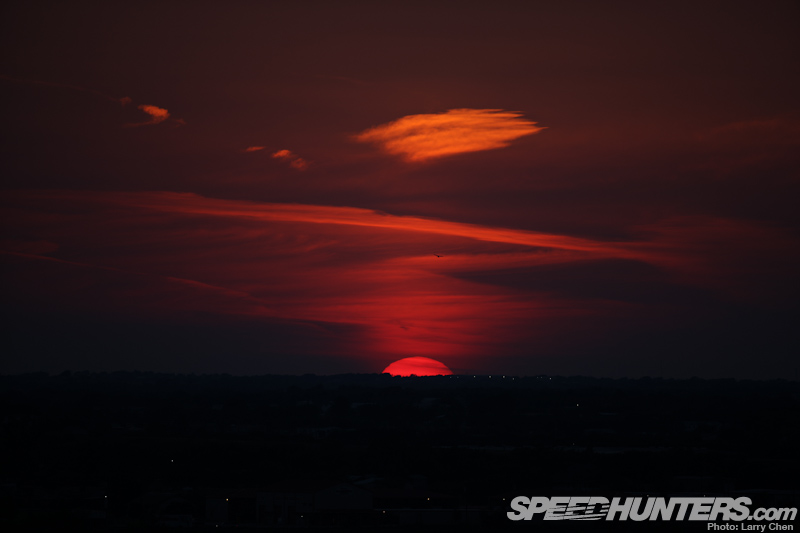 I turned around to find an amazing sun disappearing at an alarming rate.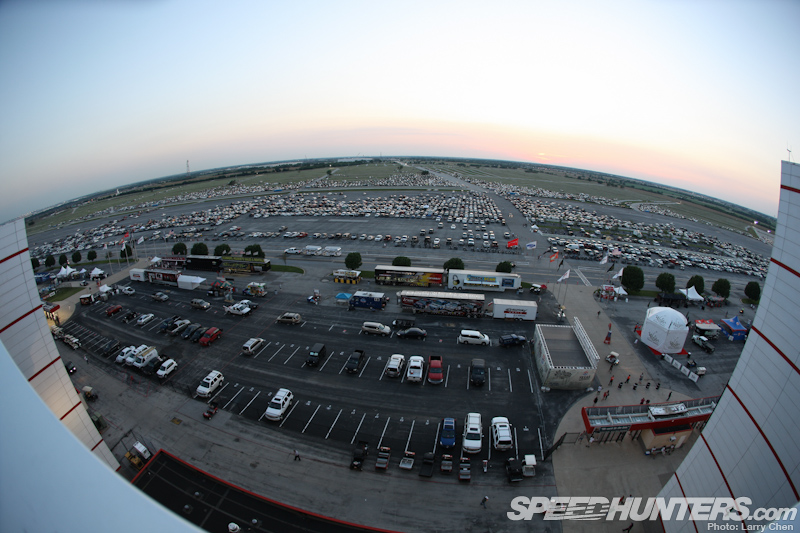 This also gave a great view of the parking lot. The stands may not look very packed, but this track holds over 200,000 people.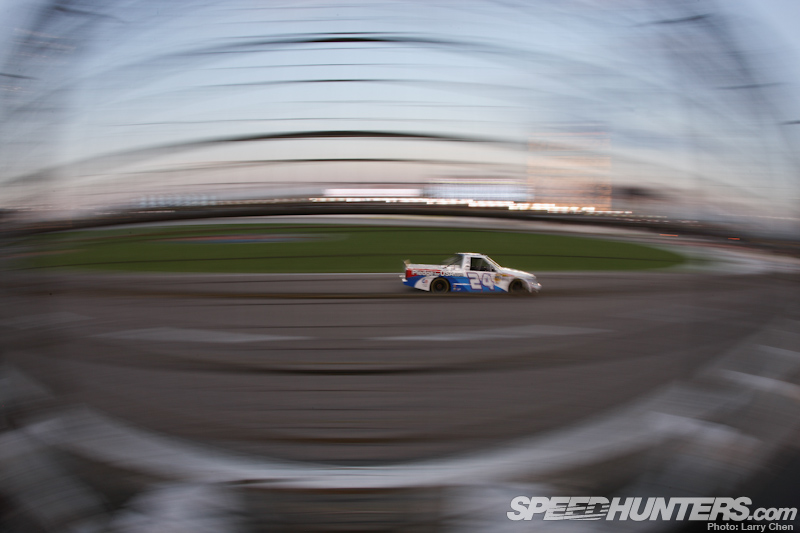 I went down once again to the outside of the course with my earplugs tightly against my ear drum. The race was under caution so I decided to head back to the infield…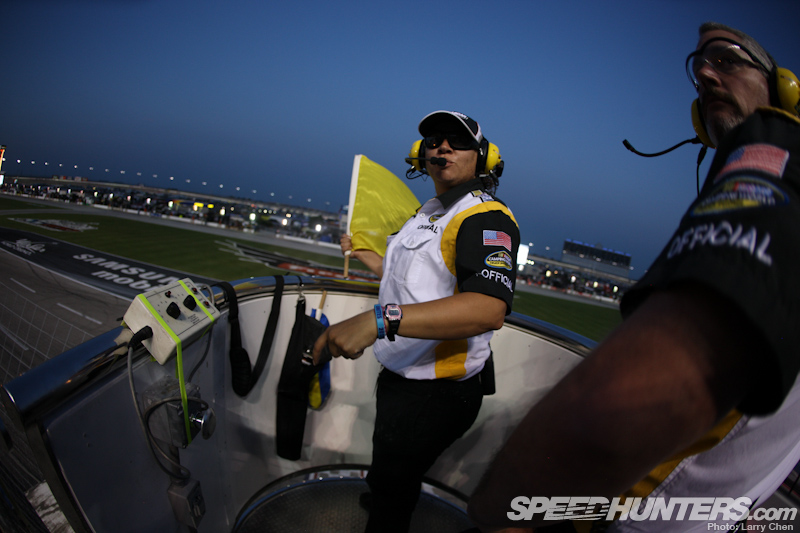 …but not before a quick visit to the flaggers stand.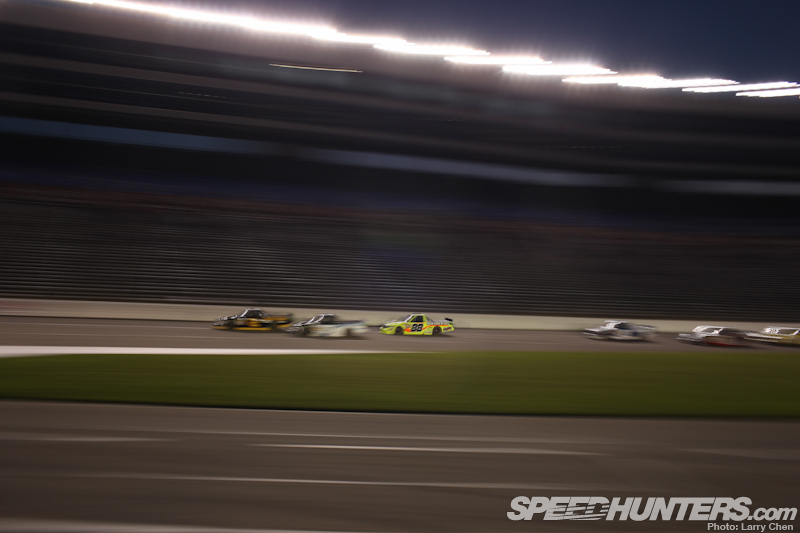 When I got back to pit lane I was just in time for all the trucks pulling in to the pits to take advantage of the caution.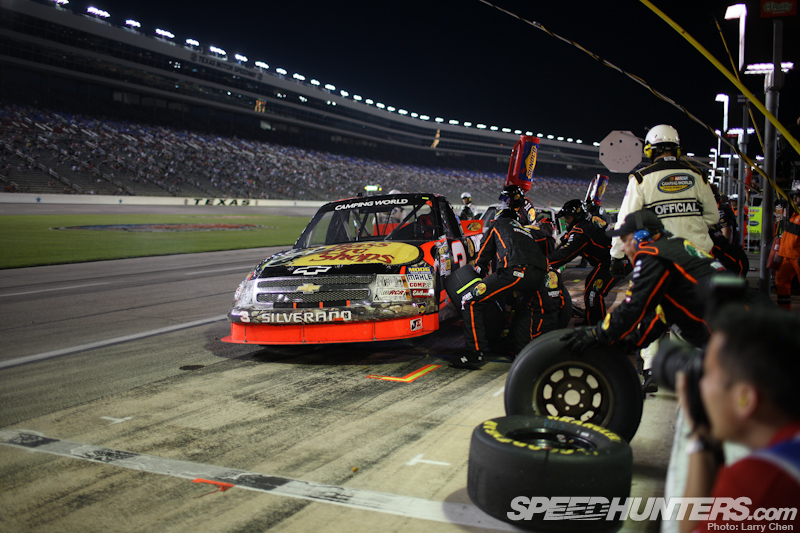 I could watch NASCAR pit stops all day. I just love every aspect of it.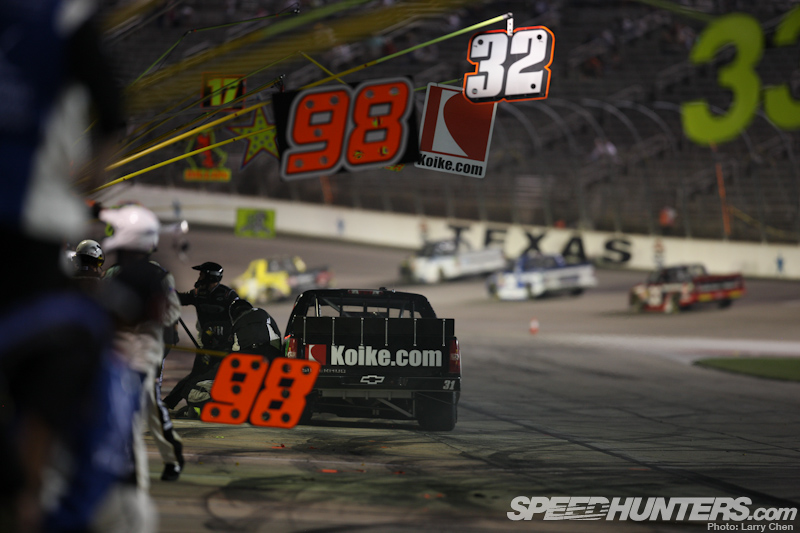 I wonder what the drivers are thinking as they watch the field pass by when waiting for their crew to finish up?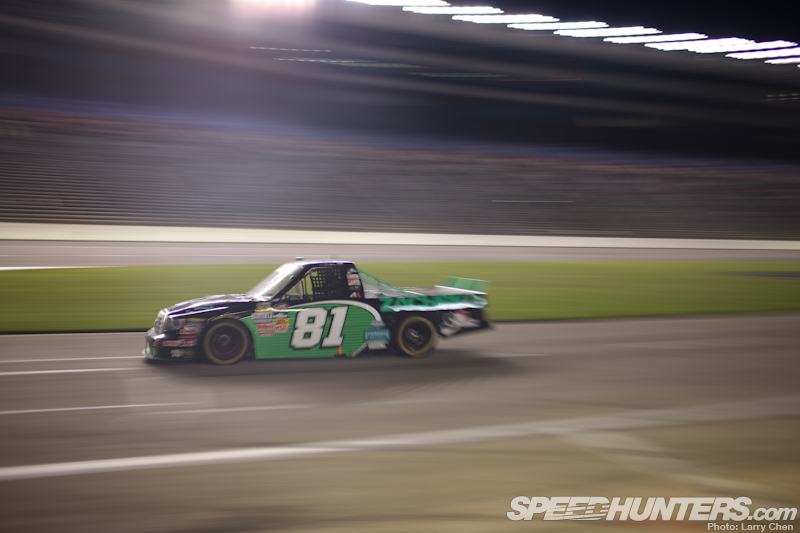 They get so itchy to leave the pit area as soon as they get there.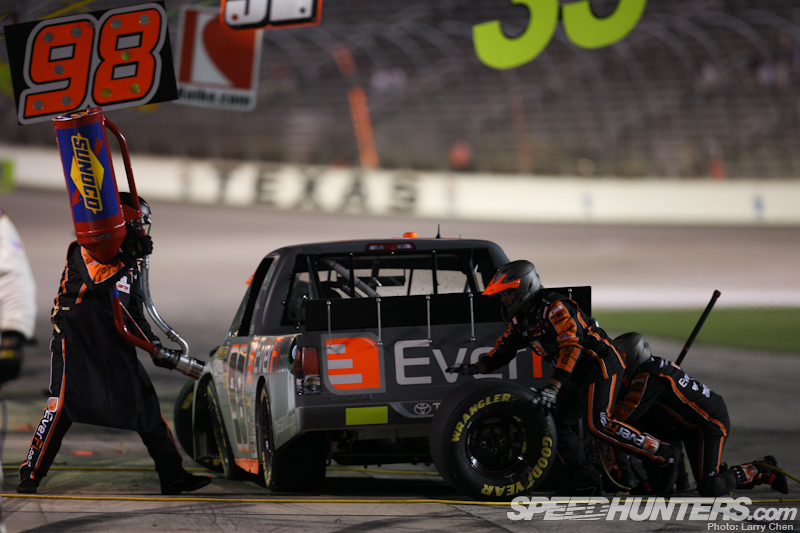 It is so simple. They use gravity to fill the gas tanks and they use muscle to jack up the cars.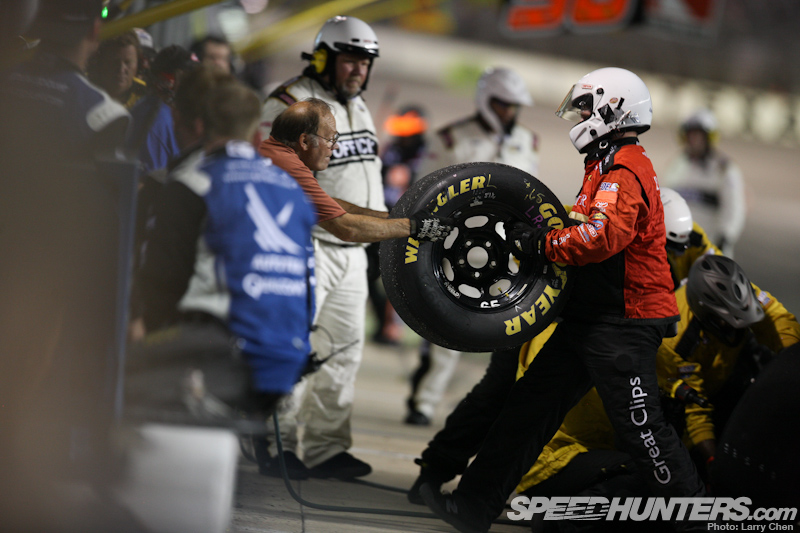 Just look at that clean hand-off.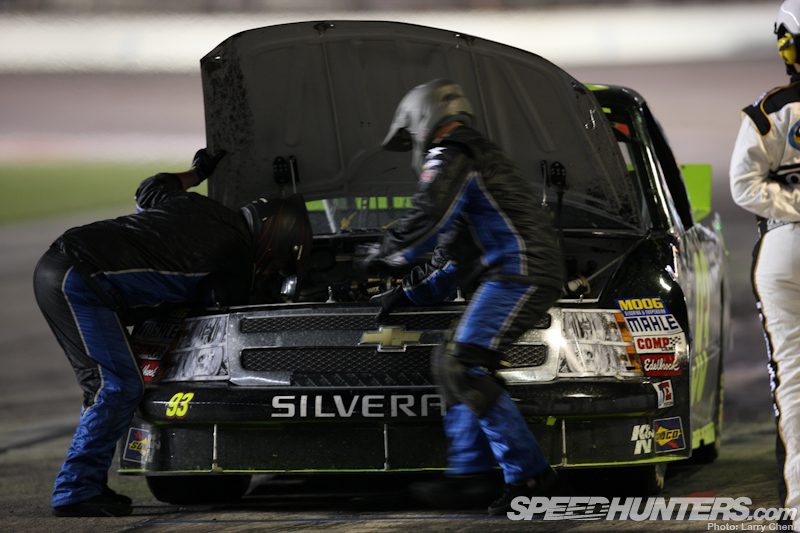 Of course some pit stops go better than others.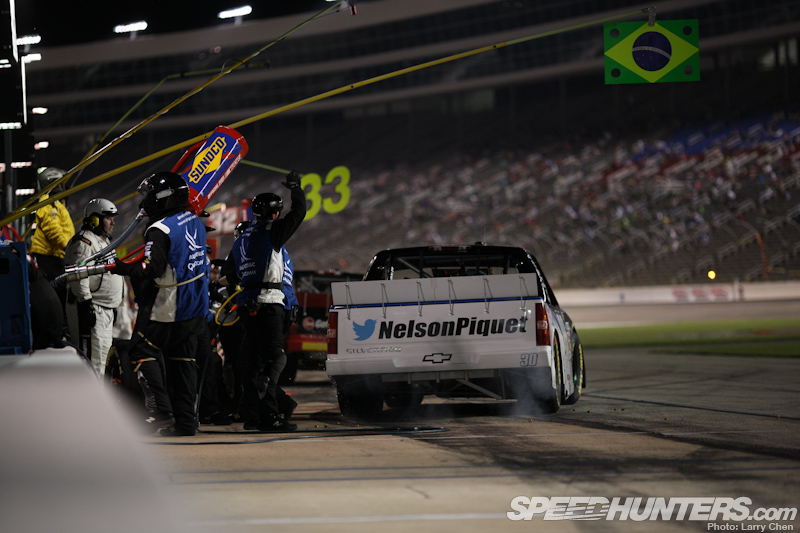 There is also a real danger of fire as there is always a little fuel spilled on pit lane. When the drivers burn out of the pit space they run over the old lug nuts which creates sparks.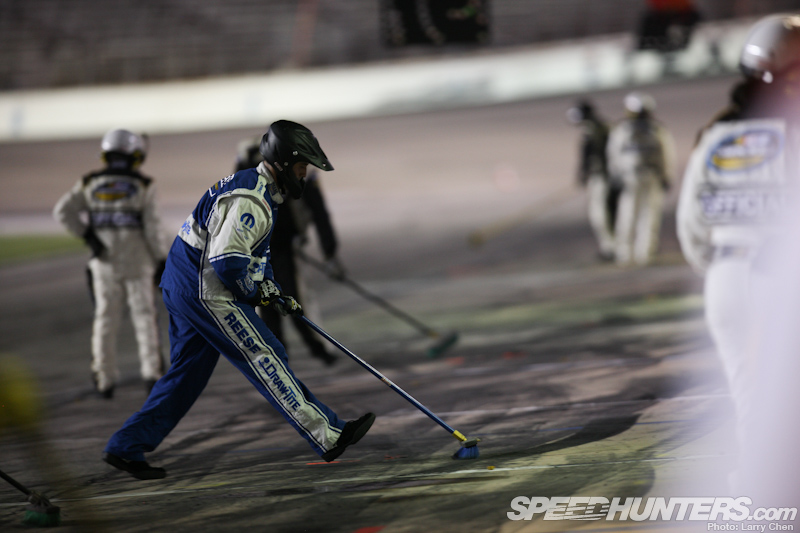 Then it's up to the crew to sweep the lug nuts away to get ready for the next pit stop.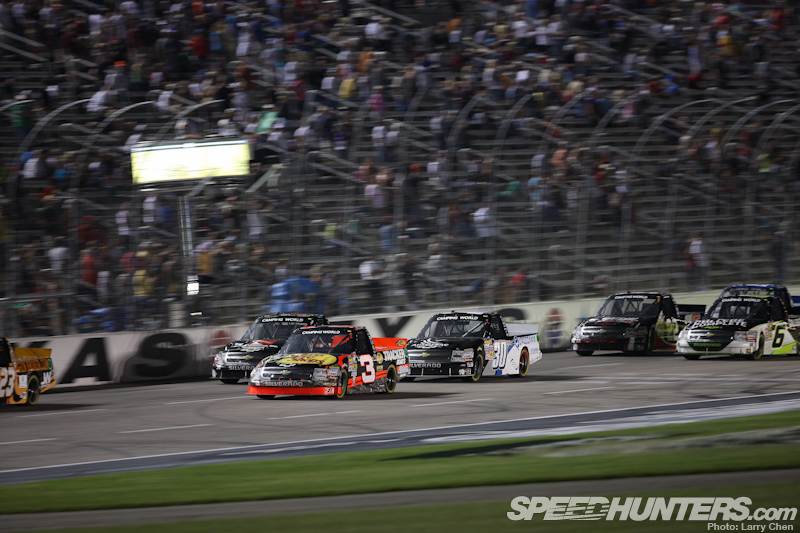 Once again the green flag is out and race was underway.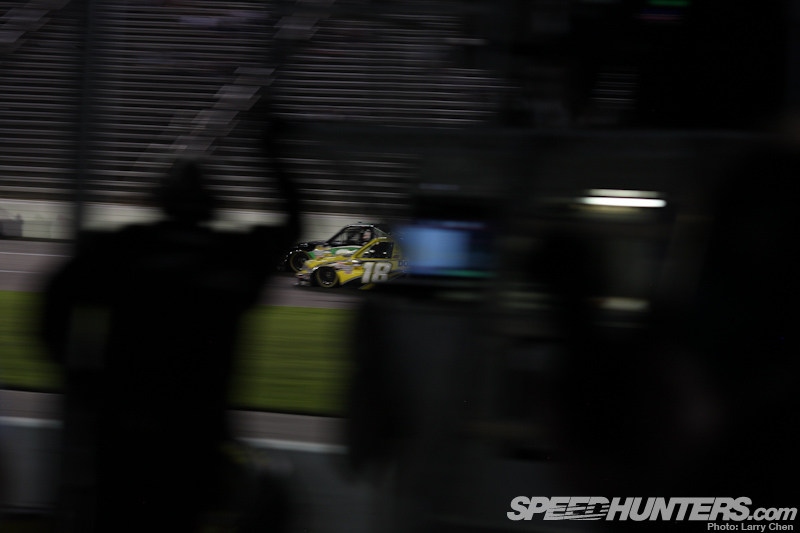 Once everything gets rolling and the race is halfway over everyone calms down a bit to sit and watch what was unfolding in front of them.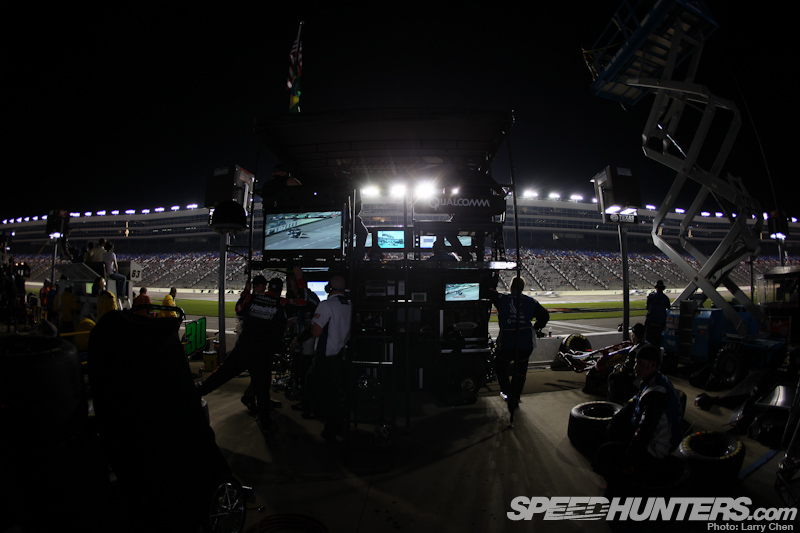 It's easy to pick a cozy spot where there are video monitors as there were large fortresses that lined pit lane.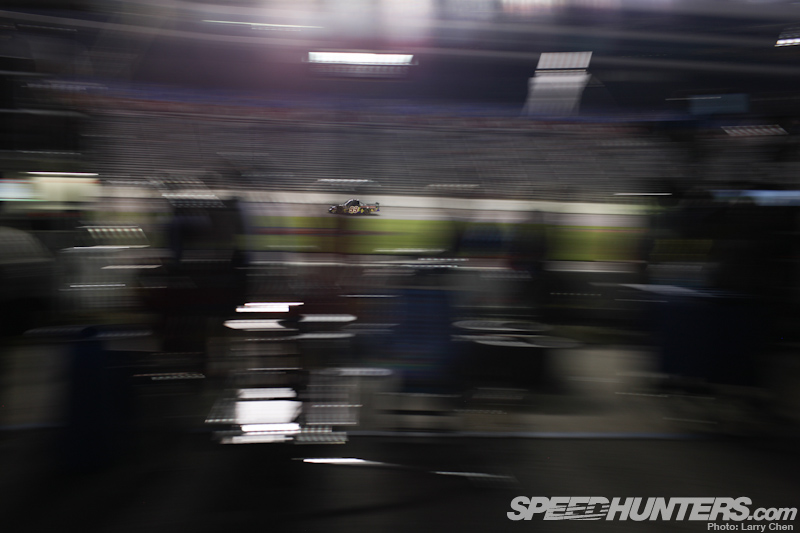 This was also a good time for me to figure out how the race was going and look for someone to follow around.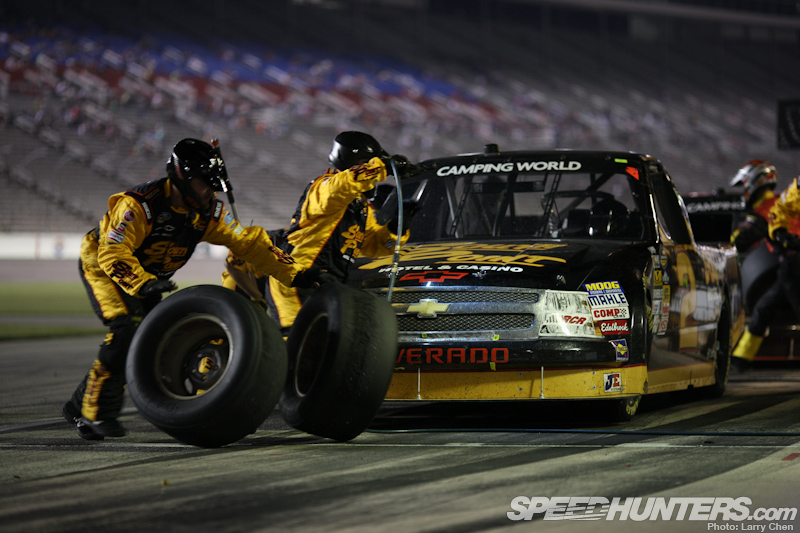 I watched the number 2 truck driven by Brendan Gaughan finish his pit stop.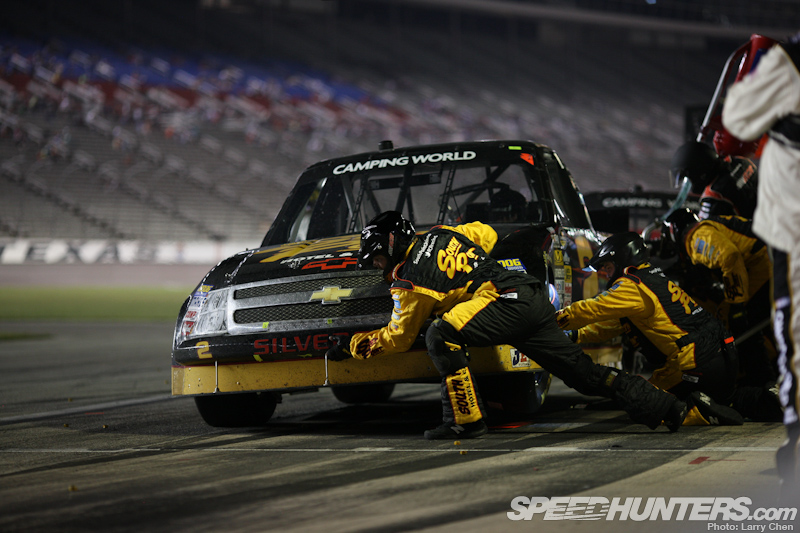 Just a wipe of the front grill and a few seconds later he was off.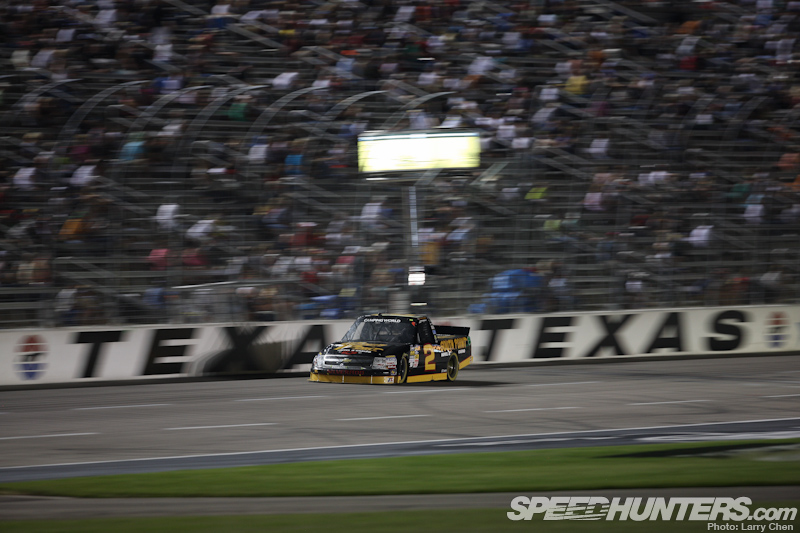 He made up a couple places all the way up to 2nd place just from his quick pit stop. The team was ecstatic.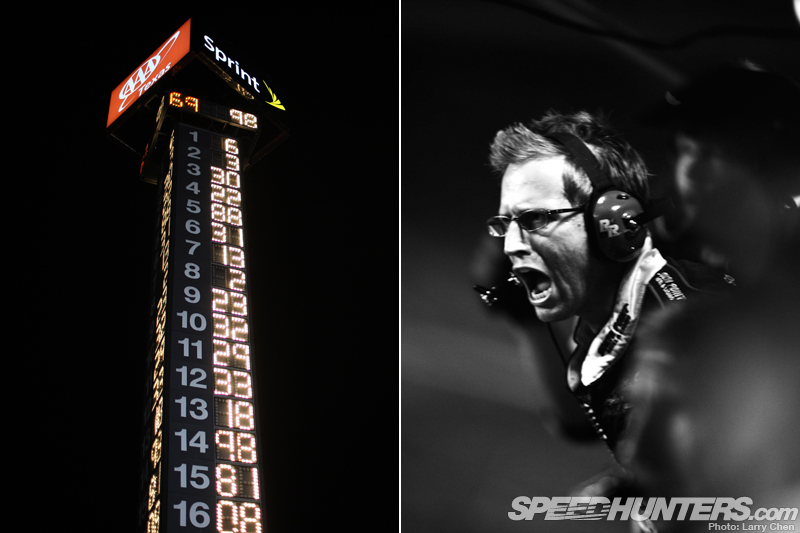 After a few more laps traffic got in the way and he lost those precious positions. The team was crushed.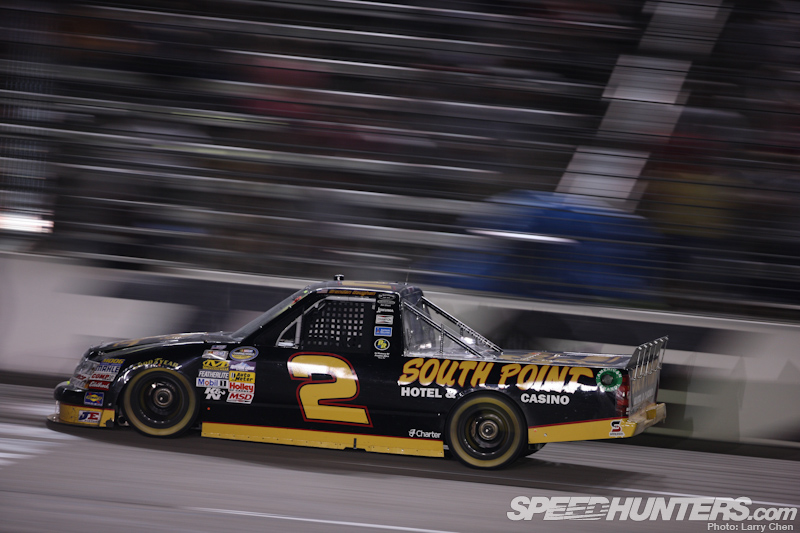 Brendan would end up finishing one spot out of podium in 4th place.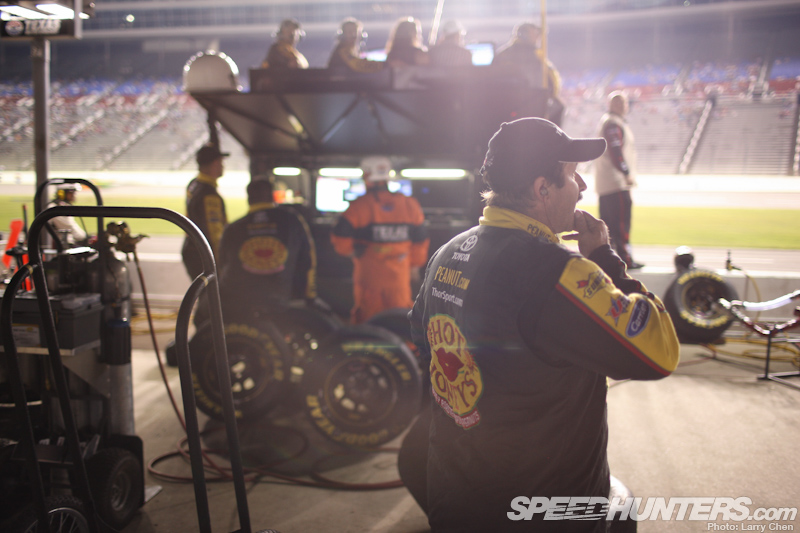 Right next door was a Toyota team sponsored by Peanut.com. The guys were pacing around frantically, because their driver was in first place.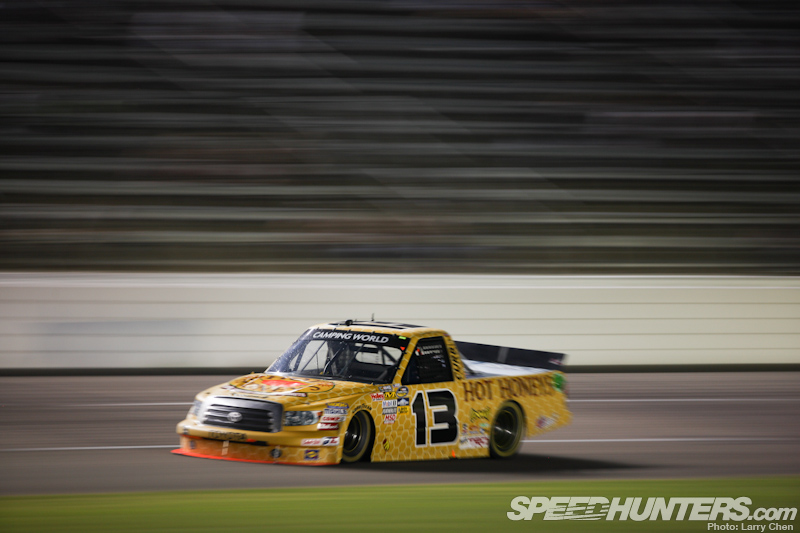 Johnny Sauter started in 20th position and moved up the line little by little. I love it when there are that many position changes in a race.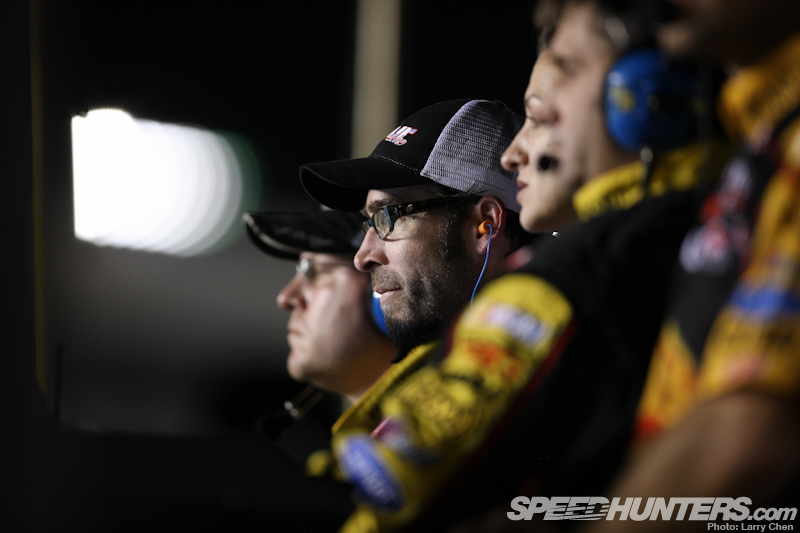 in the exact same race last year, Johnny would finish in 1st, but he was disqualified from a black-flag penalty. The team was on edge watching the laps go by.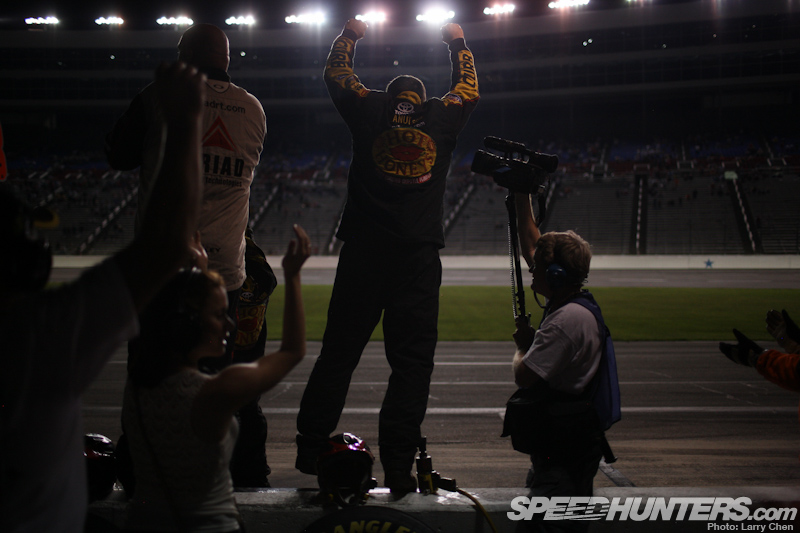 When the number 13 car passed the finish line the team celebrated their much needed redemption.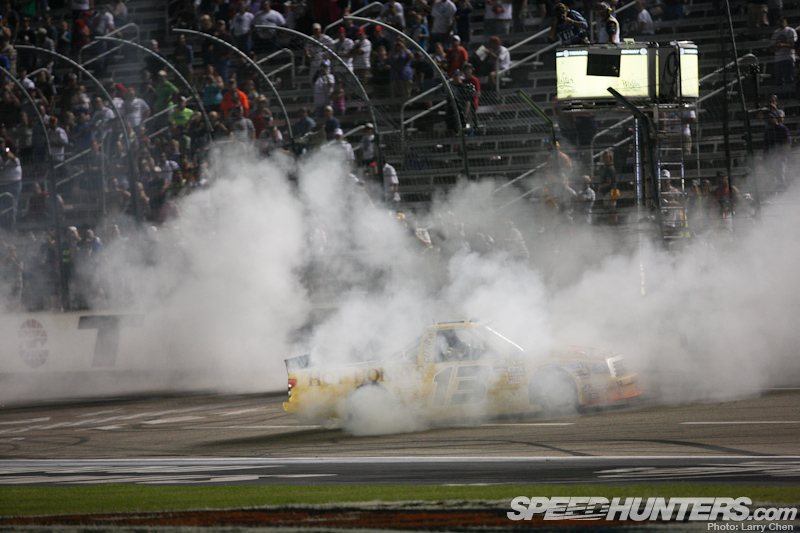 This was his 5th career victory and I am sure it was just as sweet as his first one.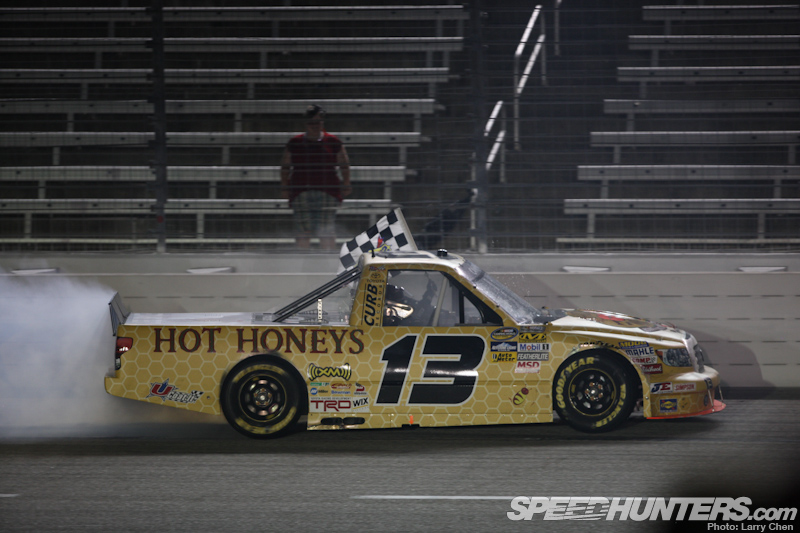 He did a burnout all the way to the winners circle.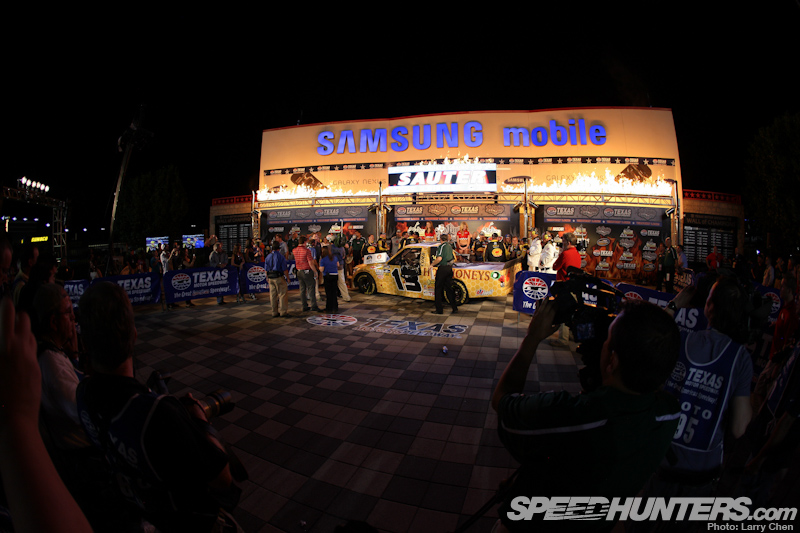 I just love the podium ceremony they have at Texas Motor Speedway. The flames just reminds me of Texas Barbecue and boy do I love BBQ.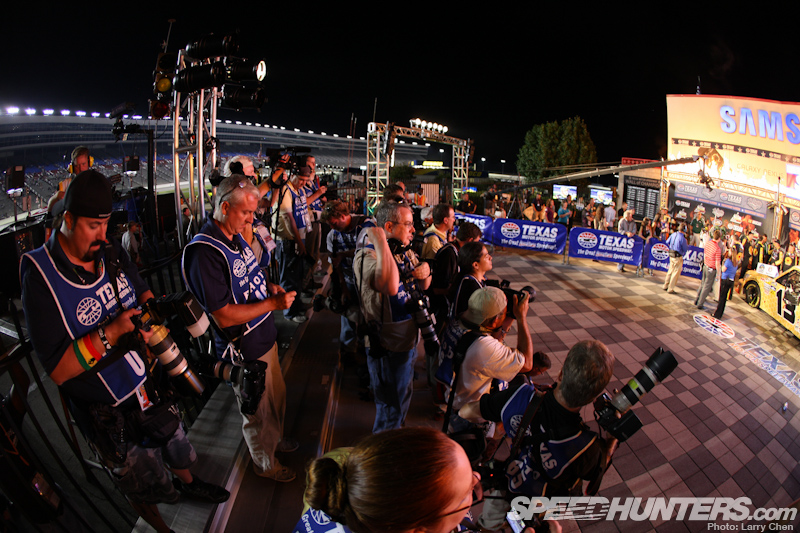 This track is so big that you don't really see much media throughout the day, but they gather like ants on a popsicle when it comes time for the podium ceremony.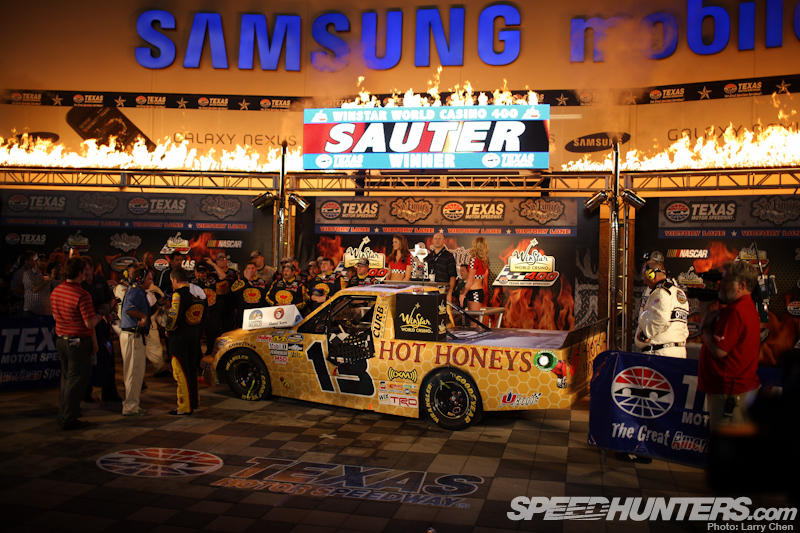 This series has 22 stops this season, so there is no excuse for you guys who live close to one of these race tracks.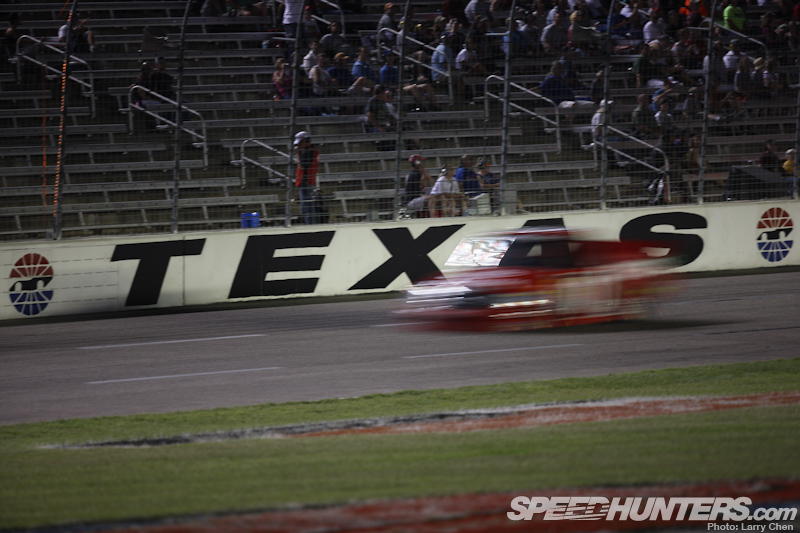 Hopefully I will get to cover a Sprint Cup race soon, because I am sure they are just as exciting. Enjoy the desktops!
-Larry Chen
Larry@Speedhunters.com
---
More NASCAR action on Speedhunters