Scale automobiles mimic their full size counterparts in more ways than one. Some people spend thousands on racing RCs for example, tweaking their vehicles to go as fast possible. Others invest countless hours into scale model building, making sure they have every last detail down and building their own parts from scratch. Others are collectors, hoping to track down rare and expensive diecast models that they display in brilliant cases.
The great thing about automotive collectables is that much like real cars – it's a hobby that can fit with nearly anyone's budget. In fact, the total amount invested on everything you'll see in this post is probably less than what you'd spend on a dinner for two at any decent restaurant these days.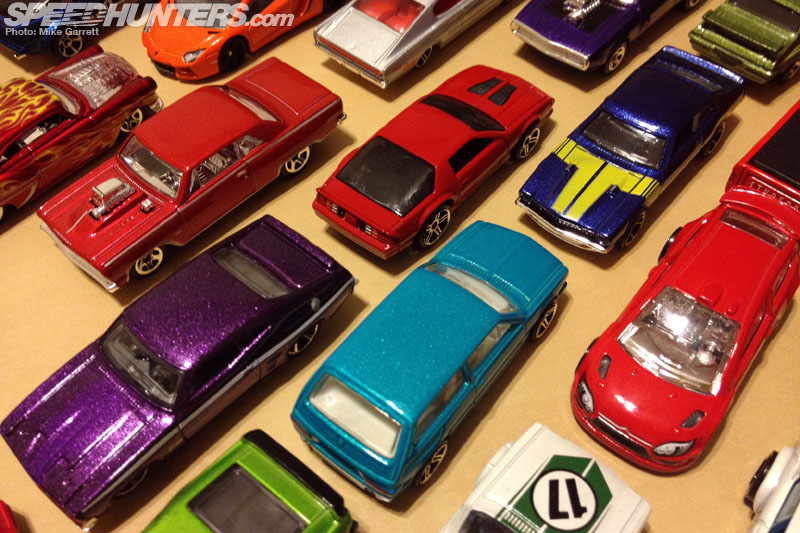 As a boy, like many other Speedhunters readers I grew up playing with Hot Wheels, Matchboxes, and other diecast toy cars. Each time I'd go to the store with my parents I'd ask them if I could get one , and depending on my behavior I may have been lucky enough to bring one home. Much has changed since then, but even as an adult I never really stopped taking a quick browse through the toy section each time I go to the store.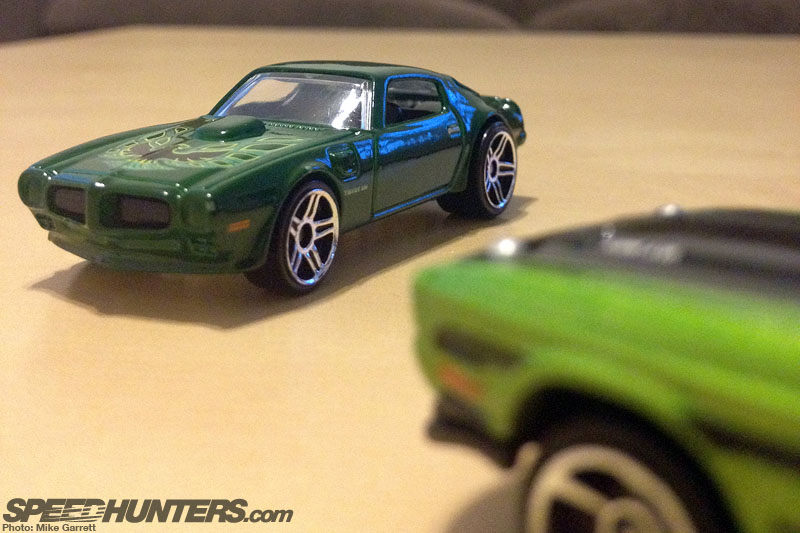 Over the past year or two, I've actually gotten pretty big into collecting Hot Wheels. Of course my methods are probably a different than many of the Hot Wheels collectors out there. I don't show up at the store as soon as it opens hoping to score some ultra rare release or trying collecting every last car in a certain series.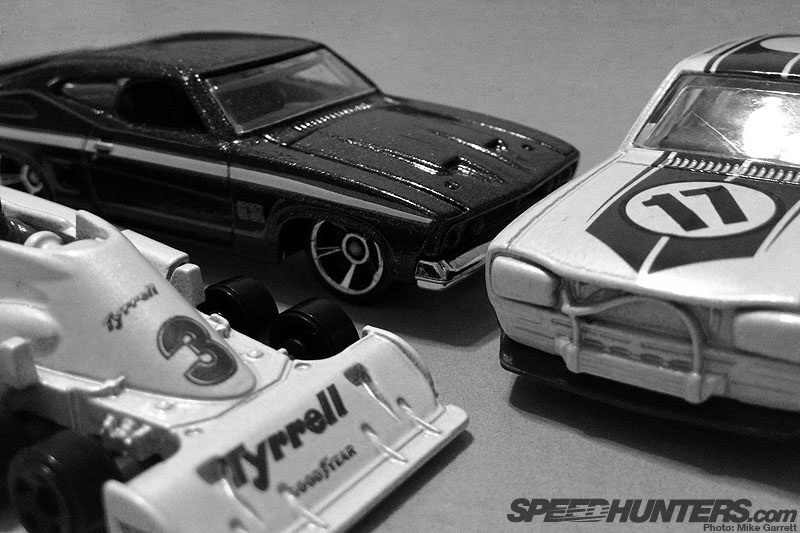 What I do is really pretty simple. I just look for the cars that I think are cool. Fortunately, or unfortunately if you're coming from the perspective of my wife, Hot Wheels releases just seem to get cooler and cooler. After I buy them I don't keep them in their original packages hoping they will go up in value someday, I open them up and park them in a wooden case or on the shelf above my desk. I may or may not push them around on the table making engine noises.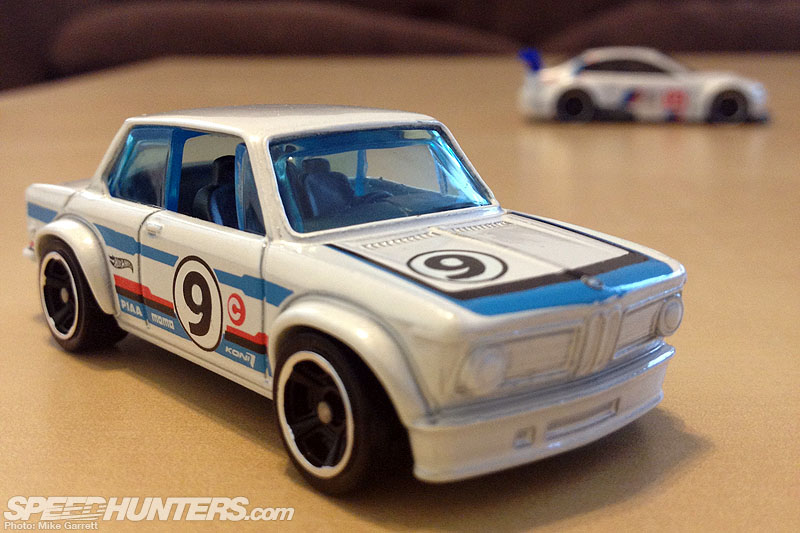 Just like my tastes in real cars, my small but growing collection of Hot Wheels is pretty diverse. Many of these cars I'd call "Speedhunters-worthy", so I figured I'd share some of them here. If you've "grown out" of Hot Wheels, you may be surprised at some of the models that have been released over the last couple of years.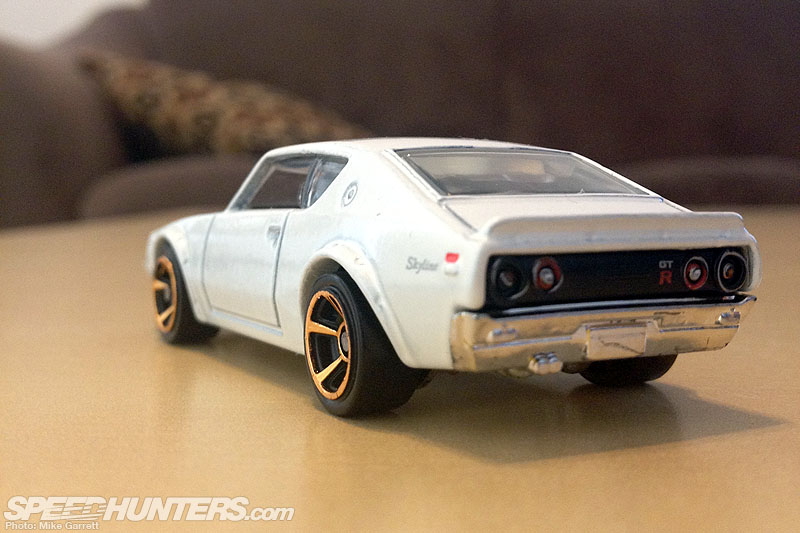 Thanks to the efforts of designers like Mr. Jun Imai, the Hot Wheels line has expanded to include some very cool scale replicas of what you might call "cult" cars. They might not catch the eye of little Johnny and his mom in toy aisle as much as other Hot Wheels offerings, but for us "grown ups" there's nothing better.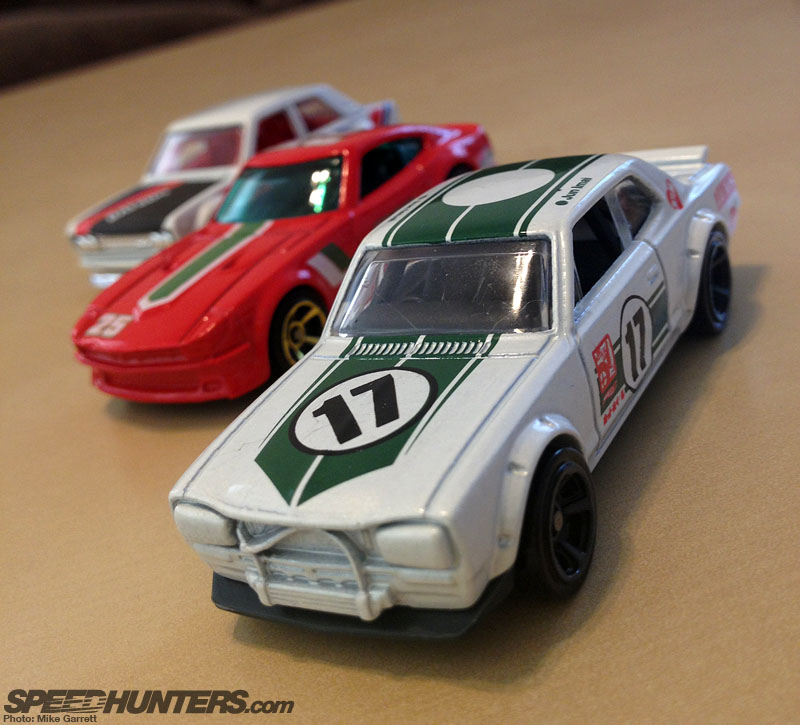 Vintage Japanese cars in particular have gotten a lot of love thanks to Mr. Imai. There are now several different Japanese classics available in Hot Wheels form.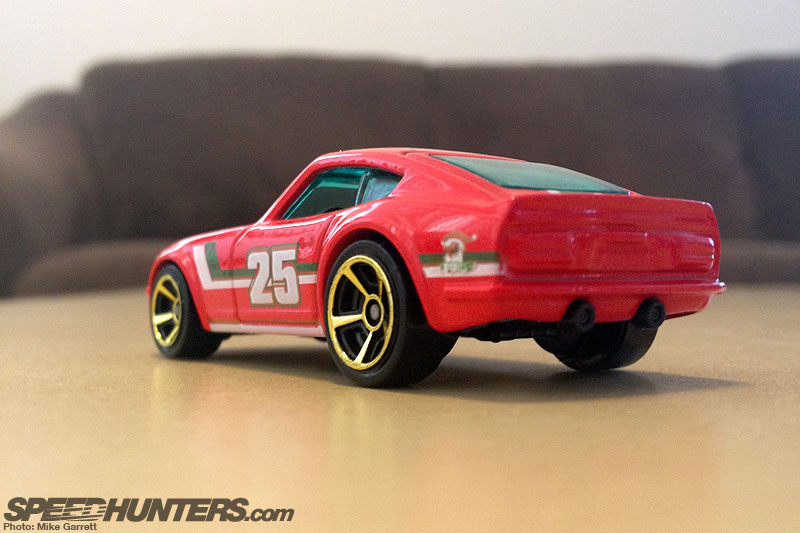 There are established Japanese classics like the Datsun 240Z (this one a special Christmas-colored release from last year)…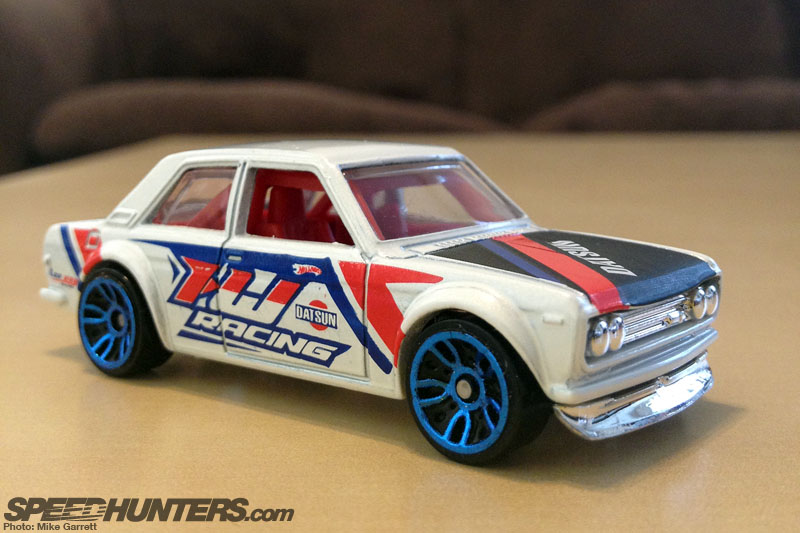 …as well as the Datsun 510 which is available in a variety of different paint schemes.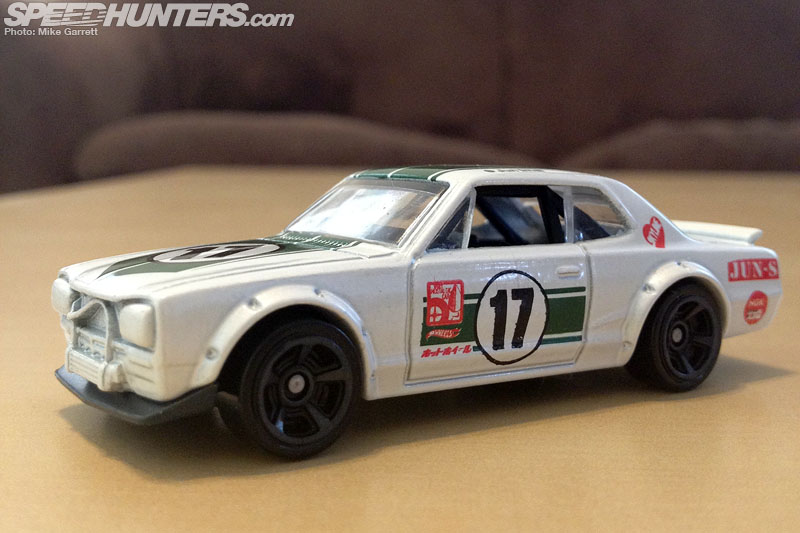 The love for these retro Japanese cars doesn't stop with US market favorites though. Old school car fans freaked out last year when it was announced that the Hakosuka Skyline would be added to the Hot Wheels lineup – in full "works" style. You might even notice the Hakosuka wears the logo of the Japanese Nostalgic Car website on its side. Cool!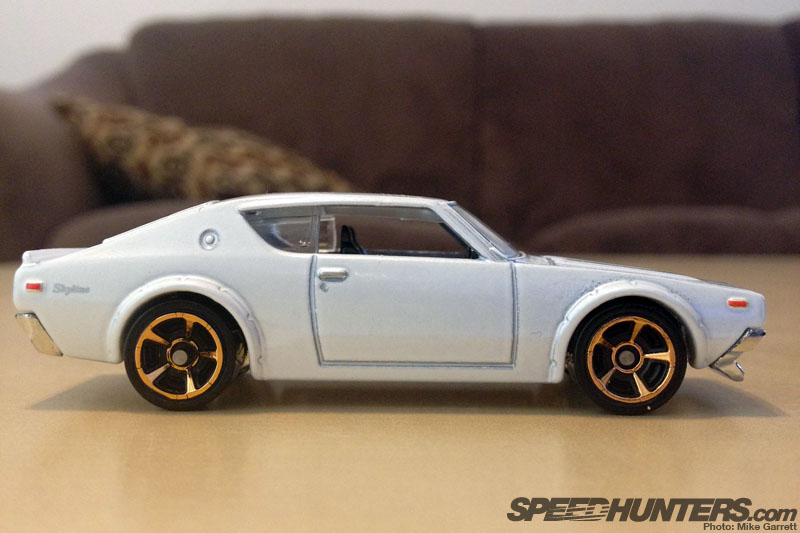 A short time later the Hakosuka was followed up by a beautiful recreation of a Kenmeri Skyline GT-R in street form. For an inexpensive diecast, they really nailed the details on this one – right down to the chin spoiler and over fenders.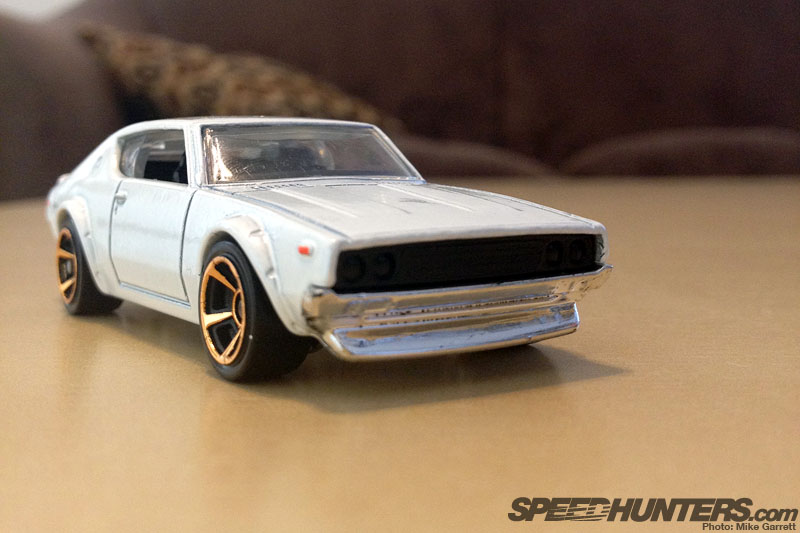 With two vintage Skyline models added to the lineup, there was a lot to be excited about. But it gets even better…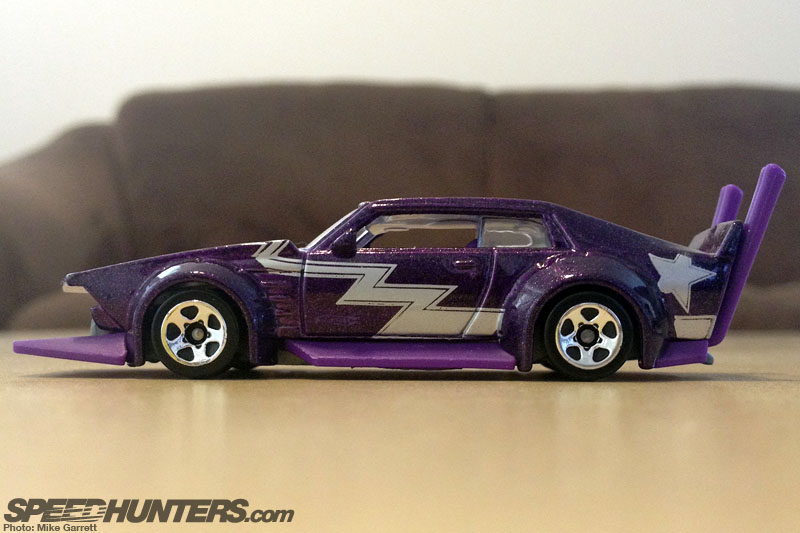 The latest retro Japanese release from Hot Wheels is Mad Manga – a full on homage to the Kaido Racer.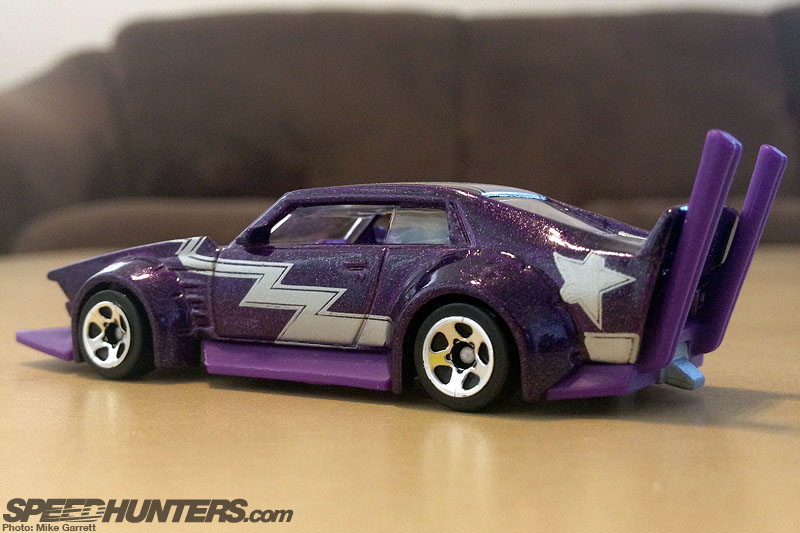 External oil cooler, long nose, and tall takeyari pipes – it's got it all. The only thing it's missing is a button to make revving noises and a Godfather horn. As you can imagine, it's pretty amazing to walk into your local mega store and see these icons of Japanese car culture sitting on the shelf.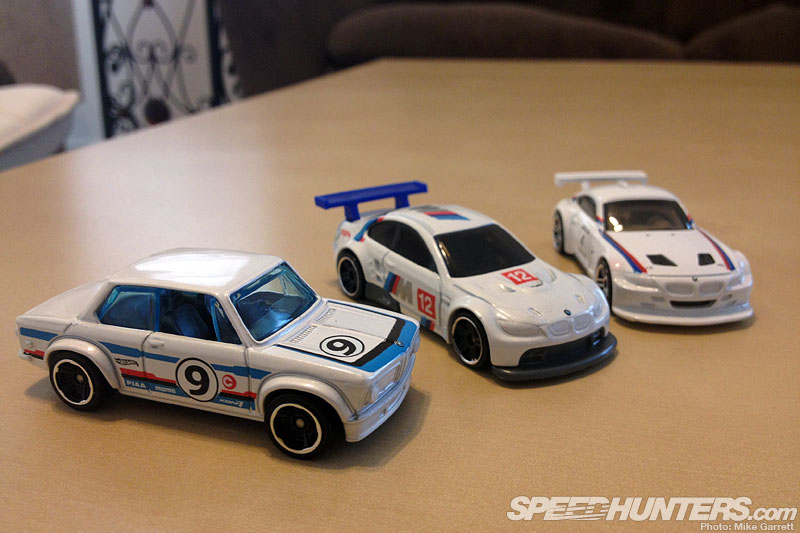 Of course there's much more than just Japanese cars to be excited about. Like BMWs? Here's a trio of recent releases – a 2002, along with E92 M3 and Z4 M GT cars.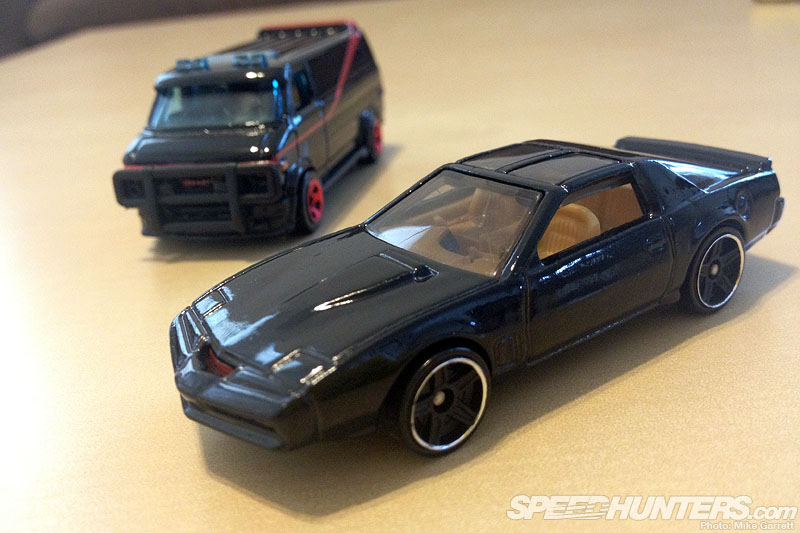 Recently Hot Wheels has also taken to recreating famous movie and television cars in scale form. Whether it's K.I.T.T from Knight Rider…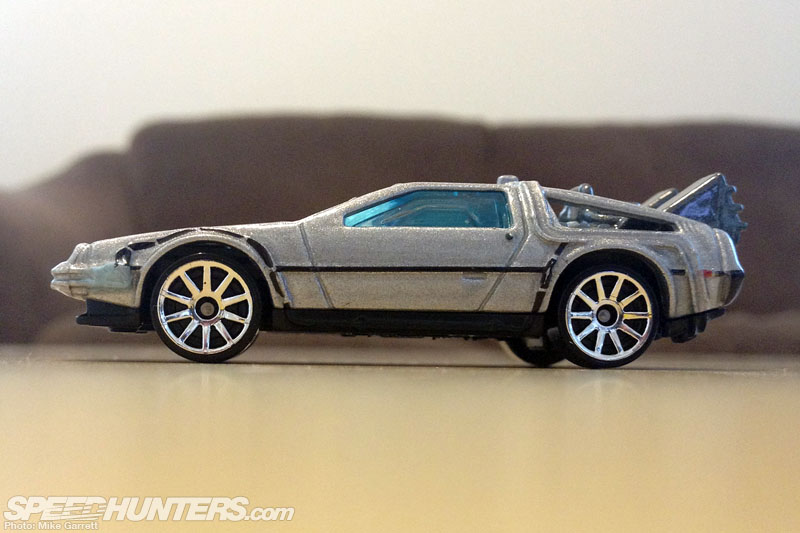 …or the time traveling Delorean from Back to the Future. It must be from the first film as there's no Mr. Fusion installed.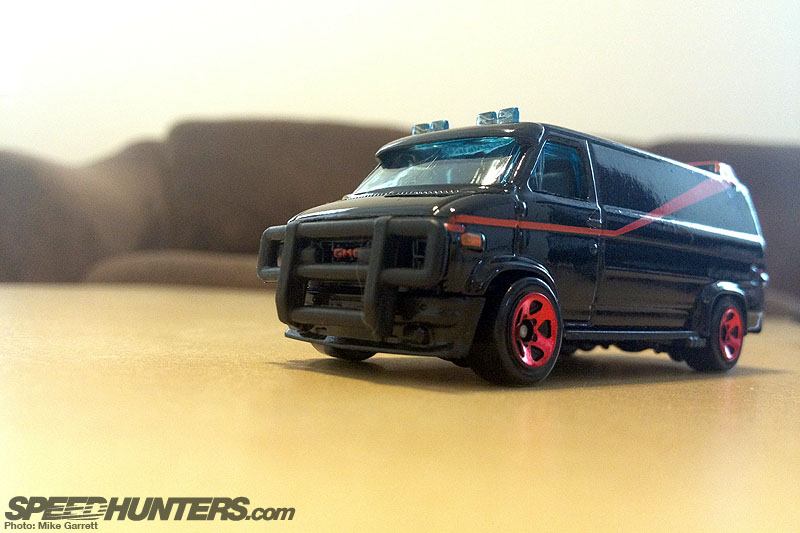 Not be left out is the Hot Wheels version of the A-Team van – and a pretty detailed one at that. Now all we need is a Hot Wheels General Lee to complete the set.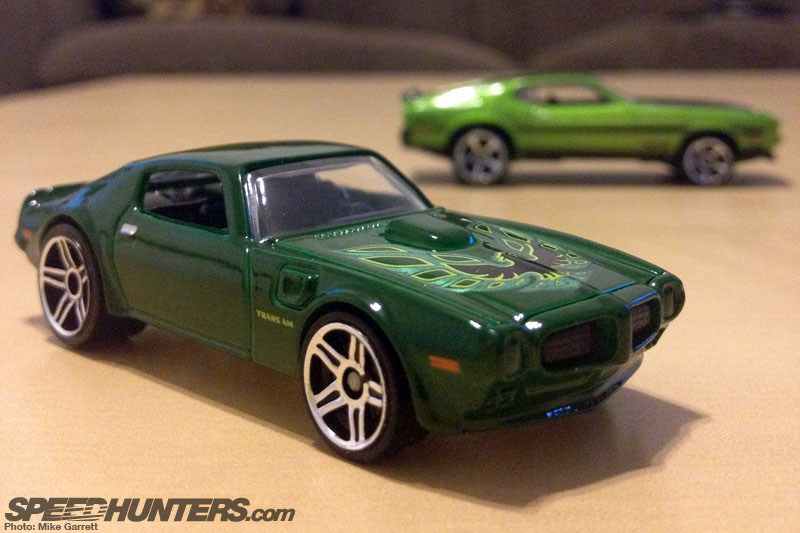 When it comes to Muscle Cars, Hot Wheels does not disappoint.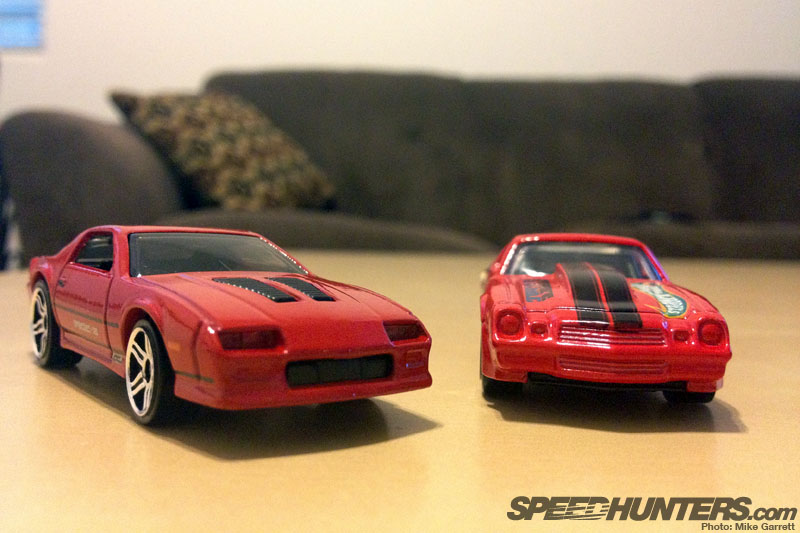 It's not just vehicles from the "golden age" of Muscle Cars either. Here we have a couple of later model Camaros including an IROC-Z and a disco era Z/28 drag machine.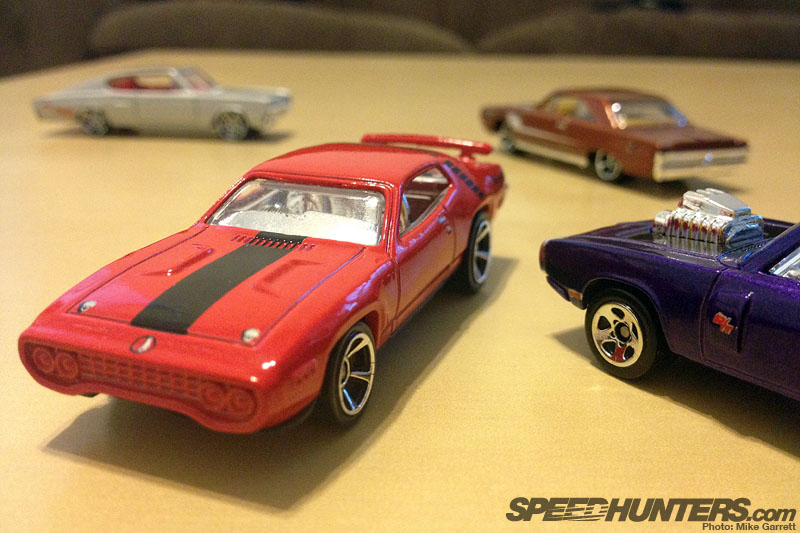 Each brand gets it's due respect in the world of Hot Wheels. This is just a small slice of the selection of Mopar Muscle Cars available. I'm particularly fond of the '71 Plymouth Road Runner.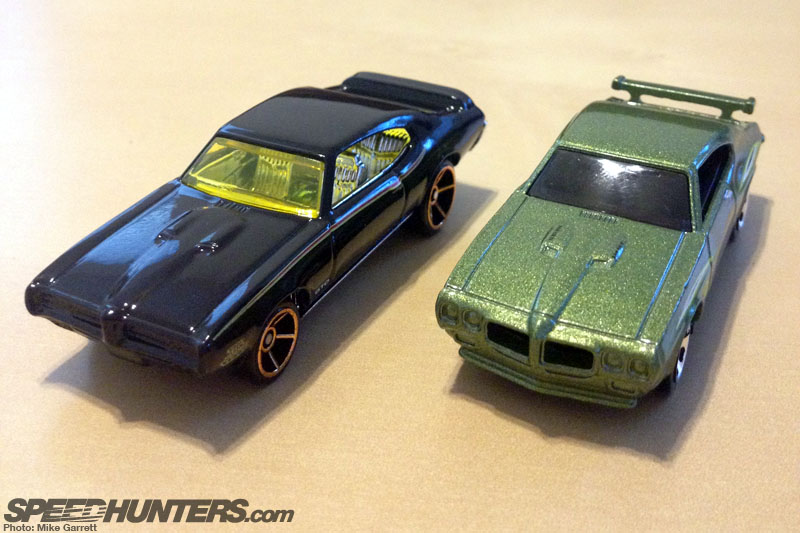 What's really cool is that they make many different model years of the same car. In this case we have a '69 Pontiac GTO Judge on the left, and a '70 GTO Judge on the right.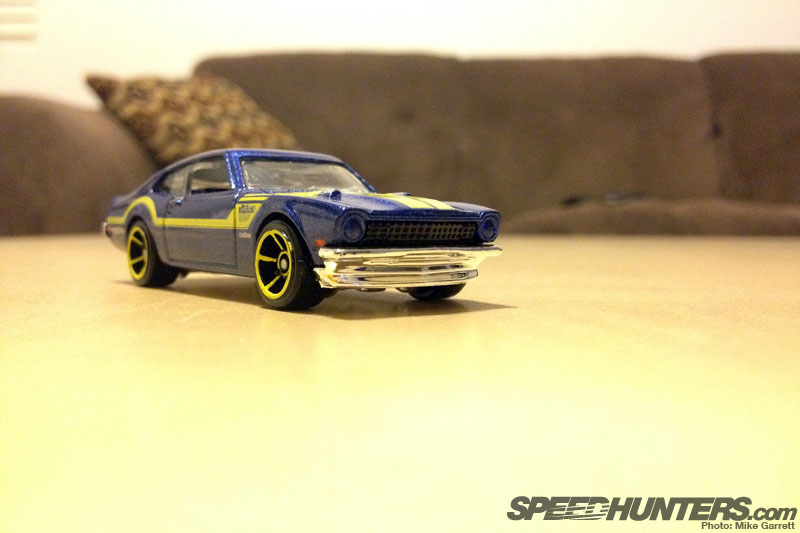 How about a Ford Maverick? Maybe not a Muscle Car in the traditional sense – but Hot Wheels makes it look great.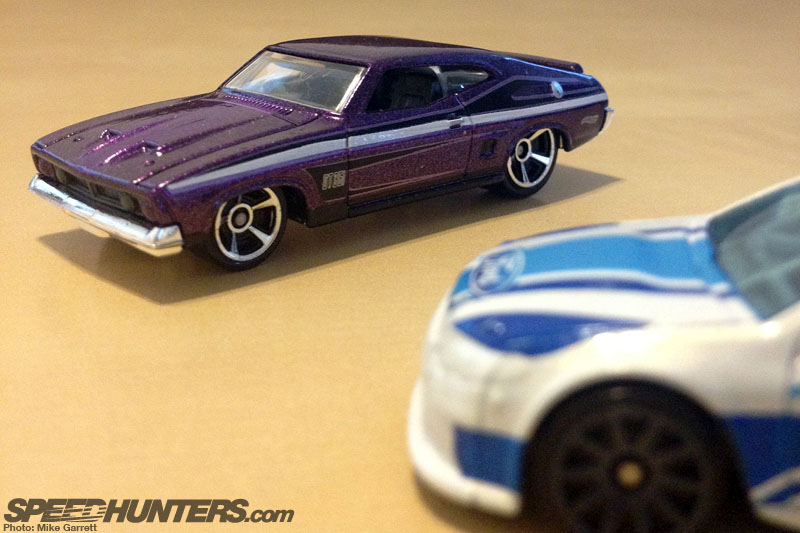 It's also really cool to see the increase in the number of Australian models being produced. Whether it's the classic '73 Ford Falcon XB…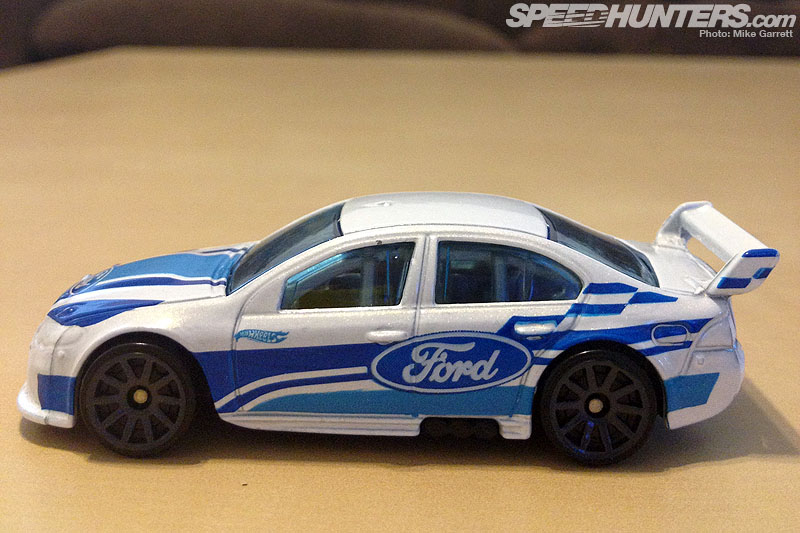 …or this modern Falcon that looks straight out of the V8 Supercars series.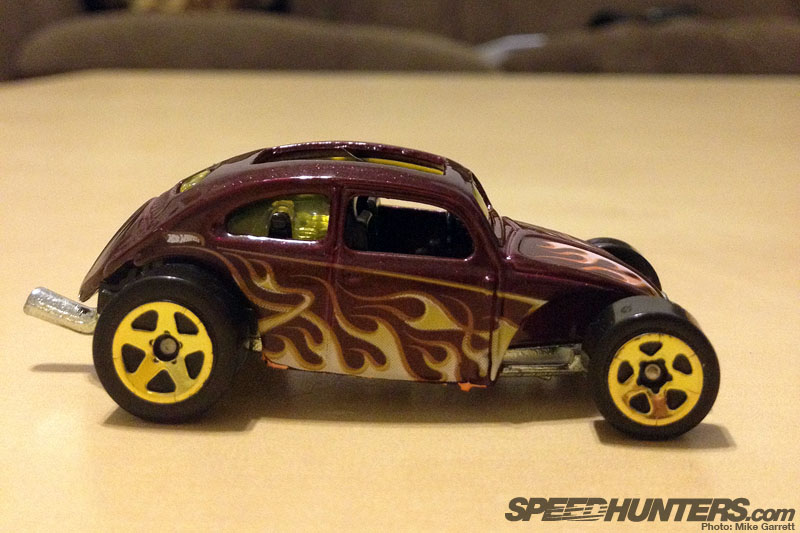 This Volksrod is physically one of the smallest cars in my Hot Wheels in my collection, but also one of my favorites.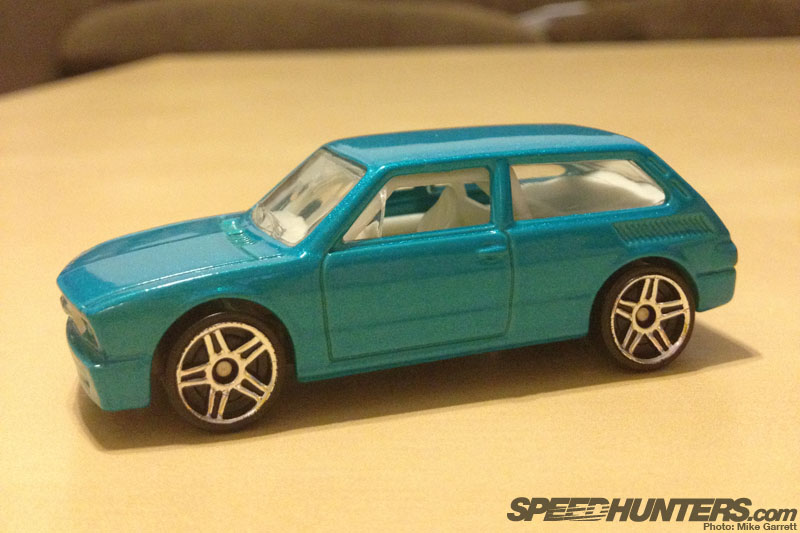 How's this for a non-mainstream car? It's a Volkswagen Brasilia!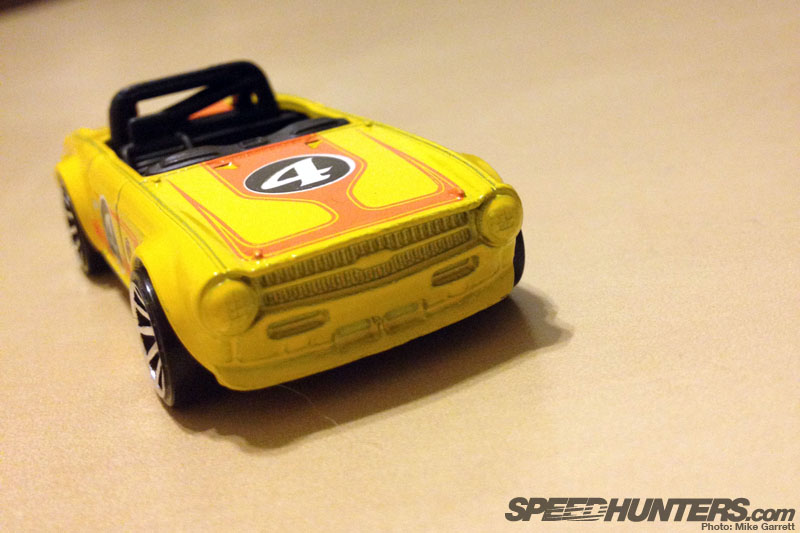 This Triumph TR6 looks like its ready to go head to head with the aforementioned BMW 2002 and Datsun 510 in a little round of Hot Wheels vintage racing.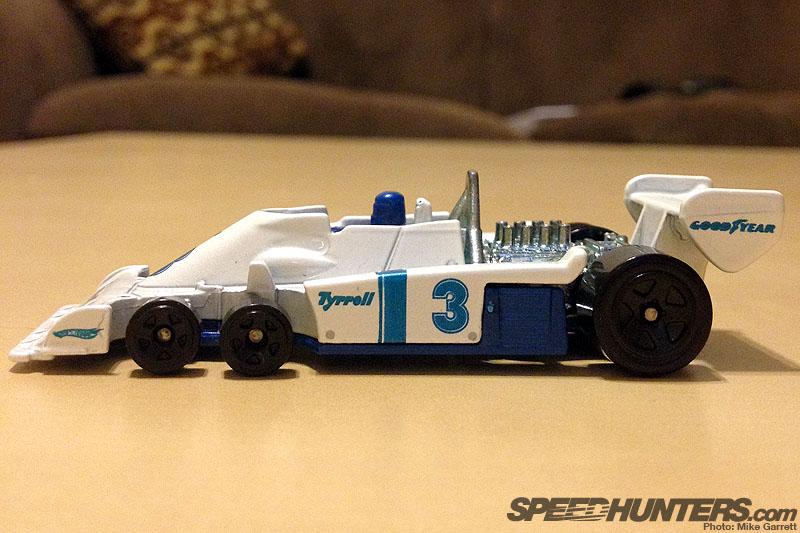 Speaking of vintage race cars, they even made the six-wheeled Tyrrell P34 Formula 1 car. I actually haven't see many of these on shelves since I picked this one up back in 2010.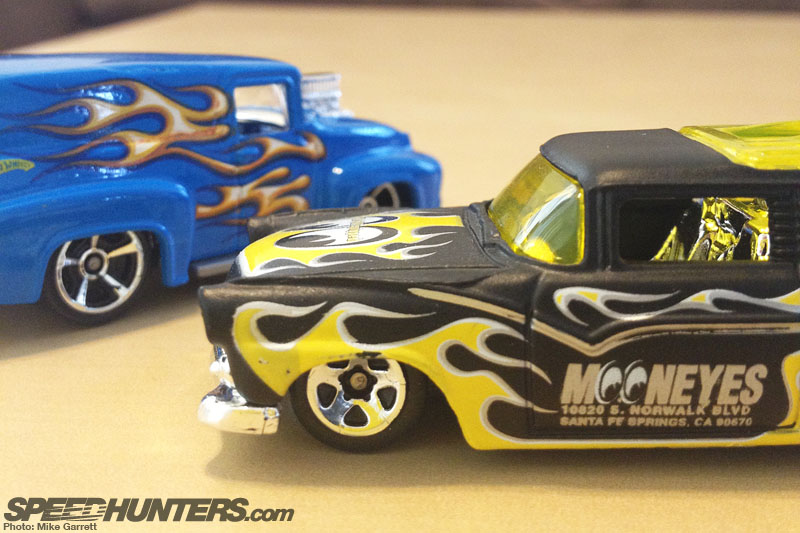 Rods and customs? Those are covered as well. The 8 Crate Ford Wagon is especially cool with its visible rear engine and Mooneyes paintjob.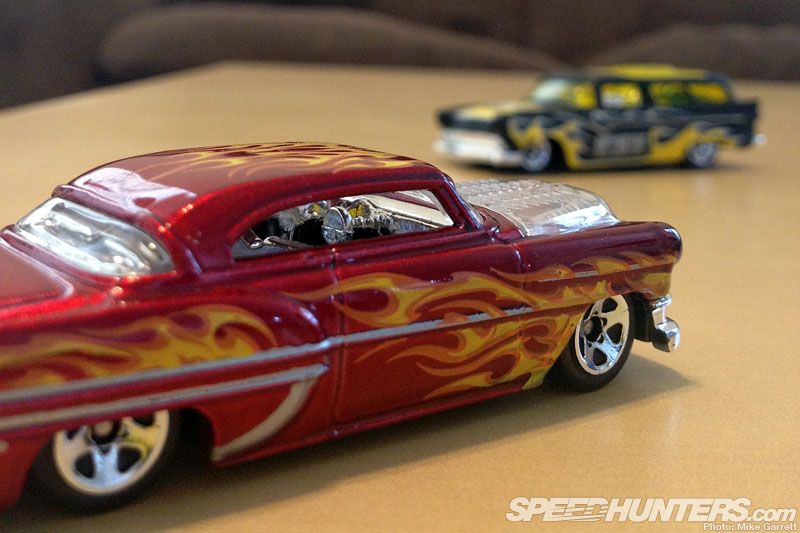 This flamed '53 Chevy lead sled is pretty impressive as well.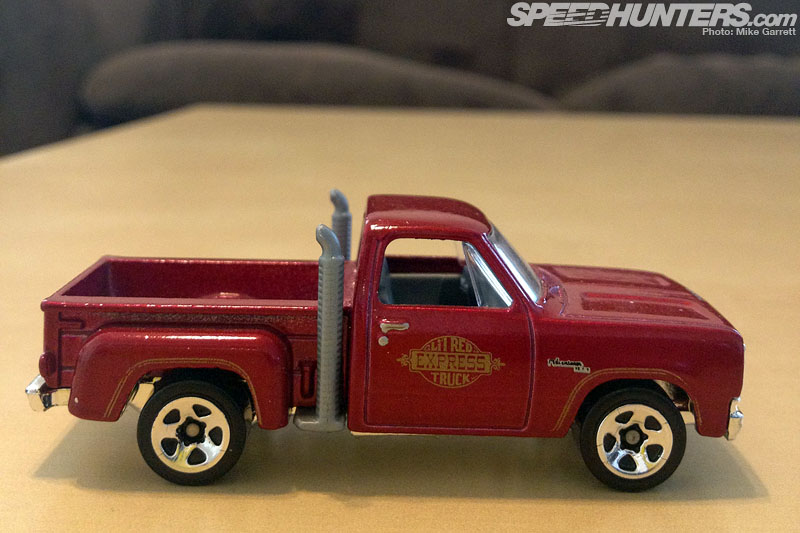 Lots of cool Hot Wheels pickup trucks as well, like this nice recreation of the 1978 Dodge Lil Red Express.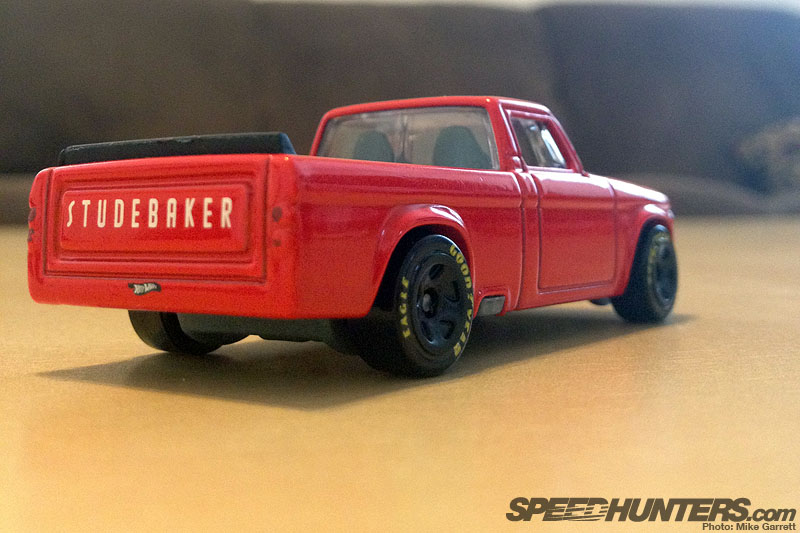 Or this NASCAR-ized version of a '63 Studebaker pickup. Dig the side exit exhaust and rear spoiler.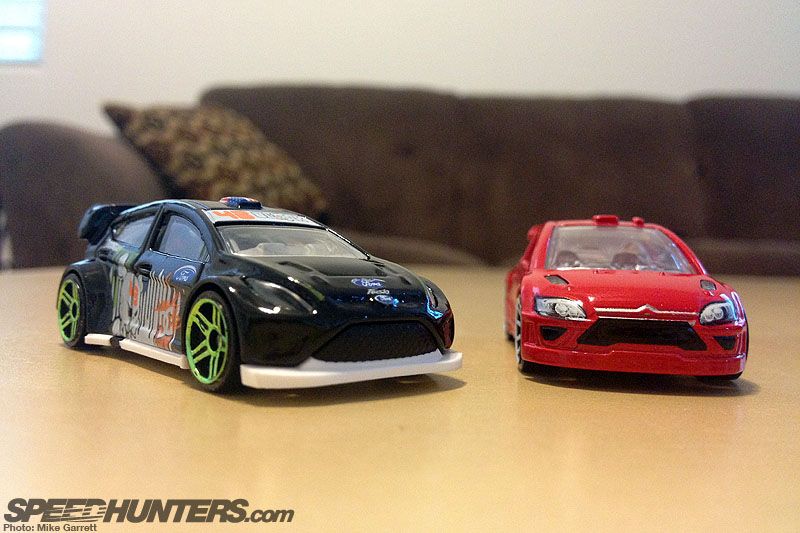 Rally fans should be happy to see Ken Block's Ford Fiesta as well as a rally-spec Citroën C4 in Hot Wheels form.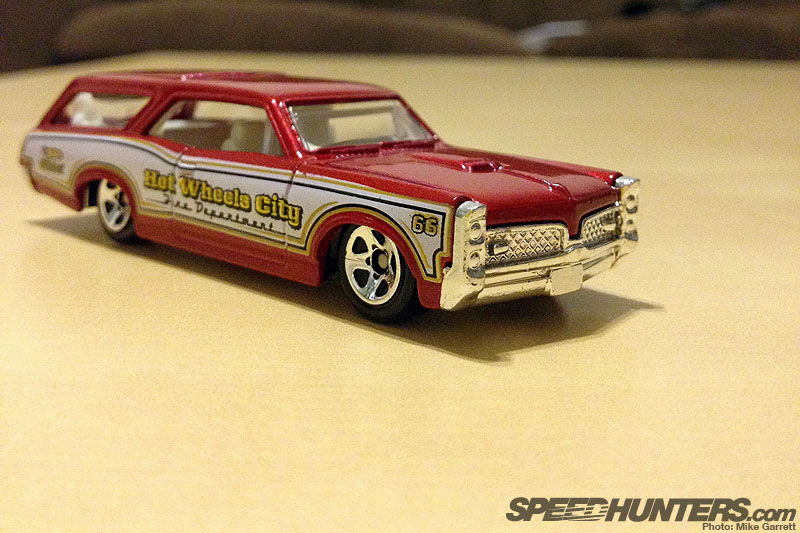 Another one of personal favorites is this '66 GTO fire wagon.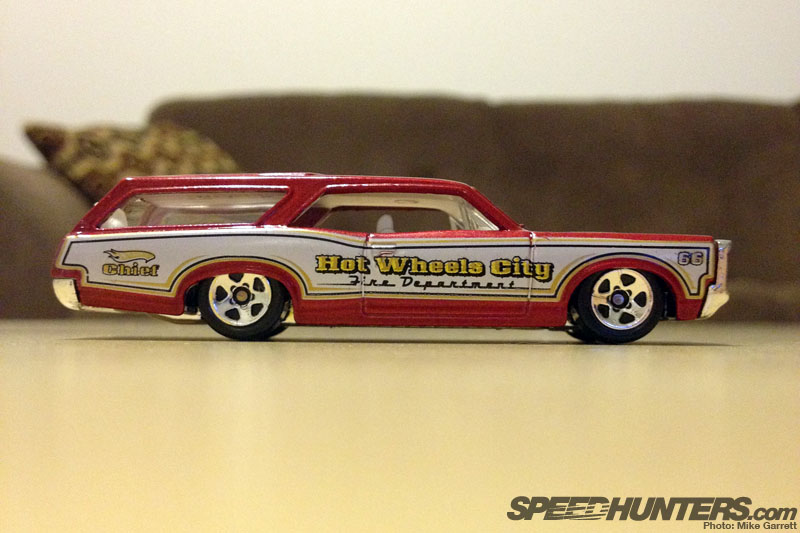 Sure, Pontiac never made a GTO station wagon but in the world of Hot Wheels anything is possible. It even has a dog riding in the back…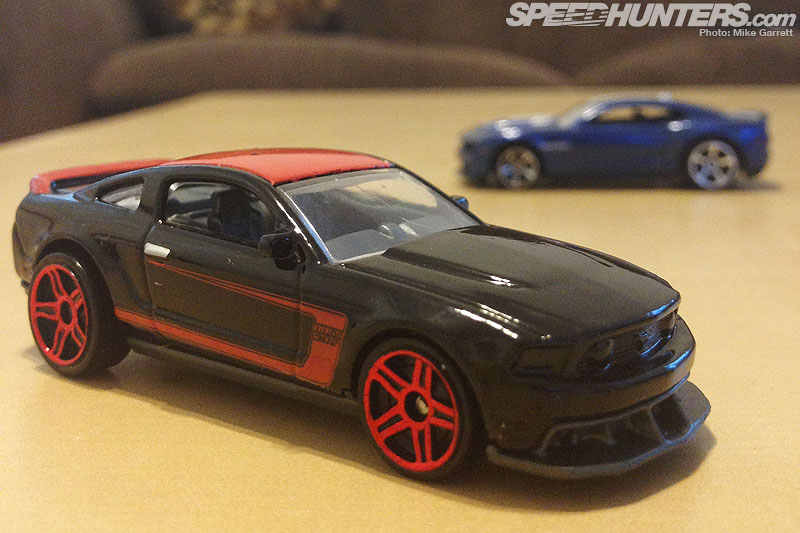 Modern muscle in the form a Boss 302 Mustang and a Camaro ZL1.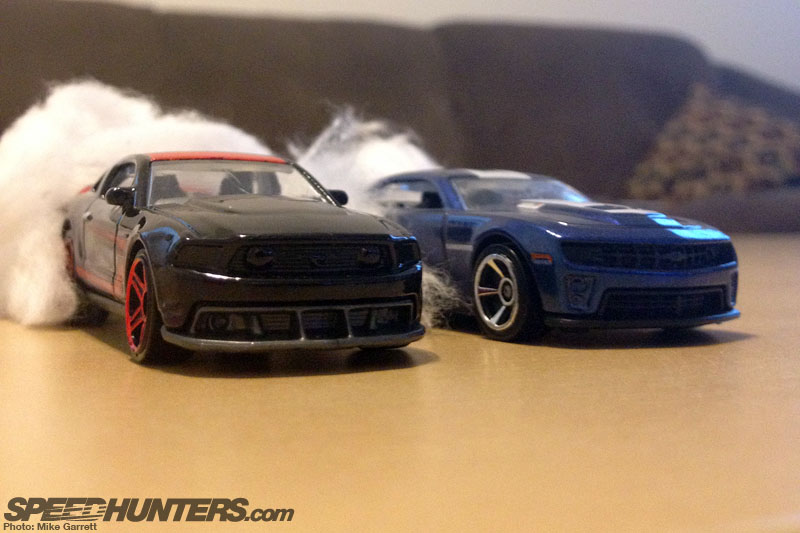 With so much horsepower on hand, I couldn't help stealing a couple of my wife's cotton balls and starting an impromptu burnout session. The Boss 302 and ZL1 were good…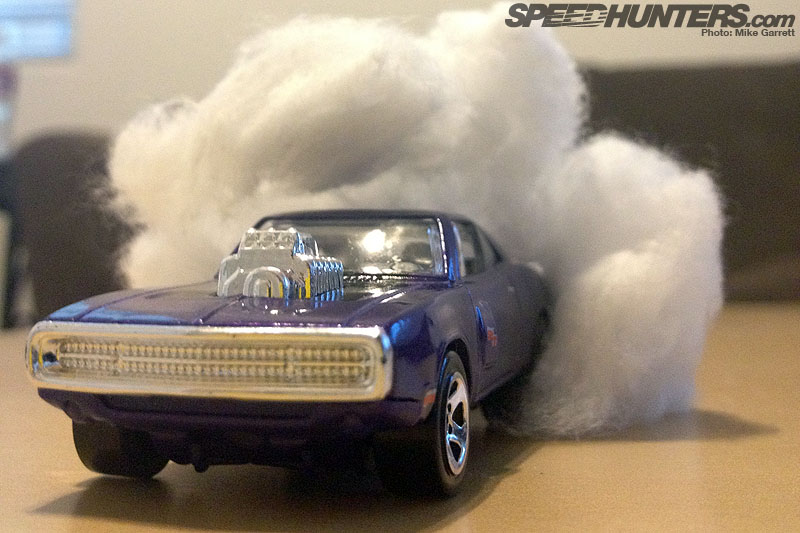 …but they just couldn't match the smoke-producing capabilities of this Plum Crazy Charger R/T.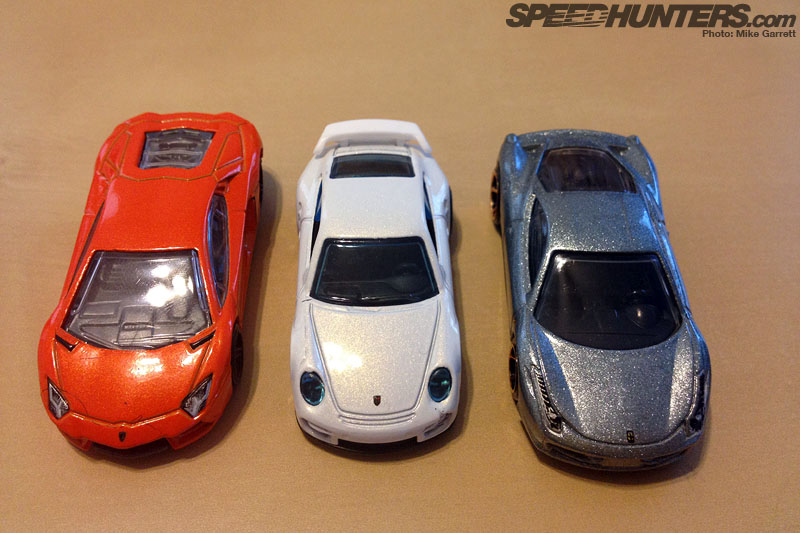 I felt like I was part of a Top Gear segment when I assembled this trio of modern supercars for a photo.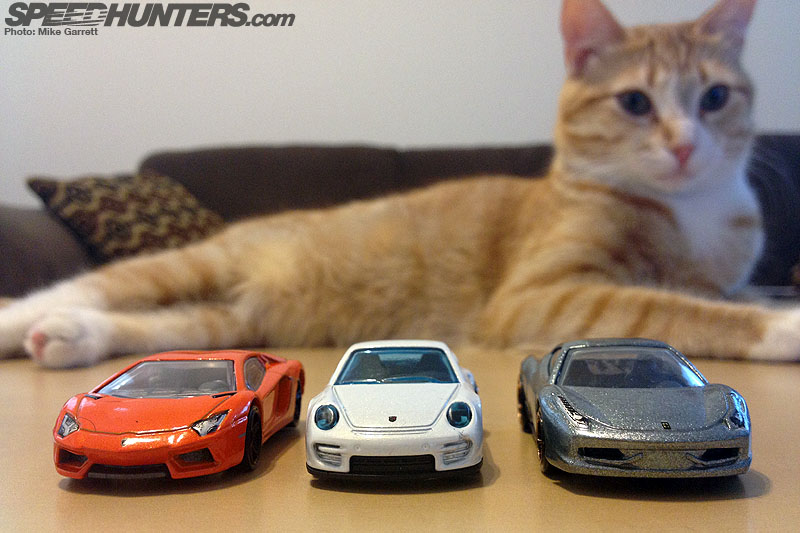 In fact, it was so exciting that my cat even jumped up on the table to see what all the ruckus was about.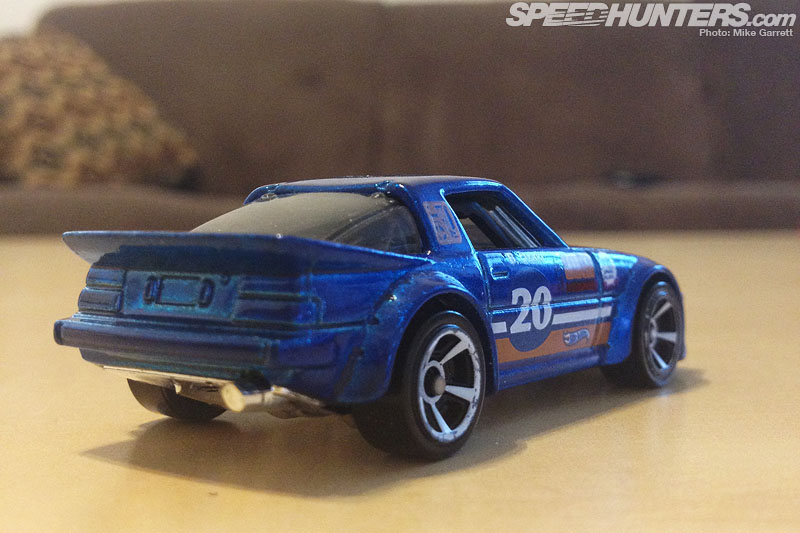 Here's one more newer release for the Japanese car fans – a first generation Mazda RX-7 in race form.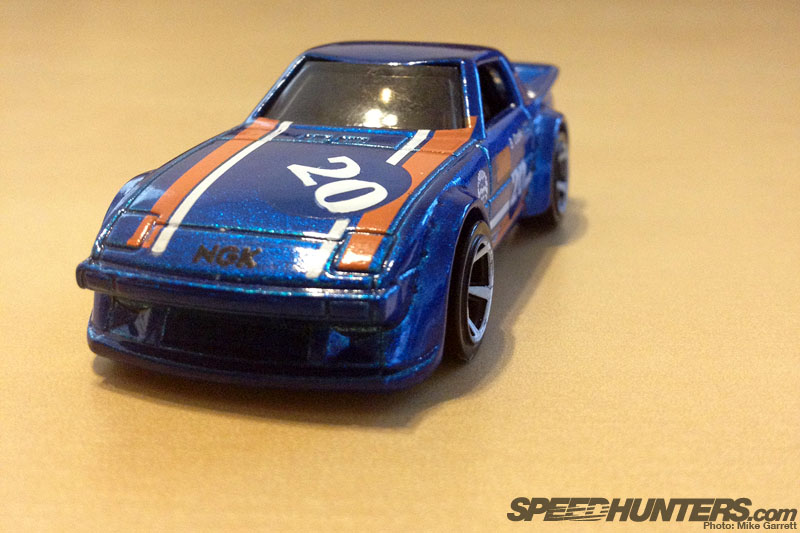 This one even wears the logo of JDM Legends, the Utah-based suppliers of fine Japanese classic automobiles.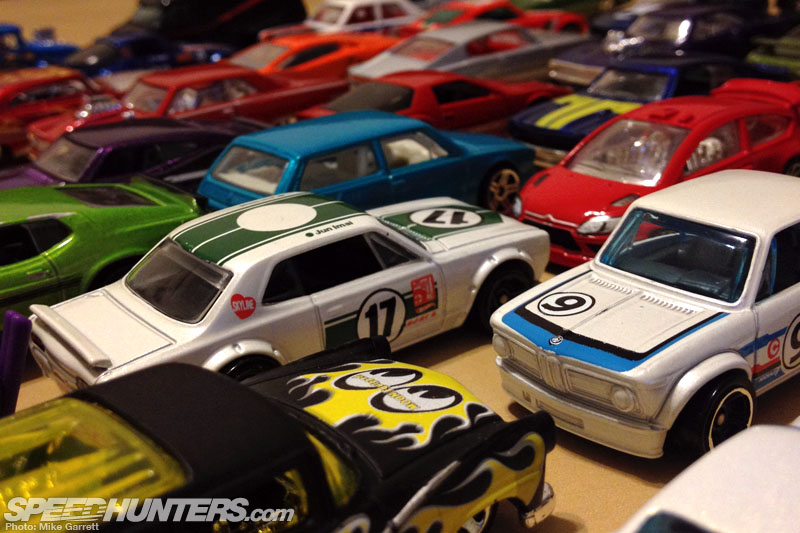 Playing with Hot Wheels and other toys as kids is something that's shaped nearly all of today's car enthusiasts – and that's certainly the case for me. Even today when so many youngsters would rather play with an iPad than with actual toys like we did, it's nice to see Hot Wheels making automotive dreams better than ever.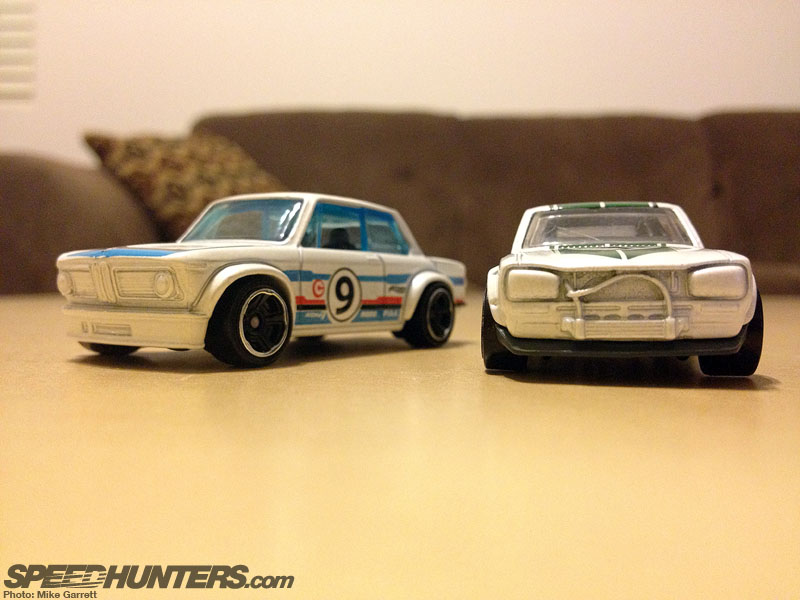 If and when I have children of my own, I fully intend to surrender these cars over to them. They will be played with in the dirt, in the bathtub, and be raced across the living room floor – just as I did myself a couple decades ago, The little cars will surely lose any remaining value they may have had, and I don't care because I know the memories made will be more than worth it.
-Mike