The Blancpain Endurance Series has moved over to the UK for its second round, following the rain-soaked first race at Monza back in April. For many of the drivers on the grid there's been little R&R in-between: a combination of World GT1, the Nürburgring 24 Hours and various local championships have meant drivers haven't strayed far from the tracks, despite the gap in the Blancpain schedule.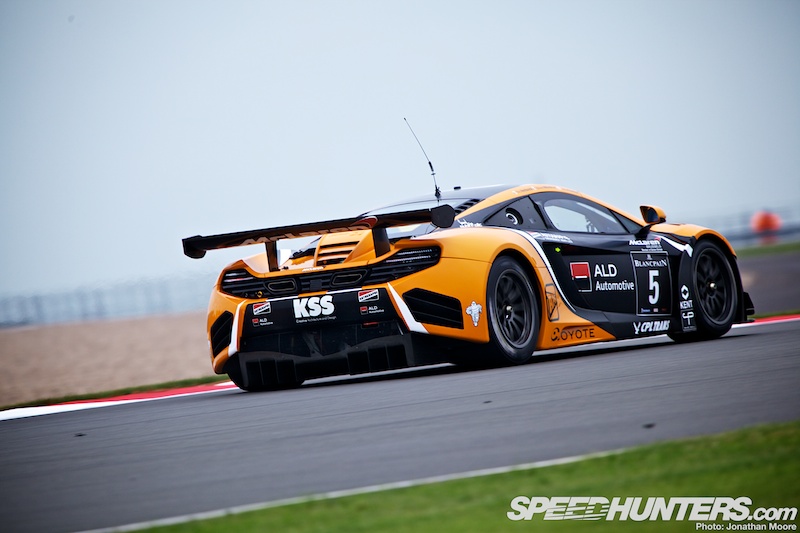 The big news is that McLaren have taken a big step up in the last month – their back-to-back victories in the World GT1 Championship last weekend at Navarra showed that the midnight oil has been burning back in Woking.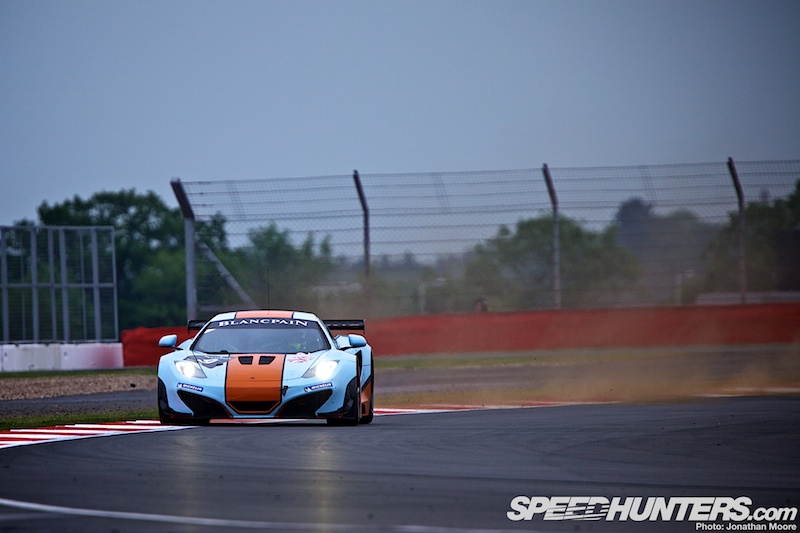 Having struggled in most series that McLarens were entered in early in the year, the MP4-12C now seems to be hitting the sweet spot. But it's important to remember how early in its development the car is, so the fact that they're already on the pace must be cause for celebration at the McLaren customer teams.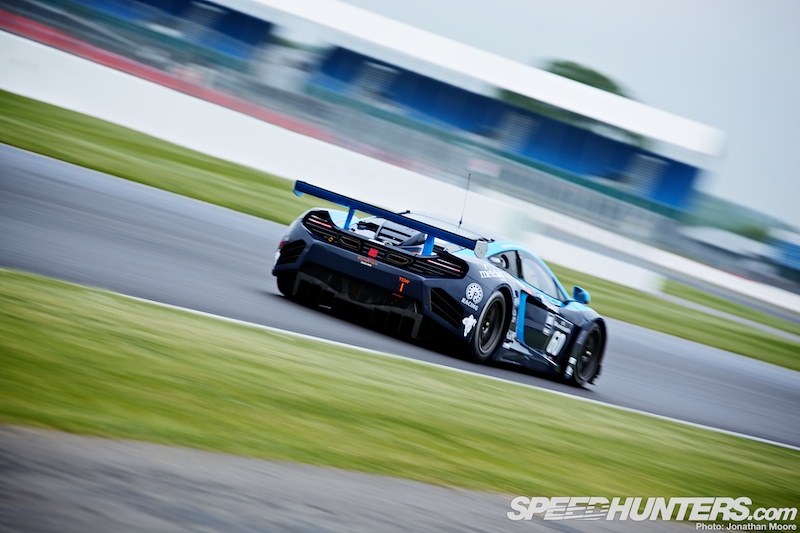 At Silverstone the nine McLarens entered here have been there or there abouts all day – the story from the drivers is that there have been a whole host of small improvements rather than one big breakthrough. Whatever it is, it's worked: qualifying went well, with three MP4-12Cs in the top 10. The only question will now be whether the reliability is also sorted. We'll find out tomorrow…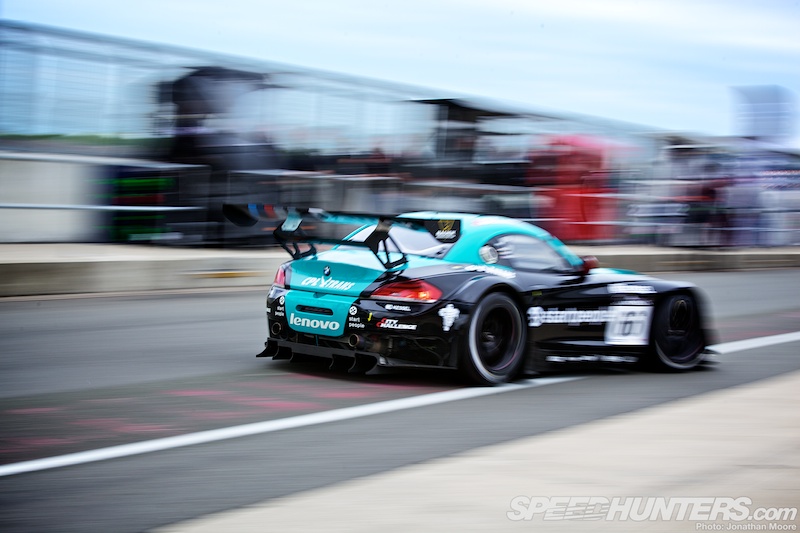 Of the rest, it looks like being BMW who will be the main competition: the Vita4One were another squad who suffered at Monza, where the car just didn't appear to work on the fast straights. Silverstone plays much more to the strength of the Z4 coupé cornering – they were visibly faster than everyone except the Audis through the fast sweepers around the track and the #66 car swept to pole, with the Marc VDS BMW in third.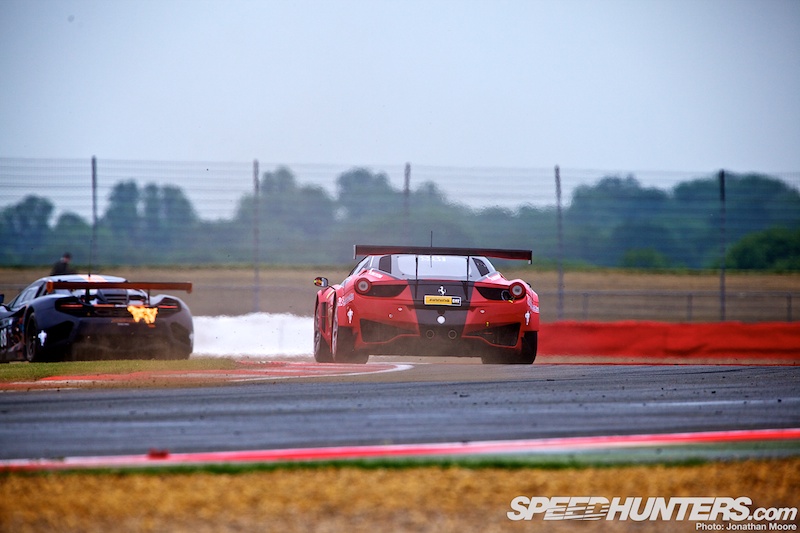 Lamborghini have two Gallardos entered, and the highest place car is in seventh overall; Ferrari are on the back foot, with most of the 458 Italias stuck in the mid-field; the Porsche crews have fared even worse, with the highest car 25th. The Jaguar GT3 car has showed up here – but unfortunately has remained in the garage…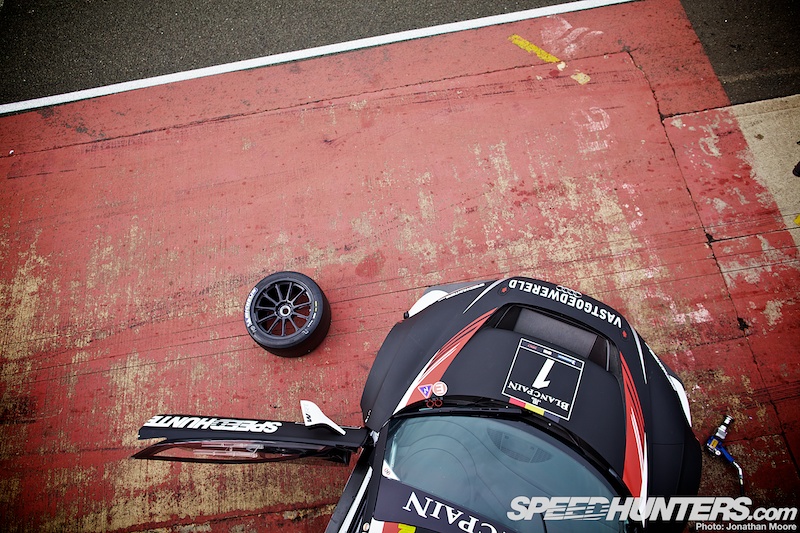 For WRT the three-part qualifying really didn't go well: the pair of Audi R8 LMS Ultras ended up 12th and 22nd – but the rain has just started falling here in Northamptonshire, so maybe the team were looking more closely at the weather forecasts and setting up for tomorrow. Also, 22nd place is still less than two seconds off pole around a two minute lap, which really isn't that much. With over 50 cars taking part, and rain likely, it's going to be another exciting race. The lights go green for the three-hour race at 12:45pm GMT on Sunday – in the meantime here are a batch of desktops from today's practice and qualifying.
Blancpain Endurance Series Round 2
Silverstone, UK
QUALIFYING RESULT
1: #66 PRO Vita4One BMW Z4 (Franchi/Kechele/Carroll) 2:00.331
2: #12 PRO-AM ART Grand Prix McLaren MP4-12C (Demoustier/Tappy) +0.233s
3: #3 PRO Marc VDS BMW Z4 (Palttala/Leinders/Martin) 0.286s
4: #9 PRO-AM Gulf Racing McLaren MP4-12C (Wainwright/Bell) +0.362s
5: #40 PRO-AM Sainteloc Audi R8 LMS (Guilvert/Haliday/Dernay) +0.502s
12: #1 WRT Audi R8 LMS (Haase/Mies/Ortelli) +1.092s
22: #2 WRT Audi R8 LMS (Piccini/Vanthoor/Sandström) +1.801s
Jonathan Moore