I had a bit of deja vu as the United States National Anthem was about halfway through. I was breathing pretty heavily as I'd run to the far end of the track for this shot. I can always count on the Drift Alliance boys to line up in near-perfect formation. Then I paused for a moment to think… There is just so much build-up for the weekend at a Formula Drift event, all aimed at the Top 16 introductions. I always feel a sense of joy around this time, as everything just kind of falls into place after that with the podium ceremonies to finish it off. It was the home stretch.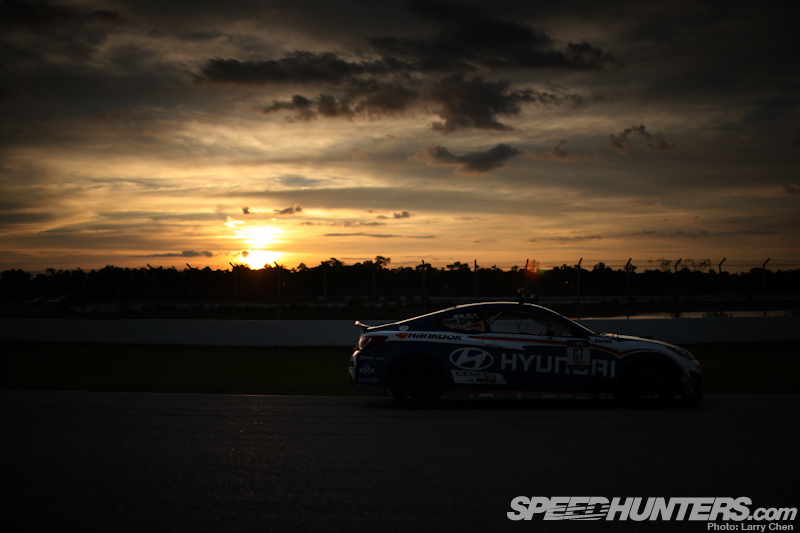 I love the city of Palm Beach. The scenery is absolutely stunning. This was the second year Formula Drift held Round 3 of the seven-stop championship in Florida. I was not too far away just a few months earlier for the 12 hours of Sebring, but Formula Drift is different. It's my home away from home. Lets rewind a bit to the beginning of my weekend.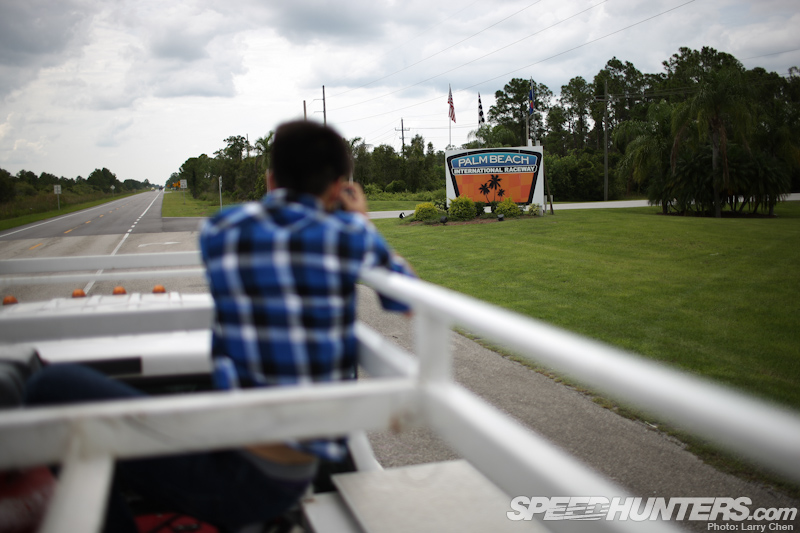 Thursday: I started off the weekend with a ride in the back of a pickup truck to the track.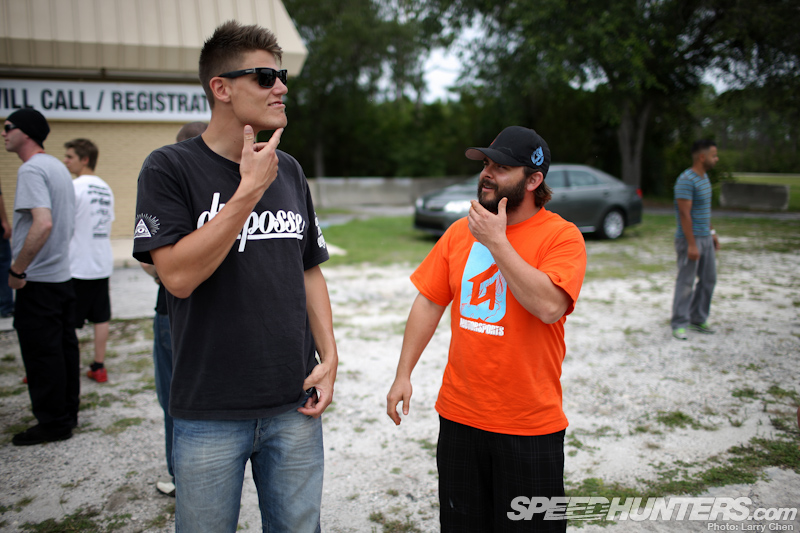 I found these two clowns at Will Call comparing chin hairs. These two are just as much twins as Arnold Schwarzenegger and Danny DeVito in my opinion.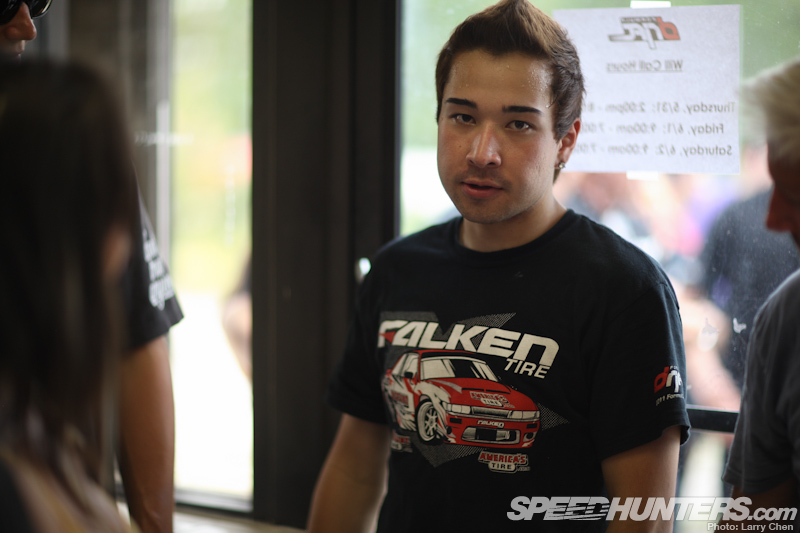 Inside Will Call was Team Falken driver Walker Wilkerson – also Daijiro Yoshihara's number one fan.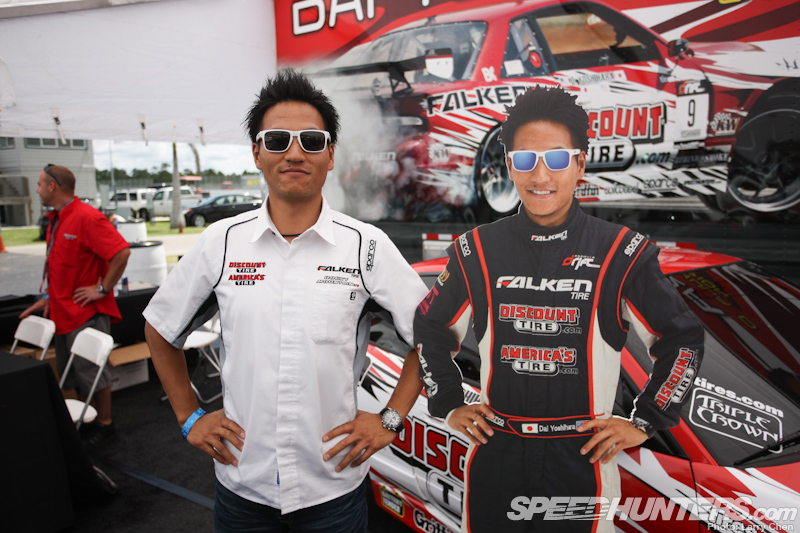 I can't blame him: even Dai is a fan of himself. All kidding aside this guy puts in an extraordinary amount of effort to help his home country. He is the founder of Relief For Japan. Make sure you keep an eye out for an interview with the current champ from Palm Beach.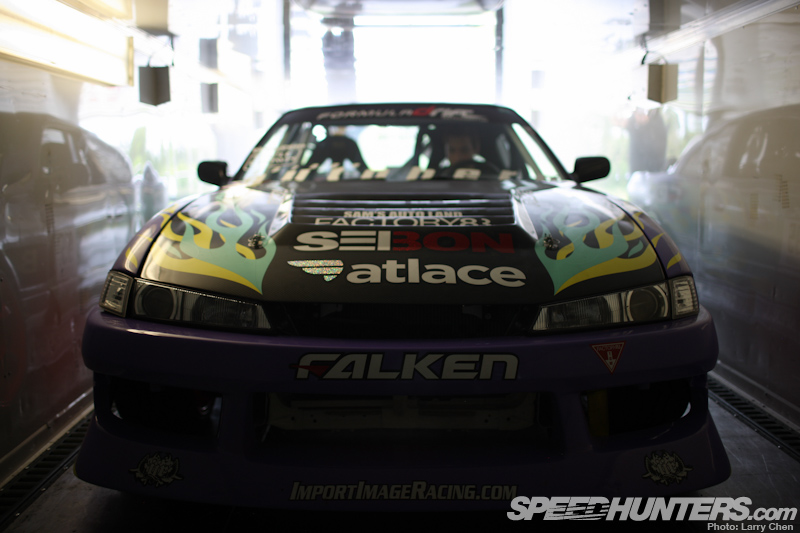 I followed Walker to the paddock and watched him unload his baby. This guy might as well be a one-man team, because his girlfriend is his spotter and his dad is his team manager/mechanic/crew chief.  The start of his year was a little rough with not making Top 32 in Long Beach, but after his top four finish in Atlanta he seems to have gotten the car dialed in to where he wants it.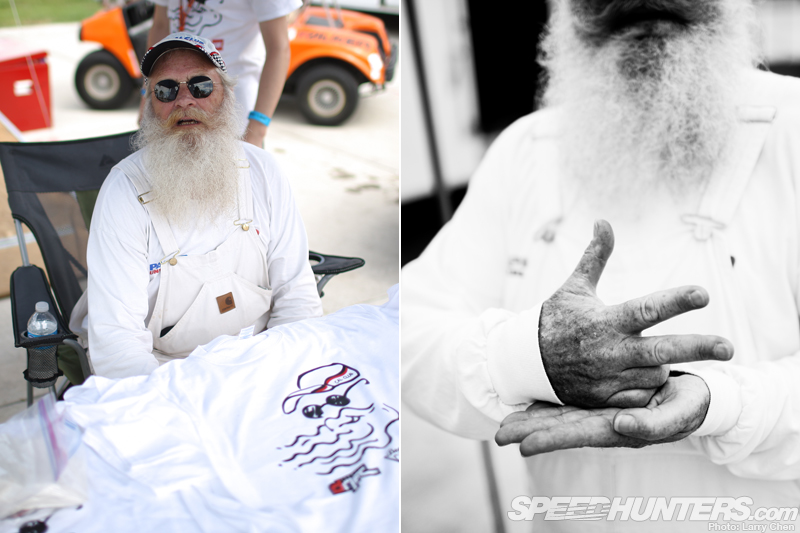 Super fan Bil Baldwin flew in all the way from the West Coast for the circus that is Formula Drift. I just can't get used to seeing him not wearing his overalls, so luckily he brought them. He also showed me something I have never seen before. That is the sign language for drifting! You learn something new every day.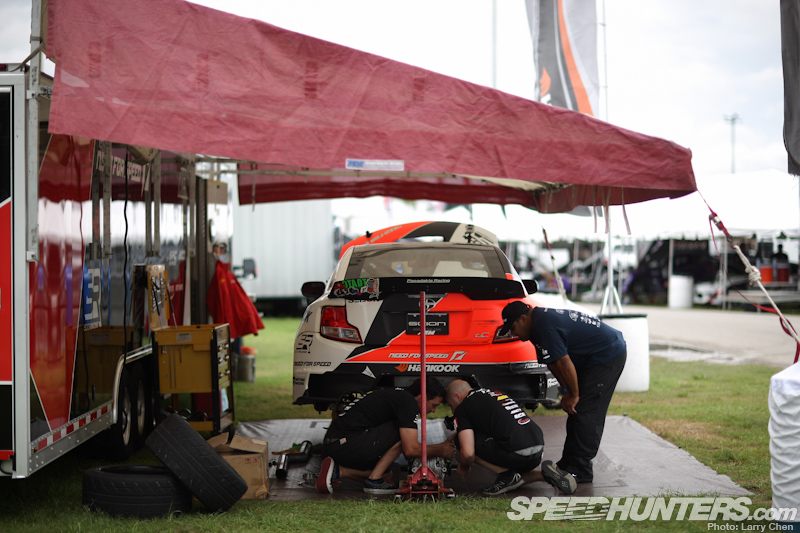 Most of the teams use Thursdays for setup and tinkering on their racecars.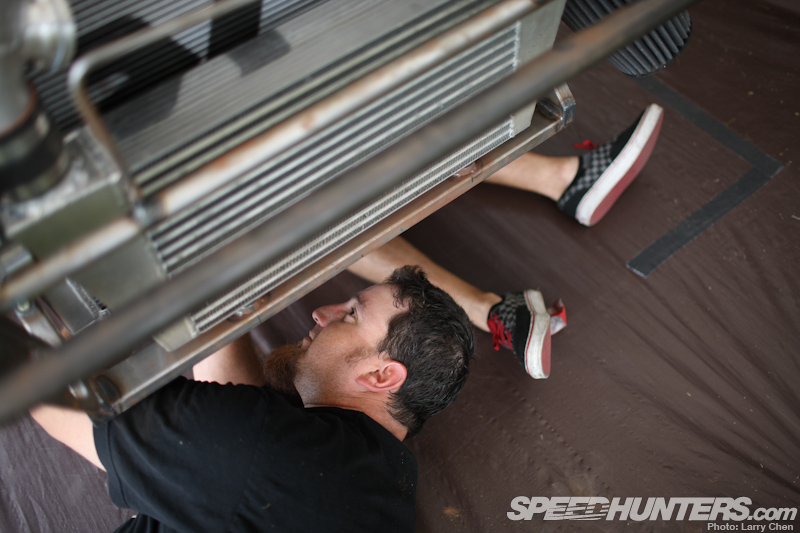 The only problem was the heat. I swear I could barely take photos. I can't imagine trying to wrench in that kind of weather.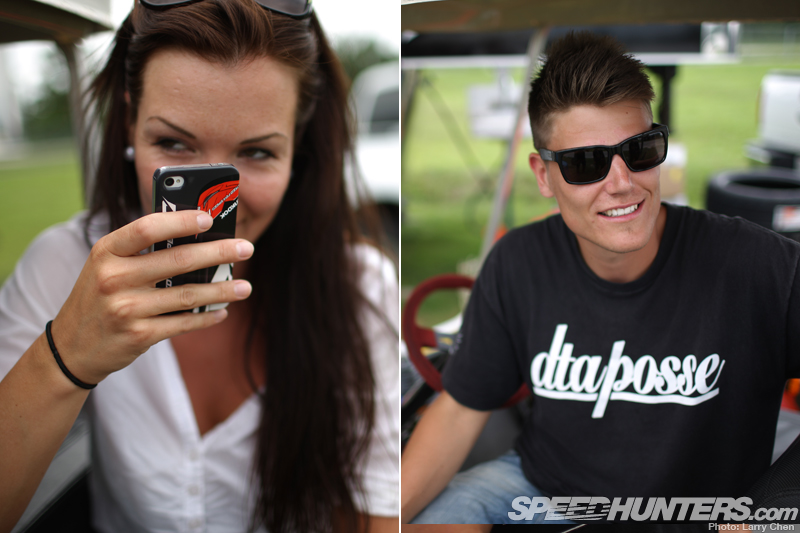 Fredric Aasbø was coming off of a second-place podium in Atlanta so he had high hopes for this round of competition. Plus he had his number one fan there to cheer him on.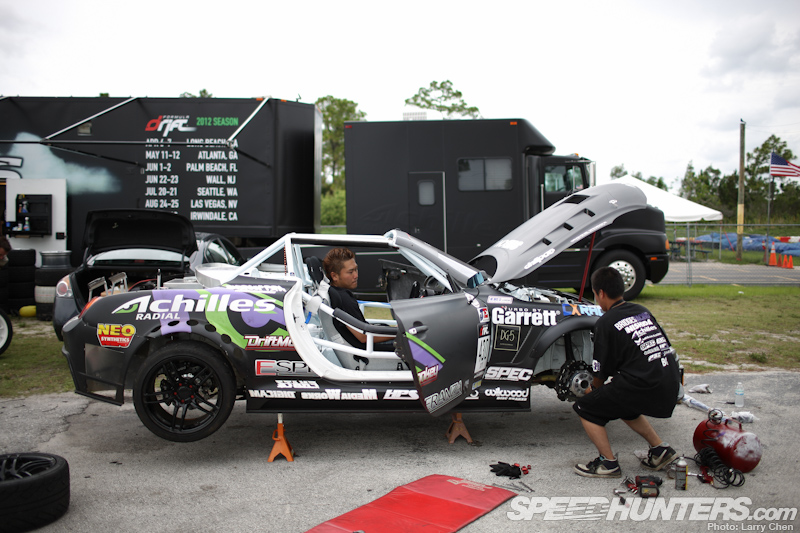 Daigo Saito was also working on his car, as the SC430 had not seen the light of day since it was packed up after his third-place finish in Atlanta.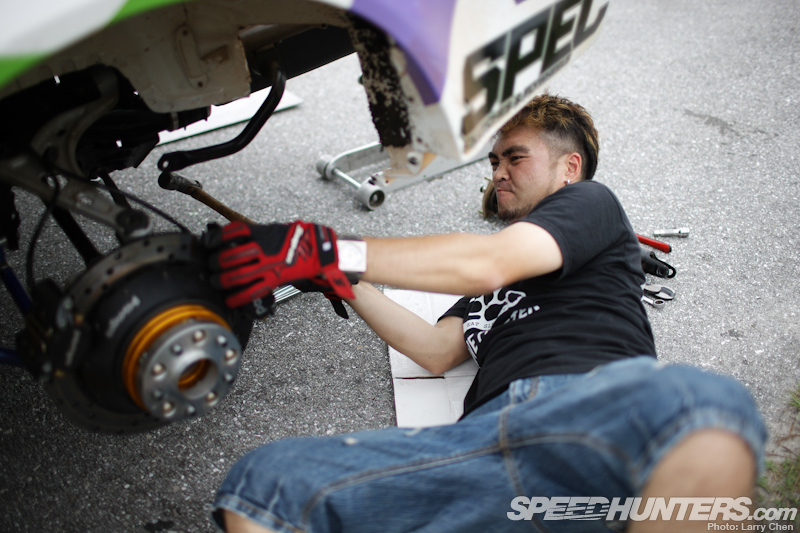 Daigo's team-mate Robbie Nishida makes the exact same face when he is drifting.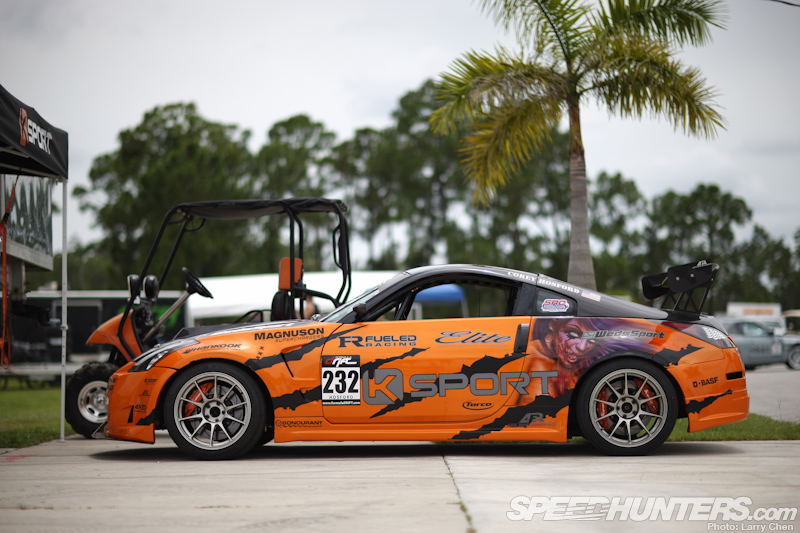 Formula Drift rookie Corey Hosford was into zombies way before they became popular.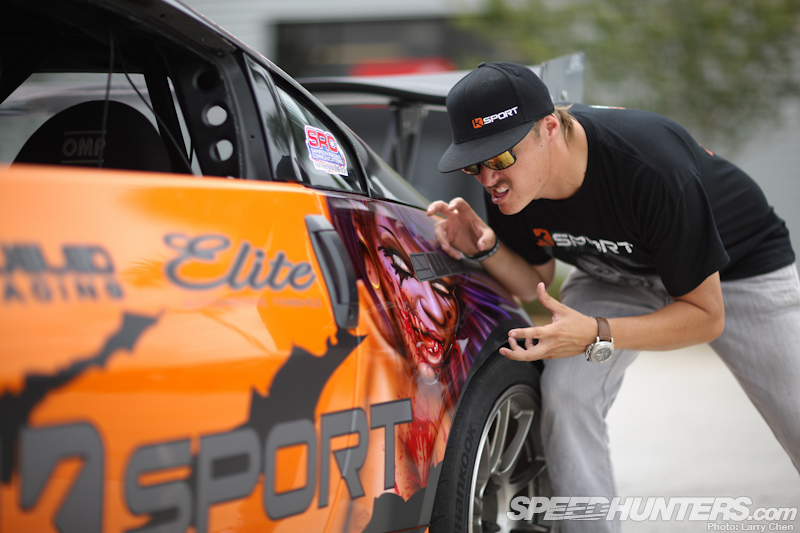 He IS the zombie of drifting. Just look at that livery!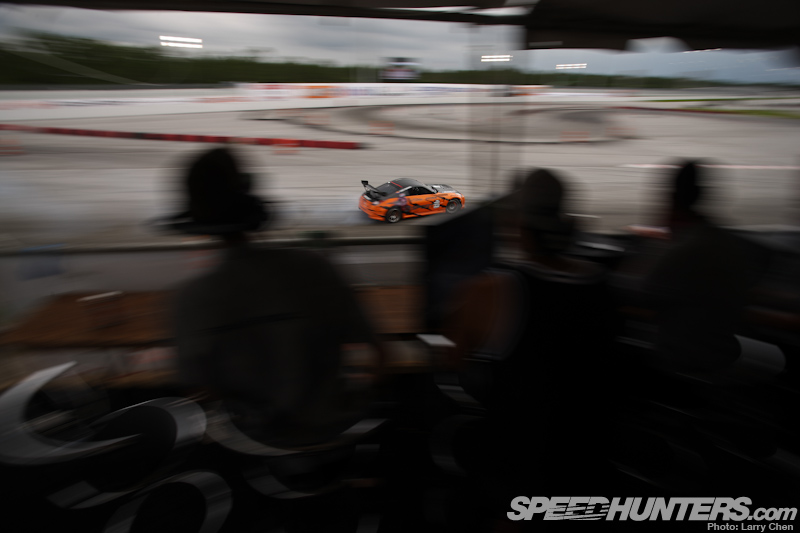 This was his second time qualifying in the Top 32, but he got knocked out by the original Nissan Z-car drifter, Chris 'The Force' Forsberg.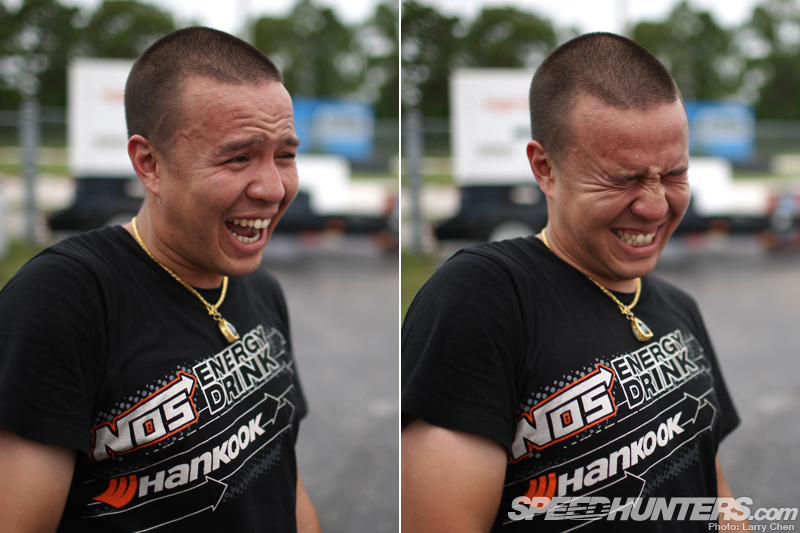 I swear the heat was making people go crazy. Here is Forsberg's crew chief, Ray Shake, changing into a zombie of some sort.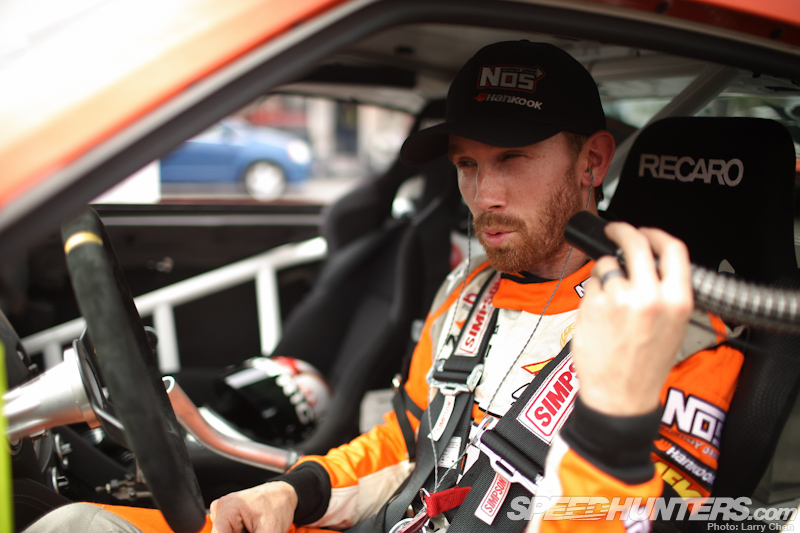 Chris didn't want the same fate, so he blasted himself with air non-stop to keep cool while on grid.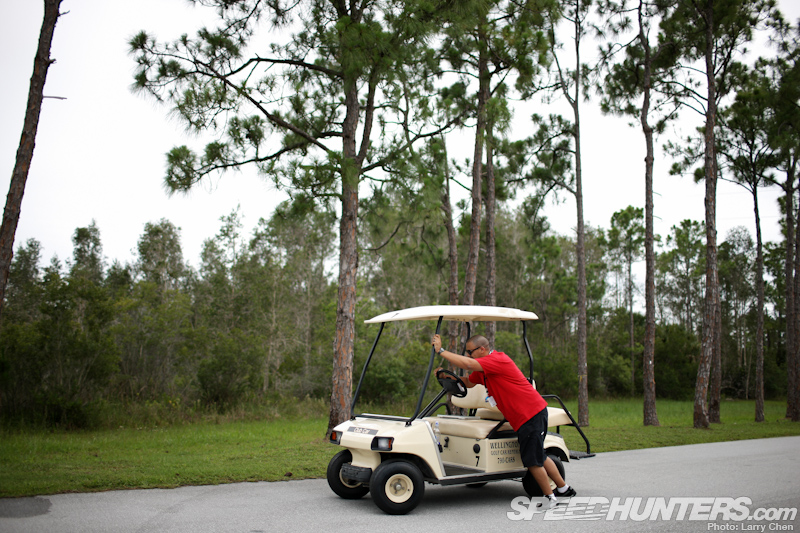 The golf carts were feeling the heat as well. I had to jump ship when this one broke. Maybe it just ran out of fuel. We may never know.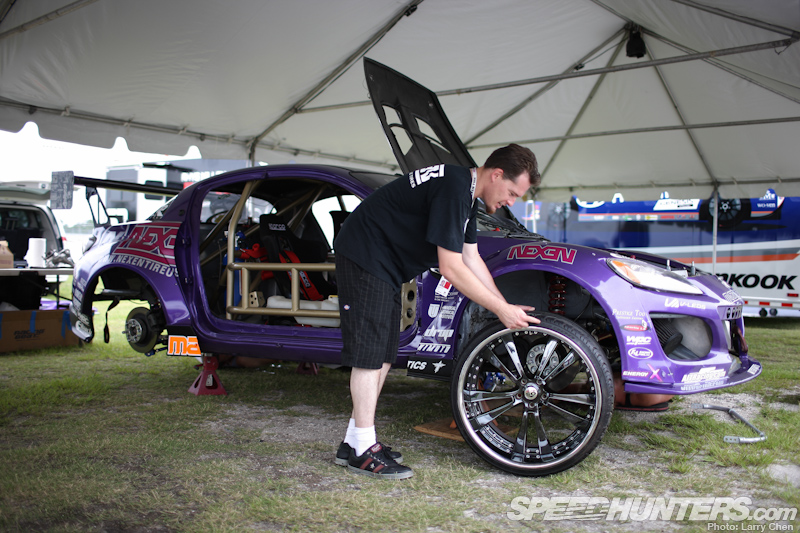 The heat was getting to Kyle Mohan for sure. Just because Nexen makes a 255/20/24 doesn't mean you have to run it on your RX-8.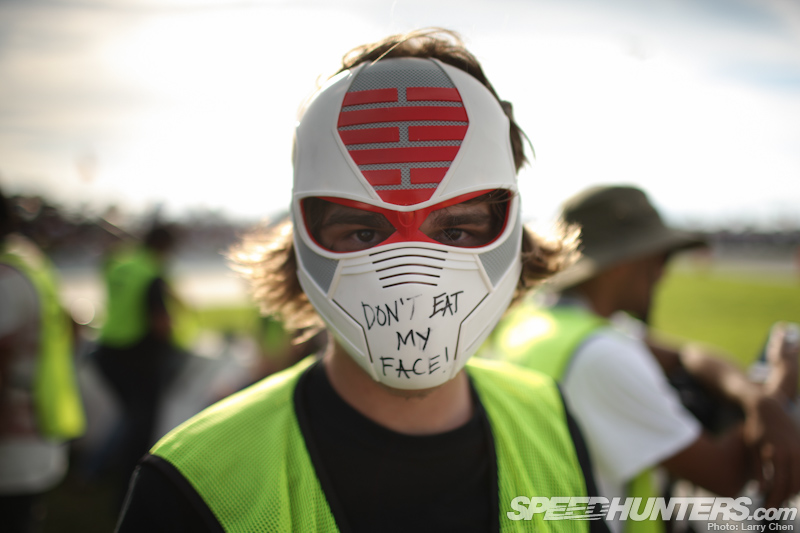 This media dude had the right idea. Although, I don't think that plastic mask would help much.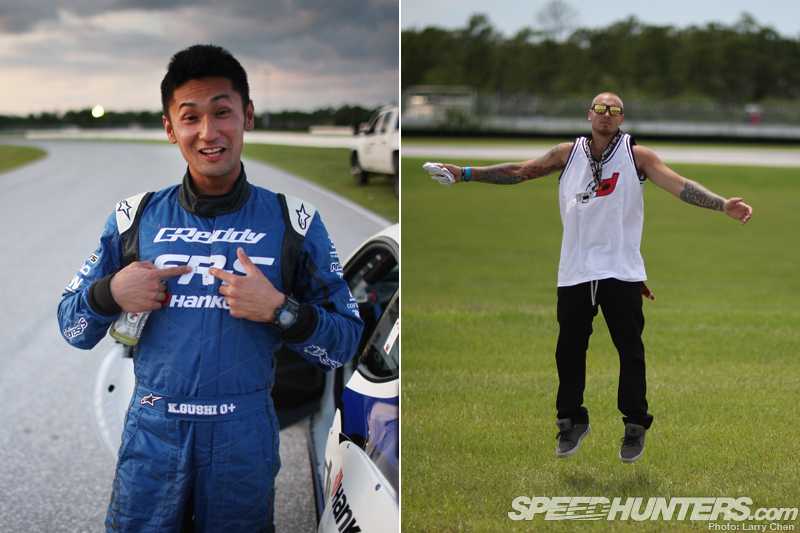 Ken thought he was turning into a zombie when he saw blood appear on his driver's suit, but it just turned out to be a nosebleed. It was so humid it felt like you could swim in the air.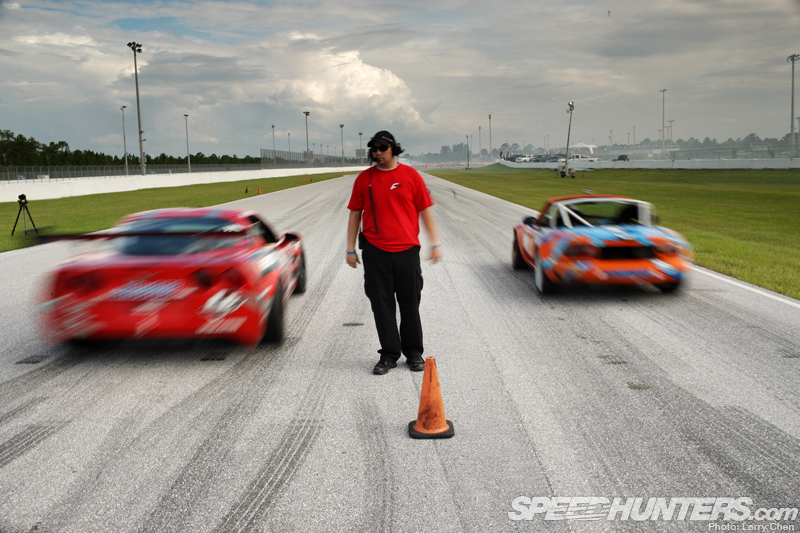 Enough about zombies. Time for drifting. I tackled this event face-first with the Thursday practice session. Almost the entire grid participates in this practice to shake down the cars, as many of them had been sitting around the East Coast since FD Atlanta. It is better to store the cars for a few weeks because the teams from the West Coast don't have to lug the cars back and forth so much.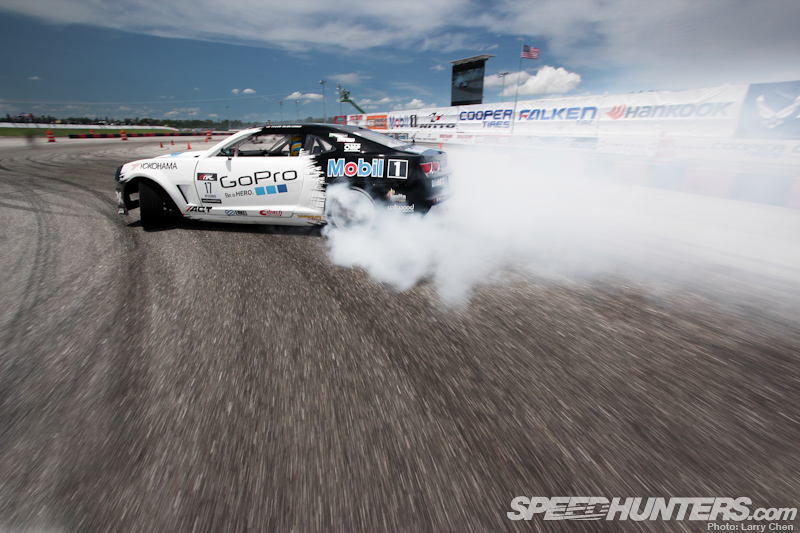 This was also the perfect time for me to do some car-to-car shots as it is a very relaxed practice session. I'd hate to bother drivers during competition.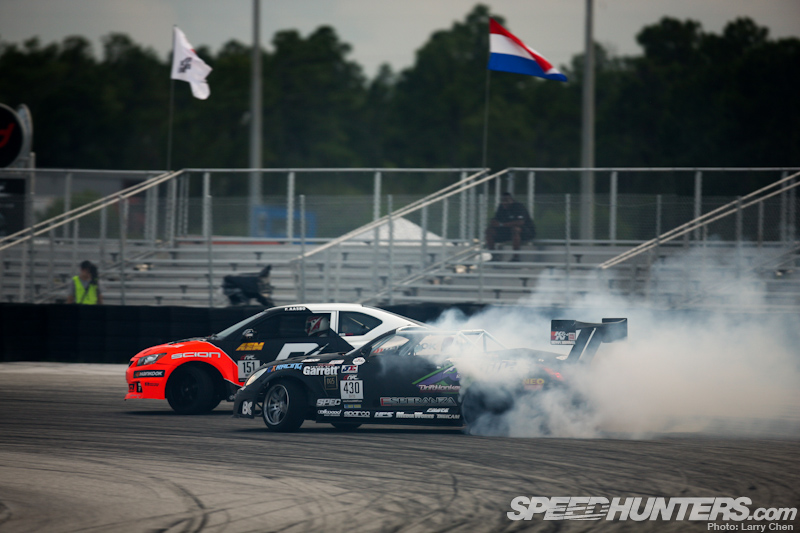 It's also a great time for drivers to size up their competition.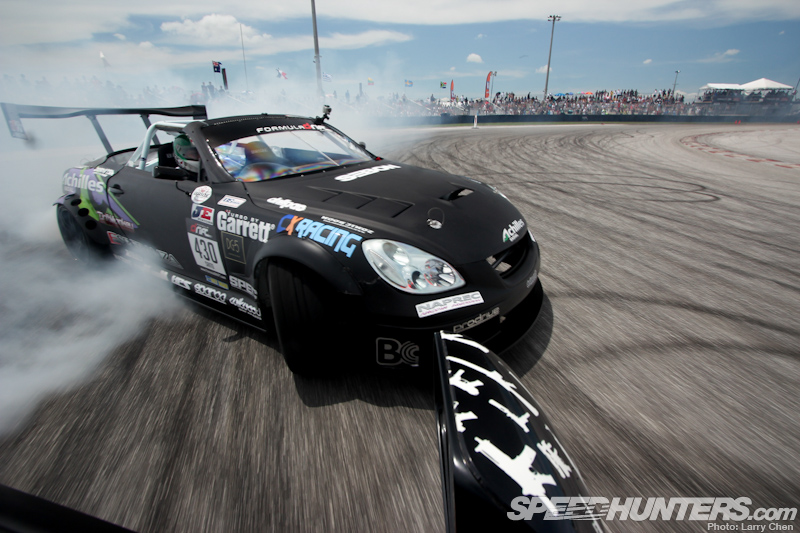 This was the view from Fredric's car. I'm guessing Daigo Saito wanted to get some practice in with the Norwegian Hammer since he got knocked out by Aasbø in the Top 4 bracket just two weeks earlier.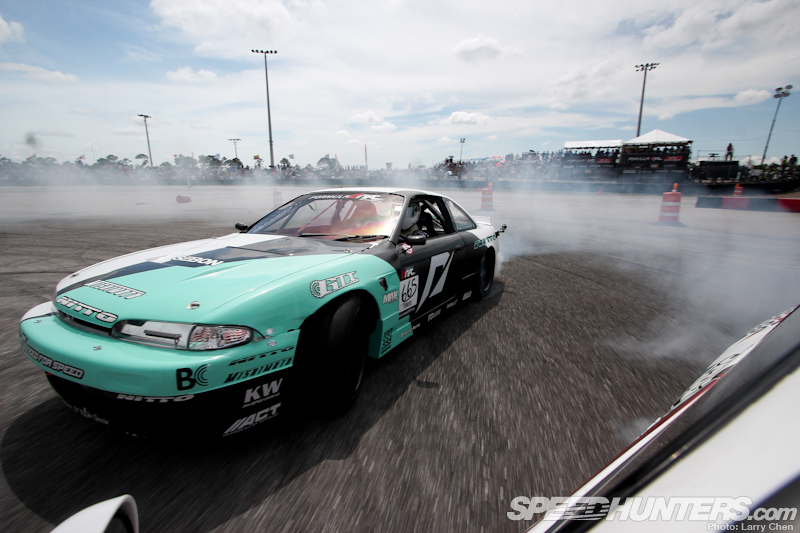 Fredric's Need For Speed team-mate, Matt Powers, was also getting much needed practice in as he was pretty disappointed in himself with his performance in Atlanta.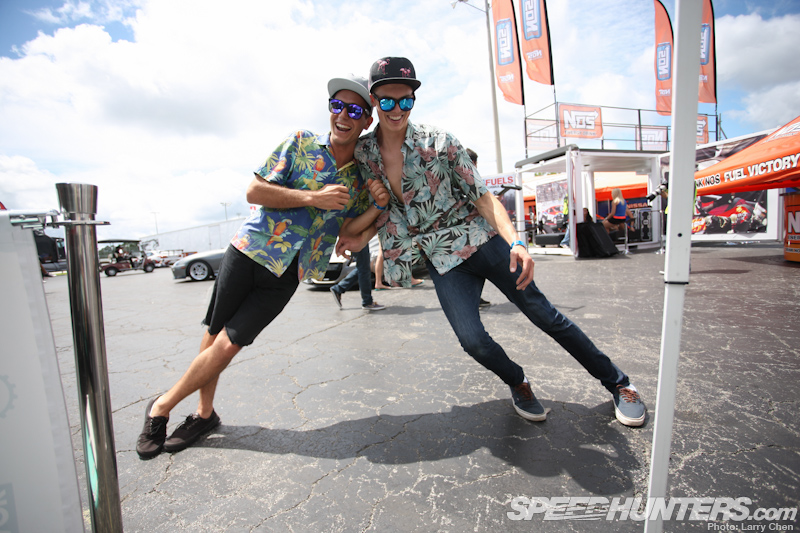 Somehow despite all the pressure of competition Matt always seems to have fun.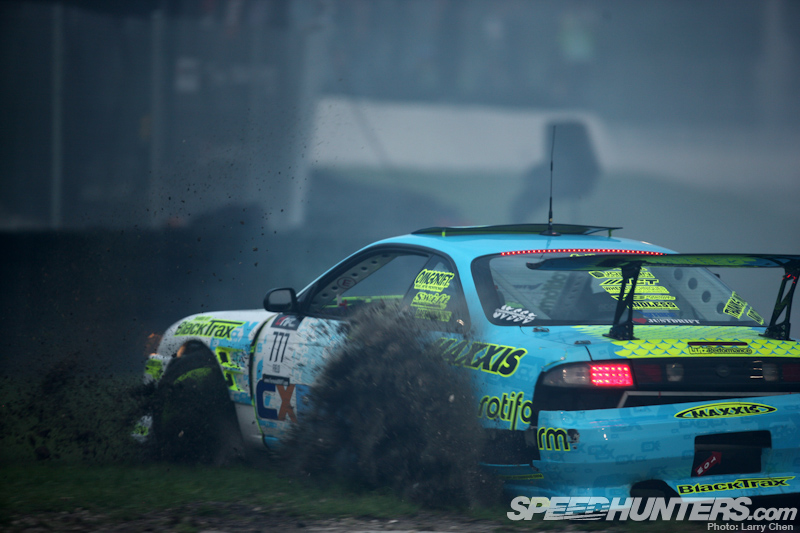 As the sun went down drivers got more daring, resulting in some pretty spectacular offs. It was time to head to the hotel. For more in-depth coverage from Thursday check out my post here.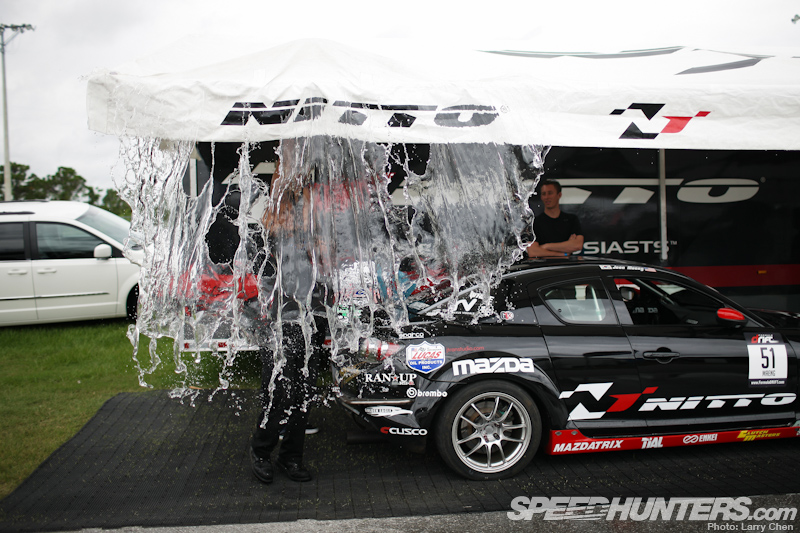 The next morning I found Ron Bergenholtz dumping the rain water from their rig tent. It was not very hot, but the humidity was at 90%. I was so tempted to stand under that rain-water shower.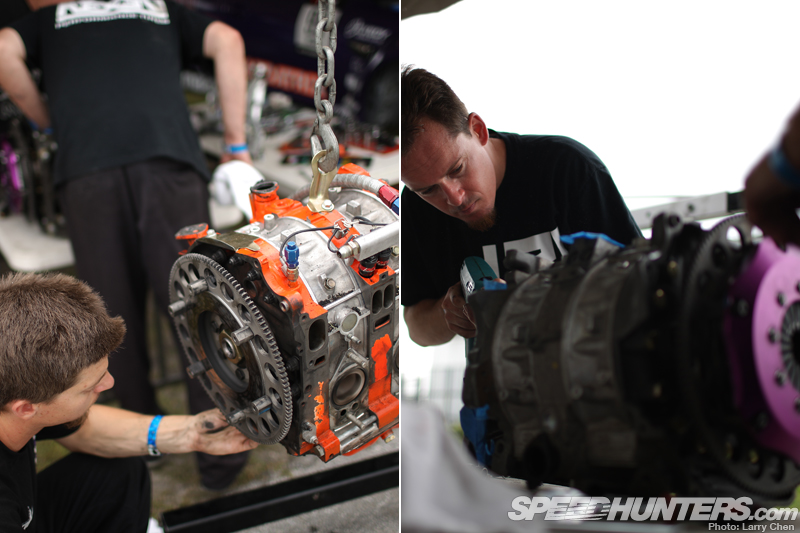 Next door, Kyle Mohan and his team was doing a last minute motor swap.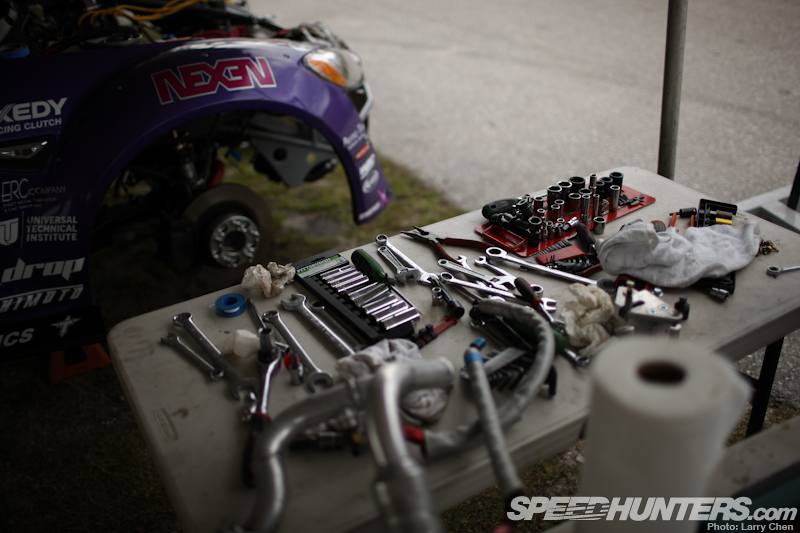 After running the same motor for three years with little problems it was time to swap the motor, as they lost oil pressure during practice the day before.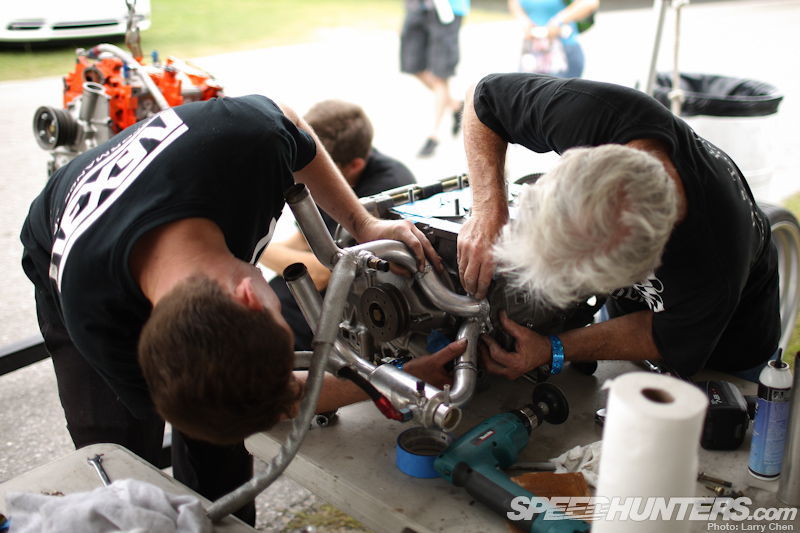 Kyle builds rotaries for a living at Mazda Trix, so it was a piece of cake for him. Luckily the motor was not a complete loss. They will just have to bring it back for a rebuild.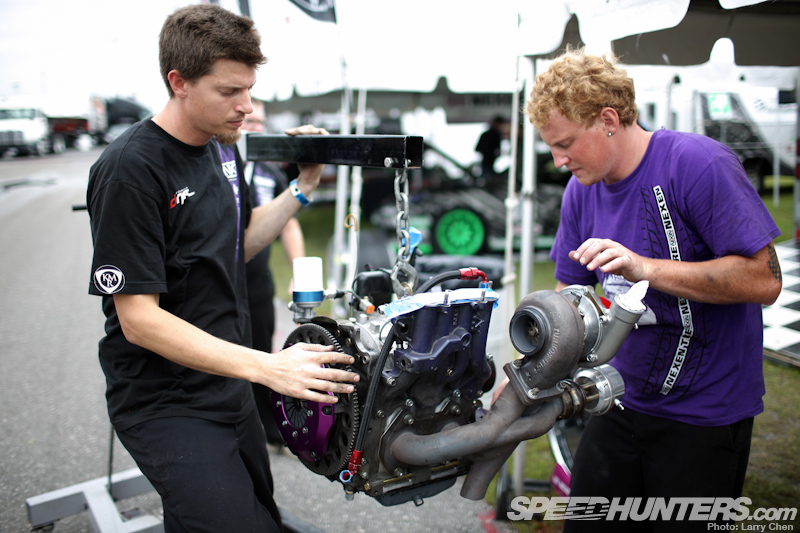 Before I knew it everything was back together and the motor was ready for its new home.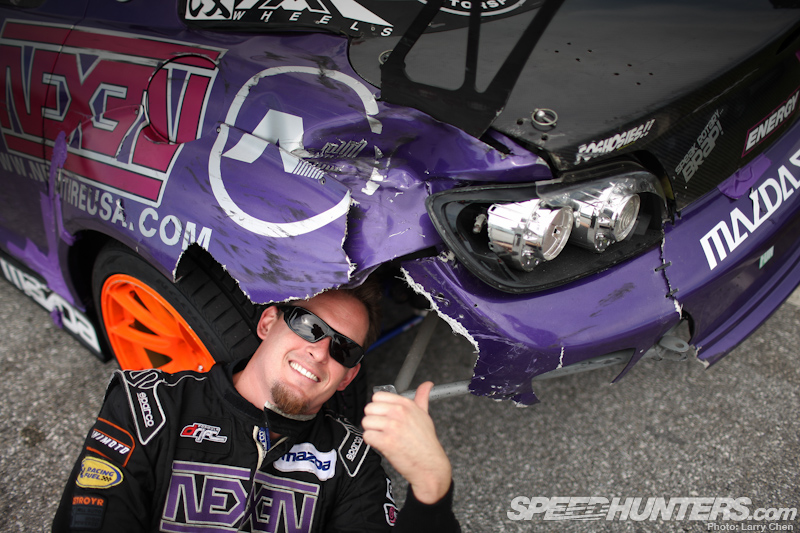 Kyle barely made it to the line for qualifying, but he managed to make it in with a 28th place run.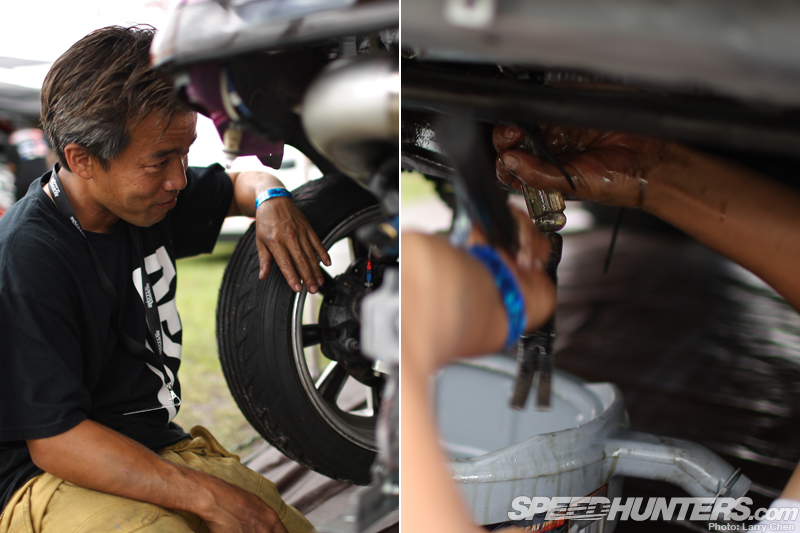 Taka and the Megan Racing team were also working on their car, but they were doing a much simpler task. They just wanted to change the oil but they could not get the filter off.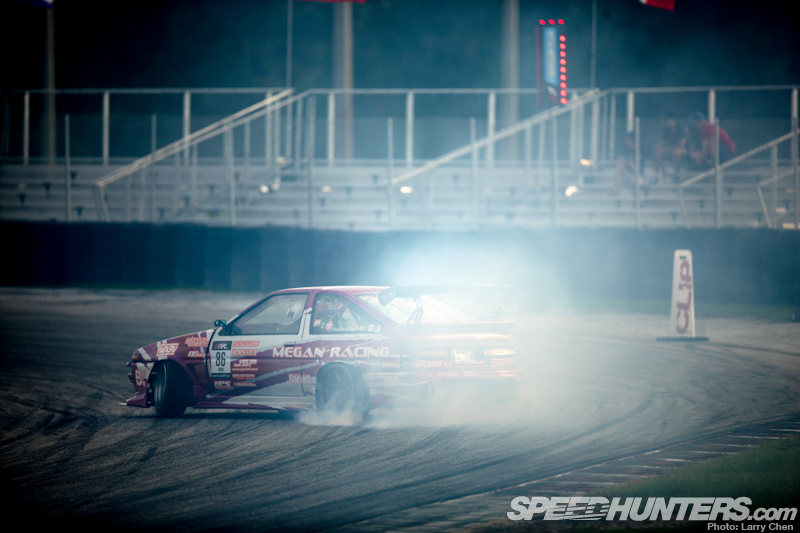 Eventually the screwdriver-and-hammer trick worked, and they buttoned it up in time to qualify in 22nd position.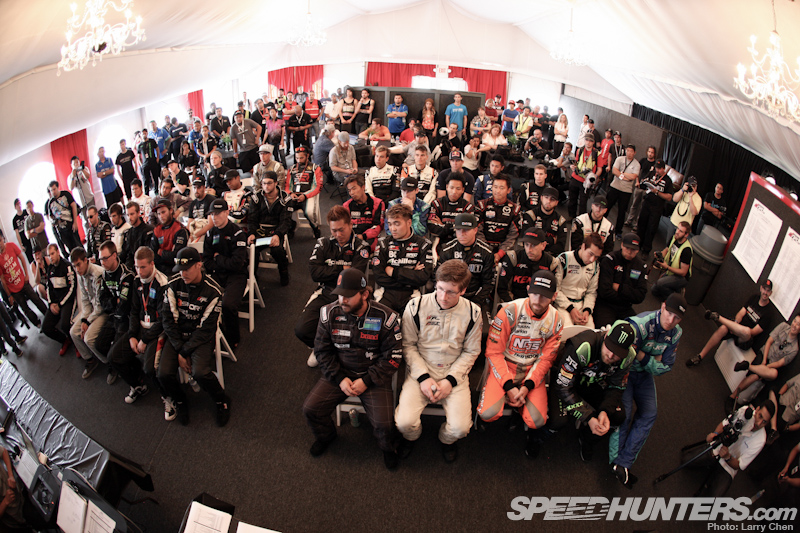 The drivers' meeting is the best time for me to get at least one photo of each driver. It especially helps since there are many drivers who only attend one or two rounds. Some of them are rookies and some just kind of show up every now and then.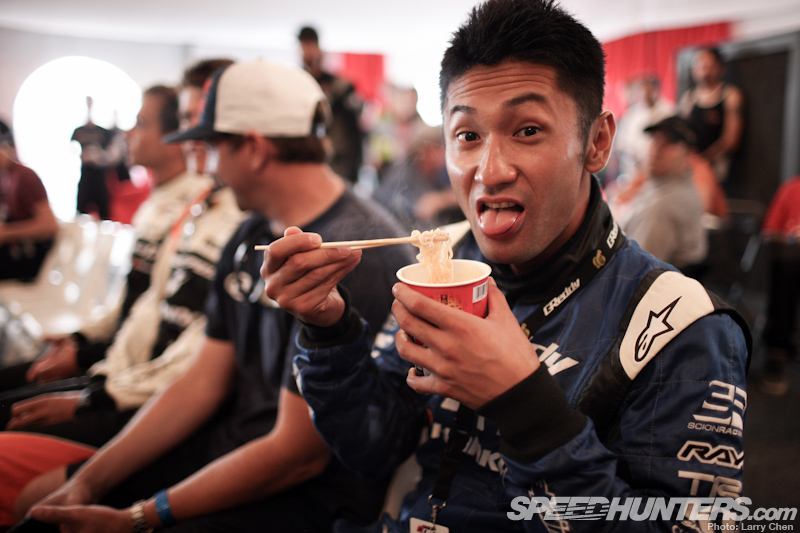 Apparently Ken Gushi did not have breakfast yet. I didn't either, so I was half tempted to ask for the leftover soup. No soup for me.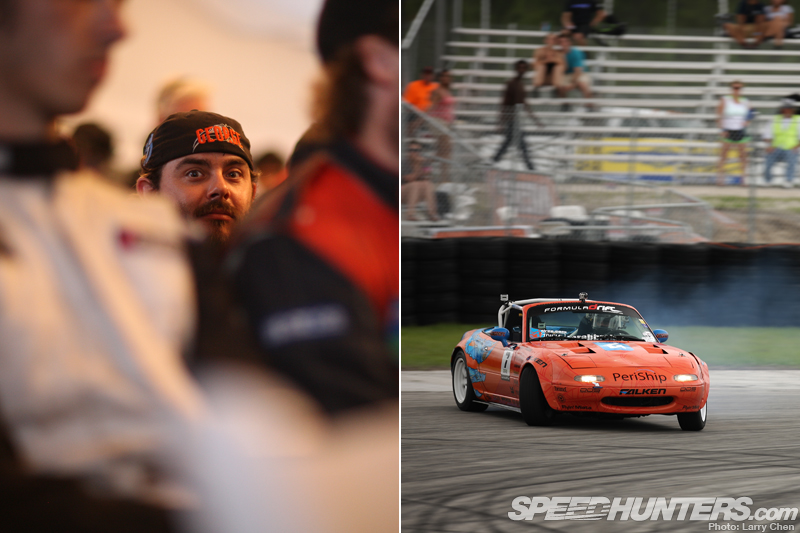 Danny George is everyone's favorite drifter with two first names. He always likes to sit near the front during a drivers' meeting. It allows him to hear what the judges are saying and he shows up in more photos that way too. Good idea! Danny qualified in the Top 32 for the first time in Atlanta, but unfortunately he did not make it this time around.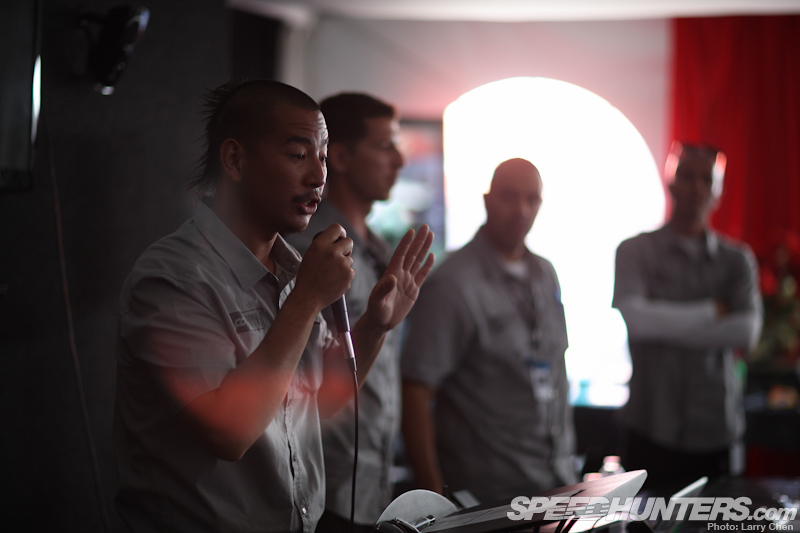 As the sport of drifting progresses there are changes to the judging methods. Formula Drift is steering more and more toward judging on proximity when it comes to tandem. To make it interesting they are also giving the option to pass other drivers in certain spots on the course.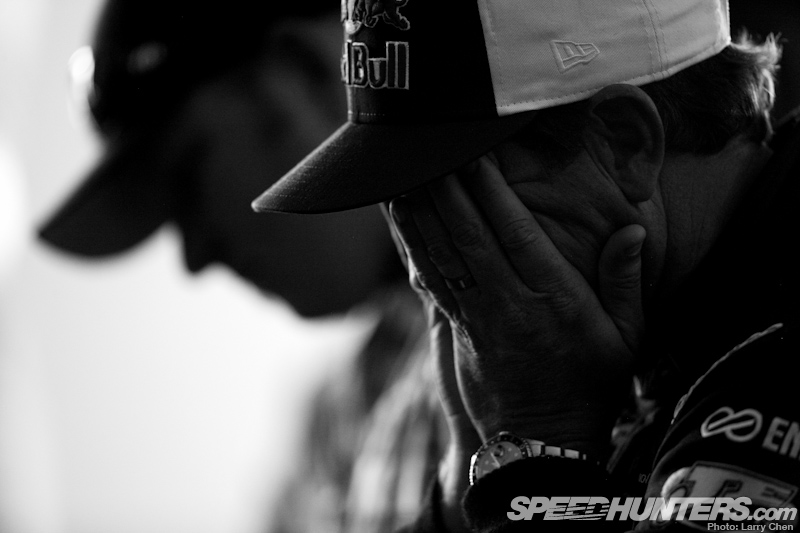 Rhys Millen was a bit frustrated with all the new rules and I don't think he was the only one. In the end it is all for the show and the progression of the relativity new sport.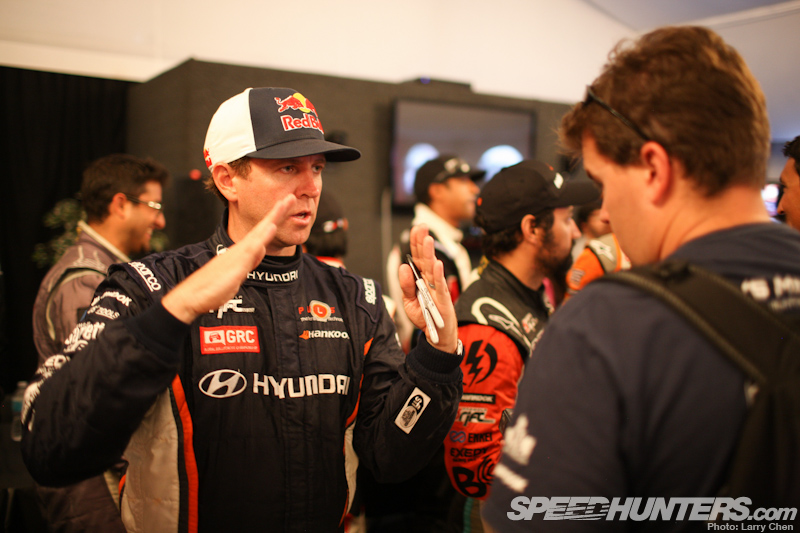 With the new rules Rhys asked his team to give him 45 degrees of camber. Or maybe he was just doing the robot. My guess is the latter.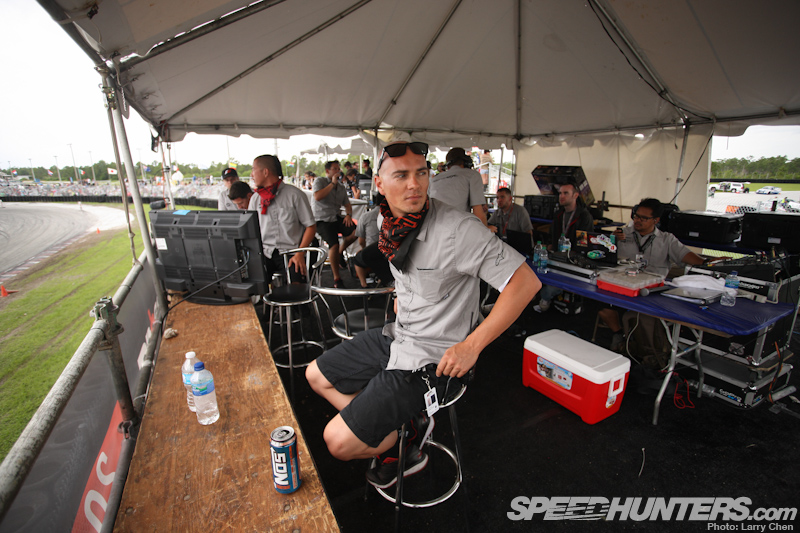 I decided to shoot some of qualifying from the judges' tower. I like watching the staff perform their duties from the base of operations.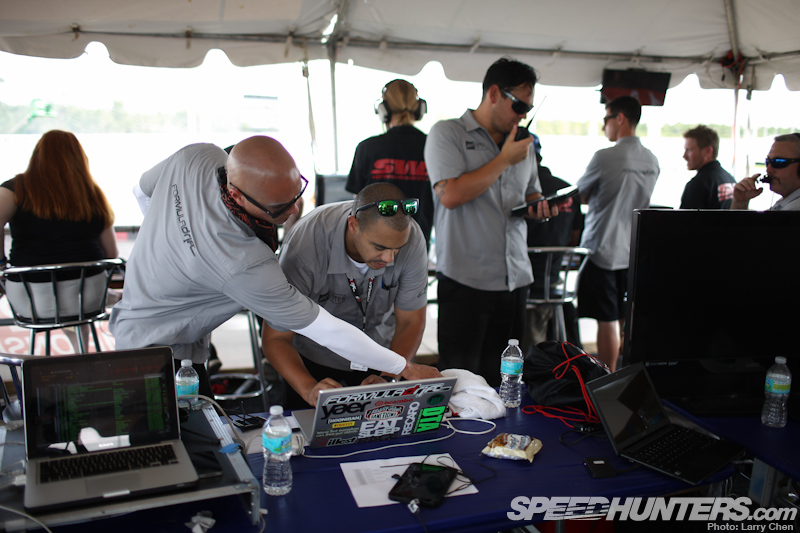 It is interesting to see the judges score the runs. I didn't know about this, but Formula D update their website on the fly with every single run.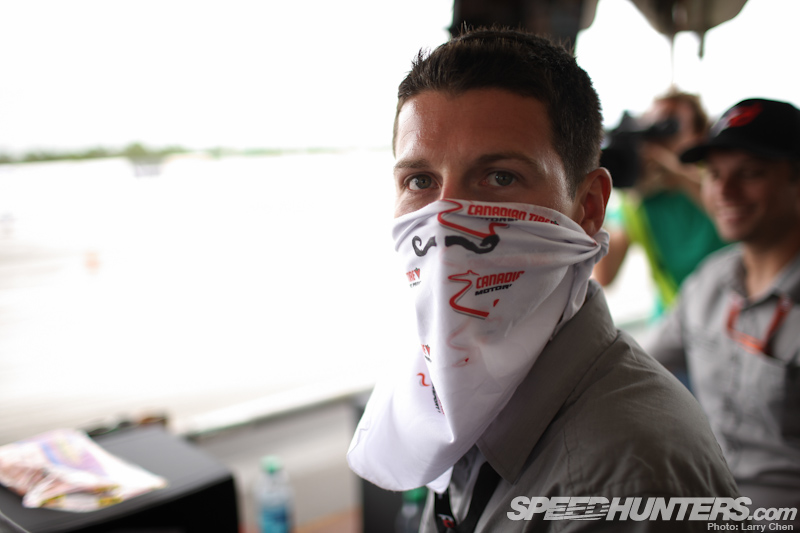 Silly judge, that's not going to prevent zombies from eating your face!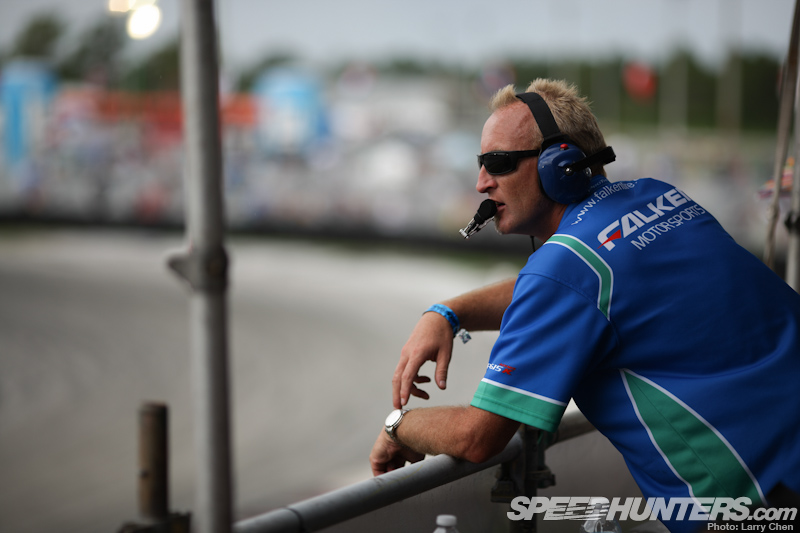 The spotters' tower is right next to the judging tower. There is a constant tone of yelling coming from that structure during qualifying.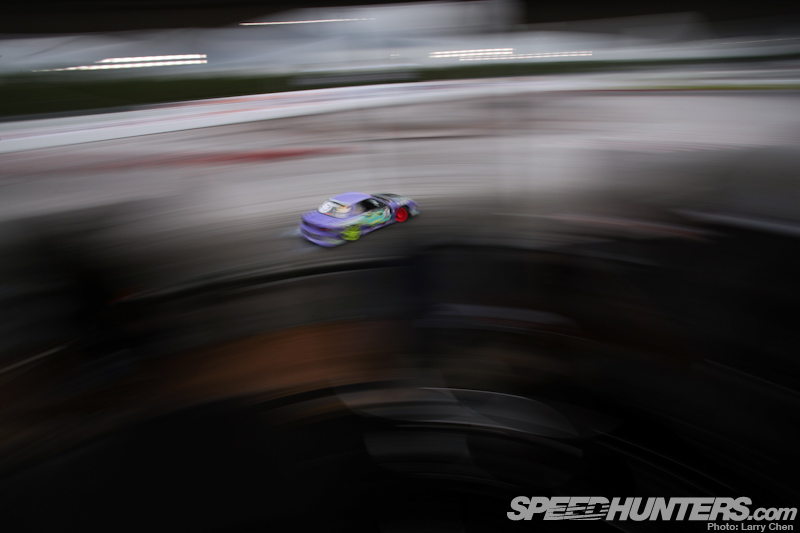 One by one the drivers drifted past the judges' tower in hopes of getting a high qualifying score.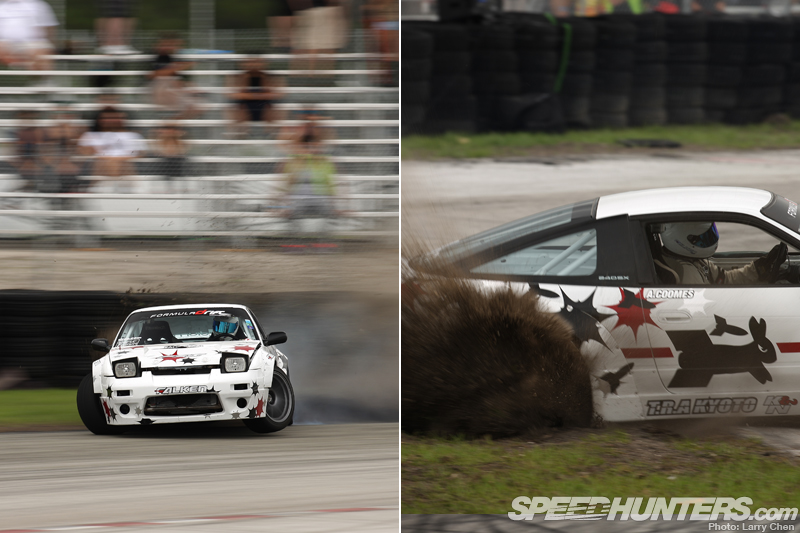 As it got later the rain clouds started to move in, and more and more guys went off course as the droplets started falling.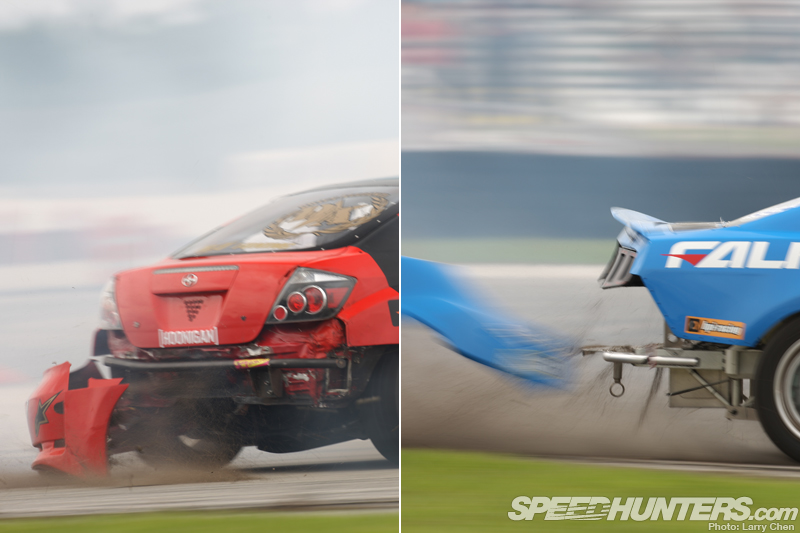 Quite a few of the guys lost body parts as the track was getting soaked.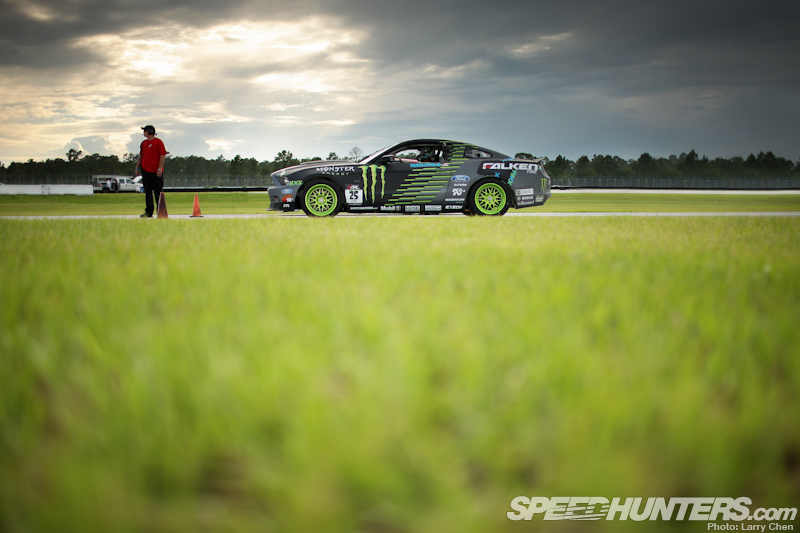 All eyes were on Vaughn Gittin Jr when he pulled up to the line, as he was absolutely killing it during practice. Plus he qualified second in Atlanta so it seems he is getting used to the new car setup.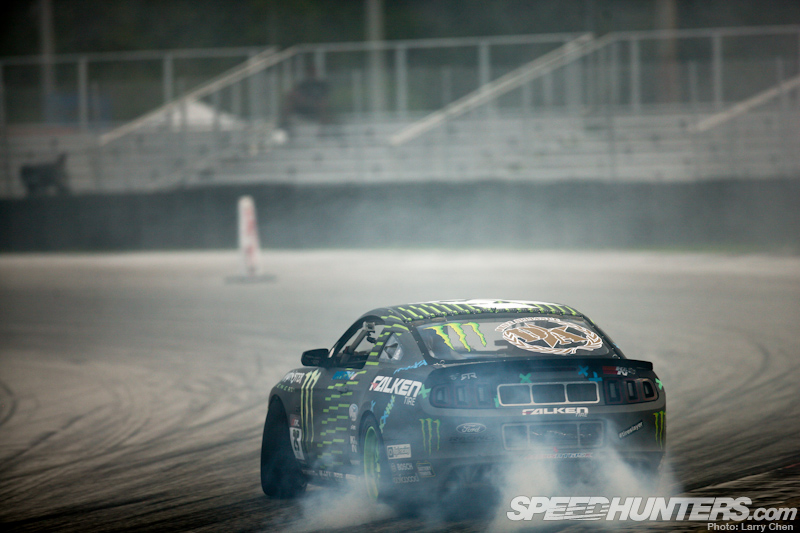 Vaughn qualified first and it looked like he didn't even break a sweat doing it.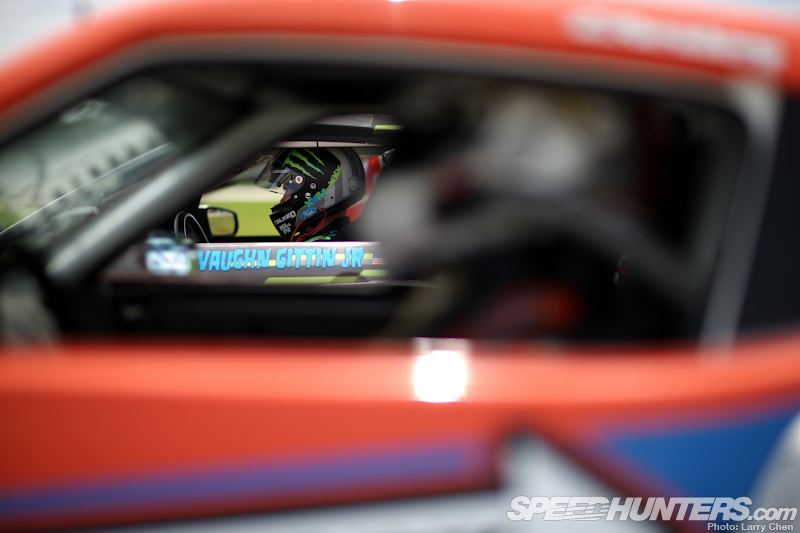 It was all up to him to to earn his first podium of the year on competition day.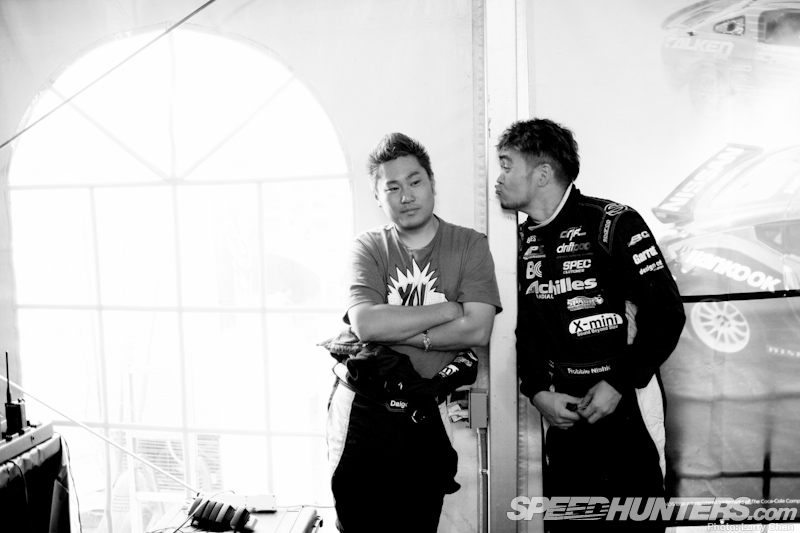 I just love shooting the driver autograph signing because they can be themselves and relax, even if it's for a moment.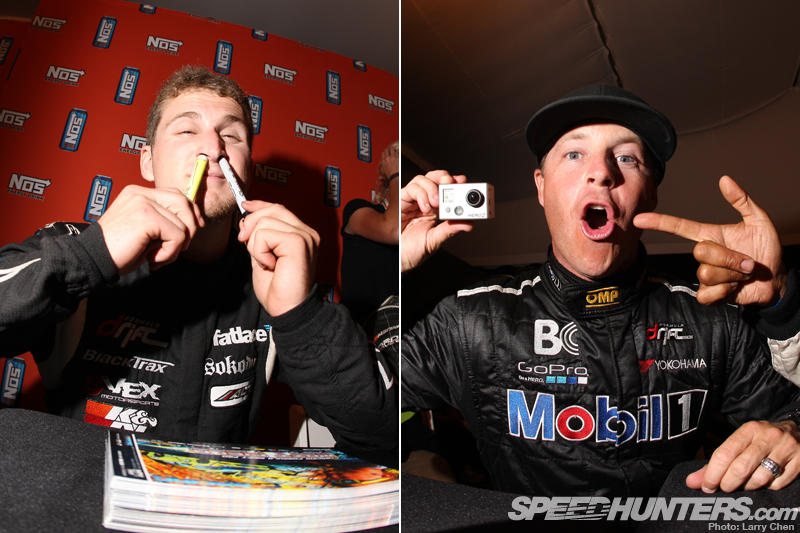 I don't know what it was about my camera, but these guys do the most awkward things when I point my lens in their face.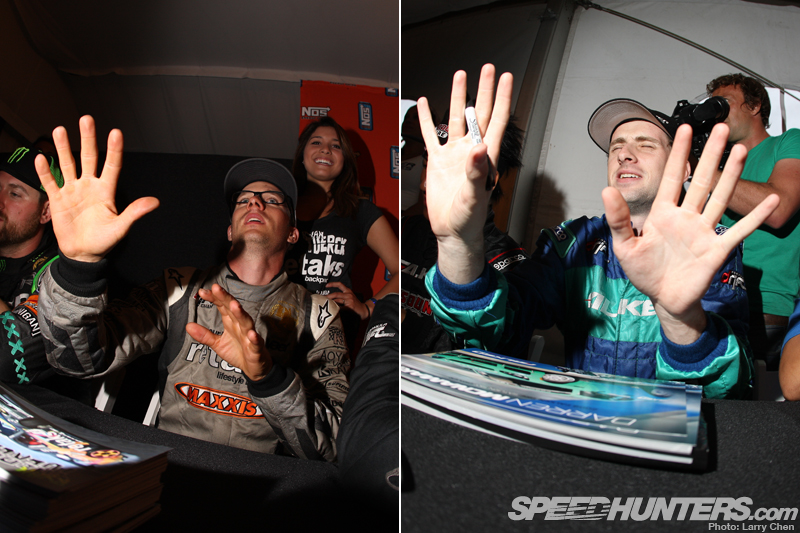 I was afraid they were going to turn into zombies when they kept making that zombie-like gesture for whatever reason.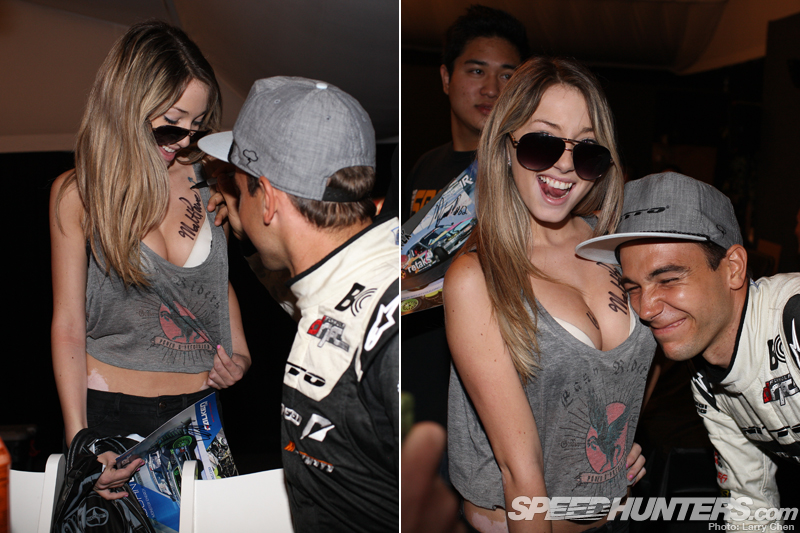 I have to hand it to Matt Powers: he is such a dedicated driver. He signed so many autographs he even ran out of hero cards. This was a last resort I'm sure.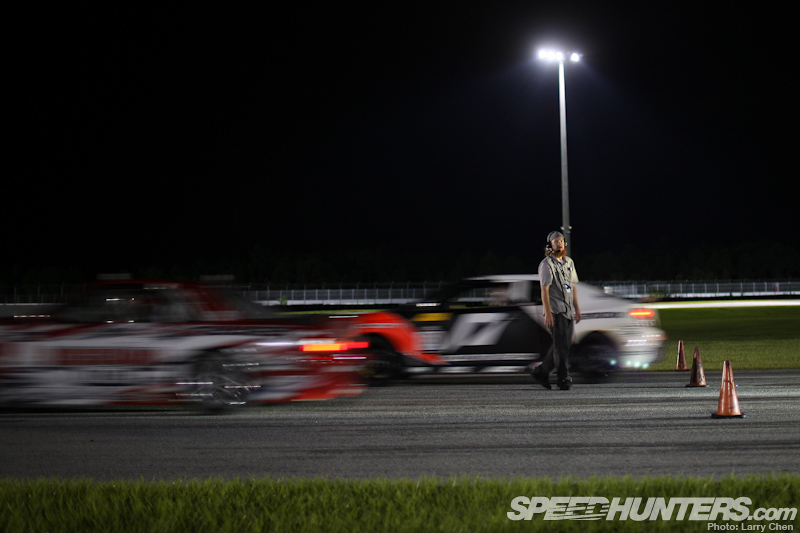 Night had fallen and it was time for Top 32 practice. This is always fun to watch because the drivers can loosen up a bit since they made it into the show. This is also a great time to practice tandem.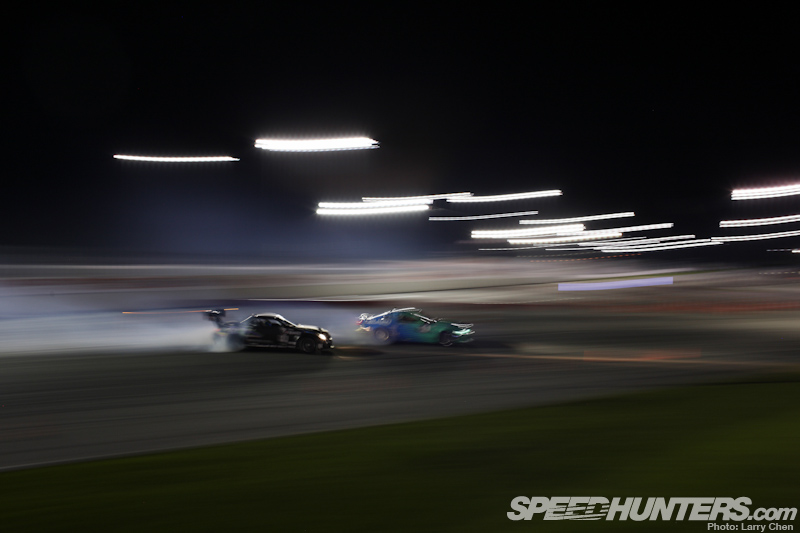 Daigo had a chance to run behind Justin Pawlak; I wonder if this played a roll in their battle in the Top 4 bracket.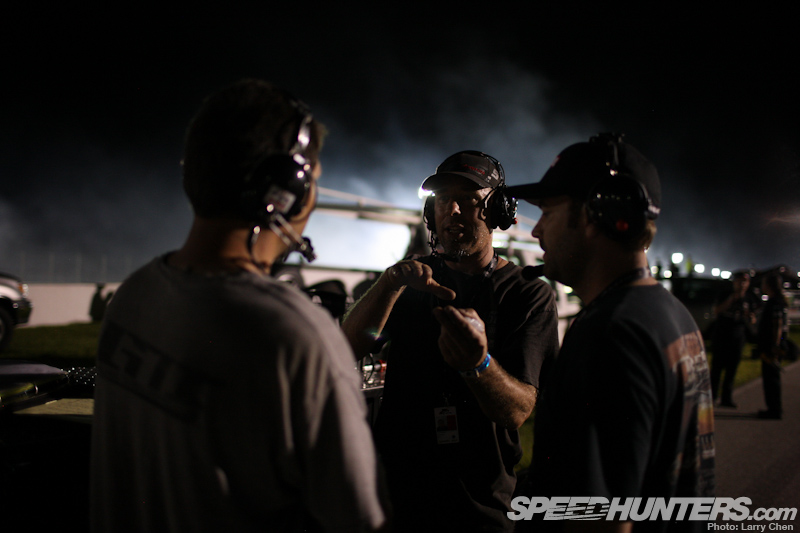 This was also the perfect time for teams to watch other drivers and make a plan of attack for the Top 32 eliminations the next day.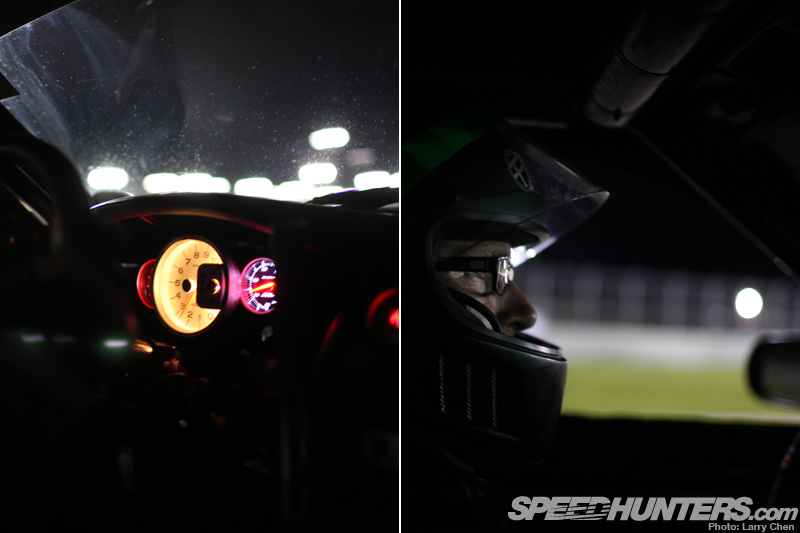 It was a long ride from the paddock to the hot grid, so the simplest solution was hitching a ride in a drift car. They have to make this huge loop around the course after a run, so I just stuck my thumb out and showed some leg. Someone always stops for me eventually.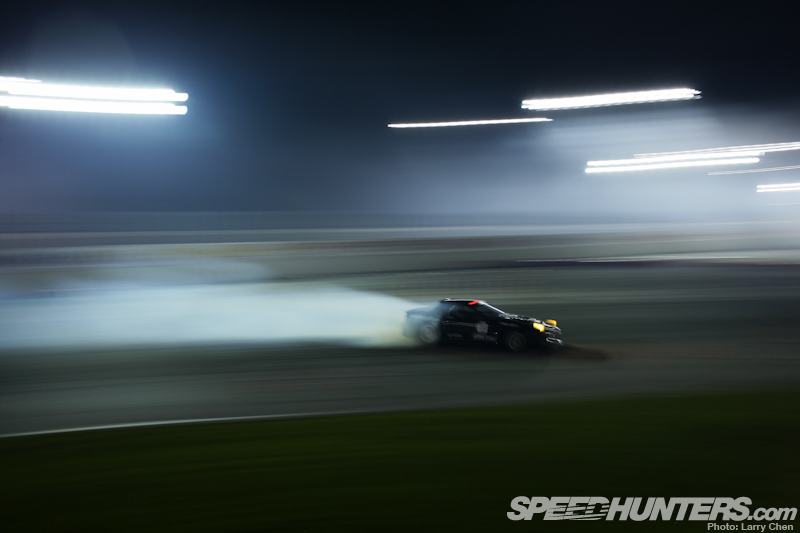 One rookie taking advantage of the Top 32 practice was Jeremy Lowe – or as Jarod would call him, 'J-Lo'. It is rare to see a rotary in an FC RX-7 nowadays, so it's always a novelty to see him run. This was his second time making it to the Top 32 and boy did he look great, although unfortunately he got knocked out by Rhys Millen. I'm sure he will make Top 16 soon enough. For the rest of the qualifying results check out my post here.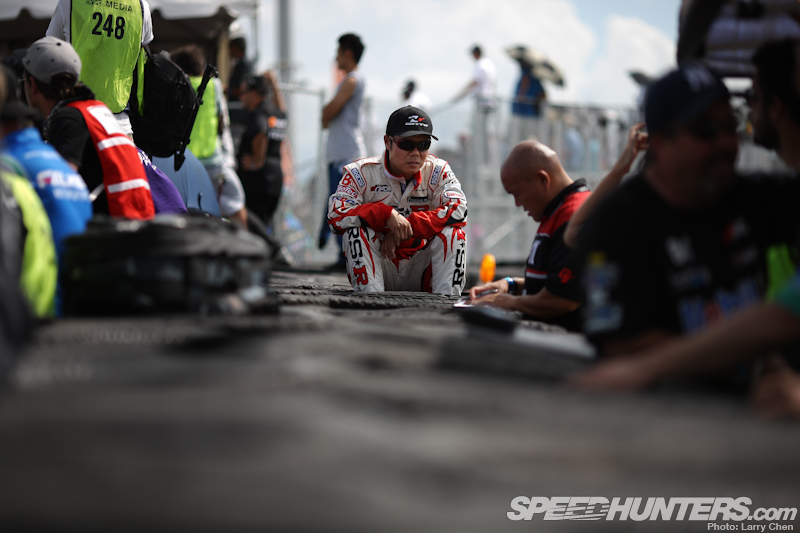 Saturday. This was it. Everything had been building up to this day. The media and drivers hung around for a bit waiting for Top 32 to begin.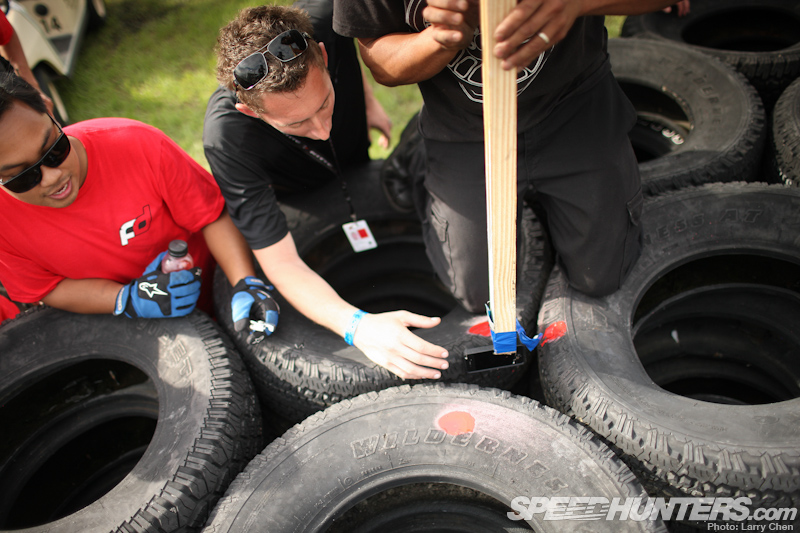 One of the nice things about this track were the tire barriers that lined the outside. They made great couch-like surface. Although there were a few phone-related casualties… This one happened to belong to Formula Drift co-founder Ryan Sage.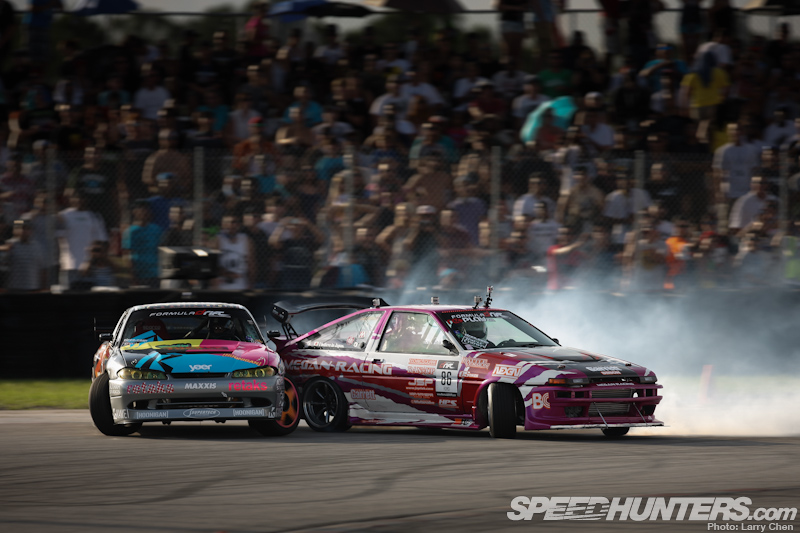 I don't want to bore you guys with a run-by-run account of what happened. You can watch the live stream if you are looking for that kind of coverage. I just wanted to touch on some of my favourite match-ups. The drivers really took the new proximity judging style to a whole new level. It seems like there was contact on every other battle. Taka went balls-out following and made contact. Ryan Tuerck kept his drift, finished the course with ease and was awarded the win.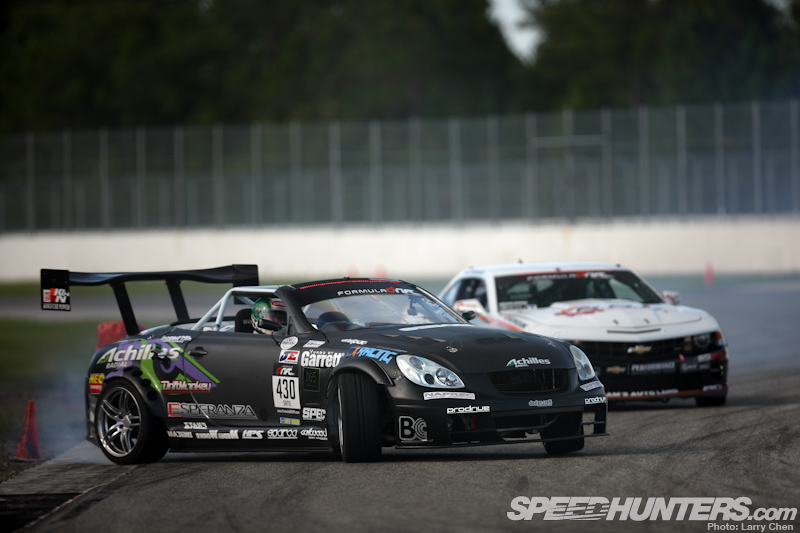 Daigo Saito and Conrad Grunewald were having a competition within a competition.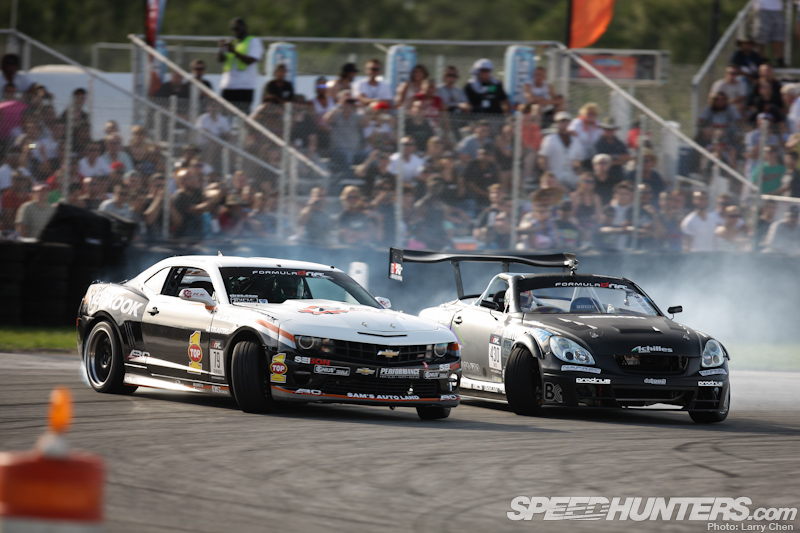 They ran against each other a total of six times, because of two One More Time calls. Daigo kept on running a shallow line, but on his third lead run he did a massive feint and threw the 1,000-plus horsepower SC430 in with lots of angle. The judges awarded him the win. I think this call really stirred up some interesting conversations around the paddock.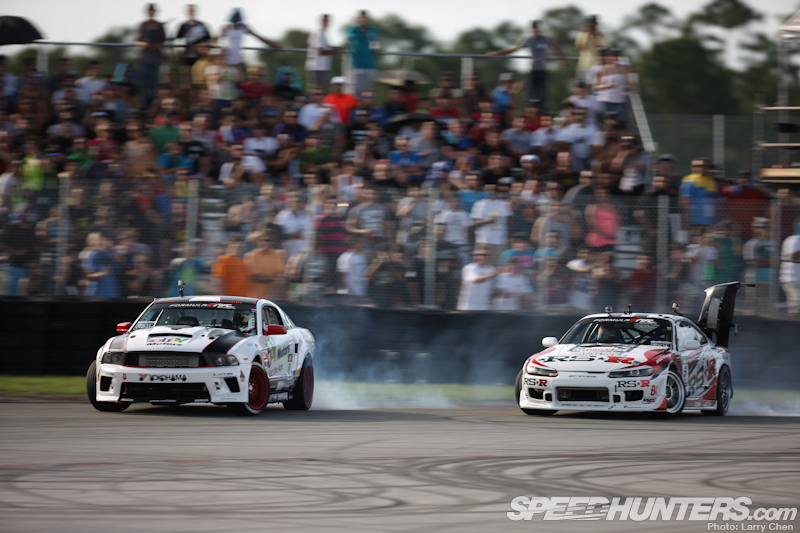 This was something I have never seen before. Tony Brakohiapa lost his bumper on entry…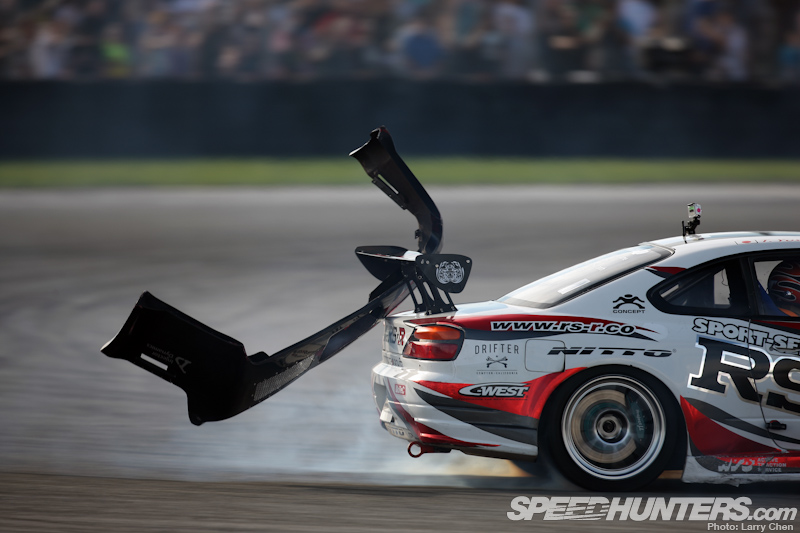 …and Toshiki Yoshioka caught it with his wing.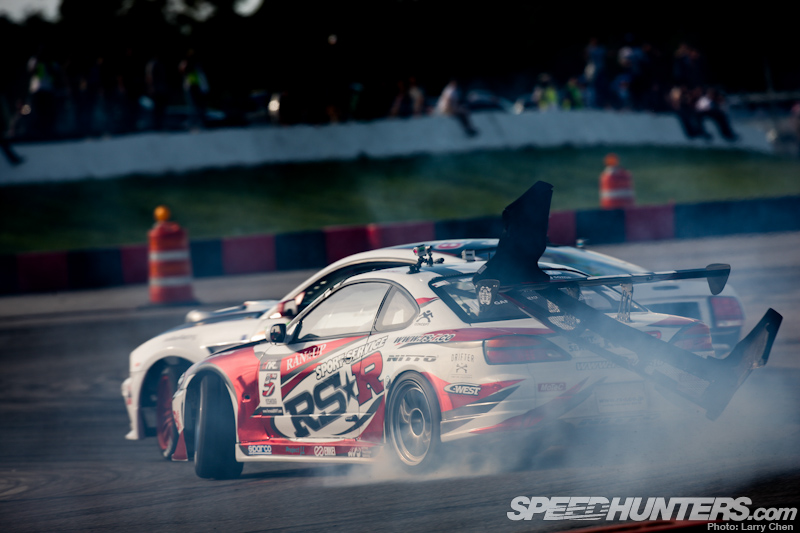 He brought it with him through the entire run. Amazing.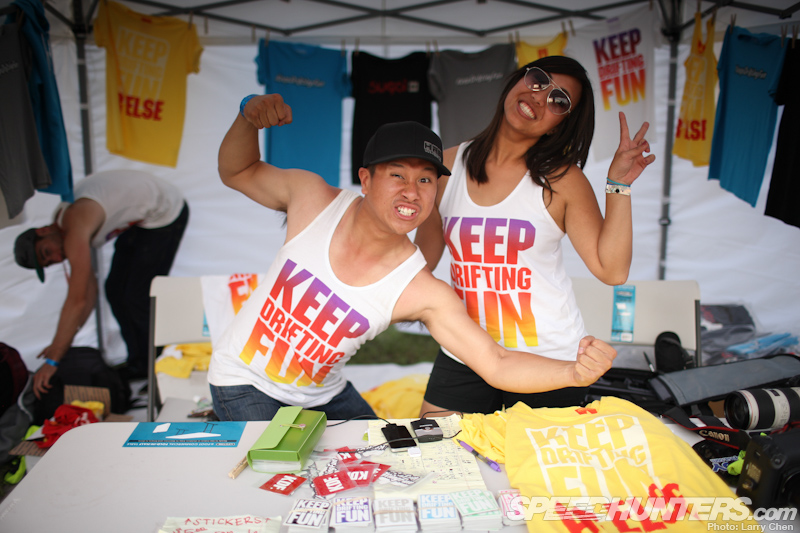 During the break between Top 32 and Top 16 the crowd gathered in the paddock for some shopping and free swag. Linhbergh has always kept drifting fun with his awesome Vaughn Gittin Jr impressions. Expect a post from him shortly.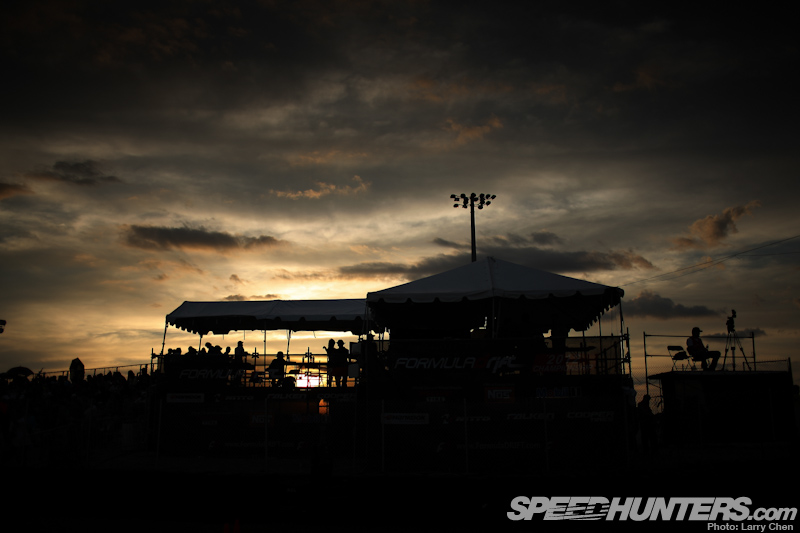 The sun was setting and it was time for the main event.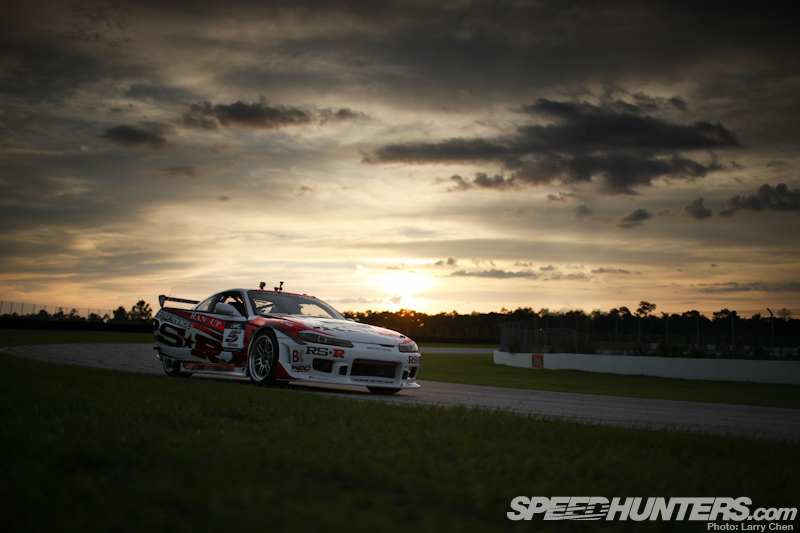 The cars that made it into the big show rolled in one by one.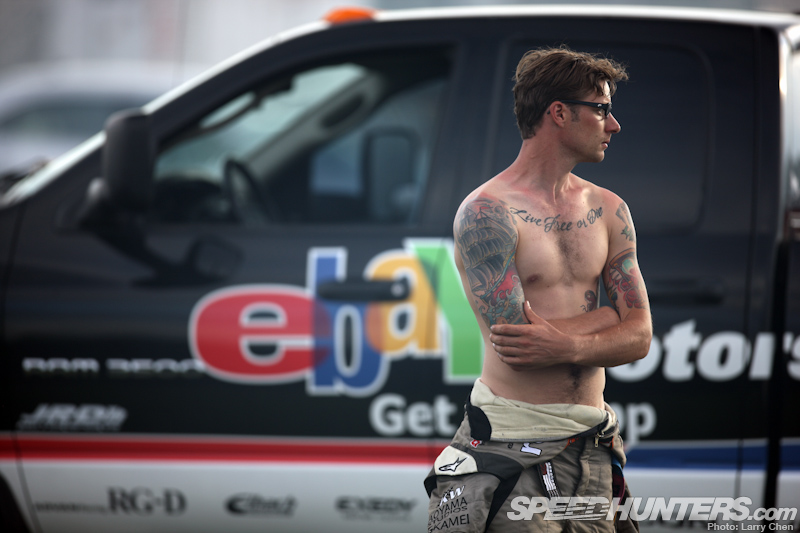 This was a time for drivers to chill out before facing the massive amount of pressure that is the Top 16. Ryan Tuerck, seen here relaxing to the max, is definitely the Matthew McConaughey of the drift world.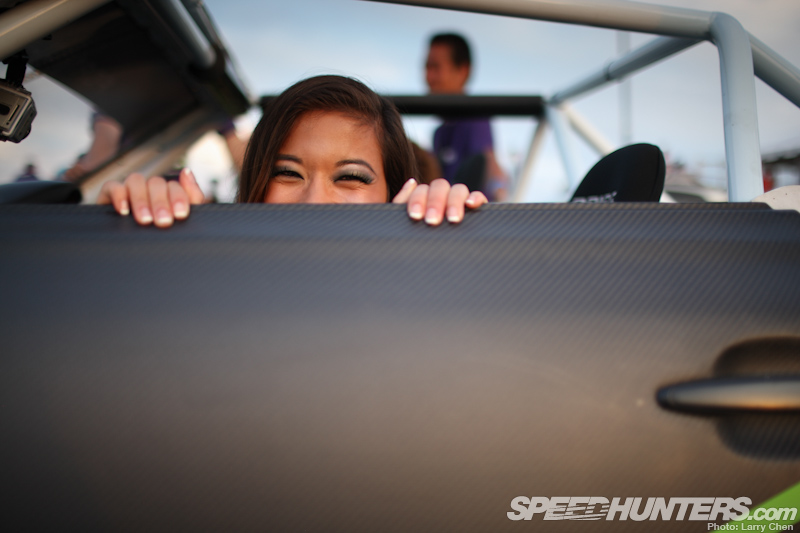 I'd be hiding behind a door too if I was an umbrella girl and Ryan walked around like that.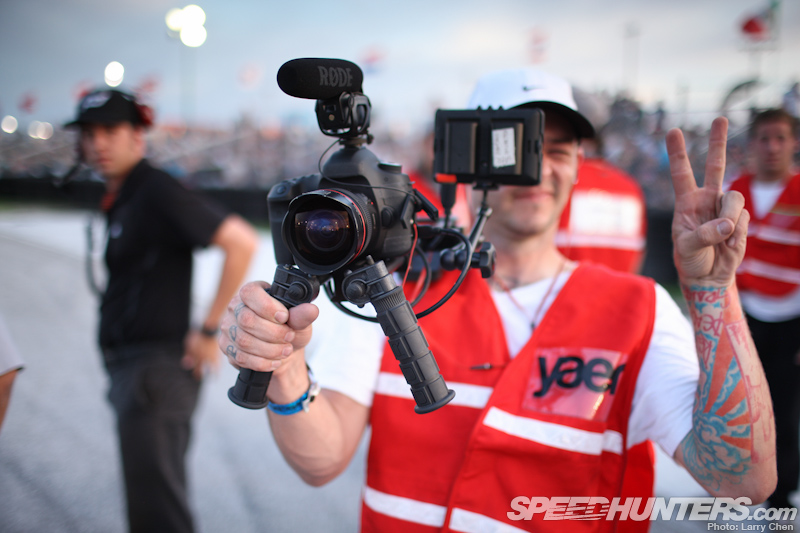 The first to show up to the Top 16 introductions were the media, also known as the paparazzi of the drift world.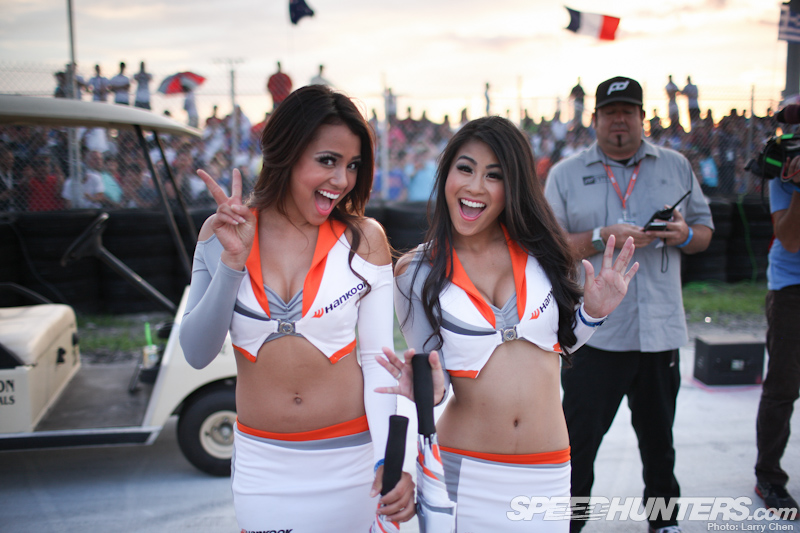 Then came the umbrella girls. Most of them hitched rides with the drivers, but sometimes it's a pain to get in and out of a car with the roll cage. Not to mention the danger of stabbing the driver in the eye with the umbrella. Oh the perils of an import model.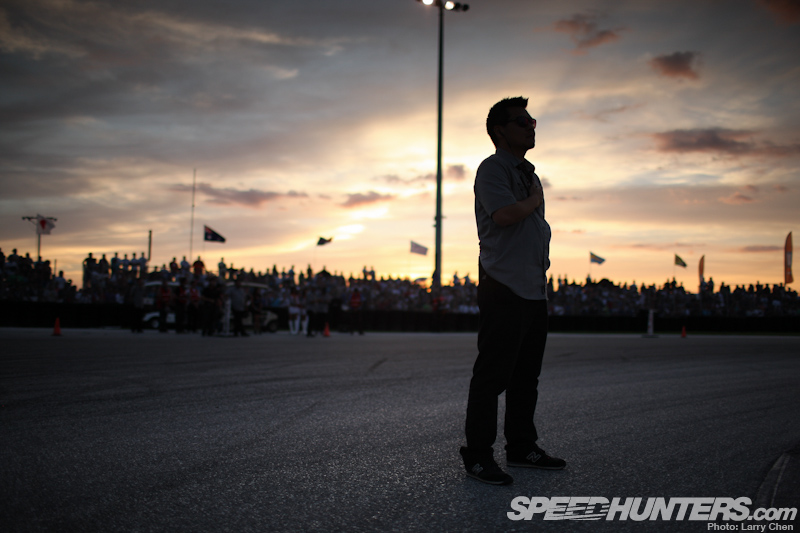 Last but not least were the FD staff. It was hard, but the Formula Drift president and co-founder pried himself away from an LCD screen for the length of the entire National Anthem.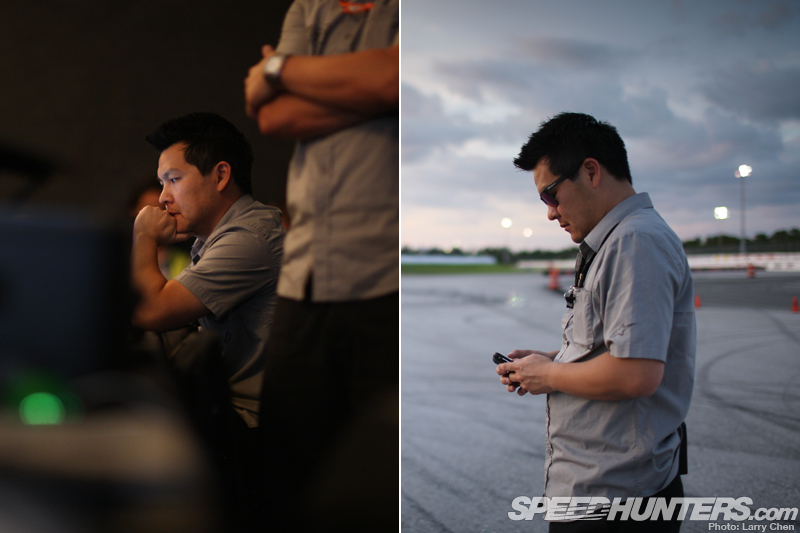 This was his usual state…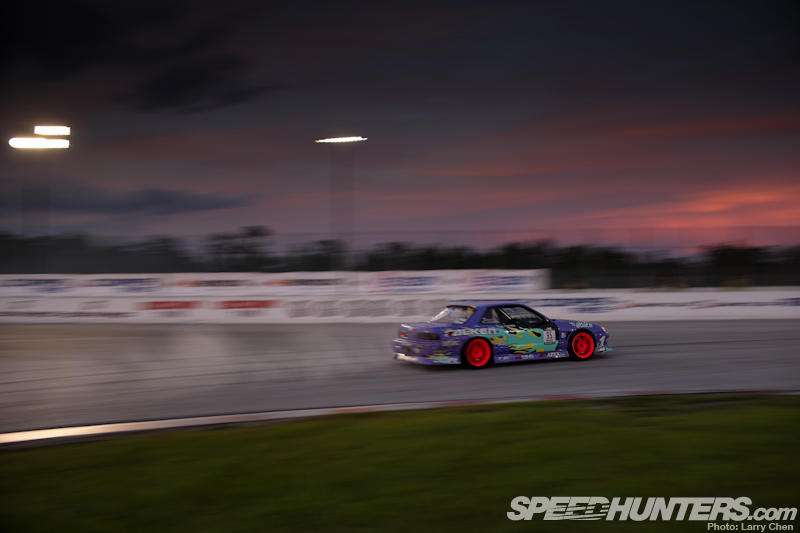 Just wow… It's as if Walker was drifting toward Mordor!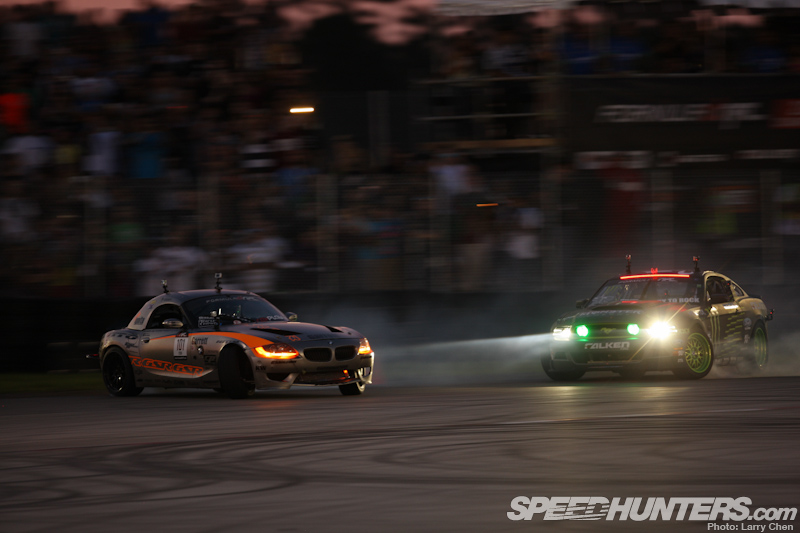 Top 16 went off with a bang. Again, I will just go over some of my favourite match-ups. Mike Essa has been getting more and more used to his BMW Z4 with each passing round and this is the perfect example. Just look at that backwards angle.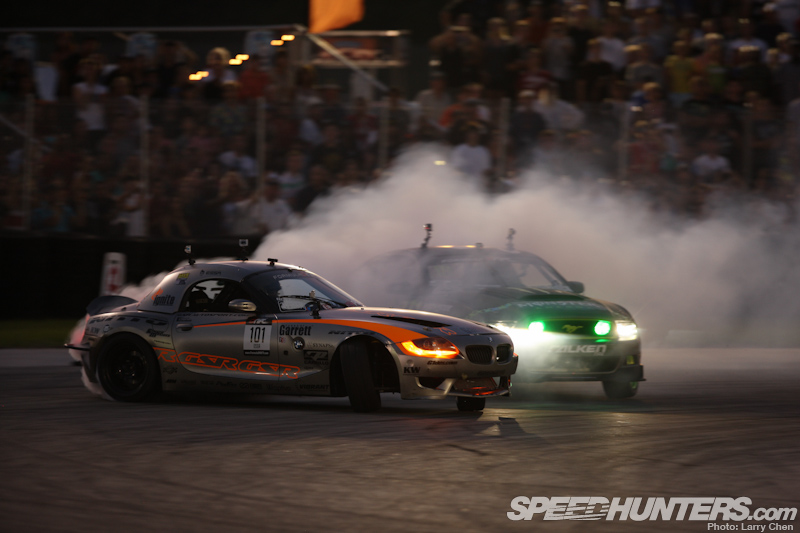 Although it was not enough to stop the number one qualifier from taking the win.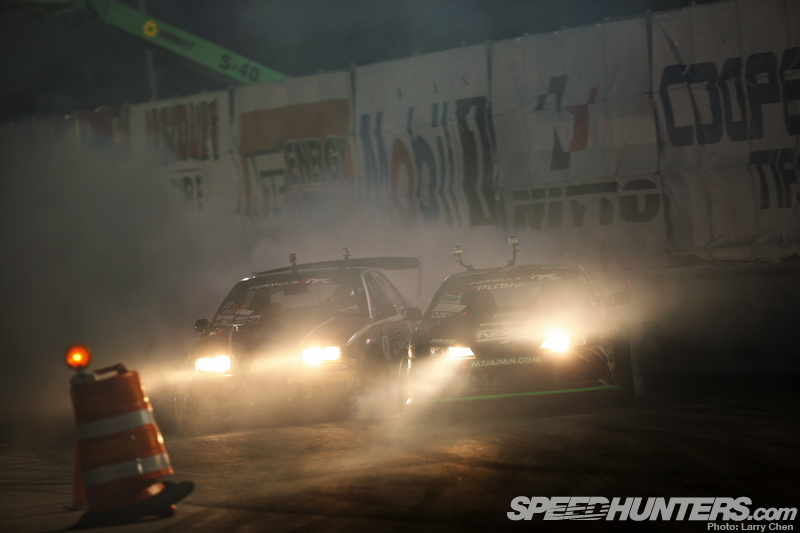 In the daytime I hate shooting when there is a lot of tire smoke. It makes everything super bland, but at night it looks amazing. It is very easy to spot which teams spend the time to align their headlights.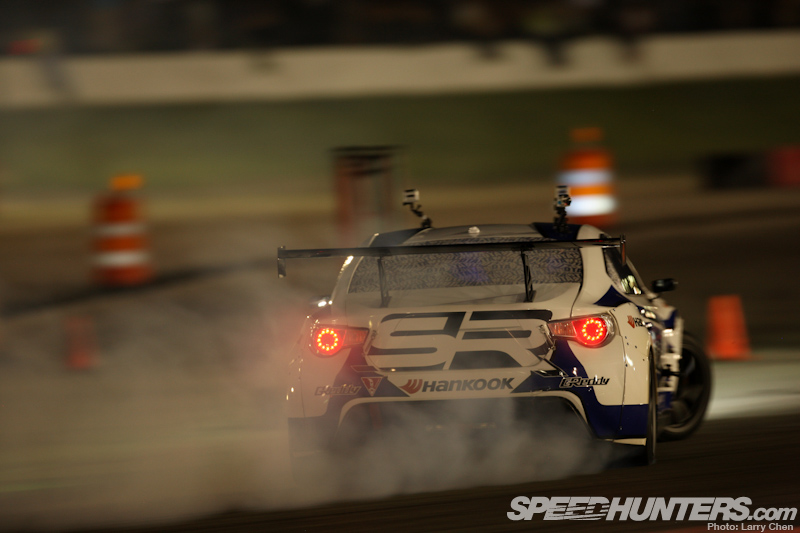 It's official, Ken Gushi's car is the coolest sounding car on the grid now. The anti-lag setup they have for the FR-S is super sick and he was just killing it all weekend.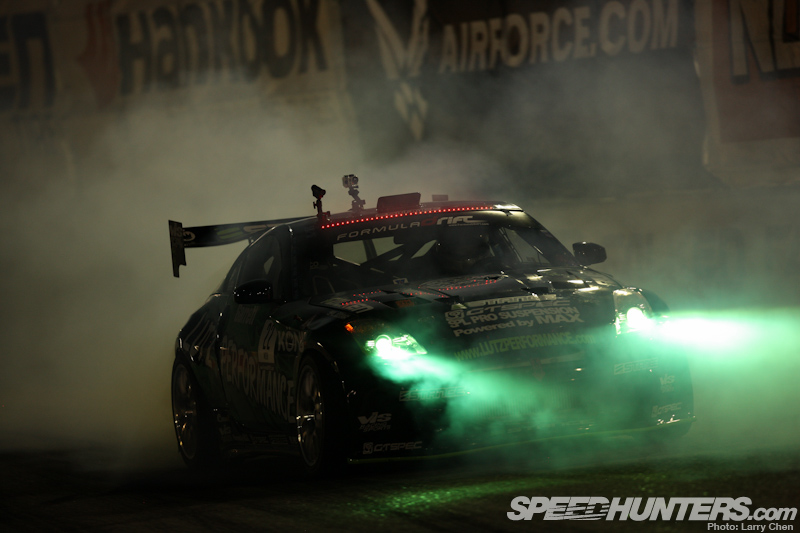 Kenneth Moen usually flies under the radar, but he always takes out some big hitters.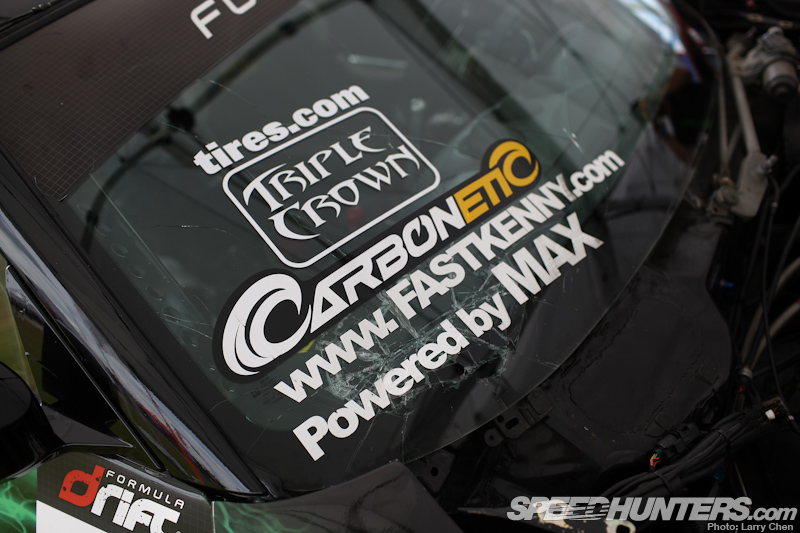 Although he almost didn't make it to the show when his hood pins failed during practice before Top 32. Luckily he was able to source a local guy to come out and swap windshields with another 350Z.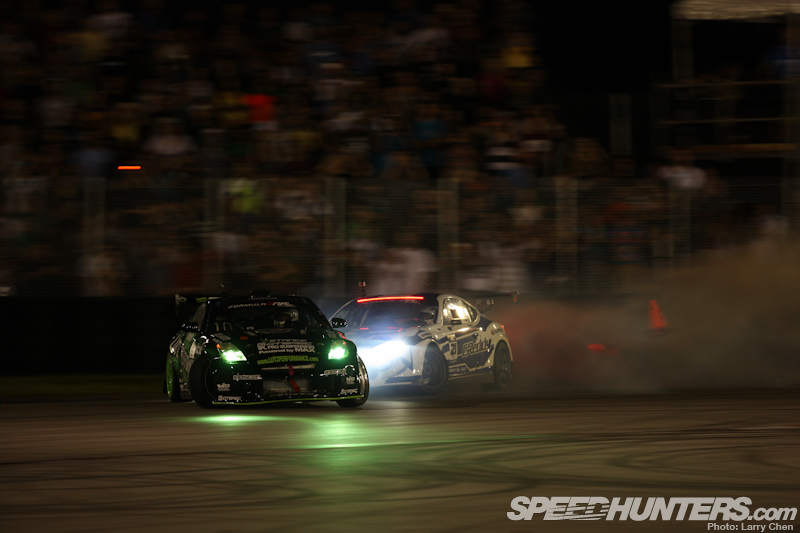 It honestly looked like Ken was going to take the win, but after a One More Time call from the judges it was anybody's game.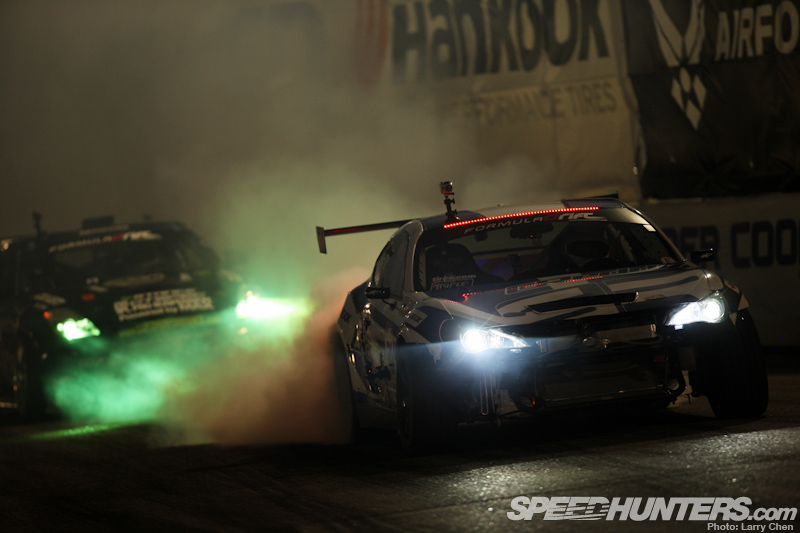 Kenneth moved on, but they really did put on an amazing show for the fans.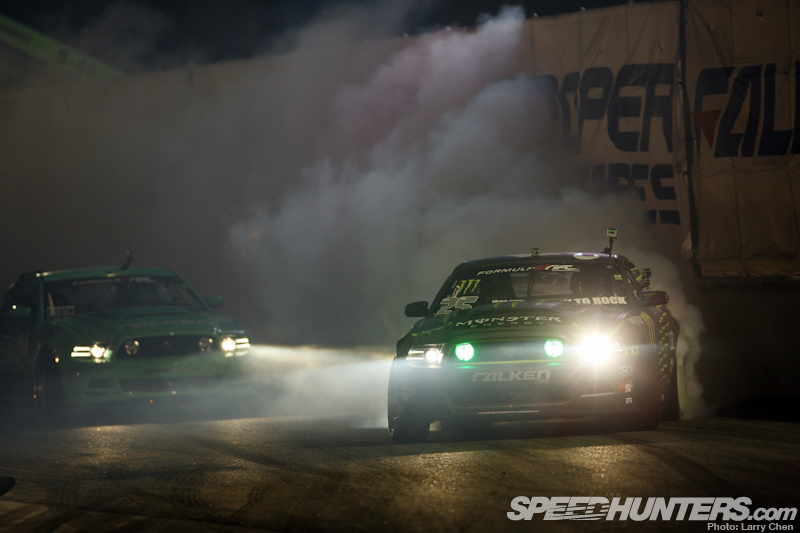 Vaughn was making so much smoke that it was a bit overwhelming. You guys could probably see me on the live-stream dancing after previewing this awesome shot. Just look at that smoke hitting the wall.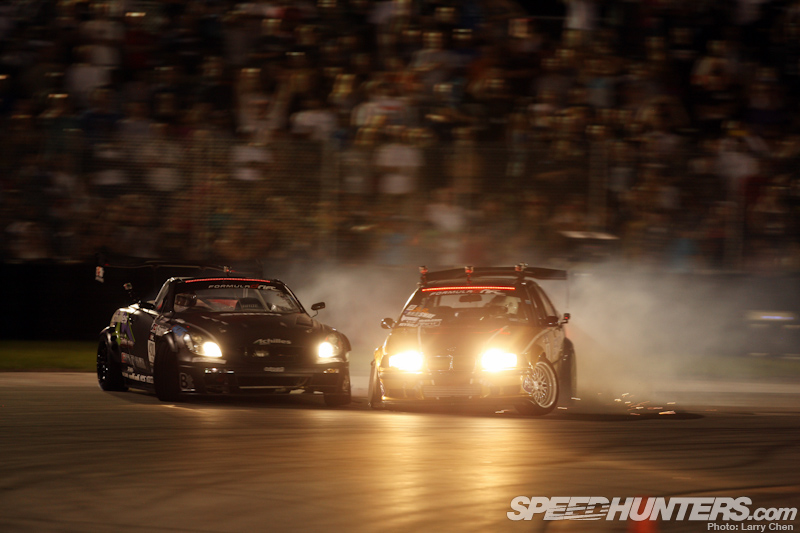 It was the battle of the Formula Drift rookies yet again and both of them happen to be the biggest smoke-makers out of the entire grid. This was Chelsea Denofa's first time in the Top 8 bracket, so I know he wanted to go all-out.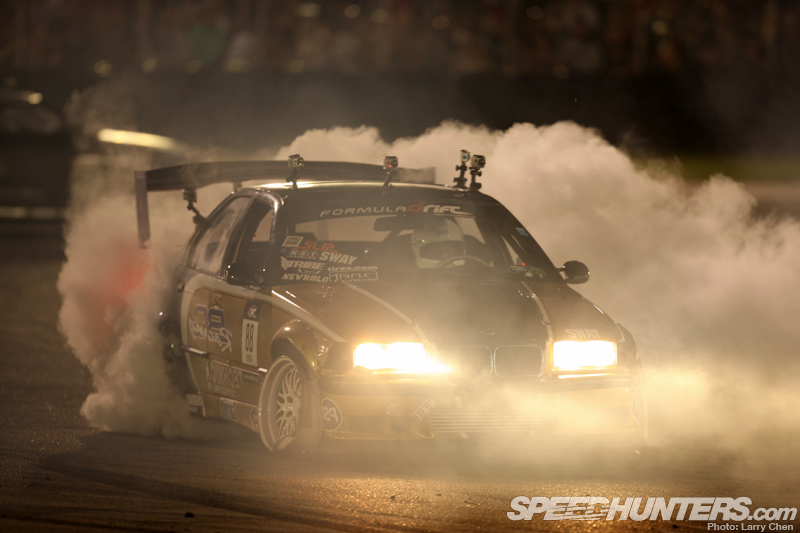 Well, he went in a bit too hot and bent up the car pretty badly. He could not get back to the line for a second run, so Daigo was awarded the win.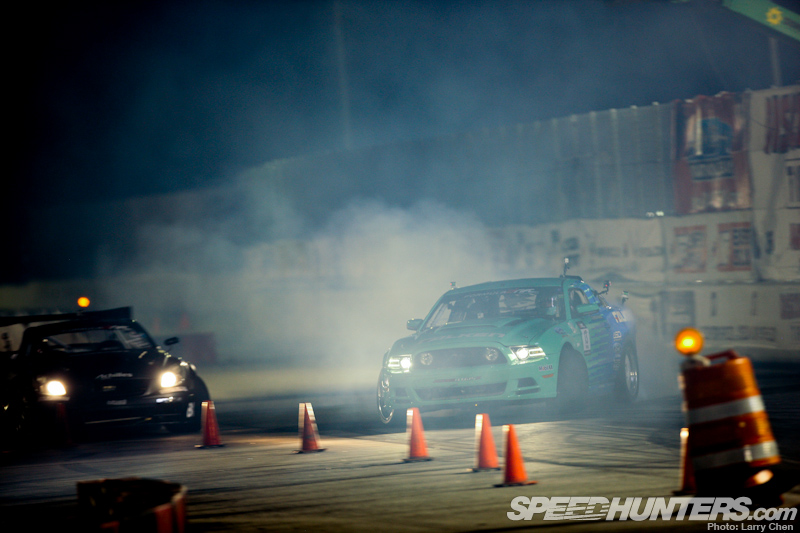 I know you Speedhunters out there would get mad if I left this battle out, but being as controversial as it was I didn't want to touch it with a ten-foot pole. It made me feel good seeing how much debate was going into one battle. It just makes the sport that much more exciting for the fans.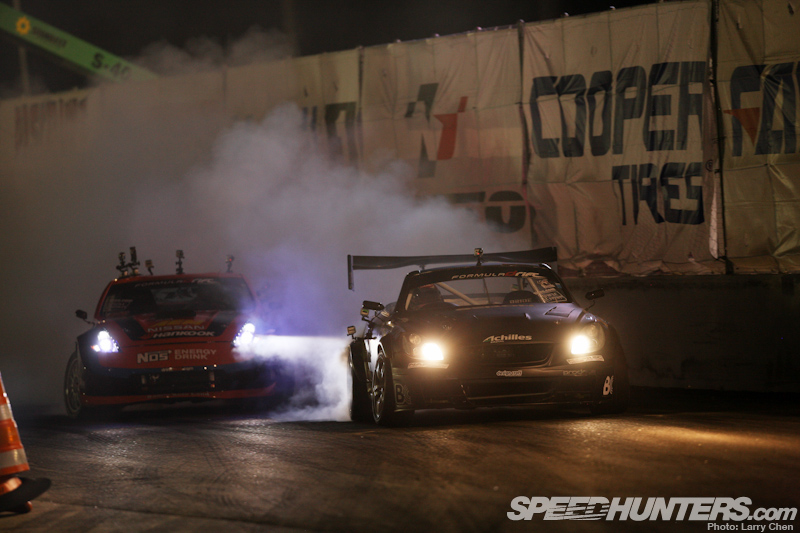 This is the kind of final battle that I dreamed about. Nissan versus Toyota, and best of all eight cylinders versus six. It was a hard-fought battle from both sides, but Chris had quite the disadvantage as his e-brake went out after the Top 32 bracket. Daigo was awarded his first win.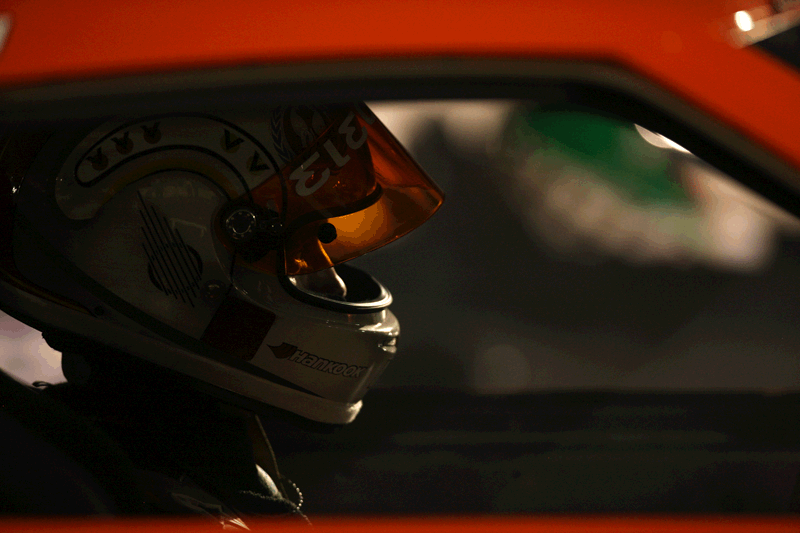 It was good to see Chris back on the podium after a lengthy hiatus. On top of that, Formula Drift history was made as Daigo joined the very exclusive club of drivers who have won. I think it's 18 drivers in total now, only four of which have won both a D1GP and FD event.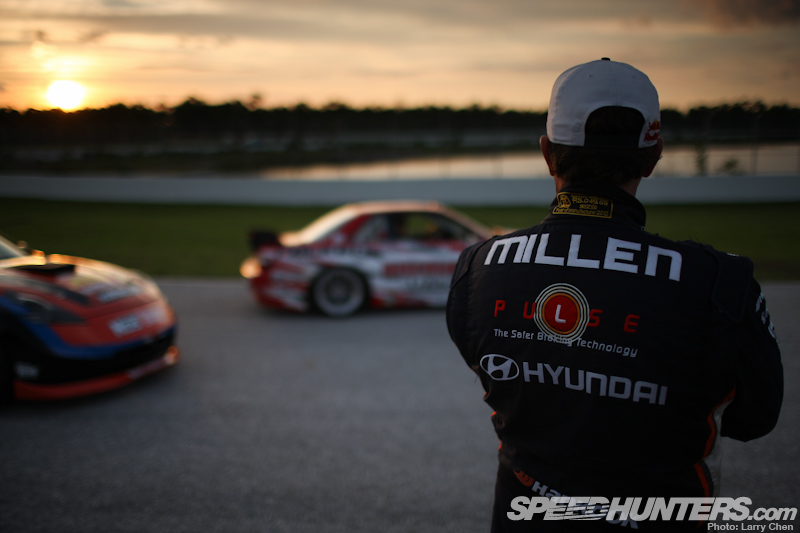 After three rounds, Rhys Millen is still fourth in the points right behind Daijiro Yoshihara. Chris is catching up fast in sixth, but the control arm failure in Atlanta really hurt him.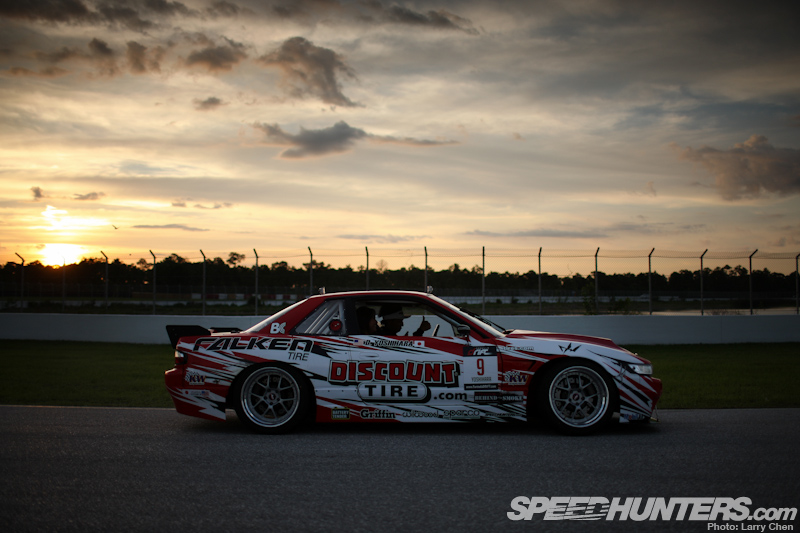 It looks like Daigo is going to give Justin Pawlak a fight for the championship. With four events left do you guys think Daijiro will be able to catch up to defend his title? Stay tuned for more coverage from Formula Drift Palm Beach.
Larry Chen
Larry@Speedhunters.com
More stories from Formula Drift Palm Beach on Speedhunters