There's a lot for drag racing fans to enjoy on Speedhunters right now, with my coverage from the NMCA event at Famoso now being joined by Dino's look at the Motor Head Zero-yon meet in Japan. Two events in completely different settings, but held with the same love for raw acceleration.
With that said, let me go ahead and continue my look at the NMCA WEST season opener.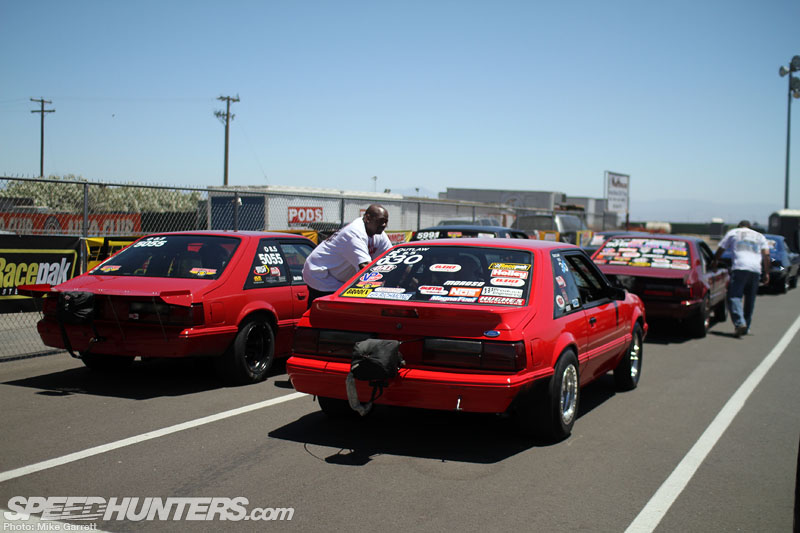 When it comes to the world of street car racing, it really cannot be underestimated just how important the Fox Body Mustang is. For a couple of decades now, these Mustangs have been an overwhelmingly popular choice among weekend drag racers across the country.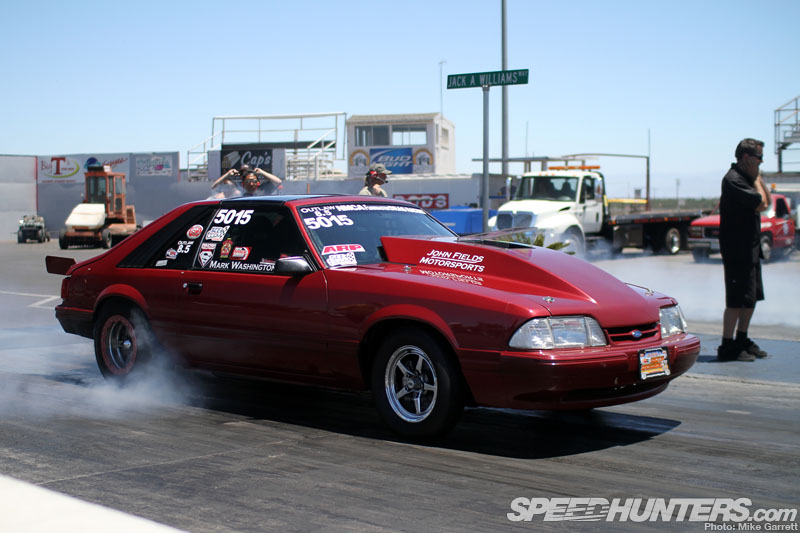 The popularity of the Fox Body shows no signs of slowing either – there were a couple dozen of them spread amongst the various classes at the NMCA event. Whether its a street car with some light bolt-ons or a full-on race build, this car has proven itself time and time again.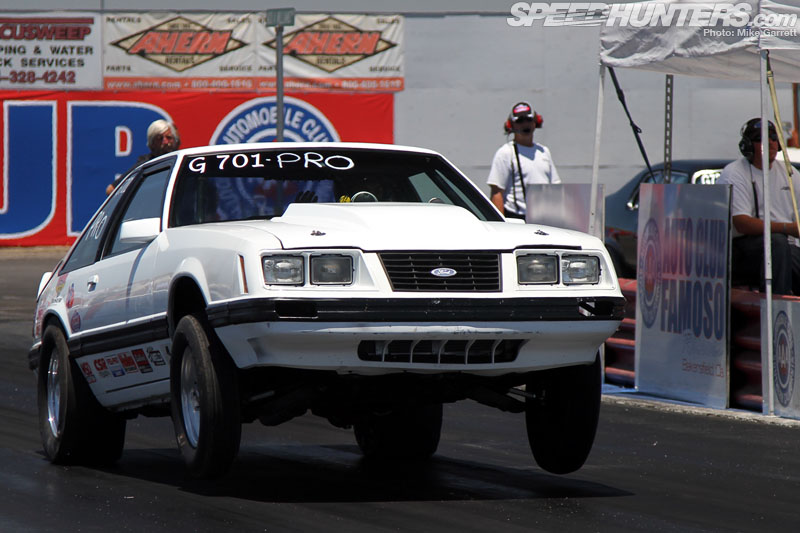 Here's an earlier model Fox Body , affectionately known as a four-eyed Mustang popping its front skinnies into the air as it comes out of the hole.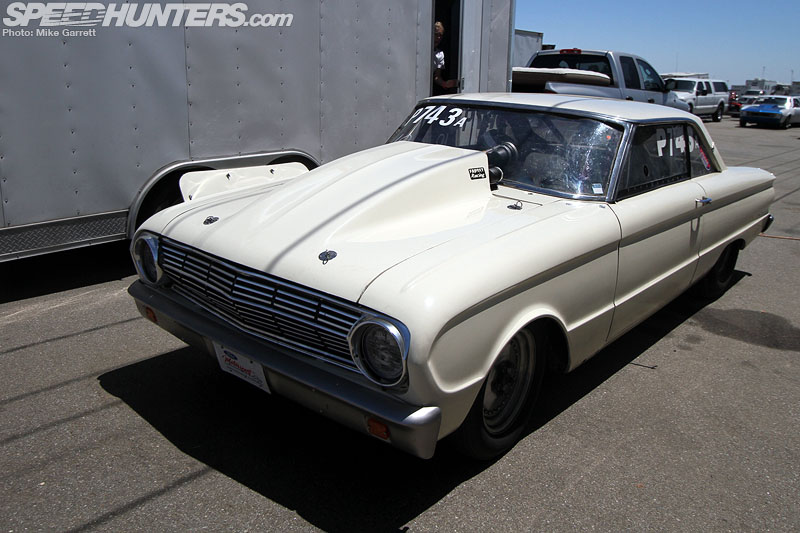 I see quite a few Ford Falcon gassers at nostalgic drag events, but here's one built to more of a modern drag spec. It sits low with a huge cowl hood and even larger rubber in the back.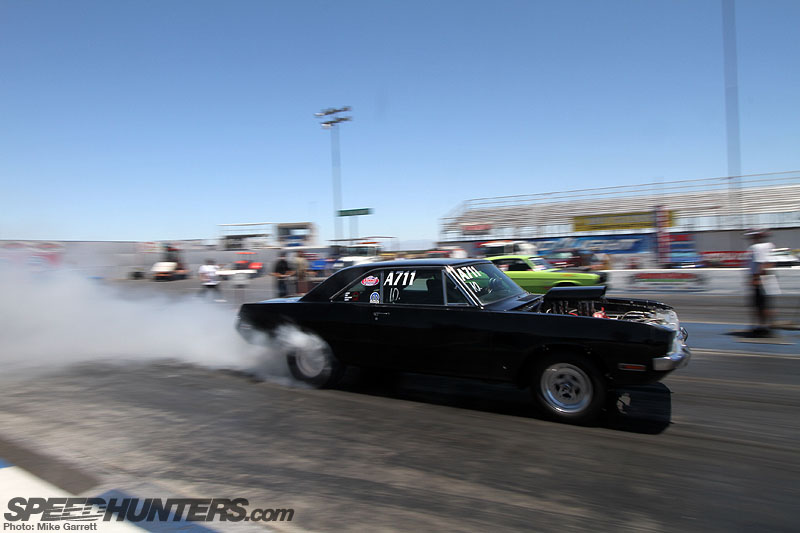 An all-Mopar grudge match with a Dodge Dart running in the near lane and a Plymouth Duster in the far lane.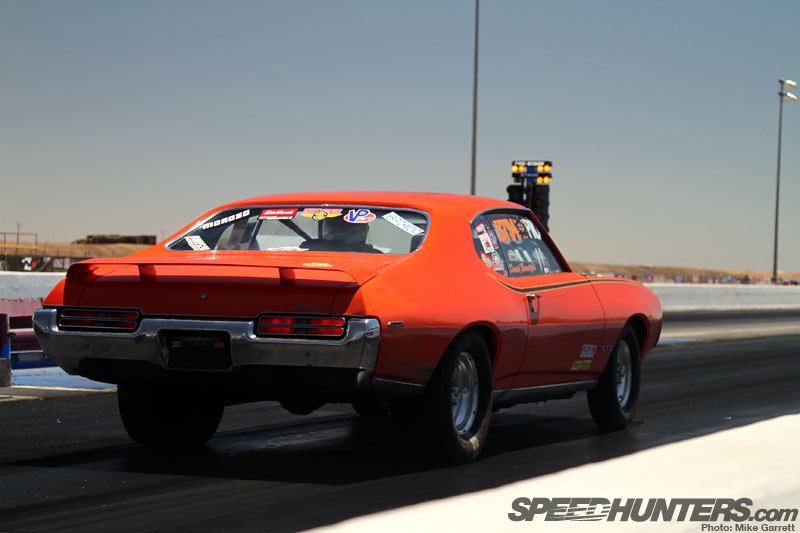 I noticed a few of you guys were asking about this '69 GTO in the comments section of the previous post. I'm not 100% sure if it's a genuine Judge or not, but it certainly looks like it. Note that it even has original black California license plates.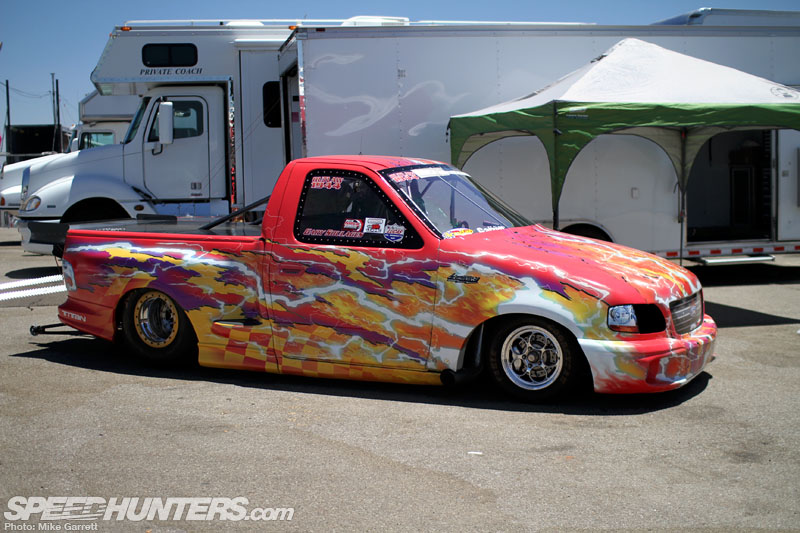 It seems aerodynamics aren't terribly important in Pro Street racing – or at least not enough to stop Gary Soulages from basing his race machine on a Ford Lightning pickup truck.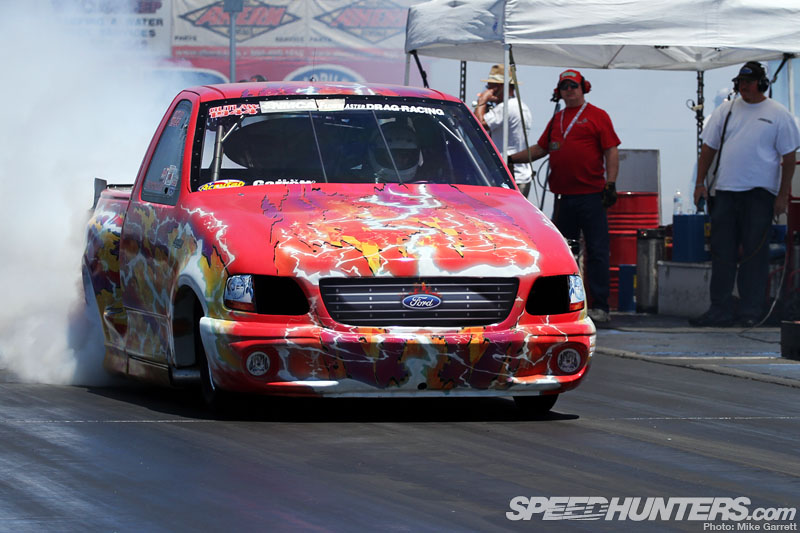 Although the truck was defeated in the first round of eliminations on Sunday, it's capable of running well into the six second range.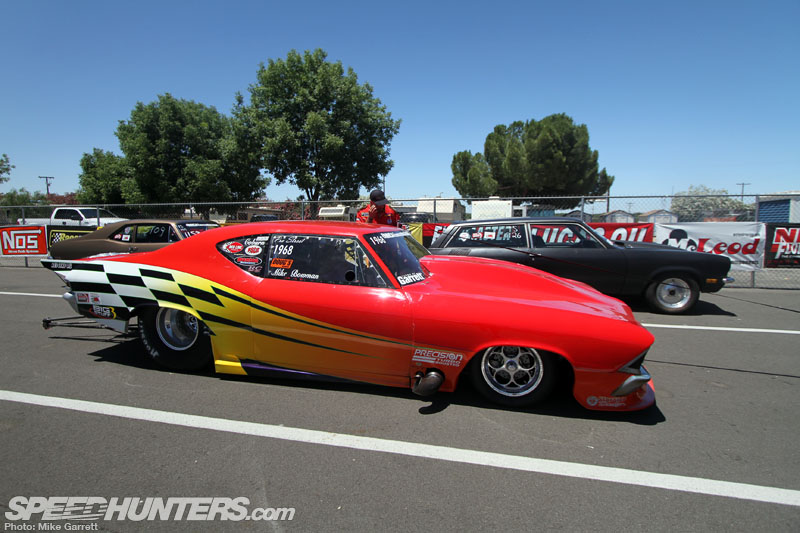 Another one of the radical machines running in the Pro Street Class was Mike Bowman's wild '68 Chevelle powered by a twin turbocharged big block.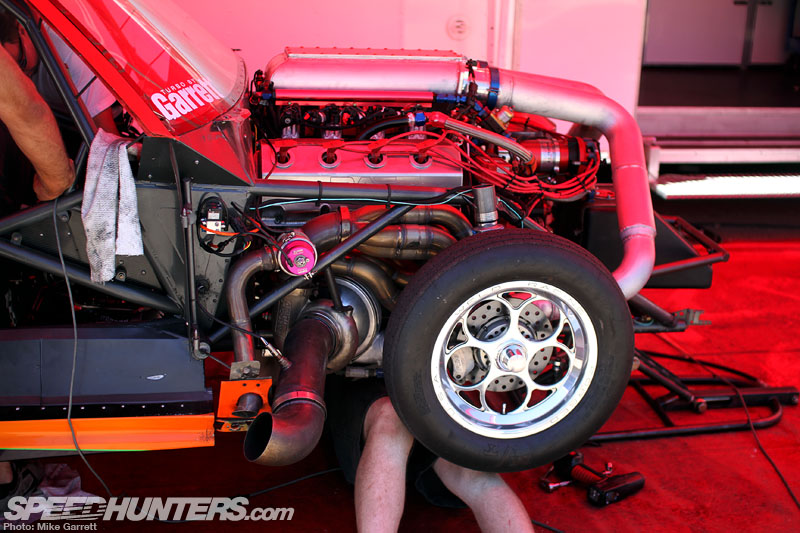 When you go up to a car like Mike's in the pits and look at the motor setup, I really don't know what else to call it other than pure mechanical pornography. It doesn't matter whether you are a fan of drag racing or not, it's impossible not to love this.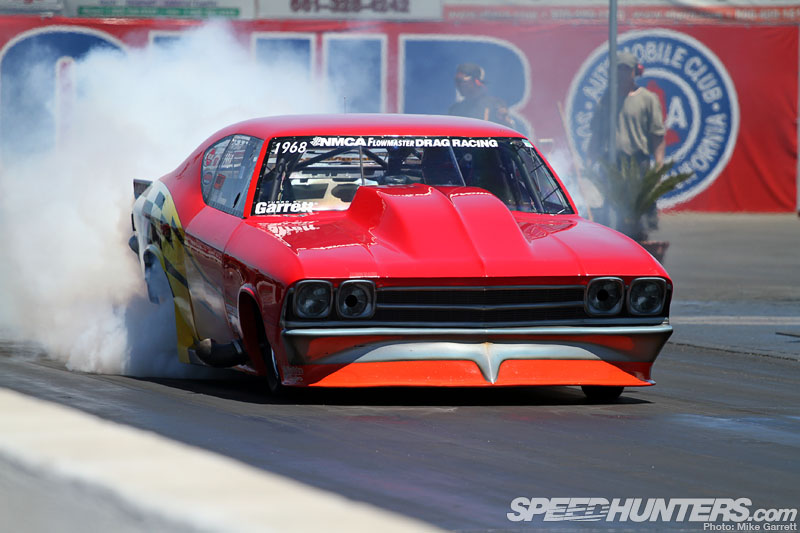 The Chevelle made it into the third round of eliminations before it was defeated by the MMR Mustang seen in yesterday's post.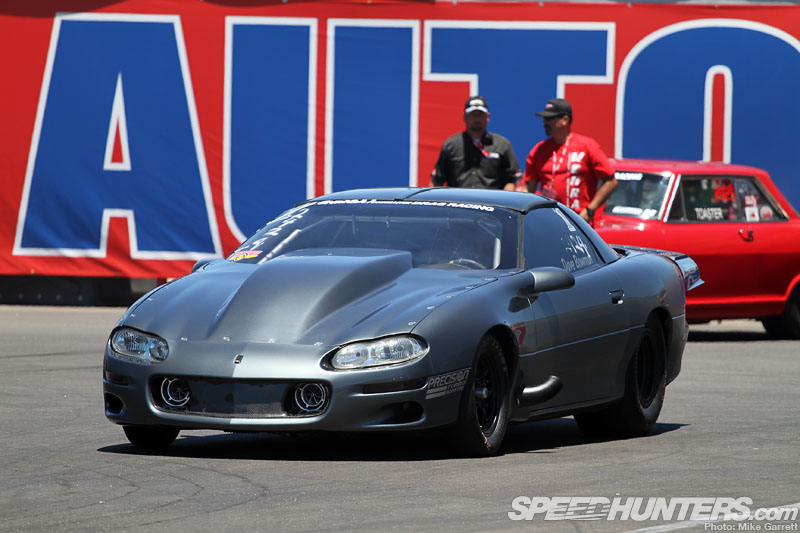 One of the coolest head to head matchups of the day came in the first round of eliminations for the True 10.5 class. It was a battle of two twin turbocharged fourth generation Camaros with the Bay Area's David Bowman…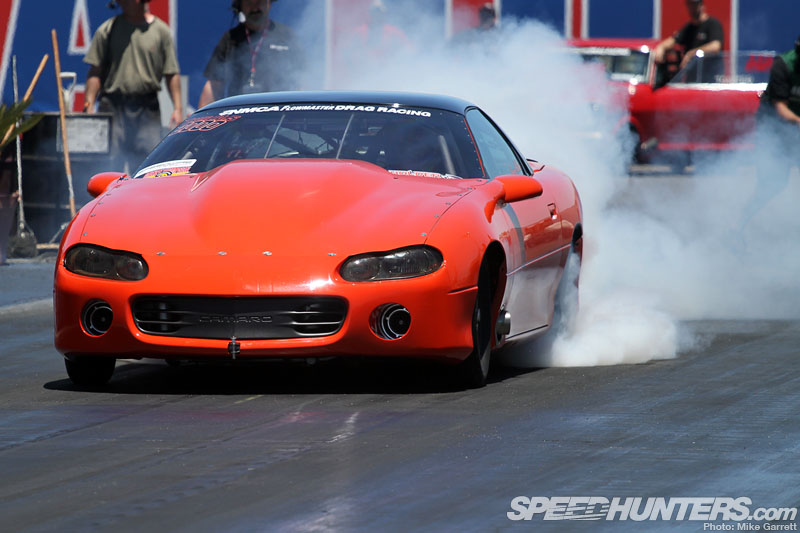 …facing Bakersfield's own Roger Holder.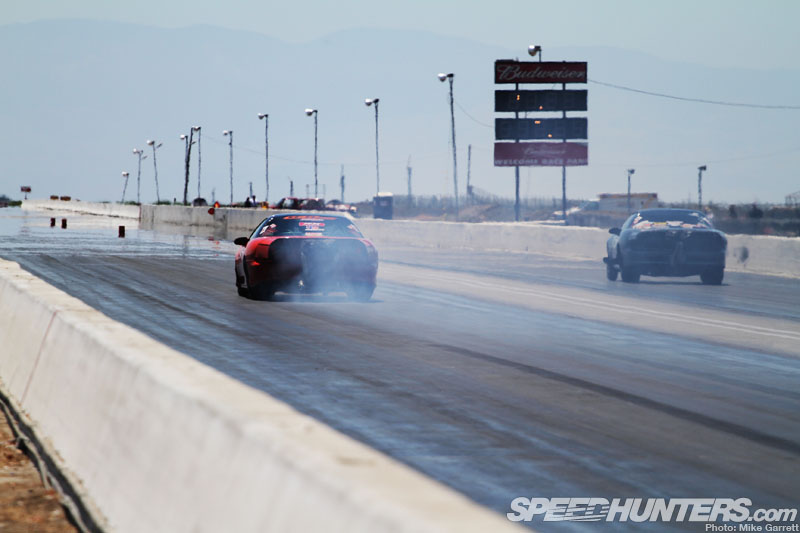 As the cars came off the line, Holder suffered some traction issues which allowed Bowman's gray machine to take the win with its 7.913 ET.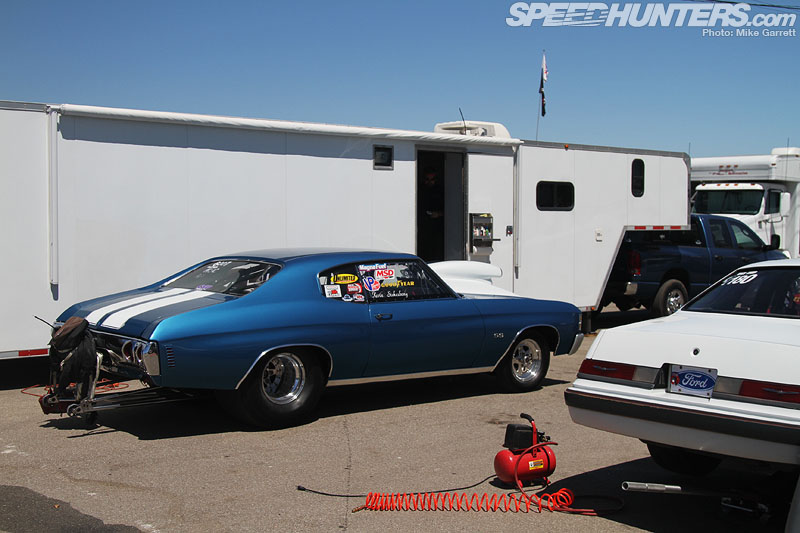 Back over in the pits, I caught this tough looking Chevelle taking a break between sessions. While a lot of the race cars run some pretty extravagant paintjobs, I thought this one looked cool with just the factory SS striping.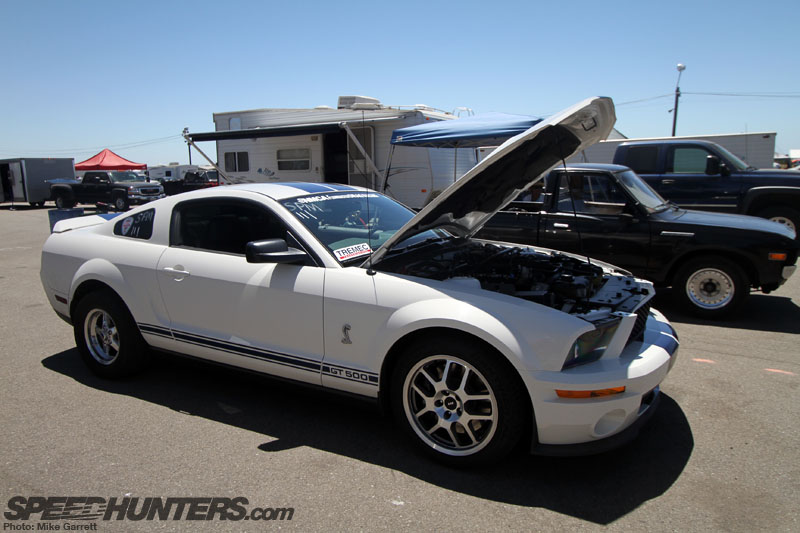 Here's a Shelby GT500 Mustang that looks showroom stock besides the 15″ slicks mounted in the rear. Unlike lots of the cars at the track, this one would be perfectly happy cruising down the freeway with the AC blasting.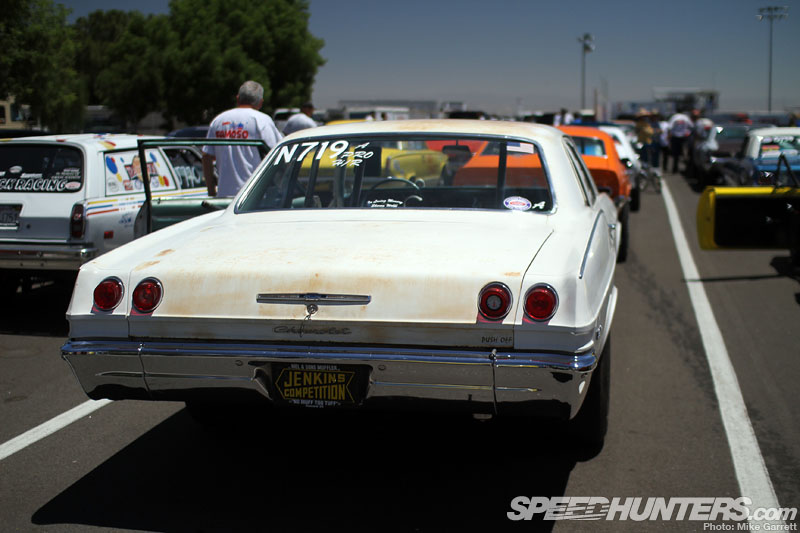 Any drag racer will tell you that a lighter car is faster car, but that doesn't mean you can't have fun with a full size machine like this Chevy.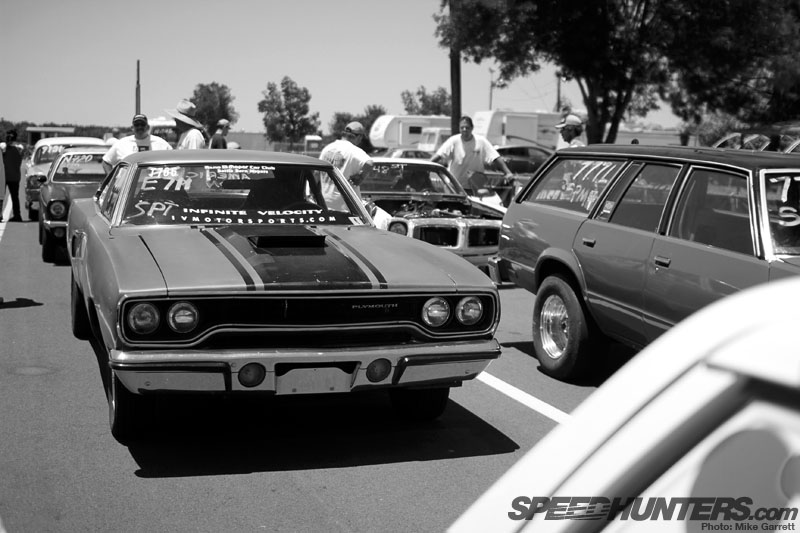 Another "true" Muscle Car I spotted was this '70 Plymouth Road Runner running in the sportsman group. If you were to make a list of the top five Muscle Cars of the '60s and '70s the Road Runner would have to be there.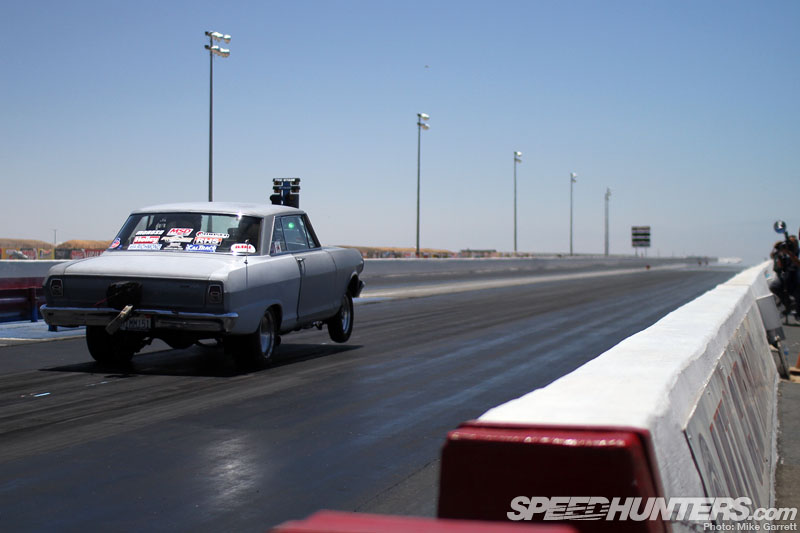 Is there anything cooler than looking at the back of  car and seeing both a parachute and a license plate?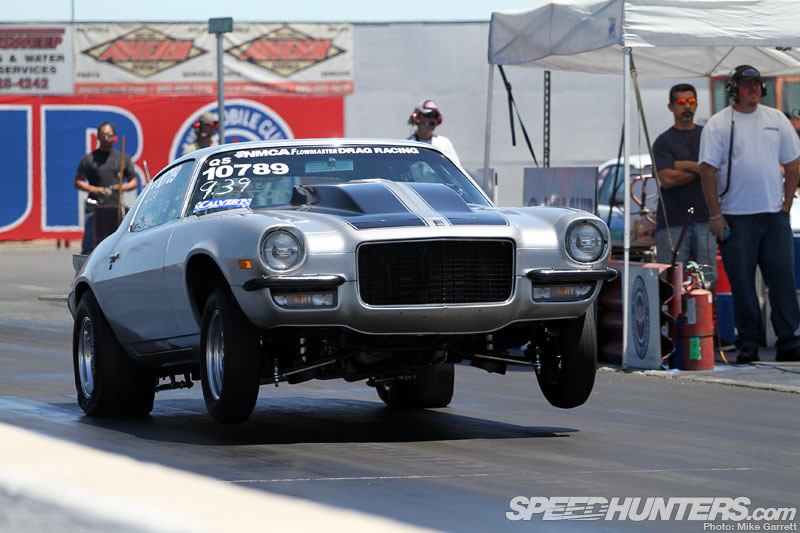 Wheelstands and heavy sidewall flex – two things that make drag racing very fun to photograph. This '70 Camaro was running in the Quick Street class on its way to mid nine second ETs.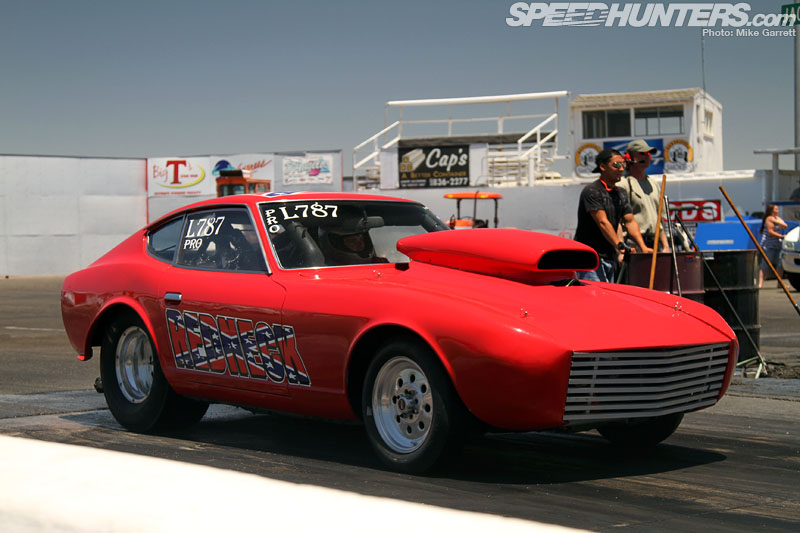 Long before it was even considered a "classic" the Datsun Z became a favorite of drag racers because of its light weight and an engine bay that will accommodate damn near anything.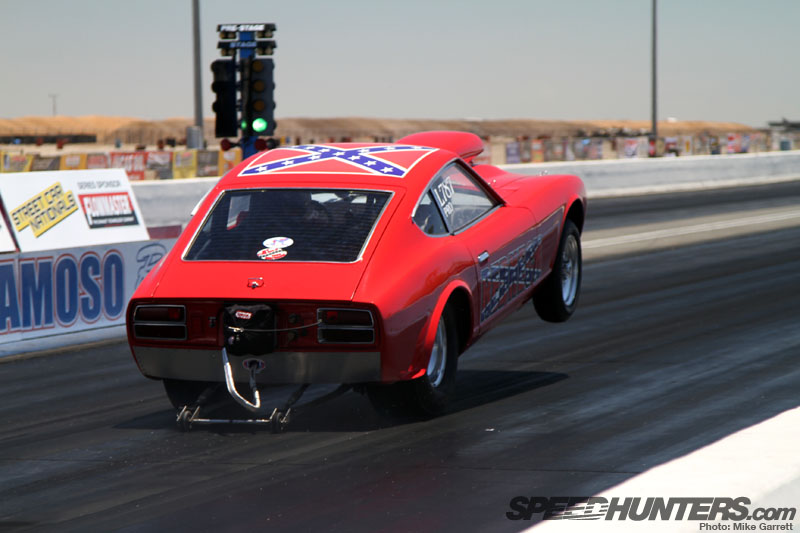 The "General Zee" (as one of our Instagram followers dubbed it) is also quite adept at wheel standing.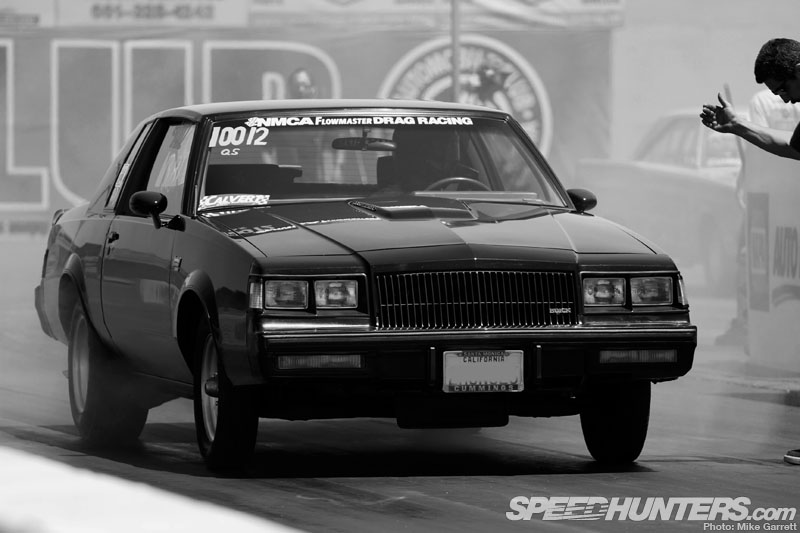 There were dozens of turbocharged Muscle Cars running at the NMCA event, but this Buick Grand National is perhaps the only one that actually came with a turbo from the factory. For a while I considered the GN a "modern muscle car" but they are nearing 30 years old now…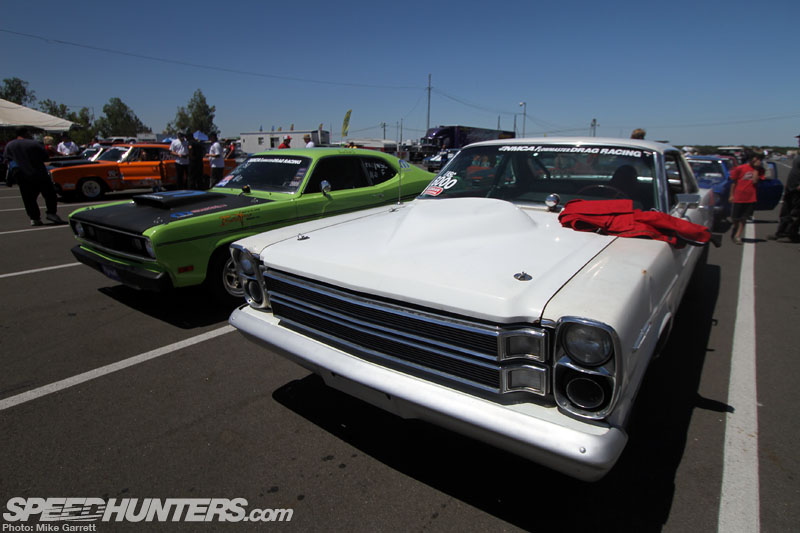 This Ford is another full size car that was there to get down.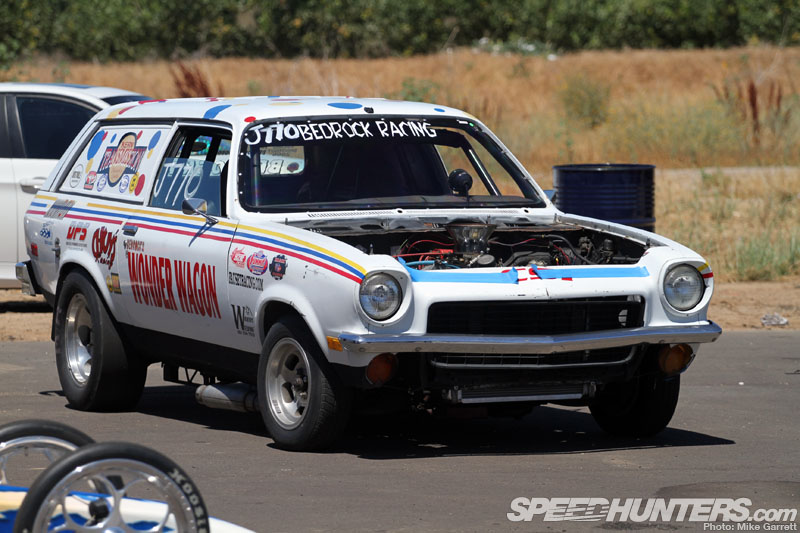 The "Wonder Wagon" Chevy Vega is pure serving of 1970s awesomeness. This one of those cars I've seen during a few of my visits to Famoso.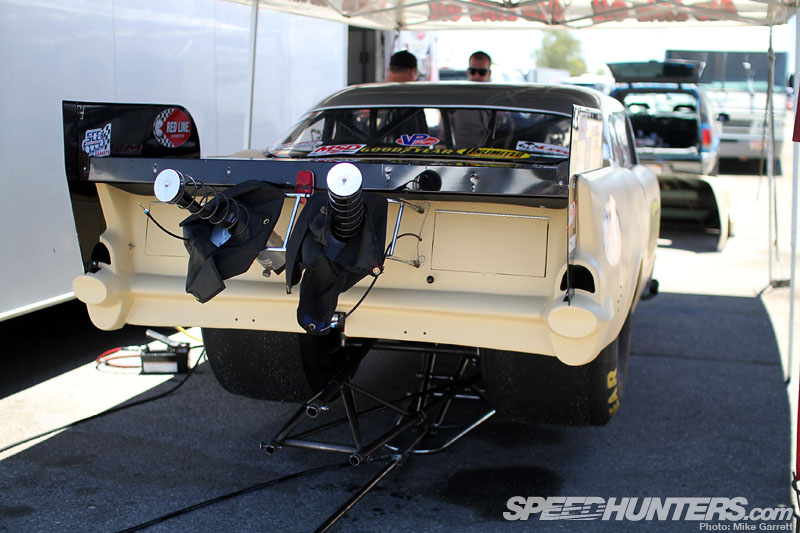 A 540 cubic inch '57 Chevy –  another one of the monster machines running in the Pro Street class.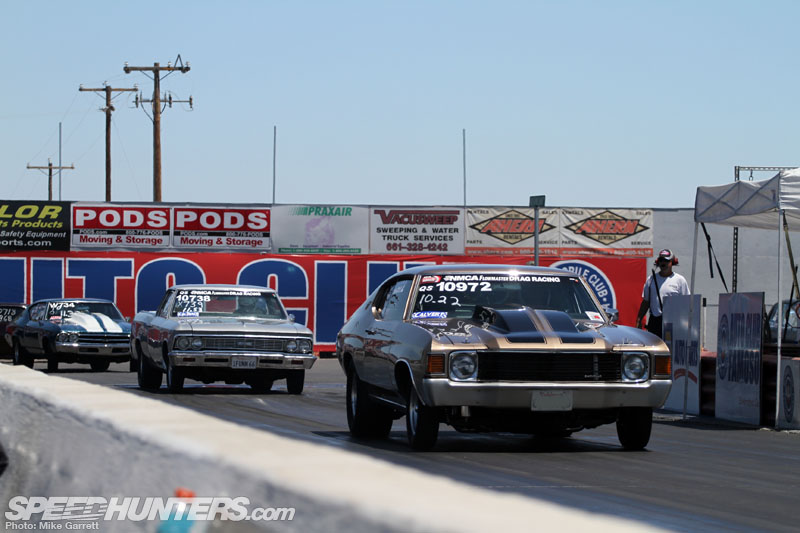 Yes, vehicles with bowties on them are popular indeed.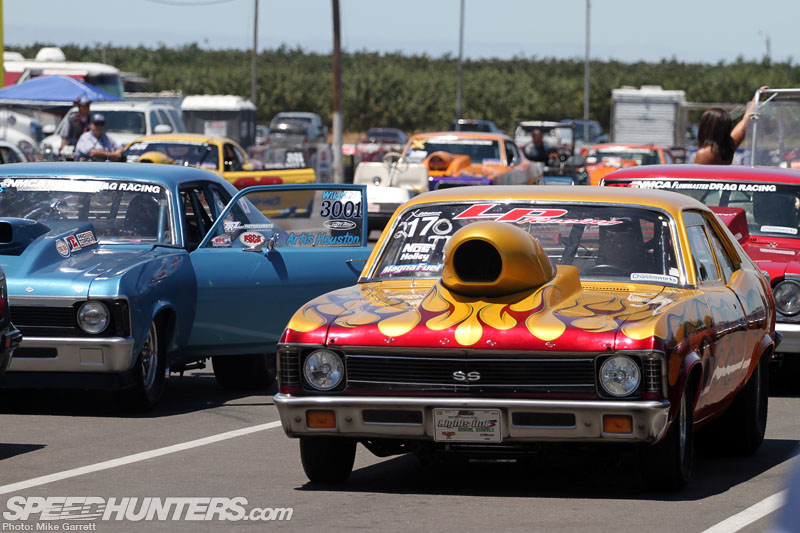 I should have counted exactly how many Novas there were at this event – all I can say is there were a lot.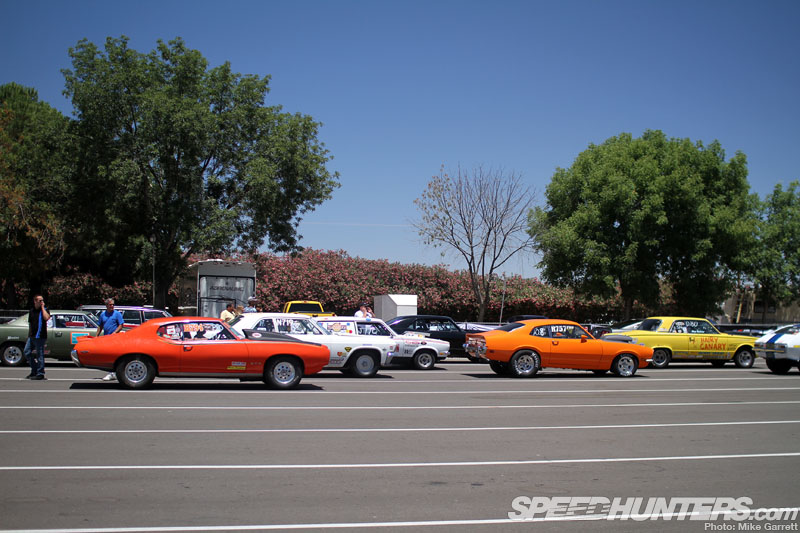 On the other hand, this view of the staging lanes shows a pretty diverse group of machines lined up and waiting to do battle.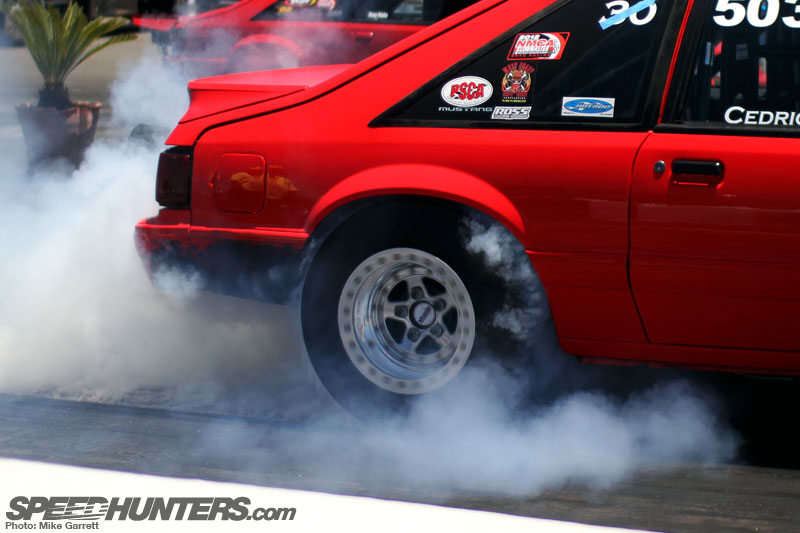 As a newcomer to this type of racing I was quite impressed with what I saw at the NMCA WEST opener. Here's hoping that the momentum will continue to grow and that the West Coast doorslammer scene will sometime rival what you find in other parts of the country.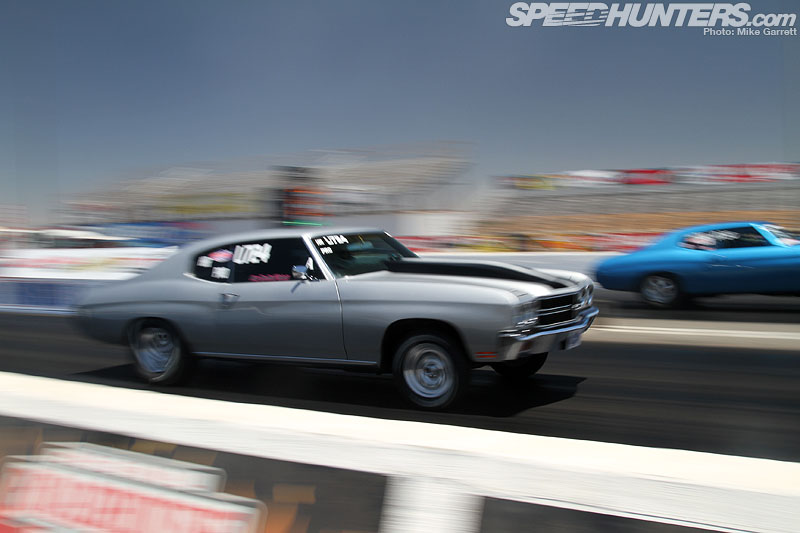 Hopefully you have enjoyed the little glimpse into one of the most rawest forms of drag racing happening in the USA right now.
-Mike