There's something undeniably fun about being a tourist. When you're just a temporary transplant you can examine foreign places without the prejudices a native may have unintentionally gathered along the way. For Speedhunting this an ideal setting, free of inhibitions and armed with a camera, we often find ourselves making our best work as tourists.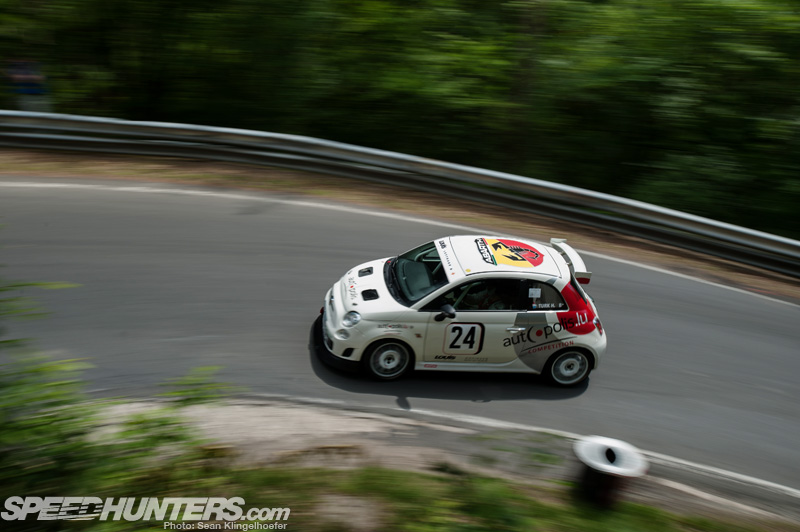 For those of you rejoining from yesterday's article, welcome back. To clarify for the rest of you that are just jumping aboard, this article is recapping the latter half of a three week Speedhunting hiatus in Germany. The concept is to share some of the amazing things I've seen which will hopefully encourage and inspire more of you to get out and see our beautiful world and its many cultures for yourself.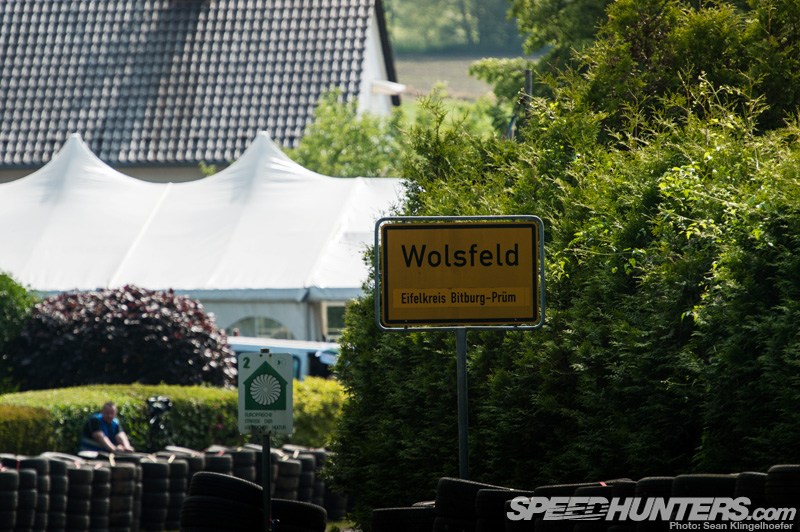 We left off yesterday at the conclusion of the Tuner GP at Hockenheimring and immediately following the event was a Sunday-Monday Berg Cup hill climb at Wolsfeld. I spent many years anticipating the day I would finally make it to a Bergrennen and no amount of sleep deprivation could keep me away. Although this may have been the 50th anniversary of the event, I was a Berg Cup virgin and had no idea what to expect.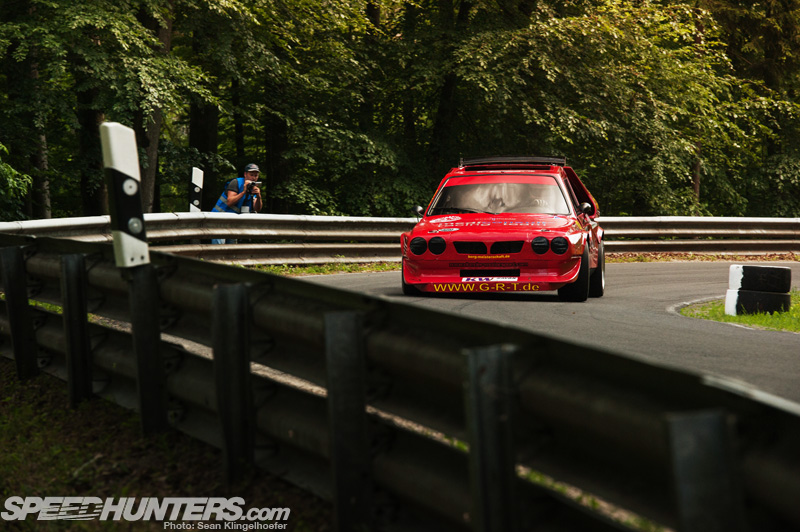 Needless to say no amount of YouTube videos could have prepared me for how amazing the event truly was. I hate to sound like a broken record but it's pretty difficult for me to understand how a motorsport series this awesome doesn't have a TV broadcast… I mean it's epic, and I hate that word. The selection of cars, the relaxed environment, the dedication of the fans and the appreciation of said fans by the governing body made up a perfect end to the week.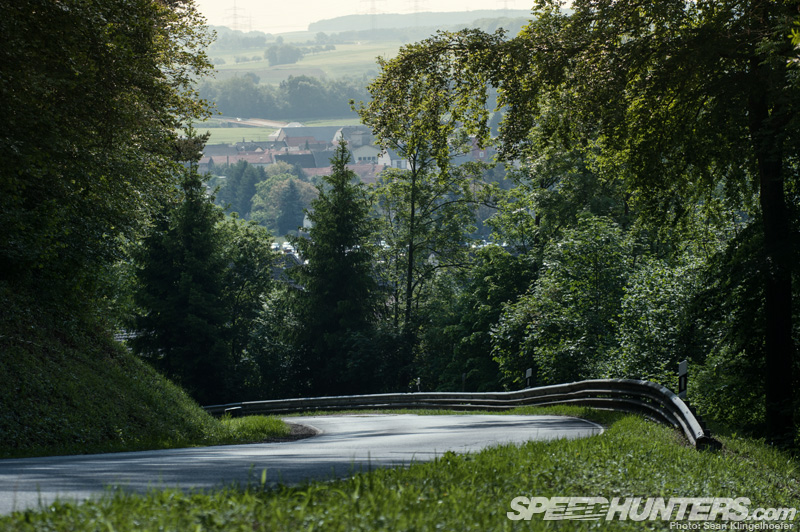 It was honestly one of the best motorsport experiences of my life, but the aforementioned pieces are only half of the story. The concept of a hill climb borders on mentally insane – take a home built car and drive it up an impossibly narrow, steep and dangerous road as quickly as possible. It's a format for disaster but also vastly entertaining.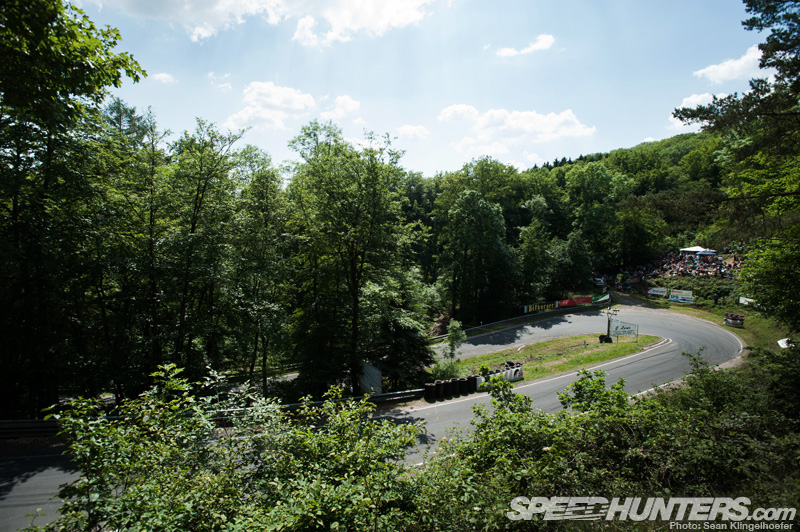 They say in sports car racing that "the cars are the stars", but if I had to pick when it comes to hill climb I'd have to say the course is the star. The course at Wolsfeld, if I'm honest, made the Nürburgring look a bit like a bunny slope. The surface and surrounding woods were nearly identical, but the track was even more narrow, with more aggressive grades and, somehow, less room for error. It was… well, epic.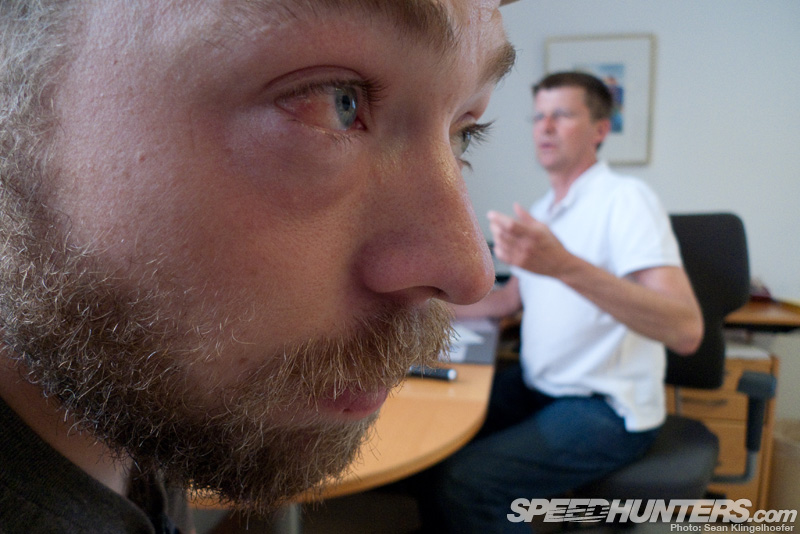 What wasn't epic was the crazy bug-bite and/or infection (I still don't know) that I got on my right eye shortly after the event. It's a total buzz kill having to try to find a doctor in a foreign country where you don't speak the language or have health insurance. Fortunately thanks to the general kindness of German citizens I was lead by foot to a doctor where I was able to get things sorted out. 40 euro, a small bottle of eye drops and two days later and I was good as new.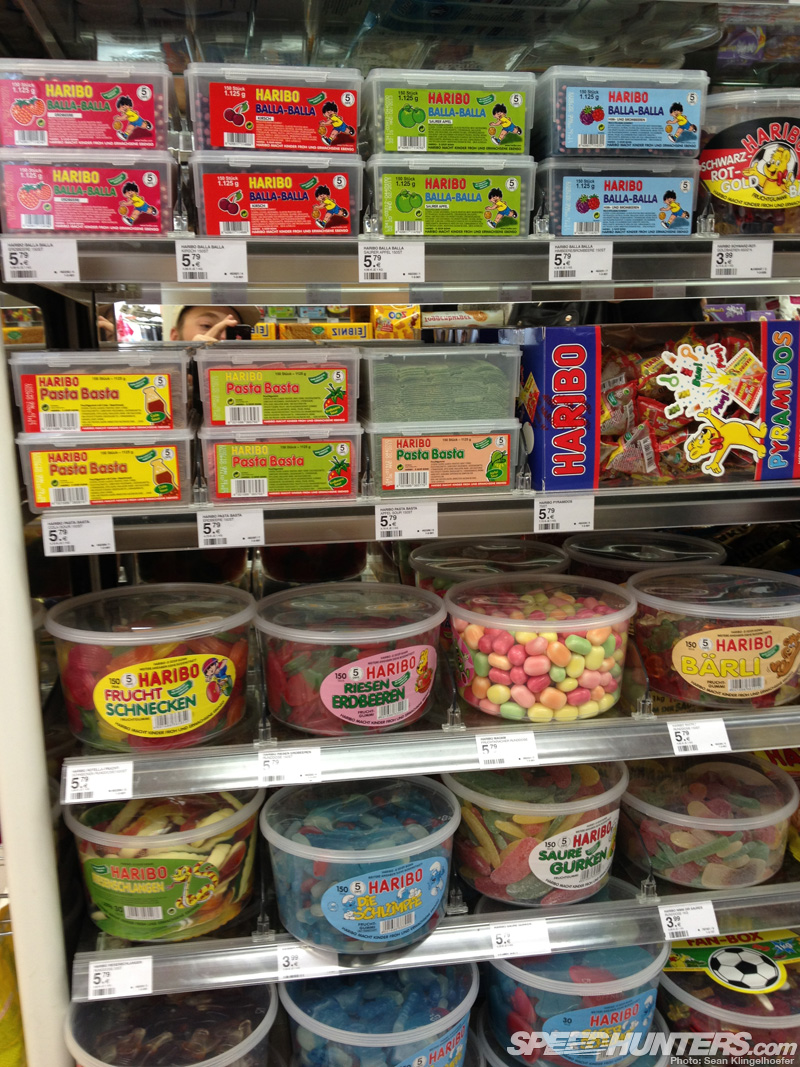 Of course a couple of Haribo gummy snacks never hurt the recovery process either.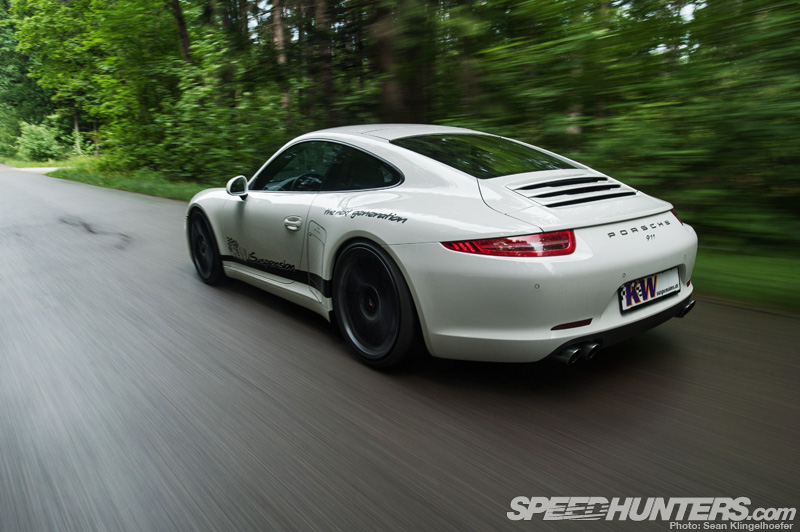 With the motorsport portion of my Speedhunting calendar over I headed to the countryside to visit some friends at KW suspension where I was able to get up close and personal to their new 991. This brand new nine-eleven is sporting KW's DDC electronic controllable dampers complete with…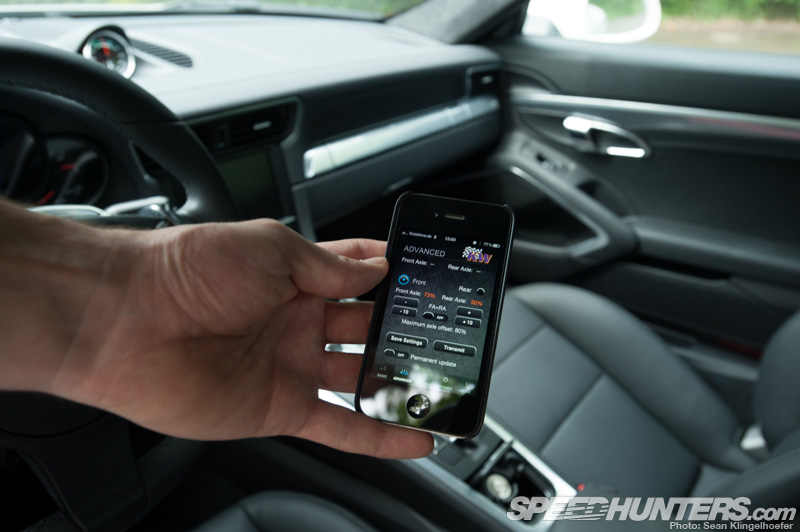 … their new iPhone-adjustable iSuspension system, something I will be writing about in more detail later. Need to dial in some oversteer? Wish you could save different settings for tracks or road conditions and load them on the fly? Ya, there's an app for that.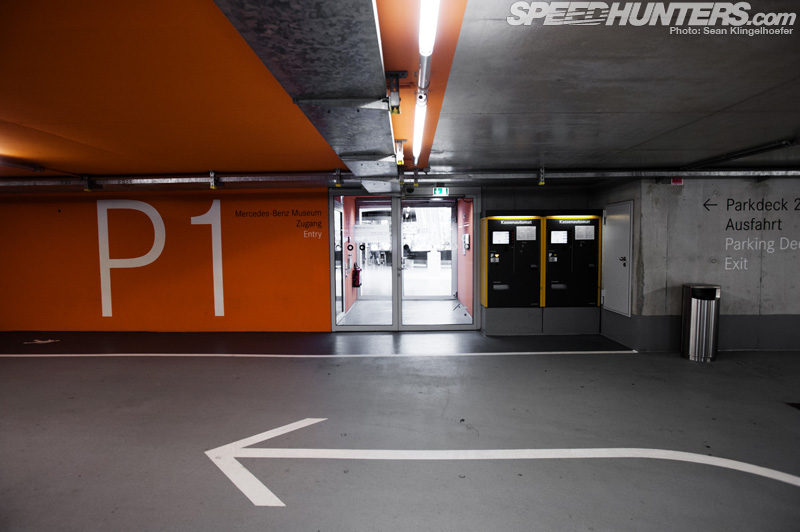 With only a week left I had to kick tourist mode into fifth gear and turned the last leg into a major museum hunting session, starting in Stuttgart…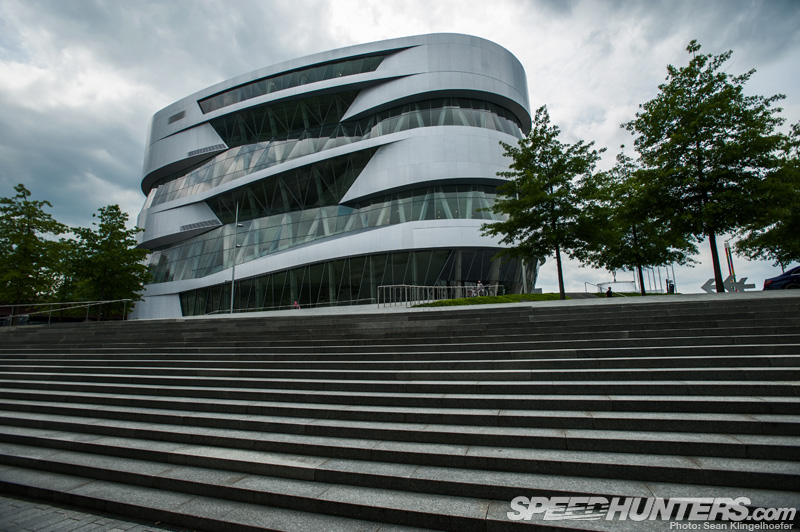 Where I visited the beautifully designed Mercedes-Benz museum. I ended up spending close to five hours inside due partially to how interesting it was, but also by Mercedes' long history and significant innovations to the automotive industry. Unfortunately I cannot reveal too much about this place either since I will have at least one post dedicated to it in the very near future, so keep your eyes peeled.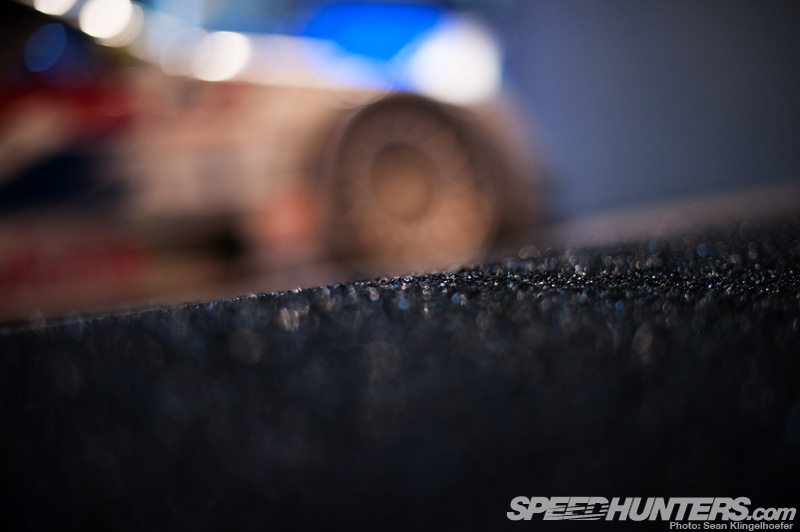 What I can tell you is that they had a race car or two in there… bonus points for anyone that can accurately identify the strange object shown here off in the bokeh.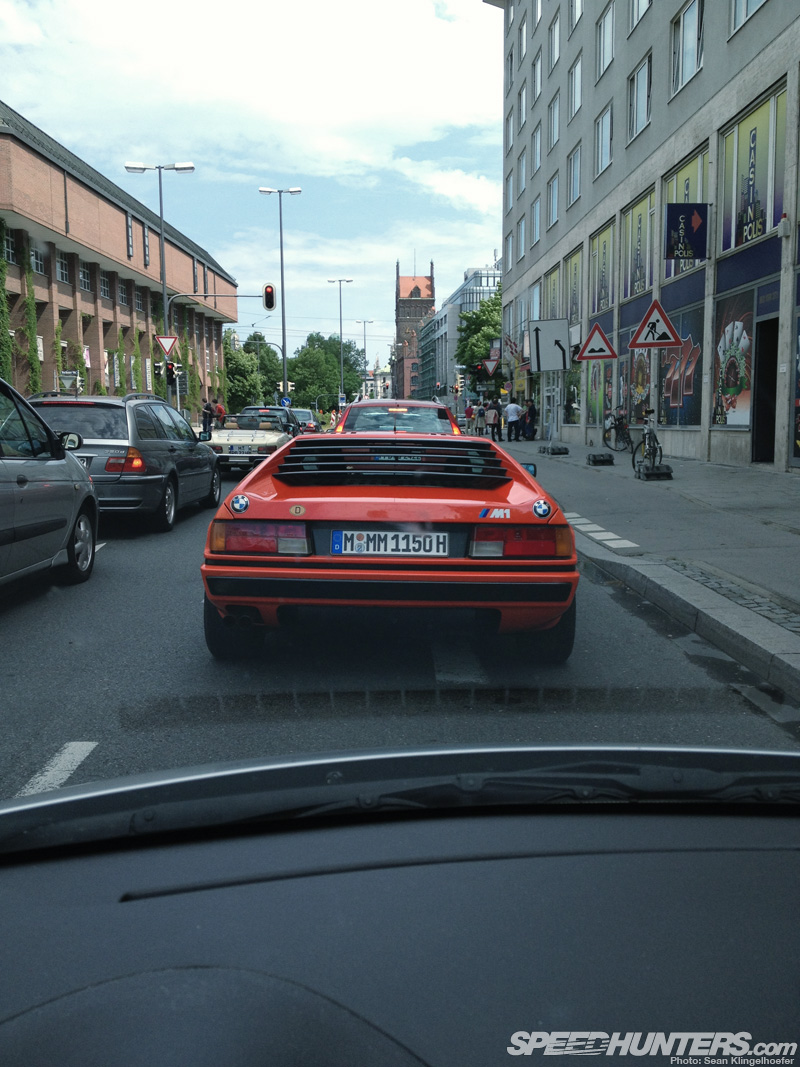 Next I decided to head out to Munich, where BMWs are born. Only several minutes after leaving the autobahn for downtown Munich I spotted this rare gem, an M1. I've probably seen half a dozen standard versions and that many again in Procar form, but this was the first time I've ever encountered one of these beasts out in the wild on a public roadway.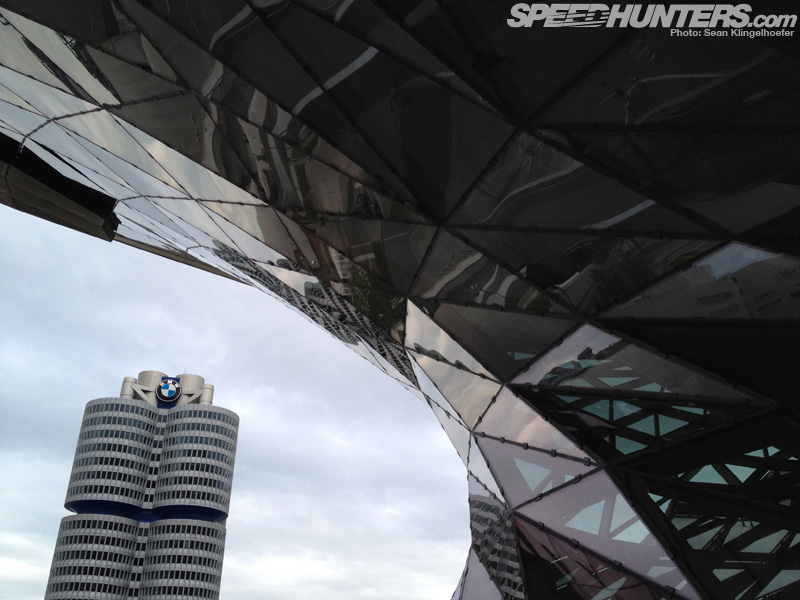 While in München, I figured I may as well pay a visit to the church of BMW so I stopped by the world famous BMW Welt. Foolishly, I hadn't done my research and I thought that BMW Welt was home to the museum collection, something I later realized (after it was too late), was housed across the street under the building seen in the left of the frame here.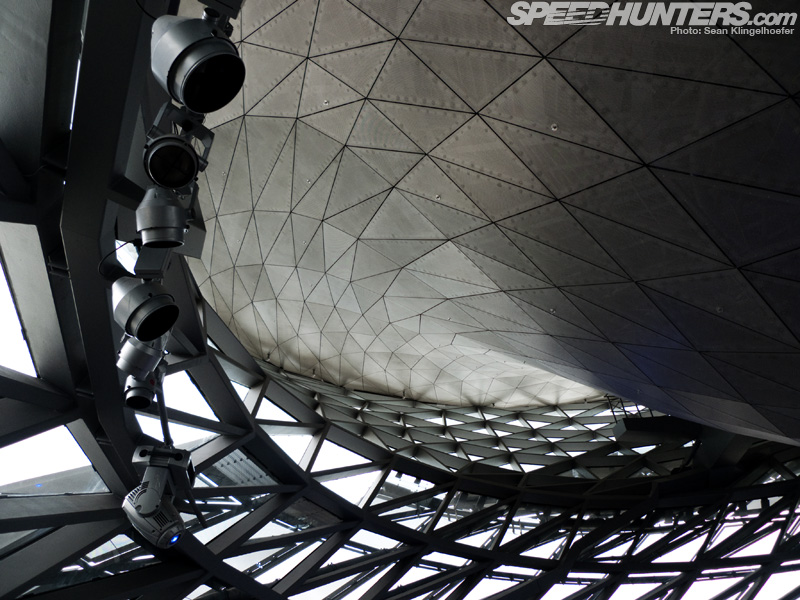 Nope as it turns out BMW Welt is just an über-fancy showroom, but it certainly is nice to look at, wouldn't you agree?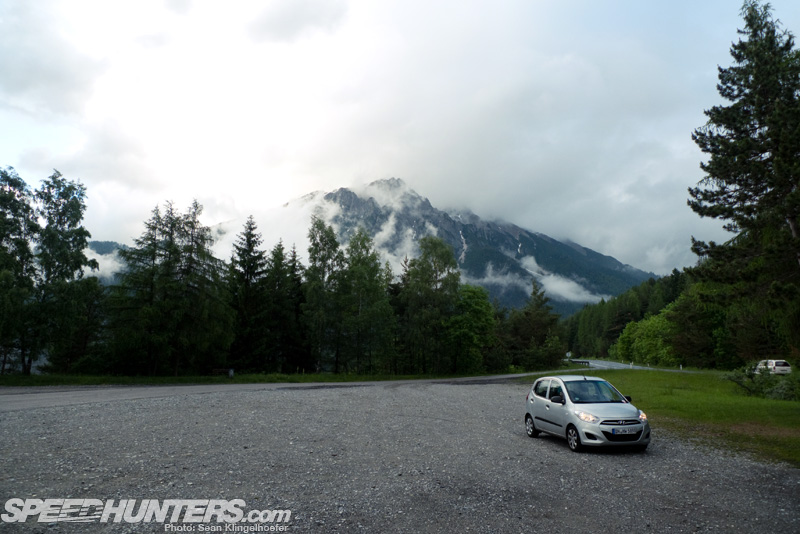 Before returning to Stuttgart for the second time I decided to take a scenic long route through the Alps, where my father grew up. While we have plenty of tall mountains on the west coast including the Sierra Nevada and Rocky ranges, they just aren't the same as the Alps. Here these ridiculously jagged mountains seem to have been vertically ejected from the earth's crust in a violent manner.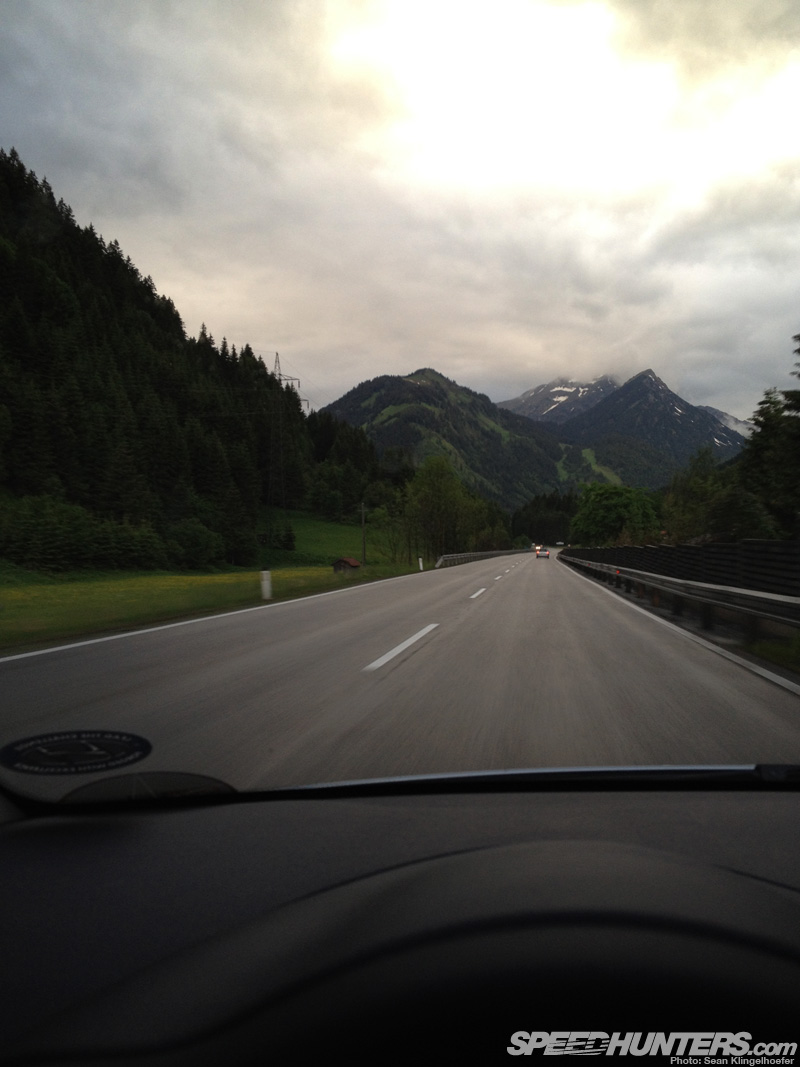 I couldn't make it more than five kilometers without having to pull over to take another photo. The roads running between these enormous peaks were incredible, even in my beater rental. I can only imagine what it would be like to take on the extra twisty bits in something a bit more sporty. Some day I will return to find out.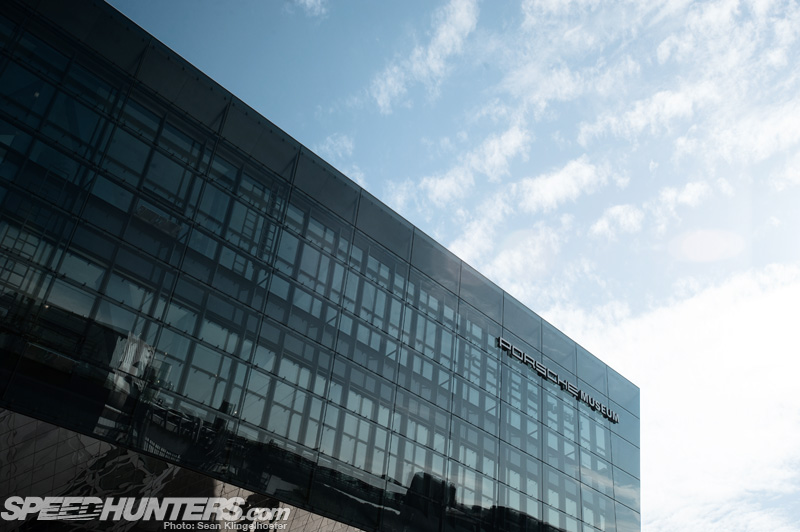 If you haven't noticed by now, I'm a bit of a Porsche fanatic (perhaps not as bad as Rod though), so it should come as no surprise that there was one last mandatory stop in Zuffenhausen before heading stateside. After taking several wrong turns as indicated by my rental's navigation I decided to wing it and drove around until I saw a big glass building that read "Porsche Museum".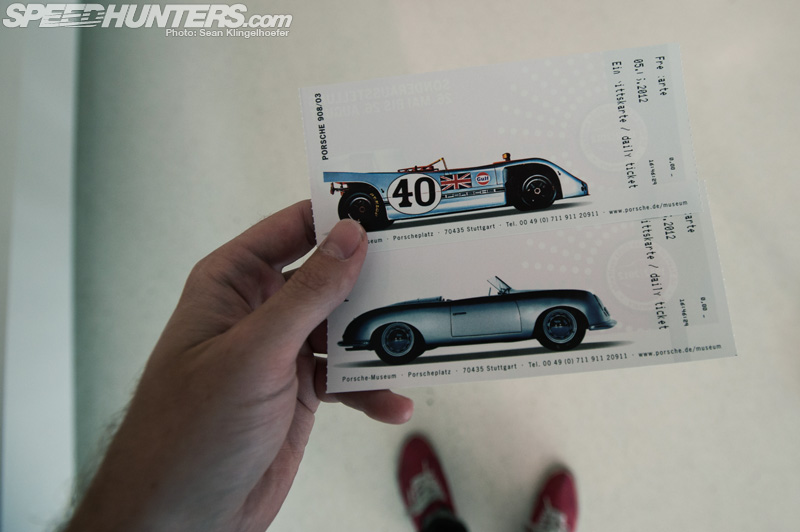 For a car nerd even something as trivial as an admission ticket with a cool graphic can be regarded as a prized keepsake.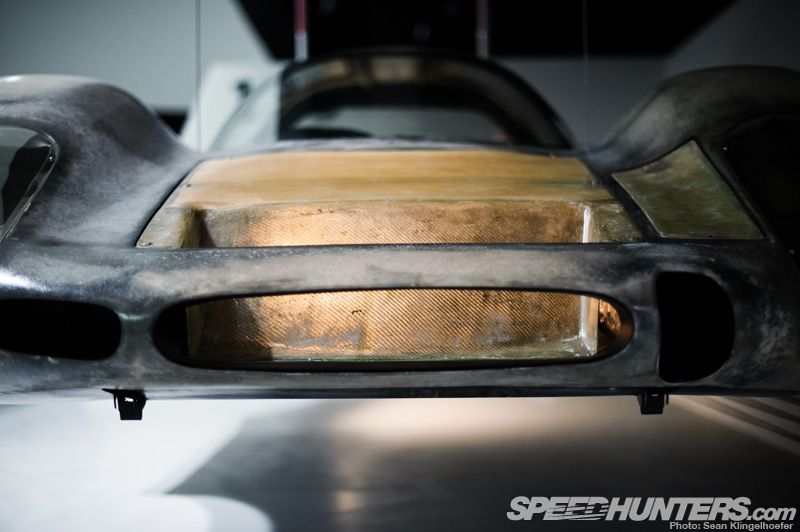 Once upstairs I turned back into the little boy I used to be and walked around with a grin from ear to ear. Even though I have seen pictures of this 908 shell before it was really cool being there, seeing it in person and making an image of my own. After contemplating the raw bodywork I have a new found appreciation for the cars I saw racing at Rennsport Reunion last November.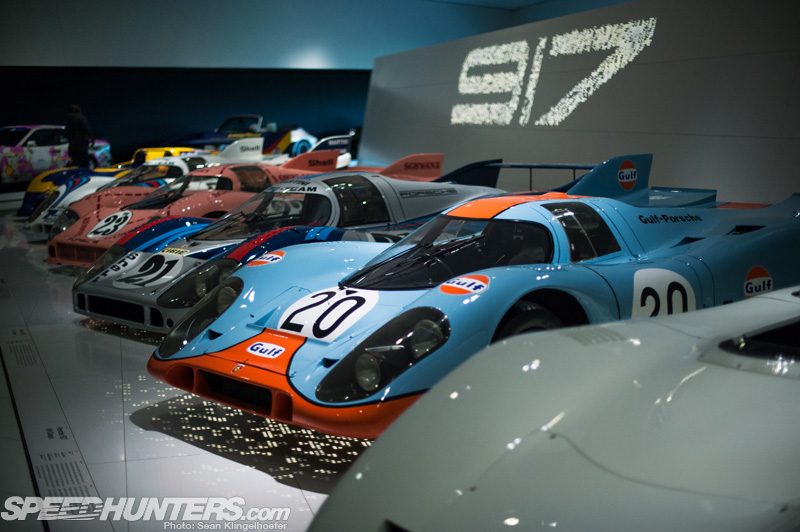 Of course you cannot leave the museum without the obligatory 917 shot. Here the cars have been laid out in all of its guises for you to appreciate, just don't make the rookie mistake of walking on the light-up floor to get a close up. Not that I learned from experience or anything.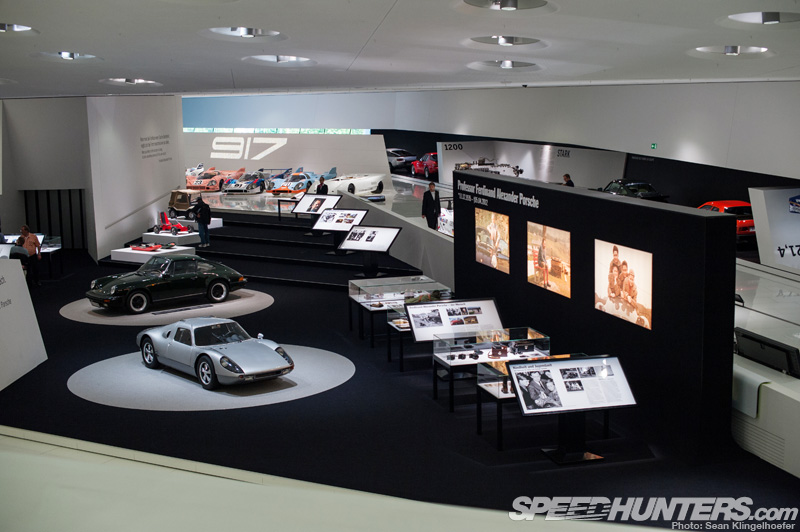 Aside from the year-round staples there were two other new seasonal exhibits, one celebrating the 60th anniversary of Porsche Clubs and the other the life's work and leisure of the recently deceased Ferdinand Porsche. In his honor their were booths placed around the central area of the museum containing facts about his life, both personal and professional, accompanied by many of his belongings.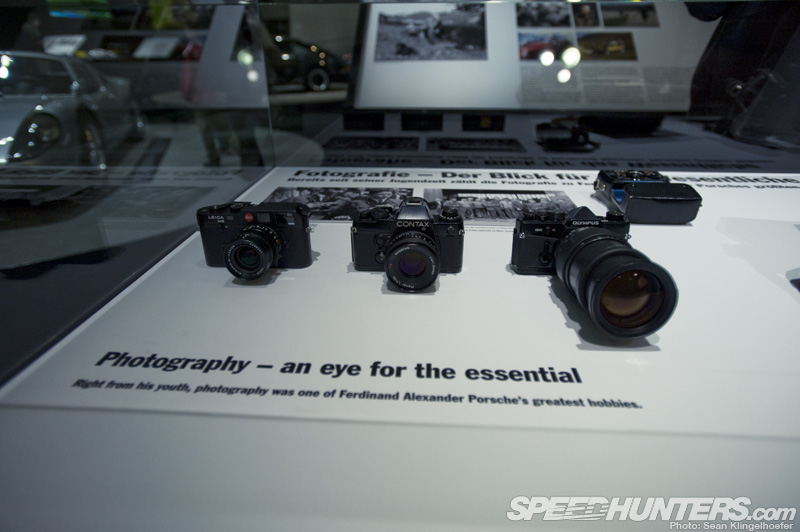 The man was a genius when it came to design, there's no question about that. Whether it be a car, cutlery or sunglasses Ferdinand had a taste for the simple and left a legacy based off the less is more mentality. But as cool as it was to see all sorts of tidbits from his life the one that hit me, unsurprisingly, was his love of photography. Who knows, had he been born in our generation the man who designed the 911 could very well have been a Speedhunter.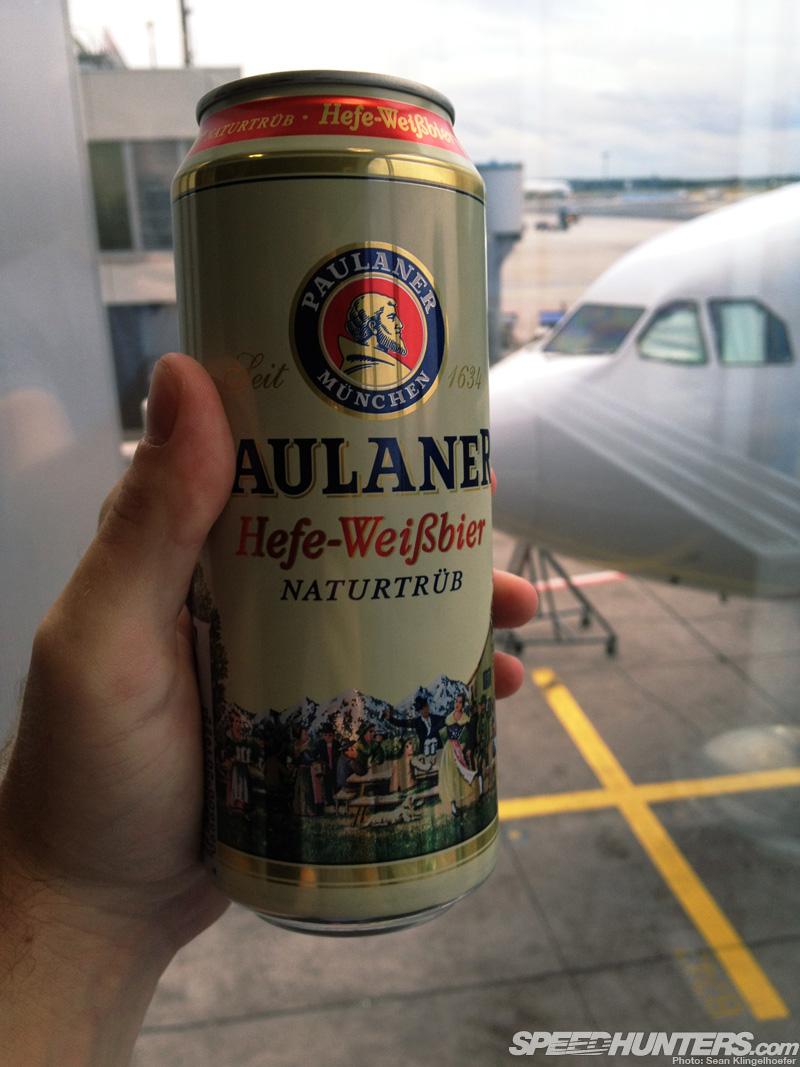 Unfortunately all good things must come to an end and before I knew it the day of my return flight had come. If there's one thing I learned from this trip it's that life is too short to not get out there and explore. It's unbelievably easy and if a dummy like me from America of all places can do it, so can you. So until next time, here's a  Weissbier for the road.
More stories by Sean Klingelhoefer on Speedhunters
More Speedhunting stories on Speedhunters
-Sean