Let's waste no time now jumping back into the massive celebration of all things Toyota held in Long Beach over the weekend. From sidedraft carbs to massive turbochargers and yes even hybrid powertrains – there is much more to share from Toyotafest 2012.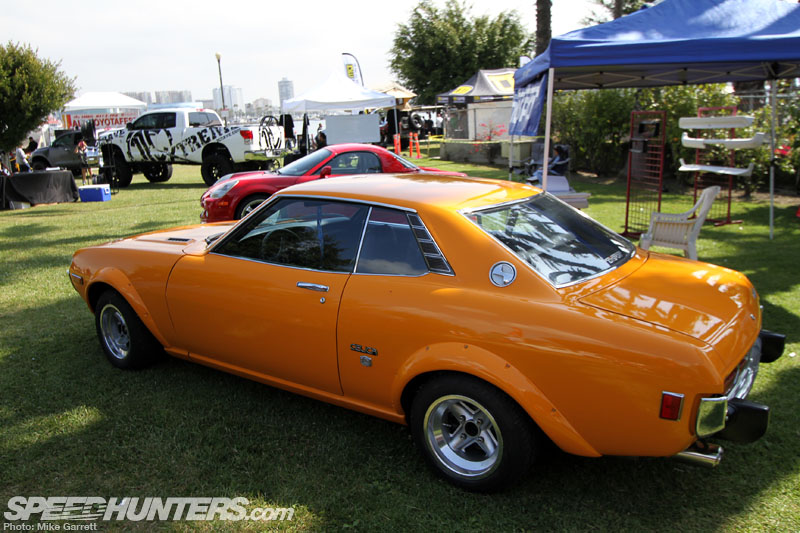 Ever since I attended the JCCA New Year Meeting in Japan earlier this year I've had a craving for fender flares and vintage wheels. Needless to say, I got my fix from Toyotafest.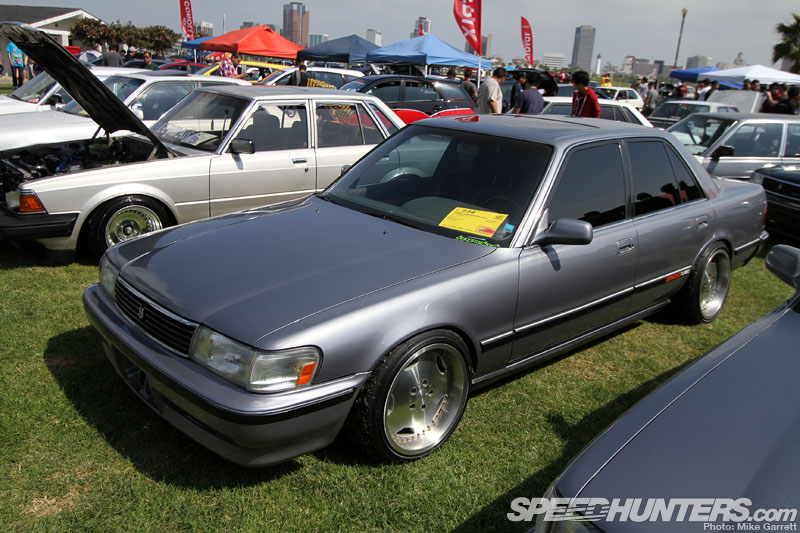 In stock form the MX83 Cressida isn't much, but when outfitted with a 1JZ swap and GX81 bumpers like this one it becomes America's best substitute for the JZX cars we were so tragically denied.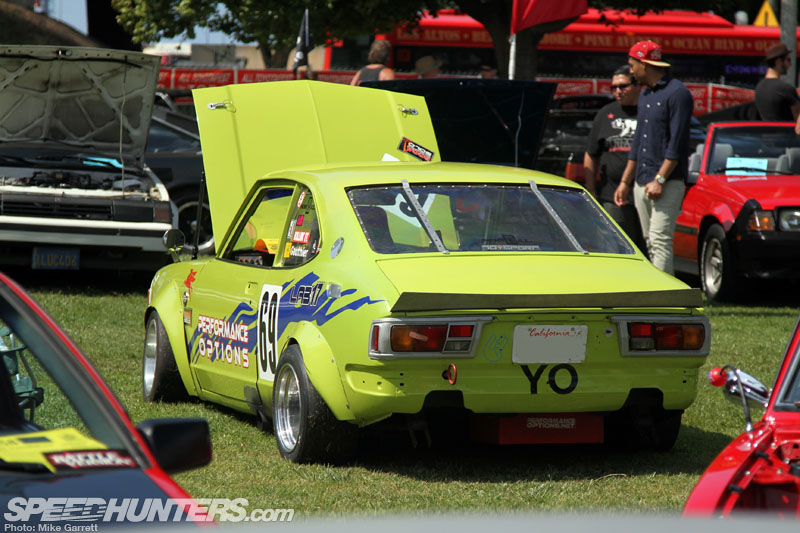 This sweet little Corolla race car was built by Joey from a shop called Performance Options in Oakland. I had a chance to visit Performance Options recently so you can expect more on this coming soon.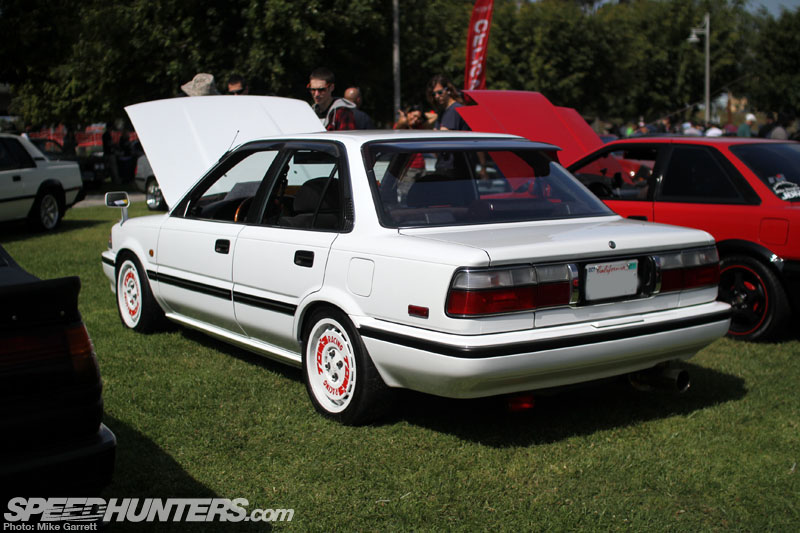 There probably aren't many people that would consider a '93 Corolla sedan as a prime build platform, but this was actually one of my favorites for the whole event. For starters there's the complete JDM Levin conversion on the exterior.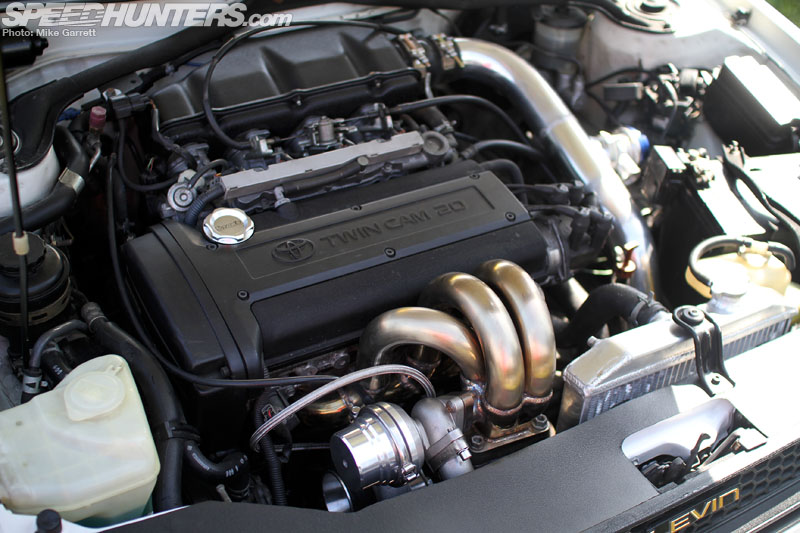 As well as a blacktop 20-valve swap with a turbocharger added for good measure. A high revving turbocharged four in a sedate looking early '90s economy sedan? Awesome.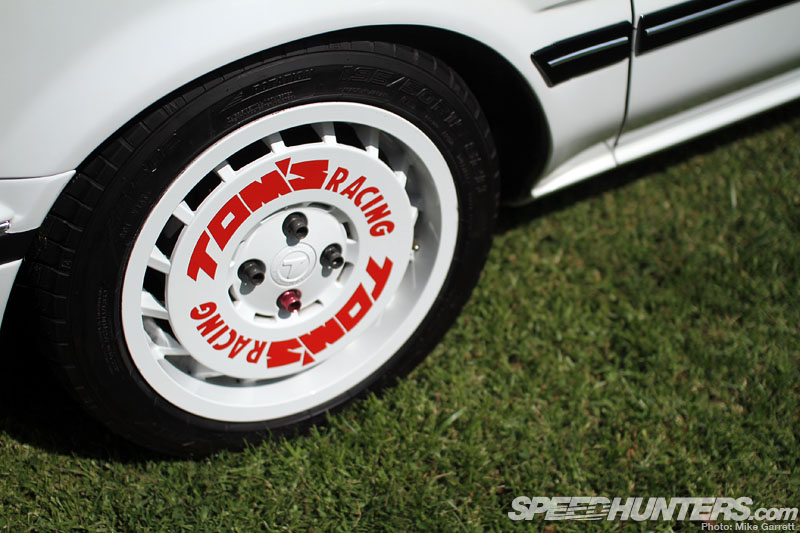 Perfectly matching the exterior of the car are a set of Tom's aero style wheels.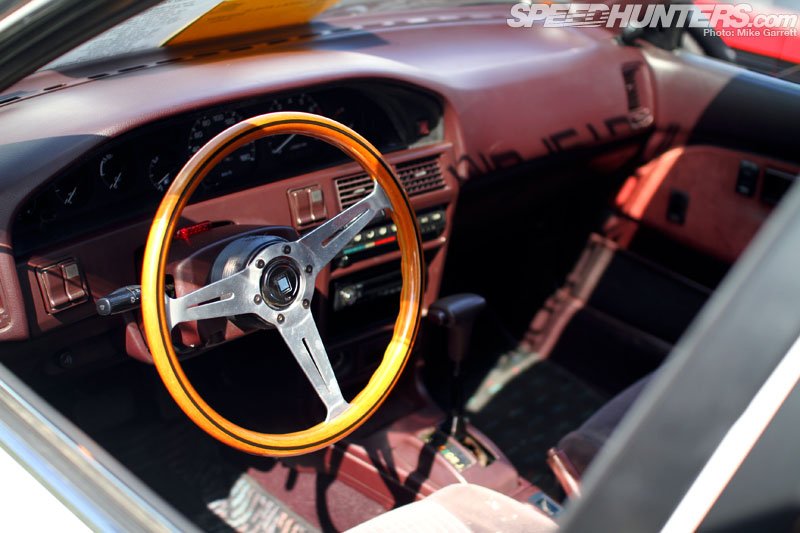 While a manual might be the enthusiast's choice, this car is actually equipped with an automatic trans. I wonder how well this works with the turbo 20-valve?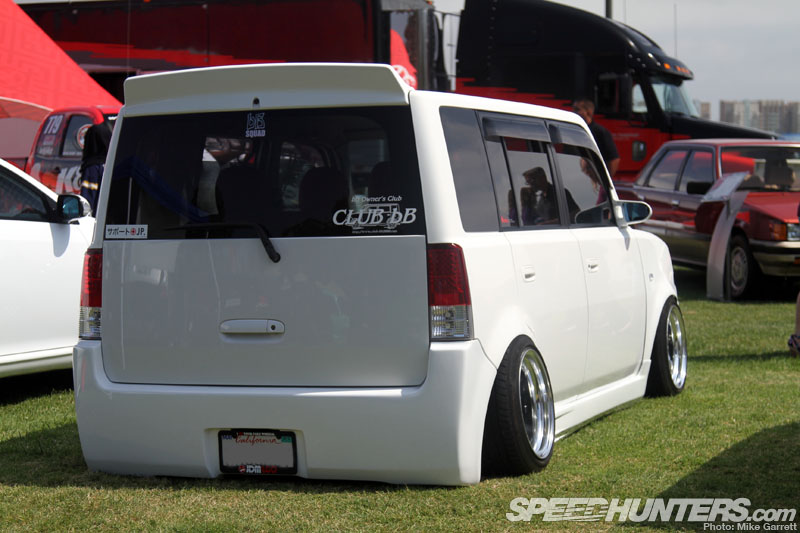 It's hard to think that it's been nearly 10 years since Toyota launched the Scion brand in the United States by importing the ist and the bB from Japan. From the get-go the Scion xB was marketed as a canvas for customization, and the idea still resonates today.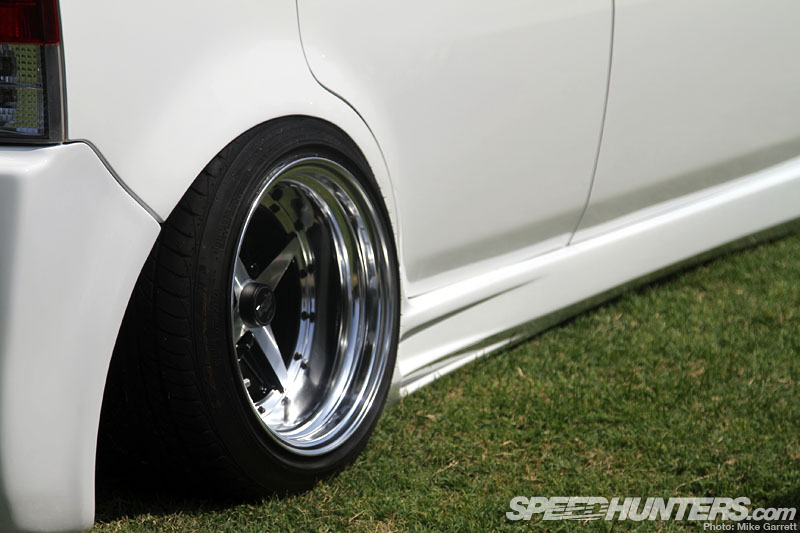 This particular xB was looking sharp on 15″ Equip 01s with a hearty amount of negative camber.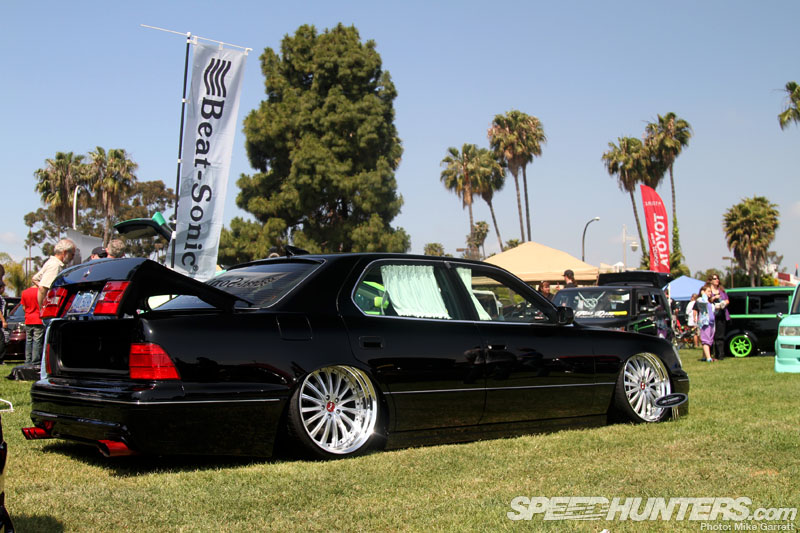 This black Lexus LS may have been the most impressive VIP car at the show. It's not quite as extreme as the cars popping up in Japan these days, but it had some wild touches like the six tailpipes out back.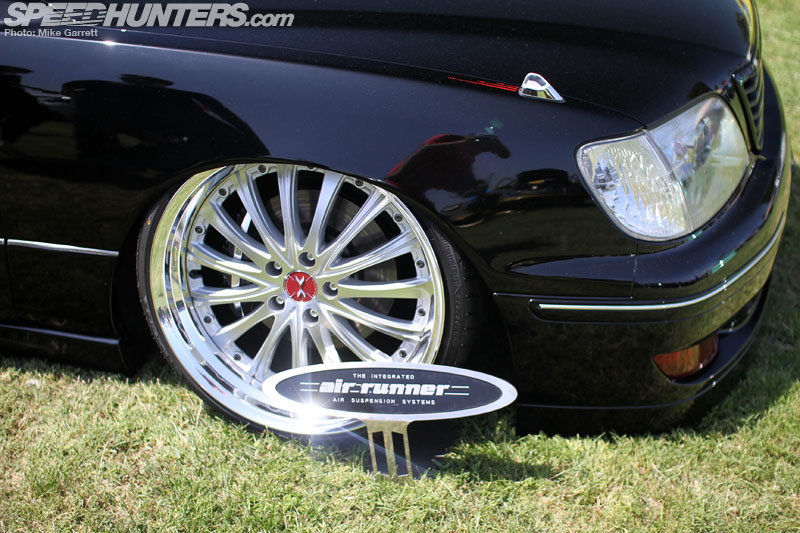 With all the great machinery around, I couldn't resist aiming my lens for a bit of Wheelhunting. Whether it was the ballin' Weds Mavericks on the aforementioned Lexus…
…or the timeless Tom's wheels affixed to this TE27 Corolla.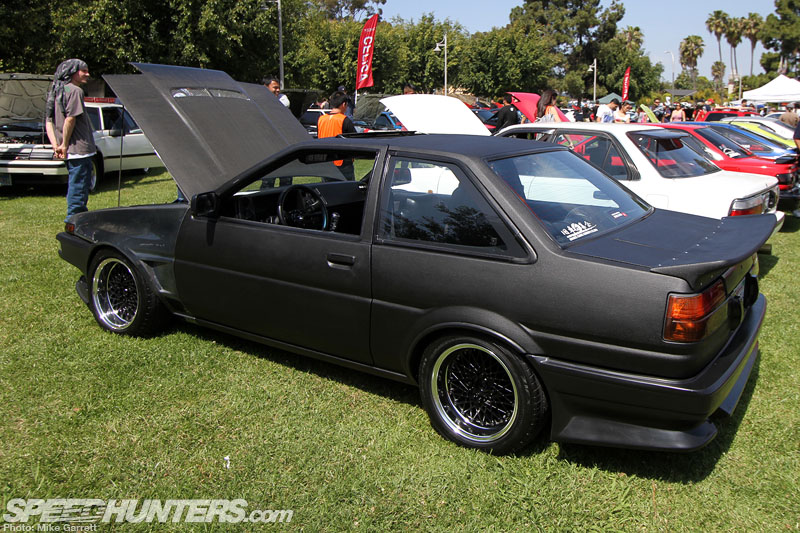 I recently decided to part ways with my own AE86 and I was actually prepared for a bit of regret as I walked through the AE86 section at Toyotafest. Must find a replacement soon…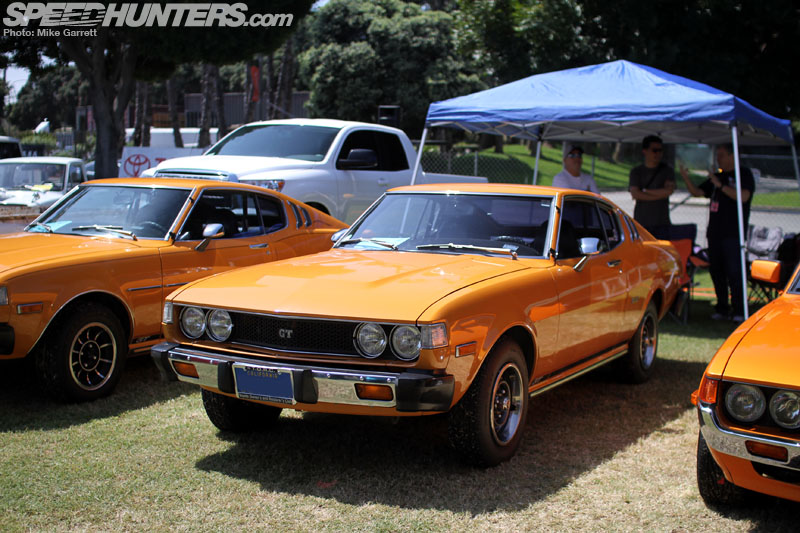 It's unfortunate that by the time the stylish liftback version of the Celica went on sale in the United States those big 5MPH bumpers were mandated by the government.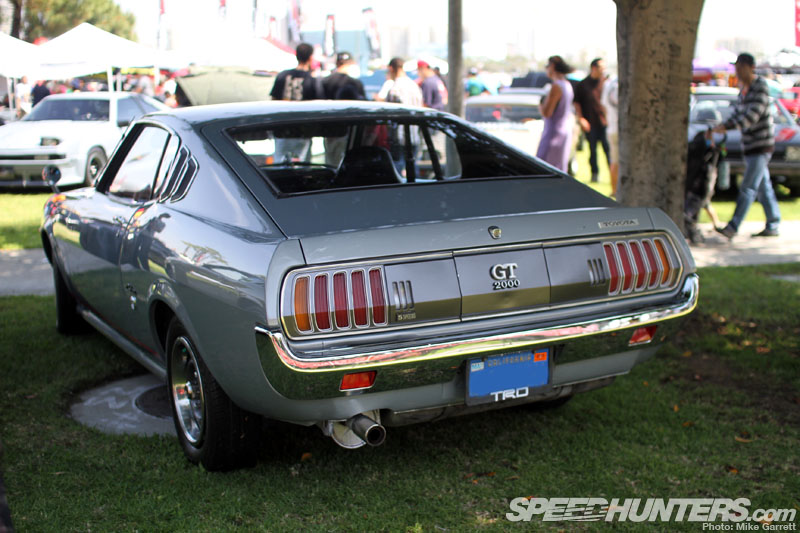 Luckily JDM bumpers can be outfitted for a cleaner look that brings the car's Mustang inspiration to life.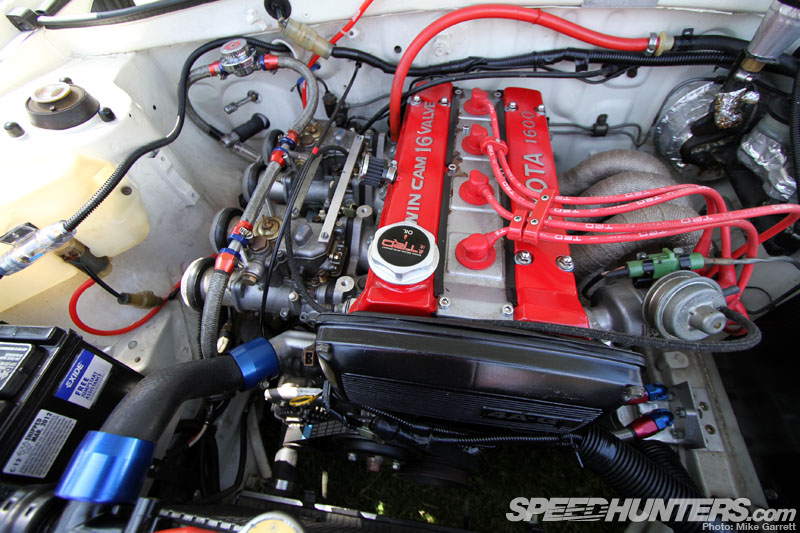 Another thing I miss about my AE86 – the note from that 4AGE…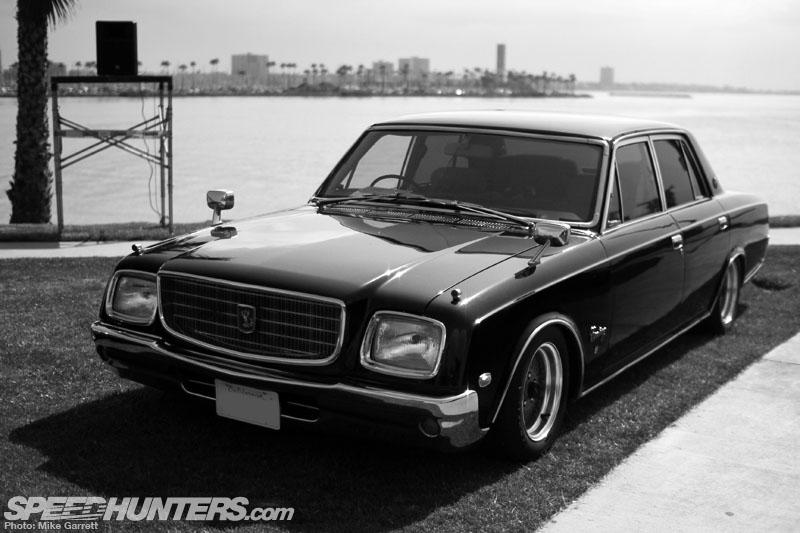 It would be wrong to not have a Century at Toyotafest. While I'm sure that most people that come to Toyotafest or JCCS are familiar with the Century, I bet it gets some pretty strange reactions from the public on the streets of Southern California.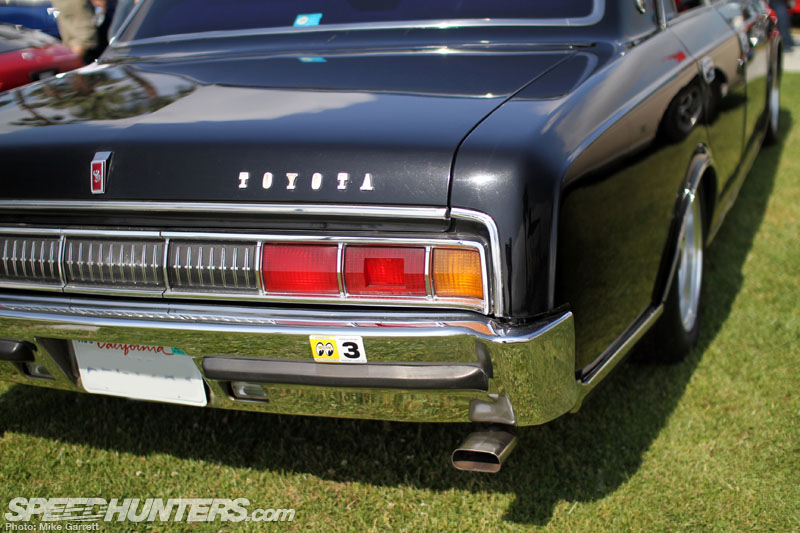 "Is that a Rolls Royce? A Lincoln? Oh, it's a Toyota?"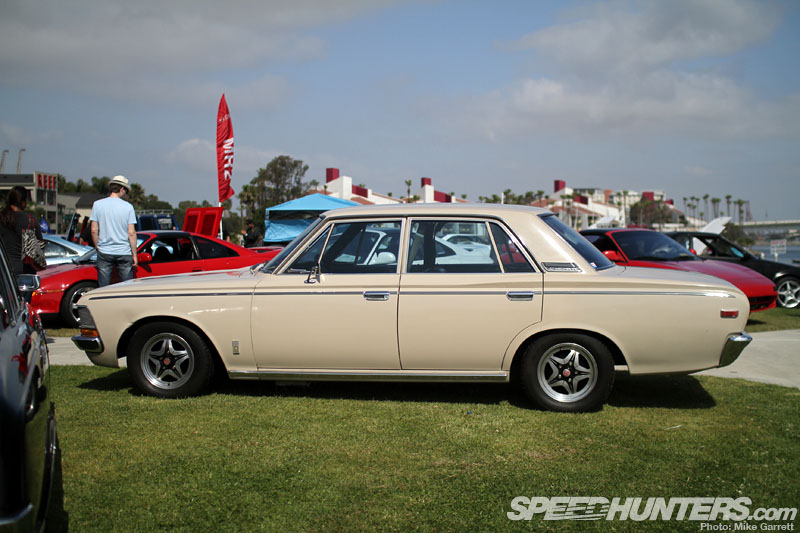 The same could go for the Toyota Crown. You could throw some Mercury or Plymouth badges on one of these and 99% of the public would go right along with you.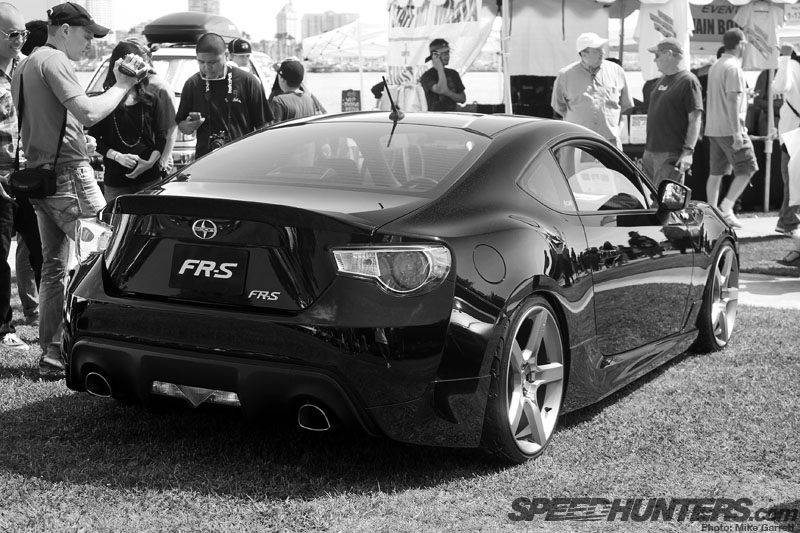 The car that was generating the most amount of foot traffic at Toyotfest was the Five Axis-equipped FR-S. Yes, the excitement is back.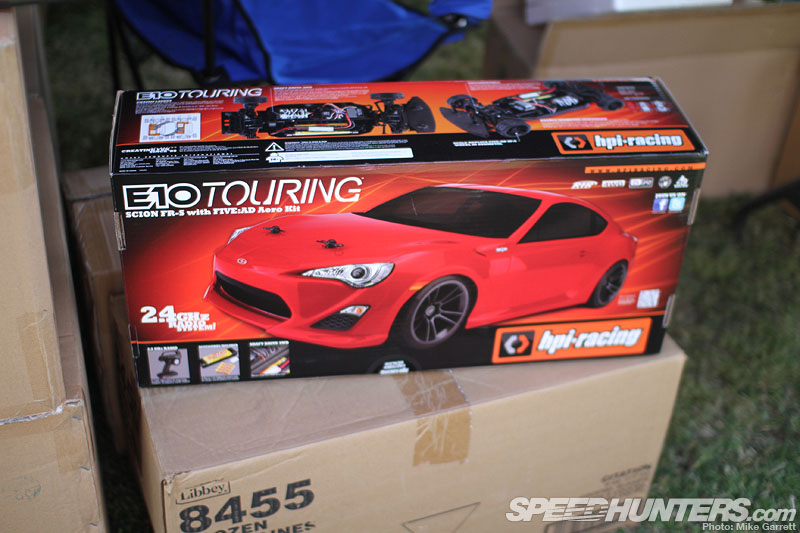 HPI Racing also had their new FR-S RC cars available. Is it too early to make a Christmas wishlist?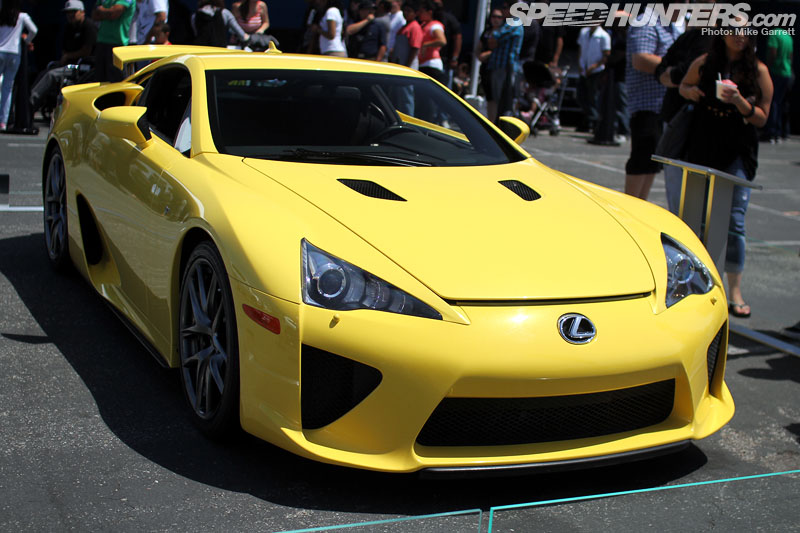 I always thought it would be funny to buy a Lexus LFA and replace the Lexus badges with Scion ones just to throw people off.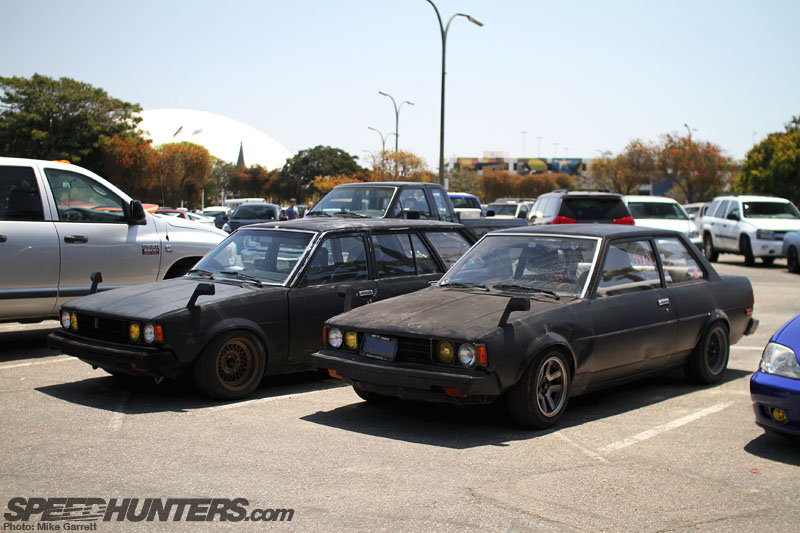 Mad Max Corolla brothers in the parking lot.
Mini trucks don't get a whole lot of love on Speedhunters, but sometimes you gotta make exceptions.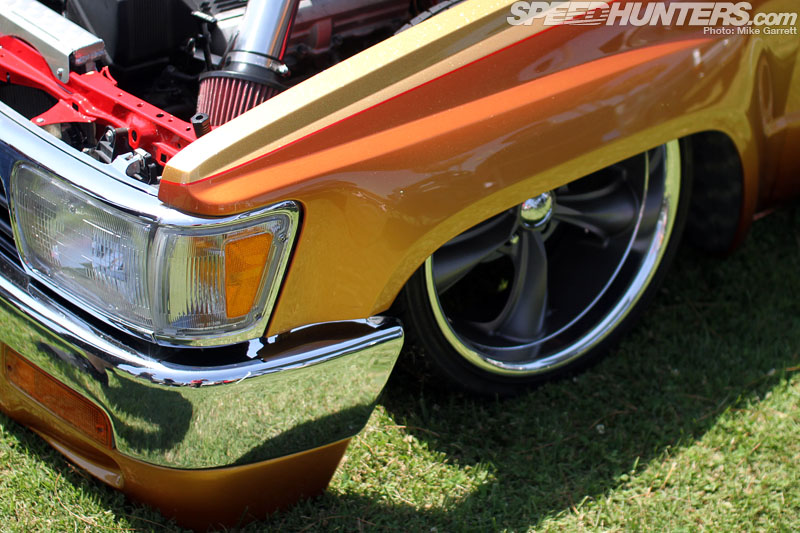 Not only was this little truck hammered to the ground…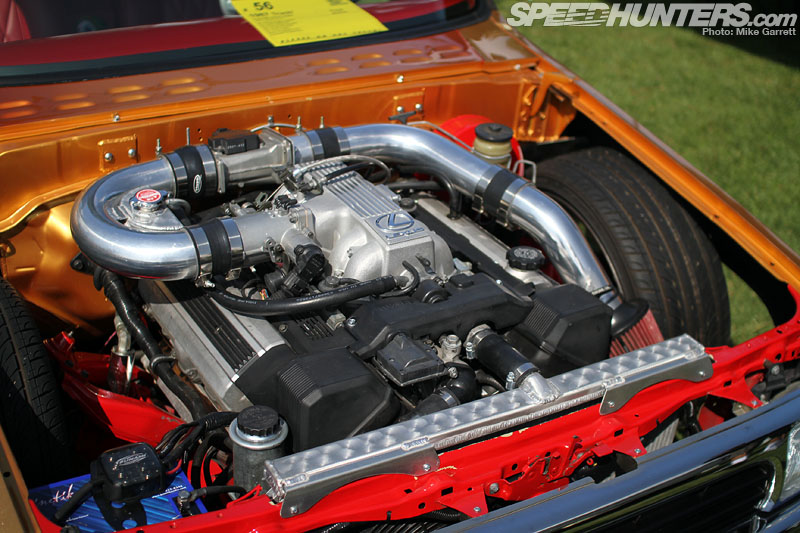 …it also had its utilitarian four cylinder replaced with a 1UZ V8. I approve.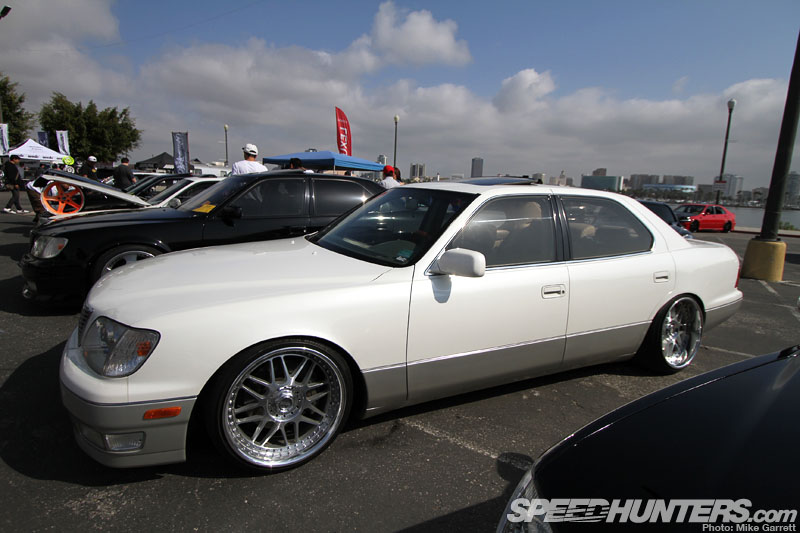 Another LS, which is of course the natural habitat for the 1UZ.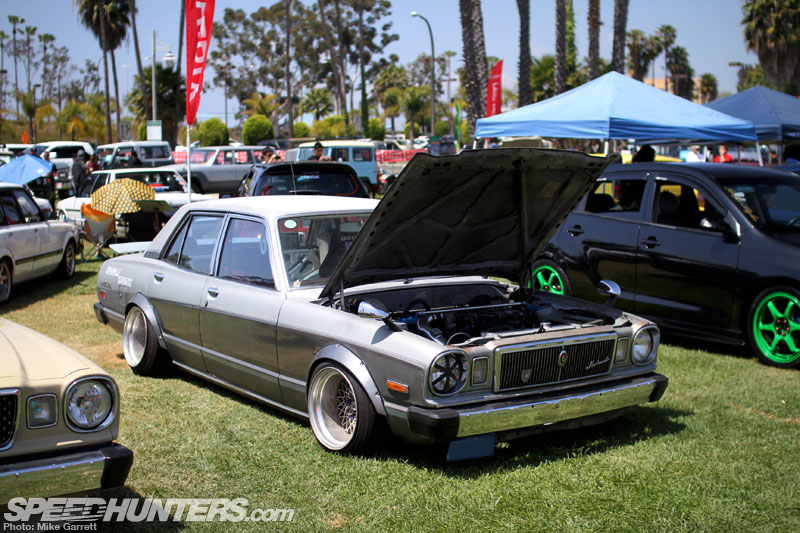 Lloyd's Sparkle Garage Cressida just keeps getting cooler and cooler – now sporting a full 1JZ swap.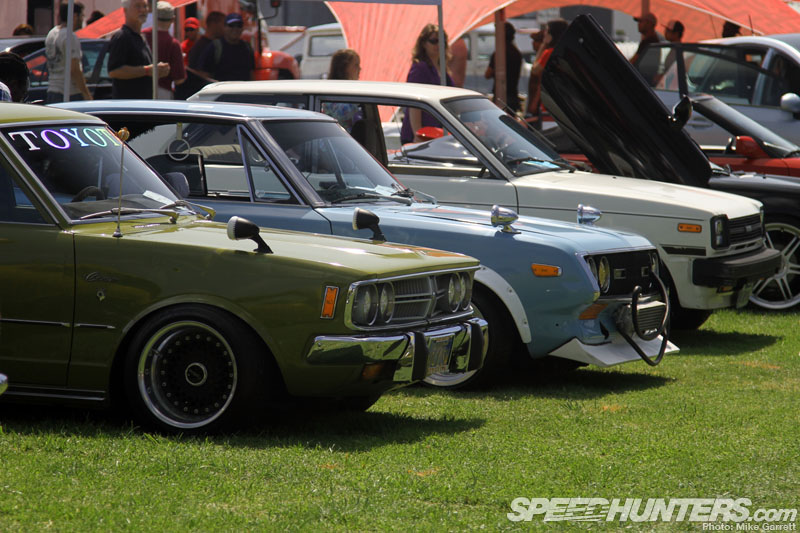 With that I'll wrap up the second volume of my visit to Toyotfest.
I'll be back tomorrow to wrap things up with one more batch of coverage.
-Mike Garrett