It was hard not to be surprised at every step at the Mooneyes show. There wasn't one car that looked like the next and that is especially true for the hot rods that were present.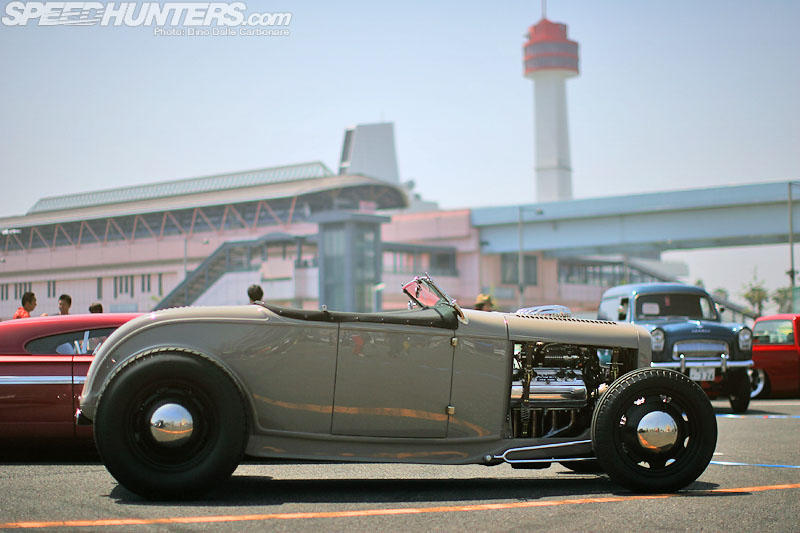 You may remember seeing this 32 Ford back in December at the Yokohama Hot Rod & Custom show, a superbly executed creation with lots of eye-catching detailing work. The shop that built this car is just down the road from me in Yokohama so I've decided to stop by and do something I have never done before, feature a hot rod! This will no doubt be interesting.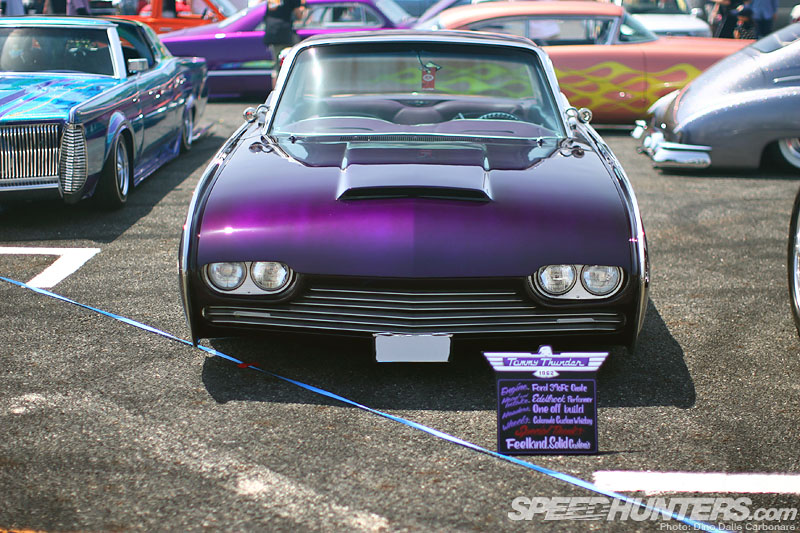 Another well-known car there was the Tommy Thunder, a 1962 Ford Thunderbird like no other.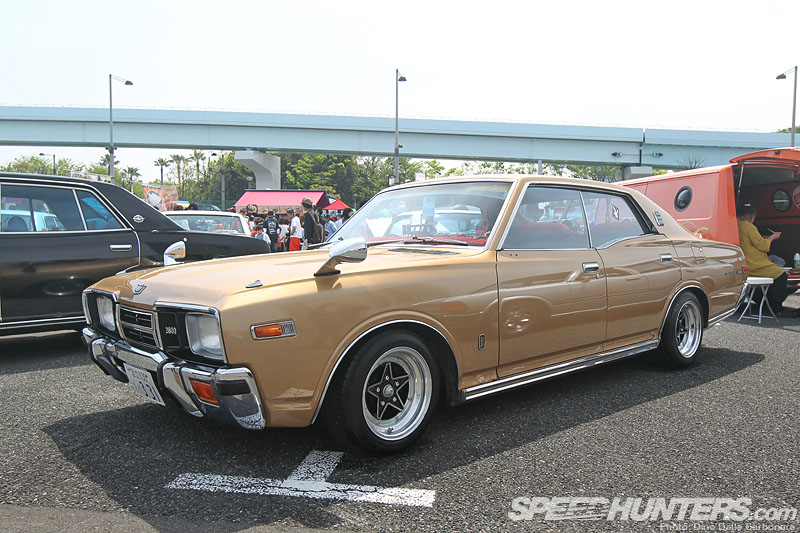 Old seventies Japanese cars sure do lend themselves rather well to this custom scene, and this Nissan Gloria really stood out. Check out the lines on this thing and the pillar-less doors. Aside from a drop and some vintage rims the car was mostly stock.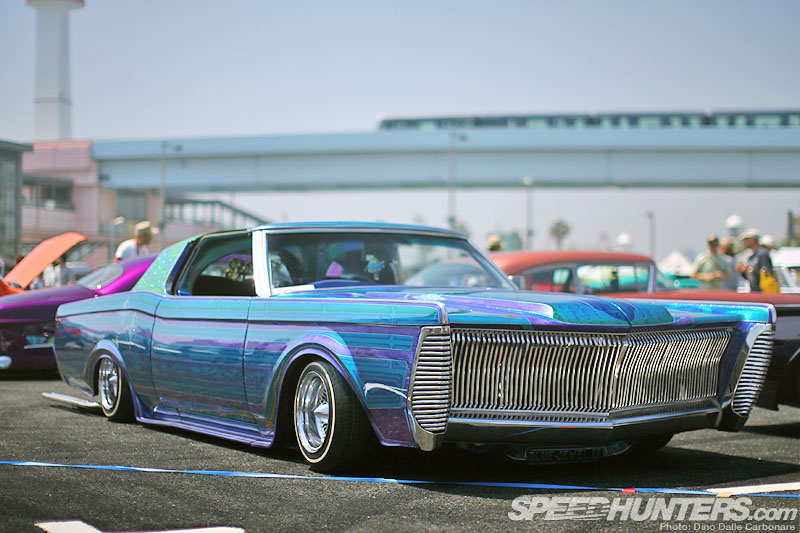 If you think this massive coupe looks extreme sitting right on the ground…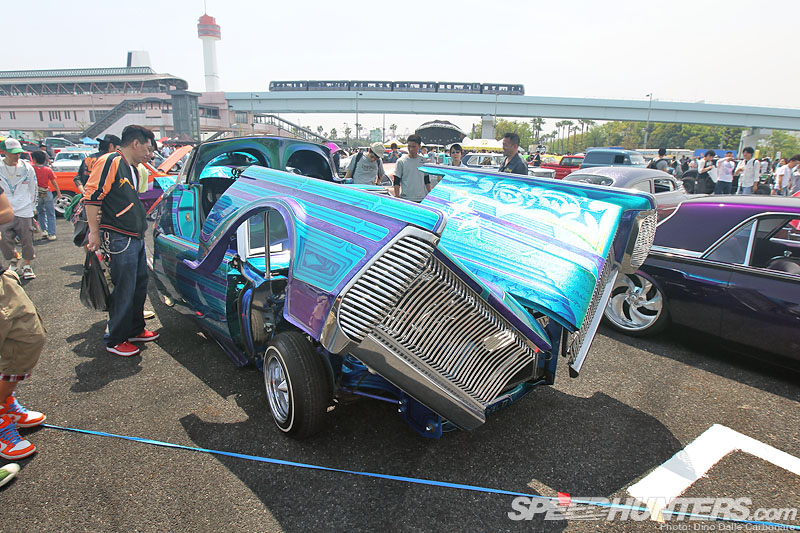 …check out what it transformed into at the hit of a switch!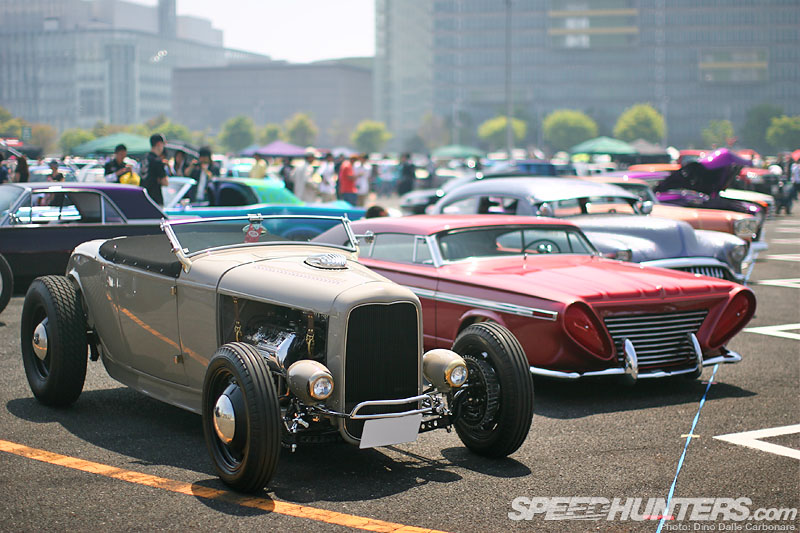 I just have to post a couple of more shots of the J-Motors 32 Ford…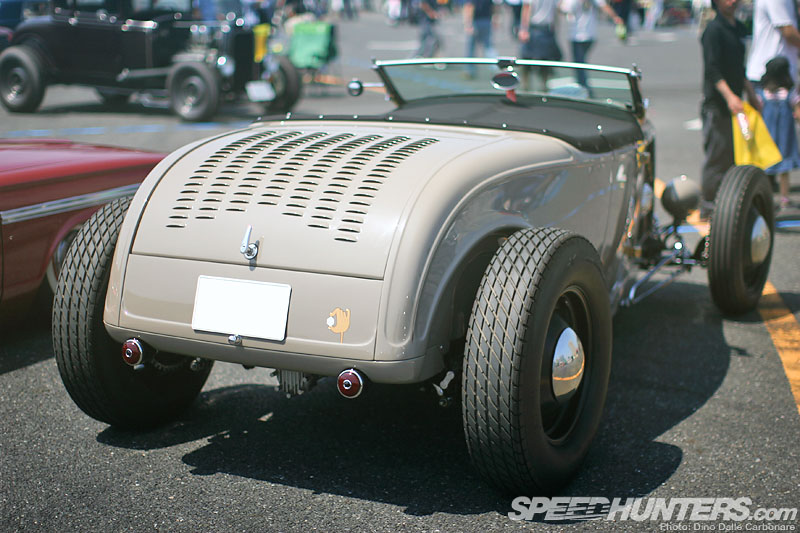 …giving us a more elegant approach to hot rods.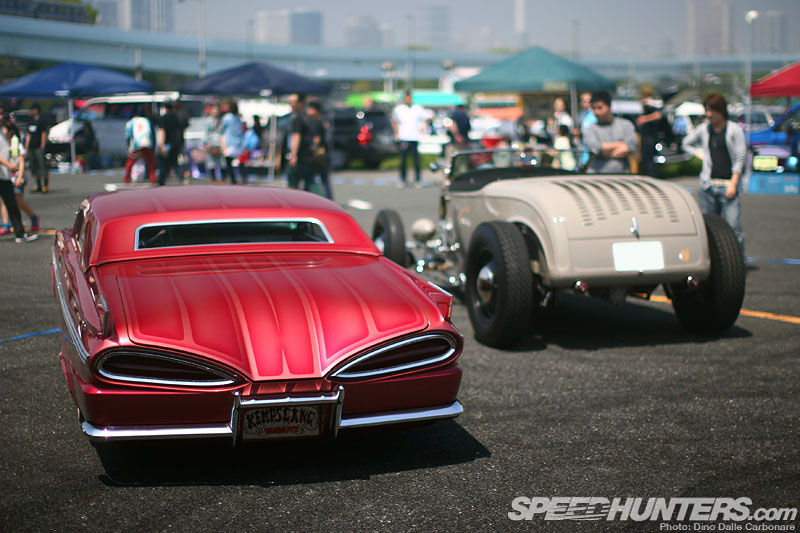 Here it is setting next to another crazy custom creation.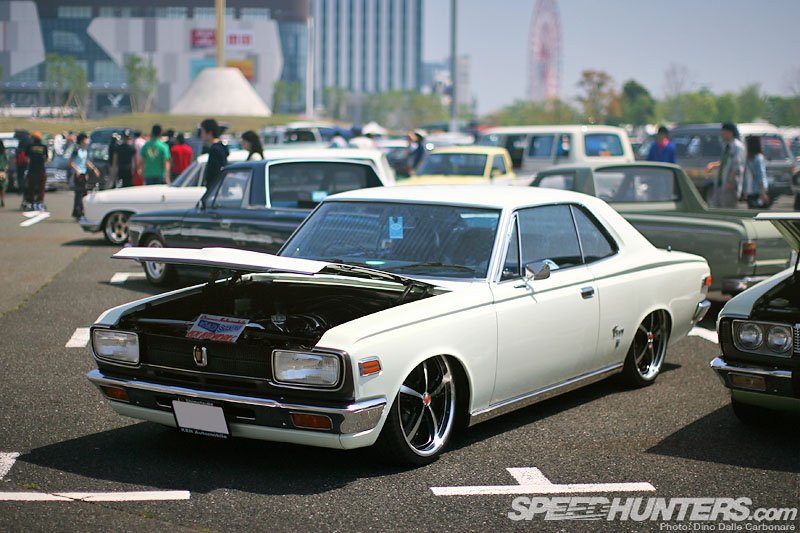 The S50 Crown Coupe is one of those cars that is hard not to like, fusing performance, looks and luxury all in a compact 2-door hardtop body. Such great cars, it's strange Toyota hasn't tapped into the Crown's history more.  I mean on top of these rare coupes there were…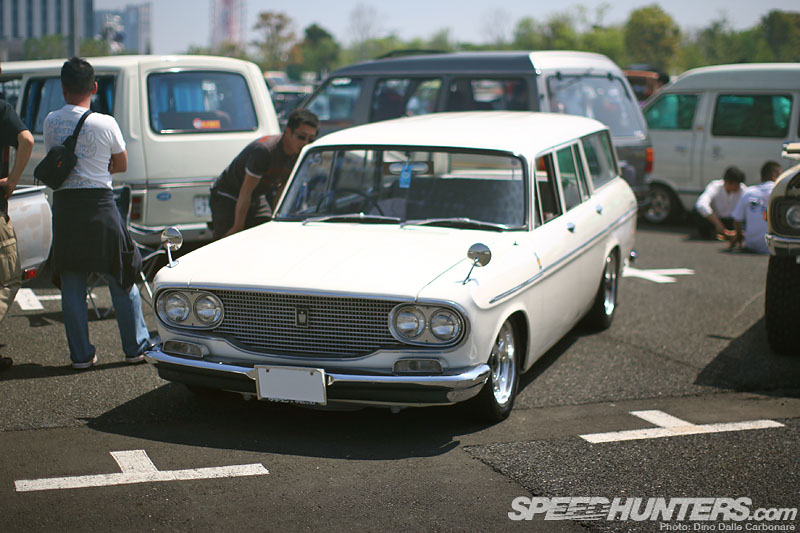 …cool wagons…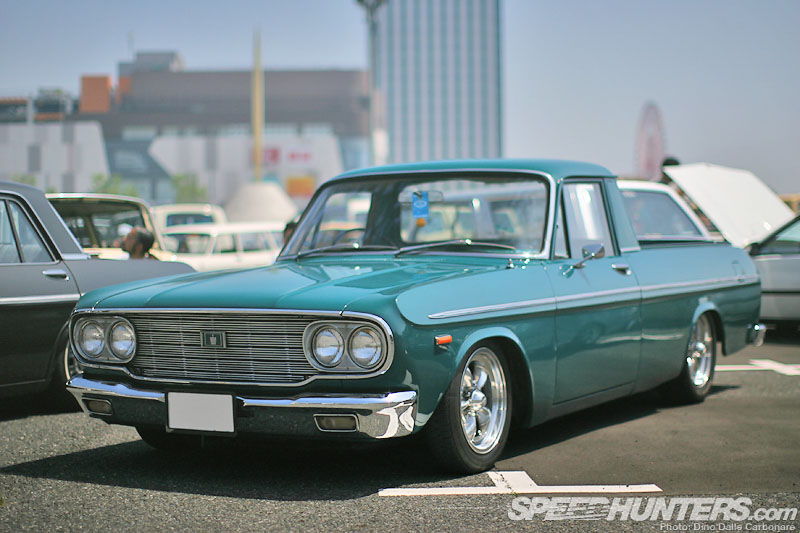 …not to mention pick ups like this S40 version. Superb looking cars!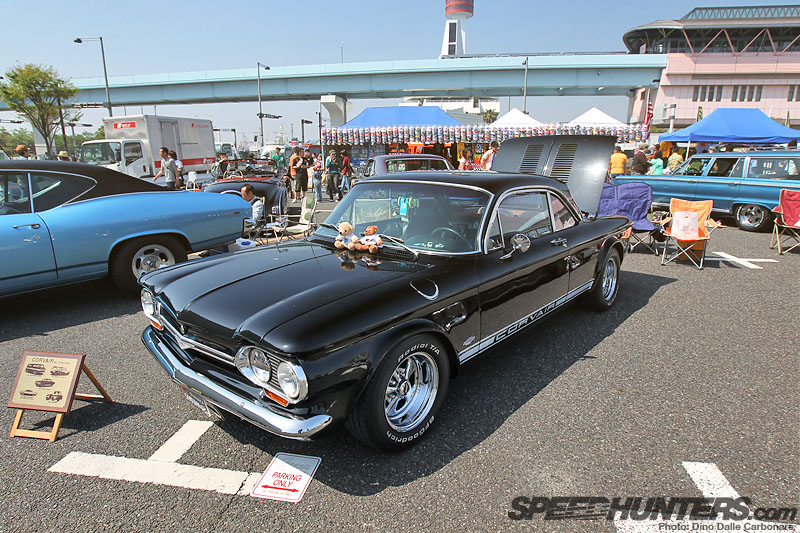 And talking of rarities, I bet there can't me many Chevrolet Corvairs in Japan. Still what you will find will be top quality as this particular example.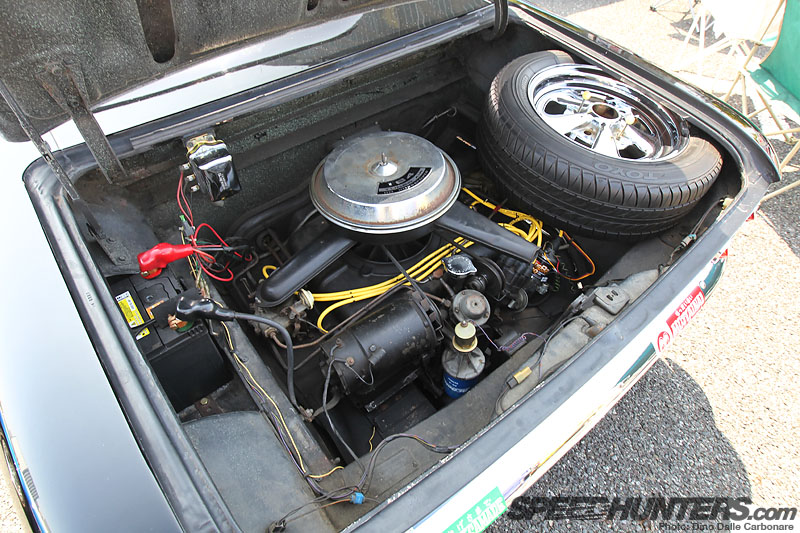 This car is from a time when car manufacturers weren't scared of experimenting with crazy engine configurations and layouts. It's hard not to like something different from the norm.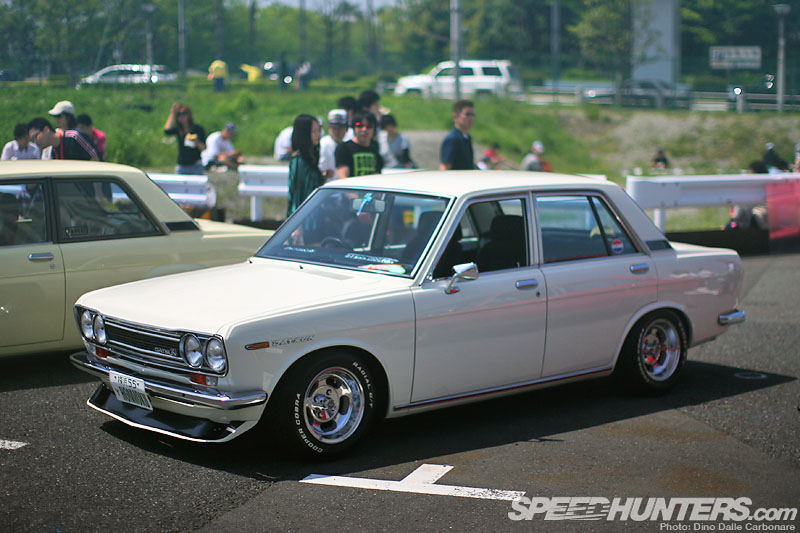 The Datsun 510 is probably the most popular vintage car you can have in Japan. There were so many body styles and variations available and there is such a scene for them that it would make a superb first vintage car to own.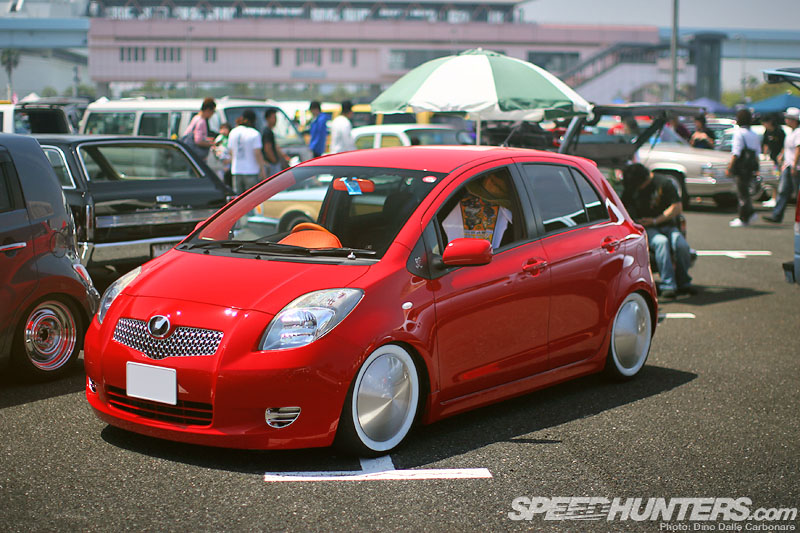 Toyota Vitz with Moondiscs!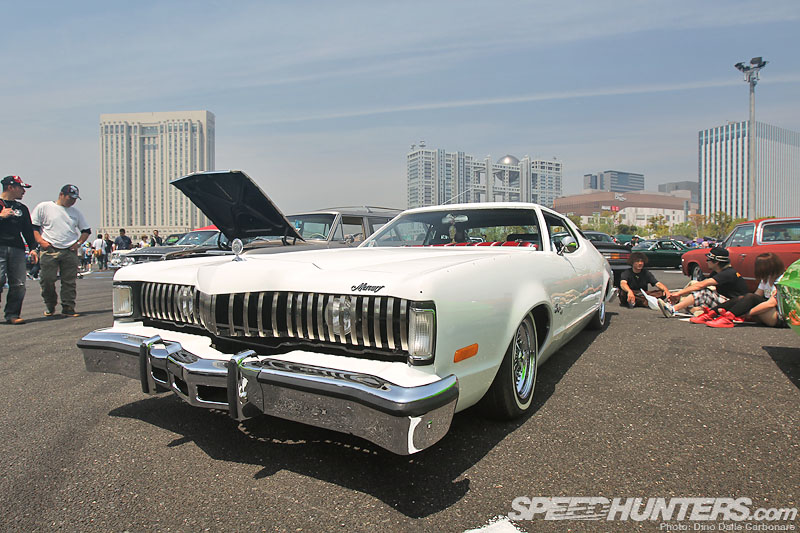 For someone that grew up in Europe, seeing big seventies coupes like this 1974 Mercury Cougar is quite a treat, believe me. It's only in movies that we were exposed to the massive tanks that roamed the streets of the US in those days and it's so cool to be able to get close to them at Mooneyes. Check out the custom grille on this particular one.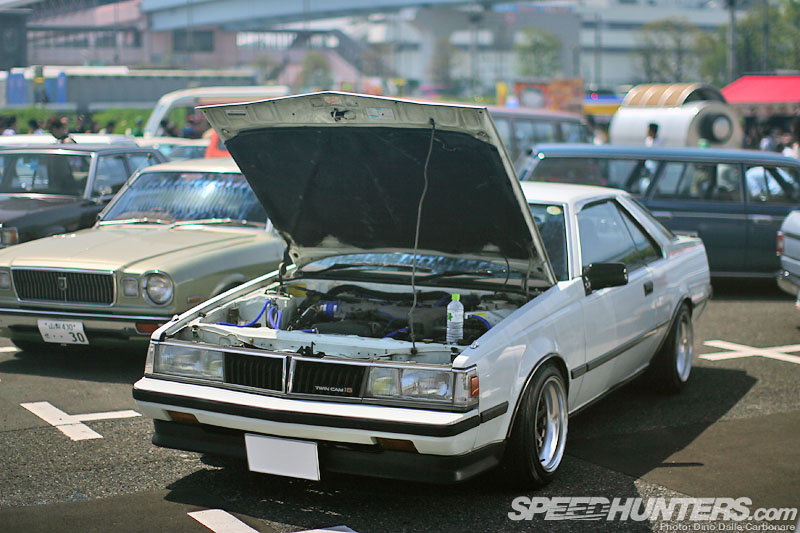 This was a first for me. I heard that a coupe version of the T140 Corona existed, but I never actually seen one. I loved how the factory fender flares have been perfectly used to contain the deep-dish rims.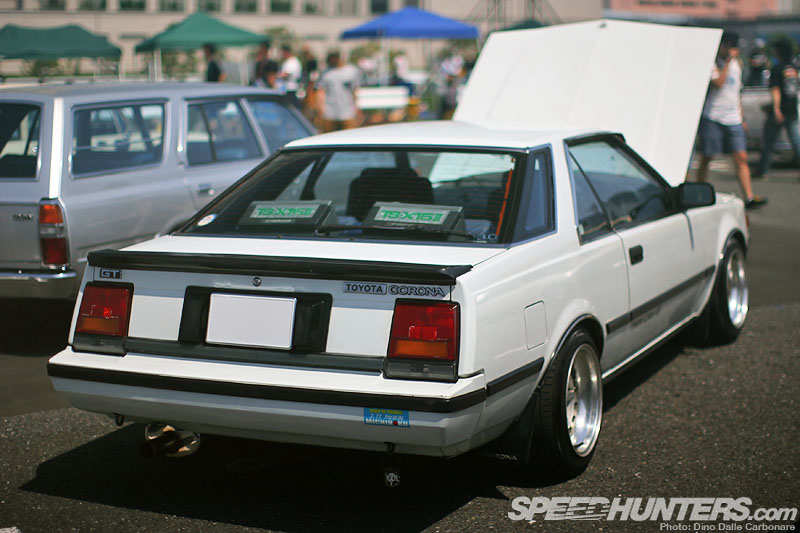 Aside from the lowered ride height and the wheels the car looked to be pretty stock…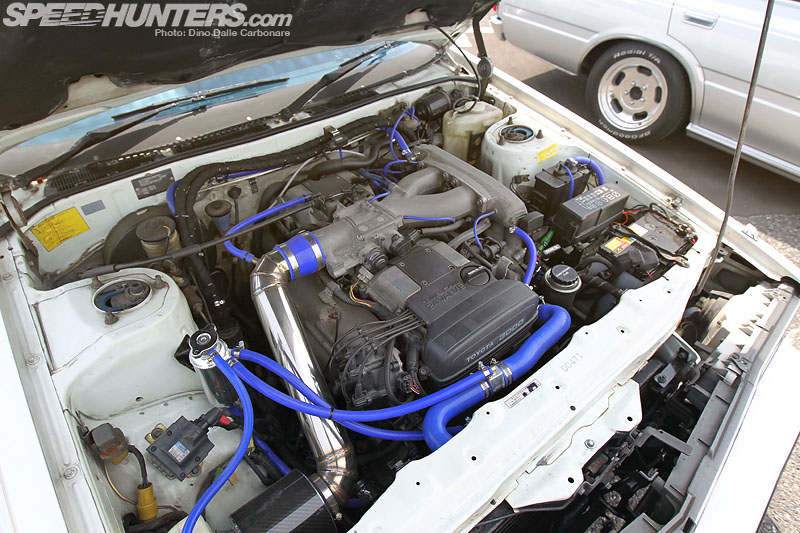 …until you had a look under the hood. Yup, that's a 2JZ-GE swap right there for a nice and reliable 220 HP.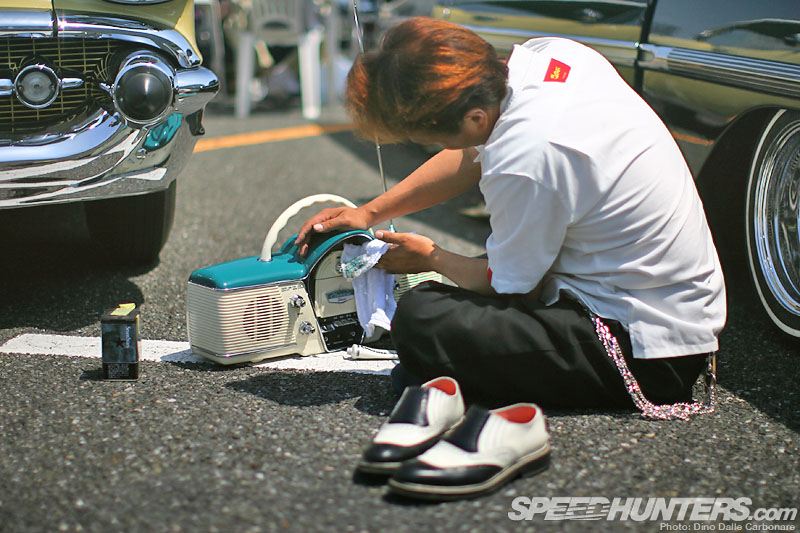 Could this picture look more vintage!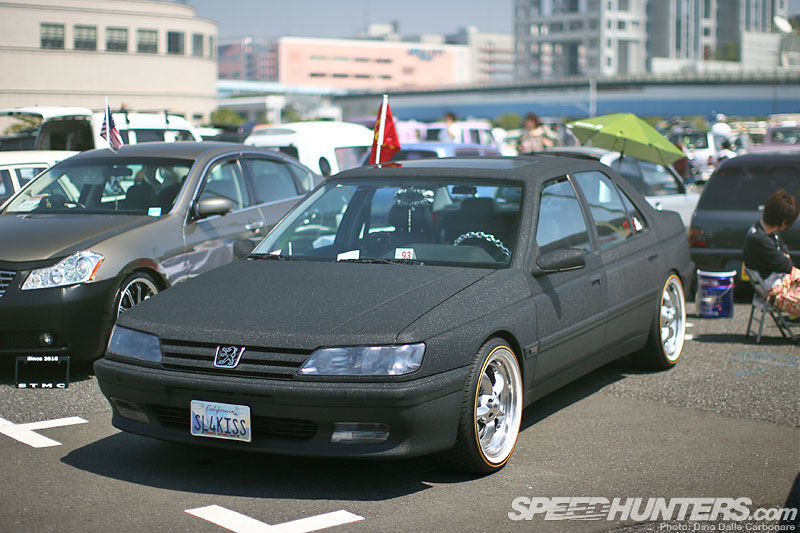 Here is a curious one, a Peugeot 605, the last car I would have expected to see at a Mooneyes show. But this is Japan after all and anything goes! The powder-coated exterior was quite cool.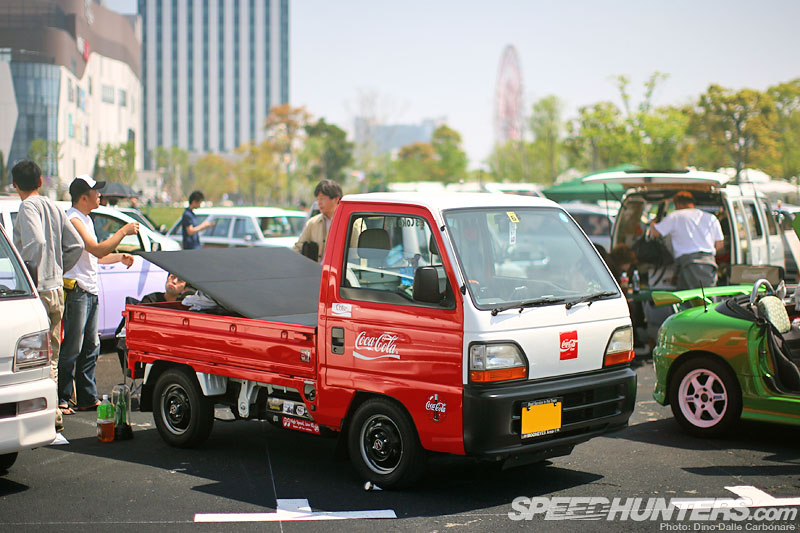 The Kei truck is an institution in Japan; so why not customize it!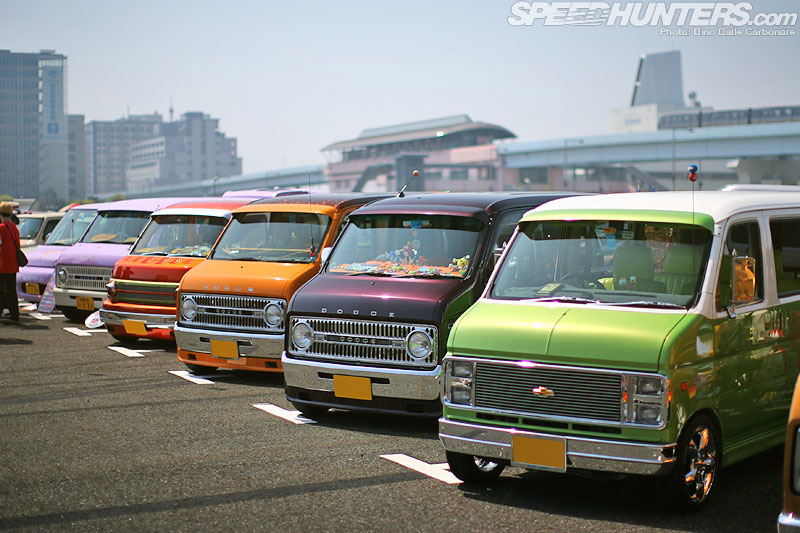 Here are more Kei cars, or Kei vans rather, done up to resemble their big Dodge and Chevy cousins from across the ocean!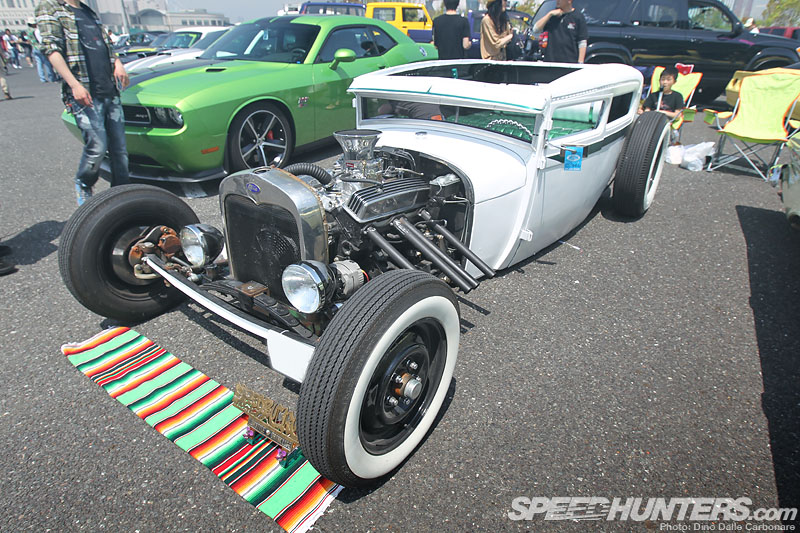 Here is another look at the rod from the opening shot. This thing was massive, longer and wider than any of the other hot rods at the show.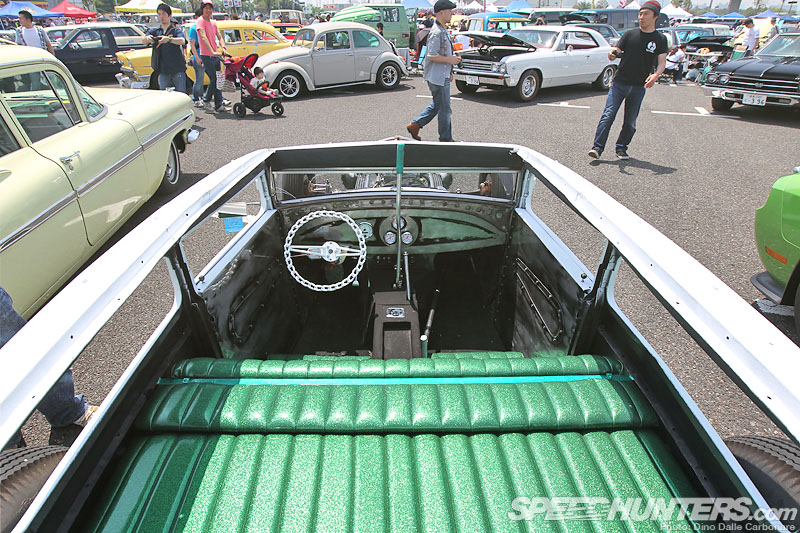 The roof, along with most of the glass, has yet to be fitted, a great way to enjoy the warm spring rays.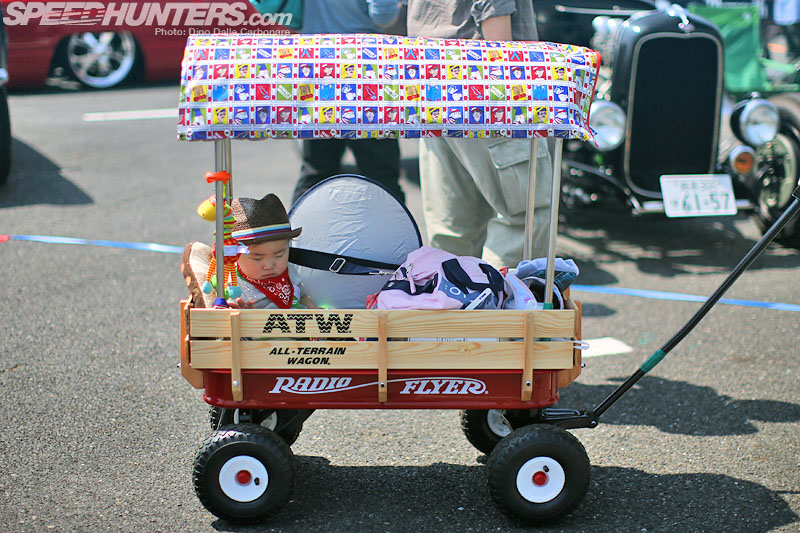 So many people were walking around with little Radio Flyer wagons, great for storing your purchases from the various vendors, or of course to carry your kids around in. This little guy had enough of customs for one day and decided to take a nap.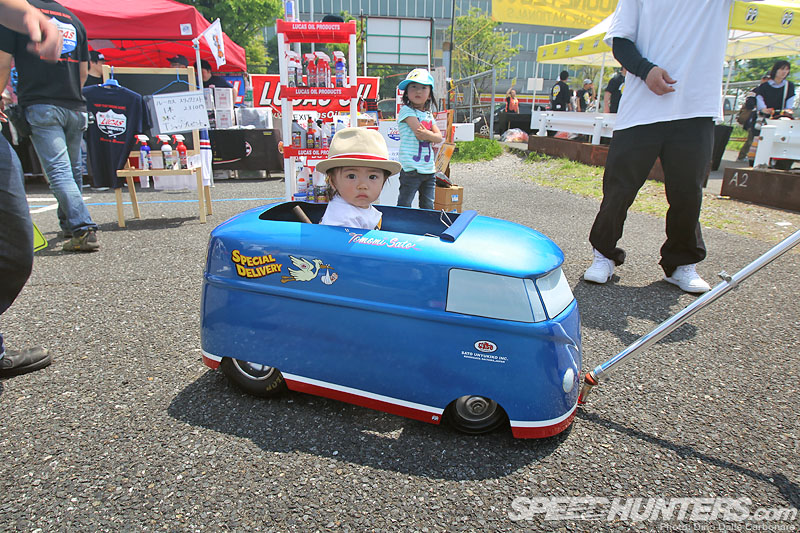 Check out the stance on this wagon! Great way to impress the ladies!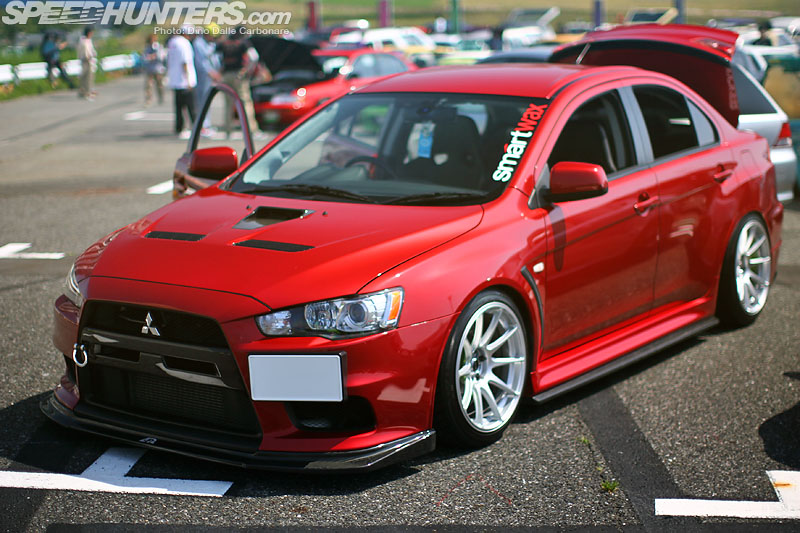 There is always a small showing of modern cars at the Street Car Nationals, cars like this Mitsubishi Evo X sporting some nice subtle aero…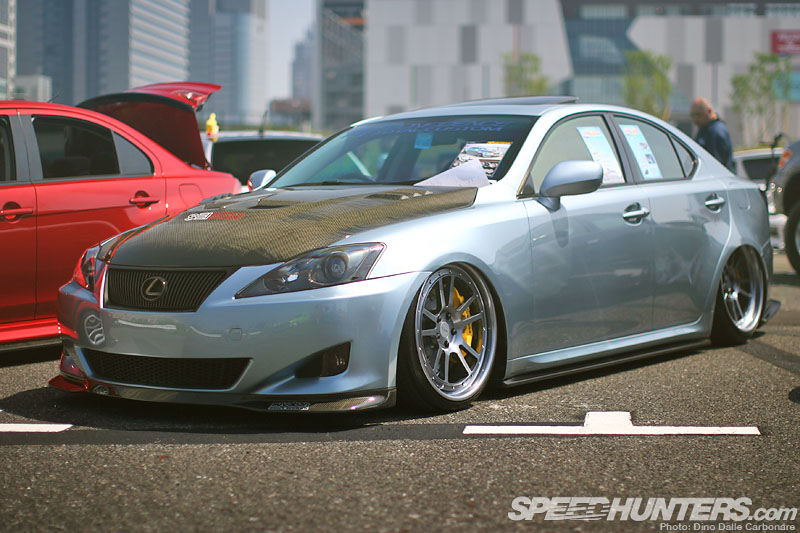 …to this more extreme Lexus IS on air suspension.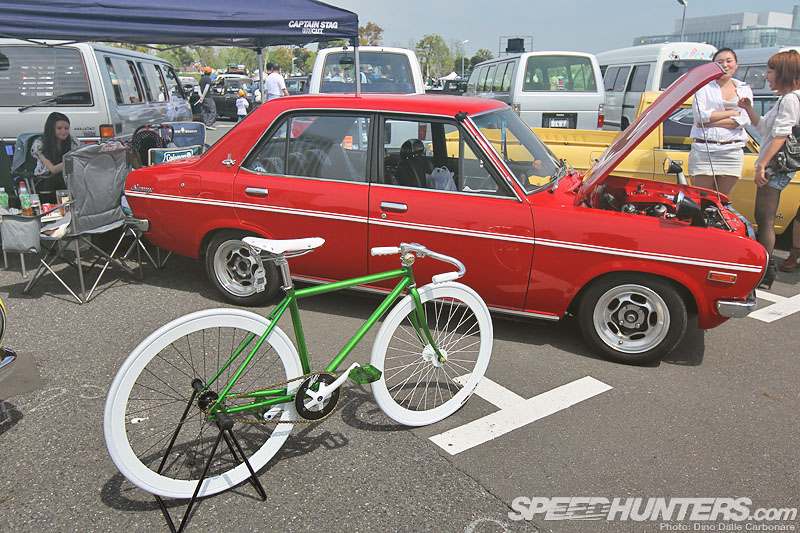 As long as it's on wheels, you can customize it! Like any big city, fixed-gear bikes have become all the rage in Tokyo; if you must cycle around then at least do it in style…even if the Police are cracking down on cyclists that don't fit brakes to their bikes.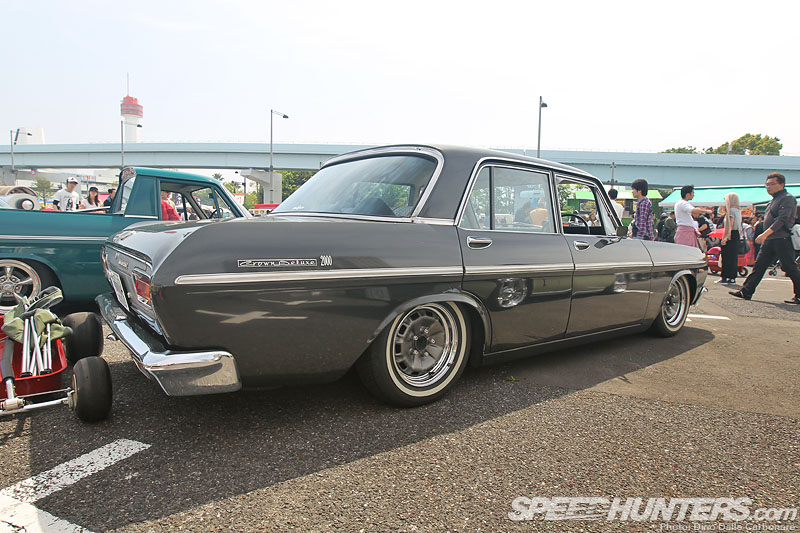 More Crown goodness with this Deluxe sedan version.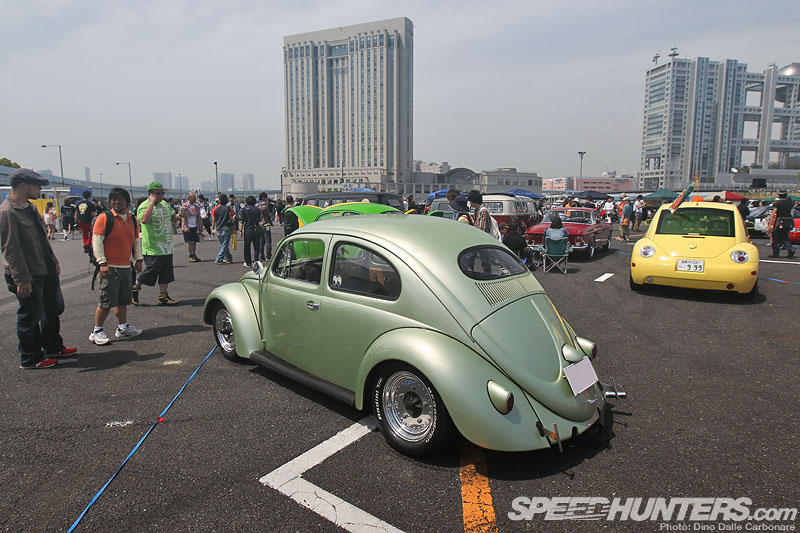 What would Mooneyes be without a showing form the VW crew. As ever there were lots of Bugs to check out.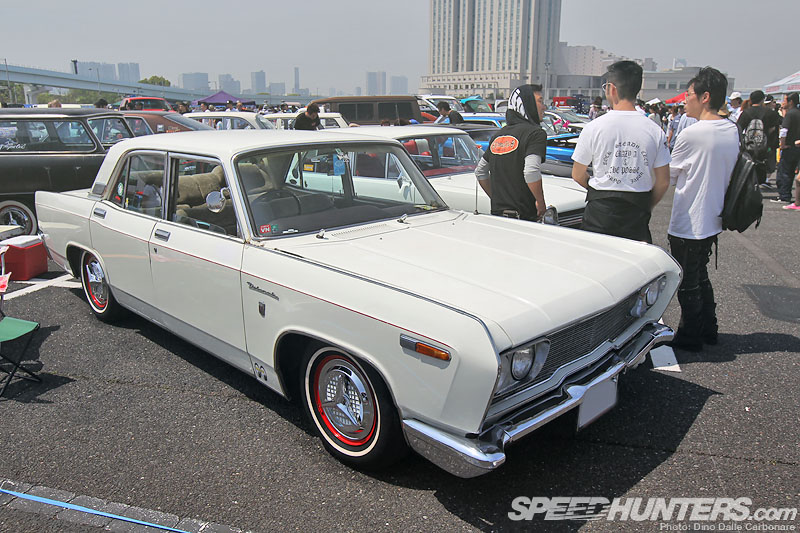 Here is another Japanese rarity, the Debonair, Mitsubishi's answer to the Crown and Cedric.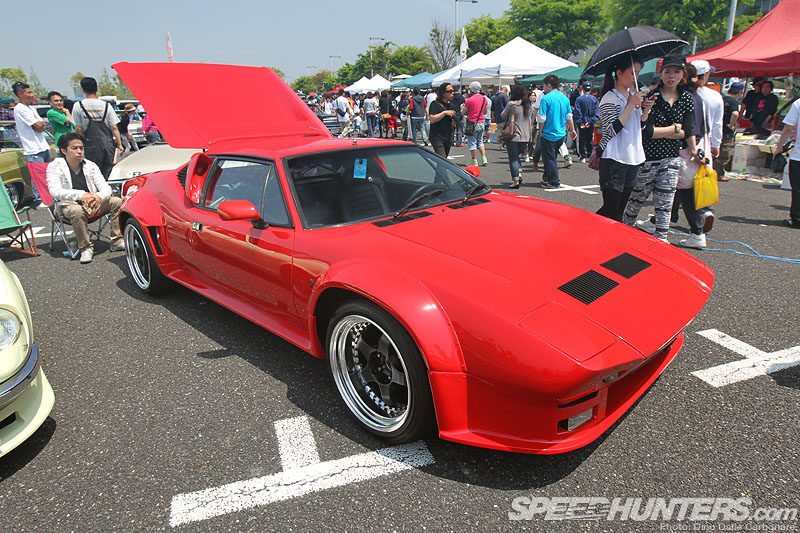 Was great seeing something Italian at the show too, well as much as you can consider a De Tomaso Pantera to be Italian that is. Still looks superb after all these years, especially riding on Work Meisters.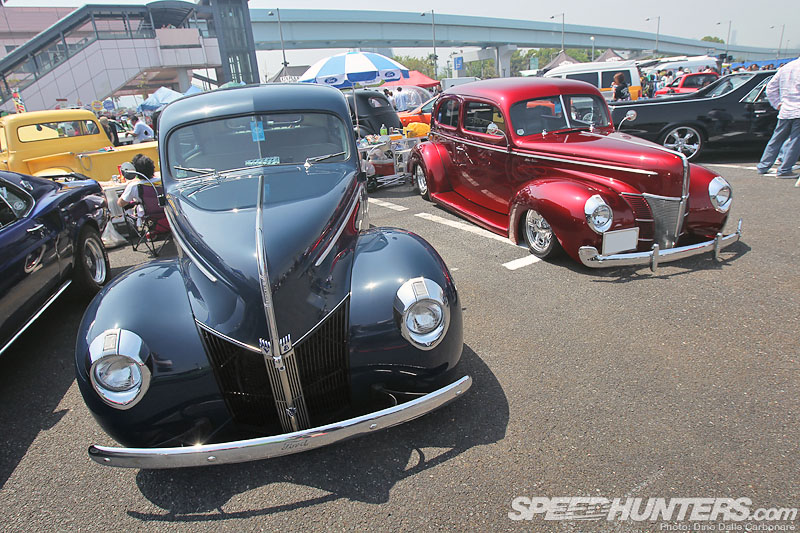 That's it for now. Next up I'll be taking you to the parking lots for a quick look at what we may as well consider as an annex to the show itself!
Mooneyes 2012 coverage on Speedhunters
-Dino Dalle Carbonare