There is no other way to put it, but the Japanese are simply the masters of fitment. Since the beginning of their aftermarket-tuning scene in the seventies they have established, experimented and evolved the whole relationship between cars and the wheels they are fitted with, in the process creating specific trends and a variation in styles. Give them any car, from any manufacturer and they will make it sit perfectly on a set of nice rims. This was precisely my sentiment when walking through the 370 cars that where exhibited at Hellaflush Kansai this past weekend.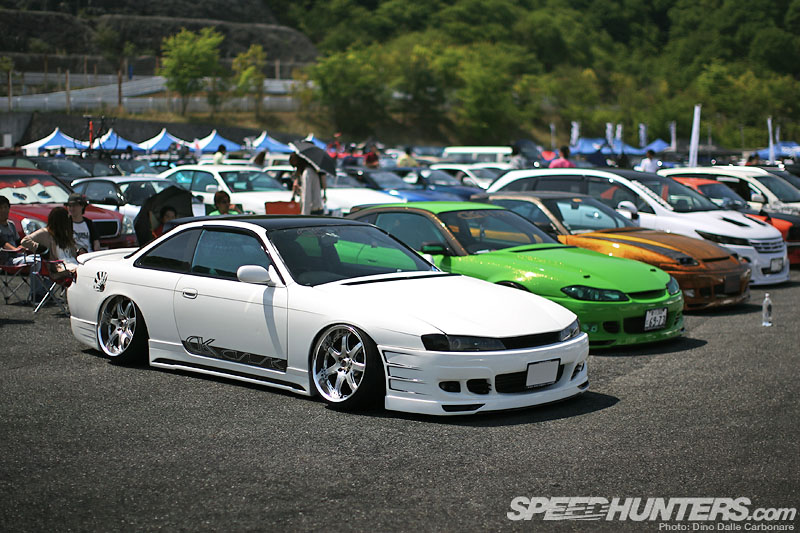 It seems the Japanese can do no wrong!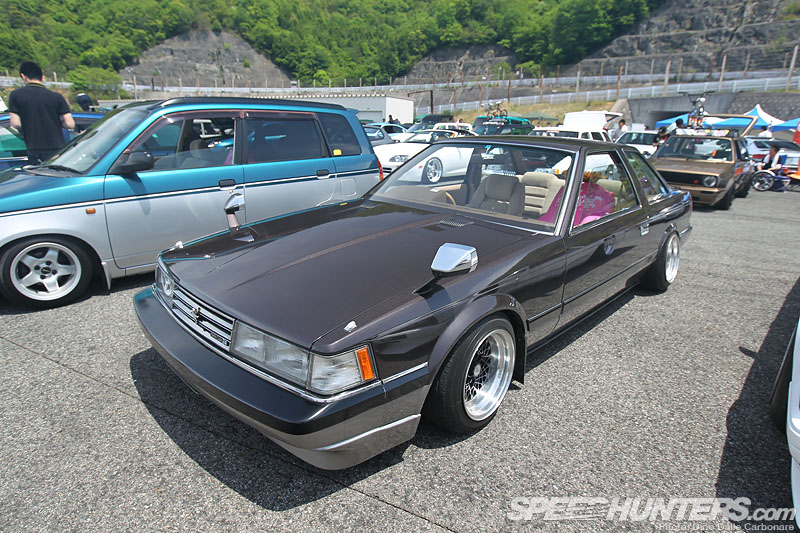 So no matter if you prefer a more functional kind of stance for your car…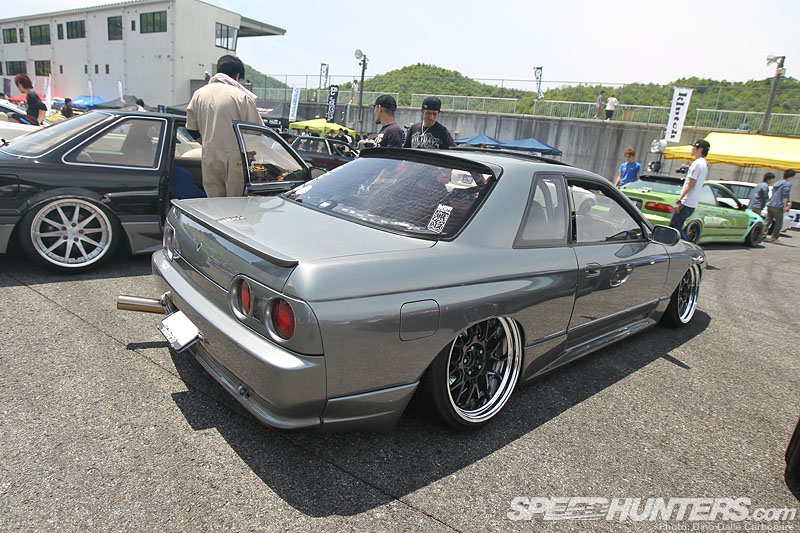 …or something a little more extreme, it was hard not to appreciate the dedication that has gone into every single car that was displayed at the show.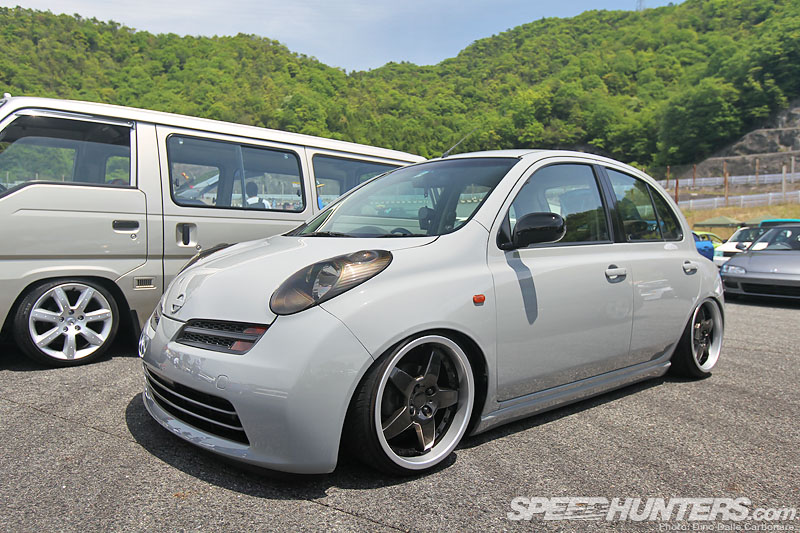 So let's begin to take a closer look at some of the cars that stood out the most.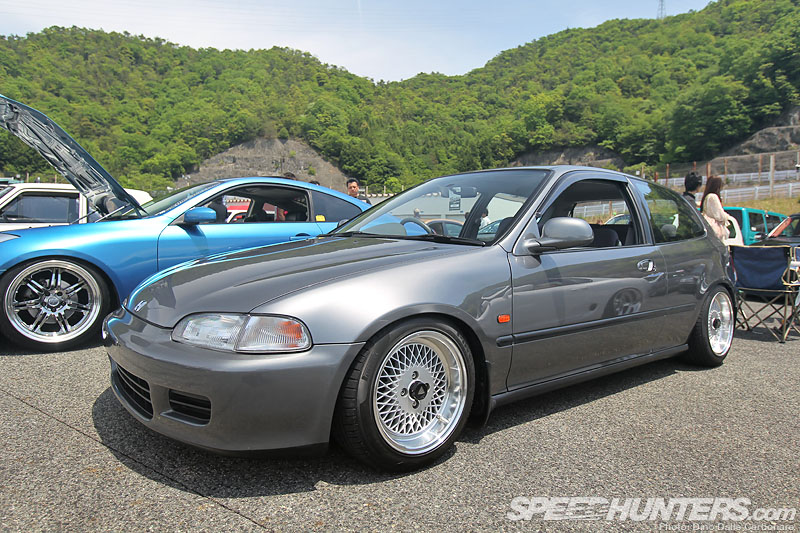 I am quite a fan of the new Enkei 92 wheel and was quite happy to see a couple of cars, like this EG Civic, running a set. It's great to see wheel manufacturers looking back in history and bringing back classic designs and with Enkei now making these in anything from Kei car sizes all the way to big 20-inch versions I am sure we will see some curious fitments in the future.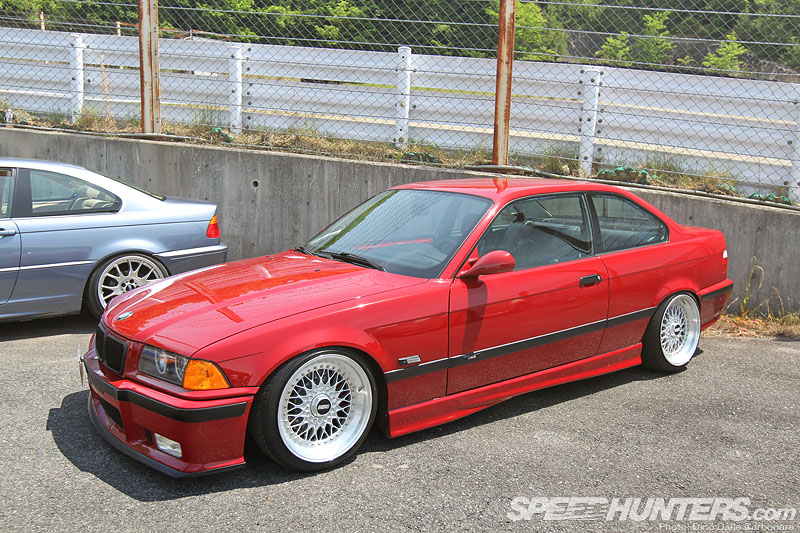 BBS of every vintage are always a very popular choice as is shown by this E36.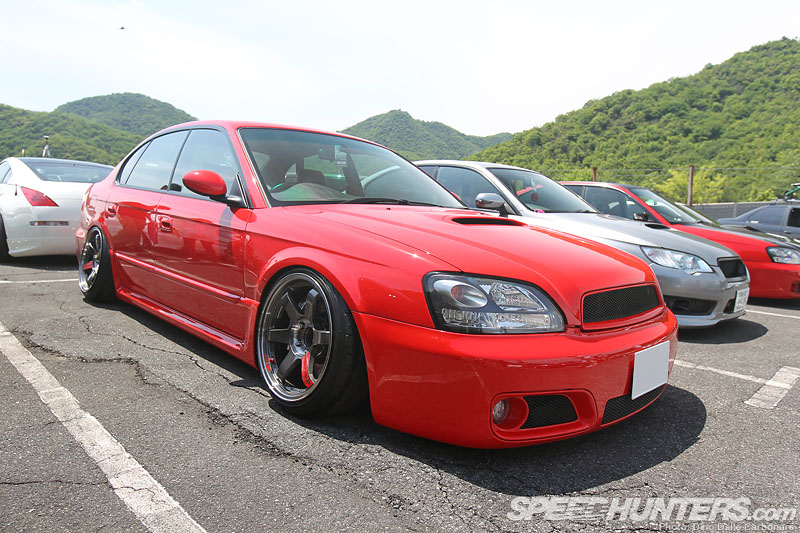 I've been spotting pictures of this Subaru Legacy all over the internet for months so it was quite nice to finally be able to see it up close. The flush fitted and aggressively cambered TE37SLs are definitely a unique choice for Japan's favorite all-wheel drive sedan!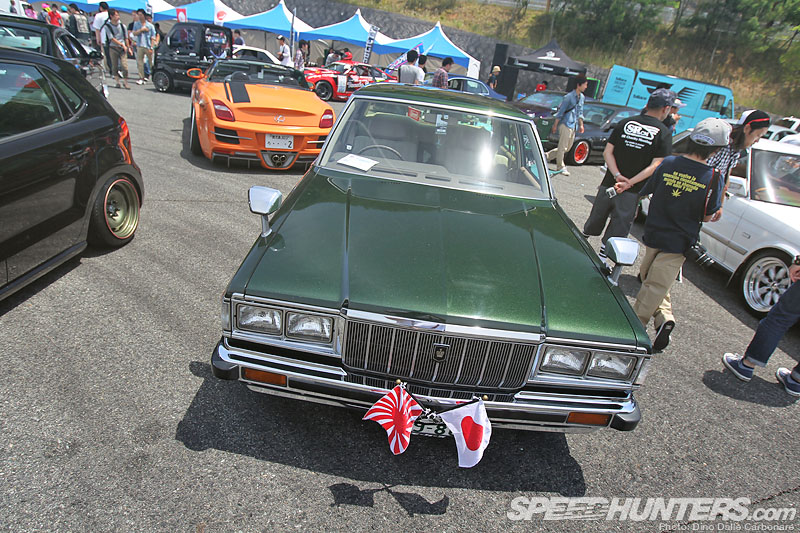 You can never go wrong with a bit of vintage goodness! The Japanese flags on this Crown where a nice touch, something borrowed from the typically nationalistic bosozoku culture.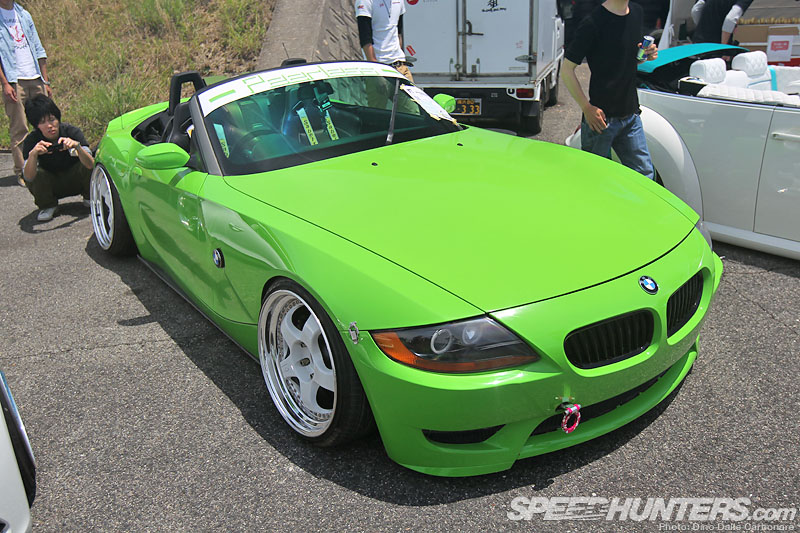 This Z4 on Meisters had some interesting touches like quick release clips on the front bumper. I wonder if the owner drifts it!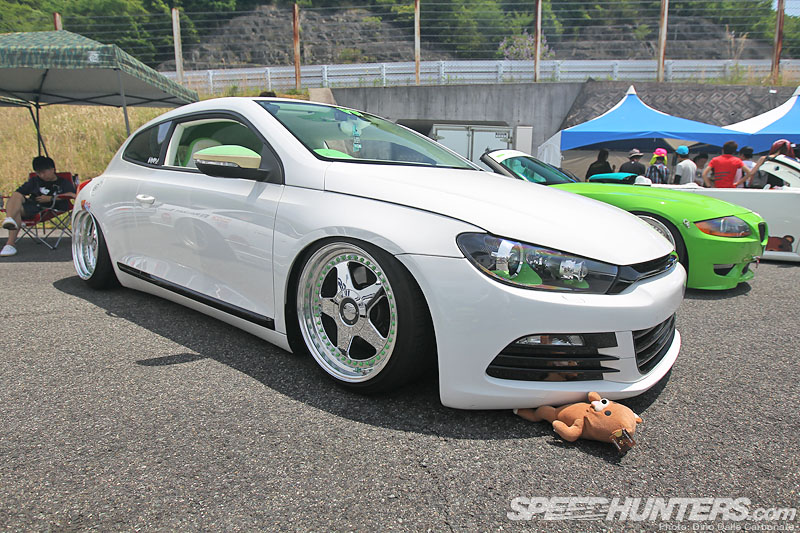 Next to it was this Scirocco slammed on bags. No stuffed mascot was safe!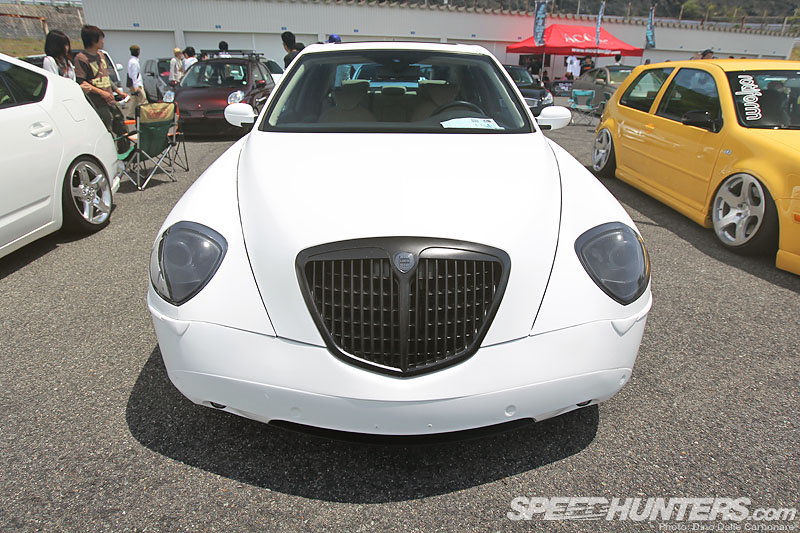 Most surprising car of the show for me was without any doubt this Thesis. The big Lancia sedan was only sold in Italy, bit it's quite a regular sight on Japanese roads where people import them due to their curious and original styling and of course the rarity appeal.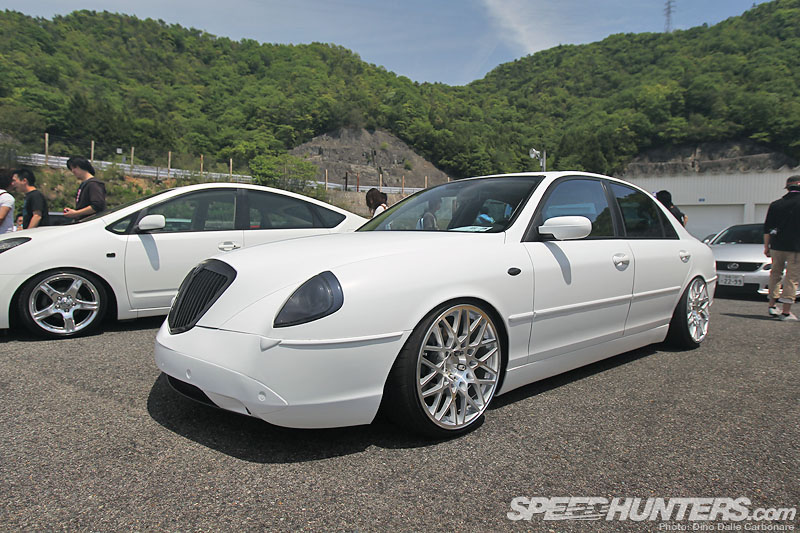 I have never seen one lowered so aggressively that's for sure! The Rotifom Forged Mono wheels seemed to fit it rather well. While I was grabbing these shots I overheard a couple of Japanese guys discussing the looks, and comparing the "either you love it or hate it" styling, with the Toyota Verossa. I couldn't help but chuckle.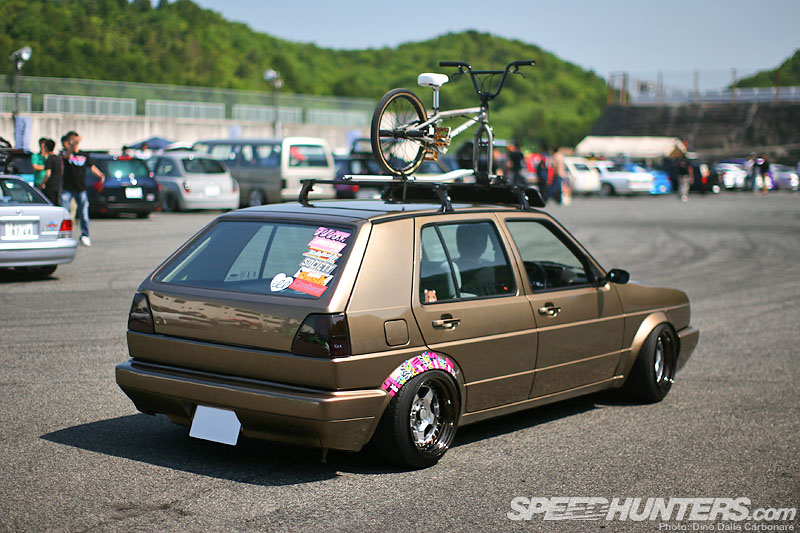 Is there any car the Work Meister CR01 doesn't look good on!? This bronze Golf MK2 was the first European car I have seen them fitted to.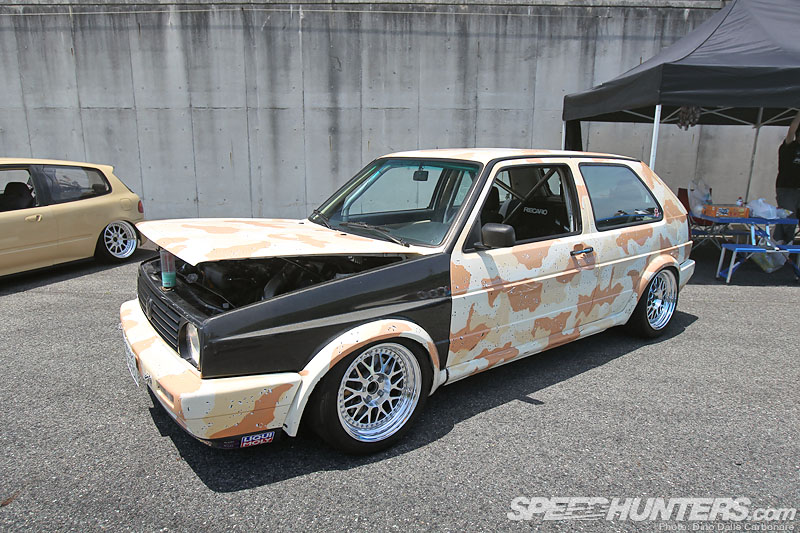 And on the subject of Golfs, check this camo MK2 out.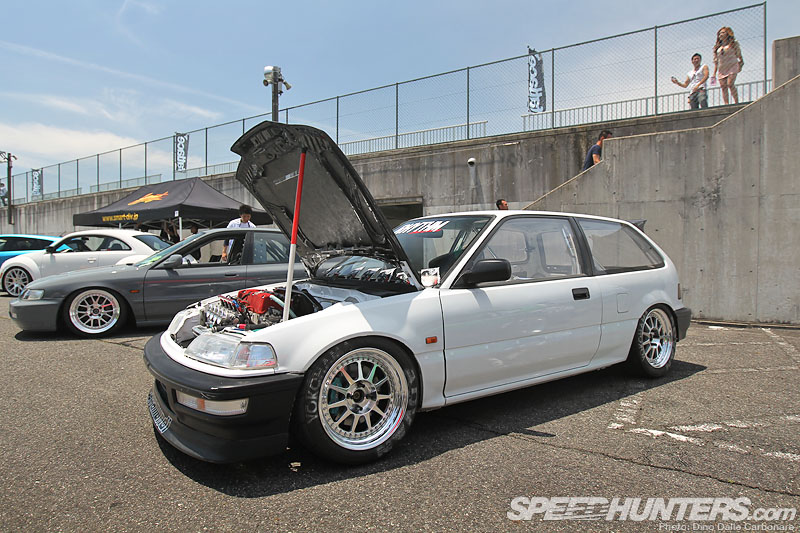 Honda tuner Rhythm Motors showed up with a nice selection of slammed and highly tuned Civics…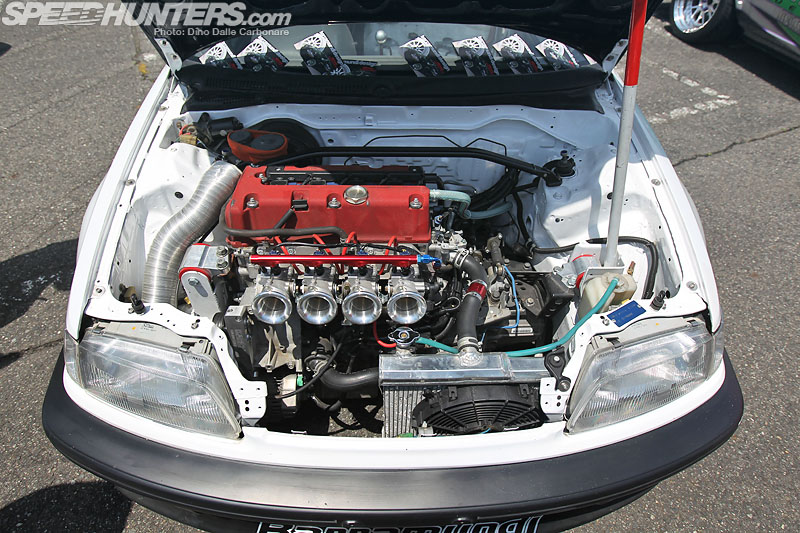 …like this particular EF Civic running a K20A swap! Like all the other cars in their crew they were running on Barramundi wheels…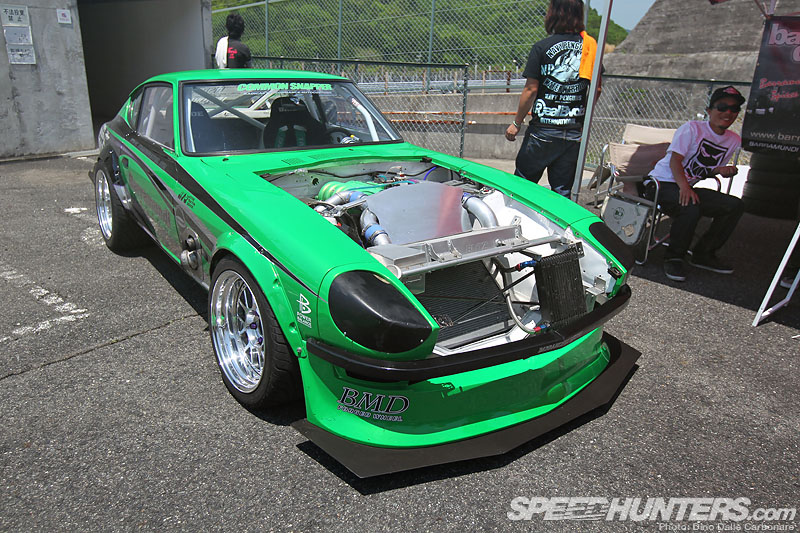 …which are an original design of Common Snapper, a well known vintage car shop from Nagoya. You may remember their Datsun 510 Coupe from the Nostalgic 2 Days in Yokohama earlier this year. This time however they showed up with their crazy S30 Fairlady-Z project which they have built to break the classic car lap time record at Suzuka Circuit.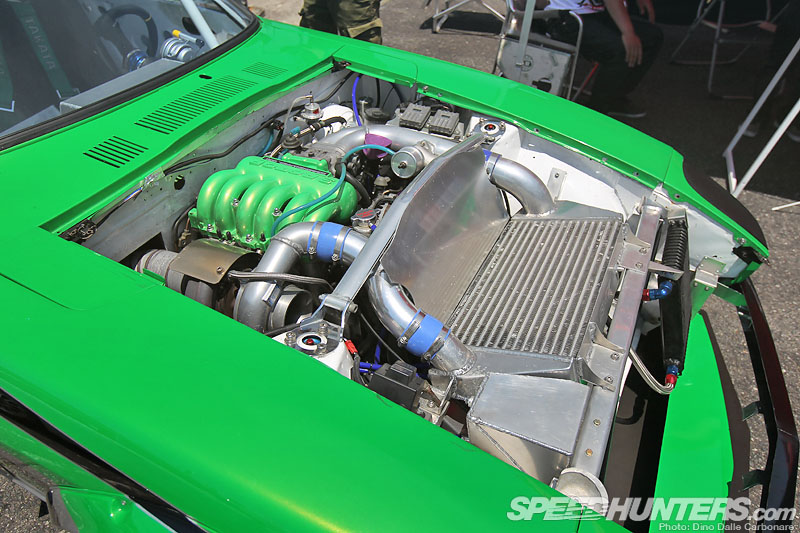 The car runs a 20B swap, a triple rotor beast capable of delivering over 600 HP!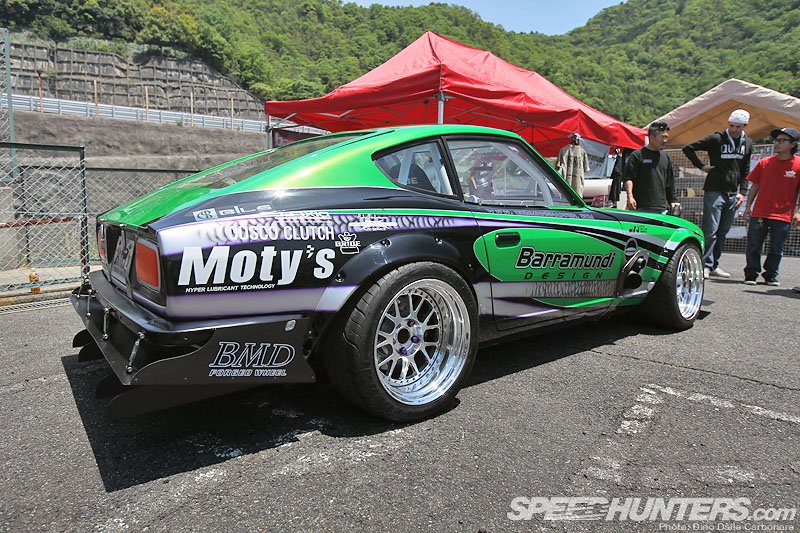 Pretty wild right?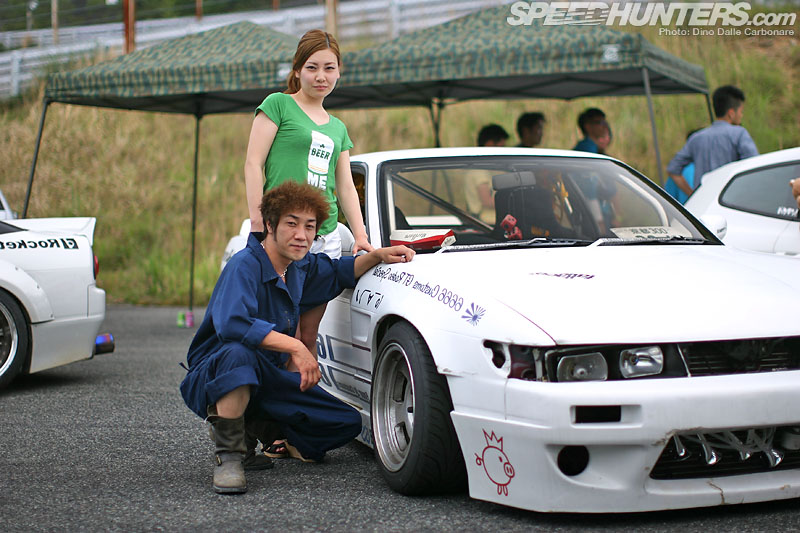 Let me introduce you to Mr. Rocket and Miss. Bunny! Miura-san from TRA Kyoto is one of the most talented aero designers and manufacturers in Japan and he dropped by Hellaflush with a couple of cars, one being his S13 drift and street car. He was joined by "Bunny" the new Rocket Bunny image girl.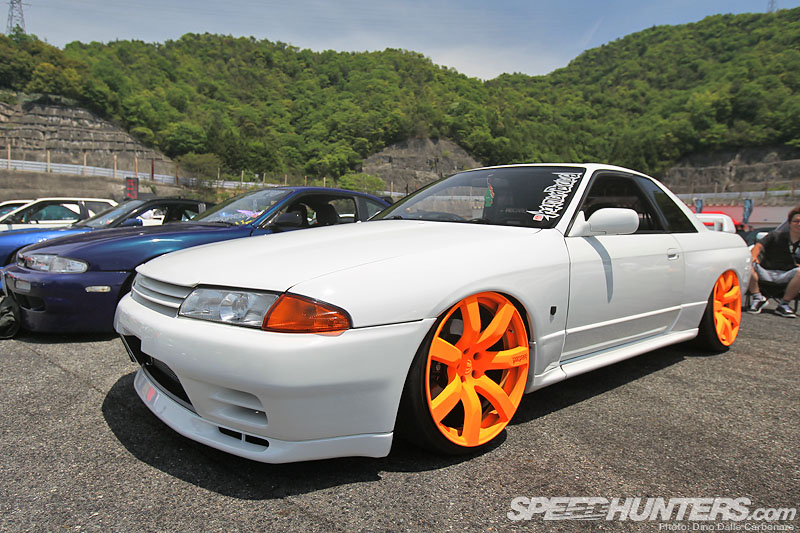 This is the second BNR32 I've seen fitted with R35 wheels. These big 20-inch rims are beginning to pop up on a lot of cars now that they are becoming affordable on the second hand market.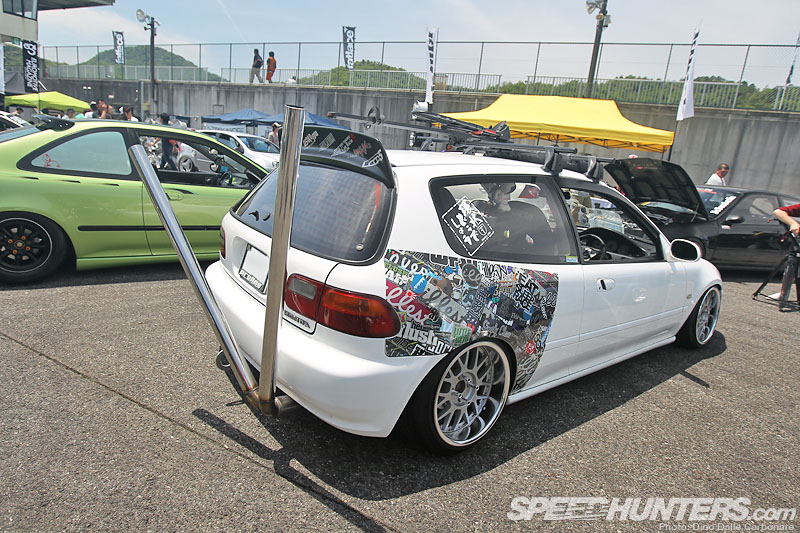 Bosozoku EG Civic?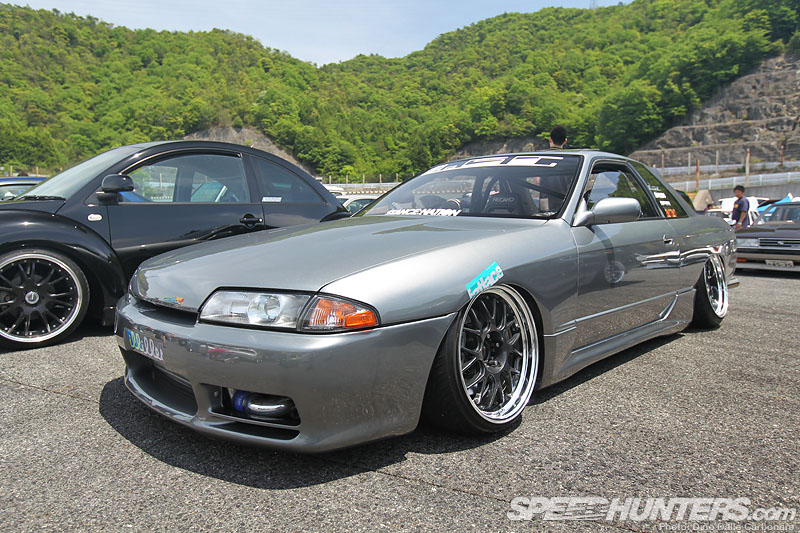 If you are going to go wild at least go all the way right? This slammed HR32 Skyline was riding on a set of tucked Meister M1Rs and attracting quite a lot of attention.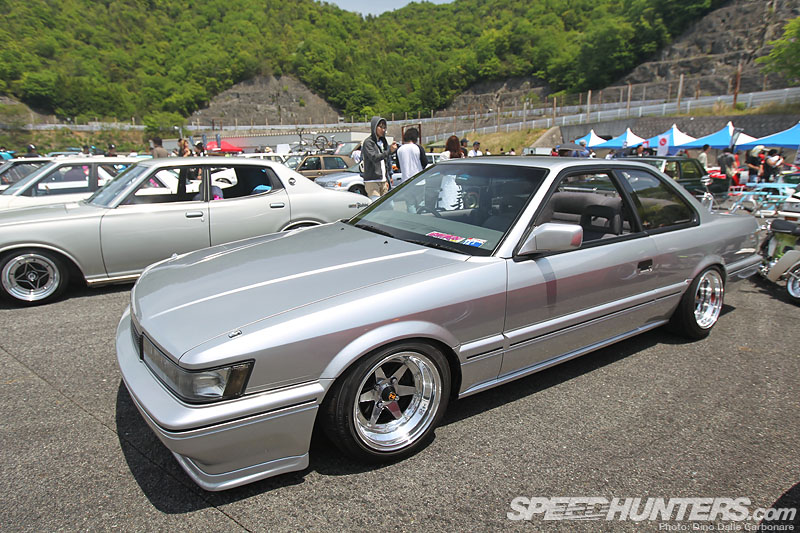 This F31 Nissan Leopard on Longchamps was a perfect example of how a few well-chosen simple details can make for a very nice looking car.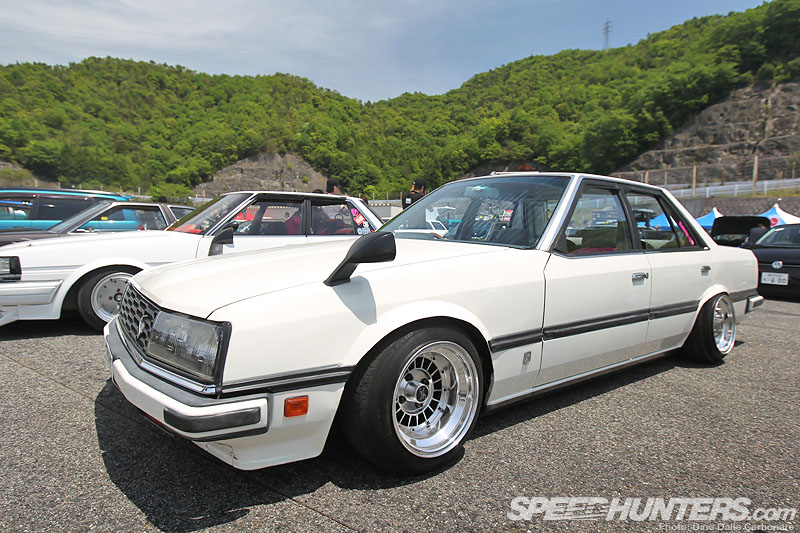 And this R30 Skyline was following a very similar recipe!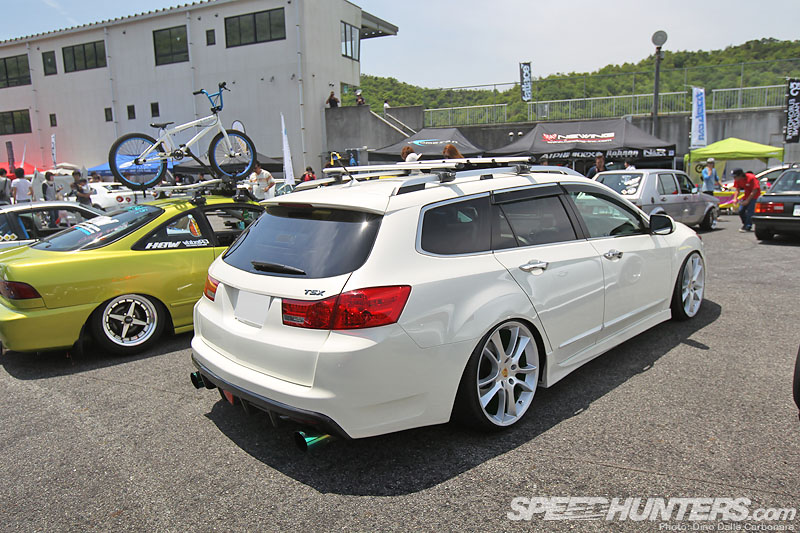 You can always expect to see some cool station wagons at Hellaflush; this Accord Wagon, rebadged as an Acura TSX, had been fitted with some big 19-inch Porsche rims!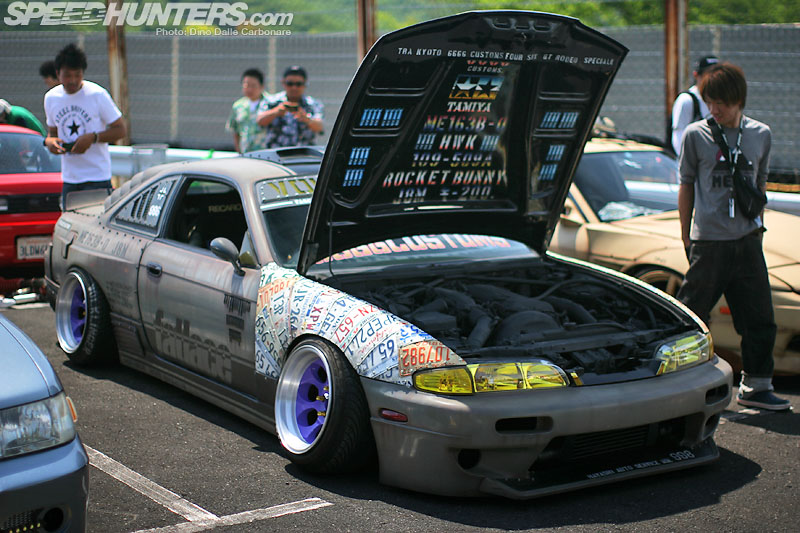 The military themed S14 Silvia we first saw the other month at the Nagoya Exciting Car Showdown was also present, now sporting a front fender covered in welded-on US license plates. It was definitely getting its fair share of attention.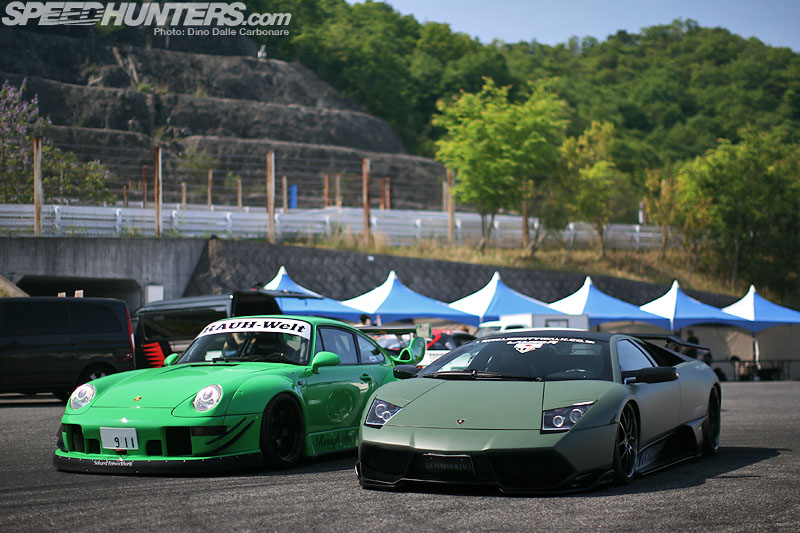 The exotic side of things were well represented with two of the biggest names in Japan, Rauh Welt with Toshi's green Rough Rhythm 993 and Liberty Walk with the matt-military green Murcielago.
I'll be back with a lot more from Hellaflush very soon!
Hellaflush Kansai coverage on Speedhunters
-Dino Dalle Carbonare