After wandering for hours through the main paddock at Hellaflush Kansai, I headed across to the other secondary display area that was set up. With so many cars participating…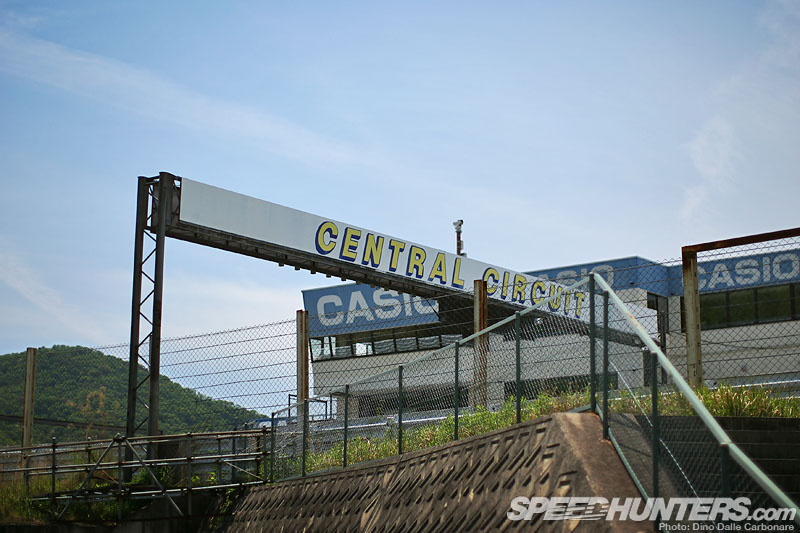 …space at Central Circuit was definitely at a premium and if you consider that most spectators showed up with awesome cars too…the parking lots were also a must-see. But more on that a little further down.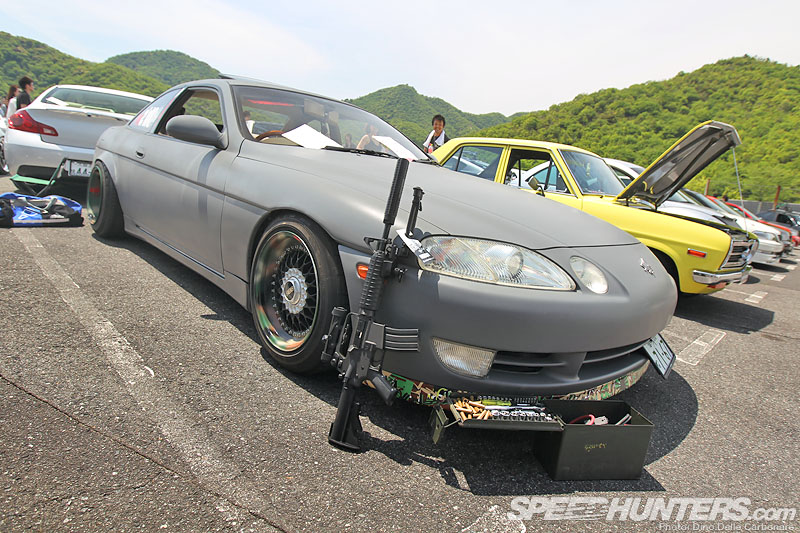 First up there is still plenty of nice stuff to see in the show itself…starting off with this satin gray Soarer sporting a bit of a military theme. I quite liked the camo on the rim part of the old school BBS wheels.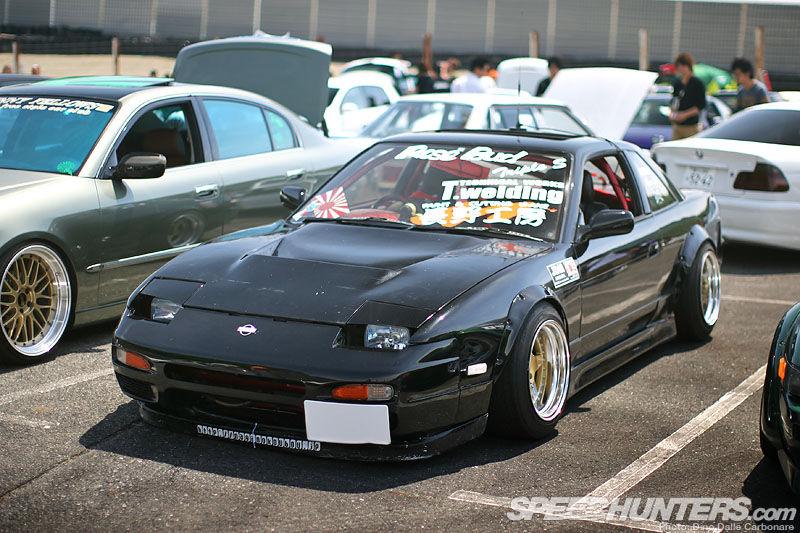 Osaka-based Nagano Koubou has, over the last few years, really made a name for itself in drift and custom car circles. The drift cars that roll out of their body shop exhibit fresh new touches and ideas…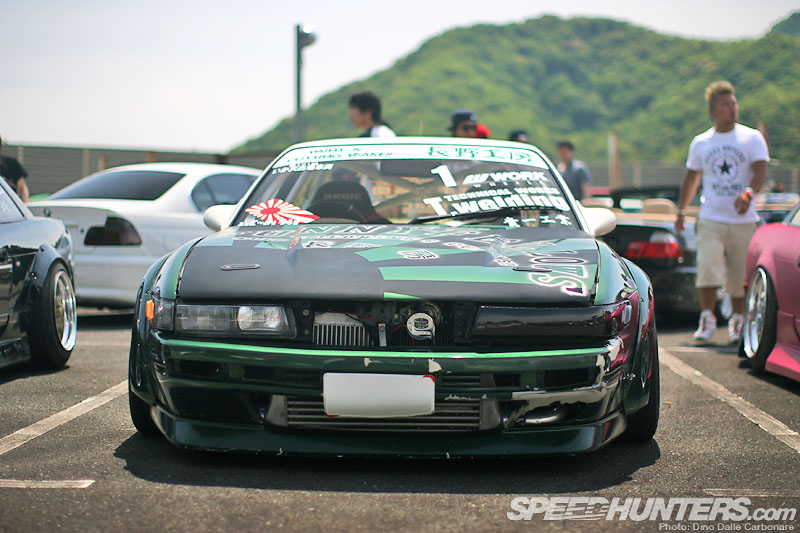 …but at the same time maintain that functional feel about them. Their green S13 we first saw at last year's Nagoya Exciting Car Showdown is probably their best-known creation.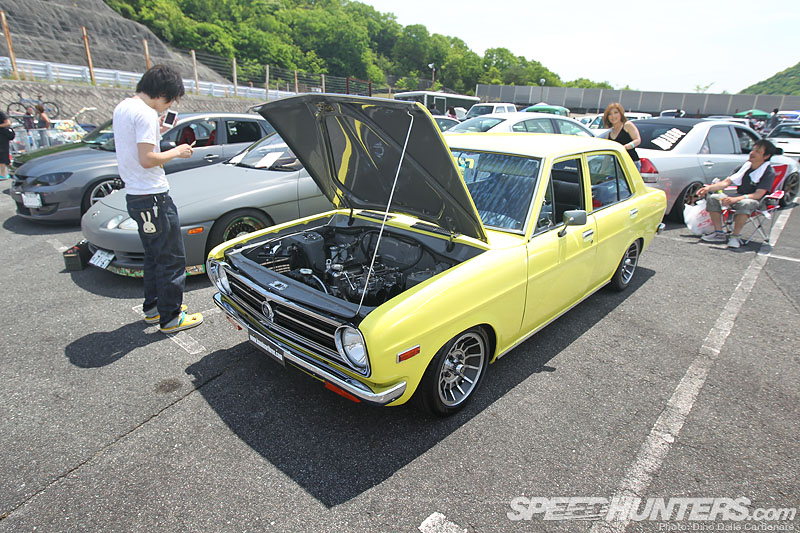 It's hard not to like a well restored and maintained B110 Sunny like this sedan from Kaminari Brothers, again throwing an unexpected twist to the line up of cars on show.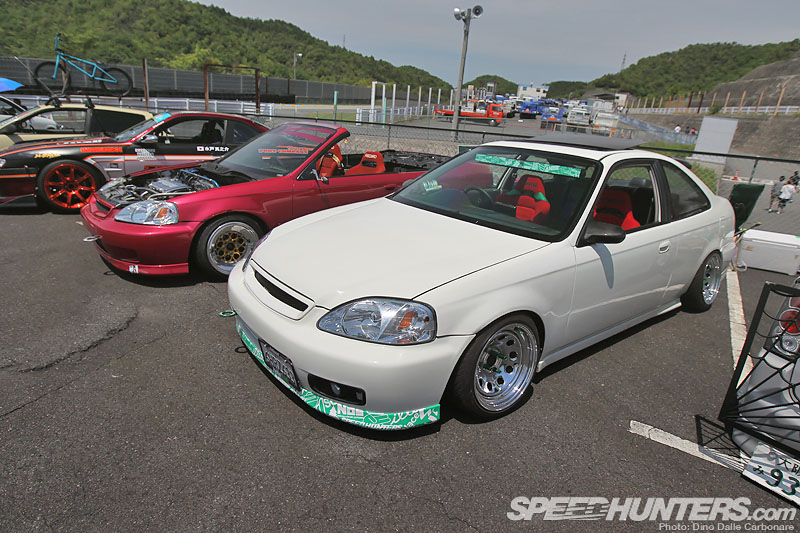 From vintage rides to more Hondas, like this Civic Coupe on chrome Diamond Racing Wheels.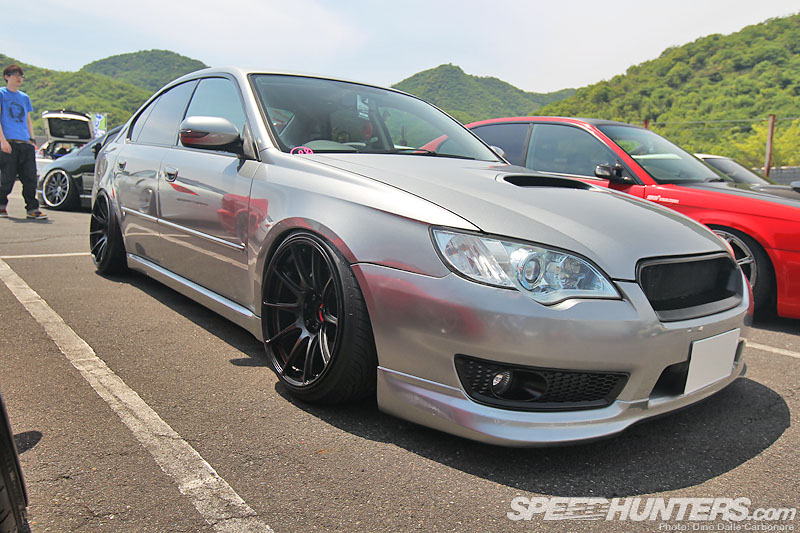 I've really gotten rather bored of how my Legacy Wagon looks these days. After just over five years of ownership it is craving for a little attention in the wheel and stance department and when I saw this BL5 sedan I started getting all sorts of ideas! I wonder what wheels would look best for a silver wagon?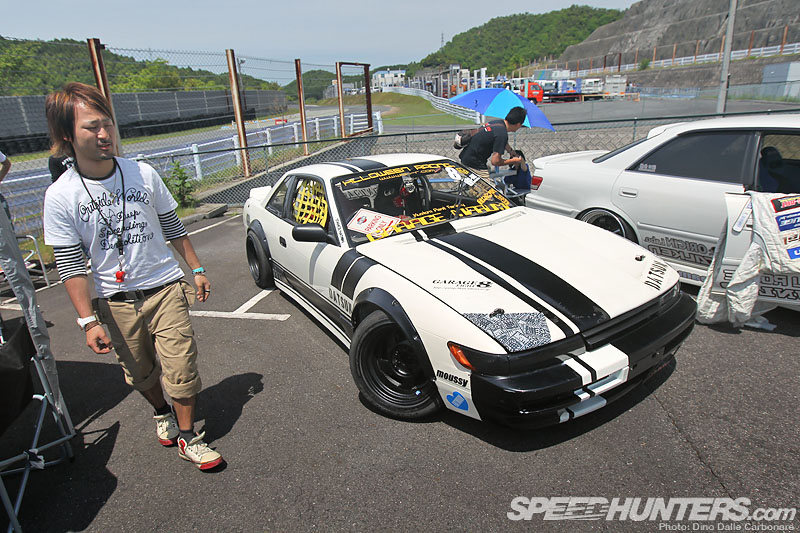 It seemed a lot of drift cars were hanging around on this side of the show, like this Garage 8 S13 Silvia. Loving the overfenders!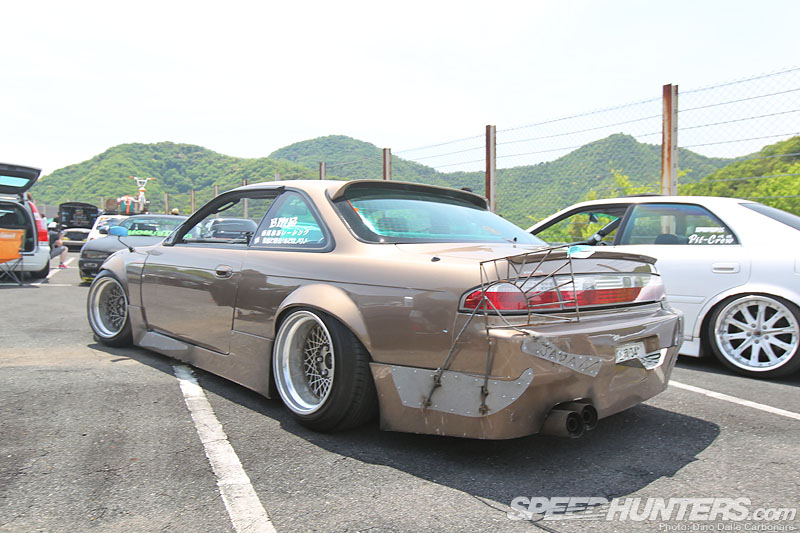 But what is better? Riveted on or flared arches? Either way you can't go wrong right?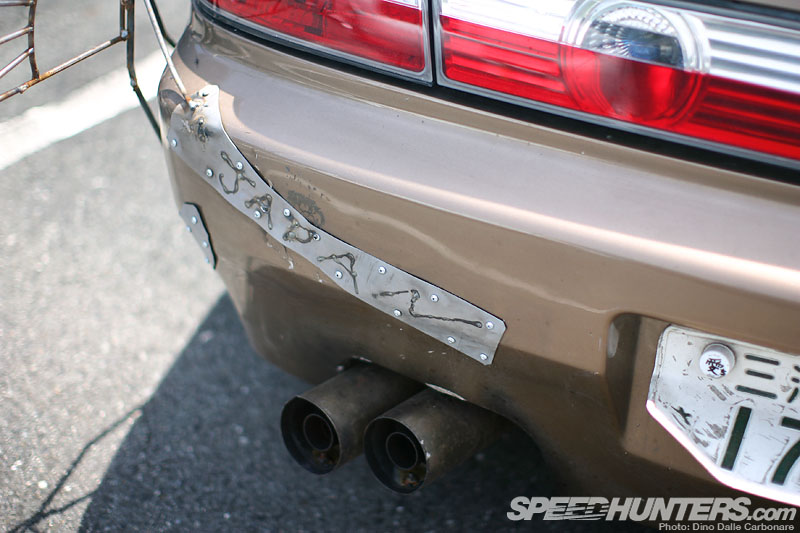 This particular S14 had a lot of custom metal art work riveted on to the bodywork. I guess that's one way to mask body damage from the last outing on track!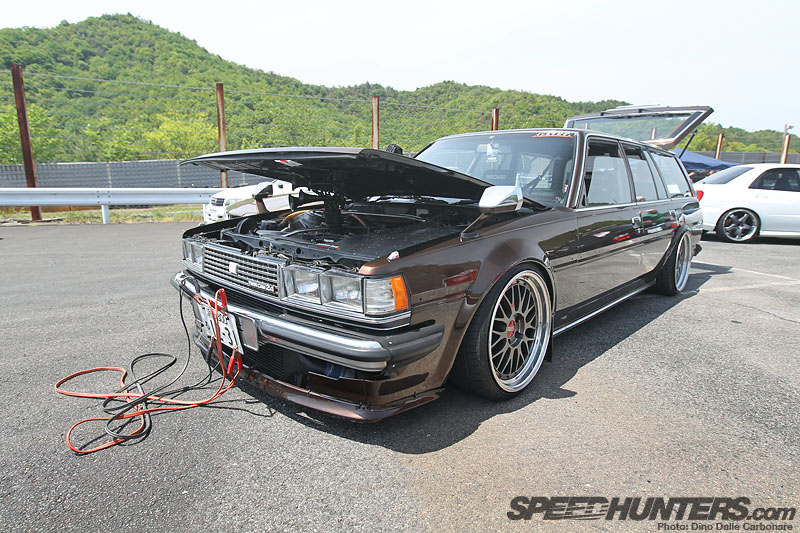 I was literally drooling over this maroon Mark II wagon at the Nagoya Exciting Car Showdown last month, so you can imagine what a surprise it was to see it parked up amount all the cars at Hellaflush. Still looking hot slammed on those BBS rims, however the rear fenders aren't finished yet.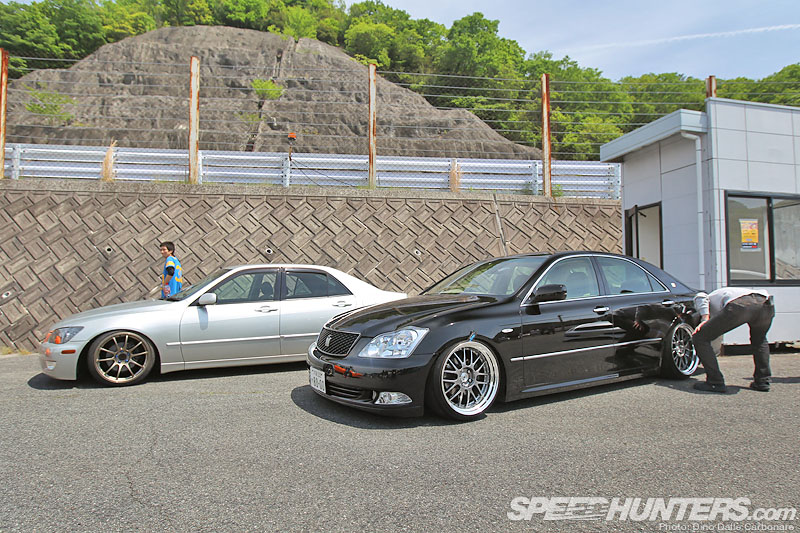 You see a lot of this at Hellaflush. I find myself in similar compromising stances when trying to see just what size wheels and tire width a car may be running.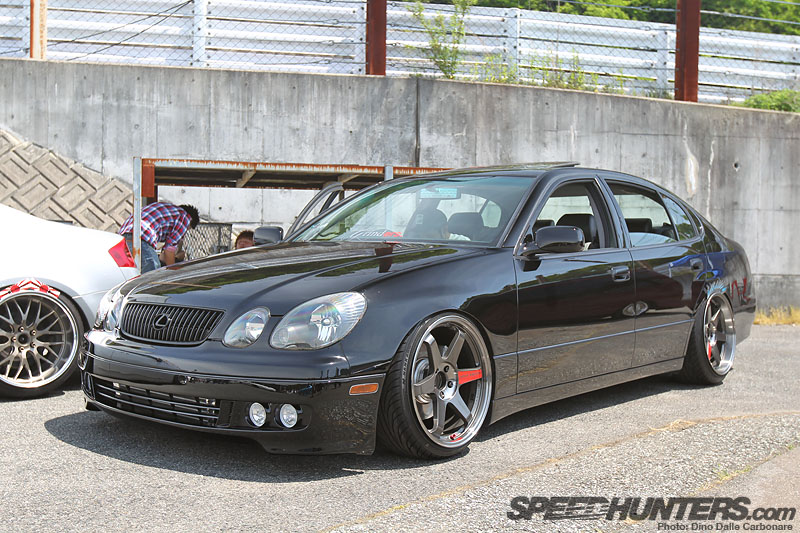 Simple and sweet. Is there anything a set of TE37SL don't look good on??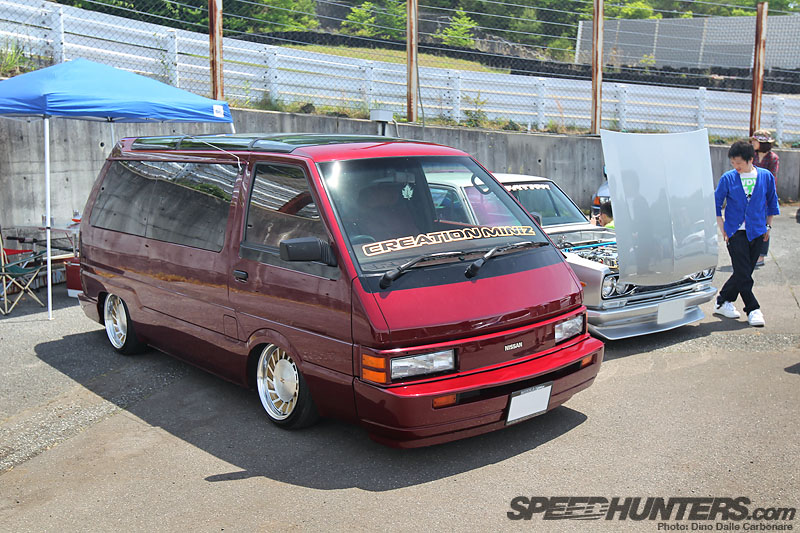 And talking of simple but effective, check out this Nissan van on Fairlady Z wheels!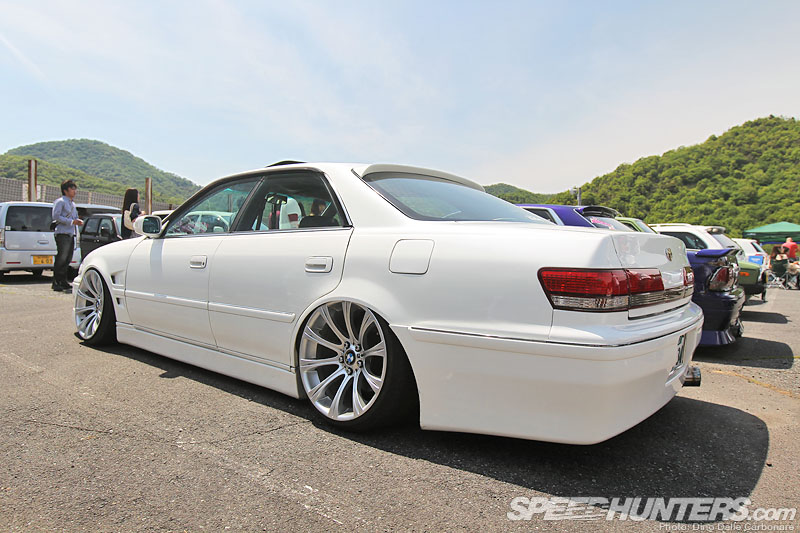 This particular set of BMW 19-inch wheels seem to be quite popular in Japan, I've seen them fitted to a variety of cars and they looked especially good tucked in under the rear fenders of this JZX100.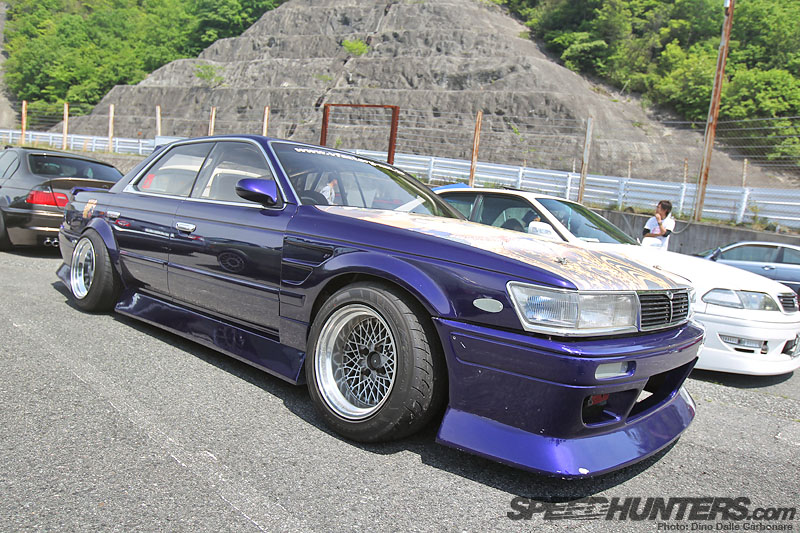 It's at shows like this that you realize just how many awesome cars Japanese manufacturers used to make in the early to late nineties. The C33 Laurel was definitely one of them and it's a pity Nissan has dropped the historical name from its current line up. It seems that back in the golden years everyone wanted sedans!  This particular car….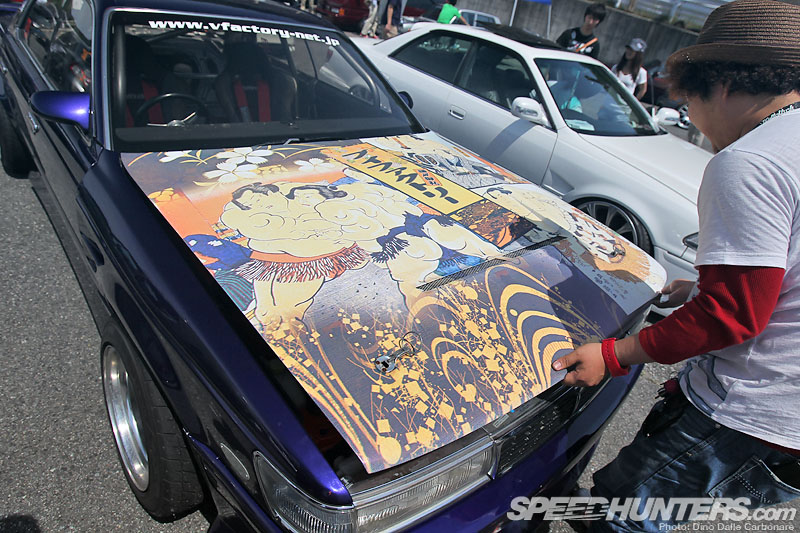 …which you may remember seeing in the Nagoya Exciting Car Showdown coverage (how can you forget that hood!)…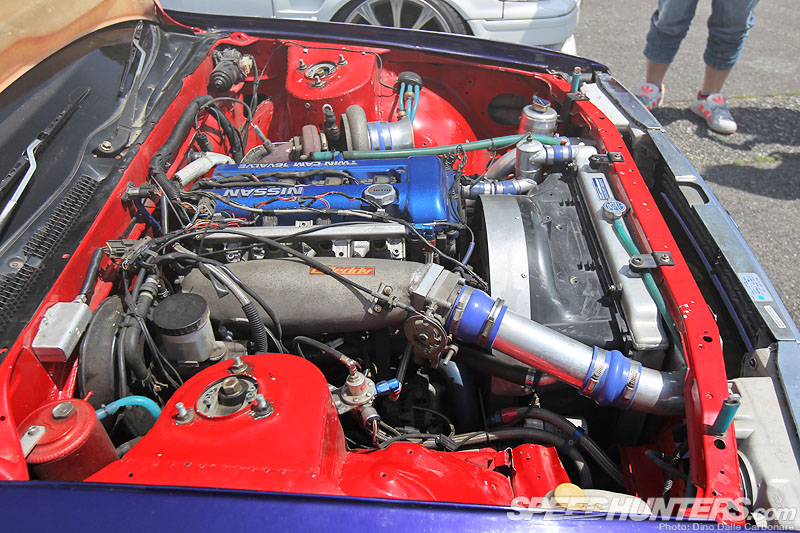 …runs an SR20 swap that provides a good amount of power for its drift duties.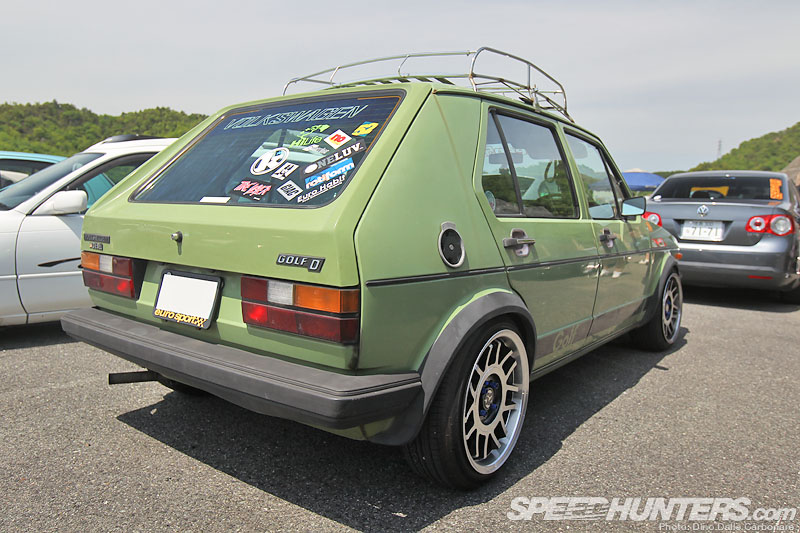 Great to see that Golf Diesels are also getting some attention. This was one of two oil-burning MKIs at the show.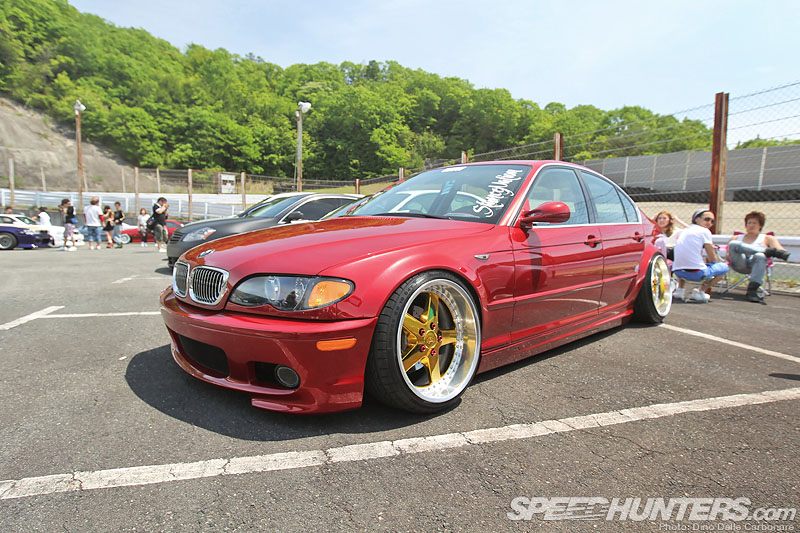 This E46 on Equips E05s was actually one of the winning cars at the 2011 Hellaflush Japan show in Fuji Speedway. Since then it's had a color change, from black to this metallic red, and the Equips given a little 24-karat look.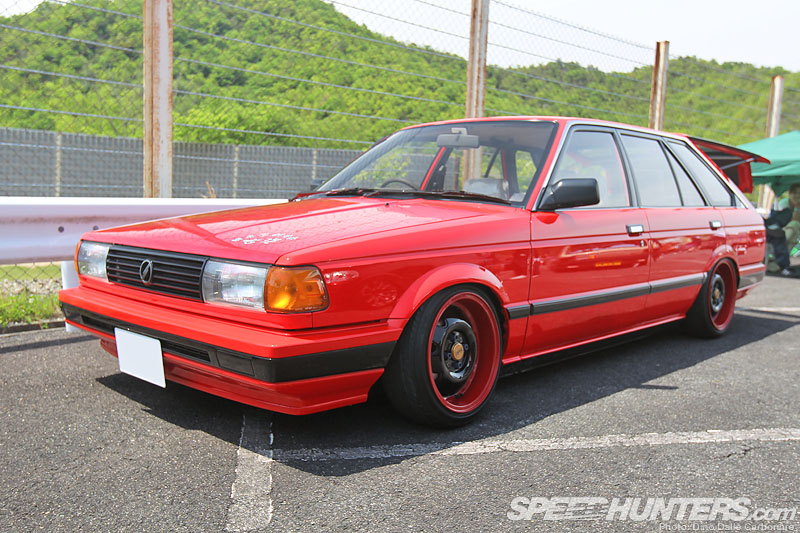 This is a bit of a rare sight, a B12 Sunny Estate. It kind of reminds me of the red Carina Wagon we saw last year at the first Hellaflush Japan meet.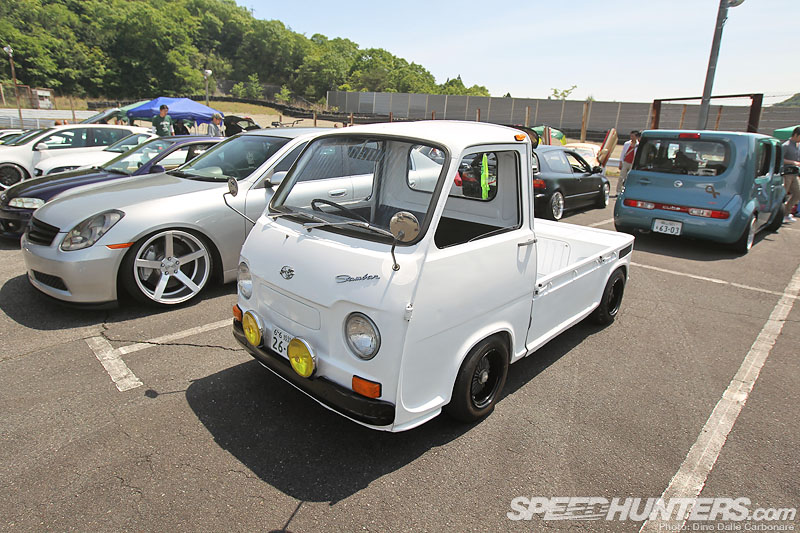 A Subaru Sambar mini-truck from the sixties was probably the last vehicle I would have imagined seeing at Hellaflush! But there it was lowered and riding on tiny little aftermarket wheels!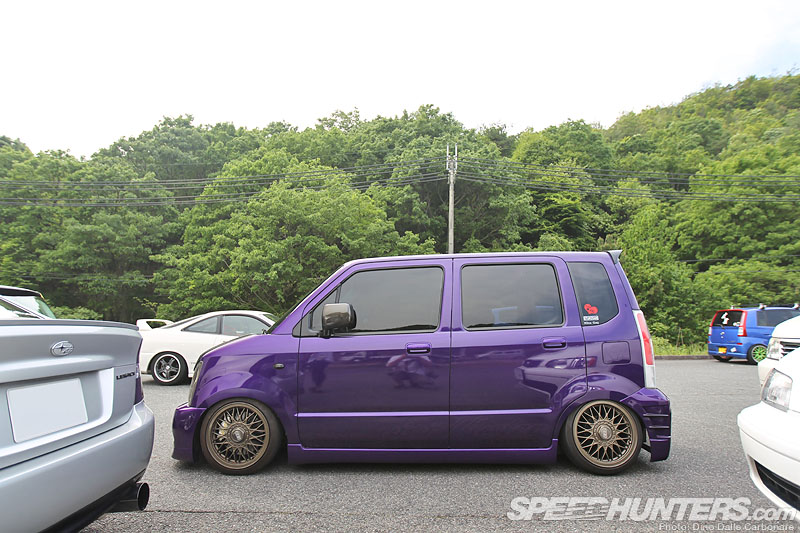 You wanted to see more Kei-cars? Well then here are a few I spotted once I headed down to the parking lots. These cars weren't part of the show but rather what spectators used to come to Central Circuit in. This Suzuki Wangon R looked so hot on those bronze BBS. It was also packing a serious brake package up front.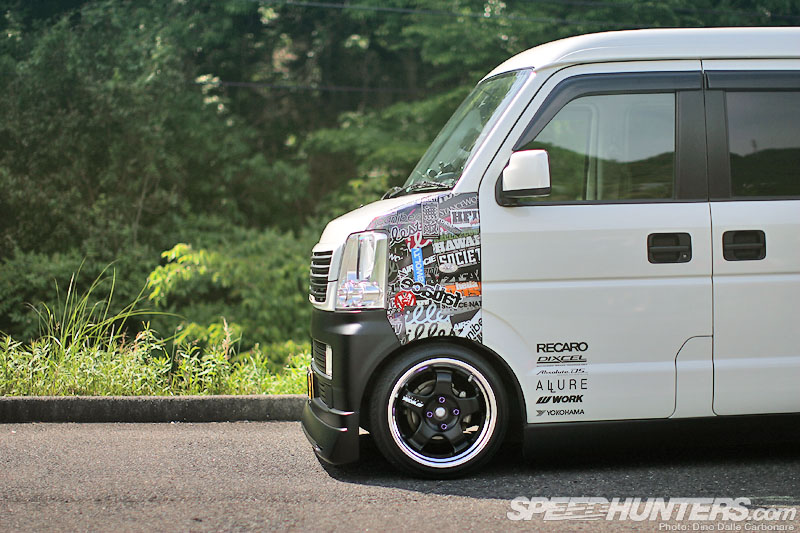 Yes, only in Japan! I should trademark this comment!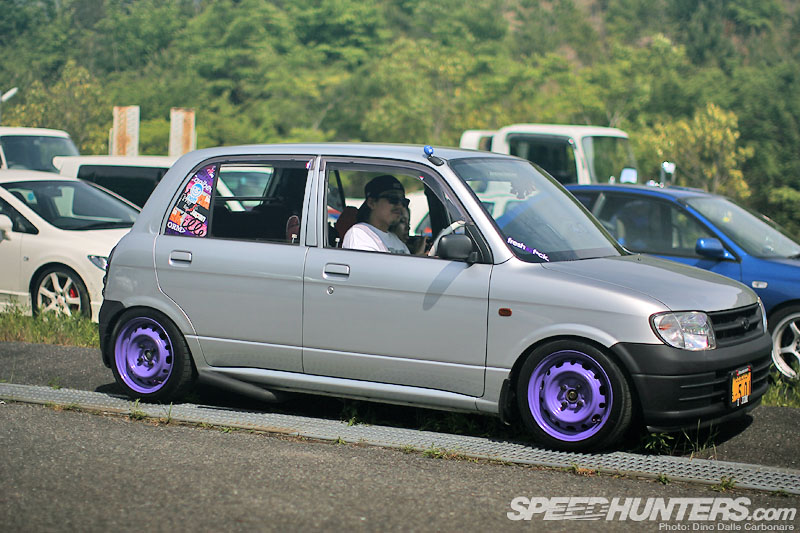 Check out this little Daihatsu Mira Gino, going for a full on bosozoku side exit exhaust!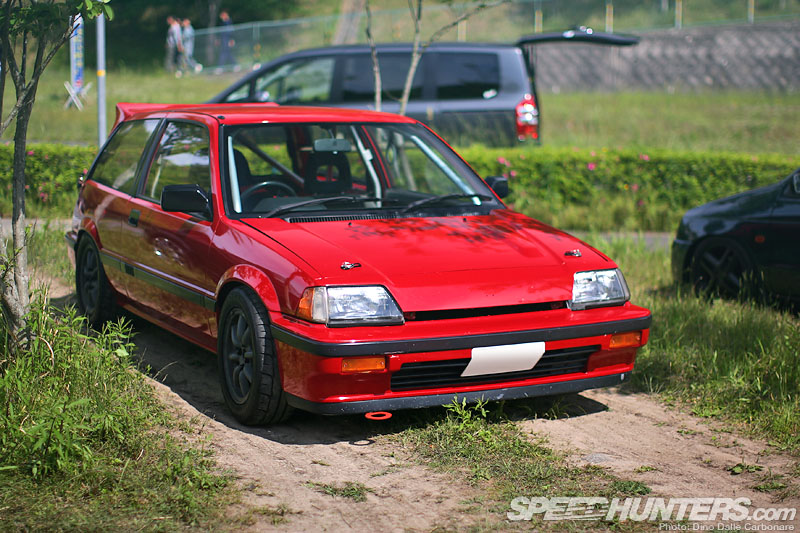 I continued my walk through the parking lot and ran across a constant stream of awesome cars like this old Civic…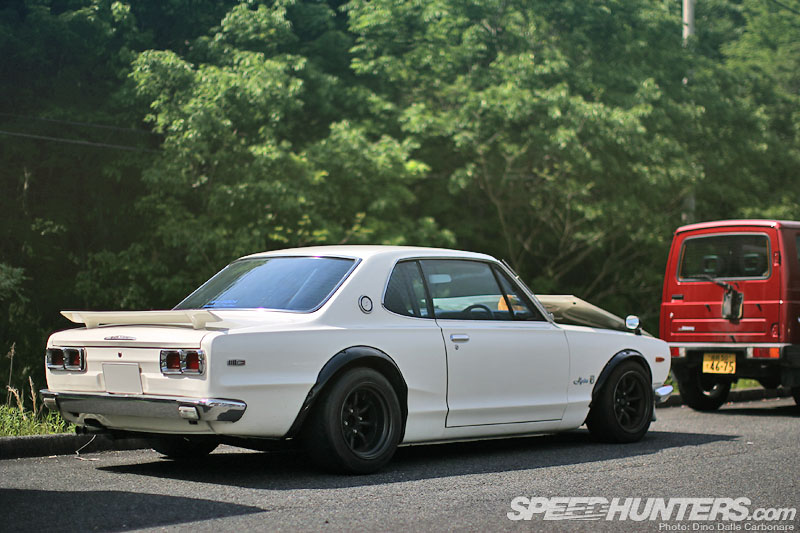 ….and Hakosuka, both on Watanabe wheels.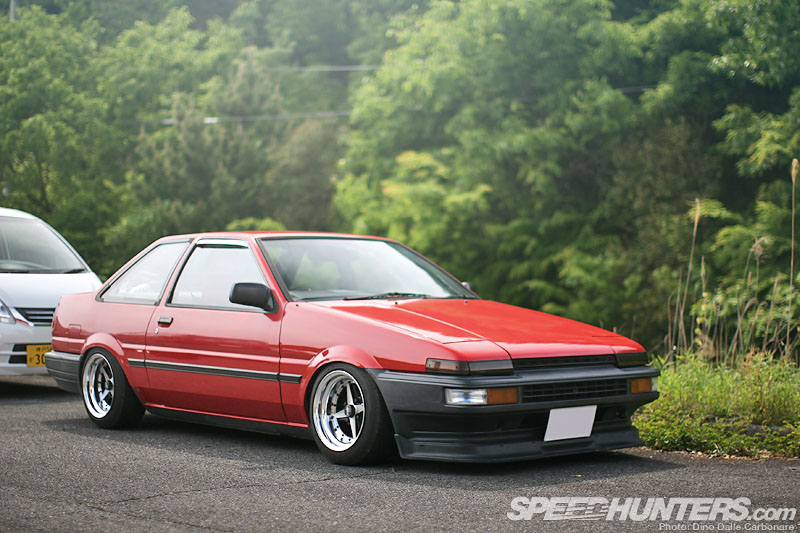 I think someone somewhere has announced that the AE86 has well and truly become a classic car because the hachirokus I've been seeing lately seem to get better and better. This notchback was spotless in every way and looked especially hot fitted with a set of Equip o1s.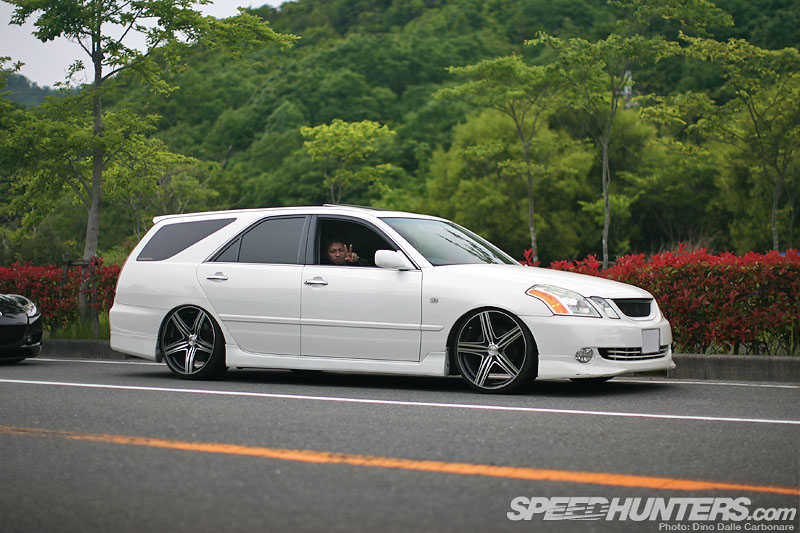 With about thirty minutes to go before the show ended at 4pm there were still people rolling in and lining up waiting to park.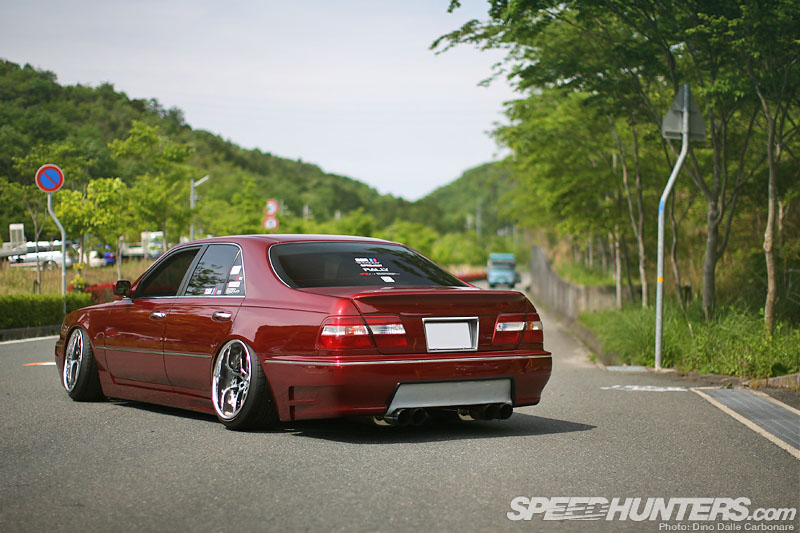 While some cars from the show were taking off…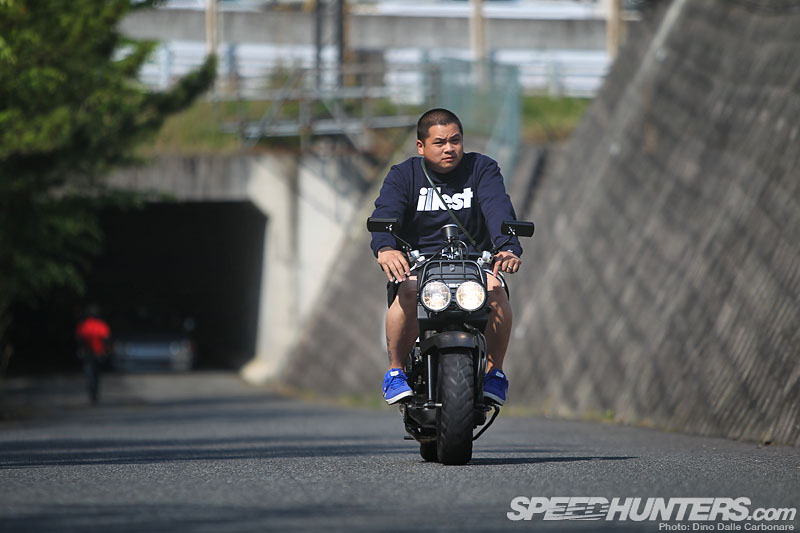 …I headed back up to the main paddock and awaited for Mark to begin giving out the wards. I bet it wasn't easy to choose the best cars in each of the predefined categories, that's for sure.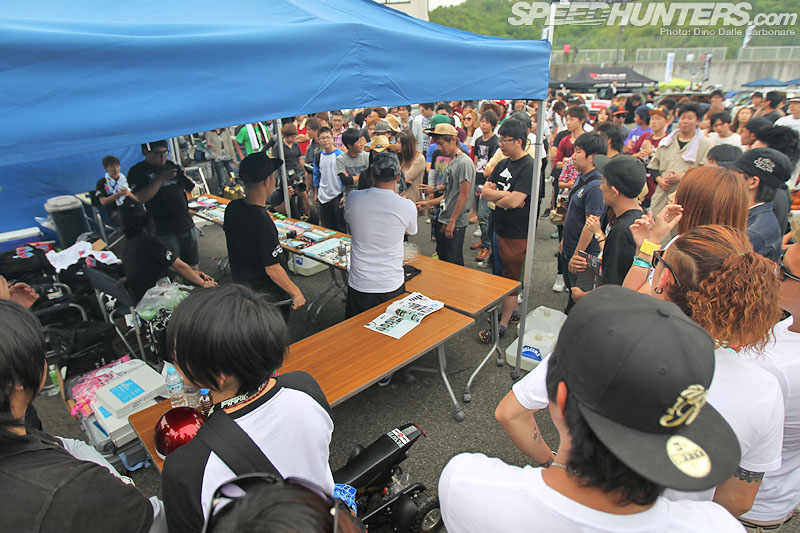 A crowd of owners quickly formed around the Fatlace booth as Mark announced the winners.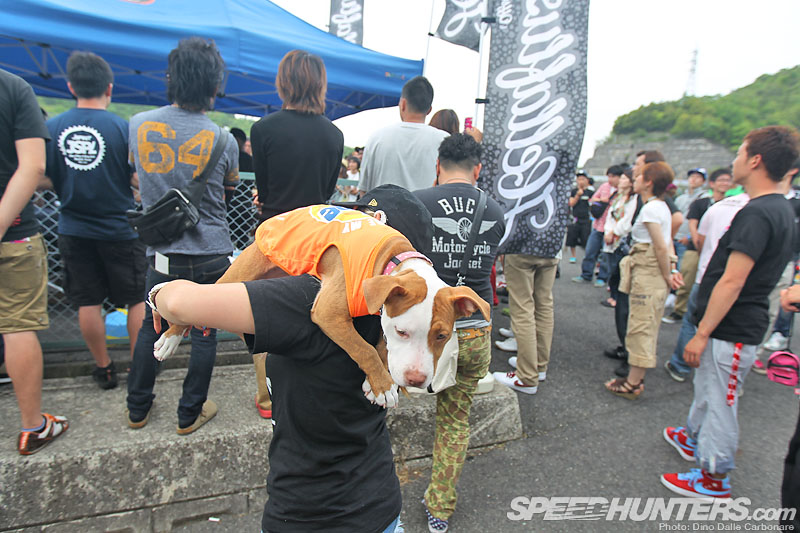 I just had to take a quick snap of this little 4-month old puppy taking a nap on the shoulders of its owner.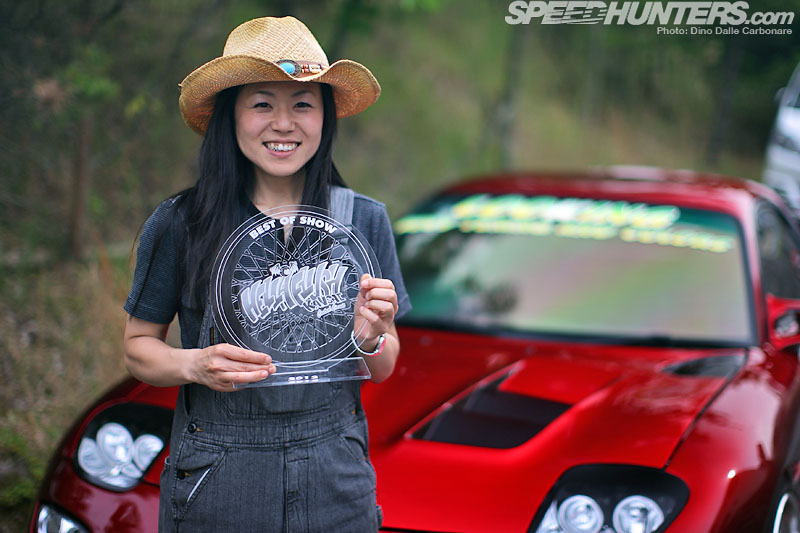 The best of show was snapped up by the Looking FD3S which we saw back in the preview post. Here is Hitomi-san from Looking with the award. Congratulations!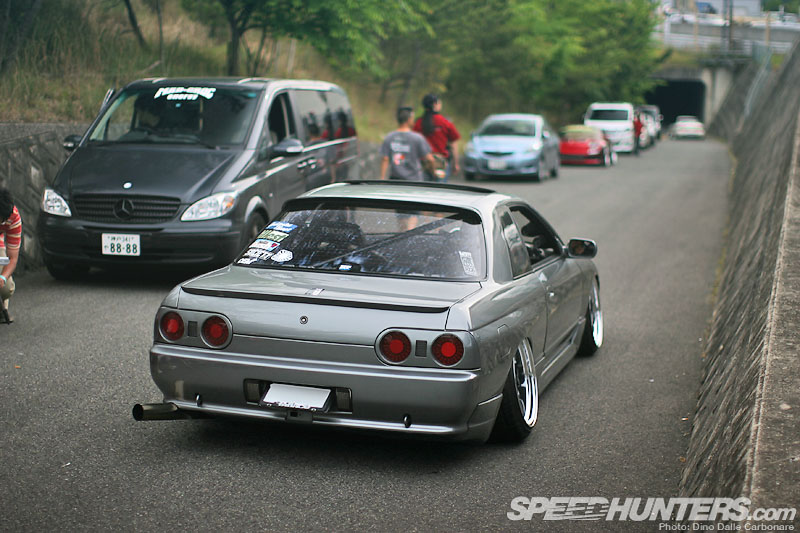 Slowly the cars began to drive out of the circuit and in most cases begin their long drive home. I decided to hang around a little as I heard that there might be a little bit of drifting going on when everyone had left.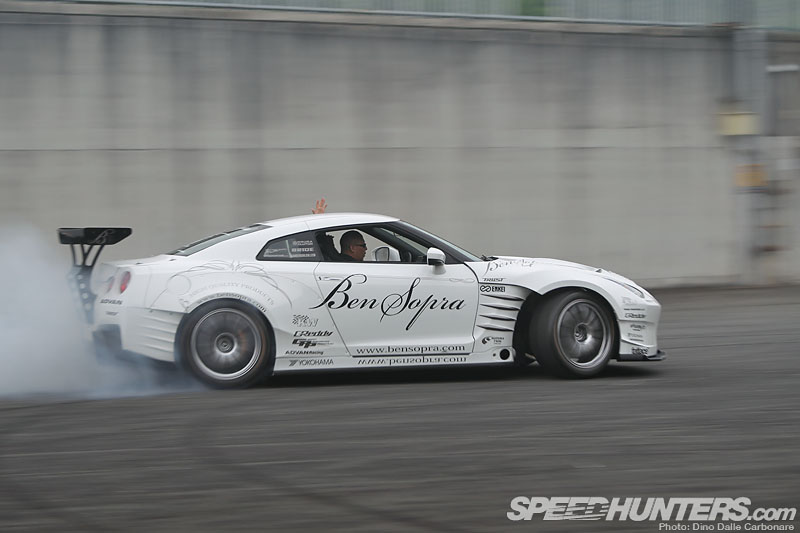 Good thing I stuck around! Check back for the final part from Hellaflush Kansai to see some tire-smoking antics…the perfect end to any day!
Hellaflush Kansai coverage on Speedhunters
-Dino Dalle Carbonare