Time to head back to Central Circuit now and continue on with the coverage of Hellaflush Kansai. I'll start off with two of the most talked about cars of this year, first up the Super Made Aristo which we have already featured, and the street-spec BenSopra demo car. Ueda-san, the man behind the all-new tuning company, has just fitted the bronze R35 with side exit exhausts which I'm told constantly spew fire out! You can expect a full feature on this car pretty soon…with a few driving impressions thrown in for good measure!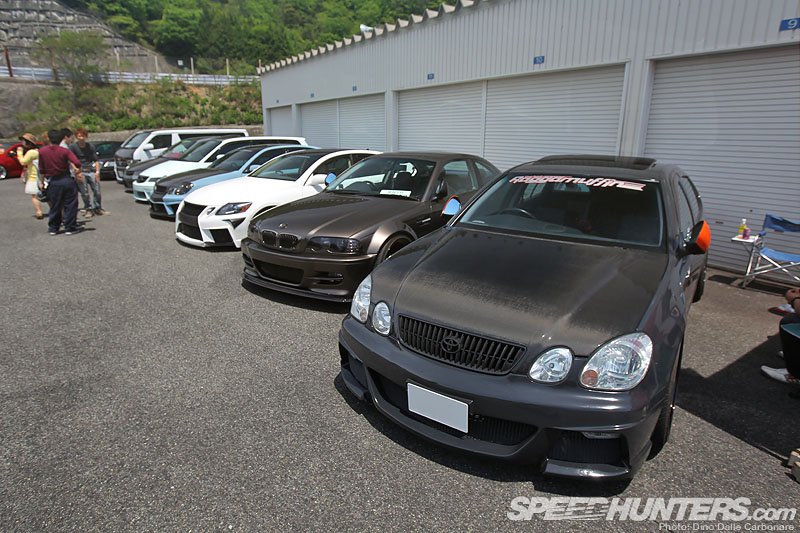 Mark from Fatlace is really on to something with these shows as they combine such a variety of cars that you would just never see at the usual style-specific same meets. It's great as it keeps interest flowing for those that drop by to check what is on show. On one far corner of the paddock I came across this little varied line up, which on top of this nice Aristo and the bronze M3 from the previous post…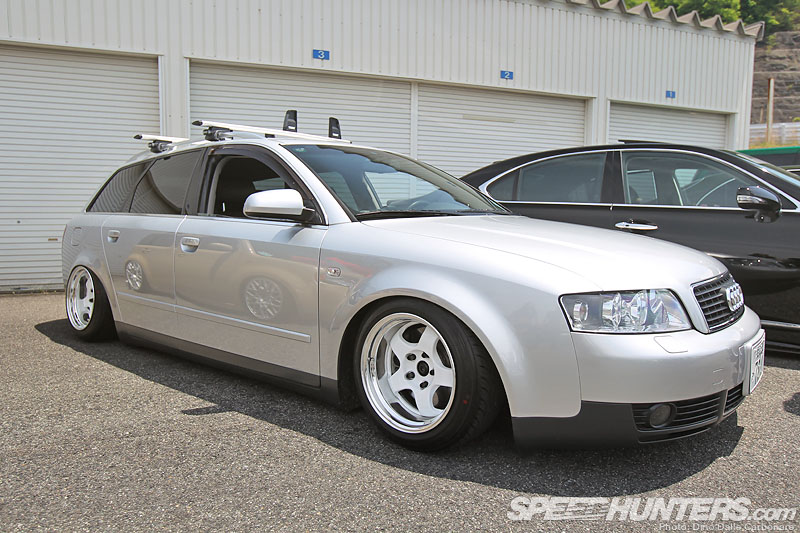 …included this bagged A4 Avant on 15-inch Meisters. Who said bigger was better??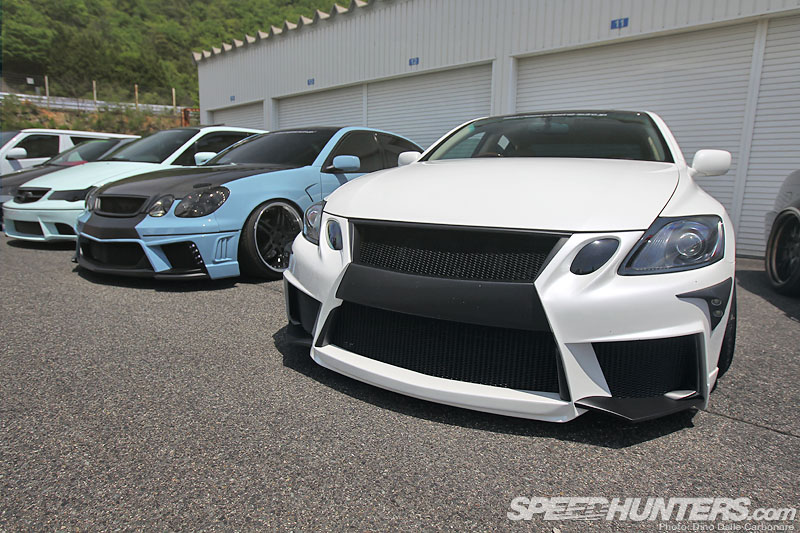 I thought this GS was pretty cool, kind of incorporating the feel of the new Spindle Grille (that will soon be incorporated into the whole Lexus line up) into the older GS. I thought it kind of had a Five Axis feel to it too, in a more angular Japanese way.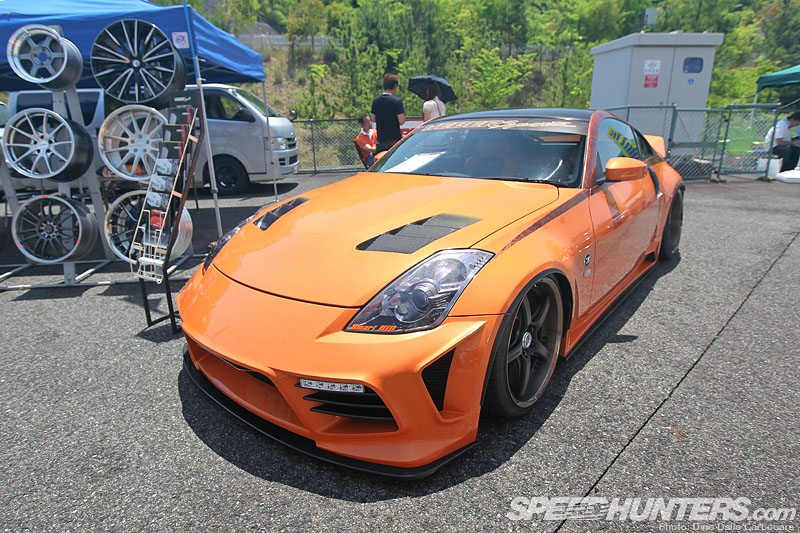 Rays had a cool couple of cars on display at their booth like this Weber Sports 350Z…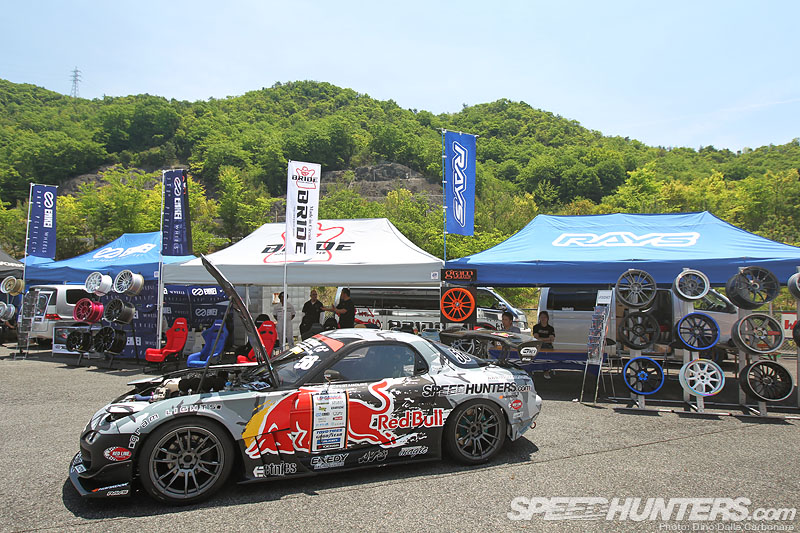 …along with MadMike's Japbull. The 4-rotor FD was running the new powder coated Gram Lights 57Xtreme.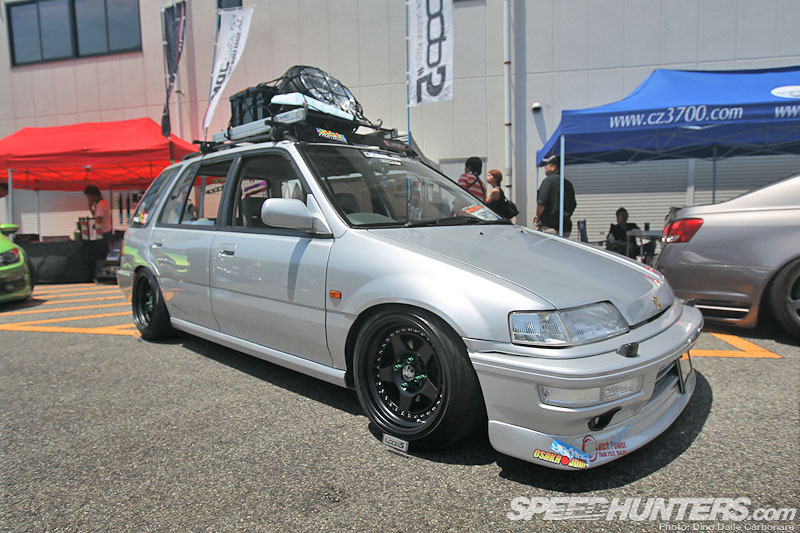 Car Craft Boon, the fathers of Osaka JDM, are nothing short of trend setters in the Japanese Honda scene coming up with crazy new ideas that can turn even the most mundane of Honda vehicles into something very special. This Civic Shuttle riding on their special Loop 5 version of the Meister CR01 is the perfect example.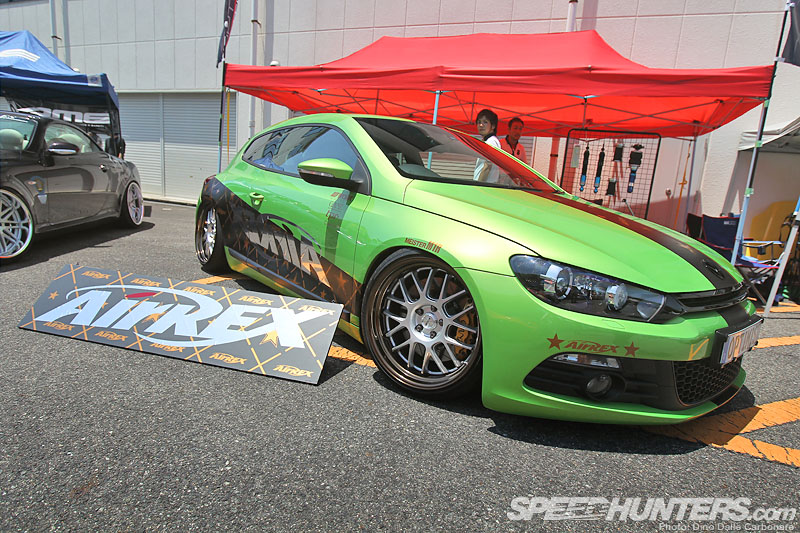 Check out this lime green Scirocco on the new 19-inch version of the Work Meister M1Rs. The car rides on AirRex air suspension…kind of representing the other school of thought when it comes to fitment.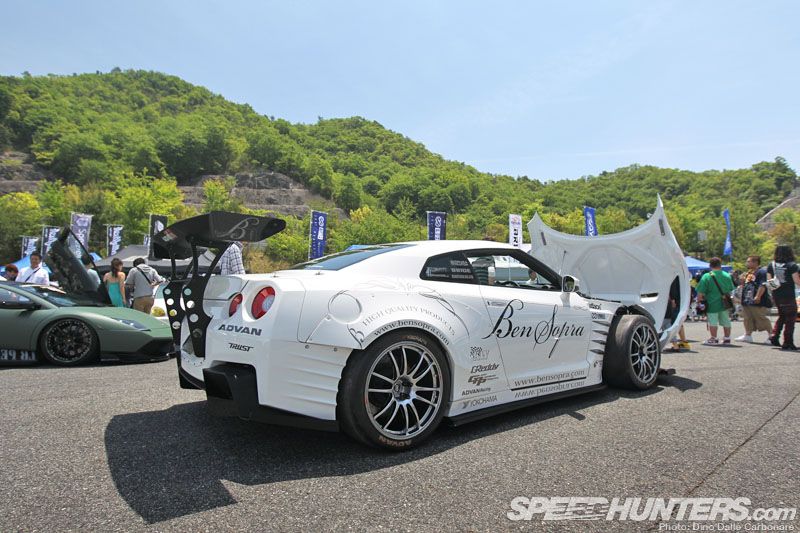 The ex-Blitz RWD R35 GT-R that is now the BenSopra demo car has recently received new graphics as well as a few engine alterations. The big Garrett turbos it was fitted with were binned in favor of stock IHI units while the team figures out what to run on it next. The bad thing is it no longer has the 1000 HP the big (and leaking) older turbos provided…however it is now driveable and Ueda-san was showing off just how much so later on in the day as the paddock emptied out from all the show cars. Do you guys want to see this beast shred through those pricey Yokohama 20-inch slicks?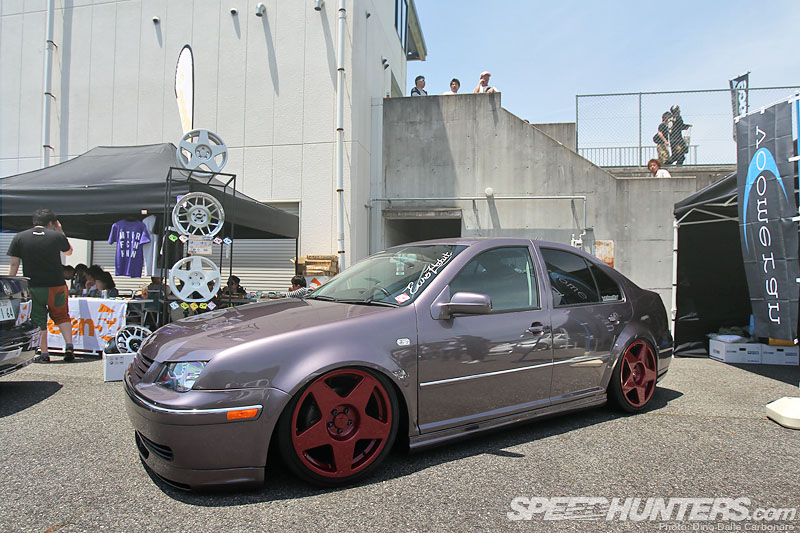 Fifeteen52 wheels has made it to Japan recently and Hellaflush Japan was the first time I've had a chance to see these rims up close, as fitted to their Bora.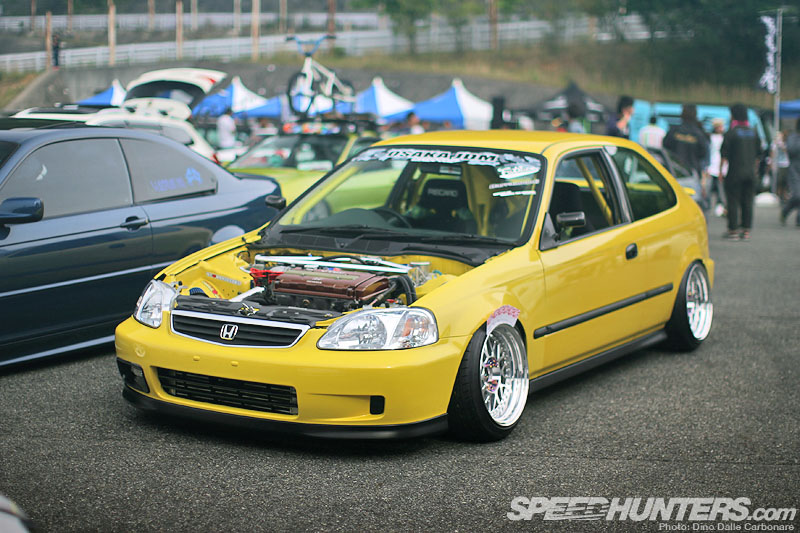 The K20A powered Rhythm Motors EF we saw yesterday was a more traditional aspirated interpretation of how a fast Honda should look and sound like…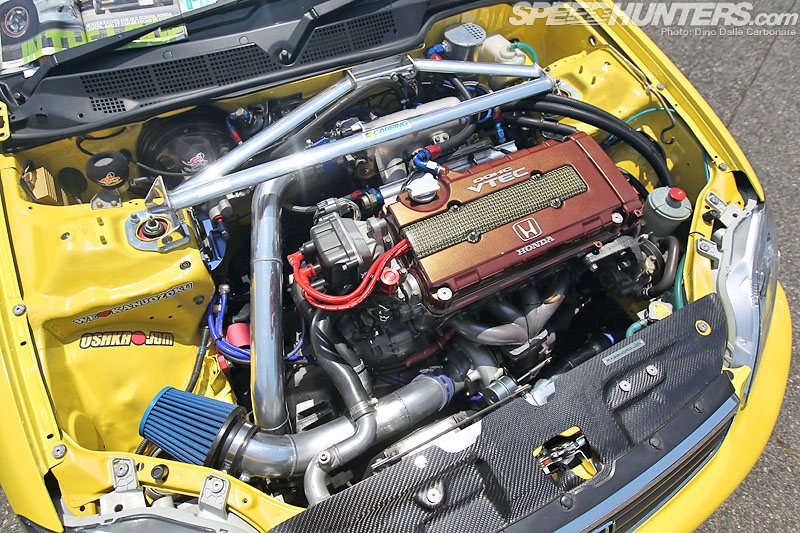 …while this Osaka JDM built EK took a more boost-filled approach. As Furukawa-san, the man behind Car Craft Boon, told us…"this thing is crazy fast!"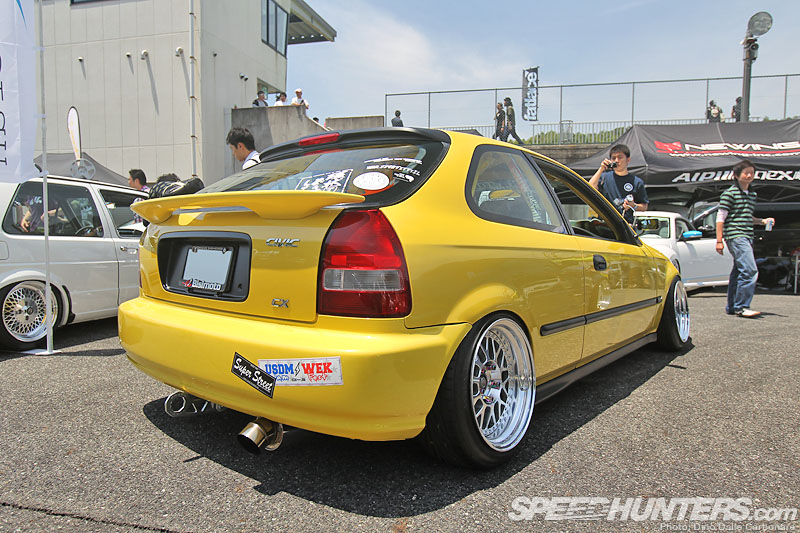 No doubts there that's for sure. The owner of the car was practicing drag launches later on in the day as the paddock emptied out!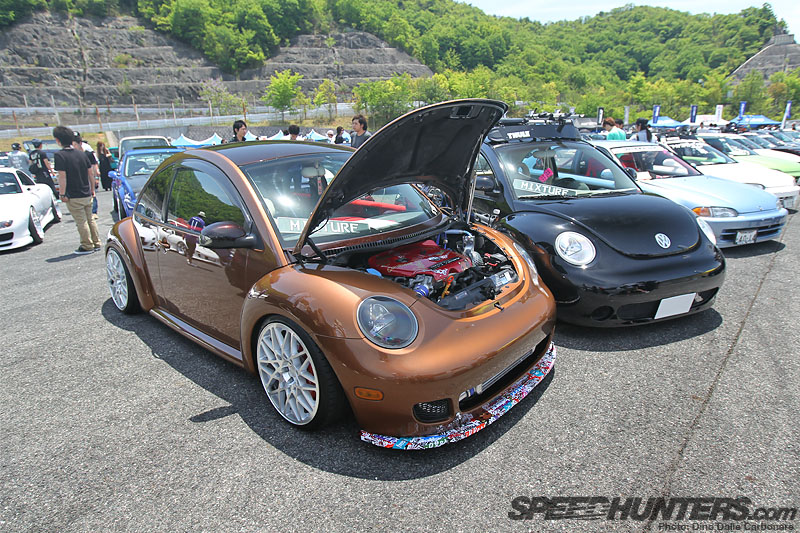 Beatles are always a popular choice in the dress up and custom scenes in Japan and I have to say I quite liked this particular turbocharged version. Looks and increased performance are definitely the way to go.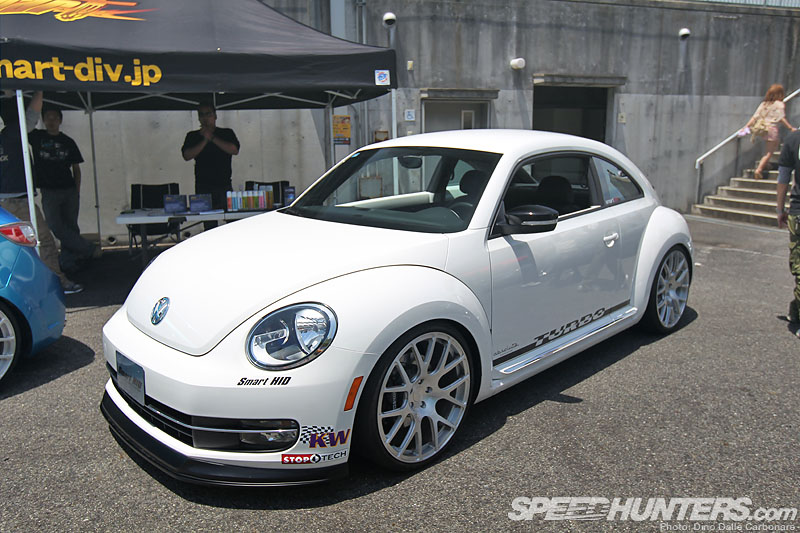 There was also one new-Gen Beatle on show to feast one's eyes on. The cute round lines have definitely given way to a more angular and dare I say Porsche-esque shape.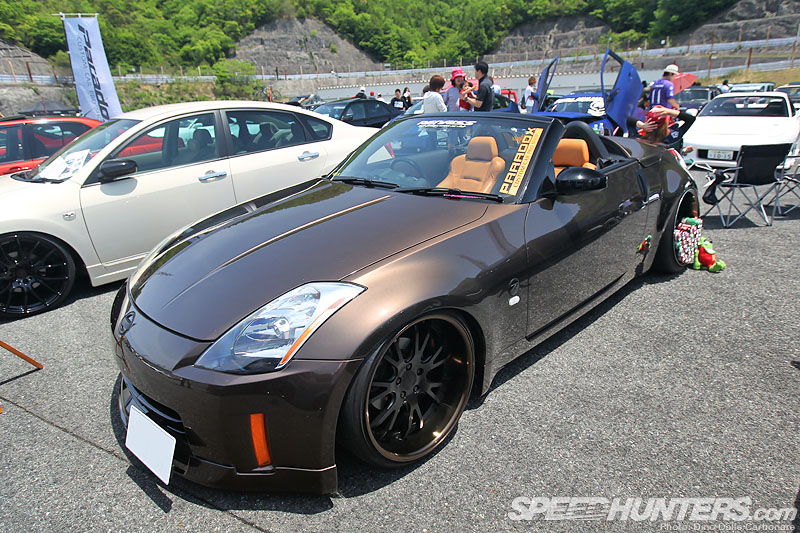 The owner of this bronze 350Z Roadster was showing everyone the real reason he went for the biggest possible lip on his Work Gnosis wheels.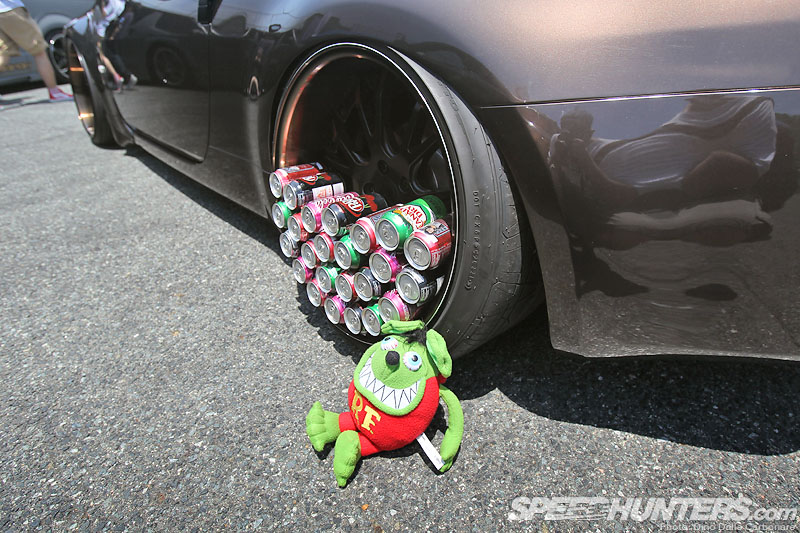 Now, if only they refrigerated the cans!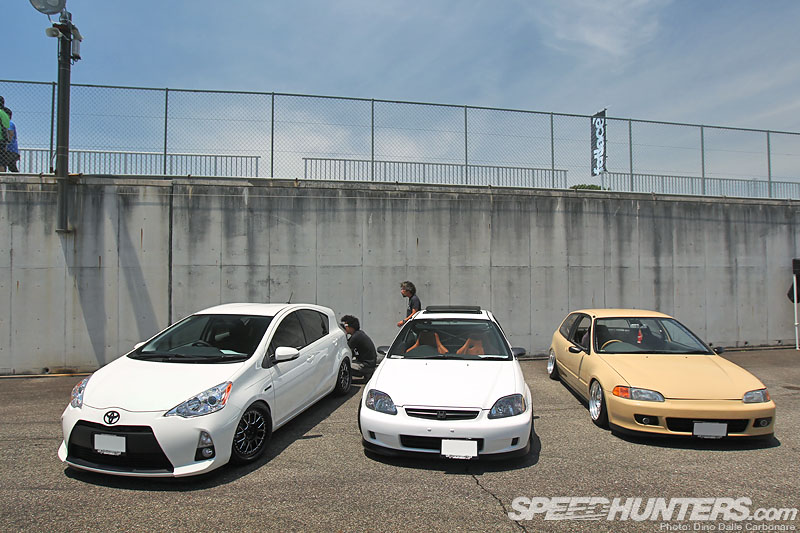 Sales of the little Toyota Aqua have been booming in Japan so it's not surprising to see some more fashion conscious owners spending a little bit of money on them to give a custom look. It certainly fit in among the Civics it was parked next to.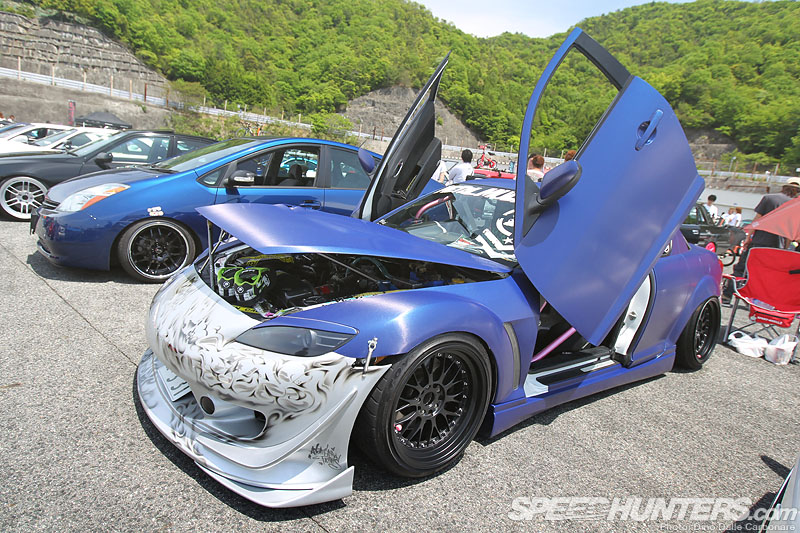 You will probably remember this RX-8 drift car from the Nagoya Exciting Car Showdown. It's now sporting a brushed blue wrap and a very artistically decorated front bumper.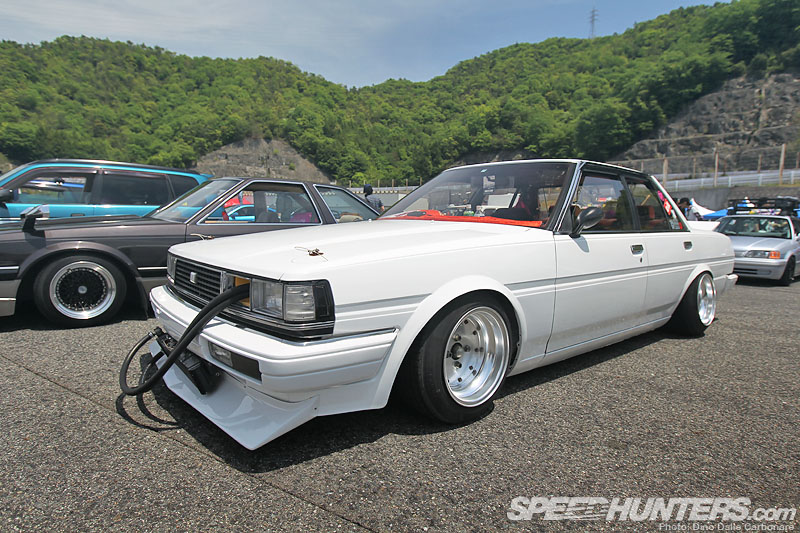 Boso-style for the win!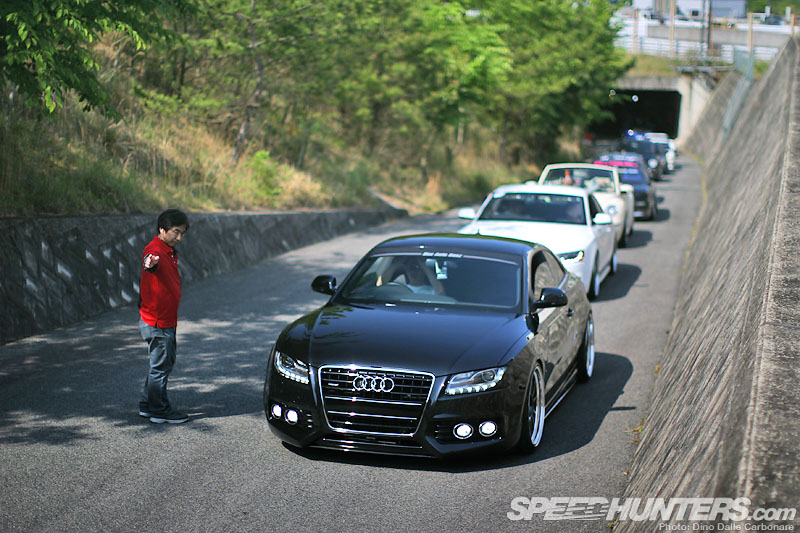 The access to the paddock looked like this for the most part of the morning as many of the 370 car that signed up to display were slowly accommodated into the rather cramped show space. It made for some cool pictures seeing a continuously varying display of rides crawling up the road!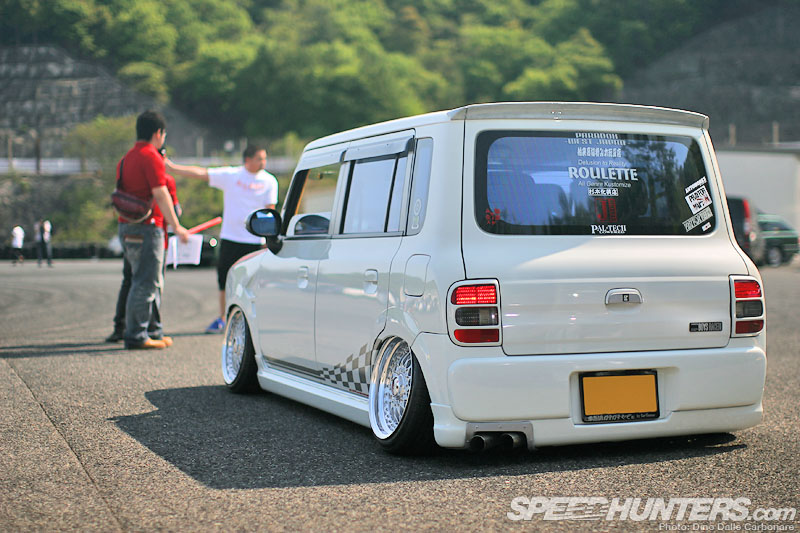 Just a bit of onikyan never hurt anyone, right?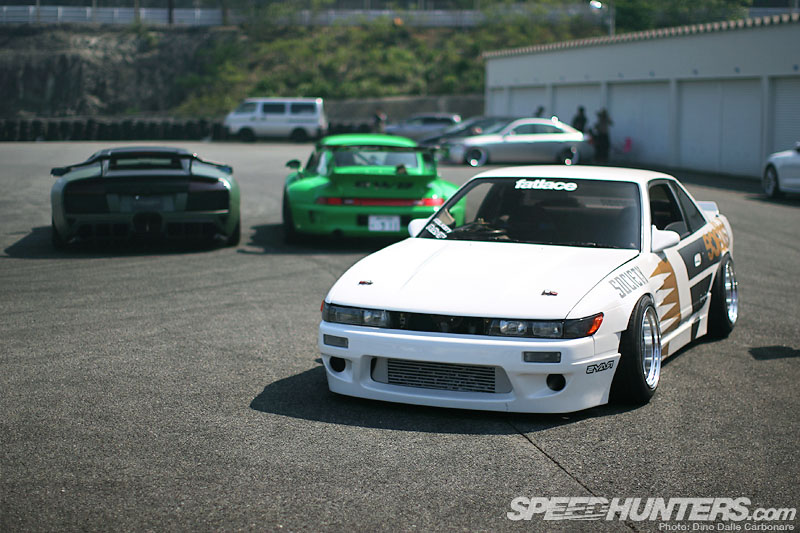 Before the paddock opened up its doors to the public I grabbed this shot of the Fatlace Japan S13 drift car that was on display at the Tokyo Auto Salon earlier in the year. Check out those two wide asses in the background there!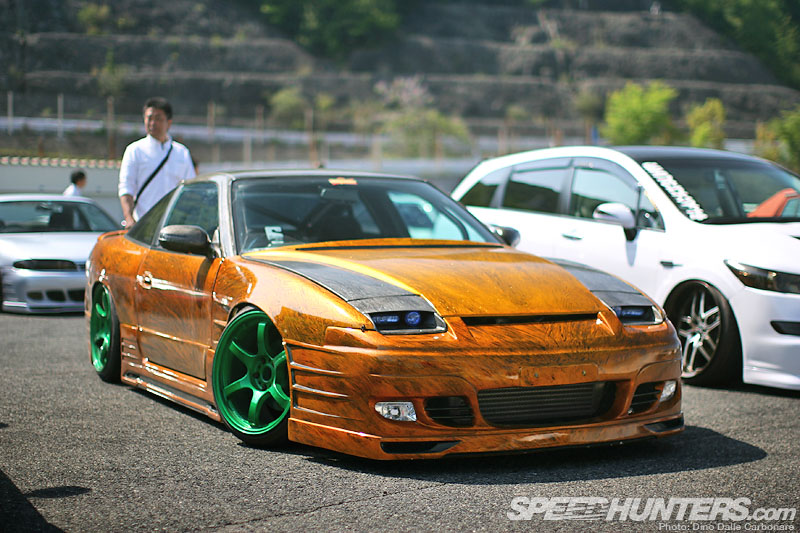 It's really amazing what you come across at these gatherings, people attempting some pretty wild ideas to make their cars stand out from the crowd. The bunch of friends that rolled in with their 326 Power kitted S-chassis really got themselves noticed, especially this 180SX…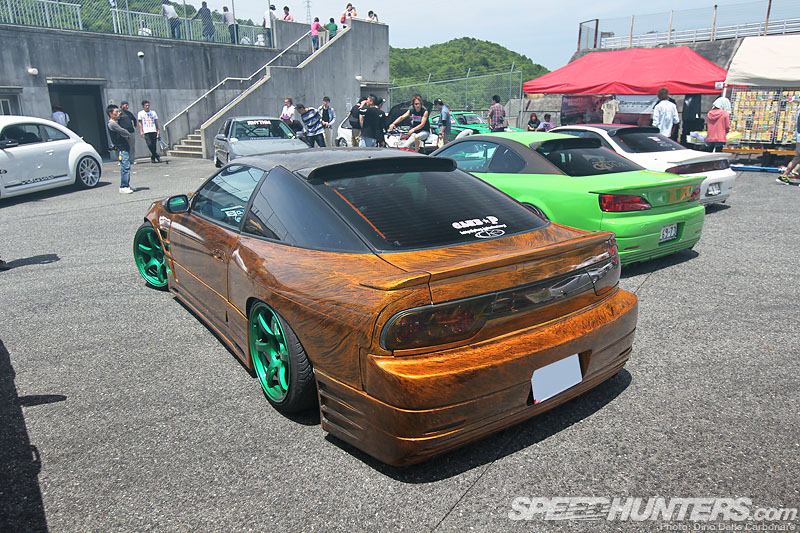 …which a marble effect bronze custom color. Wouldn't want to take this out drifting just in case you would even scratch it a little!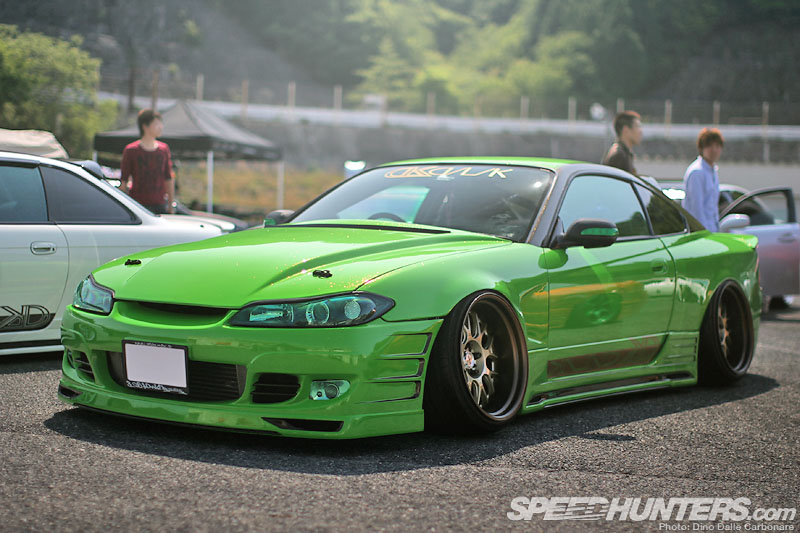 Form over function? I think not. Despite my comment above, all these guys drift their cars, including the owner of this S15 on Meister M1Rs.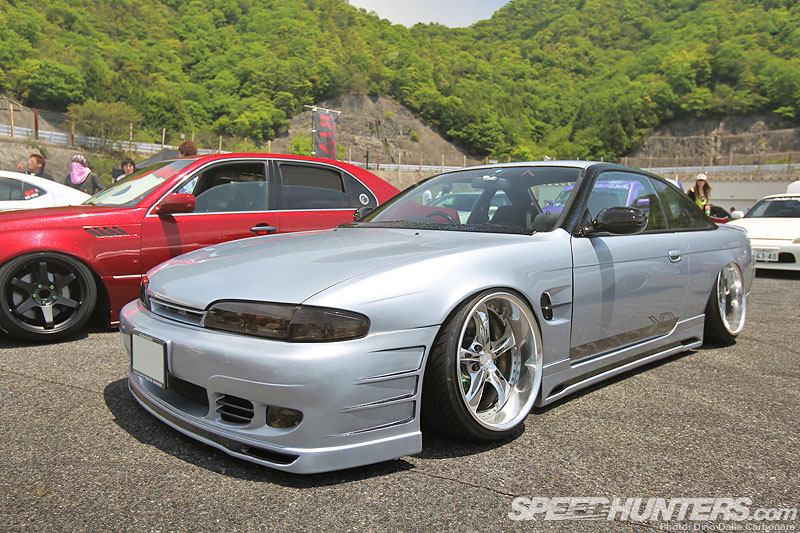 And one more 326 Power S-chassis for good measure!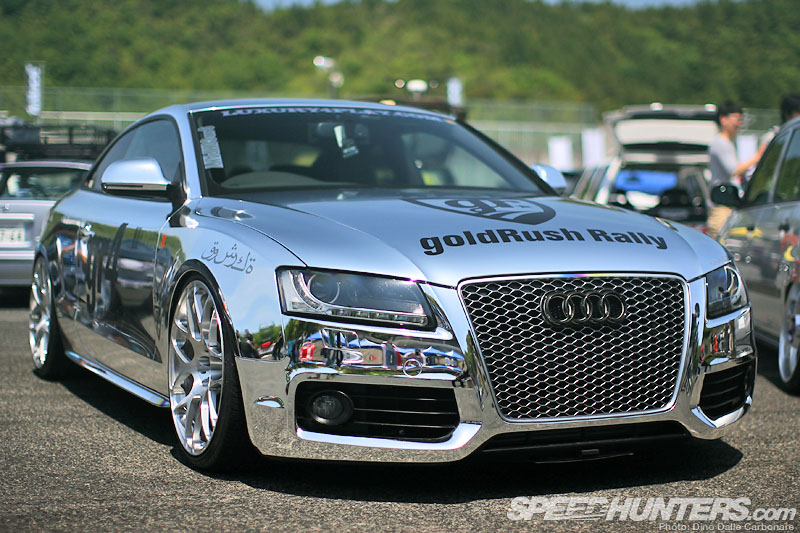 S & Company, who specialize in anything from custom restorations to vinyl wraps, are located in Kobe so it was a quick blast on the highway to get to the show. They showed up in this very shiny and reflective A5. My favorite part of the car has to be the titanium effect on the RS5 grille.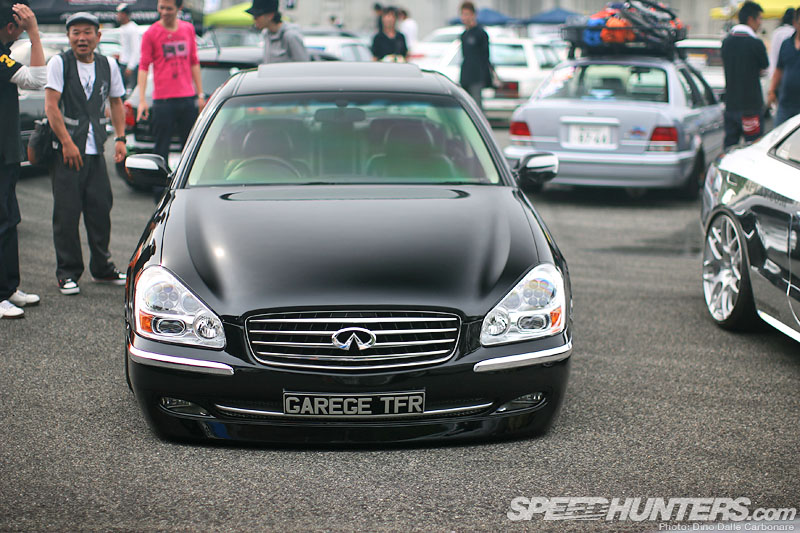 Low is really a way of life as this Cima shows us.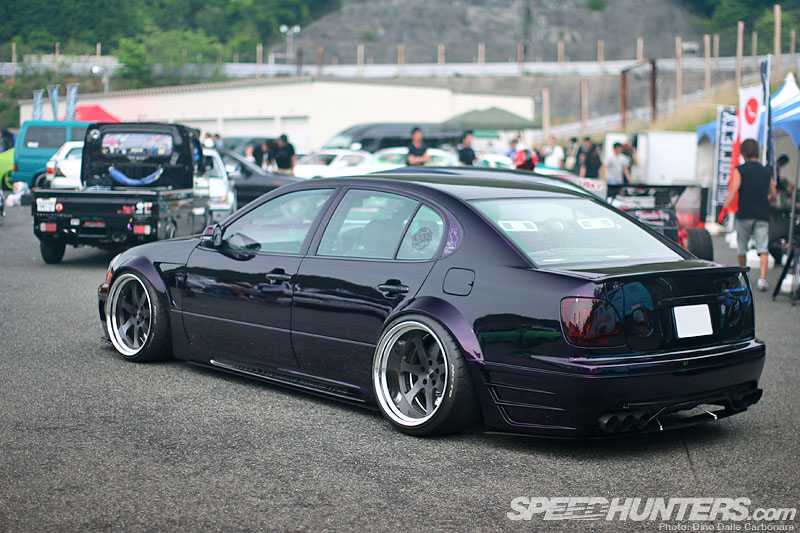 Why is it that big sedans like this Aristo looks soooo right with pumped fenders! I'm really liking how this particular branch of VIP style is going!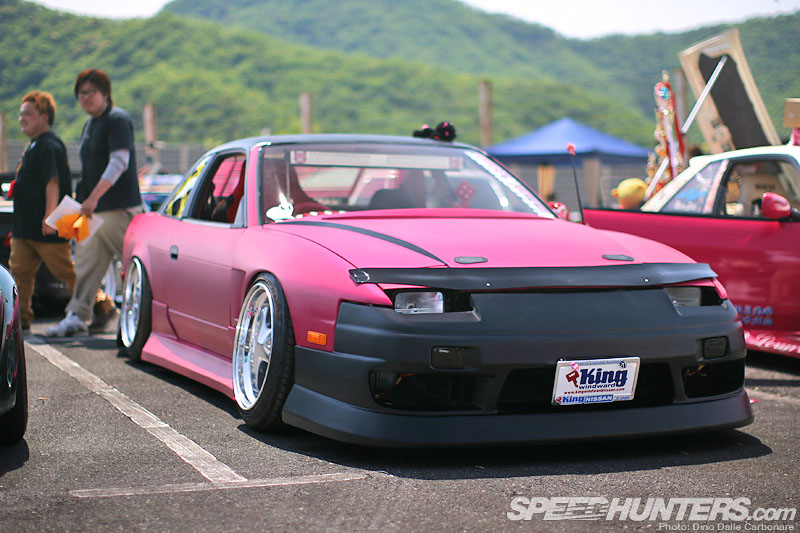 Next up is a short walk over to the other smaller paddock where the rest of the show was taking place. There we will find cool cars like this matte pink creation from Nagano Koubou. Back soon…
Hellaflush Kansai coverage on Speedhunters
-Dino Dalle Carbonare