People that know me well say that I can be pretty soft. If Vaughn Gittin Jr. is Captain America and my team mate Matt Powers is an animal, I am definitely mild in manners and pretty bland in comparison.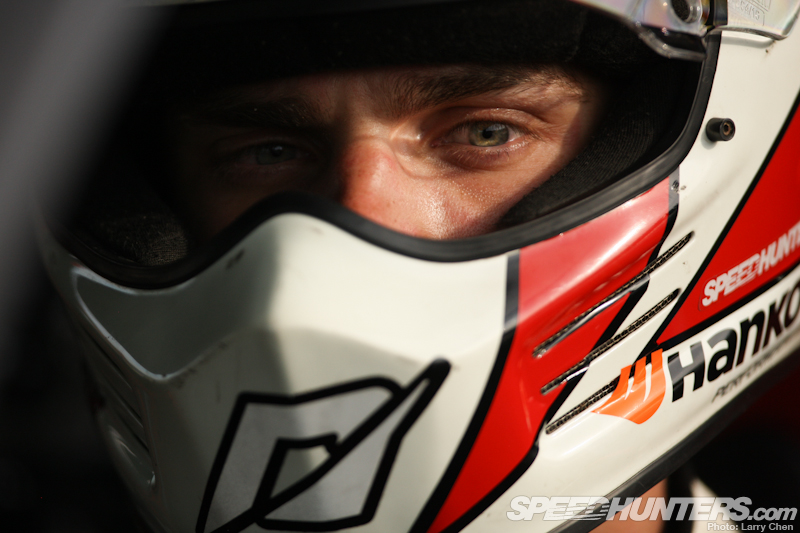 But although I believe strongly in being a humble competitor and a good sport, people that know me TRULY well know that sometimes there is a colder, more calculated Fredric lurking in the background.
When Formula Drift Round 2 at Road Atlanta came around, we knew that it was time to bring out that darker Fredric.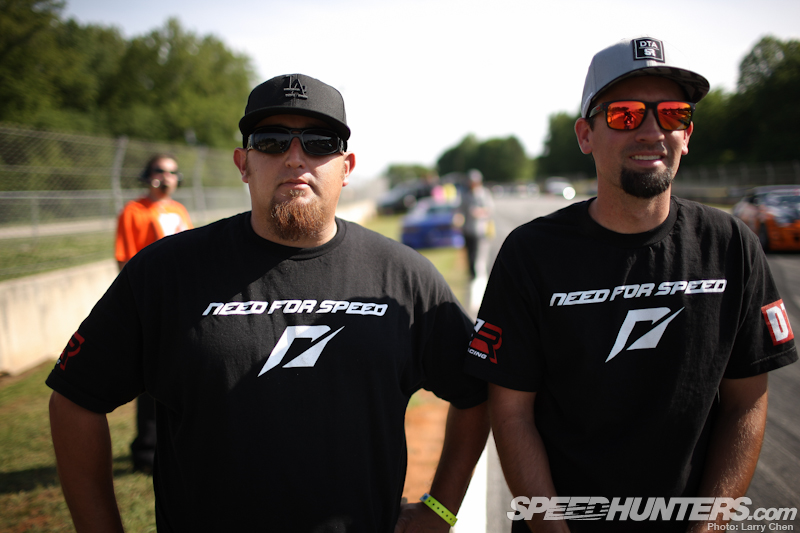 It was a community effort really. These two gentlemen, Shawn and Aldo, are my right and left wingmen on the track. They have been working hard with my crew chief Stephan Papadakis to prepare the Need for Speed Scion tC for its second year in competition, and after what we felt was a good performance in Long Beach – everything taken into account – we really wanted to drop the hammer this time.
Right from the start, somewhere deep inside me, I had a feeling we could do just that.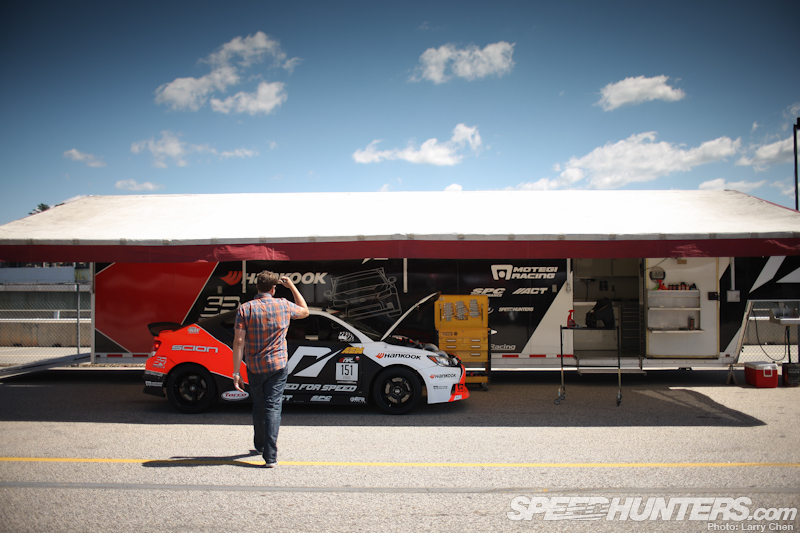 First of all, the tC is a whole different animal now. At last year's Irwindale finals where I "gently" parked the car in the wall, we had a full on heat of the moment, super constructive discussion on what we all want the car to do and what I want to learn as a driver.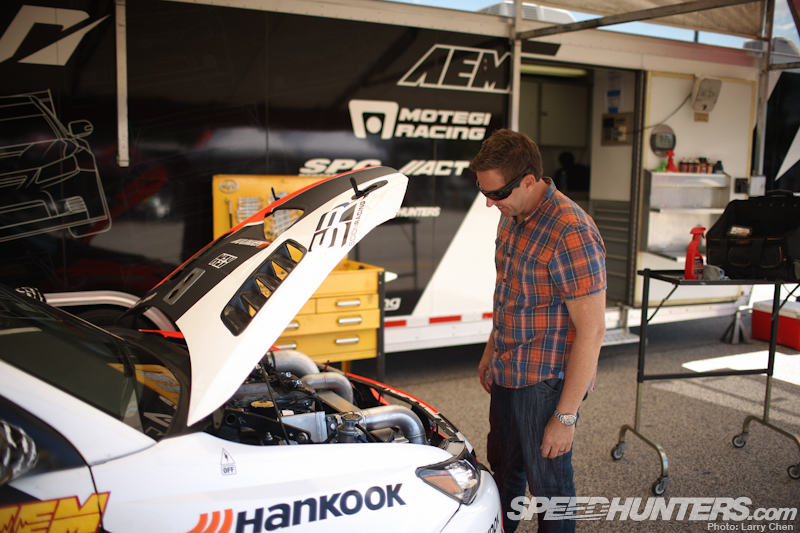 We came up with a long list of small and big changes to the car. It's an involving process, as we have taken on a car and an engine program that a lot of people say can't work since it starts out so far from the ideal drift car. I mean, it's a front wheel drive car with a minivan motor!
But seeing as we are having drifting royalty like Rhys Millen come over and check it out, there must be something about it.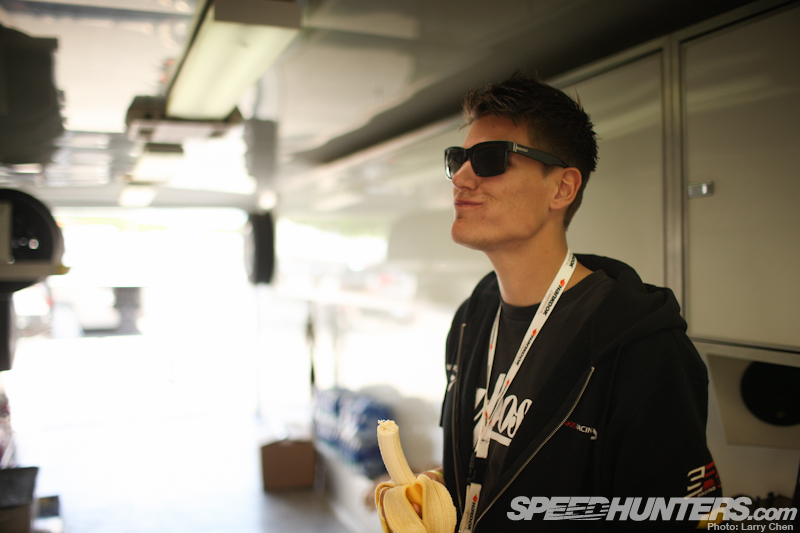 I look at it this way: I give a lot of credit to Scion for bringing so much diversity to the sport – both car and driver wise. Just look at their drivers, we have a true japanese cartoon character (Ken Gushi), a Norwegian teddy bear, and a guy that goes by either The Hurricane or The Bulldozer (Tony Angelo)!
Also, the day you make something completely different to the norm actually work well, I think it feels even more rewarding. But there is obviously a risk that you'll never accomplish that, but no one ever started racing because it's easy.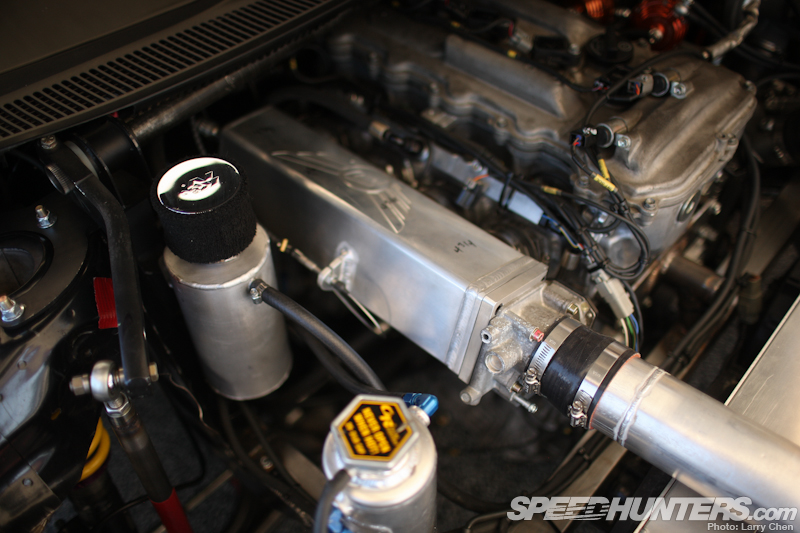 The Toyota 2AR motor had zero race development when we took on it last year. No one had ever pushed these motors into bigger power before Papadakis Racing (and my NFS team mate Chris Rado and his program) started putting them to test last year.
To make the engines work as well as they do right now is quite an achievement. I had a lot of respect for Stephan P and his guys before, but as I've gotten to know their focus and their work I have even more respect.
One thing is dedication, and a lot of guys have that. But I think Stephan's meticulous focus and ability to think outside the box is what really brought him and the team to their accomplishments over the years. I feel very grateful to now be a part of it.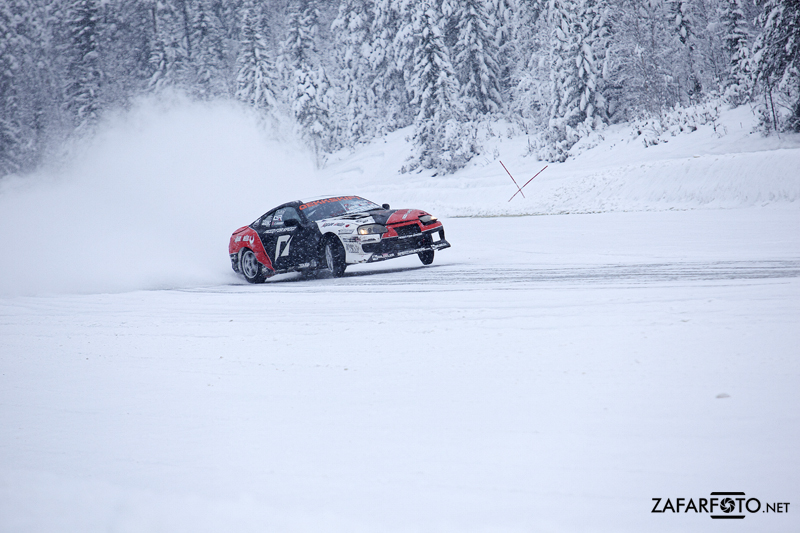 On my end, I spent a few months back in Norway after last year's season, and was lucky enough to get some practice on the frozen lakes back home. For tires, we run WRC rally ice take offs. They have strange grip as they are loose around the middle, but grip up like crazy the more angle and speed you throw at them.
Needless to say, this was so much fun!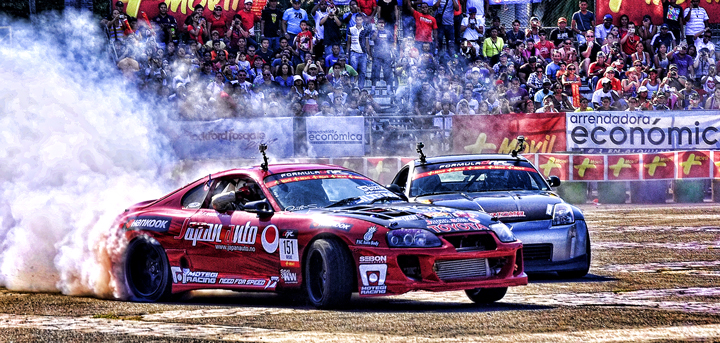 In February, I flew into Panama with my good friend and FD spotter from last year, Steffen, along with a handful other drivers and crew from the FD circus. It ended up as four crazy days of reggaeton and good tandem practice.
Steffen is now back in Norway finally getting his own drifting going in our friend Joachim's Skyline R32. So this year, Chris Licup, one of my best SoCal friends is helping Papadakis Racing and me with the FD spotter duties. Chris also spotted for me in Long Beach 2010, when we had one of our absolutely best outings in the red Supra.
We were all really excited to get cracking on round 2 and the new course!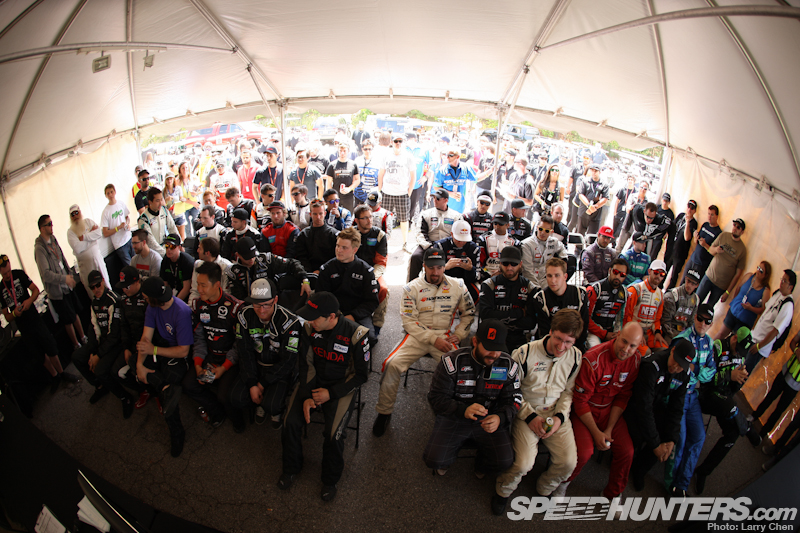 This year, the track layout was back to how it was originally designed for the inaugural Formula Drift round almost 10 years ago.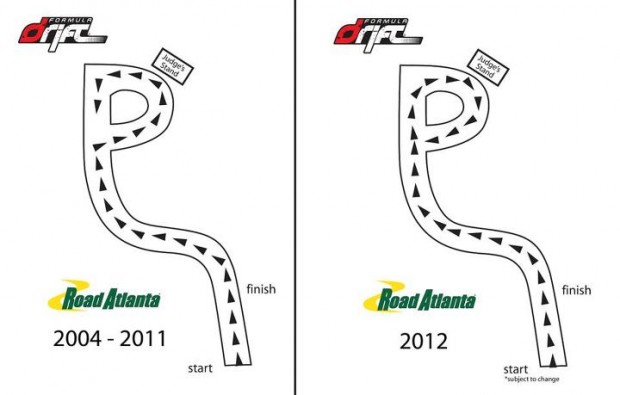 Instead of turning into the horseshoe right after turn two, we would continue up the hill and turn in at the top instead.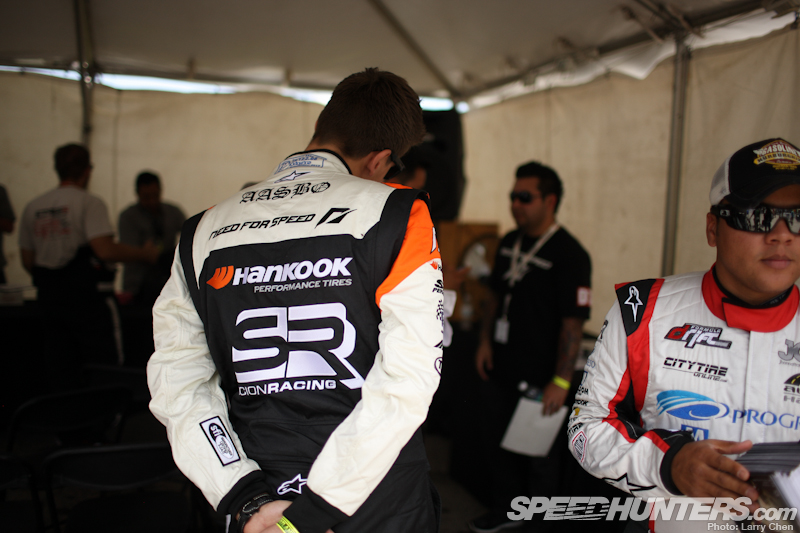 As soon as I heard about the course change before the event, I had a feeling I was going to dig it.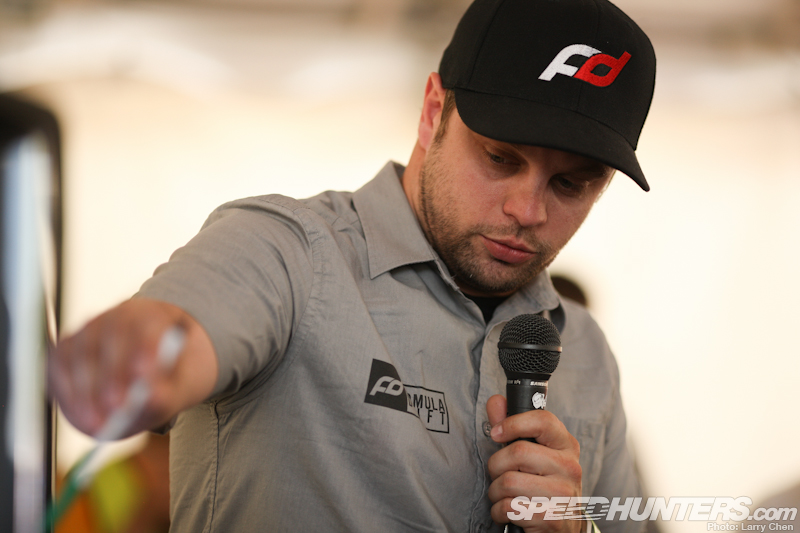 To me, this new Road Atlanta course layout was "Gatebil style": A fast, reducing radius type road course layout, all set in a green and lush environment with a slight hillbilly vibe. I love it!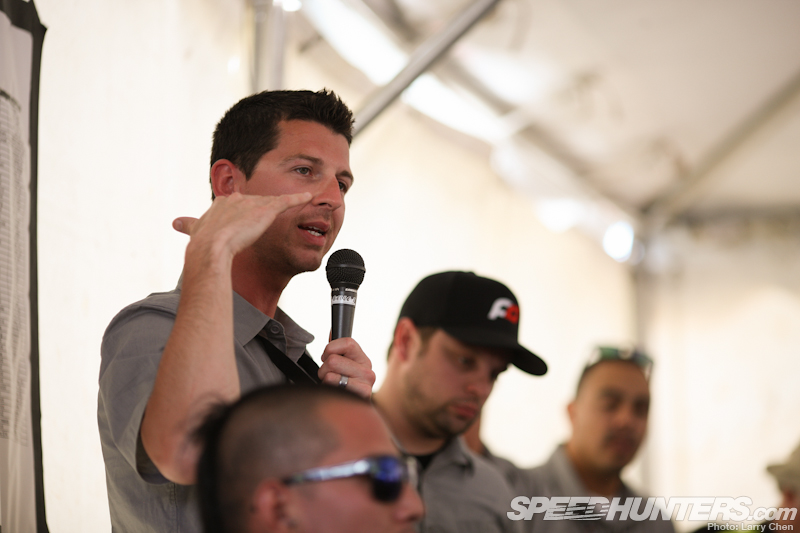 The judges told us they were looking for exactly what I was hoping for: good angle in the horseshoe, and throttle commitment coming up the hill. We had some good practice sessions trying out some different lines.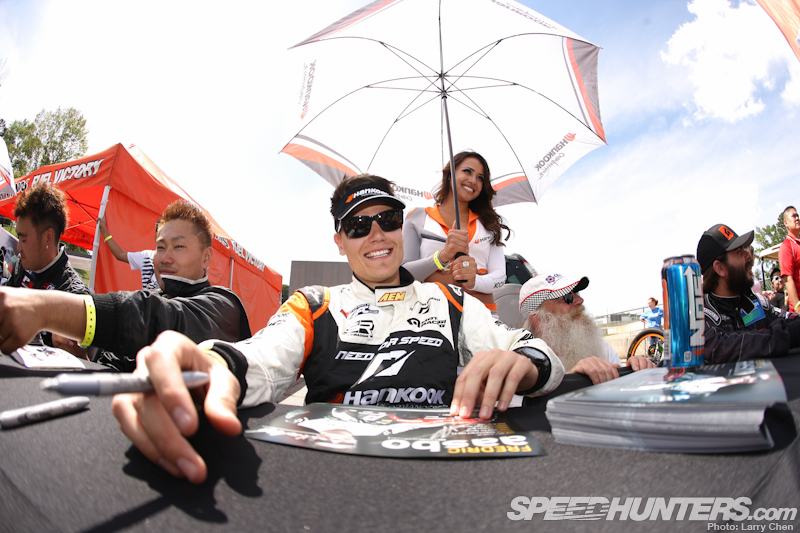 During the autograph session, I couldn't wait to go back out! And as you can see, Bil Baldwin, the Long Beach Santa Claus corner worker was brought out courtesy of crab broker and V8 Miata driver Danny George!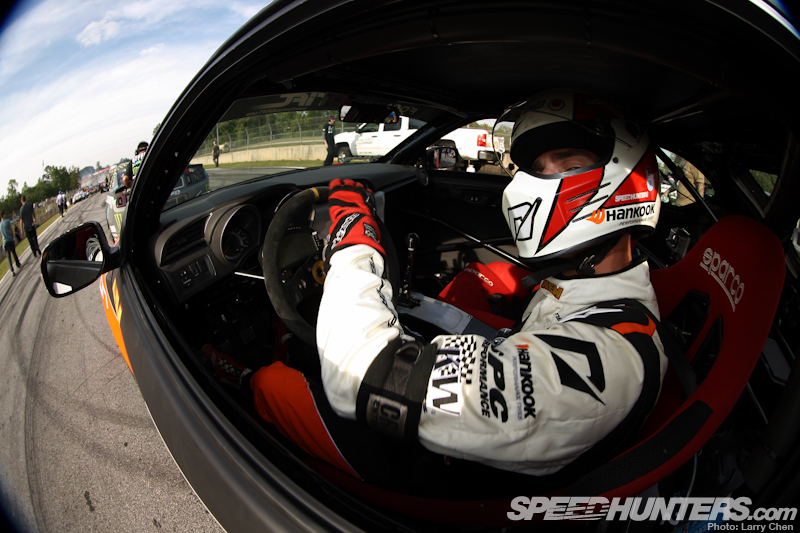 Sometimes I think of all the characters at FD as what you would find in a fusion of wrestling and Mario Kart – we really have all the stereotypes here and getting to know all of these guys is so much fun!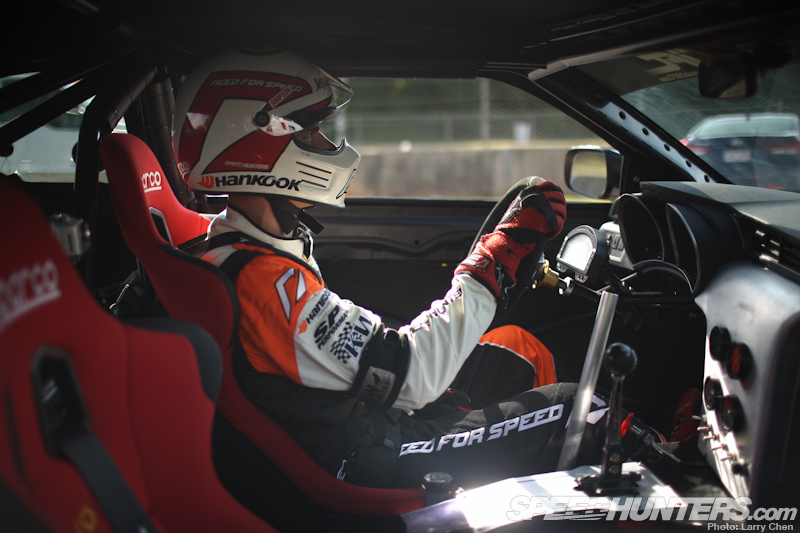 But at some point, you just have to let that all go.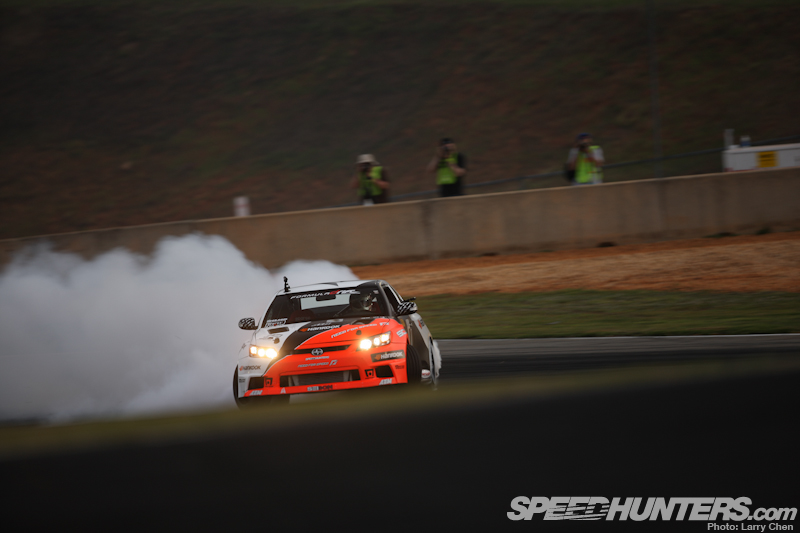 Remember, we are trying to bring out the darker Fredric here!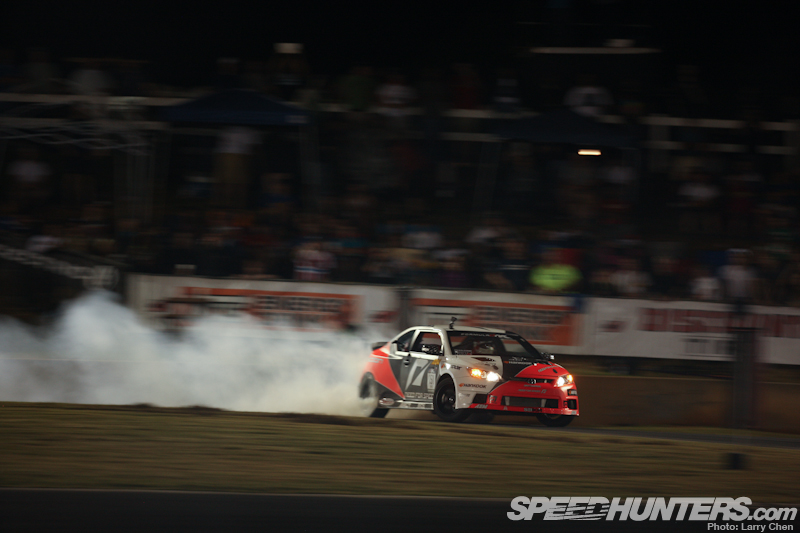 In qualifying, I was able to put down pretty much exactly the runs we had decided on up front, which I am very happy about.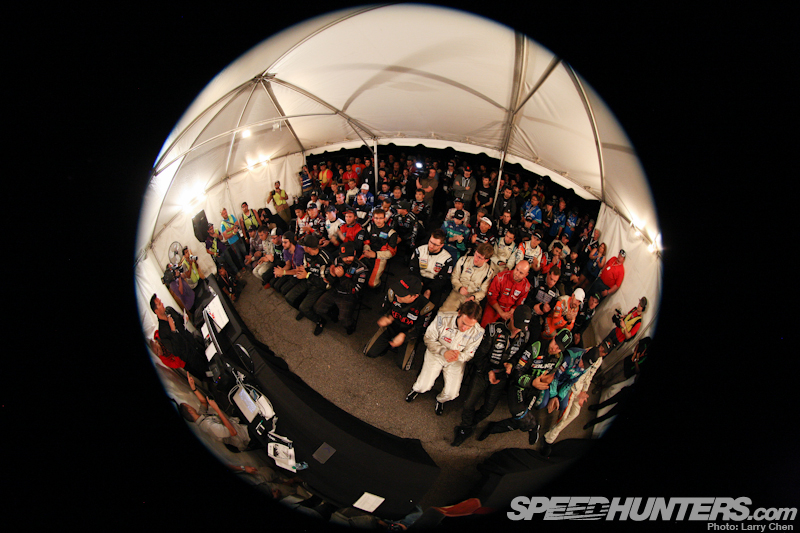 And after some controversy with the speed gun, where it was moved to a place where it didn't go off on half of the field (and on cars that had been among the fastest in practice), it was decided that everyone would receive the speed points. The speed points make up ten points of the maximum hundred points, which really is a big deal.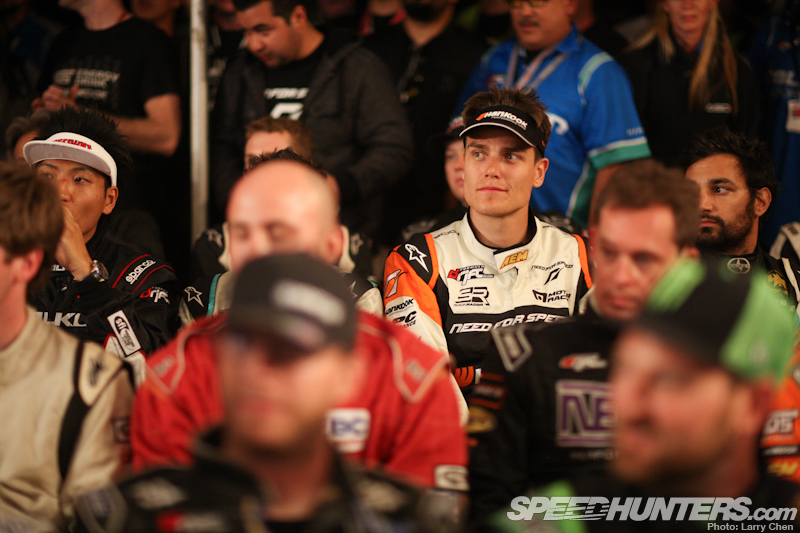 We qualified third with two almost identical scores! That's the best we have ever qualified in FD, and I started feeling that we had something cooking. Just look at that smug face, haha!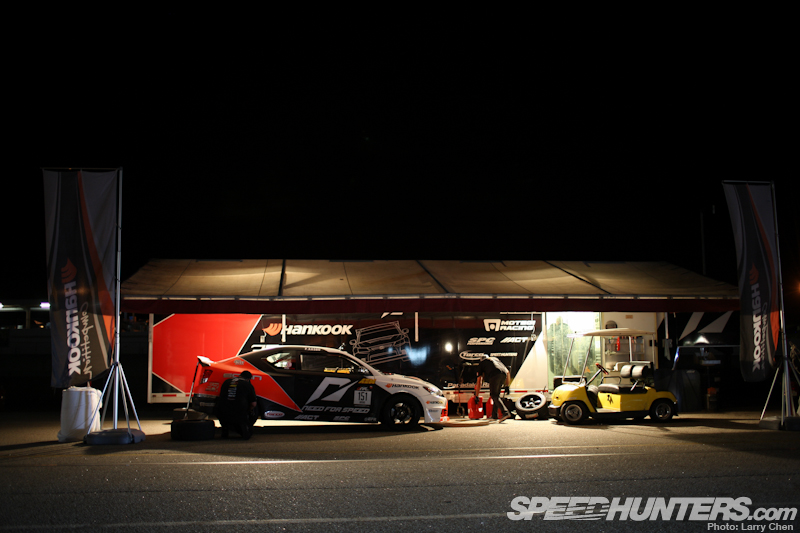 Back in the pits, Tupac was rapping out while the guys where checking over the car.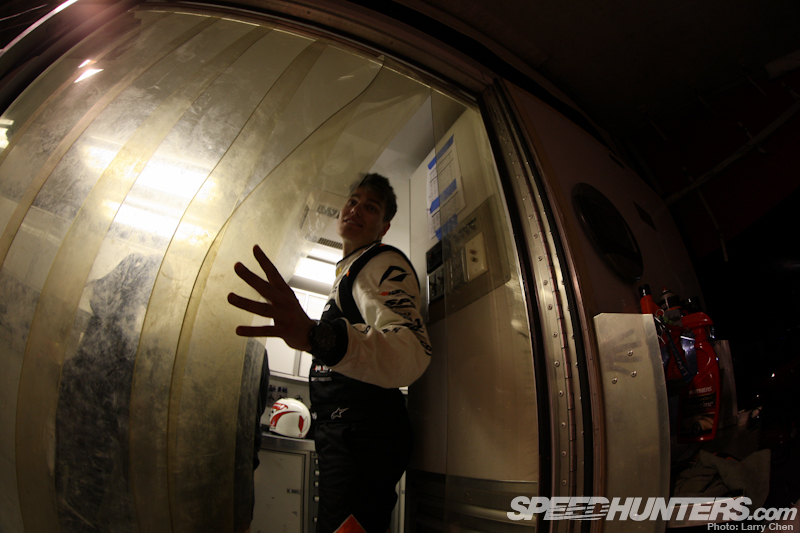 I love hanging out and helping out where they allow me to. That's when you get to hear all those old street racer stories.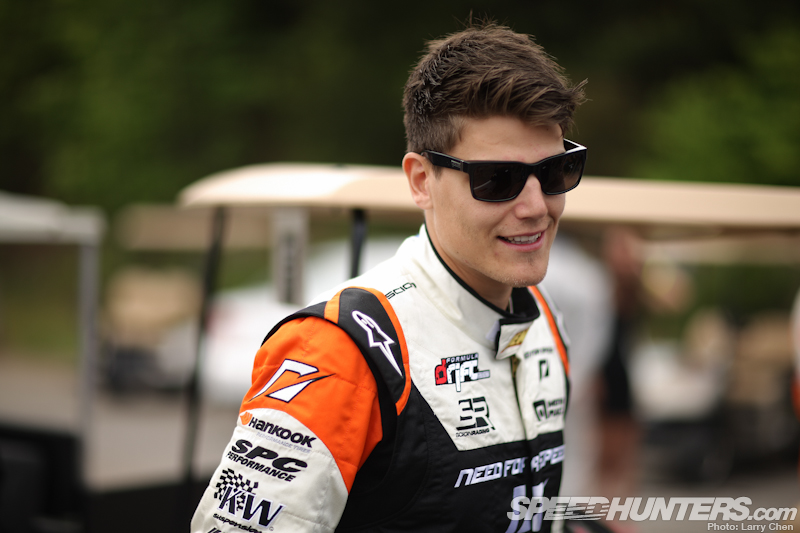 Saturday came around, and I did my best to bring my game face! Which I guess isn't very intimidating.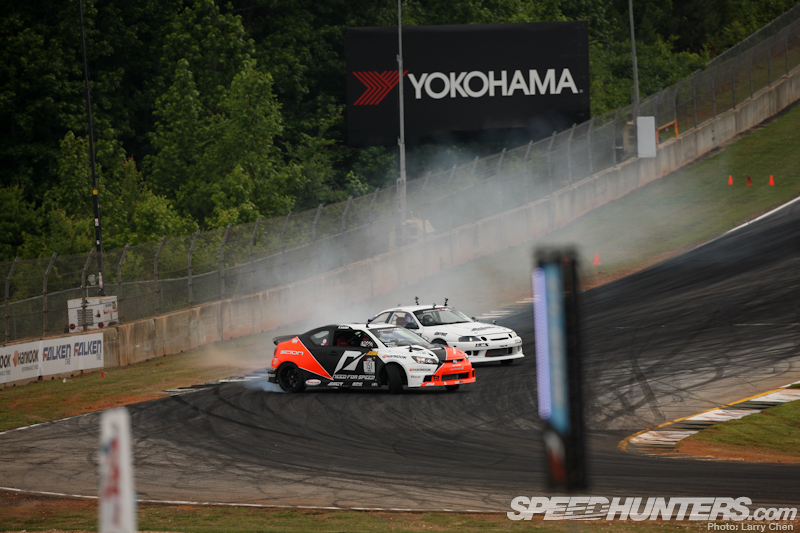 My opponent in Top 32 was Robbie Nishida in his new 3.4 stroker Soarer (SC 300). I knew that this was going to be our make it or break it of the day.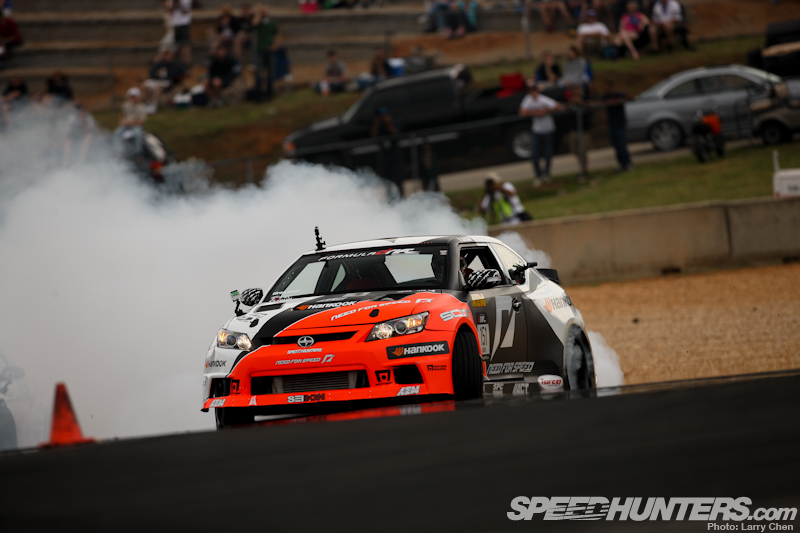 Top 32 is by far the most tense moment for me over the course of a race weekend. This is the first battle that matters, and I usually don't have a good feeling because I've been trying to battle every other car in practice and it's all so different. I end up usually not finding a "rhythm", which makes it even more tense heading into the Top 32 battles.
There is no warm up, and no second chance (like in qualifying). It's just a long two hour break from driving, and then…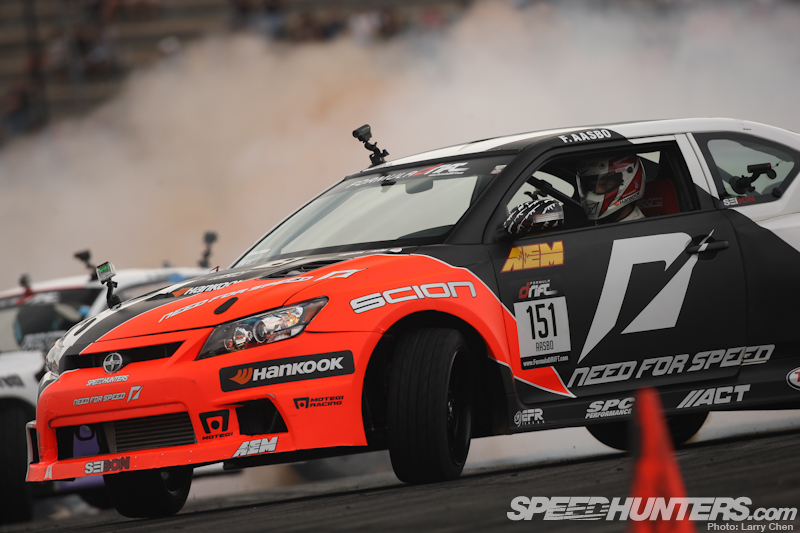 BAM! You just have to be ON for those two 20 seconds runs.
Those are the moments I live for and nothing compares to it. Especially when we end up battling like this…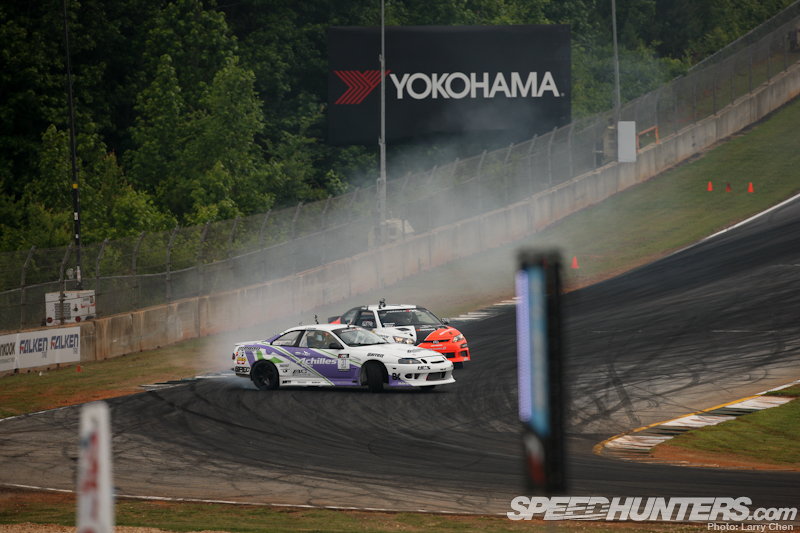 Robbie and the Bridges Racing team had had some issues with the car in practice, but we knew they had sorted it out and that Robbie was in good form. He is an amazing driver and quite accomplished both in FD and D1. I know quite a bit about the SC/Soarers as they are very similar to Supras, and I knew Robbie ran about the same line as I did, which is good.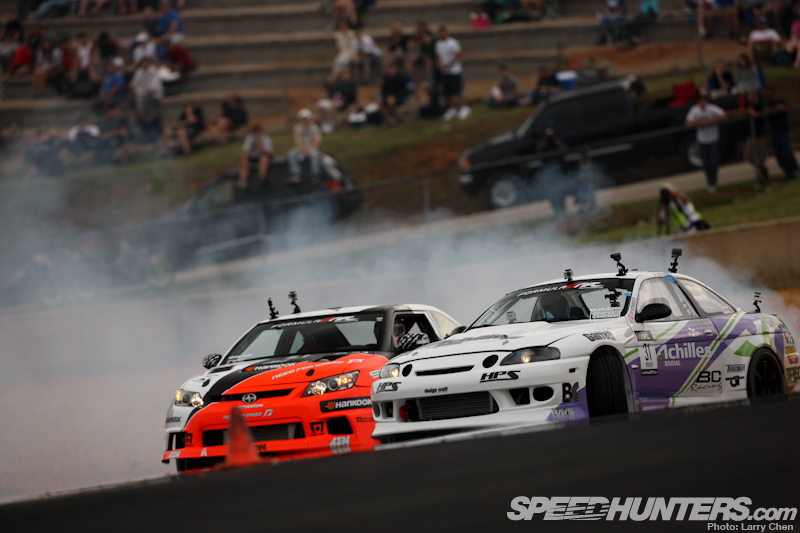 It was a very fierce and even battle. We both took on the fight guns a blazing.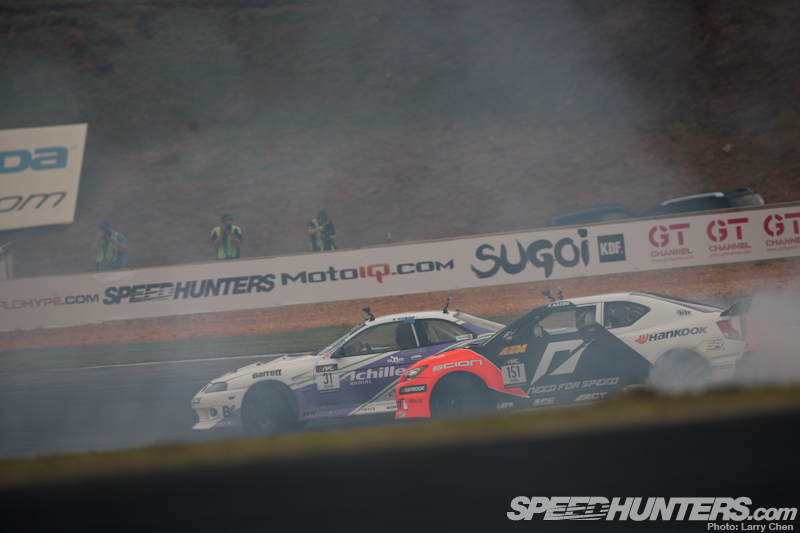 But we were able to hold it together, get the advantage and move on. Phew! But congratulations on a strong first showing, Robbie!!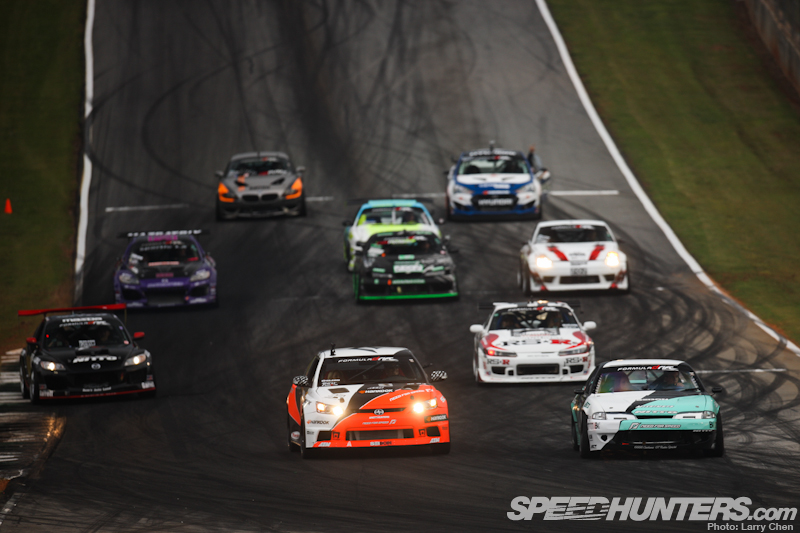 We were in for the main show! I took Megan from Hankook for a ride and we rolled down for the driver introductions.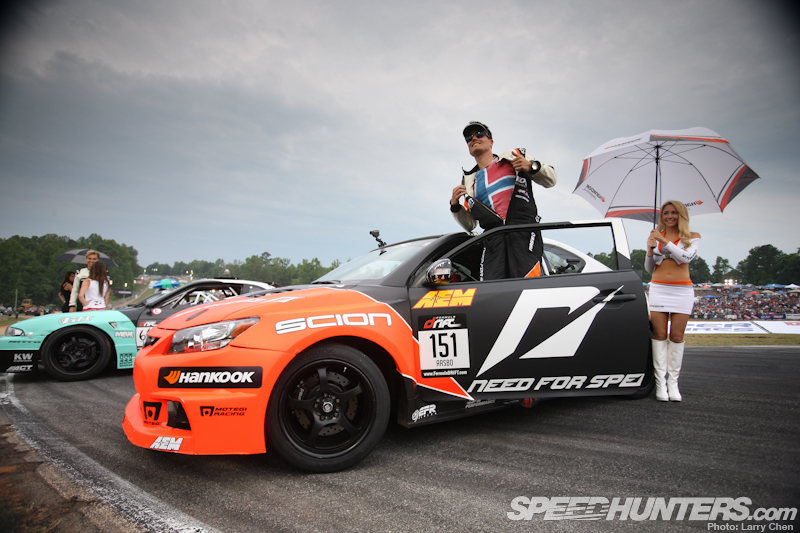 A couple of Norwegian buddies had flown over to support and they gave me one of their Norwegian flag t-shirts, which they had spray painted in the hotel parking lot the night before. Thanks Daniel and Chris, that's what I'm talking about!
Then, Matt and I did our tandem donuts and scooted back up the hill for the sweet sixteen.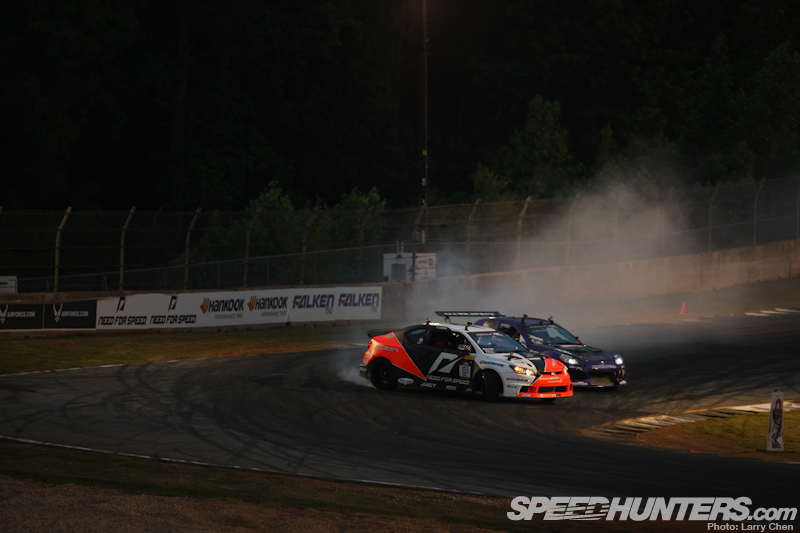 I faced Kyle Mohan, and as you can see, he was on me.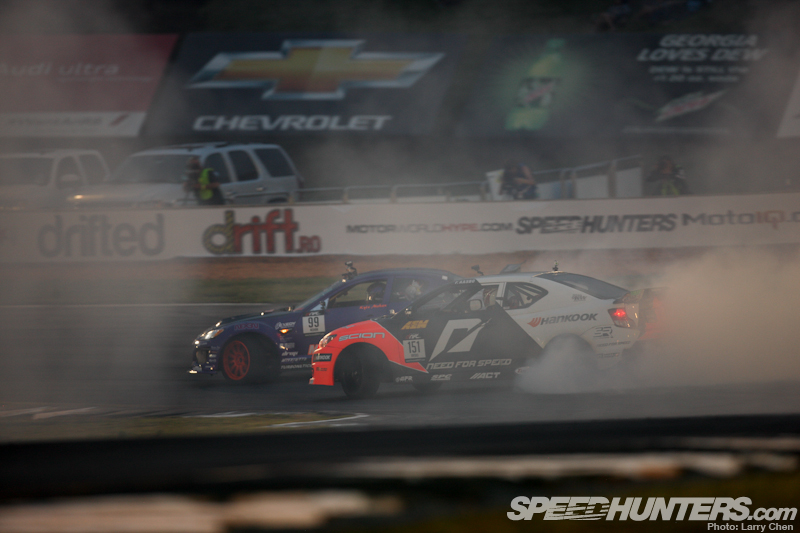 However, I was able to chase him slightly closer and we moved on to the top 8! It's always a pleasure seeing Kyle and his dad Joe at the track. They are always smiling and high-fiving. Thanks for a good battle!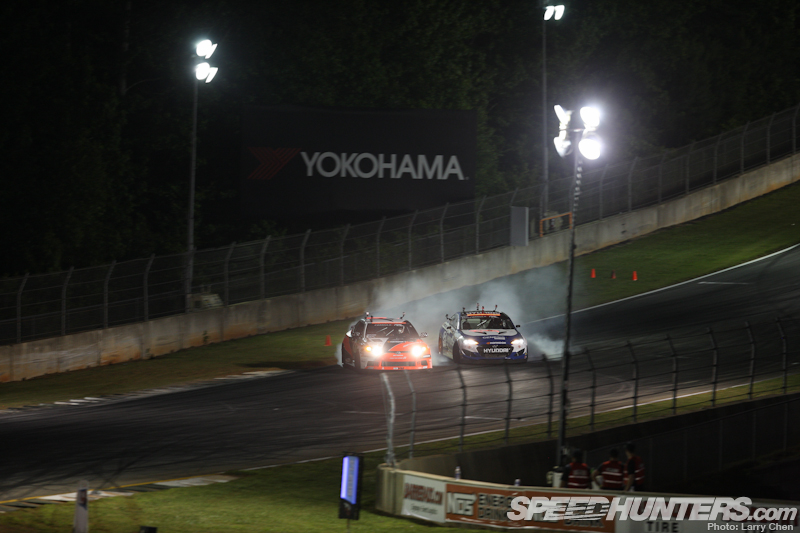 Next up was a certain Rhys Millen.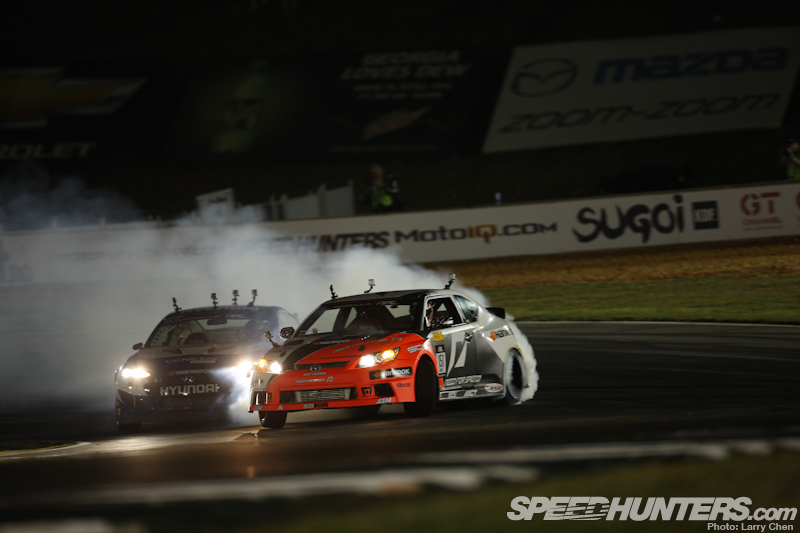 When we were up at the grid getting ready, I called him the Godfather of drifting. I think he took it as I said he was old, which wasn't the intention at all! It is more an observation of a truly accomplished gentleman race car driver. I think he's a very interesting character.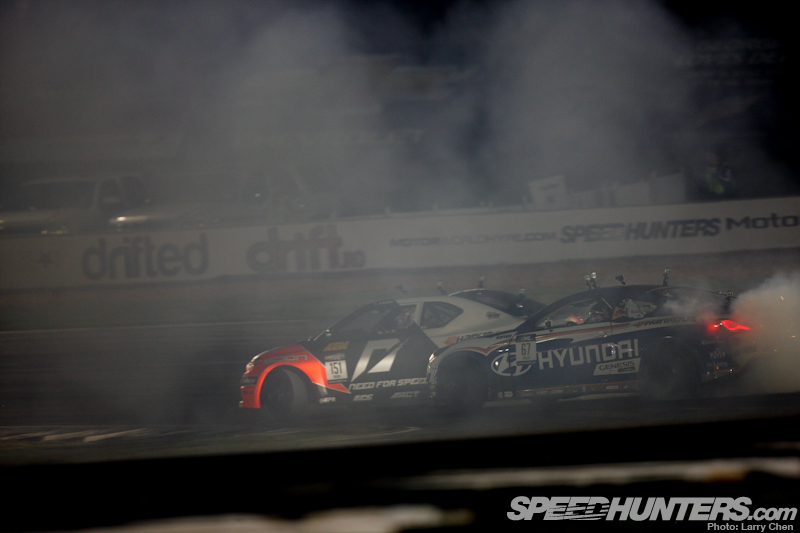 "Rhys might not always drift, but when he does, he does it with style."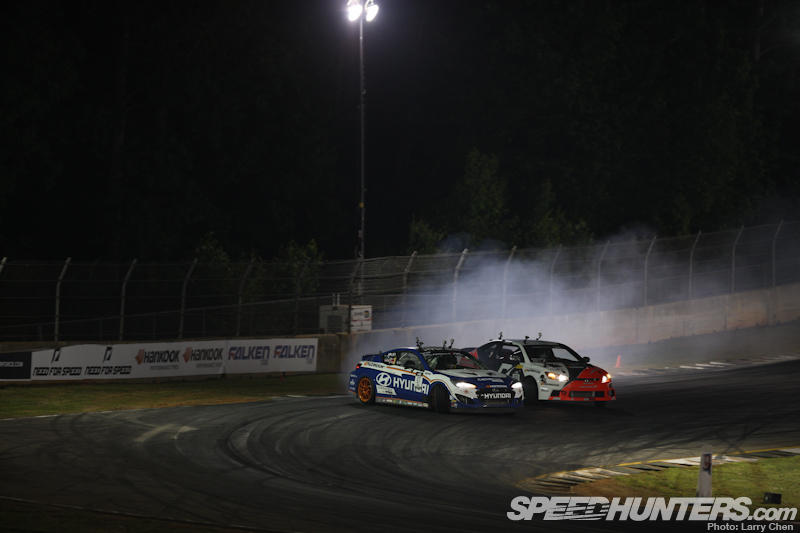 This is my favorite photo in this post, and it shows by far the most hairy portion of the track. Entry speeds are up in the 100s (mph) which isn't really that fast, but at the same time it is, because you are going as fast as you possibly can. Coming down the hill after launching you are essentially trying to keep up with a drag car before you rip the brakes and slow down as much as you can. One thing is to drift close in a high speed turn, something totally different is drifting close in a big braking zone where your exit speed is key.
This entry really sets the tone for the entire run, maybe even more so than on other tracks, and if you're off here it messes up your whole run. This exact photo is THE money shot, because it shows the moment you realize whether it's going to be a good run, or a catastrophe…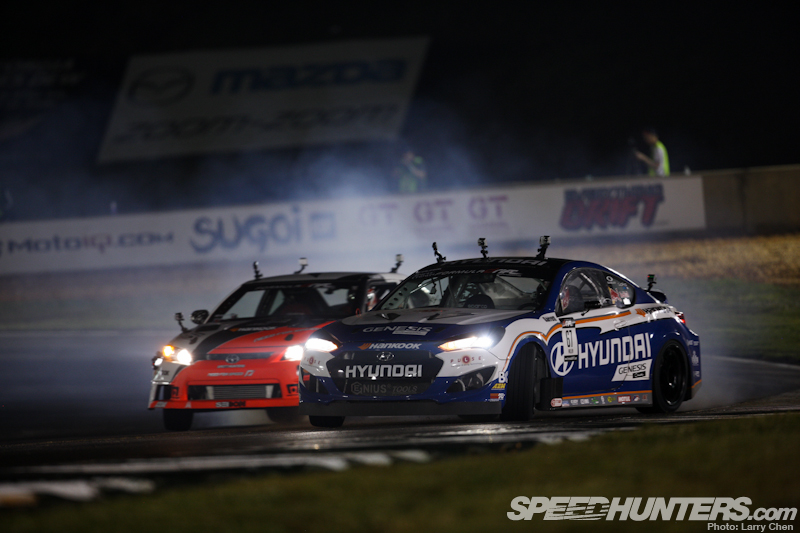 But we were able to edge out Rhys after some clean, fast battles. We were in the top four. I couldn't believe it!!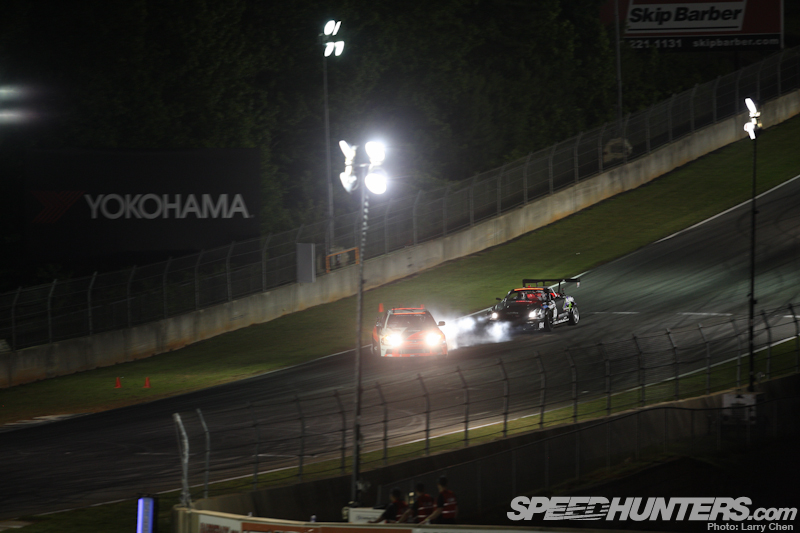 And then came Godzilla…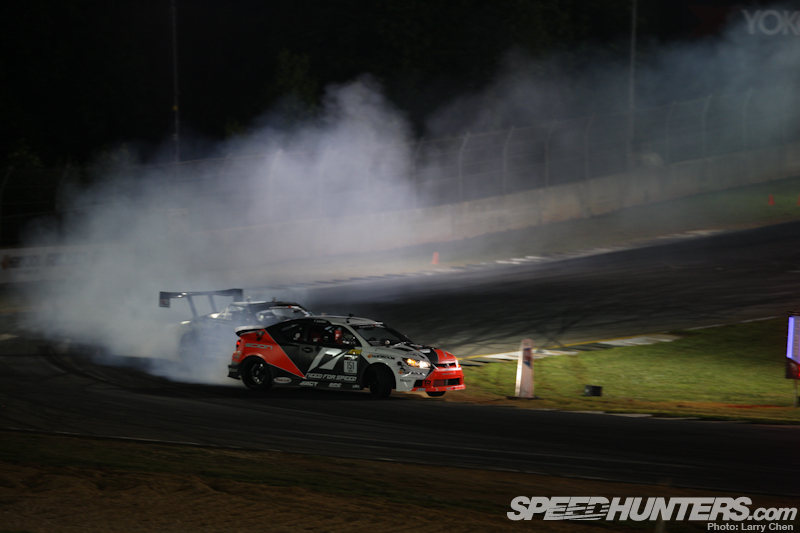 …Daigo Saito.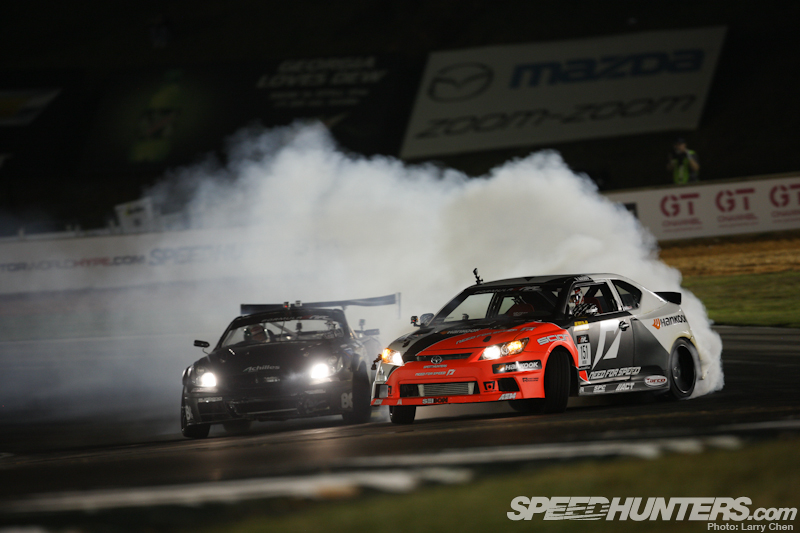 He was glued to my back, and I could hear that baby-eating turbo monster chase me down like a blood hound all the way through the course.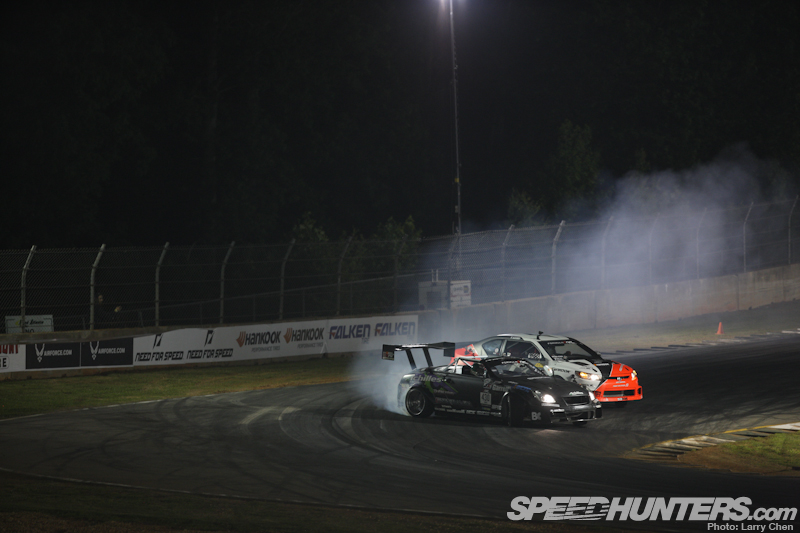 And when my turn came around, I was really, really hoping he would hear a certain minivan motor just as well.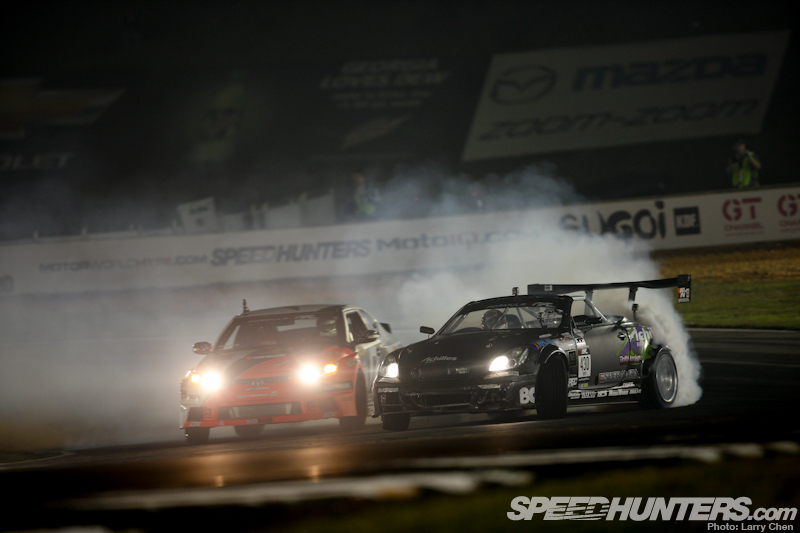 Last time I battled Daigo was in fact back in Norway at Gatebil Vålerbanen in 2009. It ended up with him rolling his car and me destroying all fiberglass present on my car, and we weren't far off a repeat this time.
At least I know I wasn't!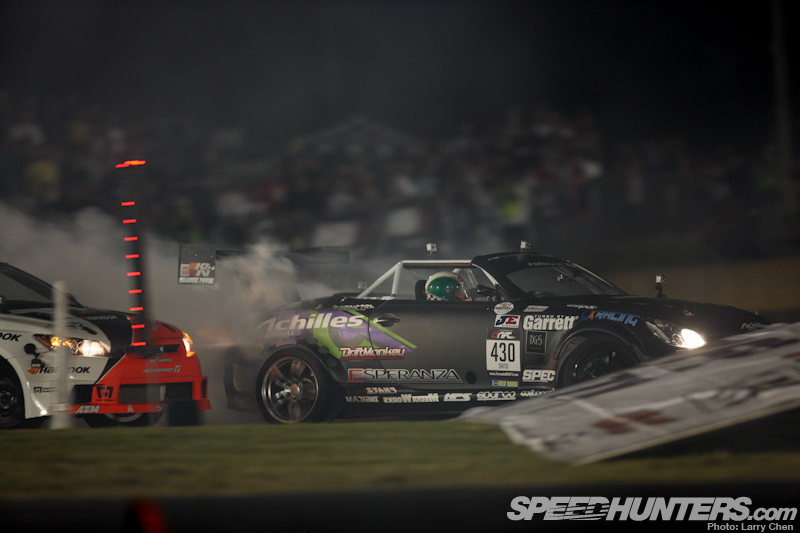 And although I simply couldn't see at times due to all the smoke coming off Daigo's long gears, the judges saw us through.
That's right, we won! HELL YEAH!!!! The fact that I stuck on the outer line, completely blindfolded when he cut slightly shallow into the horseshoe ended up being the dealbreaker.
Thanks for two amazing battles, Daigo! I think you are the most diverse drift driver in the world, and the style you bring to FD is such an inspiration to everyone in the sport. I really hope we can battle again soon!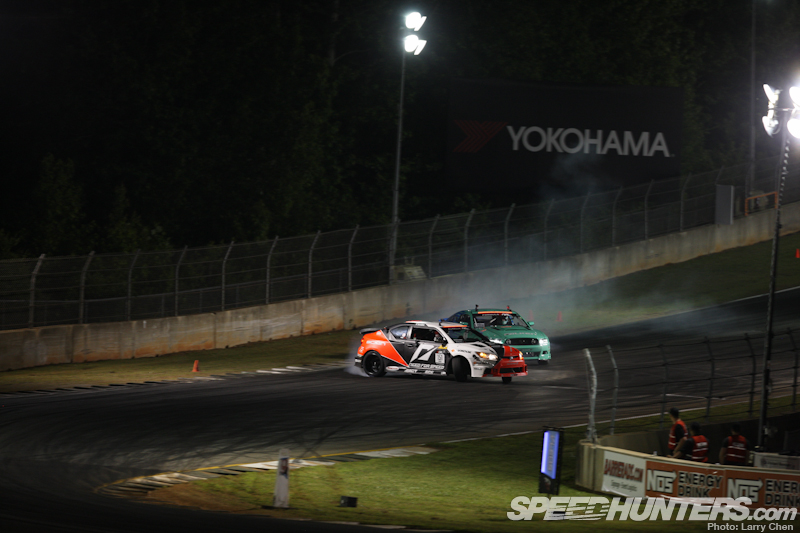 And then it was time for the Sledgehammer. Jay Tee Pee! Justin has been on a roll for his second season now and I'm truly impressed by his consistency.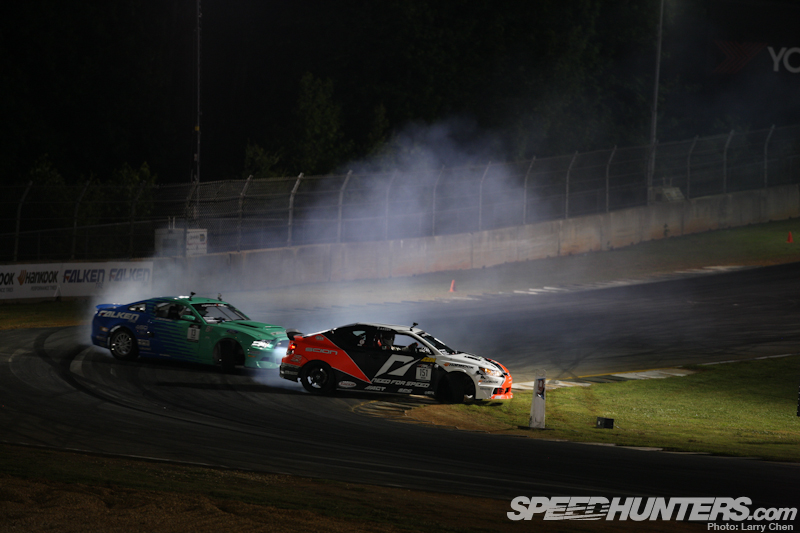 But I'm not so impressed with my own consistency for this one. Contrary to what some might believe, I didn't try to do any super flick here, but rather just go for my normal entry that had been working well up to this point.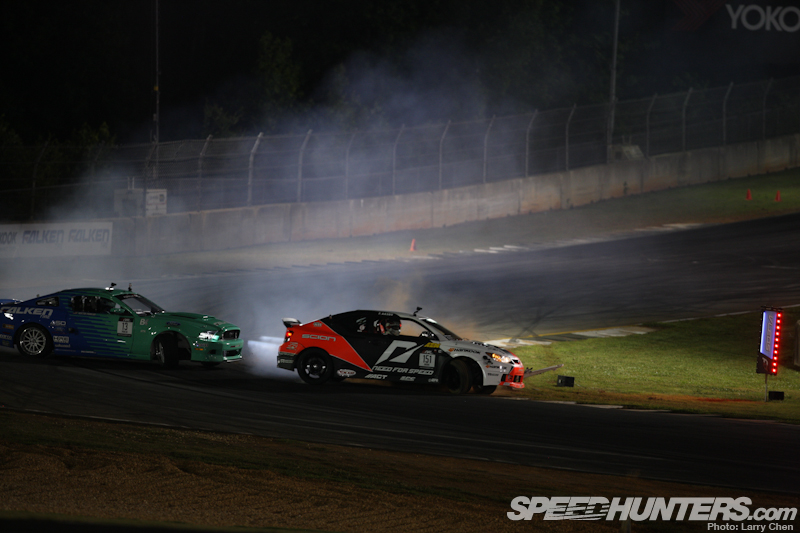 It just felt a lot more slippery for these runs and the car just snapped out to full lock. We had the oil dipstick crack and spray oil out in the engine bay during the finals so it was either oil residue on the rear wheels, fluids from someone else, increasingly damp conditions or just a glitch in my matrix. Up to this day I still can't explain what happened here.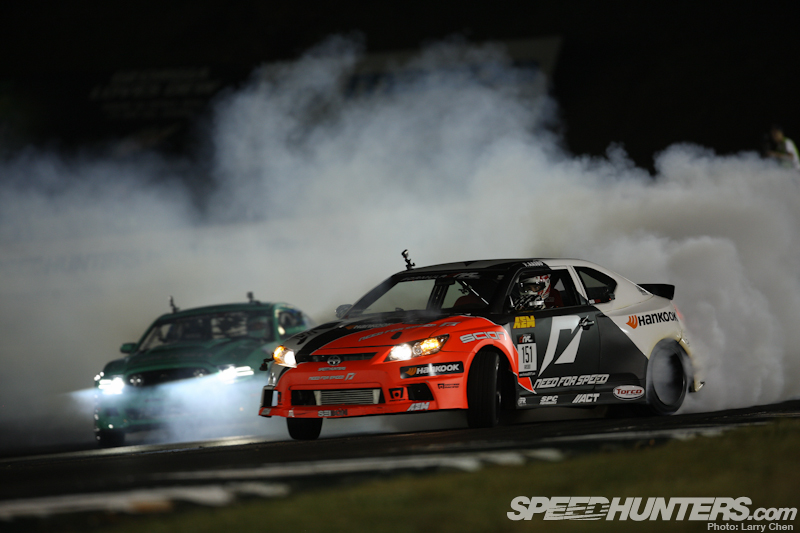 Either way, I got to save it somewhat…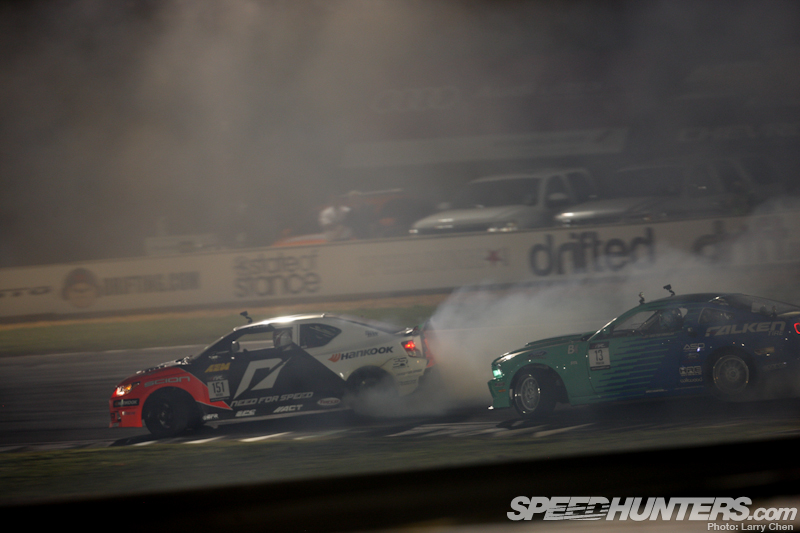 … and finish the run well enough, but I knew I was at a major disadvantage following that entry.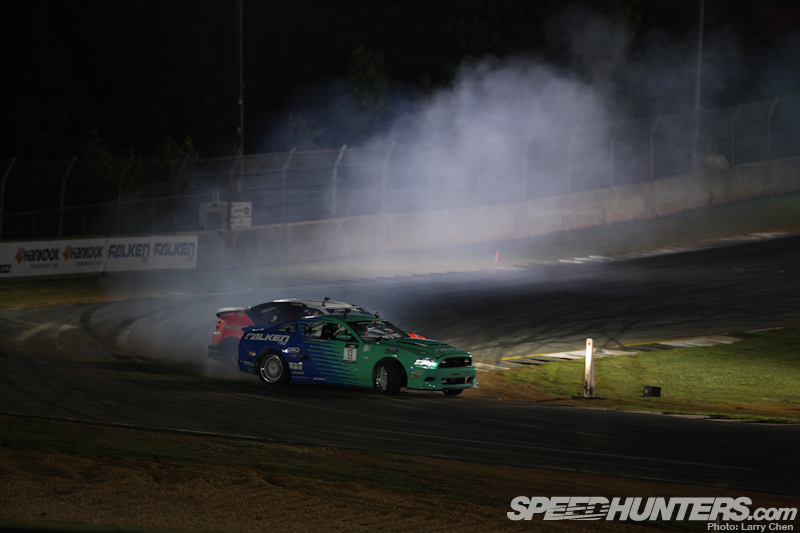 I knew I had to be ON for the chase run.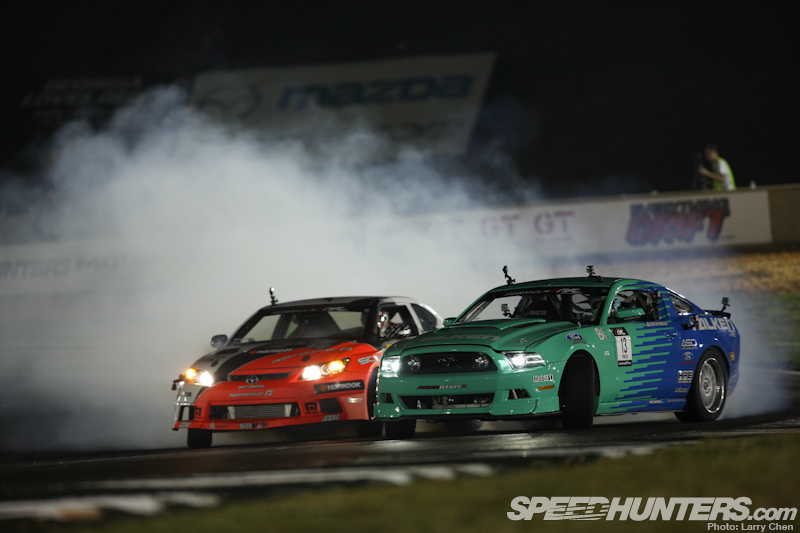 I initiated just behind him, and chased Justin up the hill…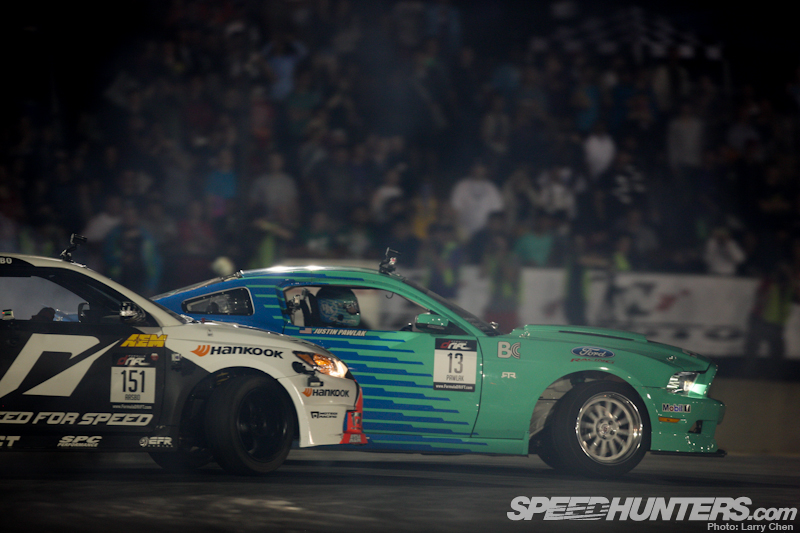 … into the horseshoe, …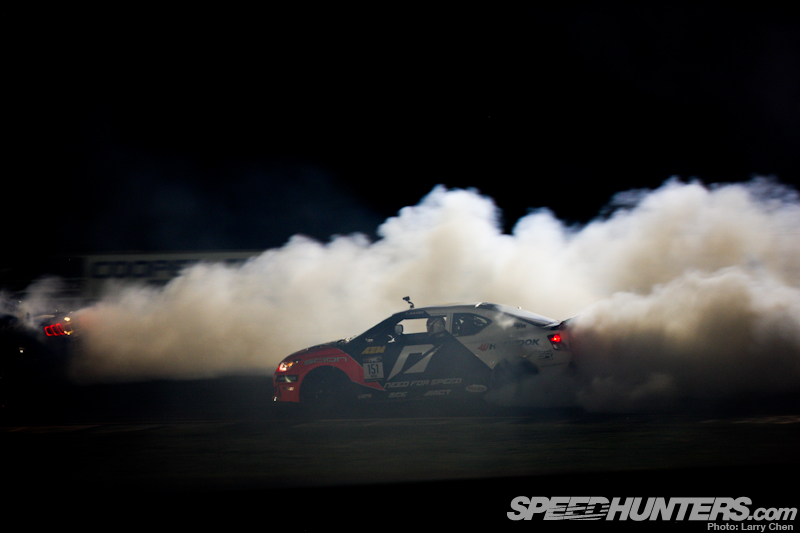 … but then, coming out of turn 5 I washed out again and dropped a wheel.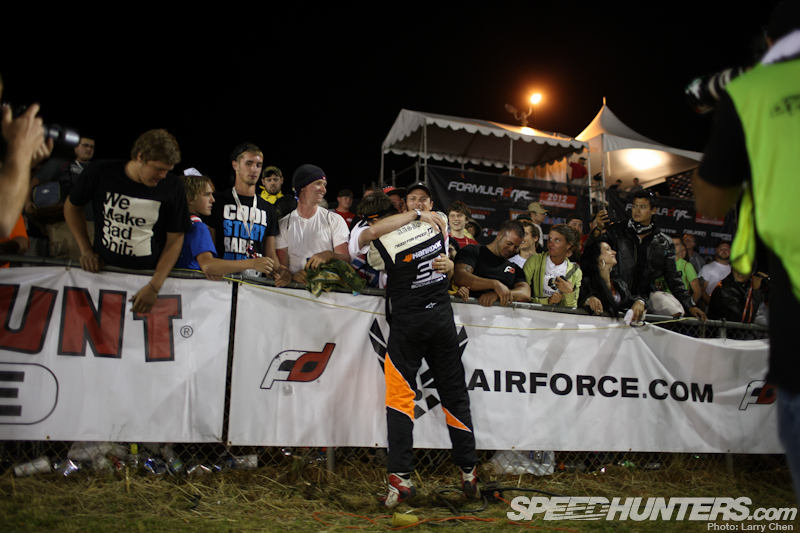 It would have been so amazing with a win, but Justin definitely deserved this one. Congratulations!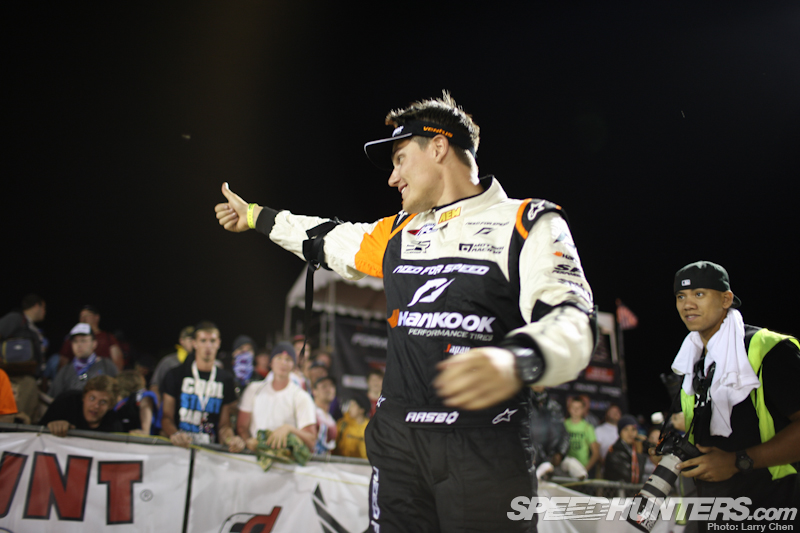 We have never been so close to a Formula Drift win, and on behalf of everyone aboard, thanks so much for making this happen. A podium in FD hangs very high, and this is our best FD Championship series event finish ever. It's a testament to an amazing team of partners that really put it together for this one.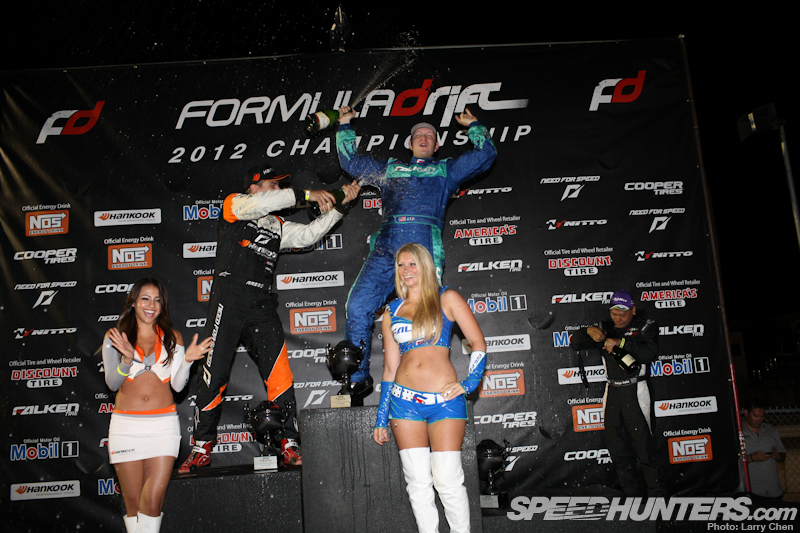 There you go, Justin!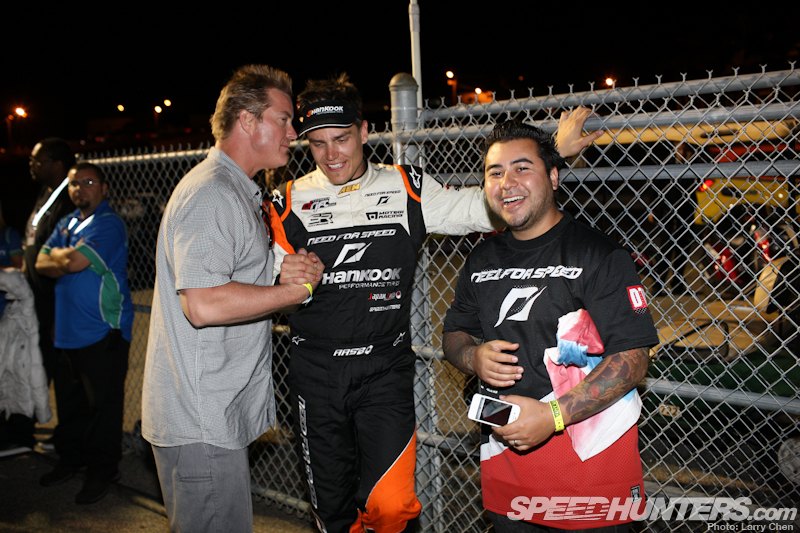 Chris was happy too! That morning, he told me I could win this. I guess we got pretty close!
In the coming time, we will have some quite exciting news that I have been working on for multiple years now. To give you guys a hint, our new project will include this gentleman on the left, among others. Do you recognize him?
As we move forward with our new projects and continue our FD season, I will be mixing up my Speedhunters blogs with some shorter photo posts, and I am very interested in seeing what input you might have.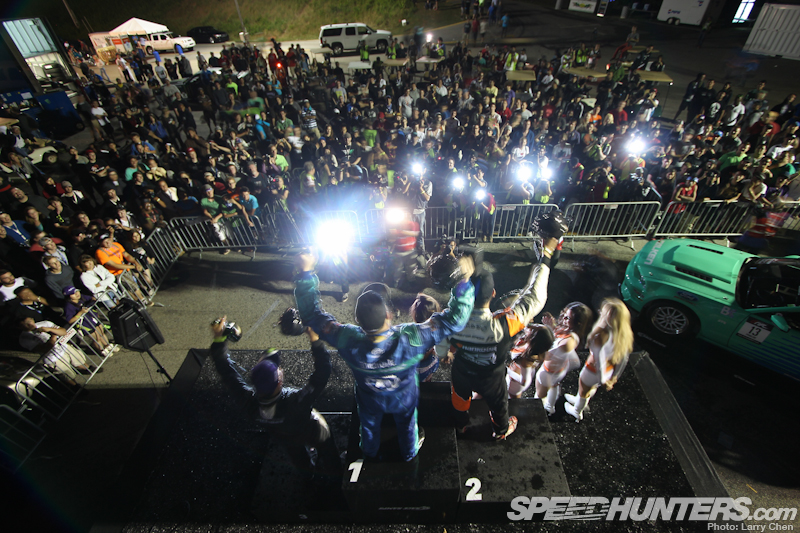 We now sit third in the Formula Drift Championship, just a couple points behind Daigo Saito in second. Five years ago, my biggest dream was to be able to mix it up with the best in Formula Drift and it feels crazy to say that we were able to do just that this past event.
Next up is Round 3 in Palm Beach, and I'm actually already in Florida working on a couple of things for the time to come. I can't wait for the next events now!!
Thanks for your time,
Fredric