The organisers of the Donington Historic Festival have made the car clubs an intrinsic part of the event, and their presence is seen as a vital element of the weekend's atmosphere. Hundreds of cars represented over 35 clubs.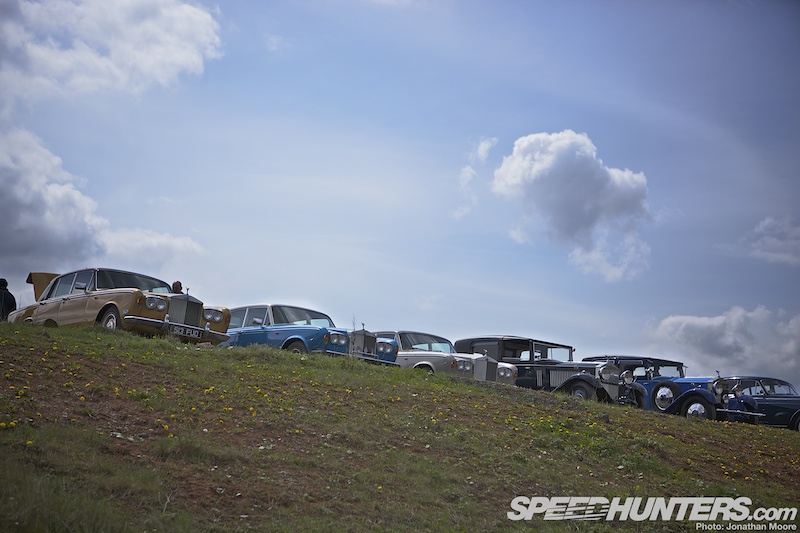 The range of clubs which attended was impressive: marques from all ends of the spectrum lined the banks.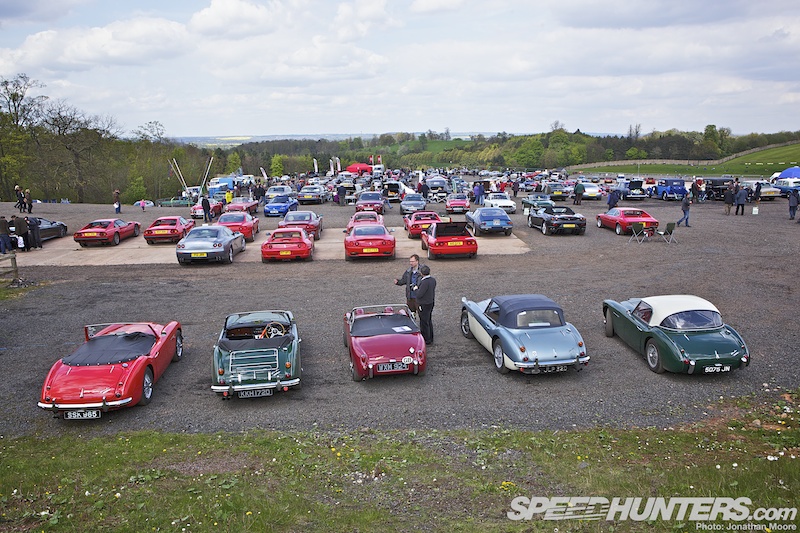 The clubs were spread out across the newly built-up in-field of the Donington Park track. It's strange to think that for a couple of decades this was the site of one of Europe's biggest rock festivals!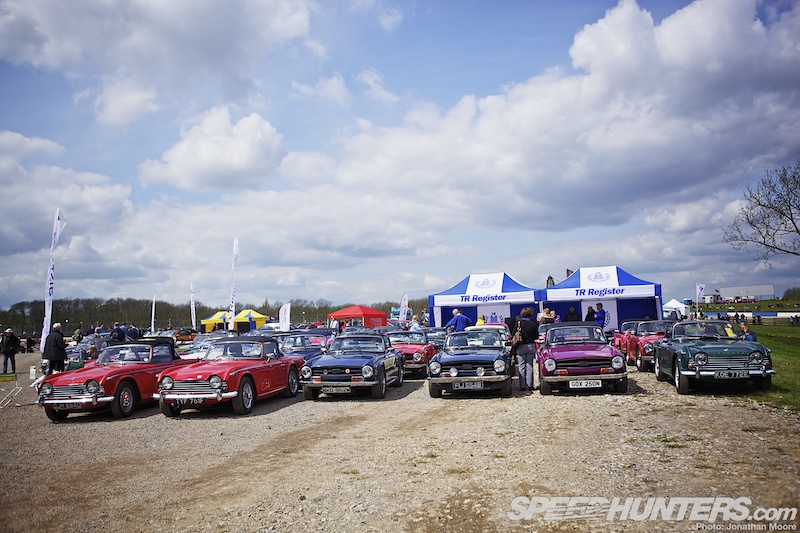 Classic British sportscars were represented in force, from a time when the UK made a whole slew of quality roadsters. The TR Register is one of the most successful one-make car clubs in the world, covering all Triumph models: they have 52 UK clubs and representation in 39 countries worldwide. The East Midlands regional clubs provided a fantastic display of pristine Triumphs, such as the TR4, 5 and 6s shown here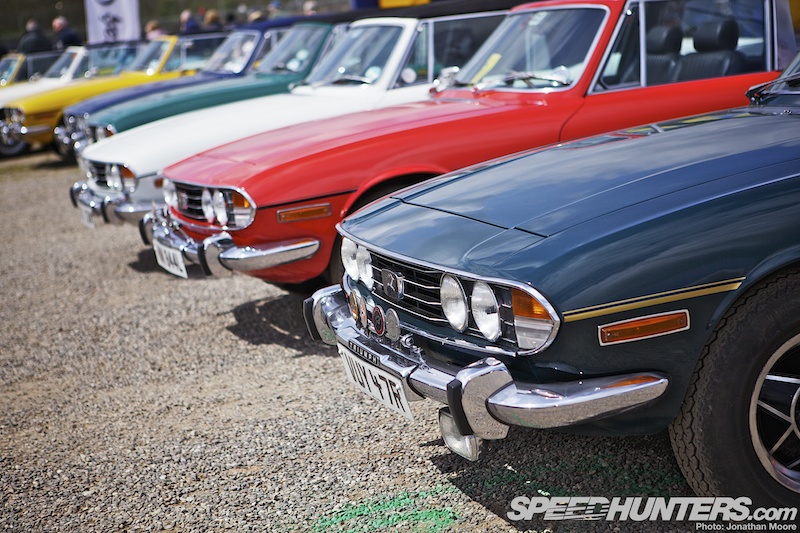 Next door there was a line-up of gleaming Triumph Stags courtesy of the Stag Owners Club. This was a car styled by the Italian designer Giovanni Michelotti, who worked closely with Triumph on a number of projects in addition to designing several BMWs and Maseratis.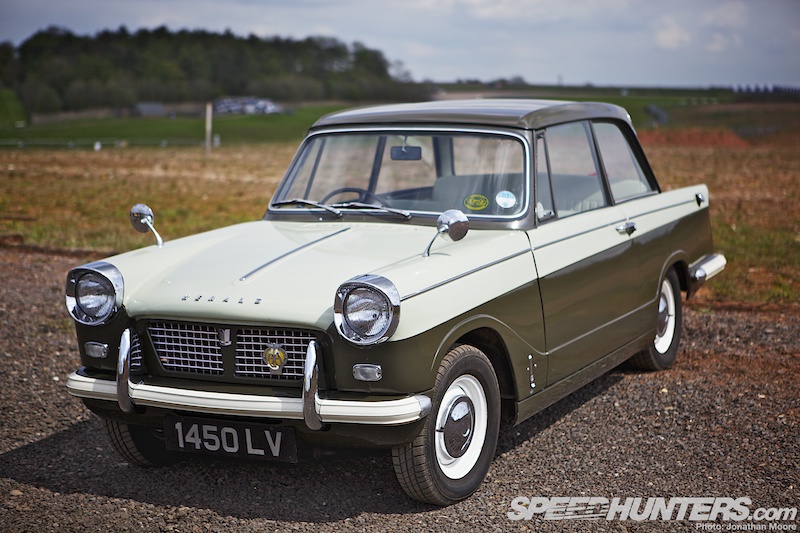 Michelotti was also responsible for the Triumph Herald – this example has its original style white rubber bumpers in perfect condition, along with everything else!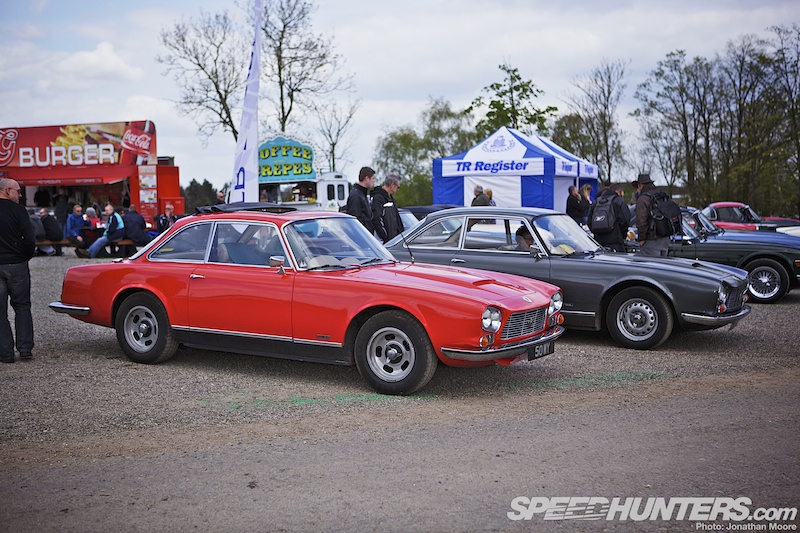 A more left-field brand: the Gordon-Keeble. It's a marque that reminds me of the quirky French Facel Vega: a big-block American V8 mated to a classically-styled touring body – in this case designed by Giugiaro and built by Bertone. Only 100 were built and only 90 are thought to survive, so to see two in one place is a rare treat.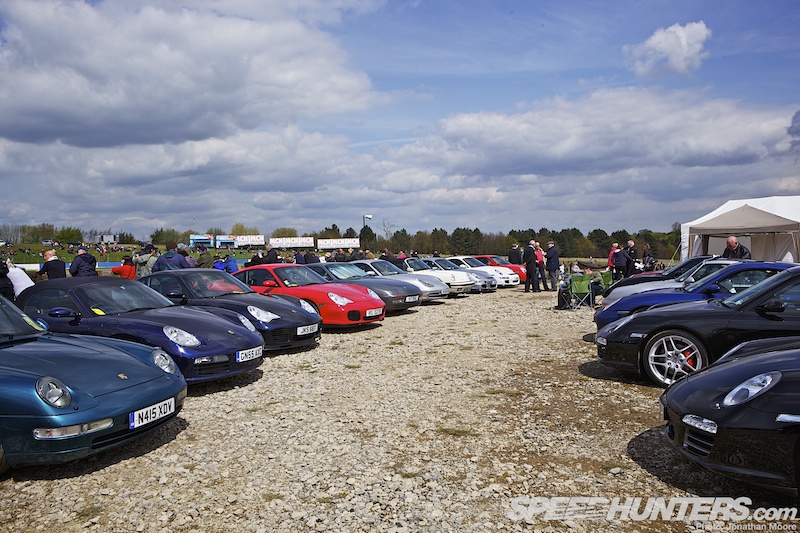 Porsche were another club with a massive turn-out and an eclectic range of cars on display, covering pretty much every iteration of the 911.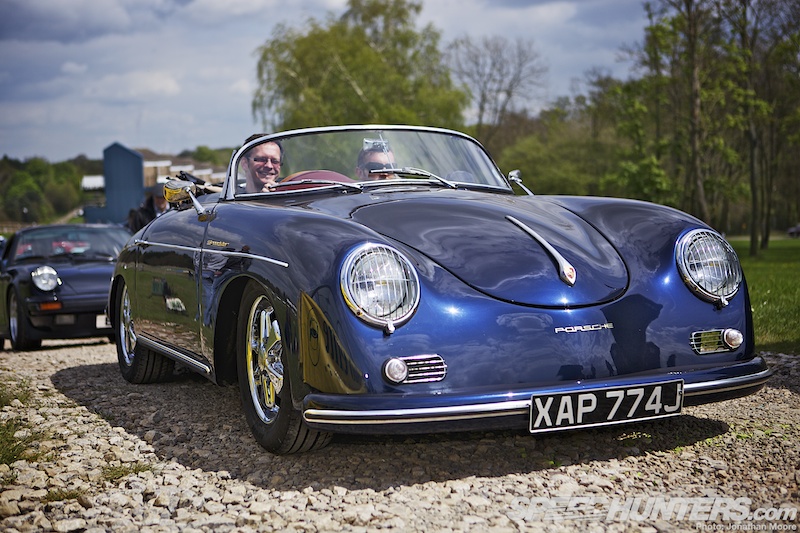 Much as I have a real soft spot for the purity of the original '60s 911s, this shining 356 Speedster is one of the most desirable 356 variants and looked stunning in its metallic blue paint. Glorious!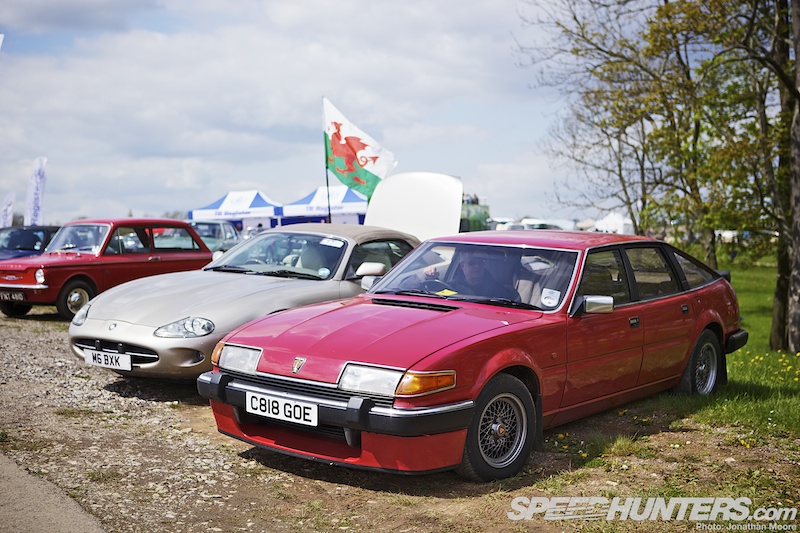 Outside the loosely demarcated club corrals you would constantly come across random pristine classics. I'd unfortunately missed the JD Classics Challenge For '66 To '85 Touring Cars, which had raced the previous day and featured Capris, Escorts, BMWs and Rovers, so I was very pleased to see this remarkably good condition SD1.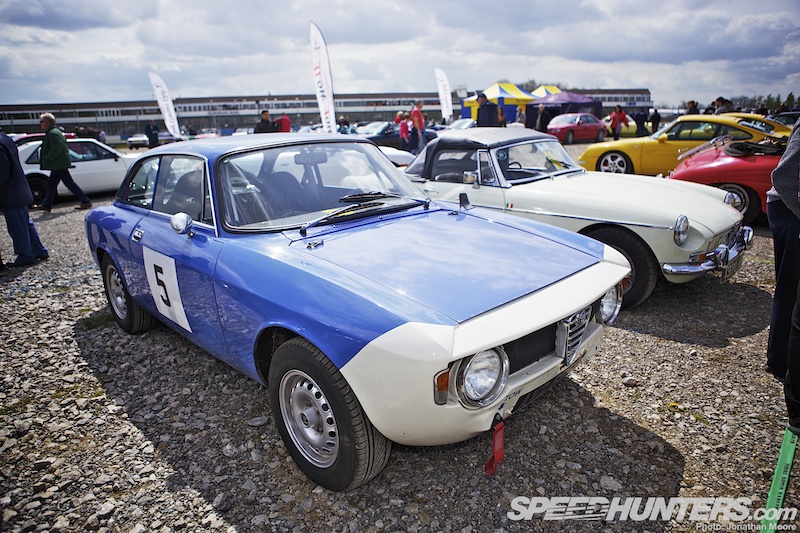 The Pre-'66 Touring Car race was still to come at this stage, but seeing this Alfa Romeo Giulia in look-alike period race livery was making everyone look forward to catching the half dozen GTAs out on track later that day.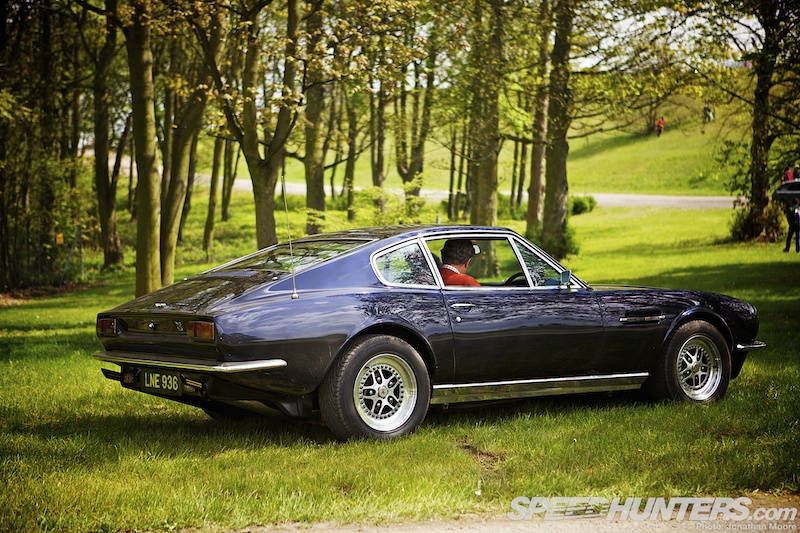 This late-'60s fastback DBS was parked up on its own under the in-field trees between the two main club parking areas: it was almost like a period advertising shot!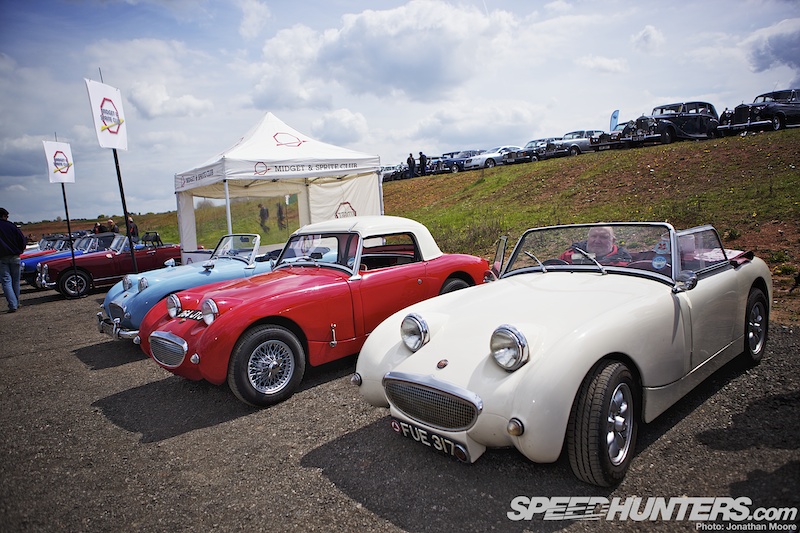 On the main area of hardstand were a whole raft of British makes. I caught up with the Frogeyes that I'd met on the journey to the track…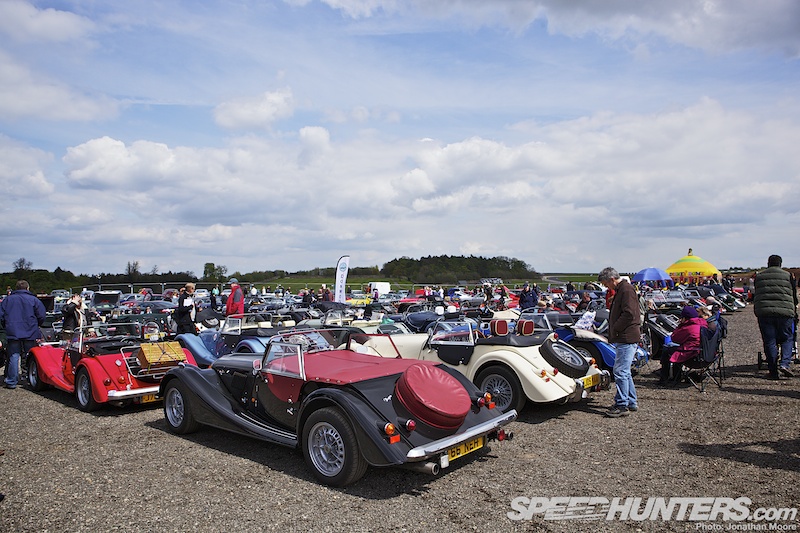 …and wandered around the long lines of Morgans that had turned out.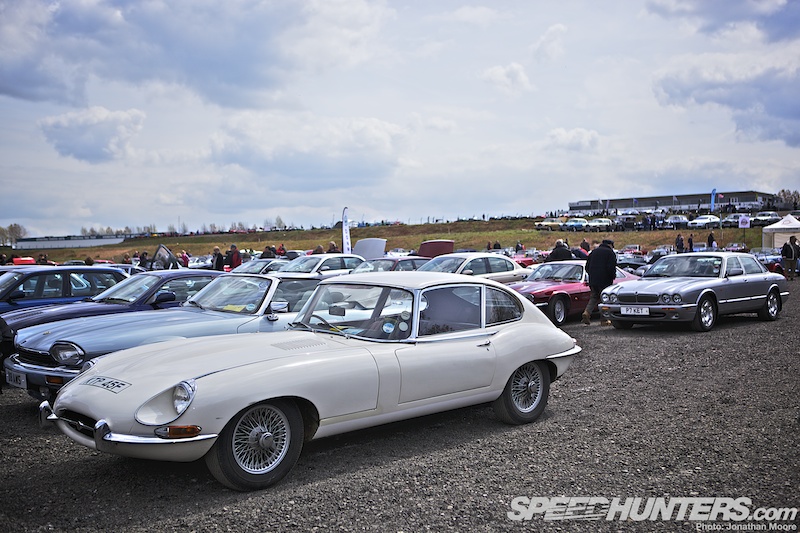 Jaguars were next up: gorgeous E-Type coupés next to '80s XJS and more modern XJs.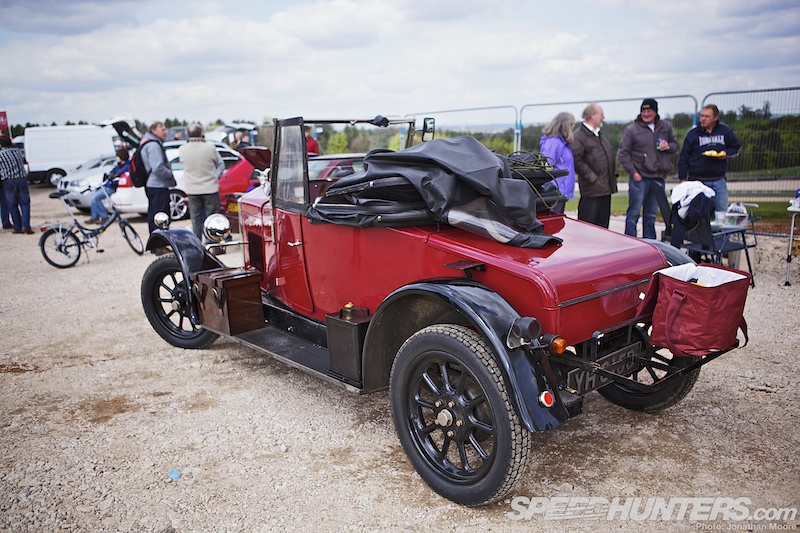 The oldest car was this Wolseley, which cut rather a dash amongst its far younger automotive cousins. Thankfully the sunshine meant that there wasn't the need for a Le Mans-style, 'how quickly can you erect the roof' challenge…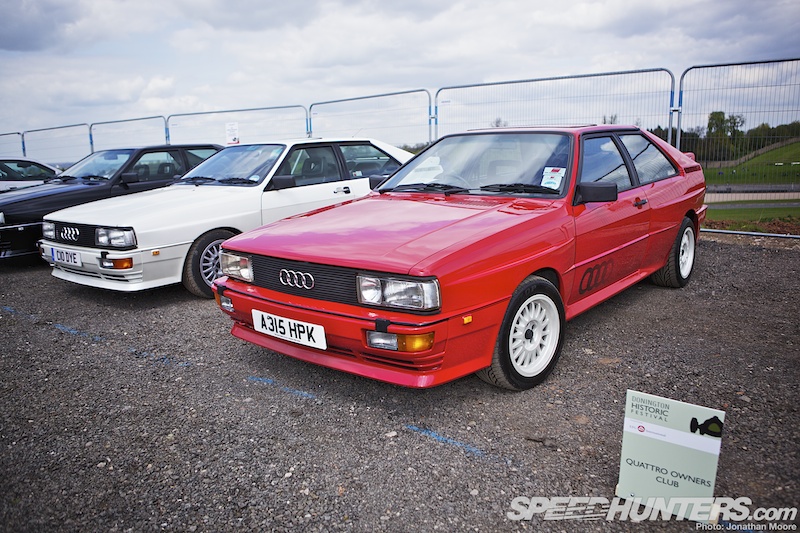 The Quattro Owners Club brought along four immaculate examples of Audi's finest all-wheel-drive model.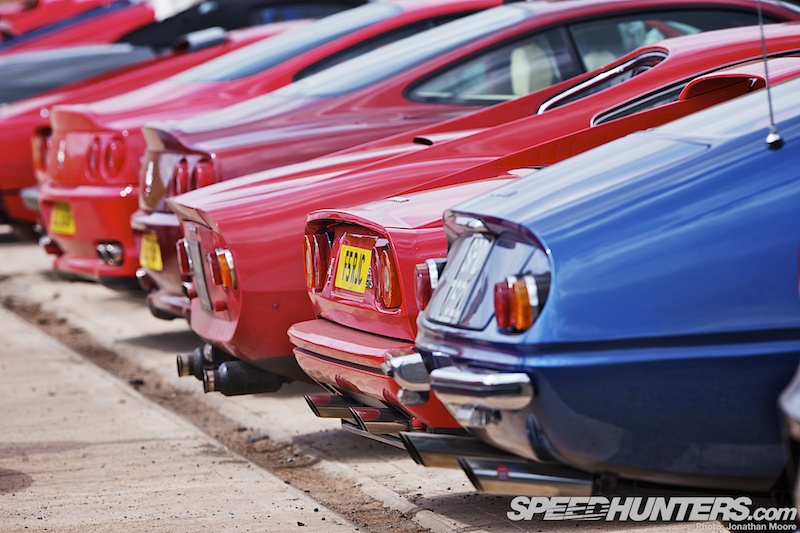 The Ferrari Owners Club had a marvellously broad range of models, displaying a perfect visual history of at least the last fifty years of the marque.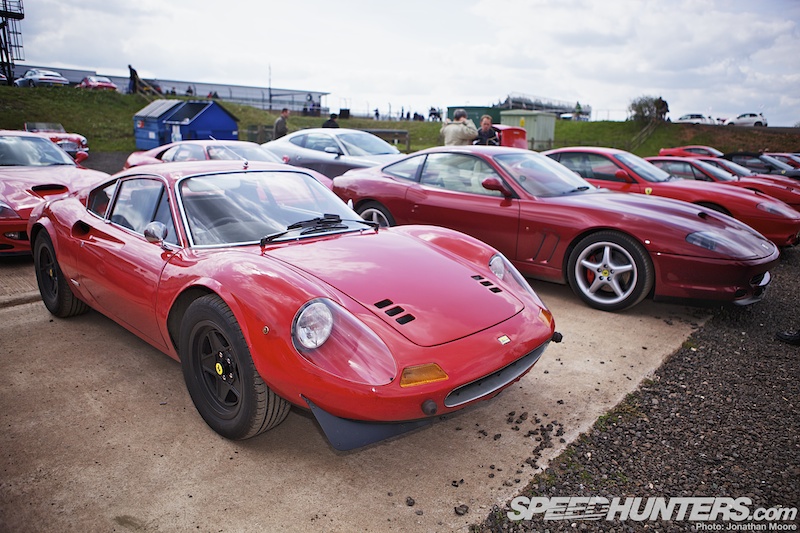 Having driven up to Donington Park from the previous day's Auto Italia event at Brooklands, I did wonder if any other people had also made the trip north… The Dino is a beautiful car anyway, but the black five-spoke wheels made this one look even more racey than normal.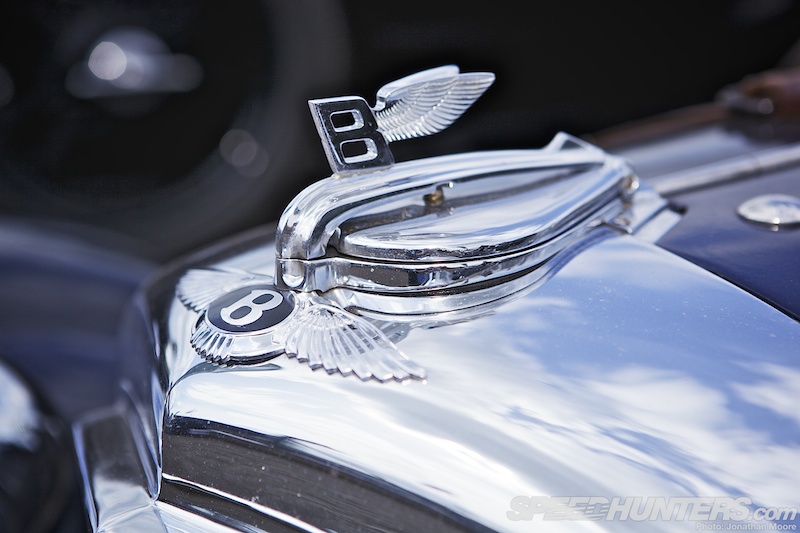 The Bentley Drivers Club (note the subtle but important difference in naming) showed off a number of classic models complete with sculptural nose icons, including a Speed 6 and an R-Type that had just two owners since new – over 60 years of constant use, with no restoration and just 'careful maintenance'. Bentley quality shining through.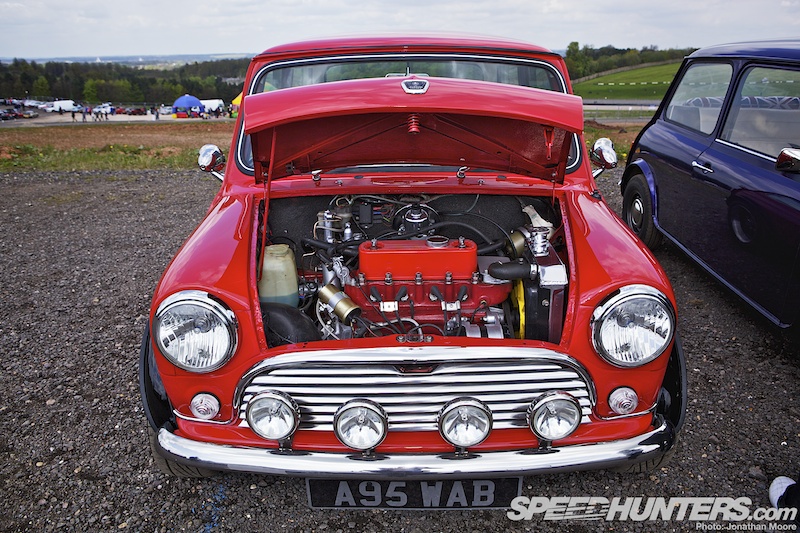 Many of the cars that the clubs were displaying had direct correlation to what was competing on track. The racing Minis were as hilariously entertaining as ever, embarrassing their far more sporty Ford, Alfa and BMW partners through the corners, and the Derbyshire Classic Mini Owners Club proudly showed a line of Minis with spotless exteriors and matching engine bays.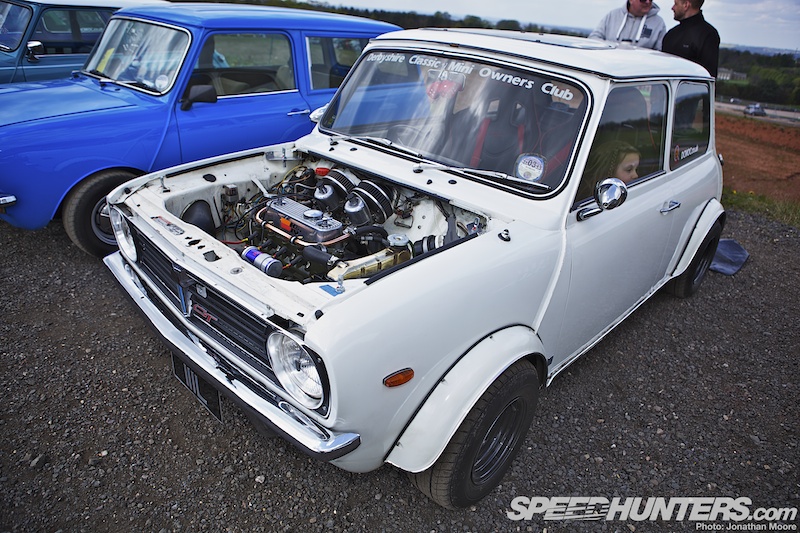 Another maximum sparkle Mini: a 1275 GT with some exciting-looking K&N accoutrements.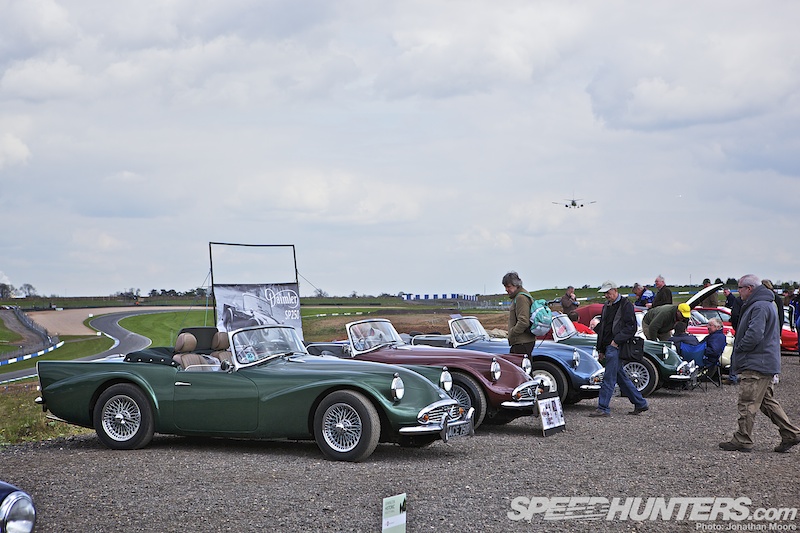 The Daimler SP250 is enjoying a resurgence in popularity at the moment and a quintet were parked up on the banking overlooking Donington's start-line. Short of cash in the mid-1950s as so many British firms of the time were, the Daimler design team had taken a Triumph TR2 as a base and created the SP250 – it was originally called the Dart until Chrysler objected.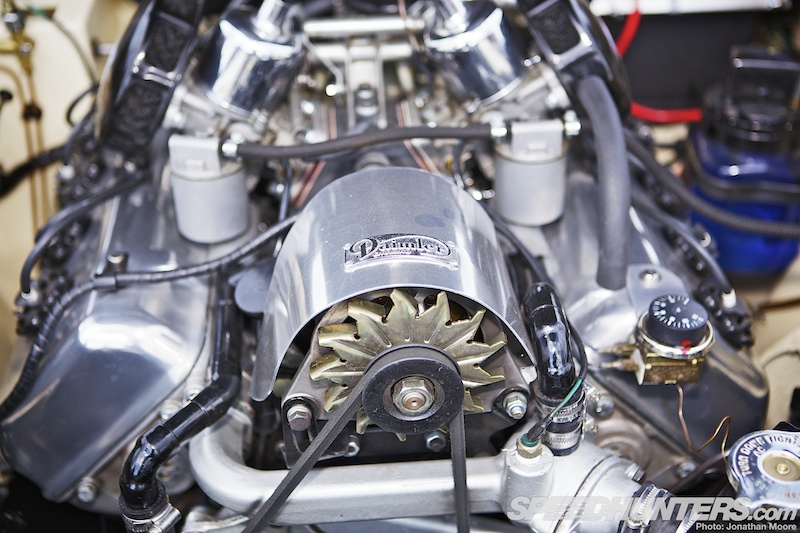 The V8 engine is a work of art: just look at the detailing. This car is all about the engine, as it more than made up for its average handling. They were even used as police pursuit cars during the '60s.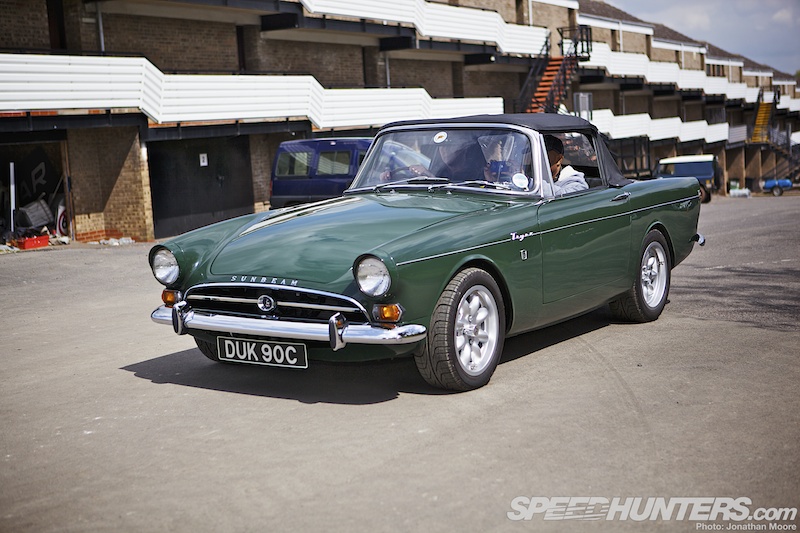 The Sunbeam Tiger has a similar aesthetic, with its round lights and high rear flanks, and likewise was a muscle-car of its time. The V8-powered Tiger was an uprated version of the Alpine roadster, constructed between 1964-67.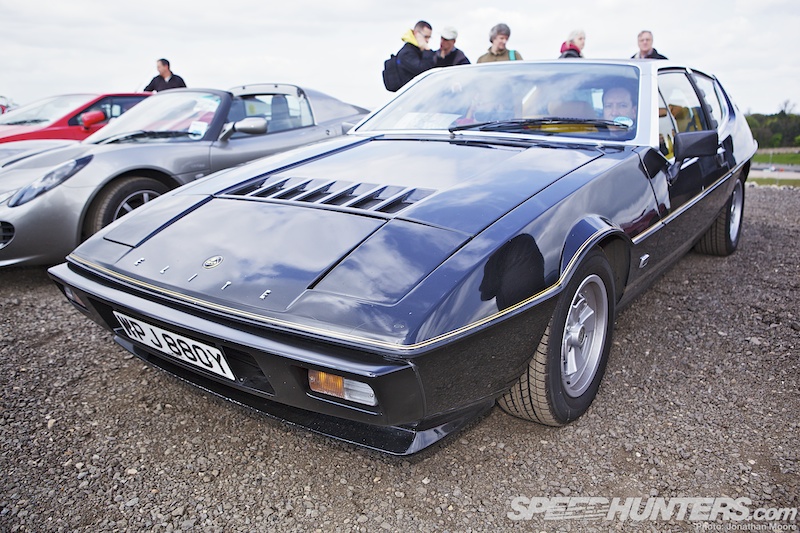 The Elite was Lotus' first saloon car: the 2-litre engine gave great performance thanks to typically fine Lotus handling and an incredibly low weight – not much over 900kgs. This Elite sported a JPS livery – with the black and gold so liberally used by the 'new' Lotus, it's nice to see it in an original context.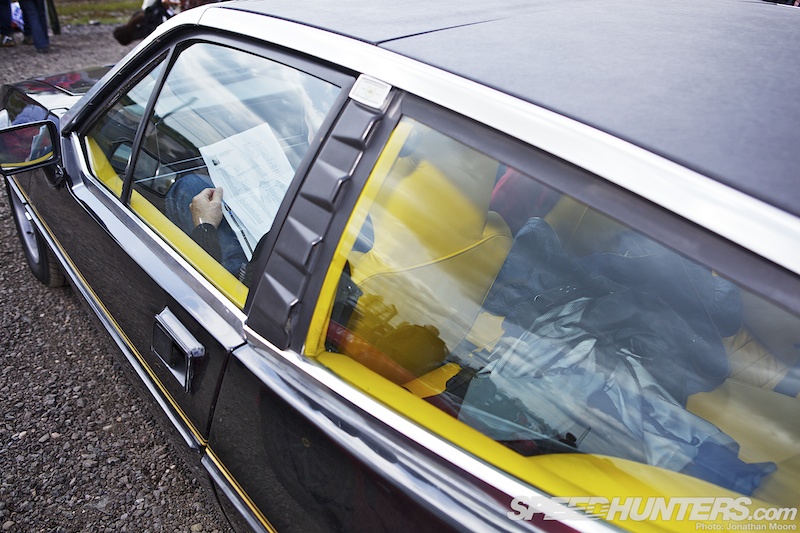 The gold trim was matched by a hardcore yellow interior, which must be quite tough to deal with first thing in the morning.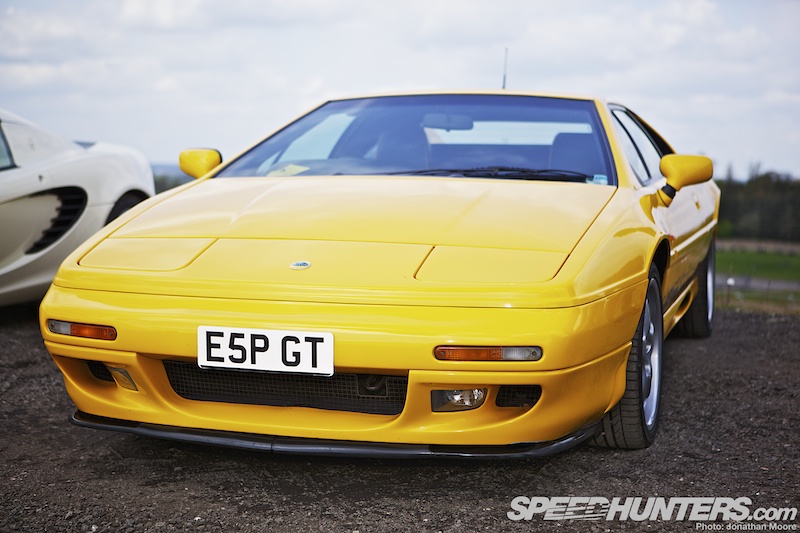 The 1993 redesign Esprit is still a great looking car; all Esprits are by definition great looking, but the S4 perhaps manages more of a contemporary feel. This canary yellow S4 was complemented by two V8s in the Club Lotus line-up.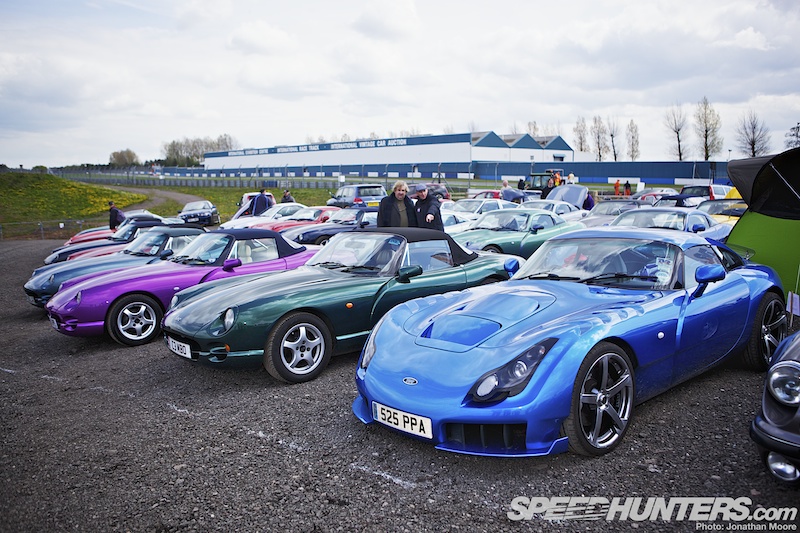 TVR are the only marque who can outdo Lamborghini for outrageous factory colours: there's still a loyal following for the company and their enormously powerful cars. TVR are currently in limbo once more, awaiting another saviour after several aborted relaunches. It will be a happy day if the company could rise again, as the roads would miss cars like these.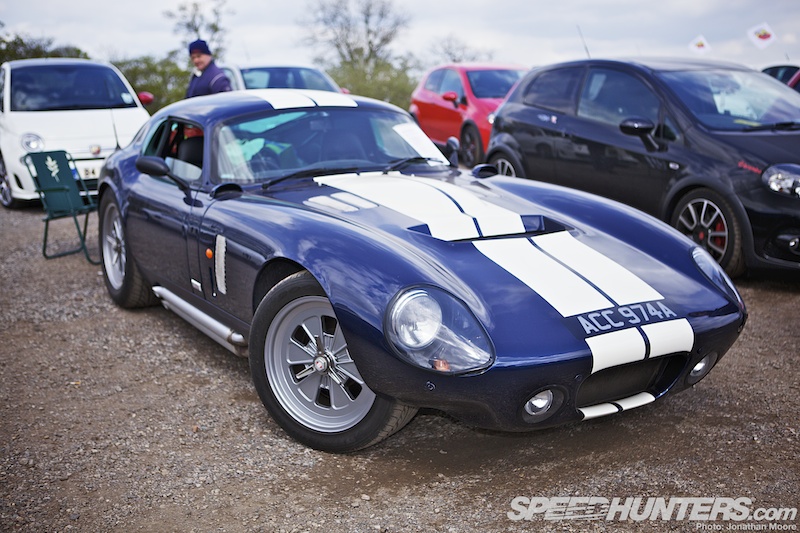 Continuing around the access roads were yet more cars to discover. This continuation model Shelby Cobra Daytona Coupé is one of only nine in the UK, with two owned by racing drivers.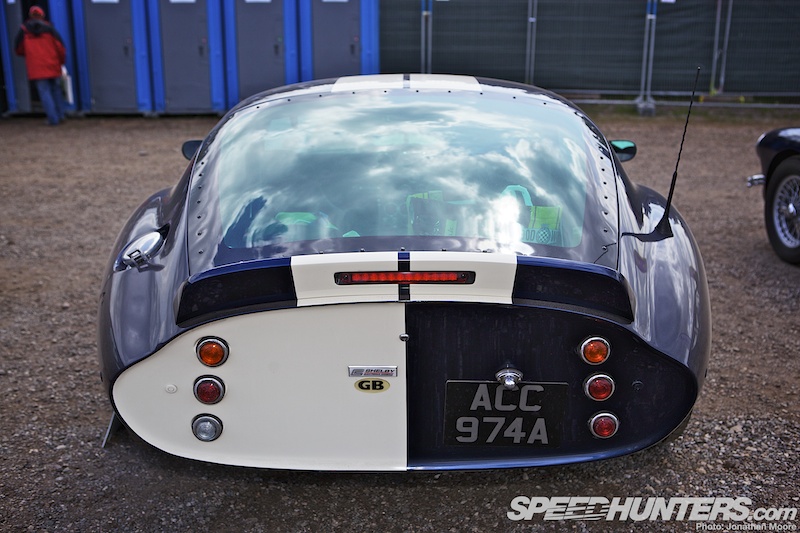 This Coupé is on the Shelby register and has a 6.6-litre Roush V8 producing 510bhp. The top speed is 207mph, and 100mph arrives in 8.2s. With the white racing stripes and half-and-half rear it looks as good today as it did when they were first built.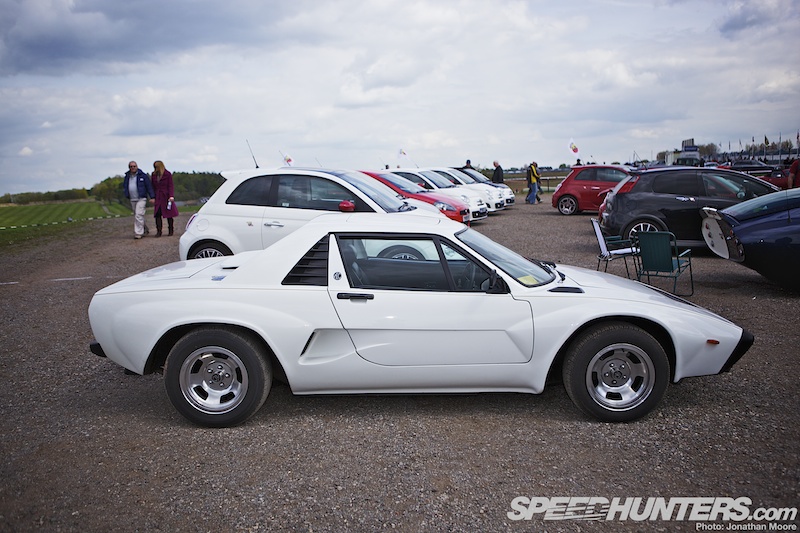 This car was causing a lot of stroked chins… A little bit Fiat X1/9, a little bit TR7… It's actually an AC 3000ME from 1984: it was the last car built by the company at its original Thames Ditton base and aimed as a competitor to the original Esprit. Just 100 were constructed; this one was one of the final 3000MEs made and has a Ford Essex 3-litre V6; it had completed over 100,000 miles before being completely rebuilt.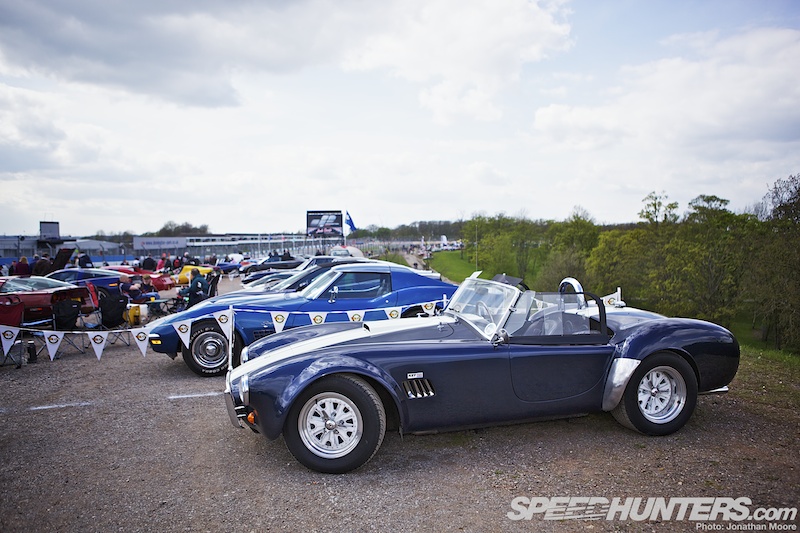 Of course AC Cars are better known for their Cobra, the Anglo-American sportscar success story. Nearly 1,000 were built in period, and like the Lotus 7 it's become the father of a whole family of kit-car imitators.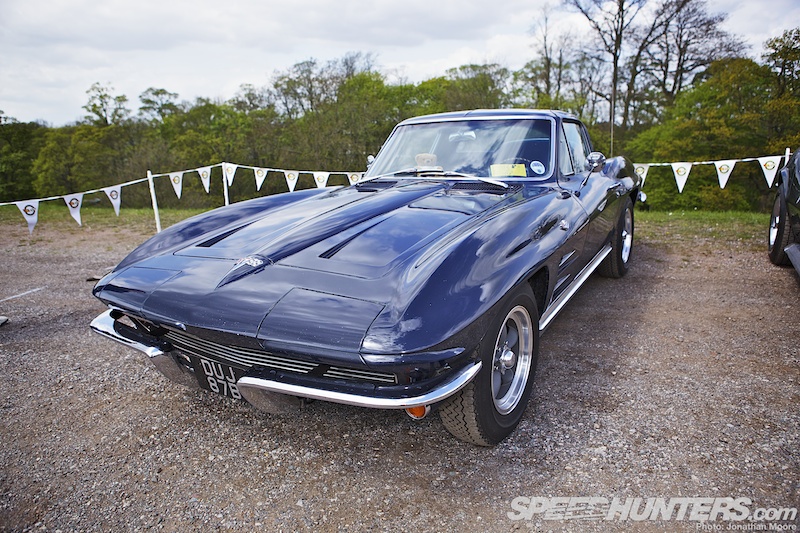 Just the other side of the Cobra were examples of pure Americana: a dozen Corvettes of varying vintage, including the '60s Sting Ray I'd followed onto the site in the morning.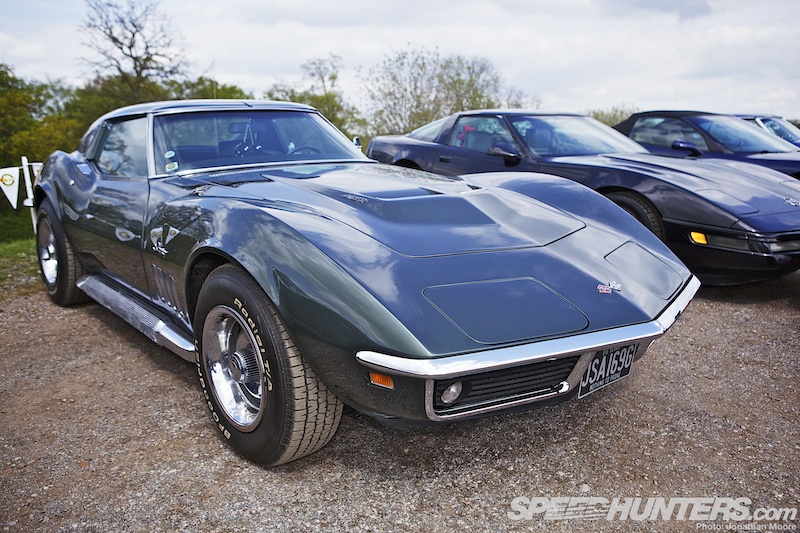 The shovel-nosed third-generation C3 Corvette is still a head turner: with its modern lines it's easy to forget that this car was born in the swinging '60s.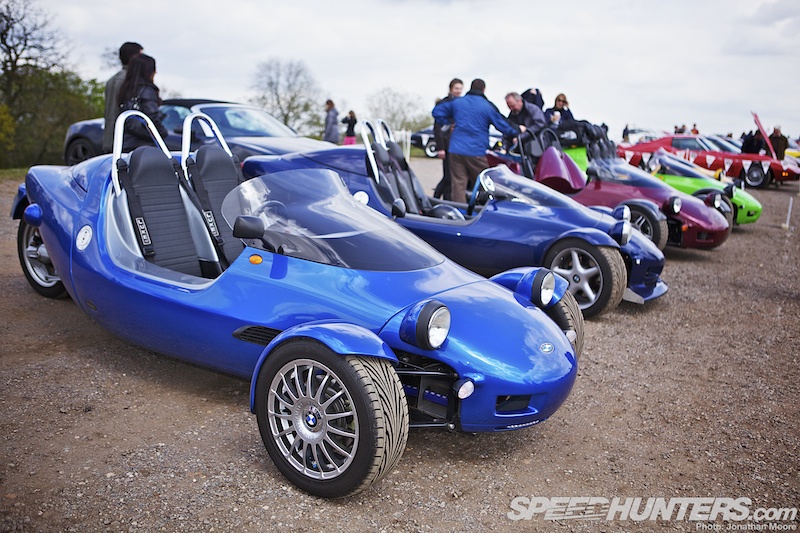 Whereas the Minis and Cortinas three-wheel by accident, the Grinnall Scorpion does it by design. Part car, part motorbike, all crazy, the BMW-powered Scorpion III is another car (trike? Bike?) that has a passionate ownership club.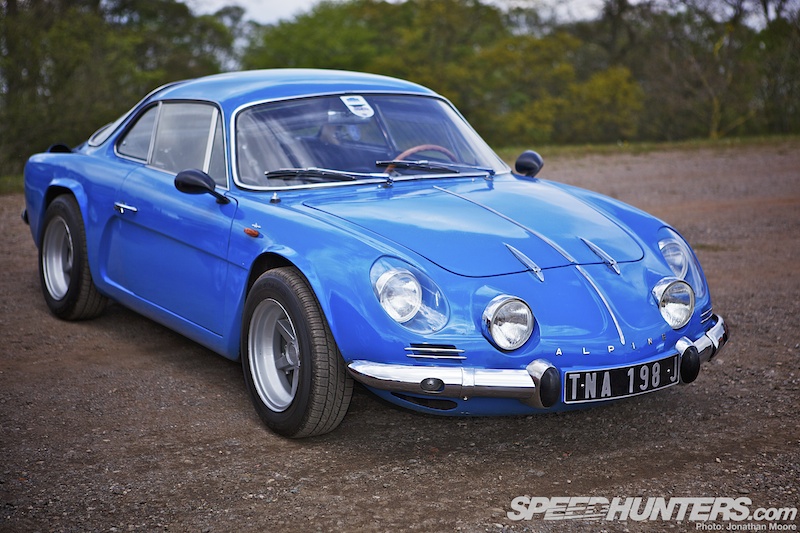 The Alpine A110 Berlinetta was a hugely successful rallycar, but was just as popular in road-going form. The flared arches and long bonnet disguise what a small car this actually is in the flesh: a real pocket rocket.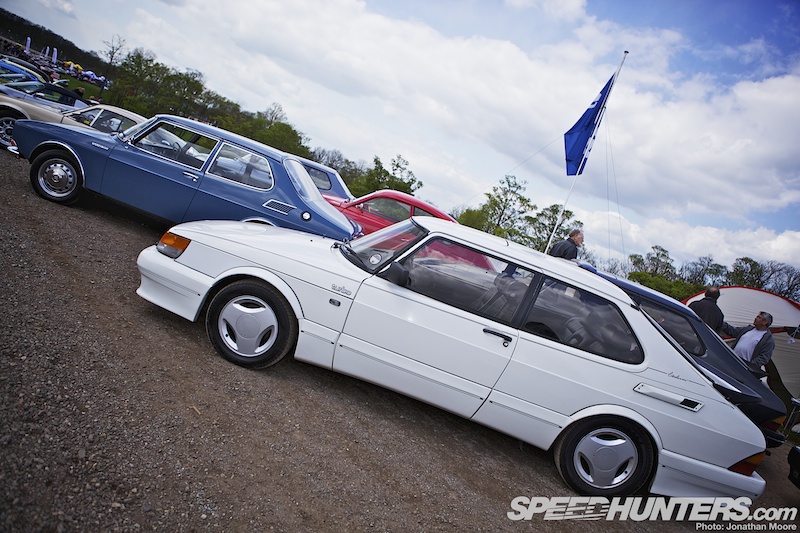 The pleasant surprises and new discoveries kept coming: it's sad to think that Saab have joined TVR and so many others in receivership hell. An impressive range of 96s, 99s, 9000s and more were defiantly showing the happier history of the Swedish marque.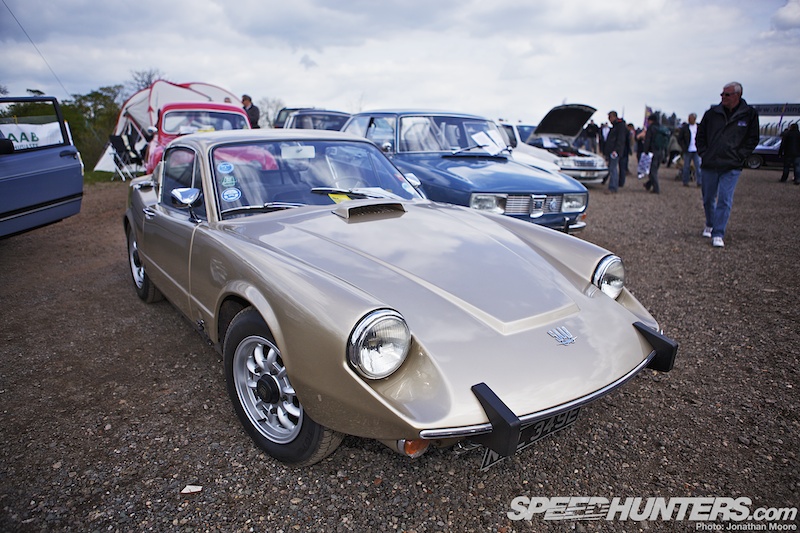 This is one of only two Saab Sonnet IIs on the road in the UK: this 1967 example has a three-cylinder, 841cc engine, and a lightweight fibreglass body designed for competition. Also on display were Aston Martins, Ginettas, MGs, MR2s, Austins… An amazing line-up that was a pleasure to walk round and truly made the Donington Historic Festival even more special.
Jonathan Moore