It's about 7:30am on Saturday morning. I'm sound asleep in a bed at a cheap motel in Santa Maria when I'm awoken by sounds from the parking lot below. Now typically being woken up this early on a Saturday would bring groans of anger, but the sounds I'm hearing are those of hopped up V8s and the occasional straight six firing up in the cool morning air. I also hear the sound of War's "Lowrider" coming from a car stereo at full volume.
I can't help but smile as I climb out of bed and get ready for a day of shooting at the Cruisin' Nationals.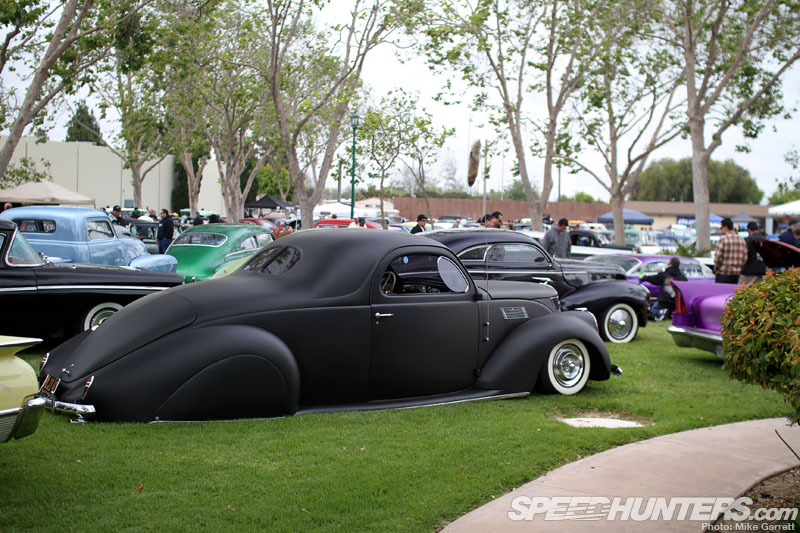 A short time later I find myself at the fairgrounds. The skies are covered by the coastal clouds typical in California this time of year and already the grounds are jammed full of cars. Many of them are fresh off a night of cruising, while others appear for the first time.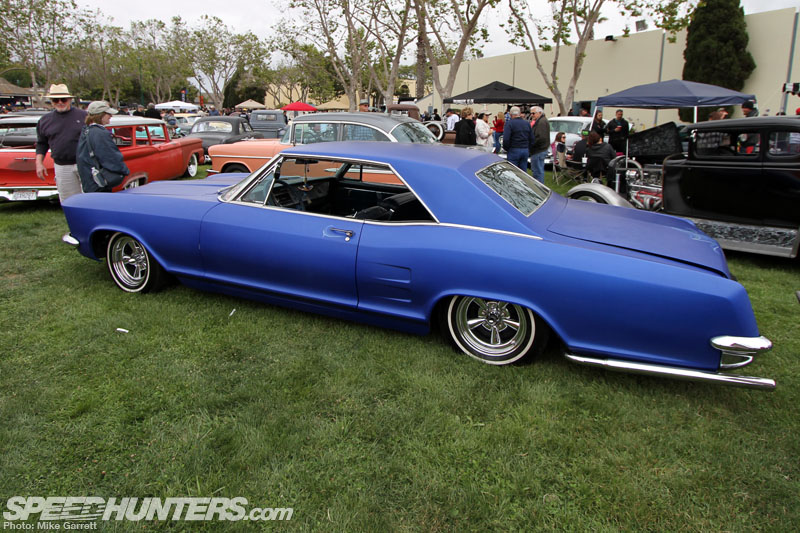 As I started my journey across the fairgrounds, my eye was drawn to this satin blue Buick Riviera. This is one of many examples of the lowrider/custom hybrid movement that has been exploding recently. It's decked out with Astro Supremes and Bellflower exhaust tips, which are named after the Southern California city where the style originated.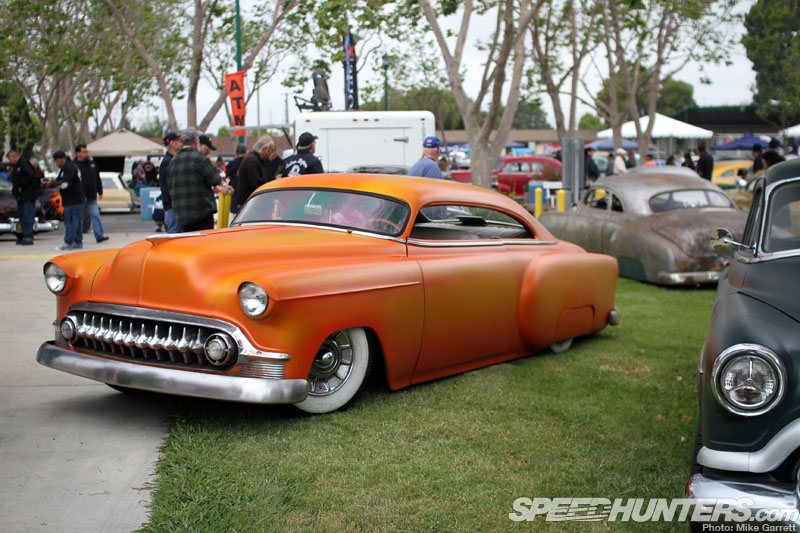 Want to see dedication? I'm pretty sure this crazy looking orange Chevy lead sled has been at every single Hot Rod and custom event I've shot over the past couple years. From Vegas to Long Beach to Santa Maria – this is no garage ornament.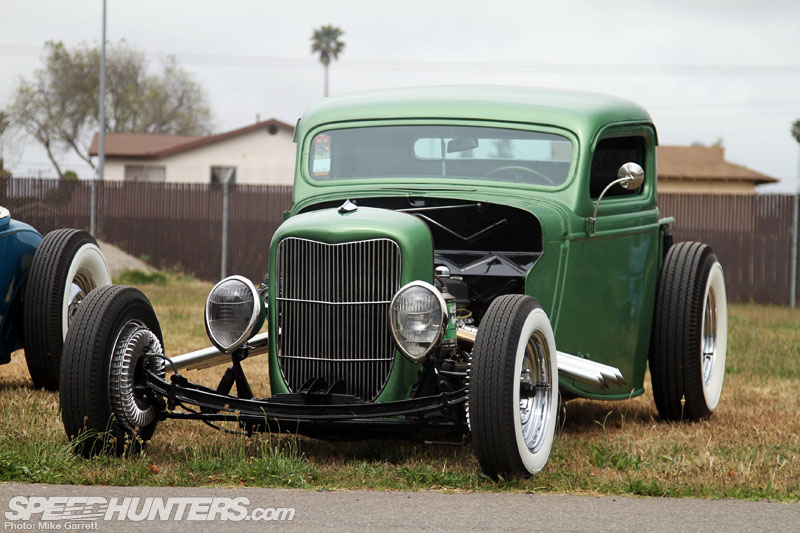 The Throttle Kings Car Club came up from SoCal with an impressive selection of Hot Rods, like this boss looking '36 Ford Pickup.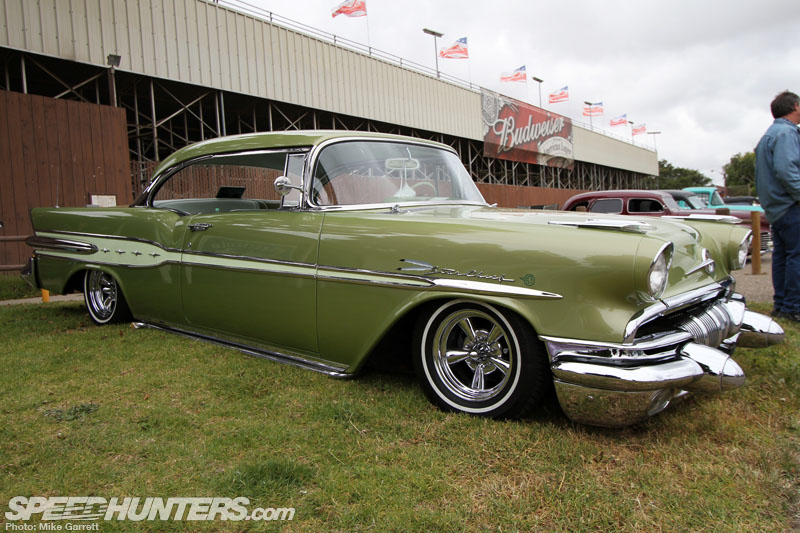 Here's another case of letting the factory lines work their magic – a '57 Pontiac with a solid stance, custom wheels, and not much else. Simplicity at its best.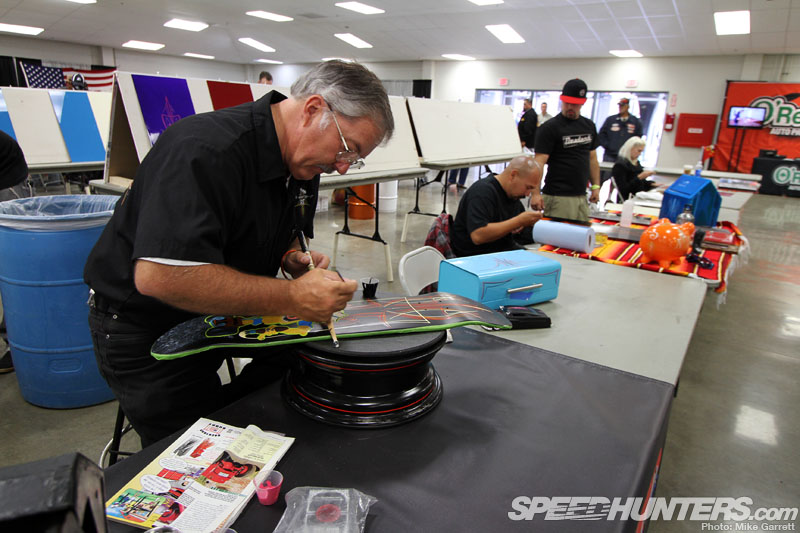 From there I headed inside to check out the pinstriping area. From piggy banks to skateboard decks, these guys were on hand to put their custom touch on just about anything. I've seen these artists at work several times, but I always find it strangely relaxing to pause for a few moments and watch them do their thing.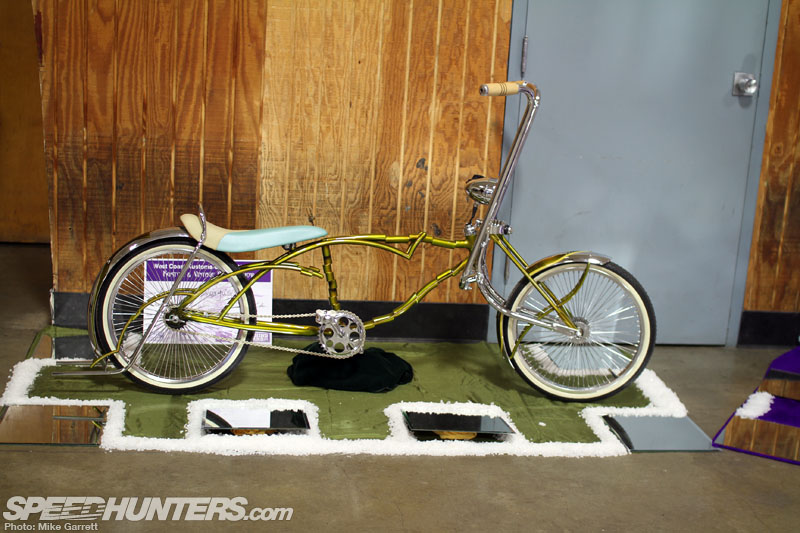 Here's another scene from the custom bicycle display. Much like show cars, this lowrider bike was displayed with with mirrors and all. I wonder if fixed gear racers and hardcore mountain bikers harass this guy because his cycle isn't "functional"?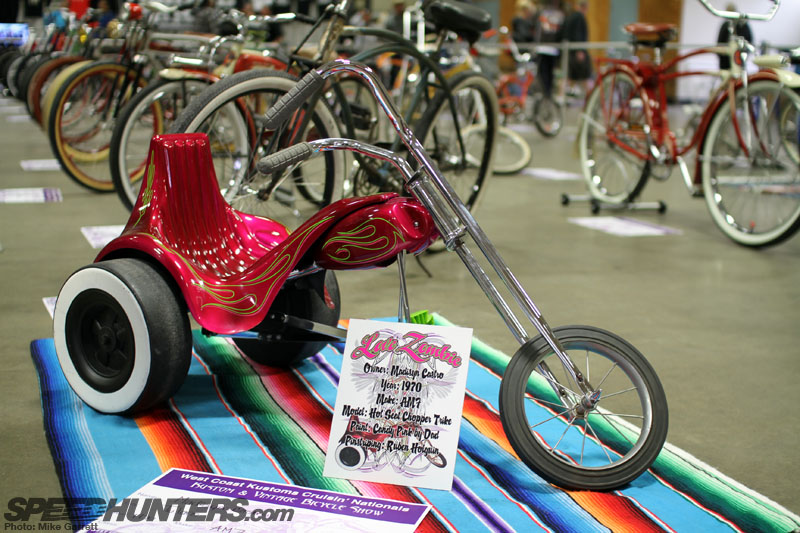 The kid inside me absolutely loves this custom mini-trike. The adult me likes the fact that it gets superb gas mileage.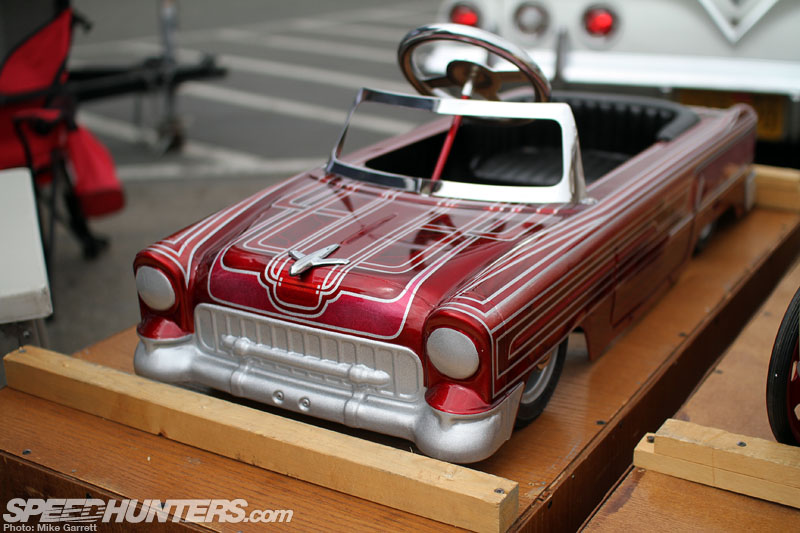 Trike or slammed pedal car? Children have it good these days.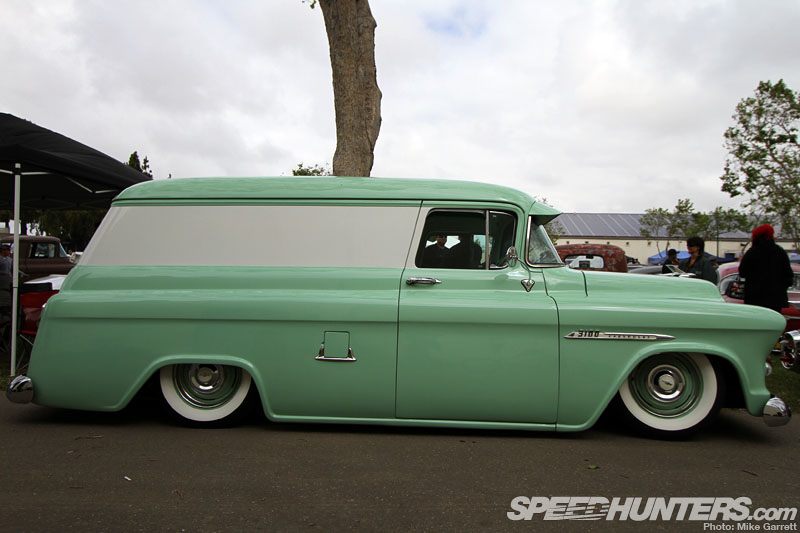 It's so cool to see utilitarian vehicles like this '55 Chevy panel truck reworked into custom creations. This one looks pretty stock, save of course for the dumped stance.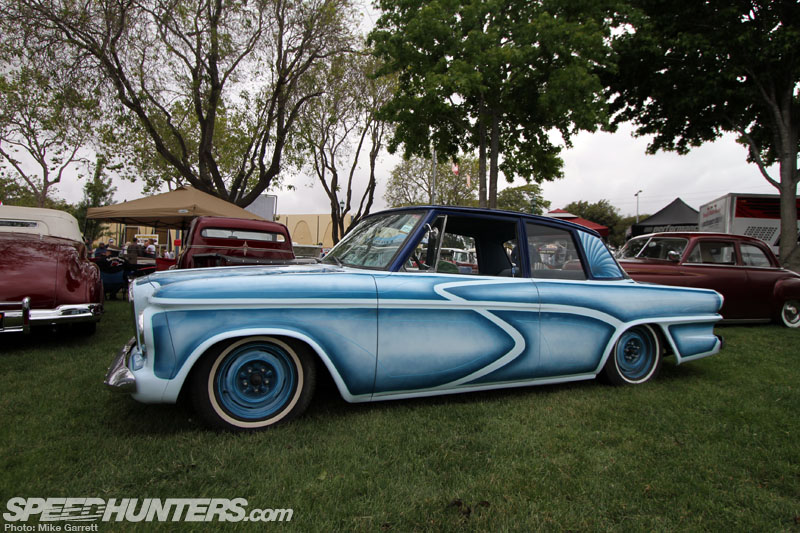 While there are certain platforms that are big in the custom world, one of things I like is the way you can apply the same touches to more obscure vehicles. Here we have a '61 Studebaker covered in an elaborate, show car style paint job.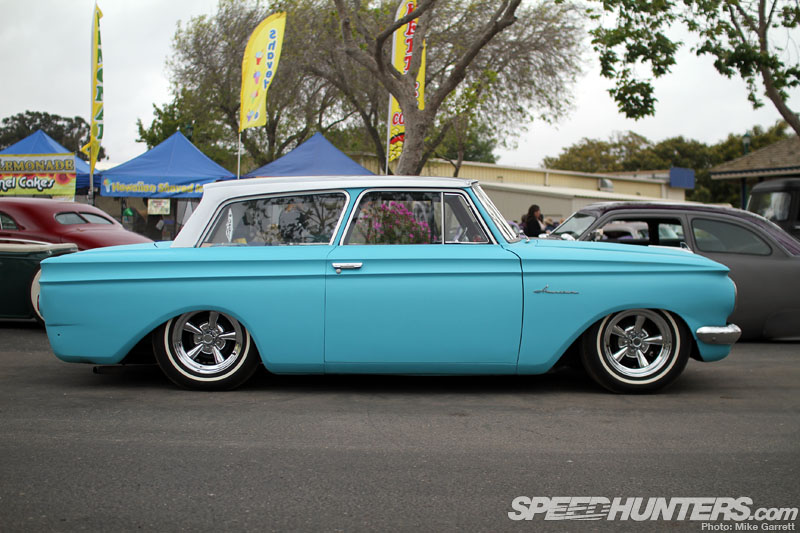 Likewise, we have a Rambler American with satin paint and dropped low over a set of all-important Supremes. "Sexy" and "Rambler American" have probably never been used in the same sentence, but I just went there.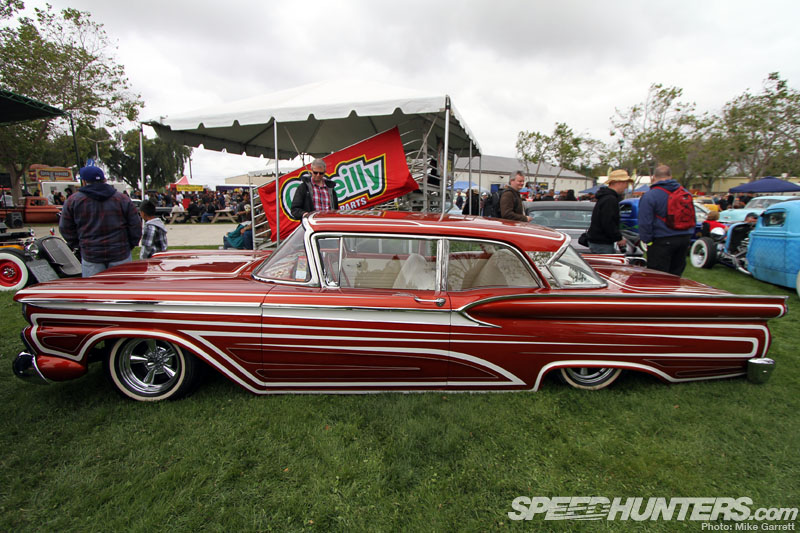 When it came to club displays, few could match the buzz that Bakersfield's Loco Banditos were getting. This is the group that includes the insane '60 Chevy I spotlighted last year.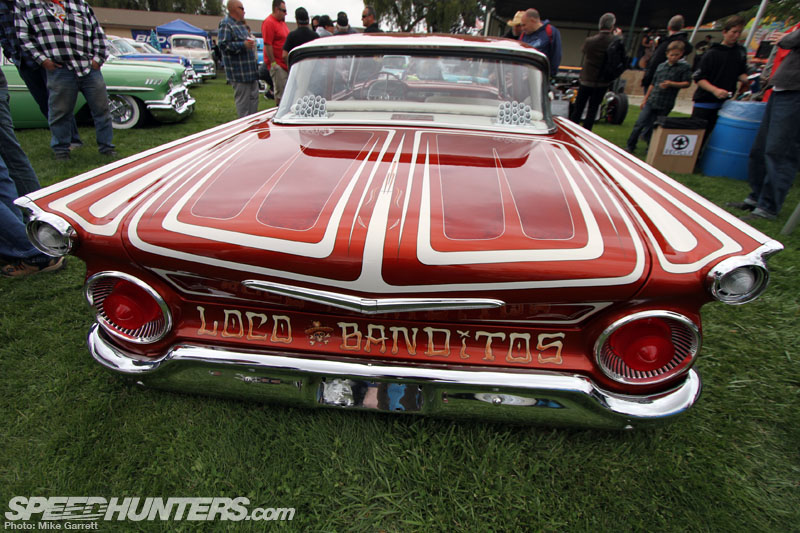 Also representing the Banditos was this beautiful '59 Ford and its brilliant paintjob.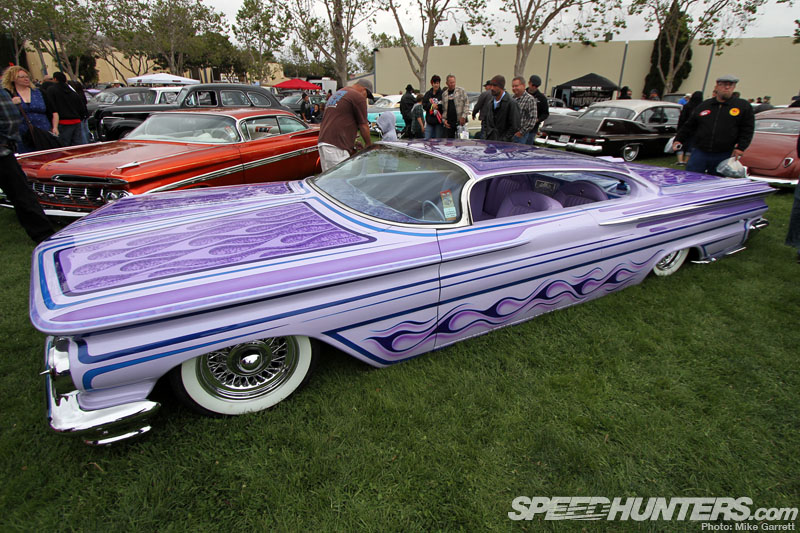 Equally as impressive was the Banditos' chopped '60 Pontiac. It seems that Bakersfield does it big when it comes to custom cars.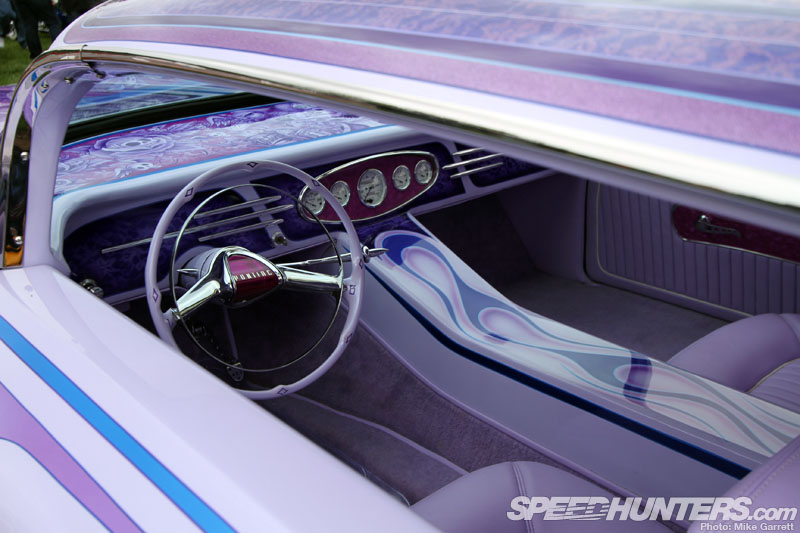 Peaking through the narrow side windows, you can see that the show car touch has been extended to the interior.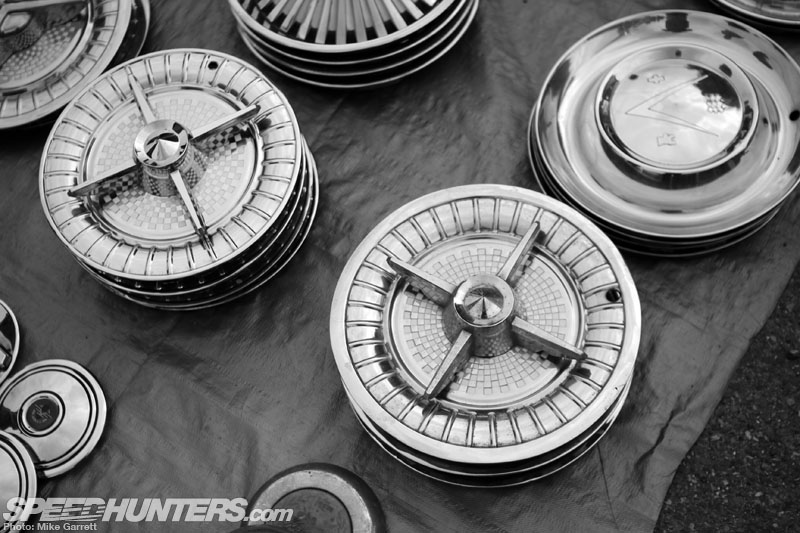 Over in the swap meet area I found this cool selection of vintage wheel covers up for sale. Just one of the many items up for grabs at the Cruisin' Nationals.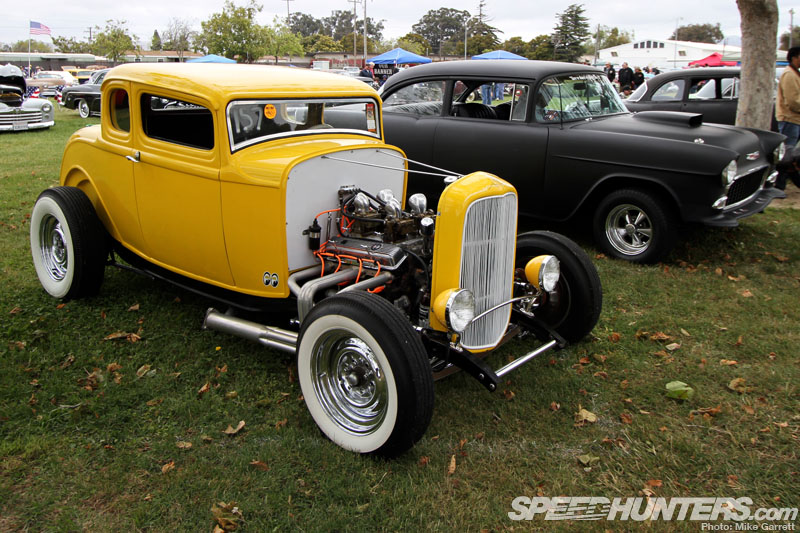 Keen eyes might recognize this yellow coupe from my coverage of the Eagle Field Drags from the previous weekend. Strip one weekend and show the next weekend. Gotta love it.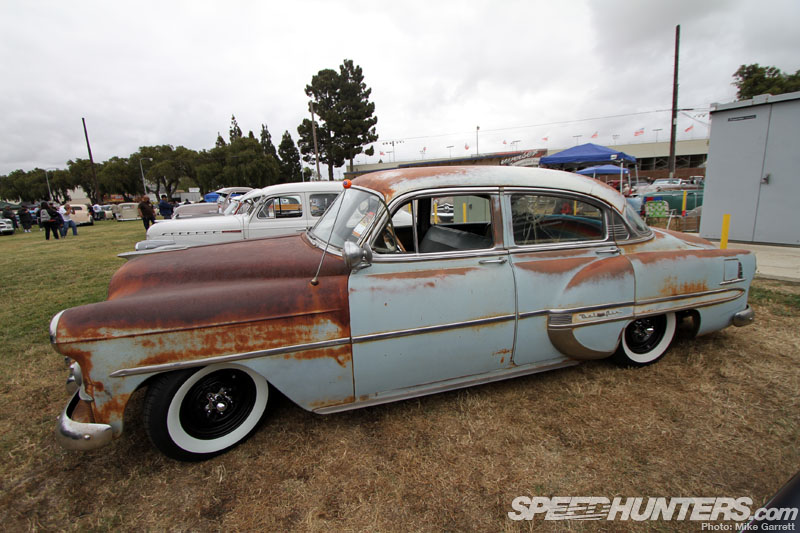 Santa Maria doesn't have nearly the number of "unfinished" cars as a Billetproof event, but that's not to say they aren't welcome. This four-door Chevy delivers in the patina department.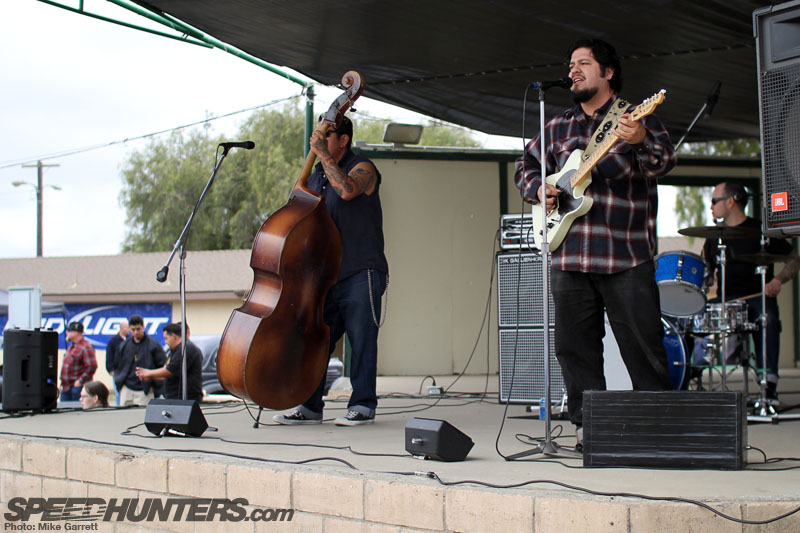 It's impossible to have a traditional-themed Hot Rod and custom event without some proper background music. Nothing puts me in the mood to shoot these machines like some rockabilly tunes.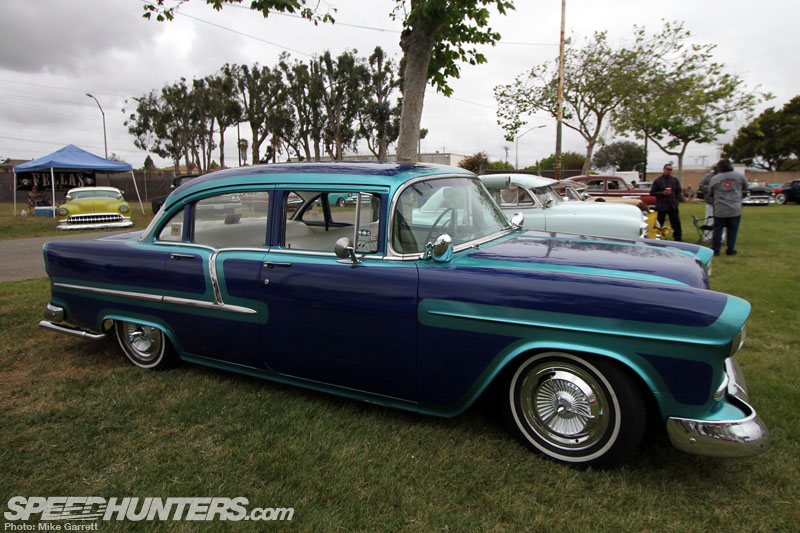 Four-door tri-five Chevys don't typically get a lot of love, but this one works well.  I dig the way the paint accents its factory trim lines.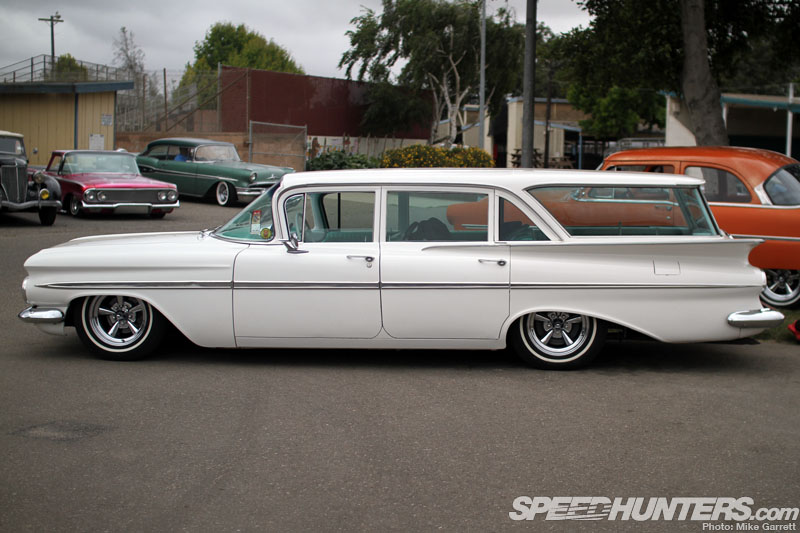 Wagons on the other hand have long been favorites in this community. Here's a long roof '59 Chevy done right.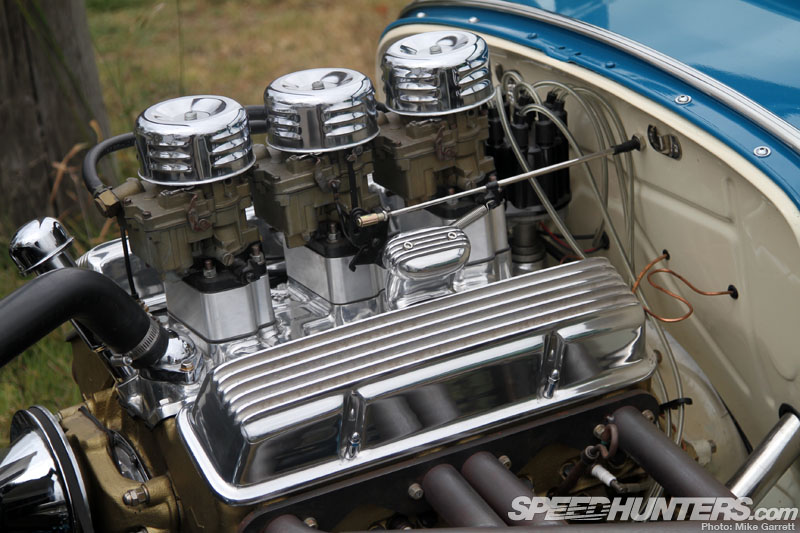 I believe An old wise man once said, "three times the carburetors, three times the fun".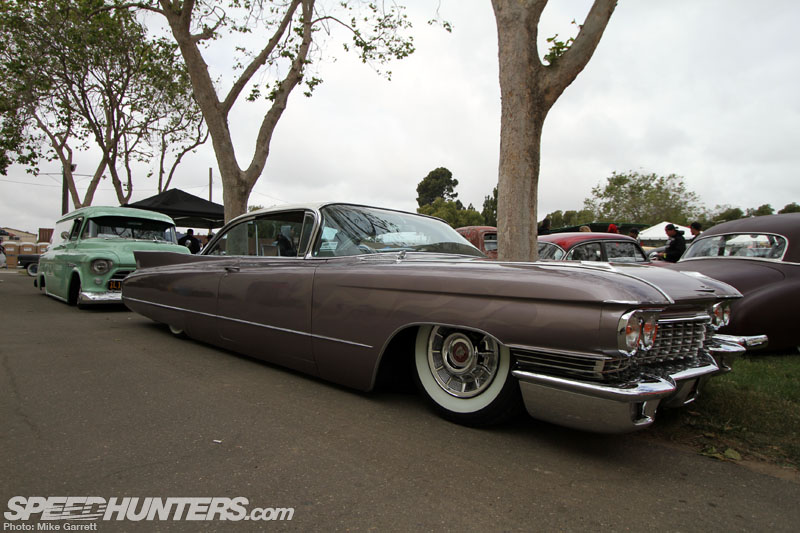 Long, low, and awesome. Look close and you'll spot some subtle ghost flames painted on the front end of this Caddy.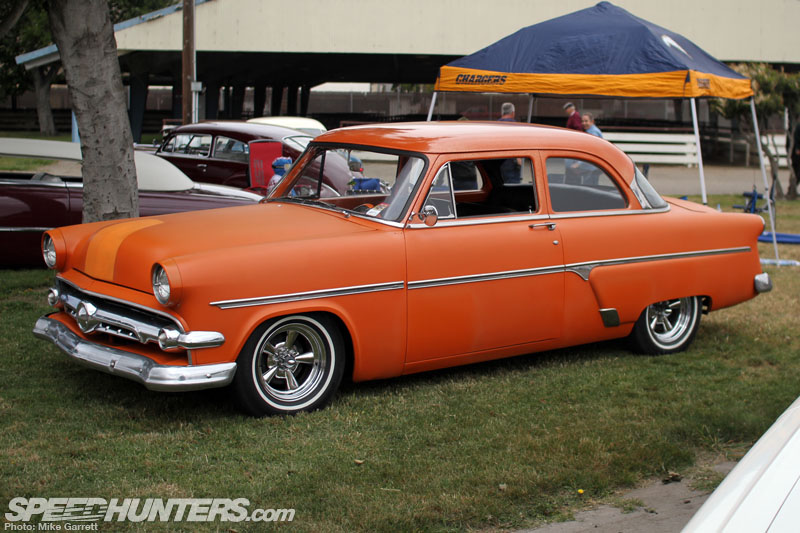 Here's a mild take on a '54 Ford done in satin orange. The ride height is low but not extreme, giving it the vibe of a car you might see in the early '60s.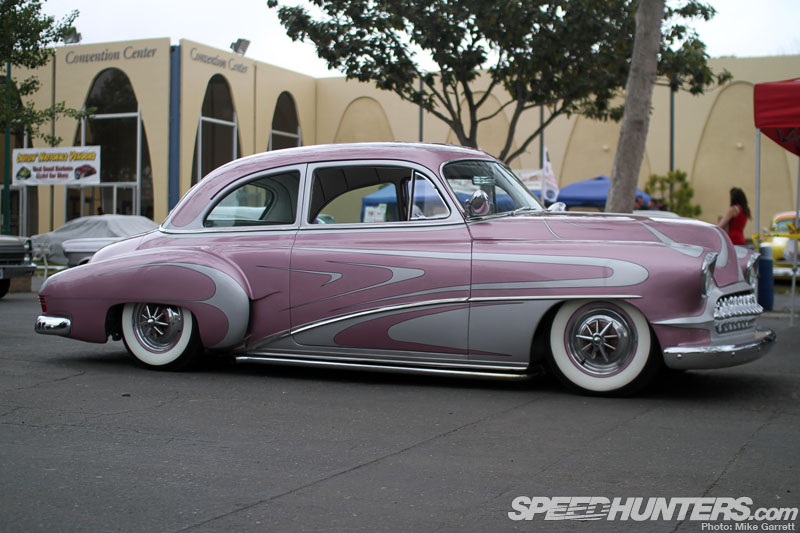 The late Larry Watson's '50 Chevy, known as the "Grapevine" is an iconic machine in the custom car world. It was very nice to see it among the mix of cars in Santa Maria.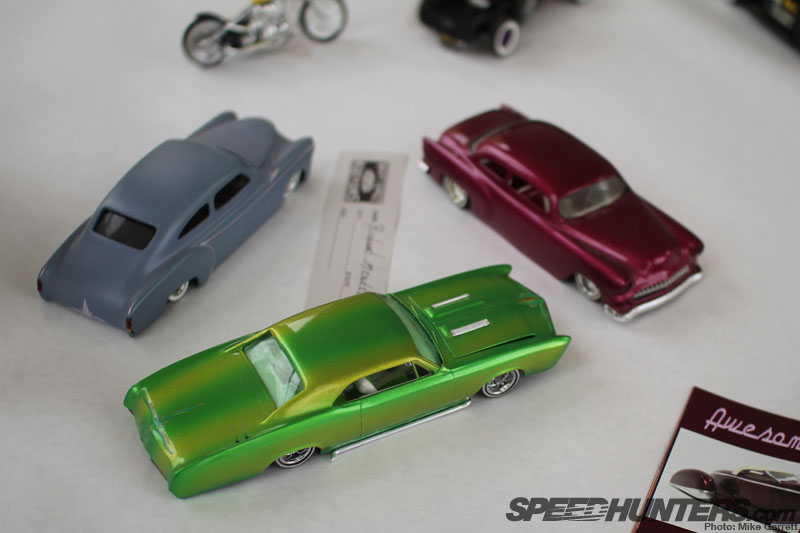 No visit to the Cruisin' Nationals is complete without a look at the scale model contest. There's always impressive plastic craftsmanship to be seen here.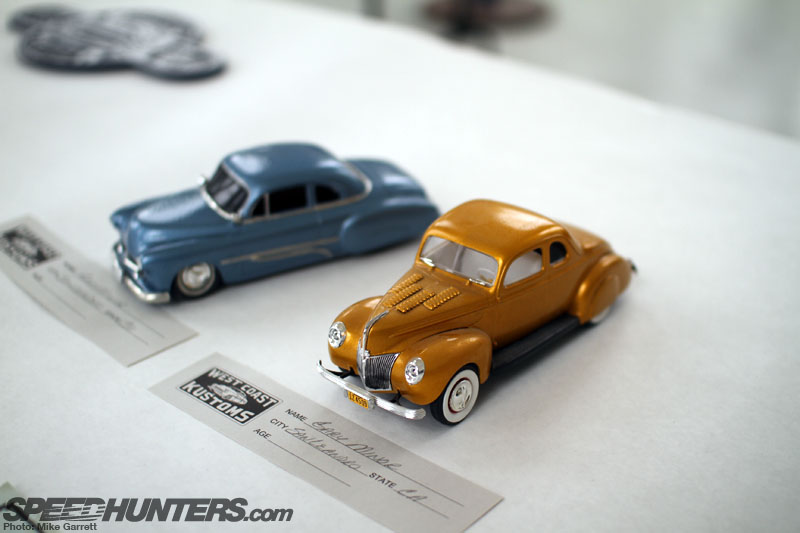 The selection of models perfectly mirrored the styles of the full size cars sitting outside.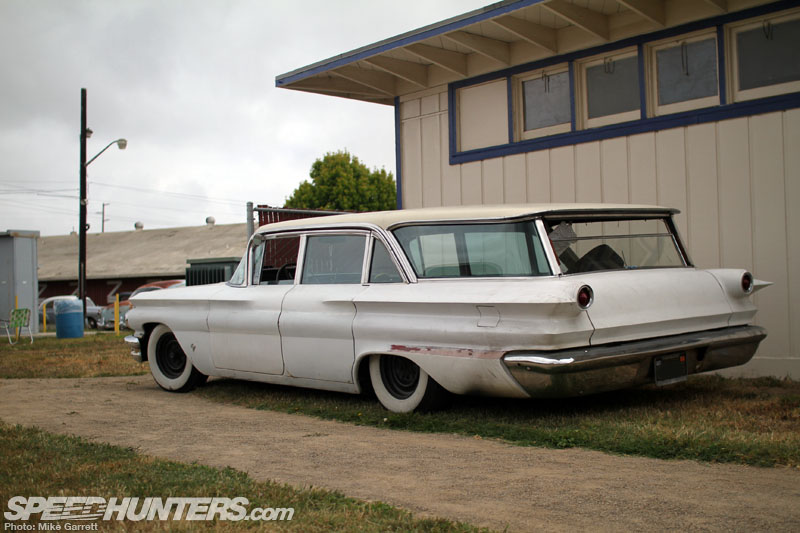 Long before the SUV rose to dominance, big station wagons like this '60 Pontiac were the family car of choice for Americans. Many of them came equipped with an extra rear-facing seat in the back, which can be quite entertaining for kids that want to make funny faces at other motorists as mom and dad drive down the road.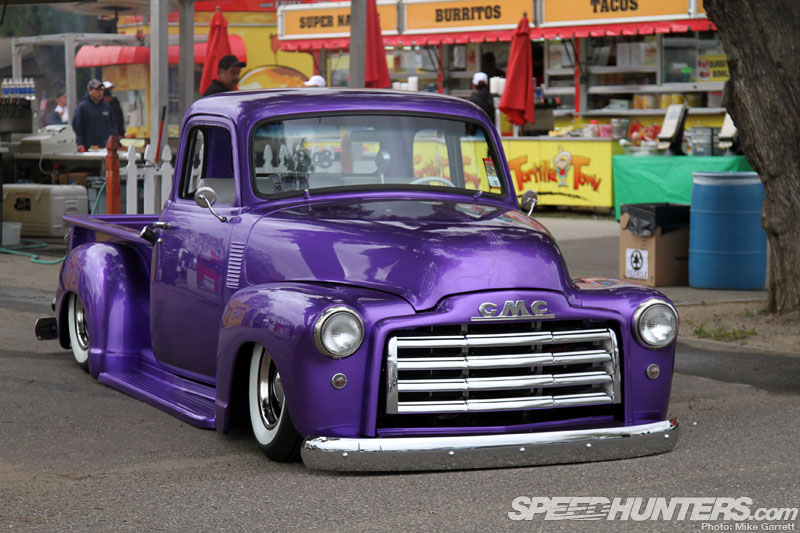 Here's one more for the pickup truck fans, a fat-fendered GMC sitting on the ground.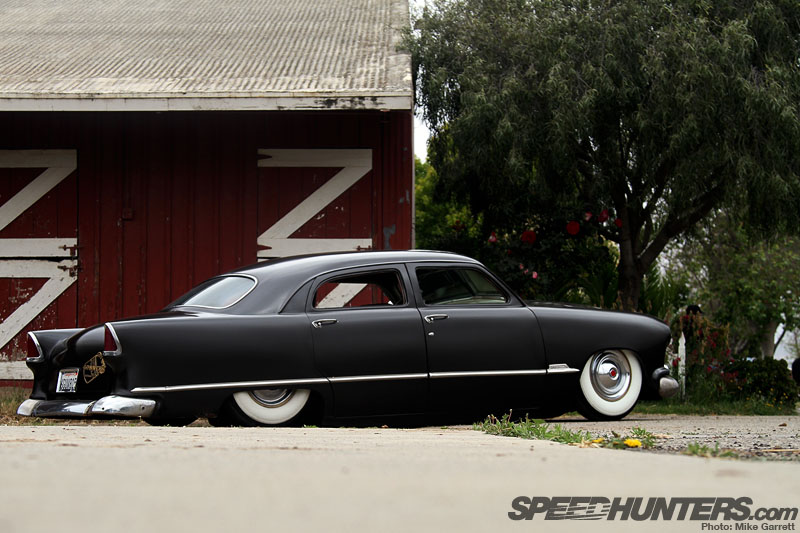 With that I'll bring my main coverage of the 2012 Cruisin' Nationals to a close. I do have of a couple car spotlights to share, as well some desktops so again if you have any requests post them below and I'll do my best to get them up for you.
-Mike Garrett