Yes, that is a pair of 30mph speed limit signs with a KP30 between them. It only occurred to me afterwards what I'd done. When I asked Rob if the fully-functioning, thermostatically-controlled oil cooler had ever proved vulnerable, he answers: "I've easily done 10,000 miles in this and the oil cooler has been there since I put it on the road. I've not impaled any kids or animals, or damaged it… So it must be a safe bet."
When I wrapped up part one, I was teasing you with tales of engines and Japanese-sourced differentials. So let's get down to the real story of how this KP has evolved over the last six years since Rob first built it up.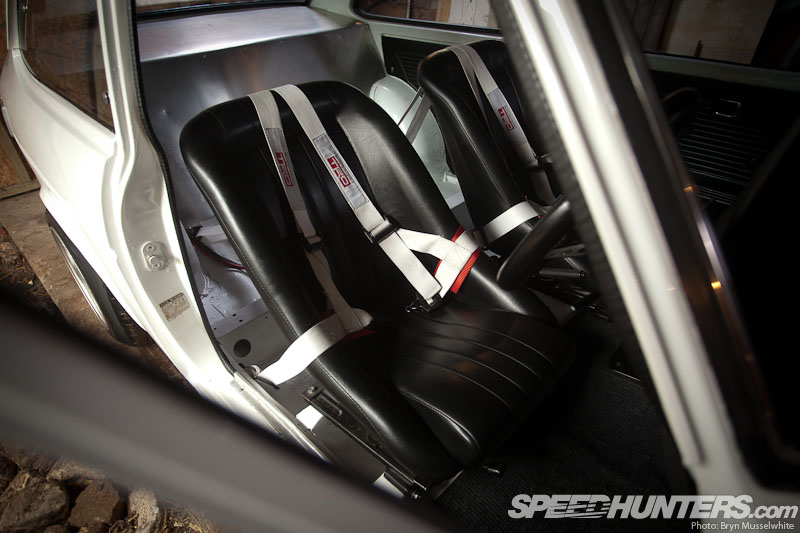 The interior and paint are just about the only parts which haven't changed.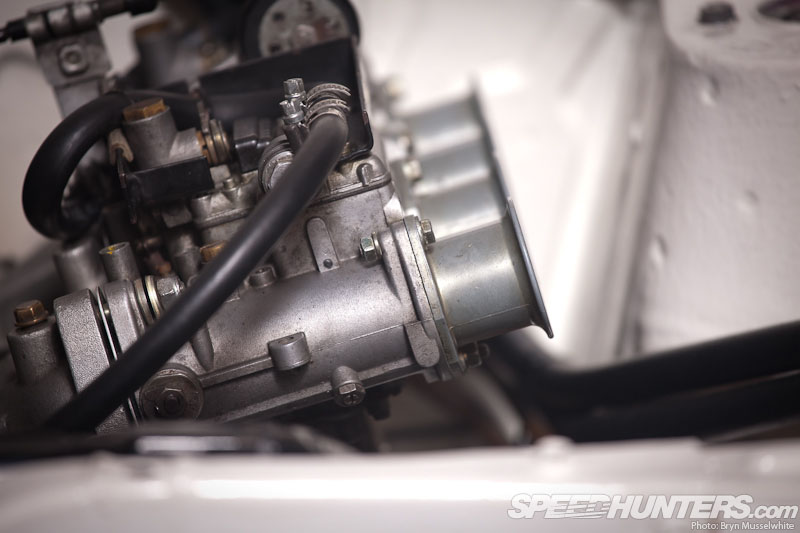 "The engine was initially the original 998cc 1K, because it was my daily driver. Then I spotted a 4K engine out of a KE70 Corolla for sale on the Driftworks forum. So I dropped that in and it went quite well."
Rob knew that ultimately only one engine would do for this period-inspired project, and that would have to be a 5K. "They came in Toyota Lite Ace vans so they're quite rare in the UK. Then I spotted one for sale in London, advertised as a good engine."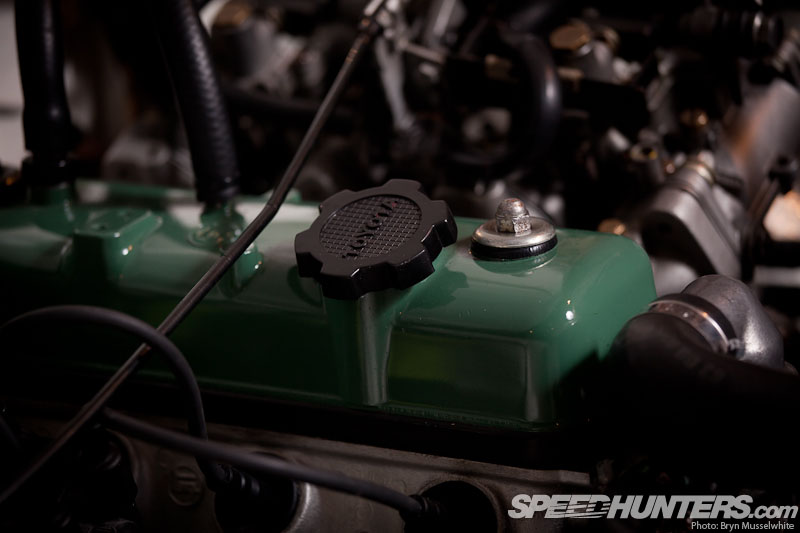 To slot a Lite Ace-sourced 5K into a KP30 you really need a Starlet sump. But the seller had used the existing sump which meant clearance was an issue. "The sump had kissed the crossmember, which in turn had caused a hairline crack. The engine had run dry and spun a bearing."
As any true Speedhunter would, Rob rebuilt it and made it better.
What he's also done is even more subtle if you're not familiar with the 5K engine. Normally it's mounted on a slant, so the carbs would sit level. Trouble is the carbs would then foul the inner wing on the KP and Rob didn't want to go cutting them about. So custom-made engine mounts mean it now sits upright.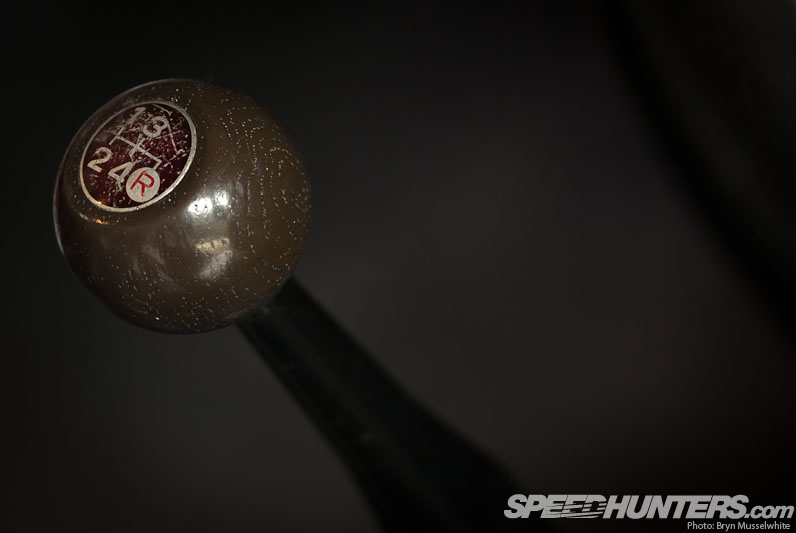 Despite appearances it's actually a K50 five-speed box on a custom mount with a superlight flywheel that you'll find under that TA22 Celica gearknob.  Fake wood grain? "So money," as Rob says…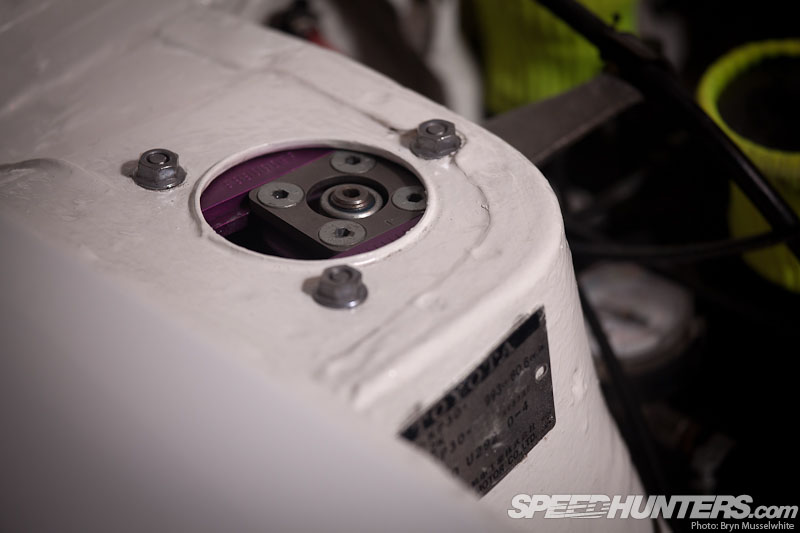 Under the bonnet the bay has been painted in protective style – not for show, but more to make sure this baby Toyota is still pounding the streets in another 30 years. Rob converted the front struts himself to run coilovers. These have been re-valved and shortened three inches, including all the internals. Those top mounts? KW Suspension World Touring Car pillow ball.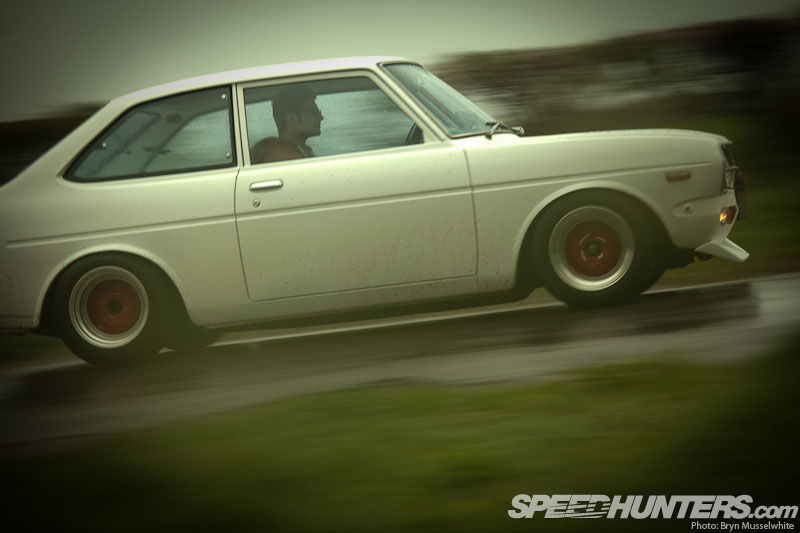 The one thing that confuses most UK drivers is just what make and model the KP is.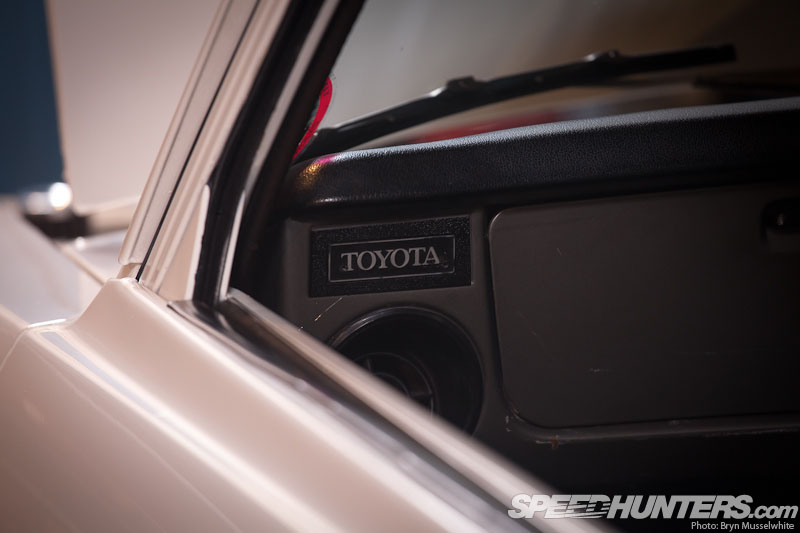 Rob's pure white respray is still looking good after six years and the only badges you'll see are on the boot and dashboard. Rob deleted the door mirrors too, resisting JDM wing/fender mirrors. From Mk2 Escort to Fiat Coupé, Rob has heard them all.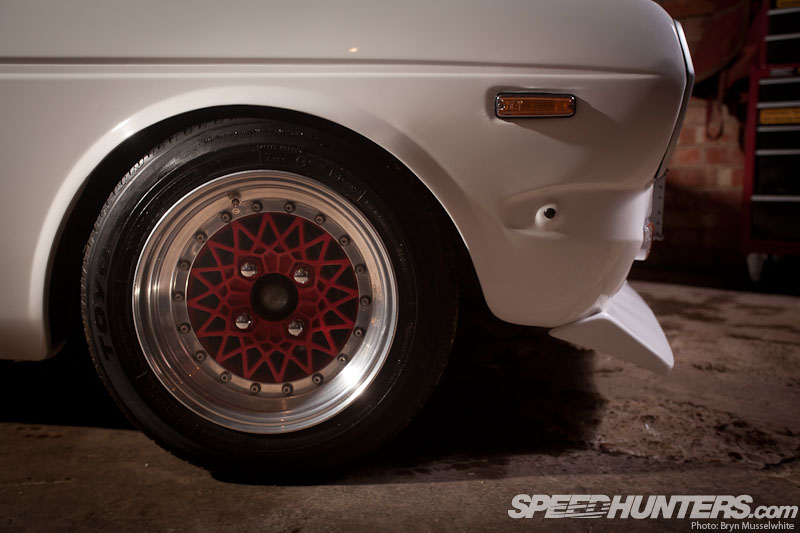 On the front, the Compomotive CX three-piece rims are 13×7.5in wide. When it comes to the brakes they cover, Rob has fully rebuilt them with just the addition of fast road pads.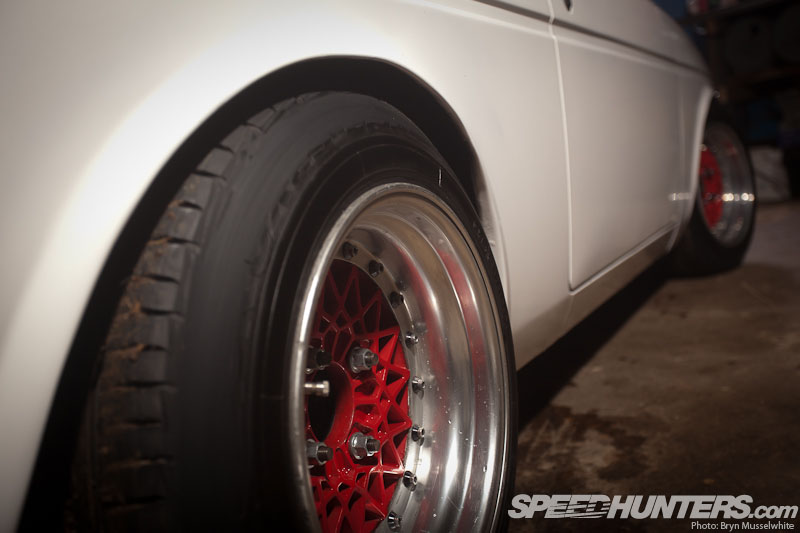 At the back the Compomotives are a touch wider, nine-inches wide to be precise. Finished with gloss red centres, they really don't look out of place with the overall finished style of the KP. Clearance can be a bit of an issue though, even with the pulled arches. We guess that might have something to do with the de-cambered rear springs.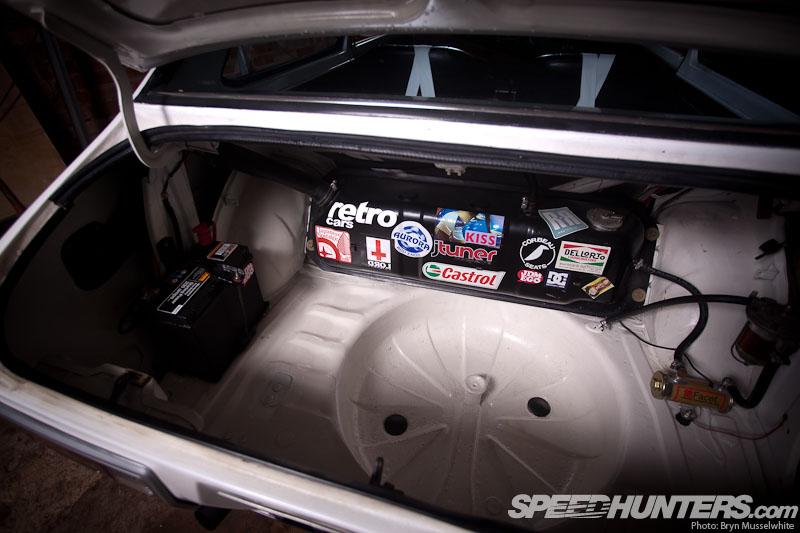 Hiding under that boot floor is a great story that shows just how far Rob has come since his early blinkered days of being a one-make man. We'll get him to explain: "I put it on my blog that I was looking for a limited-slip differential. I turned one up in NZ and another one in Ireland – one needed rebuilding and the other was an unknown quantity. Then Koji Iwasa from Cha Cha Racing Family in Japan got in touch. He'd seen my request, bought one on Yahoo.co.jp and even sent me pictures and measurements. He then put a video up on YouTube of him spinning it with his hand… I was like, yup, I'll have that then."
When the diff arrived, packed in with it were rare stickers and magazines, so Rob duly sent a goody bag back to Japan of UK-sourced stuff.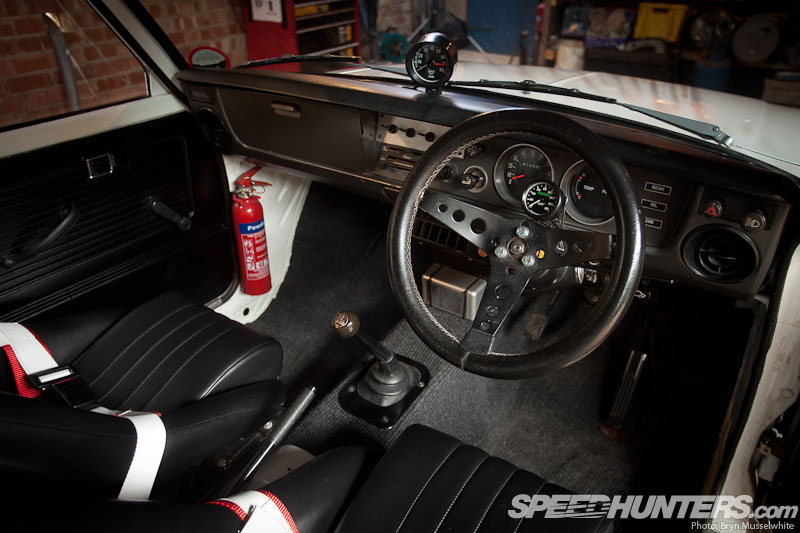 One other thing that Koji packed in was the TRD capacitive discharge ignition unit you can see here on top of the transmission tunnel. Rob just smiles and says, "I've got no idea what it does, but they put them on all the fancy race cars which made it cool enough for me."
Rob probably does know what it does; he knows a lot of things. Take a look at his blog, or as he calls it, "Project jesus christ I should really get a life and stop dicking about with old cars as nobody is impressed". Well we are Rob, so carry on.
For us his KP is a massive mix of style, influence and observation that works so well. Sat in that low-back Cobra bucket seat, with a TRD harness holding you in, you could almost see the world from here…
Bryn
Specification
1976 Toyota 1000 KP30
Engine – 5K 1,500cc, fully rebuilt and up-righted on custom engine mounts, lightened and balanced bottom end, ported cylinder head, Kent T125 cam, solid lifter conversion with lightened push rods, Twin 40 Dellortos on Redline manifold, Facet red-top fuel pump, custom 4-2-1 exhaust manifold, custom system, external thermostatically-controlled oil cooler, re-cored radiator and electric fan
Transmission
Superlight flywheel, K50 five speed manual gearbox, LSD
Suspension
Converted to coilover on front with KW World Touring Car pillow ball mounts, rear leaf-springs decambered and body converted to run Mini GAZ adjustable dampers
Brakes
Rebuilt discs and drums, uprated pads
Wheels and tyres
13×7.5in front and 13x9in rear Compomotive CX three piece split rims with 165/65 and 185/60 tyres
Body
Resprayed in brilliant white, deleted mirrors and bumpers, narrowed (30mm deeper than stock) Bonrath fibreglass Golf GTi splitter, arches pulled to fit wheels
Interior
Cobra Classic bucket seats, TRD harnesses, Snap-Off steering wheel boss, radio replaced with toggle switch panel, rear stripped out with alloy firewall
Rob's Racer86 blog for loads more info on the rest of his stuff