One of the things that makes the BHP Show unique is the live action. The chances are that the cars you will have been looking at on display will at some point be out giving it death on track.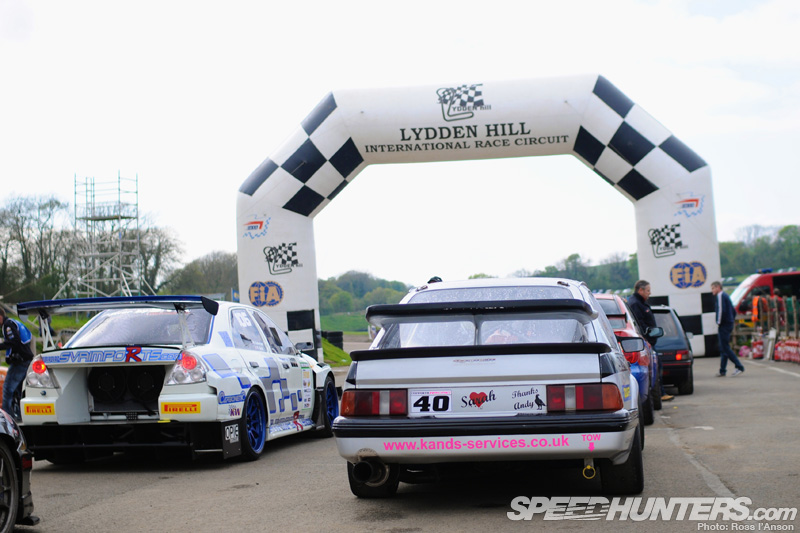 The recipe is simple. Whatever you drive you're welcome to take out on track, either in the public sessions or the fast-car demo sessions.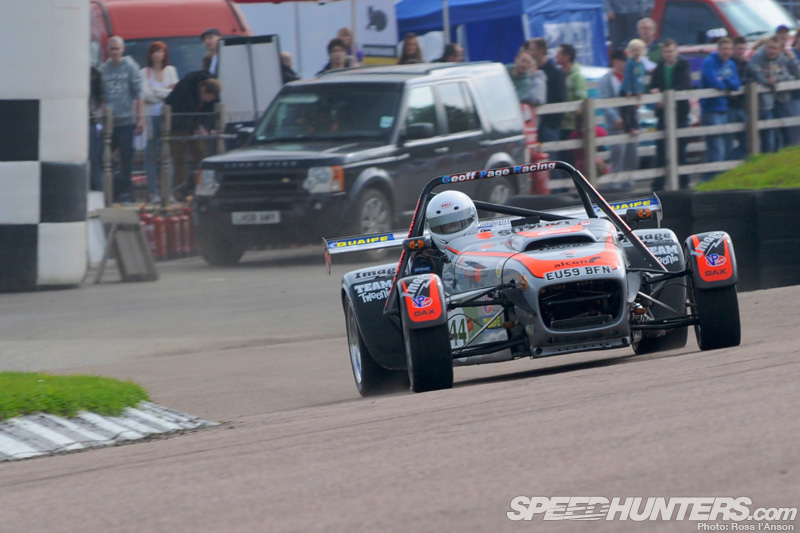 Be it an insanely fast, purpose-built track car with a turbo from a Formula 1 racer…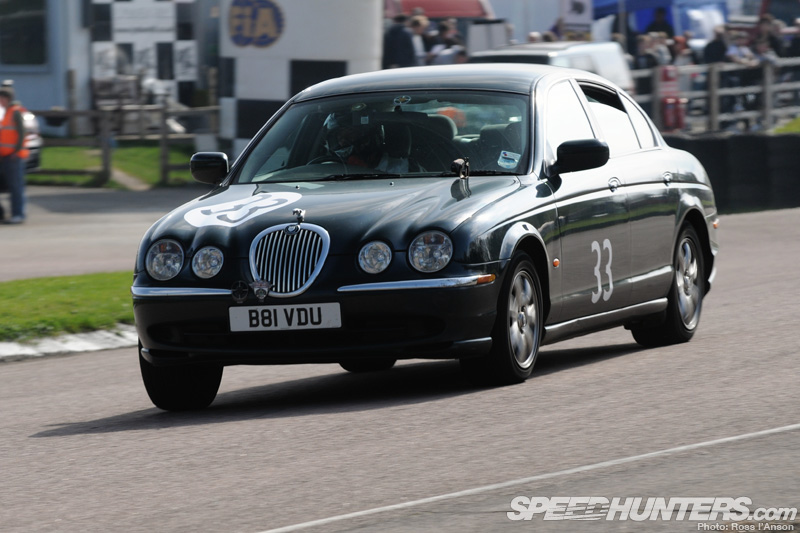 …or the daily driver that you have driven to the track. In 1878 the law that required a man with a red flag to walk in front of any driven automobile was lifted. Just nine years later the very first organised car race was held. 60 years later the first human travelled faster than the speed of sound. That says something about human nature and its never-ending pursuit of speed.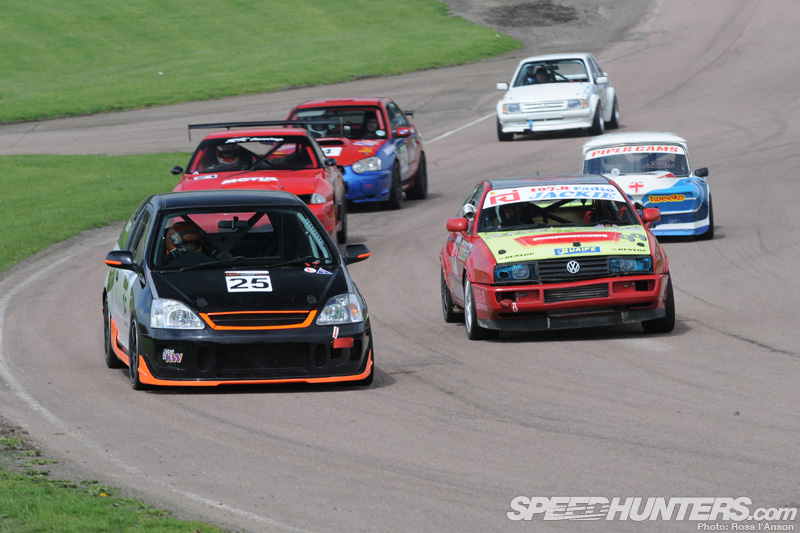 'Feeling the need.. The need for speed' is an over-used cliché. But it's true. A roller-coaster delivers thrills, but driving a car, any car, as fast as you possibly can without fear of the authorites or a horrible accident involving another road-user delivers thrills on a whole new level.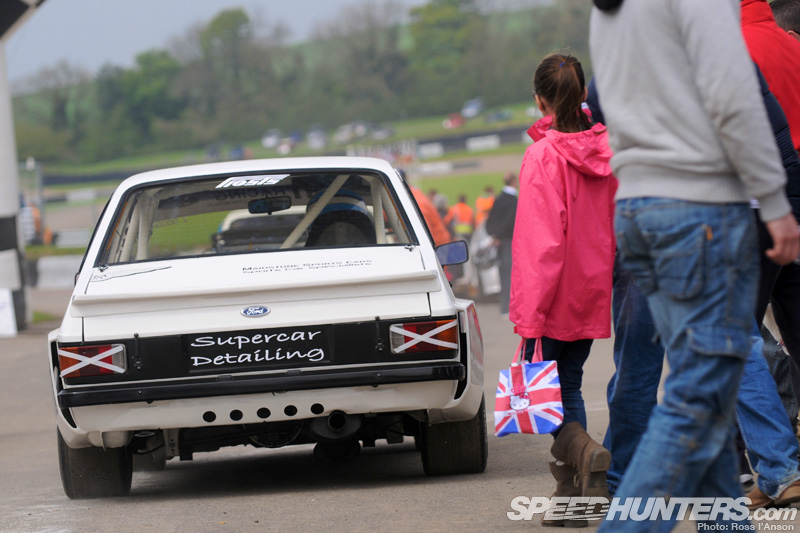 That's what makes public track days and events like the BHP Show so successful.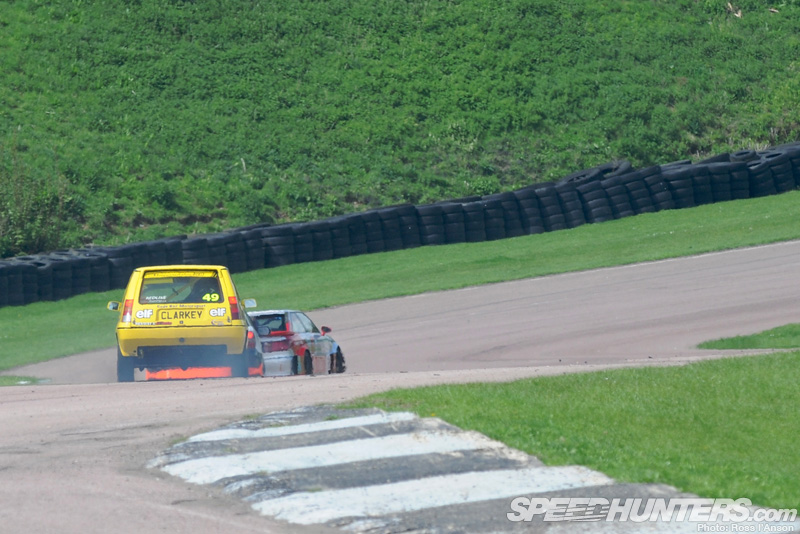 You can watch other people out on track, then pay a nominal fee, put on a crash helmet and get out there and do it for yourself.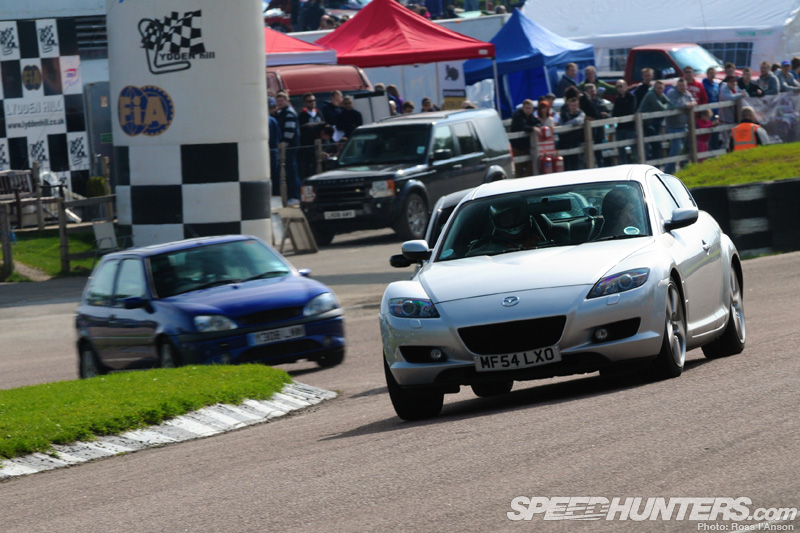 You will never reach your car's full potential on a public road. The feeling of going though a series of bends and feeling the car working beneath you. The grip and slip of the tyres. The weight transferring through the suspension as you power out of a turn. These are things you can't beat, but that you can only properly experience on a track. But be warned, it's as addictive as any drug. Once you have your first hit you will be wanting more.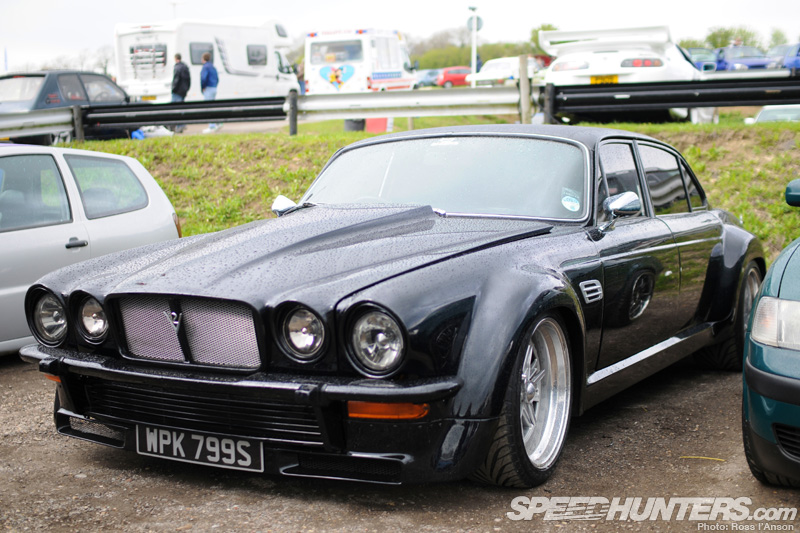 You just know that some cars won't be particularly good around a track. But (and using the image of this wide-bodied, nitrous-breathing V12 XJ12 Jaguar as an example) that won't detract from the fun factor.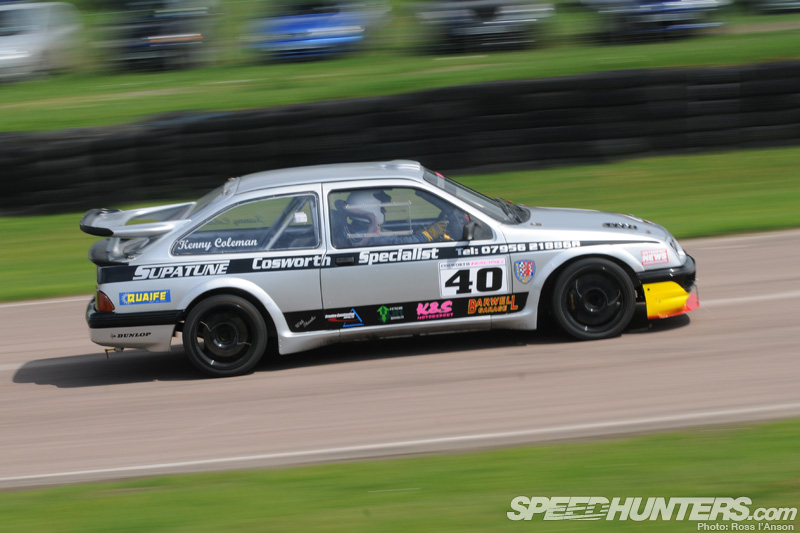 On the other hand, there are cars that you just know will be better on track than they ever will be on the road. A car designed with pure performance in mind will never be at its best on the weekend run to the supermarket.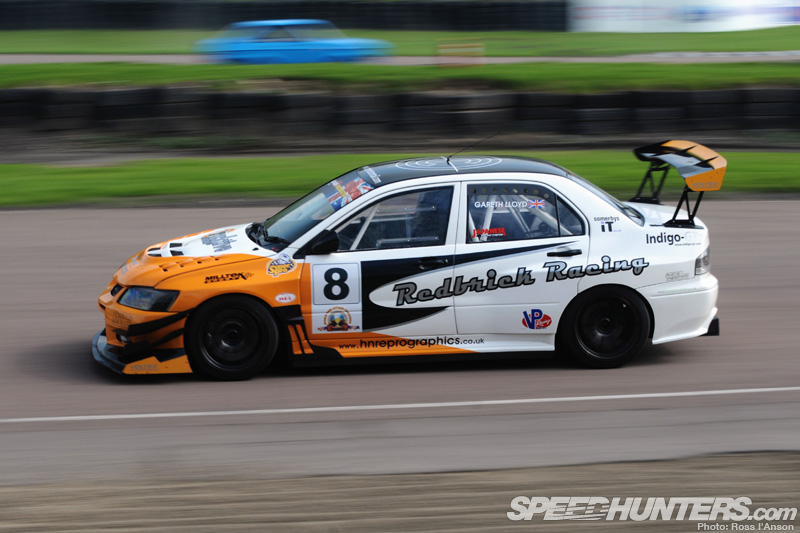 That slightly irritating vibration as you go over the repair in the road by the post office. The harshness of the suspension that spills your takeaway Starbucks as you go over the speed-bumps when you enter the retail park. That will all be forgotten when you take your car to the track and use it how the designers envisaged. All performance-based cars are a compromise between pure performance and everyday usability.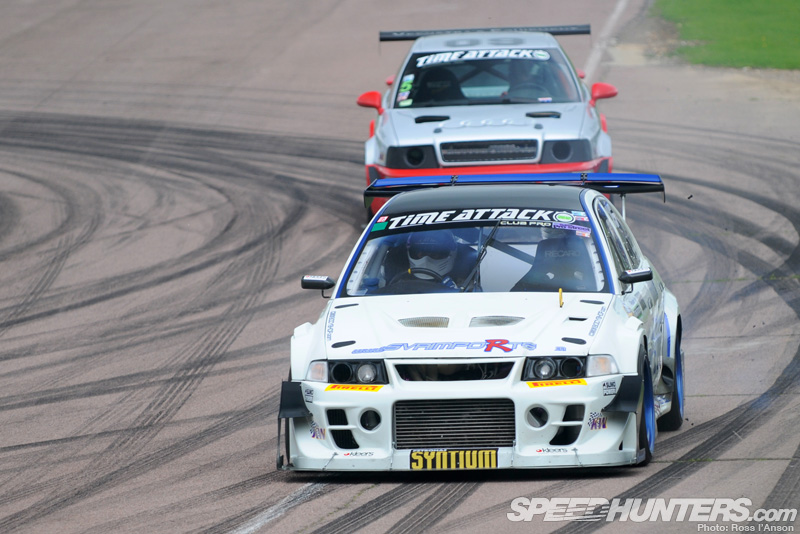 It's only when you take them on the track that they become truly alive.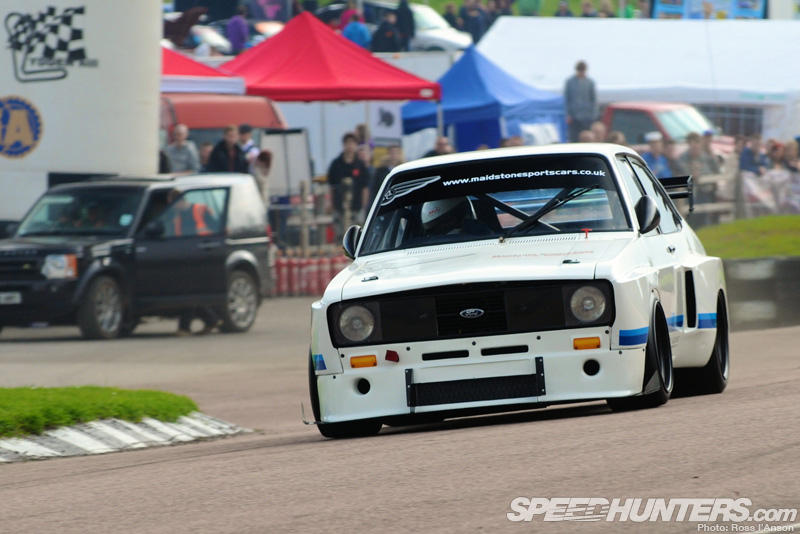 At one point in its life this MkII Escort was a standard road-going model. Probably used for the school run or picking up the weekly shopping. Just look what 20 years of the pursuit of speed have done.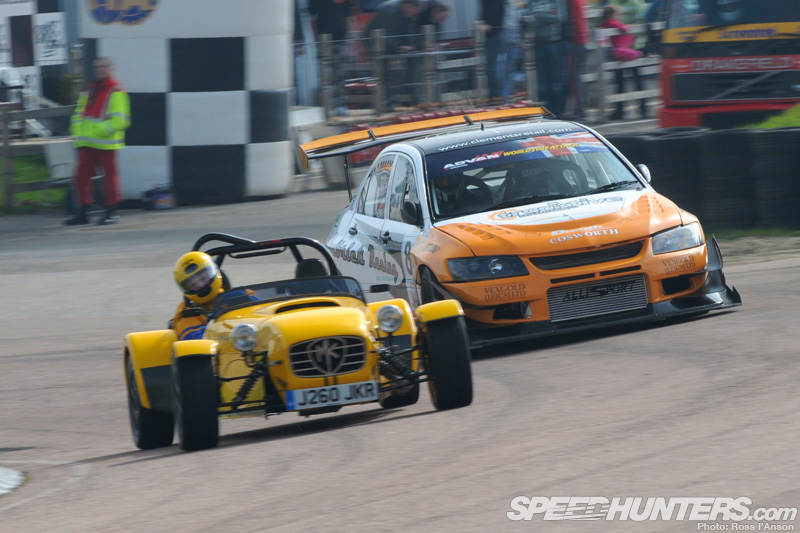 It doesn't matter what you drive or what your budget is. A relatively inexpensive home-build kit-car will deliver the thrills, if not the outright speed, in the same way a purpose-built racecar will.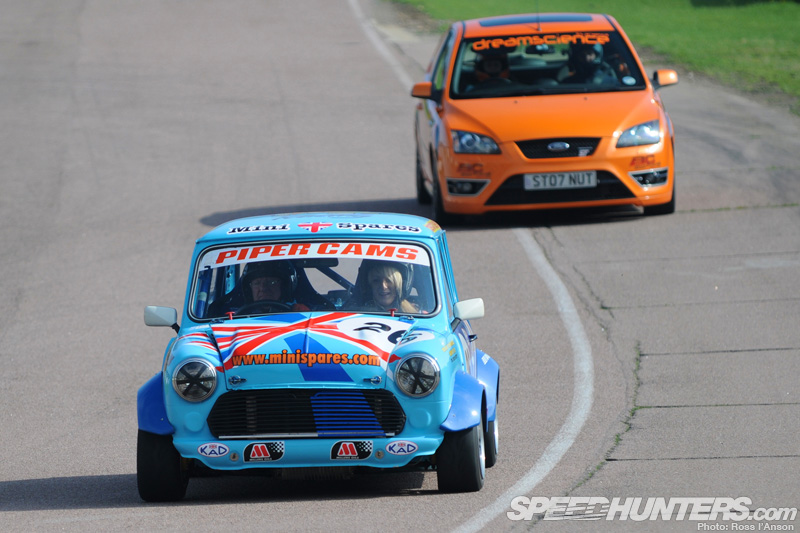 Even the humble Mini can be a devastating track car with the right modifications and a level of commitment behind the wheel.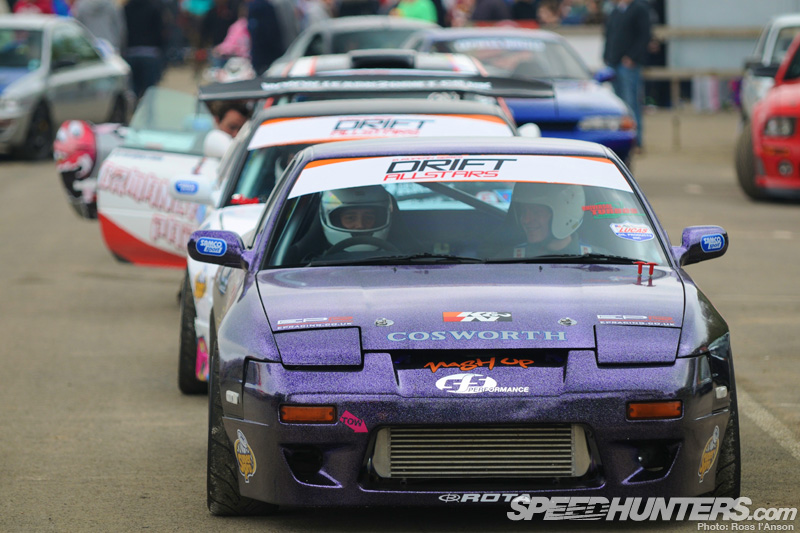 Back to the show itself, among the major attractions were the professional drifting demos held throughout the day.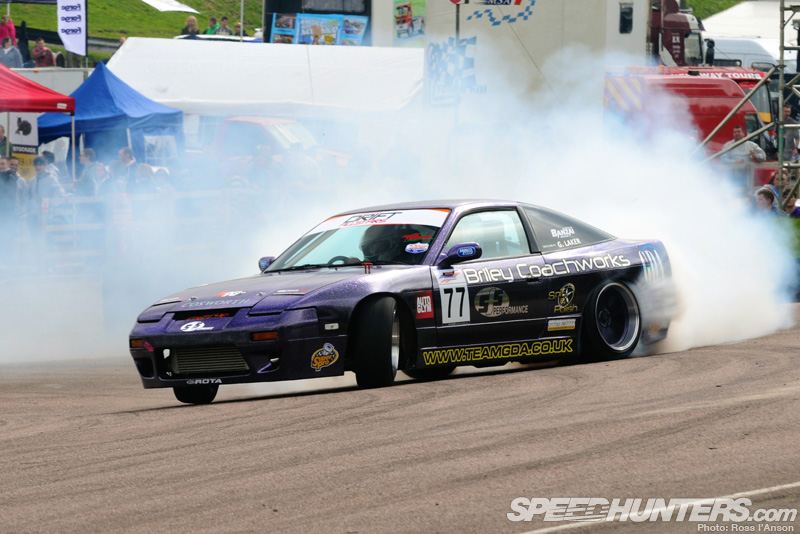 As we all know, drifting is never the fastest way around a corner. But it's certainly the most spectacular!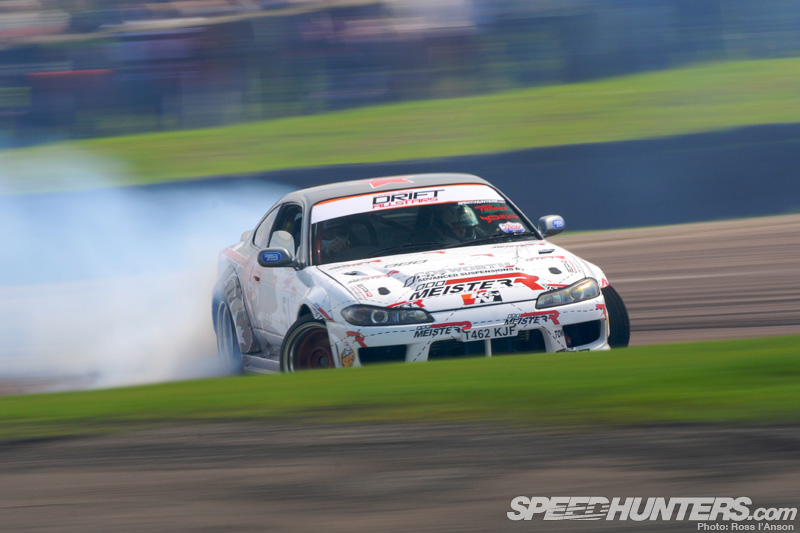 A car entering a corner at 100mph with smoke pouring off the rear tyres sounds like a recipe for disaster. But that's what makes it so exciting.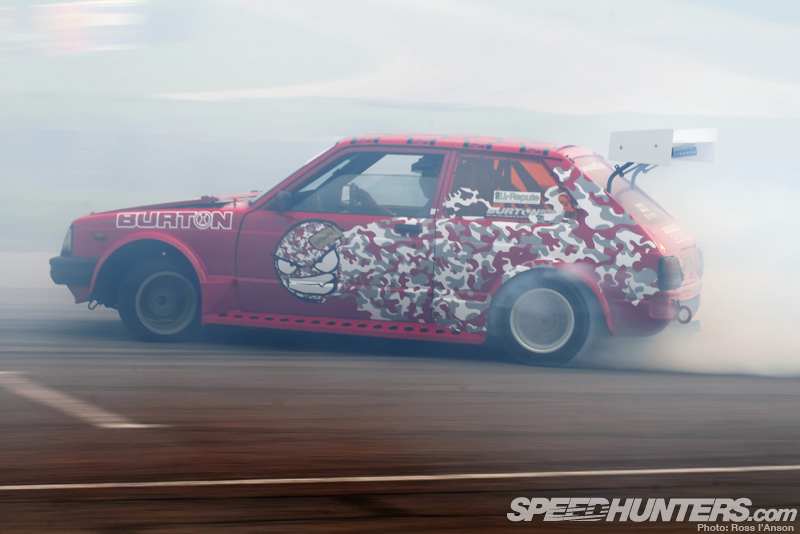 Unfortunately  for us photographer-types it raises another problem. Eight drivers putting on their best for the paying public with little wind to clear the tyre-smoke equals one lap to get your shots before you are shooting though a thick pall of smoke!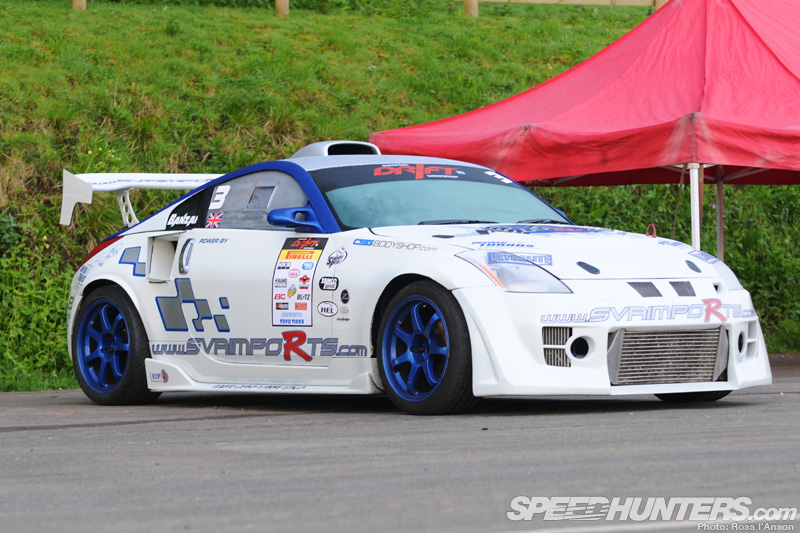 I spoke about the 'Luney challenge' in my first report from the BHP Show. The challenge was simple: Team SATS' Mark Luney was to be reunited with the car with which he won two European Drift Championships, the SVA Imports 350Z.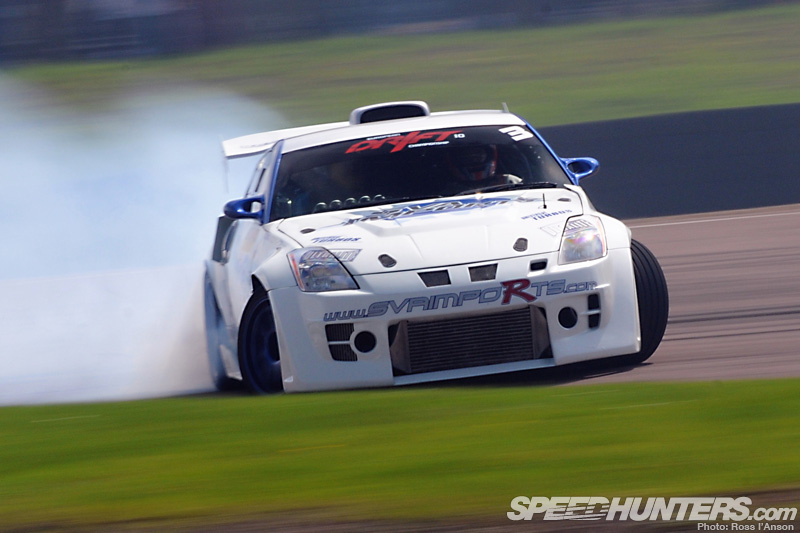 To complete the challenge he would have to link the entire Lydden Hill track in one continuous drift, including the upper loop that isn't normally used in drifting.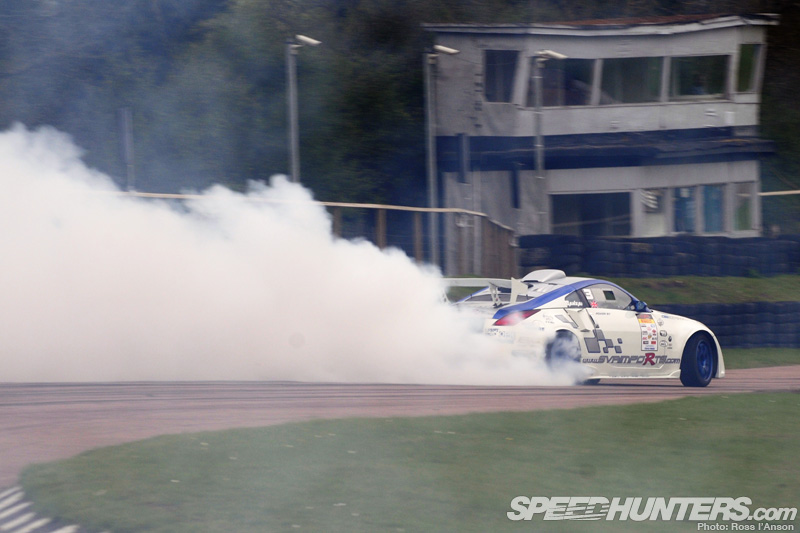 Even though Luney had not driven the car in two years it seemed as if he was meeting up with an old friend. Within half a lap it was like he had driven the car the day before.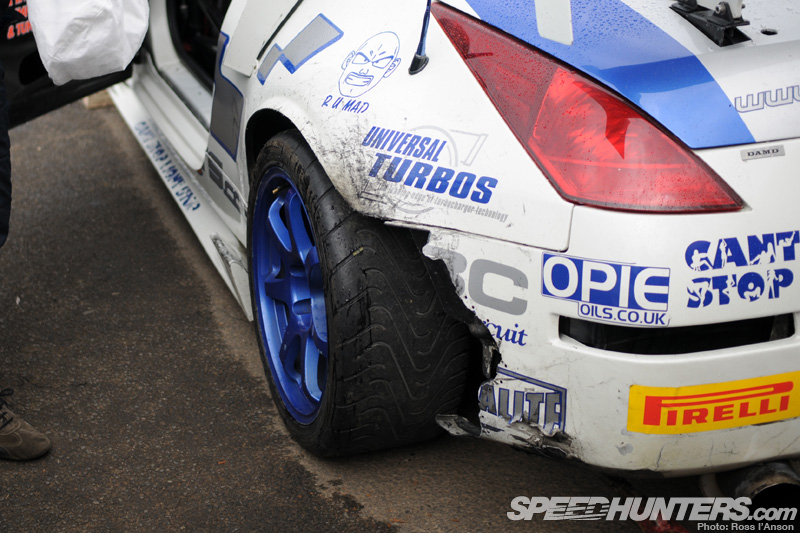 Unfortunately the challenge failed – not because of driver skill or car malfunction but because of simple physics. One mile of challenging track and 600bhp equals extreme tyre wear, and even backing out of the longer straights meant the SVA 350Z was unable to make a set of rears last longer than a lap before the grip burned away to nothing and the tyres exploded.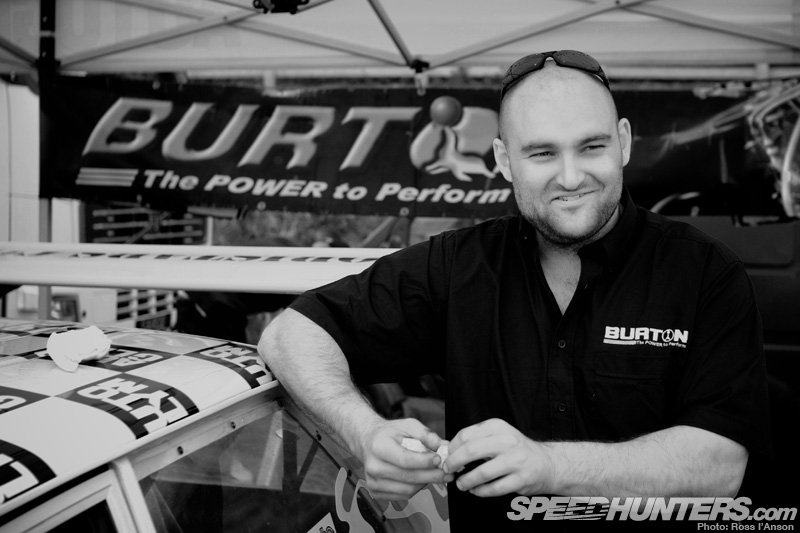 Success or failure, the challenge was certainly great to watch. And that was what the whole day was about: no pressure, no results, just get out there and get back to the basic principals of driving fast. The fun factor.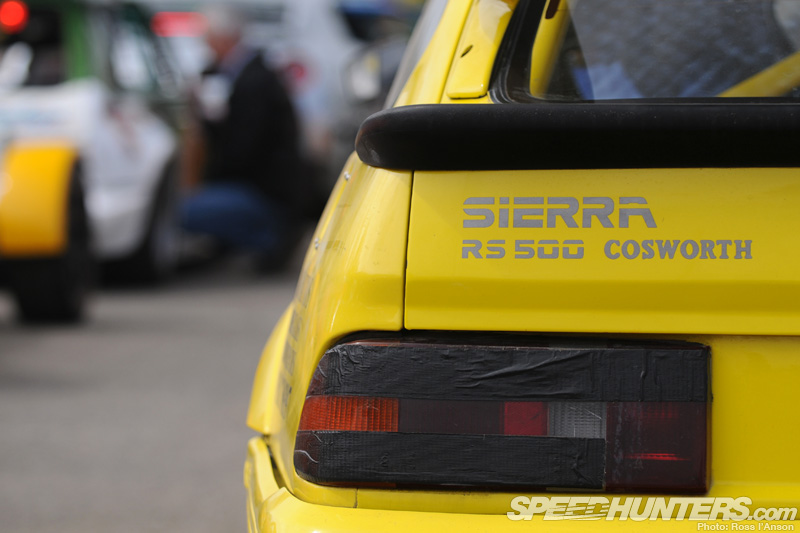 It's always great to see cars that you would never normally see out on track being driven. From ex-BTCC Sierras RS500s…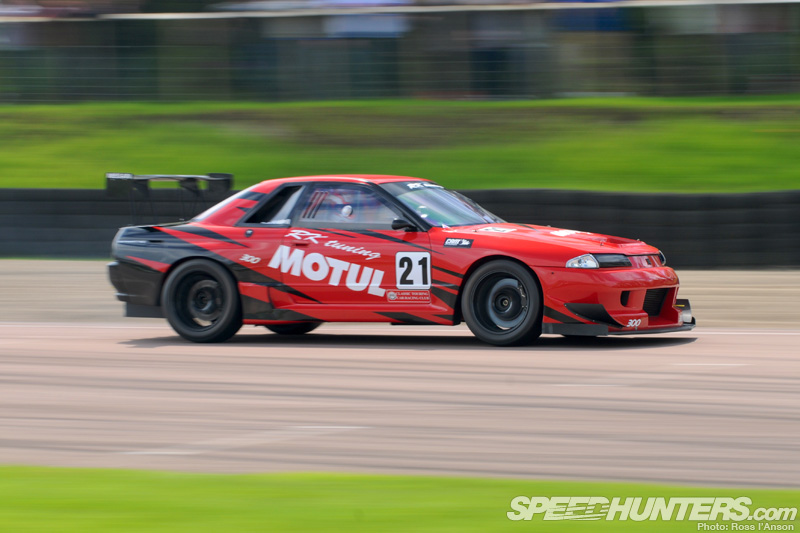 …to the amazing RK Tuning R32.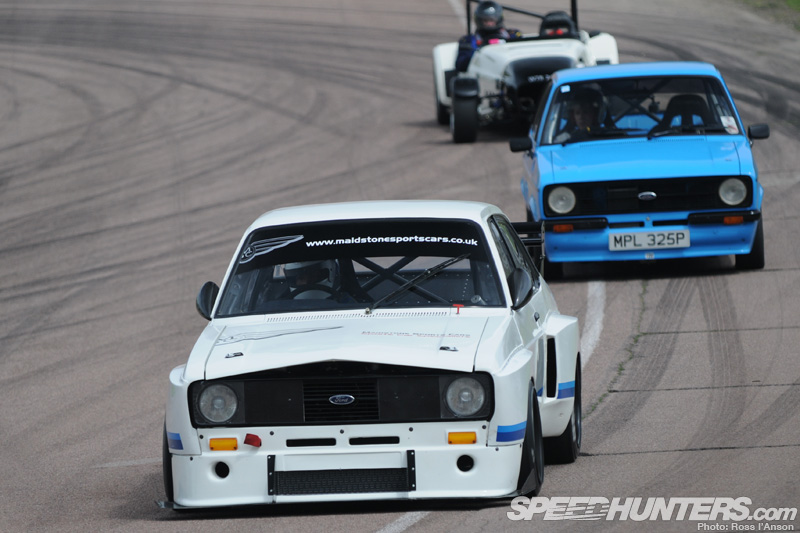 This was something I have never seen before: the bonnet of the X-Pack YB-powered MkII Escort looked designed to crease in the middle under speed – I can only imagine this is to aid cooling.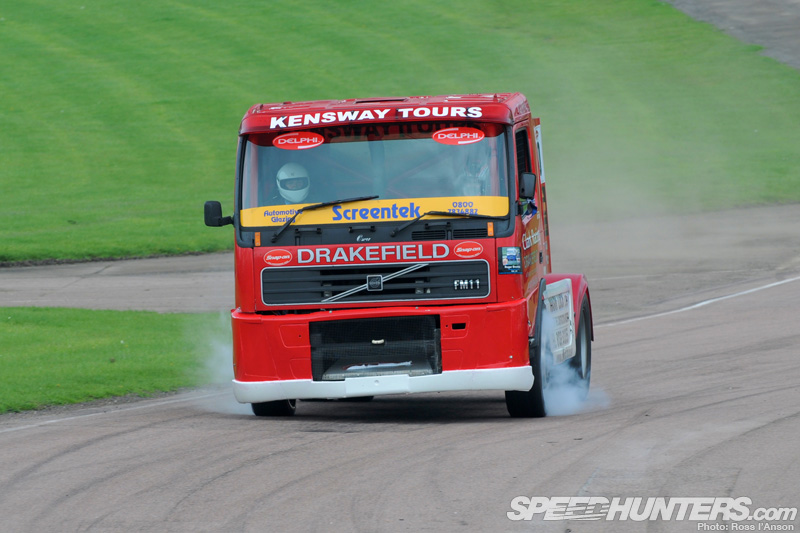 One of the demo sessions was a racing truck. I have never felt unsafe on the infield at Lydden Hill before, but watching the truck braking down from 100mph with steam pouring from its water-cooled brakes made me think my tyre-wall protection didnt look as substantial as it had done before.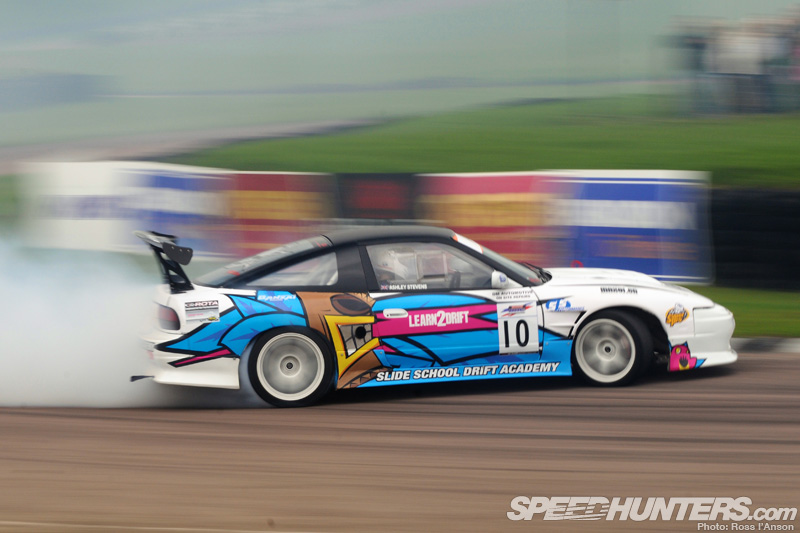 As the day drew to a close there was a final Pro drift demo…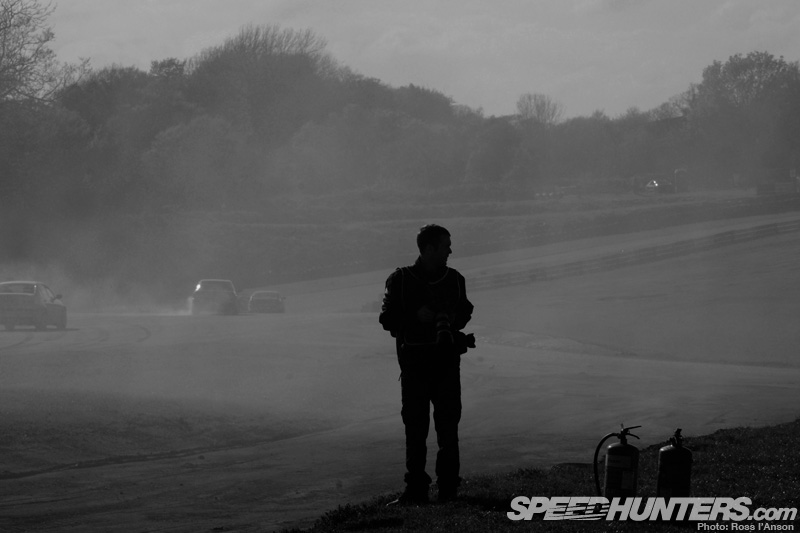 …that turned the track to smog once more.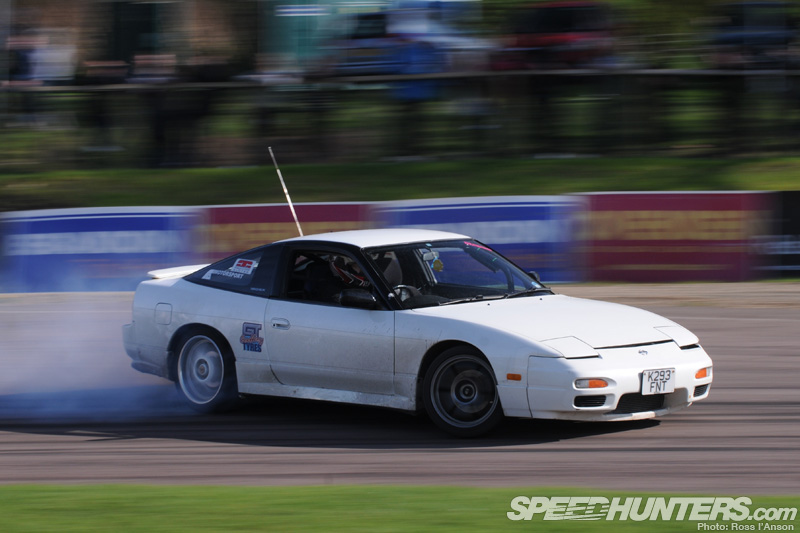 The final session of the day was a public drift session. Anyone with a rear-wheel drive car was allowed out to try their hand at drifting Lydden hill.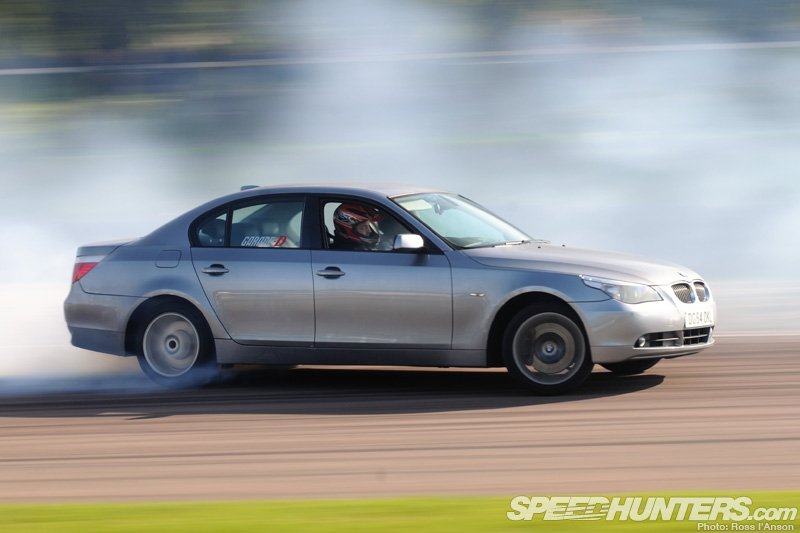 Garage D's Julian Smith couldn't resist a quick squeeze in his new BMW 545 daily.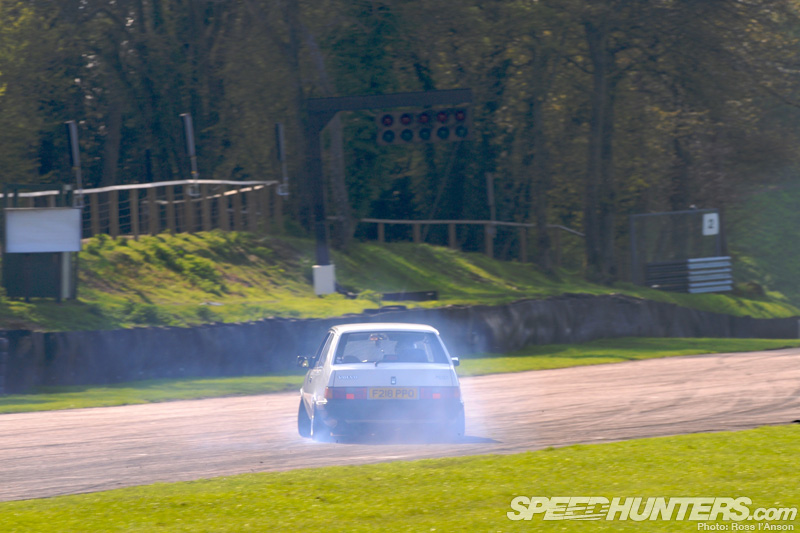 Hero of the day was without doubt Dan Firmagar in his Renault-powered Volvo 340. With only 160bhp he gave 110% commitment around the entire course. The vulture in me upped the shutter speed of the camera because if he was going to have an 'off' it was going to be a big one!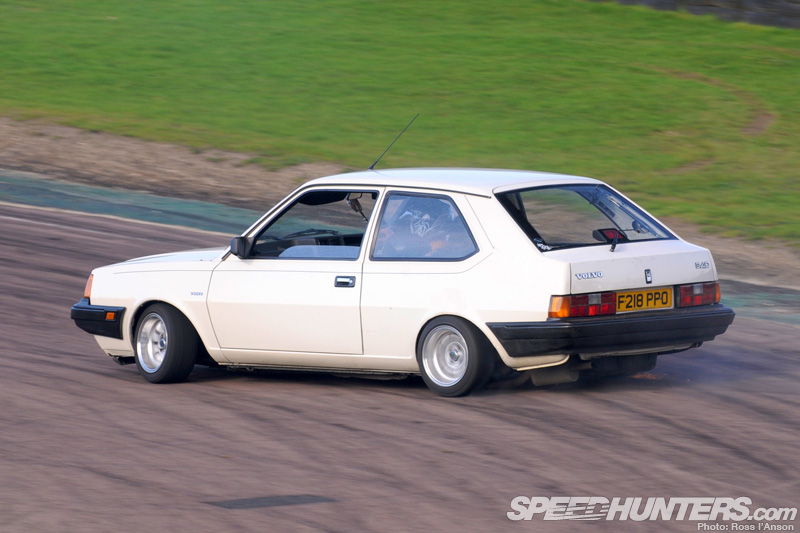 However, he didnt. Lap after lap he linked pretty much the entire track with heart-stopping high-speed manji'ing of the straights linking perfectly into the bends. As he entered the upper loop I noticed his rear tyres starting to spark and thought that was the end of his run.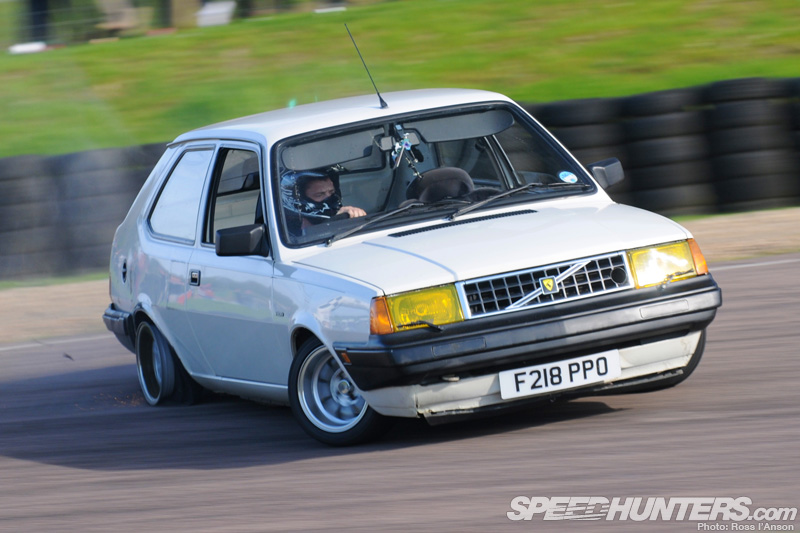 But no! The rear tyre gave out as manji'ed his way down Hairy Hill and left the rim completely as he entered the fastest turn of the course, Paddock Bend. Not that this seemed to make any difference: Dan just kept his foot in and carried on like nothing was wrong. Drift star of the future? Watch this space.
That almost brings my BHP Show 2012 coverage to close – I will be back at the weekend with some desktops.
Ross
Tags: BHP show 12, Drifting, Ross I'Anson, Time Attack
---
Hi, Thanks for posting a pic of my highly unmodified S Type Jag, I had a great day!
Will you do a spotlight/car feature on that super modified looking caterham? I'd love to see one on it!
Just realised thats an S13, but same livery. My bad
That S14 with 'learn 2 drift' on the side, and its twin came to a car meet in Ipswich (UK). I have heard them both revving up. Sounds good
saw some of these cars at autosport international!
can someone tell me why people put tape of head/tail lights?
Need that last pic as a desktop for sure!
Oh my word! I love Lydden! I used to go when I was a child!
Have you got any more pics of that Red KP??
good wright up simple with plenty of photos Good work
Sweet pics! Shame my track session wasn't snapped! :(
That lad in the Volvo wants a medal for keeping his foot in there! Well done...
The silver one was a Dax Rush!!!
 @Nikhil_P Usually, if they're ever in an accident it's to stop glass going everywhere :)