We live in a time when all you Speedhunters out there can check out Formula Drift events via live streaming from anywhere in the world, but only a lucky few of you might actually have the time and means to attend one of these events. When you're not here in person you can miss the little tidbits that make this kind of event just so amazing and unique from any other type of motorsport, so for this story I'll focus on what went on in the paddock before the main event. I had started my journey on the Tuesday before the event and I followed ASD from their shop in Charlotte, North Carolina, to the track in Braselton, Georgia.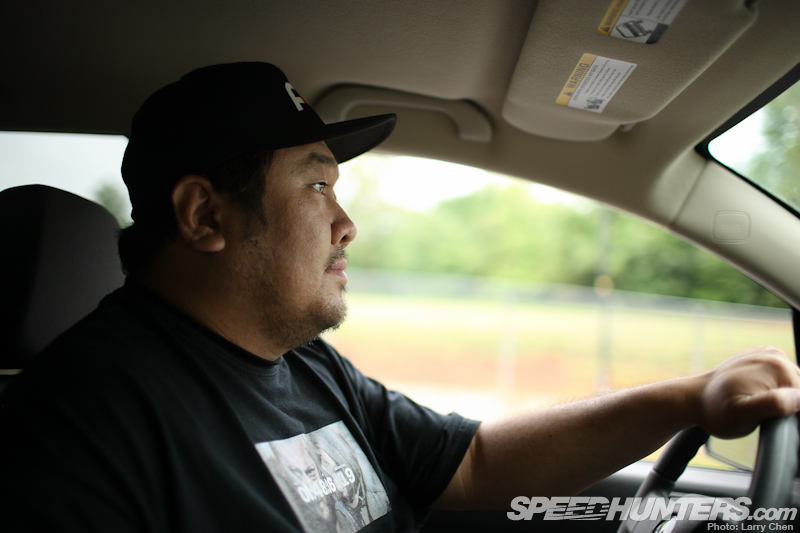 As soon as I got to the track I met up with Formula Drift director of operations, Andy Luk. He showed me the new course layout, so I could adjust my shooting locations based on the new configuration.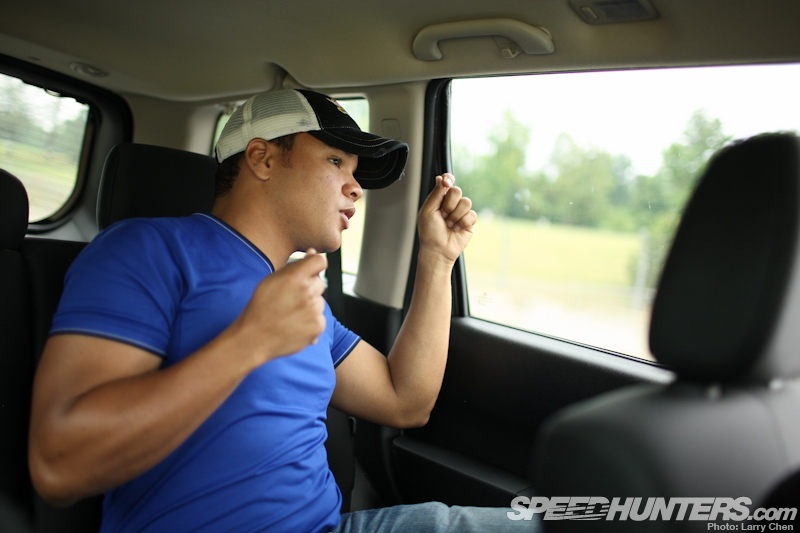 Riding along with us was Jhonnattan Castro from the Dominican Rebublic. He is an FD rookie and this will be his first time driving this course. As Andy drove the course Jhonnattan pretended to drift it.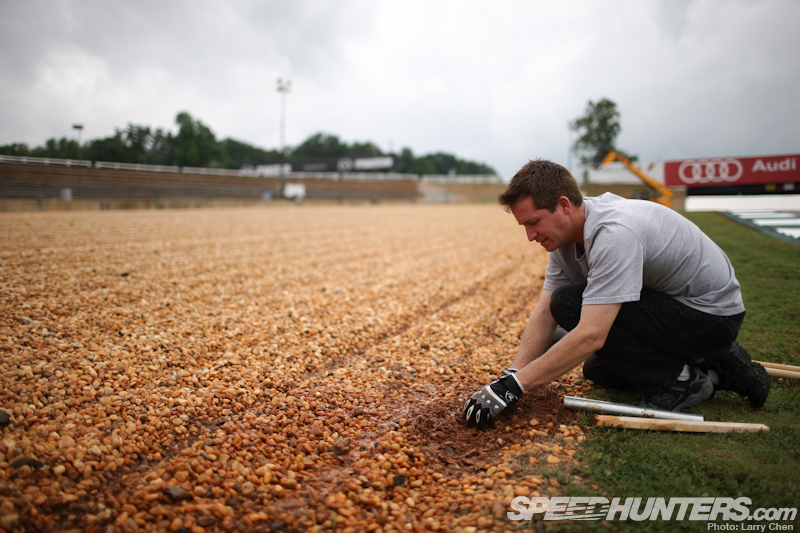 We stopped in the middle of the track and I found FD technical manager Kevin Wells playing in the Road Atlanta Sand box.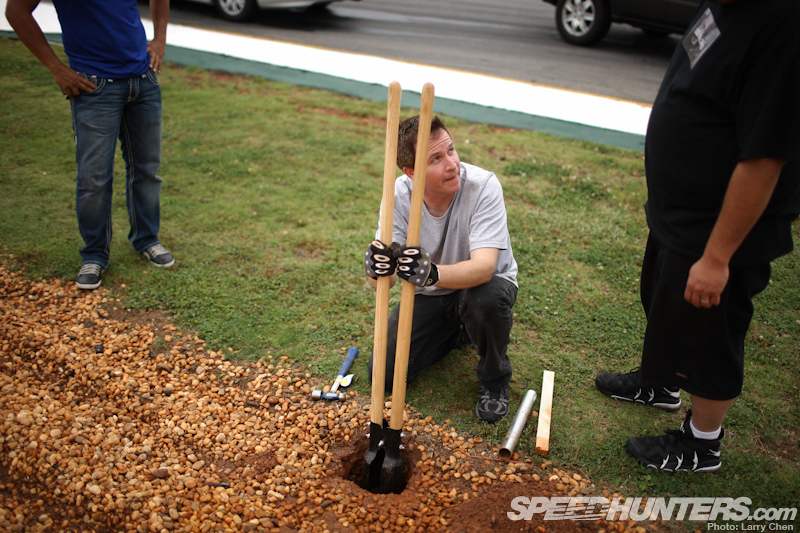 He was actually digging holes for the proximity sensors that he's developed for the clipping points.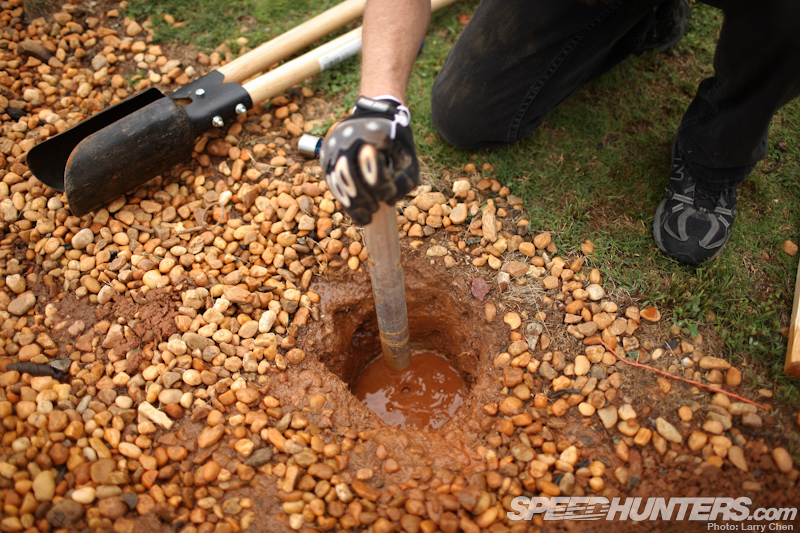 It had been raining so there was quite a bit of moisture in the ground, meaning he had to cover this hole and find another more suitable location.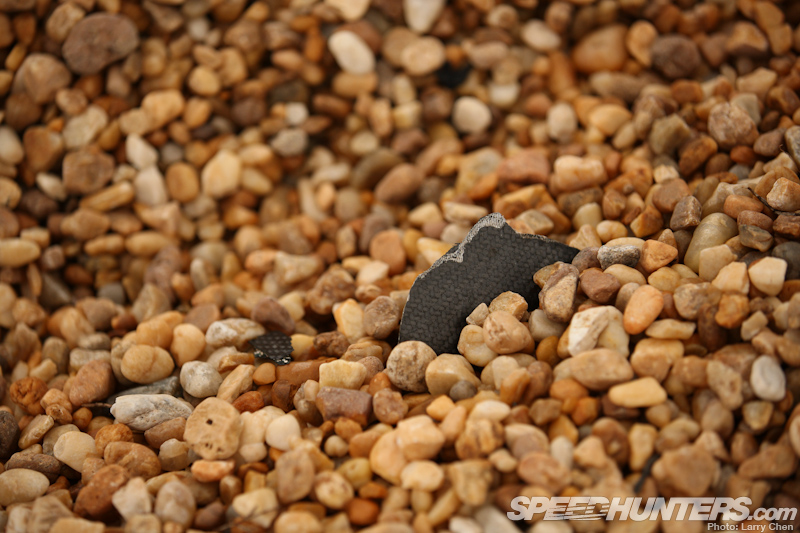 I wandered off a bit and noticed some carbon-fiber shrapnel. I can only imagine what spectacular incident caused this piece to come apart from its host car.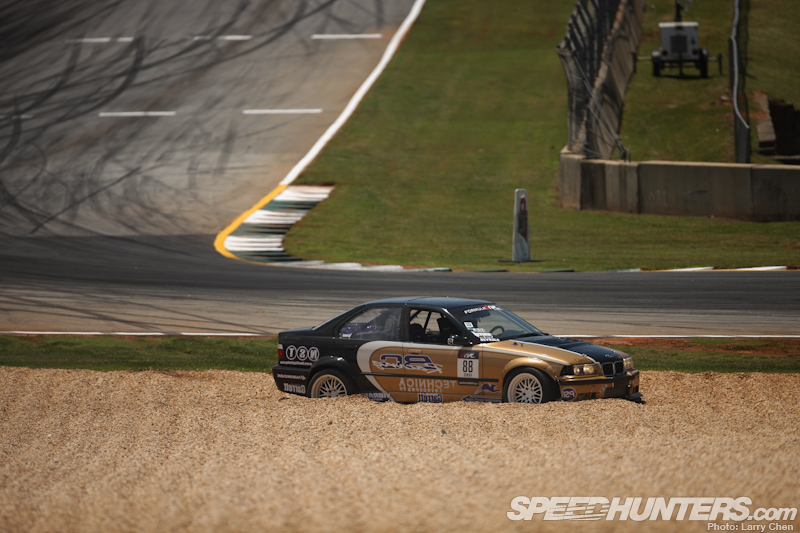 The gravel traps help slow the cars down significantly if they spin out, but does also mean that they can't drive out.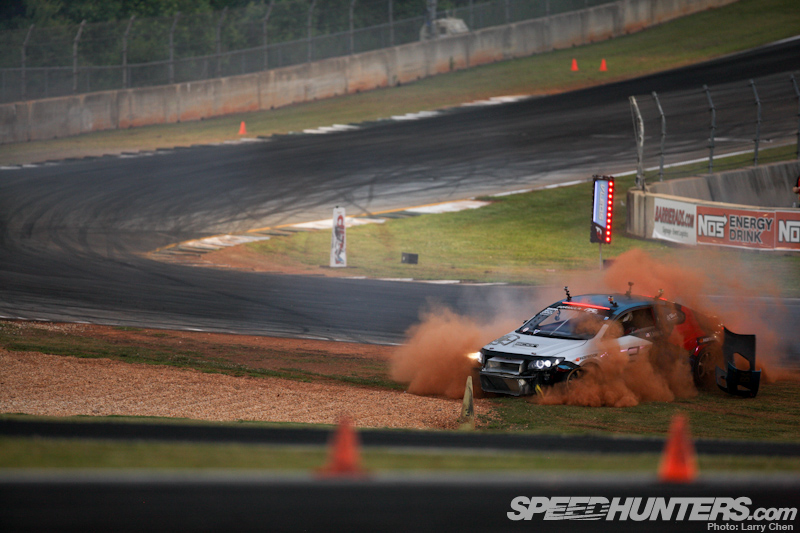 Although the gravel is not everywhere, if you go off there is a good chance your car will be blanketed by a layer of red dirt.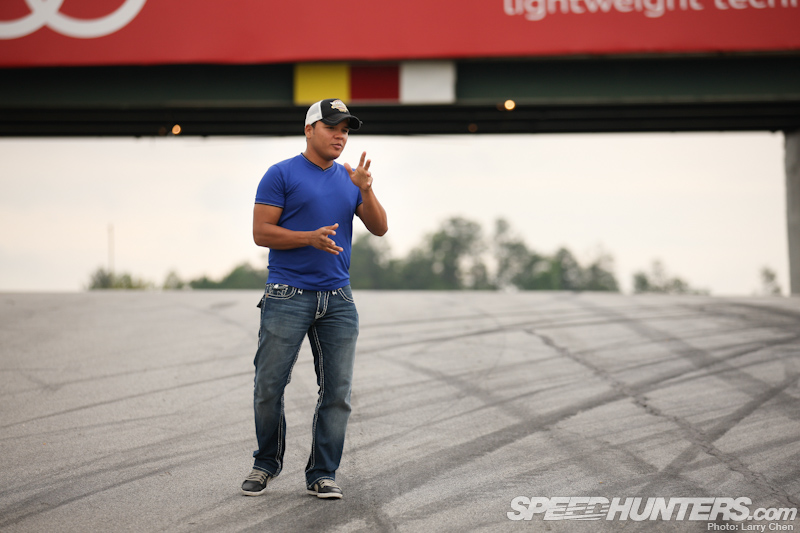 It was time for me to head out to the paddock, so I looked around and found Jhonnattan imagining himself driving the course in his 350z.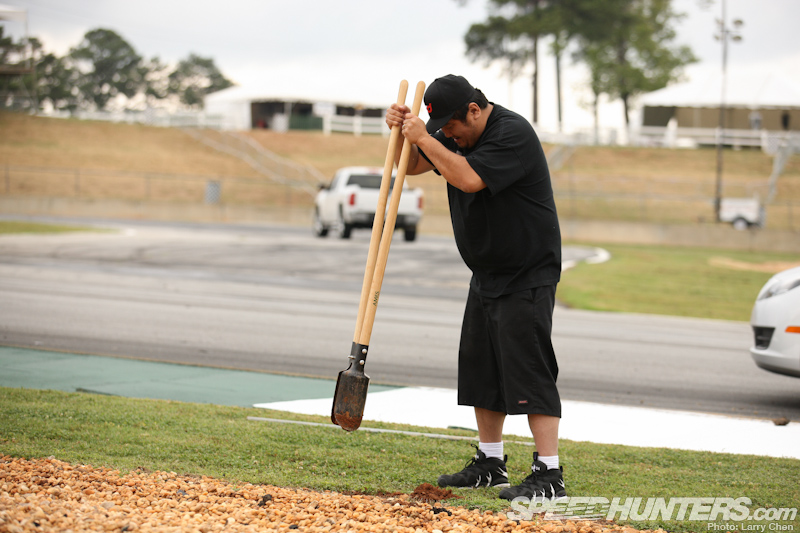 I left as Andy helping Kevin dig those endless holes.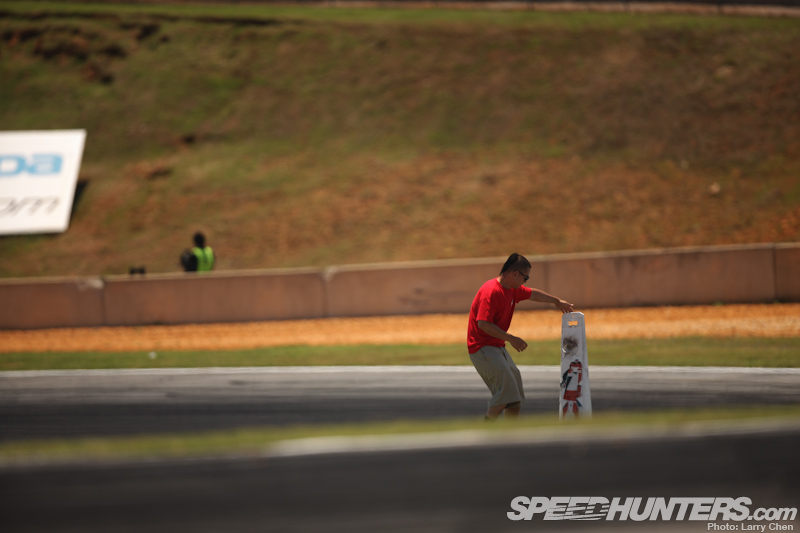 This is also a good time for judges to start setting up the course. They change it over the weekend as they watch the drivers practice.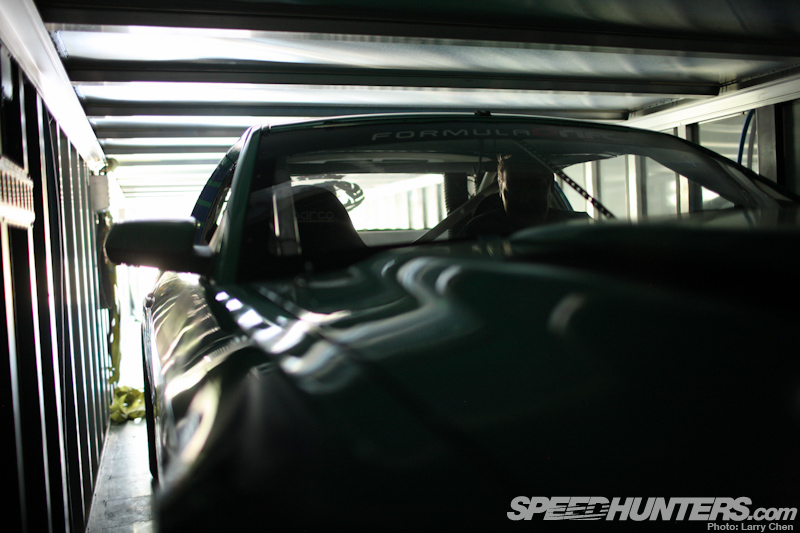 I decided to go check out the happenings in the paddock. There I found the ASD crew unloading the cars.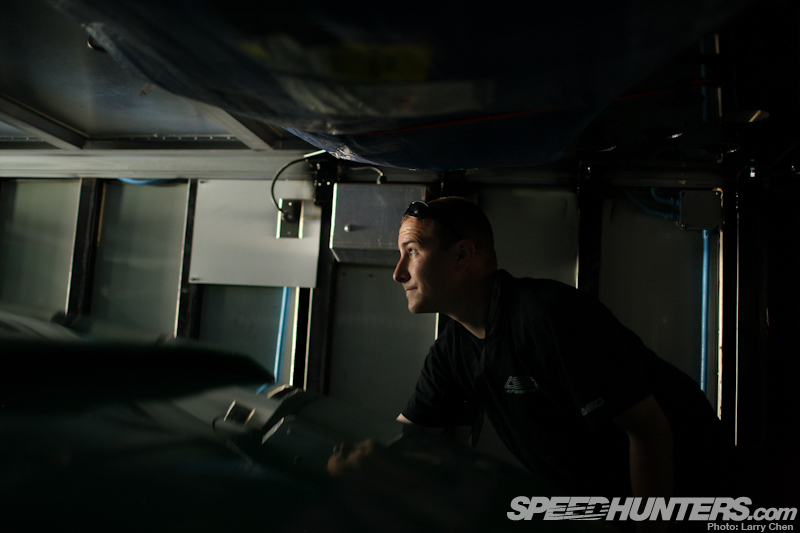 I did my best to spot for Dean as he backed up JTP's car, and shot some pictures while I was at it. Needless to say, it was a tight fit to get out of the rig.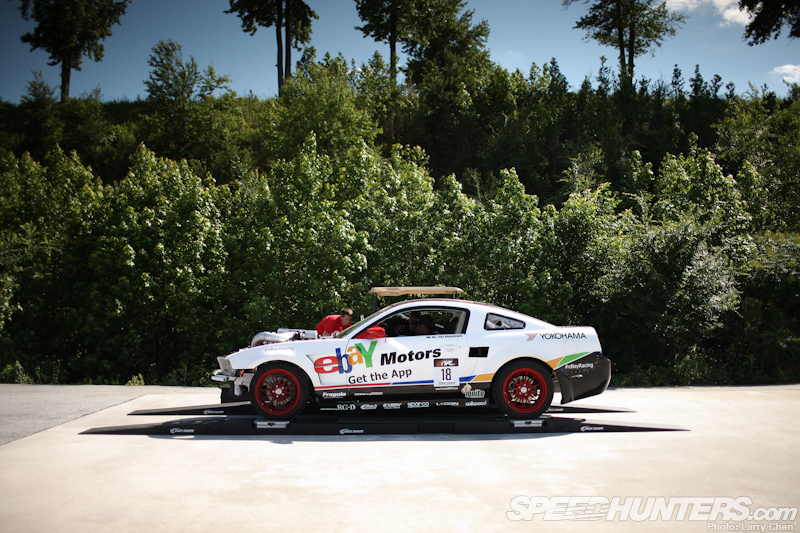 Atlanta is perfect for those teams who missed Long Beach, but still need to get their car inspected for safety. This was Tony Brakohiapa's team getting their eBay-sponsored Mustang weighed on the scales.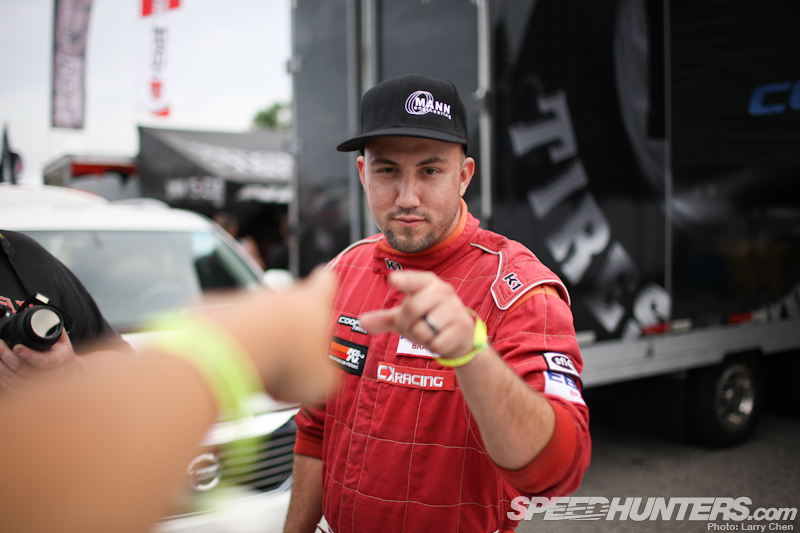 Jeff Jones loves being early to events. In fact, he arrived the Monday before the event and he had been enjoying the city of Atlanta while he waited for everyone else to load in.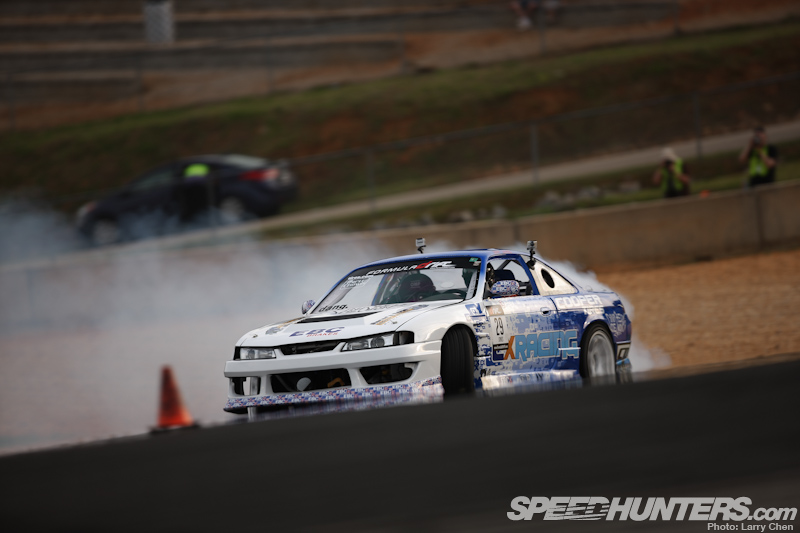 He has an all-new car for this round and it looked great. This was built from the ground up by him and his buddies.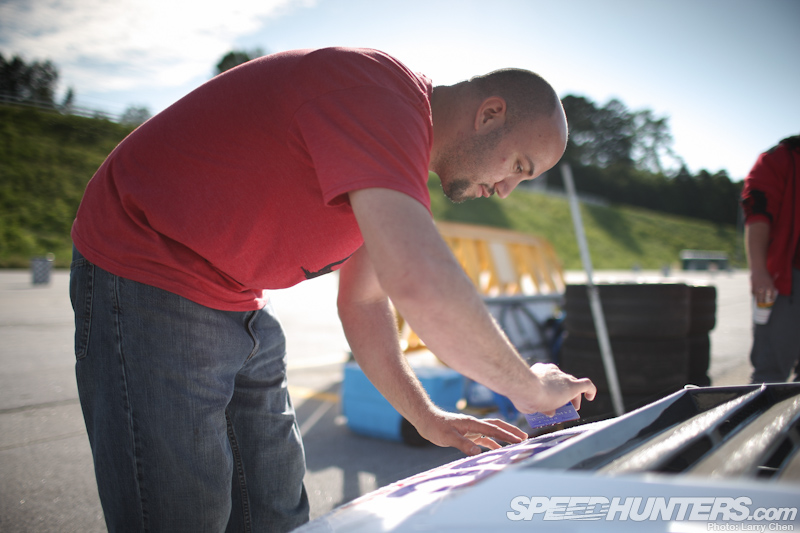 He was just putting on the finishing touches as I rolled up.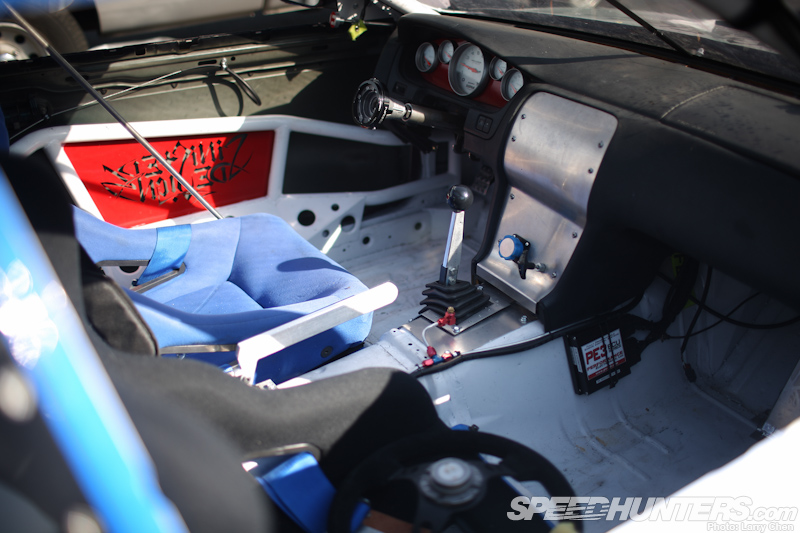 The interior is clean and simple. It's all function in this LS-powered S14.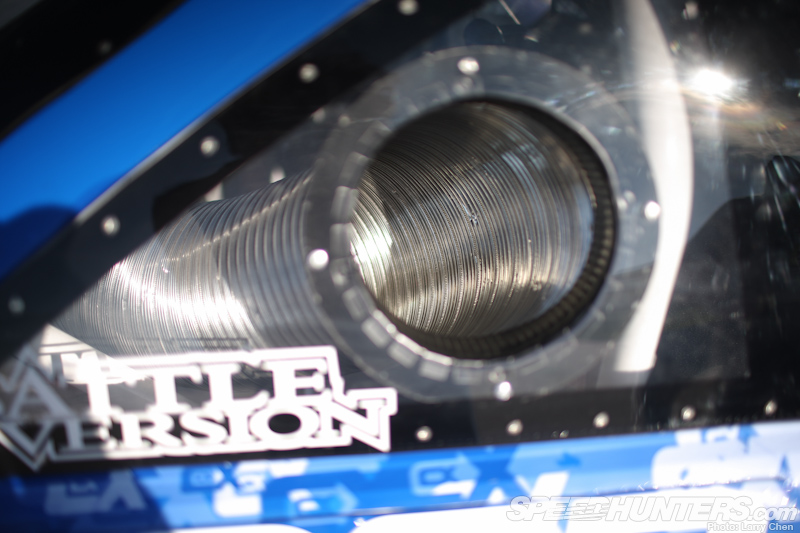 He decided to go with a rear radiator setup. It looks like Jeff made a few trips to the local home improvement warehouse.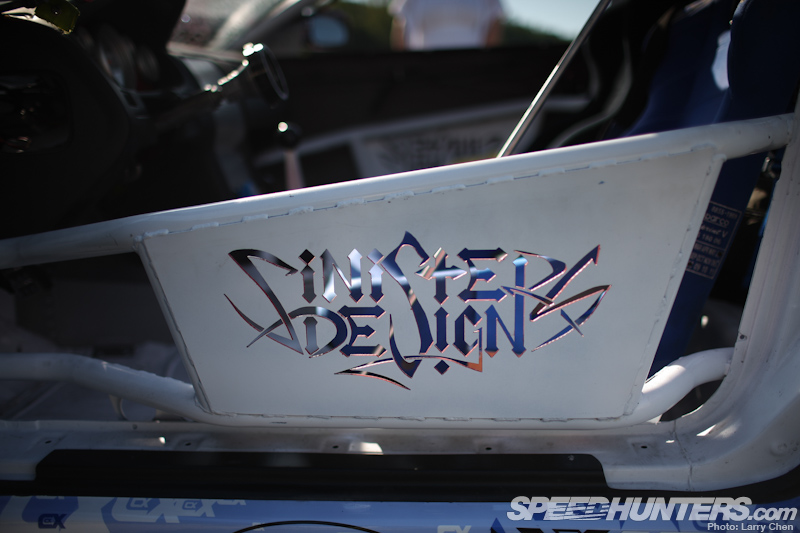 This was an interesting design cut into this rollcage plate.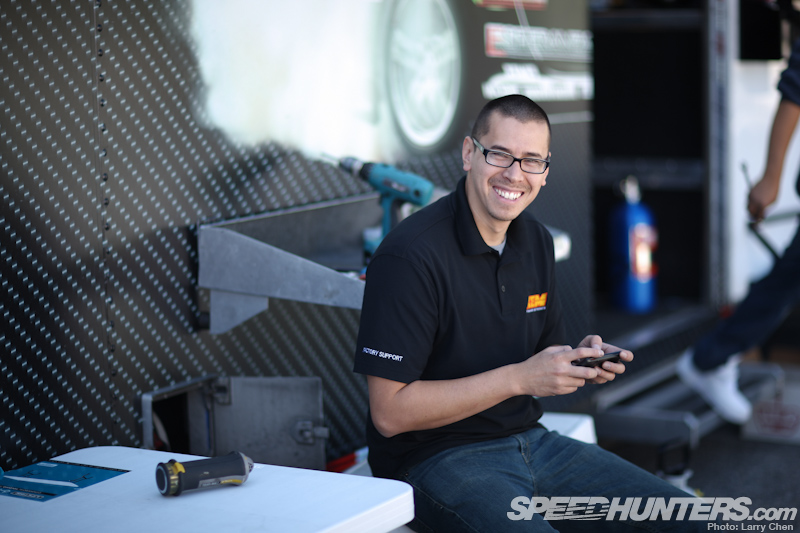 Henry Schelley used to drive in Formula Drift back in 2007, so it brought back quite a lot of memories when he stepped foot on this historic track. He currently works for AEM and he will be supporting anyone running their engine management system for the whole season.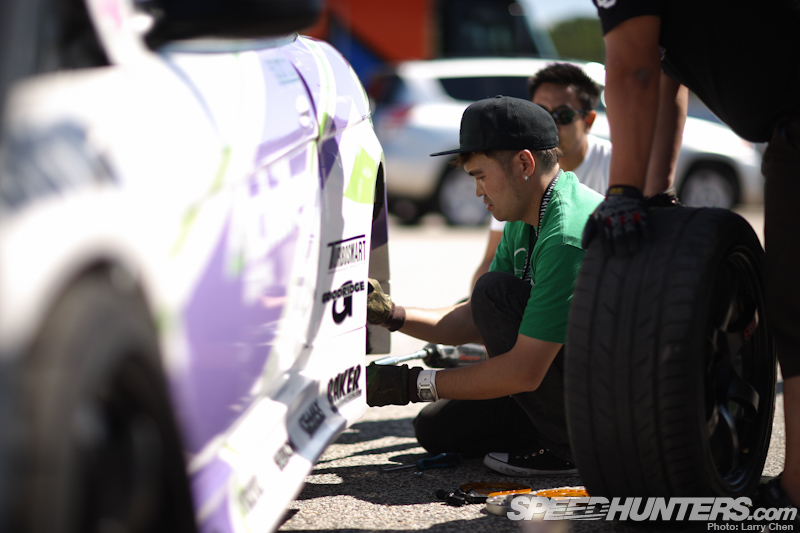 He was helping out the Bridges Racing team with Robbie Nishida's SC300 because he has not run it in competition yet, and there were still many odds and ends that needed to be taken care of before starting practice.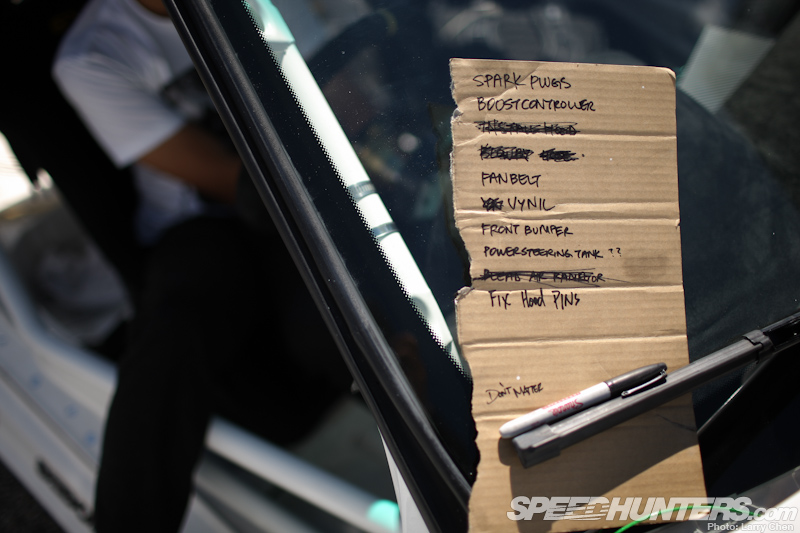 One by one the teams crossed of things that needed to be addressed.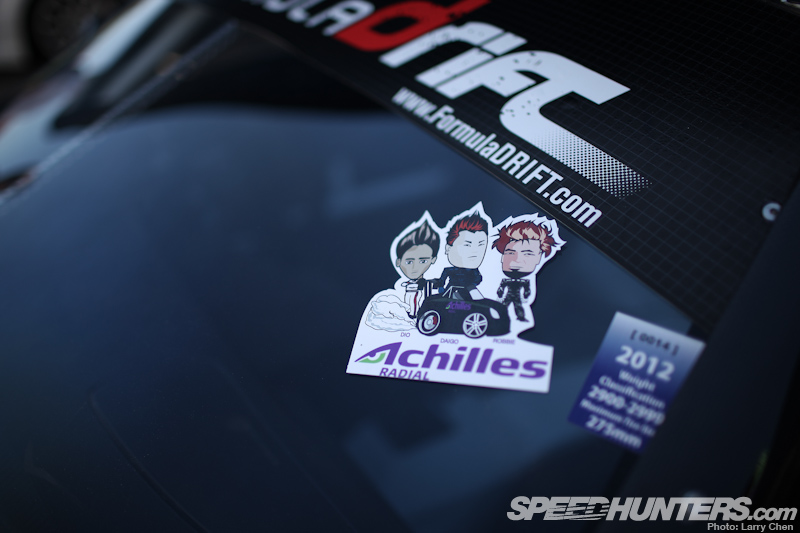 I love these decals that Achilles Radial made for their team. I think every Formula Drift driver should have a caricature.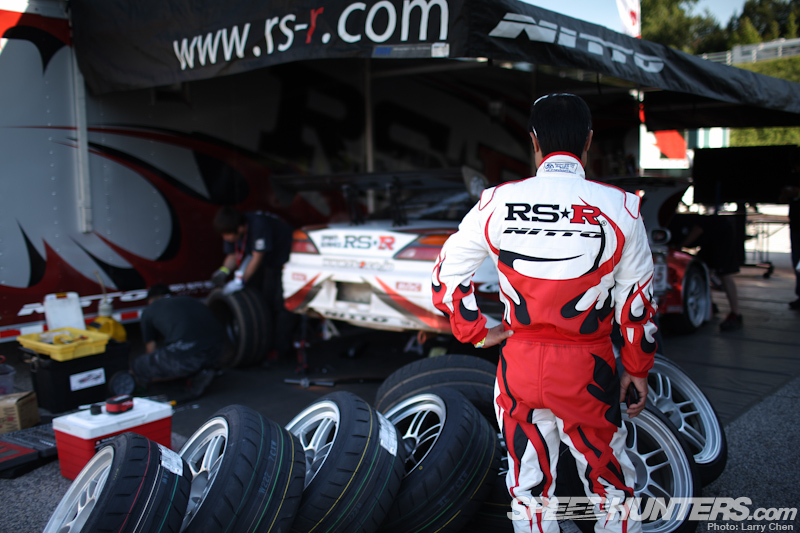 Toshiki Yoshioka is one of the few drivers that left the V8 bandwagon last year. He is running a VQ38DETT in his RS*R S15.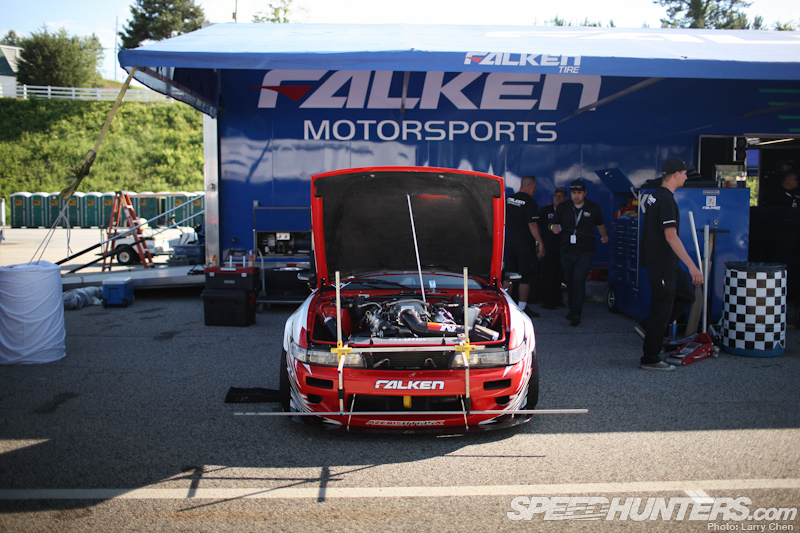 This is where Dai's troubles started. Apparently the wheels that the team used were bent, so when they aligned the car it threw everything out of whack.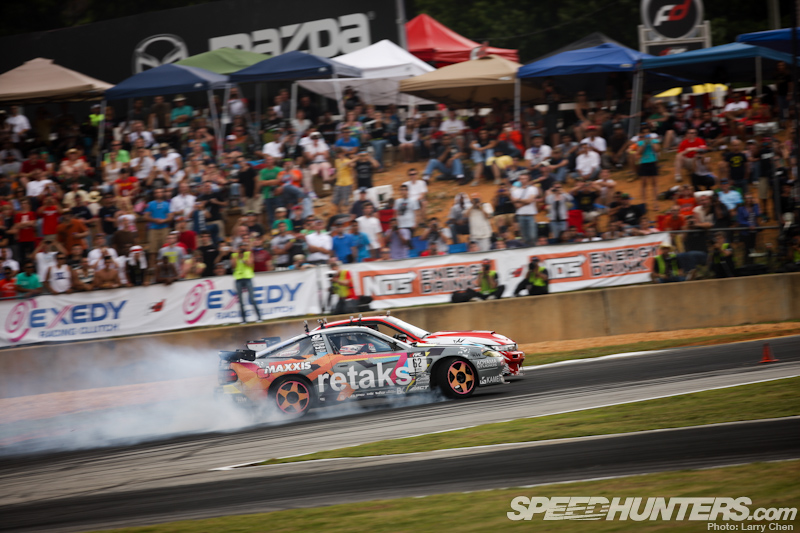 The team struggled all event to get things right, but they never recovered as Ryan Tuerck knocked Dai out of the Top 32 bracket.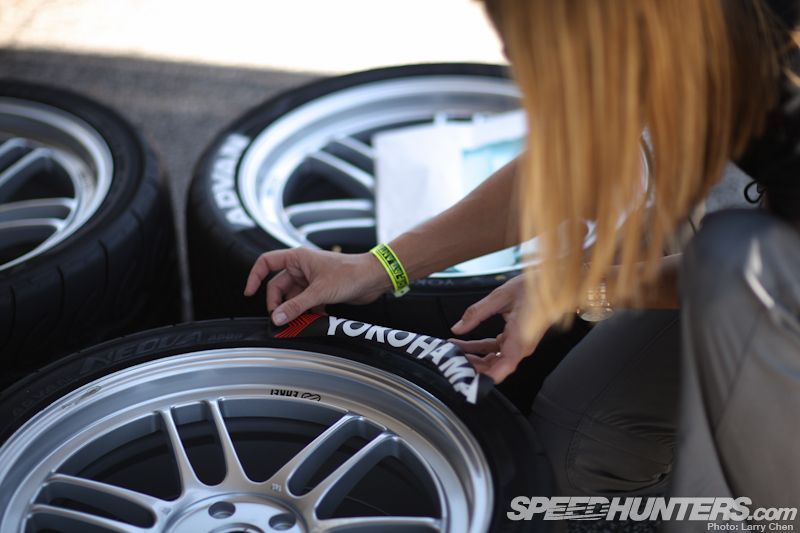 I thought this was interesting. Every Yokohama tire in Formula Drift has decals on the sidewalls, which are meticulously applied one by one.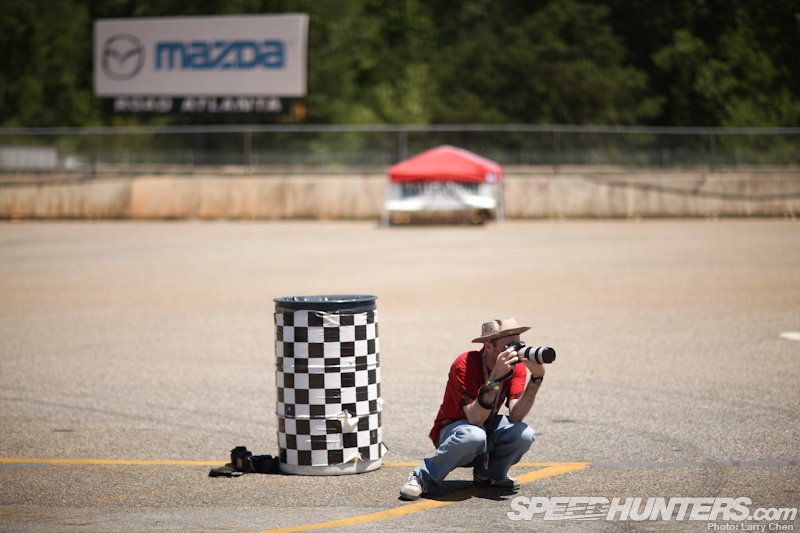 The Wednesday before the event is the perfect time to set-up photo shoots as there is not much traffic in and around the paddock.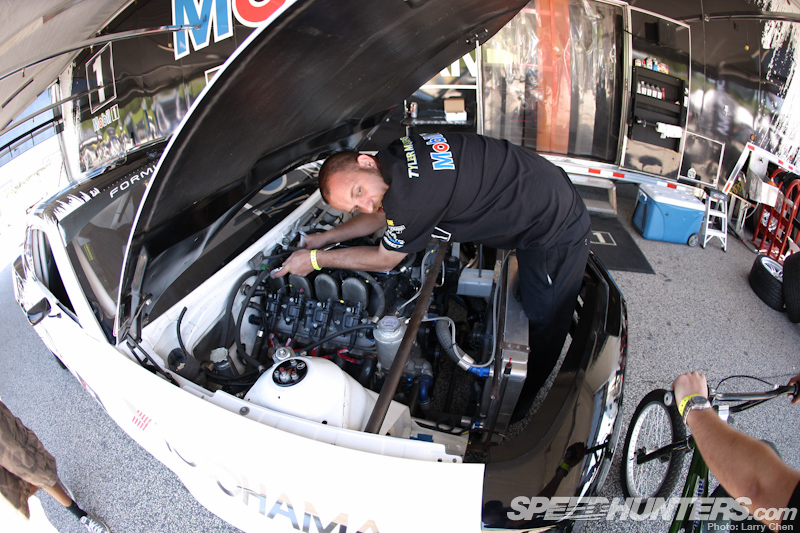 That is certainly one way to work on a Chevy Camaro.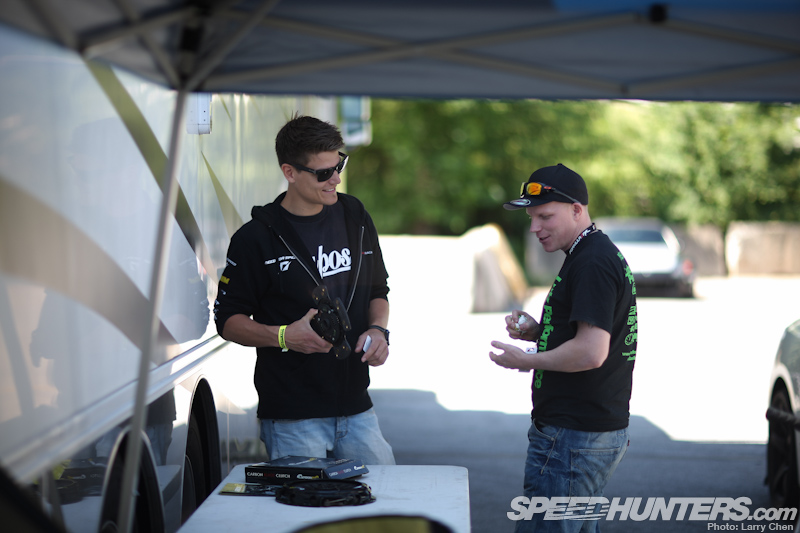 Before the event the drivers are much more relaxed and they can catch up with their friends in a non-hostile enviorment. Everyone is fair game once the event starts though.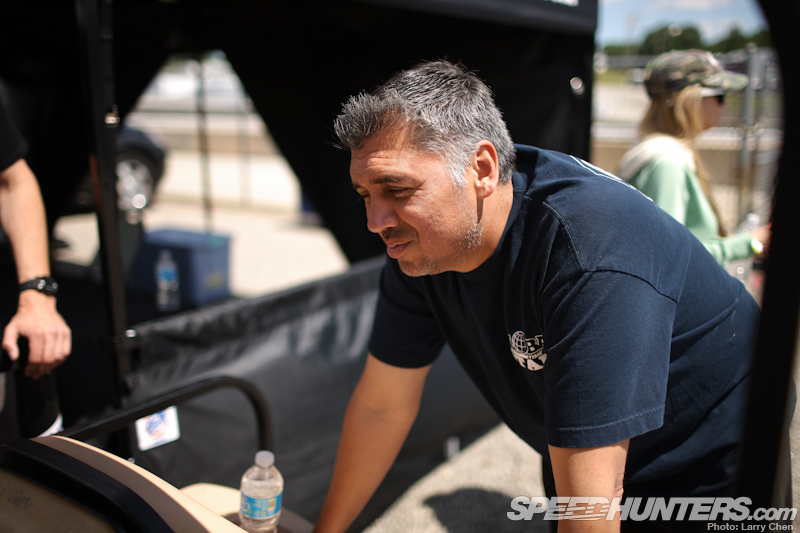 Global Time Attack also held its second event of the year on the same weekend at the same track. John Nadiri was stressed out as usual, which is understandable as he is in charge of so much of the operation as well as having to be a personality on camera for the live stream.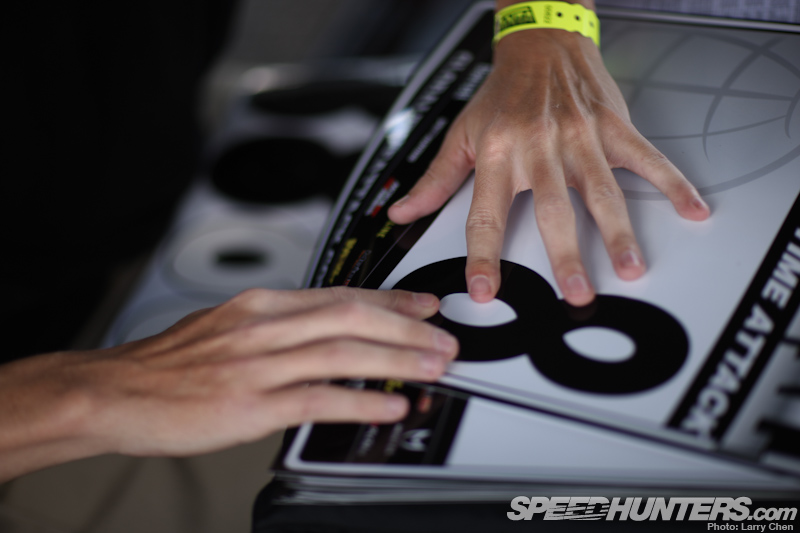 When I rolled up they were still making number decals for late entries.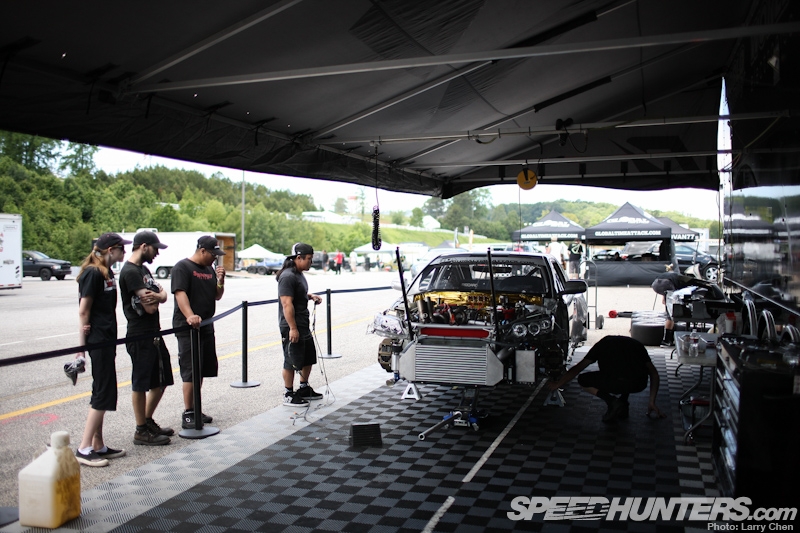 Nearby was Chris Rado and his crew. They were prepping his car, as Chris was trying to hit 200mph on the straightaway at Road Atlanta. Keep in mind some of the drifters are entering at over 100mph, but they don't have much of a running start.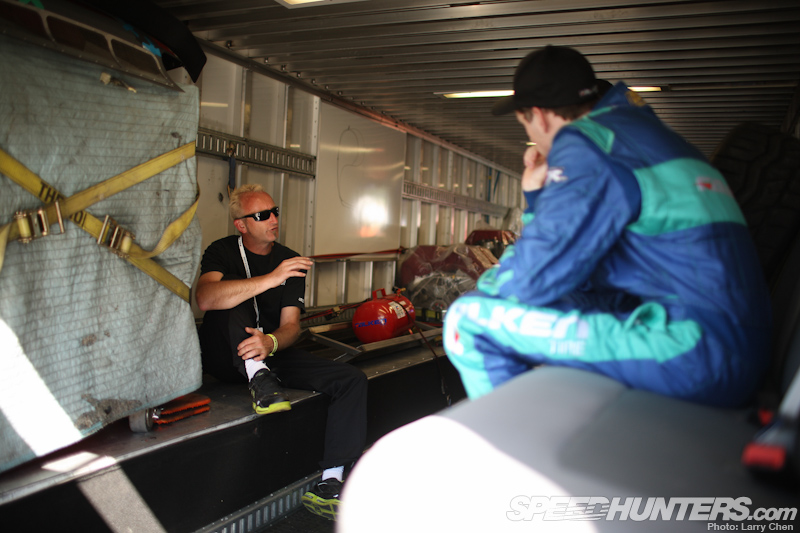 I went by the Falken pits to find Ian Stewart chatting with his drivers and having a private meeting. I wonder if he gave any tips to Dmac since this was his first time driving the 350z.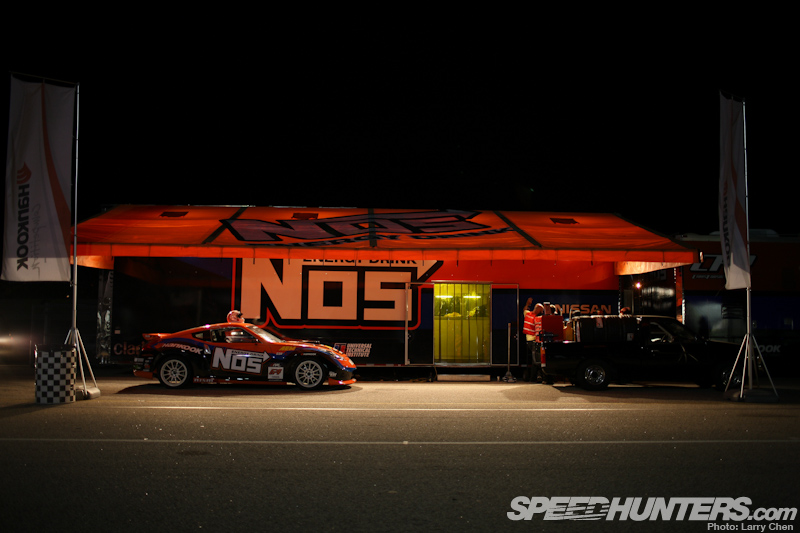 As night fell it got more and more quiet, because there are strict noise regulations at night. No more engines revving.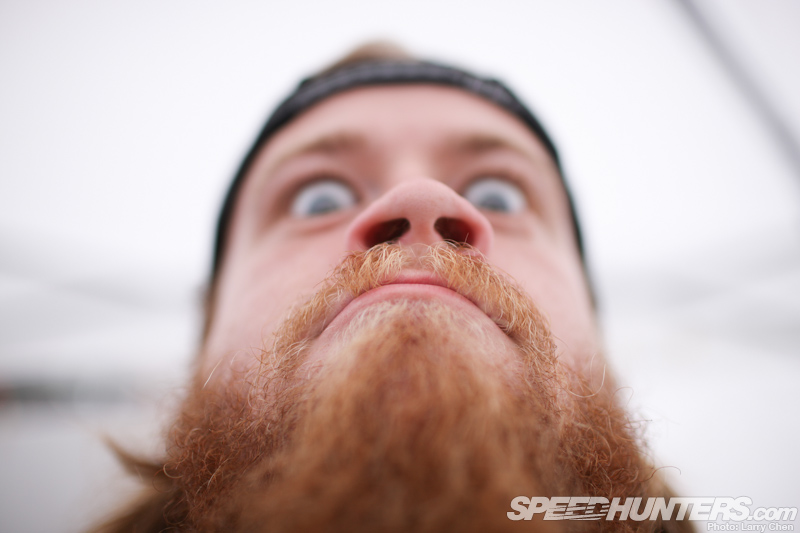 That night it seems like most of the paddock went to downtown Atlanta for a screening of the Keep Drifting Fun movie. You can check it out here.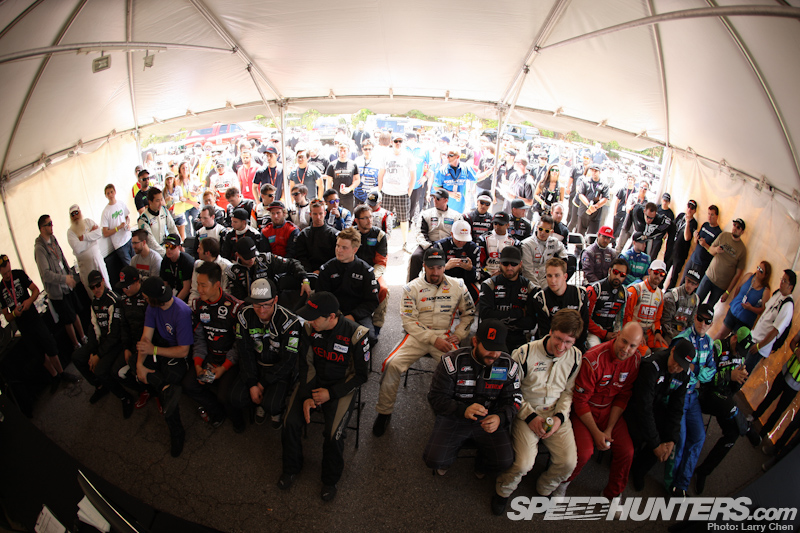 This was the most drivers I have ever seen at an event at Road Atlanta. There were over 50 drivers, so it took quite a while to get everyone through qualifying. Many of the drivers only got a few runs of practice before it was time to qualify.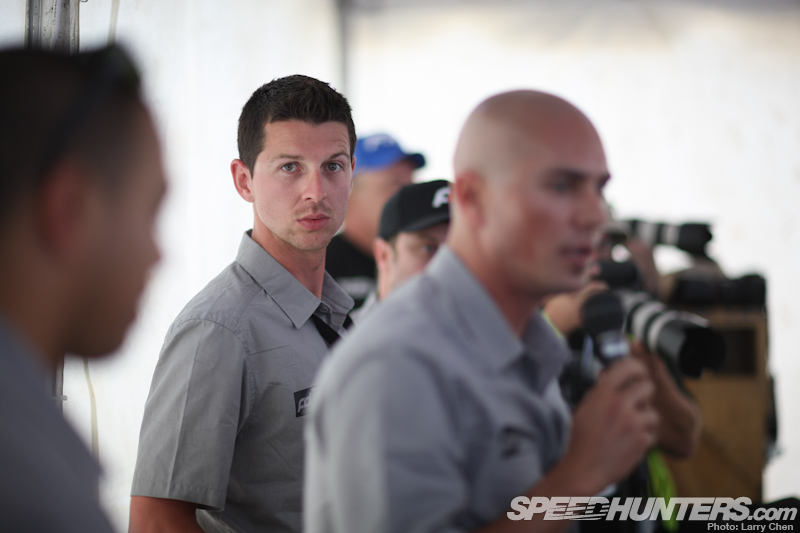 Veteran judge Ryan Lanteigne is a drifter at heart, so he can relate to each and every one of the drivers.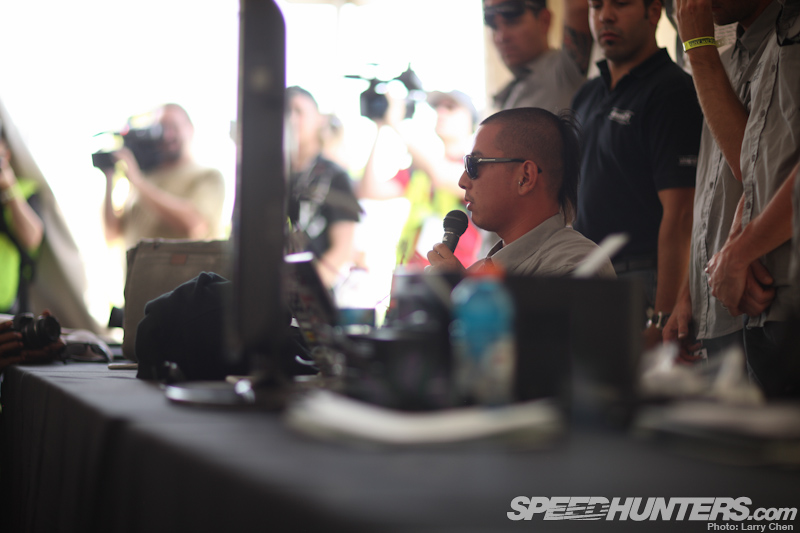 Lead judge Andy Yen used to be a Formula Drift driver himself, so he is in the same boat.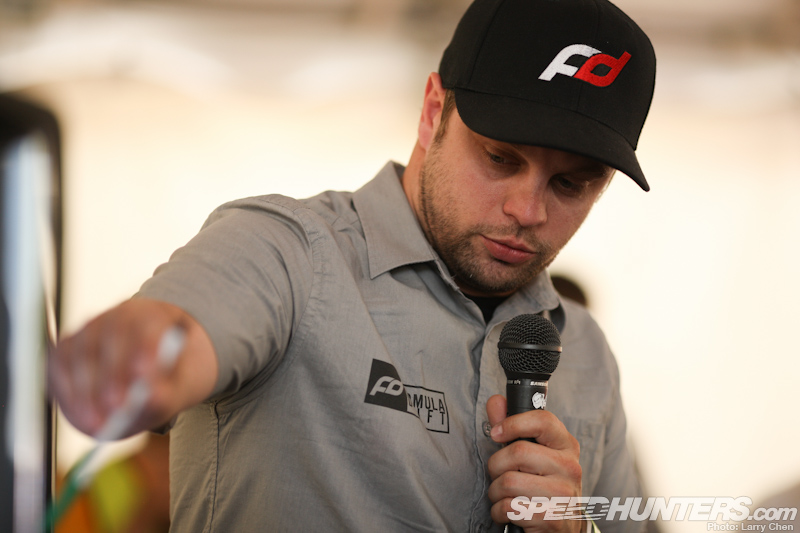 I asked rookie judge Brian Eggert if he had been nervous at Round 1 in Long Beach, because his hands were incredibly steady as he pointed things out on the course here. He told me he was very nervous in Long Beach, but he quickly felt at home so he was doing just fine in Atlanta.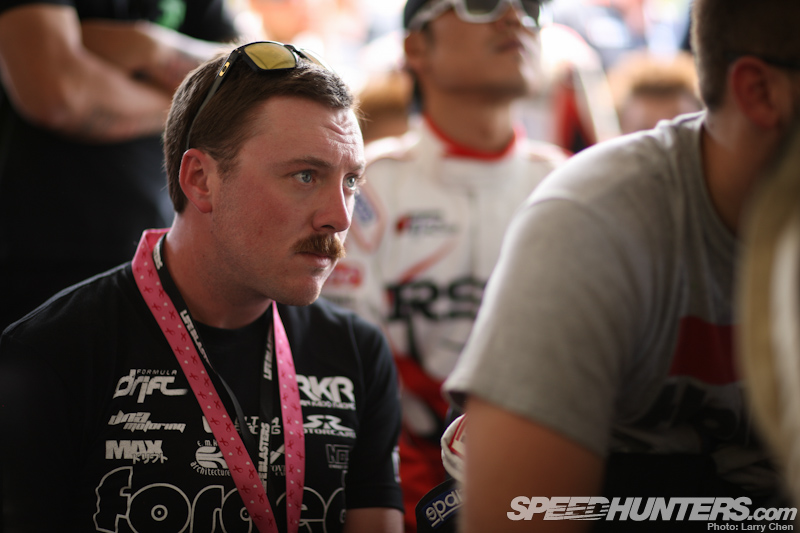 The driver meetings are pretty chaotic. I've noticed most other racing series don't allow media in the drivers meetings. It is a time for them to bond and relax a bit.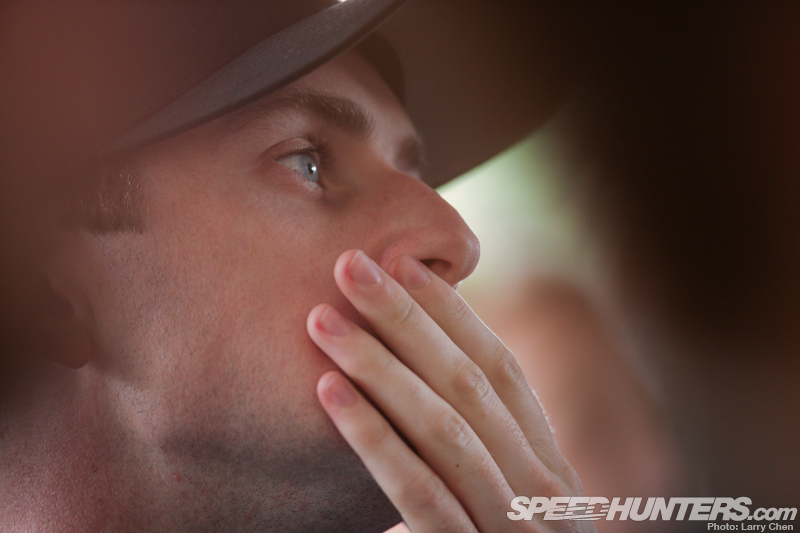 I'm sure it can be nerve-wracking, as spotters and crew chiefs crowd the area as well as media like me with my big lenses in their face.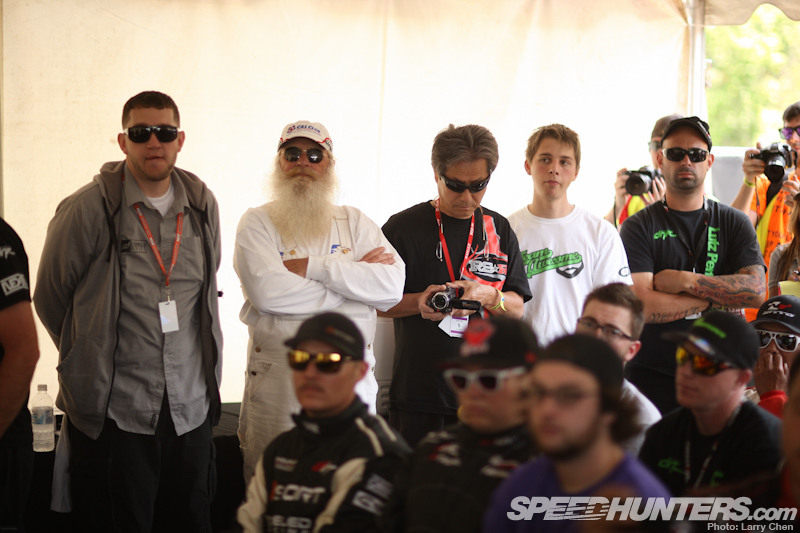 In this meeting we had the pleasure of having Bil Baldwin, the SCCA flagger from Southern California.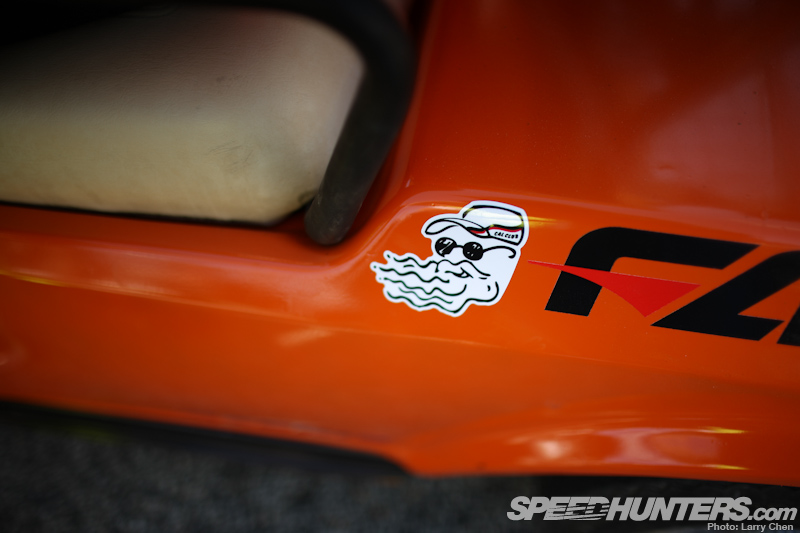 He has become a bit of a celebrity in the drifting world. He even has his own decal now.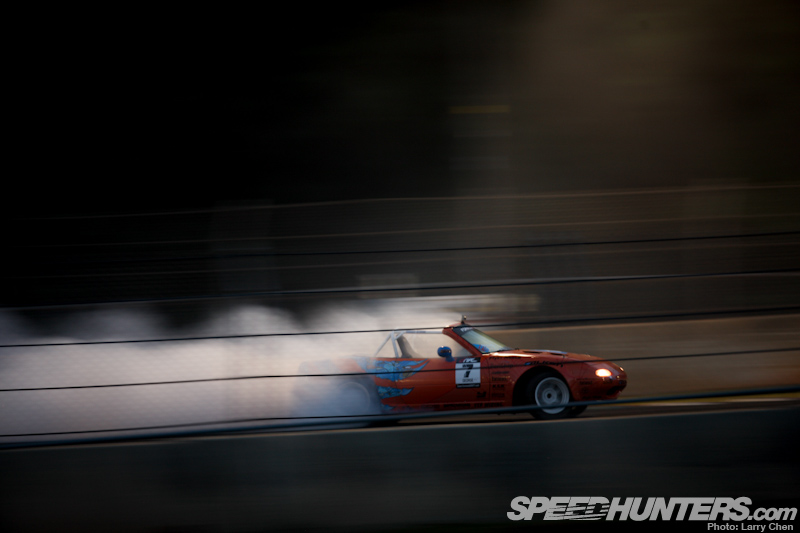 He actually tagged along with Formula Drift rookie, Danny George, all the way from the west coast in their truck and trailer.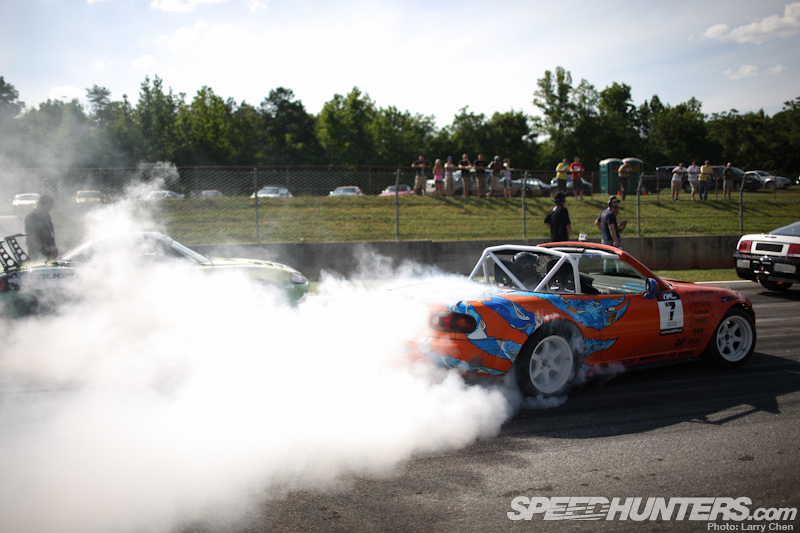 Danny seems to be getting the hang of driving at professional events. This time was his first time making Top 32.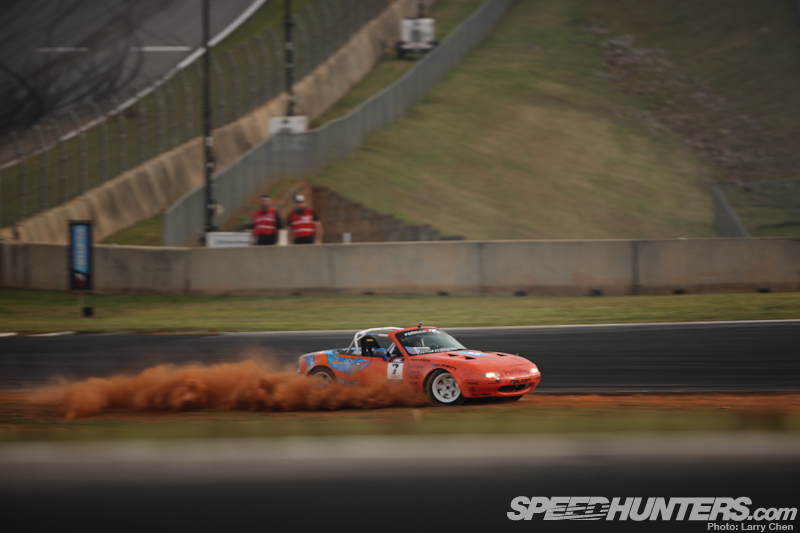 Unfortunately, he never made it to the line because he broke his oil pan during practice after running over the rumble strips.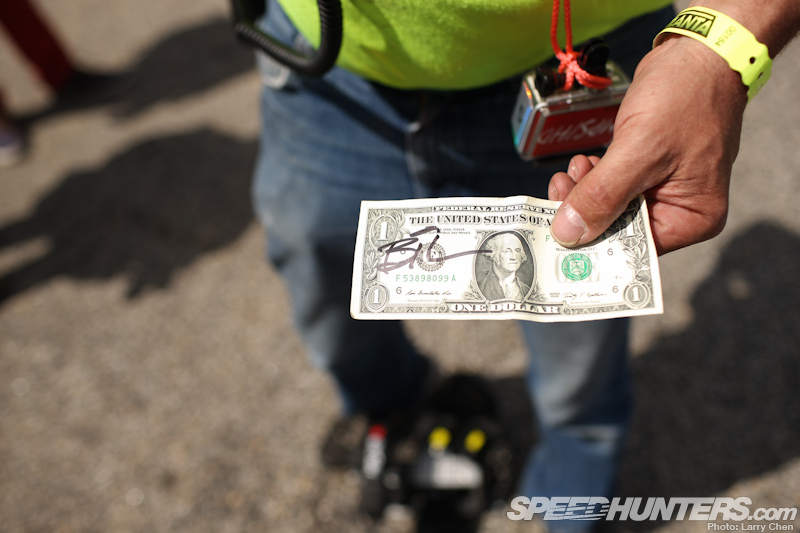 I am sure Danny and the crew had fun as always. Bil even signed a one dollar bill for a fan.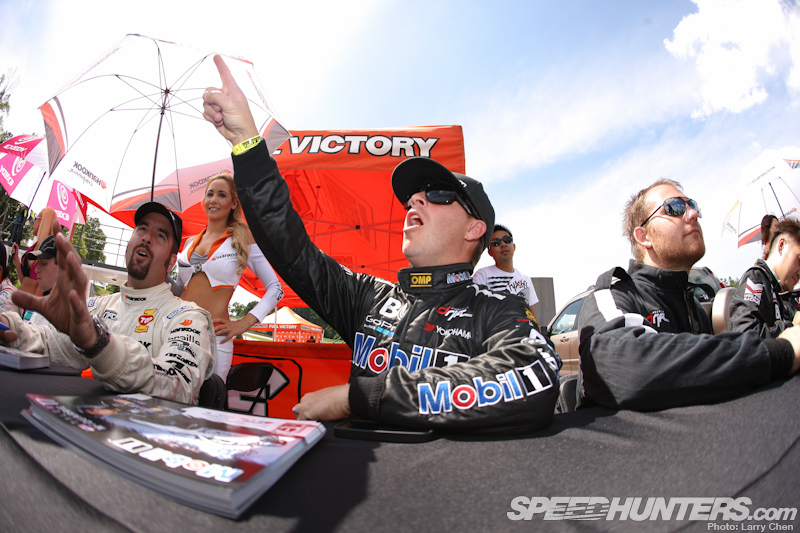 Caption contest anyone? It's a bird, it's a plane… it's Daigo Saito in his huge winged SC430.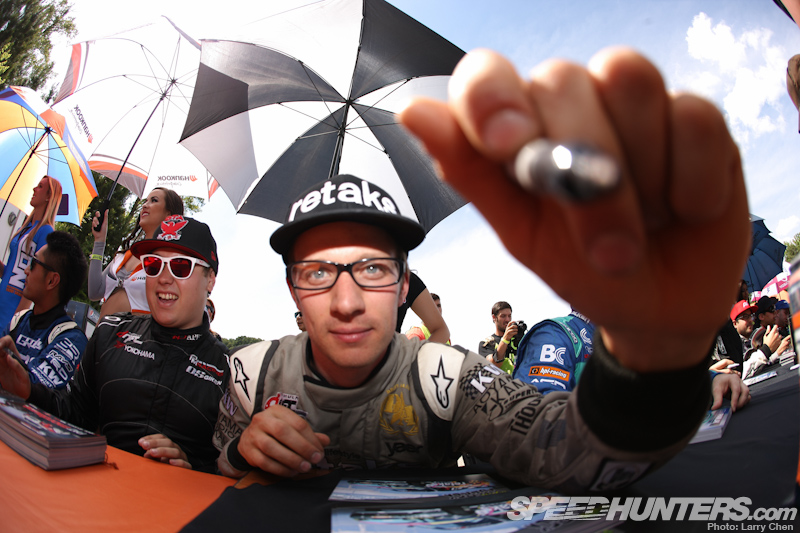 It seems like every time I am in line at the autograph session the drivers try to sign my camera.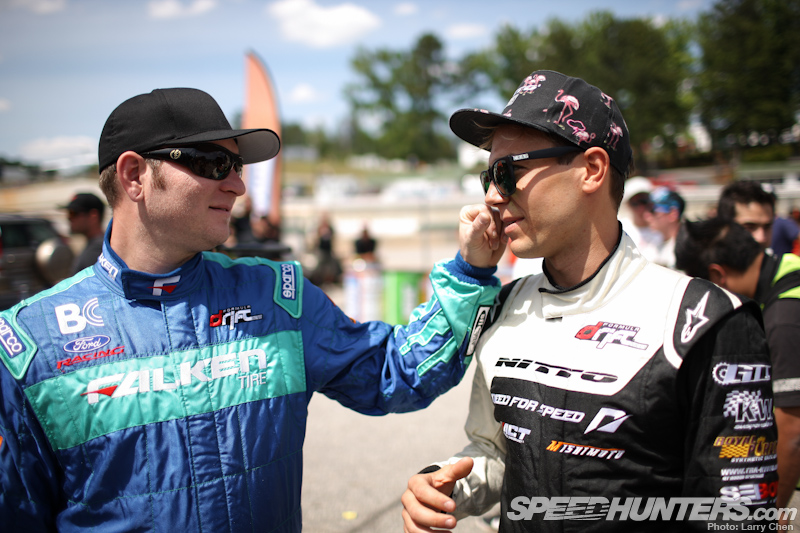 I swear this has got to be the most friendly rivalry on the FD grid. Just look at the way JTP cleans Matt's mouth after eating a Clif Bar.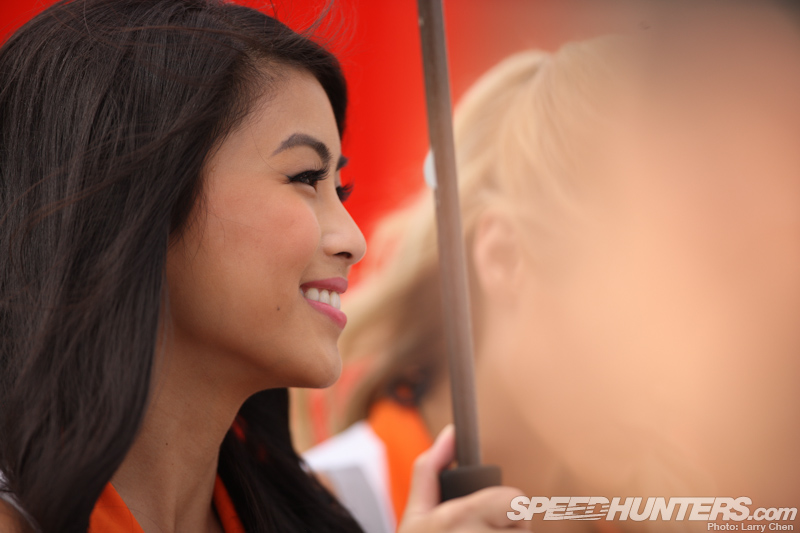 Drifting would just not be the same without the 'race queens' – or as we call them, the umbrella girls.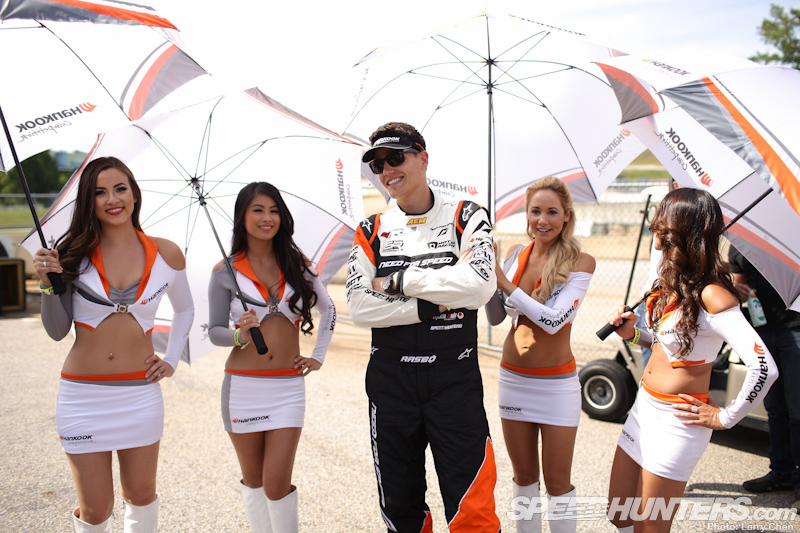 With someone with as much surface area as Fredric he needs four umbrella girls to keep the sun off.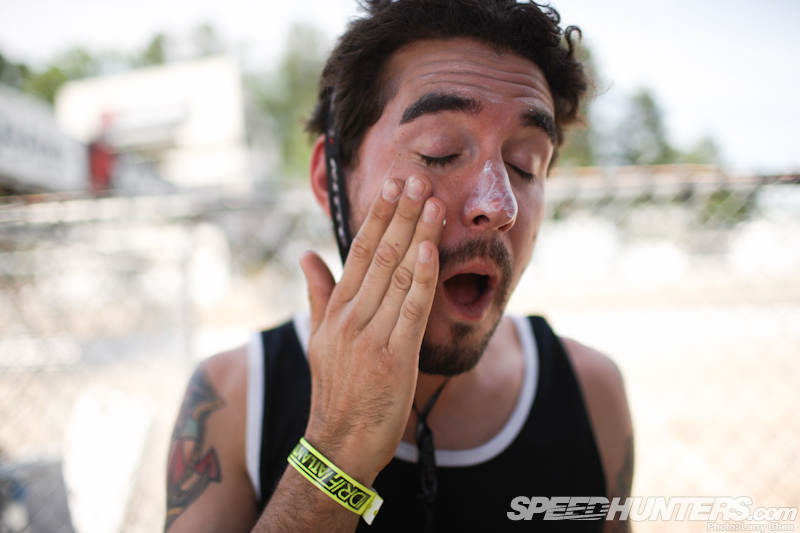 Spotters like Tommy Roberts don't get umbrella girls so they have to make sure to protect themselves from the sun.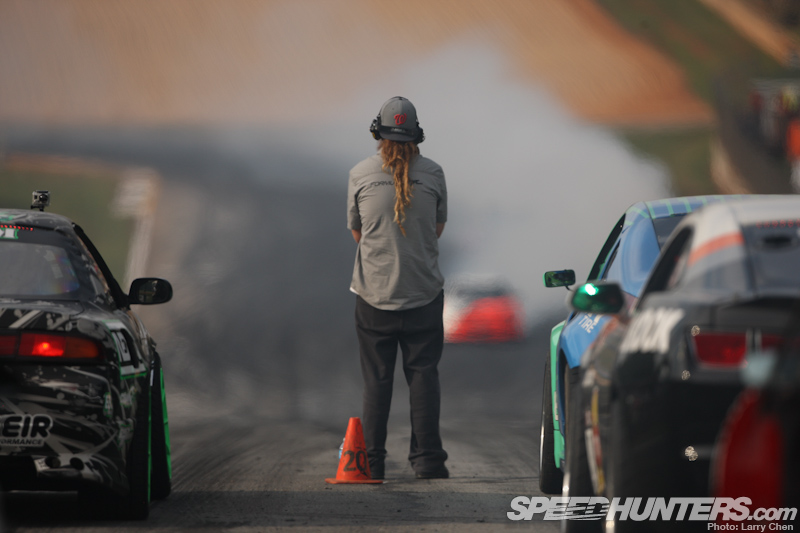 I spent quite a bit of my time on the grid writing my article about everyones 'weekend office'.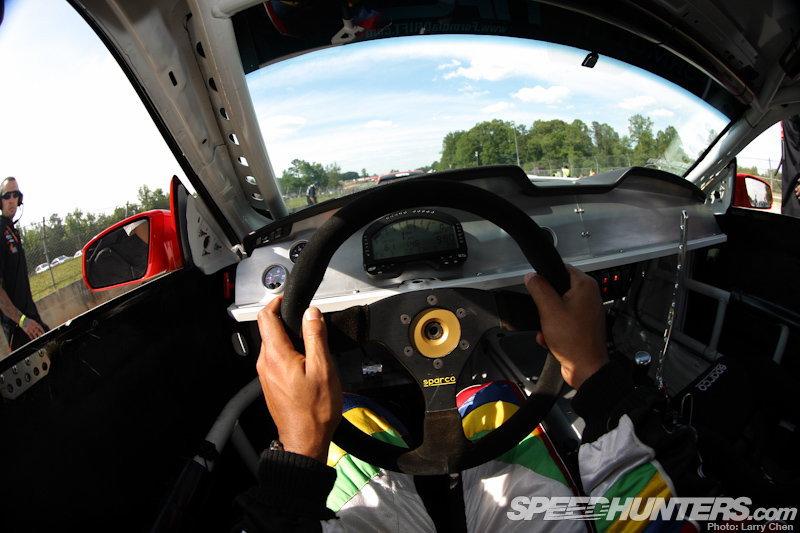 I may have also annoyed a few people shoving a big fat camera in front of their faces.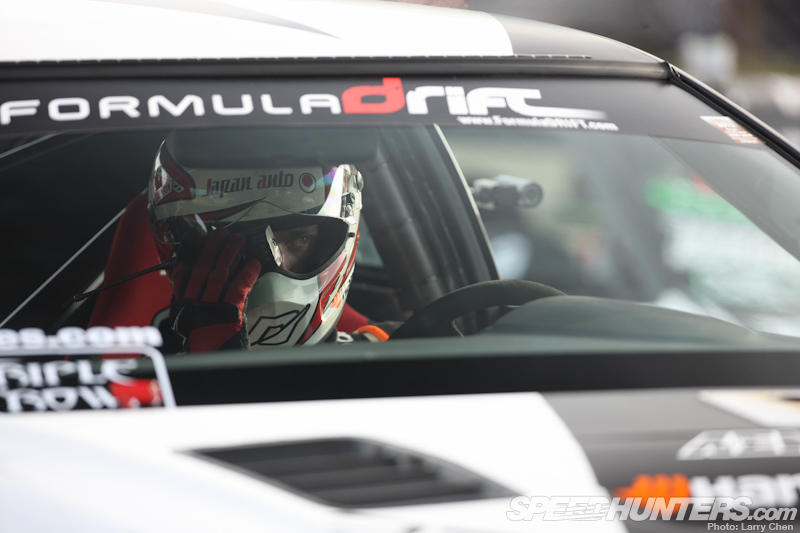 It is one of the few times during an event where you get to photograph the drivers while wearing their helmets.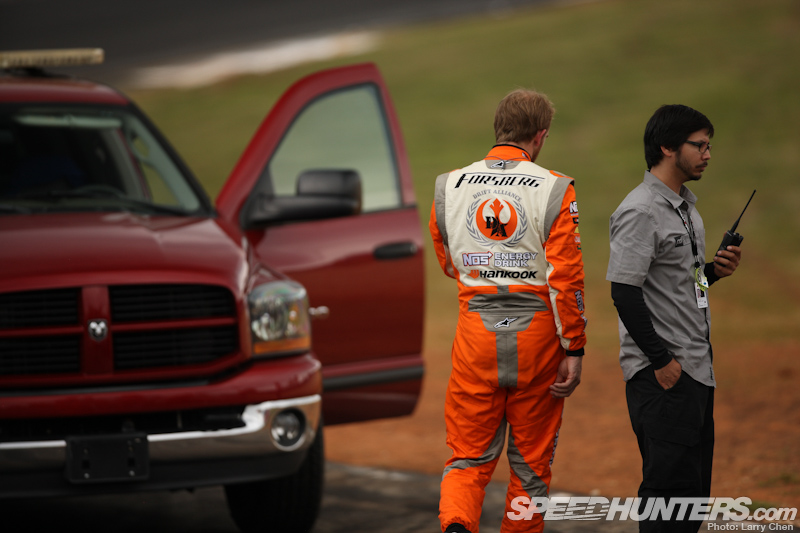 This event had its fair share of upsets. Chris Forsberg broke his lower control arm as he initiated going against Yoshiyoka. They broke their main one on Friday and then they bent their spare one during Saturday morning practice.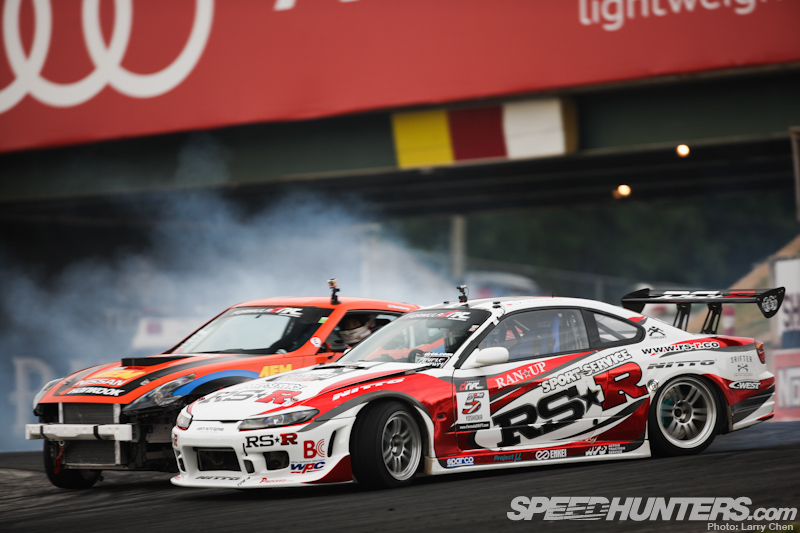 So the reason why it snapped in Top 32 was because they were running the spare one that was already bent from the morning practice and they didn't have any more spares.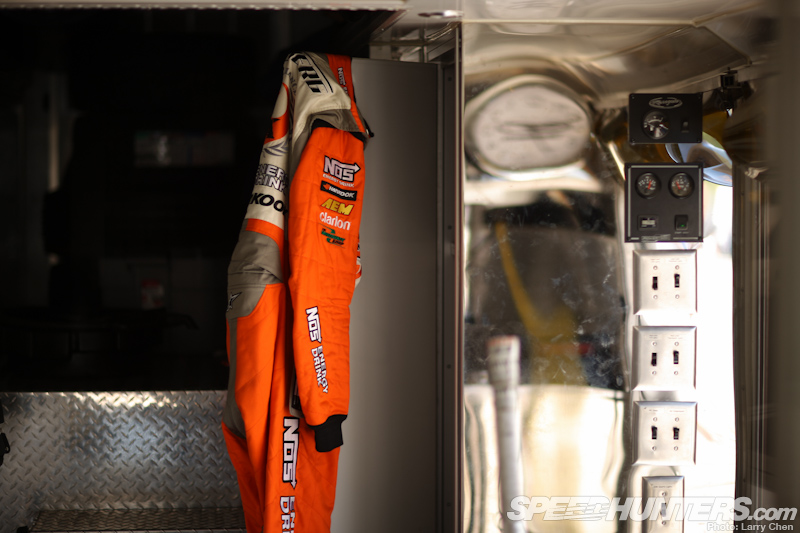 I am guessing it is from all the dirt drops that wore down the dirt on the outside of the curbs. Without a doubt Chris will be bringing the force in Palm Beach.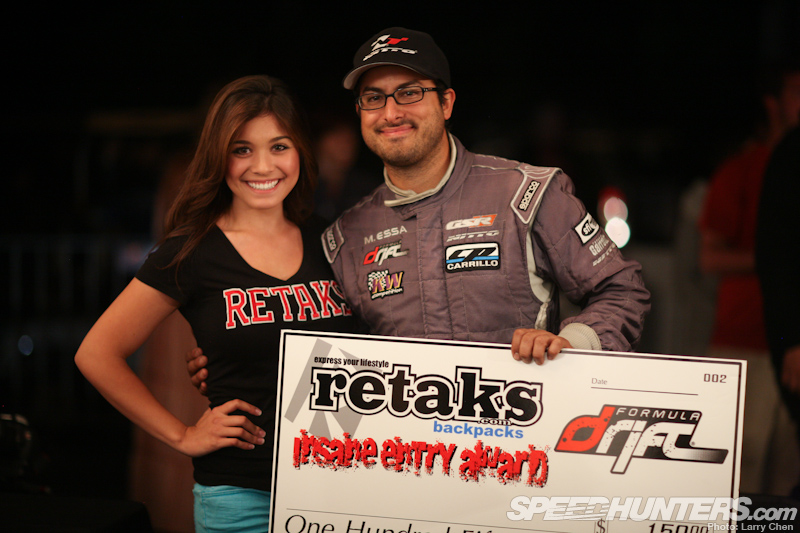 One of the highlights of the event was Mike Essa with his crazy backward entries. The judges specifically asked the drivers not to do backward entries, because most drivers end up slowing down to a crawl. However, they said if you can do it right you are more than welcome to.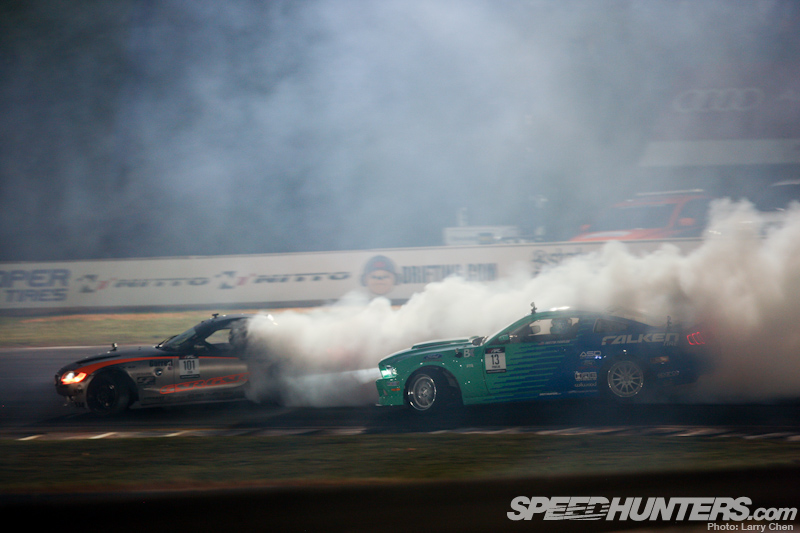 Well not only did Mike do it right, I would go as far as to say he nearly perfected it. Unfortunately, he got knocked out by JTP in the Top 8.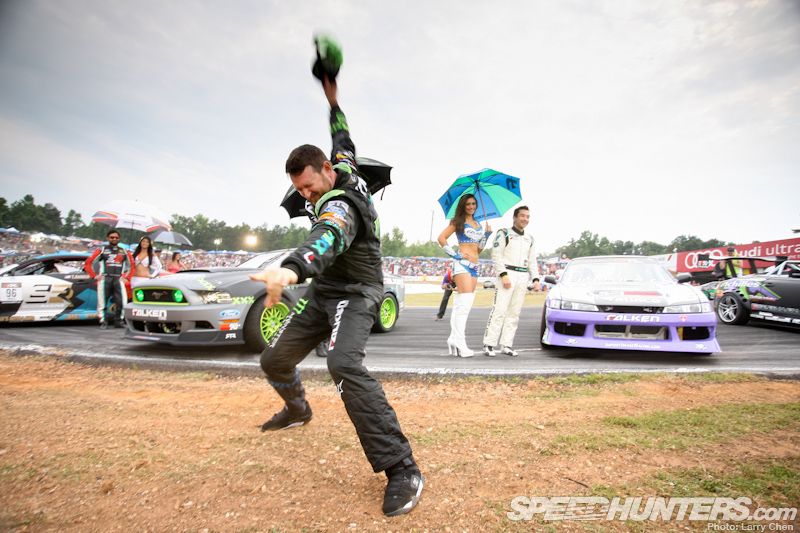 It was good to see Vaughn Gittin Jr back in the groove. It seems all too long since I last saw him do his ready-to-rock Top 16 ritual.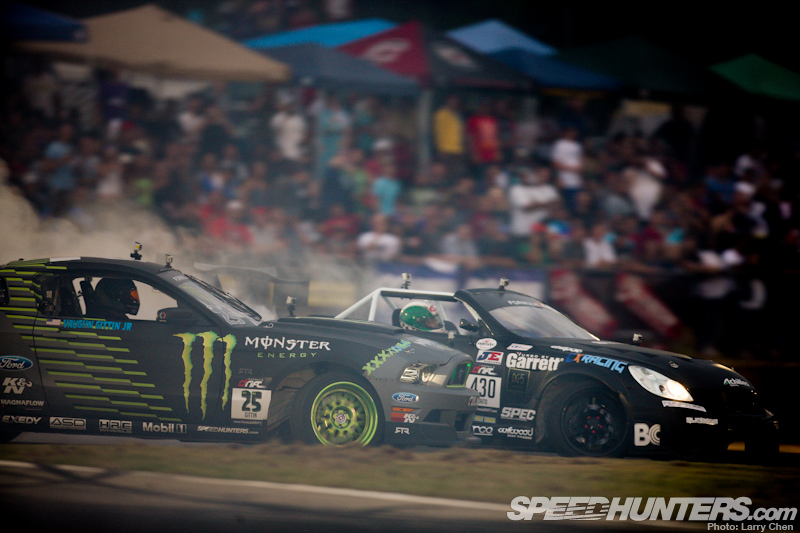 I did not expect to see Daigo Saito and Vaughn battle so early in the season. It was a treat for sure, but I think Daigo was just getting Vaughn back for what happened in China last year.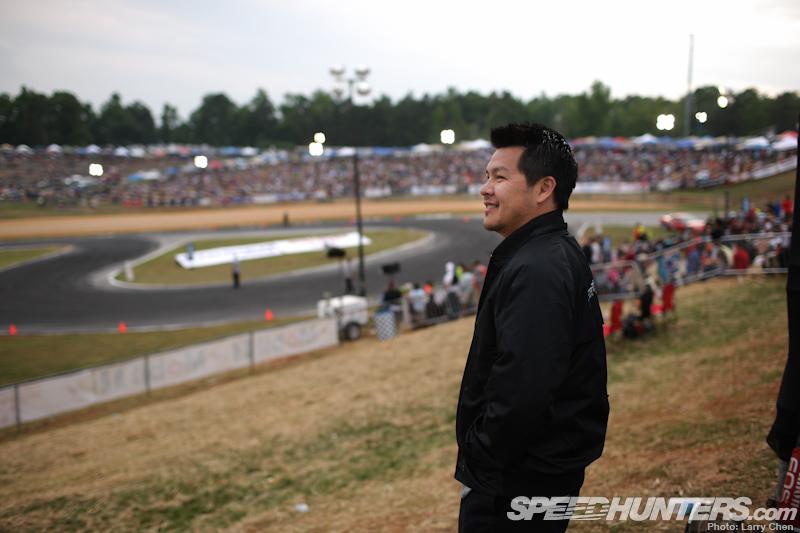 I know Jim Liaw, president and co-founder of Formula Drift, was happy. The place was absolutely packed. This was defnitly the largest attendance I've ever seen at this venue.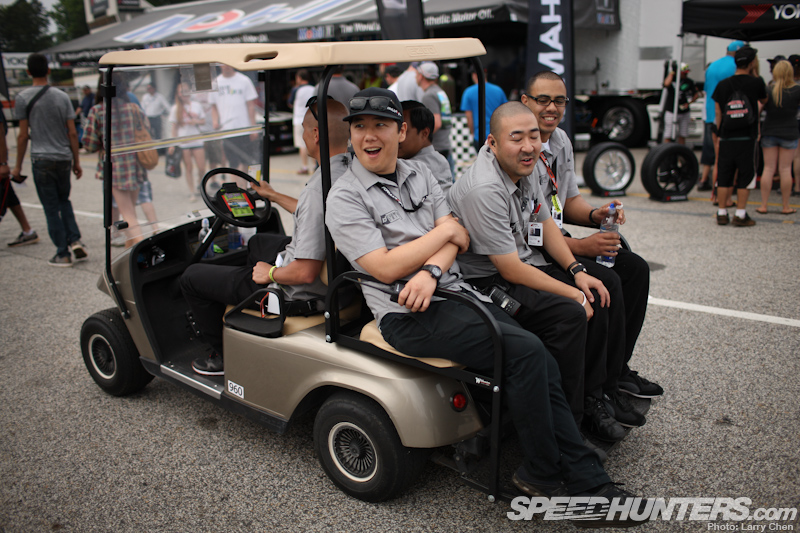 The staff had their work cut out for them. Although, I am sure it helped that everything on the schedule was very spaced out.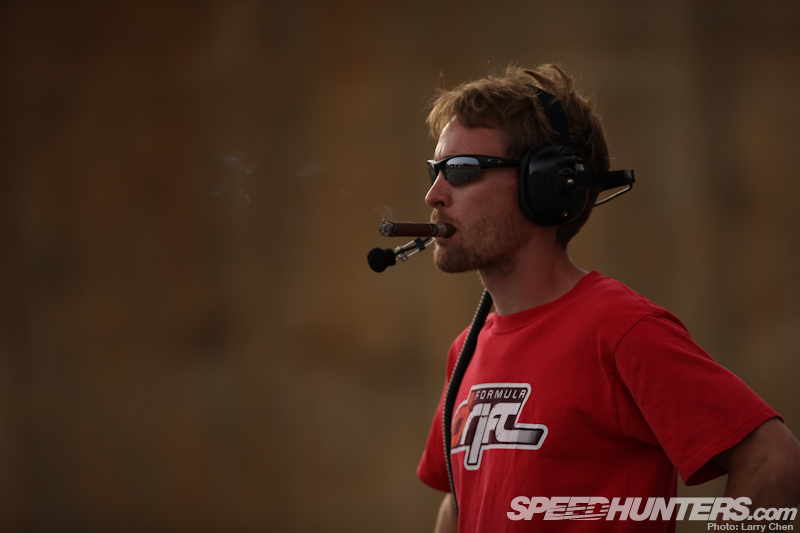 The trackside staff were also busy as there were quite a few incidents during the entire weekend, but there is always time for a cigar break.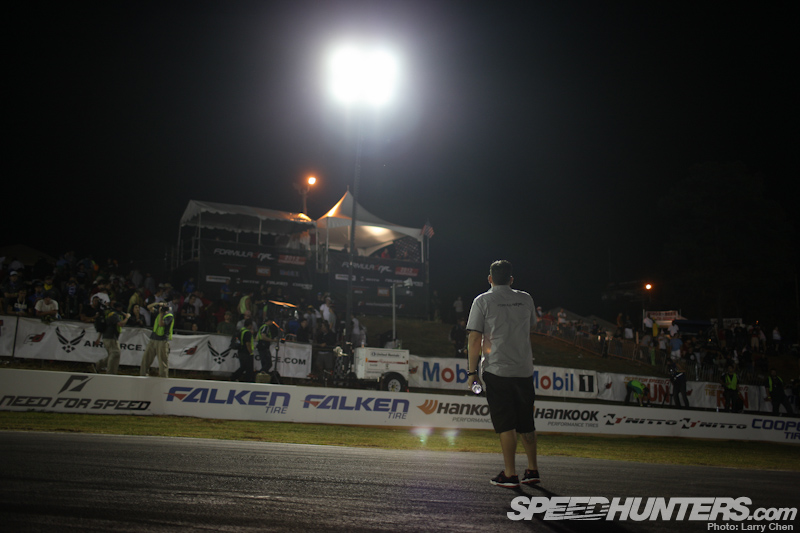 You can always tell if an event was really good by how coarse Jarod Deanda's voice is during the trophy ceremony. Even though he has been doing this since the beginning, nine years ago to this day, he still gets super excited and just can't help but yell at the top of his lungs during the event.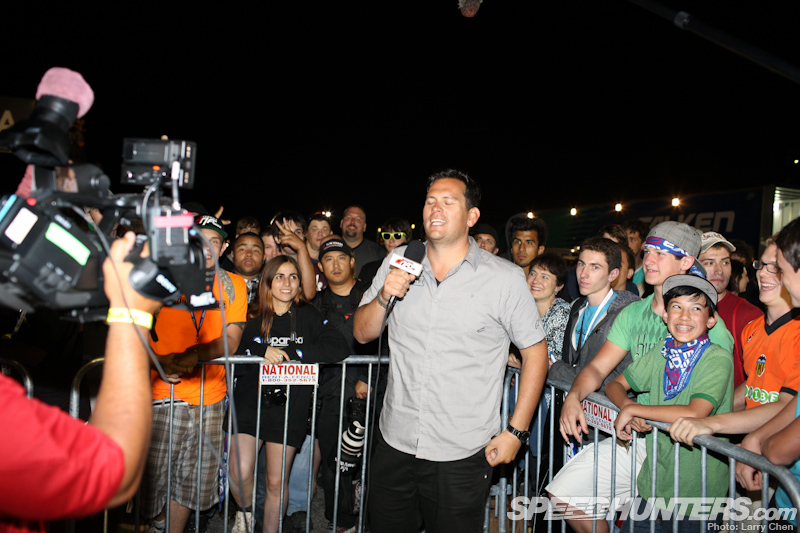 This event was no exception. I remember he once mentioned to me that he paces himself over the weekend to save his voice for the end. It does not help that Atlanta has the most rowdy crowd out of all of the stops.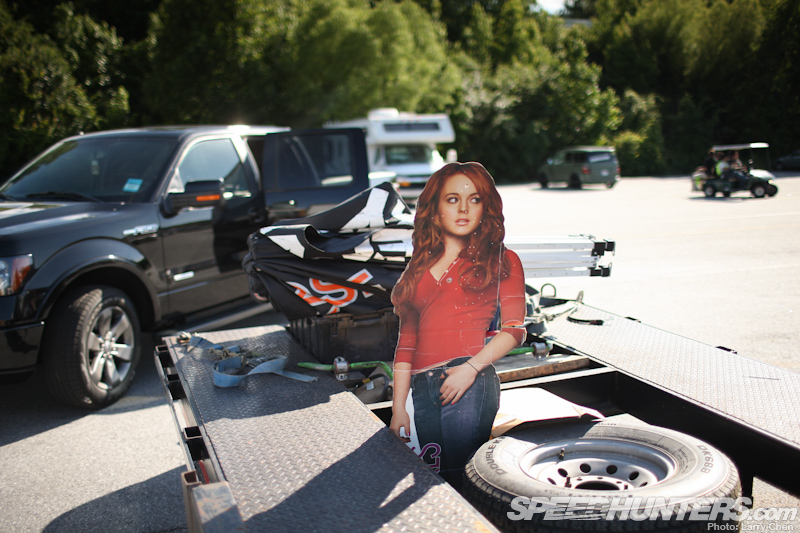 Well, that is if for my behind the scenes look at Formula drift round 2 in Atlanta. Stay tuned for an event recap from Matt Powers and a driver blog from Fredric Aasbo.
Larry Chen
Larry@dev.speedhunters.com
More stories from Formula Drift Atlanta on Speedhunters.