When I headed up the San Francsico Bay Area last month to meet with Sunny Liang and his Reader Car of the Year-winning 240Z, we decided to meet up at Performance Options. This is Sunny's neighborhood shop, and a place he can be found at regularly having work done on his Z or just hanging out and talking cars.
It looked like the shop had some very interesting projects going on, so I decided to share my findings with you guys.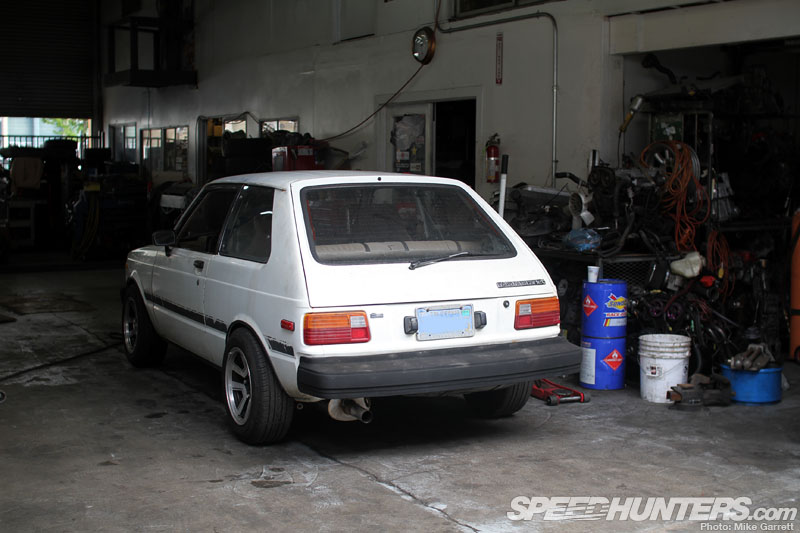 This is not one of those huge, state of the art spotless workshops you sometimes see. No, Performance Options is more of a grassroots kind of place – tucked away on 7th Street in West Oakland.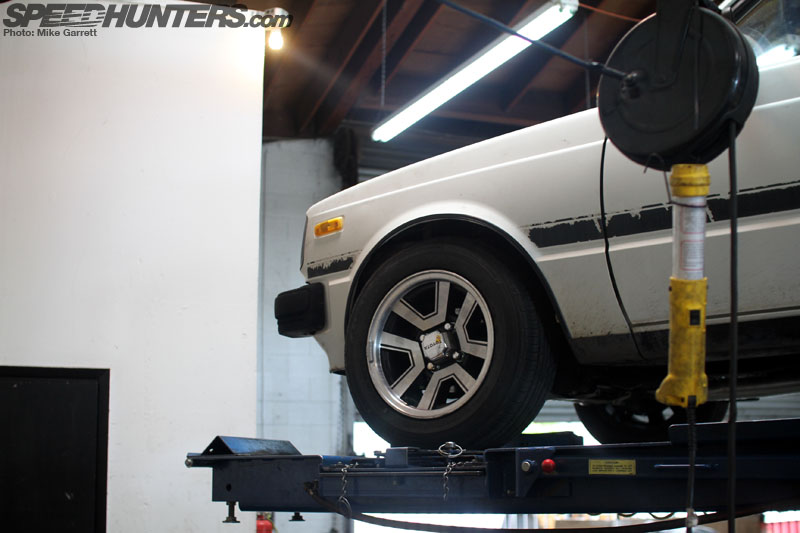 At a glance it looks like your typical neighborhood repair shop – a place that specializes in oil changes and timing belt replacements. Joey Gauthier and the Performance Options crew also that kind of work, but what they are really known for is modifying and tuning vintage Japanese cars.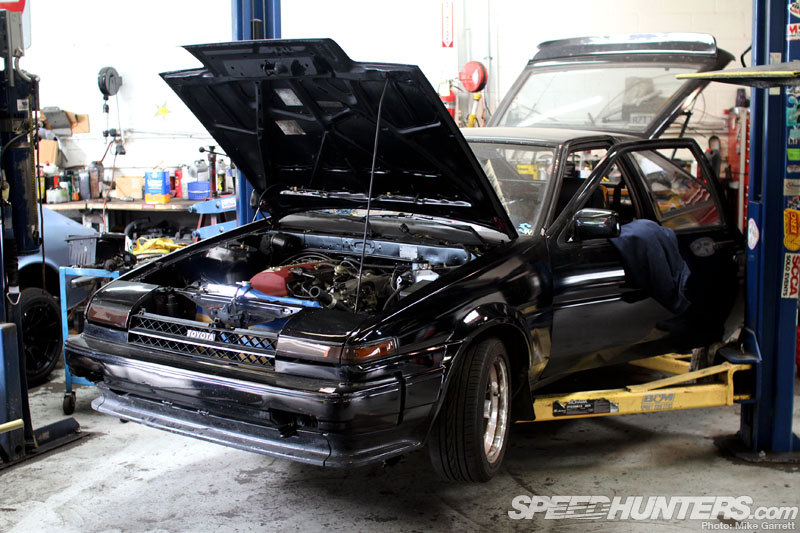 Whether it's race cars or street cars, Performance Options' impressive work was made clear by the cars that happened to be in the shop on the day I visited. In one corner of the garage was this AE86 that had undergone an S2000 F20C swap.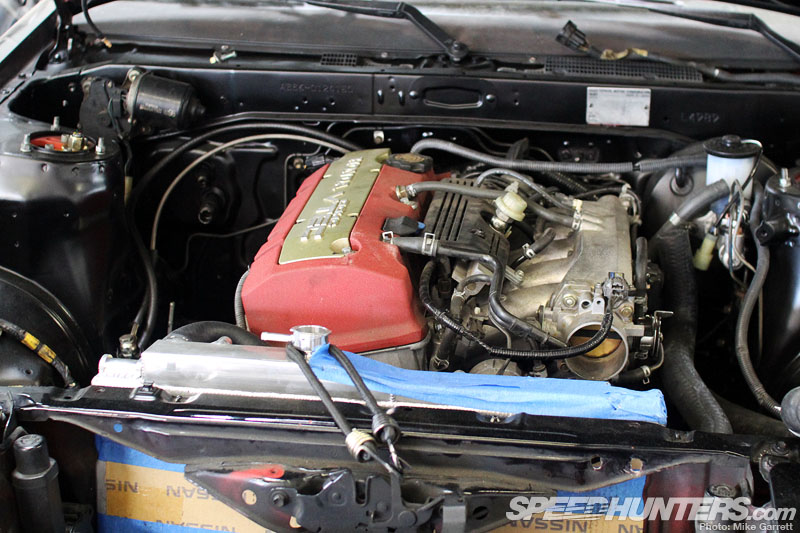 Now the F20C into 86 swap is fairly common these days, but this particular car is being built for street use and in the state of California that means complying with the our strict smog laws. Joey and the crew are transferring everything over from the S2000 in order to make this a legit, smog legal street machine.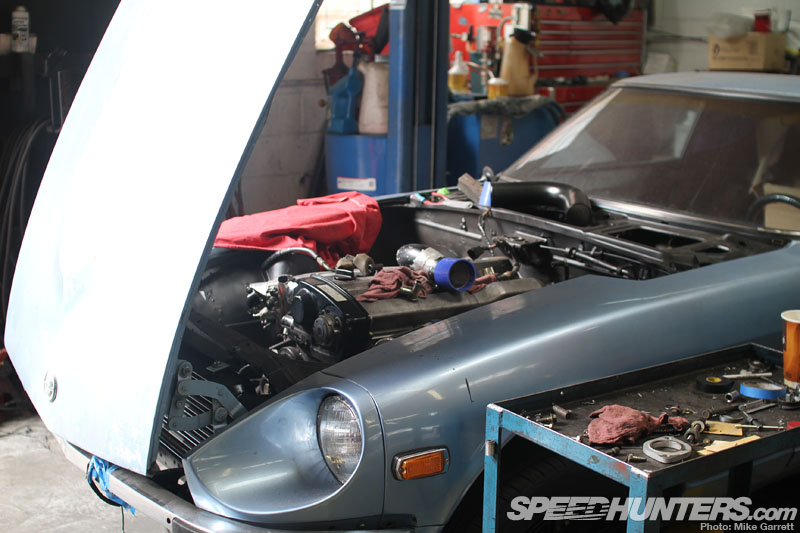 Fortunately older cars like this 240Z are exempt from smog checks meaning there is less worry when doing an engine swap.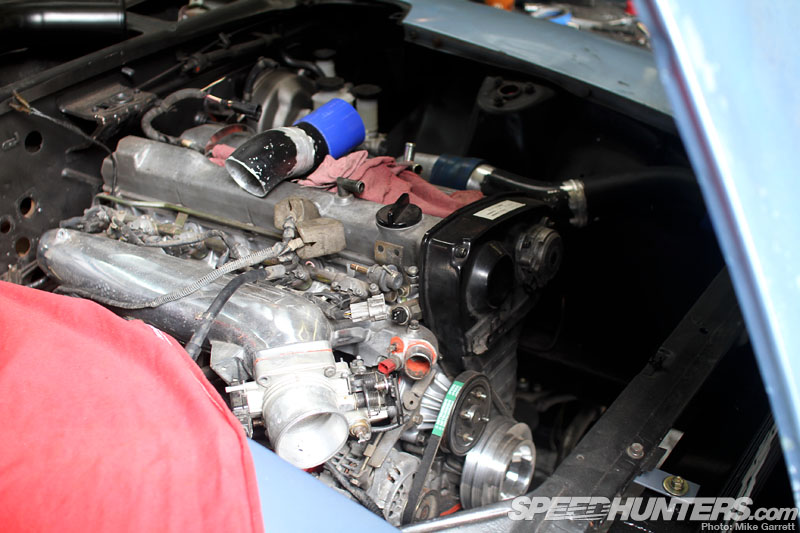 This particular Z is a low-cost street build undergoing a mild RB swap. Joey finds it important to work with his customers' budgets whether they are a working on a low cost daily driver, a high dollar race build or something in between.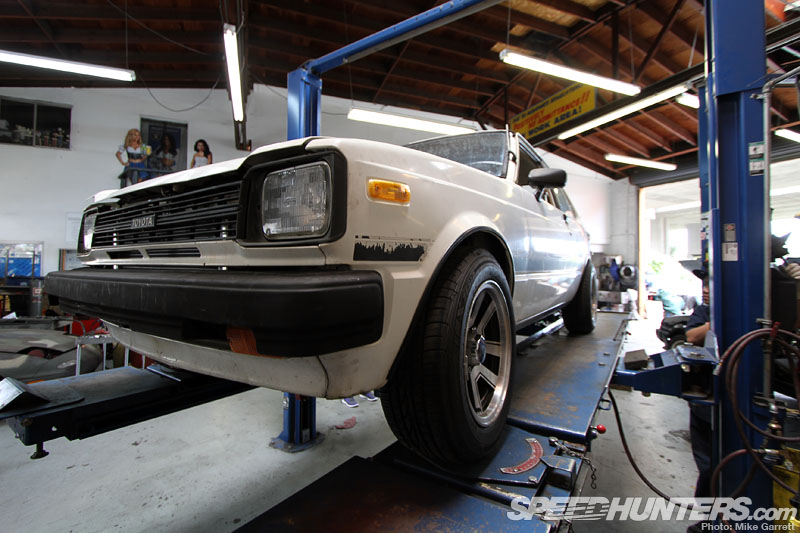 Another customer project in the shop was this KP61 Starlet that looked pretty stock on the outside…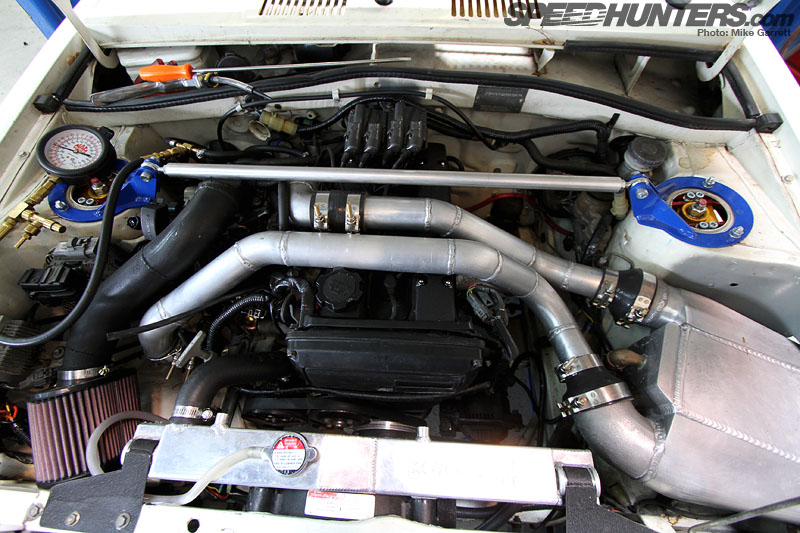 …but under the hood is housing supercharged 4AGZE power.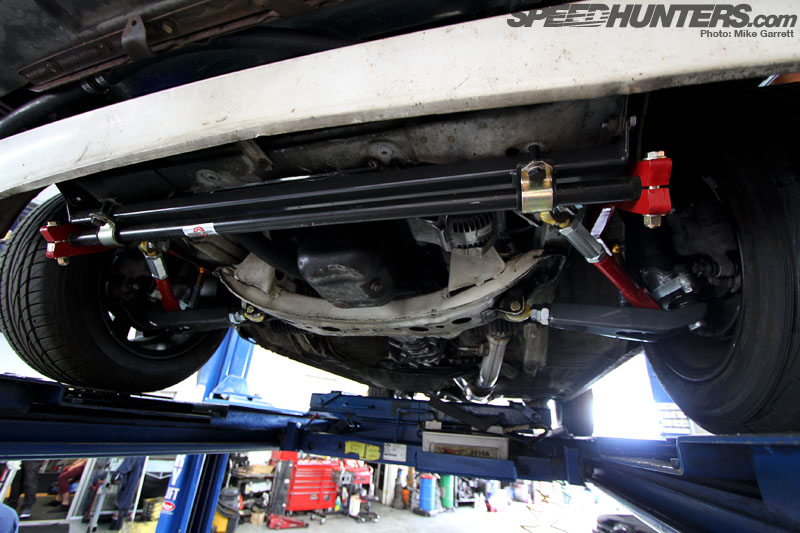 Much of the chassis and suspension has been swapped out for AE86 parts, including the complete rear end assembly which gives the Starlet a wide stance. In this shot you can also see all the T3 suspension parts the car is equipped with.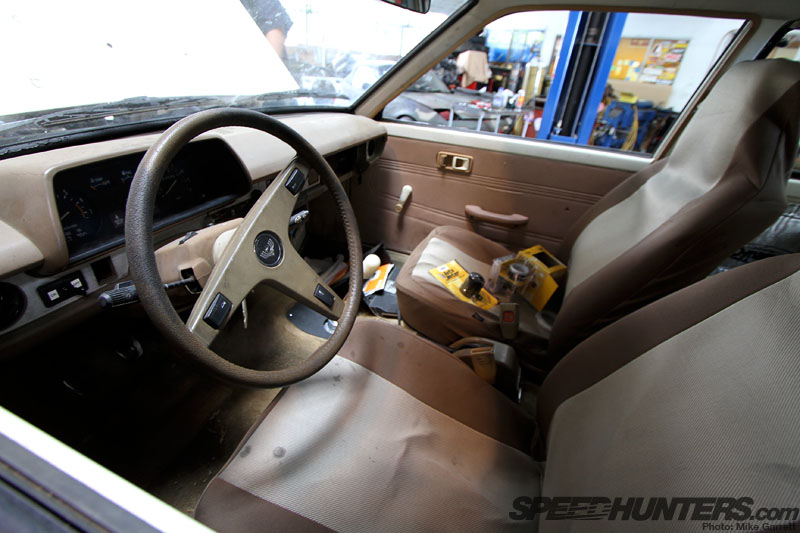 Check the original brown interior complete with the factory steering wheel. Doesn't do much to hint at the engine swap and upgraded chassis does it?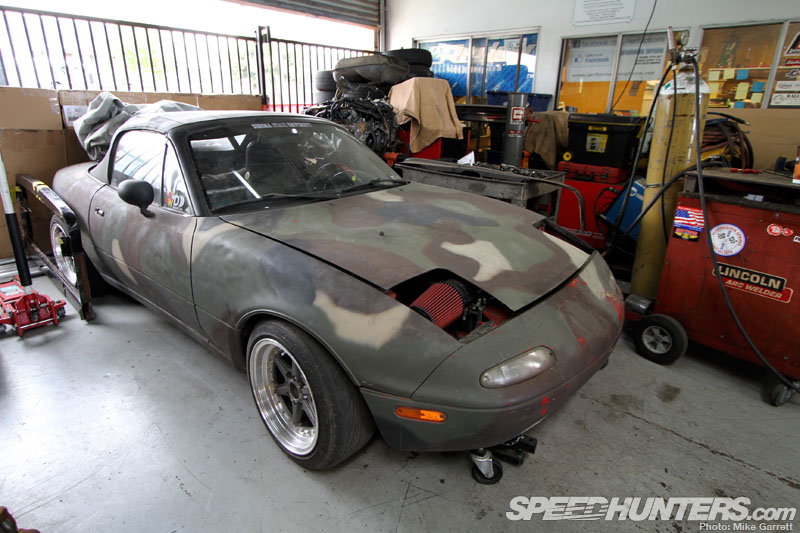 Sitting in another corner of the shop was this camouflage-painted Miata drift car.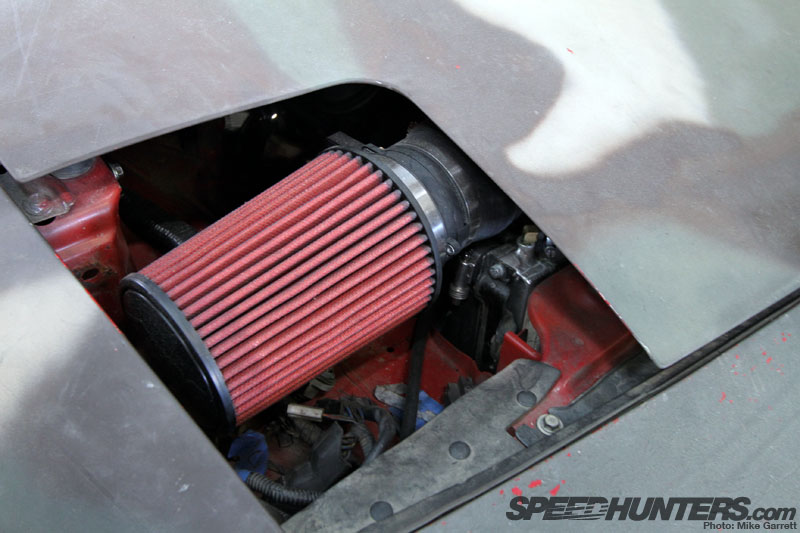 Hmm, I don't think that giant air filter is for the factory Miata four cylinder.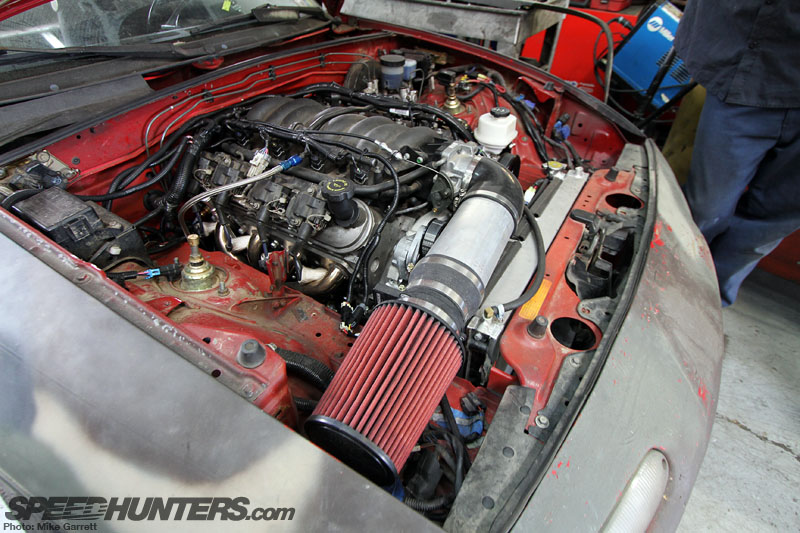 The little Roadster has been swapped with an LS1, creating a modern take on the classic Shelby Cobra formula.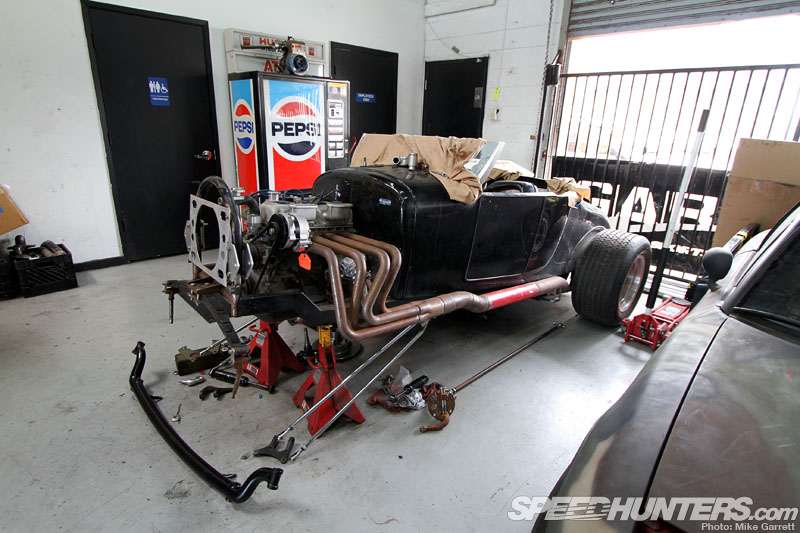 Joey also showed me one of his personal projects that he tinkers on whenever he has time. A Hot Rod…
…with Toyota 3TC power.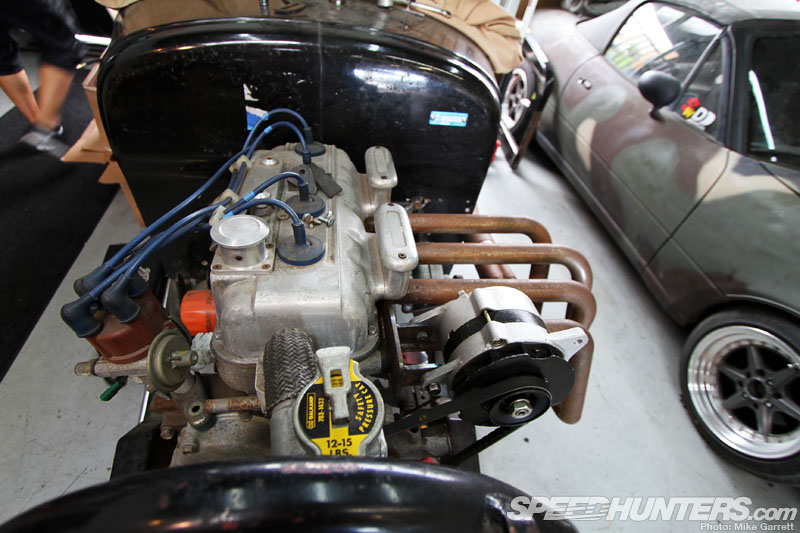 Should be very cool to see once it's done!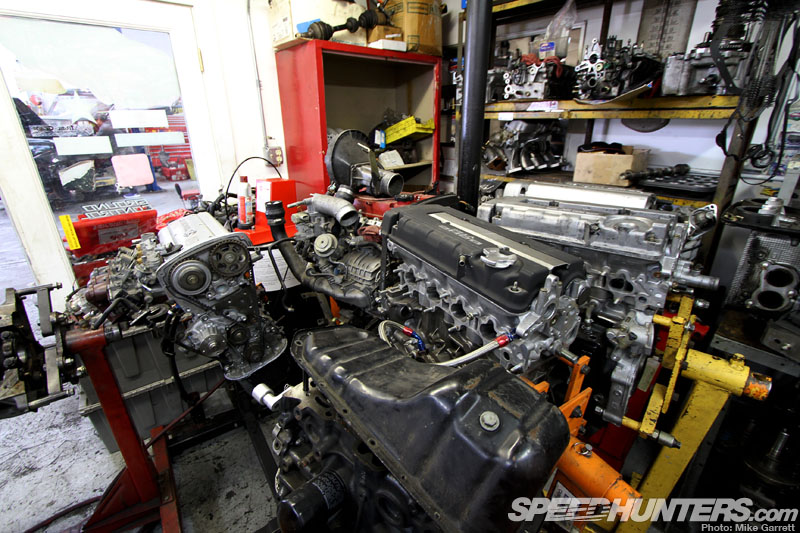 Next up Joey showed me the engine room, which was packed full of complete motors and other high performance parts.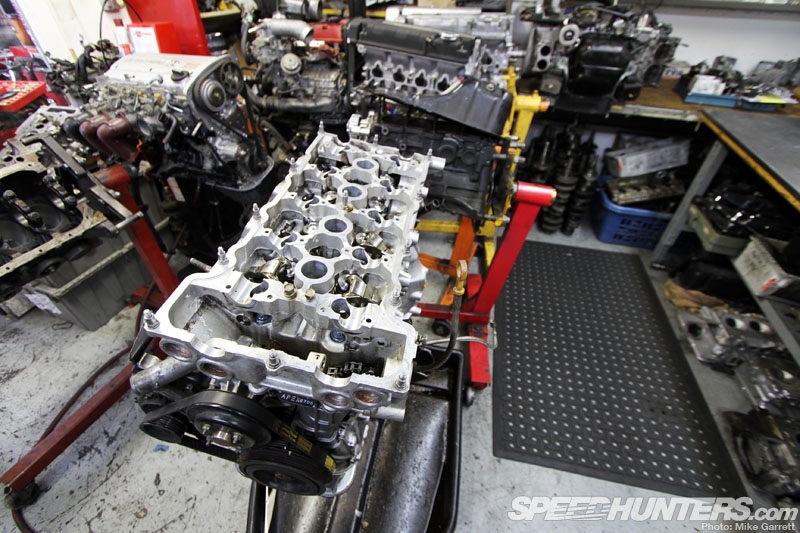 I saw motors from all of the big Japanese makers crammed into this room. Here's a a built SR20 for example.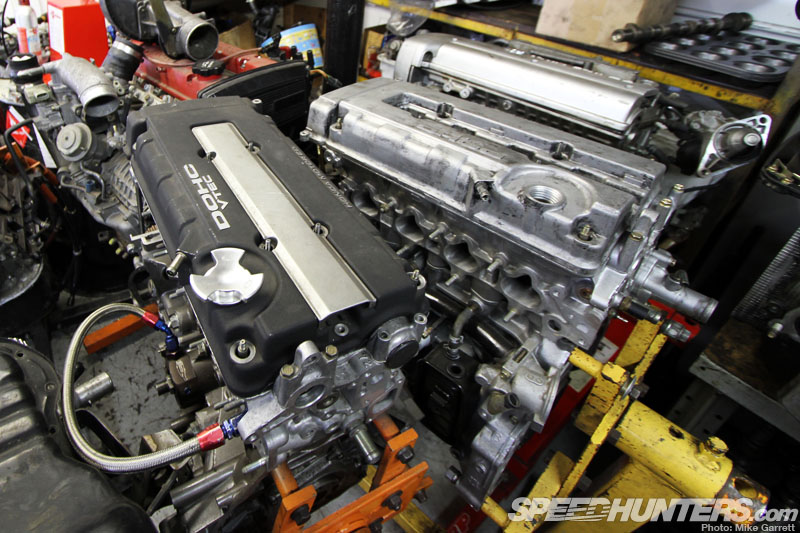 Also a couple Honda B-series motors waiting for a home. Although there no Hondas at the shop the day I was there, Joey says they work on them quite often.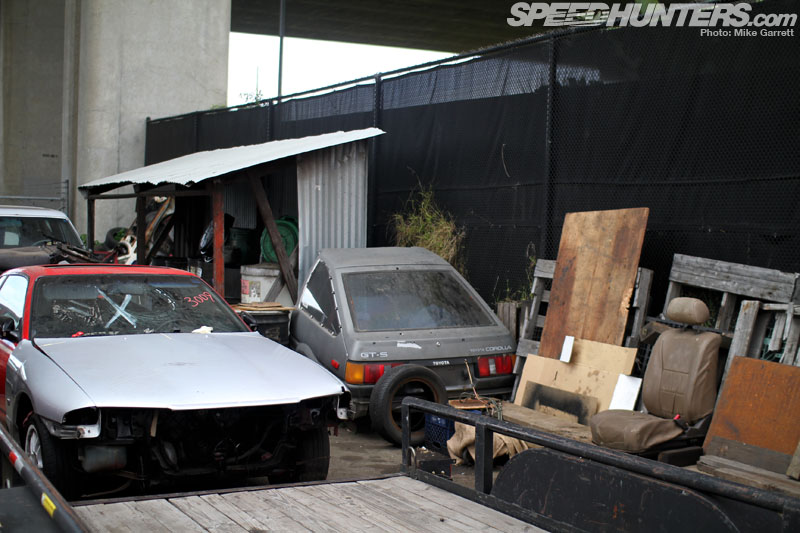 From there we headed outside to the storage lot behind the shop, which revealed even more interesting project cars.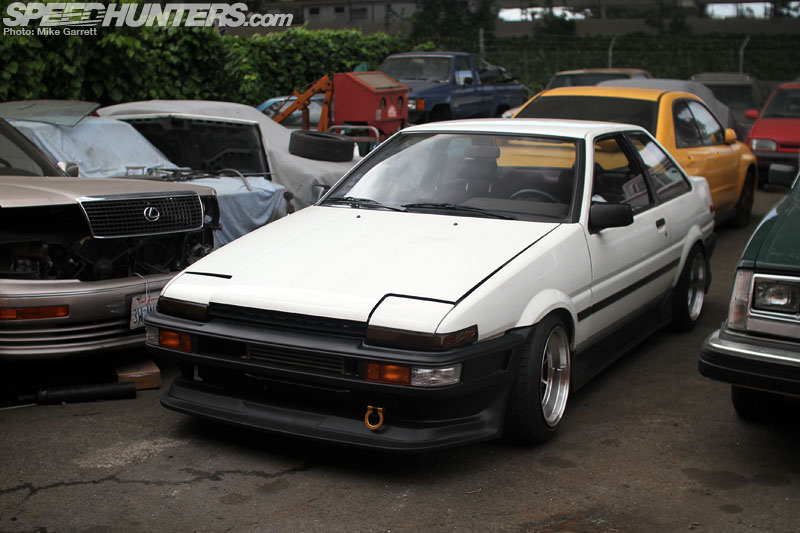 This engine-less 86 coupe is awaiting an SR20 swap if I recall correctly. Just another one of the countless transplant patients that have come through Performance Options.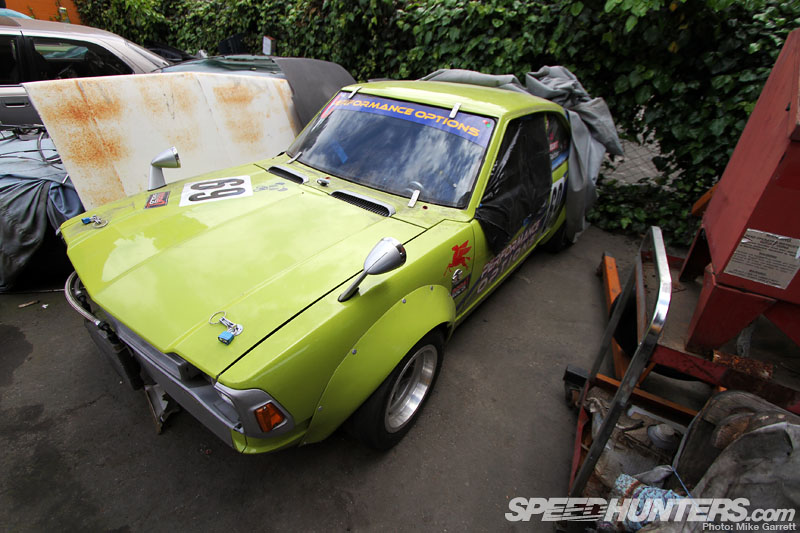 This flared TE27 Corolla is Joey's personal race car and sees action regularly both at local autocross events and on the open track.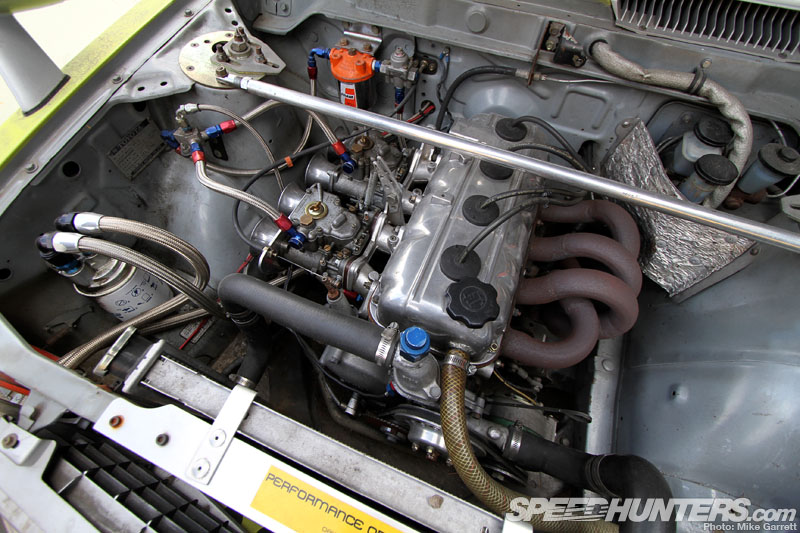 It's powered by a fully built 3TC motor on sidedrafts. Yum.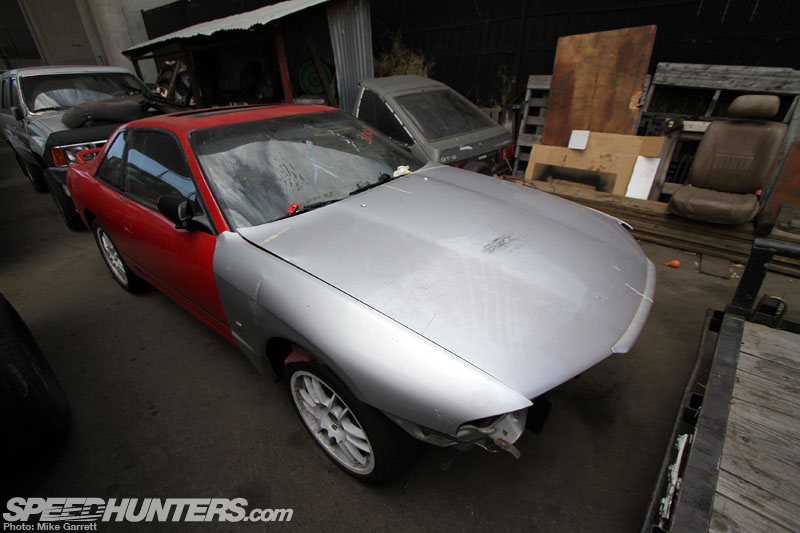 This S13 (with an R32 front end conversion) is another customer project.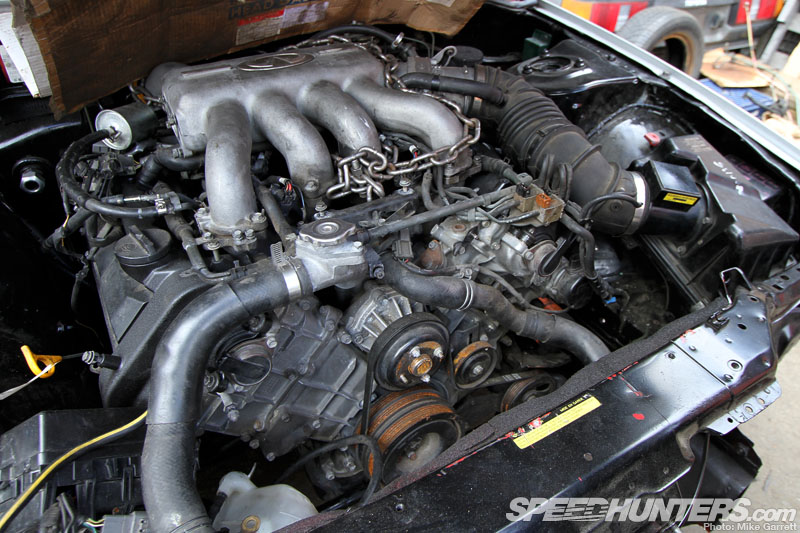 It actually has a half-completed VH45DE swap which the guys are planning to straighten out. As you can see, Joey and his crew work on quite a variety of engines.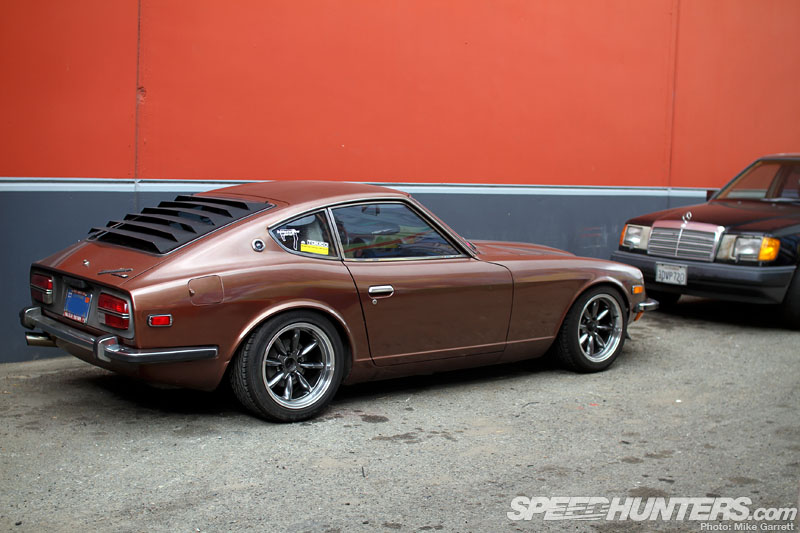 Naturally, my eye was caught by yet another 240Z that was parked beside the shop.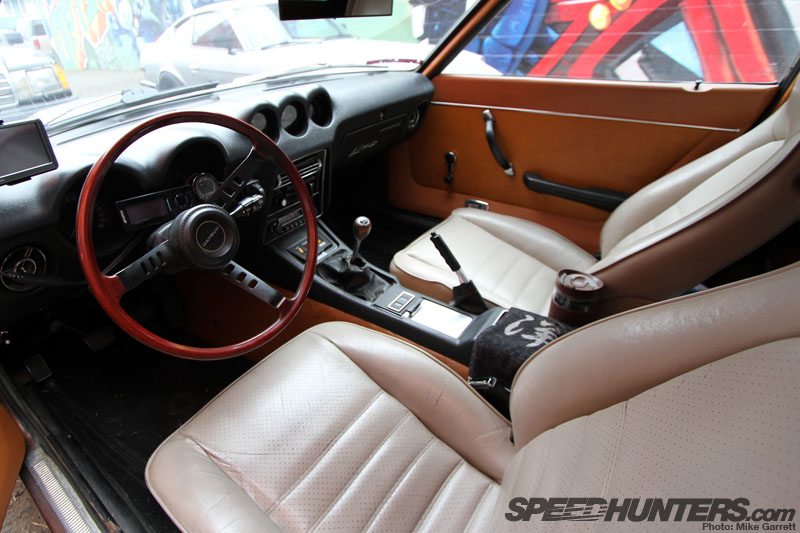 Looking inside at the original appearing interior, you wouldn't have a clue…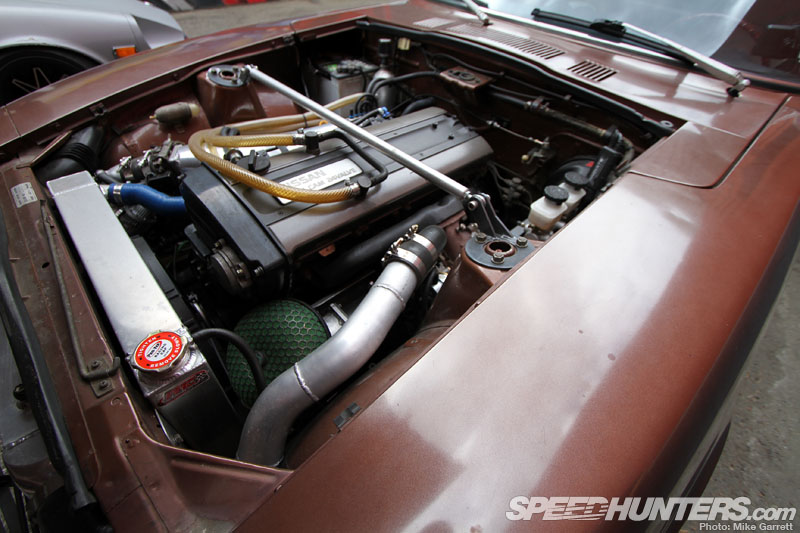 …that it's sporting a very clean looking RB25DET swap.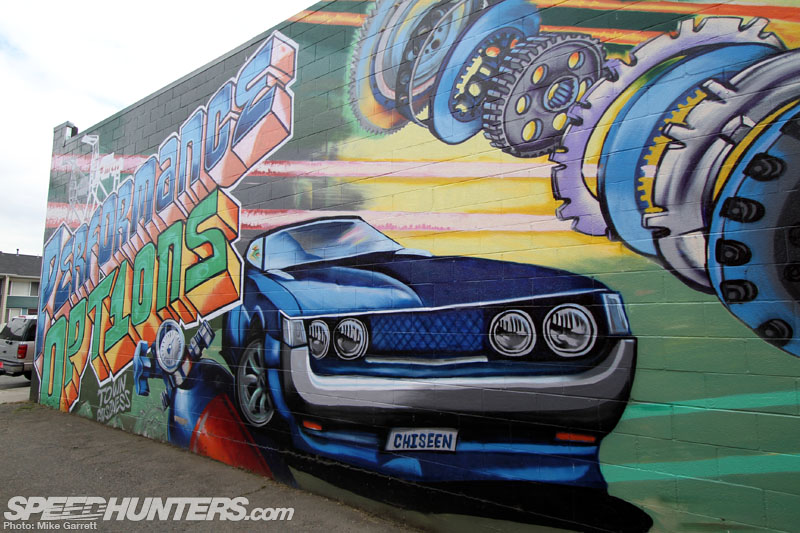 Before wrapping up, I should mention the amazing mural that covers the side of the shop.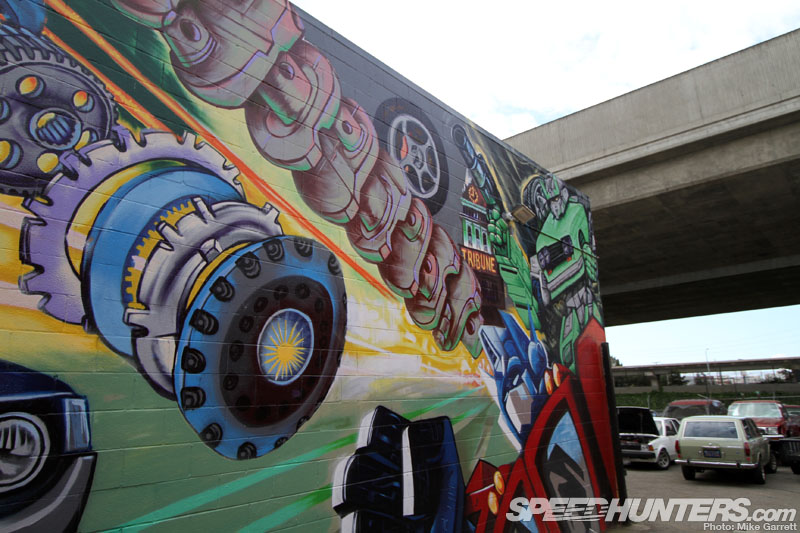 The painting was done by a friend of Joey's and it makes the building quite an attraction among the locals. Apparently people stop by all the time just to check it out.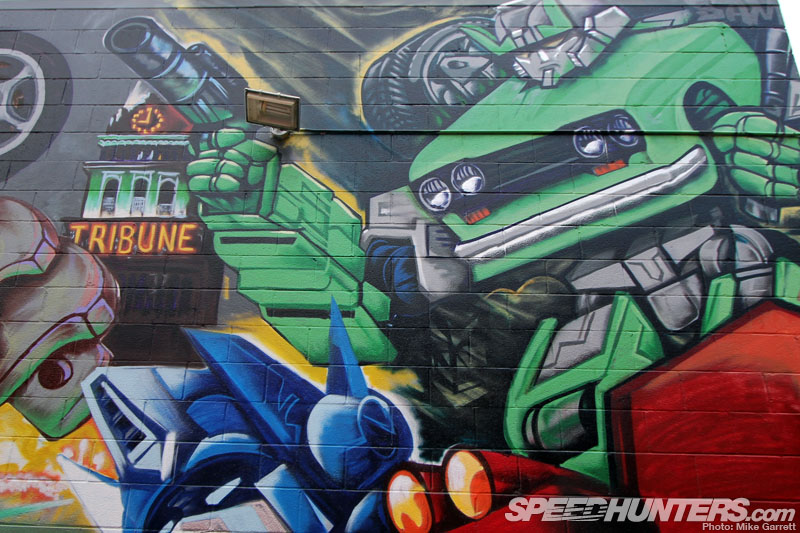 Yes, that's a Datsun 510 Transformer. We approve.
Thanks to Joey for showing me around, and if you ever find yourself in the city of Oakland be sure to stop by.
Who knows what sort of crazy projects they might be working on?
-Mike Garrett
More Car Builder Stories on Speedhunters
More Stories by Mike Garrett on Speedhunters