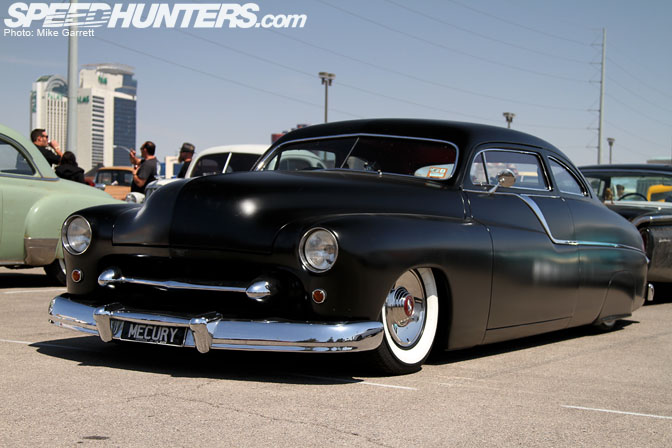 Viva Las Vegas is all about fashion – whether its the makeup, the hairstyles, the clothes, or the tattoos. There is no standard look for the people of VLV and their styles range from a bit of hair gel and some old jeans all the way to full blown Rockabilly zombies.
The cars are pretty much the same way.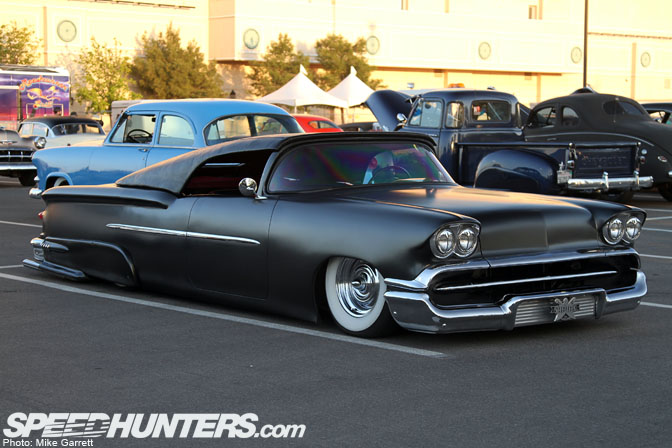 Some of the cars you see at Viva have some very creative work done to them. This '58 Chevy for example is sporting a swooping one-off custom roof. Based on the door line, it also appears this may have started life as a basic four-door sedan.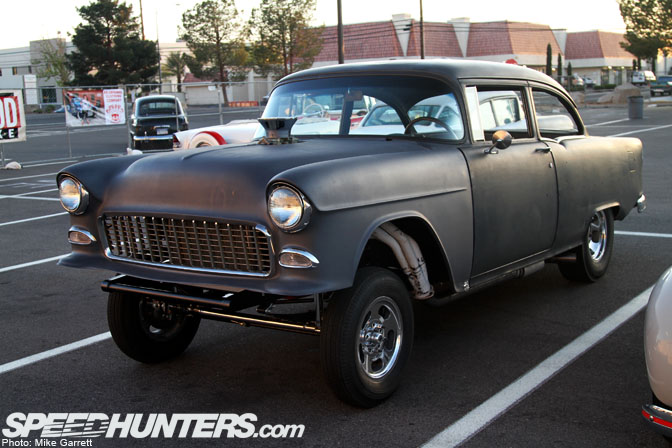 You're much more likely to find gasser style cars at a vintage drag meet, but that's not to say they aren't part of Viva Las Vegas. Here's a traditional '55 two-door post car riding high.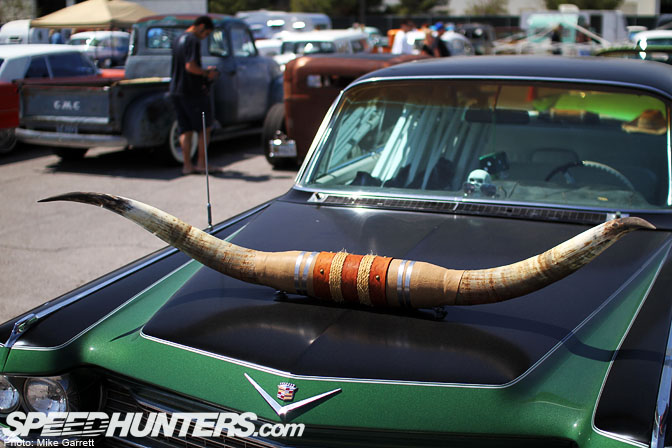 Check the horns mounted on the hood of this Caddy. Can't imagine cops approving of that.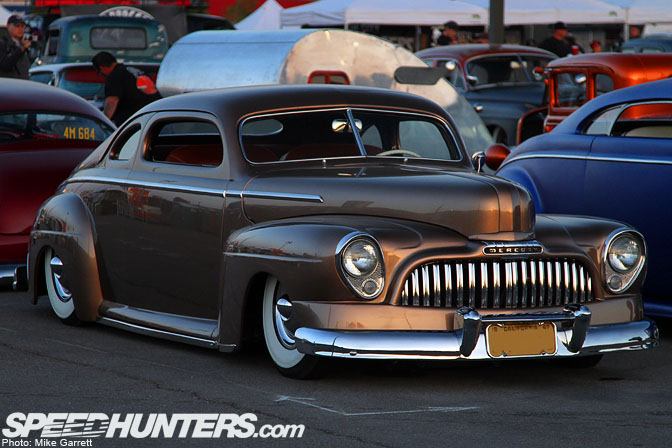 At any car gathering there will be some standout machines, and this gold Merc was certainly one of this year's highlights. Simple and beautiful.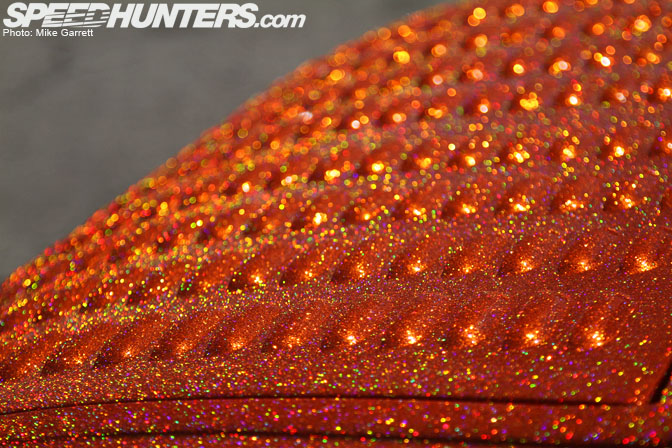 The paintwork on the cars is very much the automotive version of the vintage-themed clothing worn by the Rockabilly party-goers. Whether it's heavy amounts of metal flake…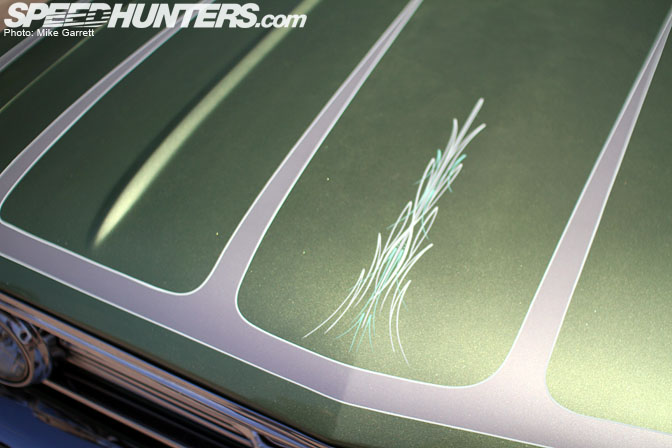 …traditional scallops and pinstripes…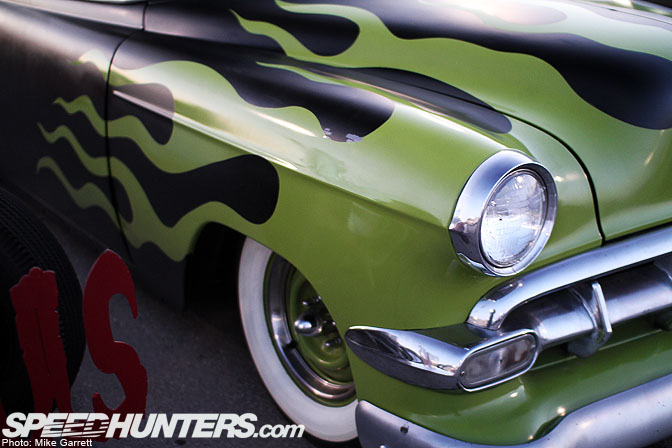 …or of course flames.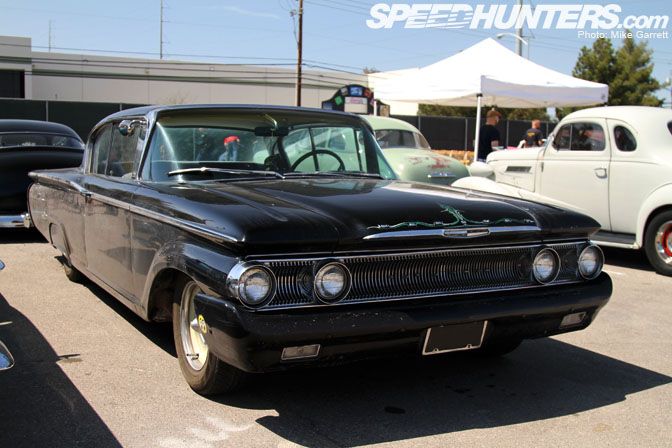 Other cars like this '60 Mercury were going for a more natural look.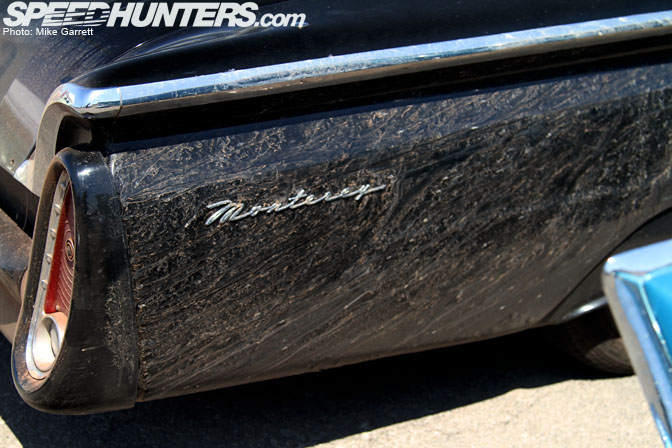 It was proudly wearing the dirt it had accumulated during its journey to Las Vegas from Oregon.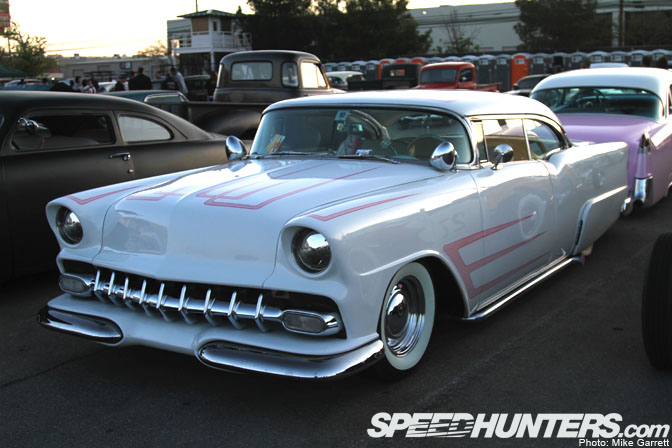 When you think of the '50s, you think of cars like this. Baby Moons, wide whites, skirts, and side pipes – it has the old custom look nailed.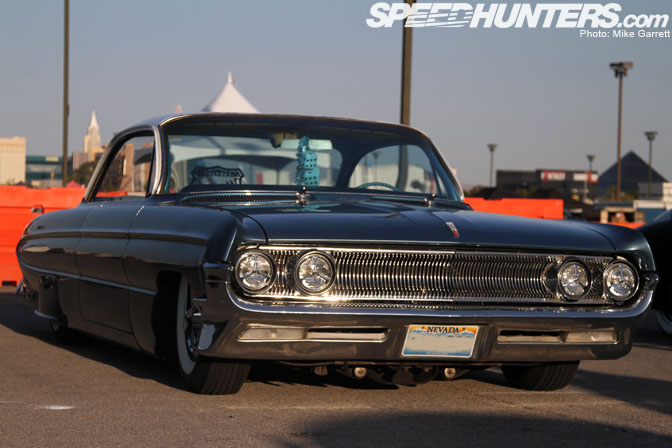 A very mild Oldsmobile 88 models GM's famous early 1960s "bubble top" roof.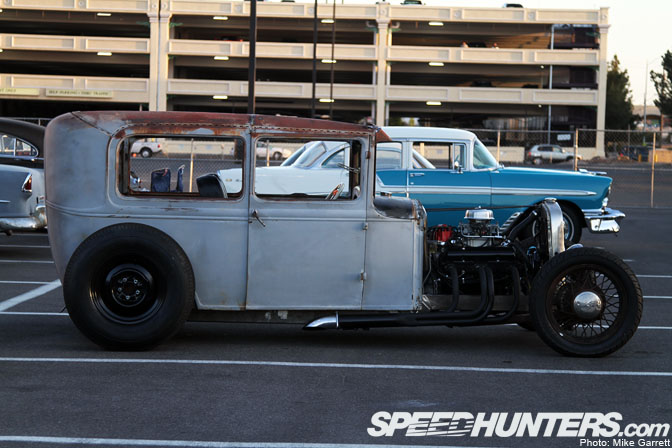 Is this a "Rat Rod"? I'm still not quite sure what you label something like this.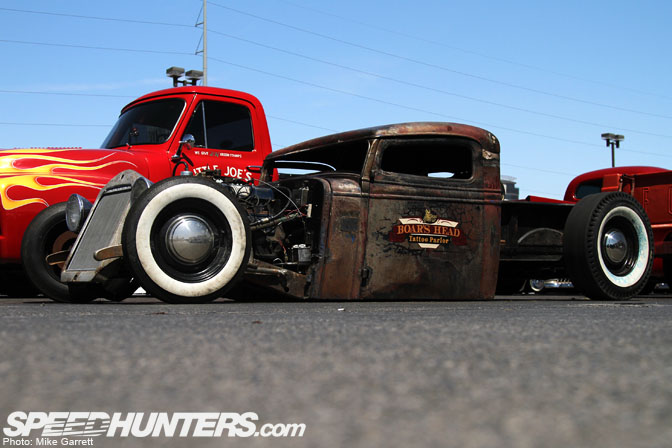 I'd say the name certainly applies to this slammed pickup.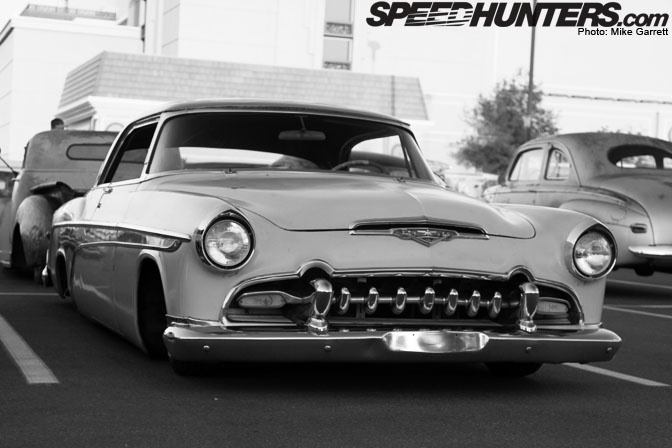 I think we need a name for cars that so low that you can't actually see the tires from the front. Hoverflush?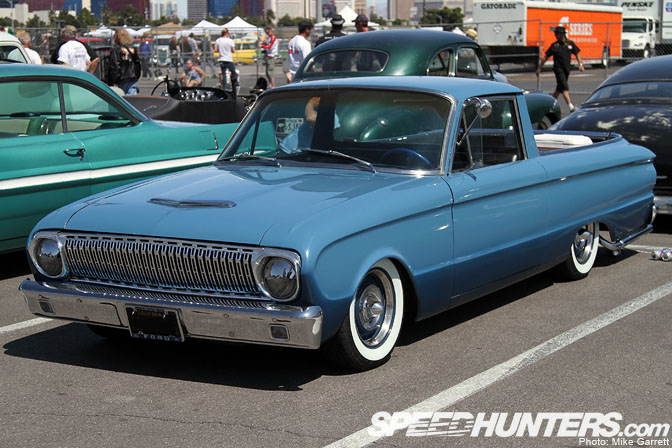 The Ford Falcon always makes for a fine project car, as does its pickup bed-equipped cousin the Ranchero.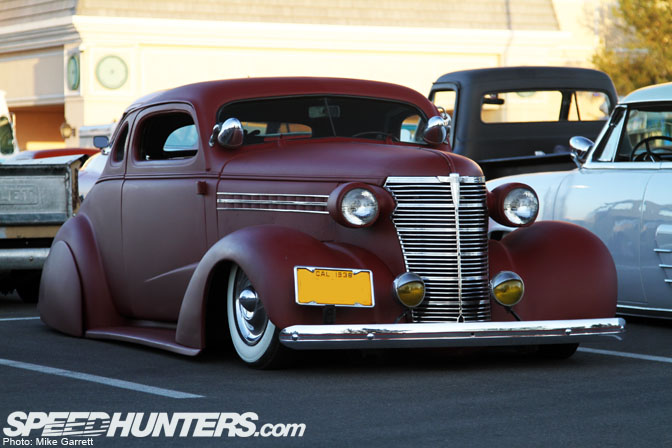 The 1930s California license plate is a classic touch, but the airbagged stance is a great convenience of the modern era.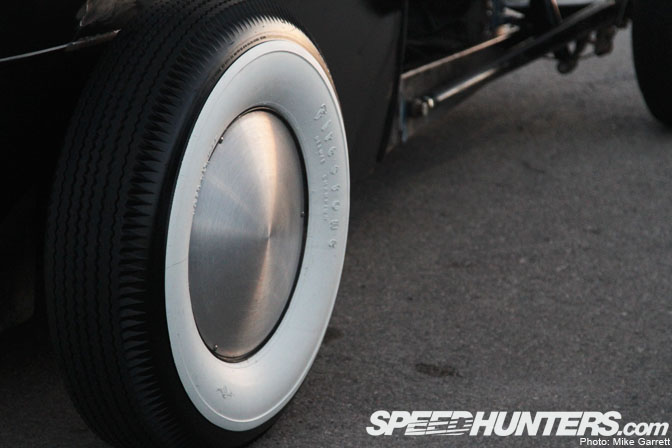 Moon discs and Firestone whitewalls for that legendary Hot Rod look…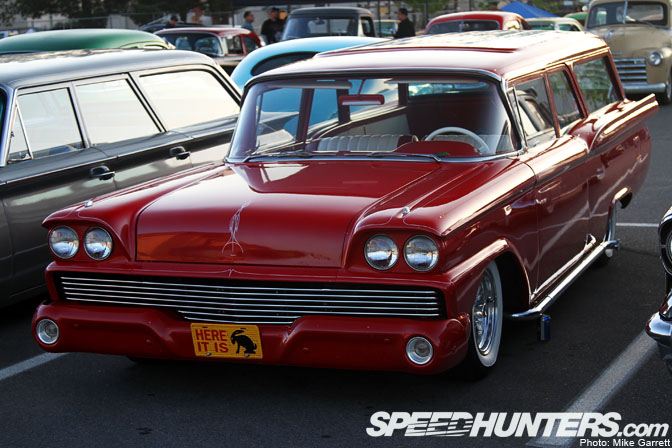 Interesting bumper treatment on this Ford wagon.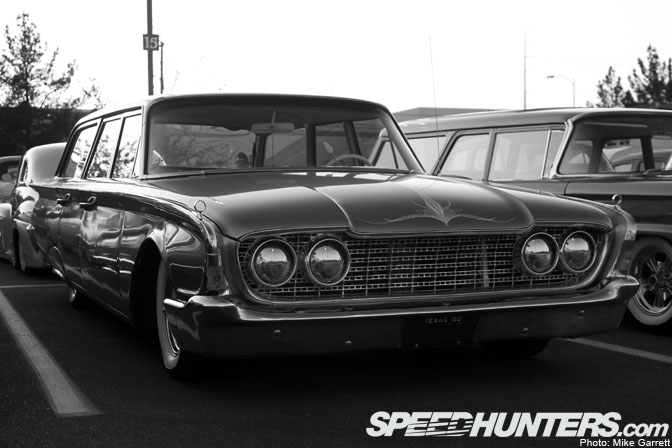 Another super cool Ford longroof, this one a '60 model. Based on the license plates, it looks like it made the trip from Texas.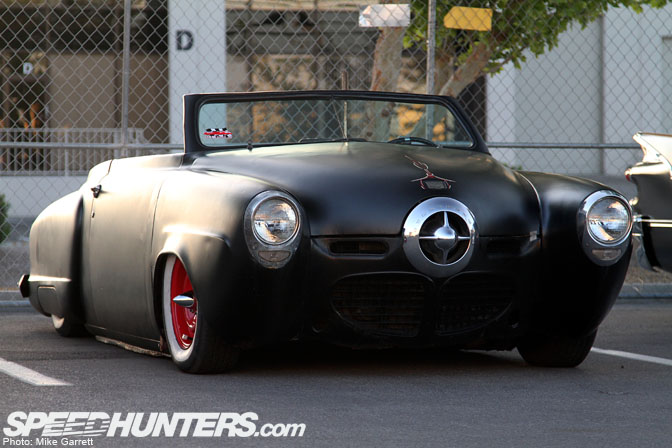 Viva Las Vegas draws people from all over the world. During my time at the event I spotted people from Germany, France, Australia, and Japan. I overheard a group of Germans talking about this car, and although I couldn't understand what they were saying I clearly heard the word "Studebaker". I'm guessing that one sounds the same in any language…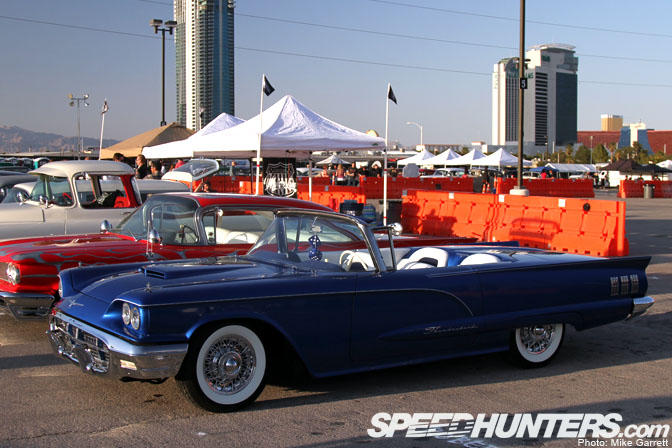 It seems there are always good deals out there for late '50s and early '60s Ford Thunderbirds – which is strange given their handsome looks and strong history. One could easily build a car like this one without breaking the bank.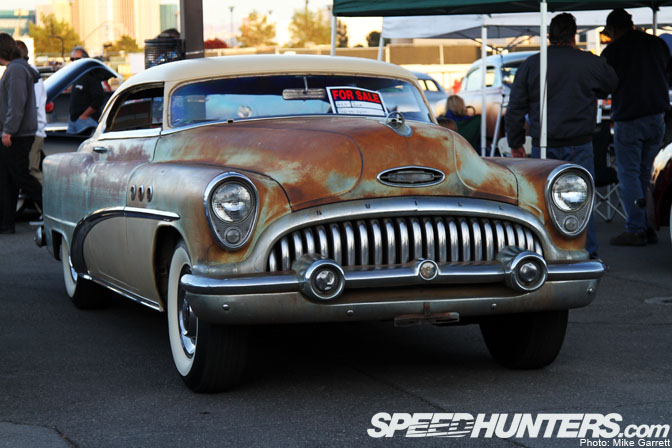 The chopped roof and unpainted body made for a big contrast on this Buick.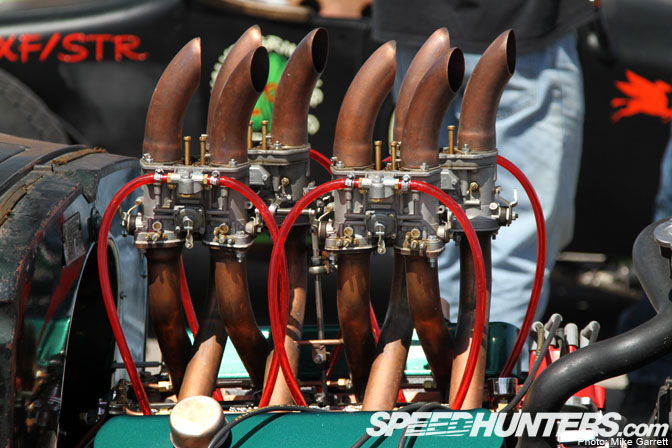 Can't say I've ever seen an intake setup quite like this before.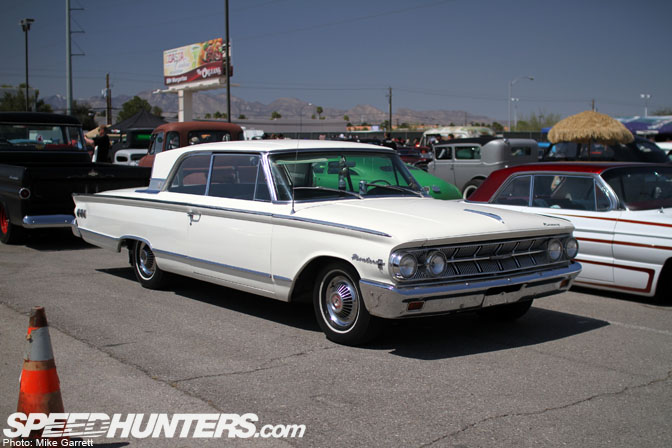 There's always something to be said for cool bone stock cruisers like this Mercury Monterey.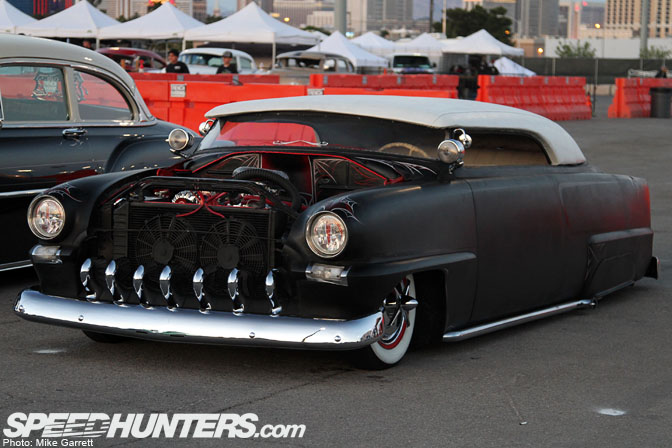 Stock? The term hasn't been uttered within a hundred yards of this one.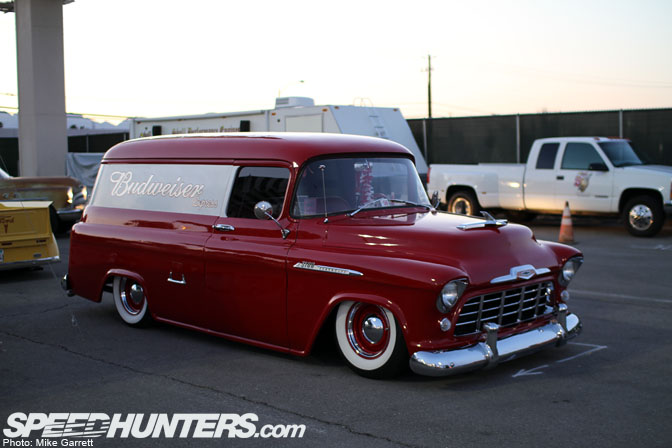 It's a shame today's delivery trucks don't look like this. Who cares about function and practicality?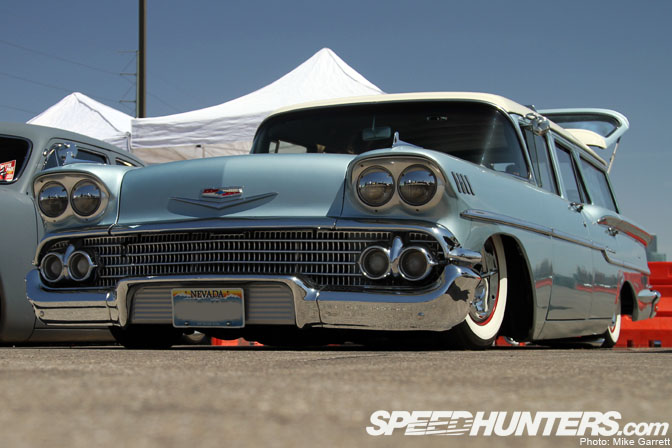 Love this '58 Chevy wagon. Aside from the lowering, the factory body lines do all the talking here.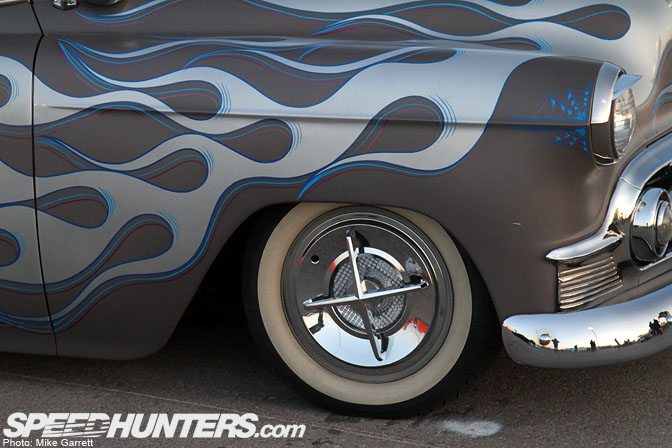 I'll end this chapter here, but I'll be back shortly with another look at Viva Las Vegas – this time under the lights.
-Mike Garrett