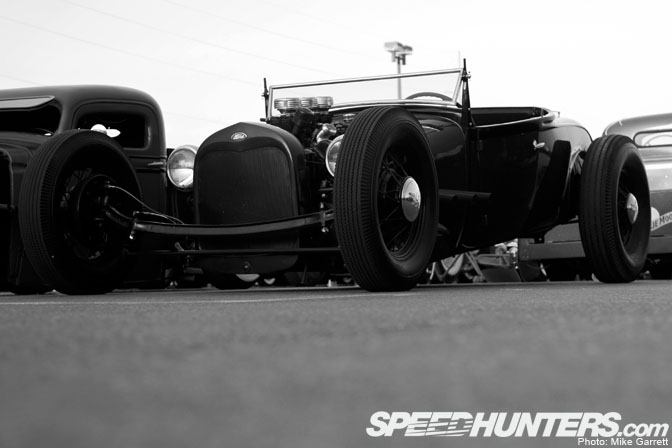 This weekend my fellow North American Speedhunters and many other of my colleagues were gathered in Long Beach for the opening round of Formula Drift. For the first time since 2009 though, I would not be joining the piles of yellow-vested media guys fighting for photo holes in Long Beach.
My mission was to travel across the Mojave Desert to bring you guys coverage from Viva Las Vegas.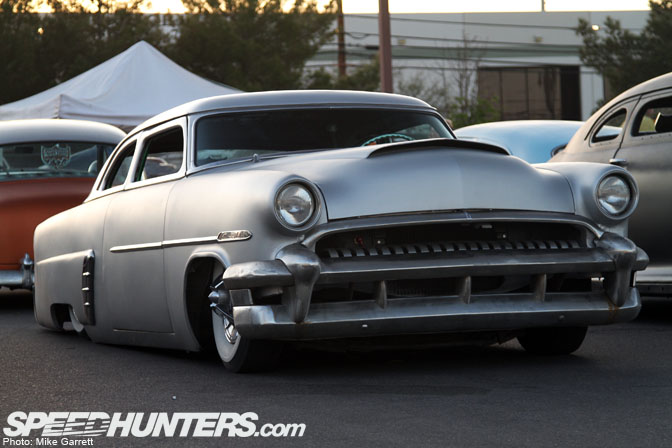 Of course I can't complain much, because having to skip one great automotive event for another is not something to complain about.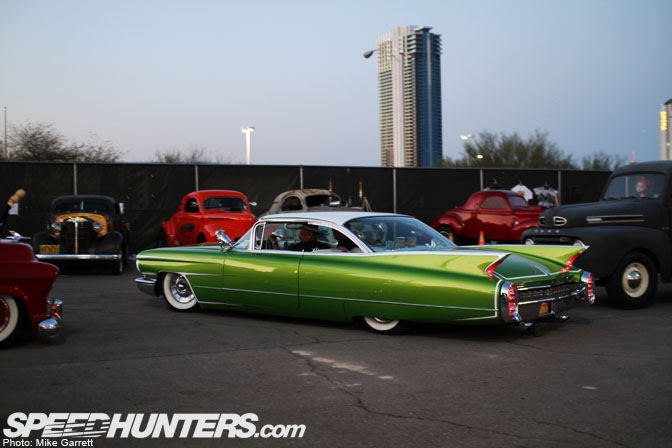 Viva Las Vegas is interesting in that the car show is just one part of the world famous Rockabilly festival. To be perfectly honest, VLV probably isn't the best place to see to go if you want to see traditional Hot Rods and customs. For that you'd probably be better off at the Krusin' Nationals or the Long Beach Motorama. Viva Las Vegas is where people to go to party.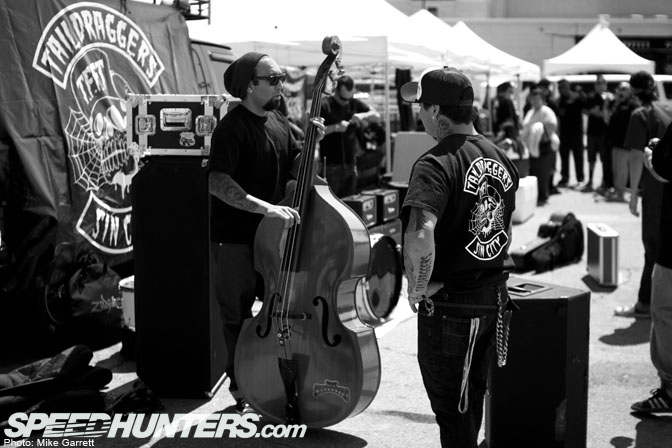 In this world, the cars are just one piece of the puzzle. A puzzle that includes music, tatoos, girls, and lots of beer.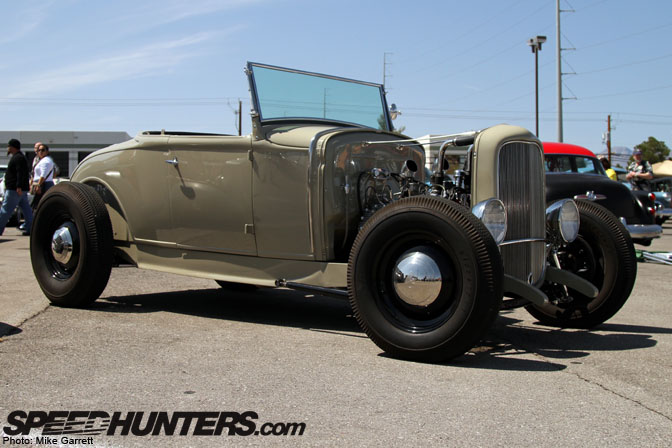 With dozens of concerts, parties, fashion shows, and other events going on I'm sure many don't even venture out to see the cars.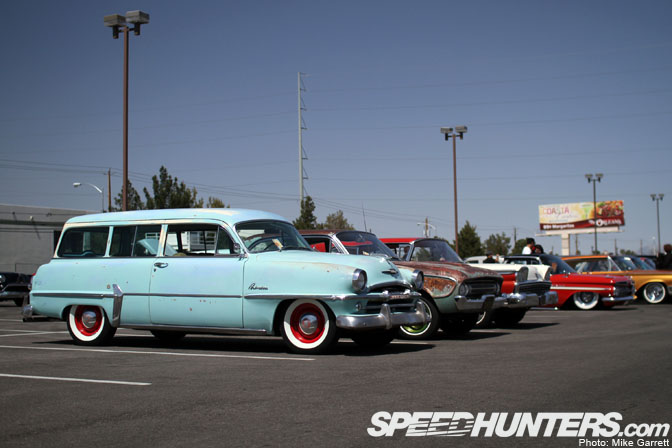 This is Speedhunters of course, so naturally I spent most of my wandering the car show area.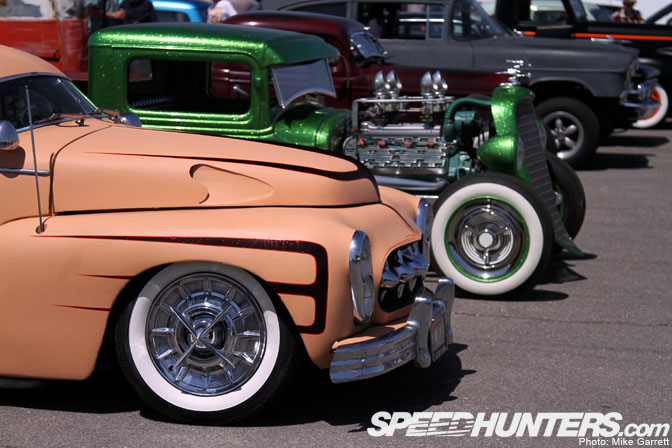 The cars that gather at Viva Las Vegas make for an eclectic mix of vehicles from the 1960s and earlier. Lead sleds, Hot Rods, "Rat" Rods, pickups, stockers, and many cars which looked like they were barely staying together.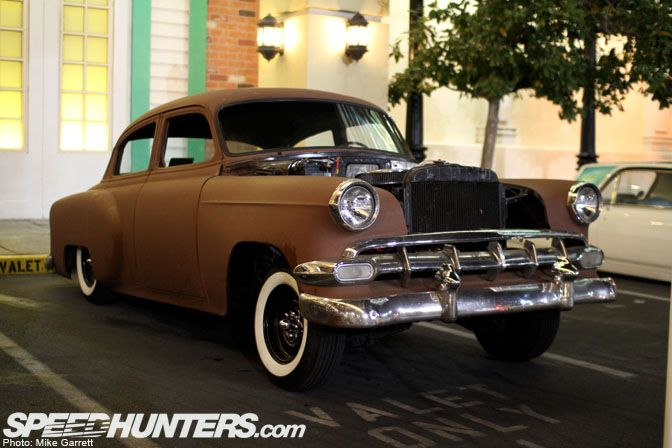 While these "unfinished" cars will likely turn off some of the purists, they very much go with the loose and wild atmosphere Viva Las Vegas is known for.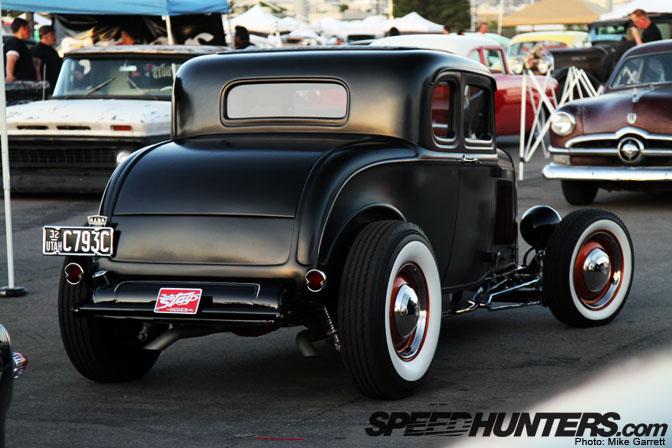 Of course I'd lying if I said there were no high quality traditional Rods and Customs at Viva. This matte black Deuce Coupe certainly delivered on that end.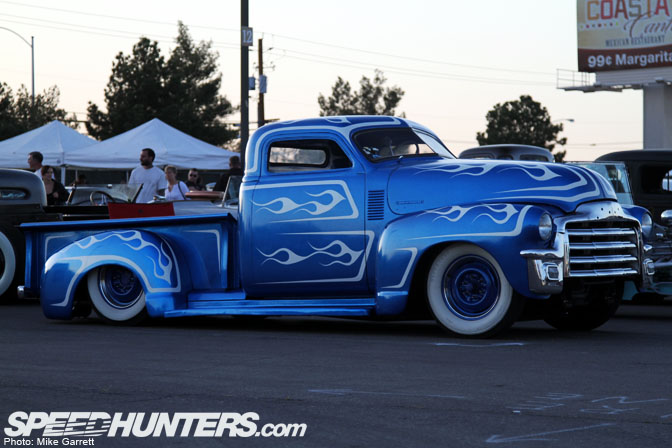 Nose up stance with scallops and flames make this Chevy the perfect Rockabilly hauler.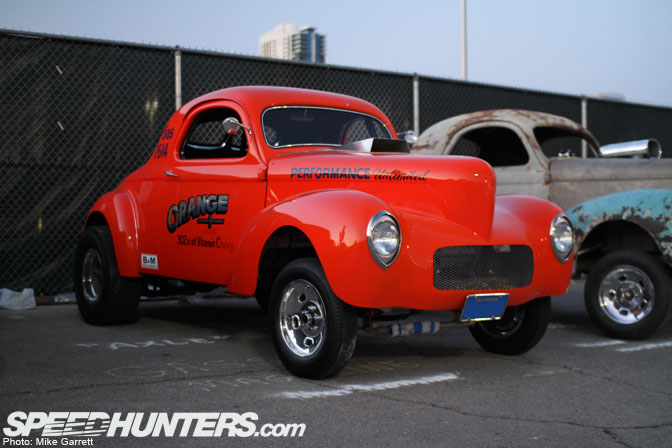 While Viva Las Vegas does not include any racing, there was a sprinkling of Gassers in the car show. I wonder if there any plans to add drag racing at nearby LVMS to the festivities?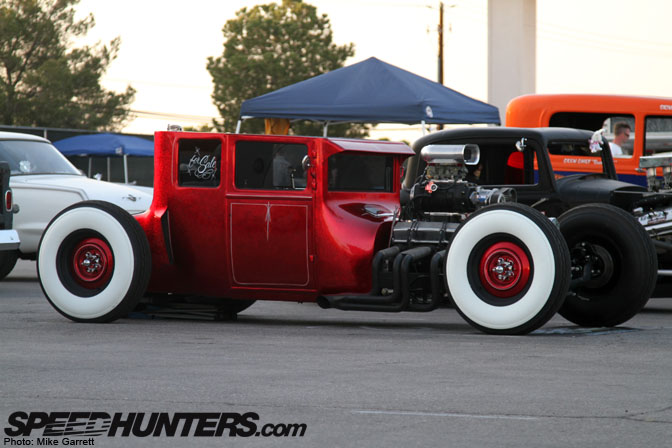 The enormous wide whites on this blown coupe remind of those caricature cars you'd see in old cartoons from the '50s. Cool.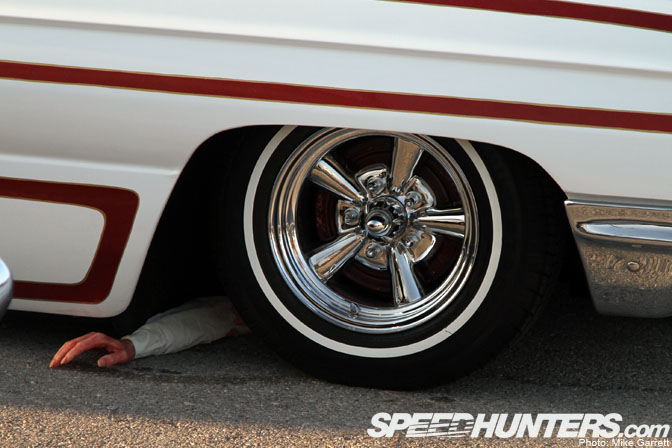 Ouch. Nice to see VLV participants having a sense of humor.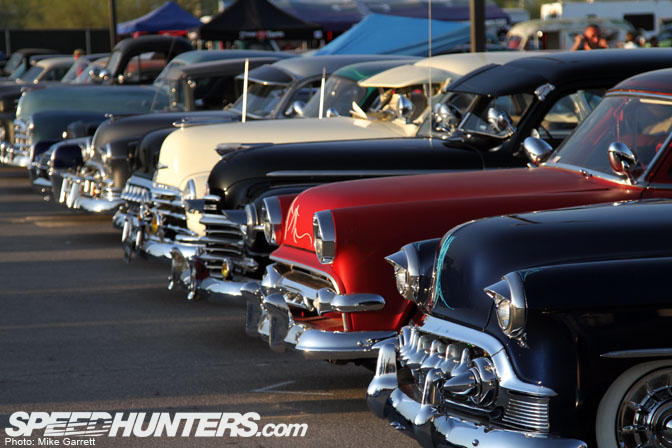 Not that getting hit by any car is pleasant, but these things almost look like they were designed to inflict pain on pedestrians. Haha.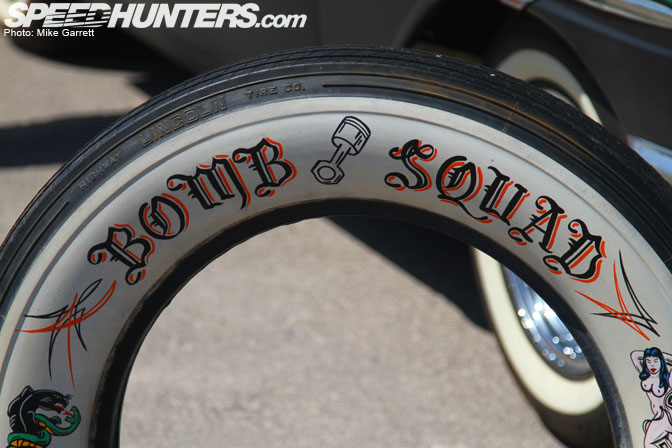 Club participation at Viva Las Vegas is huge. As you can see, this territory was claimed by the Bomb Squad.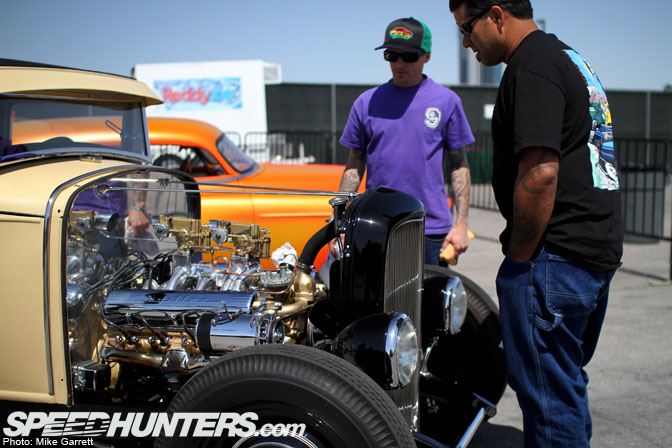 A pair of guys chatting over the engine bay of a Hot Rod. It may be 2012, but somethings never change.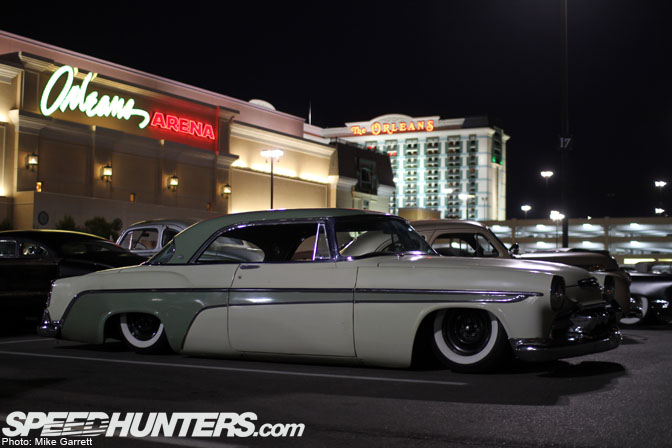 Something else that transcends generations and cultures – the appeal of an automobile that's been dropped to the ground.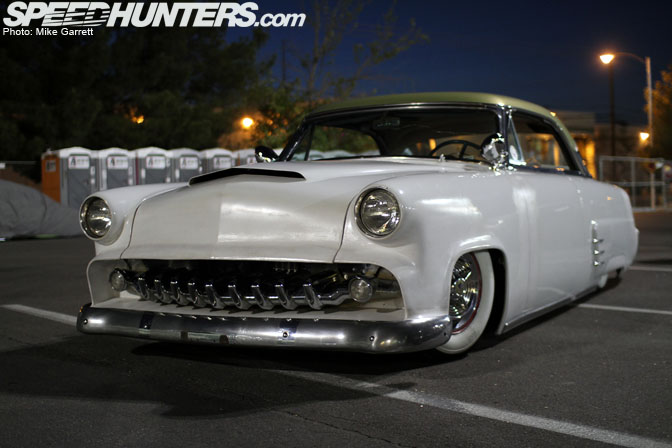 Seeing
as how SoCal is just down the road from Vegas, there were many familiar cars
that popped up. As you can see, these things get driven.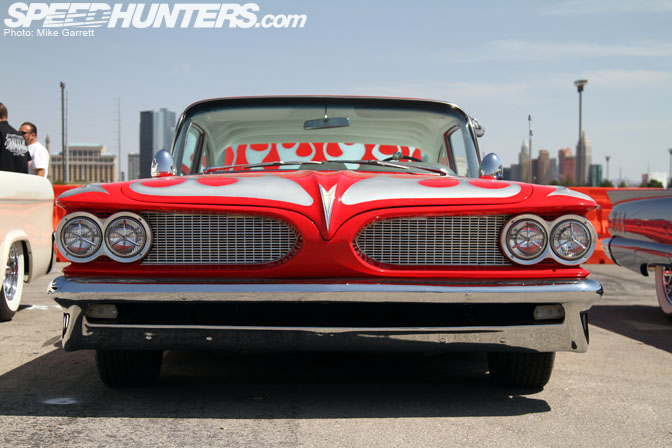 The
unmistakable twin grills of the 1959 Pontiac. After a one-year hiatus
in 1960, the split grill would go on to become a Pontiac signature all
the way up to the brand's demise in 2009.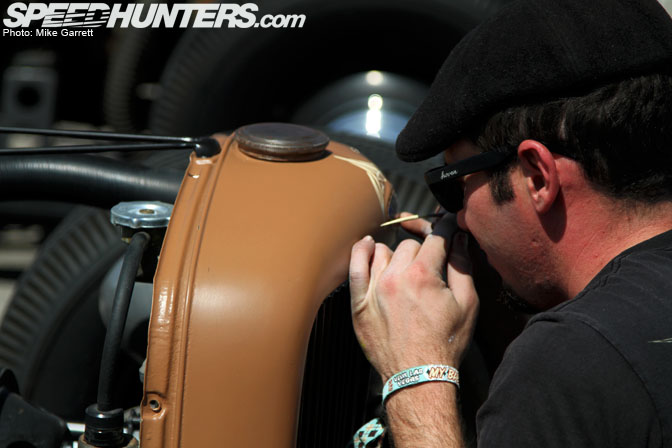 Many cars would end up leaving VLV with updated looks, thanks to the talented pinstripers on hand.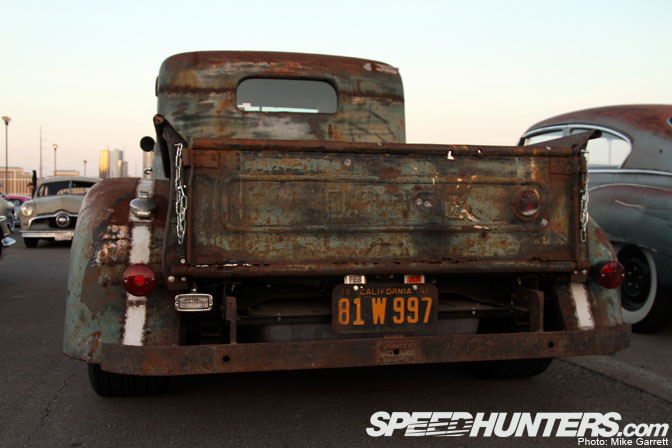 With
the overwhelming number of rusty and patina-covered cars at these
events, it's strange to think this was once unheard of
at car shows.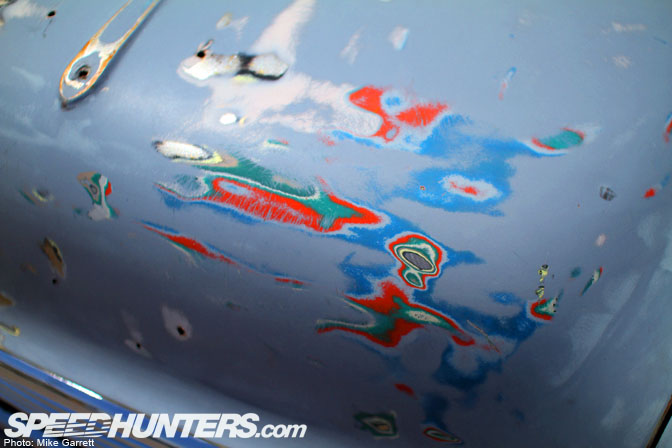 Sometimes these metal patterns can be quite interestng to look at.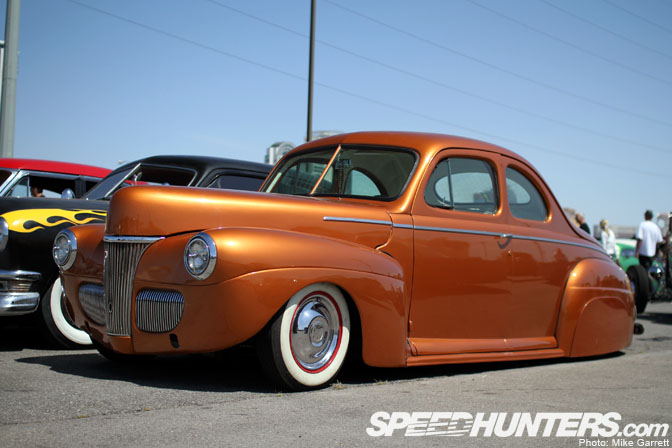 I'm usually not a big fan of large fender skirts, but sometimes they just work.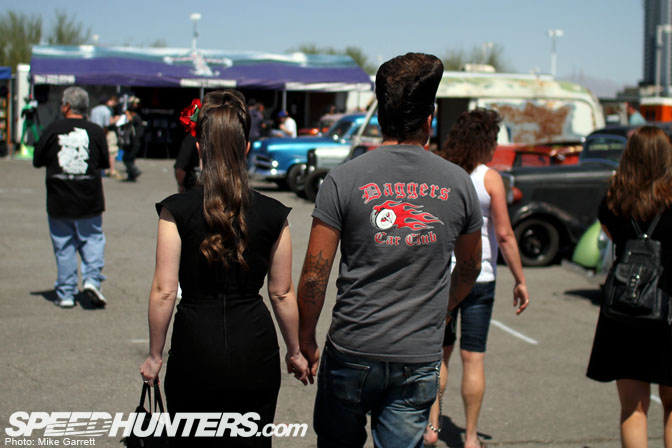 While some may consider the Rockabilly lifestyle to be retro or even traditional, its really more of a modern interpretation based on vintage elements.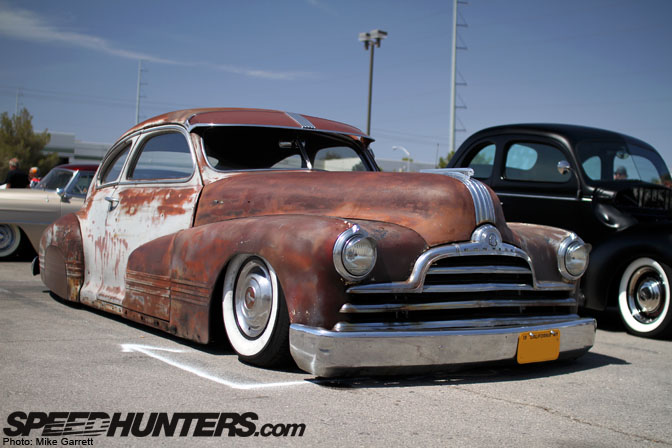 There weren't too many airbagged rusty sleds around back in the '50s, just as their weren't too many pinup models covered in tatoos.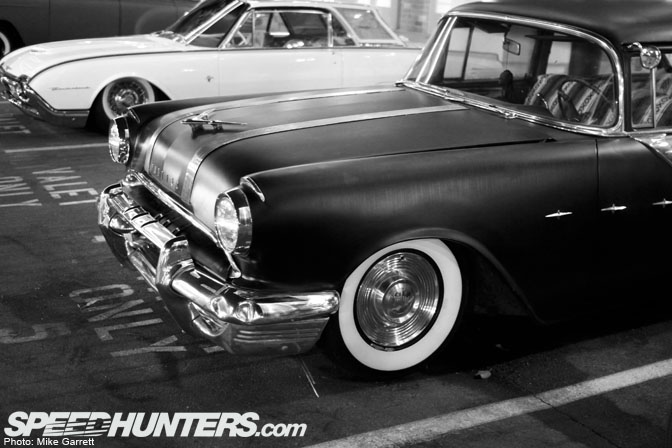 It's not so much that this crowd is living in the past, they are simply re-imagining it.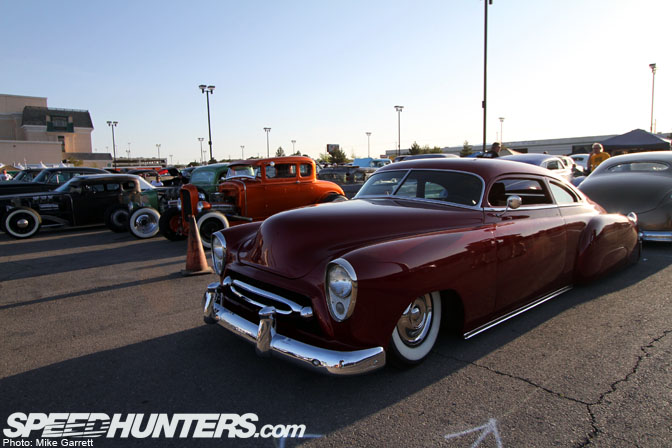 It's like you got in a time machine and set course for the '50s, only to find that someone pulled a Biff Tannen and messed up the space time continuum creating an alternate 1950s with more tattoos, lower cars and "enhanced" females.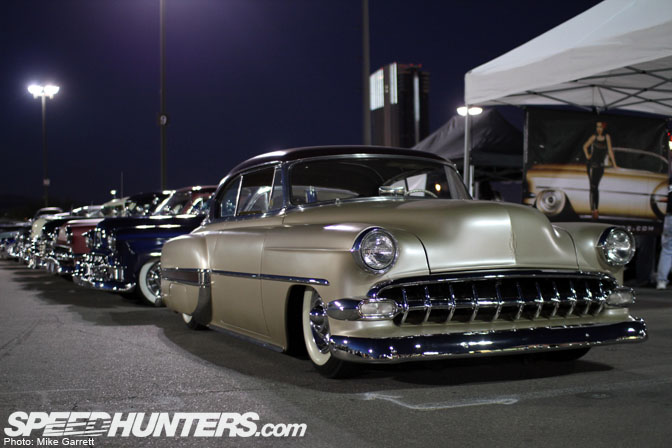 I'm going to wrap up here, but I'll be back soon with my twisted time machine for another batch of Viva Las Vegas coverage.
-Mike Garrett