I find it funny that in his recent post on the HKS Premium Day in Japan, Dino Dalle Carbonare mentioned the rainy weather that's been so frequent in his recent Speedhunting ventures. Here in California, my feelings are the opposite. Sometimes there are  just too many damn sunny days here.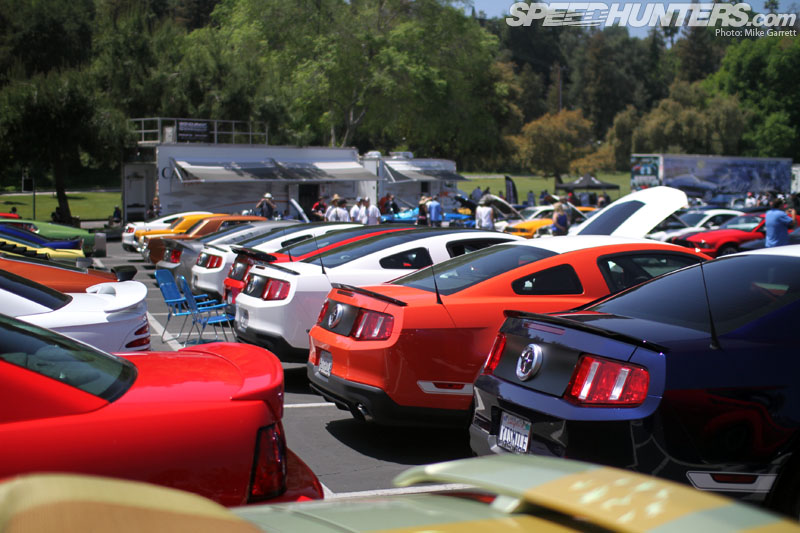 Then again, having to deal with harsh shadows, sunburn, blazing blacktops, and strange beige colored skies are a small price to pay for the great car culture this state is blessed with.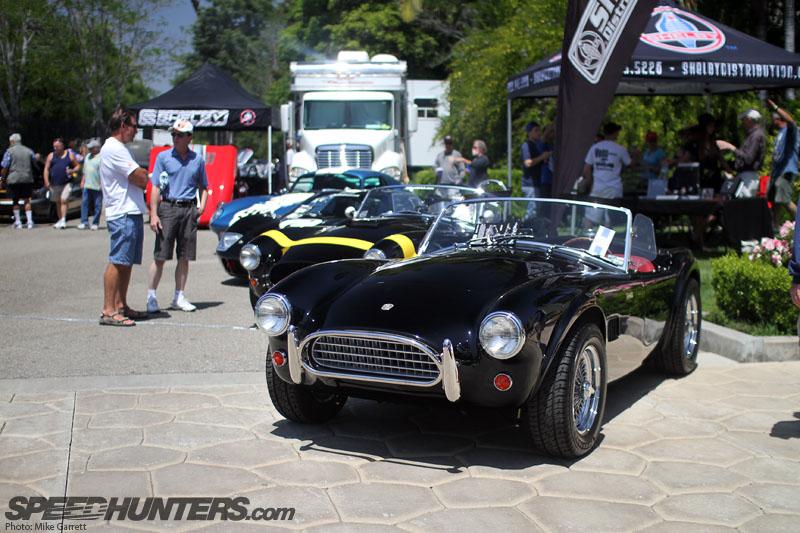 And so it's set to the backdrop of 90 degree April weather that I present the third volume of my look at the Ford Cobra Shelby Reunion at the NHRA Museum.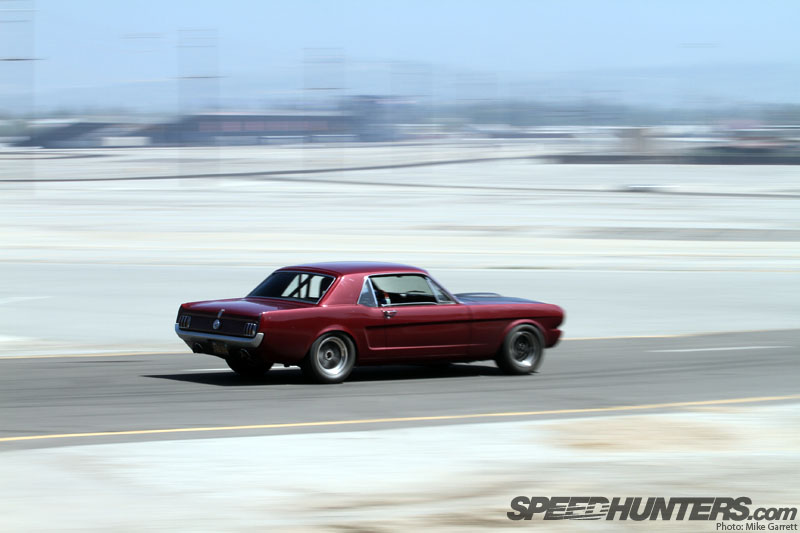 The hot weather seemed to have little effect on the Shelby Reunion participants, whether it was the cars rumbling around the Pomona road course…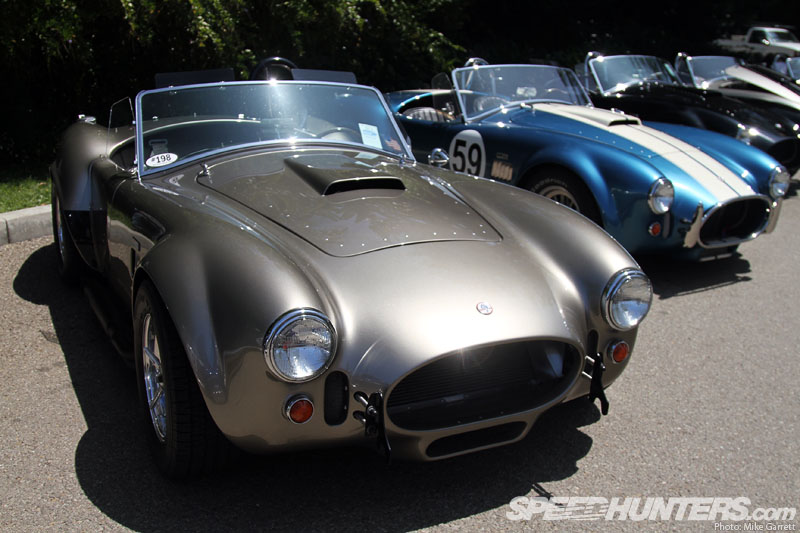 …or those that had gathered for the big show and shine in front of the NHRA Museum.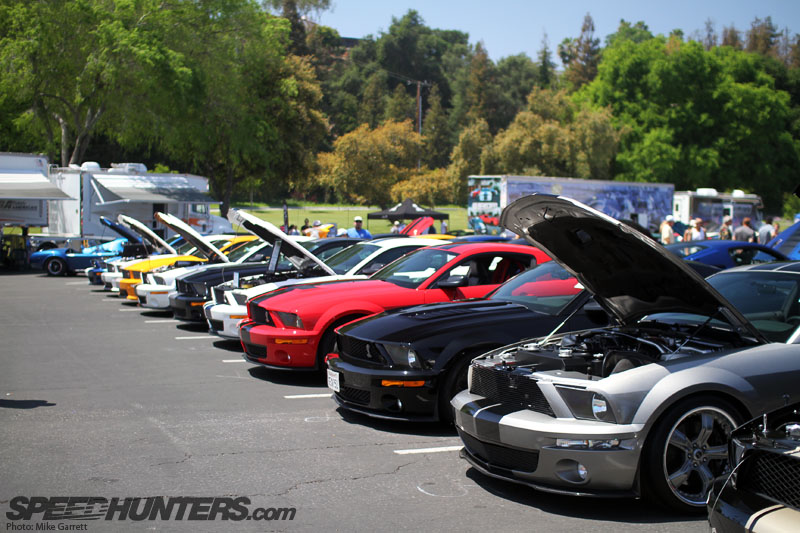 The vintage cars that had gathered in front of the museum were also joined by a large group of late model Shelby Mustangs.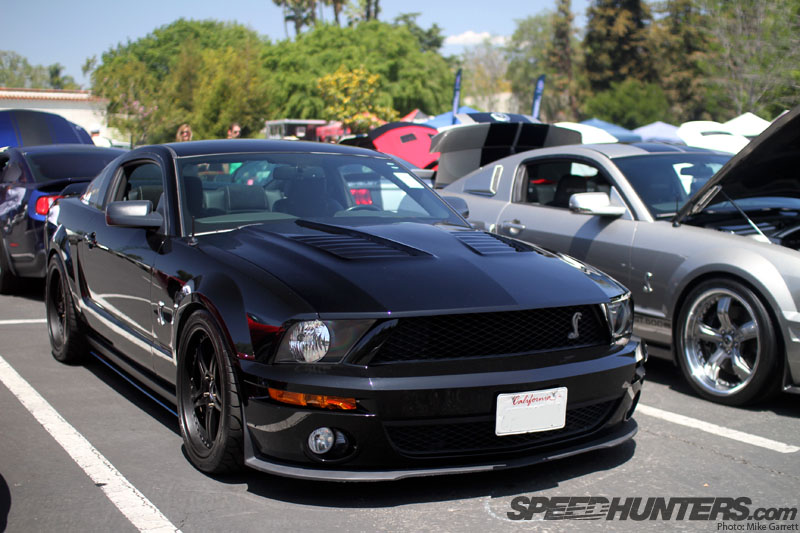 While I'm a huge fan of the S197 chassis Mustang ( I did own one and all), I have to admit many of the exterior modifications done to these cars are a bit much for my tastes. There's always something to be said for a clean and simple example, like this blacked out GT500.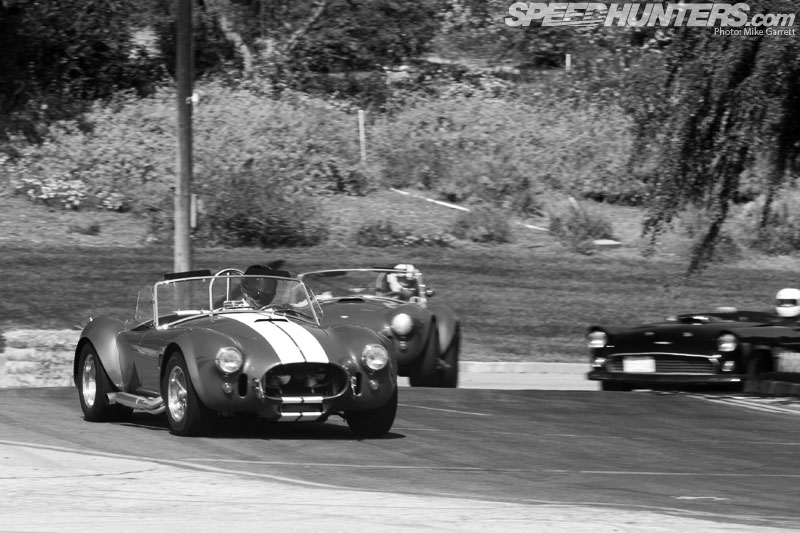 The Cobra was never known as being a car that's easy to drive, and even with modern tire technology I still have much respect for the people who can handle these beasts around the track.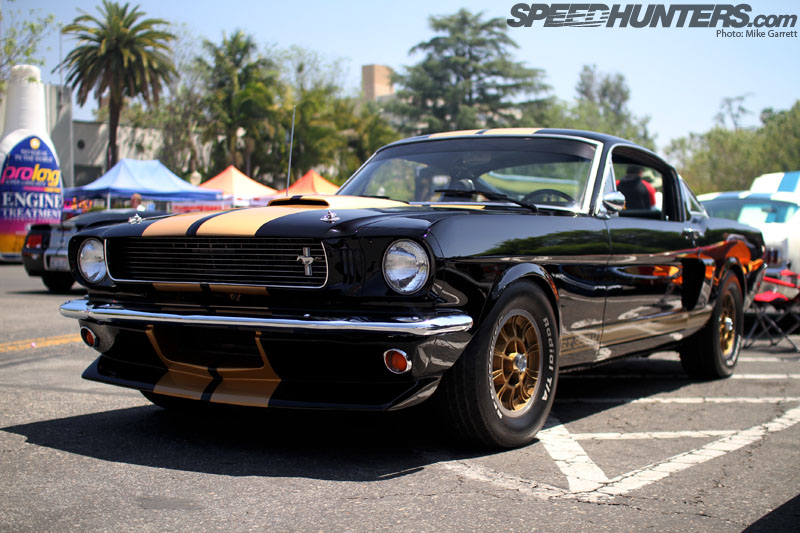 The infamous "Rent-a-Racer" Shelby G.T.350H coated in signature black with gold striping.  This car was equipped with an automatic trans which means it's likely one of the later cars that came after "issues" with the 4-speed cars being abused by renters at the track.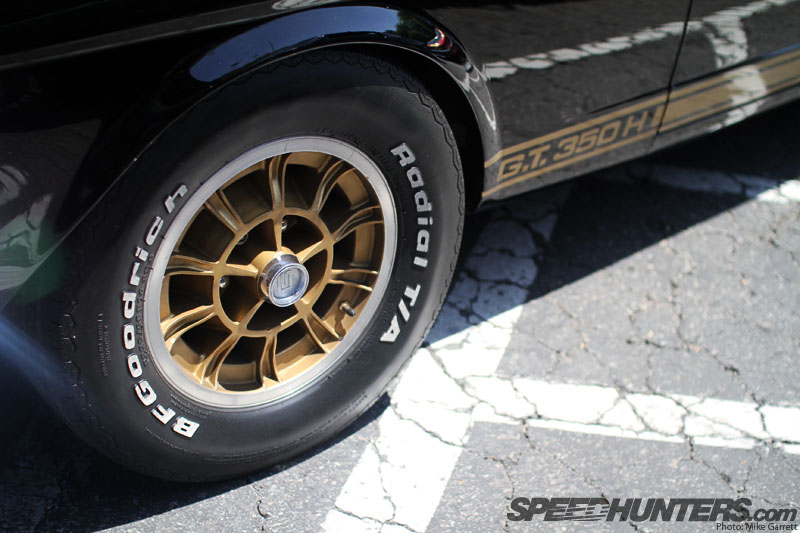 350Hs typically have Magnum 500 wheels, but this car was wearing a set of gold Shelby mags. Nice.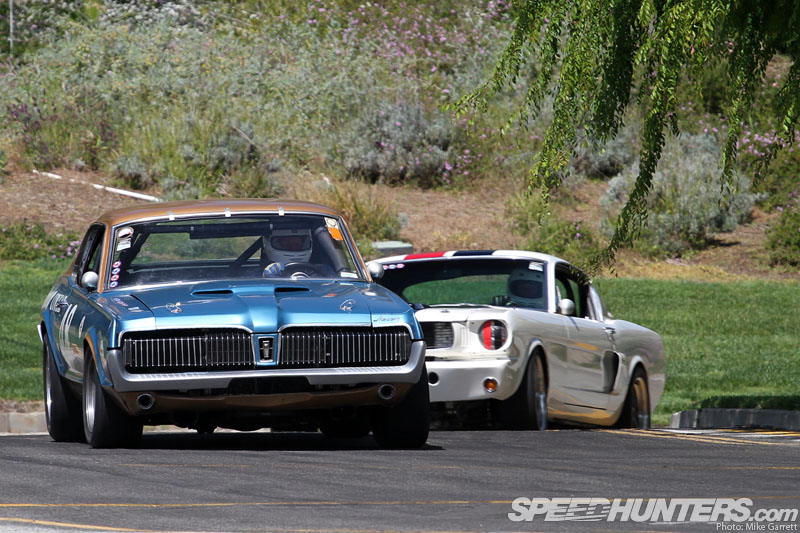 Back out on the road course, that bitchin' Trans Am Cougar comes over the crest being tailed by a Mustang.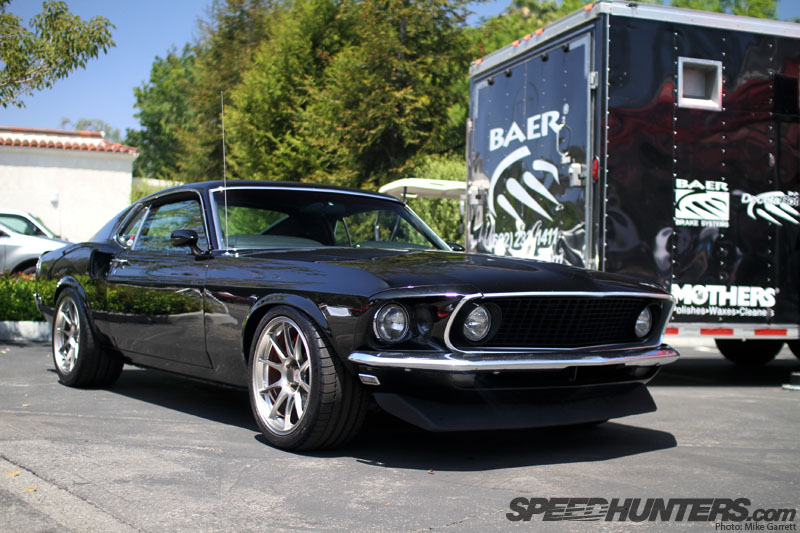 This black Fastback parked in the Baer Brakes area was looking very mean.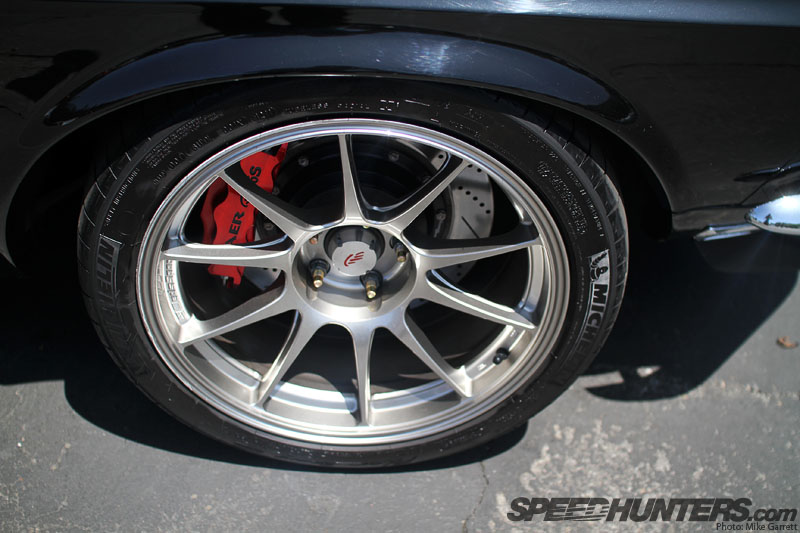 It was even equipped with WedsSport wheels. High tech Japanese wheel plus vintage American iron is always a solid combo in my book.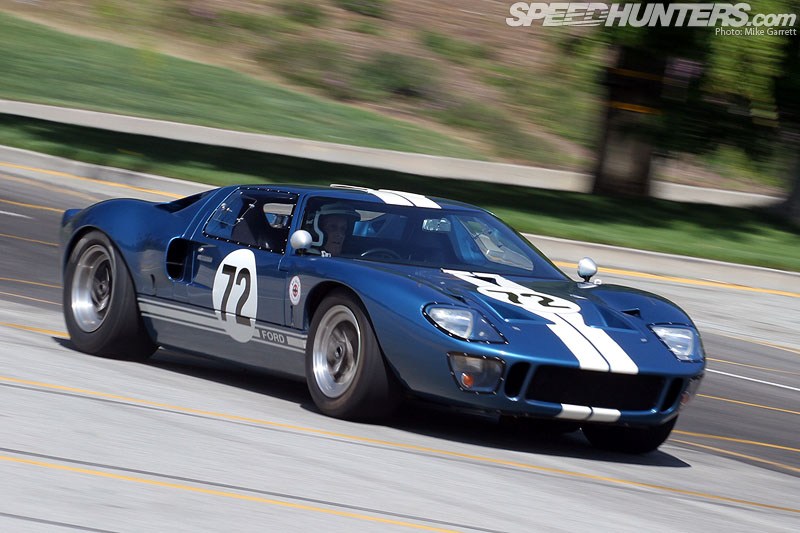 Have you ever heard ANYONE say that they don't like the GT40? I sure haven't.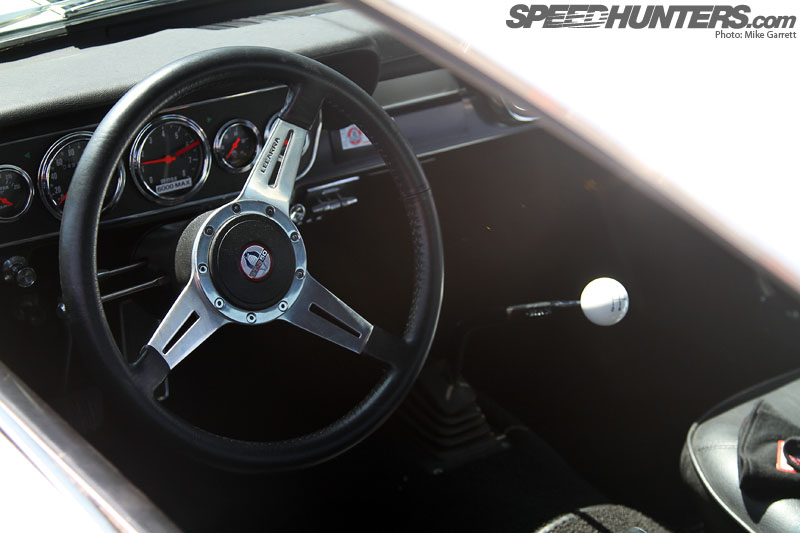 There are few things more beautiful than a proper vintage steering wheel and a matching no-nonsense shifter…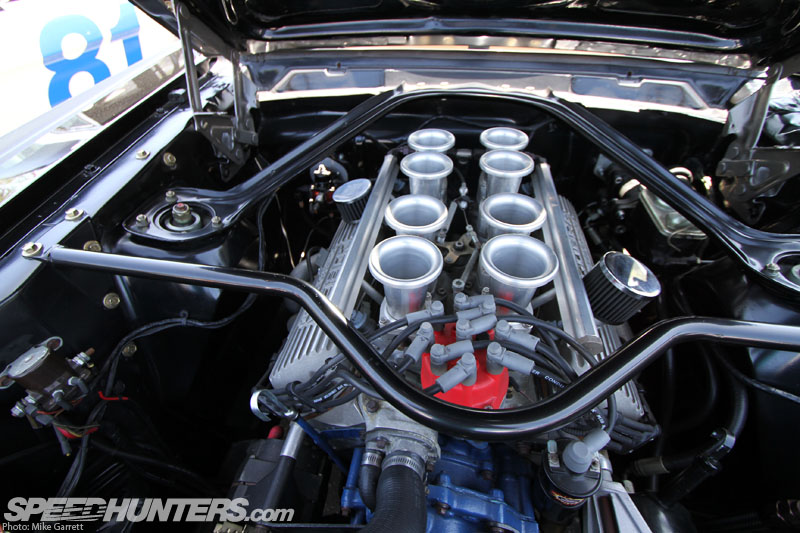 …although a set of velocity stacks is also up there.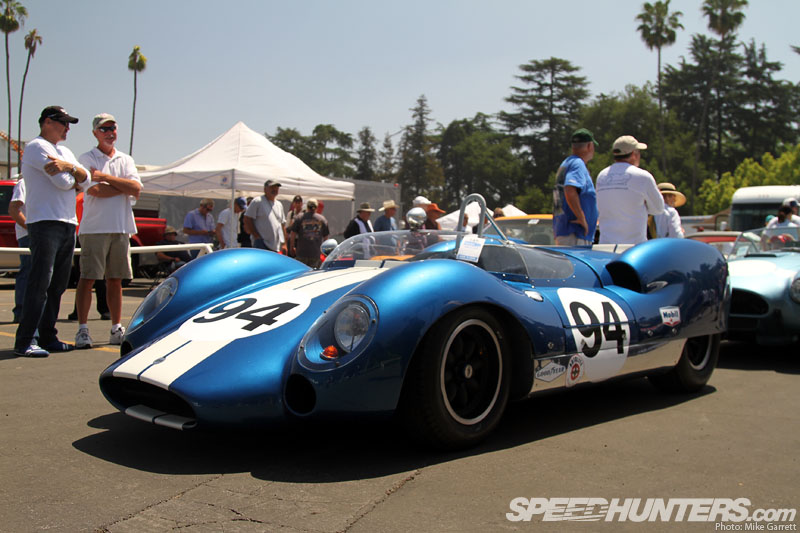 Another example of the Shelby King Cobra. This is actually the car that Parnelli Jones won the 1964 LA Times Grand Prix with.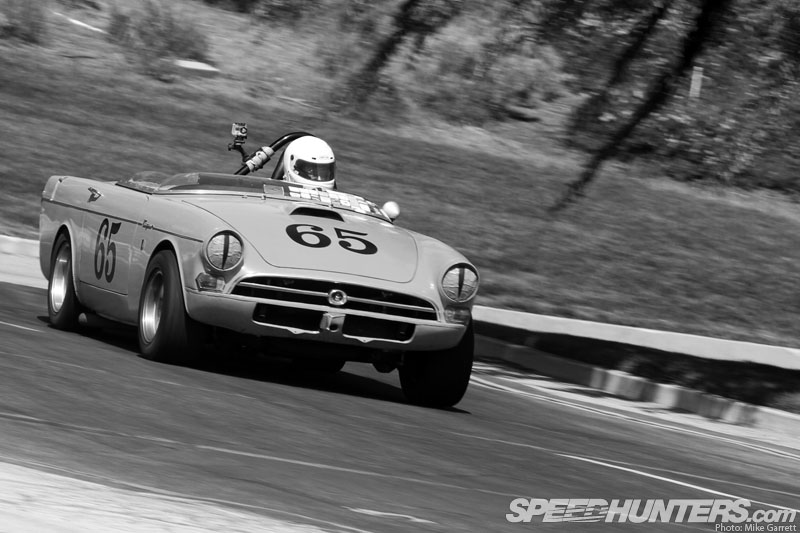 Tiger or Cobra, pick your American-hearted British wild animal of choice.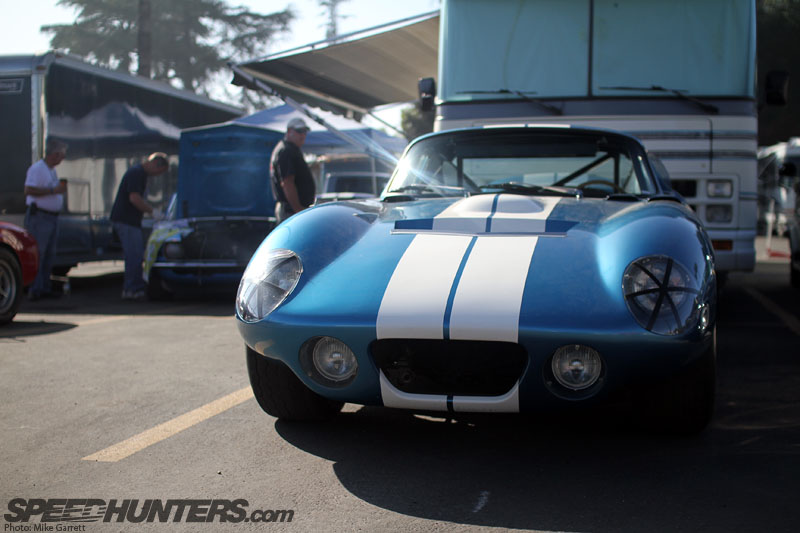 If your car is named after a wild animal or a famous race track, chances are it will be cool.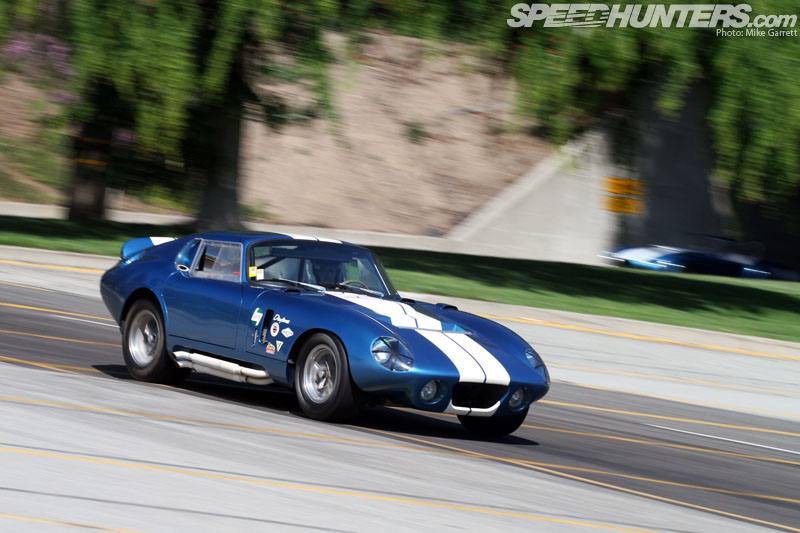 Actually, I'm gonna have to take that back. The Chrysler Sebring just doesn't have quite the same panache as the Shelby Daytona.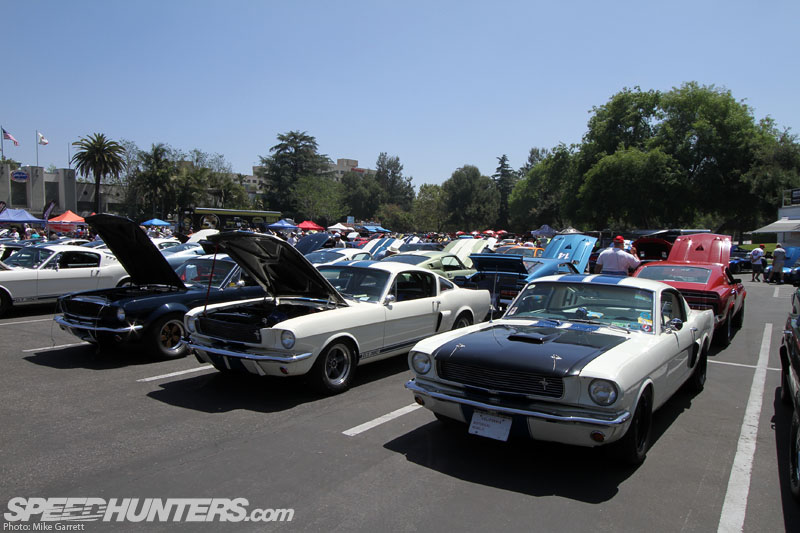 You have to appreciate the fact that so many G.T.350 owners race their cars. It seems that about half the 350s I spotted over the weekend showed signs of competition use.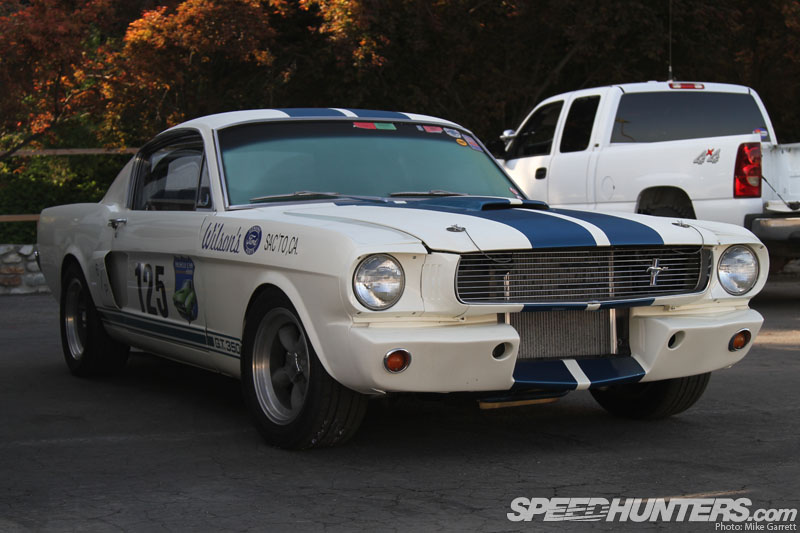 After all, it's kind of a shame to baby a car that was built with the spirit of  racing in mind. Just storing one of these in your garage will never do it justice.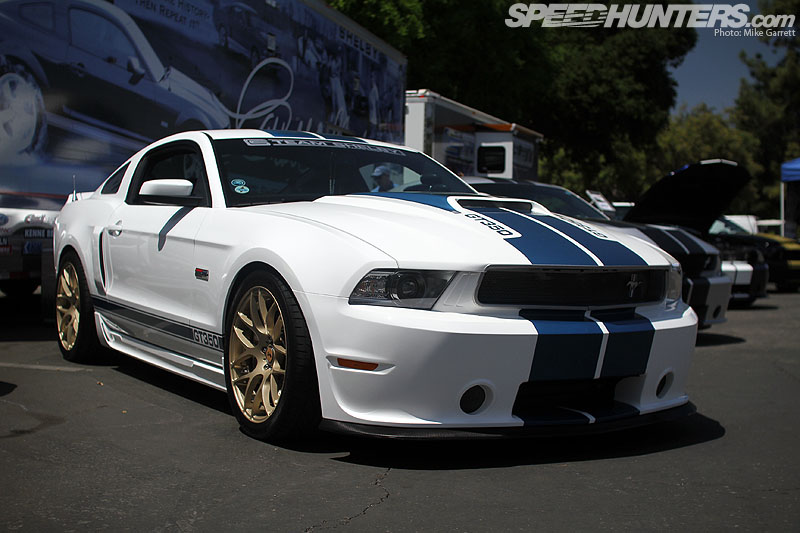 The same goes for the modern version of the G.T.350 that's been reintroduced by Shelby.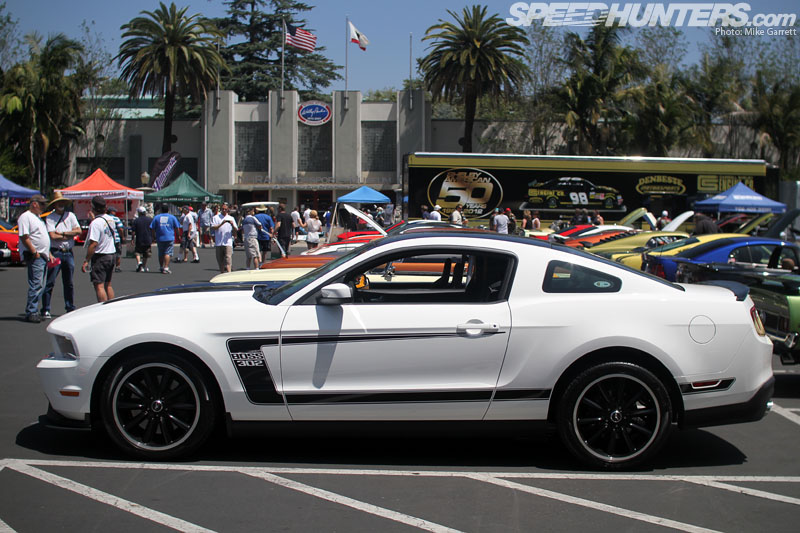 When it comes to modern Mustangs, there are just so many capable choices. Whether its the previously mentioned Shelby, one of the other tuner Stangs available, or Ford's homegrown Boss 302.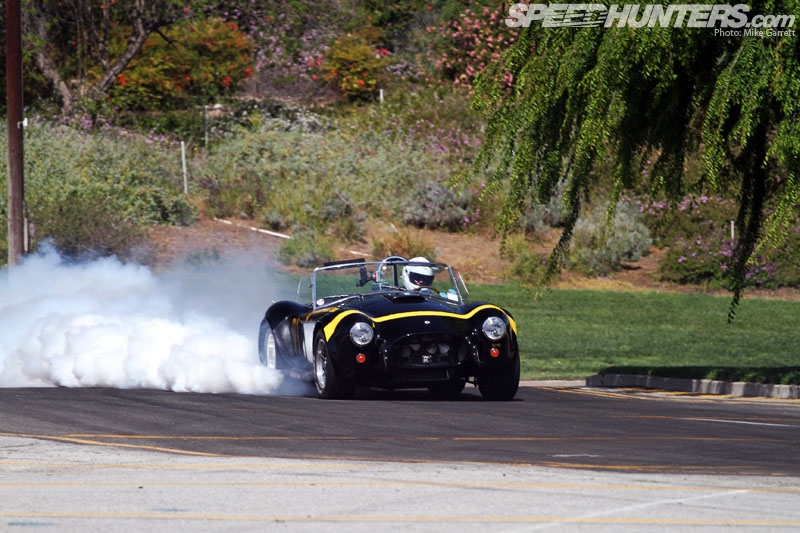 The old revived Pomona road course was not without its mechanical casualties.  I don't think that's tire smoke.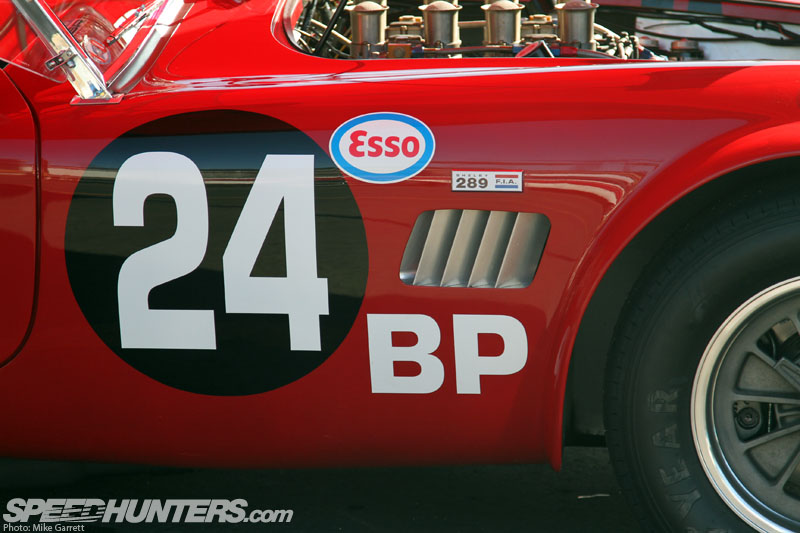 I love everything that's in this photograph.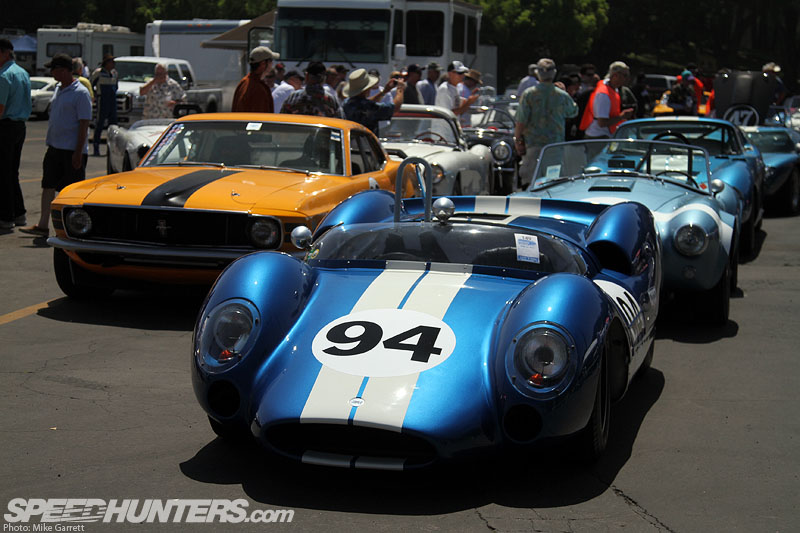 That will close out my initial event coverage from the Ford Cobra Shelby Reunion.
There's still more to come, including a set of desktops and of course a few Car Spotlights.
-Mike Garrett