Over the last decade and a half I've attended more than my fair share of drag racing events. Witnessing the first 10-second pass by a Japanese car (in New Zealand) in 2001, was a highlight, as was watching the Heat Treatments Racing Skyline GT-R go from a stripped-out and roll-caged street car to the absolute quickest of its 4WD breed. What I haven't had a lot to do with is the traditional side of the sport, so when the opportunity to go Speedhunting at the 2012 Bryan Fraser Engineering Nostalgic Drags presented itself, I packed up my gear and went to check it out. Celebrating the pioneering years of Kiwi drag racing, the annual get-together – now hosted by the Bay Rodders car club – is a big event for the local hot rod racing scene. With a forecast for crisp, clear and calm weather conditions, and staging lanes packed solid with cars, I knew it was going to be a good day!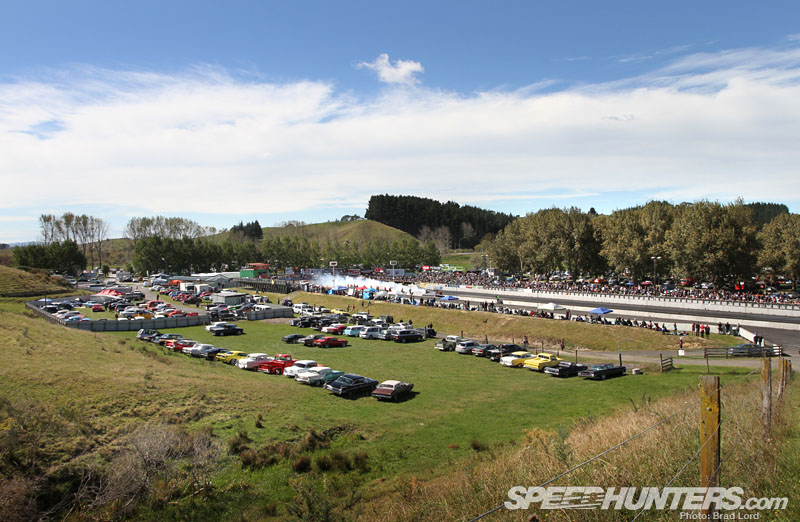 Fram Autolite Dragway, located 45 minutes drive south of Auckland, played host to the event. Created by the local rodding community, the strip opened in 1973 as the first purpose-built facility of its kind in New Zealand. Here's the view of the venue from the top of the hills that flank one side of the track.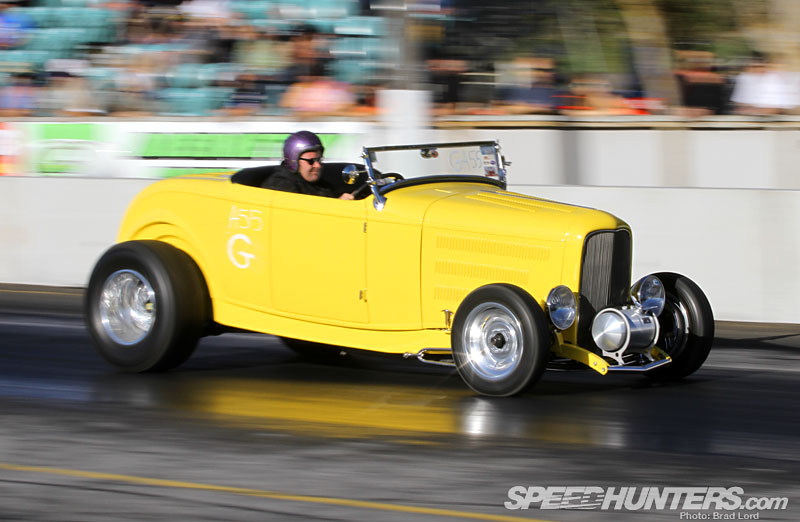 Although I have a lot of time for rodding and the culture that surrounds it, when it comes to the finer details I'm definitely no expert. Luckily for me, one of my friends is an editor at NZ Hot Rod magazine and in between racing his cool SoCal '60s-style '32 Roadster at the event, he was happy to help me out with a few pointers for this post. Thanks Greg!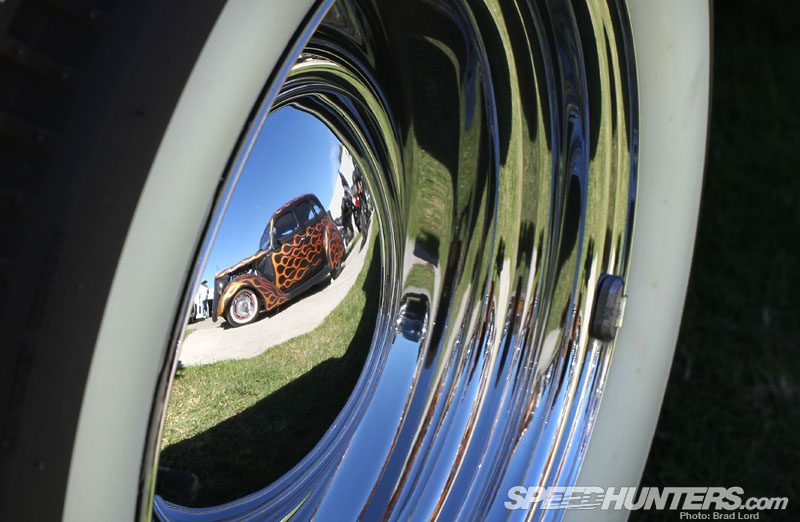 One of the best things about the Nostalgia Drags is the variety of cars that come out to play. Walking around the pits and the infield parking area I saw just as much gleaming chrome…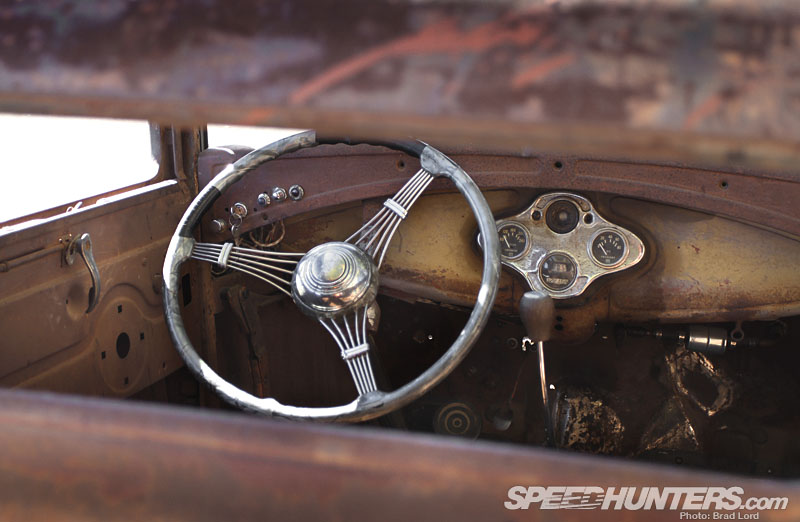 …As I did patina and rust.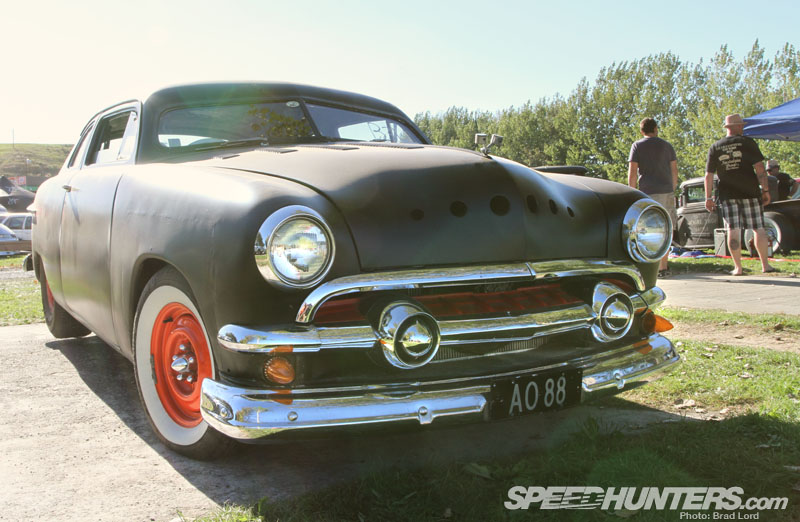 All styles were accounted for, from lead sleds like this chopped '51 Ford Custom…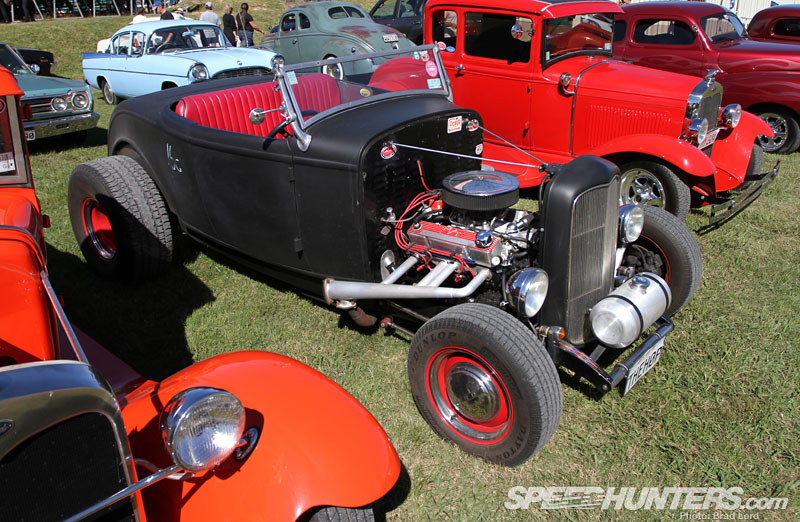 …To more traditional-looking rods like this '32 Roadster…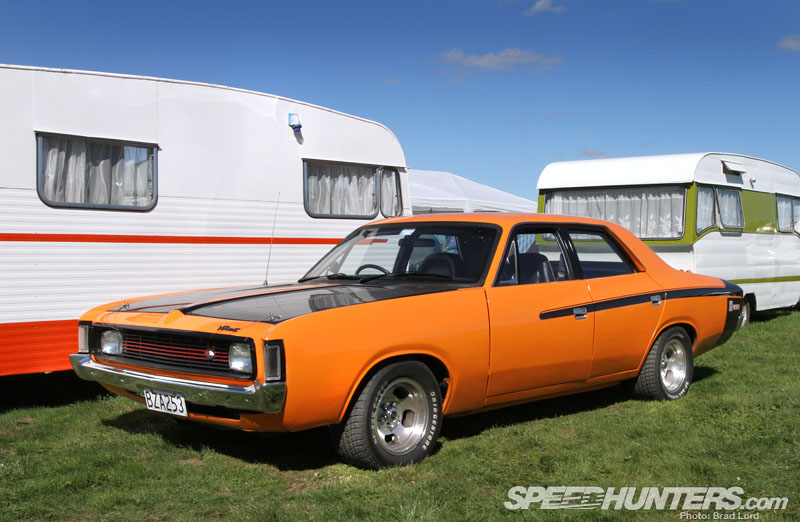 I even spotted this very clean 'Vitamin C' orange '72 Chrysler Valiant Pacer parked up in the trackside campground. Built for the Australian and New Zealand markets, the Pacer was the high performance variant of the Australian-built VH Valiant range and sported a 265ci Hemi straight-six engine as well as performance-inspired exterior and interior styling. These cars are becoming very collectable in Australasia now…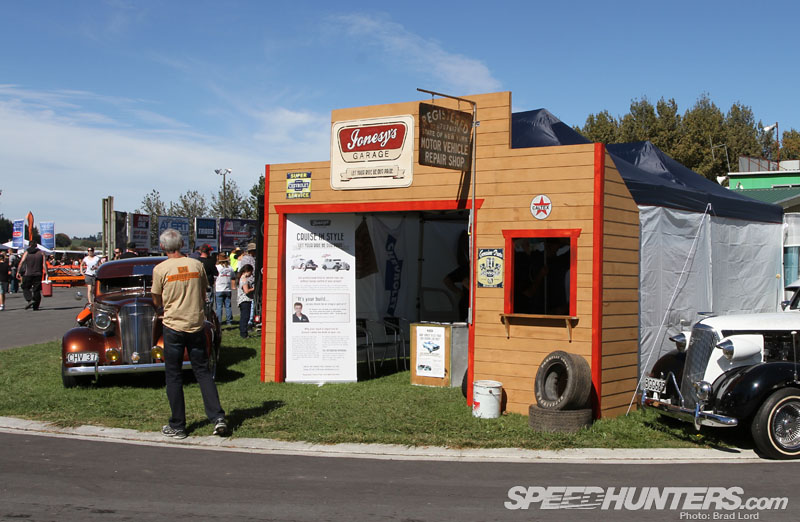 At the entrance of the venue a few vendors set up shop. I thought this vintage-themed facade on the Jonesy's Garage booth was a nice touch!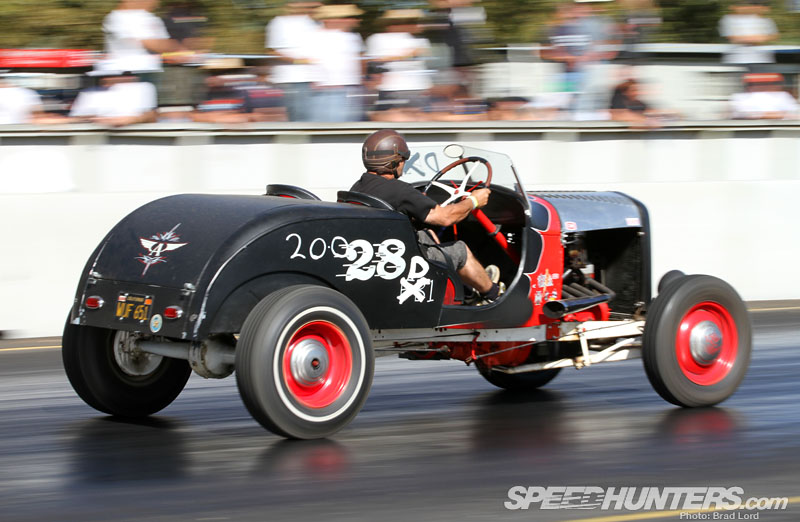 While I was wandering around the spectator areas there was plenty of action on the strip. This is Jim Murdoch's Model A Speedster, which runs a hopped-up factory engine.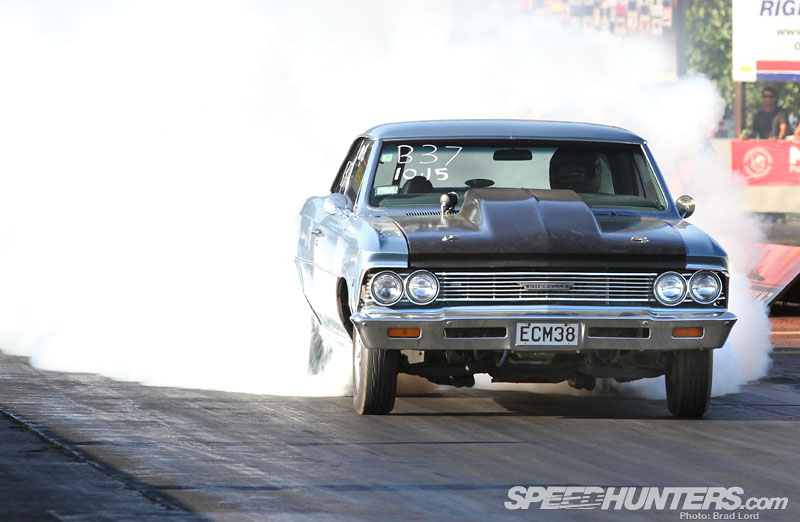 Steve Wall's '66 Chevy Malibu pulled off one of the best burnouts of the day. With 540ci worth of worked Chevy big block at his disposal, I'm guessing getting the rear tires smoking wouldn't be much of an ask though!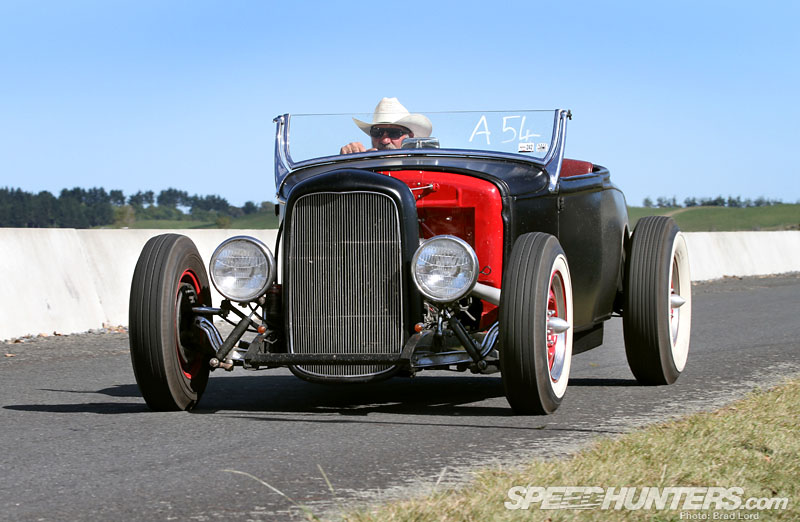 All the way from the wild West Coast of New Zealand's South Island, here's John Pugh's 'Lo-boy' Ford heading back down the return road after a run down the strip. The '30 Roadster was built by local hot rod and custom car builder Rocket Speed Equipment.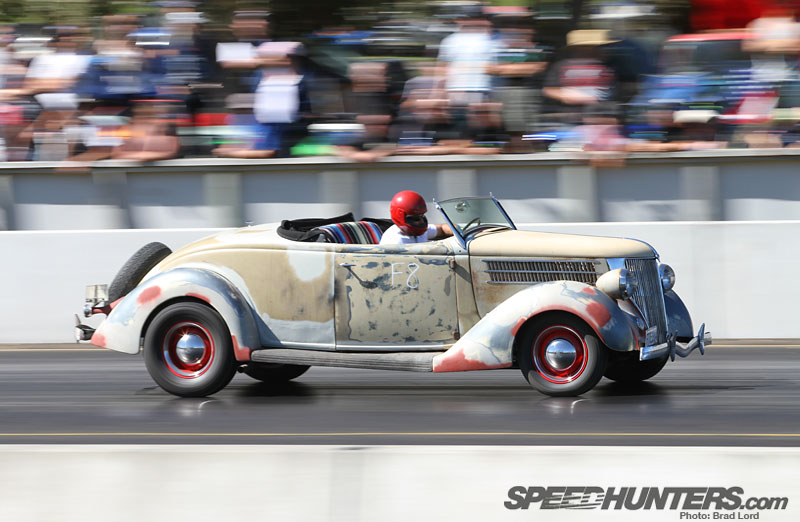 Graeme McNeil was racing this flathead V8-powered '36 Ford Roadster owned by Wayne Gibbens. Apart from the mechanical freshen-up it received after arriving in New Zealand, it remains the same way it was discovered in Mexico.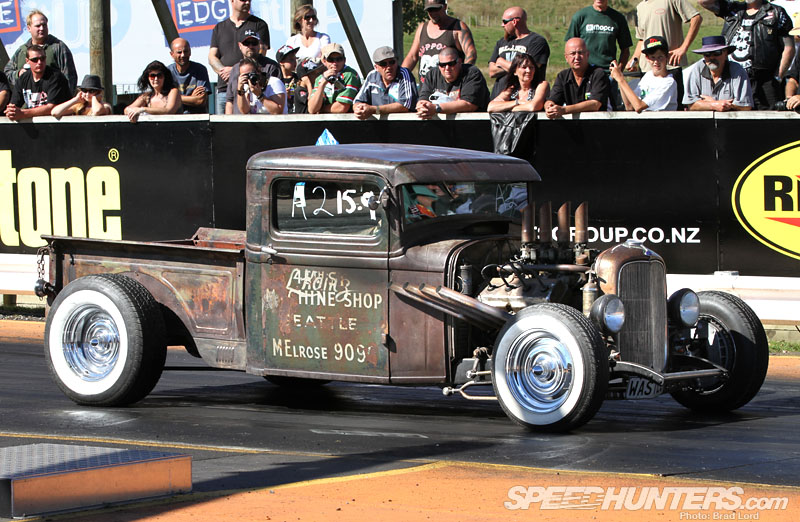 One car getting a lot of attention was Mike Tripae's chopped and channeled '34 Pick Up. With its patina-style paintwork and a quad-carb-fed Hemi up front, this was definitely one of my favorites!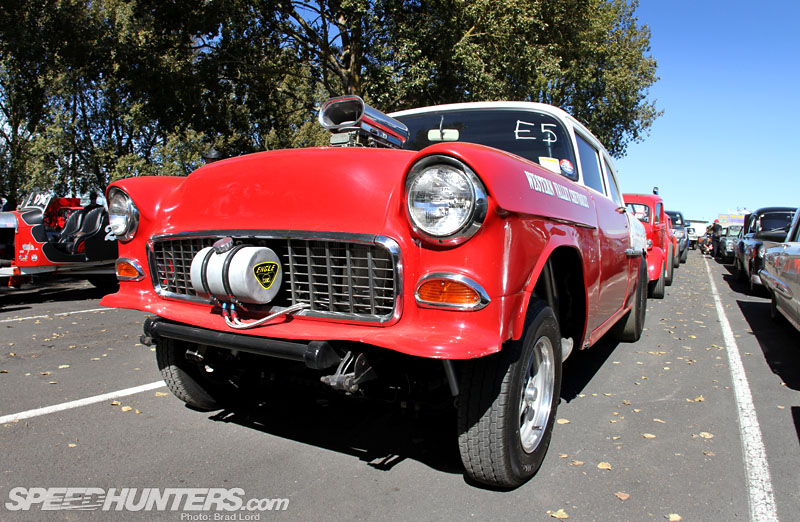 The staging lanes were also a good place to get up-close-and-personal with some of the competing cars, like Russell Long's '55 Chevy. Built to '60s USA gasser-style, the 2-door runs a tunnel rammed big block Chev, ET 12-spoke front wheels, radiused rear wheel arches and blue-tinted Lexan windows.
That's a '52 Chevy Deluxe with styling from a bygone era…
…And this is the Pro-Drill 'Quarter Master' 498ci Ford Escort Mk1 – a car with a rich local drag racing history. Resurrected and rebuilt, the well-known Ford is now piloted by Lee Sherwin. A young but talented driver, Lee cut a 0.007 light to take home the award for fastest reaction time of the day.
I'm not sure what it is, but there's something really cool about this '62 Ford Galaxie.
While waiting to stage, some used the time to make their final adjustments…
…While others simply channeled their thoughts towards the task at hand.