Last week, we had a look at the history of Dean Moon and his legendary company at the NHRA Museum's new exhibit, now let's travel halfway across the planet to see what goes on at the Japan branch of  Mooneyes in Yokohama.
I had the chance to visit Mooneyes Area 1 during my last trip to Japan and I have to say it's one very inspiring monument to the global exchange of car culture.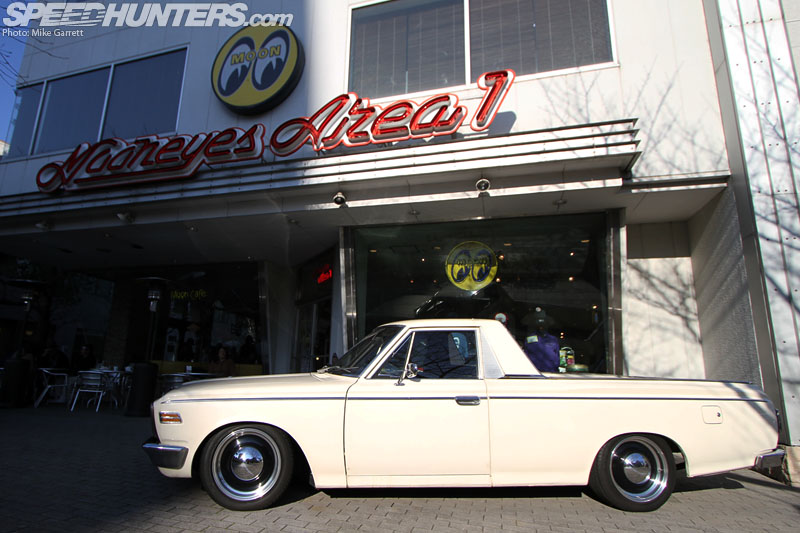 You'll find Mooneyes Area 1 right in the heart of Yokohama's Honmoku neighborhood. Unlike many Japanese businesses which are tucked away on side streets and in small buildings, it's easy to spot Area 1 from the street.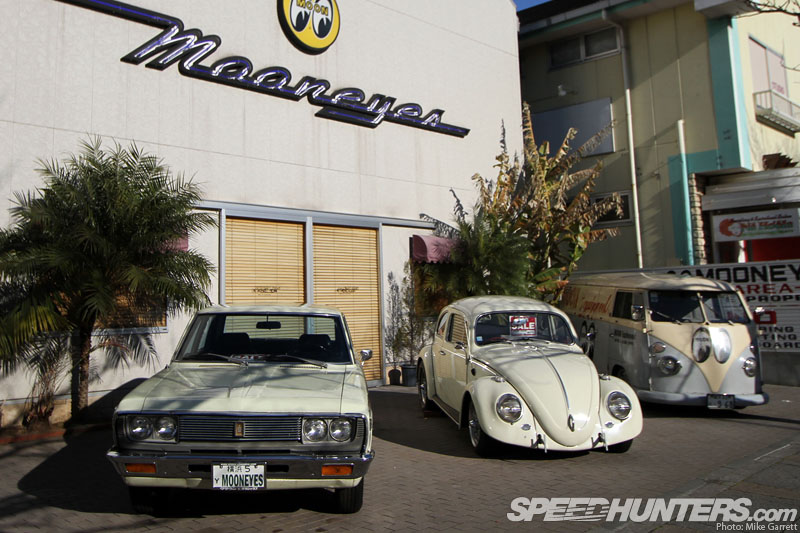 For starters, you'll find a few vintage vehicles parked out front. In this case a pair of VWs and a Toyota Crown pickup. Just walking up, you get the sense that isn't a typical car shop.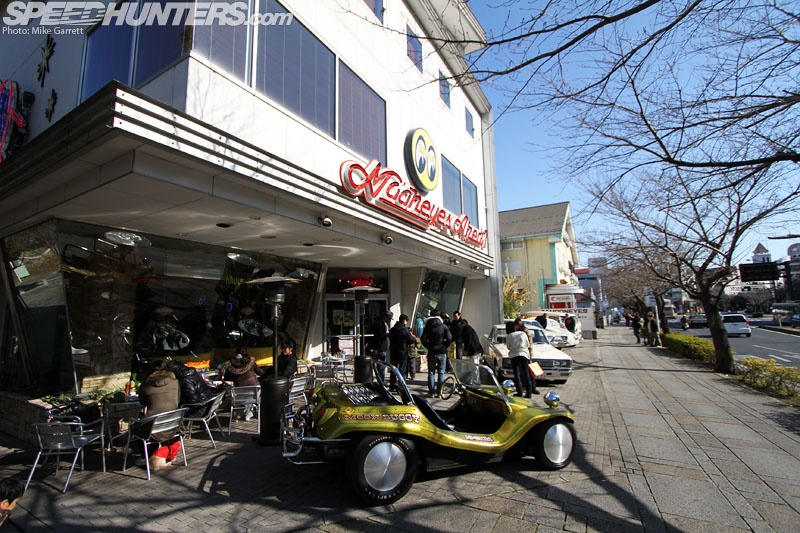 In fact, you can't really call Mooneyes Area 1 a shop. I see it more as a complete car freak destination. There's a garage, a giant retail store, and a popular restaurant called the Moon Cafe.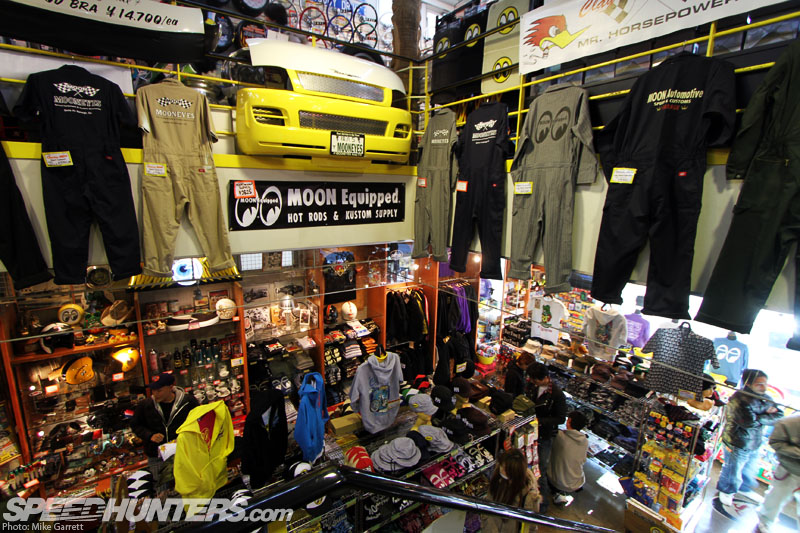 Heading in the front door, you are greeted by the large two-story retail shop packed with Mooneyes-branded products, auto parts, and more.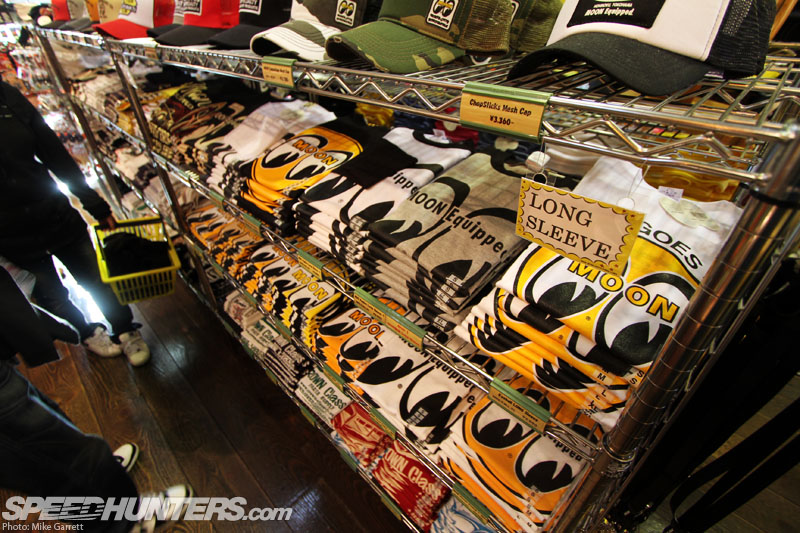 The first floor is devoted primarily to clothing and other accessories. The variety in the t-shirt section alone is mind blowing.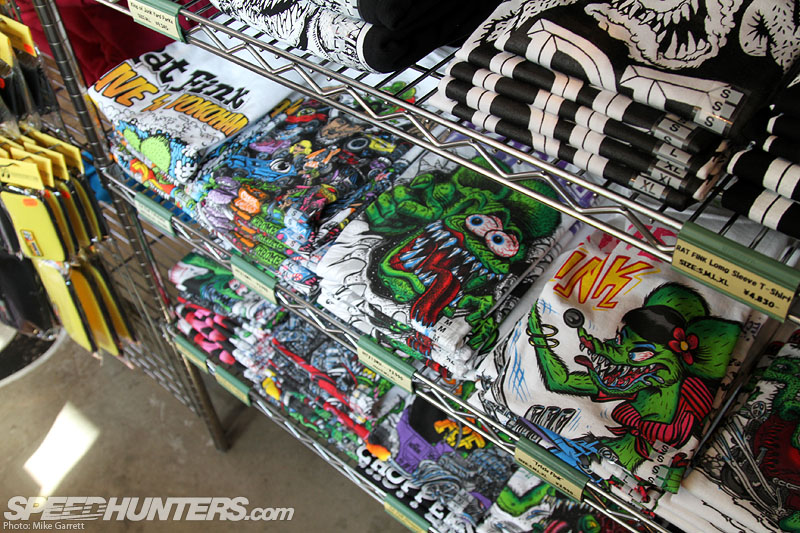 Besides Mooneyes items, the shelves are also well-stocked with Rat Fink goods. Looking at this photo now, I'm wishing I would have bought that shirt with Rat Fink ripping out of it. Classy.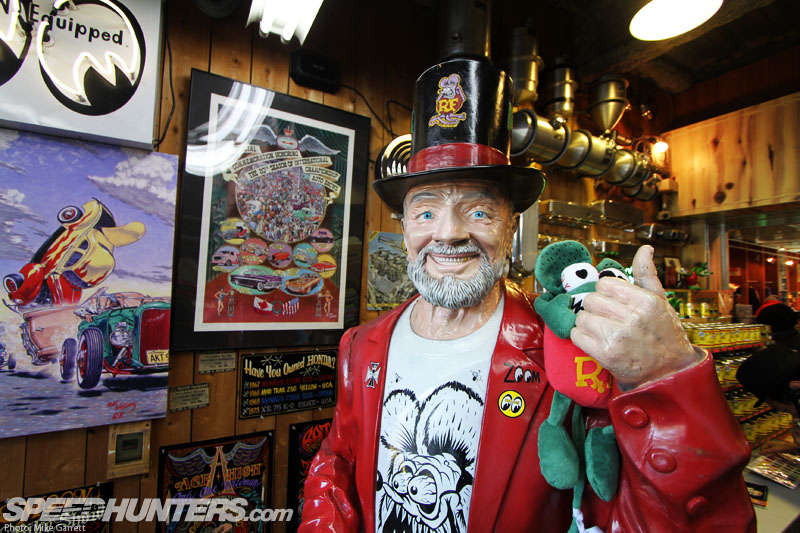 I'm sure Ed "Big Daddy" Roth would approve of how Rat Fink's bitchin' legacy is being preserved in Japan.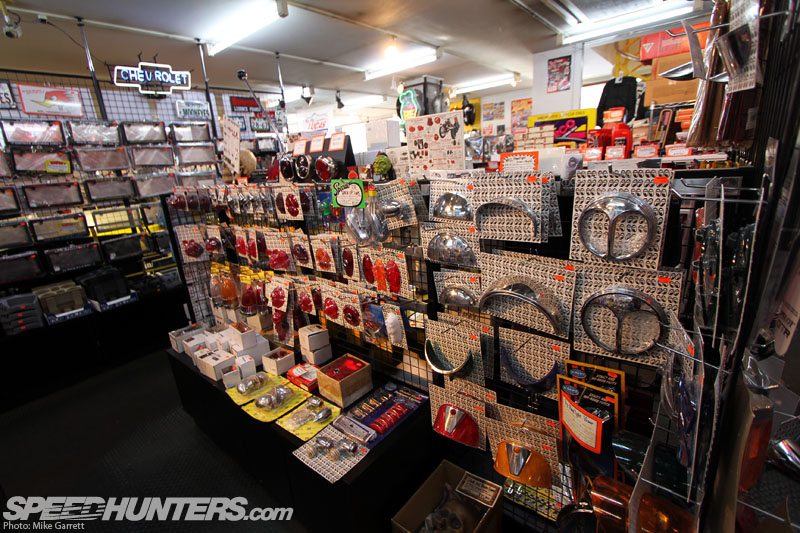 Heading up the stairs, you'll find an even larger area dedicated to automotive parts and accessories. There are both original Mooneyes parts here, plus a variety of equipment from other manufacturers – much of it imported directly from the USA.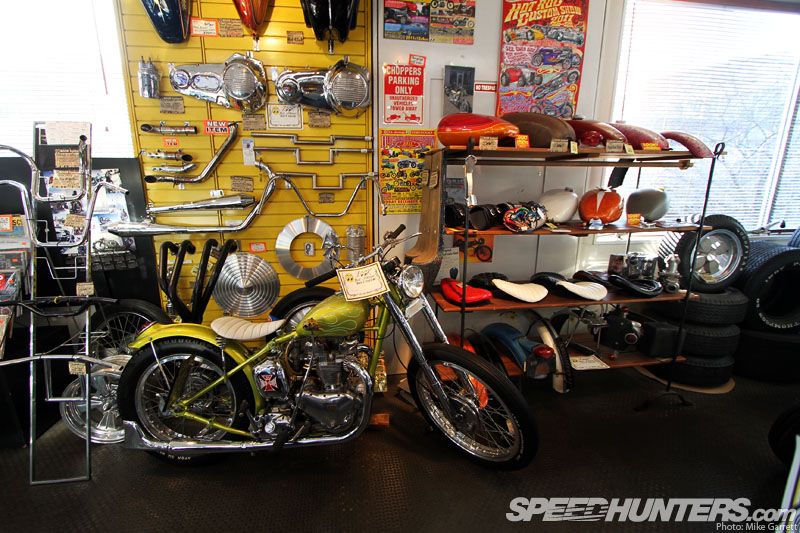 In addition to the car parts, there's an equally impressive selection of hop up equipment for vintage motorcycles.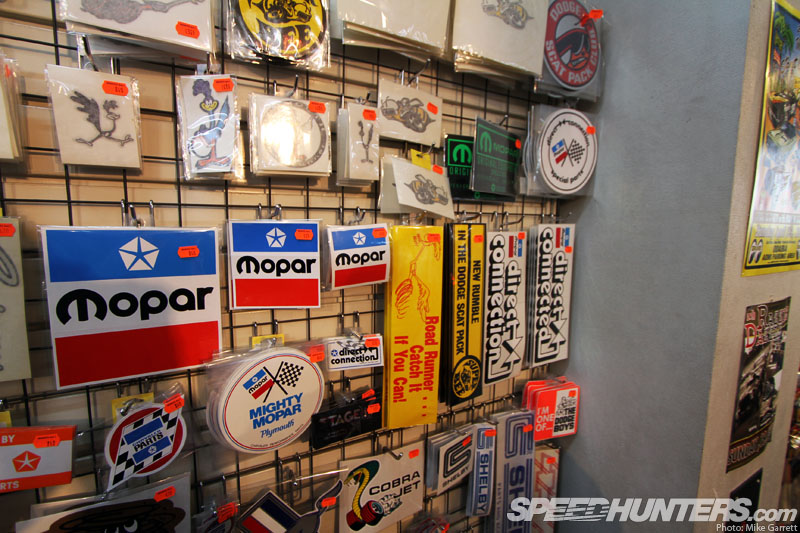 Nice assortment of Muscle Car era stickers.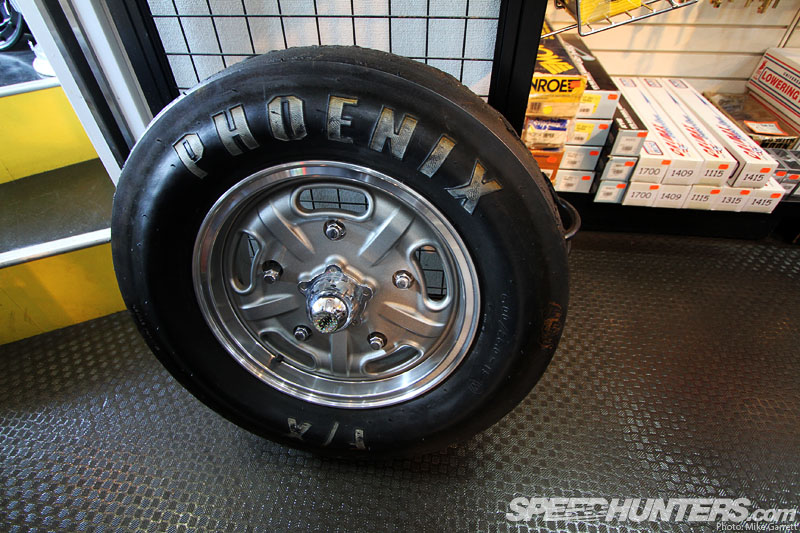 I've always liked the Mooneyes Speedmaster wheel line. This 15″ VW-spec example looks pretty tough mounted with a Phoenix racing slick.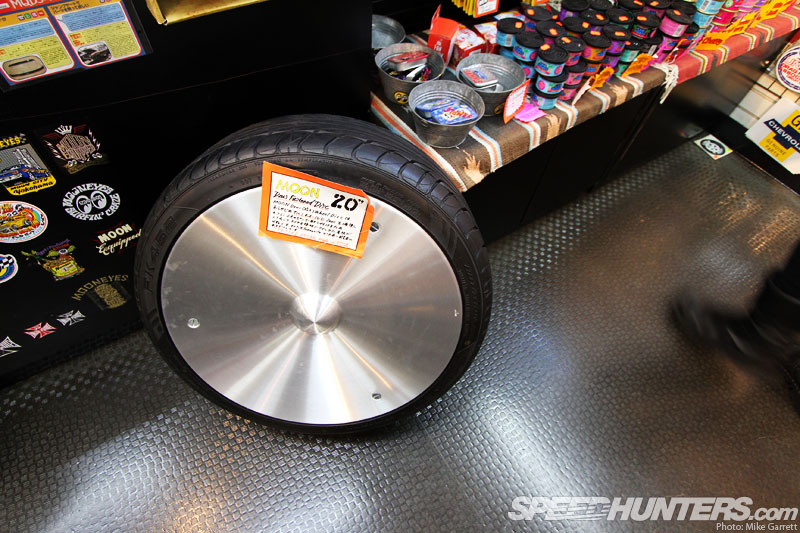 Can't forget about the Moon Disc either.  This is the macho 20″ version.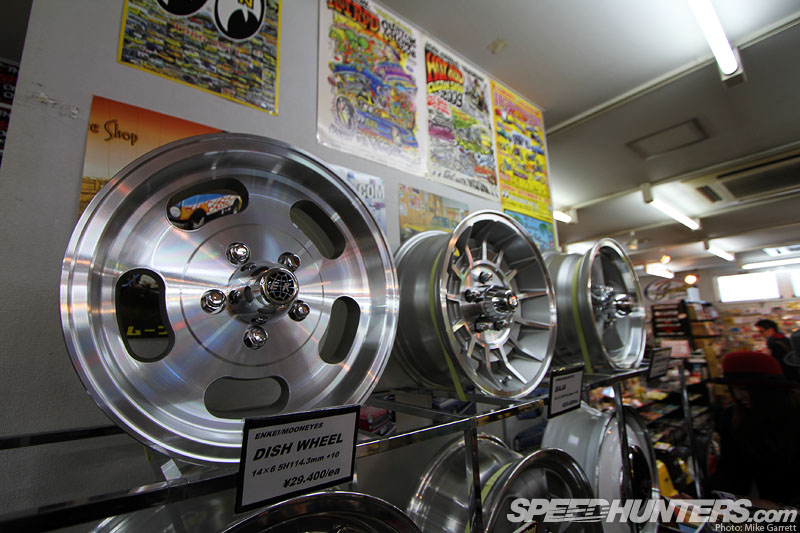 Mooneyes also distributes other vintage wheels in Japan, including the Enkei Dish and the Enkei Baja for that perfect 1970s look.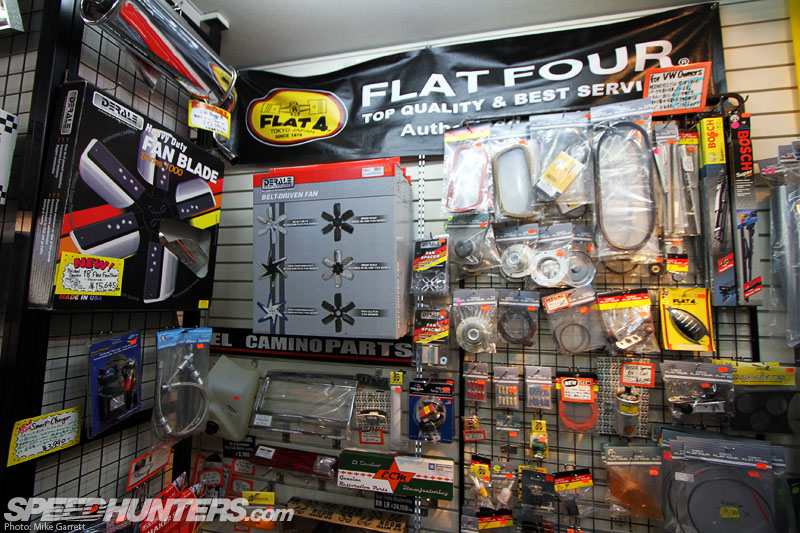 A separate section is set aside for air-cooled Volkswagen parts, including products from Japan's own Flat 4.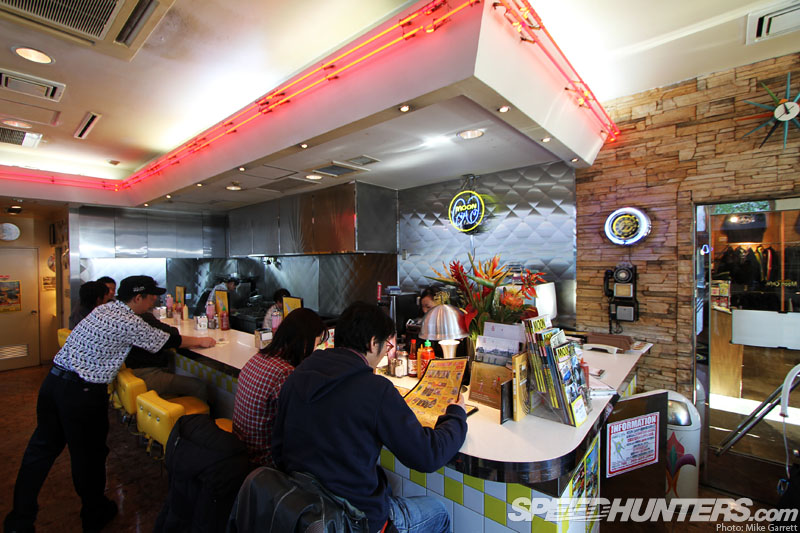 After looking around the store for a while, we headed next door to the Moon Cafe for a bite to eat. I'd seen a lot about this place on various Japanese blogs and magazines, so I was interested to try it out.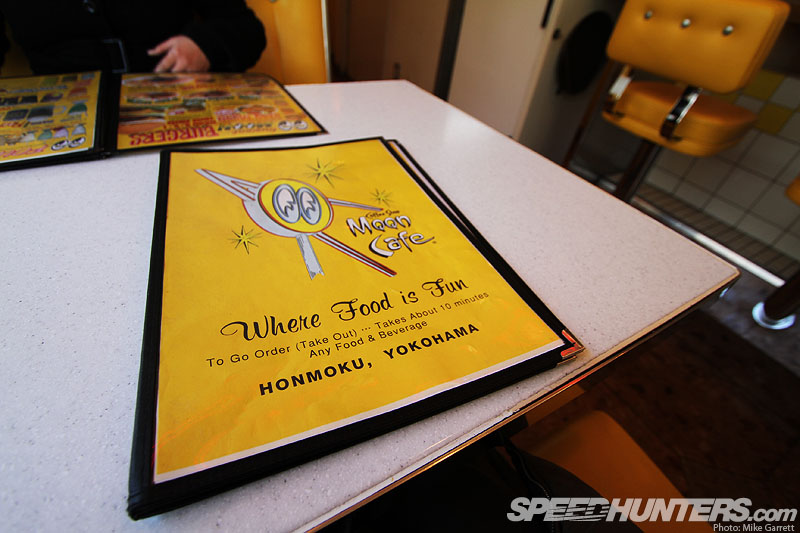 The Moon Cafe is an authentic American style diner with period motif and oldies music coming out of the speakers. Even the menus are done in the vintage American style – which is almost never seen in Japan.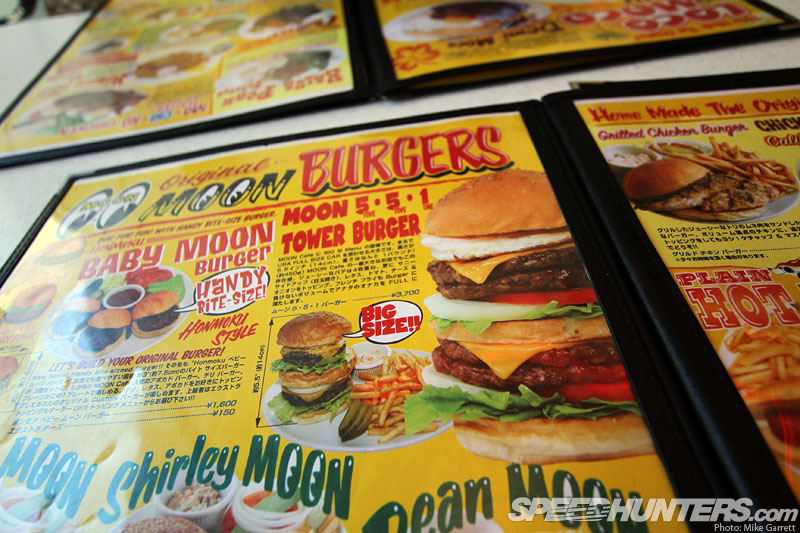 The place serves up all sorts of American favorites, as well as few Hawaiian-inspired dishes. You can see here they have burgers named after Dean and Shirley Moon, as well as the enormous Tower Burger.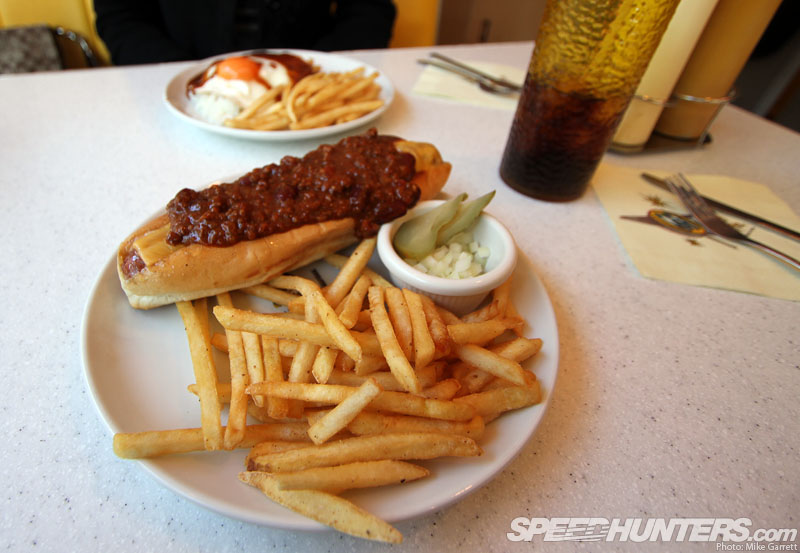 I ended up going with the chili cheese dog, and was quite satisfied. There are lots of "American style" restaurants in Japan, but few are as authentic as this. I'm anything but a food critic, but here's a big thumbs up from one Californian.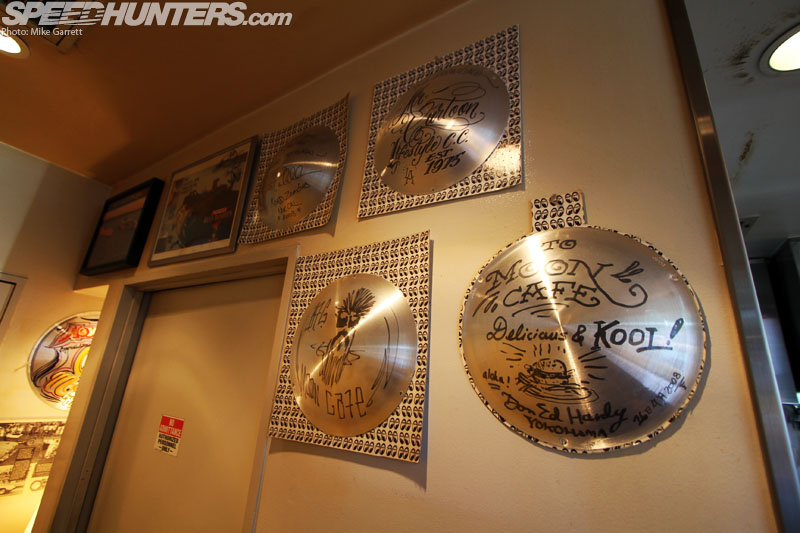 Elsewhere, the walls of the Moon Cafe are covered with Moon Discs decorated by friends and well known visitors.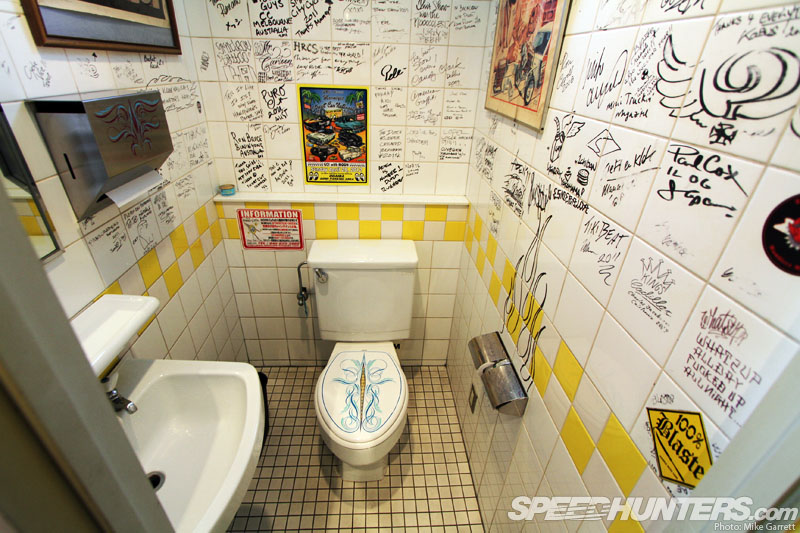 Even the toilet has been customized. I do believe this is the first bathroom shot ever posted on Speedhunters.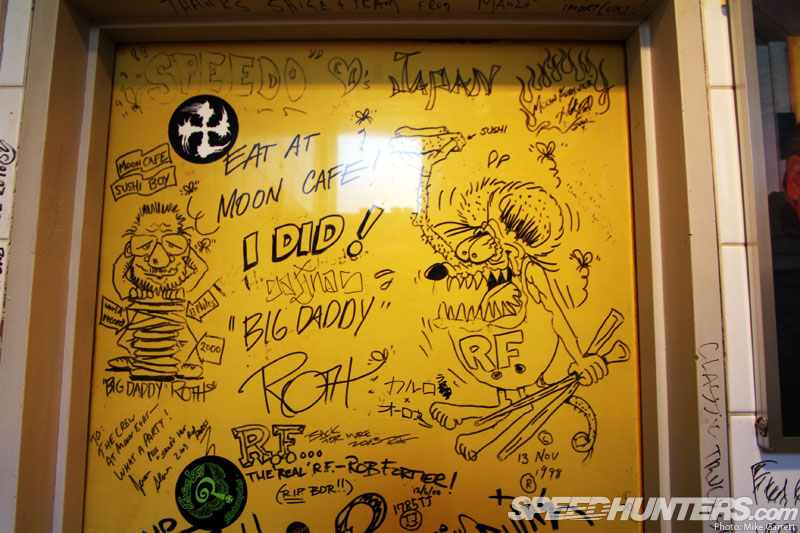 The bathroom door has been marked by visitors from all over the world. Cool.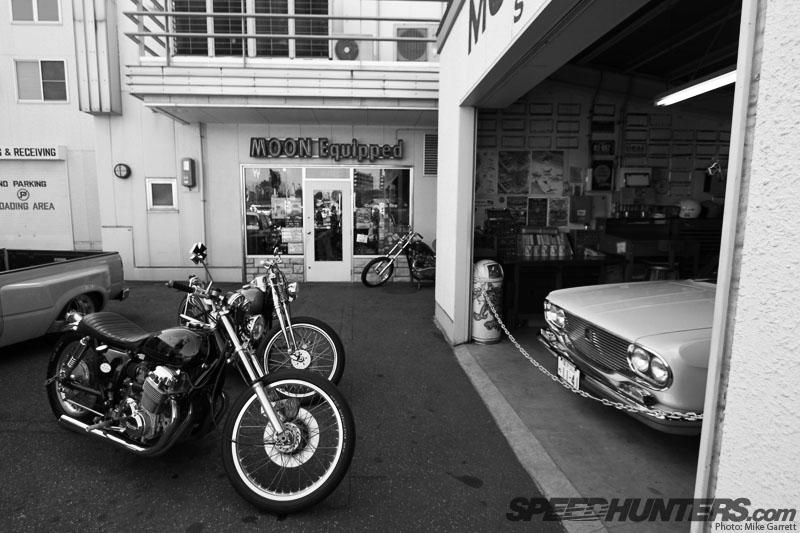 After lunch, I headed out back to see the garage area. Here you'll typically see a mouth-watering selection of vintage cars and bikes gathered around.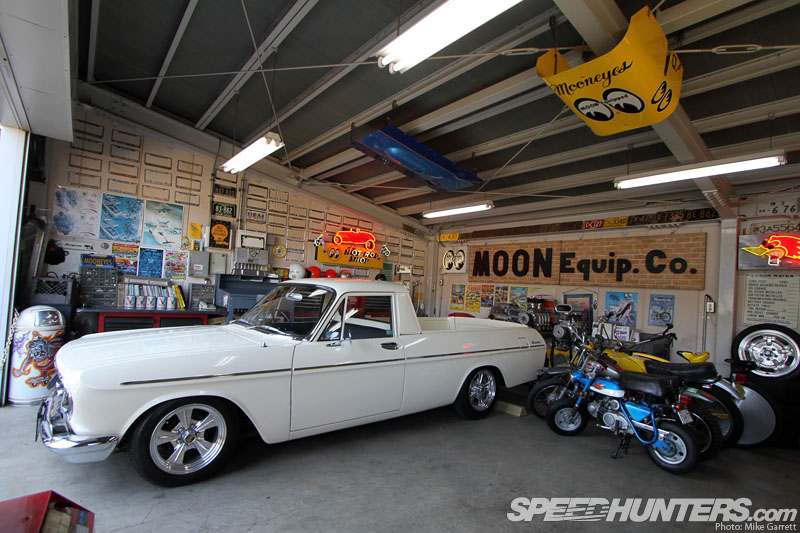 In the garage we see another Crown pickup surrounded by an incredible assortment of automobilia from both the United States and Japan.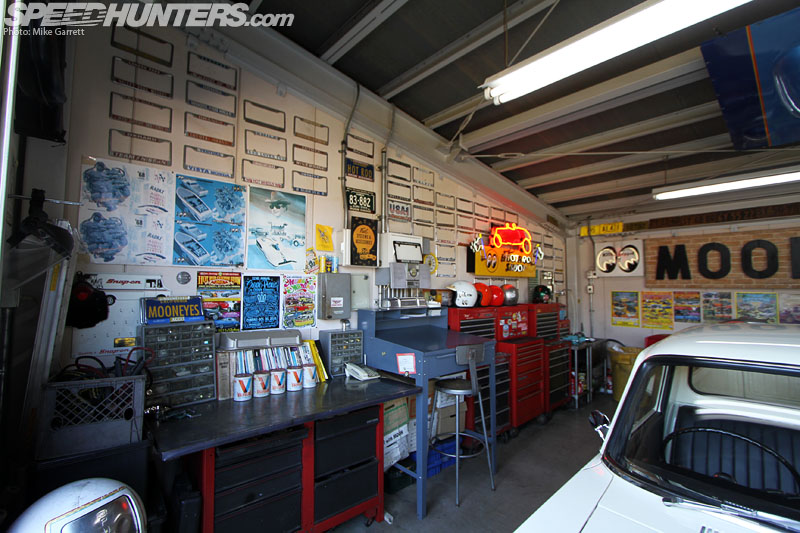 As an American with a love for Japanese car culture, I've always admired the way Shige Suganuma and the Mooneyes crew have blended two of my absolute favorite things together.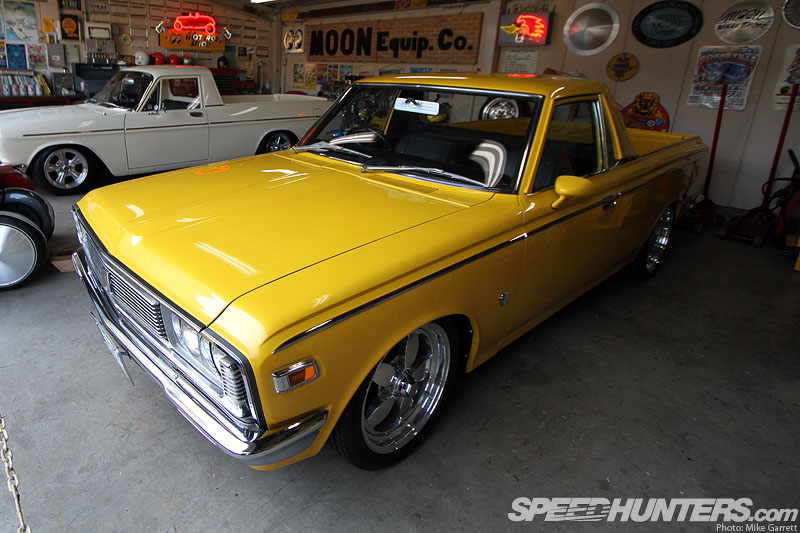 One more Crown pickup was also parked in the garage, this one coated in signature Mooneyes yellow.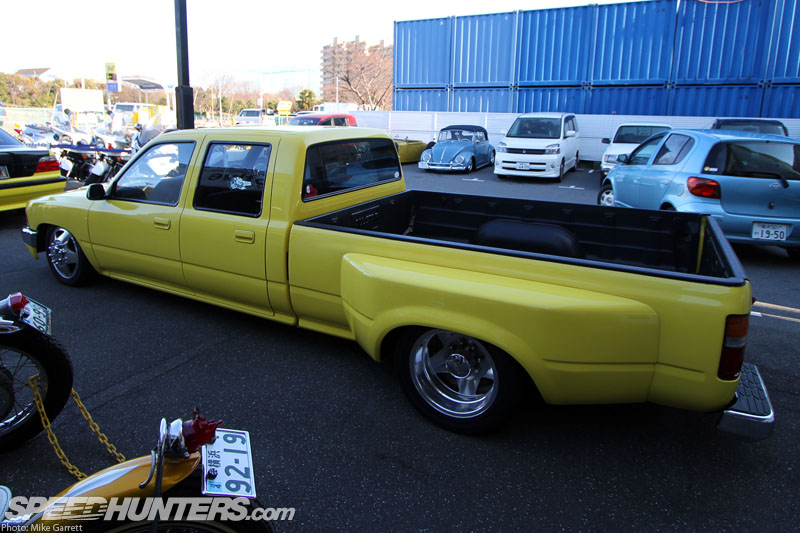 Now this is pretty neat. A dropped Toyota Hilux dually.
One of Mooneyes' newer projects is this E38 BMW 7-series that's  been given the custom touch with custom paint and the aforementioned 20″ discs.  A 1990s era German luxury car probably isn't what you expect to see cranked out by the Mooneyes team, and that's what makes it so cool.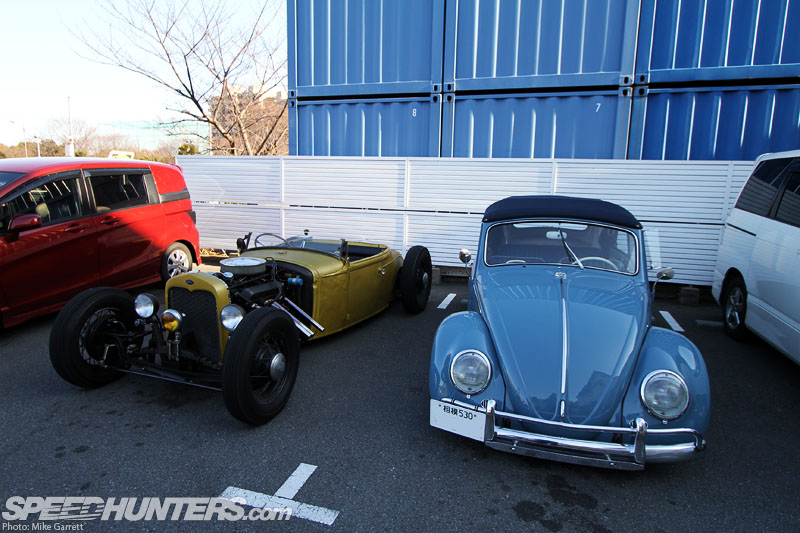 Because the Hot Rod Razzle Dazzle had wrapped up a little earlier on the day I visited, there were many people who came over to Area 1 afterward for lunch, some shopping, or just to hang out.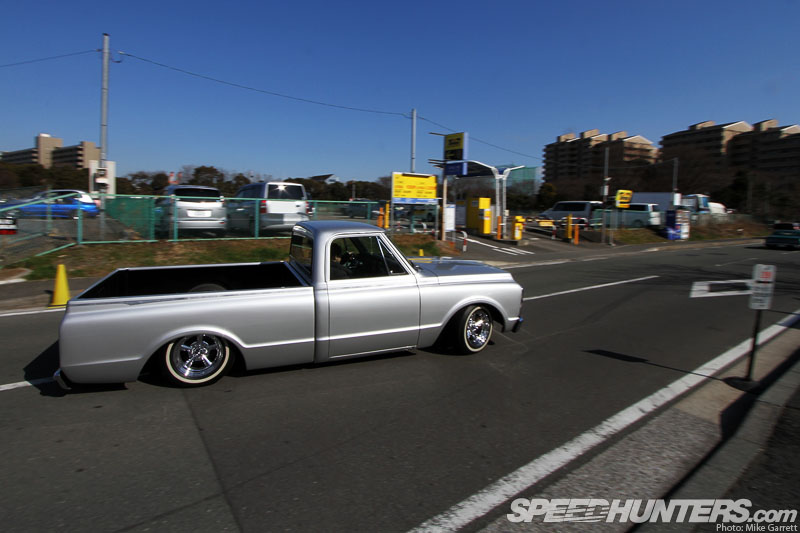 Since Area 1 is a popular destination for all kinds of car enthusiasts, it's not uncommon to see a slammed Chevy C10 cruise through one moment…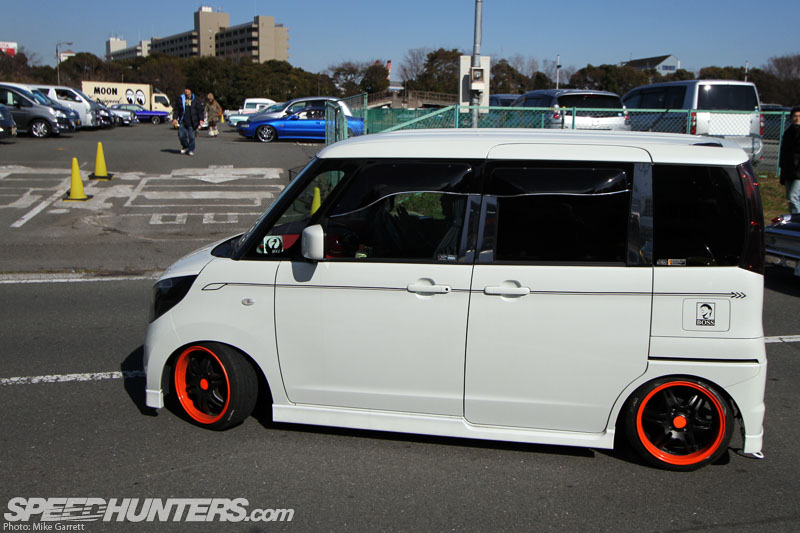 …and a custom kei wagon pull up next.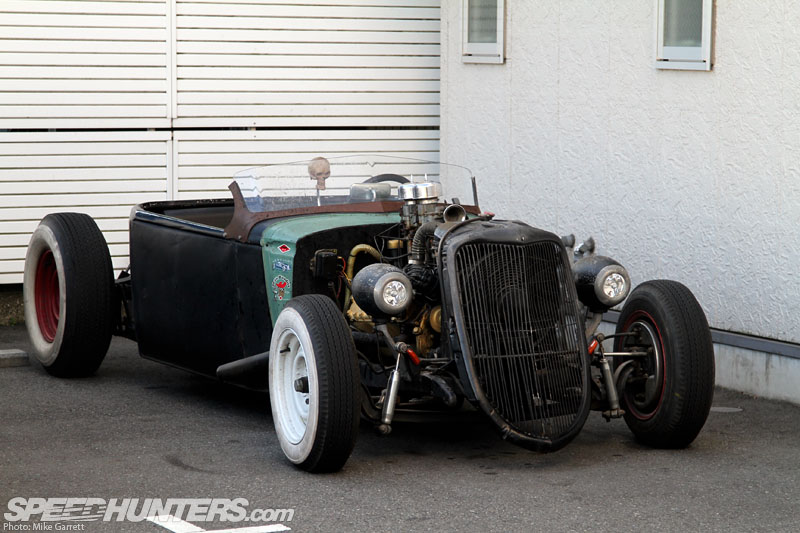 I consider myself to be a very open-minded car guy, and I'm sure that's why I love the variety of automotive styles swirling around Mooneyes Area 1 on any given day.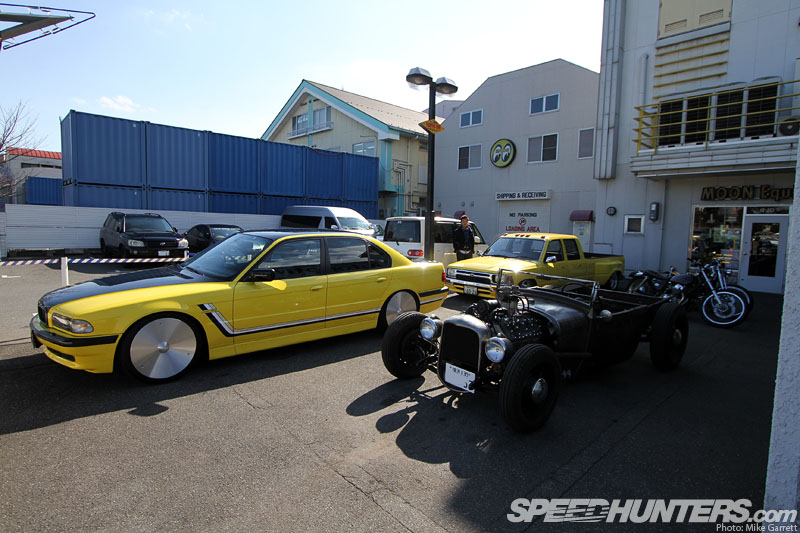 A Flathead-powered Roadster Pickup, a big body Bimmer, a Toyota truck, and a couple of old motorcycles. Sums up the Mooneyes experience pretty well I think.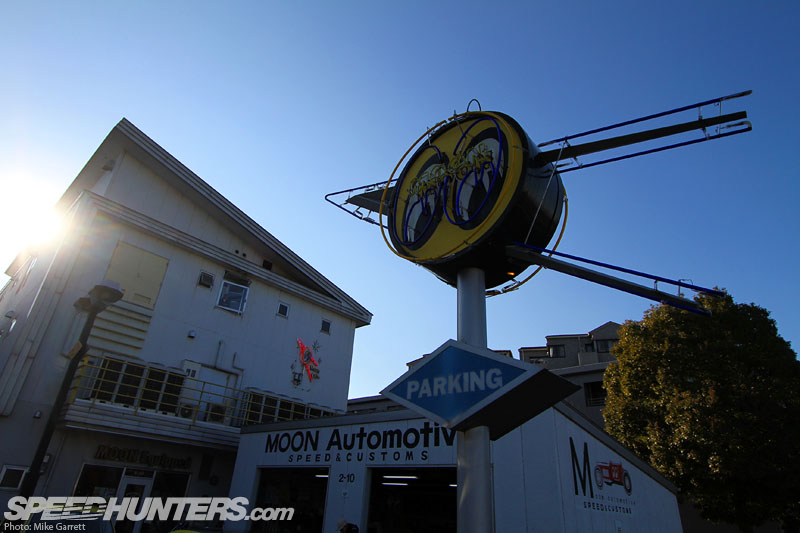 I can only imagine how proud Dean Moon himself would be if he could visit Mooneyes Area 1 today.
Of course I'm already looking forward to visiting again the next time I'm in Yokohama. Perhaps I'll bring my appetite to try and tackle the Tower Burger?
-Mike Garrett
More Mooneyes Stories on Speedhunters
More Stories by Mike Garrett on Speedhunters