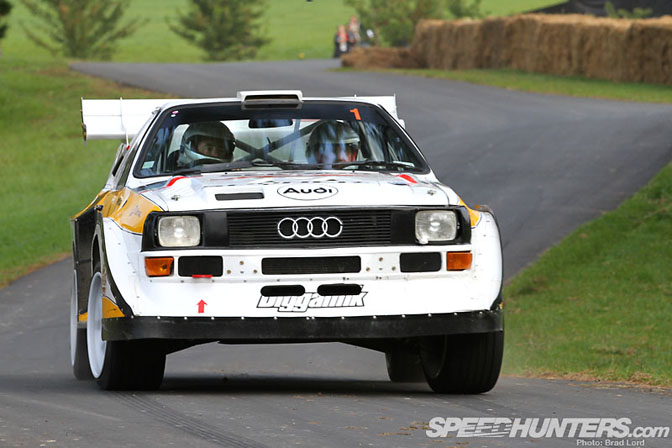 After three days Speedhunting at the Leadfoot Festival I can honestly say that I've never witnessed a more diverse range of interesting vehicles in one place at one time. Even though I've never attended the Goodwood Festival of Speed (it's on my bucket list though!), looking around the Leadfoot pits I began to understand why Rod Millen dreamed of creating an event along the same sort of lines. That said, I'm very thankful he decided to do it in New Zealand only two hours drive from where I live, and that like Goodwood, it'll be happening on an annual basis! In my second installment I thought I'd take a look at some of the vehicles that made the inaugural Leadfoot Festival event the spectacle it was…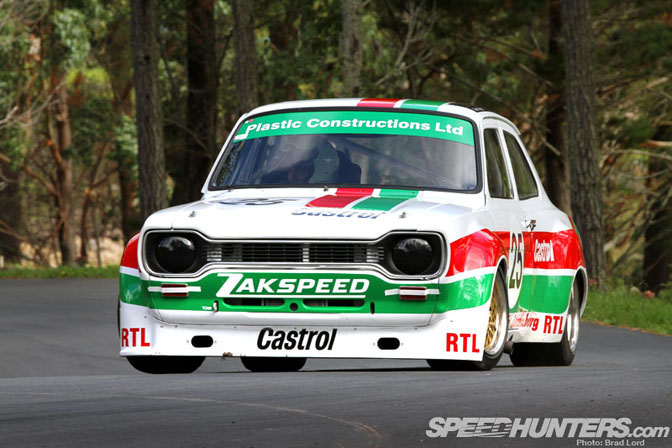 One of the best-presented cars at the Festival was Paul McCarthy's Mk1 Escort Zakspeed RS1600 replica, which you can read more about here. When its mechanical fuel injection-equipped Cosworth BDG engine was at full song it sounded every bit as good as it looks!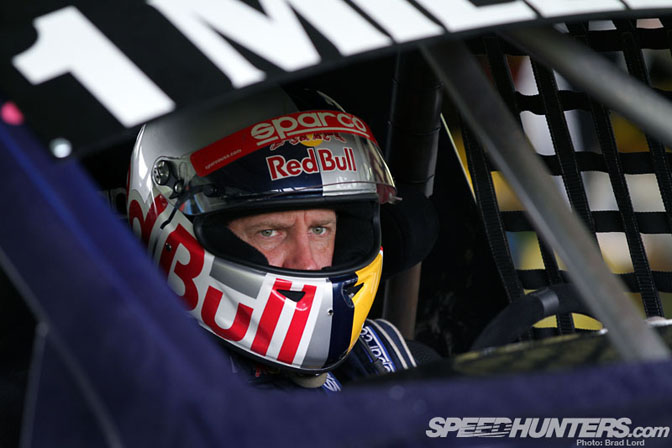 Making the trip down to the family farm especially for the event was Rod's son Rhys – one guy who definitely needs no introduction. Even though the two are always joking about who's really the quickest up the driveway, I'm pretty sure the rivalry is real when the helmets go on…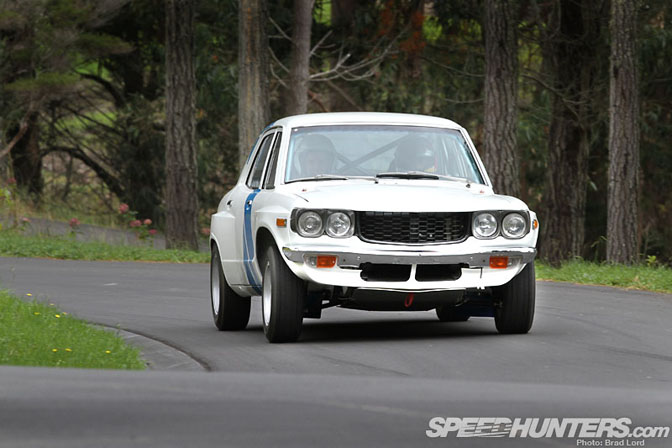 One car I was really looking forward to seeing in full flight was the Mazda RX-3 that took Rod to New Zealand Rally Championship wins for three consecutive years from 1975. Rebuilt over many years, the Mazda has been completely and meticulously re-engineered from the ground up…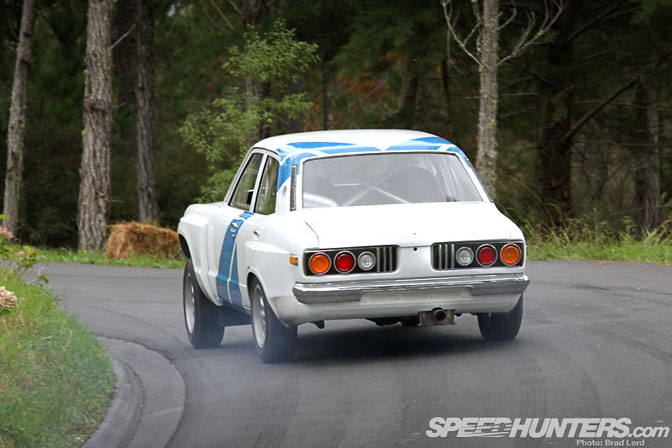 …Although there are many modern parts in the RX-3 now, I think you'll agree that it still looks every bit a classic. Both Rod and Rhys had a ton of fun throwing it around all weekend!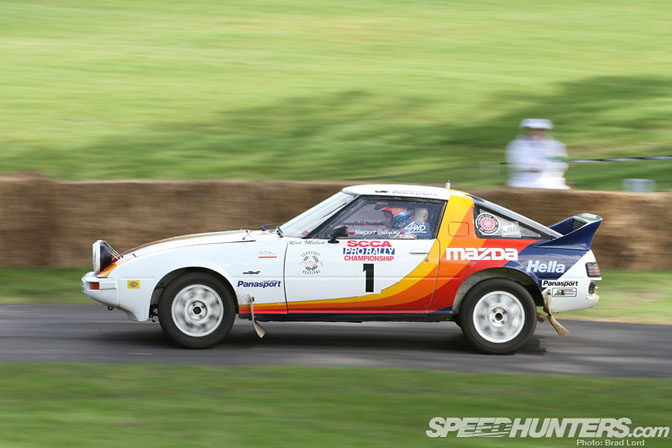 Rod's younger son Ryan was also in town and driving a couple of different vehicles over the Leadfoot weekend. One was this – Millen senior's SCCA Pro Rally Championship-winning 4WD RX-7 from the mid-1980s.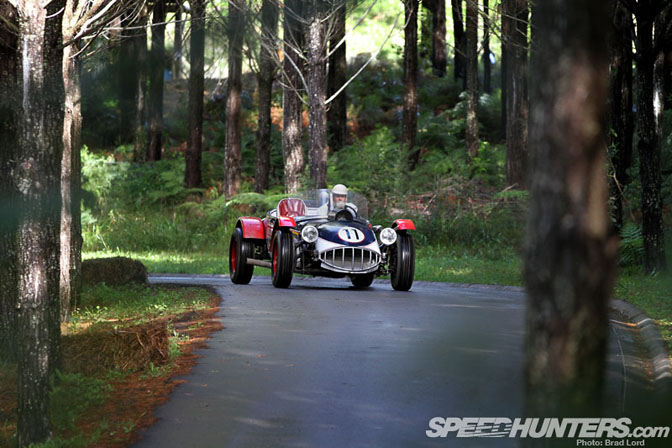 Here's a full shot of the NHRA museum piece 'El Caballo de Hierro' that I showed you in my first Leadfoot post. This was one of my favorite vintage rides at the event!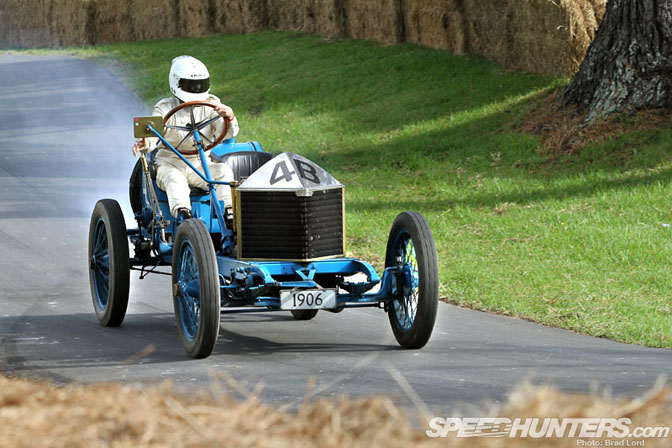 Another was the Darracq Grand Prix, owned and driven (hard!) by local lady Anne Thompson. I was amazed to learn that this machine competed at the very first French Grand Prix – the first ever 'Grand Prix' event – held at Le Mans in 1906. There's a massive 14-liter engine chugging away up front!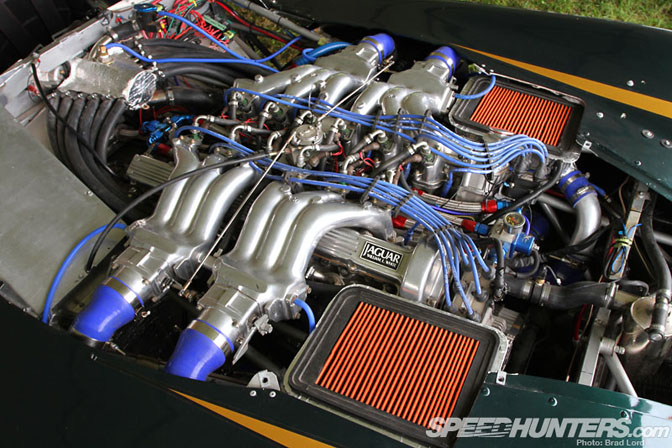 Speaking of engines, how about this quad turbocharged Jaguar V12. Yes, four turbos! It was fitted in scratch-built Jaguar XK120-inspired sports car designed by its owner, Sam Lyle.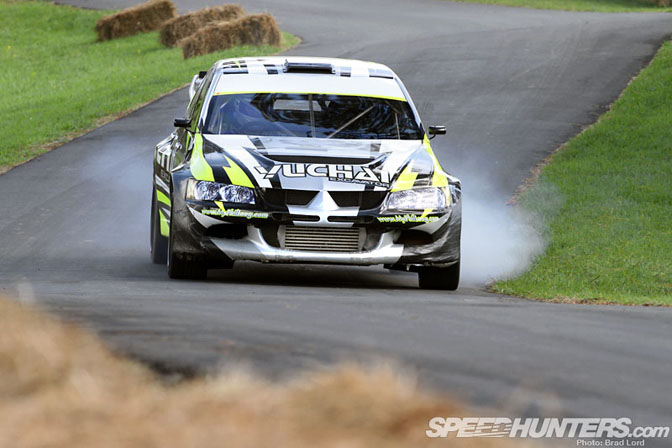 As I mentioned in the first post, drivers like Andrew Hawkeswood were giving it 100% – not only to improve on their quickest time up the hill, but also to try and earn a ticket into the Top 10 Shoot-Out held at the end of the weekend to determine the overall winner.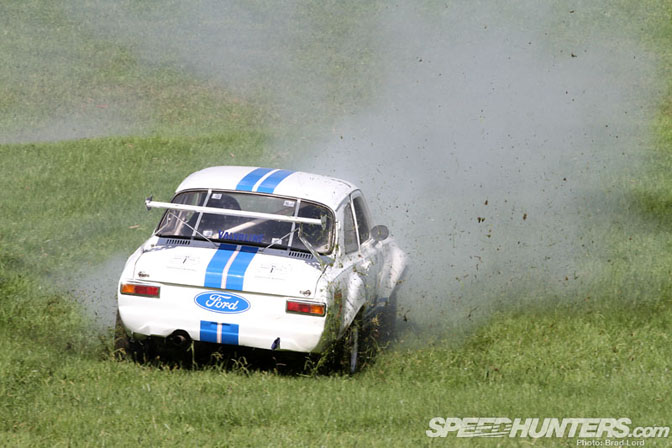 Some guys like the always-spectacular Max Irwin in his Oldsmobile V8-powered Mk1 Ford Escort gave it 110%!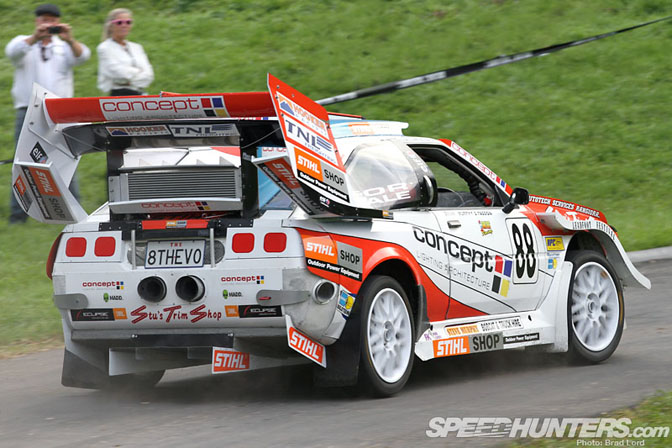 This crazy looking machine might have started life as a front-wheel-drive, mid-'80s Mitsubishi Cordia, but it's far from that now. Along with a custom 4WD system the winged warrior features a 570hp 377 cubic inch Chevy V8 engine that's been spun 180 degrees and fitted in the rear. Although its owner/driver Steve Murphy put it into the trees in the tricky woods section a couple of times during the weekend, he came back in the Top 10 Shoot-Out to finish third overall.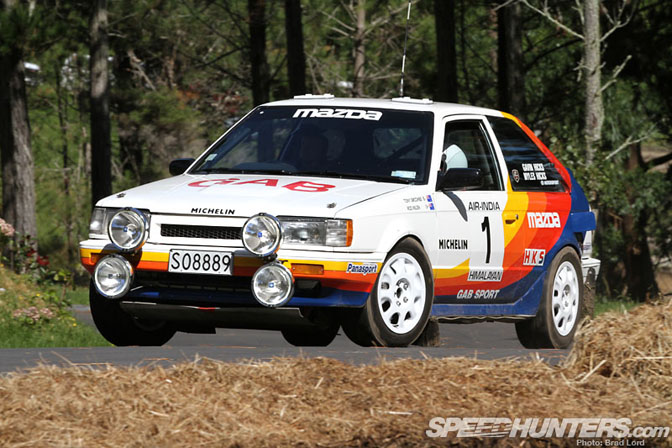 Here's another blast from Rod Millen's past – the 1988 Mazda 323 4WD that he used to win the '89 Asia-Pacific Rally Championship. Local Kiwi collector Gavin Hicks and his son Myles have done an amazing job restoring this car back to its original glory and Group A specification.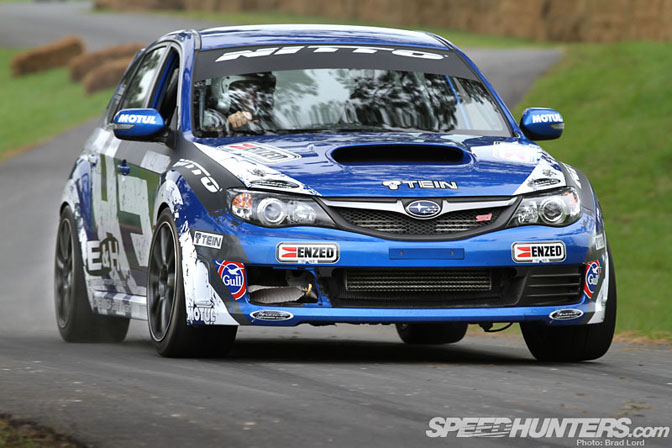 Three times New Zealand drift champion Carl Ruiterman brought his recently revealed E&H Motors Subaru Impreza WRX STi to the party. Engineered ground-up from a brand new chassis, the WRX was purposely designed for gymkhana and time attack racing. But after his top 10 finish at Leadfoot, Carl's thinking about adding hill climbs to the list, too!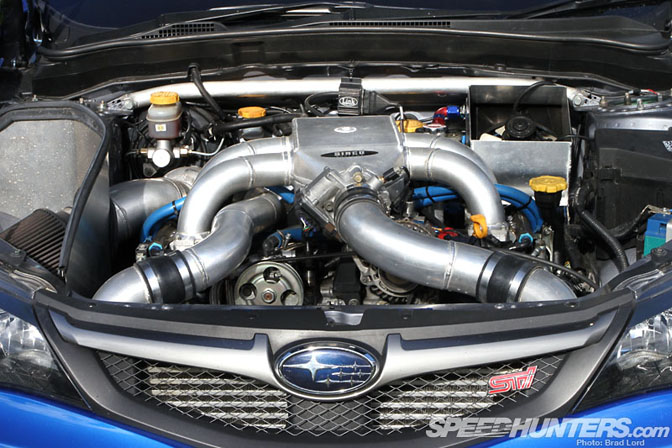 It's a pretty serious setup under the hood, with lots of custom fabricated parts and a Garrett GTX3076 turbo. Although the power was turned down slightly for the event, in its current 2.0-liter guise the WRX has been dynoed at 502whp on 28psi of boost.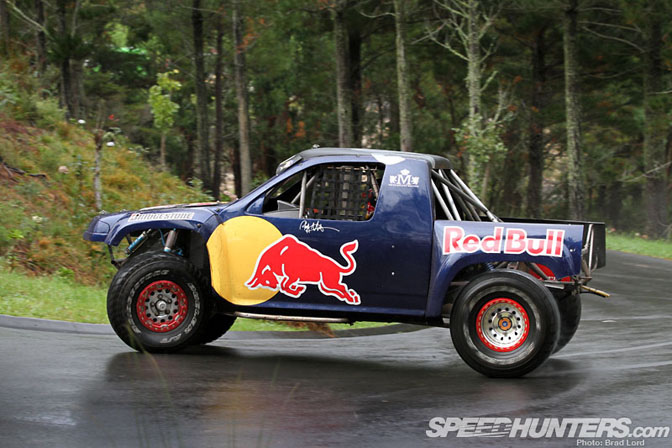 Whether it was wet or dry Rhys Millen had a whole lot of fun sliding his custom built off-roader around. You might remember this particular machine as the back-flip truck Rhys used at the Red Bull's 2008 'New Year. No Limits' event.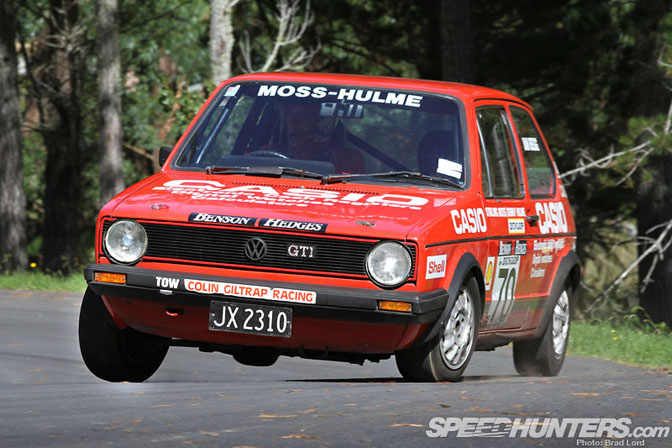 Still in its original racing guise, Ian Begg's three-wheeling Volkswagen Golf GTi was used in a 500-kilometer long endurance race in New Zealand in 1979 with legends Stirling Moss and Denny Hulme sharing the drive.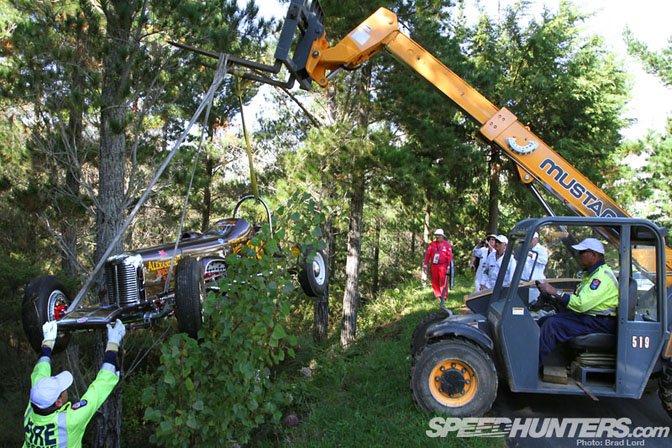 Dave Alexander's Bonneville racer had a slight off-track excursion during one of its runs up the hill, but was out racing again later in the day.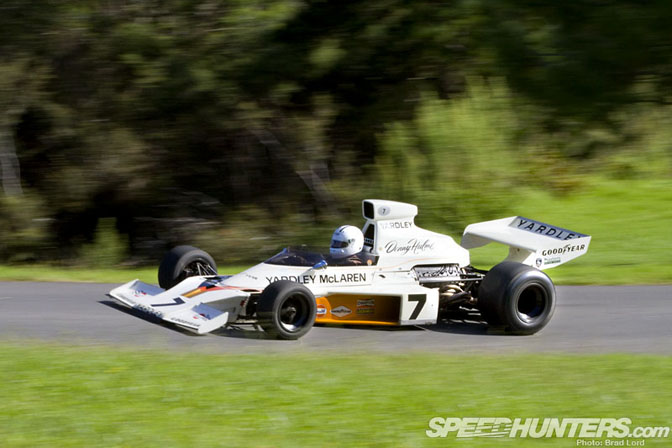 I've had the pleasure of seeing Phil Mauger's McLaren M23/1 Formula 1 car doing its thing on the racetrack before, but never up a driveway! This car had a pretty successful competition career back in the day and won the Swedish F1 Grand Prix in '73 with Kiwi racing legend Denny Hulme at the wheel.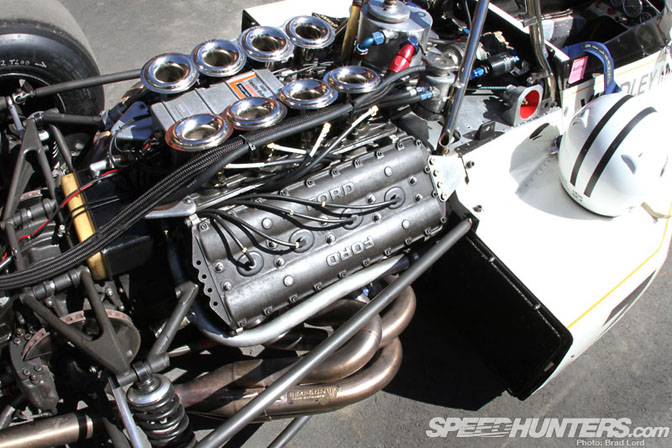 Weighing around 1270lbs (575kg) and powered by a Ford-Cosworth DFV 3-liter 90-degree V8 good for 465hp, you can imagine how quick it was…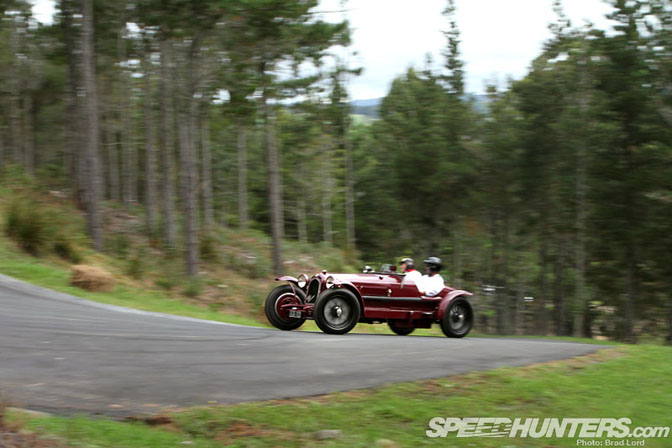 It was great seeing oldies like this 1932 Alfa Romeo 8C Monza being put to proper use!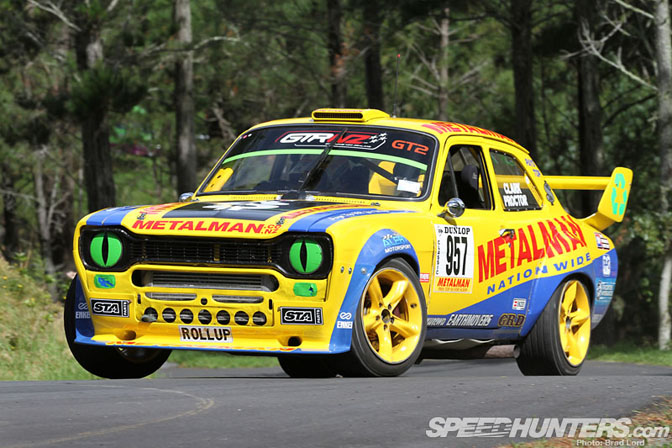 If you think this '73 Ford Escort Mk1 looks like it means business, you'd be absolutely right. Owned by local man Clark Proctor the street-legal Escort is a bit of an all-rounder having competed in both GT-class circuit racing and road rallies in New Zealand with plenty of success…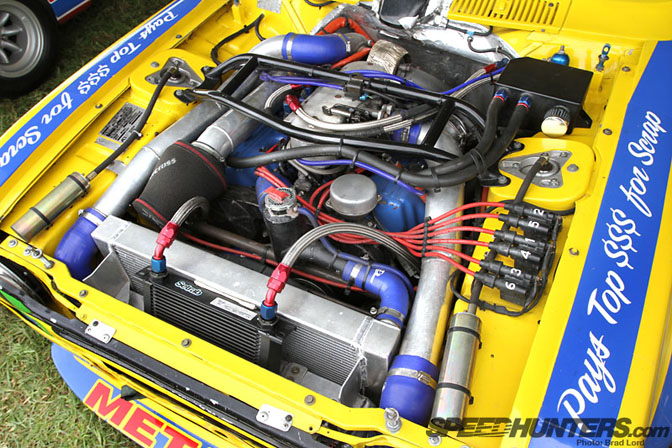 …And here's partly why – a Nissan VG30 3-liter V6 fitted with a Garrett GT3540 turbo and controlled by a MoTeC engine management system.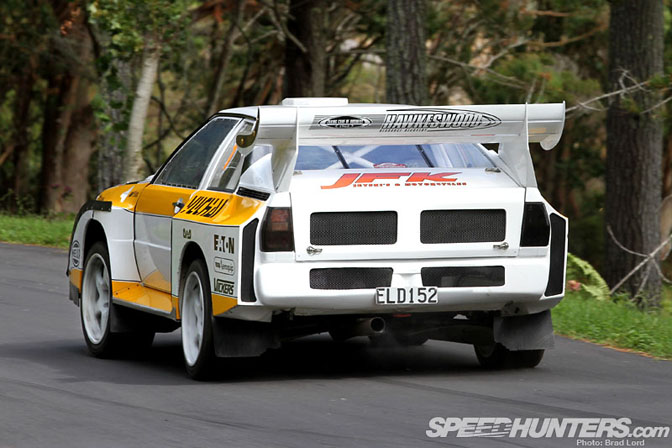 Here's a rear shot of Andrew Hawkeswood's Audi Quattro S1 Group B replica from the top of this post. Although its 4WD system was borrowed from a Subaru, it sounds exactly as it should with a pukka 20V five-cylinder Audi engine (fitted with a huge turbo!) providing the soundtrack, and immense go.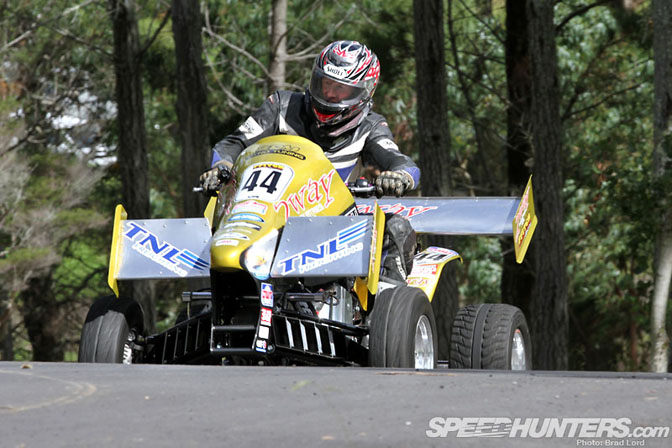 I question the sanity of Ian Ffitch who rode this highly modified 1080cc 'Super Quad' to a second place finish in the Top 10 Shoot-Out. At some points of the course it looked like he was barely holding on to the feral thing!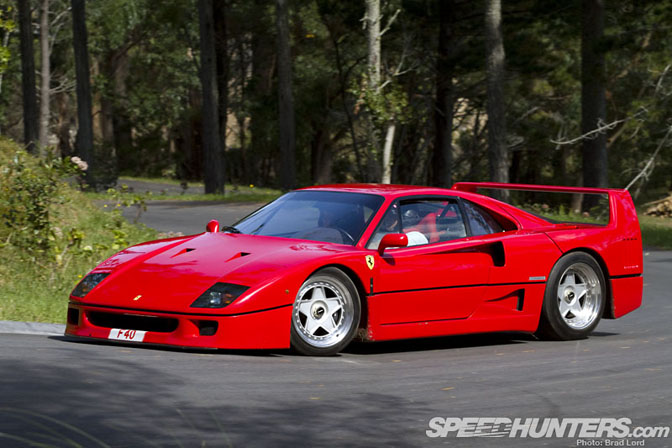 This immaculate Ferrari F40 drew constant attention over the weekend…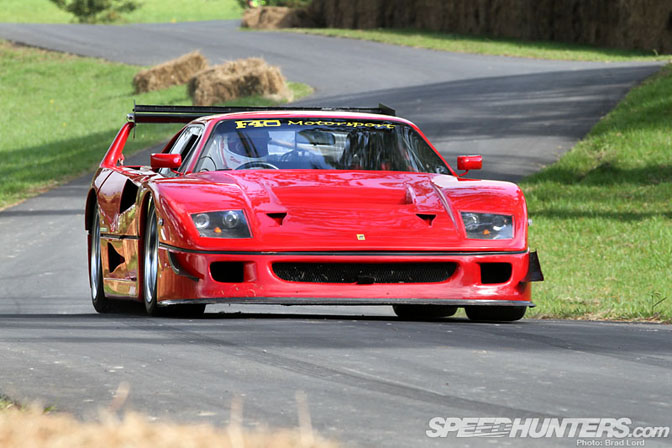 …As did this not so genuine Kiwi-made 'F40 Silhouette'. Built on a custom tube-frame chassis it runs a race-prepped 4-liter Lexus V8 engine with dual Garrett GT2535 turbos.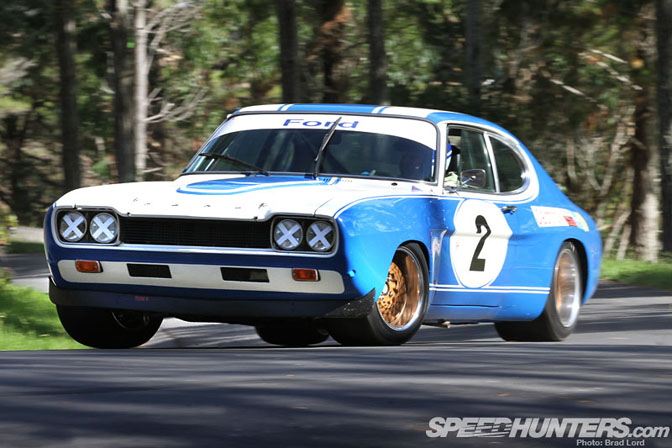 I spent a lot of time drooling over this Ford Capri RS2600 works car. Built by Ford's Cologne competition department the Capri was originally raced in the '72 European Touring Car Championship. It then sat in storage from the mid-1970s until it was purchased by the current owner in 1993, and painstakingly restored…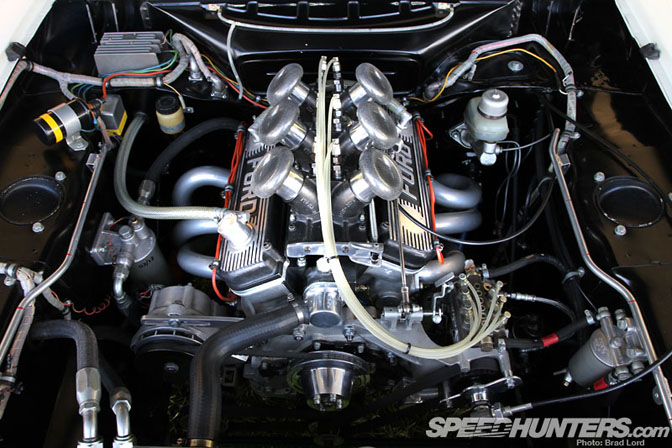 …To an amazing standard. That's a Ford-Weslake 3-liter fuel injected V6 good for 330hp.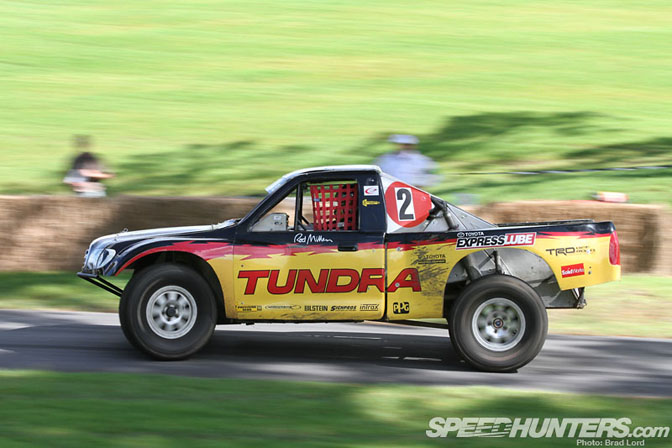 Rod's MillenWorks-built Tundra was designed especially for the Championship Off Road Racing (CORR) series in the US. A TRD-spec V8 engine provides the lightweight machine with some serious performance.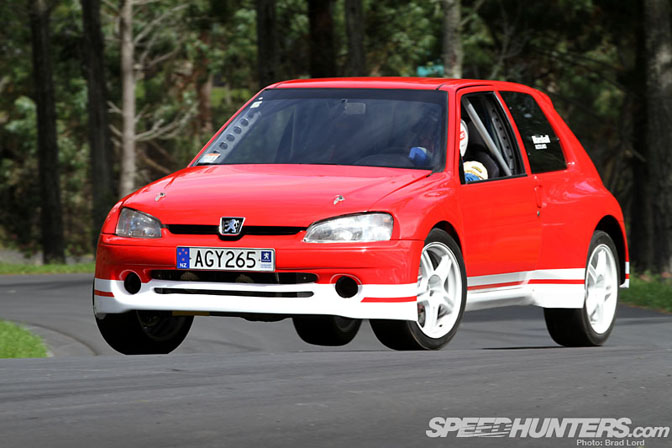 New Zealand rally great Mike Marshall prepared this Peugeot 106 to 'Maxi' rally-spec from a bare chassis. The small and lightweight front-wheel-drive hatch was in its element.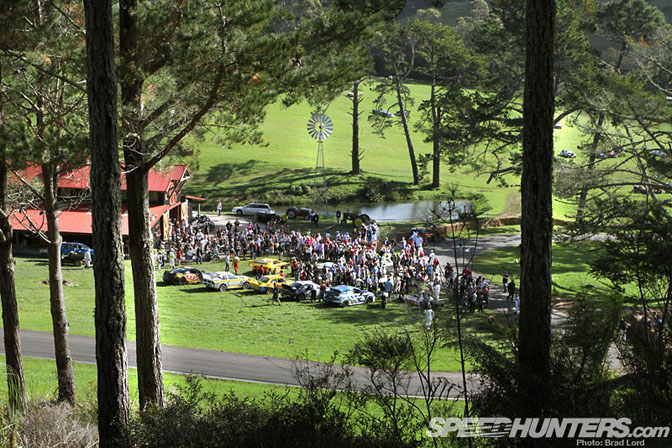 Once the Top 10 Shoot-Out had been completed the drivers gathered by the Black Barn for an informal prize-giving ceremony and to reflect on the weekend that was. In case you're wondering, it was Rod that posted the quickest time up the hill in his Celica (51.50 seconds).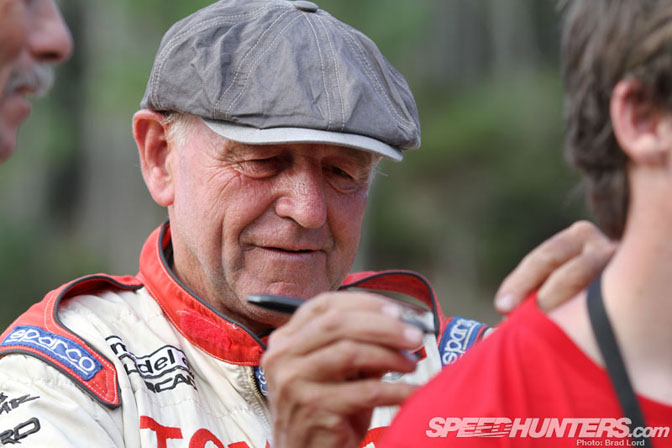 With a great job done by all, all that was left for Rod to do was sign a few autographs for the fans…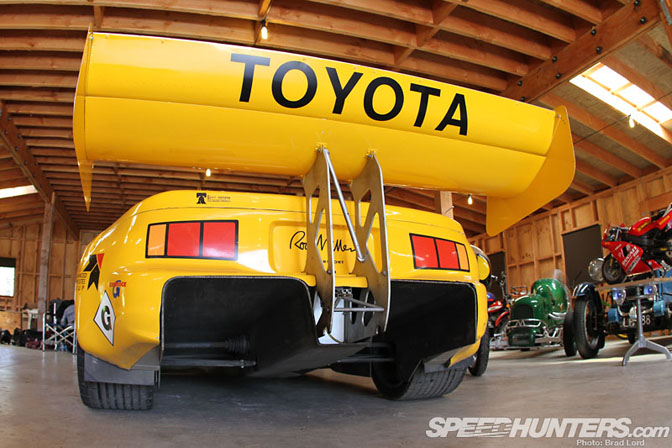 …And park the Celica up; ready to defend the Leadfoot title at the 2013 event!
With that shot of the Toyota's glorious rear-end, we'll wrap up our coverage of the 2012 Leadfoot Festival. I can't say enough good things about this event and can't wait to get back down to the Leadfoot Ranch in March next year to go Speedhunting all over again. If you're planning a trip to NZ, then could be a very good time to do it…
Leadfoot Festival on Speedhunters
– Brad Lord
Top 10 Shoot-Out Results
1st: Rod Millen, Toyota Celica, 51.50
2nd: Ian Fitch, BRM1000 Quad, 53.31
3rd: Steve Murphy, Mitsubishi Cordia, 53.56
4th: Emma Gilmour, Subaru Impreza WRC, 53.87
5th: Clark Proctor, Ford Escort Mk1, 54.31
6th: Phil Mauger, McLaren M23/1, 54.34
7th: Carl Ruiterman, Subaru Impreza STI, 54.67
8th: Andrew Hawkeswood, Audi Quattro, 55.52
9th: Greg Tracy, Ducati, 56.10
10th: Tony Quinn, Nissan GT-R, 58.66