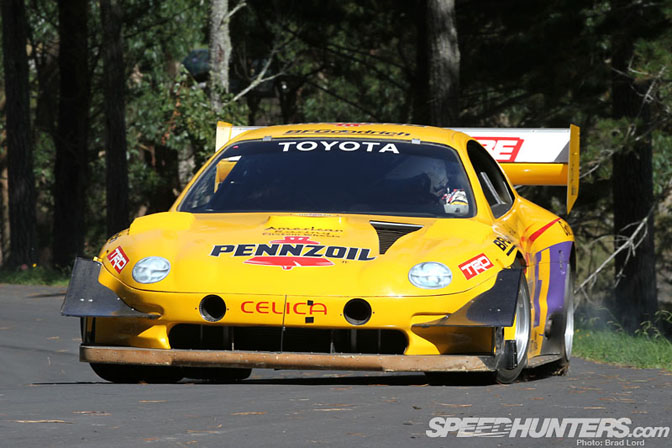 Having the idea to create an event along the lines of the UK's famed Goodwood Festival of Speed is one thing, but seeing it through to completion is something else altogether. But that's exactly what Rod Millen has achieved in his home country of New Zealand with the inaugural running of an annual event called the Leadfoot Festival. For three days in late March, hand-picked drivers from all around the world gathered at Millen's 140-acre Leadfoot Ranch property in the normally quiet beach town of Hahei (two hours drive south of NZ's biggest city, Auckland) and made some noise. The main attraction? That would be Rod's driveway – or more precisely a 1.6 mile-long private road purpose-built for racing on…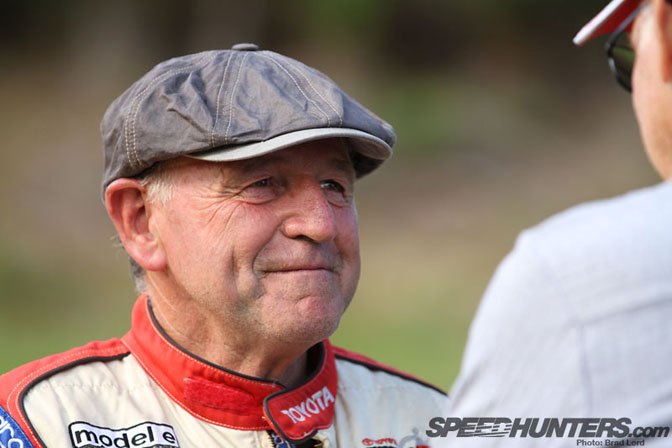 The dream to host an event like Goodwood in the Southern Hemisphere is something the ex-Pikes Peak International Hill Climb record holder had for a long time. As you might imagine, bringing the vision to life was a massive undertaking – a lot of which can be directly credited to Rod and his wife Shelly. Over a 10-year period the pair took on the labor-intensive task of clearing and leveling expansive sections of the rugged property and carving Rod's dream hill-climb course up and over the landscape.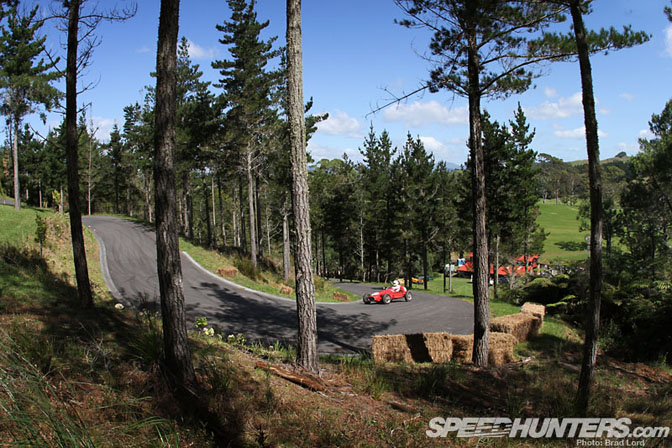 16,100 tons of rock was trucked in to lay the foundation for the road, followed by 12,000 square meters of hot mix to create a smooth and durable surface. The course has tight and technical turns, elevation and a few short but reasonably straight sections where Rod's Pikes Peak Toyota Celica (as seen in the first photo of this post) has been clocked at 105mph (169kph). The result of all the hard work is absolutely stunning – both technically and visually.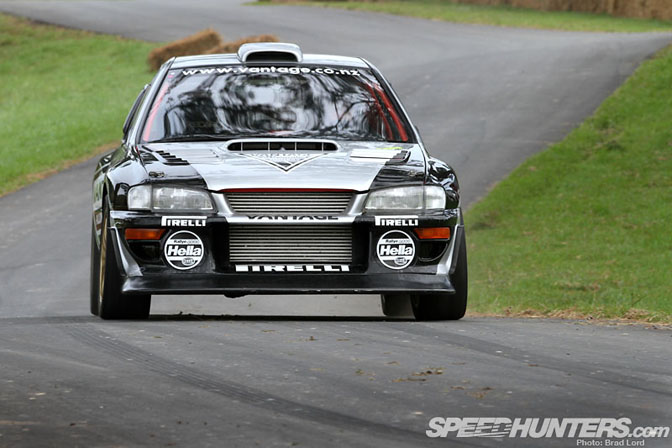 Like Goodwood, one of Rod's prerequisites for the Leadfoot Festival was to have a wide variety of vehicles competing. There were over 100 in all – around 80 cars and about 20 mostly-classic motorcycles – and it made for compelling viewing. There aren't many events out there where one minute an ex-WRC rally machine is flying up the course with anti-lag crackling…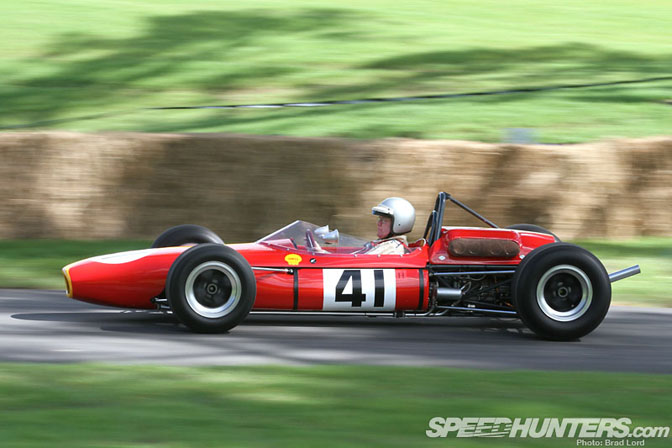 … And the next minute an historic single-seater is having a go – in this case a Brabham BT22 being steered by its original driver from the 1960s.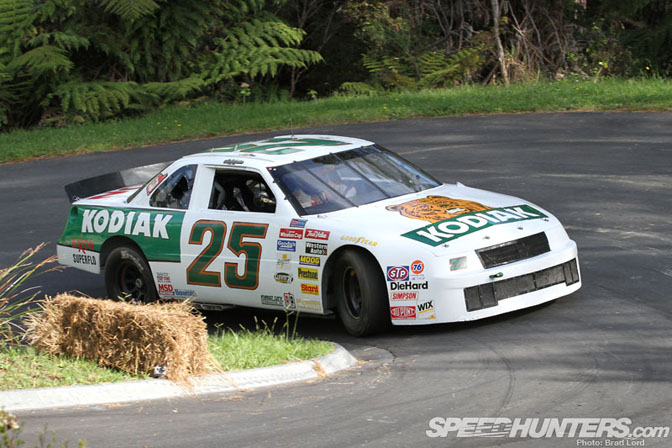 Rod extended an invitation to successful US driver Elliot Forbes-Robinson and his 1989 Kodiak Chevy Luminar NASCAR. Even though the car is set up to turn both left and right for road-racing duties, it looked like a handful-and-a-half to drive!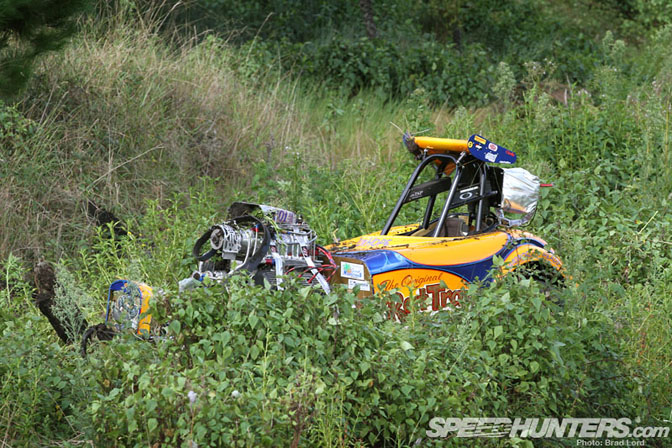 One machine that proved to be a little too much of a handful was Ron Hope's vintage American dragster, the 'Rat Trap'. During a burnout/launch demonstration the Fuel Altered got a front wheel off the pavement, which sent it spearing off the black-top at 100mph and into a shallow swamp. Thanks to some good driving by Ron, it rolled but then landed back on its feet, and he was able to climb out unscathed.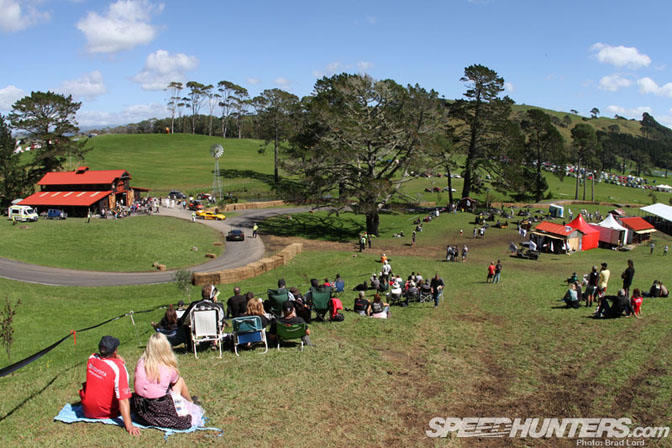 To give you a bit of an idea about the layout of the Leadfoot Ranch here's the view from the top of the main viewing area, which has a great view across the first half of the driveway course. If you look closely you can see Rod's Celica heading out of the Black Barn and about to turn left down the driveway towards the start line.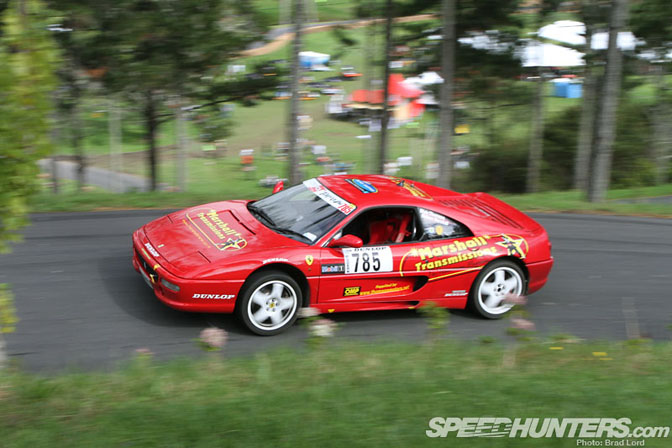 This is the view from a bit higher up the hill looking back down towards the main spectator and pit area shown in the previous photo. There's an 80-meter rise from the start line to the finish.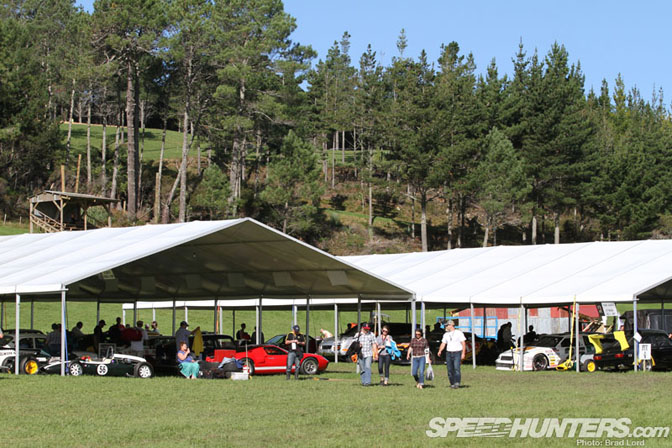 Here are two of the four huge pit tents that the teams used to house and work on their cars during the weekend. The course winds its way up through those trees in the background.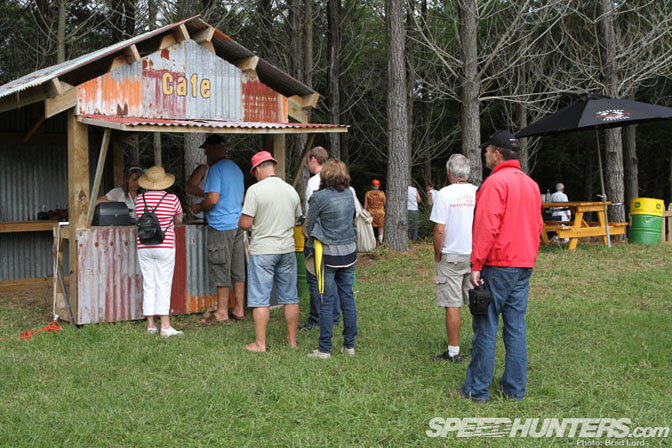 The Millen's really wanted the Leadfoot Festival to have a vintage flavor, and went as far as dressing up all the hospitality huts with recycled materials.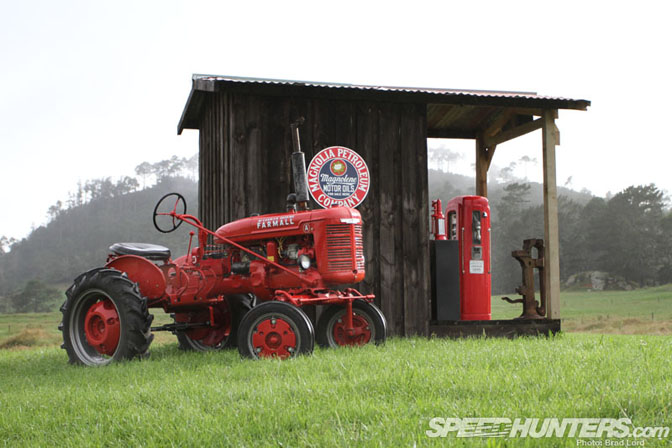 How cool is the gasoline storage shed complete with its own vintage pump!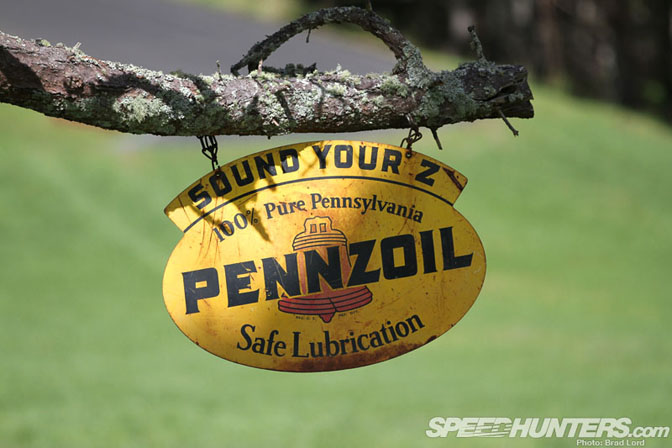 Given that Pennzoil was the main sponsor of Rod's Pikes Peak Celica back in the day, this old tin sign hanging off a tree branch was a nice touch, too…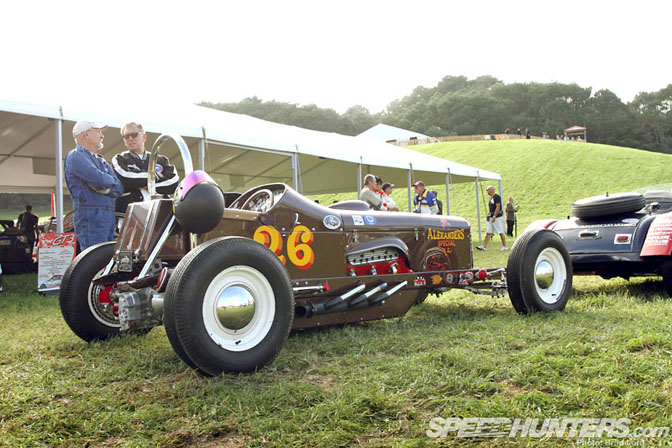 During downtimes the pit area was a great place to wander around. This Kiwi-built replica of a 1950s Ford V8 Flathead holds a Bonneville speed record.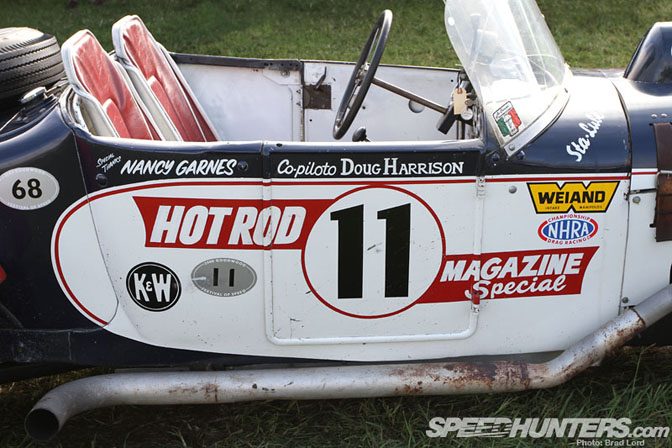 This 1927 Ford Roadster is usually on static display at the Wally Parks NHRA Motorsports Museum in Pomona, California, but 'El Caballo de Hierro' (as it's more commonly known) was brought out to the event and driven up the hill-climb by the museum's Executive Director, Tony Thacker.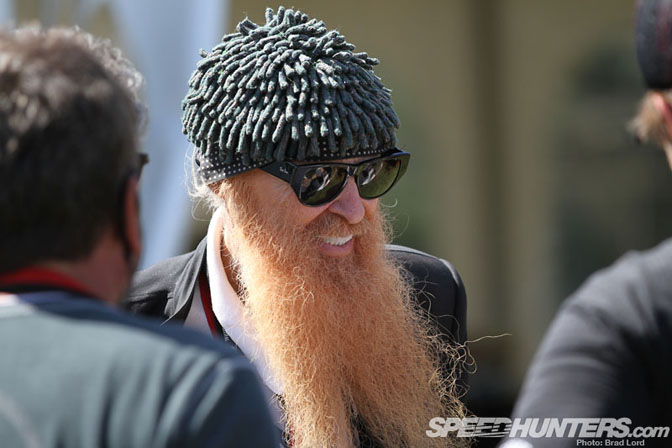 Even ZZ Top guitarist Billy Gibbons dropped in for the weekend to perform at the Festival's Saturday night ball. He says he'll be back for the Leadfoot Festival next year –  with one of his cars we hope!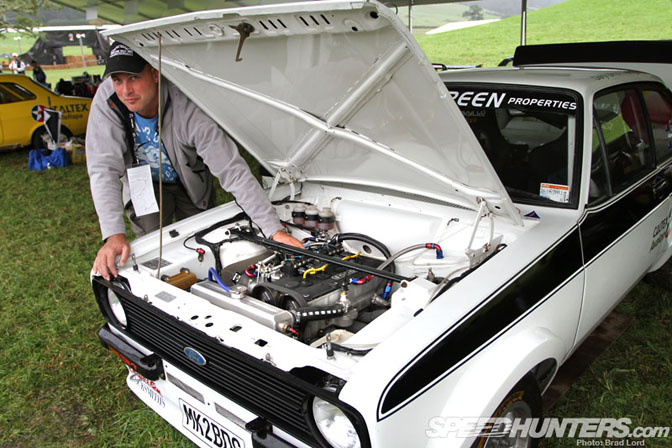 Everywhere you looked there were interesting classic and modern machines to check out. From this oh-so-sweet sounding BDG-powered Mk2 Ford Escort rally car…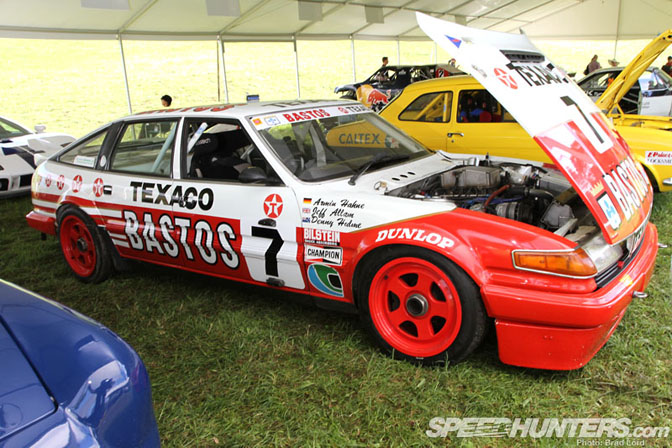 …To vehicles like this Group A Tom Walkinshaw Racing (TWR) Bastos Rover Vitesse SD1, which competed in the '85 and '86 European Touring Car Championship.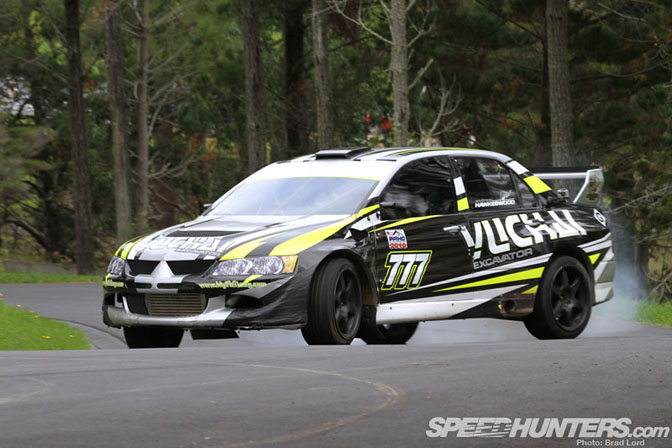 While everyone was there for a good time, guys like local Kiwi driver Andrew Hawkeswood weren't holding back. Rod set a record time of 52.81 seconds in his Celica at his 60th birthday bash last year, so that was the number to beat. Andrew's 4WD, space-framed, 700hp+ Mitsubishi Lancer Evo VIII almost spent as much time going sideways as it did going in a straight line!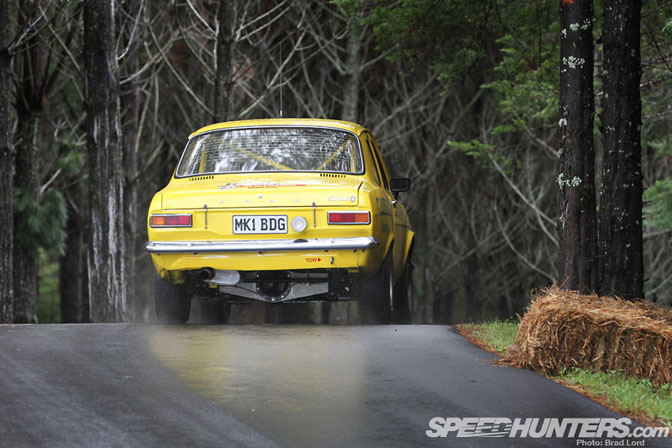 I'll finish up my first look at the Leadfoot Festival with this shot of a Mk1 twin-cam Ford Escort headed into the treacherous woods section of the course. Narrow and cambered it caught out a few drivers during the weekend – especially on the morning of the final day when it was wet.
In the next instalment we'll take a closer look at some of the fastest and wildest cars that competed at the event – from an 1973 McLaren M23 Formula 1 car to an absolutely insane Audi Quattro S1 Group B replica.
Brad Lord