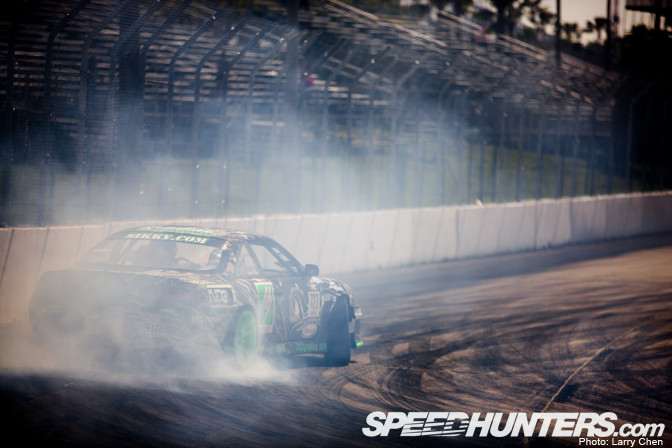 Believe it or not it takes a while for me to get my itchy trigger finger back in the grove. It wont take long for me to feel it again though, because as soon as that tire smoke fills my lungs and my ears start to ring from the screaming engines I will feel at home again.
Unlike us lazy photographers, drivers like Odi Bakchis, practice as much as they can during the off season to keep their skills sharp.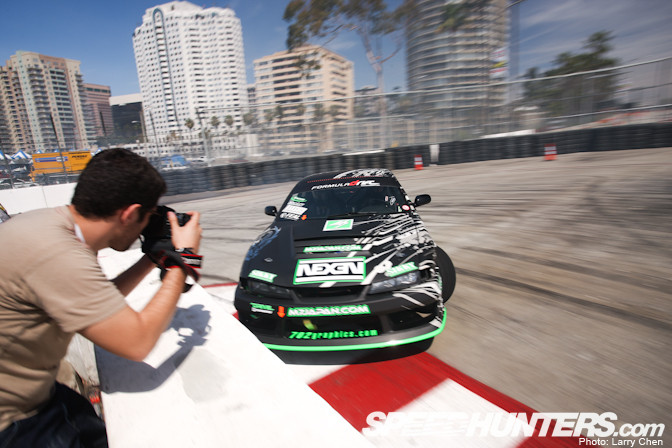 It seems to have worked, because he was killing it right off the bat. He gives a whole new meaning to cutting it close. He drives so close to the wall that I feel like I can reach over and give him a high five at some parts of the track.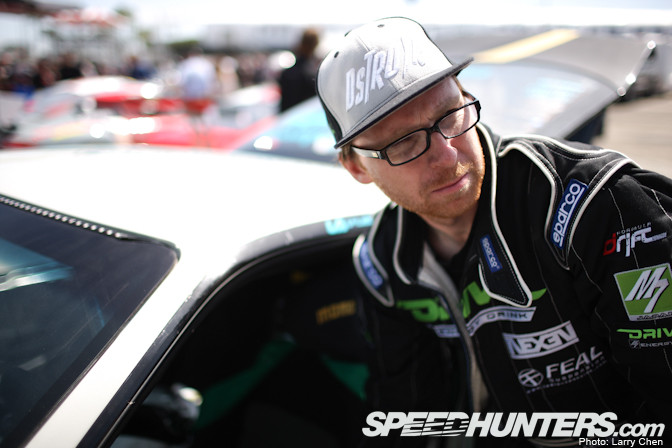 Odi is also a very nice guy who likes to help whoever he can. Here he is trying to figure out what is wrong with Dennis Mertzanis' new LS Powered S14.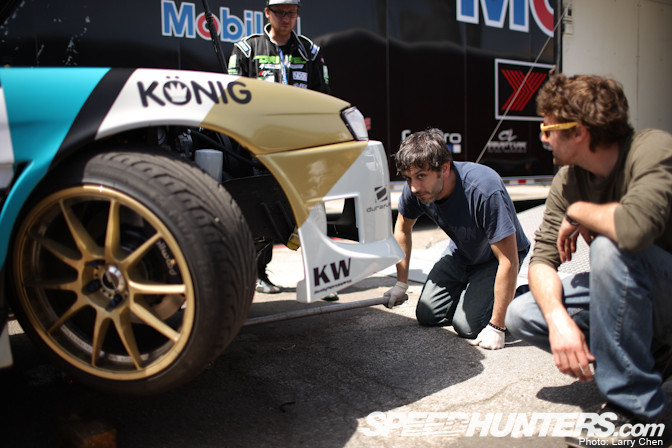 According to Dennis his brand new from the Chevy factory motor has some sort of fail safe that does not allow him to put the pedal to the metal till after it runs for a few hours. How annoying.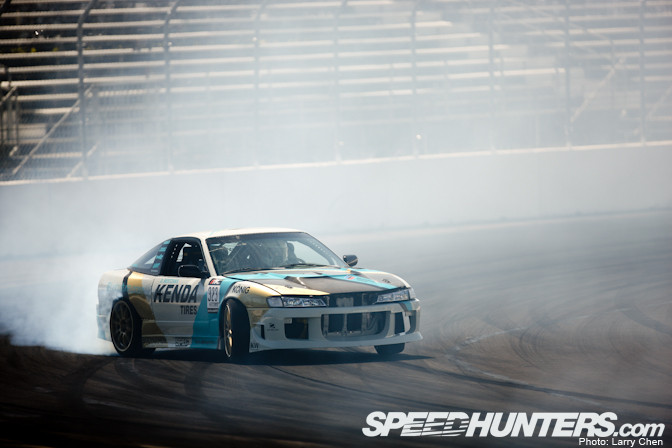 Eventually he figured it out and laid down some impressive runs.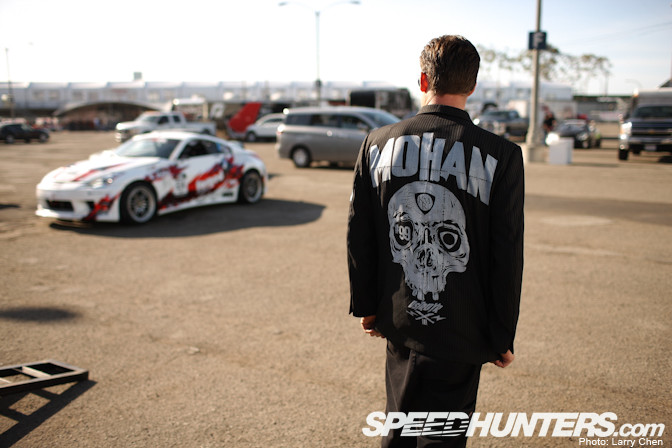 This jacket looks strangely familiar. Kyle "The Menace" Mohan has been a busy bee this off season.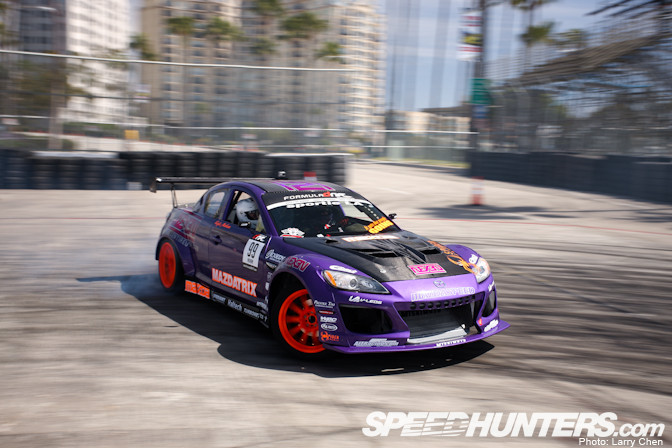 His purple people eater Mazda Rx-8 was completely rebuilt from the ground up. It has a much wider body and a much bigger turbo. KMR racing stepped up their efforts big time.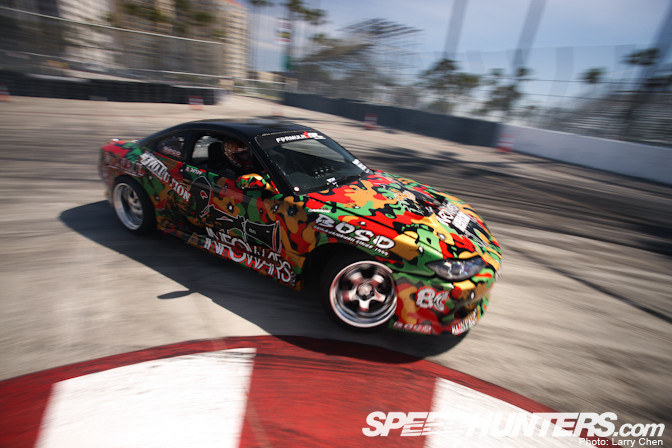 The BOSO Garage LS3 powered S15 is a black hole for drift controversy, but I guess the saying is any press is good press.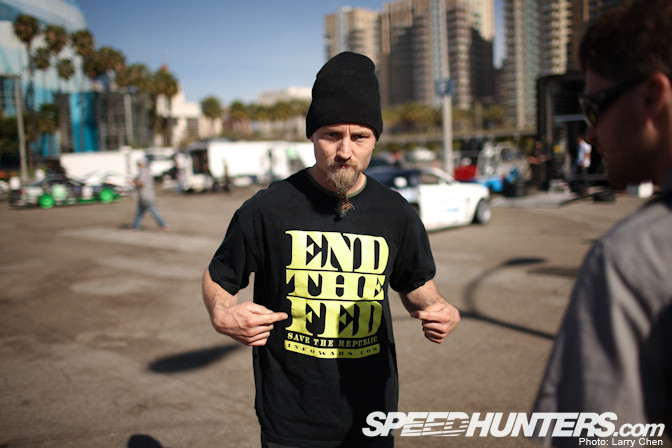 Who knows we might have an occupy Formula Drift movement if Ross keeps it up.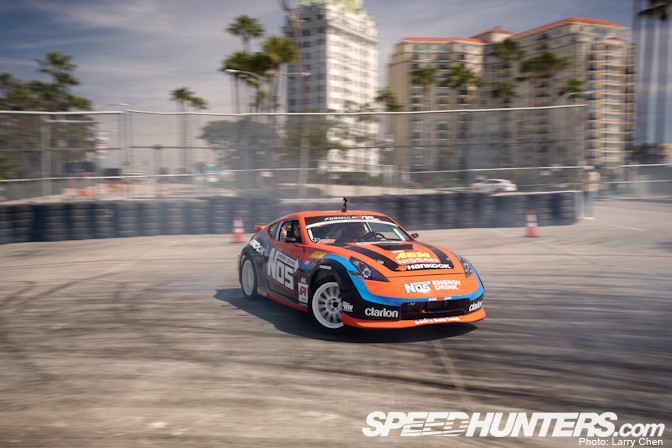 Chris Forsberg is back with an all new 370z with a brand new Nissan Motorsports VK56DE, which is the exact same engine he ran last year, but this time it has a bit more power.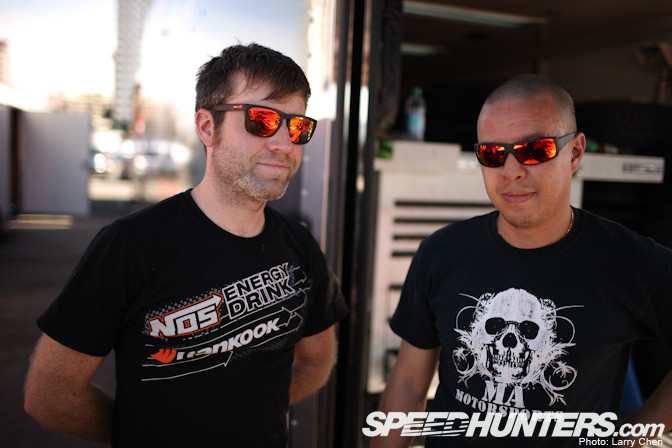 Since Kevin Wells is the new Formula Drift technical manager the guys at MA Motorsports stepped in to help out Chris with his program this year.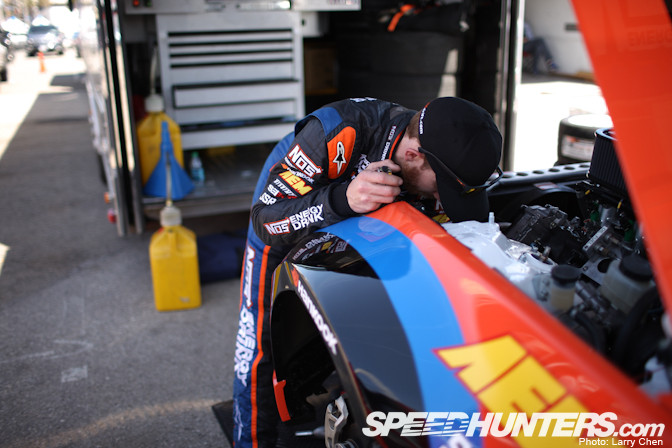 The team was having issues with the tune, so everyone including Chris dove in head first to fix the problems. They eventually figured it out, so you can expect Chris to go ten tenths when it comes time to quality.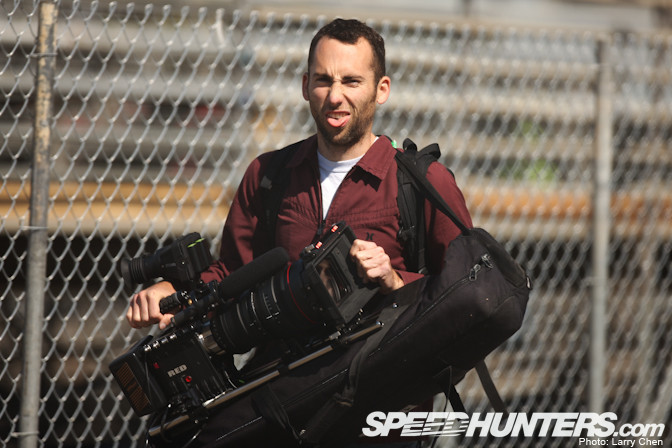 Keep Drifting Fun videographers, Will Roegge and Joshua Herron, were on hand to capture the happenings on and off track in super duper high definition with that rocket launcher style video camera.
Josh has been living in Chicago for the past couple of years, but he moved back to the west coast so expect to see more awesome videos from the dynamic duo.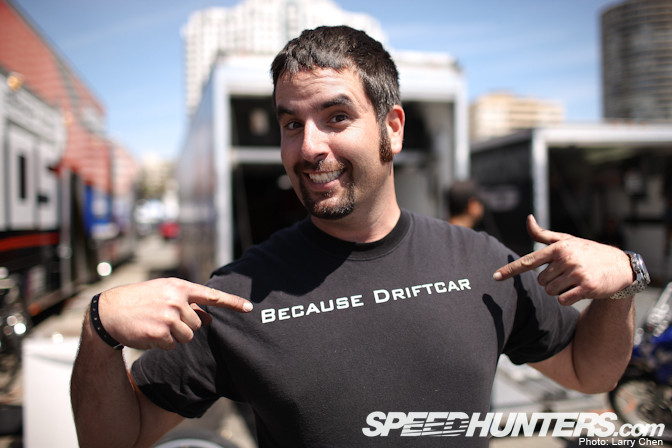 I swear Conrad is the most dedicated driver in the Formula Drift grid. He is ALWAYS the first person to be on grid for practice. It seems like his car is always ready to go with very little down time.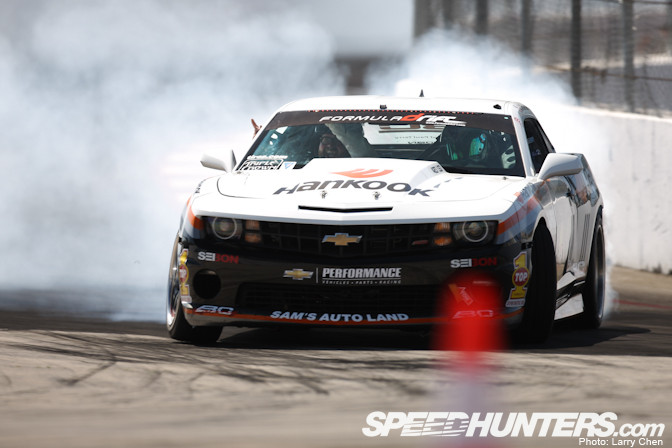 I have an abundance of amazing photos of him just from the sheer amount of laps he gets in. Here he is taking Top Gear superstar Rutledge Wood around for a spin. Hasn't Tanner Foust taught him not to stick his fingers out of moving vehicles?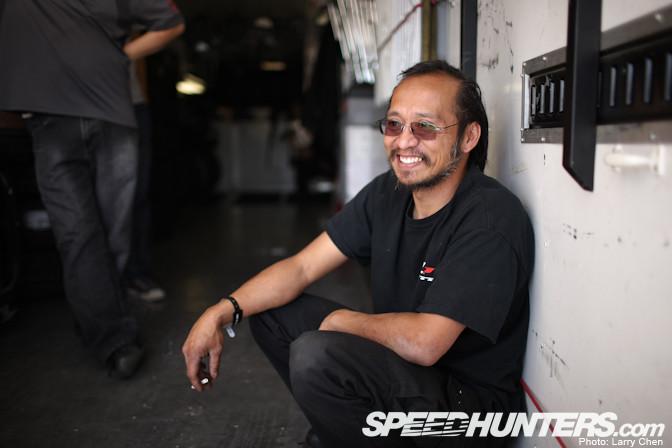 I've never seen Ron Bergenholtz smile at the track before. I asked why he was smiling and he said: "Because the car is working perfectly"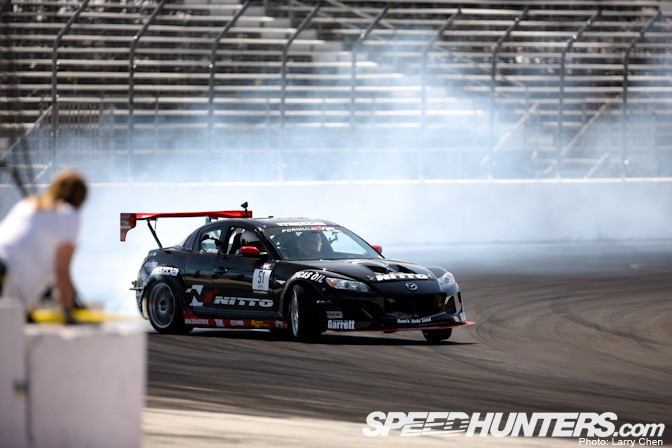 It was no secret that the Nitto tire Mazda RX-8 had serious issues last year. During the off season Ron took all those issues into consideration corrected them. Joon looked great on track, and it helps that this is the loudest car on the Formula Drift grid, because I can hear it coming as soon as it leaves the starting line.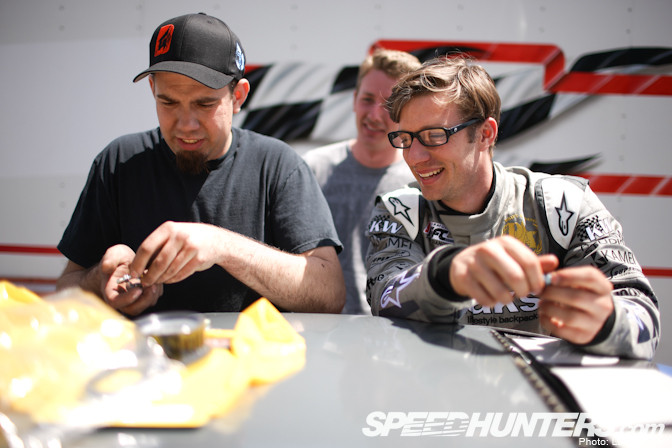 Ryan Tuerck will be driving for Retaks this year. He will be back in an S-chasis like the S13 he started drifting in. Except this one has an S15 front end and four extra cylinders.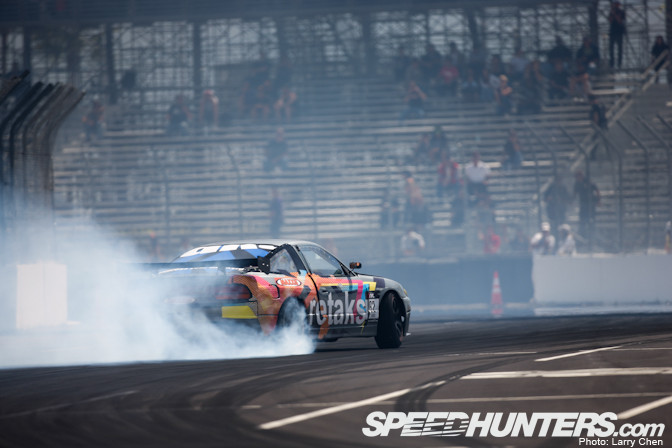 As always Ryan put down very consistent clean runs that were very pleasing to the eyes.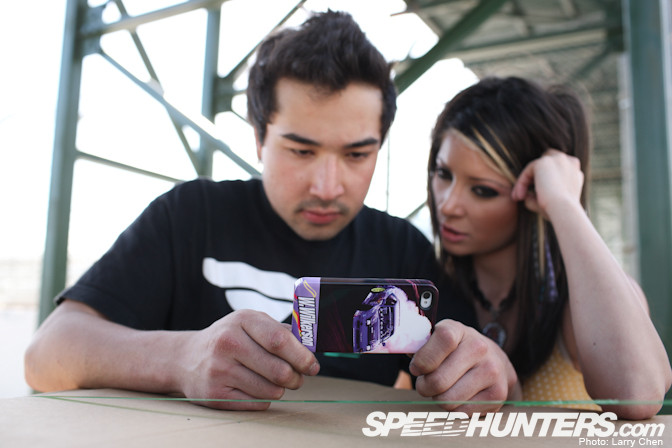 After practice, drivers like Walker Wilkerson watched their runs to learn from mistakes and to see where they can improve. Interesting phone, Yo dawg I heard….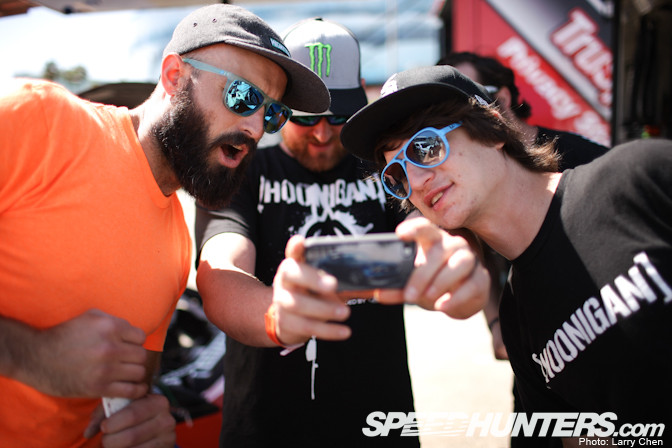 Here is Vaughn Gittin Jr. giving his buddies a sneak peak at his new 2013 Falken Tire Ford Mustang RTR Livery. From the reactions I am guessing they liked it.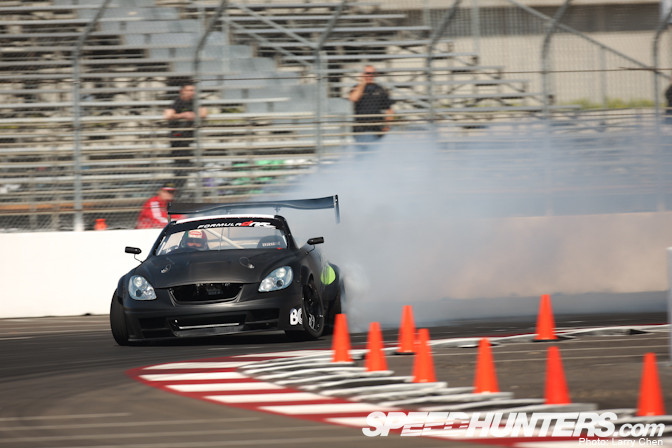 The off season for professional drifting has been all too long. Formula Drift Long Beach is finally here after waiting through the harsh Southern Californian winter.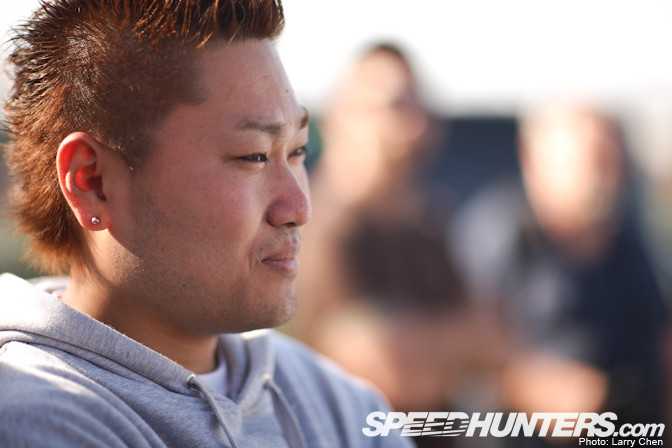 It seems like the most popular new kid is a foreign exchange student. Daigo Saito is a Formula Drift rookie, but as you guys may know he is the 2008 D1GP Champion. I have a feeling he will be a contender for rookie of the year.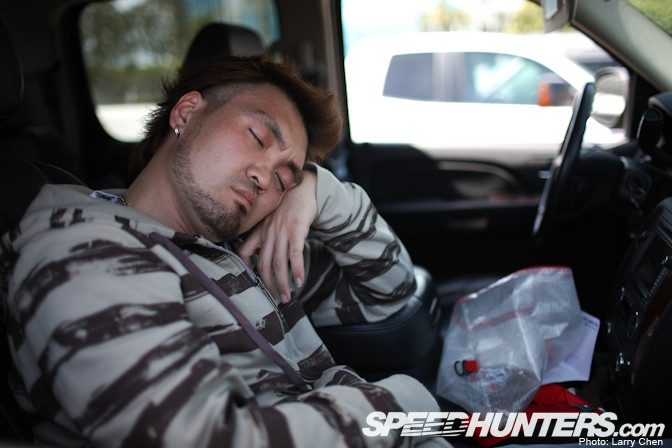 Daigo's teammate, Robbie Nishida, is definitely not a new kid on this block, but he will be driving the full year after a few spotty seasons. He was dead tired from staying up all night working on his SC300.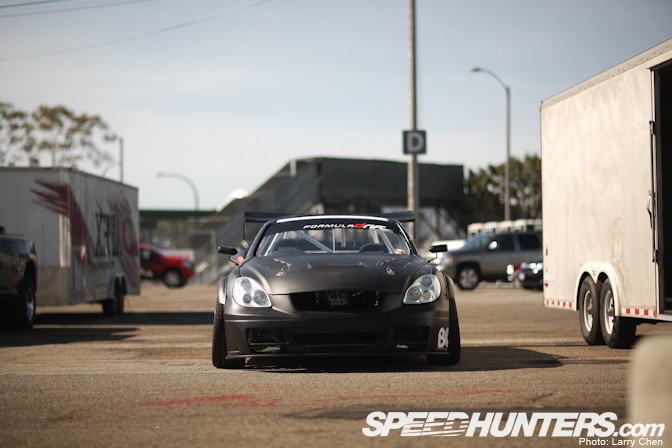 The Bridges racing team will be campaigning both Daigo and Robbie. They put all their efforts to getting the SC430 together for media day so Daigo can get some practice in on the street course since he has never driven it before.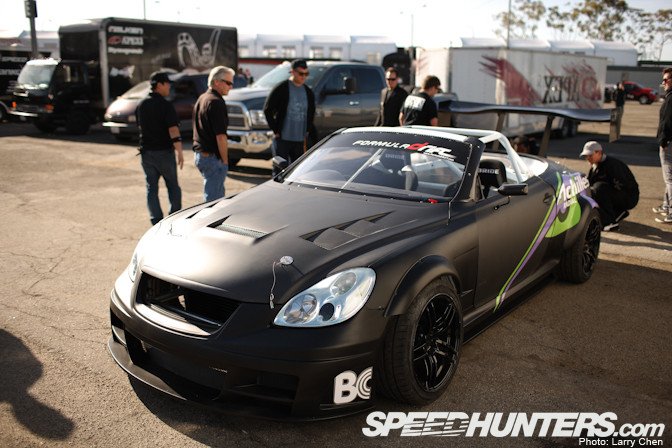 Just a mere eight hours before I took this photo this Soarer was naked of any body panels. The new carbon fiber panels were literally unloaded off the container from the port just the day before.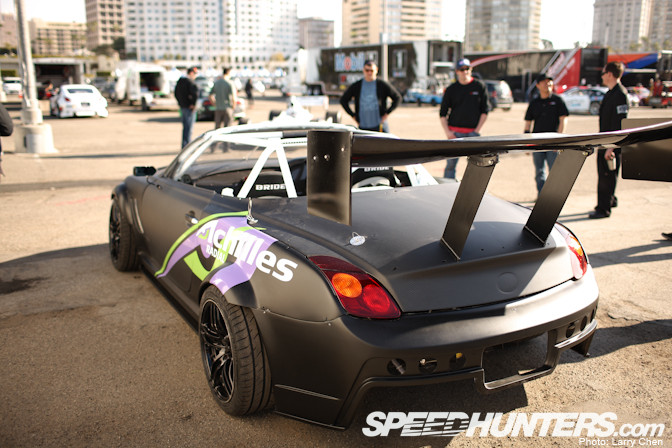 The rear wing was reconstructed to fit the Formula Drift rule book.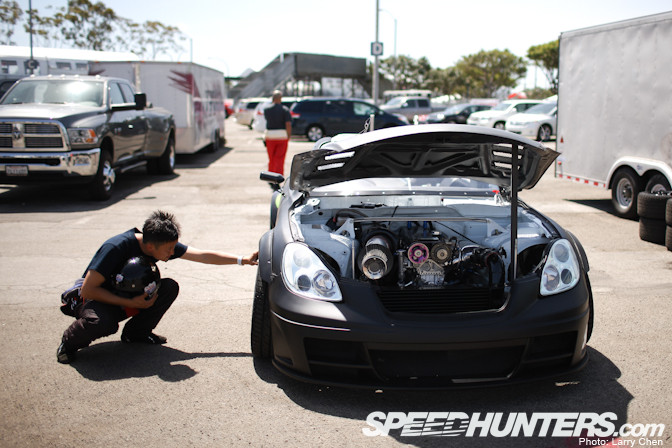 Joon "Gentle" Maeng, as well as the rest of the field, came by to check out the UFO-like drift car. This was also dynoed the night before at low boost for reliability. It made 971 horsepower to the wheels. Amazing huh?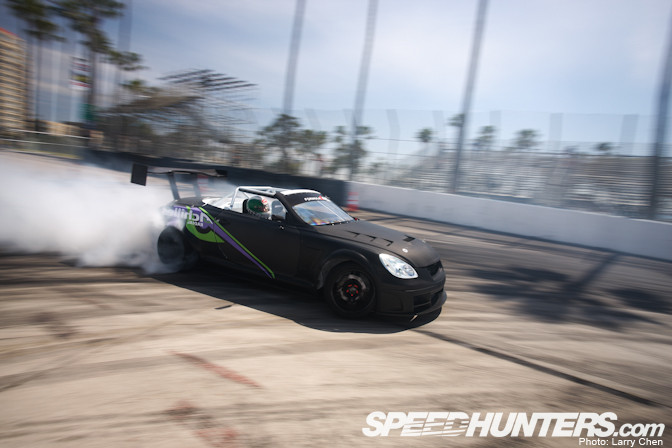 It may look a bit ridiculous just sitting in the parking lot with its super wide over fenders, but this thing really shines on the track. I was talking to Conrad Grunewald and he pointed out that he noticed Daigo was not running the cleanest lines since he is new to the track, but regardless he is still very fast. He also noticed how quickly Daigo can get his wheels up to speed which produces an instant cloud of smoke. It really is a sight to see.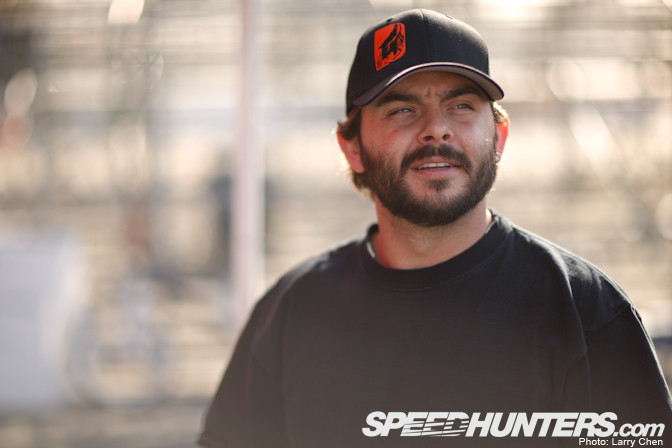 Danny George has been on our radar for a while now. He is the littlest driver with the littlest car. It's very hard to get noticed when you are competing in an under-developed chassis.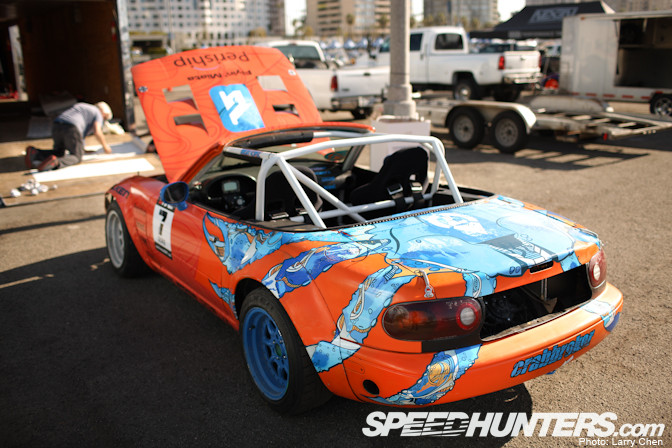 Danny is a Crab dealer in the day and a drifter by night. His livery is actually a giant blue crab eating the tiny shell fish like Mazda Miata.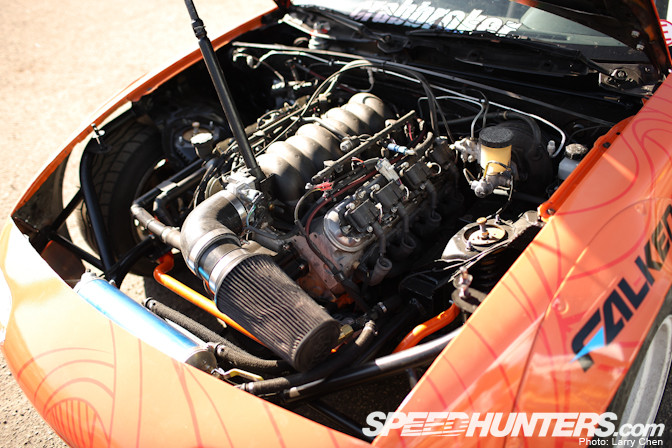 The crab broker has sold enough crustaceans for him to campaign the entire season this year.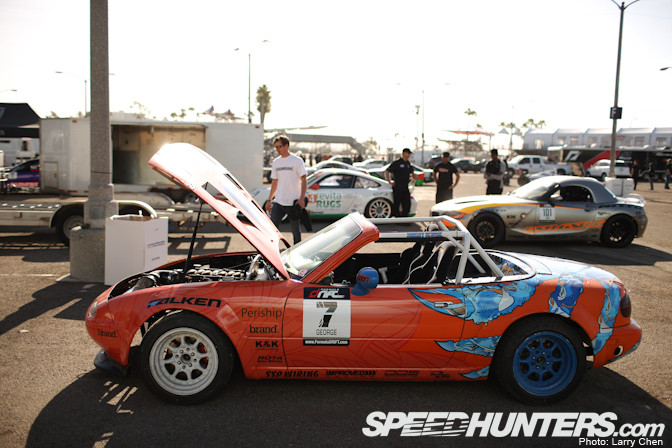 This shoe horned LS1 should get this tiny Chassis going. Even with this giant motor the car only weights 2100 lbs.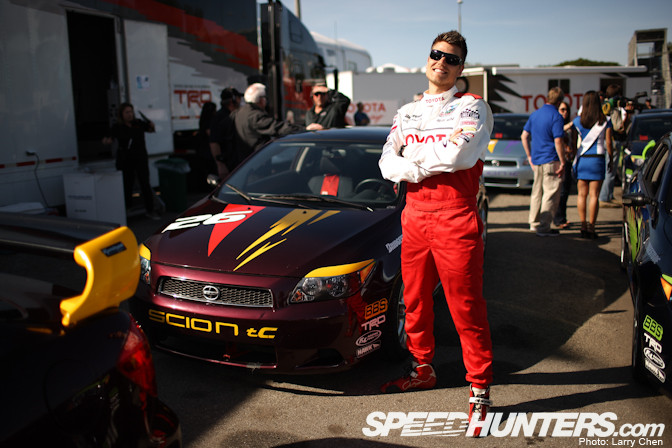 Fredric Aasbo is definitely not a new kid. He is more like the awkwardly tall kid that had a growth spurt way before anyone else. Fredric has never road raced or driven straight in his life. He learned how to drive on the snowy and slippery roads of Norway.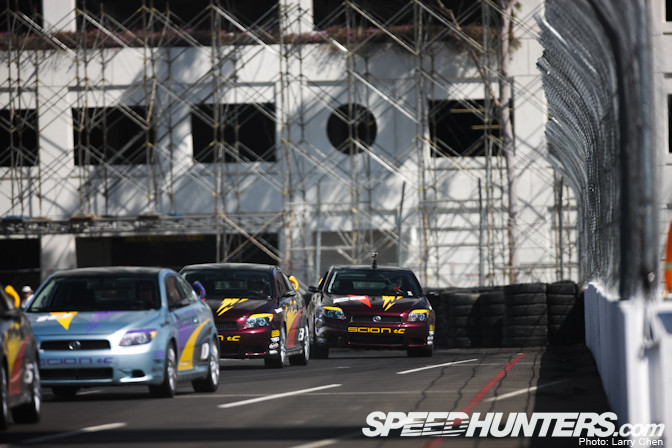 I knew he was crazy when I heard he was going to drive in this year's Long Beach Grand Prix Pro / Celebrity race.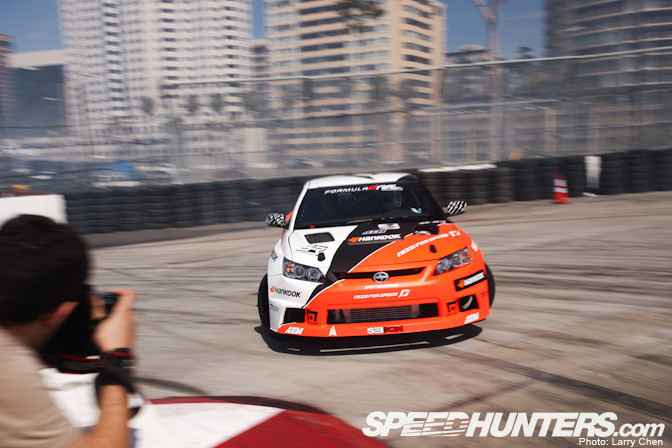 The neat thing is he got to jump from the Scion tC front wheel drive road race car to his Scion tC2 rear wheel drive drift car back to back for six hours straight.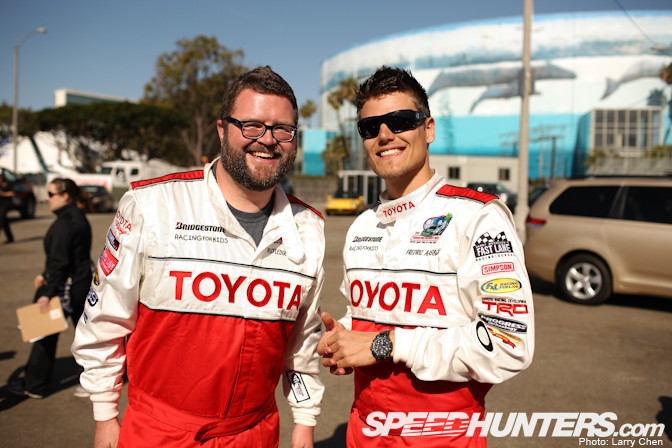 The Norwegian hammer was quite the celebrity. Even Top Gear USA star Rutledge Wood wanted a photo with him.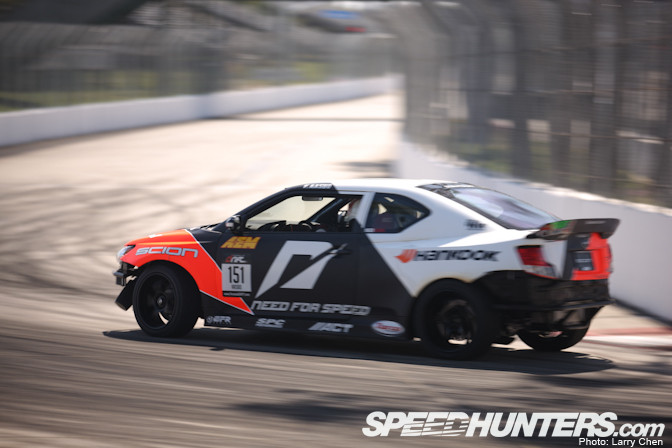 Unfortunately, Fredric went into some tire barriers during his last session. He is ok and the car just has a few dings, so the team will be ready for this weekend. I watched a video of the incident and it its clear that his outer rear wheel went into the marbles that have developed over the entire day's sessions, which caused him to wash out to the outside of the track.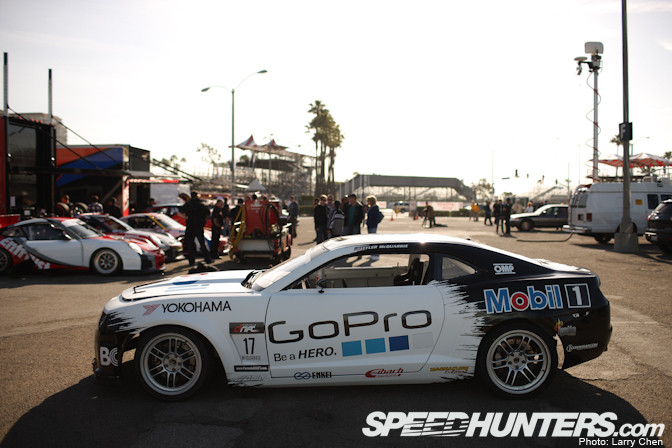 Tyler McQuarrie is also not a new kid on the block, but he is the newest team owner on the block. This year he will be co-running Gardella Racing.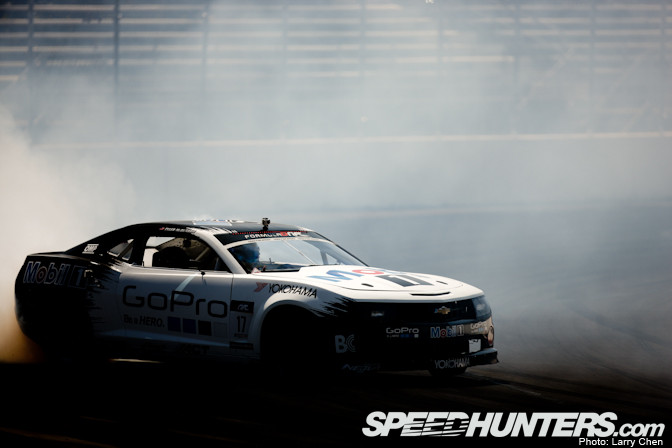 Tyler looked quite at home in the newly wrapped Chevy Camaro. It will be interesting to see him work through the stress of being a team owner and driver.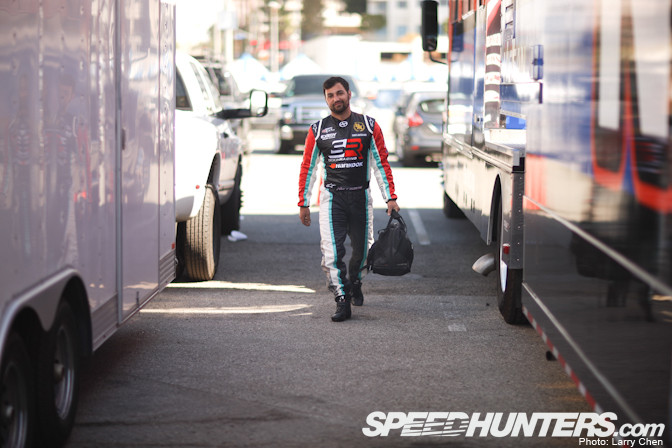 Tony Angelo is definitely not new to Formula Drift. The driver-turned-judge-turned-back-to-driver is ready for some serious action. This was his first time putting on his fresh from the factory smelling Alpine Stars race suit.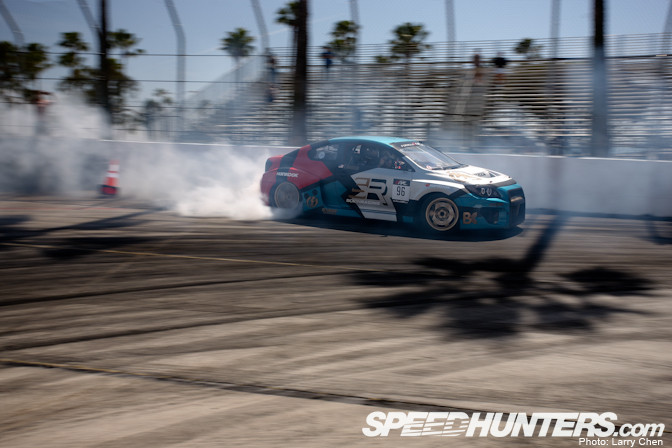 He tapped the wall during practice, but it was nothing a few zipties could not fix.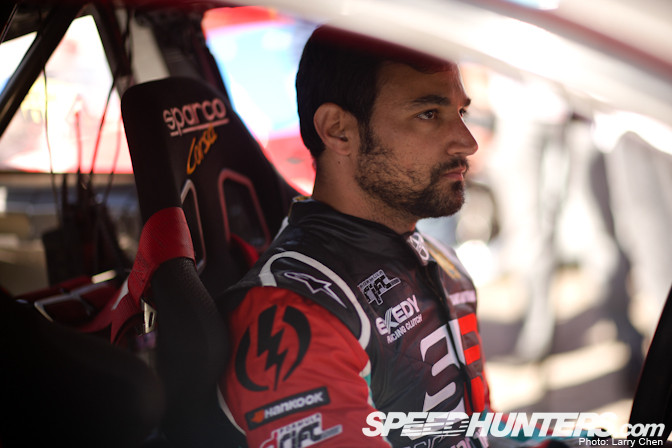 The team was having troubles with the e-brake so hopefully they fix it before qualifying.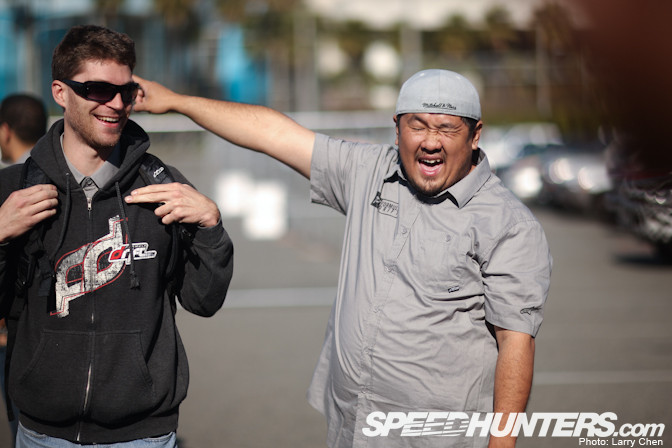 One thing that the new guys learn really quickly is if you get out of line you get yelled at by Formula Drift Director of Operations, Andy Luk. As long as you don't do anything stupid the angry panda won't come and bite you.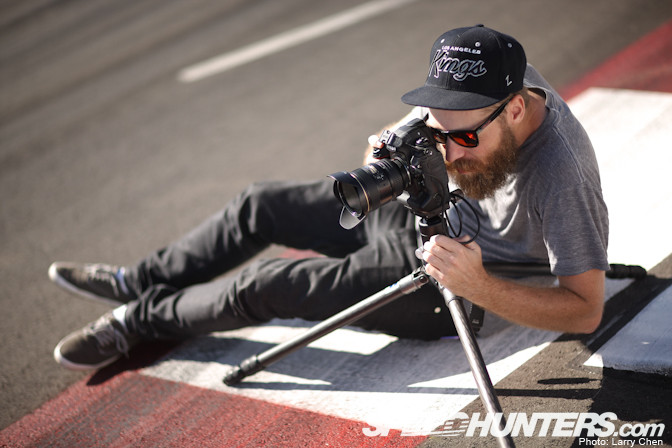 And the last new kid is one of our own. It was a pleasure to see Sean work. He showed me a few tricks I've never known about before. This coming year of Speedhunting will be an interesting one for sure.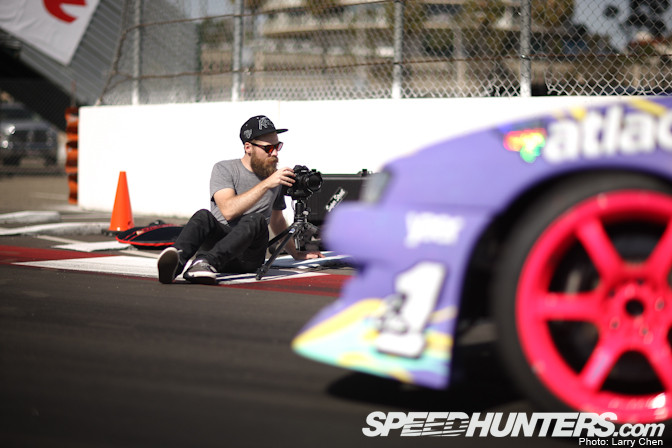 Make sure you check out his article on Walker Wilkerson's car here.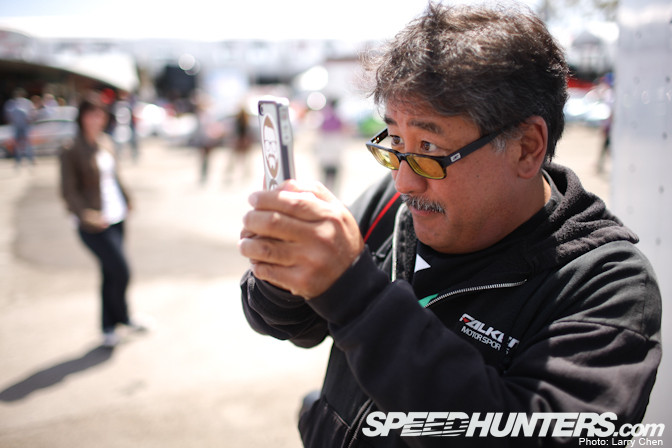 If you are lucky enough to do some Speedhunting at Formula Drift Long Beach this weekend make sure to whip out your cameras or whatever imaging device you have, because it is going to be an epic one for sure.
Larry Chen
More Formula Drift Long Beach stories on Speedhunters