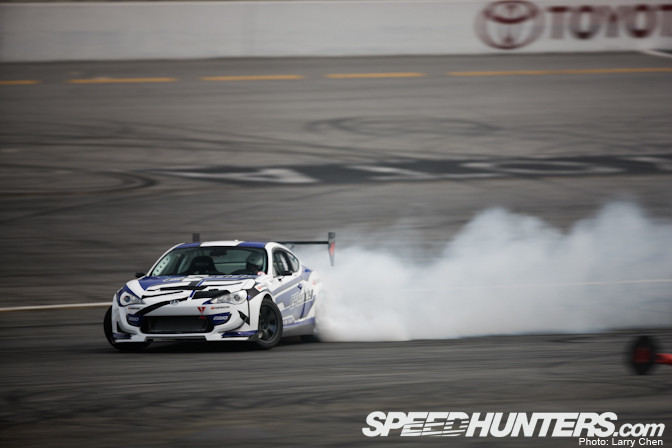 A new professional drift season means new drivers, as well as new rules and regulations – but what I look forward to the most are the new cars.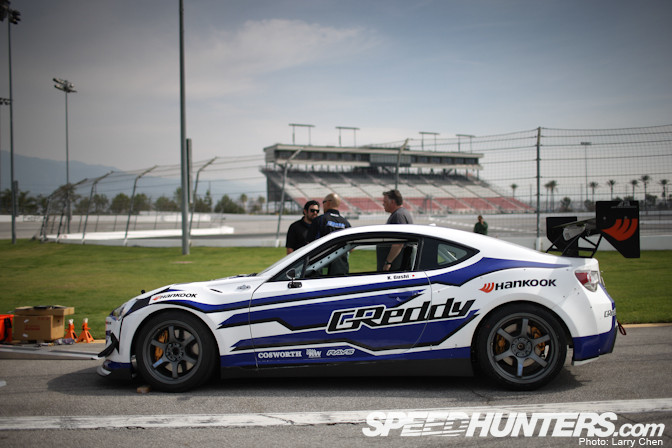 Built from the ground up by GReddy USA, the long awaited Scion FR-S drift car is here.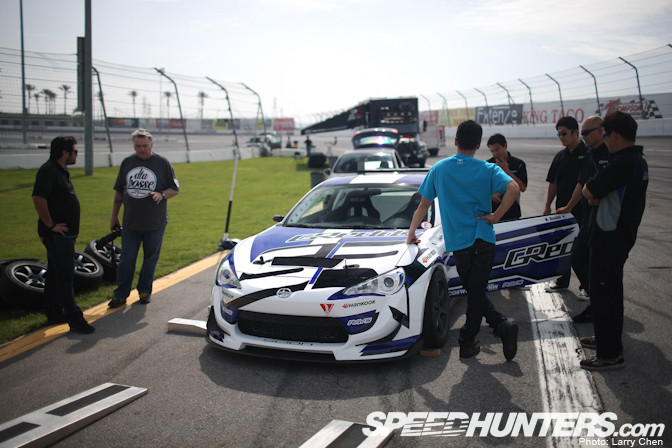 I caught up with the car when the usual suspects from the Scion race team gathered at Irwindale Speedway on this sunny Southern California afternoon.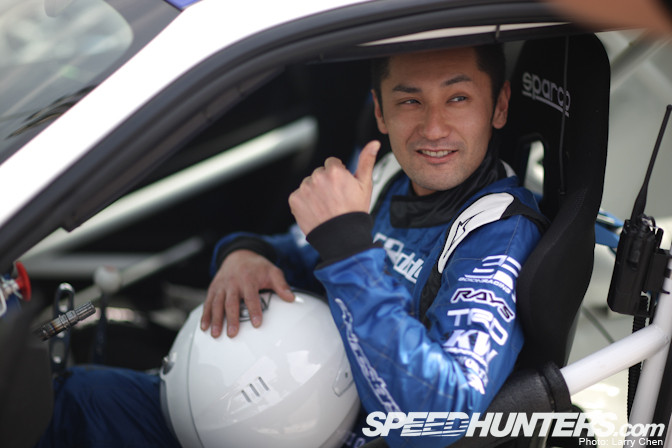 Ken Gushi and I had the pleasure of driving the Scion FR-S back in December, but it was nothing like this race car. He was ready to drive the mock Long Beach course at Irwindale while wearing an all new race suit and a huge grin on his face.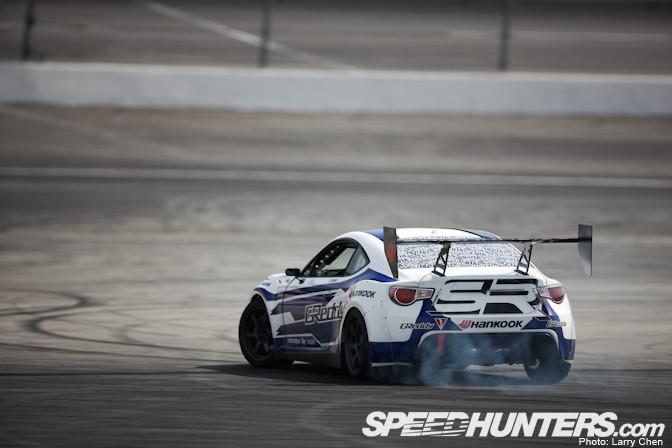 The sound of a flat four is unmistakable. Hearing this thing on track made me miss Stephan Verdier's Subaru STI.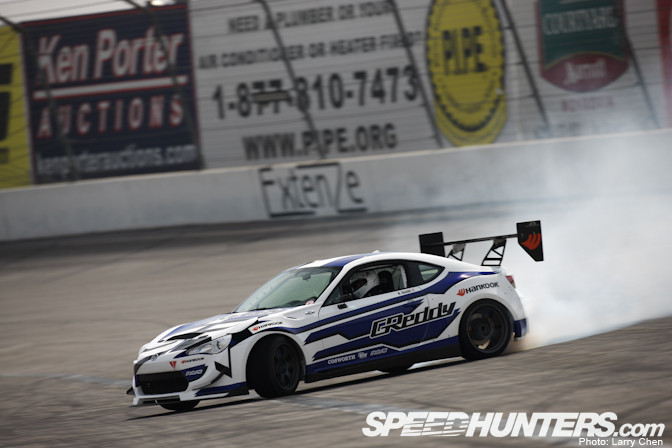 As ken flogged it a bit more I enjoyed the sounds of the flat four more and more. It sounds like it has an anti-lag system like a WRC car. Check out a short clip we shot here.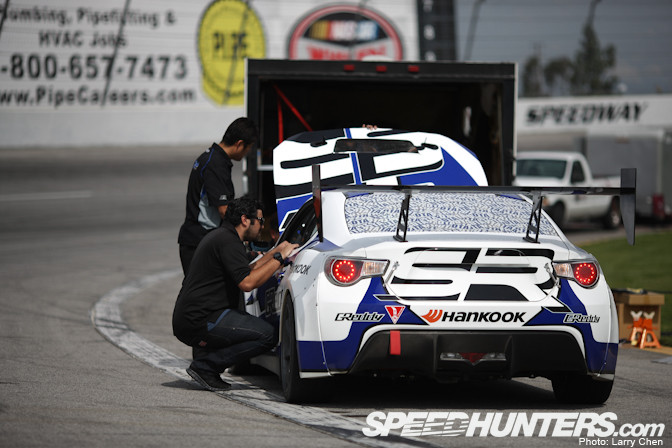 After a few runs KW's suspension guru Christopher Marion had a chat with Ken and adjusted the shocks accordingly to reduce the snappiness of the FR-S.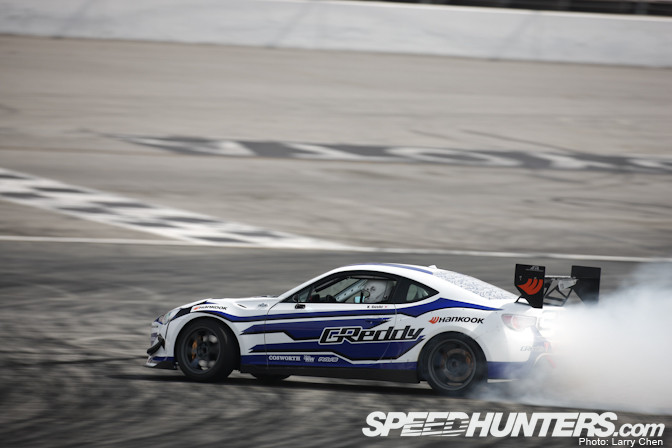 It looked like the settings worked, as Ken went out for run after run until he wore the tires to the metal.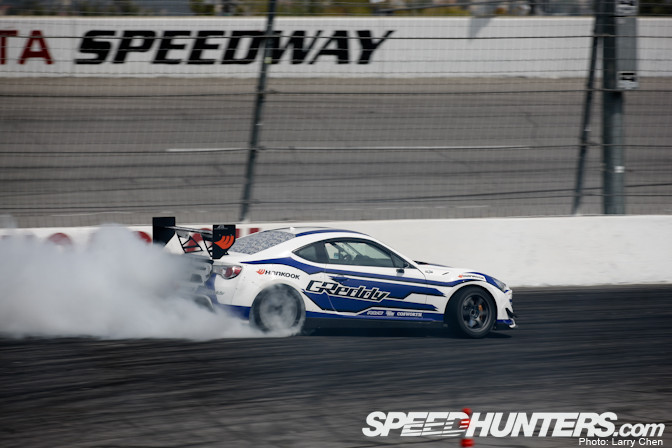 According to "The Gush," the Scion was very easy to drift and handles much better than his previous drift car.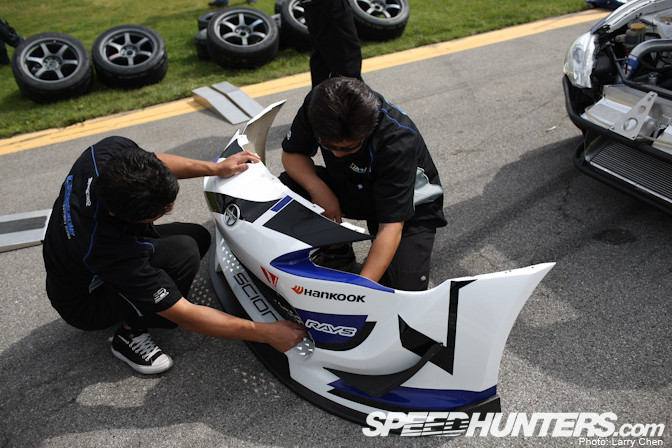 After a full day of testing it was time to do a shakedown and make sure everything was still working right, so the team inspected everything.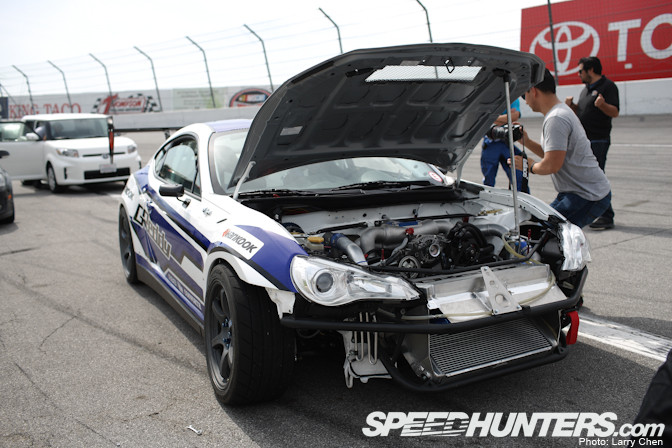 This gave me a chance to get a closer look at this wonderful piece of machinery.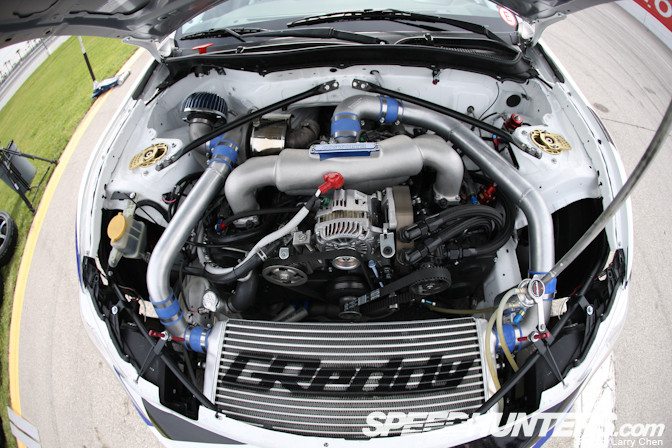 A look beneath the hood revealed a turbo EJ25 block.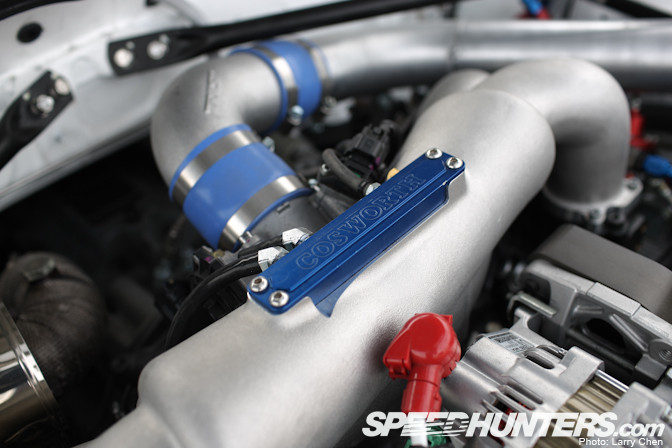 The motor was built by none other than the world famous Cosworth.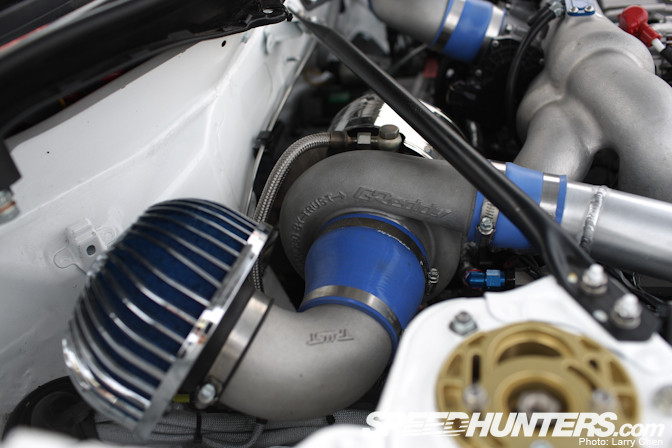 They are running a GReddy TD06-25G, which gives the FR-S 540 wheel horsepower on tap.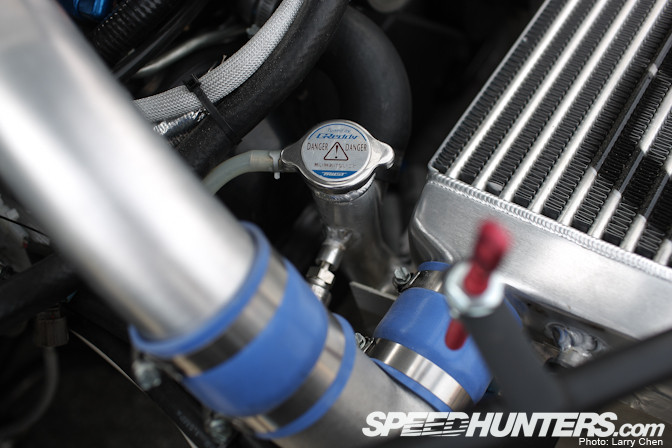 GReddy and Trust parts litter the entire engine bay, from the intercooler to the radiator cap.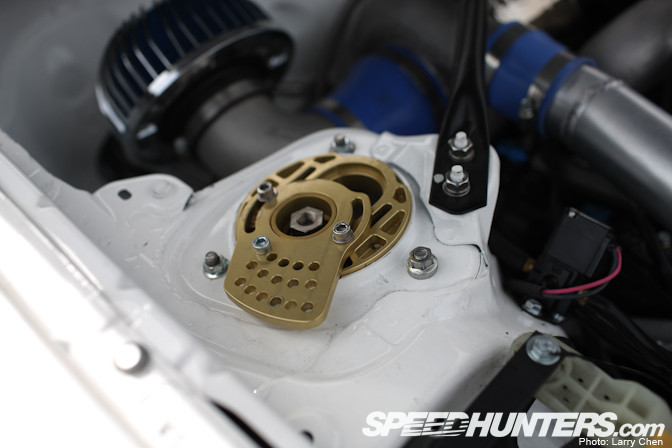 Suspension was provided by KW, while an OS Giken diff helps put the power down.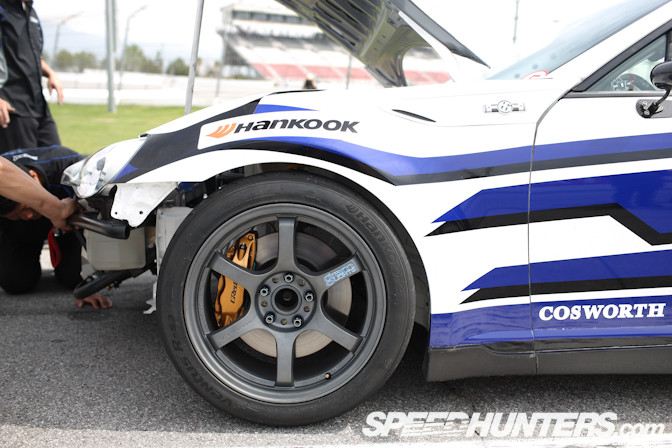 As for the wheels, they are running RAYS Gram Lights, wrapped with Hankook RS3 rubber.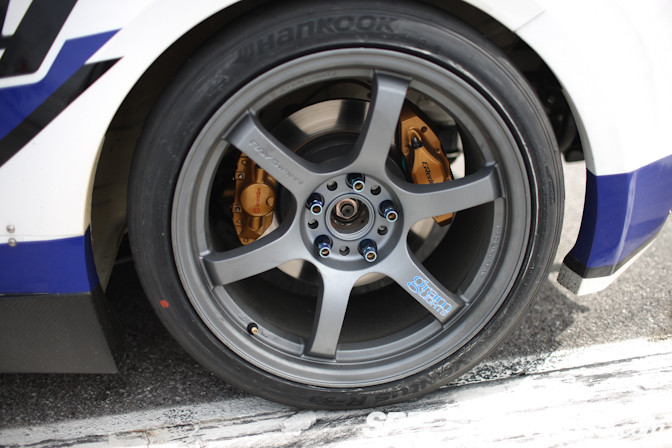 The brakes are a GReddy setup, but for the hydraulic E-brake they went with Brembo. The car falls into the 2700-2799lbs weight class, so it will be running 255mm width rear tires.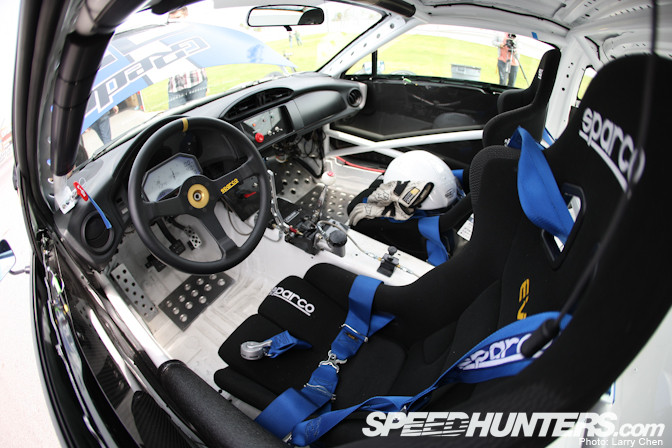 The interior was very simple and clean. Just the way I like it.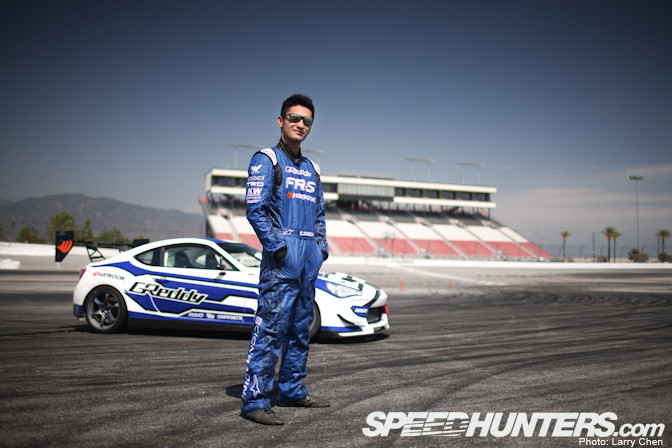 After being plagued with technical issues for many years and bad luck in general, I think it is Ken's time to shine again. I can't wait to see how the Scion FR-S will stack up to the rest of the grid at Formula Drift Round 1 in Long Beach.
Larry Chen
More Formula Drift coverage on Speedhunters
More stories about Ken Gushi on Speedhunters