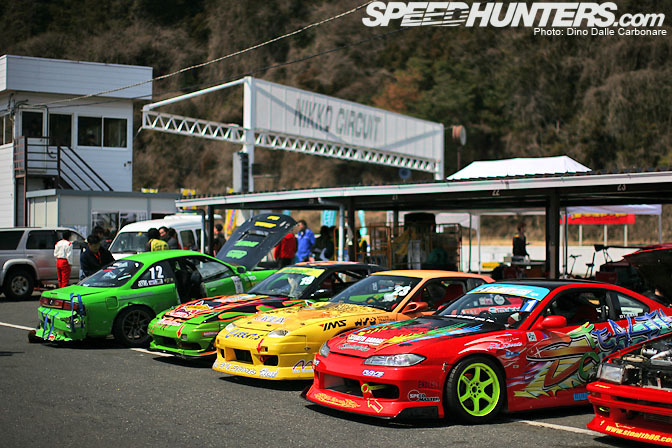 One thing I love about drifting is the colors. When you step into the paddock of any drift event, your retinas are bombarded with bright colors and crazy graphics. It's all about standing out, coming up with a car that is easily remembered and instantly recognizable by both the crowds and the judges. It sure makes for some cool shots!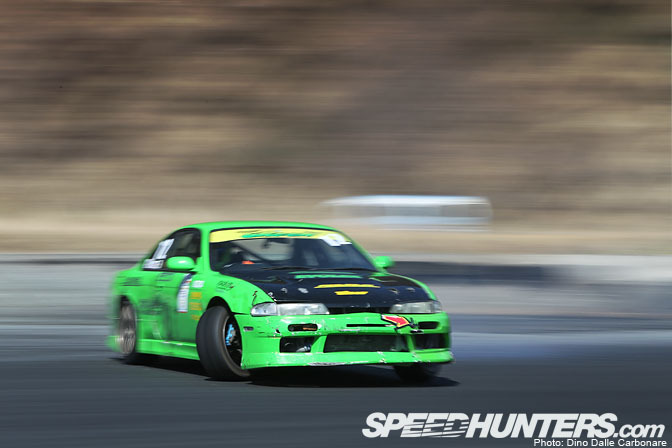 For this first part of the Street Legal East coverage I'll take you for a quick walk around the pits of Nikko and I'll try to spice up the post with a variety of action snaps, like Gunji-san of Team Green above on full opposite lock!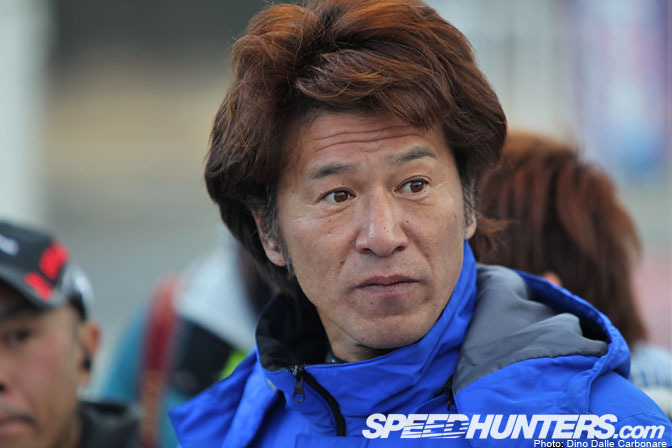 D1-GP driver Koguchi, and of course the man behind Koguchi Power, was the main judge on the day there to lend his skilled eye in determining who would make it through to the Best 16. I wouldn't want to have been in his shoes that's for sure, the overall skill level was so high that it would have been pretty hard to determine who woud qualify!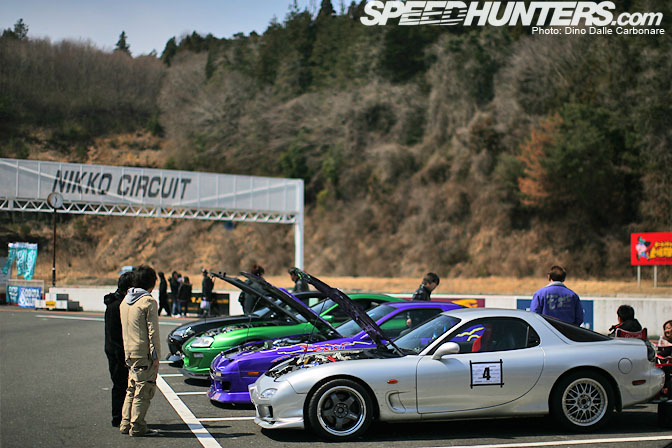 With a total of 75 entrants Nikko was pretty much filled up to the brim with drift cars of all types, so there was definitely a lot to see.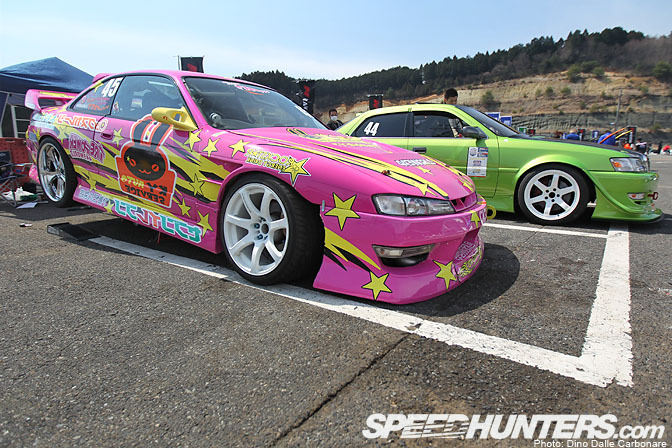 Okumura's KY Auto Service S14 is a car I noticed straight away, not so much for its pink exterior but for the interesting selection of rear wheels he used throughout the day. Joining those Work Emotion XT7s up front was a few different types of shiny VIP-style wheels at the back.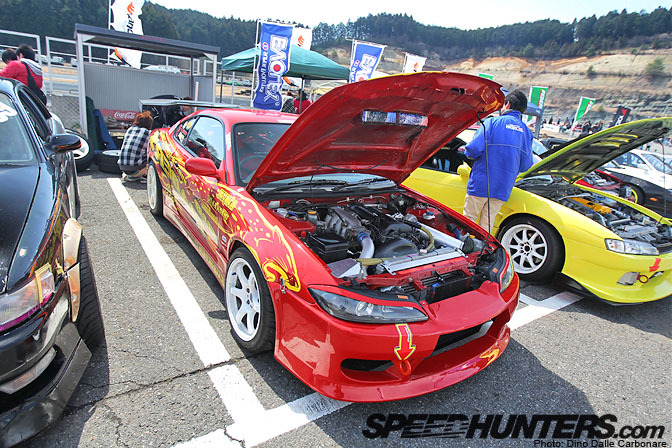 Check out this clean S15 driven by Naoki Ootani.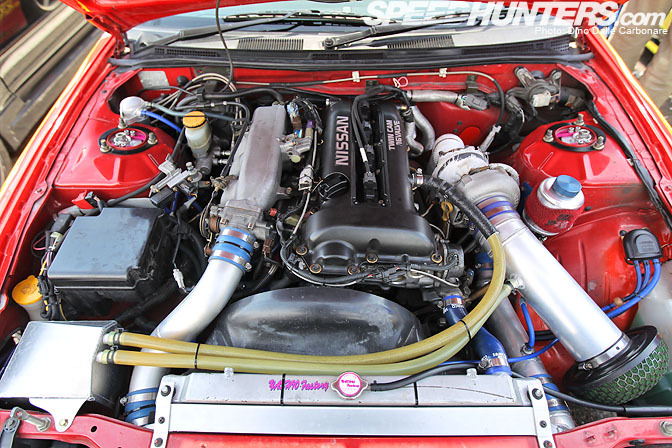 Plenty of horsepower to play with under the hood!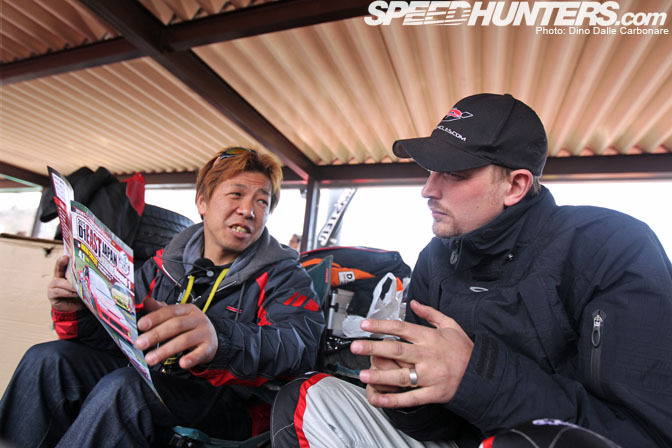 All round nice guy Naoto Suenaga of Team Orange was at the event with Powervehicles. Him and Andrew Gray were going over the track layout and what the judges expected from the drivers on the day. With that menacing drop off on the outside of the first corner drivers had to make sure they didn't put more than one wheel in the air, two and it would be considered a "course out."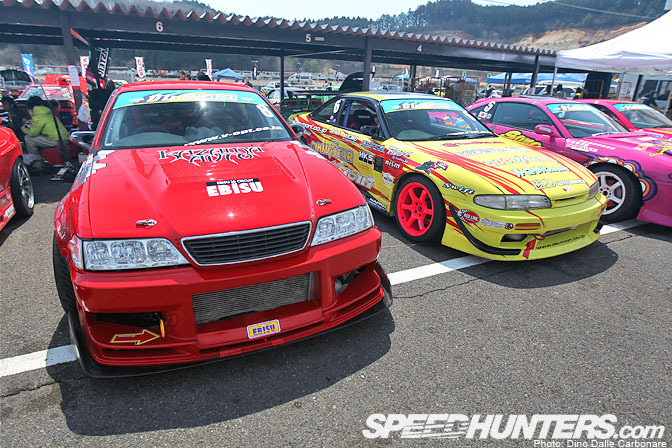 Andy's JZX100 is looking cooler than ever with the new graphics…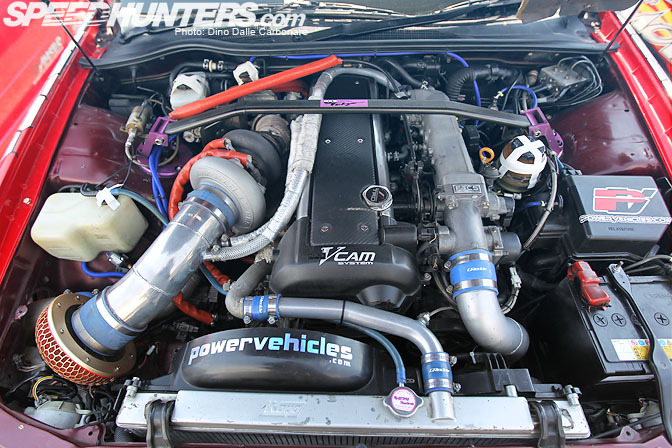 …and there is plenty of grunt to shred those rear Good Years, thanks in part to a rather large HKS T04Z blower…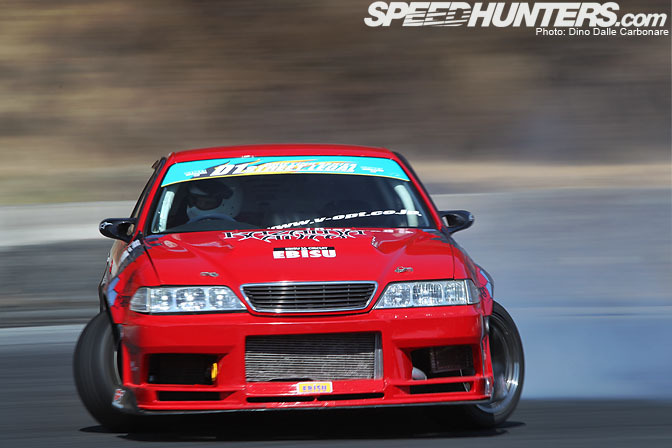 …as Andy demonstrates here.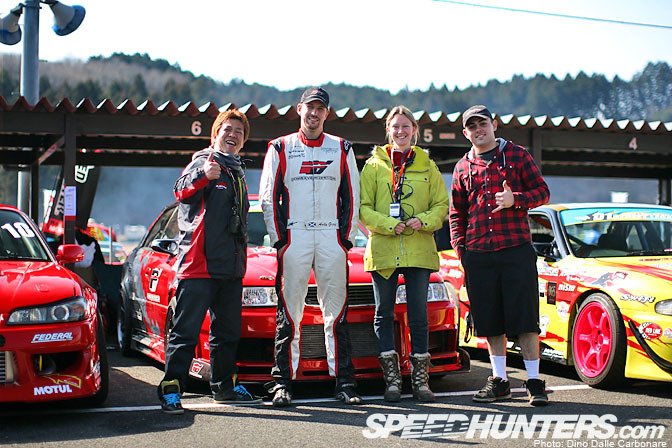 All the members of Team Powervehicles with Ebisu Circuit!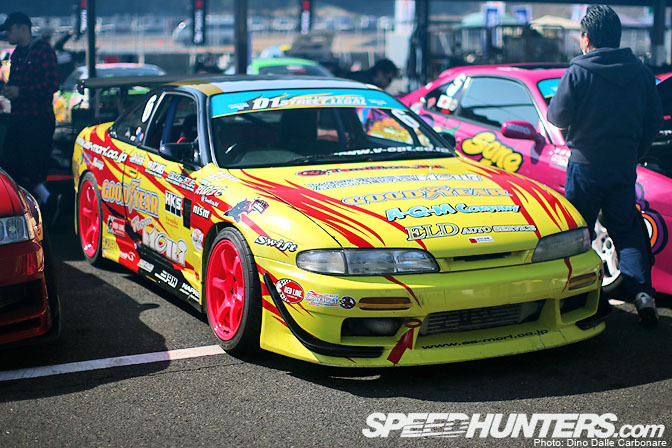 Since deciding to have a go at drifting a couple of years ago, Mori-san from Auto Service Mori makes sure he participates in as many events as possible. We have seen him at MSC and Drift Muscle too…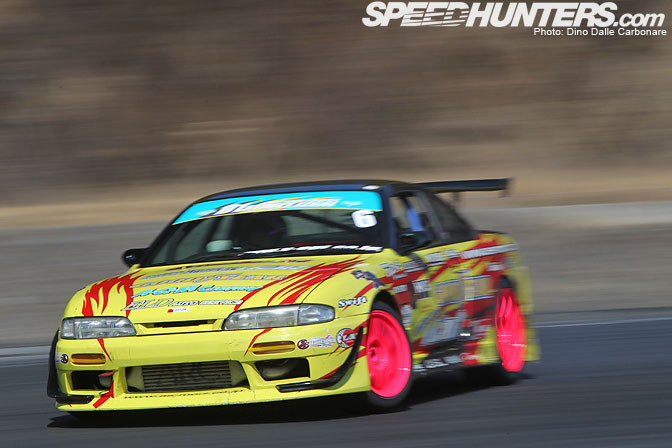 …and has quickly fine-tuned his skills. Unfortunately he wasn't able to make it into the Best 16, better luck next time as they say.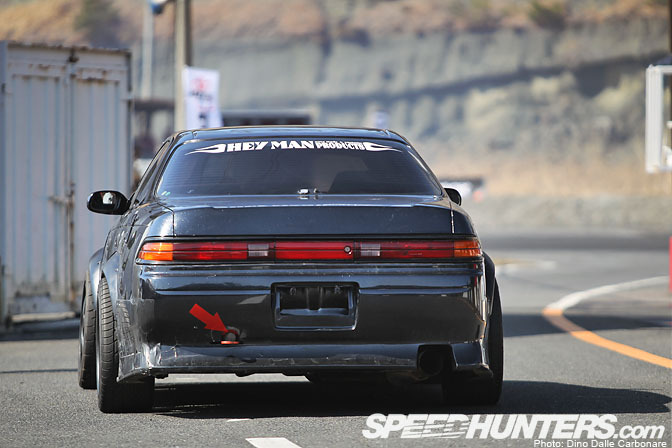 With continuous action on track, and constant whiffs of vaporized rubber…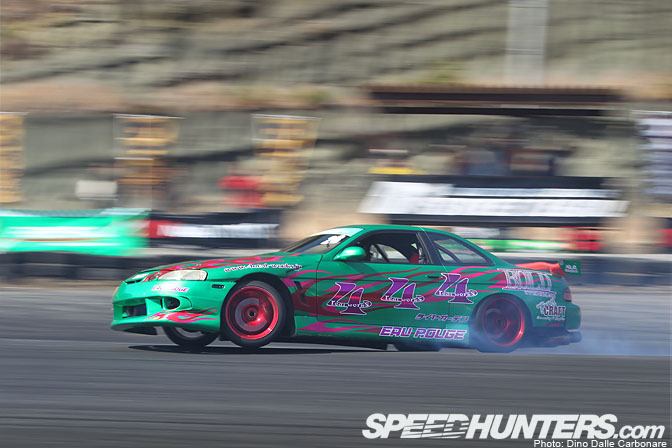 …it was hard not to resist the lure of the screaming cars. There seems to be a variety of techniques that drivers employ on the first corner entry, either the wide line in which takes you on the very edge of the track for that Nikko-special wheel in the air move like Suwada of Eautouge 4Real shows us here with this JZZ30…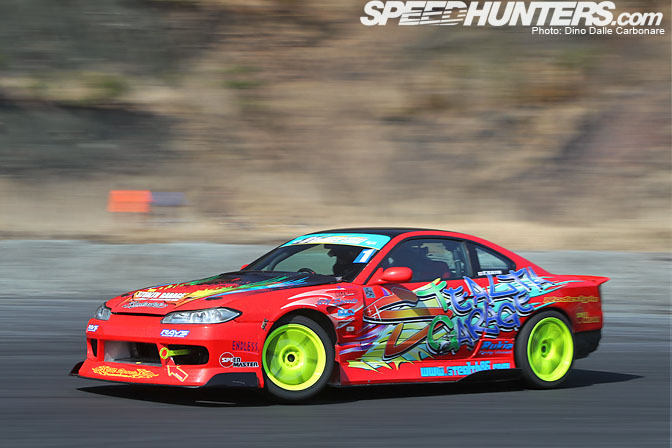 …or the tighter line, which has drivers get on the power a little earlier.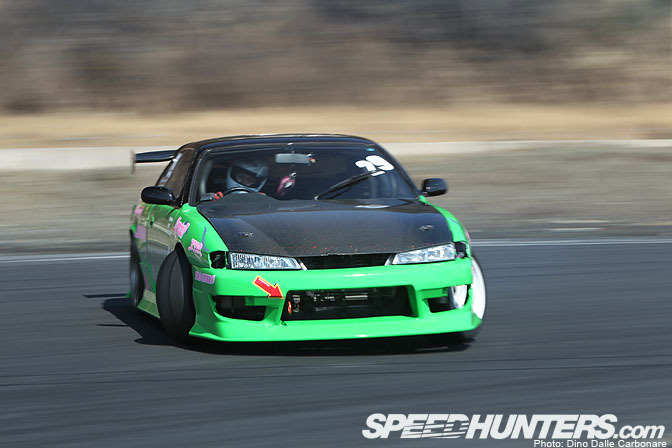 Both are fine with the judges who are always looking for the technical aspect of a run with approach speed, clipping points and smooth transitions being the most important points.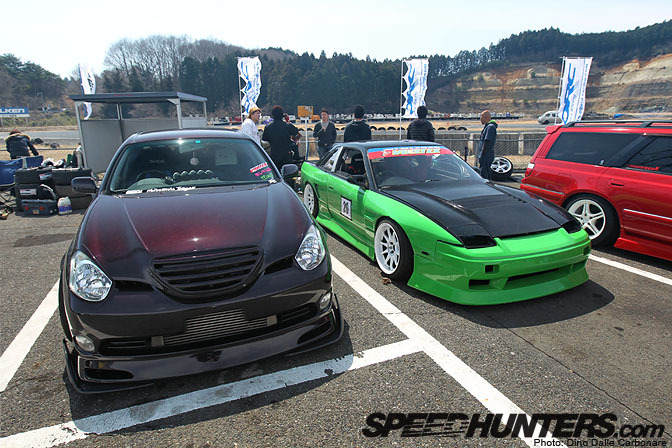 The JZX110 Verossa is one of the most unique cars to come out of Japan, no questions about it.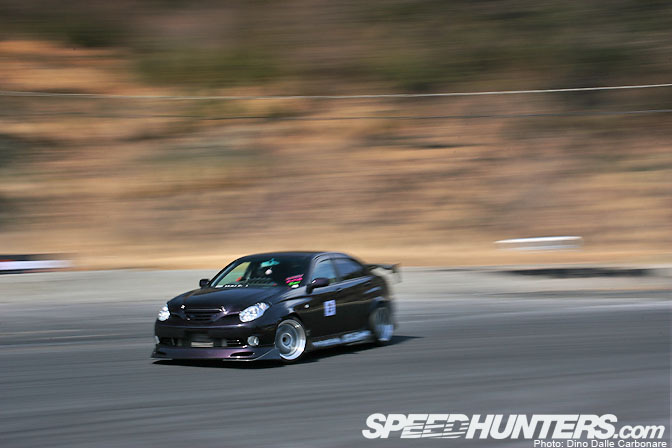 The driver, Moriyama of Team Vortex, was out in the License Trial group, attempting to get that all-important D1-SL license.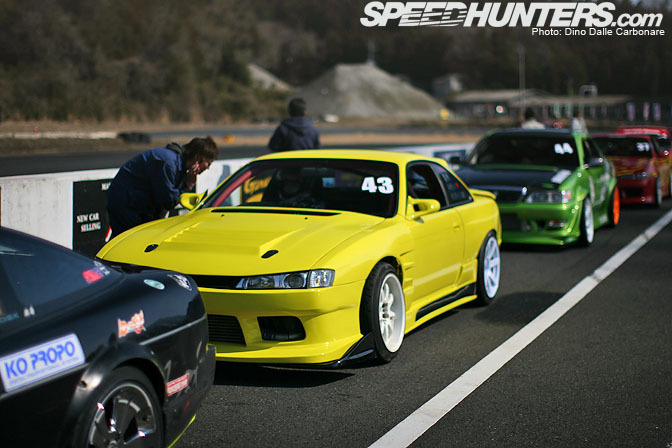 We saw this Team Megatech kouki S14 in yesterday's Preview post with a wheel in the air. Loving the yellow on white combo.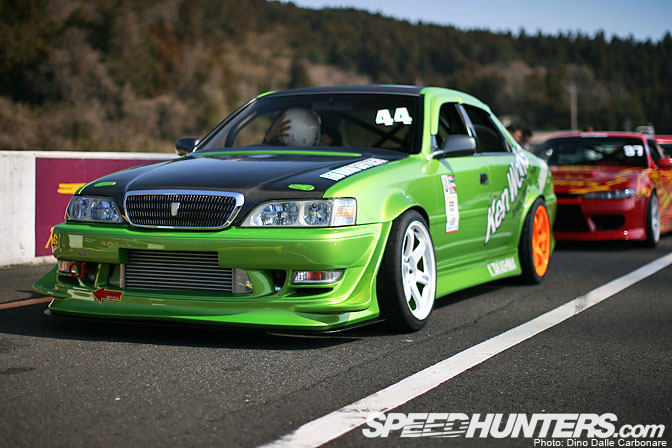 See what I was saying about the crazy colors? I really liked this candy green JZX100 Cresta built by ken Works, nothing like seeing a once grandad-spec JZX-chassis done up in pure dorisha style.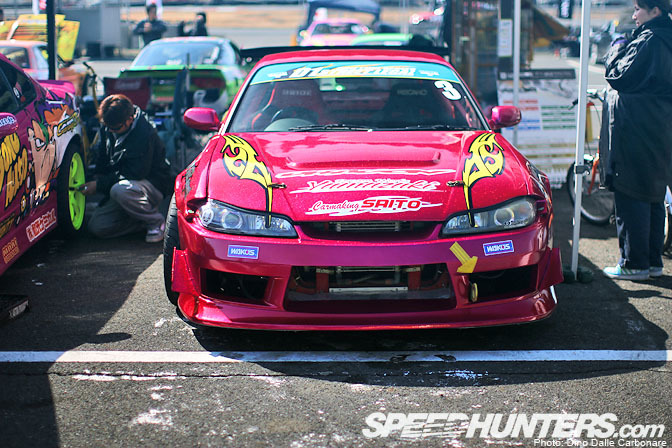 How wide can you space out your front fenders? A lot it seems if you look at Yuuji Saitou's Garage Yamazai S15! Lots of win here!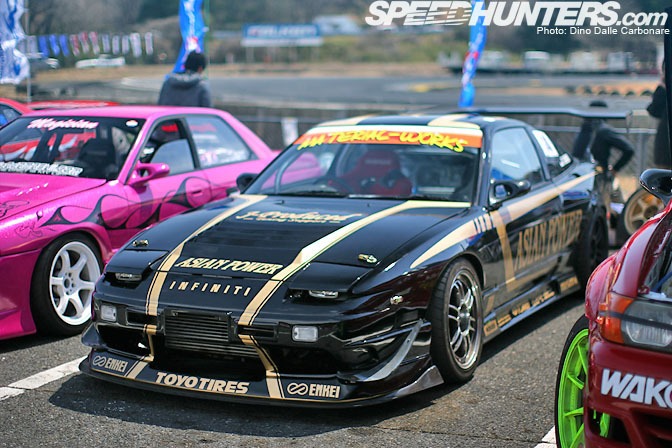 Asian Power all the way from the Material Works 180SX of Takayuki Suzuki!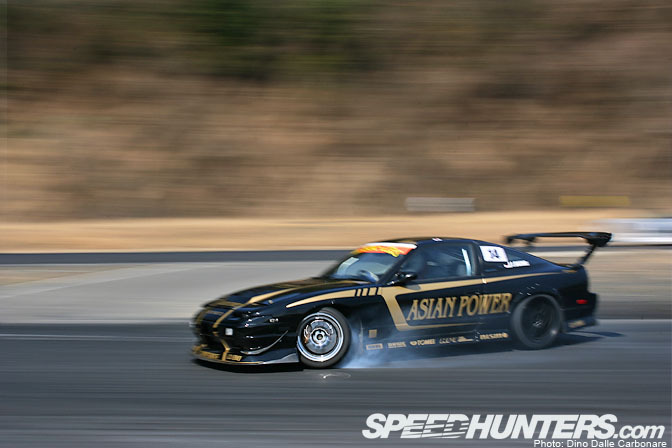 Here he is throwing his RPS13 into the first corner, slightly locking the front wheels in the process.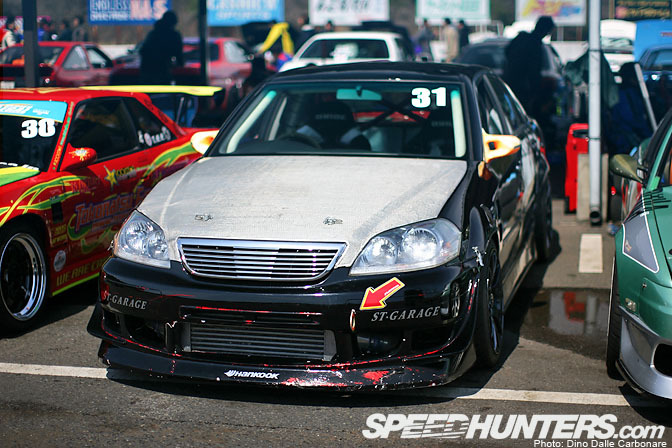 ST Garage was out to support this JZX110, which judging from the front bumper might have been red at one point. I've got a cool spotlight coming up of ST Garage's new demo car, trust me you will not want to miss it!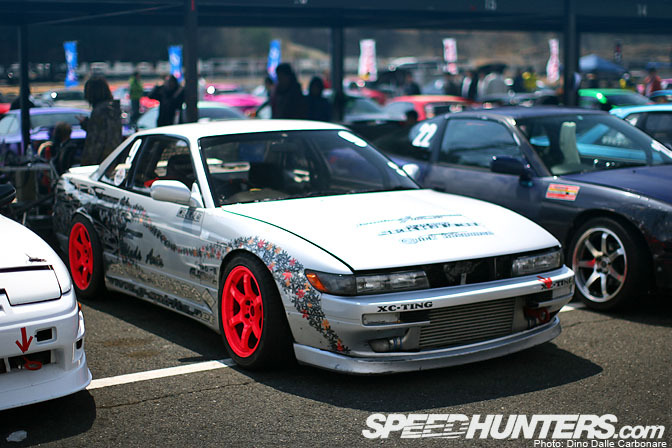 S13 goodness right here!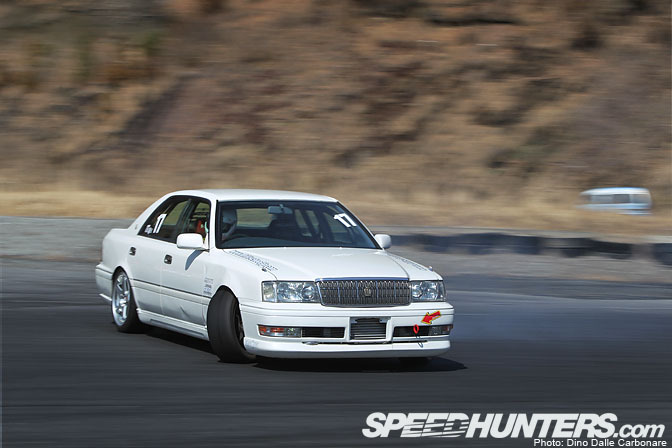 For anyone that has driven in Japan, a white JZS151 Crown like this car above will instantly scare you. That grille in your rearview mirror often means trouble as the Japanese Police still use these Crowns as undercover cars on highways so it's quite comical seeing one with massive amounts of lock, totally sideways around Nikko! Would have been even funnier if there were red lights hidden behind the grille!
Stay tuned for Part 2 and some tsuiso action!
D1 2012 coverage on Speedhunters
-Dino Dalle Carbonare