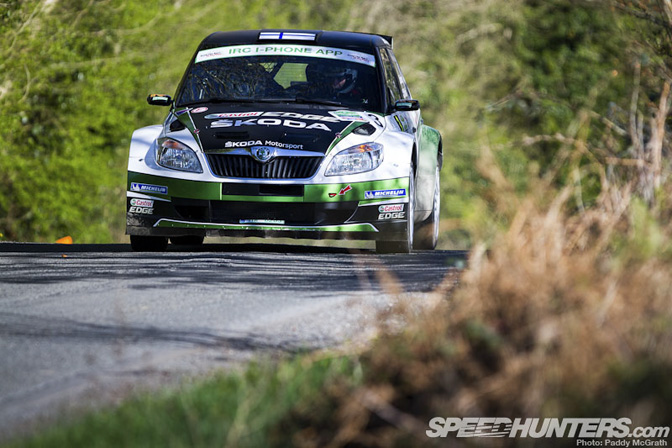 The second leg of this year's Circuit of Ireland consisted of ten stages (four stages ran on the first leg) kicking off at 9:07am on the Saturday morning. I say 9:07am precisely as should you arrive a minute later than you were meant to, a penalty would have been incurred. Rallying is obviously against the clock, so accurate timing is crucial.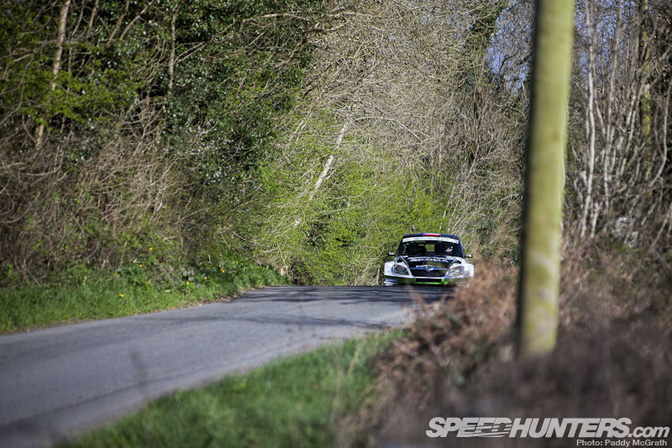 After day one, the first two cars were seperated by 0.6 of a second. Considering the amount of ground covered on the first day, for the two leading cars to be that close together is pretty impressive.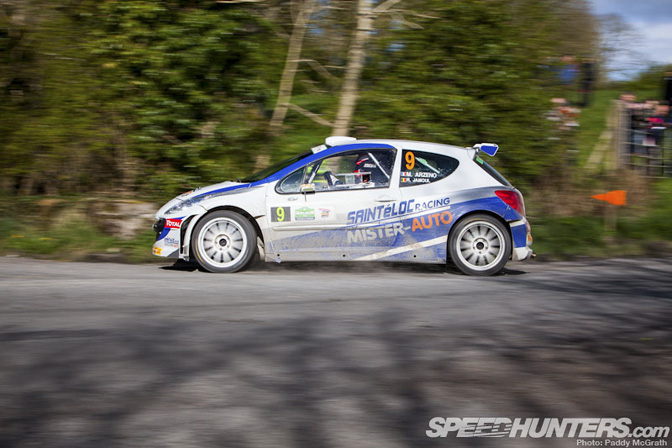 One of the things which I love about rallying is you don't really know how fast you are compared to your rivals until the end of a stage. During a circuit race, you have a visual indication – as in how far / near the car in front is – but out on the stage, you need to give it one hundred percent from start to finish as it's the only way to be sure.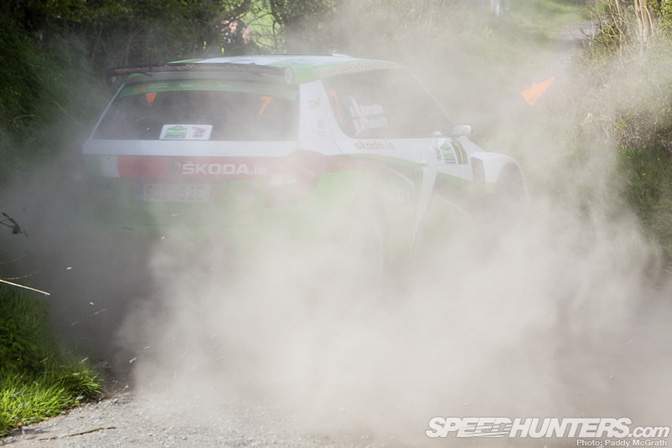 The second day also saw some stages being run multiple times. After each pass, small but significant changes happen to the stage – competitors cutting corners on previous runs will drag mud / debris onto the road. There are so many variables, it's fascinating.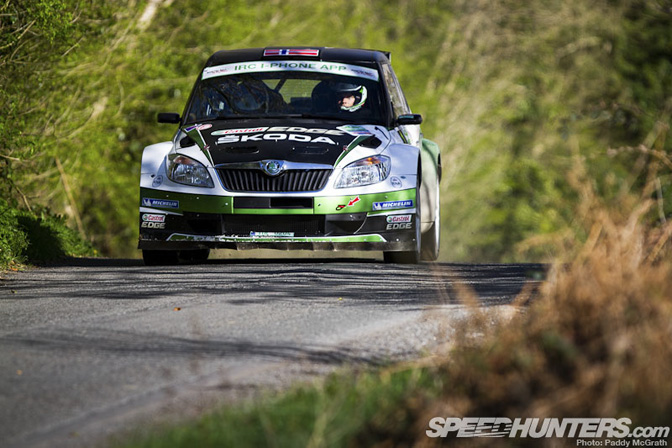 Arriving at SS7 early, I set up camp near a tight double right hander. For maybe twenty / thirty seconds before the cars arrived into view, you could hear them coming. Listening to the top competitors, you could hear the difference in their method and level of attack. Hänninen & Mikkelsen were all but flat out into this section where some of the guys chasing them lifted slightly and even then, some lifted more than others.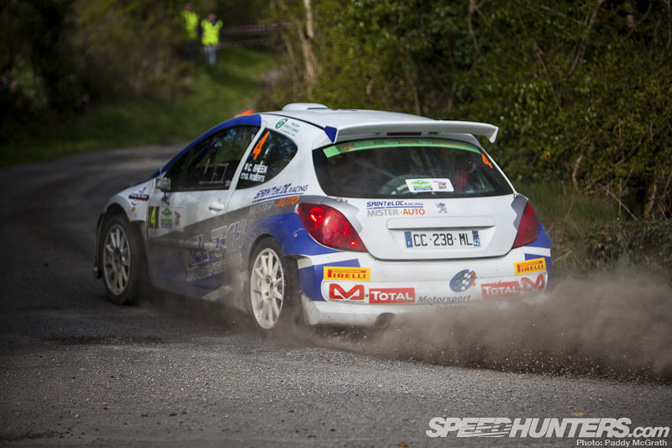 There's quite a thrill as a spectator to watch and listen for all these variances.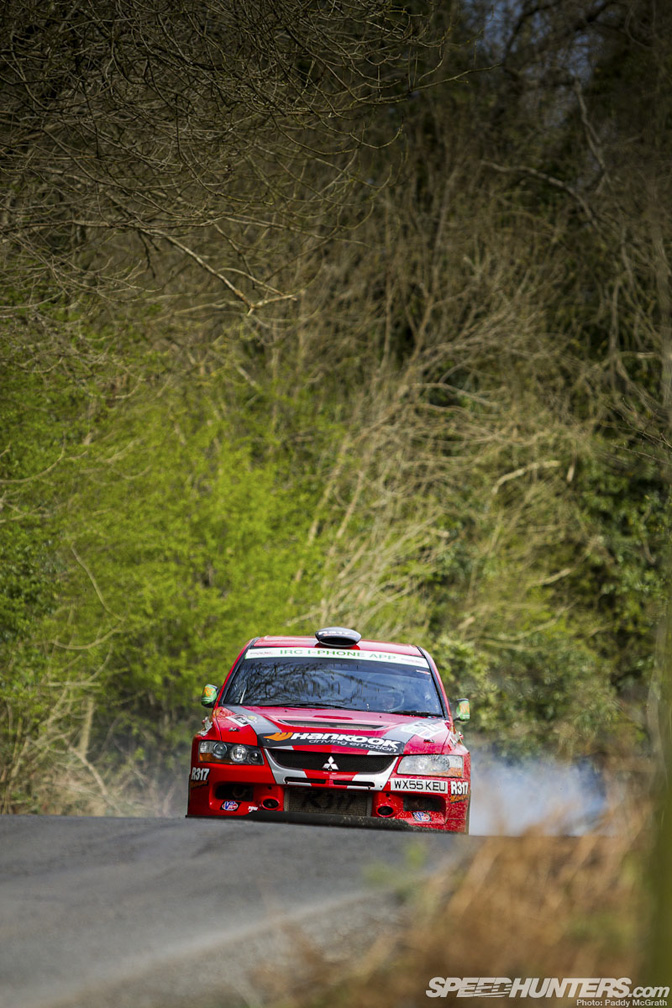 Although as a photographer (who usually needs to stand in dangerous places to get a good shot), the sound of wheels locking is always a moment which tightens my sphincter.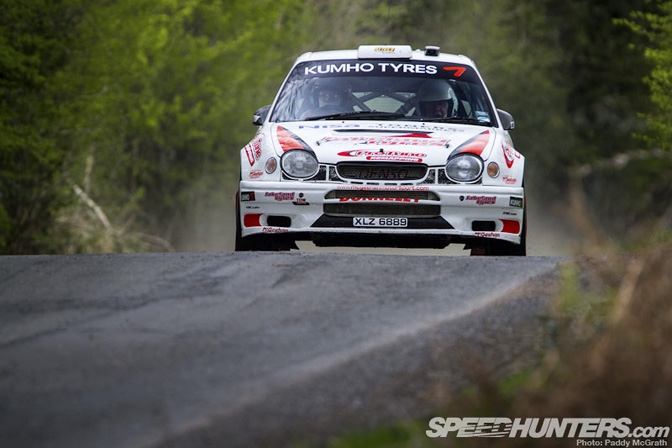 Eugene Donnelly is something of a hero on the Irish stages. He attacked the Circuit behind the wheel of his old Corolla WRC instead of a newer MINI JCW WRC which he has driven this year. I heard that the MINI costs around £200 per mile to run at an event, although I'm not sure of the accuracy of that statement.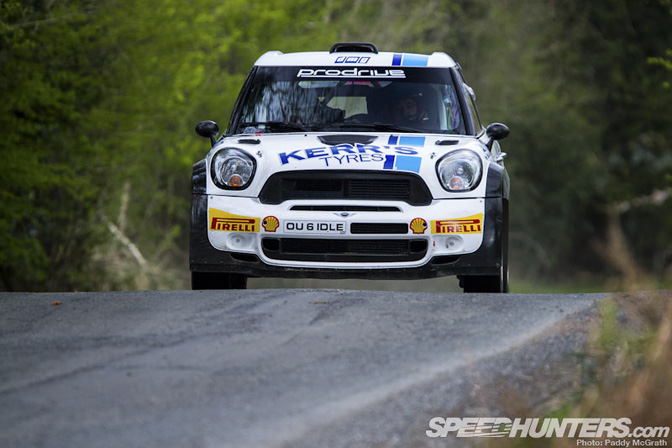 Derek McGarrity was however behind the wheel of his and setting respectable stage times all weekend.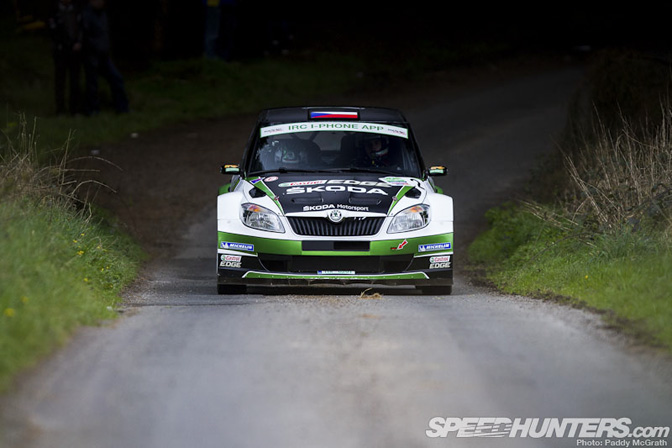 Anyone I spoke to over the course of the weekend – be they spectators or safety marshalls – had all been blown away by the performance of the Skodas.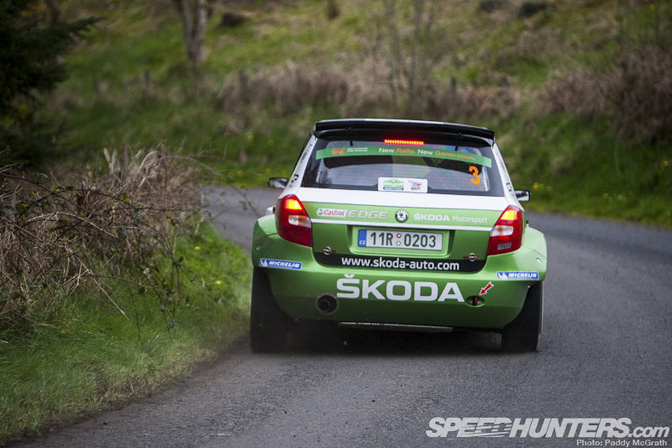 They were visually much faster than the competition and their times proved this stage after stage.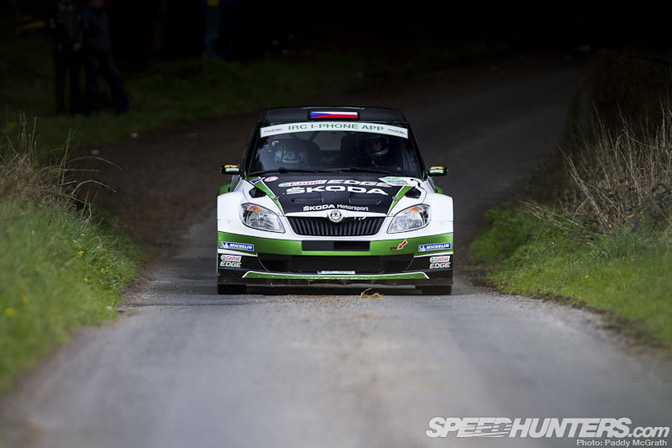 Personally, I couldn't get over their impact.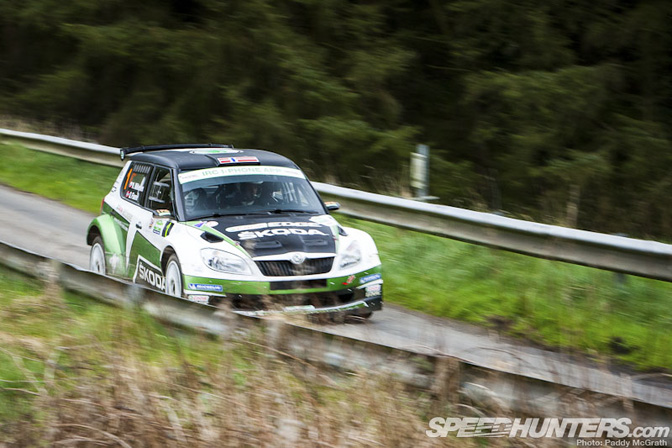 Perfect example – Andreas Mikkelsen was fasted through SS9 – a 25KM jaunt just outside the city of Armagh. He ran the stage in 13m26s at an average speed of 112KM/H. The fastest WRC spec car on that stage was that of Darren Gass and his Impreza S10. He was twelve and a half seconds behind Mikkelsen over the same stage. Let's be clear, WRC spec cars are not slow nor is Mr. Gass.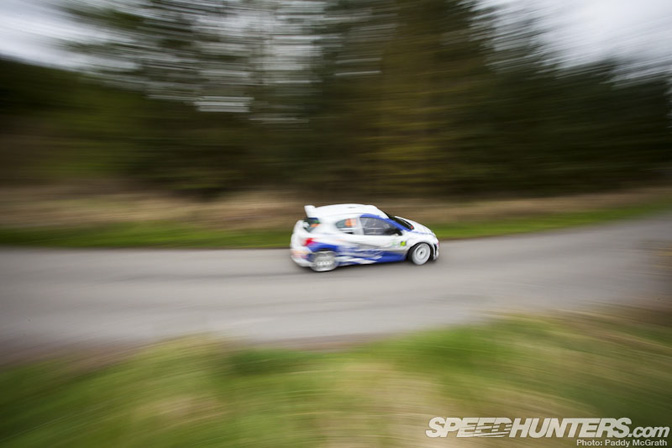 Craig Breen, who is currently leading the SWRC in his Ford Fiesta S2000 joined French team Sainteloc to compete the Circuit in one of their Peugeot 207 S2000s. Despite picking up a 90 second penalty on the first leg, Breen drove like a man possesed for the rest of the weekend to finish 6th O/A and 5th in the IRC.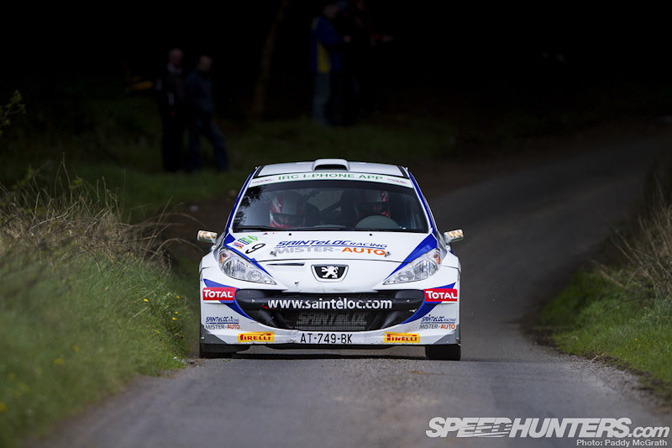 Tweeting about the event later, Craig reckons the Peugeots will be much more suited to the stages of Corsica which takes place next month. It'll definitely be an event worth following.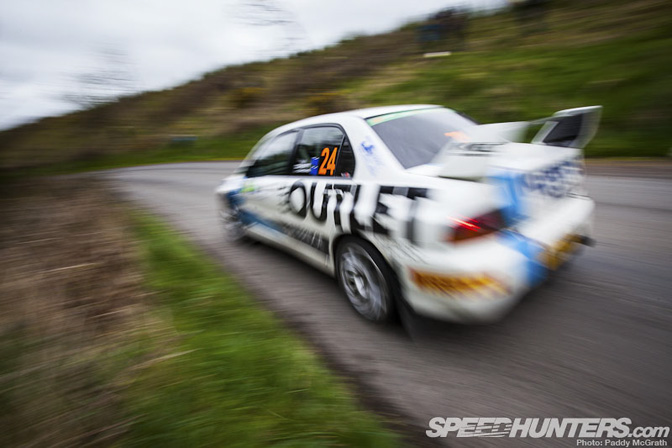 You've got to love a sport that lets you get close enough to touch the cars as they pass. Mind you, actually trying to touch them wouldn't be highly recommended.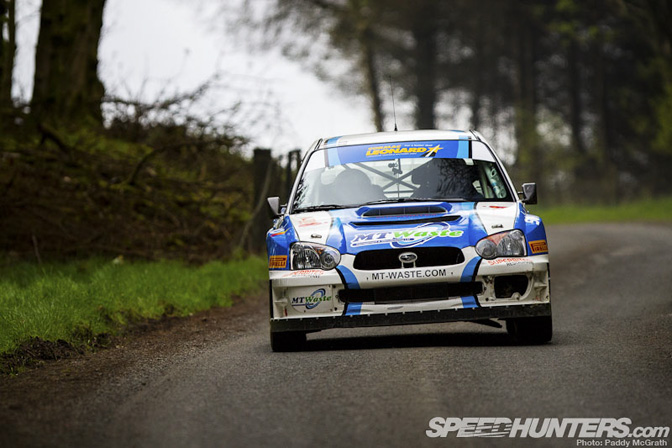 As the event wound down, the competitors showed no sign of letting up.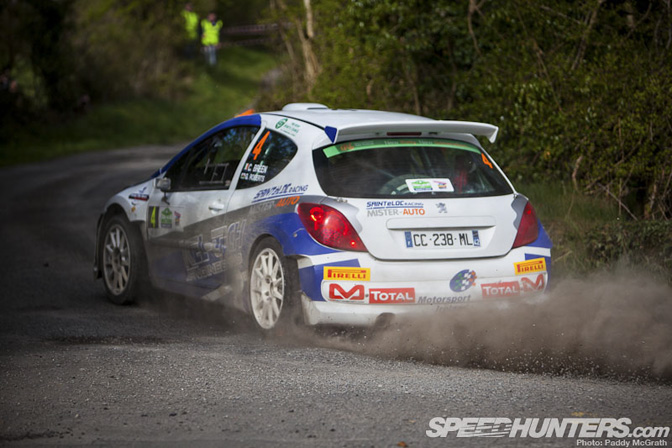 Everyone of them was driving as if their lives depended on it.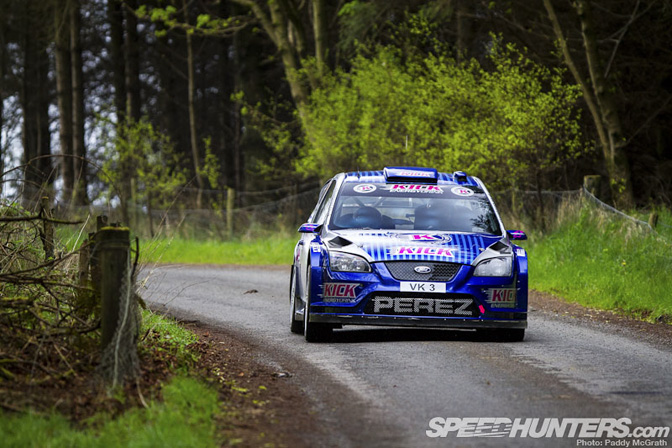 Hearing the pops and bangs of a WRC car as it blitzed past through, beneath a tunnel of trees is something else …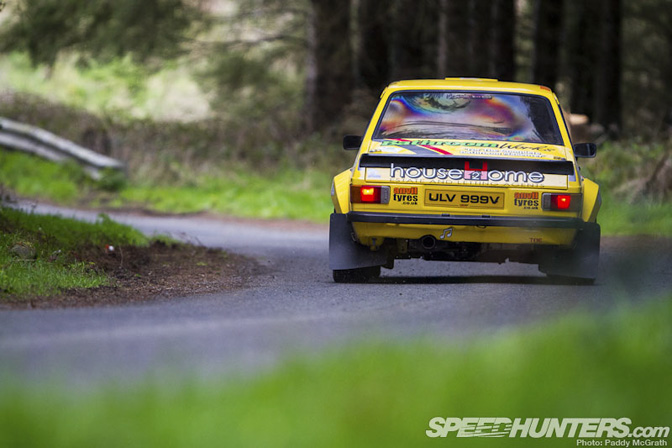 … although, for me anyways, it's pipped by the sound of a normally aspirated, high revving Ford Escort.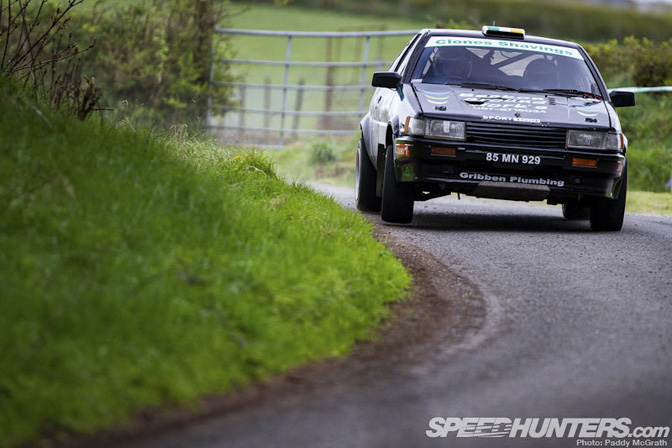 The '86 doesn't sound too bad either mind you.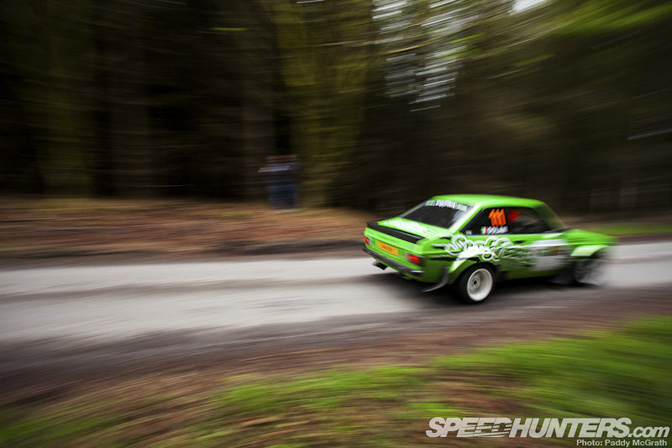 When all was said and done, Juho Hänninen came out on top. A mistake by Mikkelsen on the Lisburn special stage may have cost him the event, but he still leads the championship. Three events so far in this year's IRC and three different winners. I'm going to make it my business to follow this year's IRC as it's shaping up to be a cracker.
Leaving the stage early, I needed to physically drag myself away to shoot another aspect of the event for our coverage. The weekend has been a realization that I don't shoot enough rallying anymore but it's something I'm looking to change this year. With the sounds of the Escorts still ringing in my ears, I'll be heading to the MKII Escort Challenge next month for more rally action on Speedhunters.
–
More Rally Stories on Speedhunters
IRC Results After SS15
J. Hänninen – Skoda Fabia S2000  –  1:58:21.8
A. Mikkelsen – Skoda Fabia S2000  –  

1:59:06.0

J. Kopecky – Skoda Fabia S2000  –  

2:00:01.3

M. Arzeno – Peugeot 207 S2000  –  

2:02:23.4

C. Breen – Peugeot 207 S2000 –  

2:03:15.6 (90 Second Penalty)

R. Barrable – Skoda Fabia S2000 – 

2:03:36.3