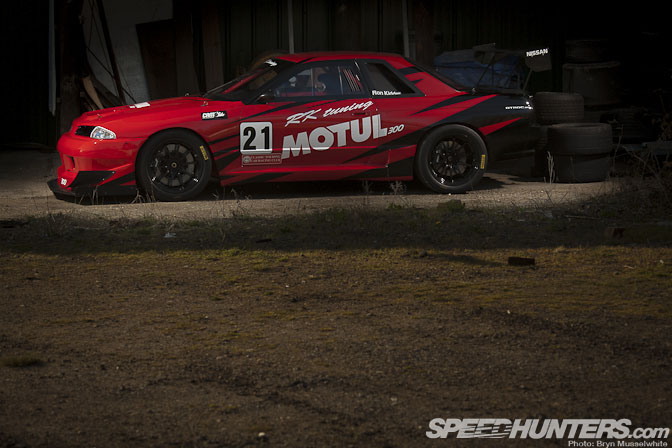 The thing with history is that you can't change it, what has been done is there for perpetuity. You can try and hide it, paint it in a different light or cherry pick the best bits if you want but that's your choice. Ron Kidell has history and we'd love for you to know it all, which after over thirty years racing isn't possible in just one article.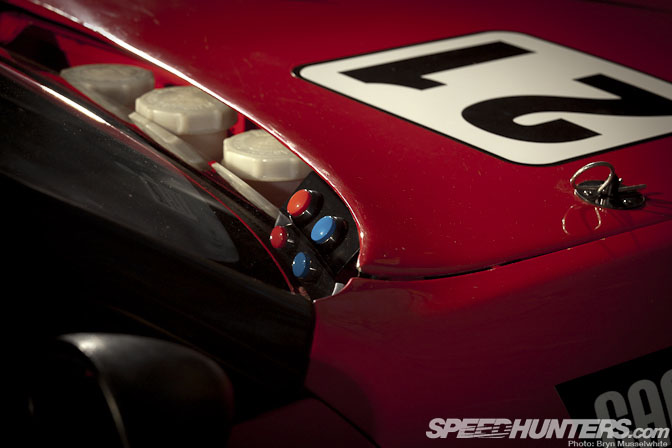 This is Ron and just part of what he's done, the R32 GTR race car you can see in the pictures is a brutally effective example of how history can be distilled in to one car. This is Ron's truth.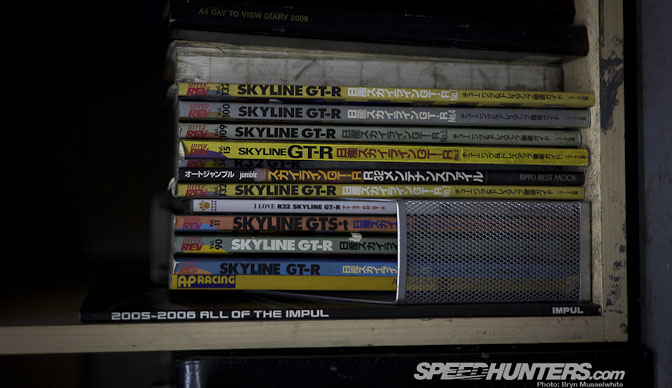 I've got history with Ron, first meeting and then writing about him in the mid-00s so I know the way to his very well hidden workshop in Essex countryside. He's a modest man who has come from the drag strips to where he is today, via some unusual car choices. So Ron, give us some history, "I started drag racing in 1980, my first car was a V6 engined Mk1 Cortina, but that just used to throw the diff out the back."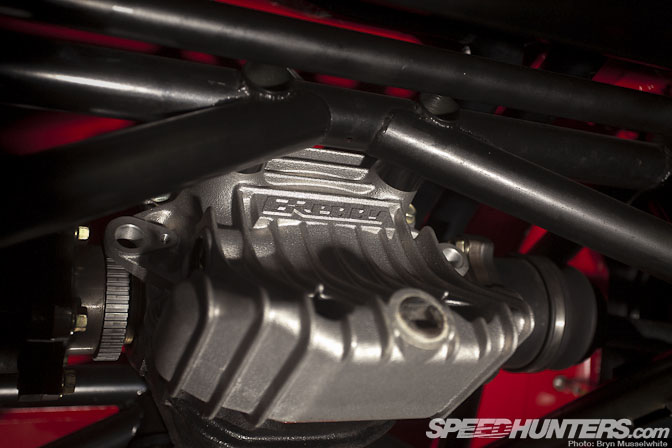 Not ideal, it's Ron's next project I remember him the most for, "It was index racing I was in to. This Vauxhall Firenza came along and I had the idea to convert it to be a road car and drag at the weekend."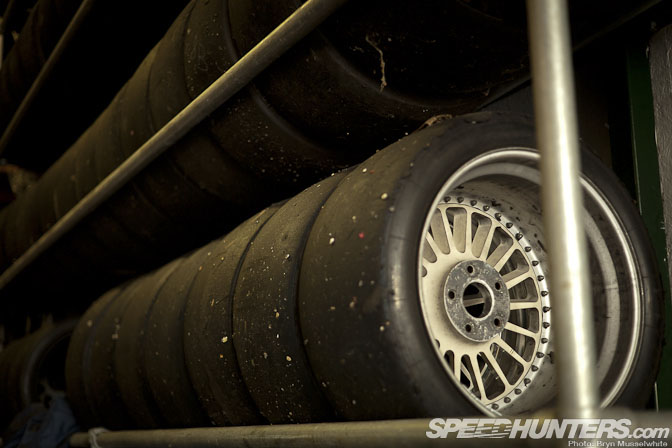 The Firenza is a two door coupe produced from the early to late 70s, "The best it ran was a 10.3 quarter mile in 1991, I'd won the championship three years in a row by then. It was running a Lotus 2.2 slant four, dry sumped and fuel injected with about 150bhp of nitrous." Today it's easy to pass off a ten second quarter as good, but twenty one years ago to get that sort of time from anything less than eight cylinders in a steel bodied car was seriously impressive.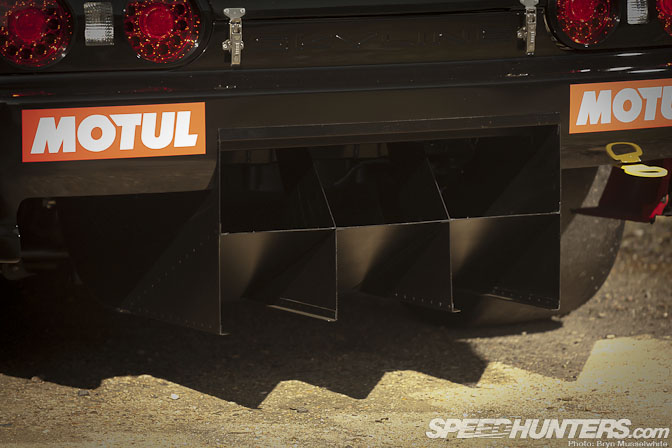 It was time to move on though and after a stint in a methanol dragster culminating with a seven second pass at 200mph, by now Ron had found the Cosworth brand. Right about now we're firmly in the early to mid-90s, the UK is wading through an economic slump and Cosworths are the getaway drivers favourite. I vividly remember seeing one fishtail out of a sports shop window in 1993 at about 3am after a smash and grab. If it hadn't have been so blatantly illegal, I would have almost enjoyed the scene. Almost.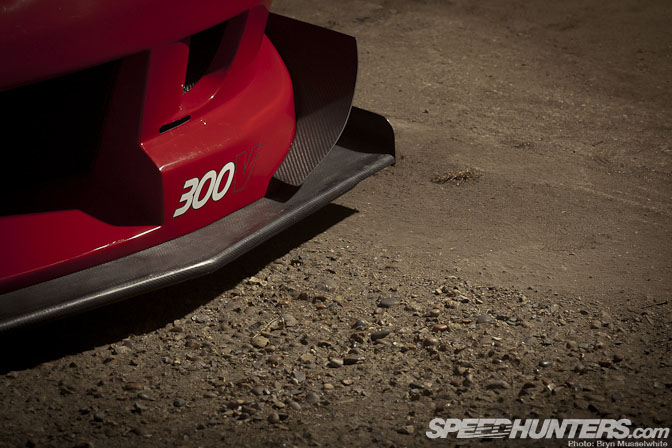 Point is Ron was running around North London in a 500bhp Cosworth at this time, but splitting up with his then wife meant moving to a flat and a part of London that could be a bit better presented, Walthamstow. As Ron says, "I couldn't leave that out there as it would go missing in a second. But I just didn't know what to buy, I used to read Motoring News and lo and behold a skyline came up for sale.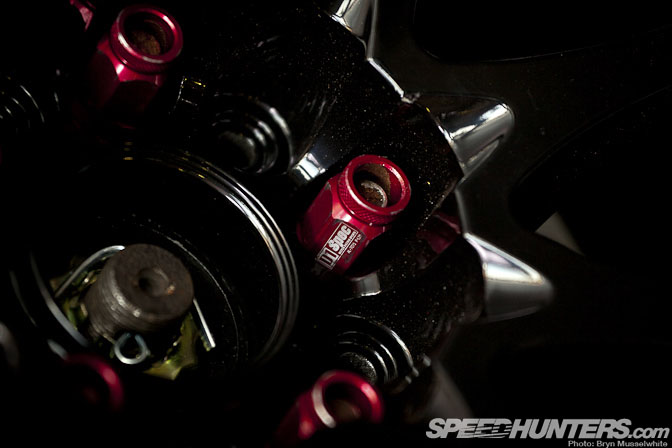 I think I saw an R31 GTS, 2.5, big turbo. I quite liked it and it was quite interesting, but because I'd seen the Aussie touring car videos I really liked the R32."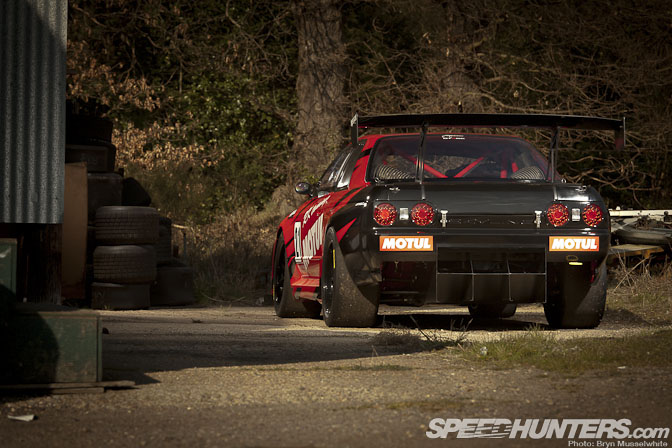 It's almost alien to think now that we weren't really aware of the Skyline here in the UK, but that was the reason it worked so well for Ron. Again you have to remember that this was before the internet and your car buying was based around being the first at the newsagents to get the jump on the classifieds, which is exactly what Ron did, "All of a sudden there was an advert. I called the number and it was a mile down the road from where I worked," so what did you find? "This Japanese guy had brought it across with him, he'd listed it as a R32 GTS, but when I drove it I thought hang on this has got a turbo? Turns out it was actually an R32 GTST, it was TH1 blue and a little bit tatty I bought it."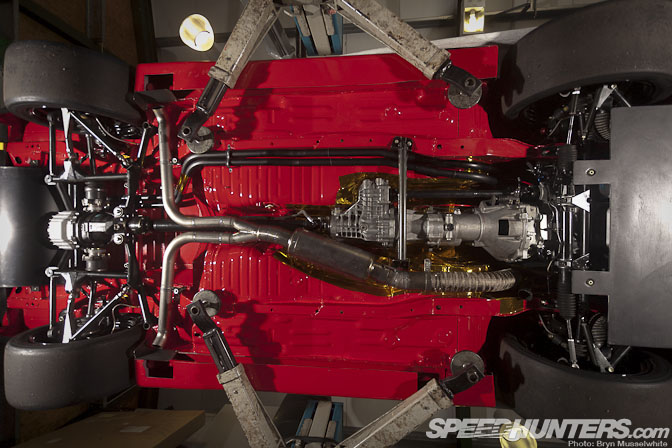 This was in 1995 and the '89 car set Ron back about ten thousand pounds, as Ron says something clicked inside that day, "That was it from there, I watched the Aussie touring car videos again and where before it was the bastards beating the Cossies, now it was, yeah the Skylines are winning."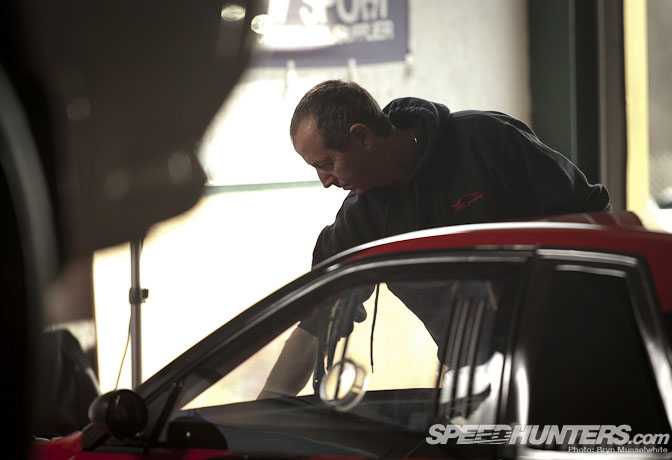 Now you'll forgive me for laying all this history out, but I think it's important you know where Ron has come from. We can all read a tech spec, but Ron is the reason this incredible GTR is sat here now so this is his tech spec.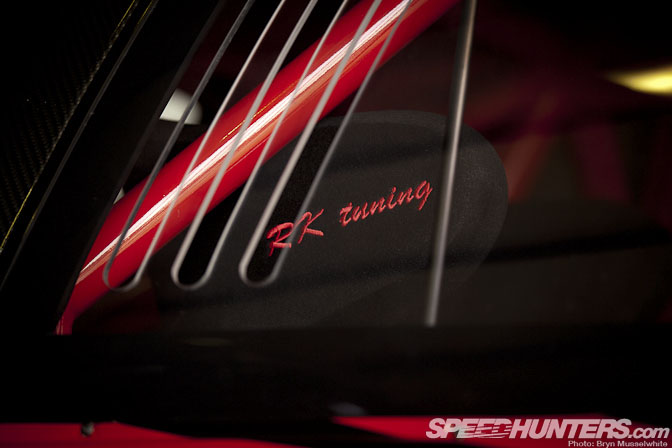 It's also not often that you find somebody was has moved so successfully through different tuning scenes, Ron founded RK Tuning around twelve years ago, having run a general tuning shop in North London for somebody else and latterly with a partner. It was the move out of London that made all the difference for Ron and after selling the GTST, his distinctive demo car that started life as an imported R32 GTR ended up producing 998bhp and ran a 9.81sec quarter mile @ 148mph."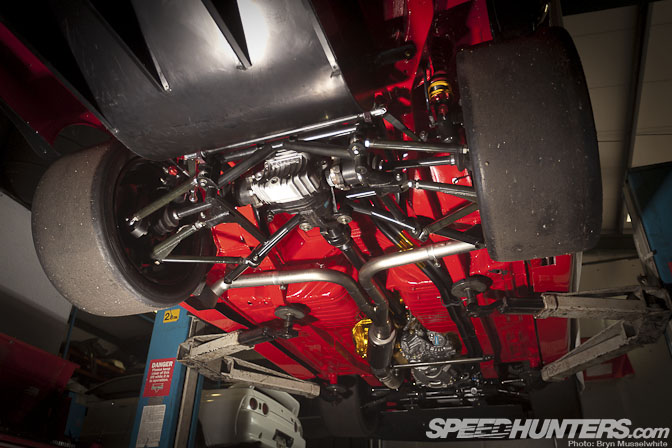 That was in 2006 and now six years later we're stood here looking at Ron's new demo, so how did this GTR come about Ron? "I got that shell from a customer and started to put a cage in it, but I couldn't wait to go racing so I bought a GTR from Japan that was my first Time Attack car running around 550bhp. That went to Holland in the end, it was a great little car." With Time Attack and circuit racing now having replaced Ron's love of the straight line, he upped the anti again, "I then bought an Auto Select car from Japan but I ended up parking that in to a barrier first time out. It was set up all twitchy like they like them in Japan."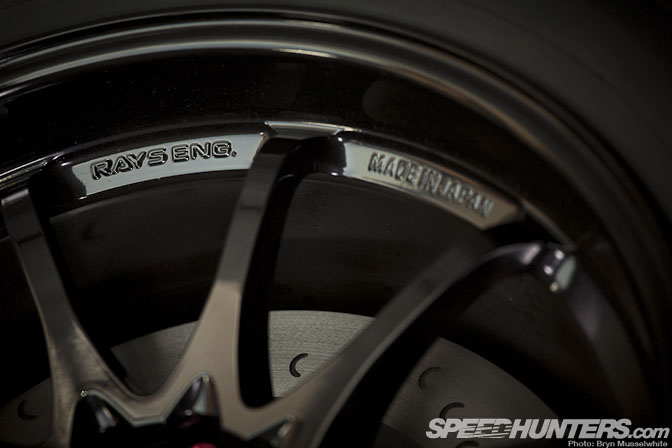 Ron has always looked to Japan for his inspiration, as well as building his own experience into every Skyline he touches. By now he was competing in the Dunlop Saloon Car Championship and ironically the car he kept getting beaten by was a Cosworth engined Escort, "I knew I needed a lighter nimbler car, because it was the handling he was beating us on. The Garage Sauras car and others all had rear rads, so that was how that came about. I didn't like the way they did the aero though."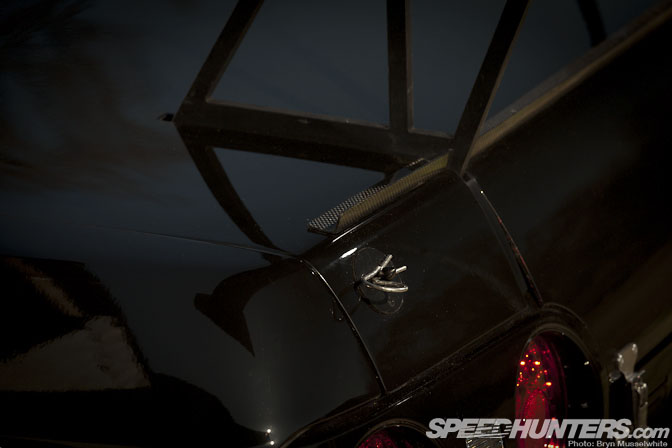 So how do you go about designing the layout? "The worst bit was how to duct it, a lot of the rallycross cars have NACA ducts in the rear quarters and have the whole boot occupied. Then there's the roof intake method with a letterbox outlet. Basically any surface that is 7,9 or 11 degrees, air will stick to it. So the whole lot has been designed around that."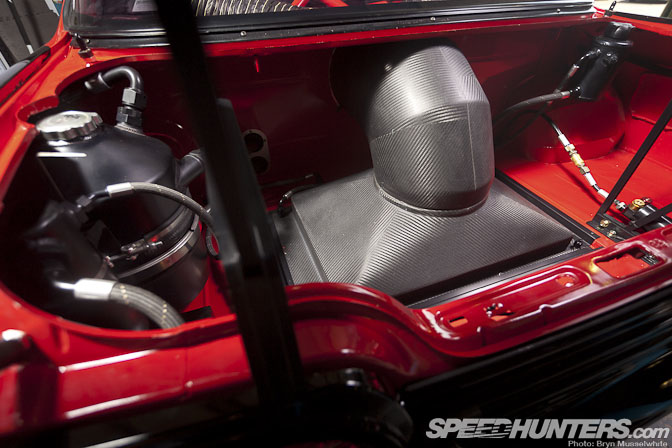 Ron continues, "We had it all made up to air con ducting and Neil moulded off that. Then the rad was going to be in all different positions, so now for weight it lays flat on the floor and I can retain some space for fuel items."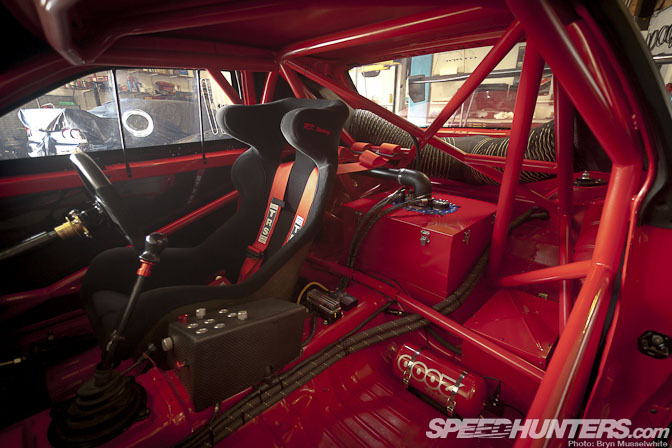 Aside from using GRP and carbon panels, the other way to lose weight is obviously in the components, so Ron tell us about the suspension?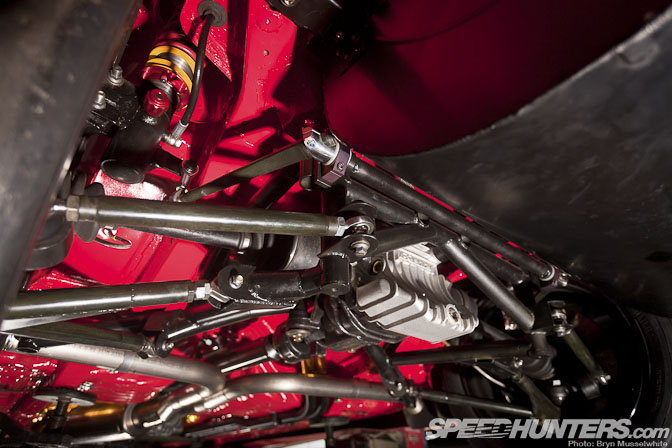 "The rear cradle is a pretty much a lightened version of the rear subframe, the pick up points are changed for better adjustability. We asked the question do we go to double A arm suspension? But when I talked to my suspension specialist who is ex-WRC, he pointed out how expensive that would be. We sat down and had a chat, he said if I was doing something like you I'd be better of going to Macpherson strut."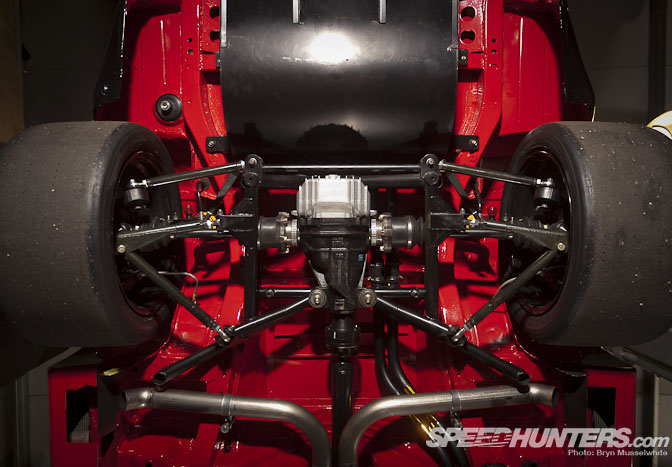 When you're stood next to the immaculate Motul liveried R32 it's hard to believe it's been built on a budget by Ron and a dedicated team of helpers and specialists, but that's why it's taken four years and as yet, hasn't turned a wheel in anger.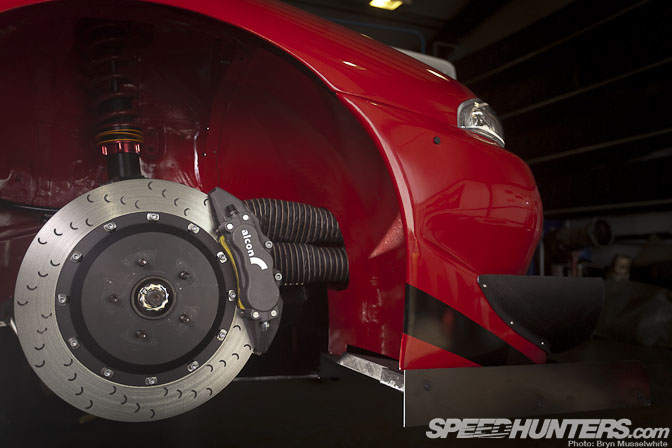 Now we're not going to try and work out how many man hours have gone into it, but Ron how do you balance work and then the project? "Till this day I will not work on the car until 5.30 and then I pounce on it. Thursday nights are race car nights, then weekends too. It was just a continual thing."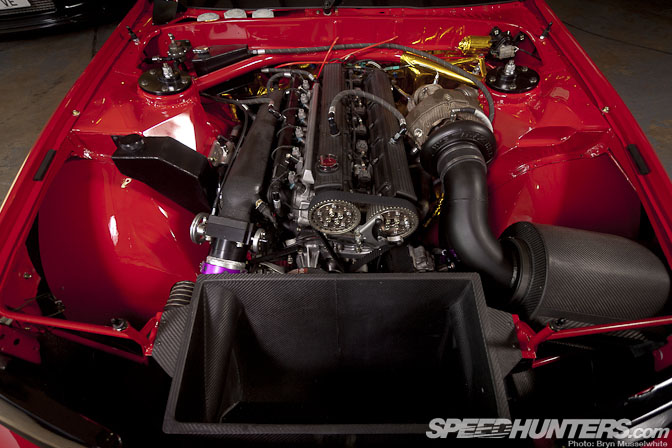 Would you have changed anything? "The worst thing on my car is that I got carried away with the carbon, it got completely out of hand. It was thousands of pounds, but when you've got the carbon it's like ahhh. I need more."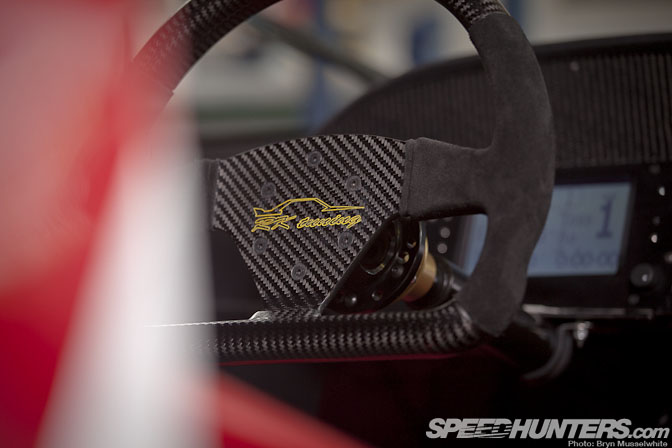 The work has been worth it, and an all up wet weight of 1200kgs has been achieved. A change in regulations has meant Ron will now to be looking to the Classic Thunder Series for his racing kicks, as rear mounted radiators have been outlawed in Classic Saloons.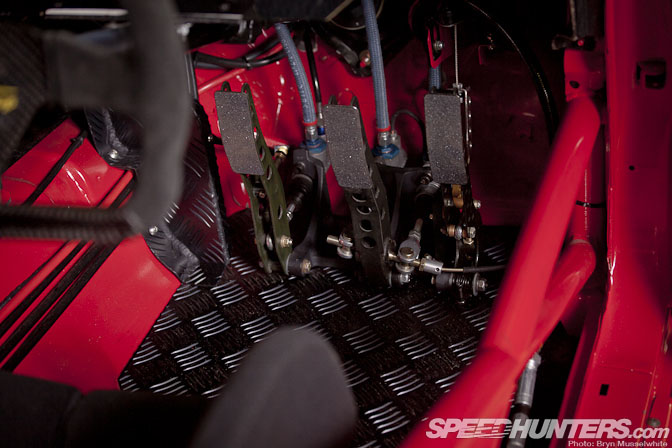 You can see it's frustrating for Ron to not have used the R32 yet, his wheel time has been limited to trying to find his trailer after this years Autosport Show where we first saw it. The pressure of business and the budget needed mean it might have to wait a couple of months yet, but when it does hit the track we're sure this R32 is going to be dominant.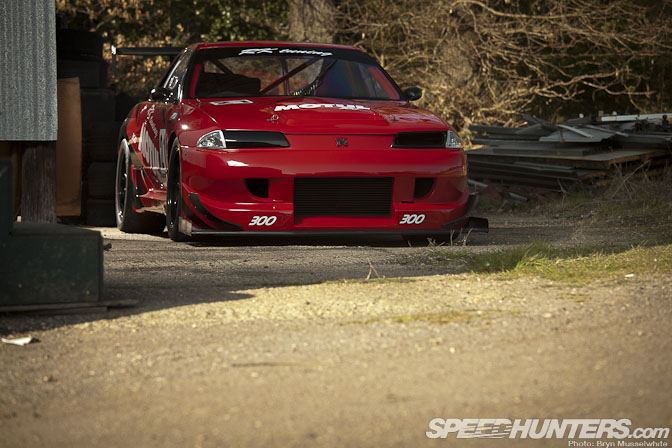 What Ron has created here takes thirty years of history, observation and craftsmanship. This R32 is Ron and that's no bad thing at all.
Engine
RK Tuning built Nissan RB26 3ltr 24 valve turbocharged inline six cylinder, T04Z with teal stainless housing, 650-1000bhp depending on turbo spec, 9000rpm limit, custom made titanium exhaust and silencer, Titan drysump oil pump, custom sump, Motul 33V oils, rear mount radiator
Electronics
Life Racing F88 ECU, NGK sparkplugs, custom made wiring loom, GEMS DA37 dash, custom made 4WD controller
Fuel system
ATL 45ltr fuel cell, two Bosch 044 in tank pumps, Aeroquip 910line hoses and fittings, Tomei 5bar regulator
Transmission
Carbonetics 4-plate carbon clutch, Holinger 4WD 6-speed sequential manual gearbox, Quaife front torque bias, RK uprated transferbox with custom made plates and incar adjustment, Nissan standard drive shafts, RK lightweight propshaft
Suspension
Mcpherson strut type, custom made arms and subframes, Black Art design shock absorbers
Brakes
Alcon six pot callipers, 380mm front discs, Alcon four pot callipers, 343mm discs
Wheels and tyres
Rays forged one piece 10.5x18in wheels, Michelin 270/305/680×18
Bodywork and aero
Fibreglass doors and boot lid, bonnet, front bumper, splitter, carbon canards, brake ducts, radiator ducting and intercooler, rear wing, steel roof and floor pan rear quarters, aluminium front wings, polycarbonate windows including screen, Motul livery
Thanks
Dave Woods, Stuart Nice, Mike Hayward, MDV, Ian @ Camauto, Neil Oldham, Plastics4Performance, John Hill, Dave Wilson, Jason Lavender, Darren Bly, Ronnie Smith, Greg Jukes, Malcolm Lowe and all my family and friends for their time and effort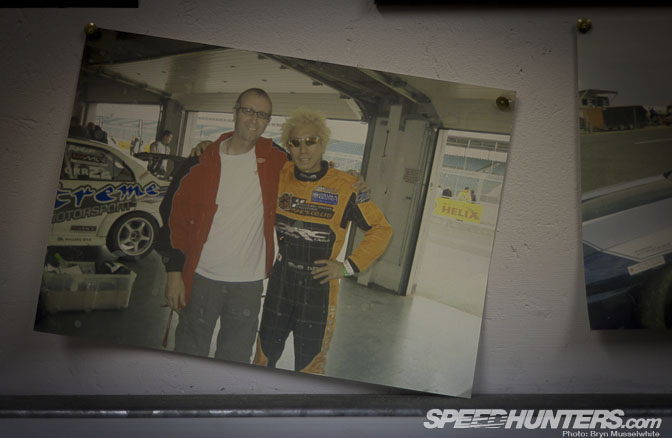 Contact
www.rktuning.com email ron@rktuning.com