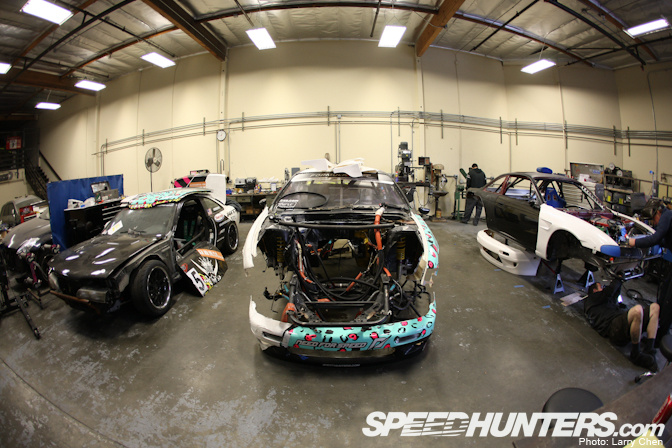 Last week I stopped by Gialamas Technical Innovations to see how Matt Powers' 2012 Formula Drift car was coming along. However I was greeted by not one but three S14 chassis, each in various stages of assembly.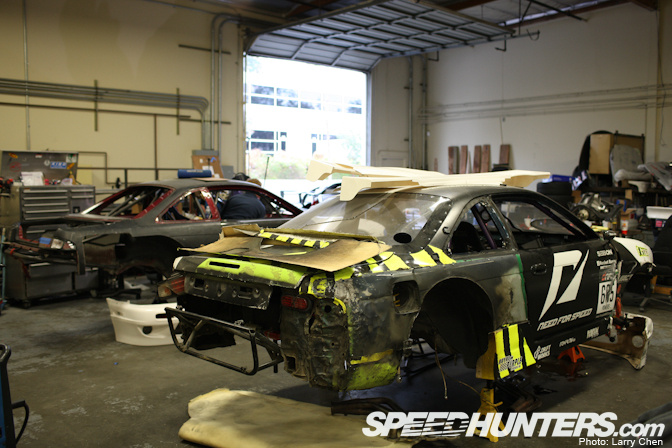 This is the original chassis that he learned to drift in, which has now turned into a pirate ship.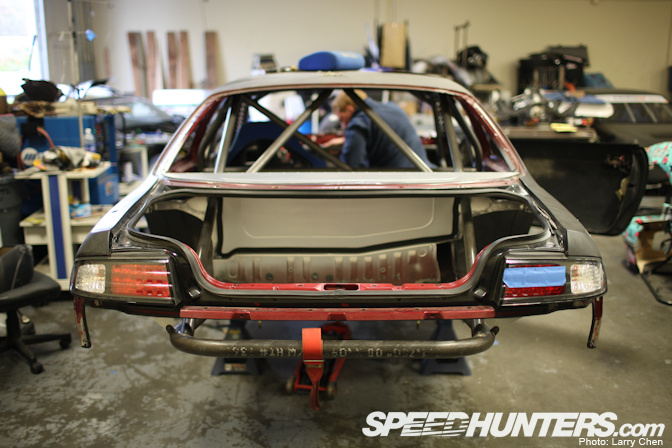 And here's his new in-progress, 2012 season Formula Drift car. The team has spared no expense in building this S-Chassis for competition.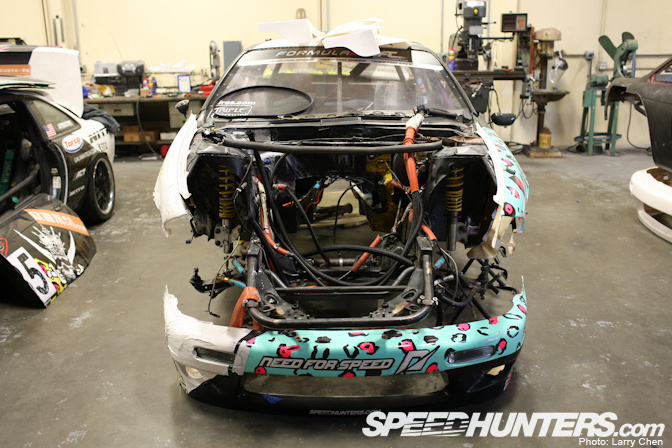 The front of the old car revealed a heartless shell.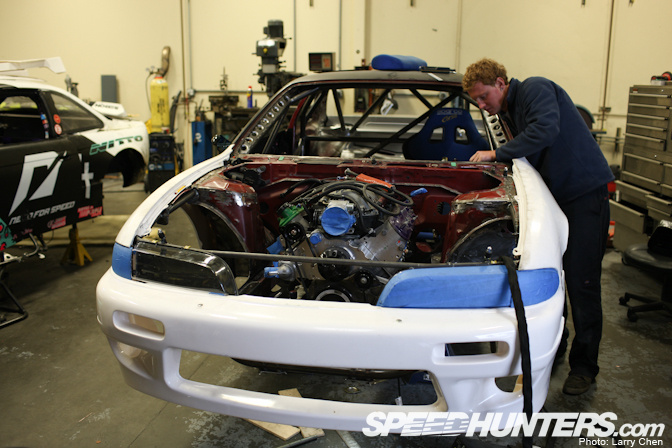 The new home of the LS motor will be in the 2012 Formula Drift car.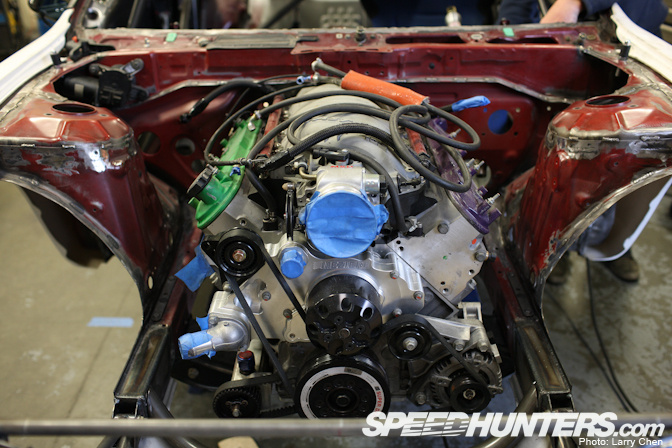 The LS7 pretty much remains the same from last year, with just a few minor upgrades for power and reliability.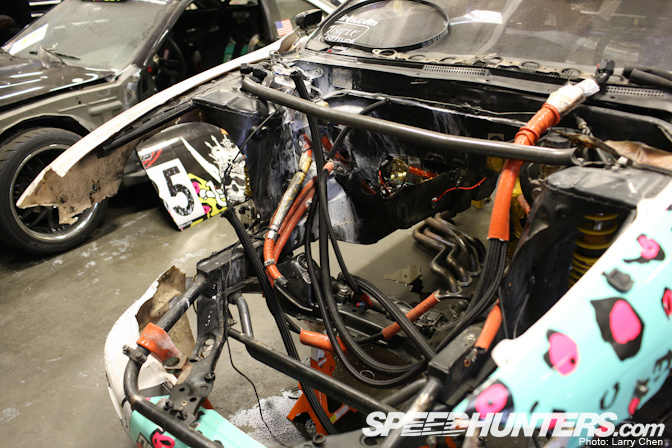 What a jumbled mess of wires and gadgetry!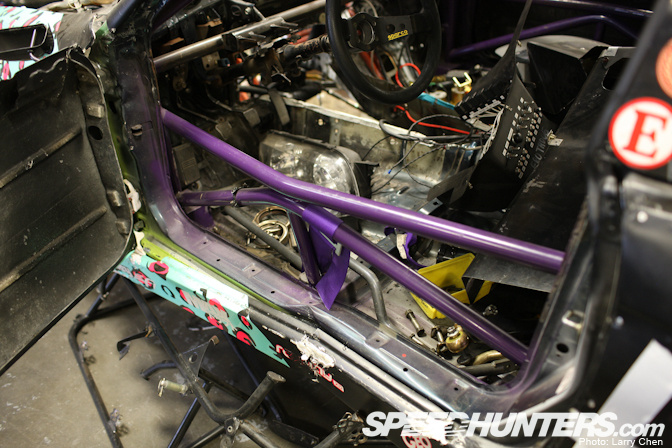 Here's the roll cage in the old car that saved Matt from serious injury in the impact with John Russakoff at New Jersey last year. He was lucky to get away with just a bruised knee.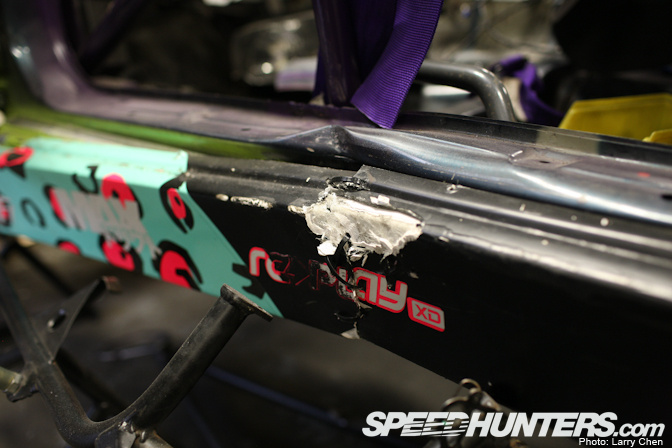 This little love tap was from Darren McNamara last year in Las Vegas. Every ding and dent has a story behind it.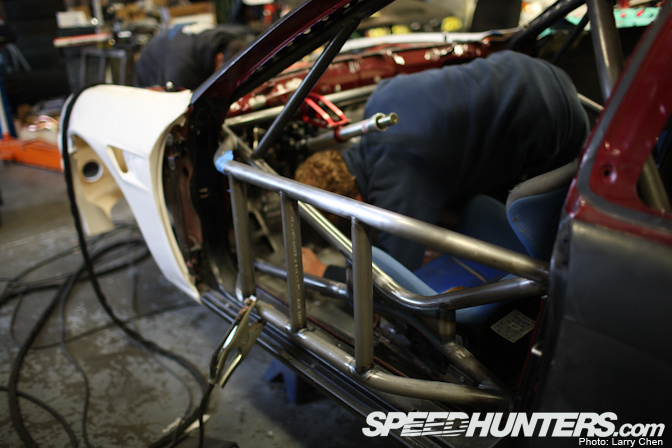 No more side impact injuries here. Costa is very particular about not wanting his driver to get hurt, especially because speeds in professional drifting are getting higher and higher. The outside bars are made of mild steel tubing that is bendable which will absorb a side impact. The inside is super strong chrome alloy to stop the impact in its tracks. A very cool design.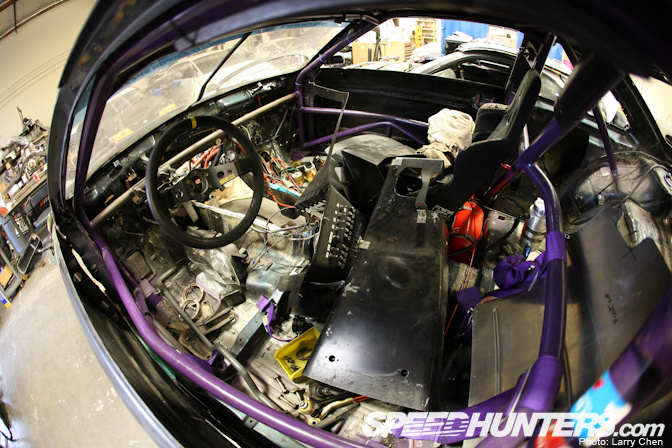 The inside of the old car looked more like a time machine than a drift car.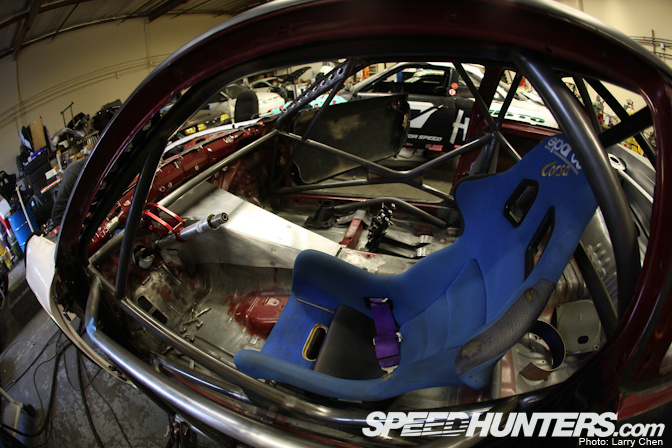 The new car has a collapsible steering column so just in case of a high speed front impact Matt won't get impaled by the steering shaft.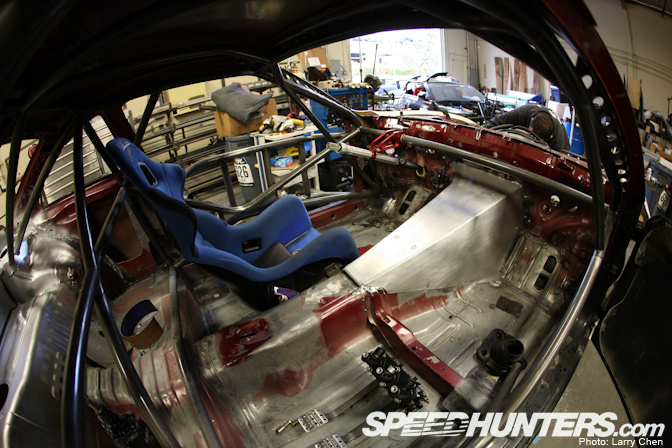 The sound deadening was completely stripped out to save weight and Costa is planning on painting the interior as well.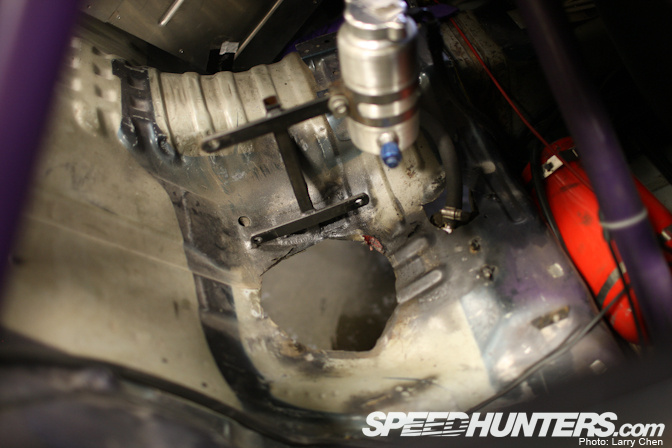 Matt is very proud of the fact that he did a lot of the fabrication on the old car, like this hole he made with a hacksaw for the Accusump system.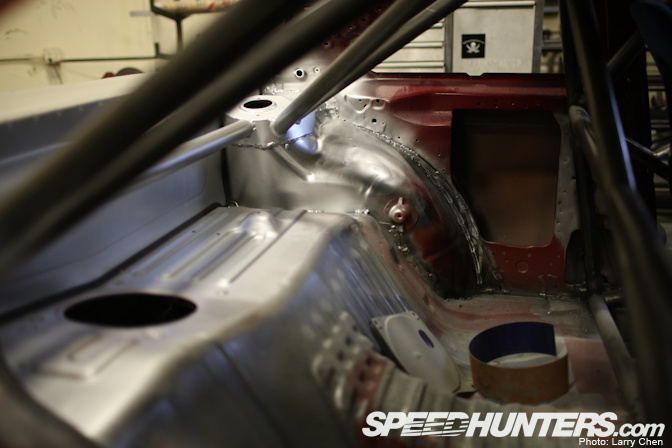 Costa makes much cleaner holes and is a master fabricator.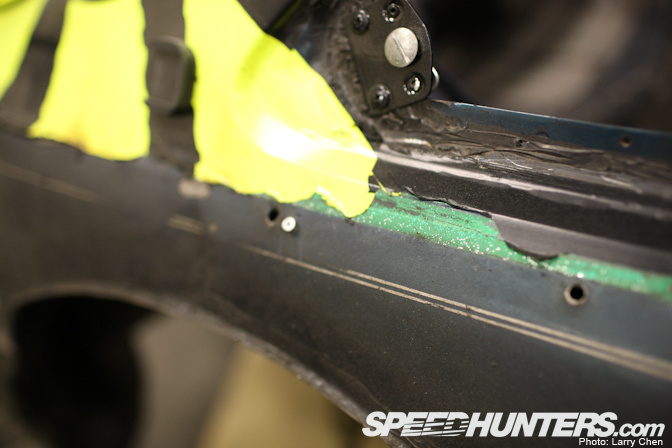 This was very interesting to me. Just this one part of the car shows the three stages of prep. The original pin-striping from the factory still exists under the wide-body quarter panels. Then there is some over-spray of the green color that everyone loved so much – and last but not least the Team Need For Speed livery.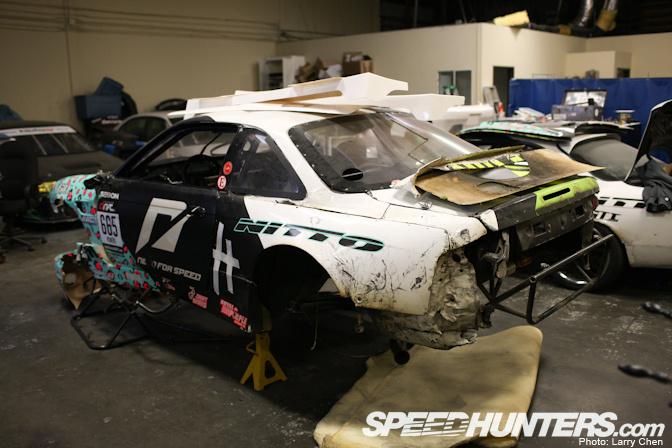 To think this car was stock at one point with one only modification: a spin-turn knob. That is all Matt had at his first drift event.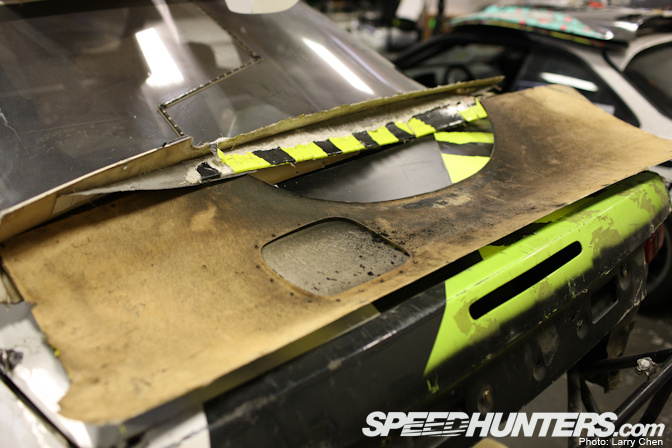 The yellowing of the fiberglass is due to all the tire smoke. To think I enjoy breathing this in when I am track-side. Tsk tsk.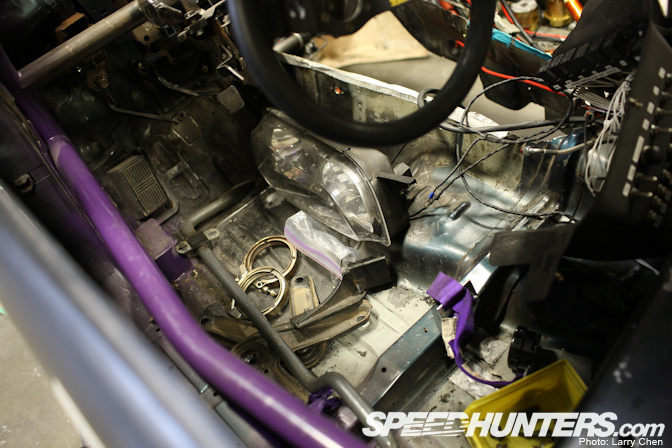 Parts are just thrown into the pirate ship as it is turned into a storage unit for now.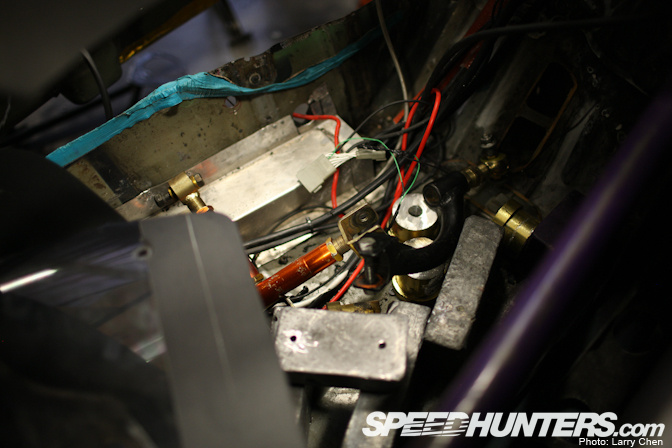 The lead weights are still inside but aren't bolted down any more. The new car will be much lighter and Matt will be running on skinnier 245mm-width tires as opposed to the 265mm-width tires he ran last year.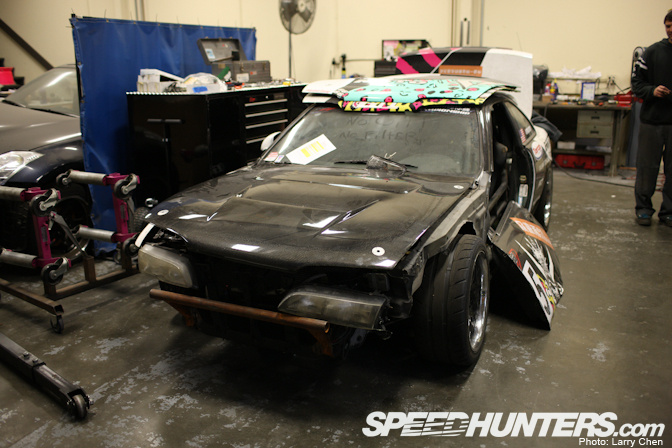 The third S14 is Matt's World Drift Series China car. It too has a LS motor in it.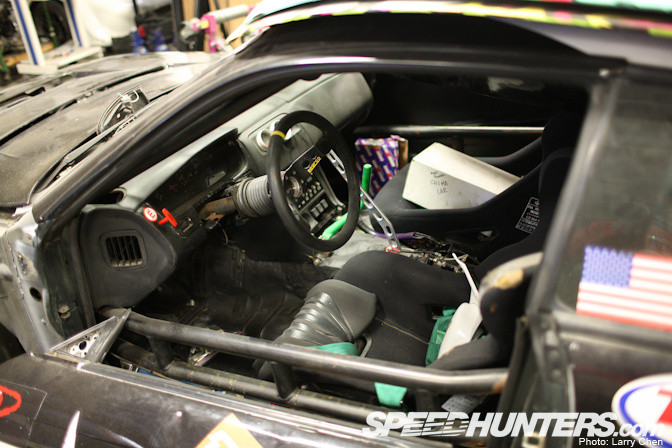 Matt will be representing Team USA again this year in China. There was quite a bit of work to be done on this car too.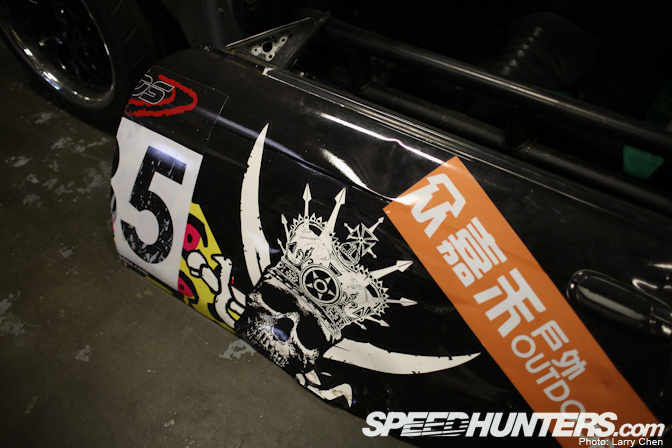 Matt took the pirate theme quite literally for his demonstration car!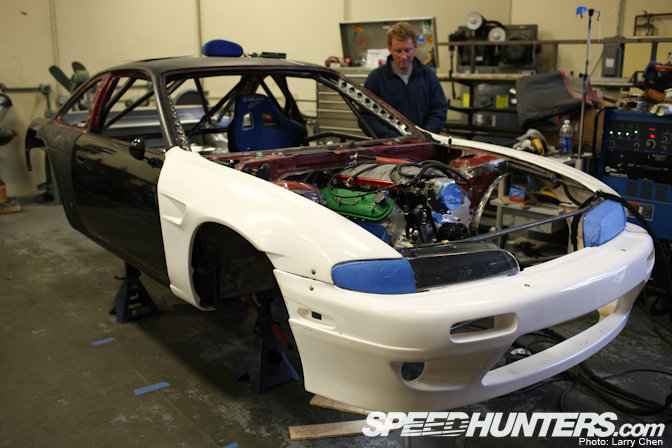 Soon this car will be wrapped with vinyl and ready for the streets of Long Beach. Make sure you stay tuned for an in-depth full feature on this drift party S14.
Larry Chen
More build articles on Speedhunters