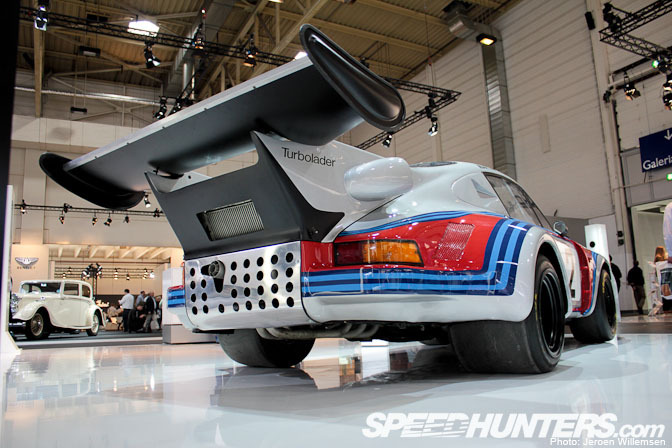 Despite the fact that Volkswagen owns
almost half of Porsche I wanted to dedicate a separate post to this iconic brand. I
found the official Porsche stand in a corner of Techno Classica on which they displayed some
legendary cars.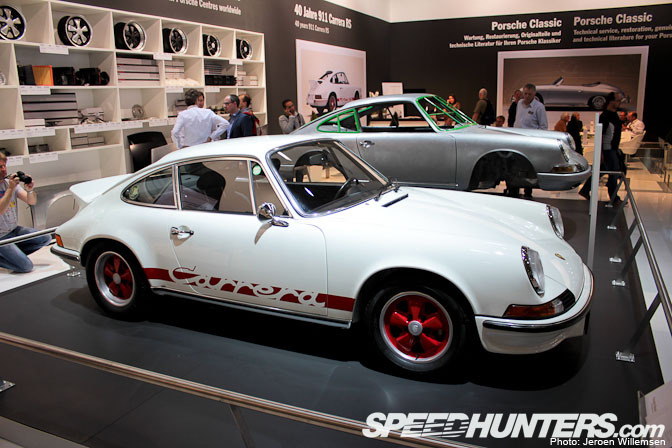 What to think about this 911 Carrera RS 2.7?
The RS stands for Rennsport – Racing – and that is exactly why this car was built: it was a
homologation model that enabled Porsche to enter races. This car has been fully
restored to its former glory and features an aircooled 2.7-litre boxer engine with
210bhp.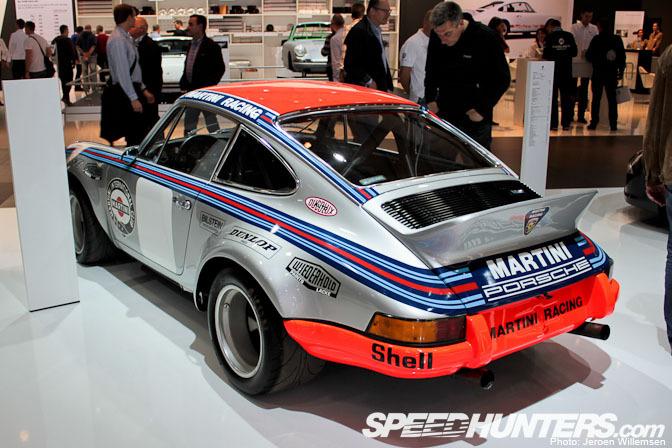 Here is one of the racing versions it spawned. It's the 911 Carrera RSR 3.0 that dominated the FIA Group 4 class in the 1970s.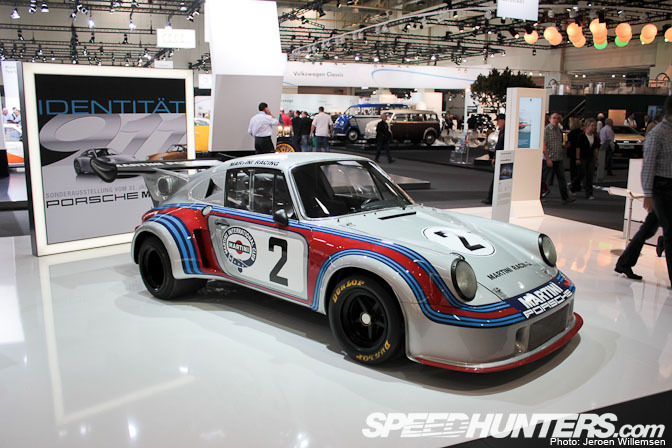 But the real star at the event was this 911
Carrera RSR Turbo 2.1. It was built in 1974 and was the first Porsche to use turbocharging technology. Porsche entered the car in the 24 Hours Of Le Mans in the year
it was built, and finished second with Herbert Müller and Gijs van Lennep behind
the wheel. It became the basis for the turbocharged road-going versions.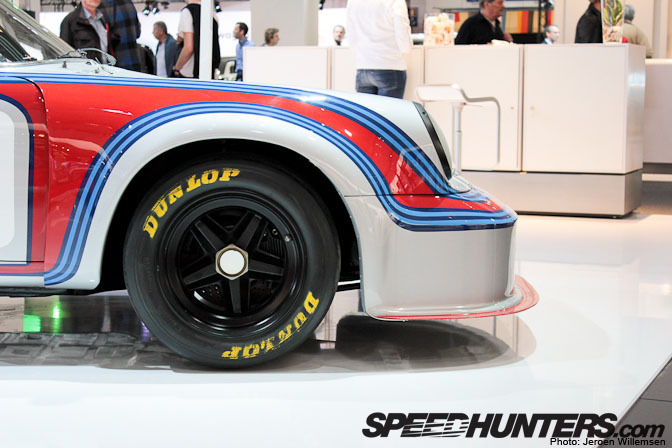 The car is powered by a 6-cylinder 2.1-litre engine and has a single turbo producing almost 500bhp. The car was able to reach
speeds of 300kph thanks to its light weight.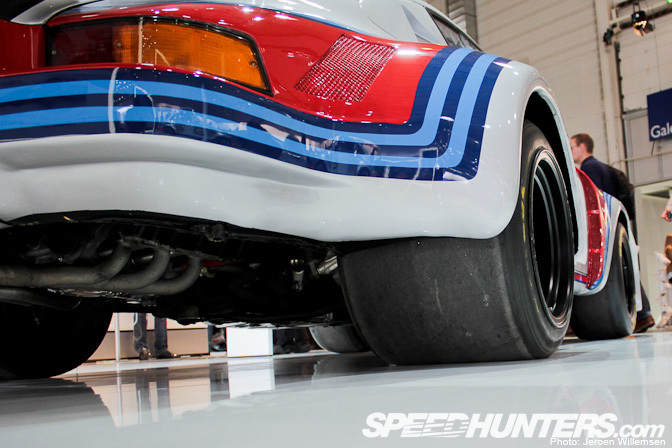 The fenders are a metre wide on both sides
to house the massive rear tyres.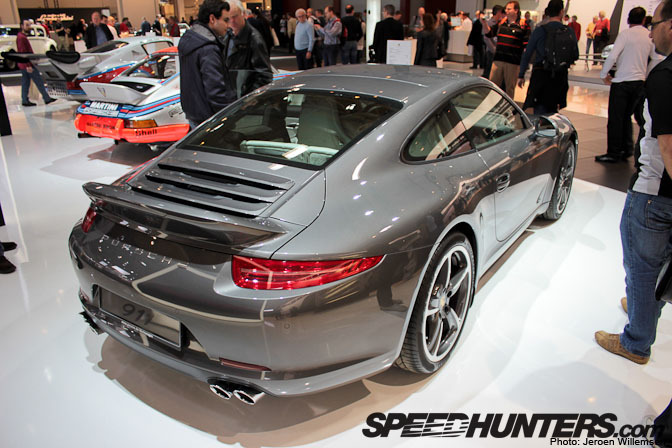 Porsche also displayed their latest 911 model, the
991. It looks awesome in the flesh and I even had some seat time – while I made
vroom vroom noises!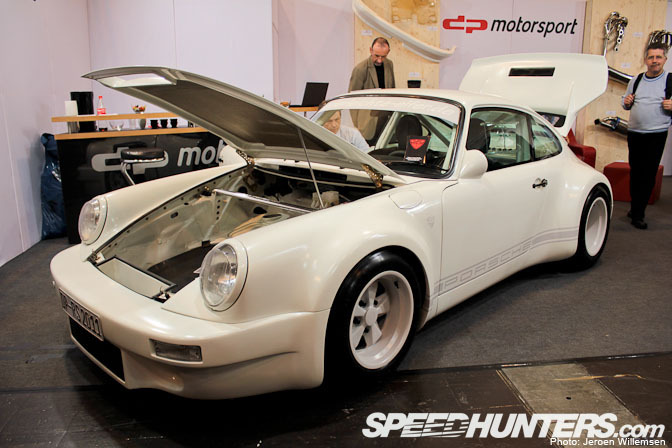 DP Motorsport should sound familiar to our
regular readers. I featured this car back in January and it proved to be quite
popular. This was my first time seeing the car in the flesh and it certainly
didn't disappoint.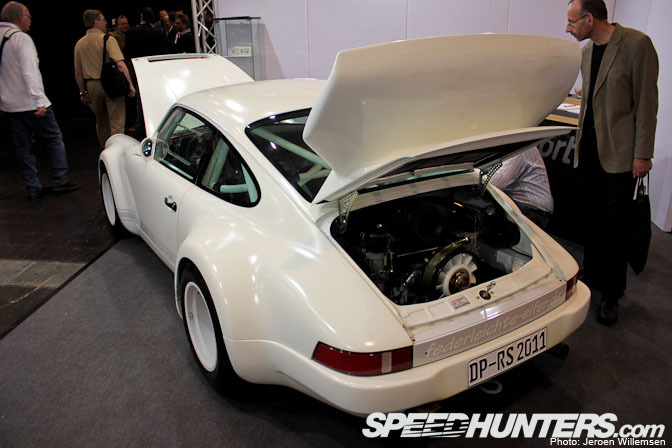 Everything has been done to make this car
as light as possible. It
tips the scales at just 870kg thanks to the carbon bodykit and the use of other lightweight
materials. You can check out more photos of the car right HERE.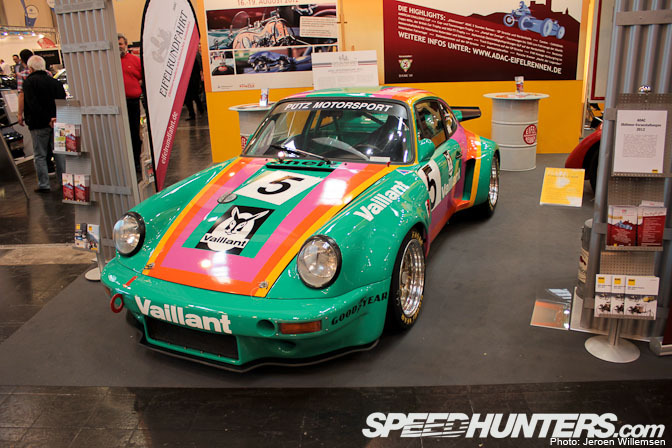 Here is a replica of the 911 Carrera RSR
3.0 originally built by Kremer Motorsport that won the Nürburgring Supersrpint
in 1975. It's one of my favorite paint schemes for 911.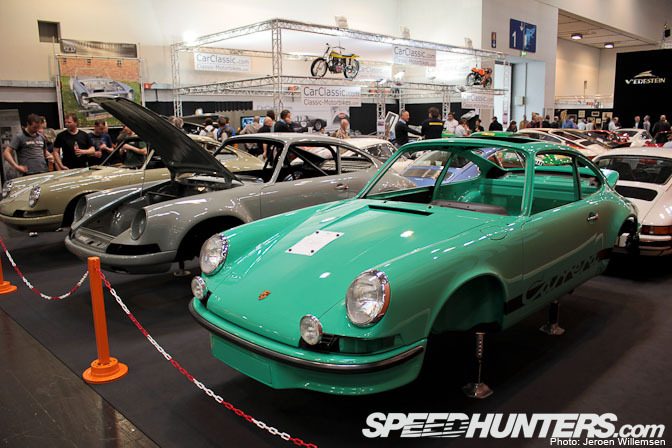 Looking for a restoration project? All
these shells were for sale, but to give you an idea of the costs that are
involved I will only say that the green Carrera shell will switch hands for a
mere 300,000 Euros…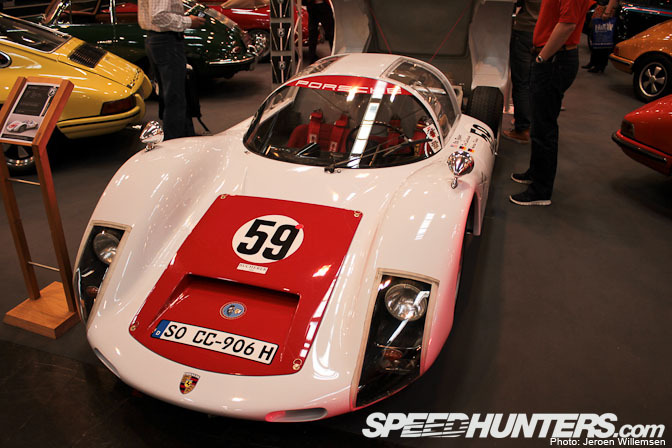 This 906 Carrera was built in 1966 and was
the last street-legal racecar Porsche built. You can still drive
this car on the roads – hence the numberplate.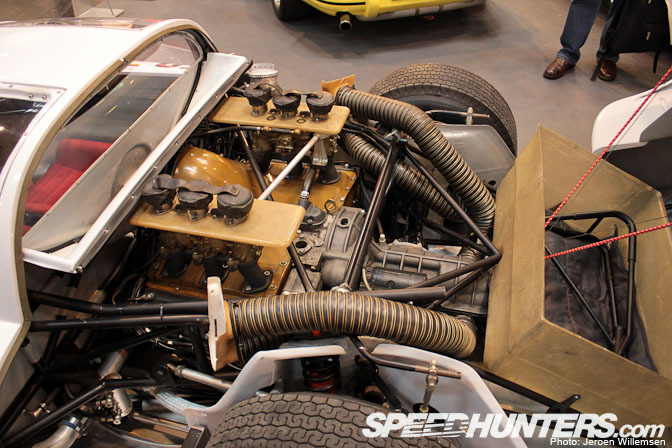 It weighs just 580kg and has a 6-cylinder 2-litre engine producing 210bhp. This car was for sale, but I got a bit scared
walking around the car after I saw the asking price. It could be yours for a
hefty 900,000 Euros!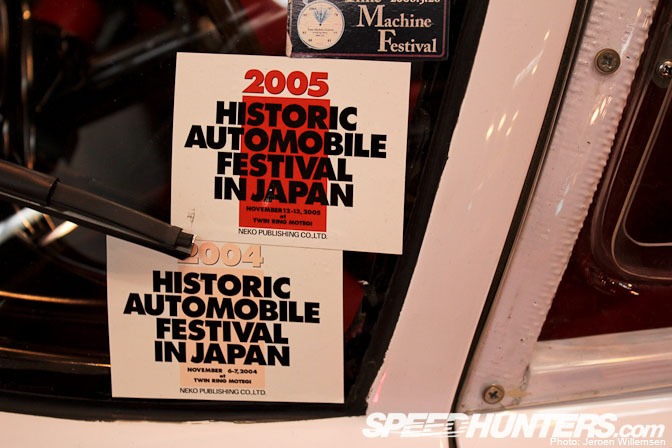 The car had been raced in several historic
races as far away as Japan.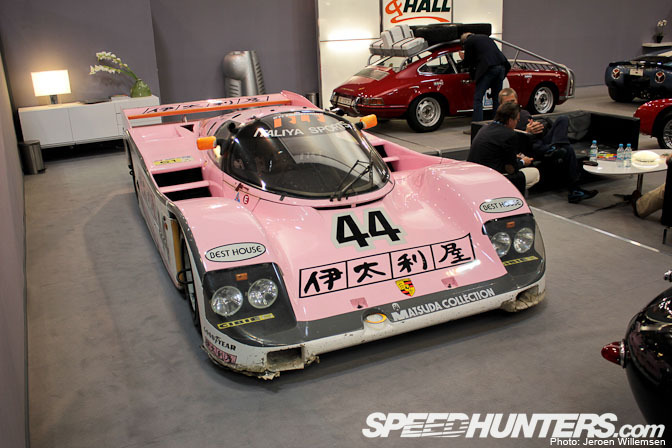 A racecar from a totally different era is
this Richard Lloyd Racing Porsche 962C. It wasn't the most succesful 962 in Porsche's racing history but
still worthy of a note.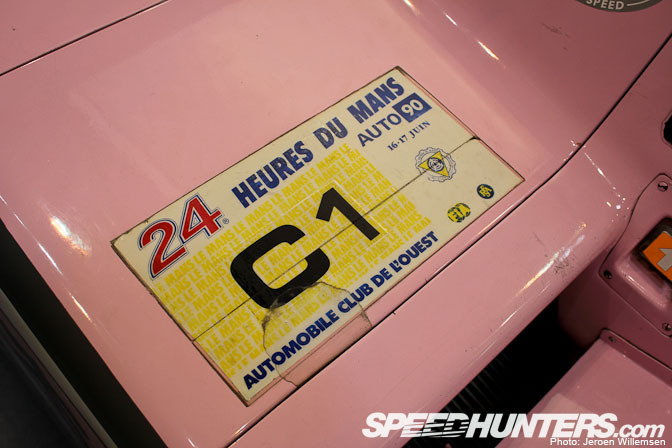 It competed in the 1990 24 Hours Of Le Mans where it finished 11th in the hands of John Watson, Bruno Giacomelli and Allen Berg.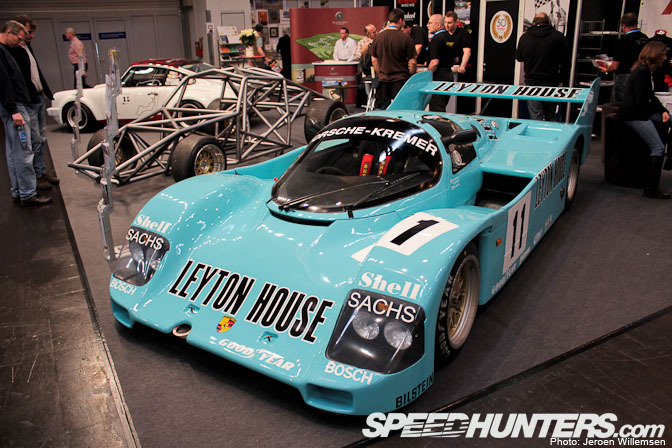 This is a 1987 Kremer Racing Leyton
House Porsche 962C.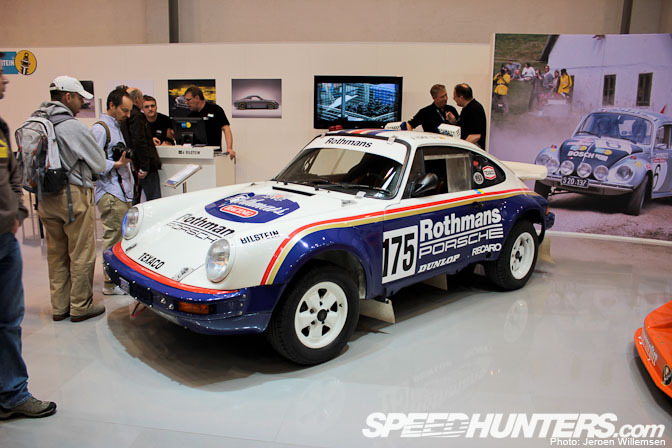 Off the track, Porsche has also had success in
rallying over the years – as was demonstrated by this Rothmans-liveried 911. 911s competed in the WRC during the '70s and '80s – their involvement culminated in the awesome 959 of the mid-'80s.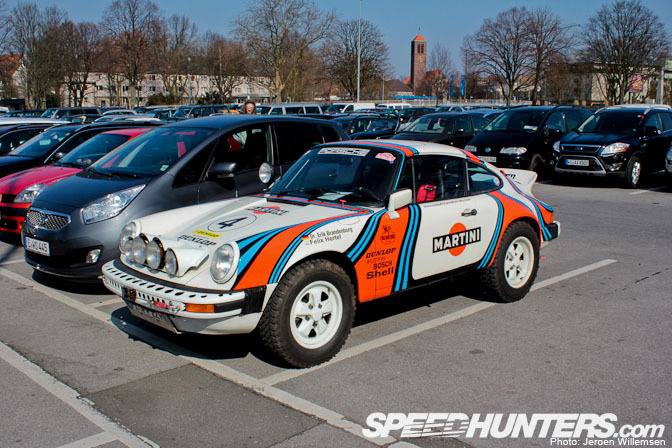 On my way out I even spotted this road-going
911 rally version in the parking lot. Don't go anywhere because I still have lots
to come: my next report will be about Mercedes, and after that I still have some
spotlights for you.
Jeroen Willemsen
More Techno Classica Essen coverage on Speedhunters