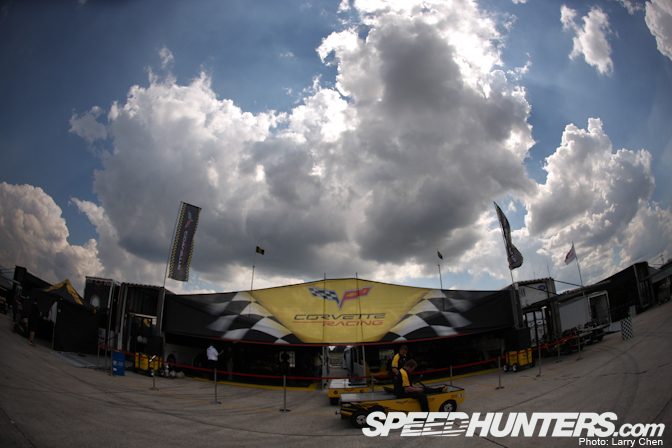 As practice day came to an end for the support races at the 12 Hours of Sebring, the action in the American Le Mans Series and World Endurance Championship pits were starting to heat up.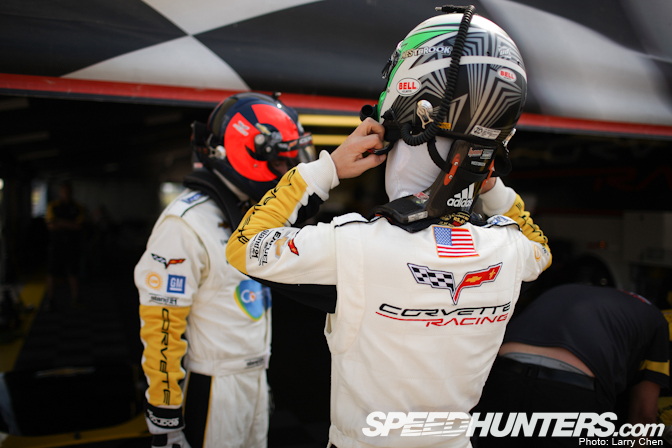 Tommy and the rest of the Corvette Racing team were about to begin rehearsing their ever-important driver changes for the race.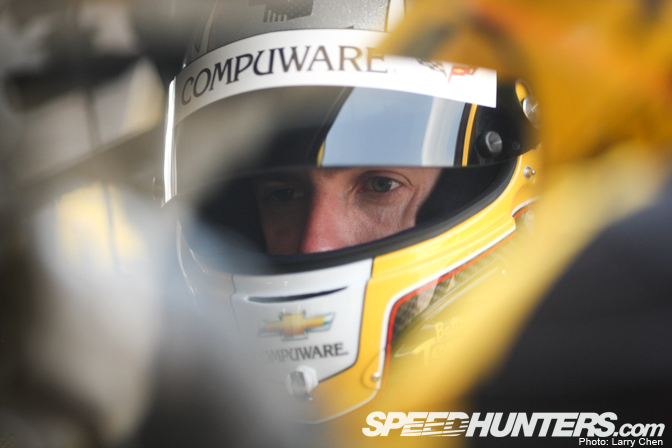 Tommy Milner joined up with Corvette Racing last year, and won the GTE-Pro class at the 24 Hours of Le Mans. What a way to start off a relationship with a team, huh?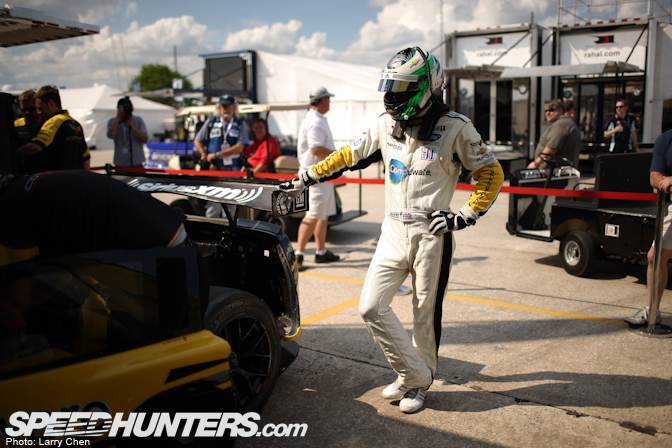 One of Tommy's teammates is Richard Westbrook. He was the 2009 FIA GT2 Champion. Richard also joined the Corvette Racing team last year.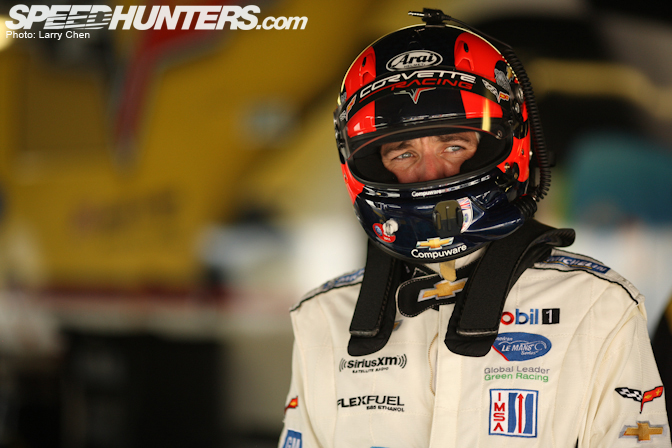 Driver number three is three-time ALMS GT1 champion, Oliver Gavin. He has also had four class wins in the 24 Hours of Le Mans. He is a good person to have on your team in my opinion. He has been driving for Corvette Rcing since 2002.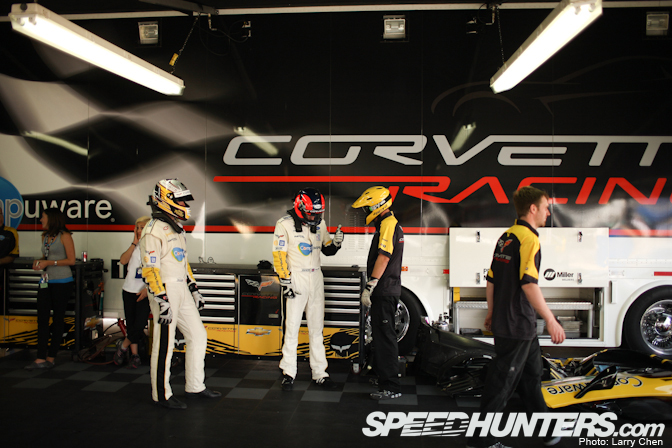 The team was ready to go. Everyone was in position to start running drills. Tommy went first.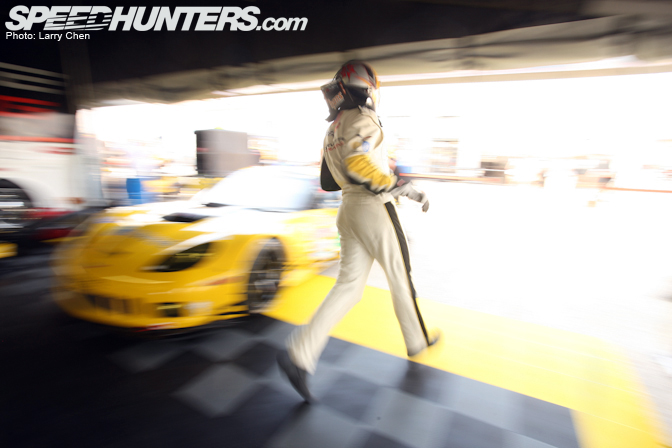 With one swift action he runs to the car as his teammate is crawling out.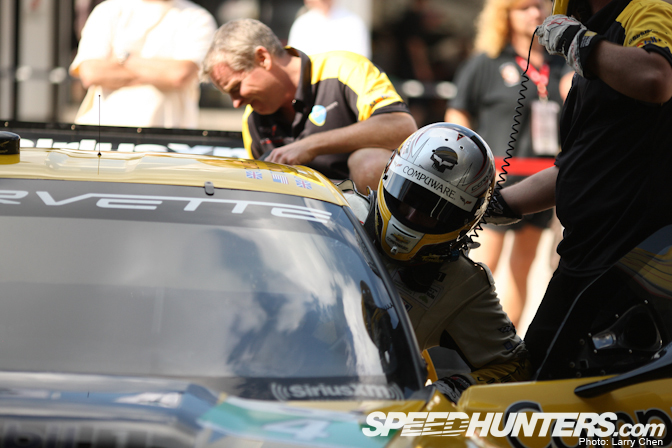 His crew grabs the radio cable so it does not snag on anything.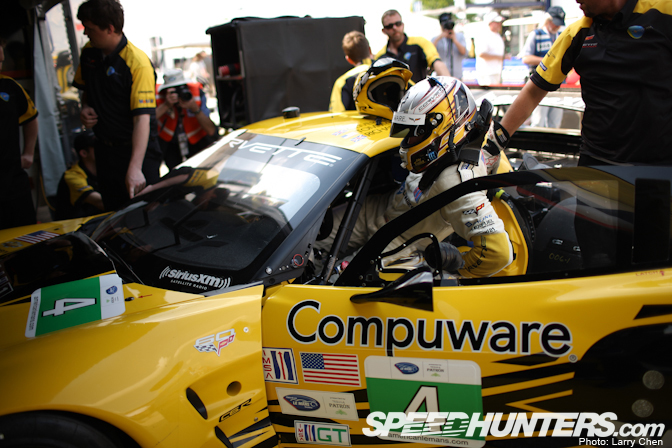 Once inside the cockpit, it is up to Tommy to buckle himself in, while his crew connects his air hose, checks his belts and connects the window net.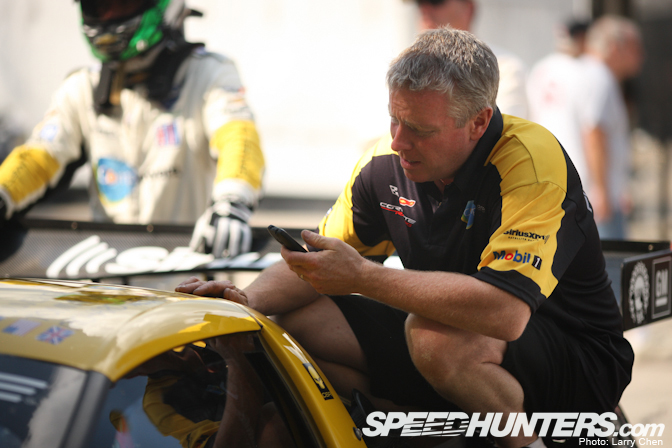 The stopwatch stops at a disappointing 30 seconds. That is just not going to be fast enough for the team to keep their position on the track come the race.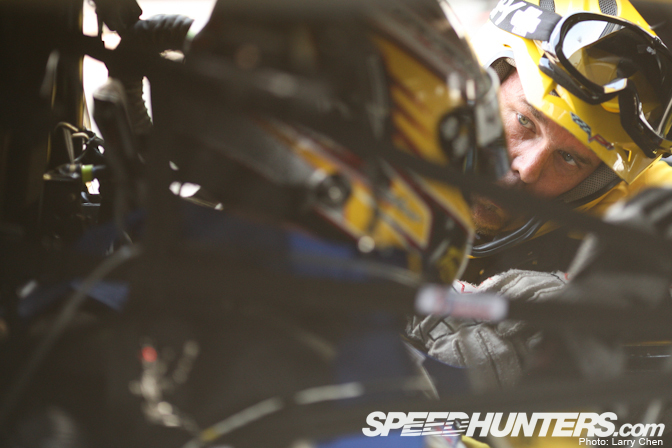 Tommy and the rest of the crew go over some things, like where they will leave the seat-belts when they get out, and other small little procedures that will speed up their driver switch time. Now it was up to the young driver to be as quick as possible getting out of the car.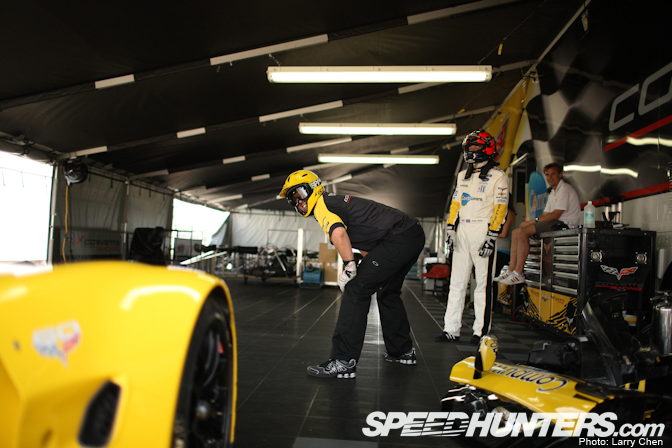 Once everyone was ready and in position they start the stopwatch once again.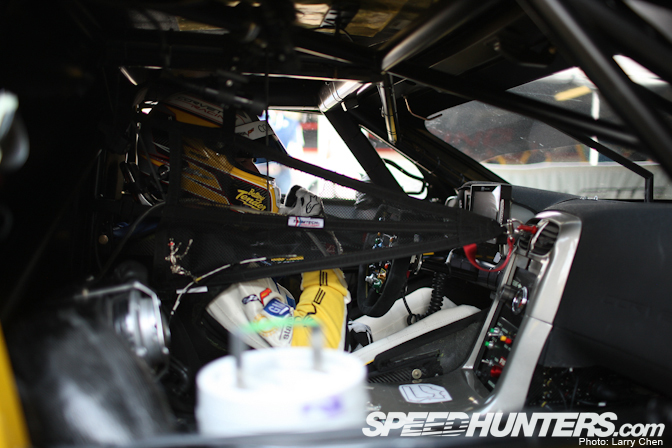 The spotter yells out in order what to disconnect. They start with the drink hose, then his radio cable and lastly his window net. Then it is up to Tommy to quickly unbuckle his seat belt and take off the steering wheel.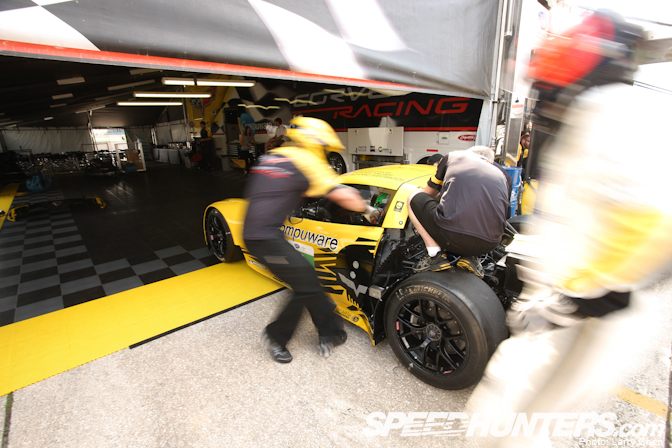 Everyone moves quick but not too fast. The faster you move, the more mistakes you will make – and the slower the time will be.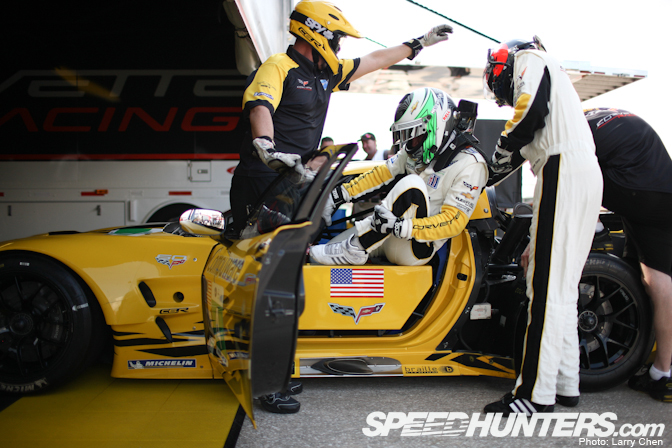 They run the drills over and over again, switching out each driver multiple times.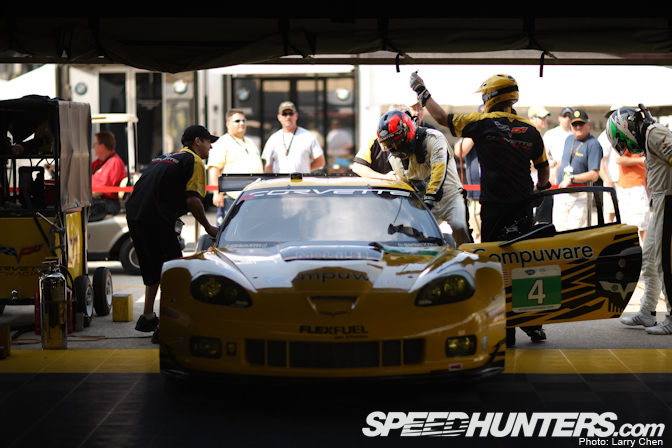 They improve over five seconds. Apparently that is now an average time for a driver change, but that is not good enough for the Corvette Racing team.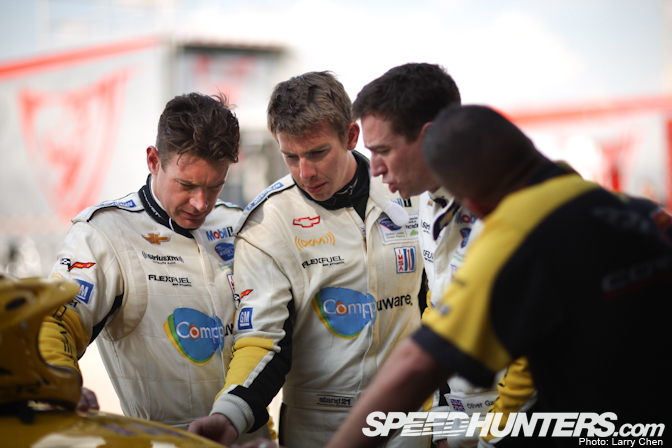 Tommy, Oliver, and Richard regroup and focus on the little things that are slowing them down. They try one last time.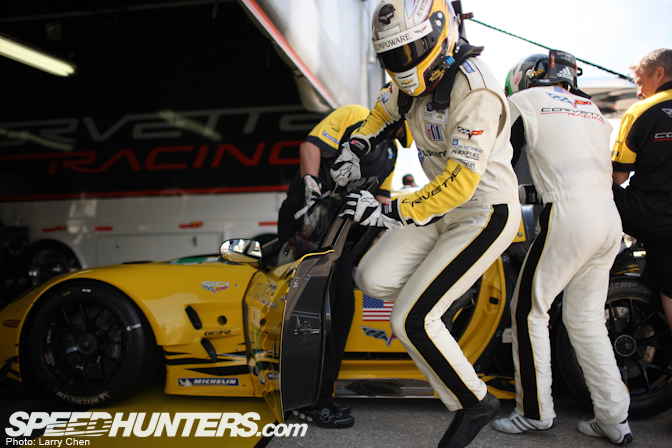 Everyone worked perfectly in sync. It was beautiful to watch.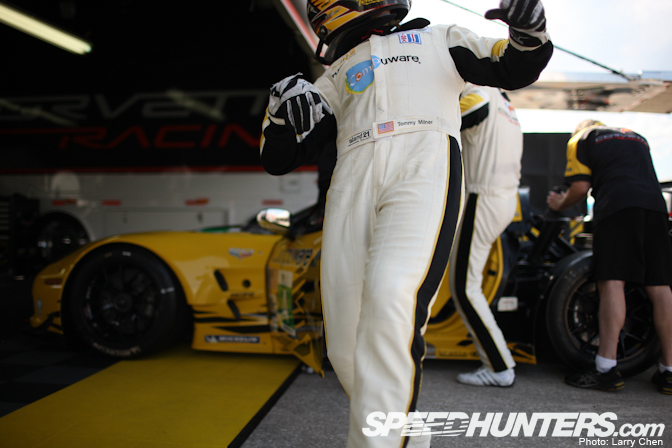 Tommy gets out of the car incredibly fast this time. He even had to slam on his brakes, so he would not run into me. They did their driver change in 21 seconds flat.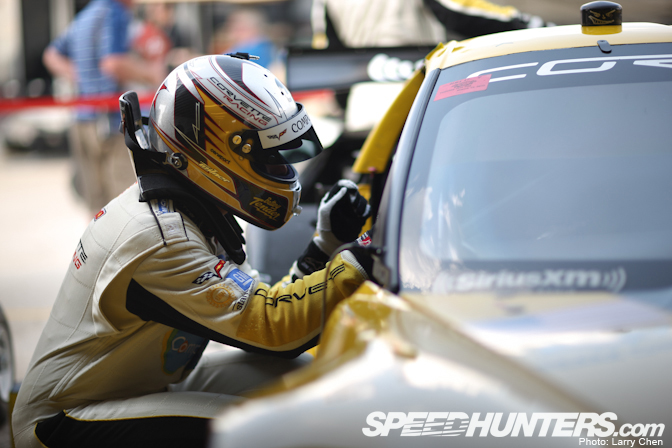 Practicing for more than an hour helped improve their time by nine whole seconds. Over the span of a 12-hour endurance race that is equal to an eternity.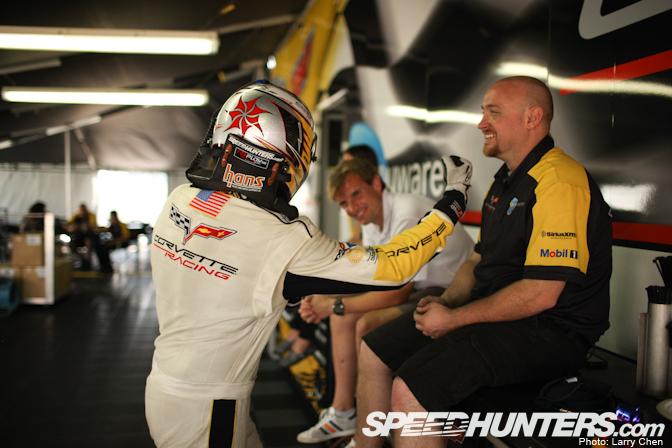 It was time to celebrate a job well done. Now the team is one more step closer to being prepared for one of the most grueling races in motorsports.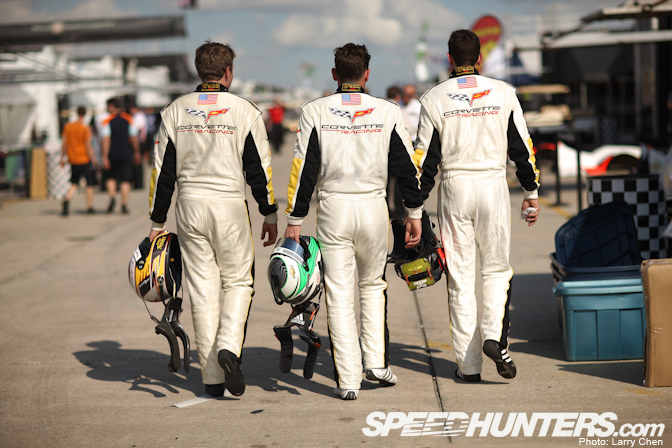 Doing drills and practicing is all in a day's work for these race-car drivers. I wish the best for the Corvette Racing team on Saturday.
Larry
More Sebring 12 Hours coverage on Speedhunters