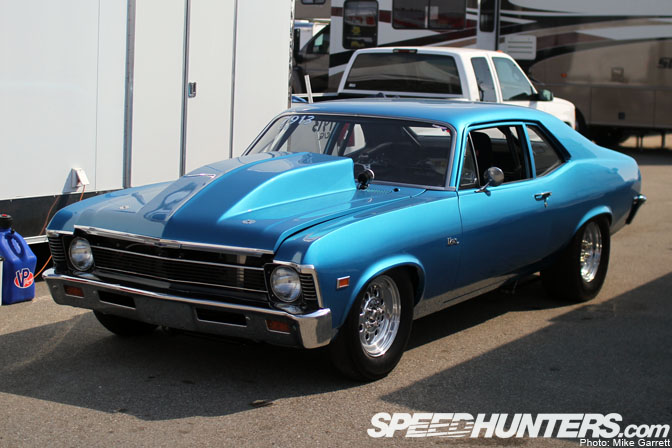 Let's go ahead now and jump right back into my exploration of the 2012 March Meet at Famoso Raceway.
Starting us off we have another example of the ultra-popular Chevy Nova drag machine. It's a simple combination of light weight and huge aftermarket support that's made the Nova a drag strip favorite over the last few decades.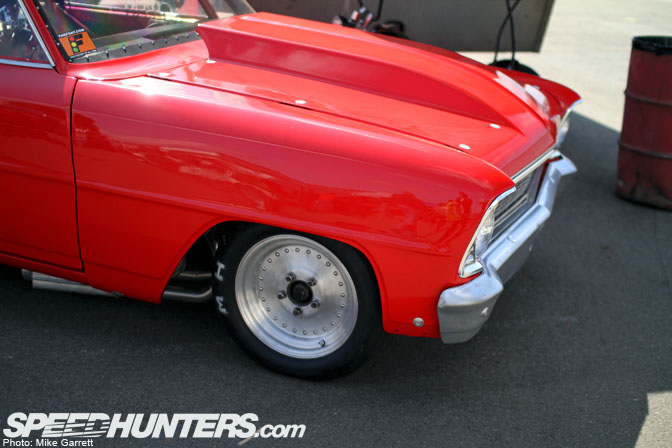 No matter what the generation, you'll find big-engined and big-tired Novas populating dragstrips at every corner of North America.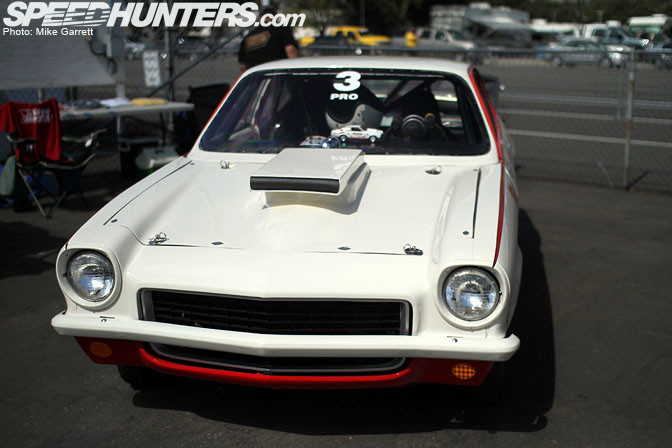 But there is of course an even lighter Chevy available – the Vega. Originally introduced as an entry in the compact car wars of the '70s, the Vega quickly found itself in the hands of drag racers who shoehorned in all sorts of V8 engines.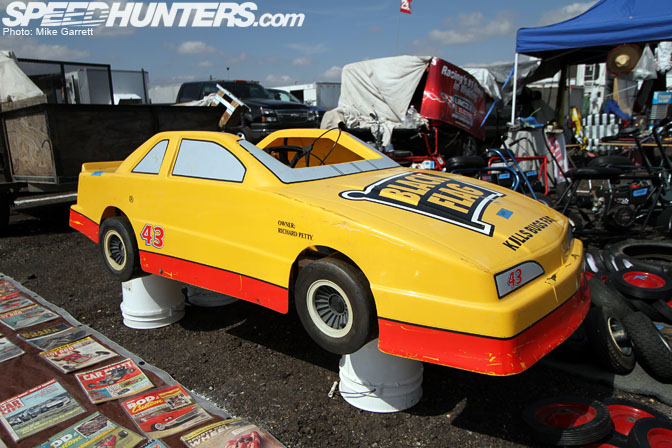 Back at the swap meet now, we have an incredibly awesome NASCAR-bodied go kart. Seriously, what kid wouldn't want this? I'm a "grown up" and I still want it.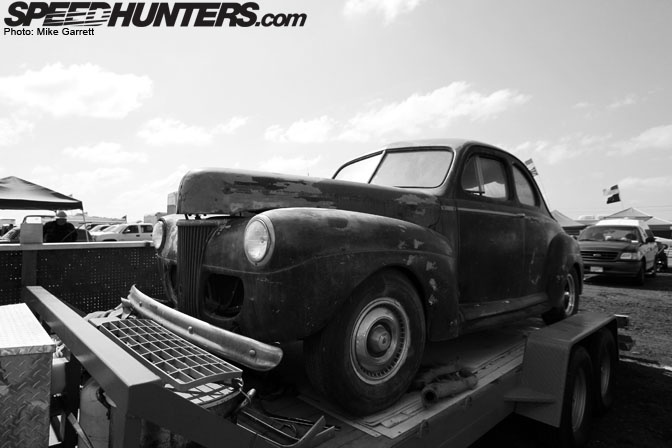 \
If you could get your hands on this Ford Coupe how would you build it? One of the fun questions that comes to mind when you see a blank canvas project car for sale.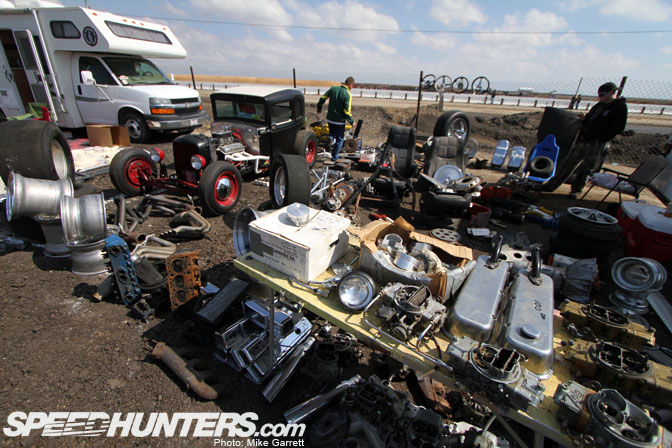 If so inclined, you could also pick up a complete selection of parts for your new project.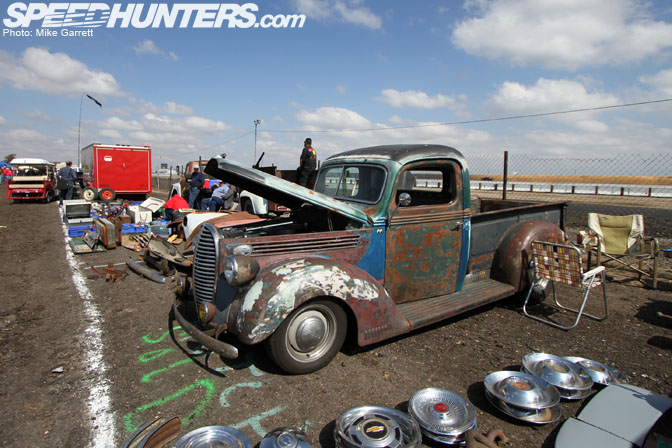 Is that sufficient patina?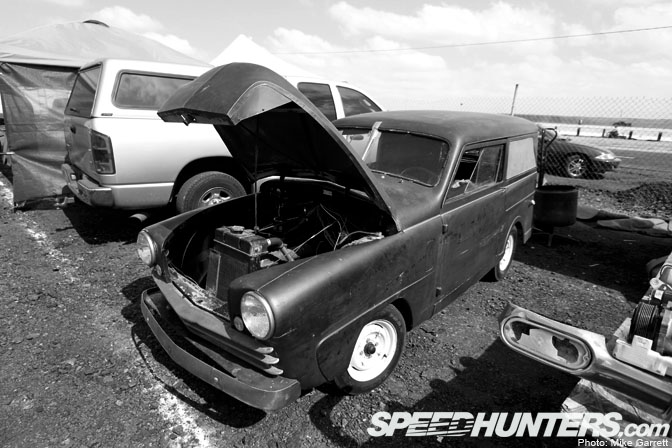 One of the more unique project cars up for sale was this 1950 Crosley Wagon.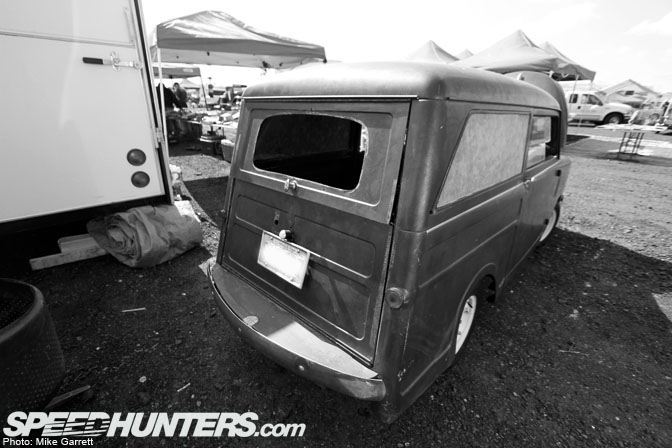 Again – would you leave it stock, or build it into a quarter mile monster? Maybe you could even turn it into something else completely off the wall?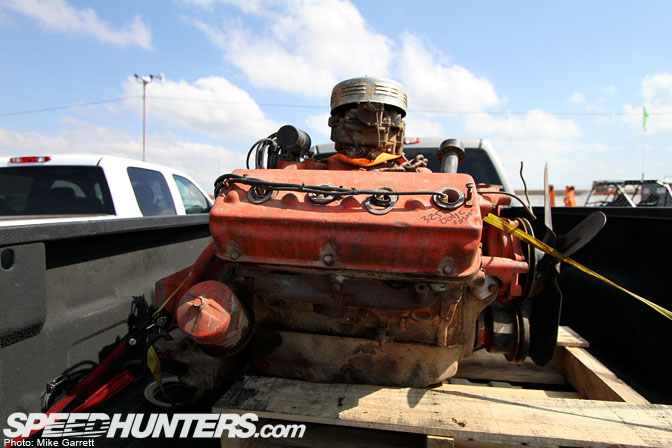 Perhaps there's a way this 325 cubic inch Dodge Hemi could be wedged into the Crosley?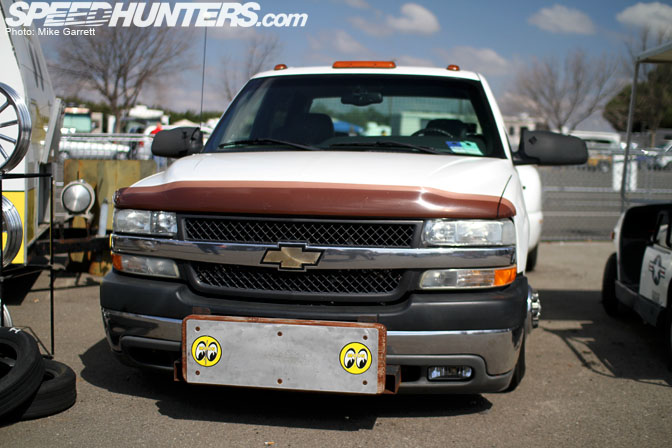 High gas prices be dammned, Dually pickups are cool. There's the Mooneyes Chevy hauler.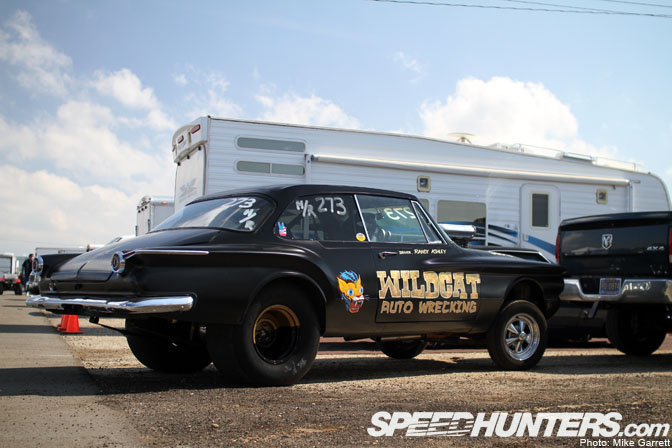 Here's a car I can't recall seeing at Famoso before, the Wildcat Auto Wrecking Dodge Lancer.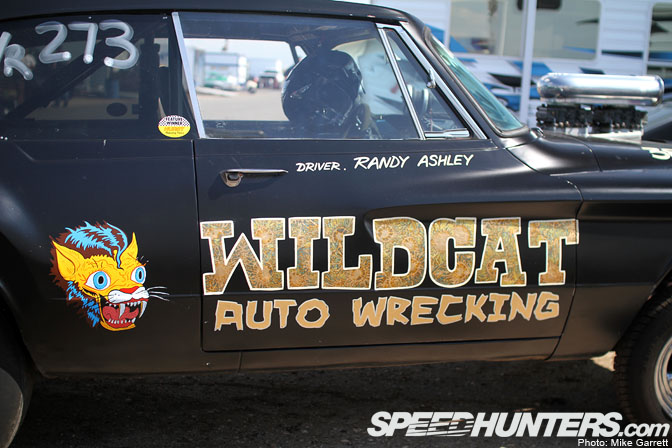 Wildcat Auto Wrecking is an all-Mopar wrecking yard located just outside of Portland, Oregon. I had the opportunity to visit years ago and it's quite the place if you fancy Chrysler products.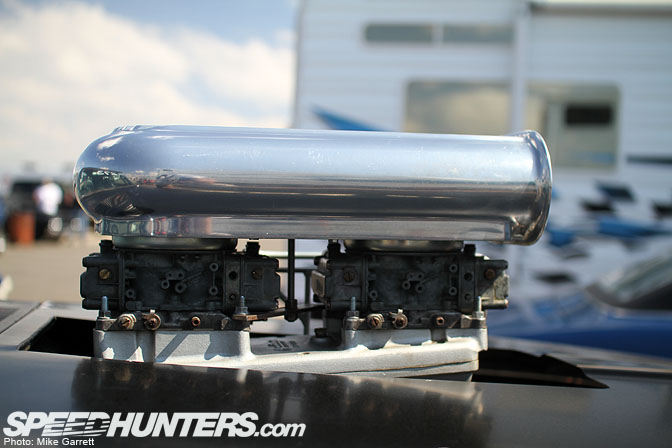 The Lancer is powered by a 383 Mopar big block (of course) and the dual quads popping through the hood lend a mean retro look.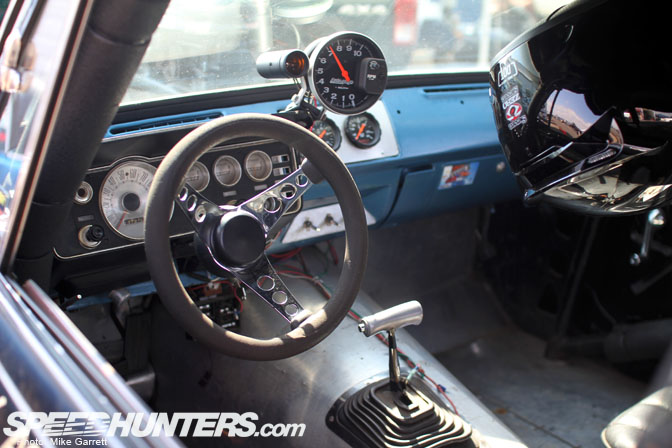 Oh how I love simplistic race car interiors.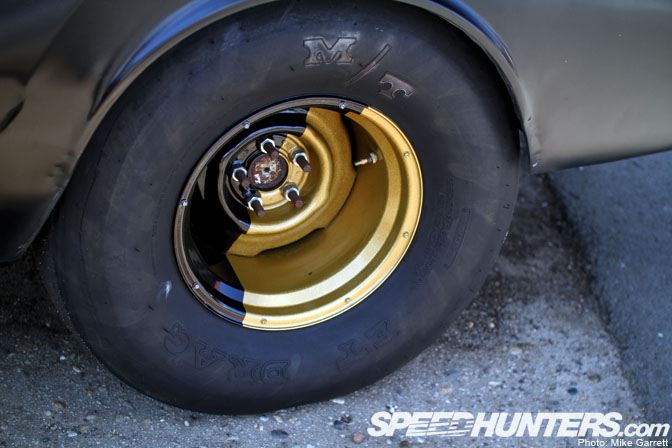 I think my favorite element of the car were the two-tone rear wheels. It's a neat retro touch, and they look pretty trippy while in motion.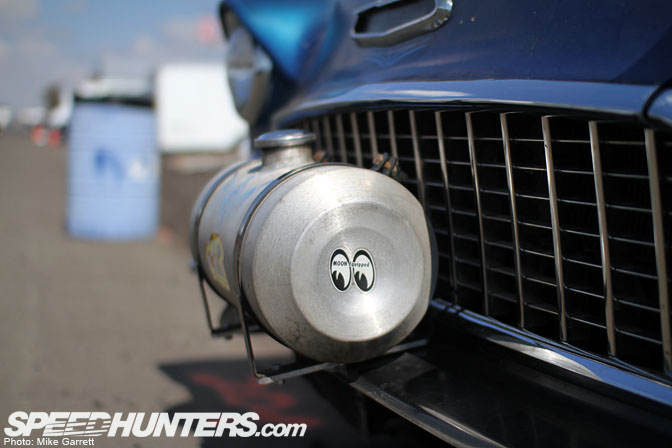 The Moon Tank. As American as apple pie.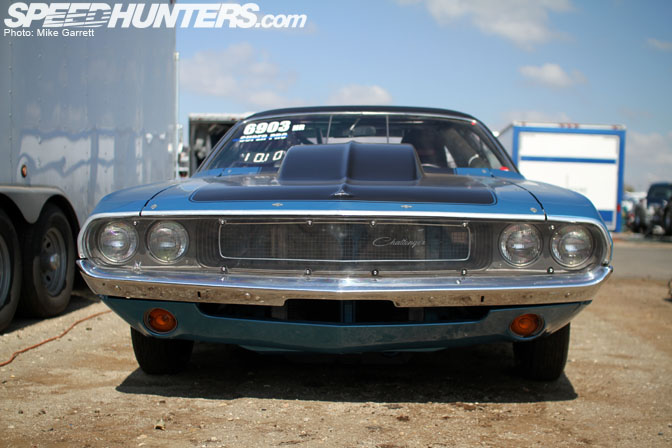 Drag cars might have an image of being rough around the edges, but many like this Callenger were sporting show-quality details.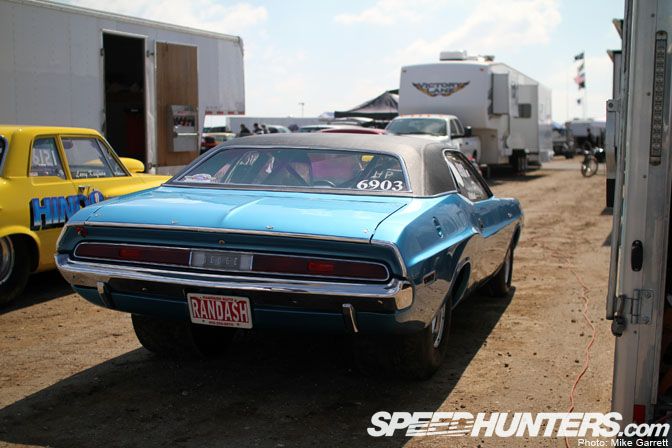 Are narrow, tubbed rear ends the anti-thesis of Hellaflush?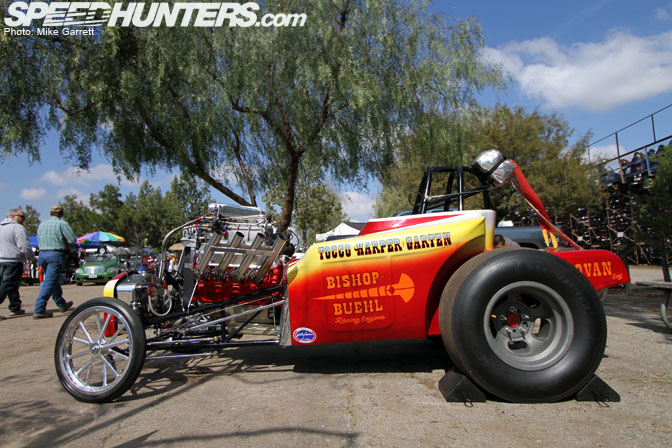 Can you spot the 1923 Ford Model T roots on the body of the Tocco Harper Garten car? I can't.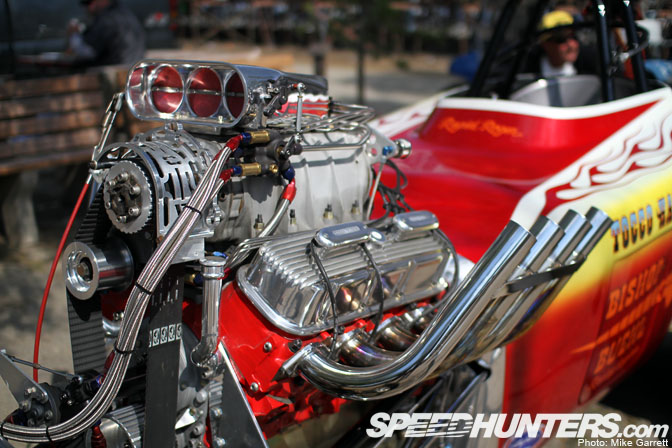 The blown big block Chevy once powered the car to an all-time best ET of 7.21 at the original Irwindale drag strip.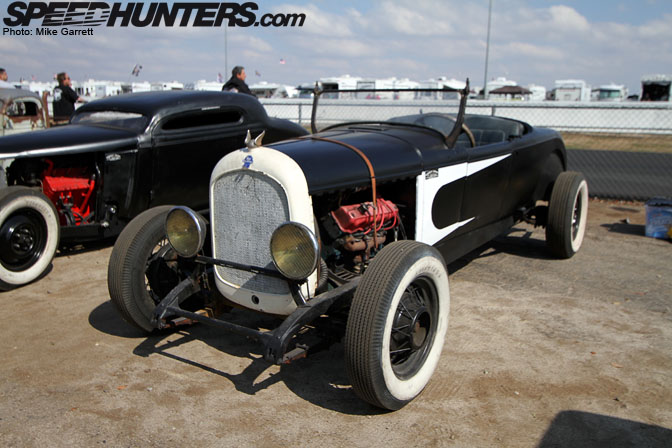 This Roadster was a member of the Hot Rod gang that had gathered under the timing lights. So raw.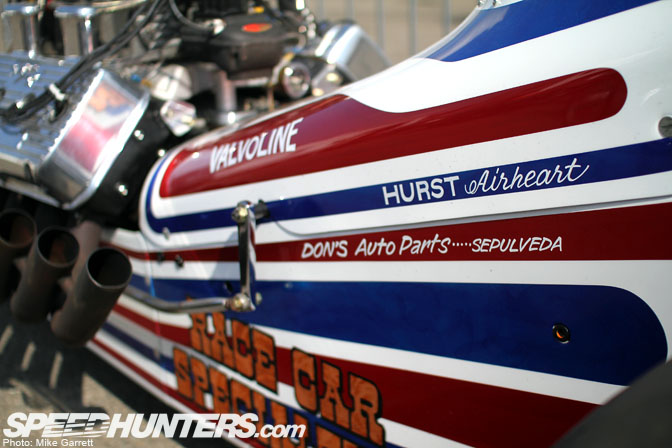 Another example of vintage hand-lettering. You might remember I explored this a bit during the 2011 California Hot Rod Reunion.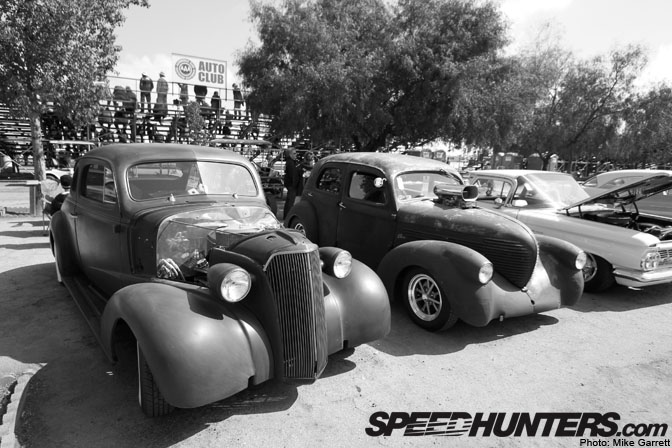 More Hot Rods hanging out in the "Famoso Grove" car show area.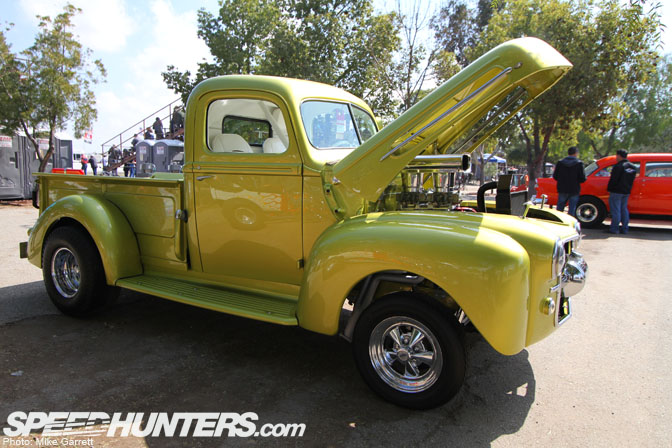 One of the most talked about vehicles in the car show was this '47 Ford Pickup that came all the way from Appleton, Wisconsin.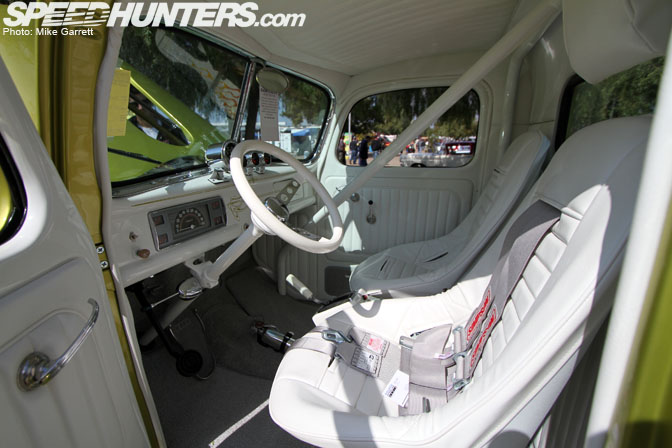 It had the style of a vintage drag racer, with the details of a show machine. From the white interior…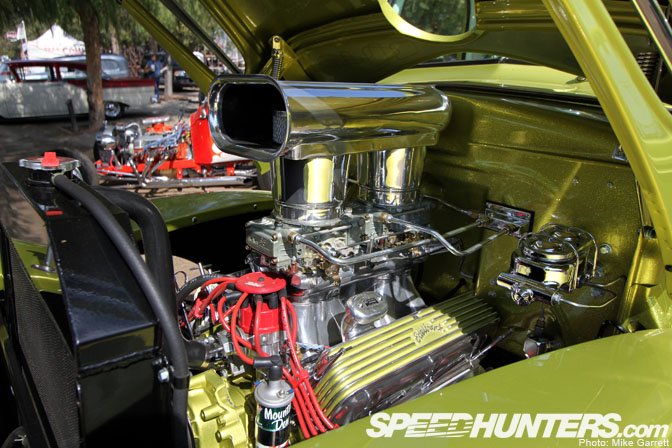 …to the immaculately finished engine bay.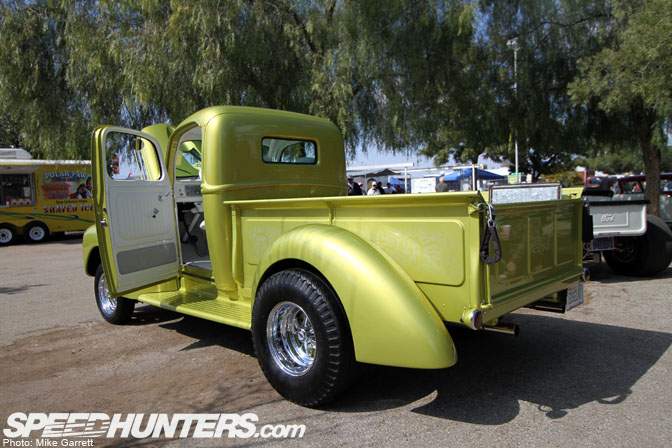 Just another one of those amazing builds that pop up at events like the March meet.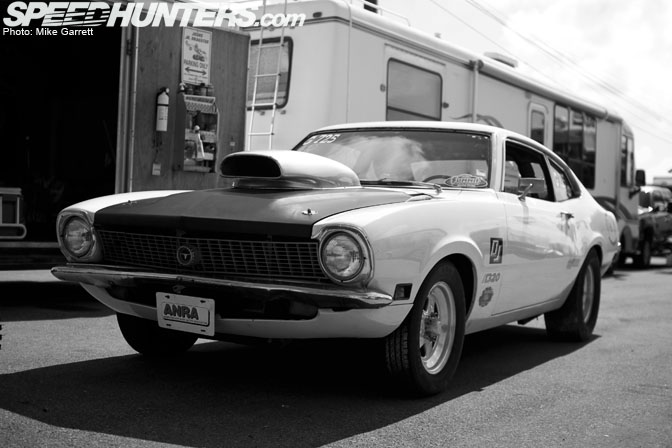 I'm going to wrap up this post right here, but we'll be back with more from the March Meet tomorrow…
…including some of the scenes Larry captured trackside. I'm sure the beating his ear drums took was worth it.
Back soon.
-Mike Garrett