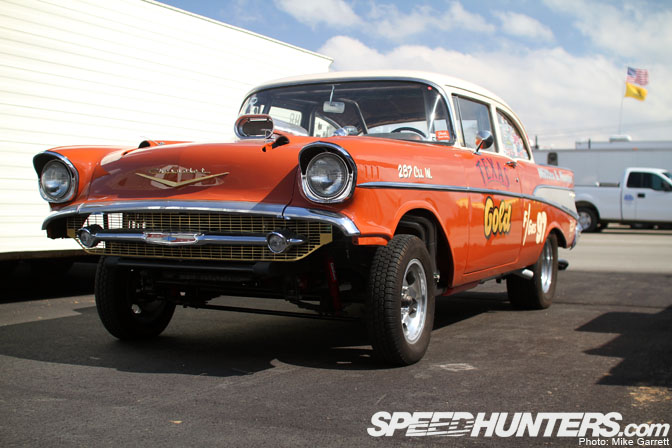 The first official day of spring may still be a few weeks away, but for me the coming of March has always unofficially kicked off the spring season. Here in Central California, the days are getting longer, temperatures are getting warmer, and the trees are filled with colorful blossoms. So touching, isn't it?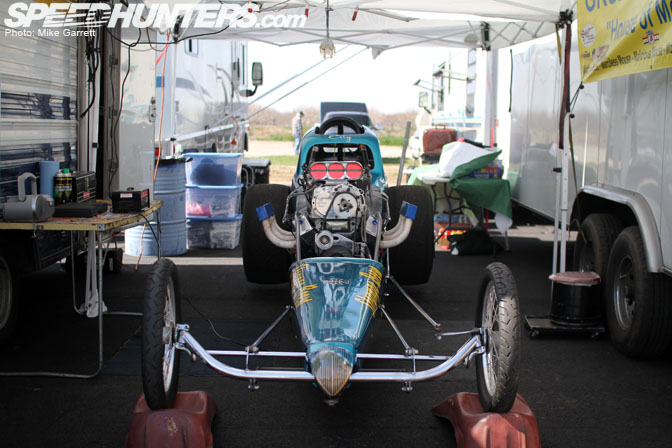 Down at Famoso Raceway in Kern County, the coming of spring also means it's time for the March Meet – the massive drag racing gathering with a history the goes back more than 50 years.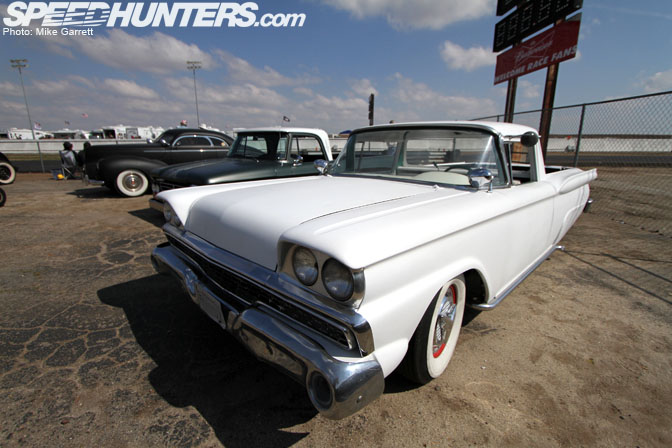 Both Larry Chen and myself spent time at the March Meet over the weekend, and prior to heading out we decided to split up the Speedhunting duties between ourselves. Larry would hang out trackside taking in the nitro fumes, while I would spend my time hiking around capturing the action in the pits, car show, and swap meet areas.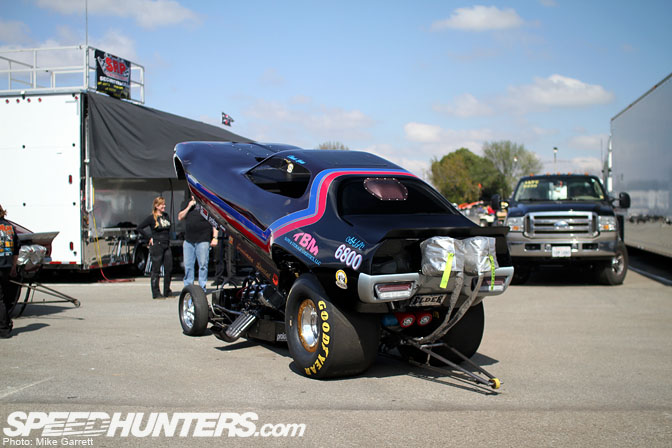 Really, to use the term "pits" is an understatement. During events like the March Meet and the California Hot Rod Reunion, the wide flat landscape of Famoso Raceway becomes a small town of sorts. The place is packed with thousands of RVs, pickups, trailers, and of course the race cars.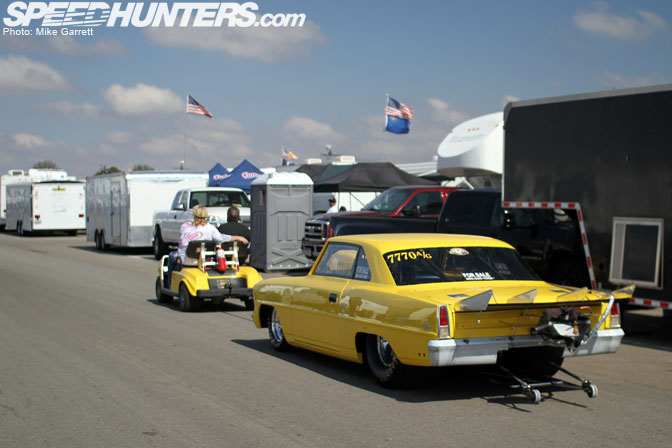 You actually have to be careful not to get hit by one of the many golf carts, quads, and other support vehicles that are buzzing around. Oh, the perils of the job.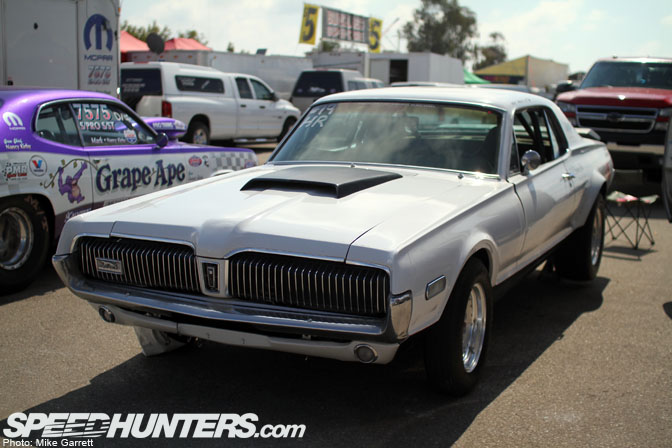 Even though the March Meet is held over four days, I still find it amazing that there's enough time for each one of the hundreds of race cars is able to compete. The race classes include everything from modified street cars all the way to full nitro dragsters and Funny Cars.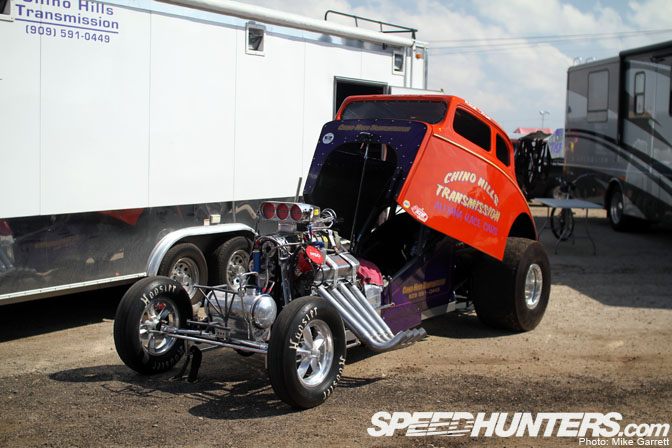 With the coming of every March Meet comes the opportunity to spend hours walking the pits and geeking out over all the race cars.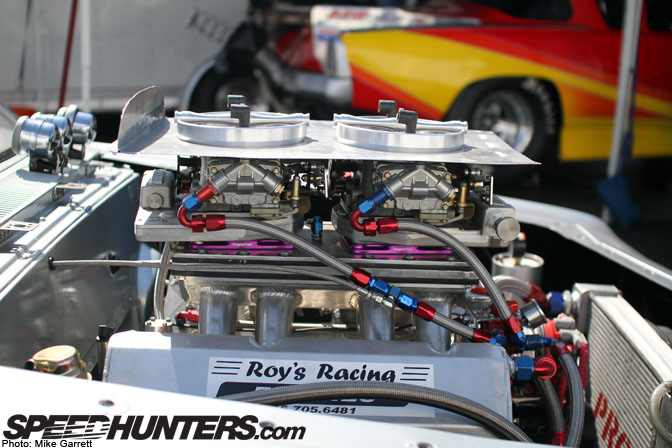 The pits are quite simply heaven for the horsepower freak.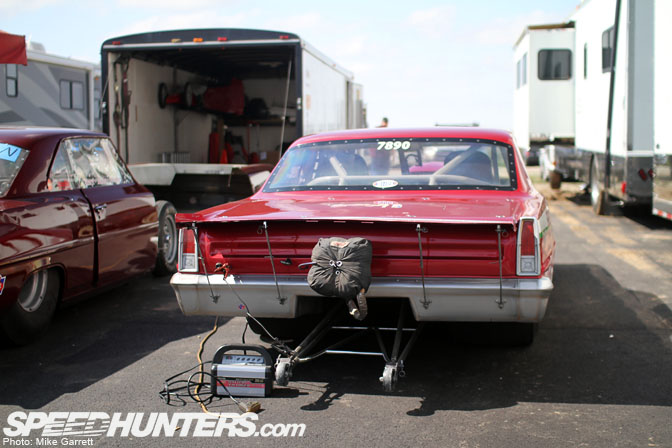 As I browsed the pits, it was easy to see which models were the most popular among the racers. The Chevy Nova is a car that's always out in big numbers.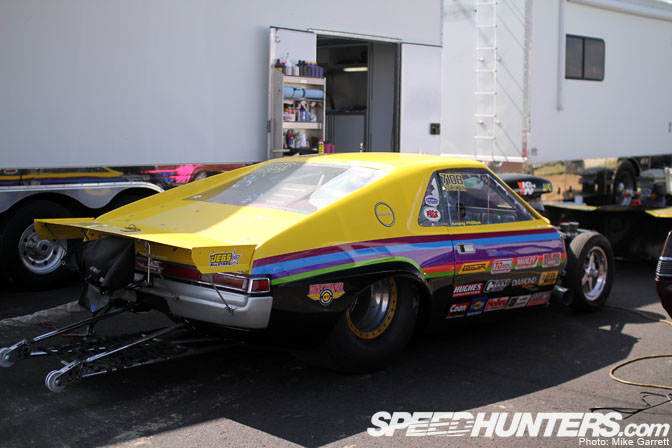 Other cars were a bit more unusual. There's an AMC AMX, an uncommon Muscle Car to see in any form – let alone built to full drag spec.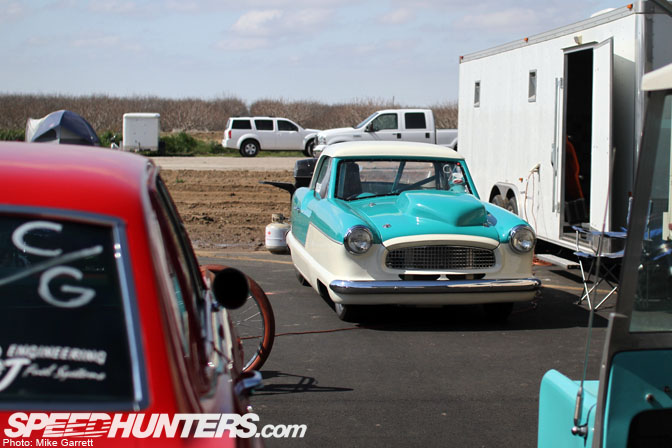 I even spotted a Nash Metropolitan tucked away in one pit stall. It may have been the cutest race car at the March Meet.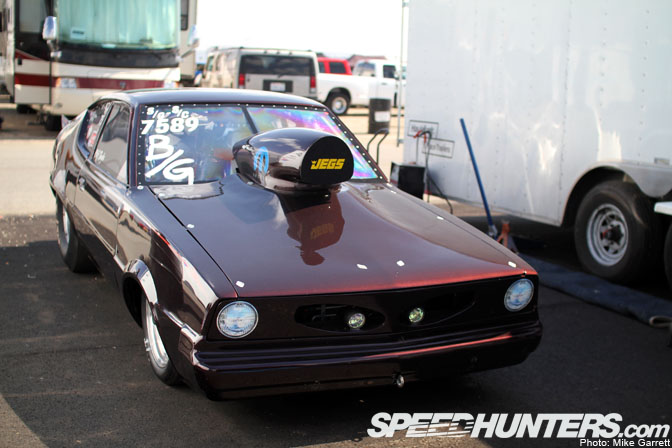 If I'm not mistaken, this beast began life as a Plymouth Arrow.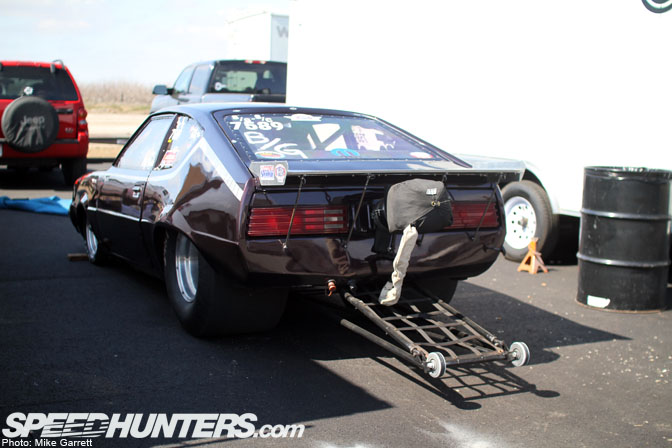 Old school Japanese car fans might recognize the Arrow as the US market version of the Mitsubishi Lancer Cleleste. This one looks to be equipped with heavy duty Mopar power.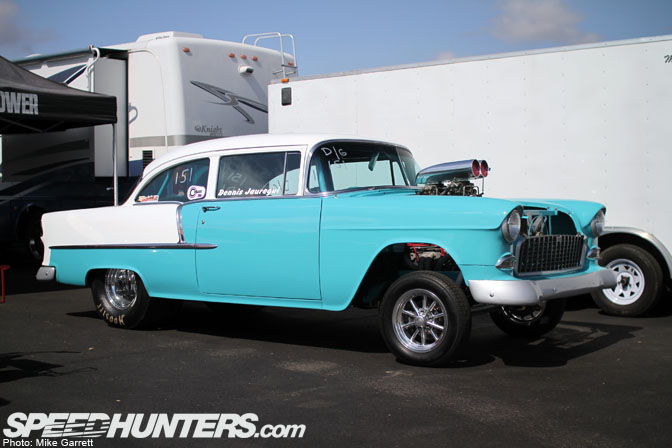 This '55 Chevy was sporting a traditional nose-high gasser stance, although it was outfitted with a more contemporary wheel and tire setup in the rear. Looks cool with factory style two-tone paint.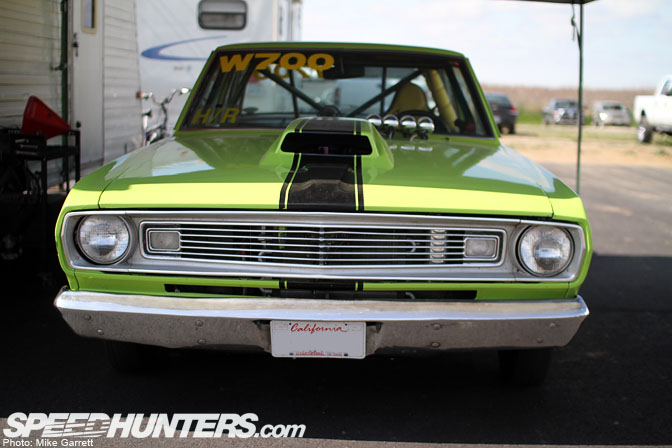 Who doesn't like an A-body Mopar? Light weight plus Chrysler muscle is always a good combo.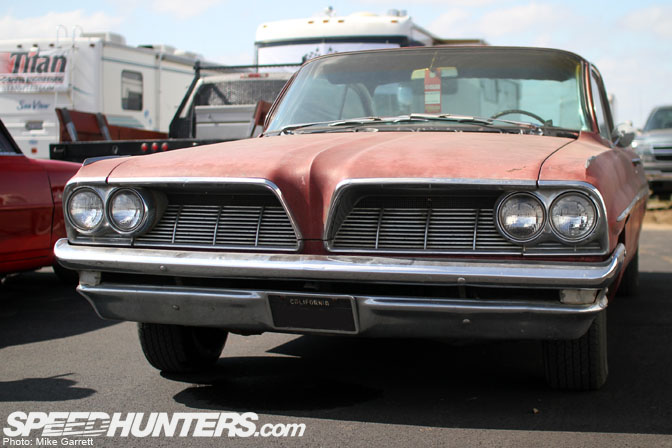 Once again I found myself checking out cars that weren't officially entered in the event. This unrestored '61 Pontiac was amazing.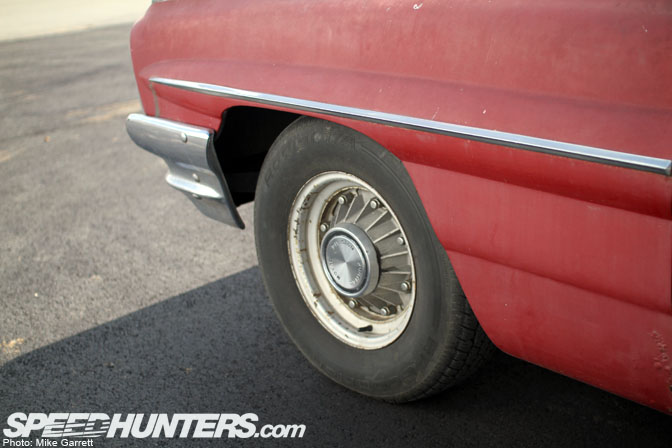 It was all original, down to the factory eight-lug drum and wheel setup. Just one example of the unique engineering you'd find on GM cars in the '60s.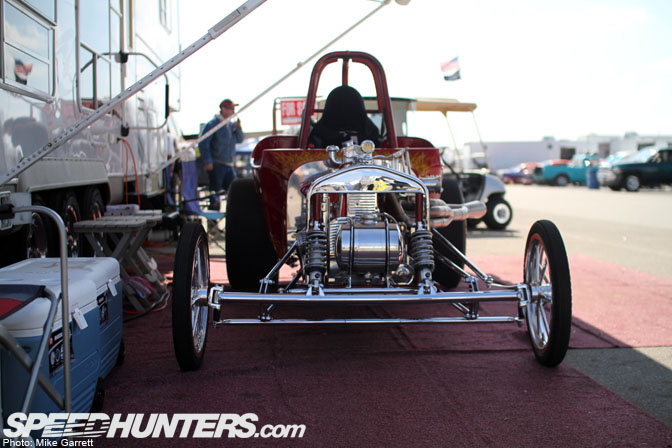 While the March Meet is billed as a nostalgia drag event, some of the cars are clearly more more nostalgic than others…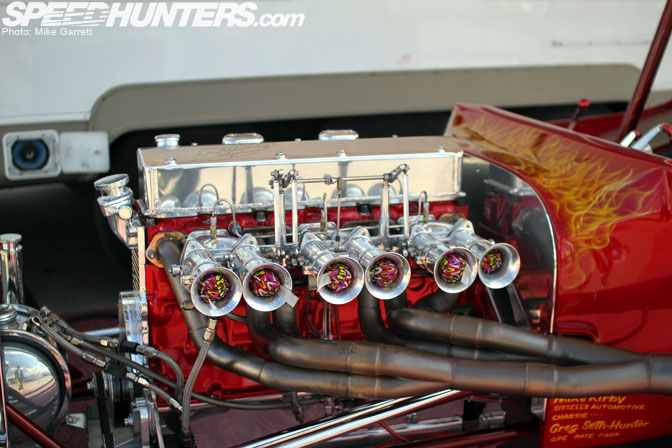 Always neat to see retro drag cars powered by engines other than V8s. If you squint a bit, it could almost pass for the L24 that's under the hood of my 240Z.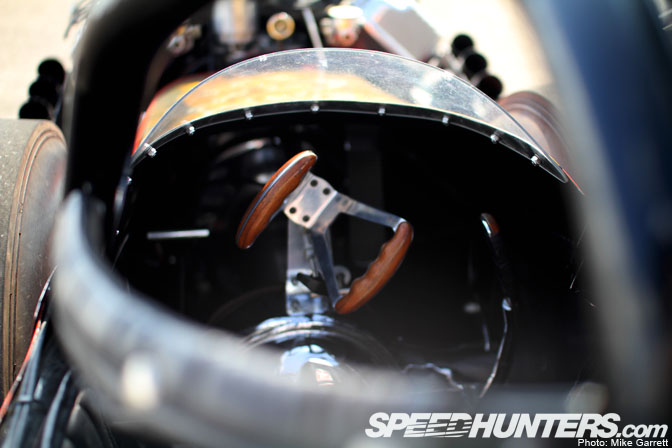 Each time I visit an event like the March Meet, I gain more and more respect for folks who strapped into these front engine rail dragsters. This has to be one of the purest, and also one of the most dangerous forms of race car driving in history.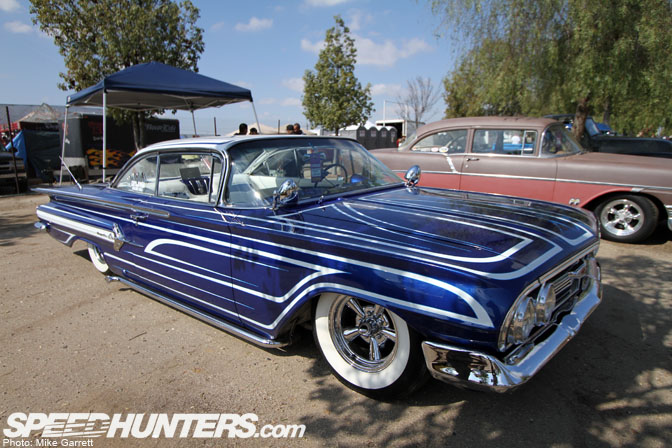 '
The car show section of the March Meet can always be counted on for some cool machines. This scalloped '60 Chevy was among the highlights I spotted this year.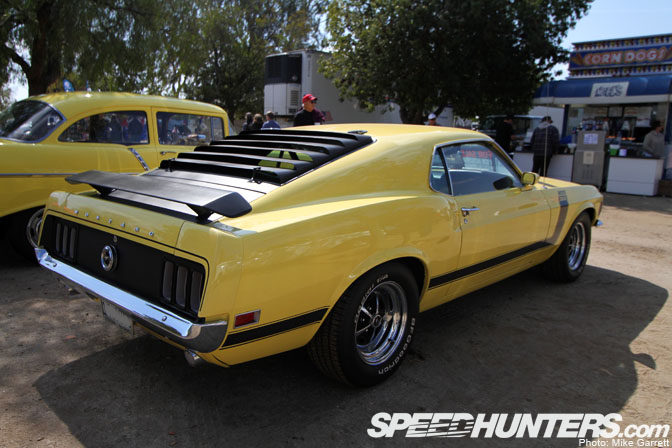 Also, a fully restored Boss 302 Mustang. Lovely.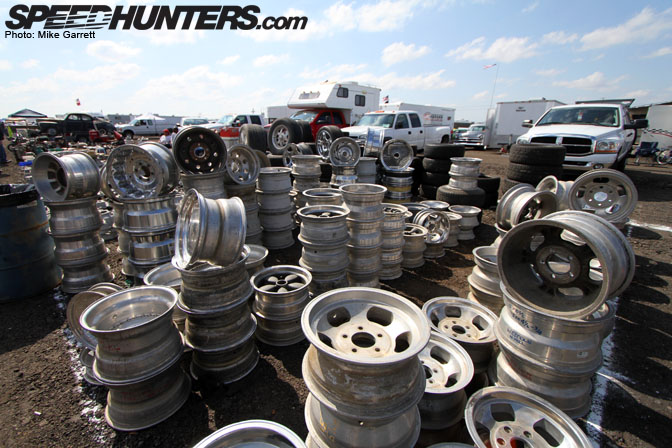 The swap meet is also a must-see. There are many who make this the main reason for their trip to the March Meet.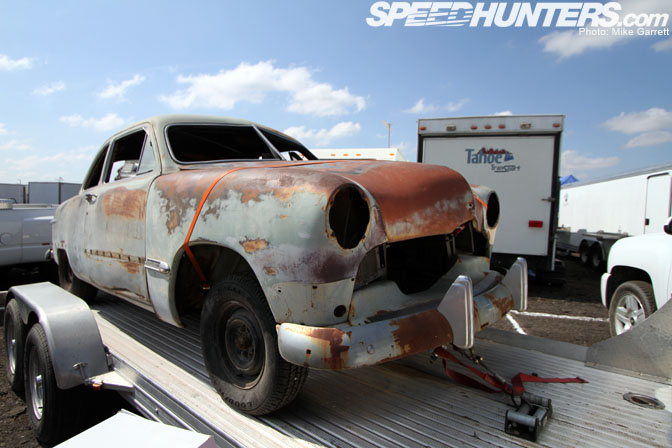 You're guaranteed to find some promising project cars up for sale. Here we have a Shoebox Ford that looked like it was full of potential.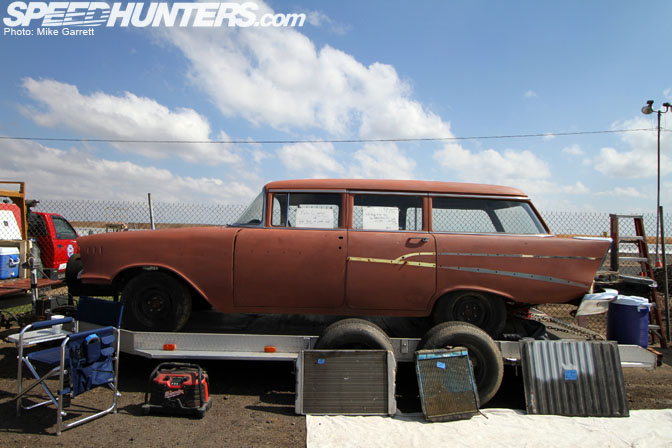 This '57 Chevy wagon is just waiting to be turned into a bitchin' cruiser or even a Gasser.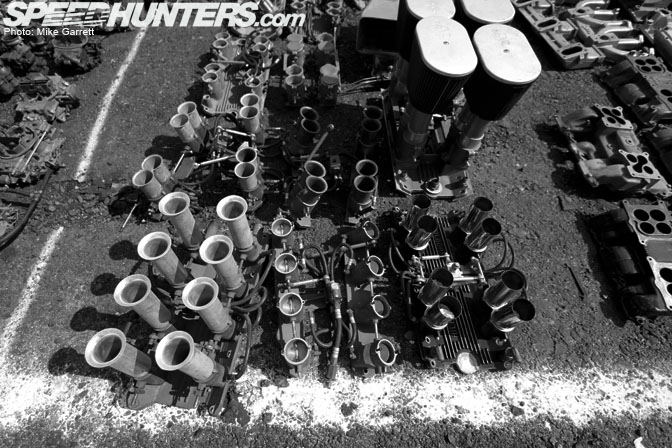 You won't find too much "junk" being peddled at this swap meet, but you will find lots of vintage speed parts and dragster components up for grabs. This isn't the kind of stuff you can just go online and order in a few seconds.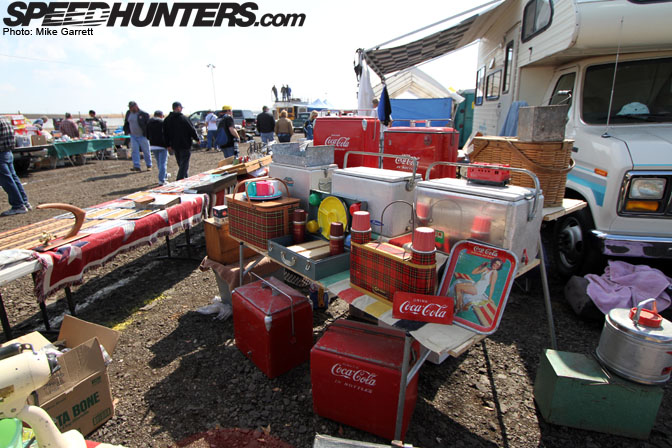 Even if you aren't looking for car parts, many people enjoy the vintage pieces of Americana up for sale.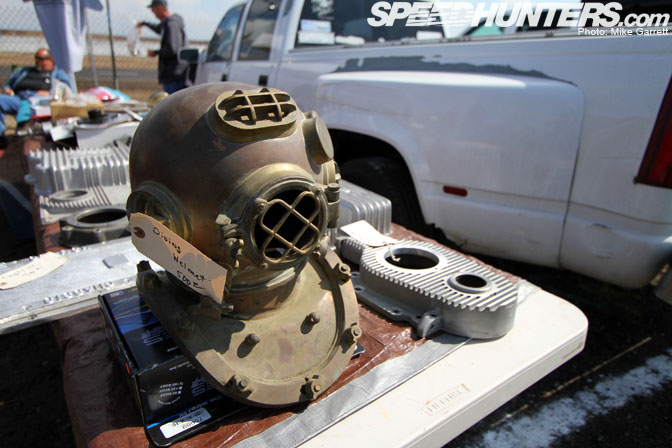 An old diving helmet? Sure, why not?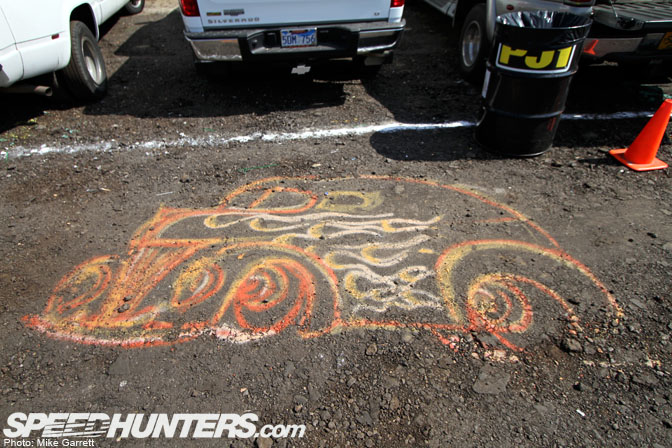 Street art – Famoso style.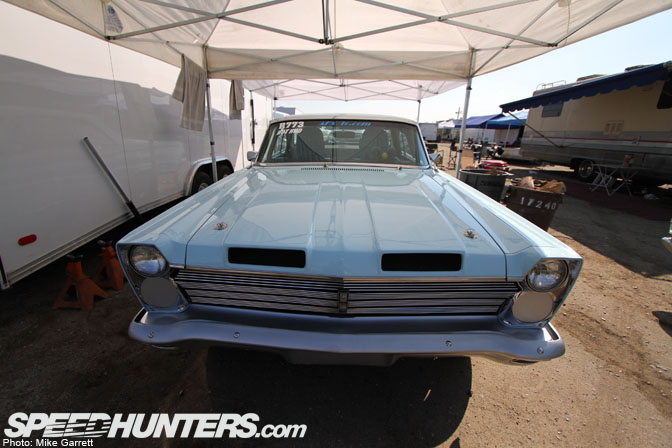 Larry and I have lots more to bring you from the 2012 March Meet. This is really just a an appetizer.
Stay tuned for more from Famoso.
-Mike Garrett