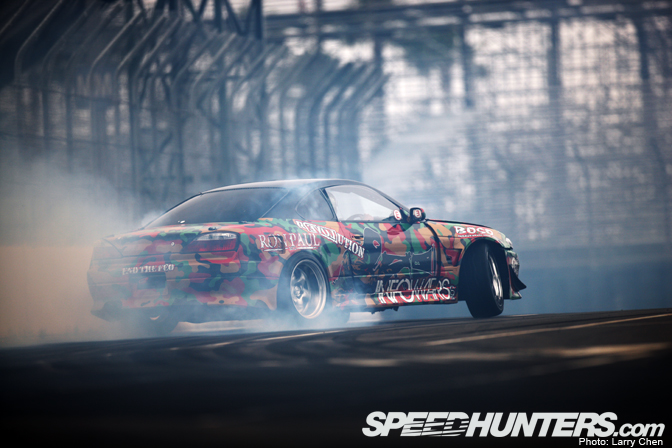 A few months ago, the area where the Formula D course runs through the Long Beach GP street circuit got re-paved. This posed a potential new problem, as Formula D did not know how well cars would drift on the new surface.
So they decided to call five drivers, each running a different tire brand, to test out the new surface and lay down some fresh rubber.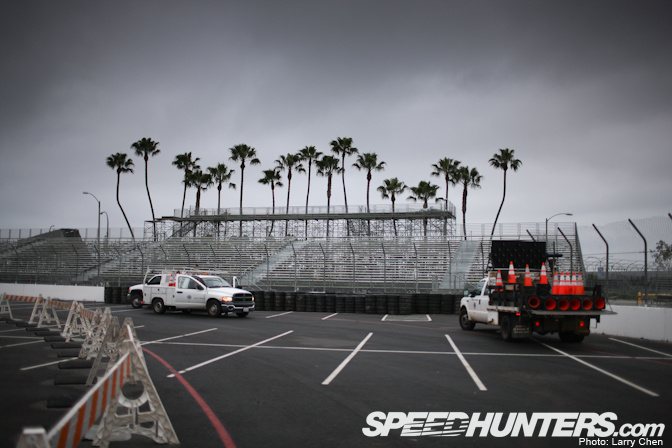 In two weeks this place will be filled to the brim with rowdy drift fans. If only the weather would stay cool, but then again I could use a good farmers tan.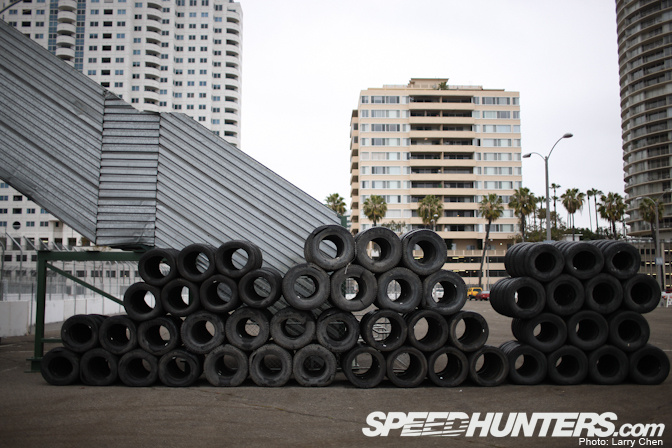 There were quite a few tire barriers that have not been setup yet so they just lined the course for now.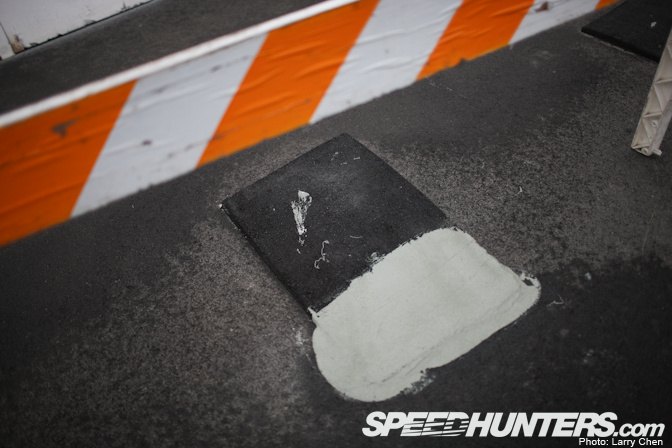 Brand new rumble strips were put in as well, because the old ones have worn down from years of curb hopping race cars.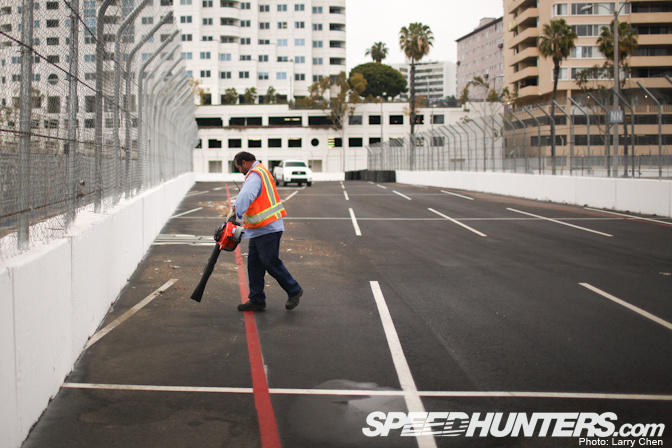 It was 8am and downtown Long Beach was about to get an early morning surprise. 350 days out of the year this area is used as a parking lot, but today it will turn into a race track for exactly one hour.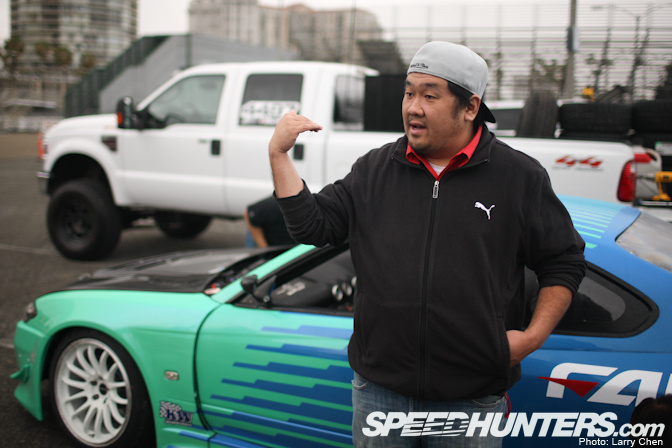 I recognized that hand signal immediately. It's the international sign for "drift."  Formula Drift Director of Operations, Andy Luk, held the drivers meeting and told everyone to remove as much paint as possible from the painted parking lines by drifting hard and fast…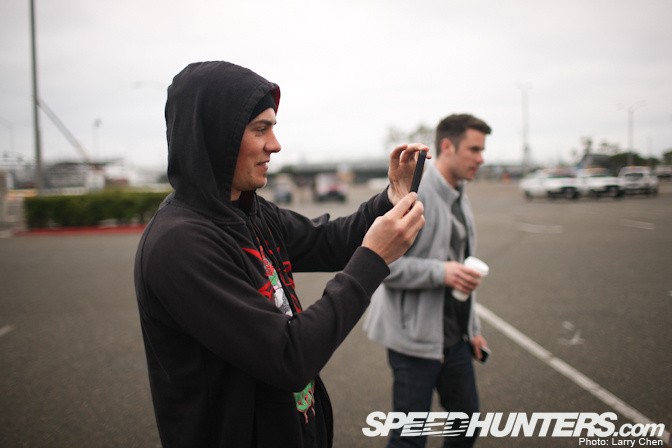 …while Formula Drift Co-founder, Ryan Sage, took photos of the eager drivers.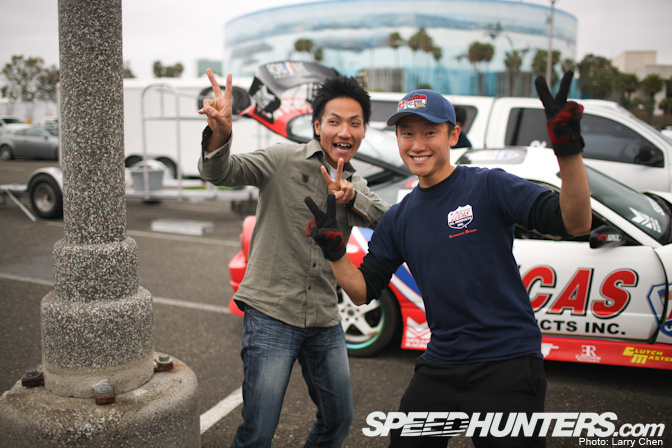 Current champ Dai Yoshihara and all around nice guy Joon Maeng were ecstatic to be able to test out the track before anyone else.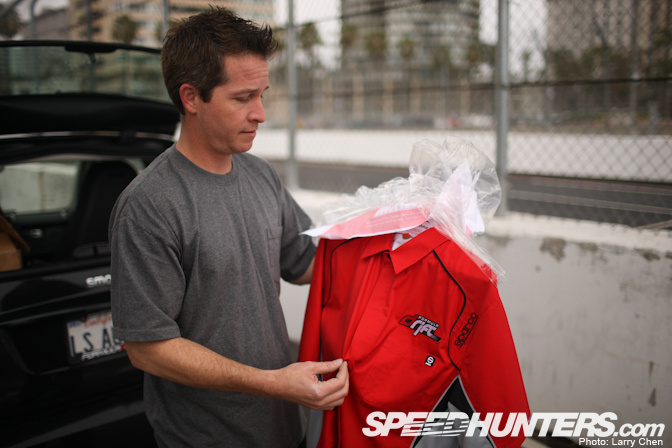 The new Formula Drift Technical Manager, Kevin Wells, unwraps his fresh from the cleaners official uniform. He has not worn it since Formula Drift went to Panama for an international drift demonstration.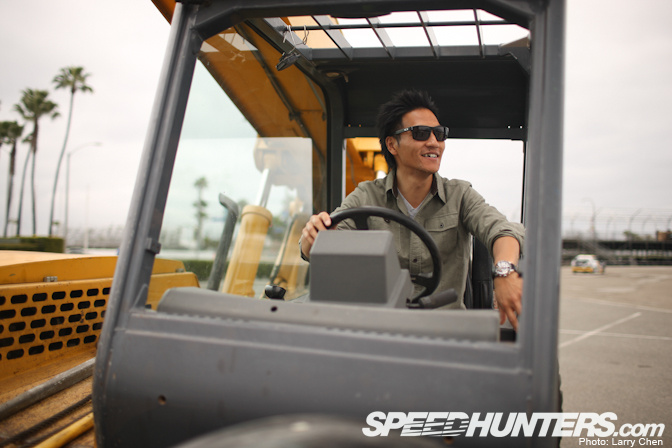 One thing that was not disclosed to Dai when he won the championship last year was the task of building the entire course at Round 1.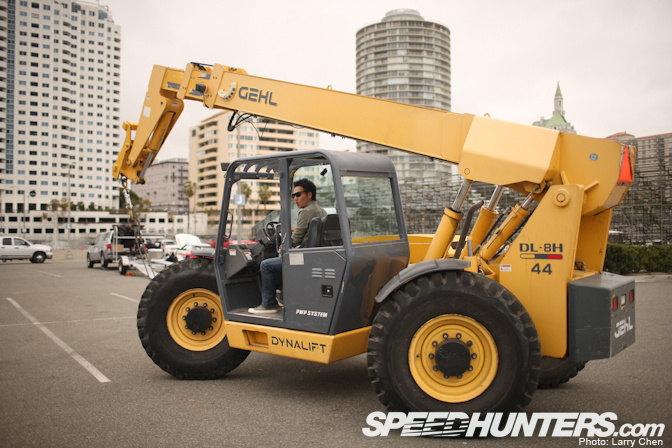 He crab walked all around assembling the k-rails to exact Formula Drift specifications.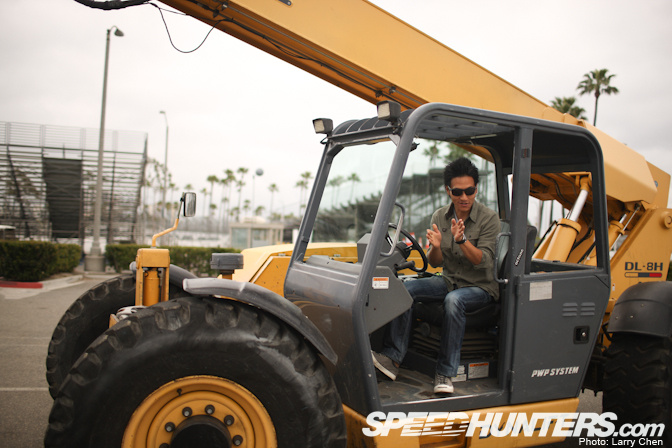 I think he was giving me the international sign for "get out of the way before I squish you."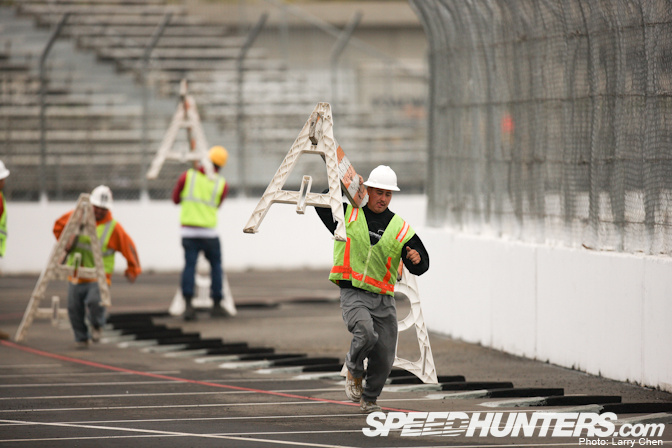 With just moments till the course went hot, workers picked up temporary barricades and ran from the sound of roaring V8's.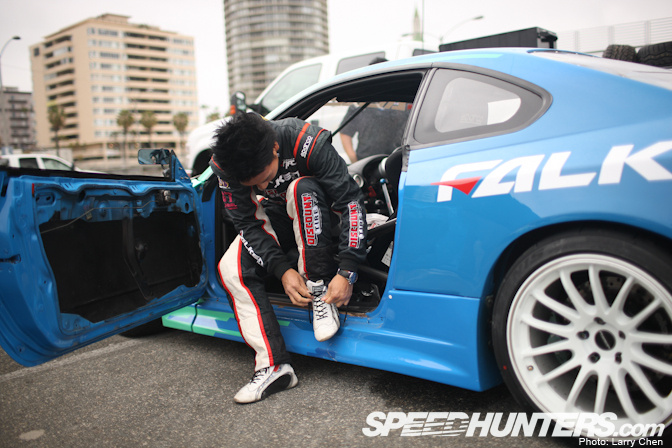 Dai and the rest of the drivers suited up for their one hour of fun. Just as they were about to go it started to rain.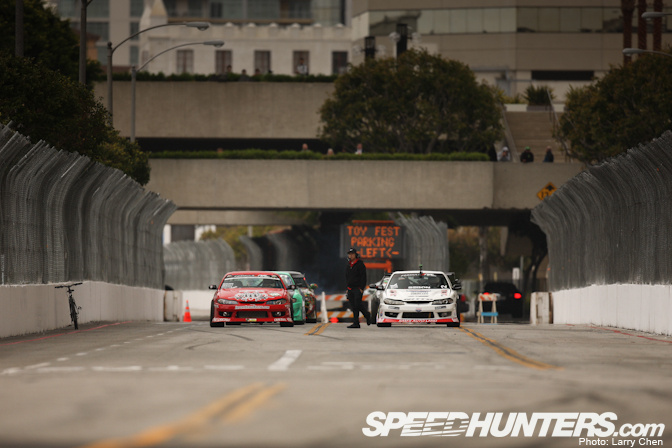 A little moisture never hurt anybody. At 9am sharp the course was hot and once again Downtown Long beach was filled with the sound of screeching tires, burly V8's, a V6, and one inline 4.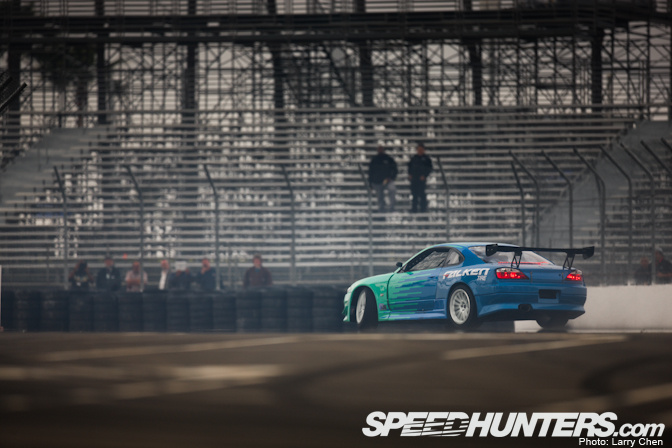 Dai's first impression was that the track was much smoother than before. In the first couple of runs it was very slippery because it was dusty. As the track acquired more rubber the grip increased more and more.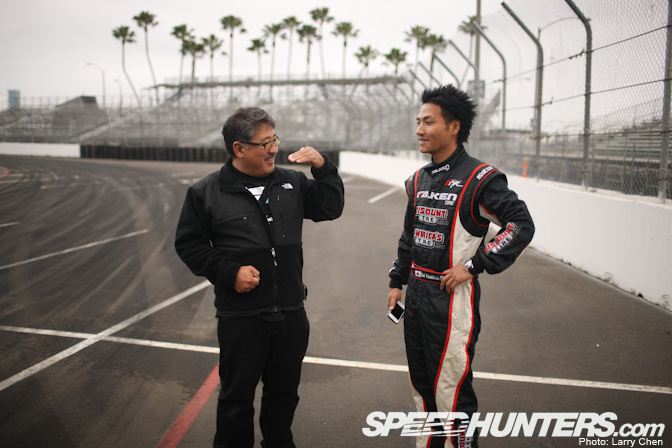 Mike Kojima is the Chassis Engineer for the Discount Tire team, he decided to come out and check out how the course was. Mike and Dai both agree this years track will have a lot more grip than before especially as the track gets broken in more. Which means higher speeds, which in turn gives us a better show. How awesome is that?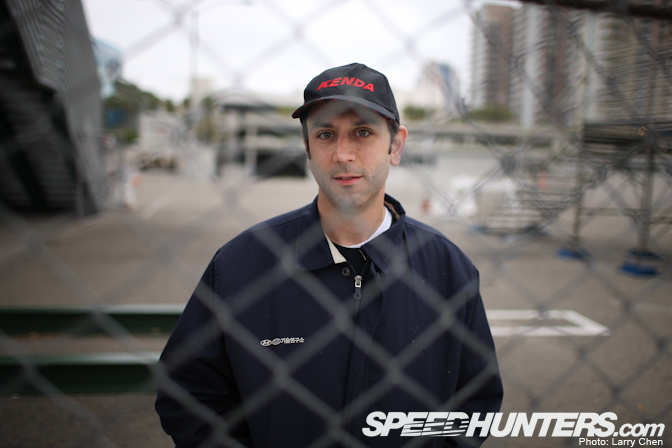 Kenda tire driver, Dennis Mertzanis, is one of the few people who is still resisting the V8 takeover in Formula Drift. Here he is giving us his best competitive male modeling, blue steel impression. I think he should stick to drifting.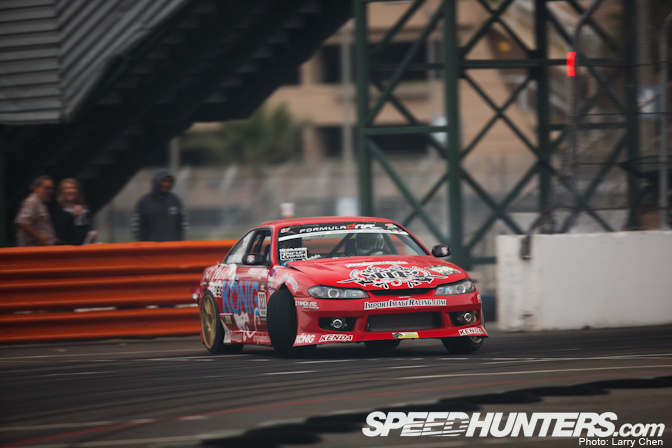 The drivers were all a little uneasy at first since it was raining.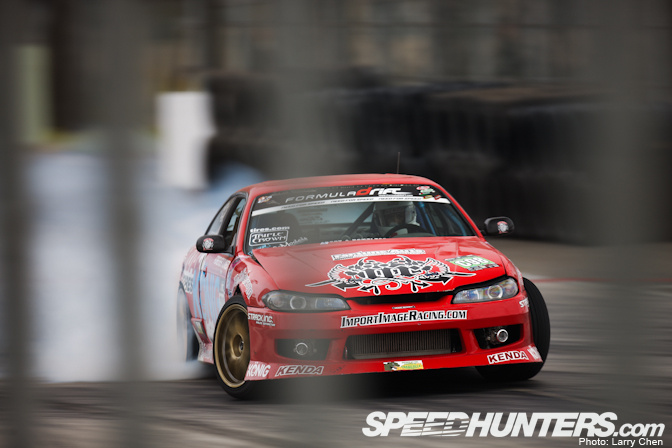 After a few more laps they got more and more comfortable and they started to make smoke even in the light rain.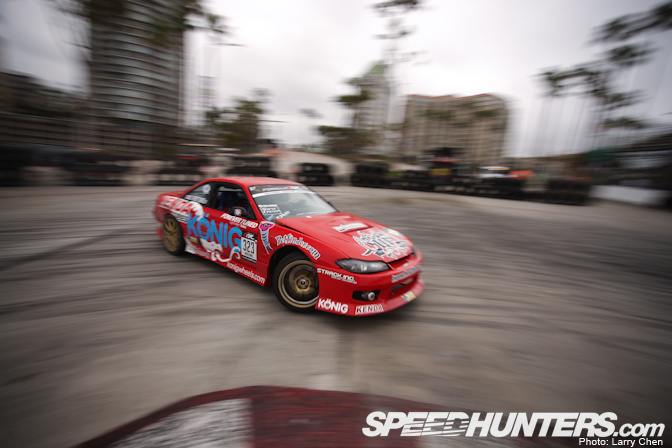 It is so weird seeing no k-rails going around turn 11. There were so many pedestrians who stopped what they were doing just to stand and watch the free show.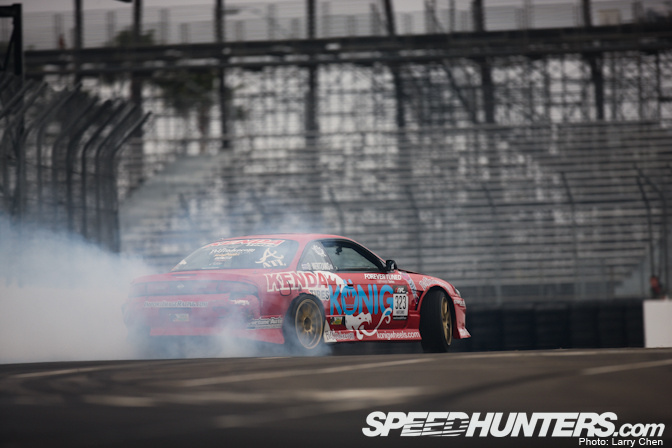 Eventually it stopped raining so the Dennis and the rest of the drivers pushed the pedal to the metal.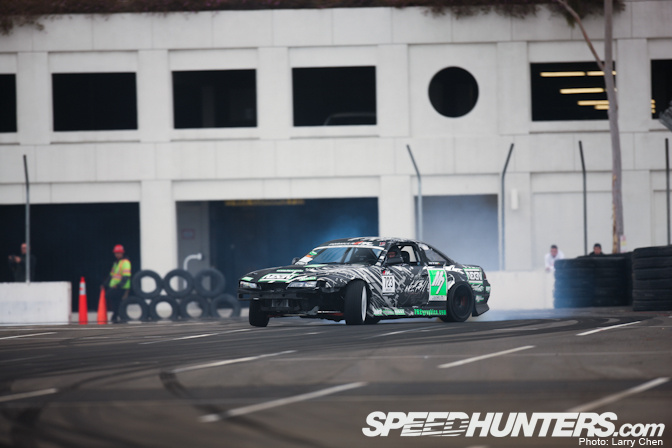 I am always used to seeing fencing and advertisements on the outside of turn 9. It was crazy to think that I just leisurely rode my bike down these streets a few weeks ago.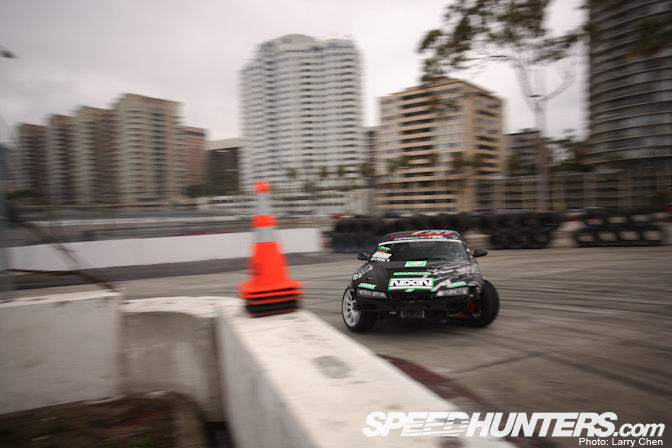 Aurimas "Odi" Bakchis brought out his competition car. He has been thrashing it at any event he can get into, so he has had some time behind the wheel of this monster.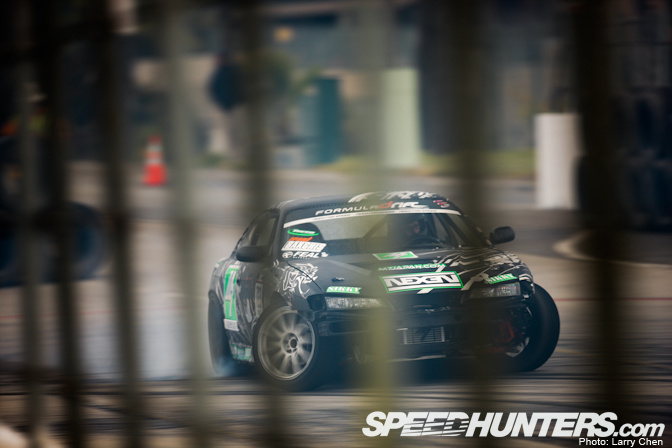 This was his first time running brand new performance tires from Nexen. He noticed the increased grip instantly, but they are still 300 tread-wear, so his rear tires lasted the whole hour.
It must have been a buy one get one free sale at the Z32 caliper outlet.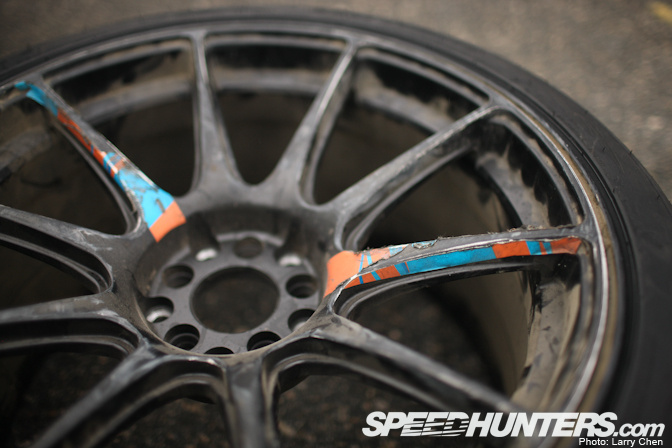 This is all that is left from his old livery. I am going to miss the blue and orange wrap scheme, but his new livery is growing on me quickly.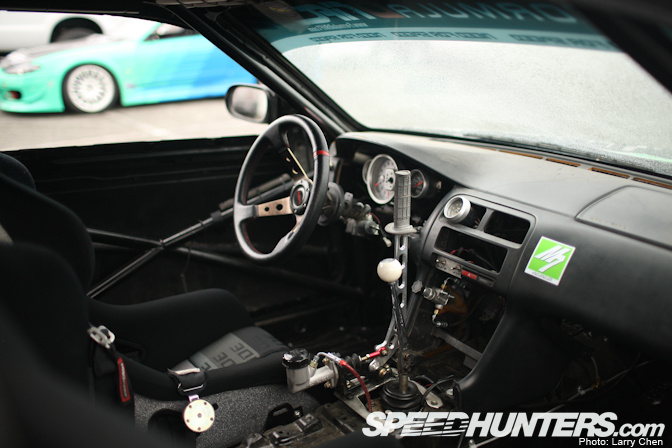 Notice the trick bicycle handle grip for his e-brake. Who said you can't find performance parts at yard sales?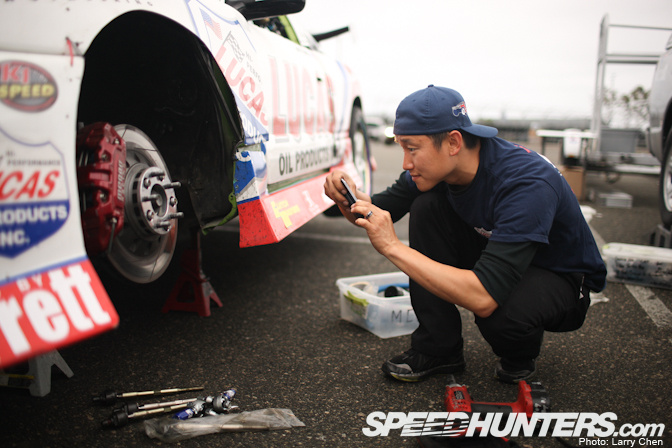 I noticed Joon was taking a photo of something on his car.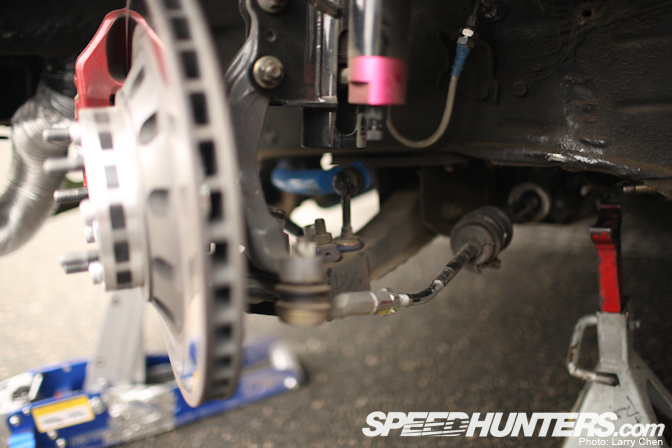 upon closer inspection he was taking a photo of his tie rod. He bent it the night before drifting for a crowd of 1000 spectators at Adams Cart track. Joon will do anything to put on a good show.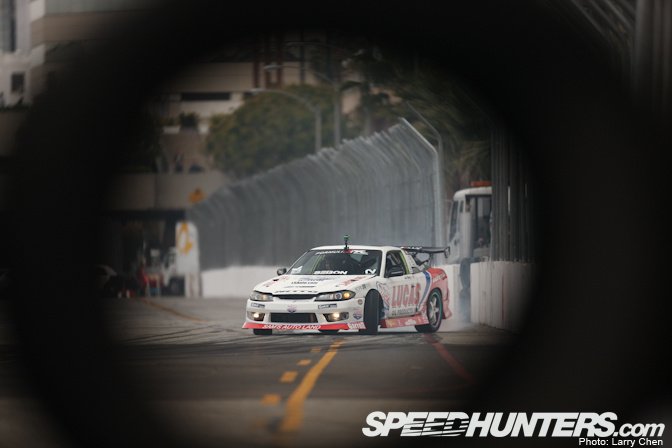 He struggled a little bit since his turbo was on it's way out and his alignment was totally out of whack. I was actually shooting in the indy car run-off area of turn 9, but the tire barriers were not setup yet, so I just decided to shoot through them.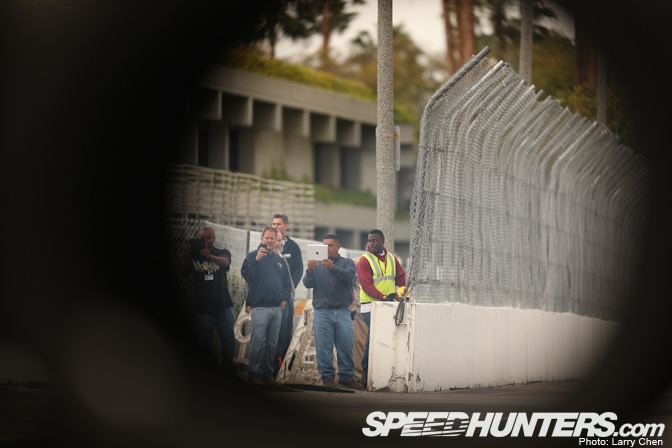 from the same vantage point I could see random pedestrians enjoying the free show.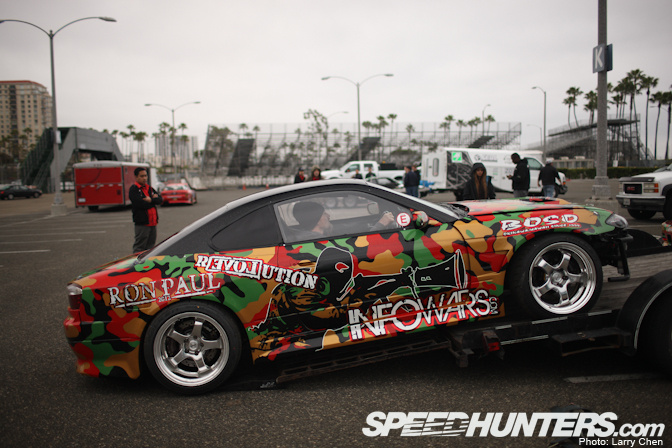 Ross Petty, also known as the Political Drifter, brought out is LS powered S15. I have never seen any drift car sponsored by someone running for president.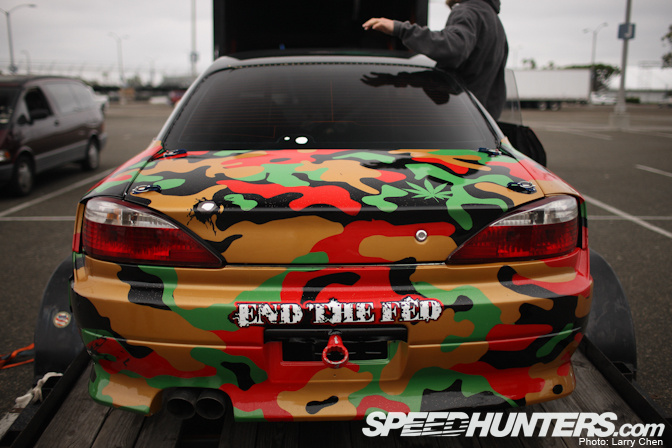 Some people have commented on how the livery looks kind of like their favorite watermelon flavored malt liquor drink. I on the other hand love his new livery, especially since it is on an S15 chassis.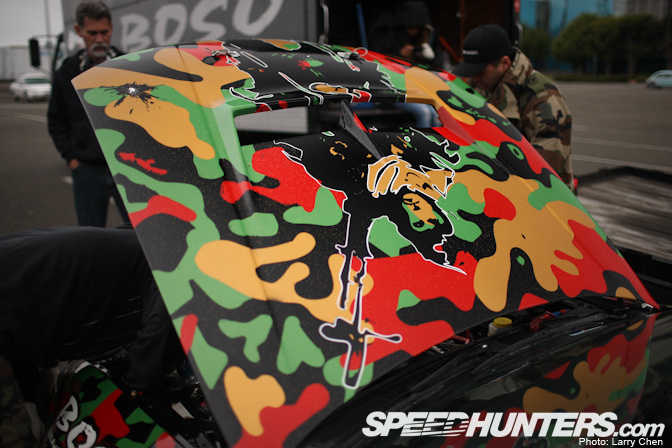 On the hood is an image of Ron Paul holding an rifle of some sort. If you guys were wondering that camouflage scheme is not vinyl. That is paint with some nice flake in it, so it will shine very brightly in the sun. Also a quick photography tip for you lucky Speedhunters who will get to take photos of this car. Use a high powered flash, because all the images on the car are outlined with reflective tape.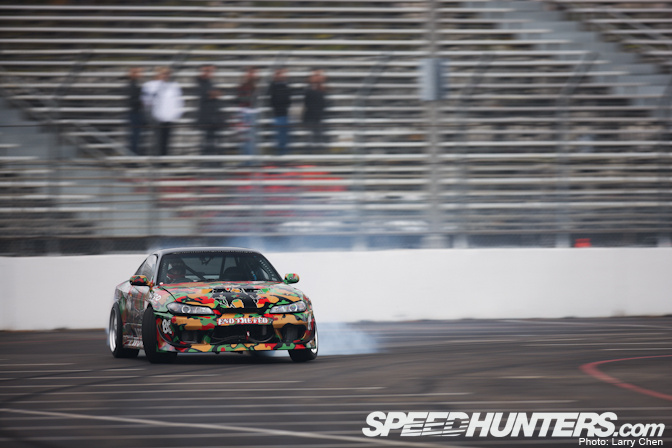 Ross said the new surface was much more grippy than before. It was much more predictable even in the rain. One thing that he noticed was the sound his tires made while drifting. He said it sounded like a cat getting its head ripped off. I'm sure that sound will go away as the track surface gets broken in.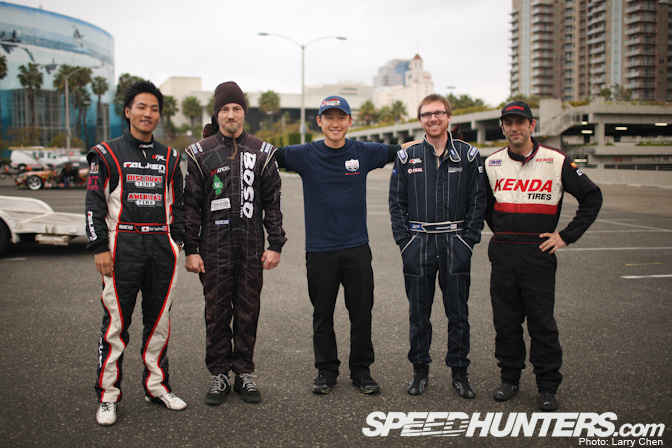 I think it was a job well done for these five interesting individuals. We now have an idea of what to expect at Formula Drift Round 1.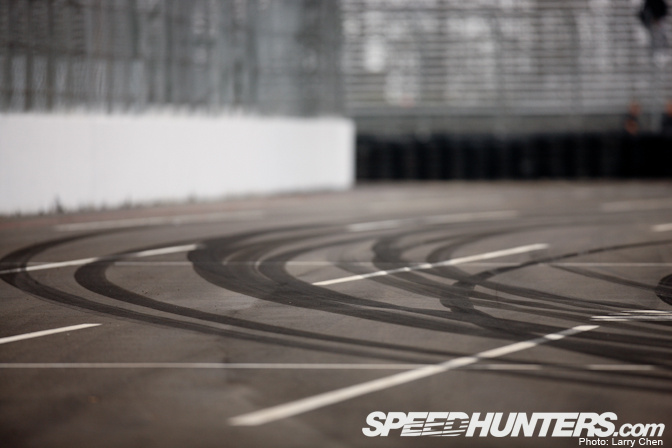 Next up is Formula Drift tech day where we will be showing you all the fancy new cars that will be hitting the grid this year, so stay tuned.
Larry Chen