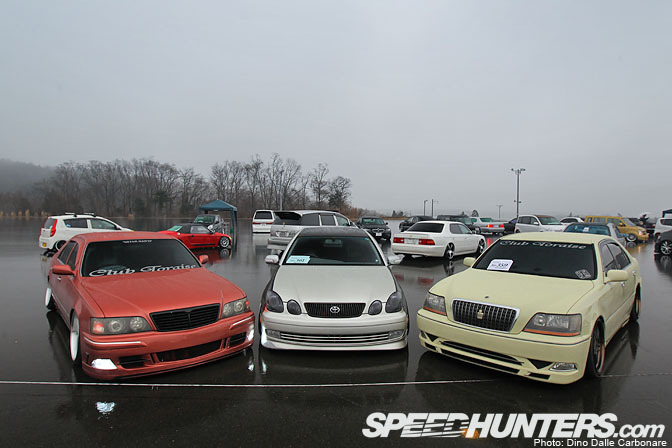 For this next part in the Excite King VIP coverage I've put together a little wilder selection of cars…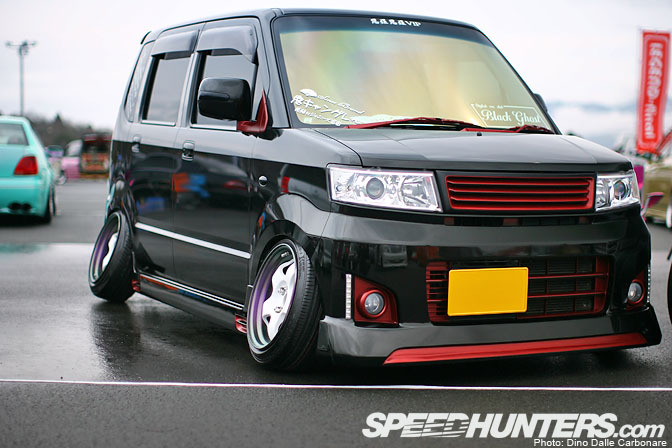 …and of course vans to show some of the extremities that some of these rides can reach when it comes to custom work and stance. With VIP having turned into more of a personal interpretation of what was once a pretty strict style, it's no surprise that there are so many crazy looking cars lurking at these sorts of meets. So let's see what else I came across.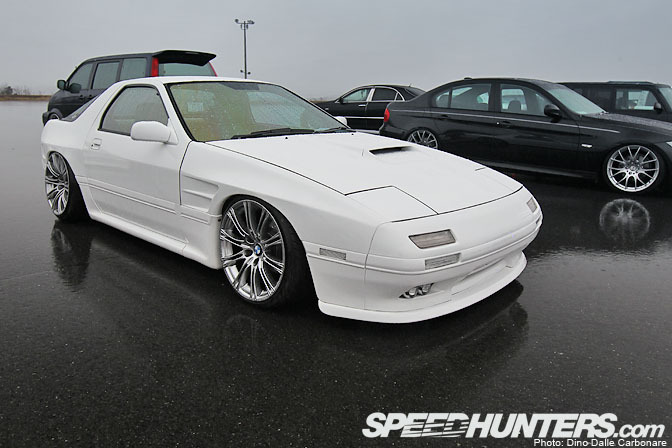 A few of you wanted to see another shot of this very clean FC on 19-inch BMW rims, so here you are. Definitely one of the most memorable cars there.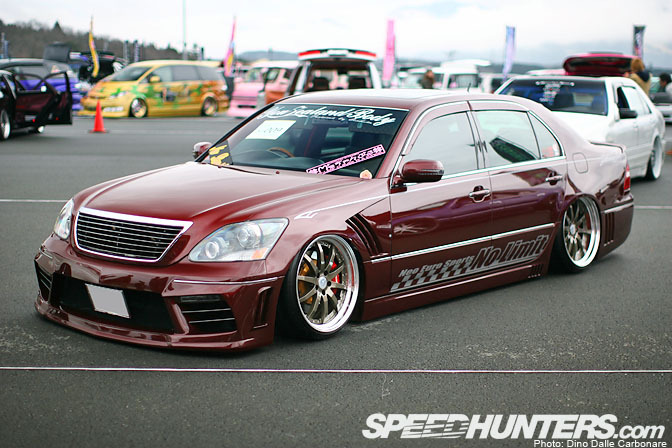 Towards the top part of the parking lot, right in front of the main stage where various talk shows were held throughout the day, were some of the most impressive project cars of the event, just like this Celsior from No Limit. The aggressively styled aero was joined by Work Gnosis GS1s…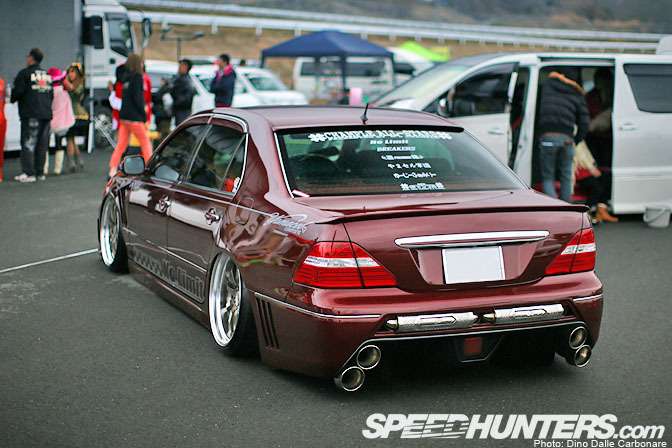 …but it was the complex exhaust layout at the rear that was grabbing all the looks.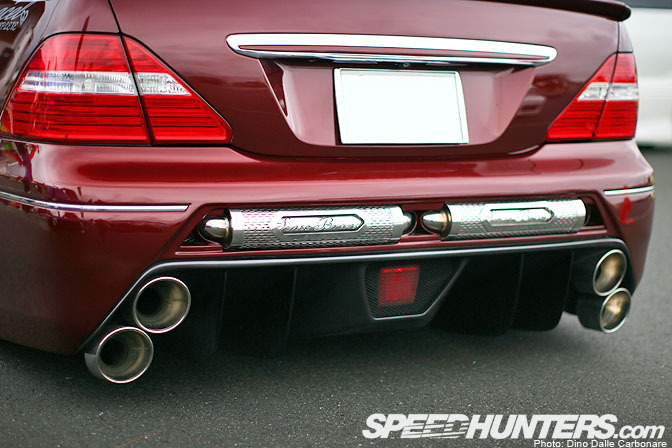 Quite intricate to say the least, and if you have a keen eye you may have noticed those four tail pipes are from an R35 GT-R.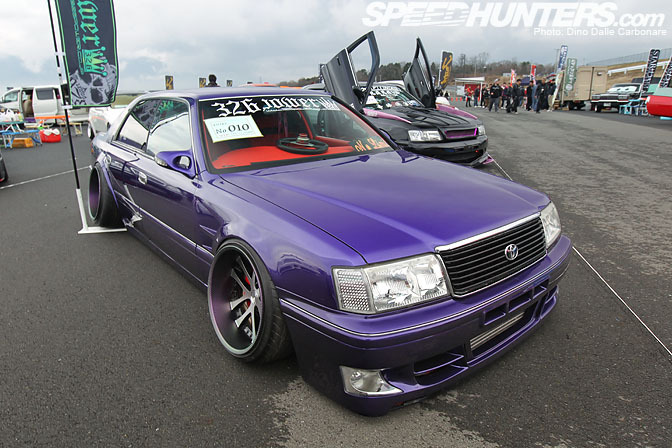 Built in collaboration with 326 Power was this Crown sporting a pretty evil looking stance riding on Weds Kränze LXV.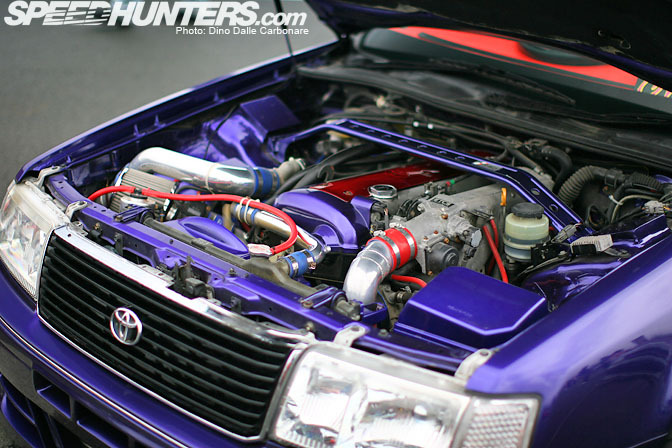 There were minor performance upgrades under the hood too including an intercooler upgrade, hard pipe kit and HPI cone filter.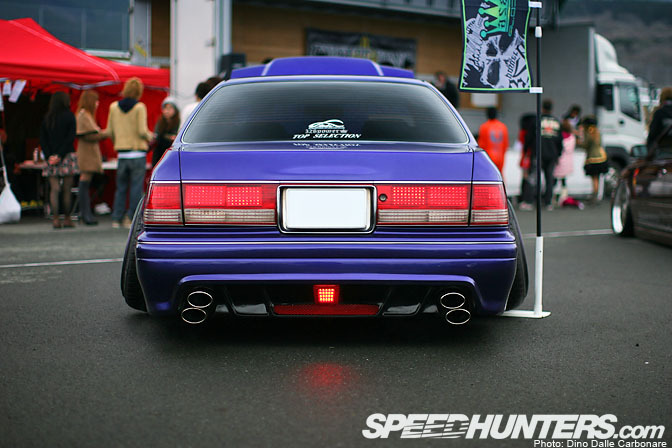 The obligatory rear end look to fully appreciate just how much negative camber those rear wheels are running!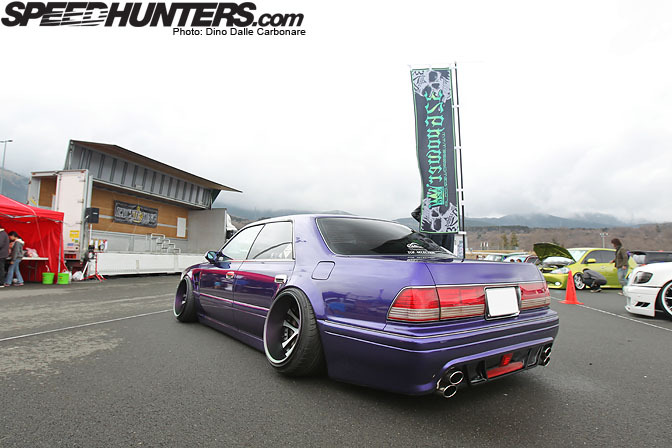 The tayazuri look is getting more and more popular these days, when the blistered fender sits flush with the tire's sidewall. This is the sort of stance Bee Dragon in Gifu-ken have made famous thanks to their orange Crown and blue Cima TAS show cars.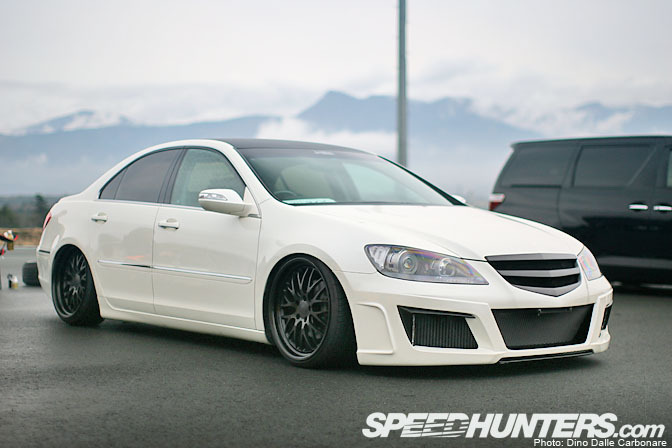 I couldn't help post another shot of the Honda Legend on HS202s from Part 1; it just looks right on so many levels.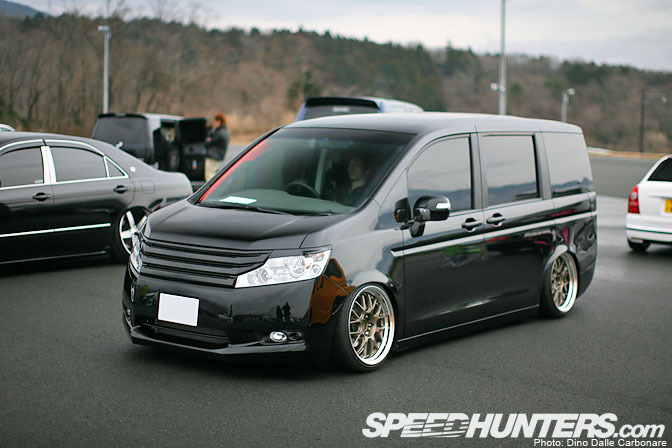 Let's check out some vans starting with this very clean Honda Stepwagon on Work Meister M1Rs. The owner has obviously put a lot of work into transforming the looks, with lots of nice details like the aftermarket bumper and blacked out grille and the custom flared fenders. Simple but to the point.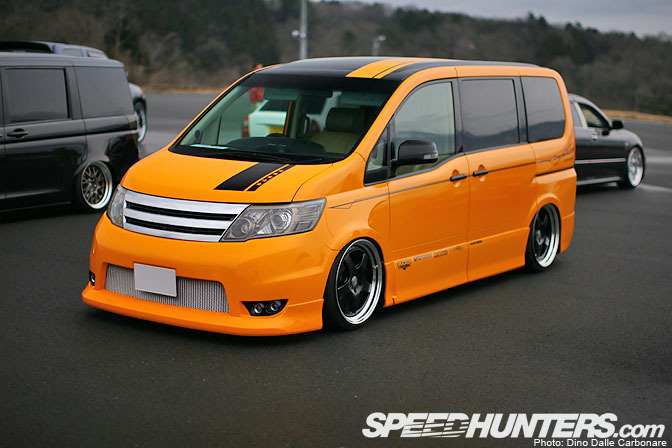 This Nissan Serena on the other hand was trying to achieve the opposite effect!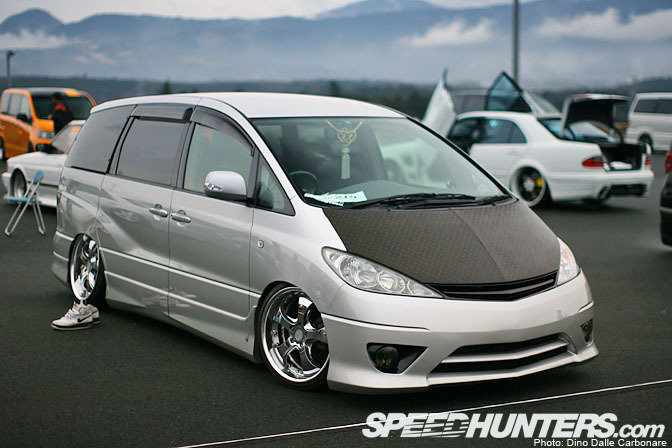 Prize for most original exterior finish has to go to this Toyota Estima which boasted a hood…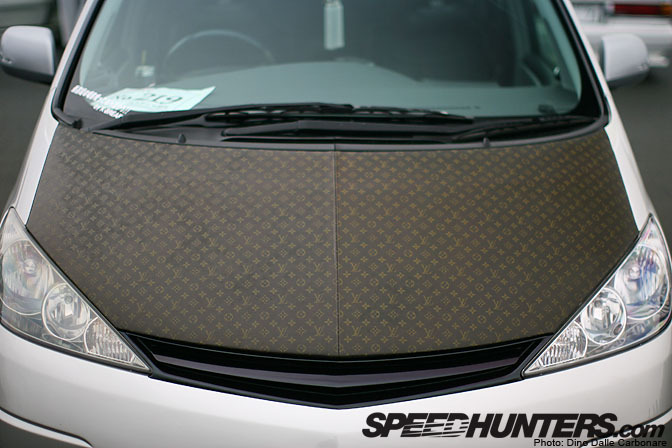 …tightly wrapped in Louis Vuitton branded material. Something different!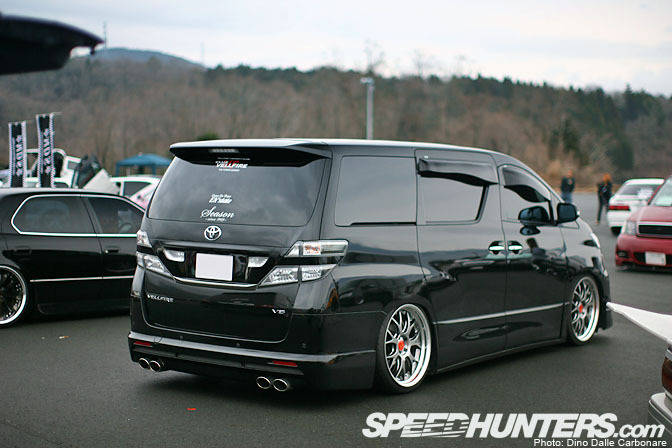 The Toyota Vellfire is one of the nicest looking premium minivans out there even from factory, but sitting on nice wheels and dressed up with the right kind of aero parts it really looks sick!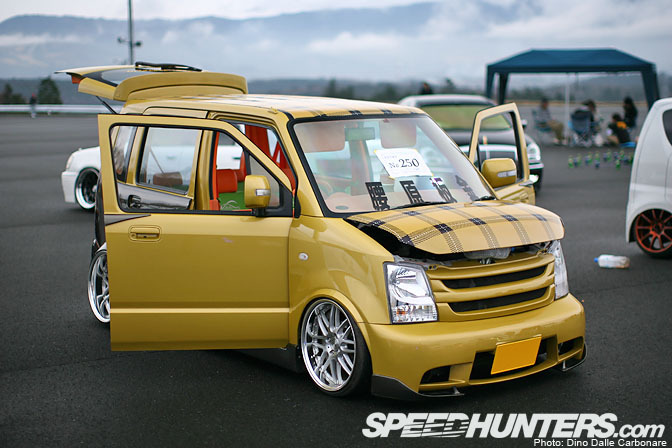 It wasn't so much the exterior of this Suzuki Wagon R that made me check it out in more detail…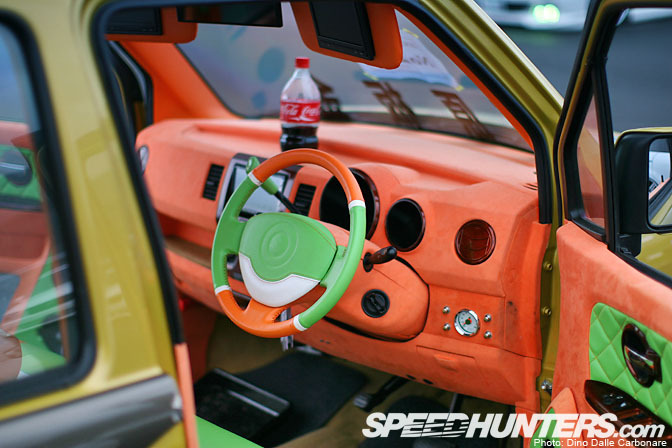 …but rather the contrasting choice of colors used to outfit the interior. A lot of effort has obviously gone into it with all surfaces either flocked to look like soft alcantara or wrapped in tightly stitched leather.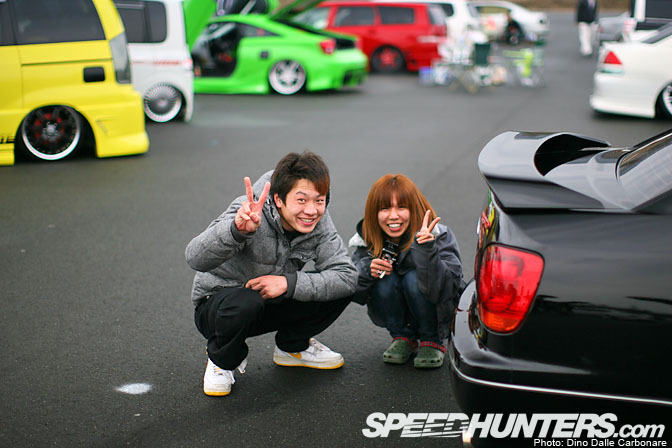 The coolest thing about checking out these kind of meets, which are quite a bit out of my usual "comfort zone" as one would say, is finding really friendly people that are always up for a chat. And it's especially rewarding to hear that a lot of them knew about Speedhunters!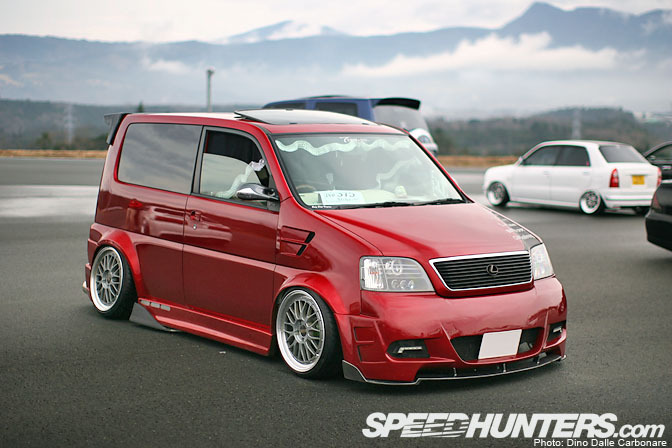 This Honda S-MX had me do a double take as after passing by it I could have sworn I saw a Lexus badge up front. And indeed, this little 2-door minivan has been given a Lexus front end treatment courtesy of tons of custom work!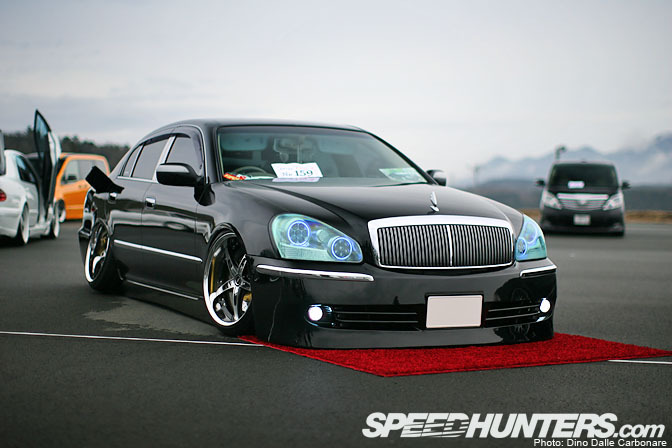 It's always refreshing to see some cars following the more authentic styling traits of bippu style, but I wasn't quite sure what to make of this F50 Cima. I liked the President grille but the custom headlights…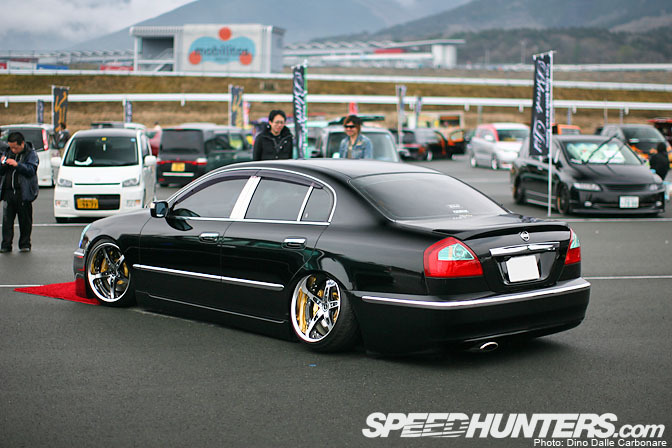 …and more show-oriented choice of wheels gave it a sort of look that I haven't come across yet. What do you guys think?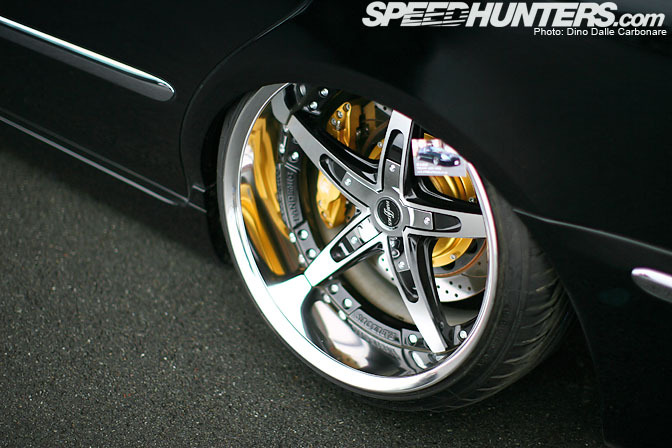 Still, a big shiny lip always does the job.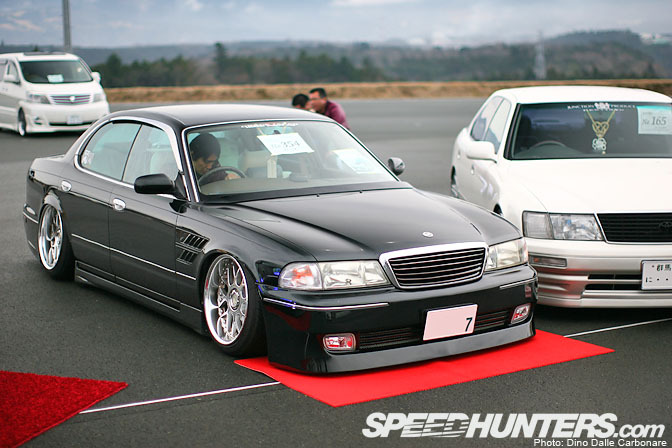 I always like seeing rare cars at events like this and the Mazda Sentia sure fits the bill.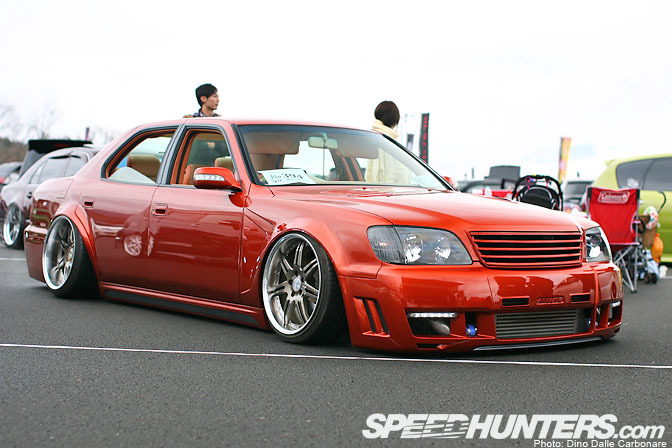 I'll finish up with a couple of shots of this crazy orange Celsior. Yet again we see the curious dummy intercooler, a detail we also came across on the F50 Cima in the Preview post and one that, like most of you, I can't quite understand. Still…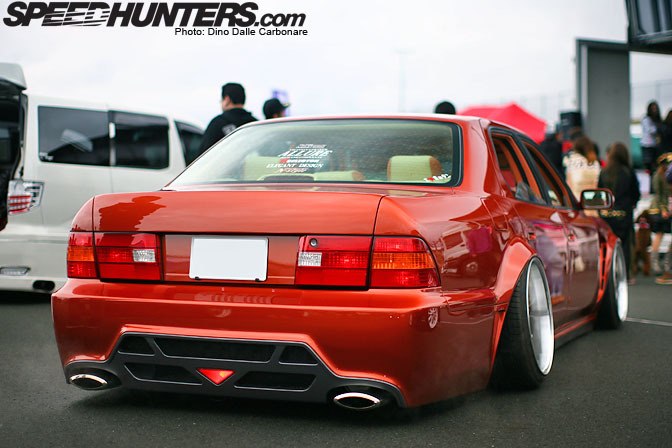 …it was the rear that really did it for me on this particular car, not to mention the widened fenders.
I'll be back soon with one final batch of pictures from the show.
Excite King VIP meet coverage on Speedhunters
-Dino Dalle Carbonare