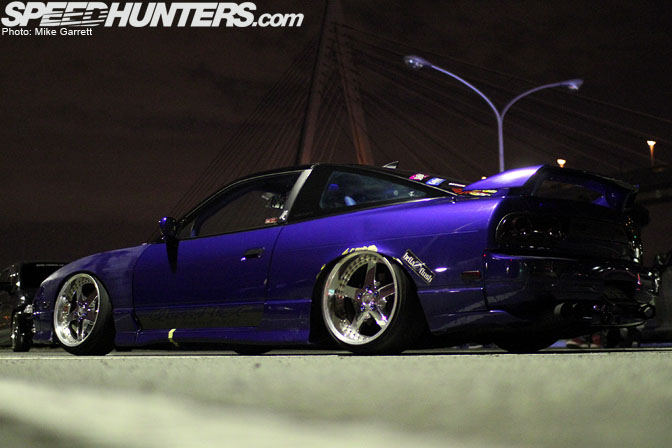 Working as a Speedhunter may be the best gig on the face of the earth, but I certainly wouldn't call it an easy job. There's the travel, the long days, and the rigors of shooting in all types of weather – just to name a few of the challenges. Then of course comes the many additional hours of photo editing and preparing the stories themselves.
For me, yesterday was probably the longest and most exhausting 24 hours in my Speedhunting career, yet it was also one of the absolute best. This is all thanks to the Osaka's vibrant car scene, and more importantly – the hospitality of its people.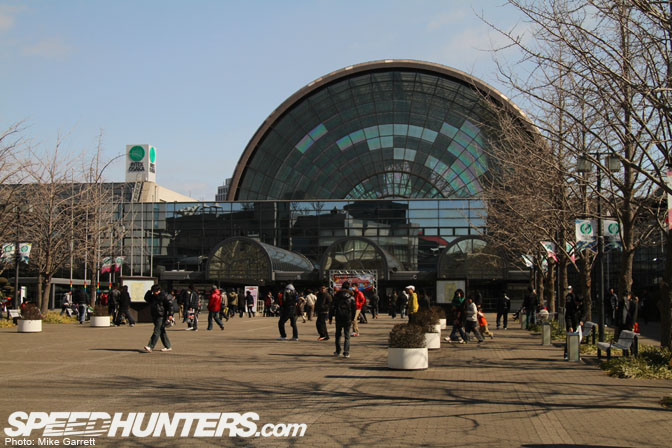 The day started with me waking early, eating a quick breakfast, and making the short walk over to Intex Osaka for day two of Auto Messe.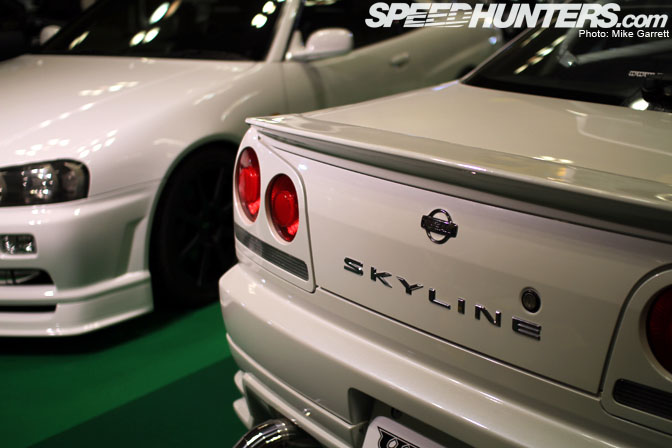 Since I had a done lots of shooting the previous day, I spent the morning wandering the display halls looking for things I may have missed on Friday.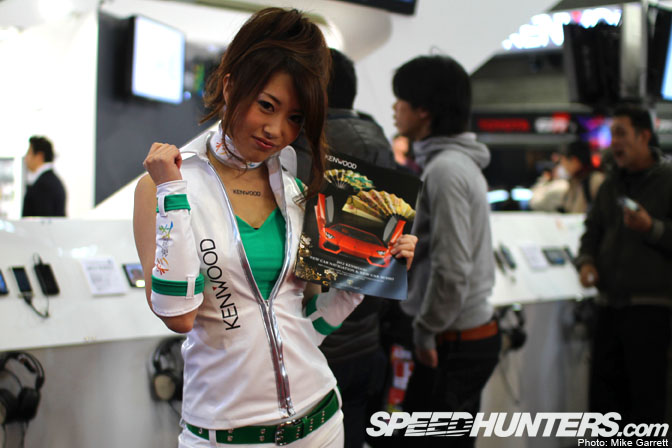 On a few occasions I even managed to squeeze through the crowds of to grab a shot of the ladies.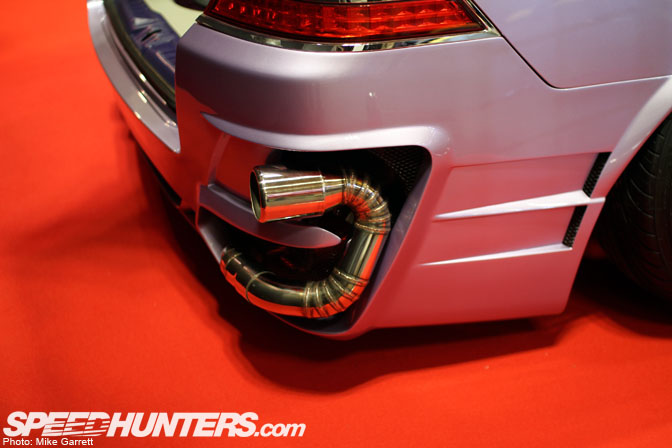 There are lots of things you might miss if you aren't looking carefully. Check out the crazy exhaust on this Odyssey for example.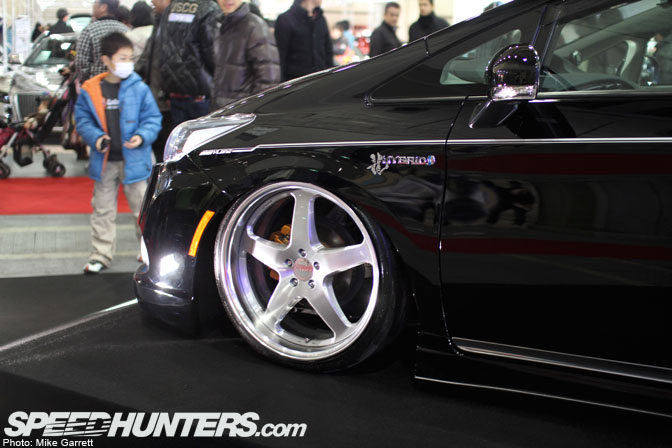 Sometimes weird things go through my mind when I'm shooting. As I checked out this VIP-esque Prius, I started wondering why Hollywood celebrities don't outfit their precious hybrids like this. Why not add some swagger without losing your green credentials?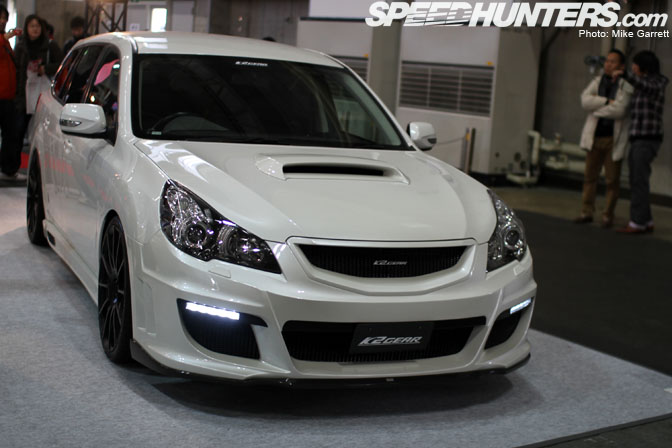 While I loved this Legacy Wagon from K2 Gear, it also reminded me how it's unfortunate that Subaru no longer offers the wagon version of the Legacy in the US…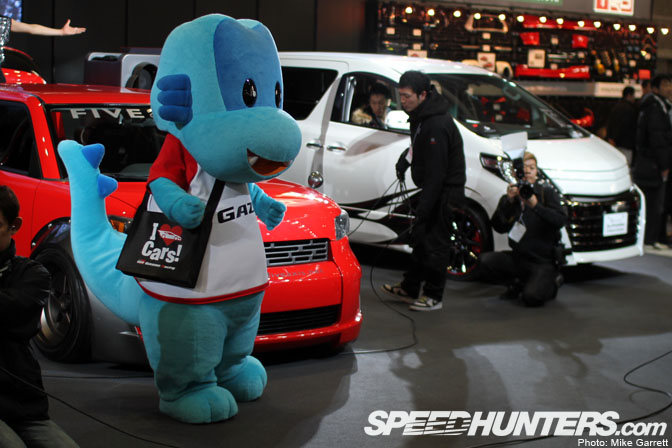 At some points you just have to sit back and soak in all the craziness that comes with an event like Auto Messe. It's a hard to tell in the photo, but that dinosaur thing was dancing up a storm in the Toyota booth.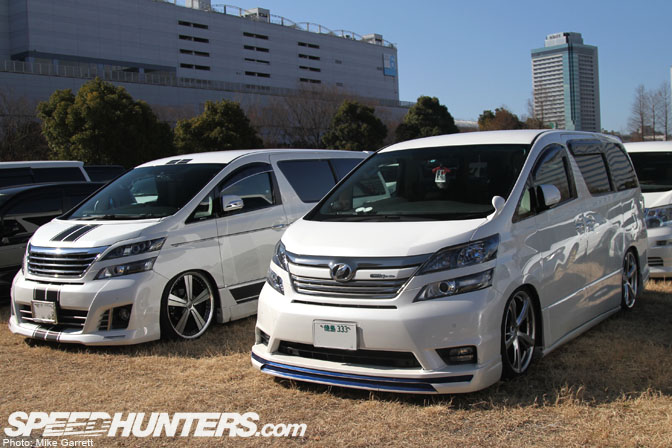 Once I had finished up shooting Auto Messe itself, I did what any good Speedhunter would do and headed out to the parking lots.
Once again, the action here was just as good as the main event. In case you hadn't figured it out by now, Osaka people roll hard. This Crown was one of many VIP sedans that scraped into the lot riding in full down mode.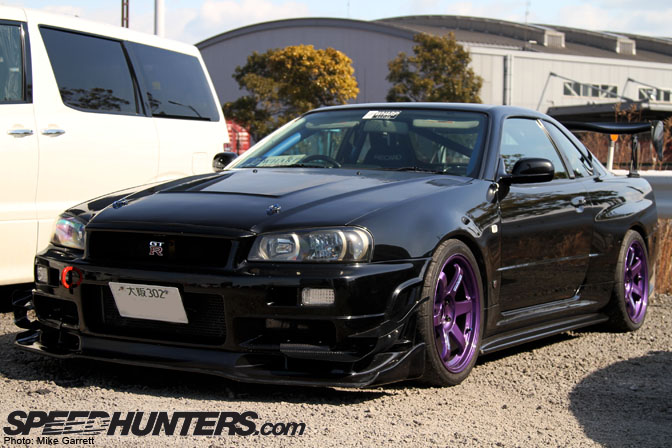 I ended up spending a few hours and walking the different lots around Auto Messe, finding cars like this beefy R34 GT-R.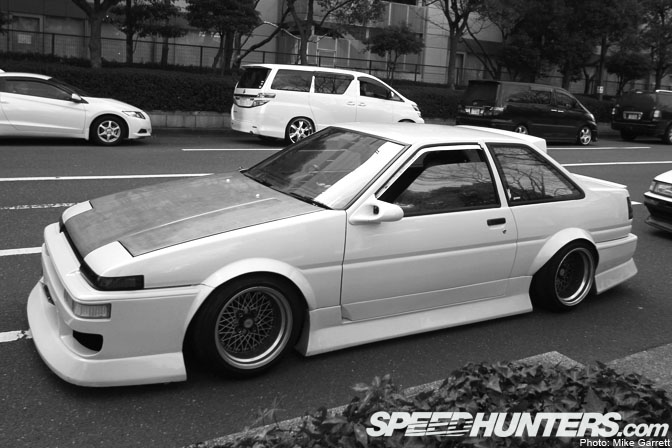 Osaka Auto Messe is notorious for traffic jams getting into the parking areas, but this provided many opportunities to shoot cool cars on the street. Here's a very hardcore looking 86 Trueno I spotted.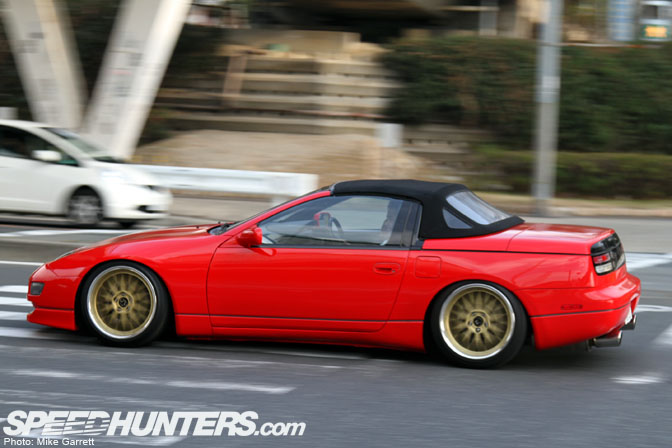 A rare Z32 convertible, and one that's done right!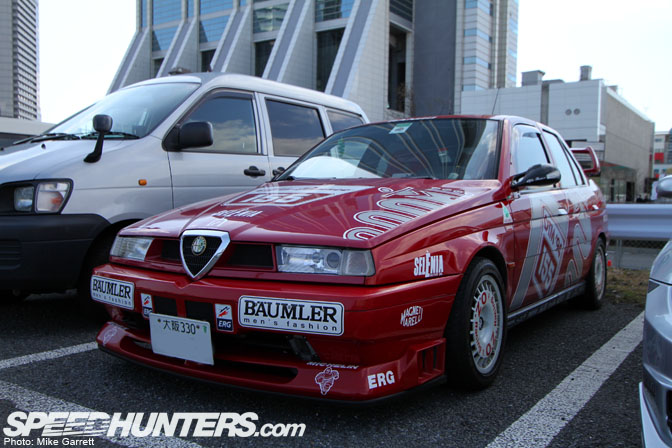 At times it's complete sensory overload. On a normal day you might flip out after seeing something like this touring car style Alfa – but today it's just one of the hundreds of cool cars hanging around.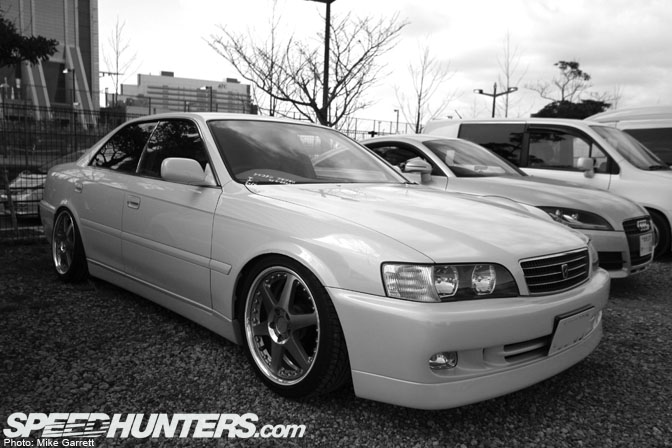 By evening I'd walked more than a few kilometers and photographed countless cars in the different lots. It was time to finally wrap it up and head to the night's hotel, located near Osaka Station.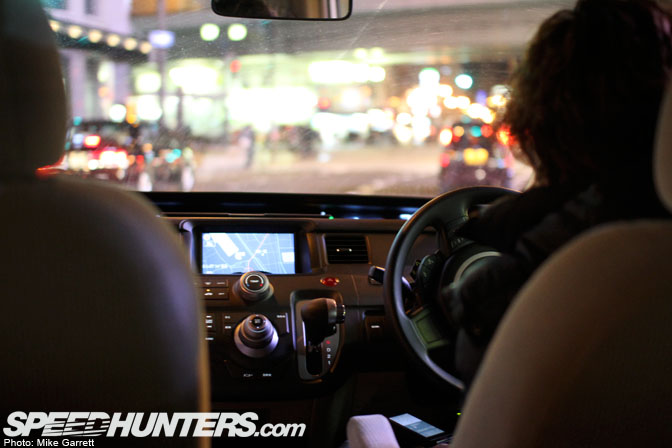 After a short rest at the hotel, the adventure continued. My new friends from a local shop called Tactical Art were keen to show me some of Osaka's real car culture, and dropped by to pick me up in a small convoy of cars. If you've read "The Chronicles" blog, then you may be familiar with Tactical Art. After reading Joey's blog posts featuring these guys, I was extremely excited to meet them.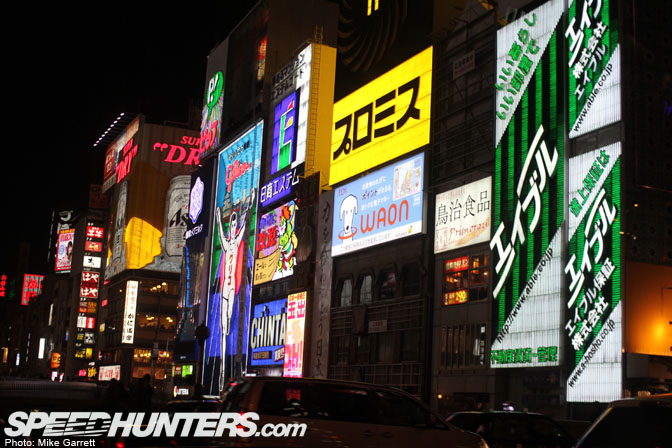 People from Osaka are known to be friendly, and Yasutaka Shimomukai and the Tactical Art crew are as friendly as it gets. Being well-connected in the Osaka scene, Shimomukai-san decided he wanted to hold a car meet to coincide with Auto Messe this year. When I expressed interest in covering it, he made it his mission to treat me as his guest. As we drove to the meet, we casually passed by some of Osaka's world famous landmarks like the Glico sign in the Dotonbori district.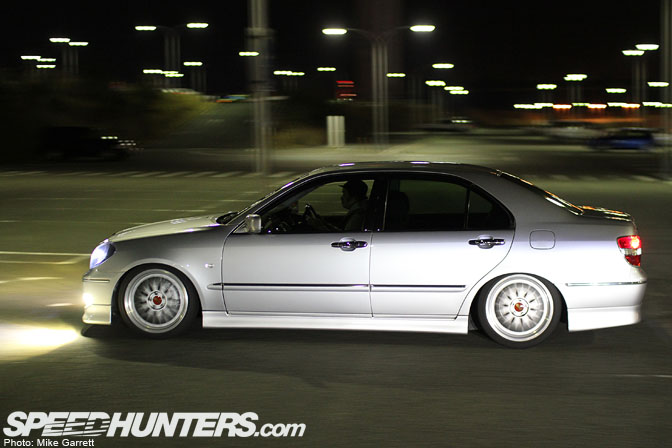 A bit later we got to the meet location – a large parking lot outside of the Universal Studios Japan theme park in Osaka's harbor area. Even though we arrived early, the lot was already beginning to fill.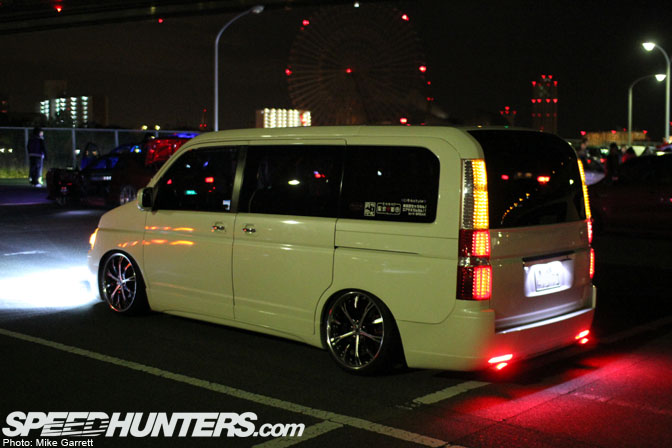 The meet was open to all cars, and vehicles from every genre could be seen. Whether it was custom vans…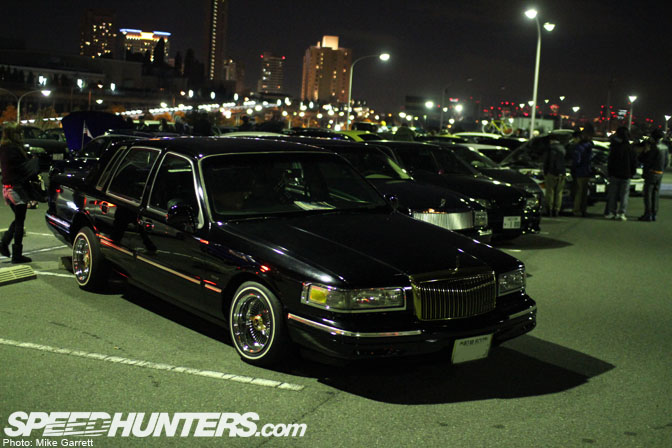 …or gangster lowriders.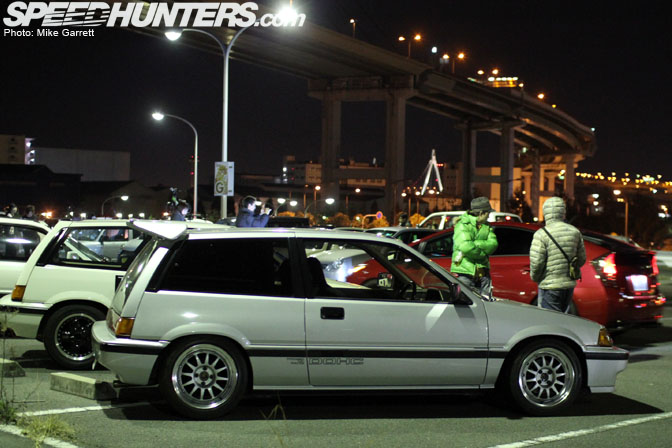 This being Osaka, I was hoping to see a few of the famous Kanjo Racer Civics, and luckily there were several in attendance.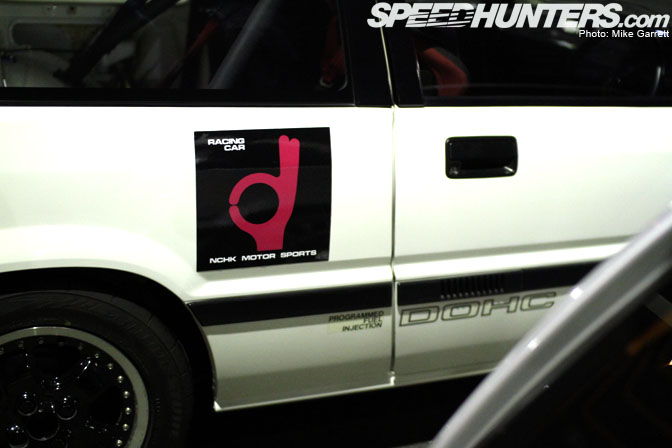 It was an awesome experience to see some of these legendary cars in person. It's nice to see this historic and defining part of Osaka car culture is still alive and well.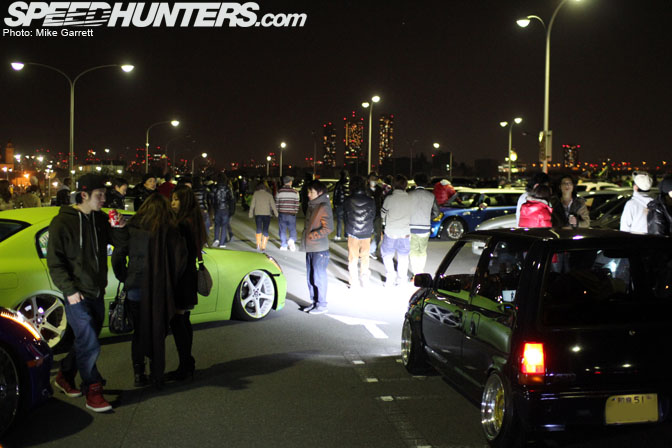 As I walked around checking out the cars, the lot continued to fill up. It was clear the event was a massive success.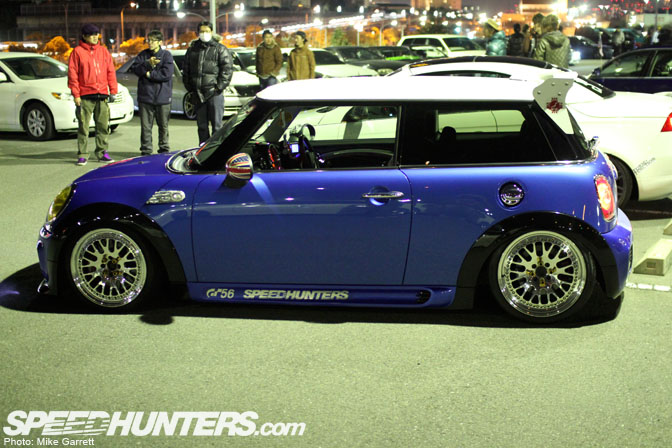 Among the group was a large contingent of USDM enthusiasts driving all sorts of cars. Many of them are avid readers of Speedhunters, and I found myself undeservedly being treated as a celebrity. Needless to say, my supply of Speedhunters stickers was severely diminished by night's end.
Once again, I found myself being overwhelmed by what surrounded me. It was a perfect street 180SX one moment…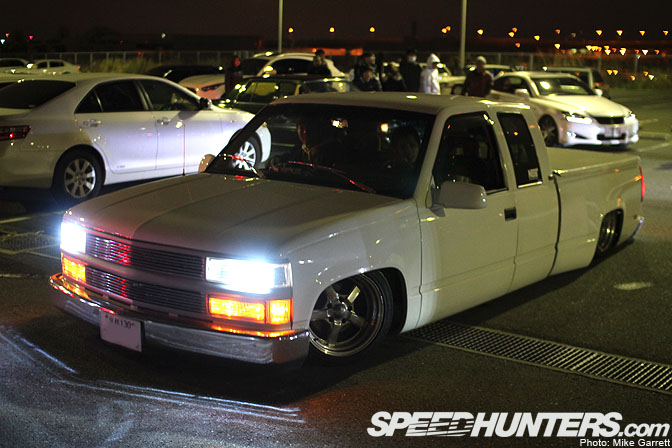 …and a Chevy truck dragging frame the next moment.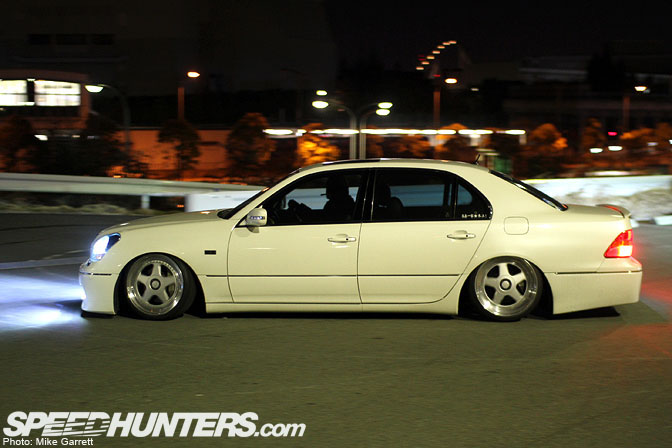 By the time the meet had wrapped up, it was already past 3:00am.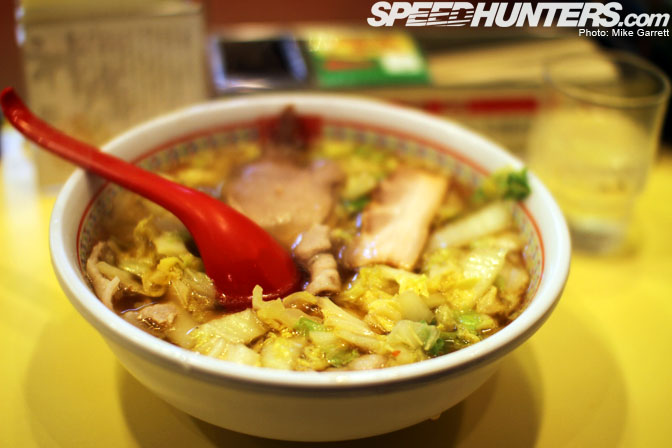 Once the meet was over, we headed back into the city for breakfast(?) at one of Osaka's best ramen shops. These guys are seasoned locals, so I had no reason to doubt their recommendation. A steaming hot bowl of ramen might just be the perfect way to catch your third or fourth wind after a long night.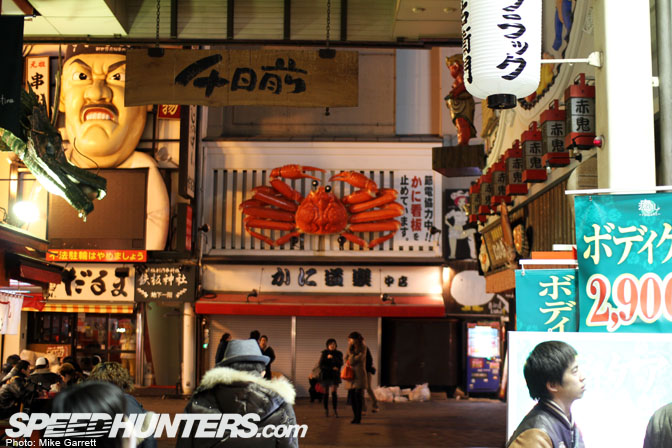 It was after 4:00am when we finished eating, yet the streets still had plenty of people on them. Such is a typical weekend in Osaka.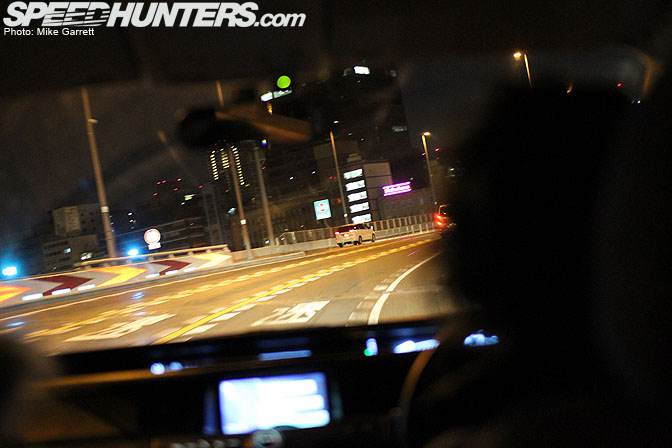 Before going back to the hotel, Shimomukai-san headed onto Osaka's Kanjo Loop highway to give me a guided tour. Even though we were riding in a Honda Step Wgn, it was still amazing to experience this famous (or is that infamous?) stretch of highway first hand.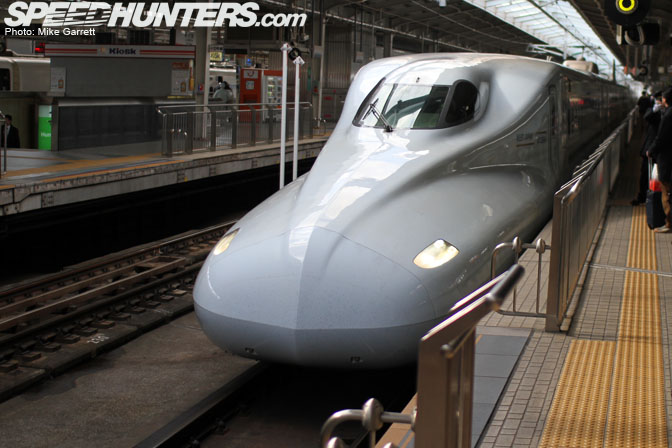 After parting ways with my amazing and incredibly generous hosts, there was just enough time grab a couple hours of sleep before hopping on the Shinkansen back to Tokyo.
As I climbed onto that high speed train this morning, I felt exhausted but at the same time extremely happy. Even at this moment I'm still trying to process everything I've seen during my time in Osaka.
Stay tuned for full coverage as I attempt to break down in detail my first exposure to Osaka's car life.
-Mike Garrett