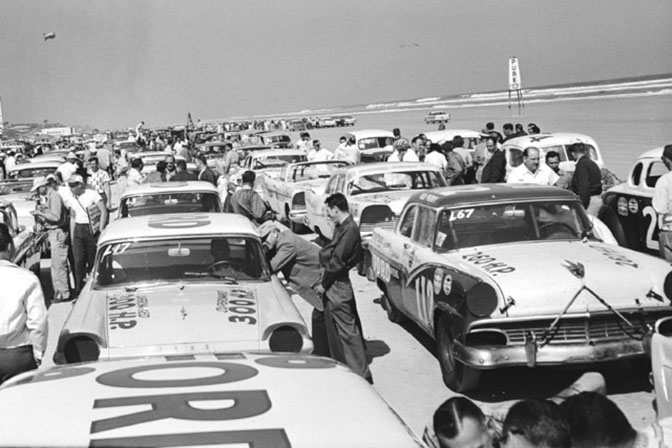 Daytona International Speedway is one of the most historic and well known race tracks in motorsports history, and has been the home to NASCAR's most famous race since its opening 1959.
The history of racing at Daytona actually goes back longer than that though.
Much longer than that.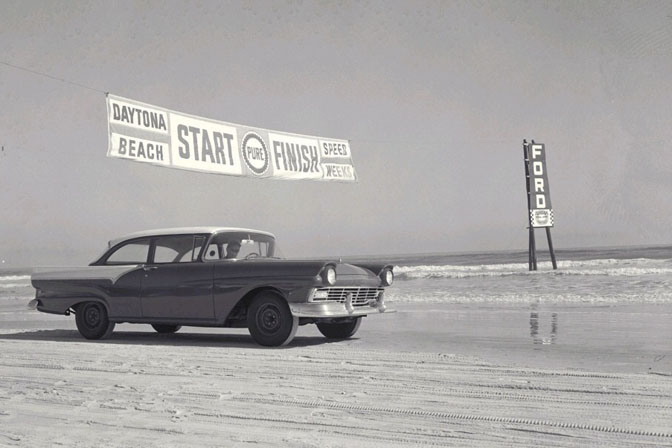 While browsing the always entertaining HAMB forums, I came across a thread full of vintage photos from the old Daytona Beach Road Course. Seeing as how the 2012 Daytona 500 is just a few days away, I thought it'd be fitting to share some of these cool old shots.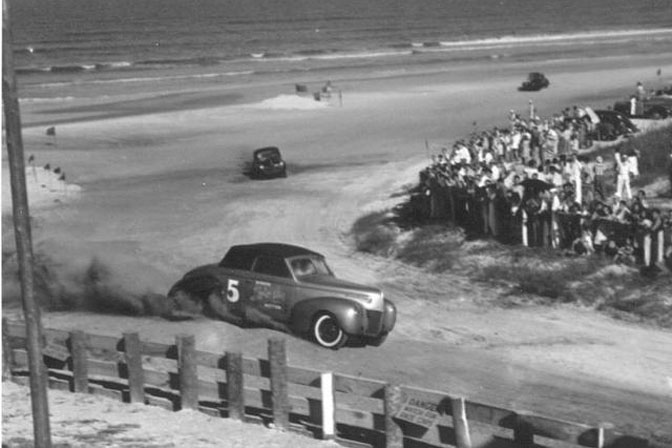 Through its decades of use, the Daytona Beach Road Course saw both the pioneering days of stock car racing…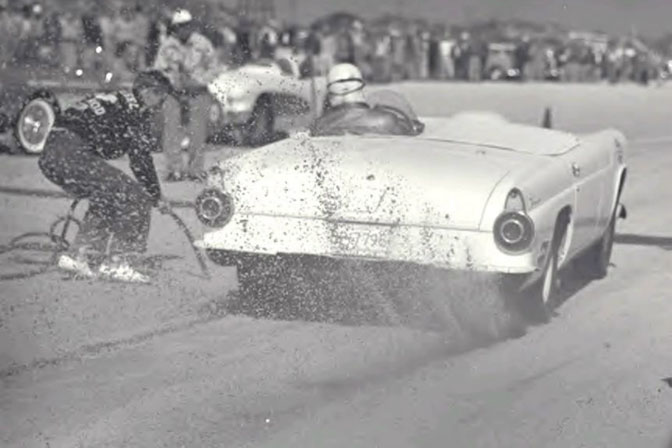 …as well as early land speed racing – much like Bonneville and El Mirage in the west.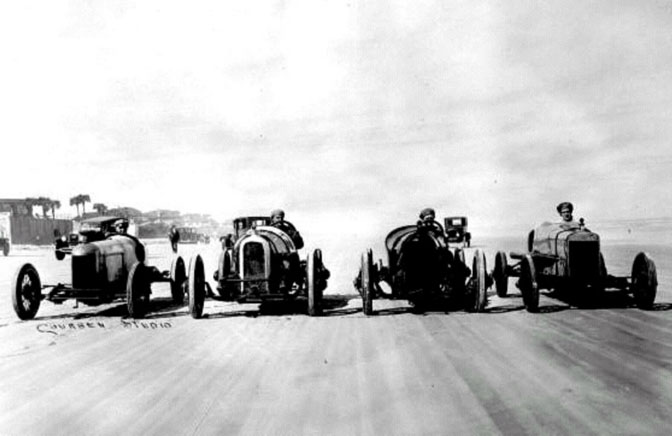 Long before the modern speedway opened, Daytona Beach had secured itself as a
legendary spot in the history of both motor racing and the automobile
itself.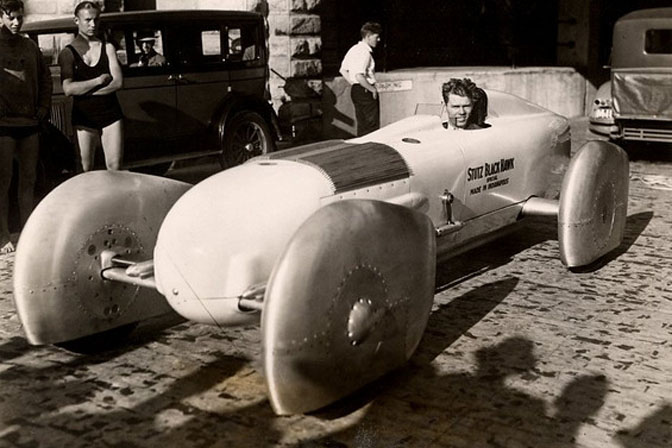 The vehicles that plyed the sands of Daytona searching for speed included everything from the Stutz Blackhawk Special of the late 1920s…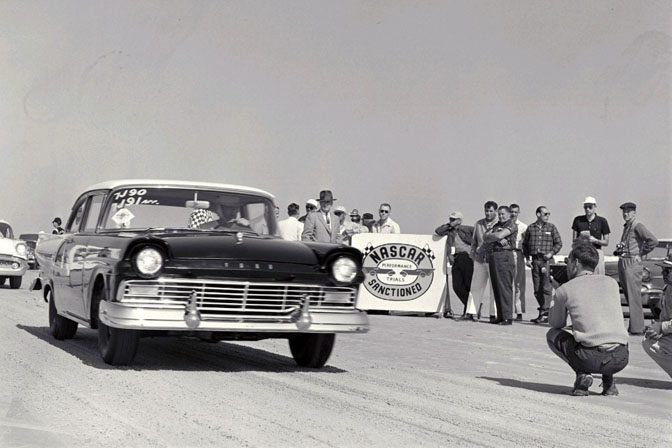 …to untold numbers of production cars looking to squeeze out the last MPH. In other words, Hot Rodding at its purest.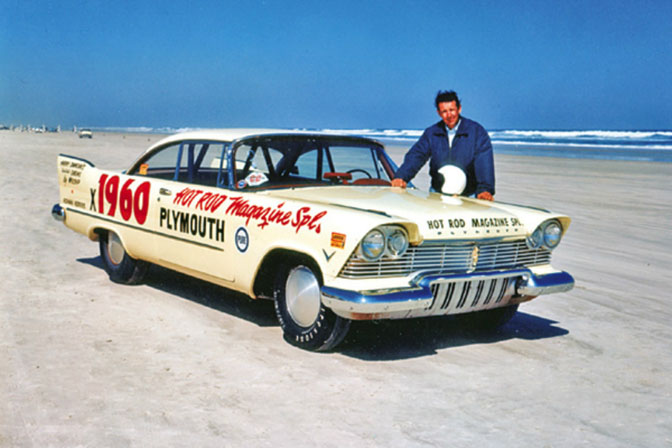 Speaking of Hot Rodding, In 1957 Daytona was also the place where Wally Parks drove Hot Rod Magazine's "Suddenly" '57 Plymouth project car to a ground-breaking top speed of 160.175 mph.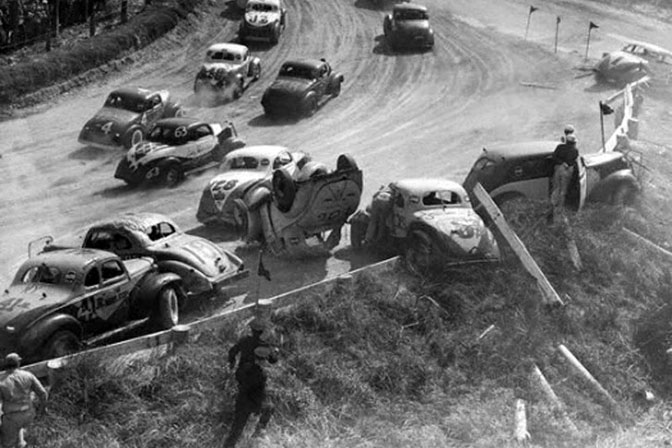 If we consider stock car racing in the '60s and '70s dangerous by today's standards, imagine how scary it was on the sands of Daytona.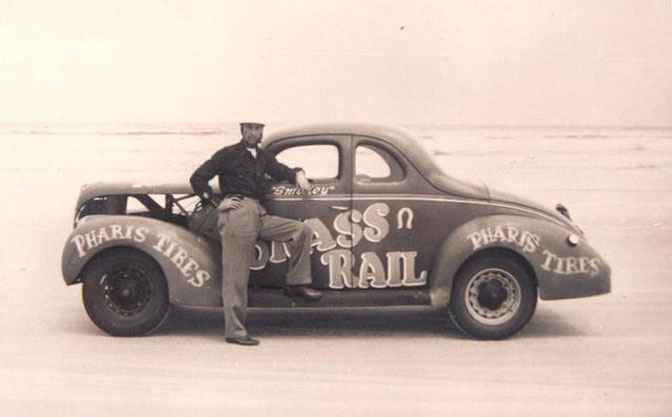 That seemingly fearless attitude of the drivers is another element that adds to the mystique of Daytona.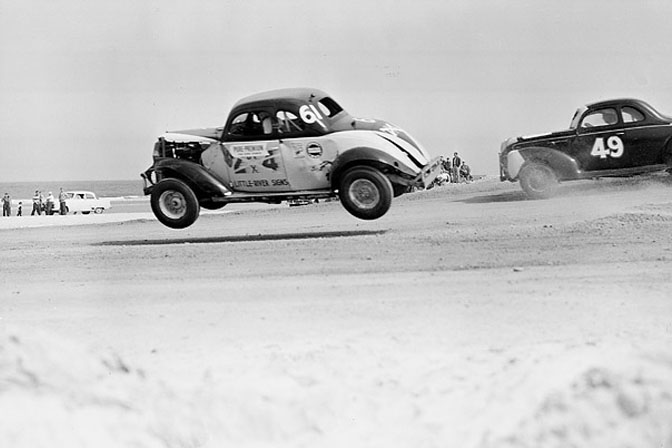 Without being there, it's hard to grasp what wheel to wheel racing on the Daytona sand must have been like.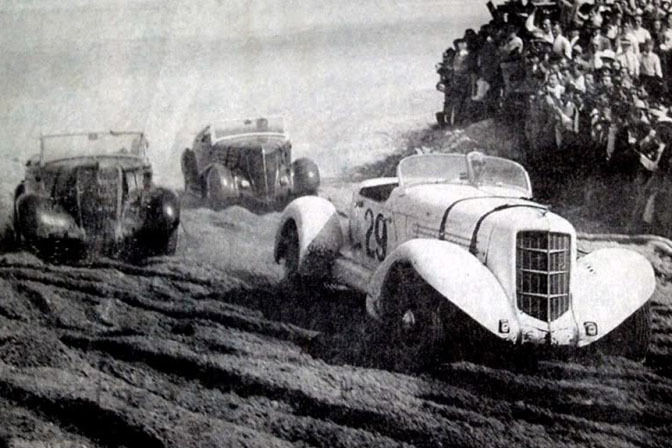 Based on these old photos, it almost seems closer to rally racing than to modern stock car racing.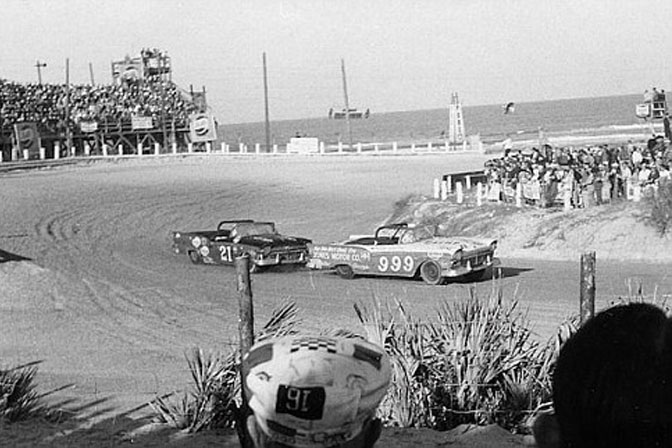 The corners at the end of the course were tight, and with the racing surface I'm sure there were lots of sideways antics.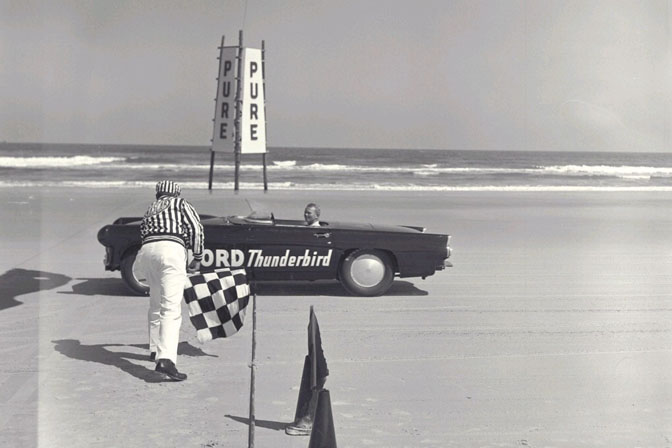 It was on the long smooth straights though, were Daytona earned its reputation as a paradise for speed junkies.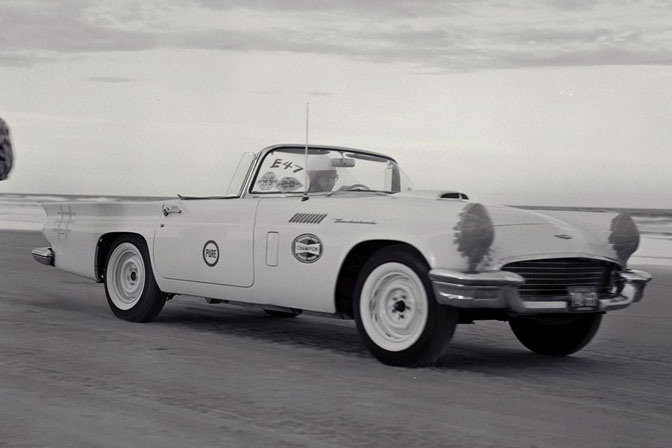 The early Thunderbird was a popular car among land speed racers at Daytona. Some were campaigned largely in showroom condition…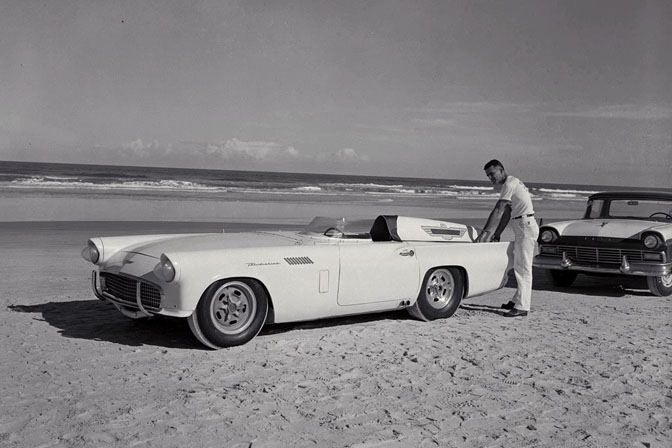 …while others received significant upgrades to enhance their performance and aerodynamic profile.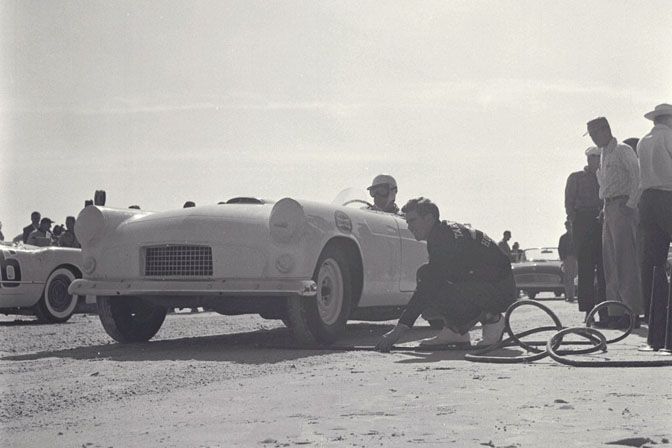 To me there's something great about these period photos. I could spend hours and hours looking at them.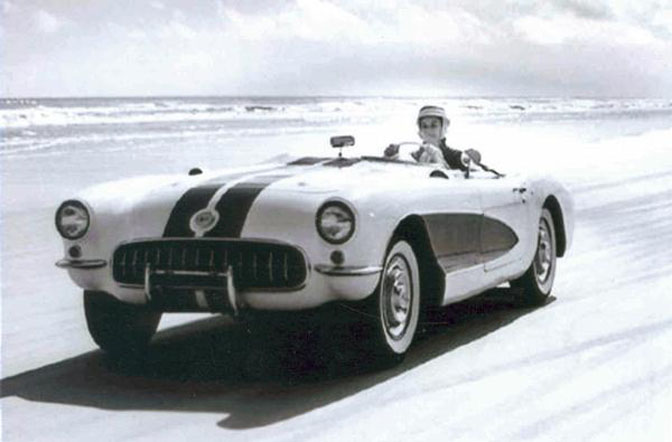 This Corette was raced by a gal named Betty Skelton. What a quintessentially American image.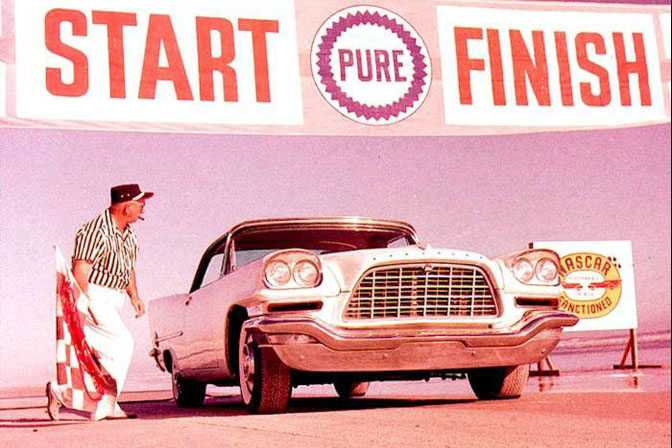 American automakers also used Daytona as a proving ground for their latest cars. Few models were more associated with Daytona Beach speed than the Chrysler 300.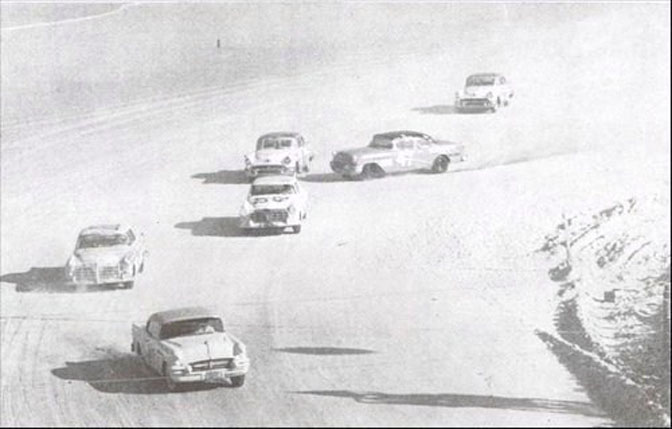 Stock cars, in every sense of the word.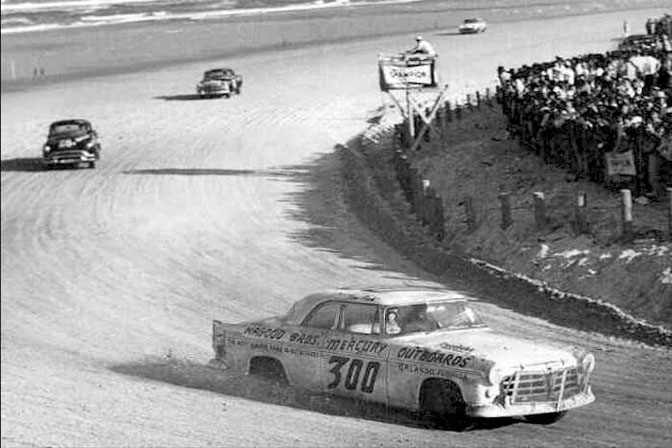 While today's Sprint Cup cars are spread between just a few models, in the early days you'd see many different brands represented. Few could afford to upgrade their car every season, so it was also common to see older models competing right alongside the current ones.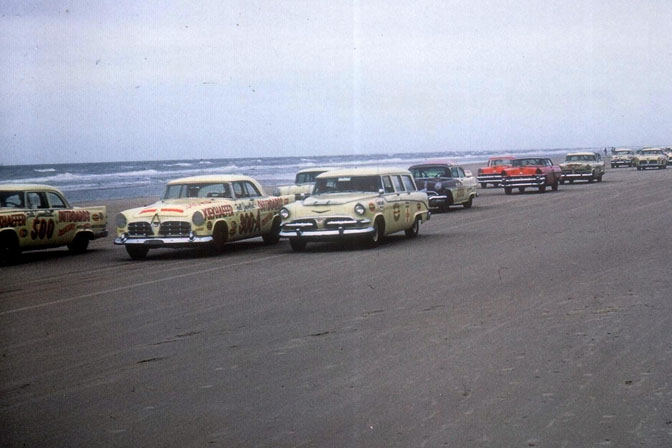 Body style made seemed to make no real difference either. Want to compete in a convertible or even a station wagon? Go for it.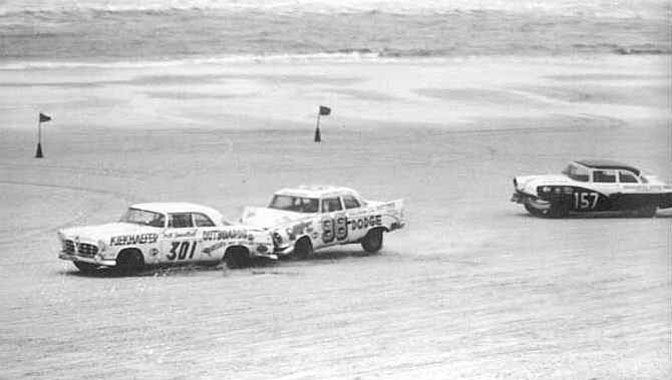 Contact on the sand between a Chrysler and a Dodge, while a Ford swerves to avoid.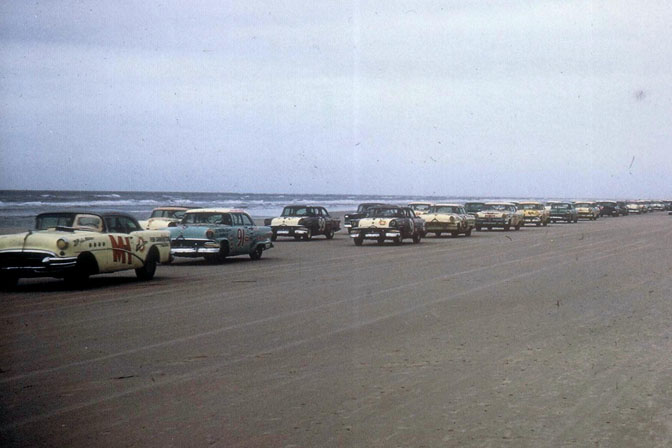 In the 1950s, with increasing crowds and growing development along Daytona Beach, the ground was laid for the permanent Daytona International Speedway.
Once the new track opened in 1959, racing on the sands of Daytona Beach became another closed chapter in the long history of auto racing in America.
-Mike Garrett
All photos found in the Daytona Beach Photo Thread on the HAMB