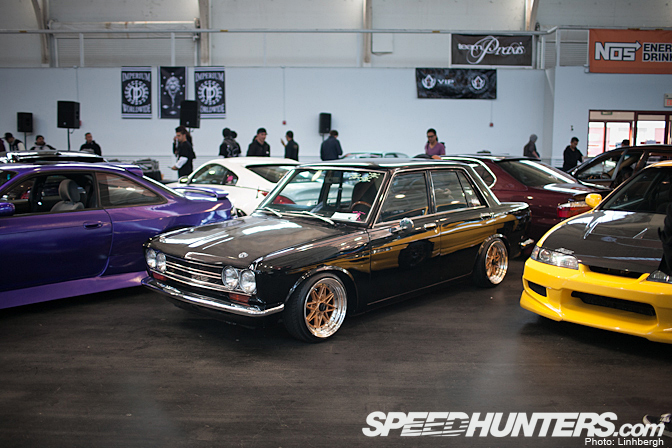 This very clean Datsun 510 sedan is a great way to start our final part of this years Wekfest coverage. The 510 was often called the poor man's BMW. Probably because it was originally inspired by BMW 1600 and 2002.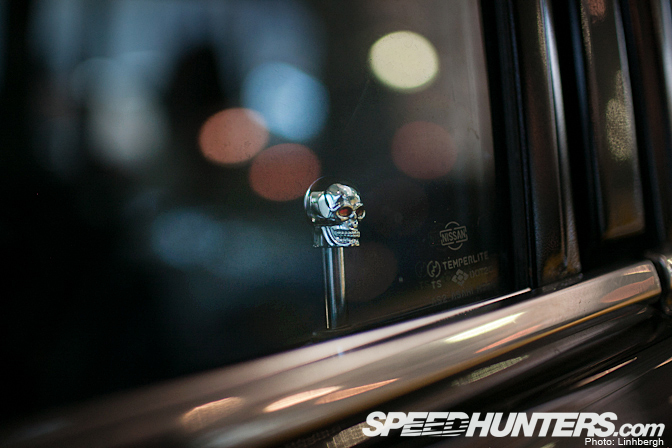 It really is the little personal touches that make a car unique from every other one out there, whether it's a rare paint color or a tiny skull.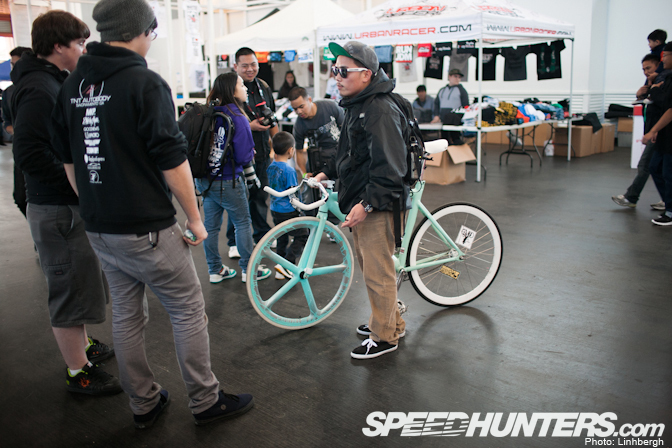 As expected, there were some fixed gear bicycles around the show. All those bike racks needed to be filled someway or another.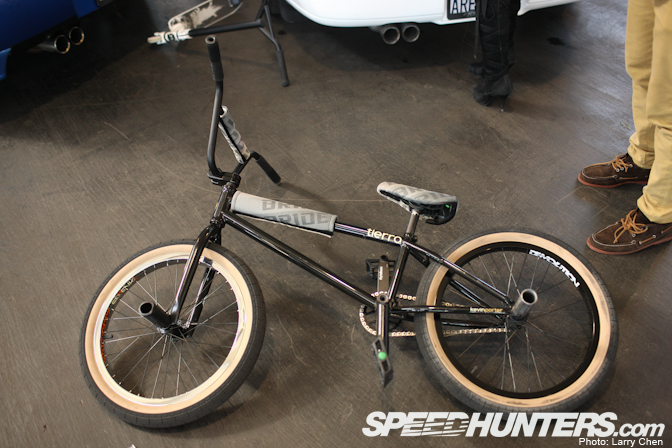 This bmx bike had quite the interesting upholstery.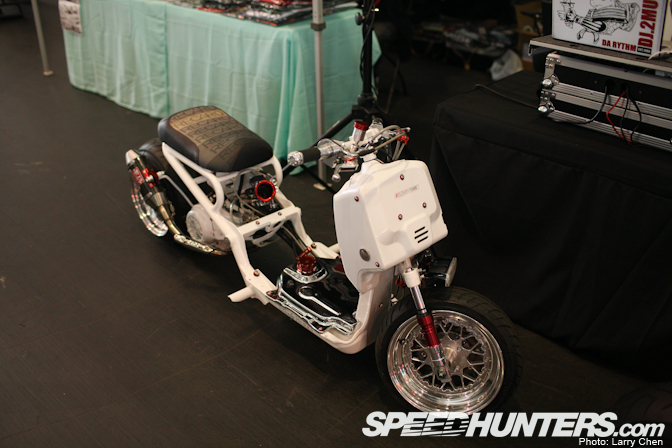 So did this Honda Ruckus. Would you look at those wheels!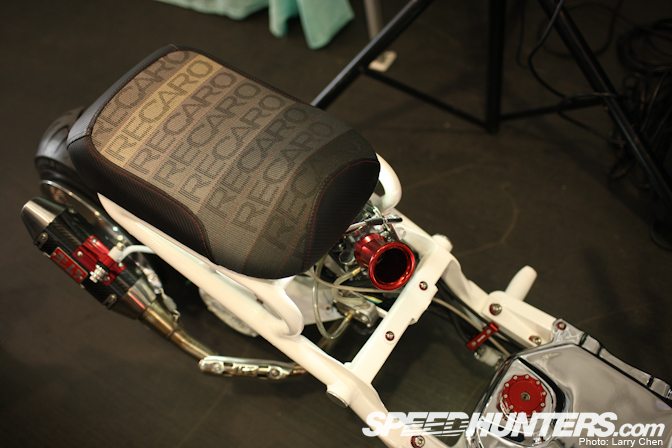 That air intake looks like it will suck your shorts in if you are not careful.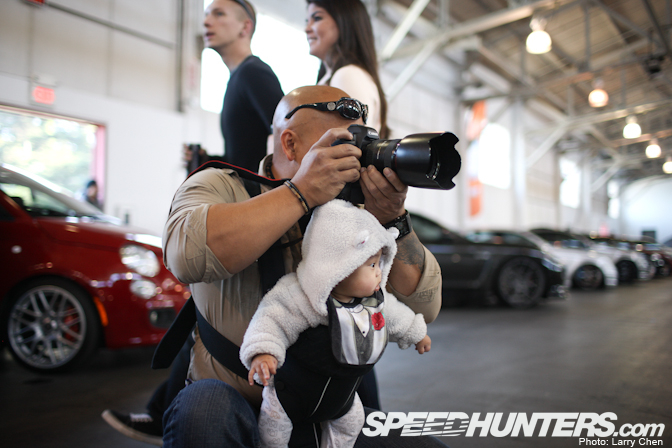 I don't have kids yet, but this is what I am guessing I'll become in a few years.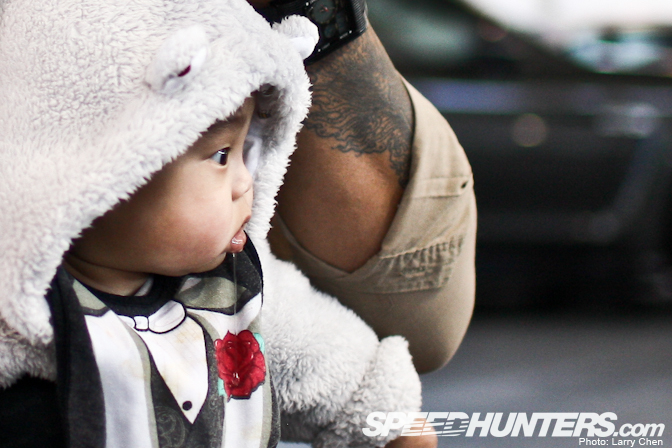 Upon closer inspection, it seems Linhbergh and I are not the only ones who need a hankie in our pocket. You got good taste kid!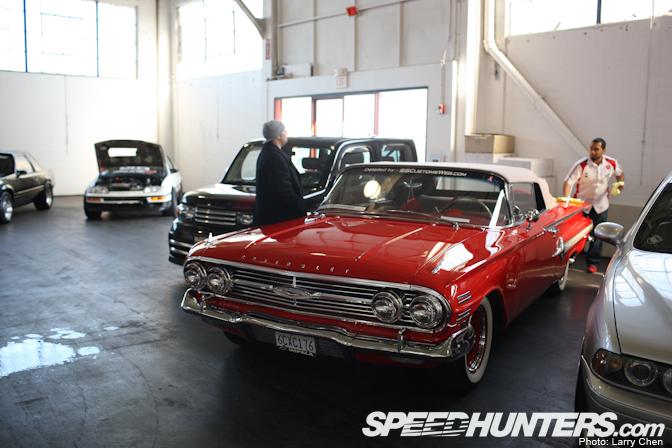 There were a few American cars here and there, like this Chevy Impala.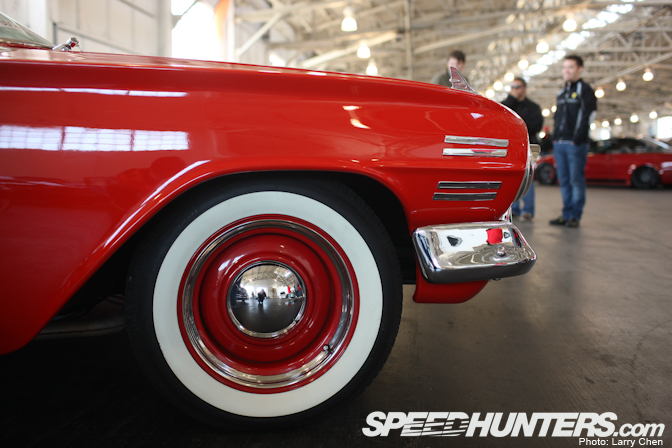 Those white walls looked great and it did not look out of place at all.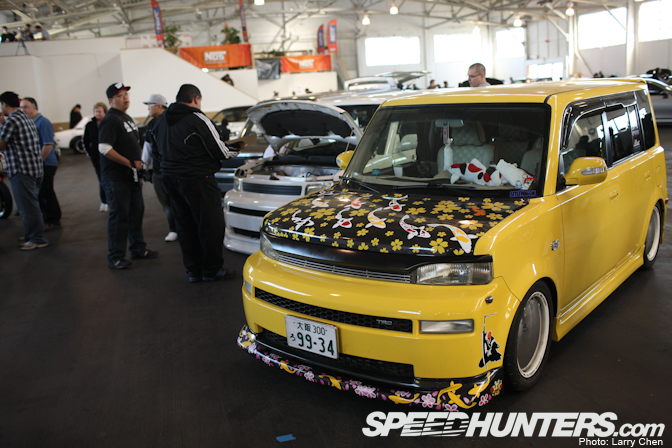 Here was an interesting build. Looks like something I would find on the streets of Tokyo.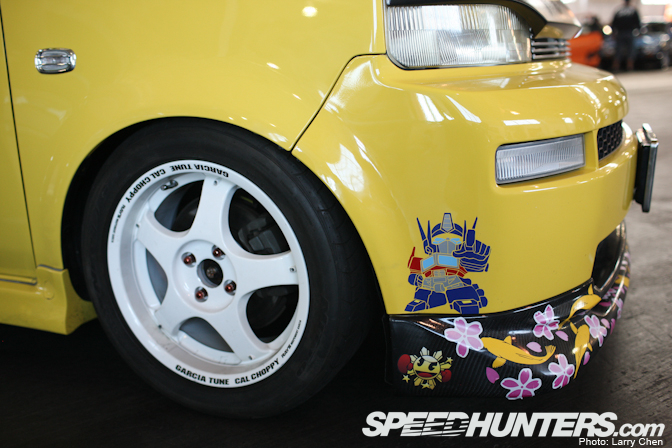 I think the builder was going for a Japanese arcade on wheels kind of look.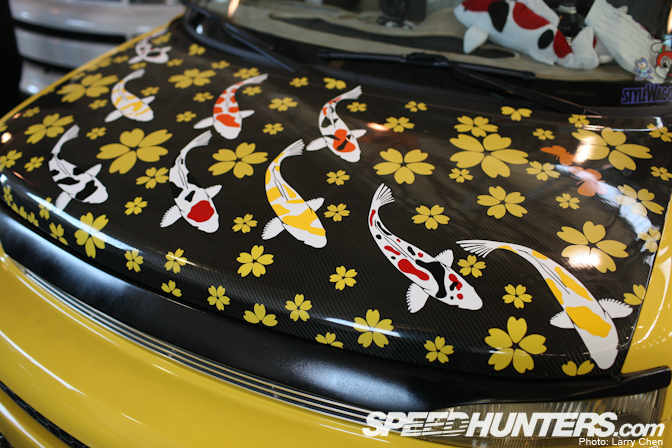 This must have taken forever to finish.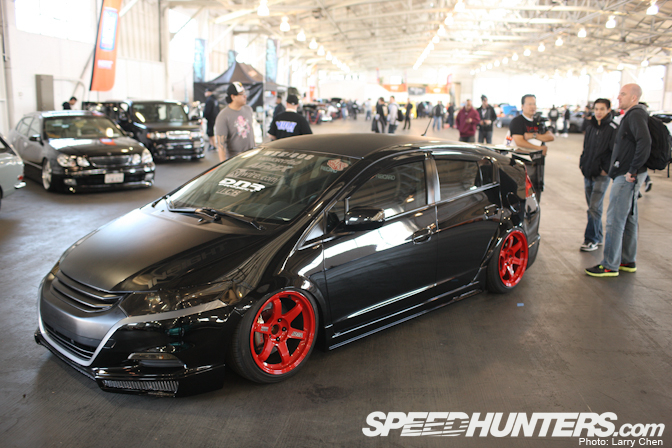 I have not seen the 2012 Honda Insight in person till now. I can't believe how perfect the fitment was on this car.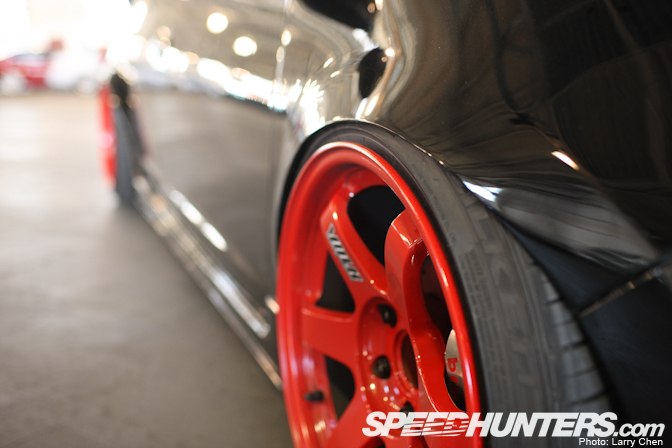 I guess as more and more hybrids come out on the market, tuners have to accept that they will eventually modify them to their liking.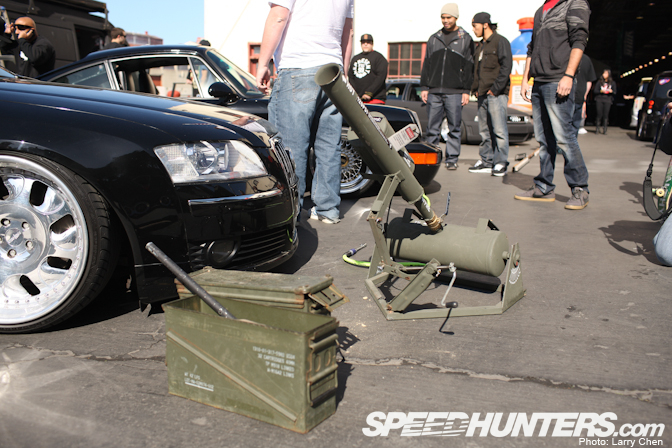 When I first saw this contraption I thought to myself "why would anyone want to bring a mortar to a car show?"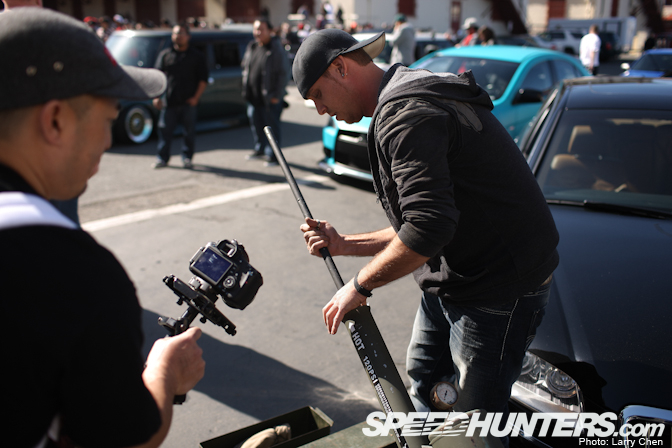 Then I realized it is the worlds coolest T-shirt launcher. You start by packing the t-shirt in to load it.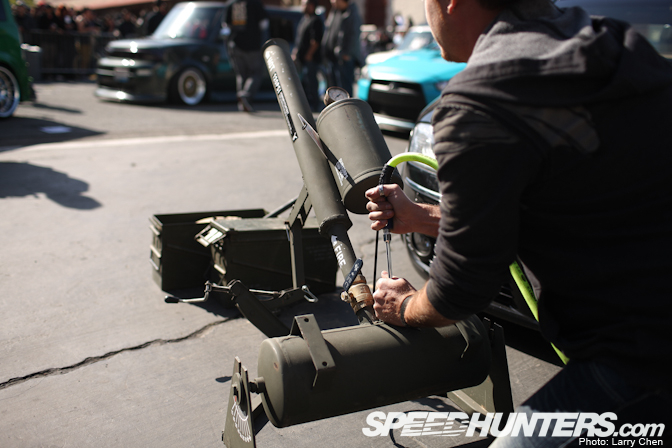 Then you fill up this air tank with compressed air. It reminded of me of the "Cheetah." It's a device that tire shops use to seat a bead on a very stretched tire.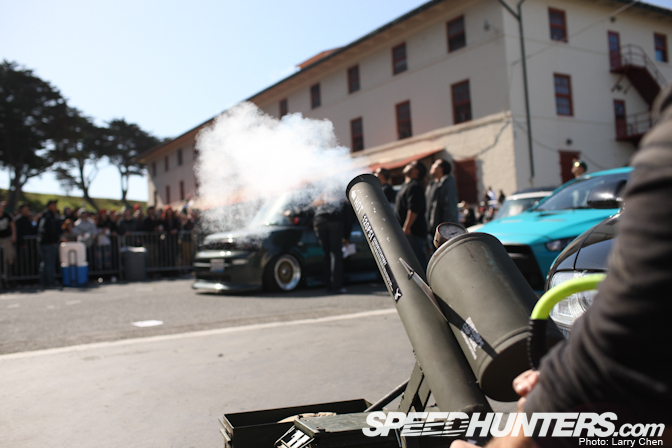 And boom, just like that. Hours of entertainment for the spectators.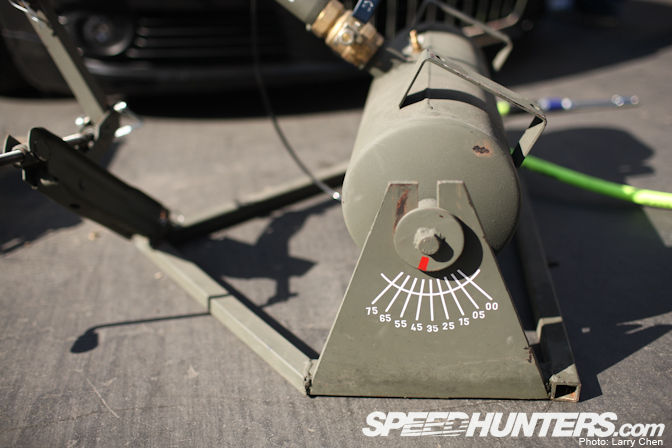 You can even see what angle you are launching the goods at. How cool is that?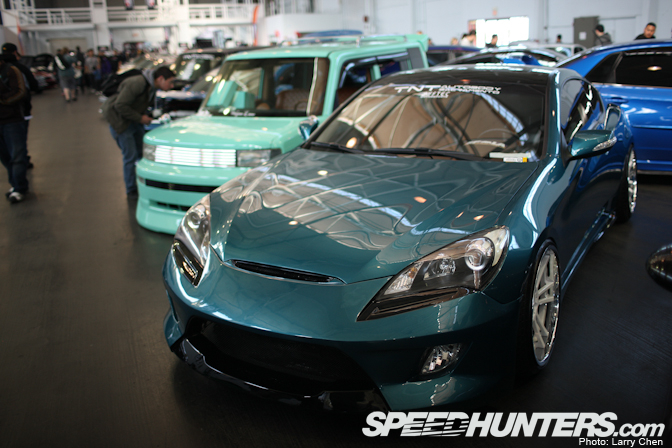 I decided to make my final rounds before the show opened to the public. There seemed to be a surge of modified Hyundai Genesis Coupes when the car was first released. It seems to have died down since, but who knows? They might make a strong comeback with the new model.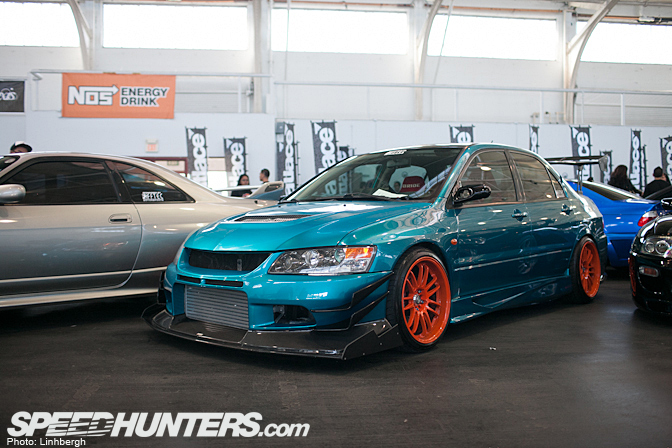 Mitsubishi played their cards right with the Evo in America. These rally machines have made a place in the North American tuner scene since they showed up in 2003.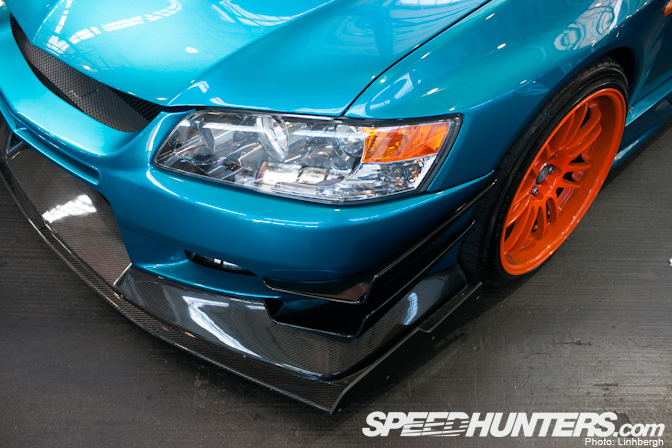 This car just looks fast sitting there. I guess that's why it needs so many canards to keep it glued to the ground.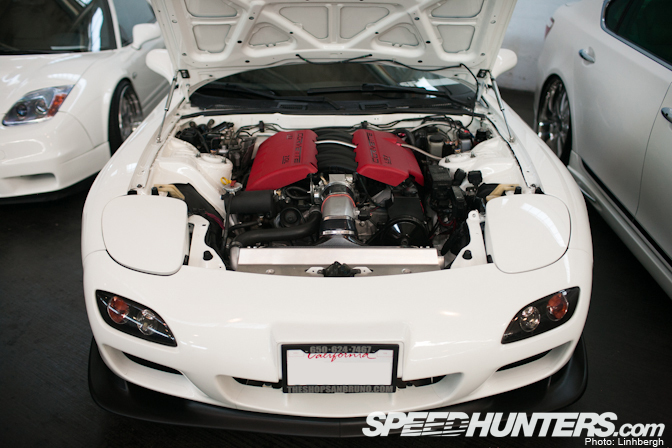 These LS swaps in FD RX-7s have been getting more and more popular. That motor certainly looks like it belongs.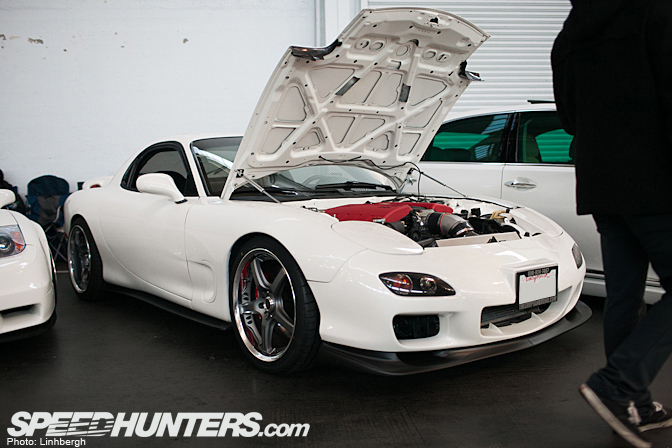 To think this was Mazda's flagship sports car at one point. I'm sure the designers had no idea the 13b would be replaced by an eight cylinder power-plant from Detroit.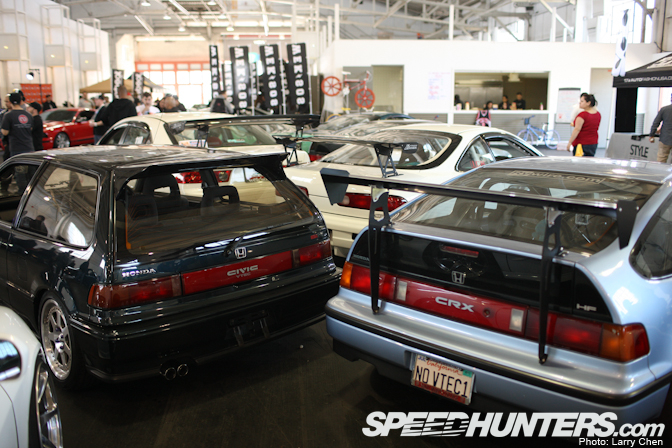 It took quite a while to load everyone in, and I understand why. The cars were all parked very close together.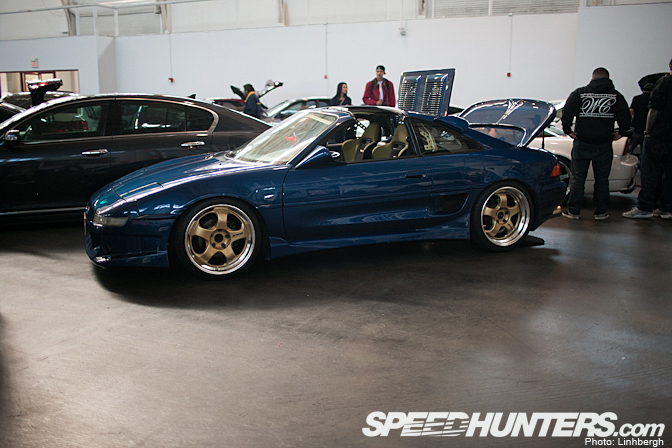 These Toyota MR-2 turbos are getting more and more rare. I don't see them on the street in Los Angeles anymore.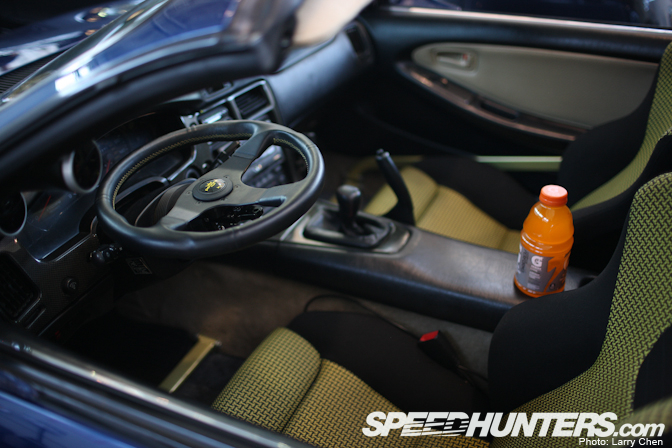 That Personal steering wheel that tilts up is such a great invention. When it's up it looks like it's a school bus steering wheel.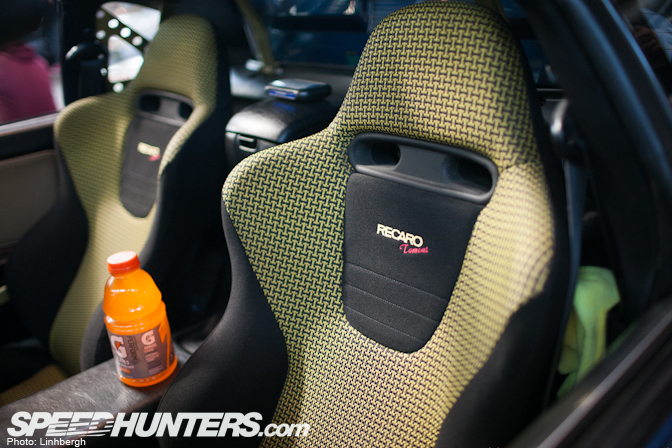 The Recaro Tomcat seats are also a nice touch.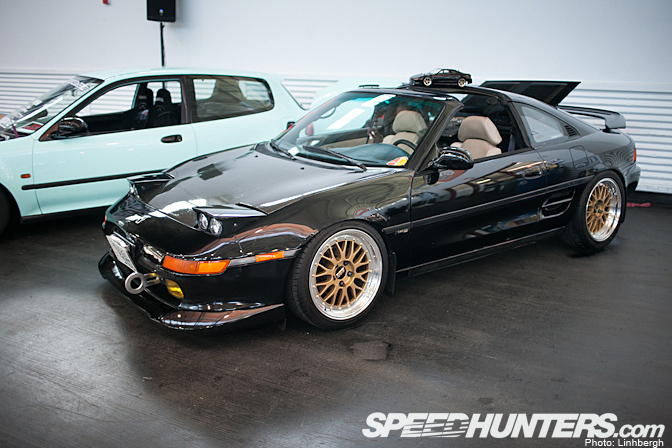 Another clean SW20, but what is that on top of it?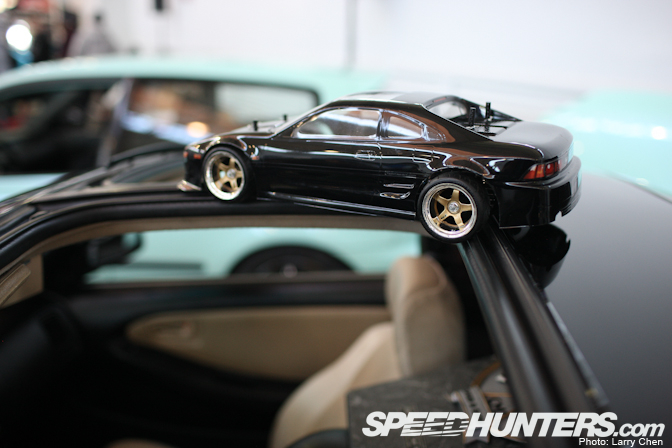 There is an Xzibit meme in here somewhere.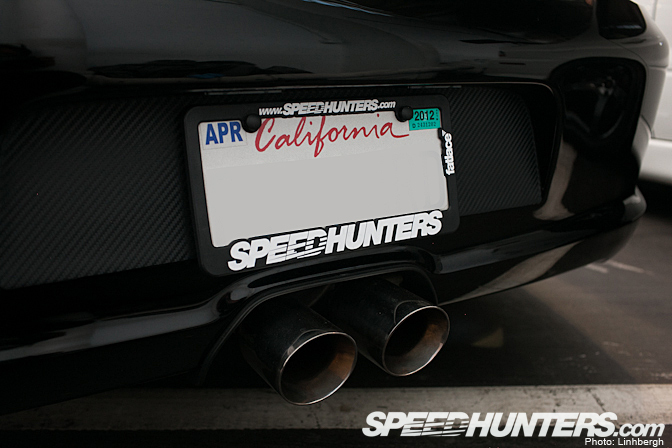 Well, this is definitely one way to get your car on Speedhunters.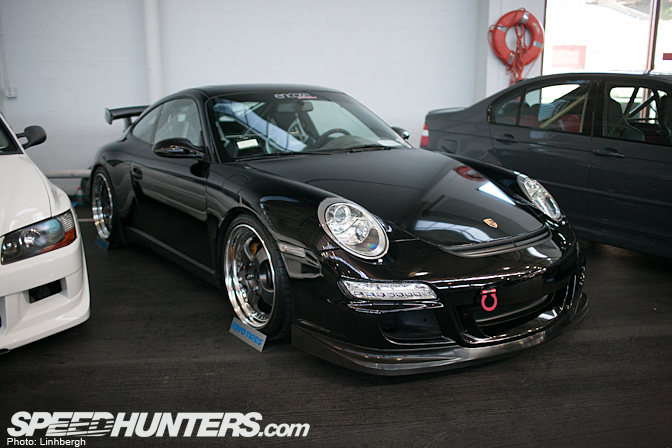 Luckily it was an interesting car. I am quite honored to see a Speedhunters license plate frame on such a great looking Porsche 911 GT3.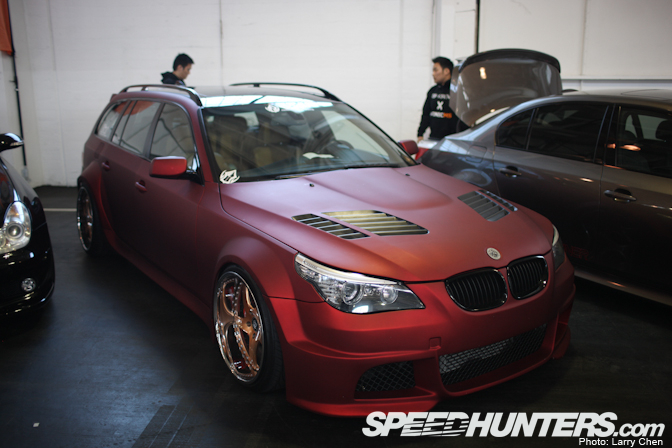 This was definitely my favorite European car of the event. I love wagons to begin with and this one just has everything going for it. Nice wheels and a nice flat red paint job.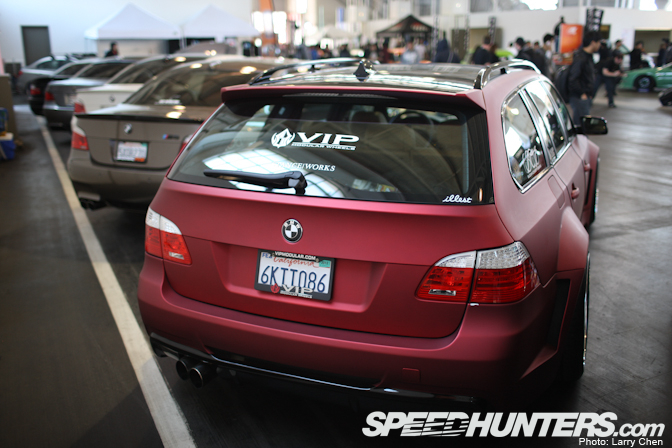 The fitment is certainly something the owner spent some time on.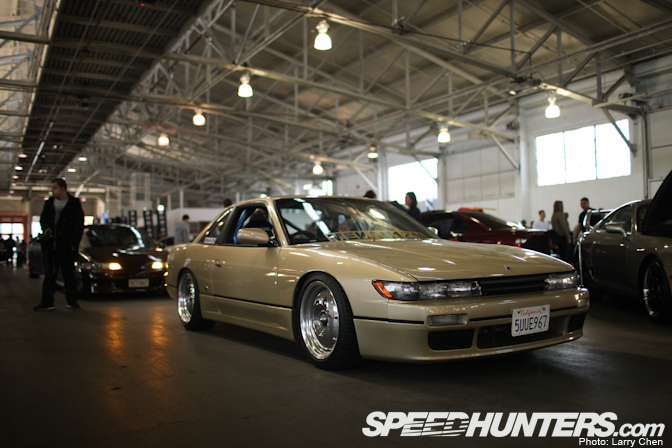 The S13 chassis has been done over and over again, but this one stood out to me for some reason.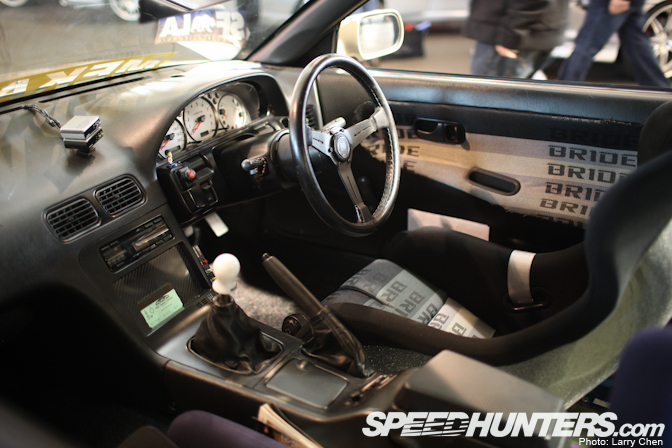 Maybe it's because it is right hand drive? Not many of those in North America.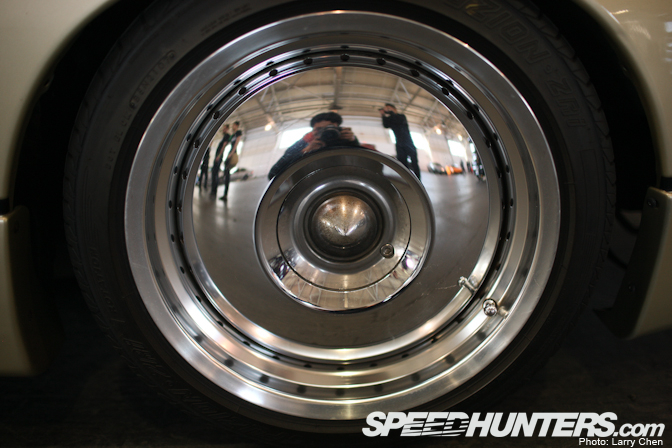 Or it could be the peculiar choice in wheels.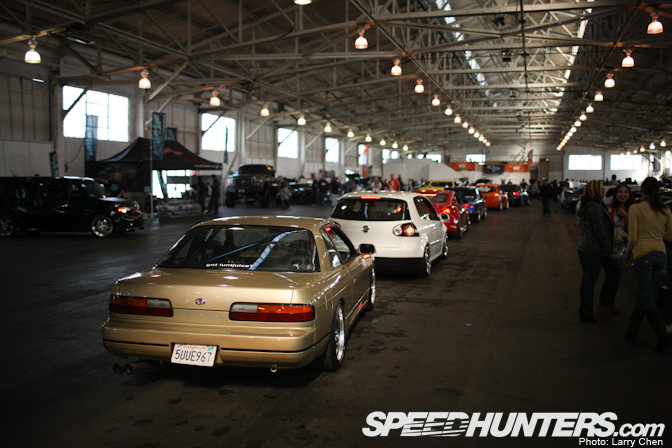 Either way this car has great personality. I would not mind cruising around in something like that.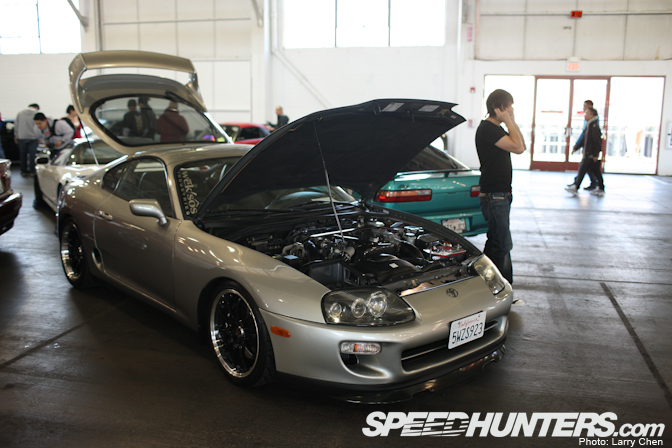 Toyota Supras have become rare enough that when I see one in this kind of condition, it makes me want to go on Ebay to see how much they are going for. It seems like they are hitting $50,000 for mint condition ones!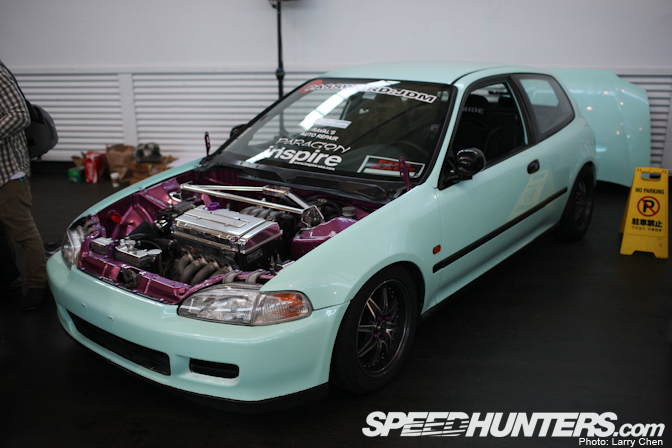 Another Minty green show car. This time a Honda EG civic.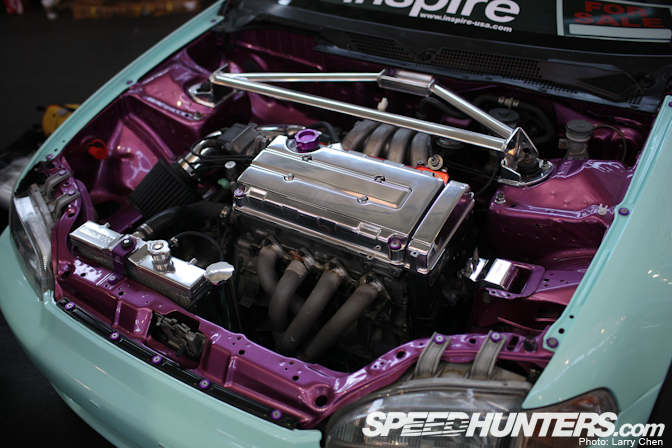 What a great color combo and very clean wire tuck job. I am not worthy of such a clean engine bay.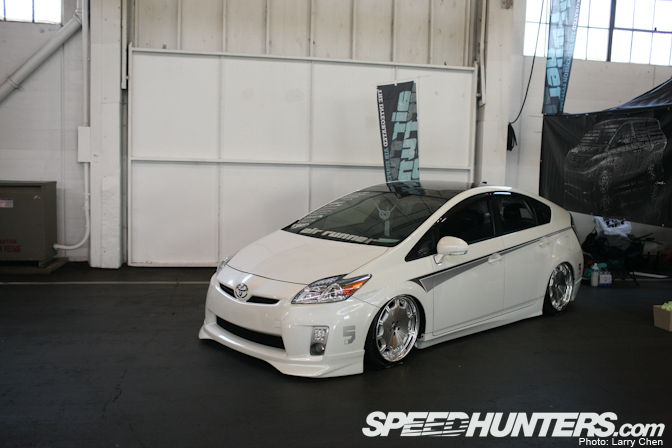 I found this very classy looking Prius in the corner. I just want to know how something like that gets around in San Fransisco. I feel like you need a lifted truck in order to drive some of those very steep streets.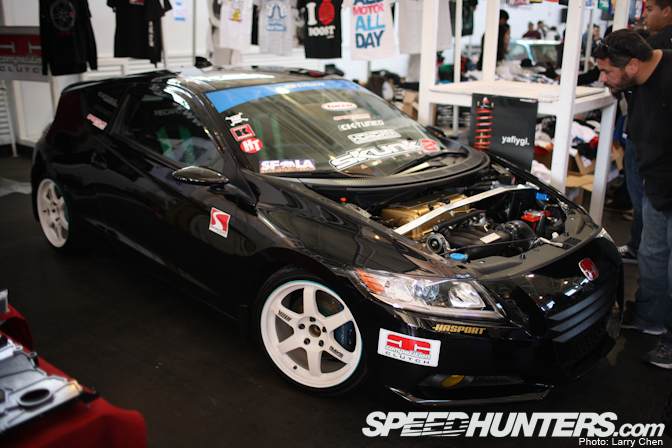 If this was only a factory option. I think the CR-Z looks way sportier than it actually is from the factory. Not to worry, just swap in a K-series motor. I can see that kind of swap getting very popular as the price of the CR-Z goes down.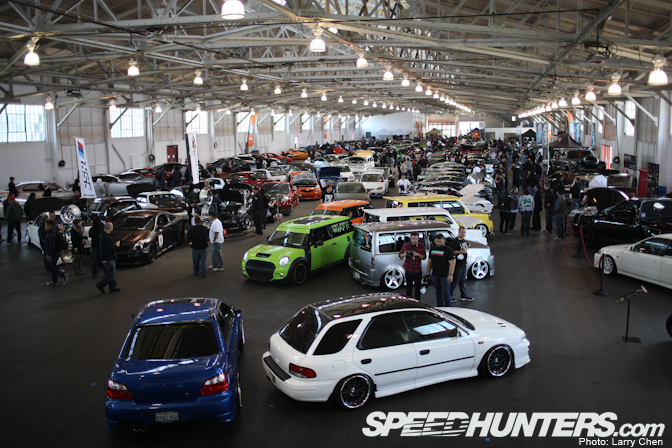 Now I see why people travel from all over the world to come to this humble little car show. There is such a wide variety of cars here that are top notch. Some of North America's most famous tuners go out of there way to show off their cars at Wekfest.
You can definitely count on me attending next years craziness.
Larry
(photos by Linhbergh and Larry)
More Wekfest coverage on Speedhunters