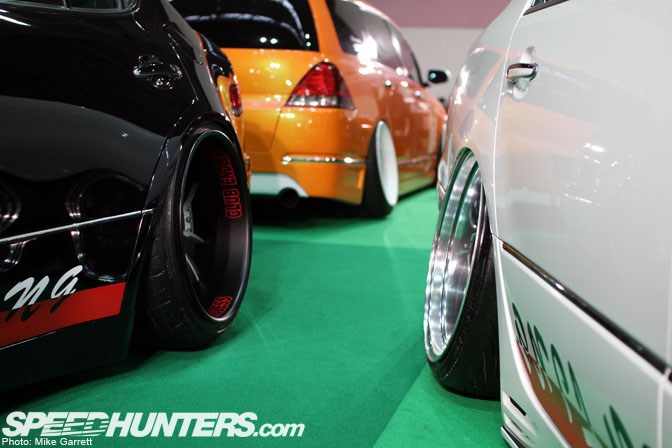 As good as it is, Osaka Auto Messe might not be able to match Tokyo Auto Salon when it comes to things like overall size and media coverage. Although improving, a soft economy still keeps a lot of companies and OEMs from exhibiting at both TAS and Auto Messe. With that said, there are some areas where Auto Messe really is king – namely when it comes to VIP cars.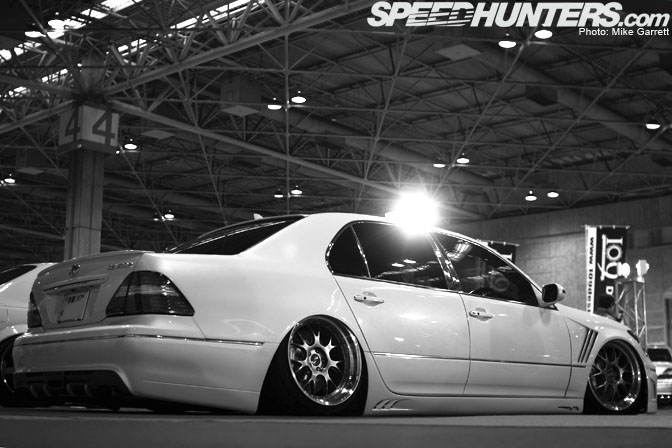 Before going to the show I'd heard a little about the quality of Auto Messe's VIP cars, and once I walked into the VIP-themed hall at Intex Osaka on Friday, all was confirmed.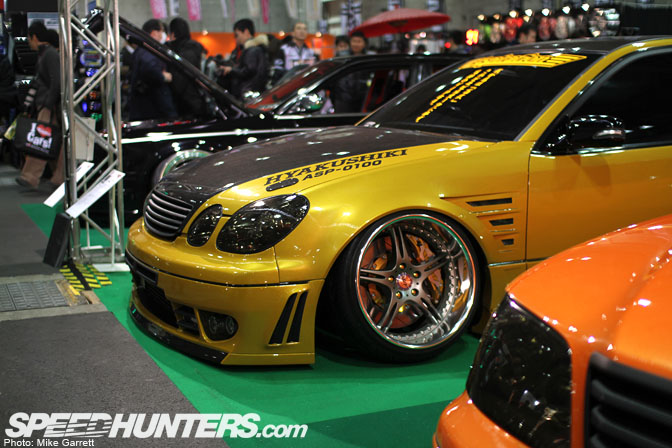 The place was an absolute mecca of VIP style tuning. Slammed luxury sedans filled the hall from end to end.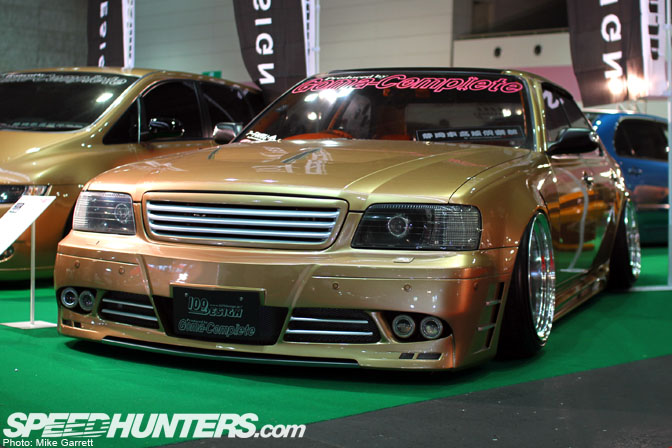 I'd had the chance to see some VIP cars at Japanese events in the past, but this was at another level. I can see how Dino felt when he visited the King of Sedan event last summer.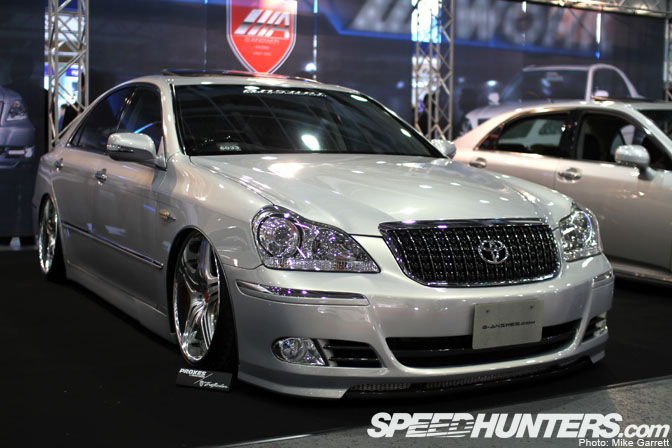 The group included a mix of parts company demo cars, shop projects, and privately owned vehicles.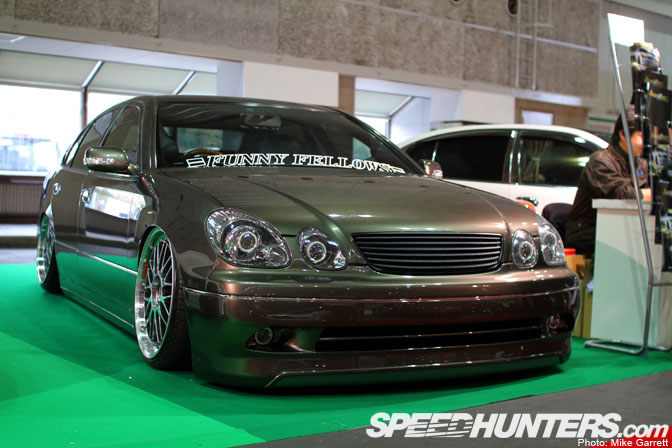 The styles ranged from the smooth and simple, as modeled by the "Funny Fellows" Aristo…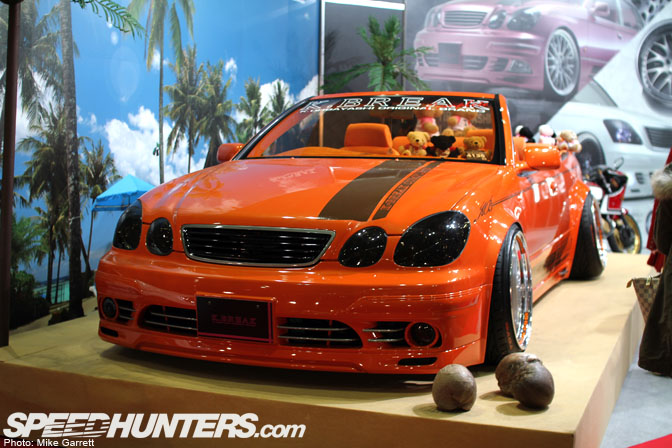 …to wild and over the top. This is K-Break's ridiculous Aristo convertible for example.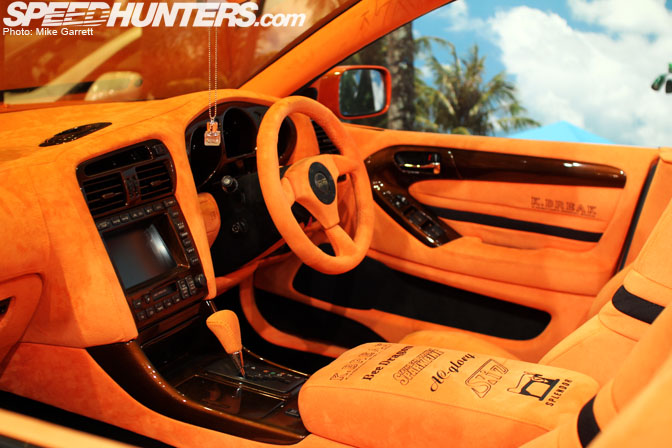 Of course the interior is fully done to match the outside. Want to pick up some girls and head to the beach on a summer day? This is your chariot.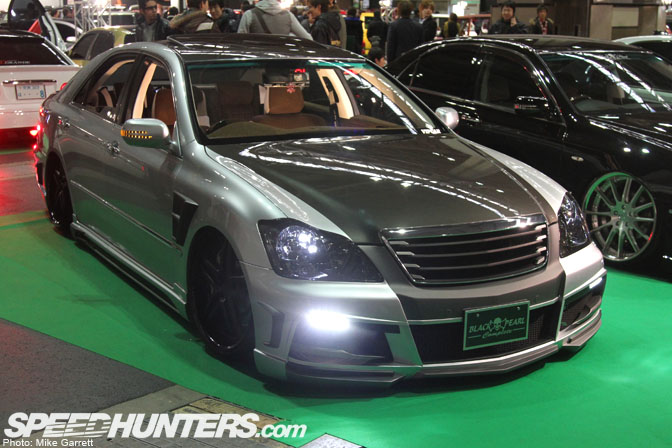 As I wandered around taking in the cars and looking over their details, I began to have some deeper thoughts about both the VIP movement, and car culture as a whole.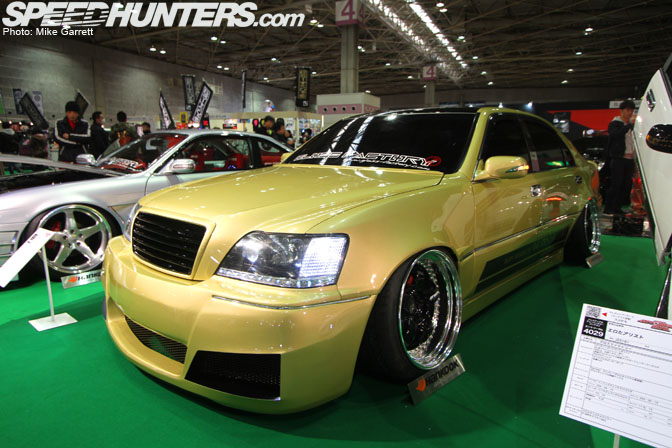 At one time there was an image (at least in the US) that "real" VIP cars had strict standards. It was said they could only be built from certain platforms, only be painted certain colors, and only look a certain way.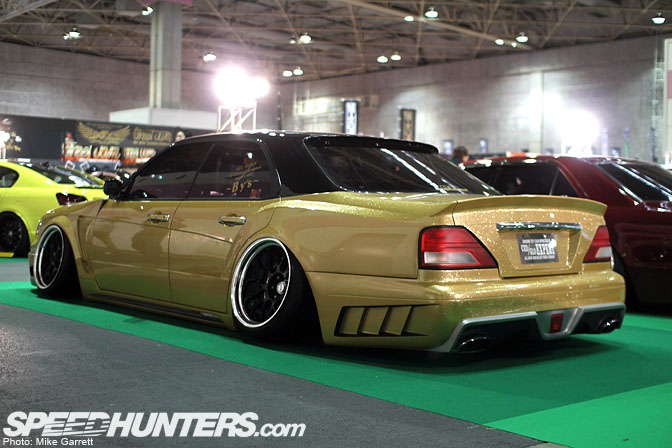 But it's quite clear now that's not the case. VIP builders in Japan are always evolving and trying new things with their cars.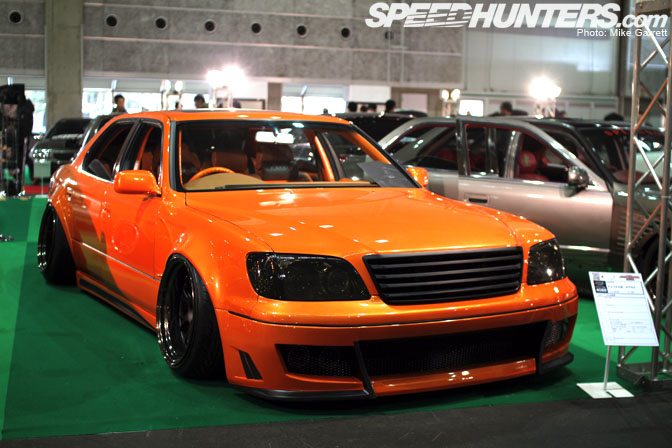 There are endless amounts of thought, effort, and time put into building these cars, and that's something that should be respected – regardless of whether you "like" the style or not.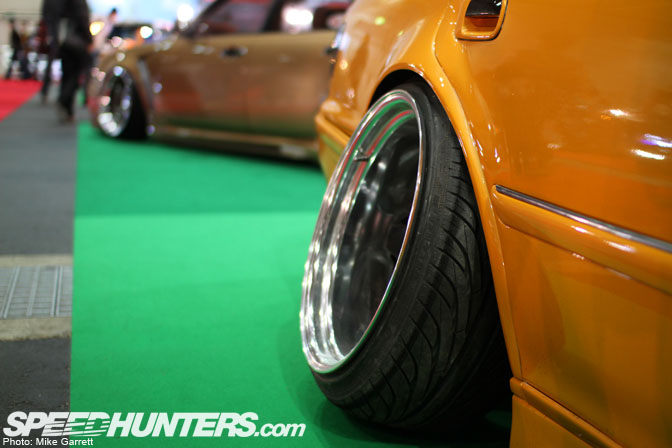 For instance, many of these VIP sedans run extreme amounts of negative camber, and that's something that will always generate heated discussion in the comments section on blogs and websites. But really, is it something that needs to be argued over?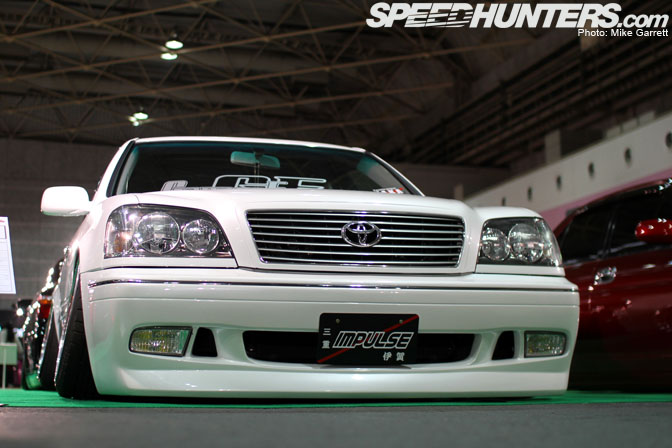 I'm sure the owners of these cars are well aware that their tires don't have ideal contact patches and that their suspension lacks proper travel. It's simply a matter of personal style, and many folks are very proud of this look.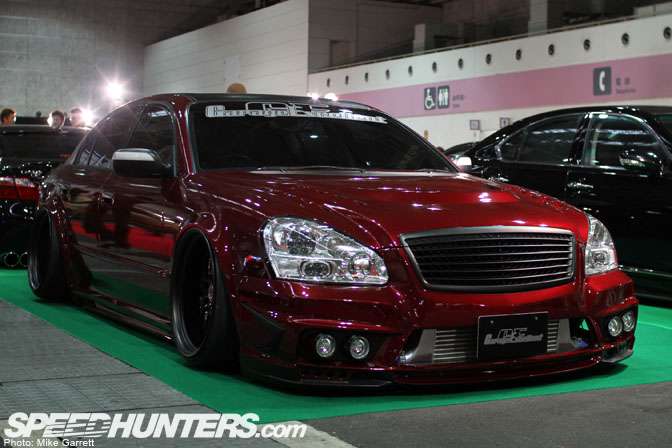 That brings me to my main point. While in the United States, I spend a lot of time around the Hot Rod and custom scene, and I see a big parallel between today's VIP builders in Japan and the legendary American custom builders.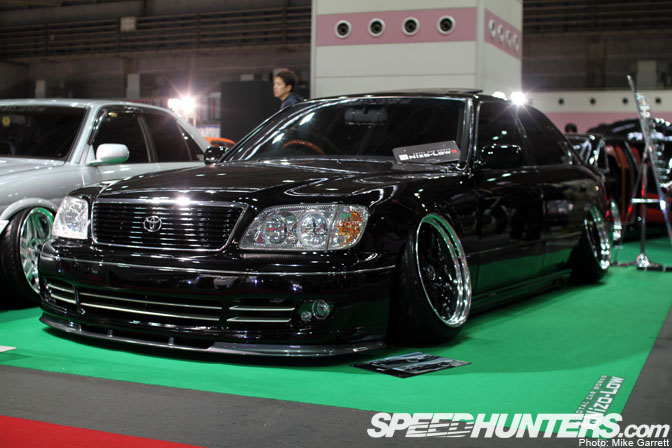 If you just Imagine these Toyota Celsiors and Nissan Cimas as '49 Mercs or '54 Chevys, the similarity becomes very clear.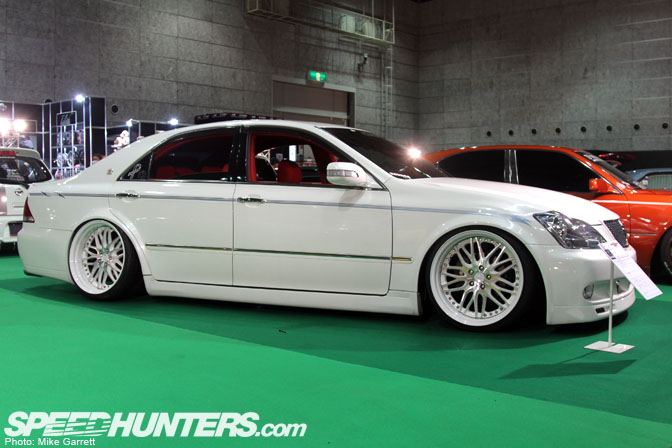 Japanese VIP cars and American lead sleds may be separated by decades of technology and thousands of miles, but their spirit is very much the same.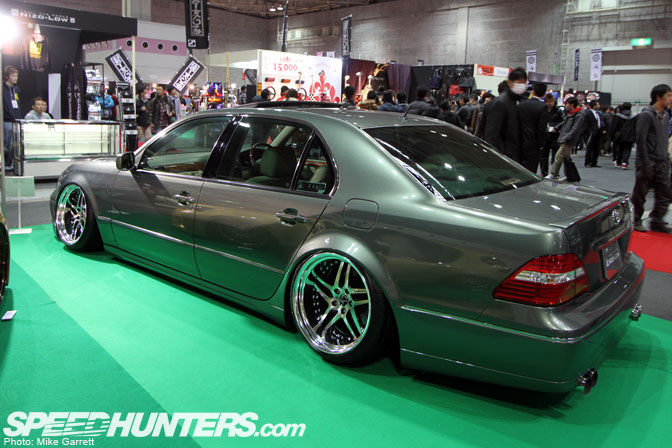 The more I think about it, the more similarities I notice. For starters, they are both big, low, and in many cases loud. Hell, many of them even have the same V8s with straight pipes.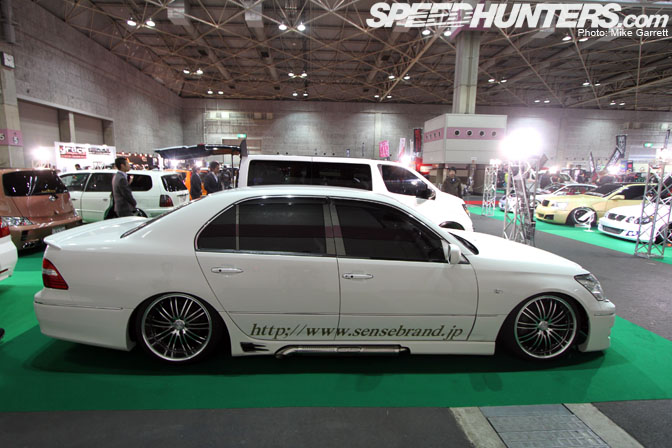 In fact, a few cars at Auto Messe this year were even running long side exit exhaust. A VIP version of the iconic "lake pipes".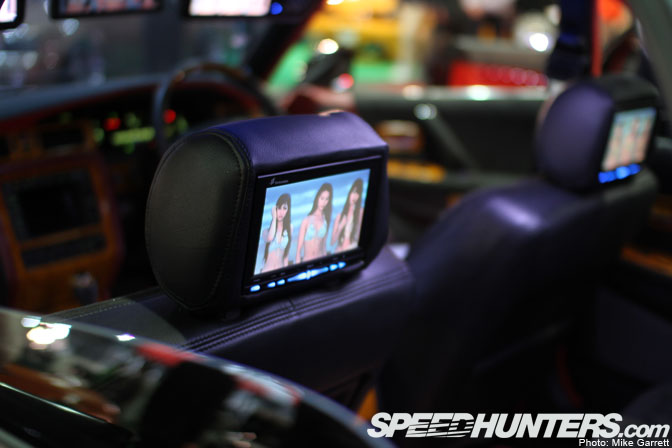 Just as it is with classic lead sleds, interior customization is a big part of the scene. Just replace tuck 'n roll upholstery with TV screens and high tech audio systems.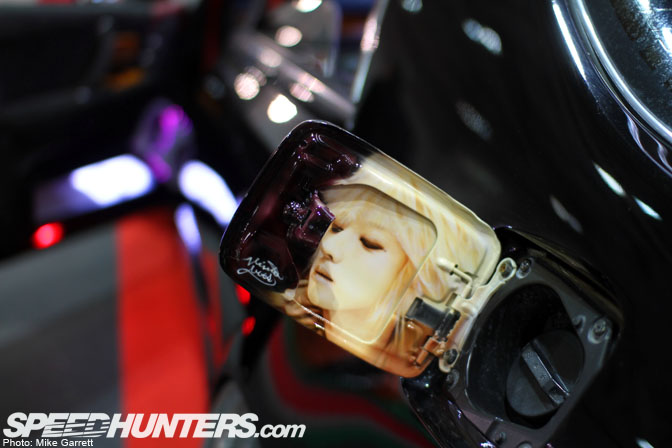 You can even throw in a tribute to your best girl (celebrity or otherwise).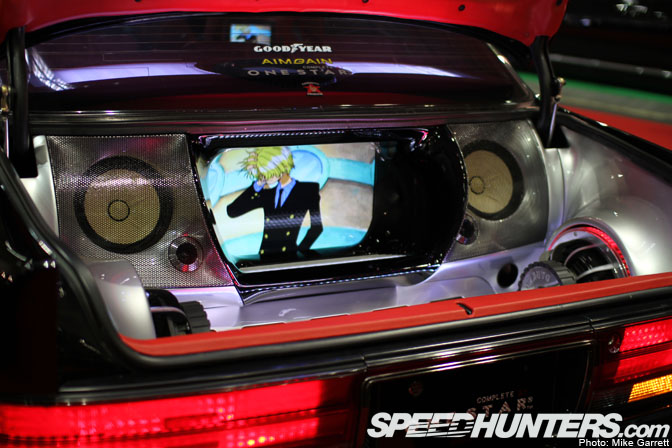 While on the subject of decked out interiors, who can identify the famous Japanese anime series playing on this screen?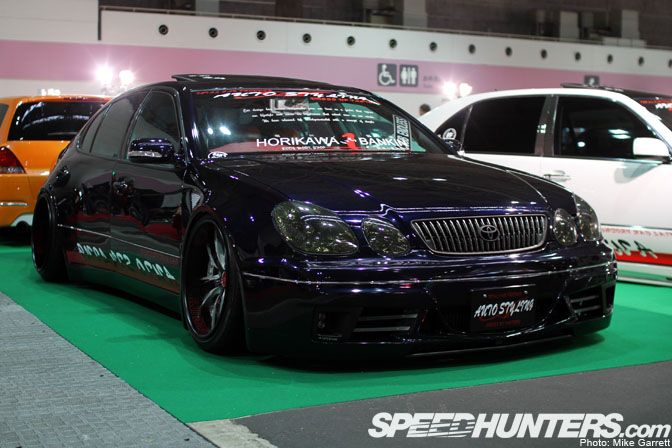 Many of the top VIP cars in Japan have lots of handmade body work – the bulging fenders on the Auto Styling Aristo for example. Again, not too different from the cars built by people like Roth, Winfield, and Barris.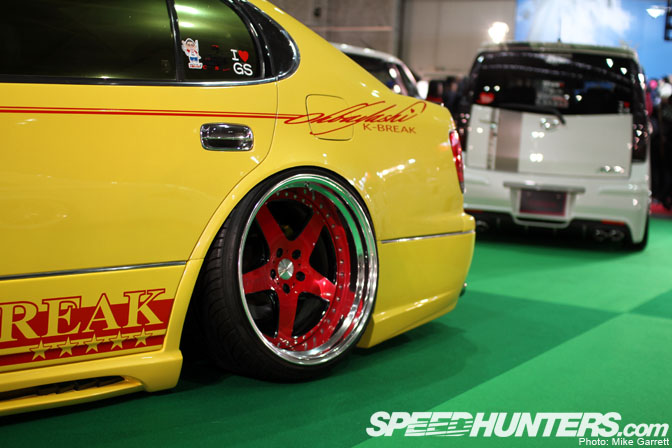 Radiused fenders or chopped tops, it all comes from the same universal school of trying to make your car cooler.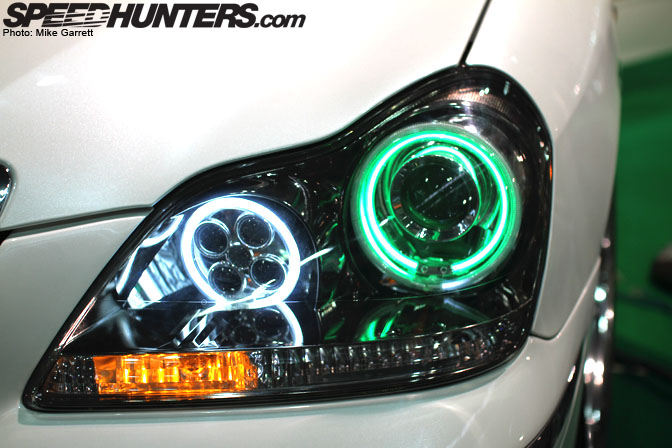 Custom projector and LED setups might as well be the Frenched lights on the Hot Rods and customs of yesteryear.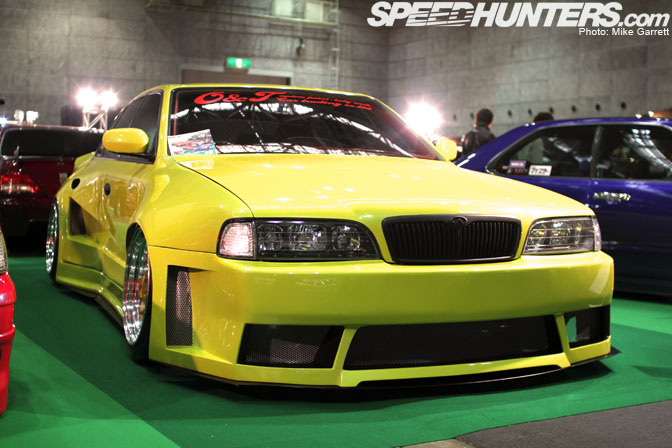 There were a few VIP sedans at Auto Messe so heavily modified that it took a few moments for me to identify the base car.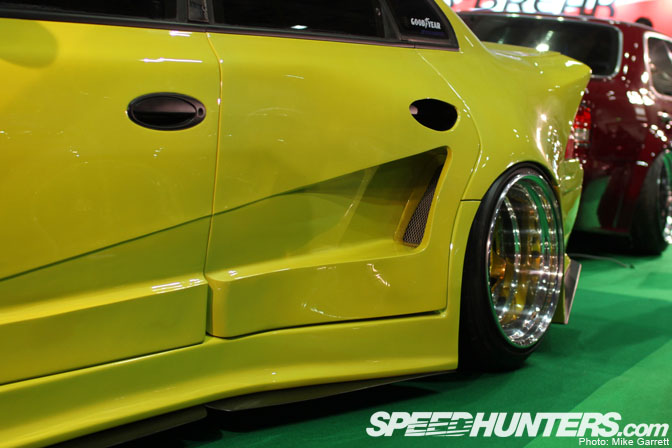 Again, this is something I run into often while shooting Hot Rod and custom events. In case you were wondering, this is a Q45 built by O&T Car Trading out of Kanagawa.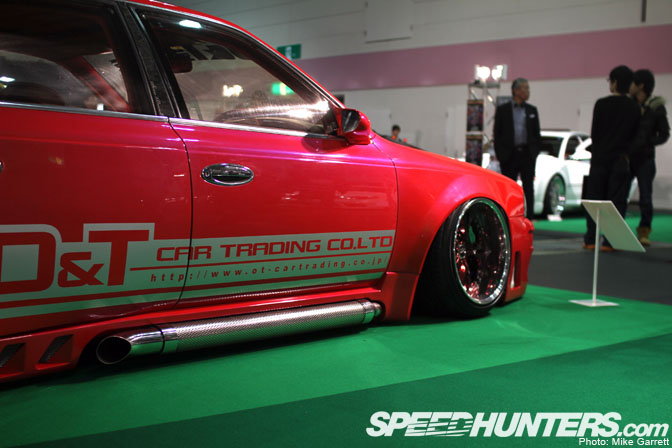 Another HG50 from O&T, slammed and side-piped for maximum attitude.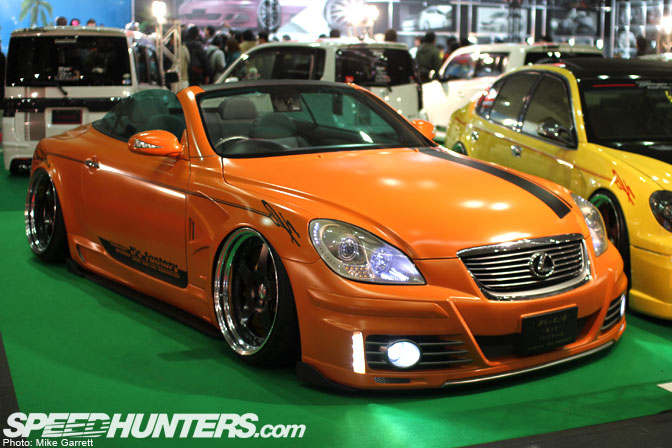 You could even see different body styles among the VIP crowd at Auto Messe, be it an open top car like the Lexus SC430…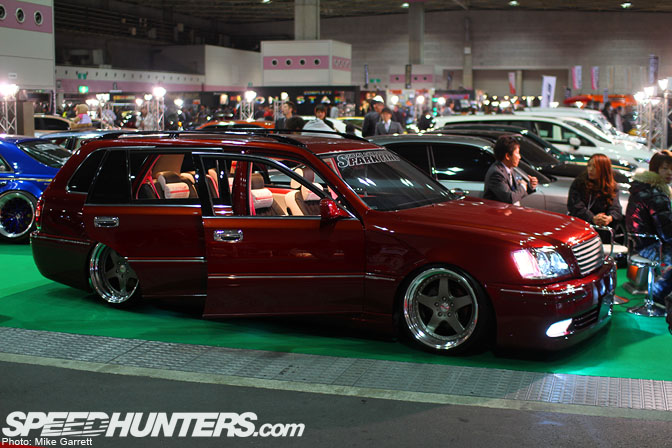 ..or a traditional station wagon in the form of a Toyota Crown Estate. A lot like the wagons and convertibles you see at a show like the Long Beach Motorama, right?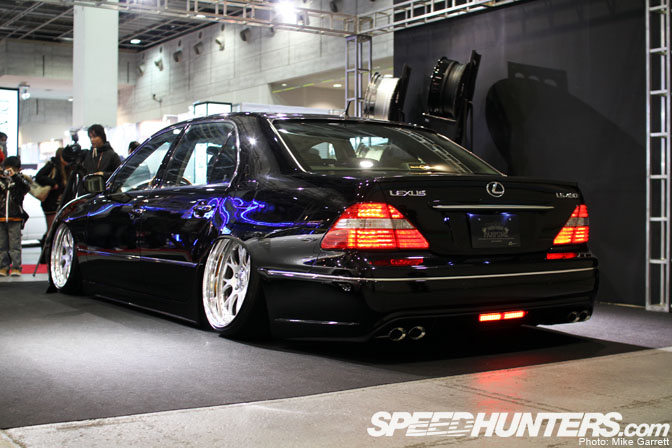 I could go on further with this, but I suppose what I'm getting at is the common bond that's shared by car people across both continents and generations.
If you consider these VIP sedans to be modern Japanese versions of the classic American lead sled, it might just help ease some of the tension and hostility between the various camps in today's automotive world.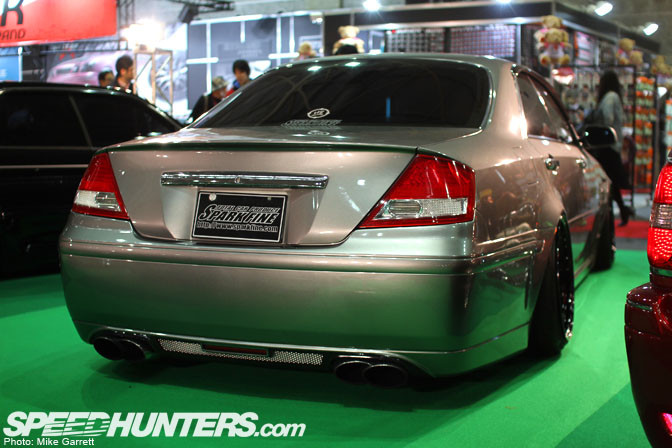 Of course I'm far too young to have experienced the golden age of American Hot Rod and custom building myself, but I imagine things were different then. I can't picture 1950s era quarter milers and lakes racers hating the lead sled and custom guys because their cars lacked performance or "function". With the same token, I doubt lead slead drivers made fun of the racers because their cars weren't "cool enough".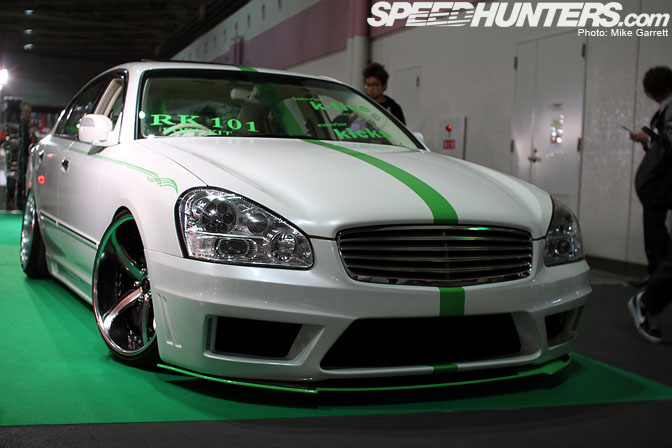 Yesterday's car people still had their own tastes and preferences of course , but it seemed there was a mutual respect shared by everyone. Or at least everyone was so busy enjoying their own automobiles that they didn't waste time being bothered over what others did or didn't do to their cars.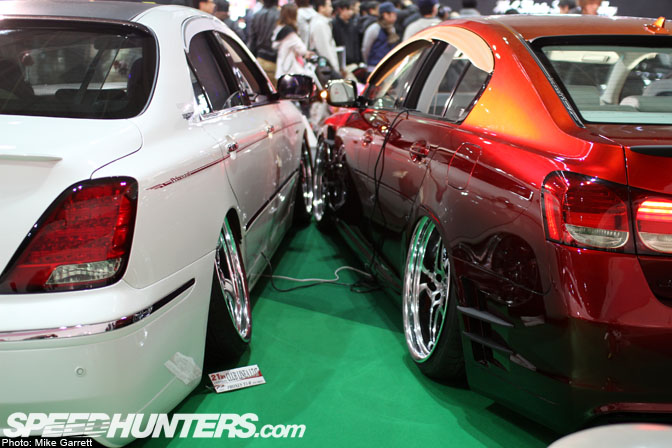 It really doesn't matter whether you are talking about VIP cars and lead sleds, or any other automotive style or subculture. I think in the future if we take just a little time to remember these common bonds that us car freaks share, our little world might be a better place.
It's now almost 4:00am here in Tokyo, and what started out as some simple event coverage has turned into a bit of commentary on our car obsession as a whole.
Feel free of course to sound off with your own thoughts on this below.
-Mike Garrett