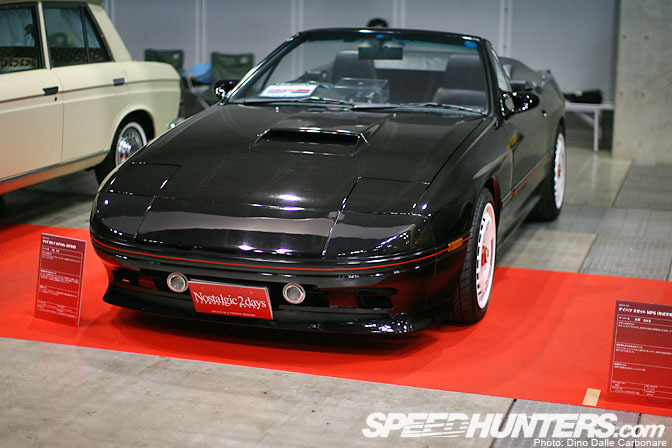 I hope you guys aren't tired of awesome vintage cars quite yet as there is still a lot more to get through from the Nostalgic 2 Days. I'm going to jump right back and continue to show you more awesome rides, like this immaculate 1987 RX-7 Cabriolet.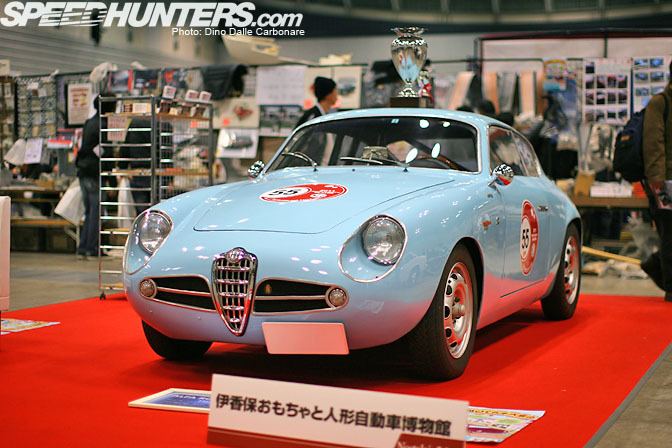 As I mentioned in the Preview post, the show was peppered with the occasional import, imports of a very high caliber at that. I couldn't believe when I stumbled across this tiny little 1957 Alfa Romeo Giulietta SVZ, yet another rare great from history. SVZ stands for Super Veloce Zagato and is one of only 18 or so ever made. The Zagato lines are beautifully sculpted and this particular car wore the "Elaborata Cornero Torino" badge which means it was tuned by Autotecnica Cornero of Torino who modified the little 1.3L 4-cylinder that powered it into a 100 HP per liter race engine. This particular car won the Japanese La Festa Primavera race last year, an event held every year in Japan to commemorate the old Mille Miglia.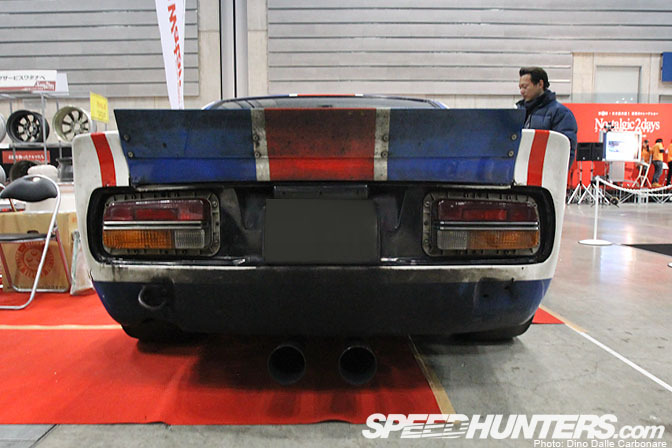 Running rich? No, just race exhausts…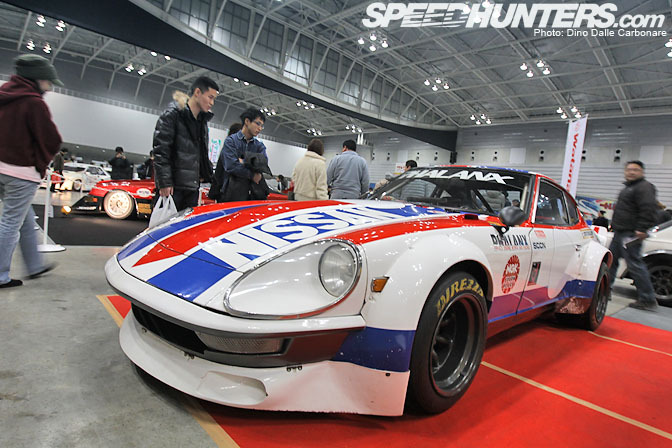 …as fitted to this Team Phalanx S30. I've actually seen this car at Daikoku PA a few times, so it's not a track car but a true street racer! It was on display…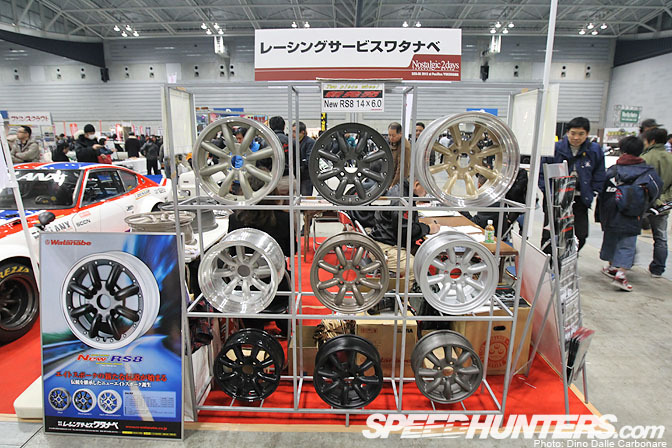 …at the Racing Service Watanabe booth where a selection of their most popular wheels were on display.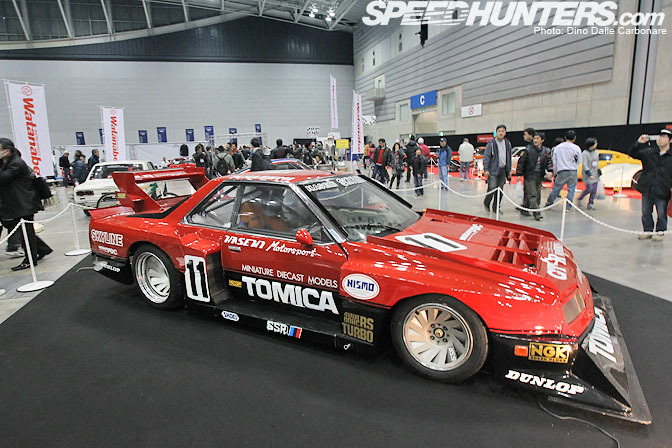 I showed you the Bluebird yesterday, today it's time for the DR30 Skyline Super Silhouette of Hasemi Motorsport. Hasemi-san was at the show along with Yanagida-san to chat about their early race days in these cars.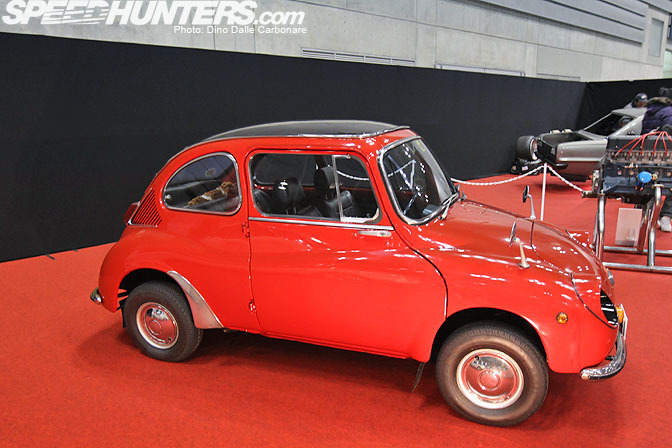 Much like many European countries the first few decades after the second world war were tough for Japan too, so car manufacturers produced cool little cars in order to motorize the nation. This is the Subaru 360, Fuji Heavy Industries' first production car that went on sale in 1958.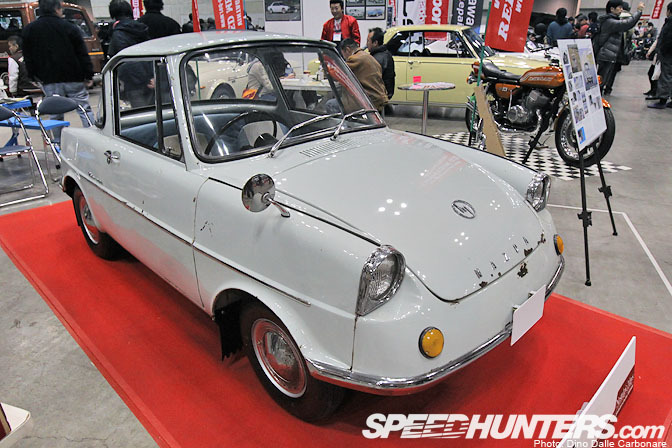 And here is Mazda's first car, the R360 Rabo Coupe that became one of the best selling Kei cars of the time (then limited to 360 cc – hence the similar names of the two cars)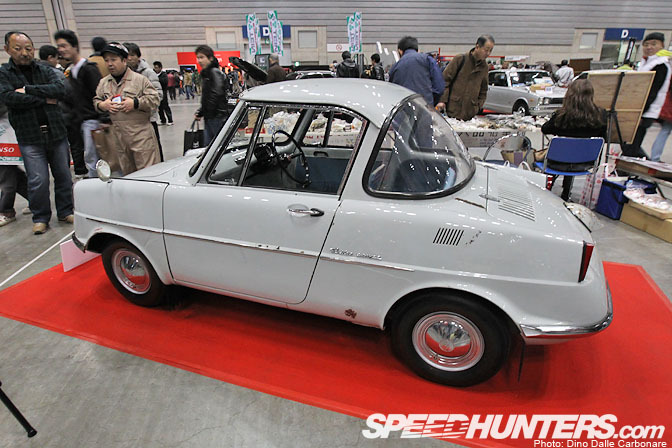 Funky little thing!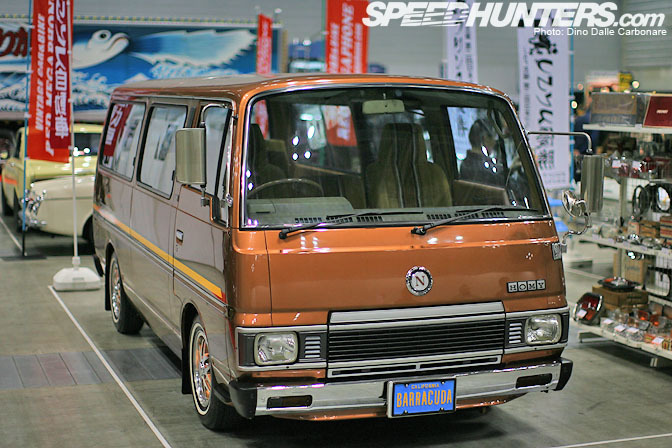 From the smallest to one of the biggest, the bus version of the Nissan Homy.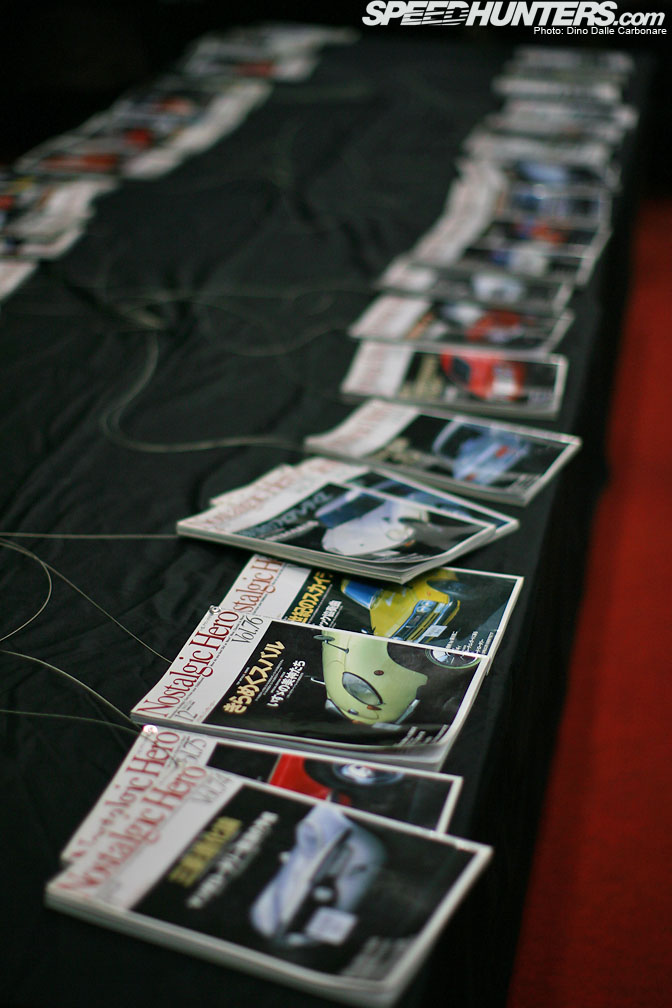 One area of the show was dedicated to the complete Nostalgic Hero magazine collection…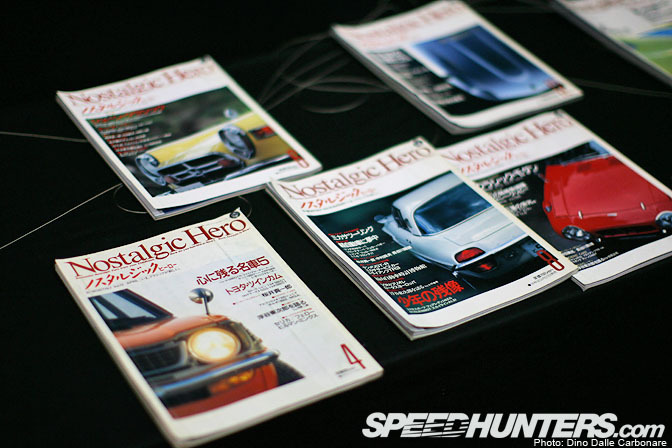 …every issue ever printed there for showgoers to flick through. If only there had been more time I would have looked through every single one!!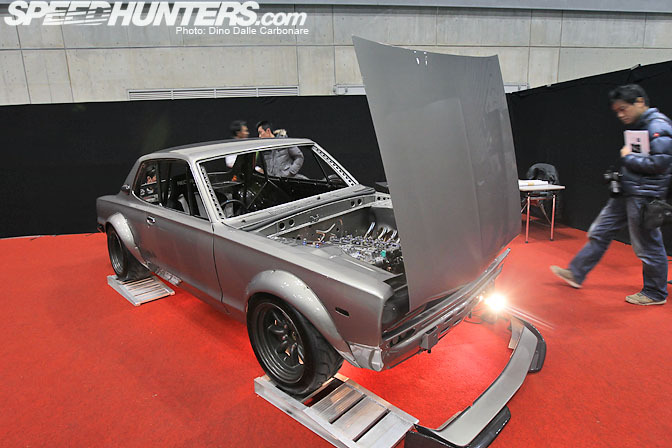 I already gave you a brief glimpse of this rather special Hakosuka. It will be another couple of months before it's complete but it's going to become one mean KPGC10.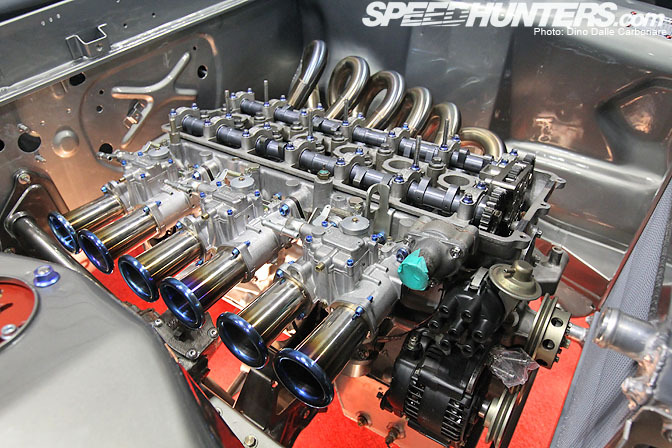 It's all been built from the ground up, prepping, spot welding and stiffening the ageing chassis to prepare it for some serious track use. Powering it is an R-Factory built S20, stroked to 2.5L thanks to a fully counter balanced forged crank especially created for this build. Other components include R-factory I-beam connecting rods and 84 mm high-comp pistons. Fueling is handled by a triplet of 50 mm Solex carbs that have been joined by six custom-made titanium funnels. Simply amazing!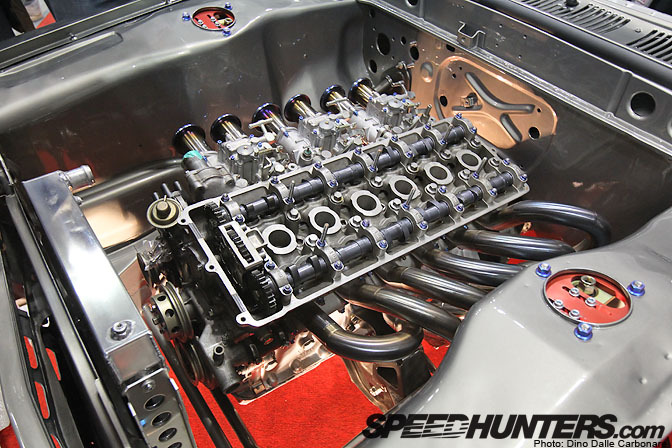 But it doesn't stop there. Under the head covers we can see the special set of OS Giken camshafts especially machined for this engine. The attention to detail is amazing, even the two piece bearing caps are bolted down with titanium bolts which weight next to nothing when you hold them in your hand. If you look closely you will notice there is no chain driving the cam timing, it's all been converted over to the very limited edition OS Giken gear conversion, the same that was being developed last time we stopped by their factory in 2010. As you see in the link it's not quite as simple as adding an extra cam or two, but a set of very complex set of gears, all with their own bearings and capped off with a billet cam cover to keep everything protected from dust and debris. Even the oil pump, fitted under the engine block, is driven directly off the crank gear. All of this makes it possible, just like in the OS Giken TC24-B1Z engine, to rev this S20 to 10,000 rpm! It develops just under 300 HP at 9,000 rpm. Not bad for a reworked 43 year old engine right? Oh and with a little over 200 lb/ft of twist available, it promises to have a nice mid-range too.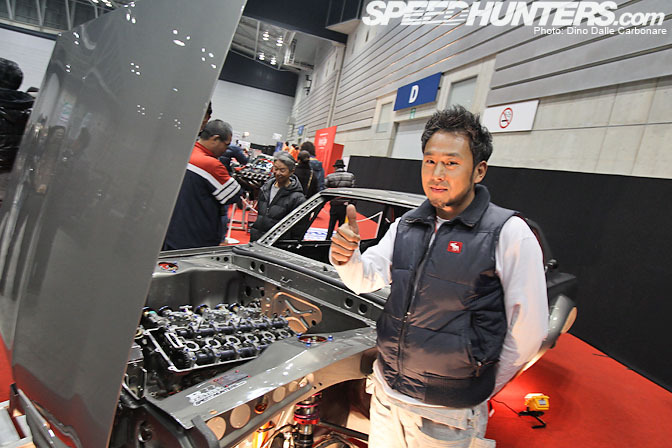 The man behind this incredible Skyline 2000GT-R is none other than Sudo-san, or as most of you will know him, the owner of the Garage Saurus Sudo-R BNR32.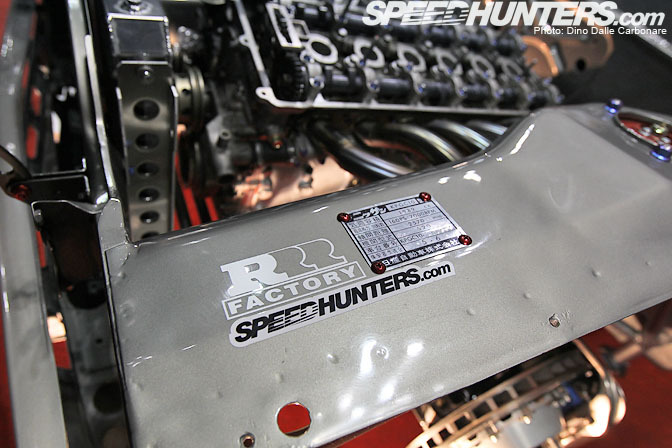 Last time I met Sudo-san at Tsukuba back in December 2010 I gave him a few Speedhunters stickers. Good to see he kept one for his new project! Arigatou Sudo-san! At that time he was with another friend of his in a PGC10 4-door Hakosuka, which was one of the first to be fitted with the OS Giken S20 cam gear timing conversion. If you want to hear what it sounded like click here to see a quick movie I made of it.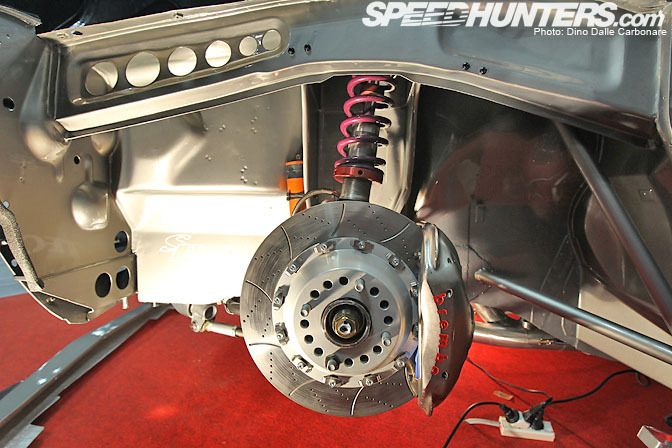 Sudo-san chose the new Brembo Racing titanium-alloy and titanium piston 4-pot monobloc calipers, the same ones that Under Suzuki is now running on his S15 Silvia. These are mated to 2-pots rear calipers of the same racing line up and very thick endurance racing Endless brake pads. The discs and center bells were custom made, as well as the caliper brackets; the discs measuring a conservative 332 mm fore and 320 mm aft. This is more than enough for a car that will probably hit the scales at under a ton.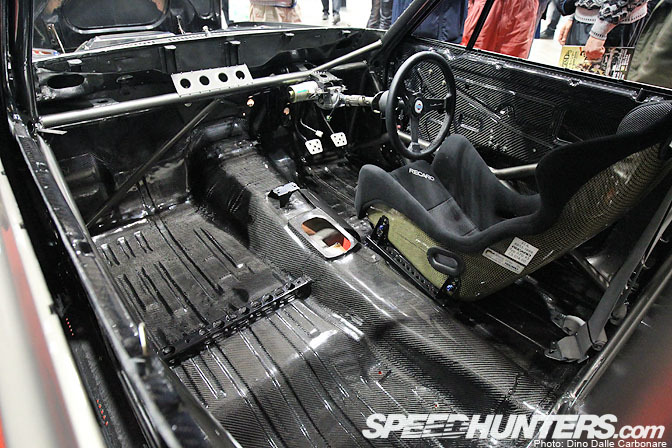 Sudo-san loves his carbon fiber, and after having done all the work on the exterior of his BNR32, he had enough experience to go even wilder on the Hakosuka covering most of the floor and transmission tunnel with a couple of layers of "wet carbon." These, along with the roll cage help stiffen up the chassis too. The opening on the transmission tunnel is where the shift lever of the Quaife sequential will pop out from, hinting that money just isn't an issue on this beast. Drive will be sent via a custom carbon prop shaft to the R200 rear end which is already fitted with a Nismo 2-way diff. Can't wait to see and hear this crazy machine in action!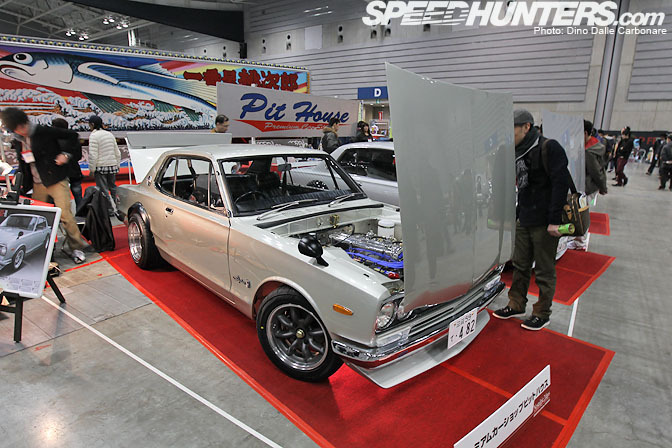 But it doesn't end there on the Skyline front with many other cool cars like this 2-door hardtop from Premium Car Shop Pit House…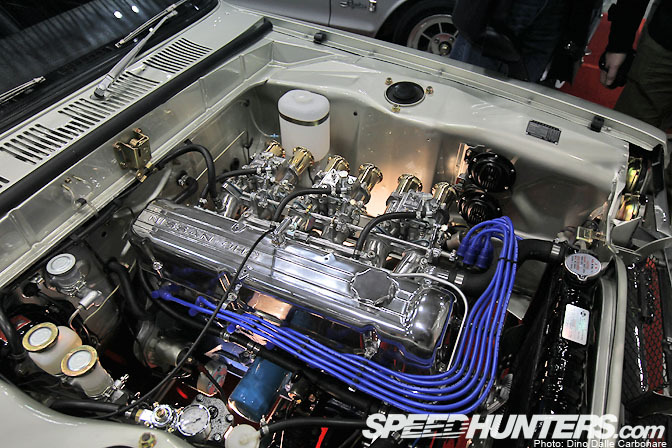 …sporting a clean L-series engine…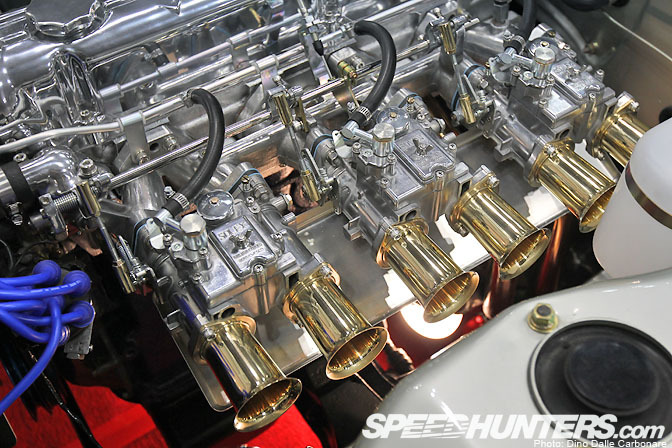 …fuelled by Solex carbs and brass plated trumpets!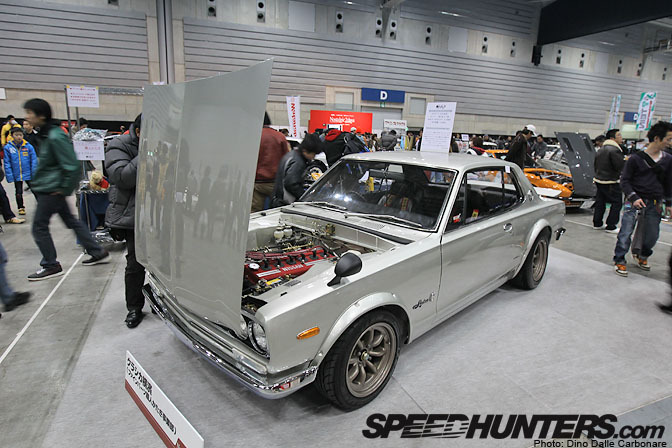 Or how about this freshly restored KPGC10…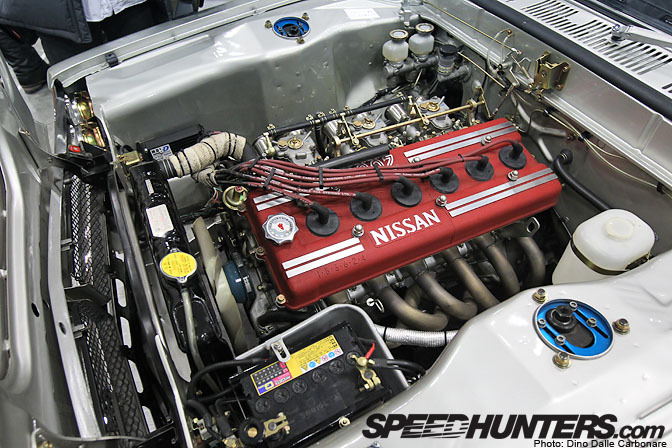 …with a red-topped S20.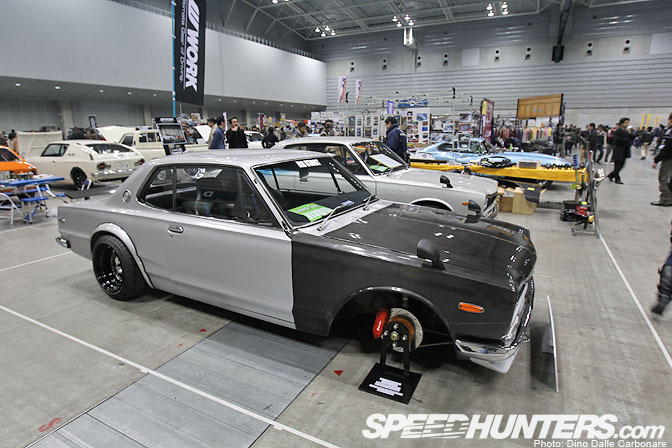 Or how about some dry carbon bits for your beloved Hakosuka?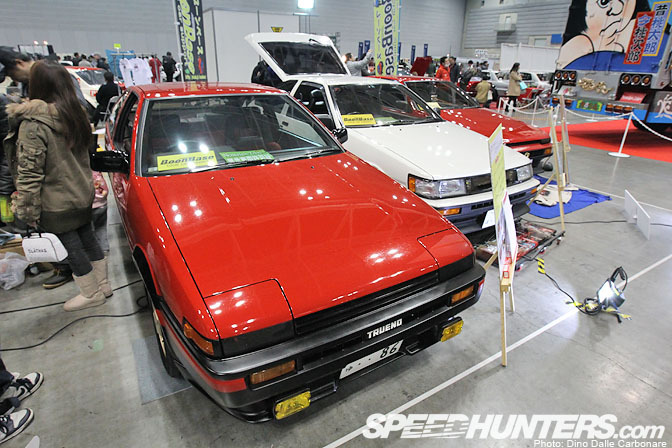 I made sure to snap away at someting for all you AE86 otaku out there…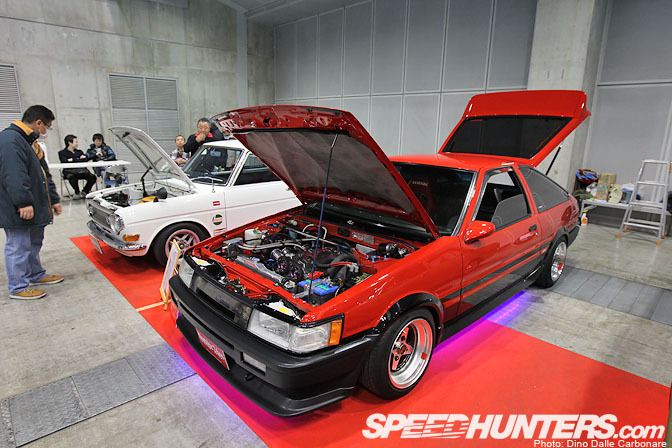 …like this stunning Levin hatch on the Nostalgic Hero line up of classic cars.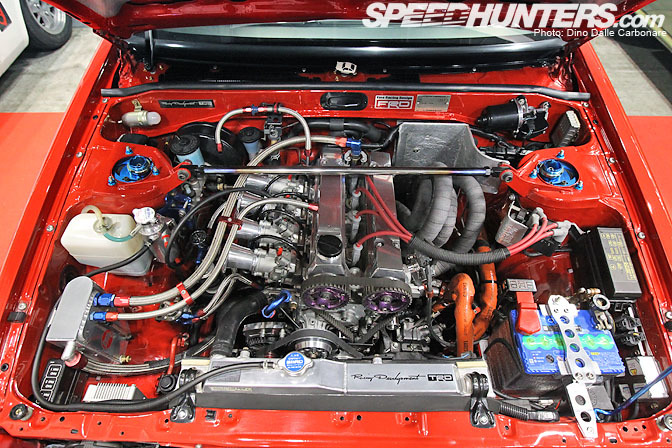 The owner seemed very happy to have a few pictures of his pride and joy appear on Speedhunters, so I had to give him a few stckers for allowing me to shoot this stunning example!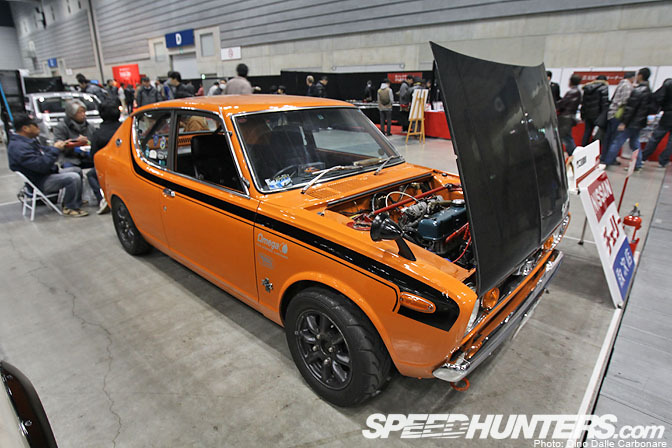 You just don't see Nissan E10 Cherrys around any more so I enjoyed having a nice look at this orange example from Takeguchi Jidousha and Cherry Club Japan.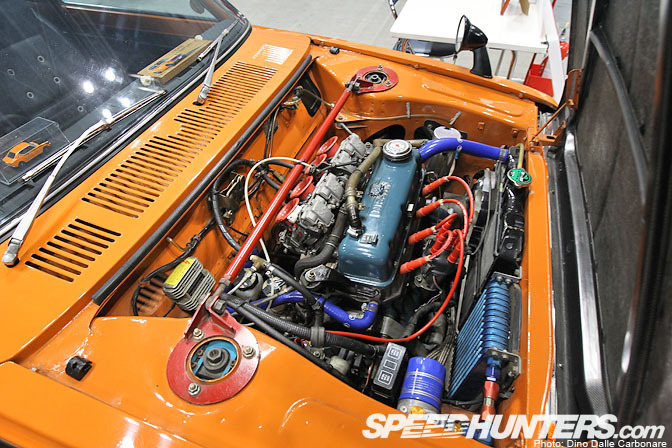 Check out the little A12 on FCR carbs!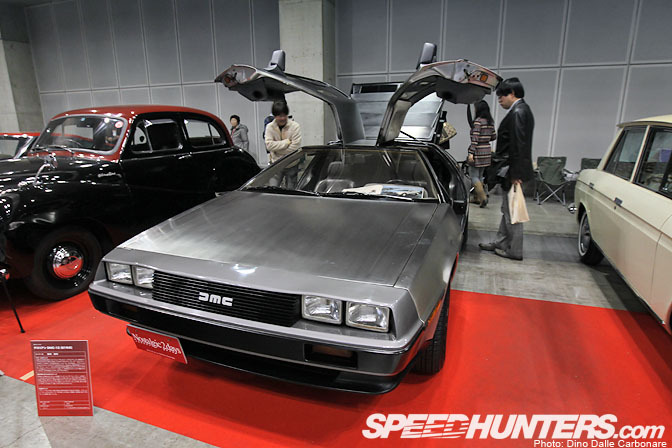 The DeLorean is always a dramatic car to look at; talk about instant childhood memories of Back to the Future!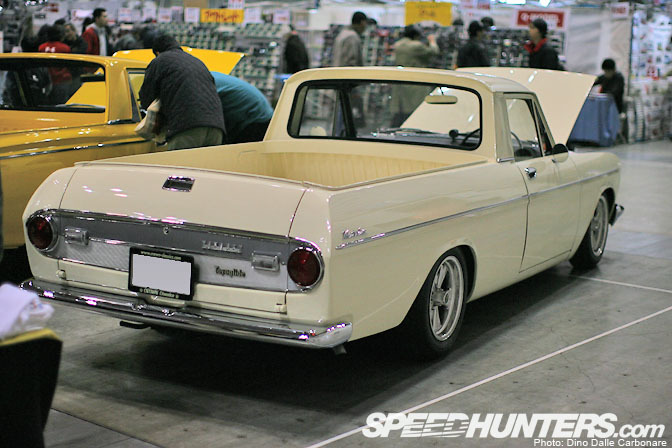 I spotted this cool Toyopet Crown pick up at the Mooneyes booth. It featured Toyoglide suspension, must be a prequel to the famous Lexus velvety ride!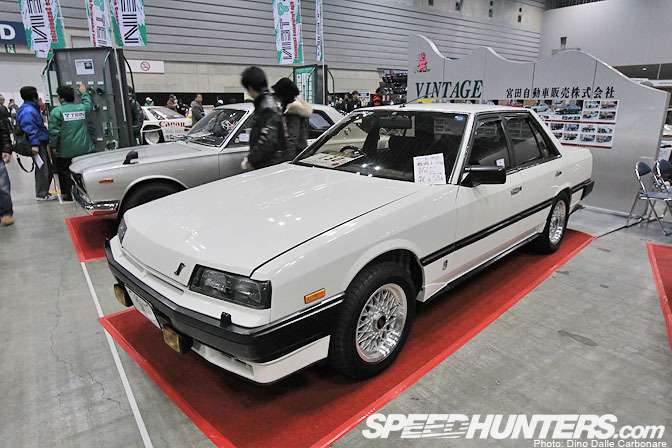 Vintage Skylines also include R30s of course, not just Hakosukas and KenMarys!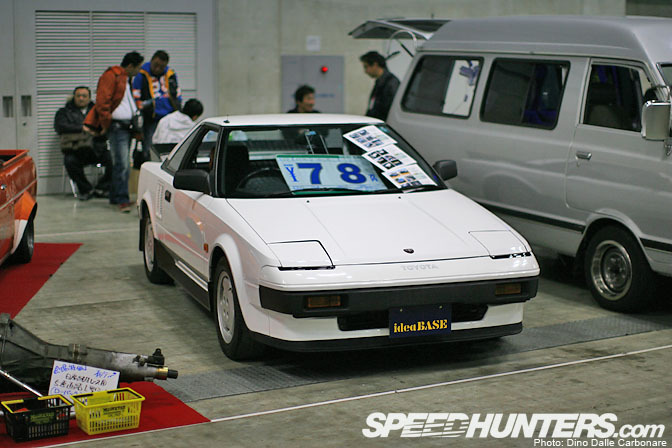 There were lots of cars on sale like this original W10 MR2; I think it was in better condition than when it came out of the factory in 1984.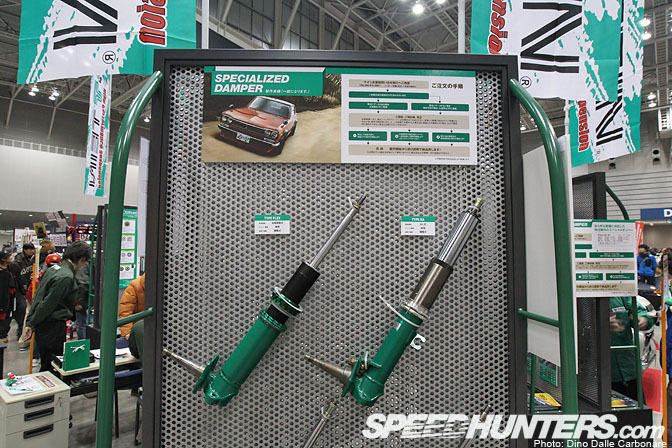 Suspension makers Tein were present at the show too, exhibiting their classic car damper line up. If you are a vintage car enthusiasts in Japan you really are spoiled for choice when it comes to parts and upgrades!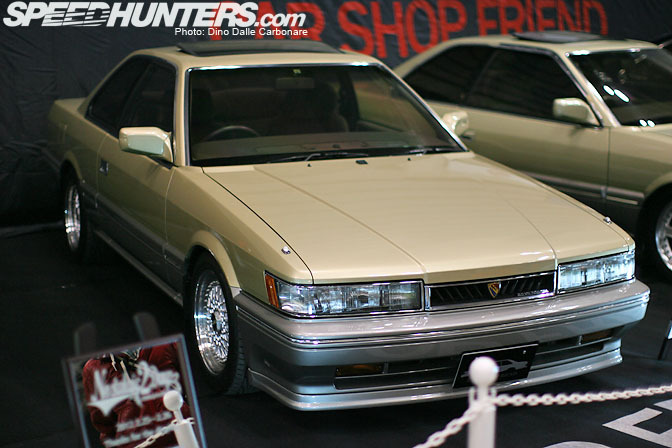 And so it's on to this nice selection of F31 Nissan Leopards from Car Shop Friends. Admittedly I had no idea that these luxury sporty sedans, kind of similar to the Z20 Toyota Soarer…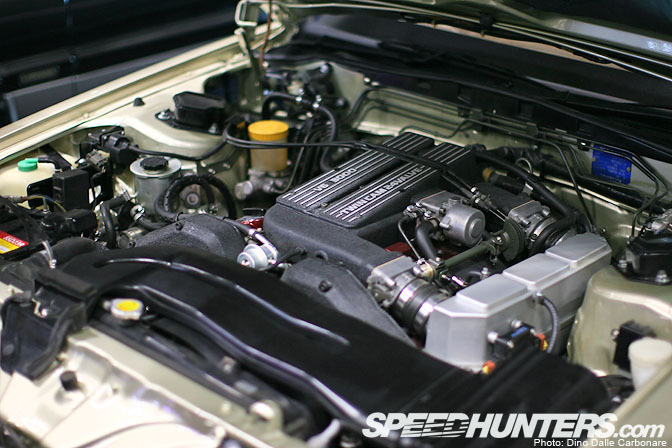 …were so sought after, especially those powered by the single turbo VG20ET or the VG30DET 3L V6 that was also used on the Y32 Cedric and Gloria as well as the Y31 Cima.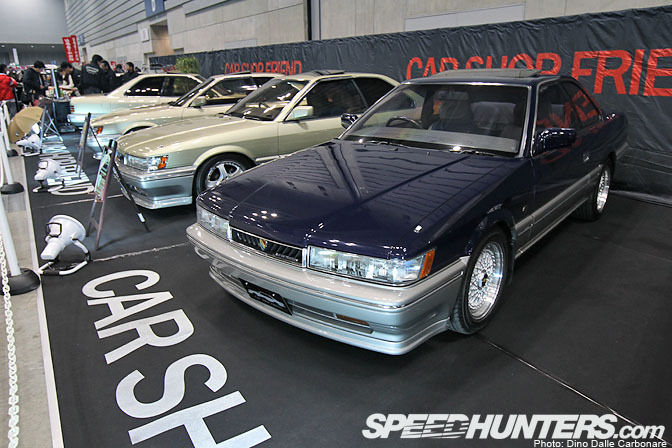 They are easily recognizable thanks the "V6 Jet Turbo" grille badge for the VG20ET powered cars and "3.0 V6 Twin Cam" badge for the V6s.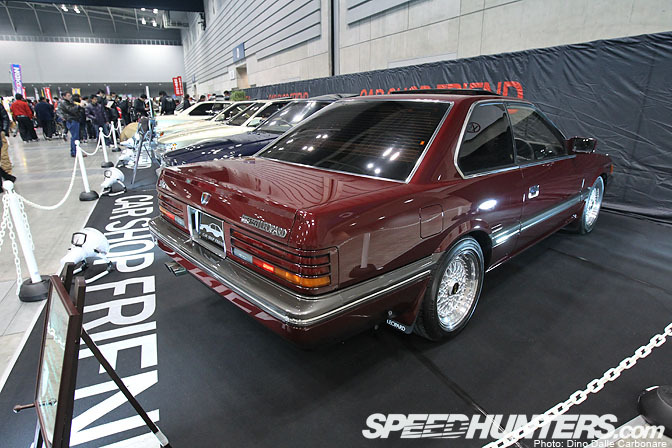 Very cool cars, spotless example like these fetching anywhere from 3 to 5 million Yen ($37,000~62,000!)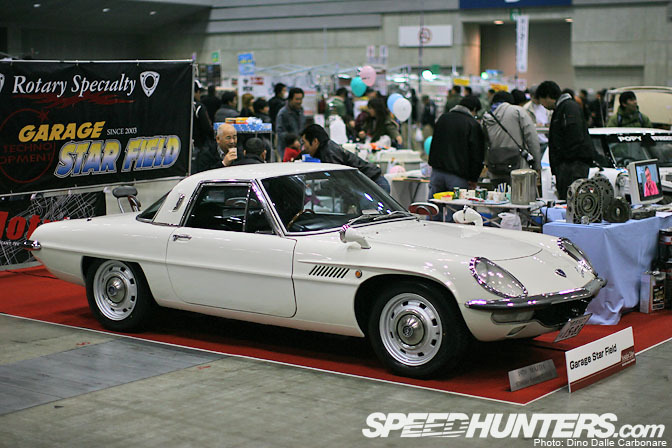 I'll close this post off with a nice image of a rotary classic, the original Cosmo as there was a definite lack of rotary cars present at the show.
I've got one final batch of images to share, so stay tuned for the final part!
Nostalgic 2 Days coverage on Speedhunters
-Dino Dalle Carbonare