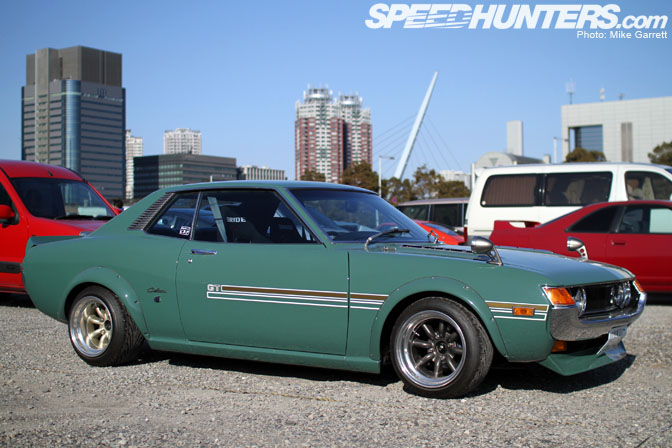 For my final bit of event coverage from the JCCA New Year Meeting, I have a wide assortment of photos from both the inside of the show. Unfortunately It's impossible to show every car that was there, but hopefully this will give you an idea of just how great the New Year Meeting is.
There's a lot to post, so let's get started.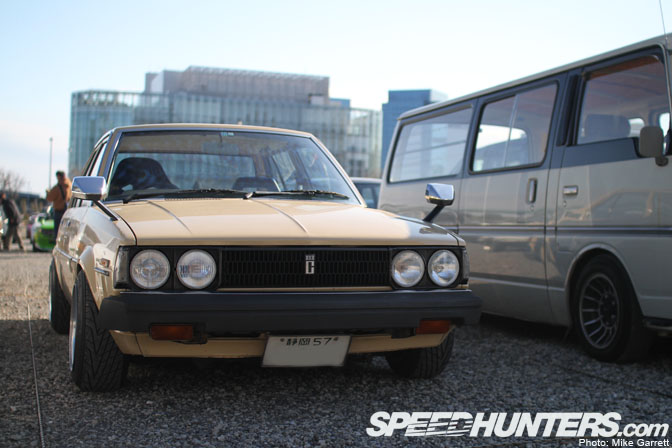 Let's begin with an early model 70-chassis Corolla looking fantastic with its quad headlights.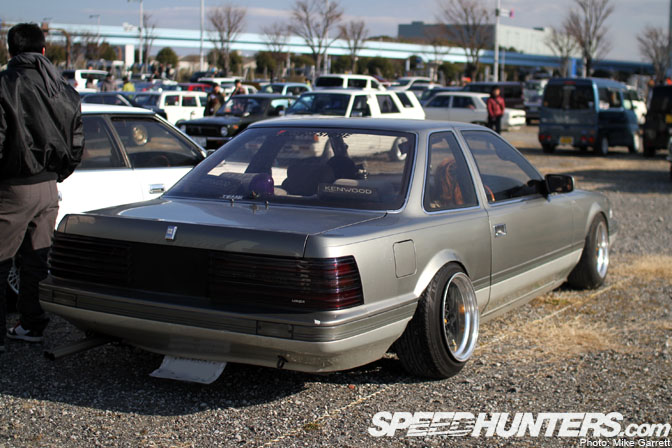 Z20 Soarer doing the oni-camber thing to the max.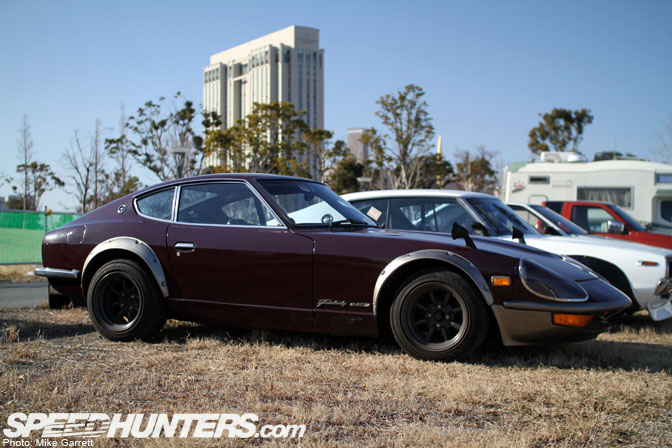 240ZG perfection coated in Nissan's signature GP Maroon coloring.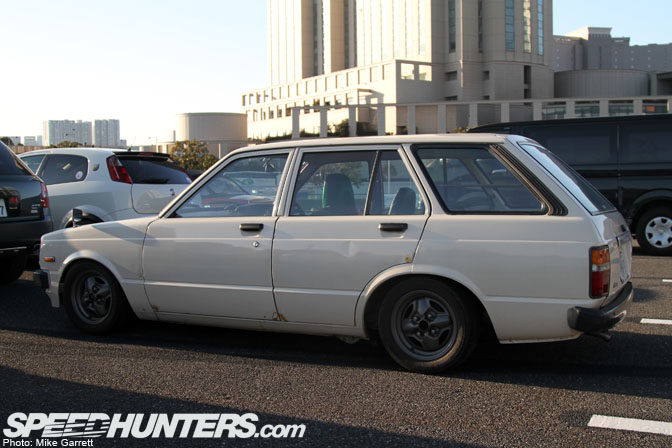 Toyota Starlet wagon – I can count the number of these I've seen with one hand.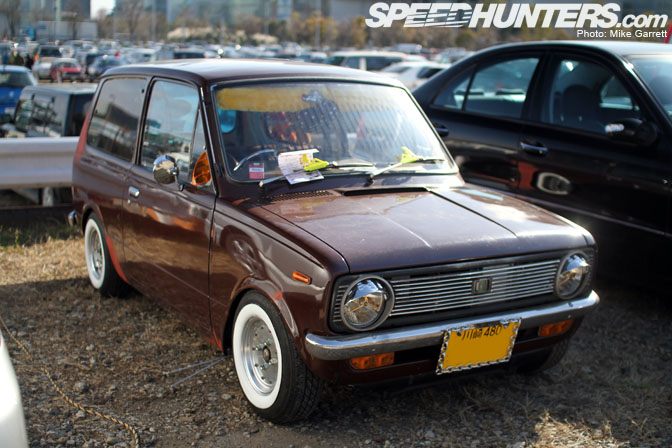 Wide whitewalls wrapped around SSR Mk.1s give this Minica a Hot Rod look. How about that chain frame around the yellow kei number plate?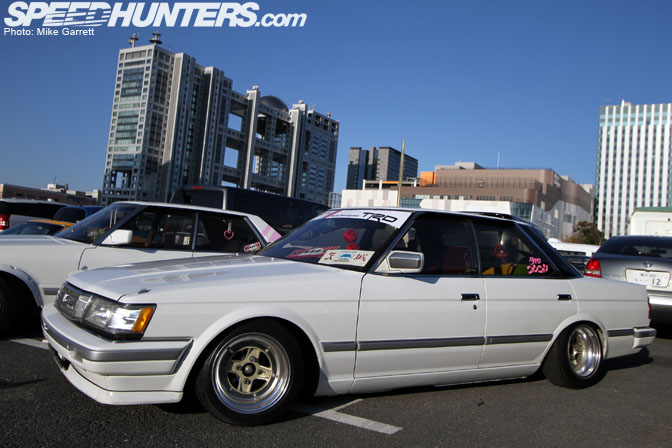 More lowdown GX71 style. Making things even better was the sounds of MC Hammer and Scatman John pumping from this car – no joke.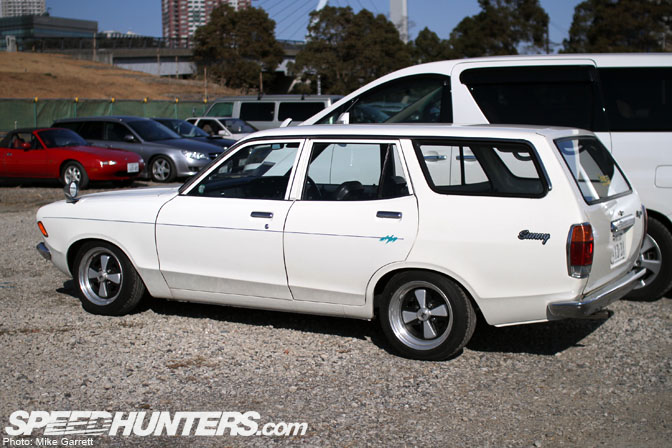 California Look 210 Sunny Wagon? Why not?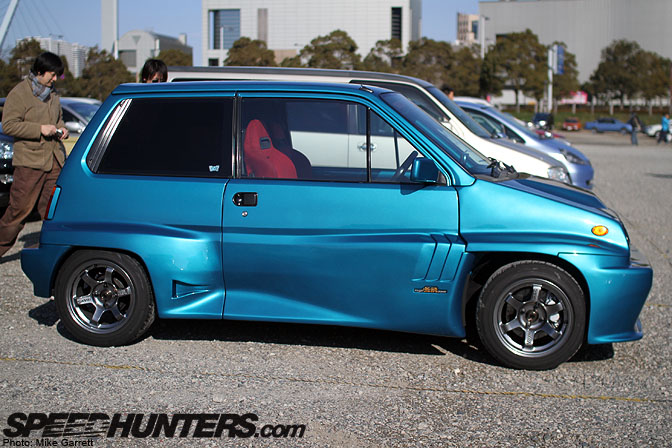 Here's something you don't see too often – a Mugen widebody equipped Honda City with concave TE37s and Recaros.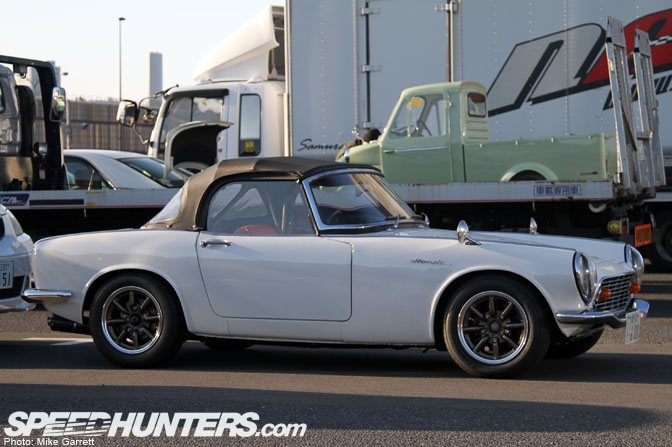 Sticking with the classic Honda theme for a moment, an absolutely perfect S600 Roadster.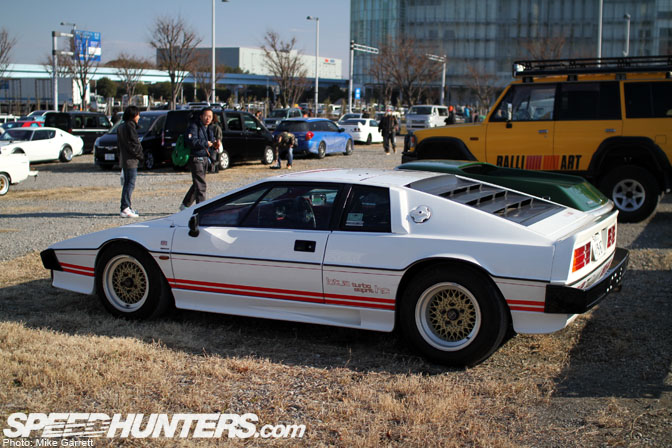 Lotus Esprit Turbo in all of its angular brilliance.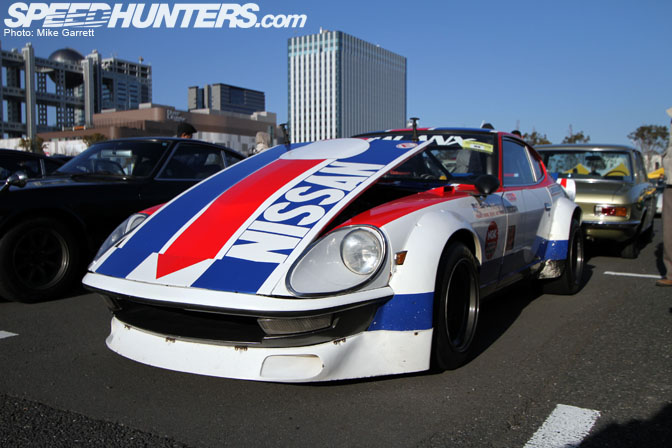 When it comes Zs, few cars are more outright badass than the Team Phalanx S31. Painted in Nissan factory style racing colors, this car has a full competition-spec interior and rolls around on slick tires.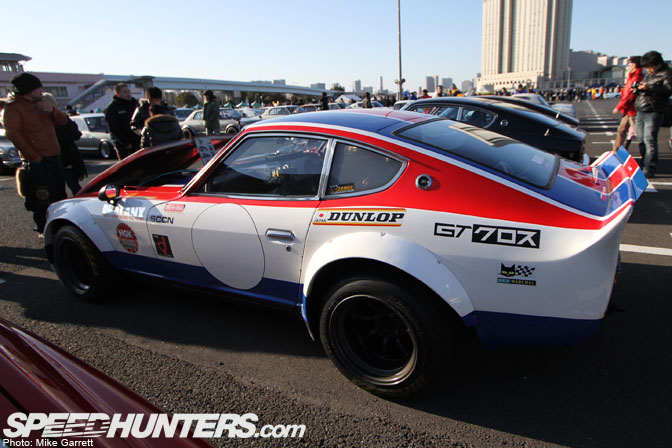 Under that long hood is a heavily worked L-series motor. Apparently this car and its owner are quite legendary among the street racing community in Kanagawa.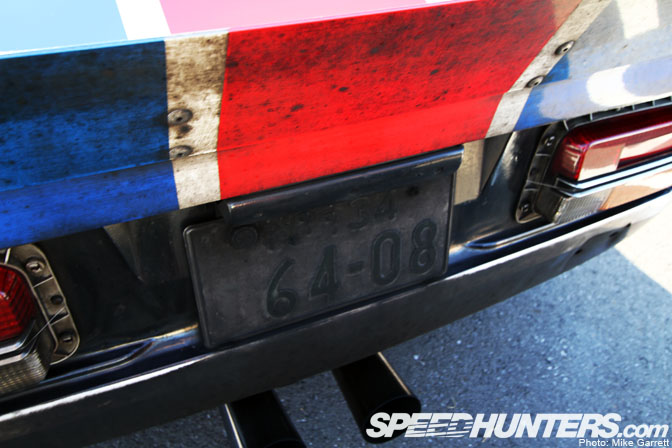 This kind of character can't be bought. It can only be earned.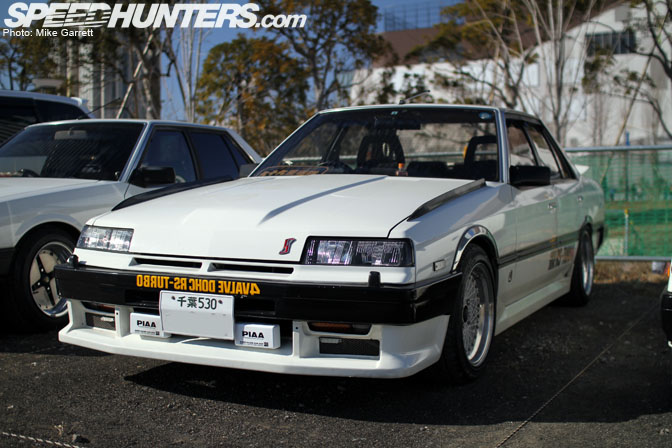 R30 Skyline RS sedan as if it just time warped from the 1980s.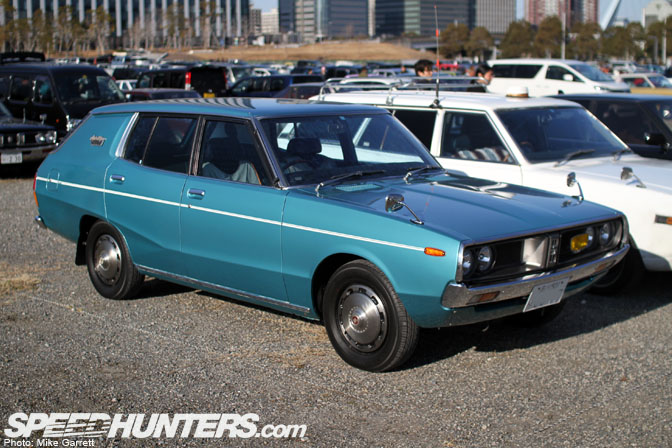 The largely unseen wagon version of the C110 Skyline looking very stock.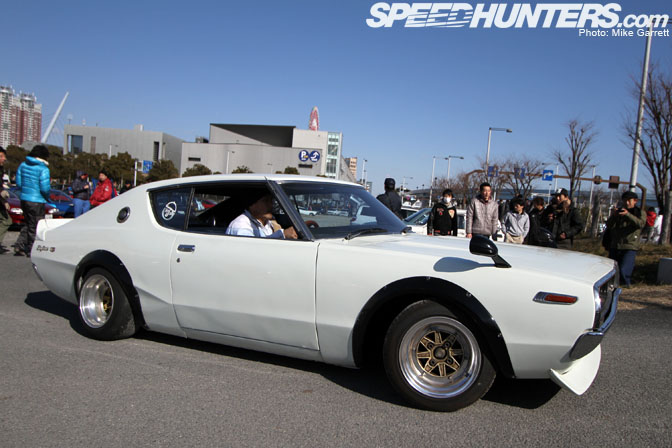 An entirely different take on the C110 Skyline.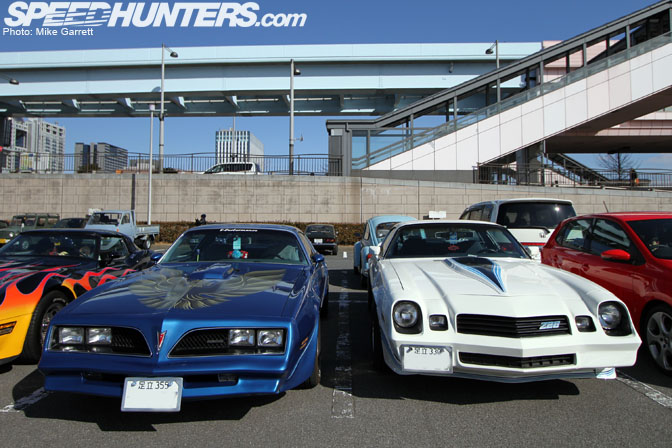 Trans Am or Z28? Take your pick from this pair disco-era F-bodies living the good life on the streets of Japan.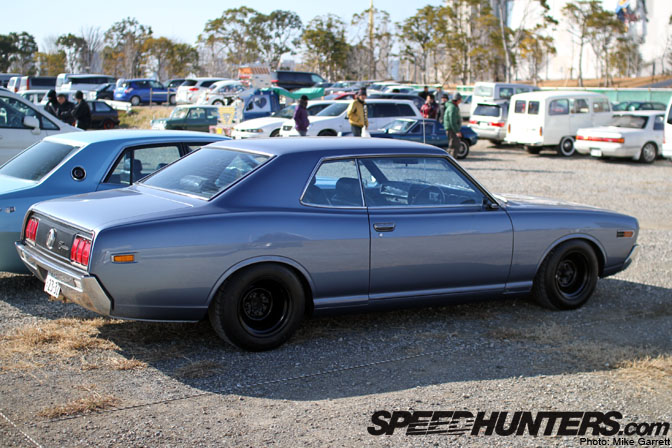 Speaking of muscle, this Nissan Cedric Coupe had a decidedly macho look to it…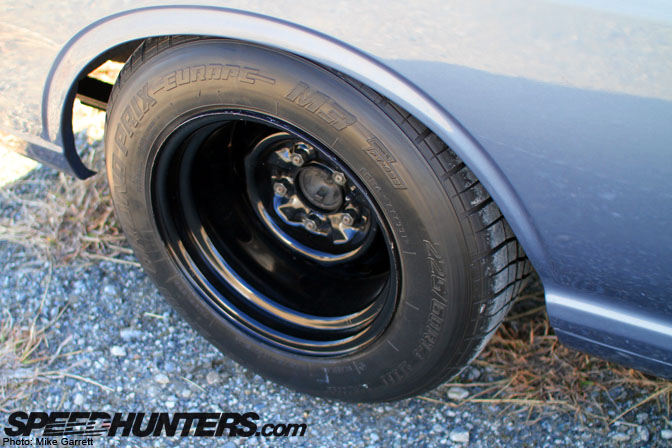 …thanks to wide 14" steelies with beefy 225/60 rubber in the rear.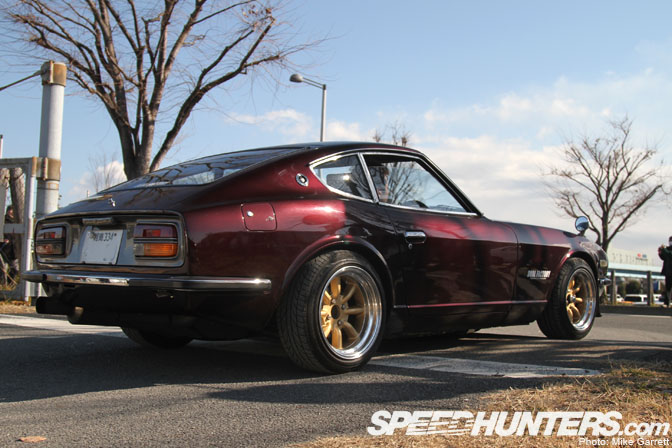 Can you have too many cool S30s? Absolutely not.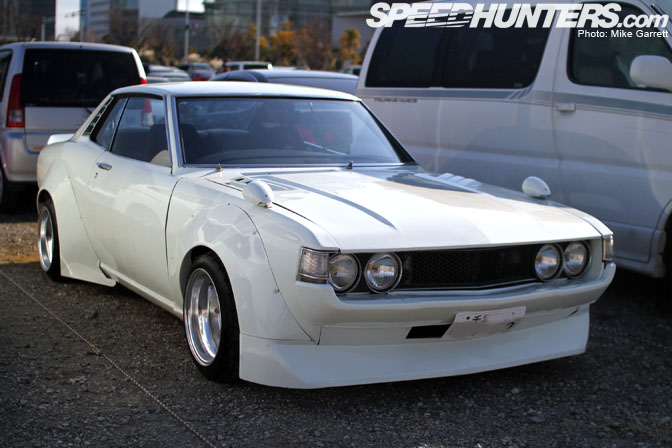 I'm not sure if it was just me, but I noticed a lot of early "Daruma" Celicas at this year's event. Wide and mean!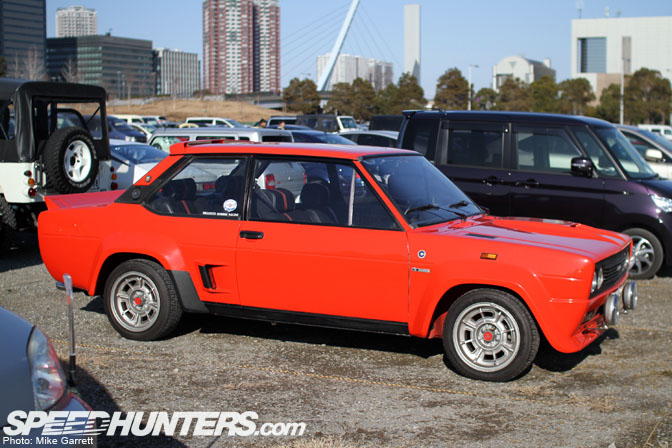 A Fiat 131 Abarth might just be mistaken for a Nissan Sunny in this company.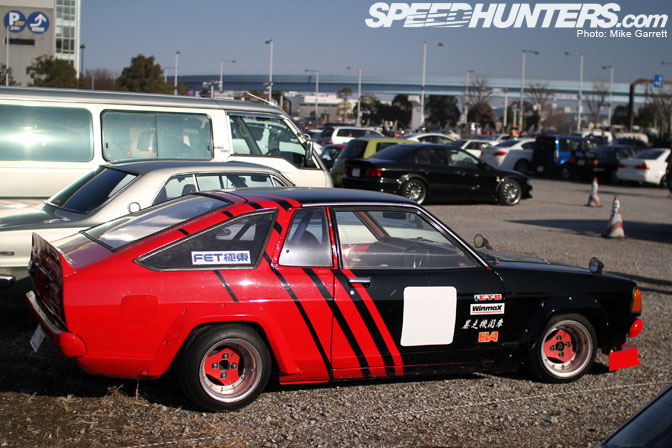 Here's a race style 310 Sunny for comparison's sake. I can't be the only one who sees the resemblance…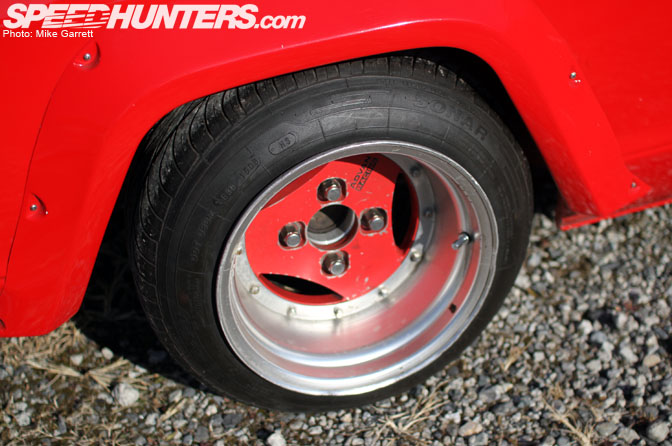 Deep barreled Adavan A3As are the perfect fit for those flares.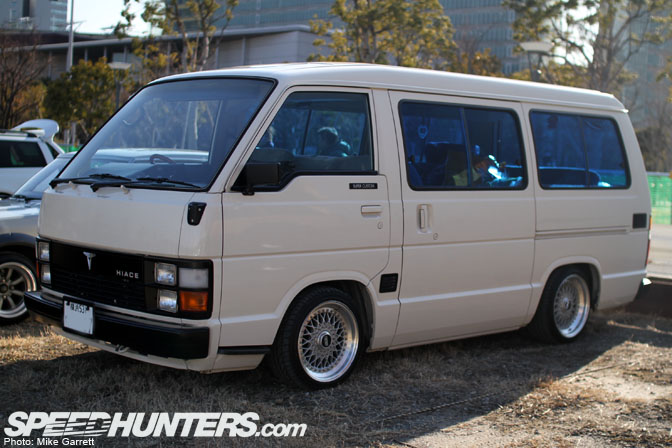 Toyota Hiace with BBS RS, because you can.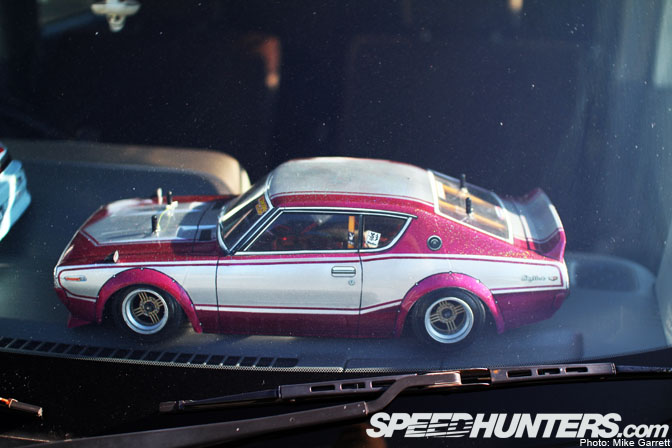 I spotted this amazing Kenmeri RC car on the dash of a Nissan Cube…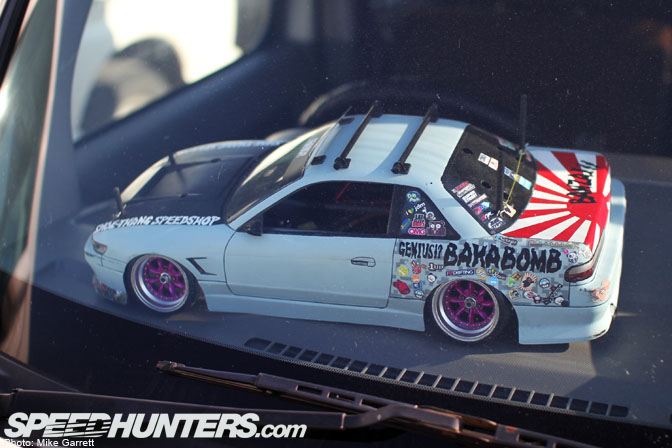 …as well as this USDM influenced S13 RC.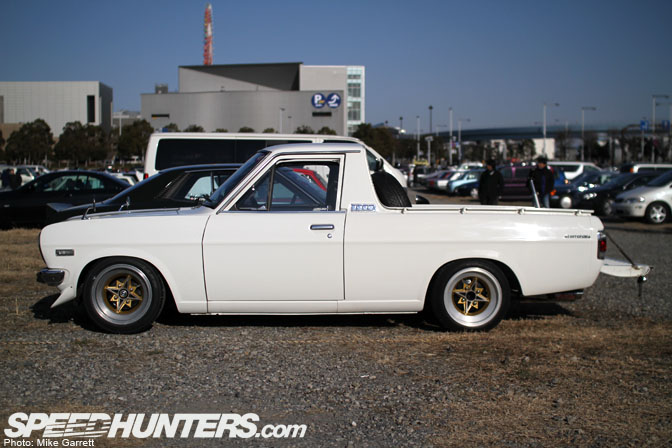 It's hard to do a Sunny Truck better than this.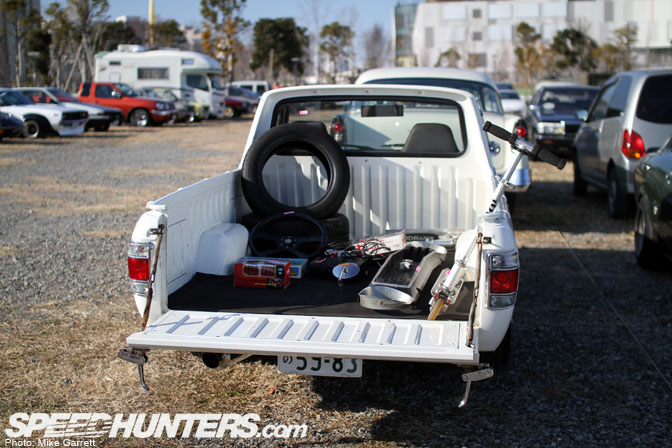 It even had a bed full of parts for sale.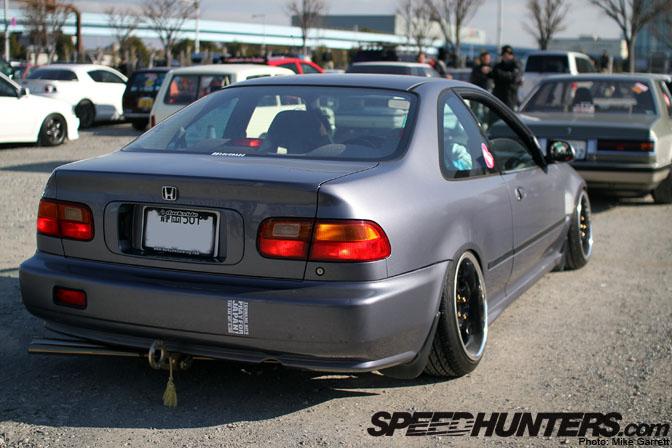 Herrafrasshu Civic Coupe.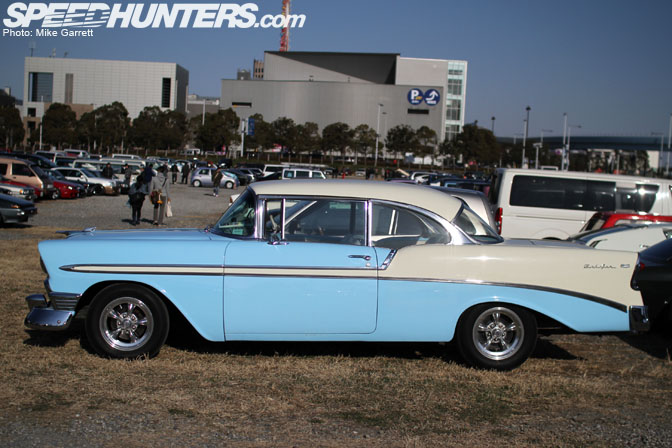 '56 Chevy. American good old days!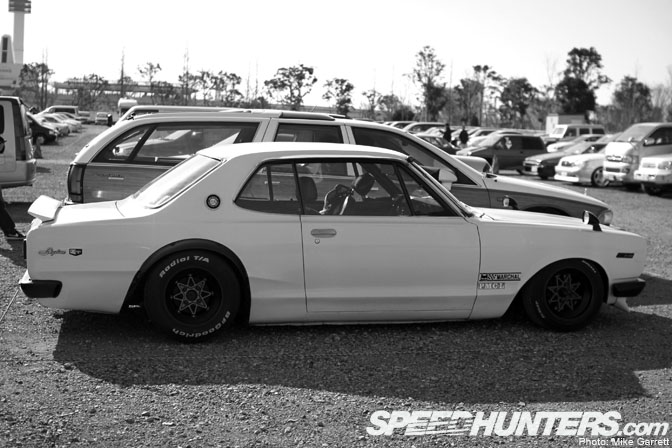 To call this Hakosuka "shakotan" would almost be an understatement.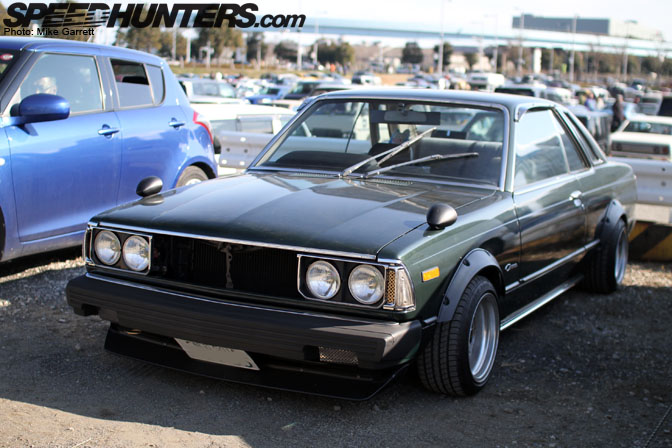 It's not so often you see hardtop Coronas at all, let alone one built like this.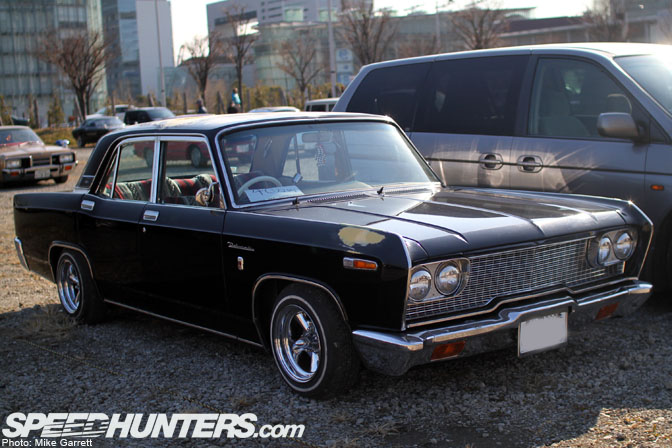 American custom-inspired Mitsubishi Debonair on what look to be Astro Supremes.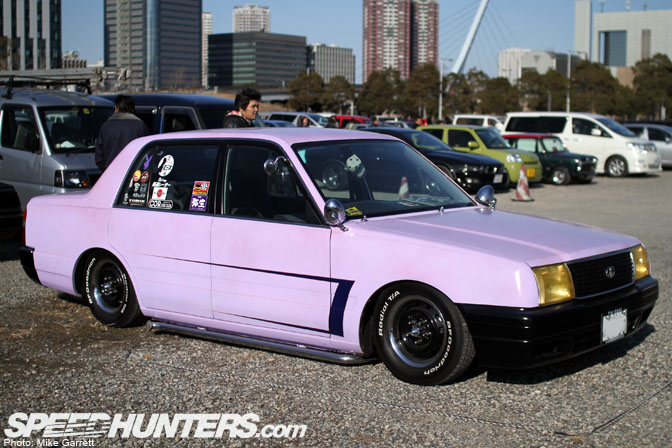 Another Hot Rod/Custom-inspired sedan, this one a Toyota Comfort.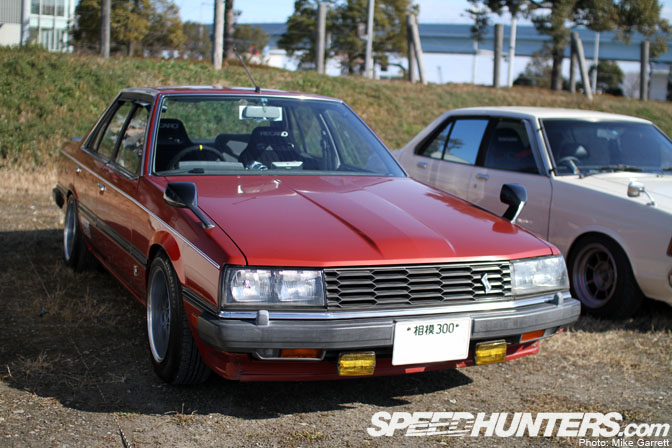 Smooth and simple four-door R30.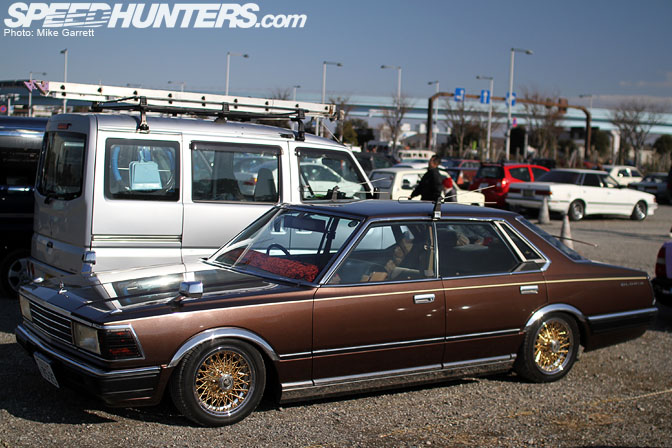 Nissan Gloria with wire wheels, fender trim and TV antenna on the trunk. High society living.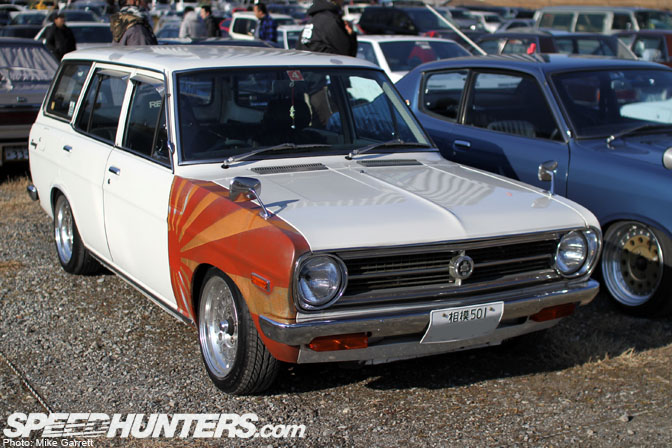 One more Sunny Wagon, sporting the oxidized fender look.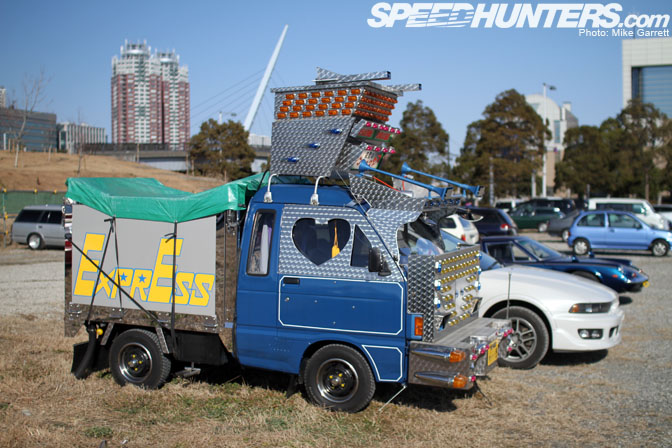 Awwww, it's a baby decotruck. How cute!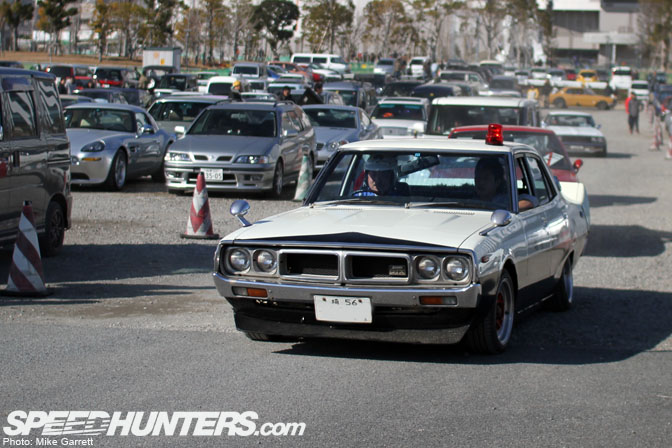 Police-themed Yonmeri with the driver wearing a uniform and helmet to match. Scenes like this make the New Year Meeting so wonderful.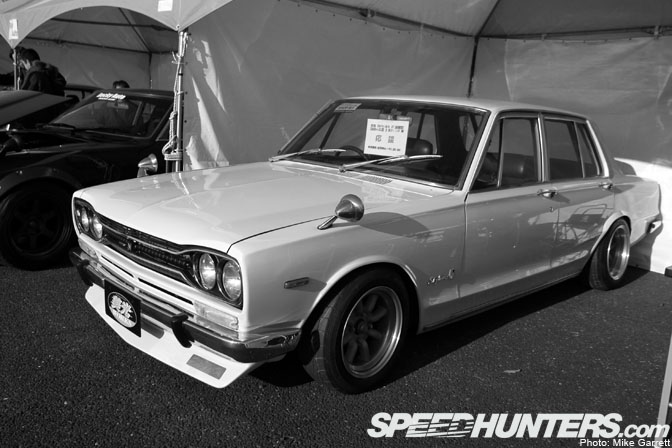 I'll finish up with this four-door Hakosuka from Biko Works.
I hope you've enjoyed my look at the 2012 New Year Meeting so far. I'm not done yet though, as there's still some desktops and a few car spotlights to bring you guys. Look for those soon.
-Mike Garrett