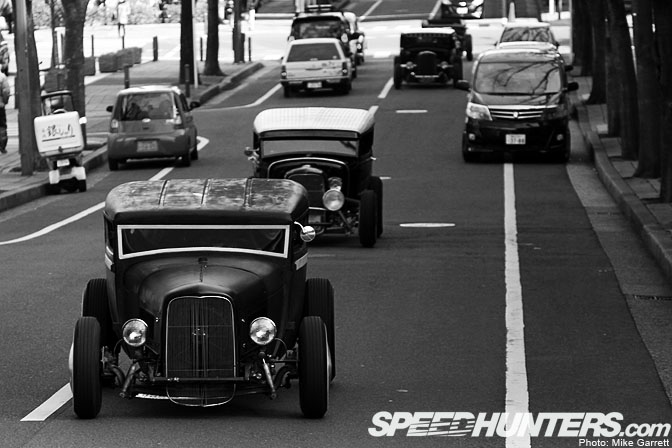 I'm back home in California now, readjusting after an incredibly productive and very fun visit to Japan. Before hopping on that jumbo jet across the Pacific, I spent the day Sunday taking in some of Japan's custom car culture in Yokohama's legendary Honmoku neighborhood.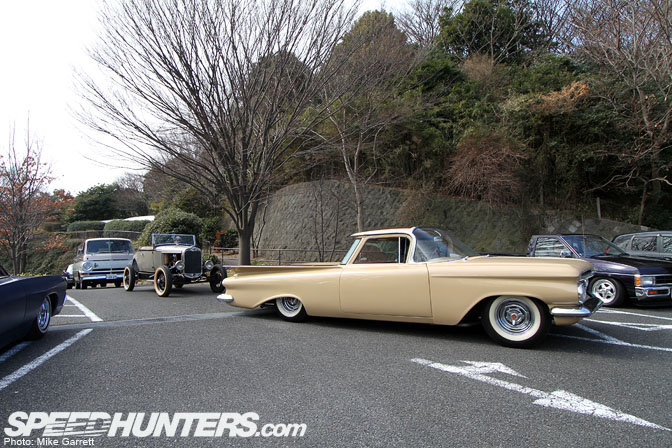 Not only is Honmoku the home of Mooneyes Japan (more on that later), it's also the site of the Hot Rod Razzle Dazzle – a car meet held at Honmoku Hilltop Park for 12 years now.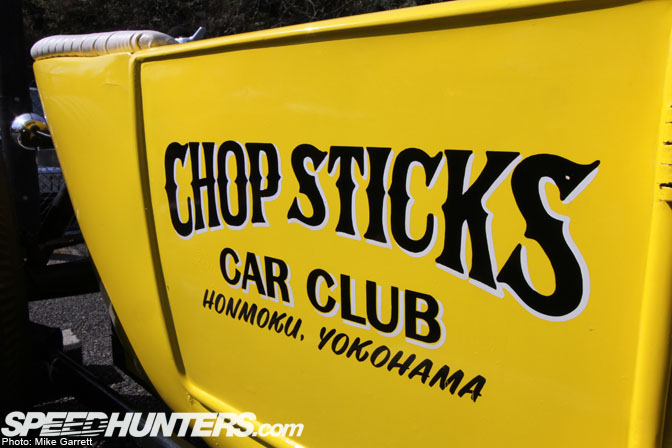 Honmoku's own Chop Sticks Car Club is the host of the event, which is really much more of a loose hang out session than a formal car show. Besides the small fee to park in the lot for a few hours, the Razzle Dazzle is completely free to join.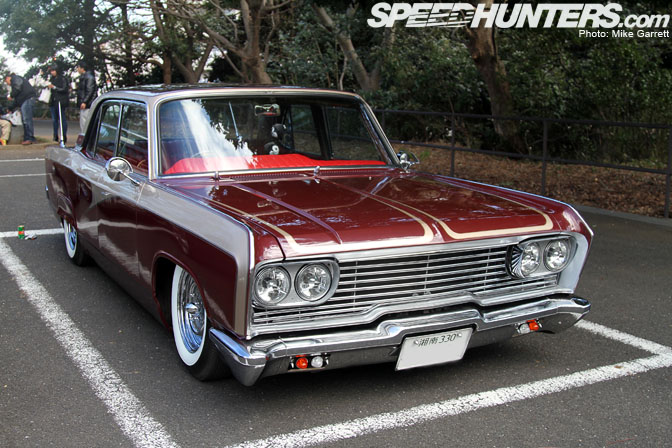 The meet draws a mix of cars from not just the Yokohama-Tokyo area, but from more far-reaching parts of Japan. There was a big turnout of American Hot Rods, customs, and Muscle Cars – as well as VWs and older Japanese models with a custom theme. This trick Mitsubishi Debonair dropped on wide whites is a perfect example of the latter category.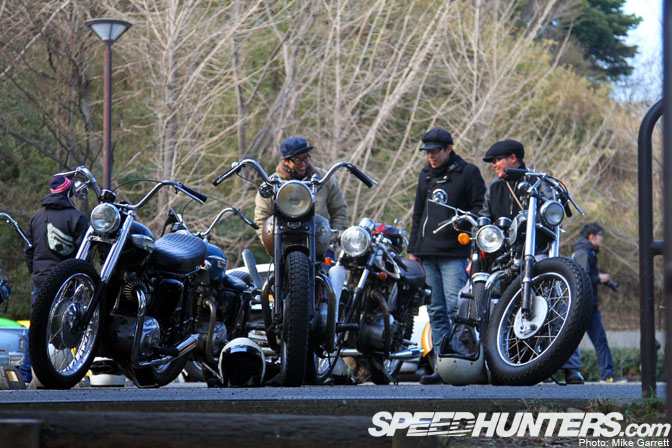 It should also be noted that custom motorcycles are a big part of the Razzle Dazzle. I spotted Harleys, Triumphs, and many vintage Japanese bikes among the bunch.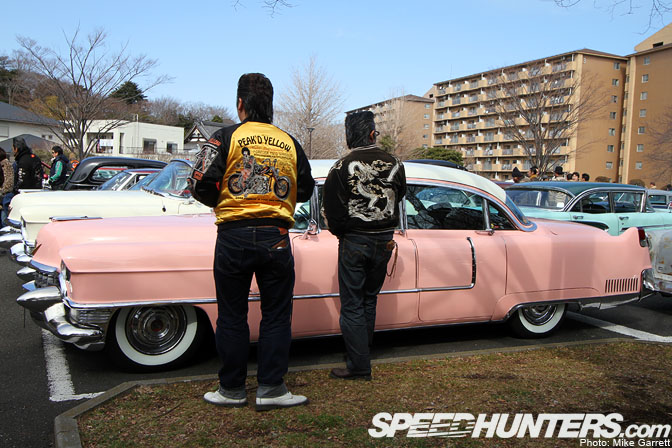 Just like here in the states, many of the people at the Razzle Dazzle were fashioned to match the retro style of their cars. In this case we are talking ***-jan jackets, jeans and cool hairdos.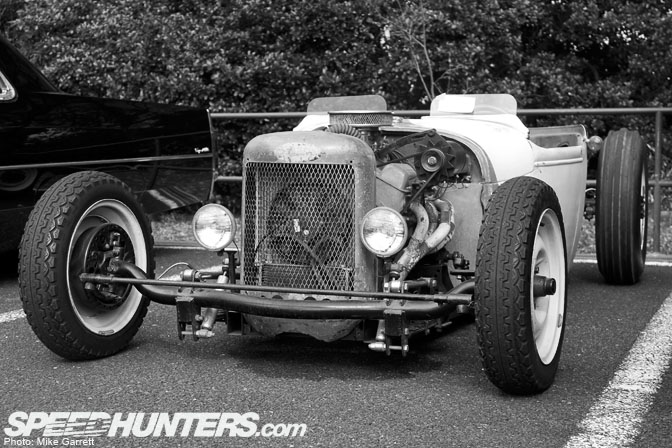 Just among the Hot Rods there was a variety of styles, from the traditional, to the modern, and of course the rat. Here's a bare bones Roadster with skinny tires and a split windshield. Don't forget your goggles.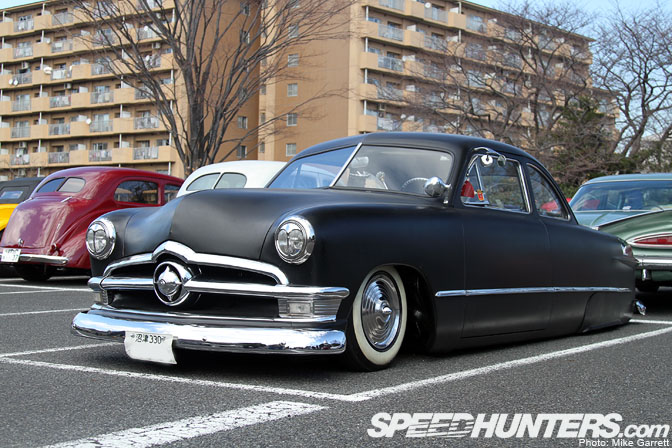 Slammed Shoebox Ford in satin black. Timeless.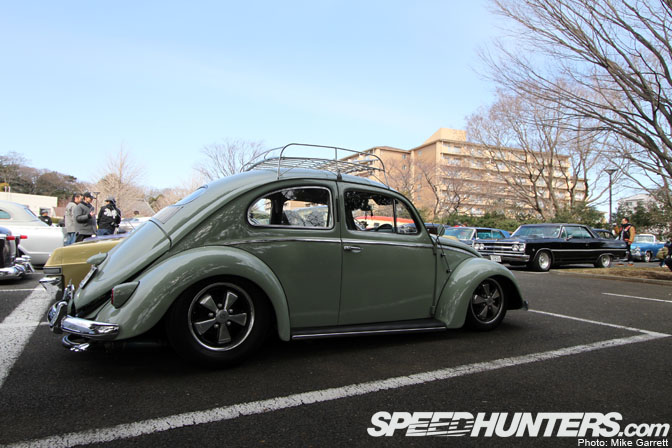 In Japan you'll find the customized VW owners often with run right along with the Hot Rod crowd. This oval-window Beetle with a narrowed beam and Porsche alloys was one a few VWs that came out.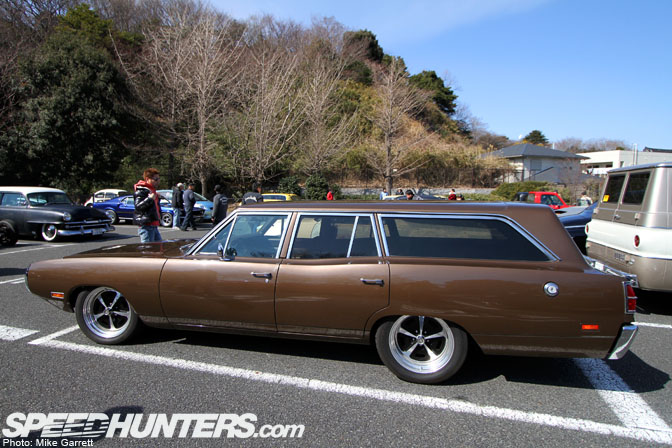 I believe this '70 Dodge Coronet wagon has popped up on Speedhunters in the past. It's really cool to see Japanese Mopar enthusiasts giving love to some of the "less sexy" body styles. This car's been equipped with a set of 17" Magnum 500 style wheels for a neo-stock look.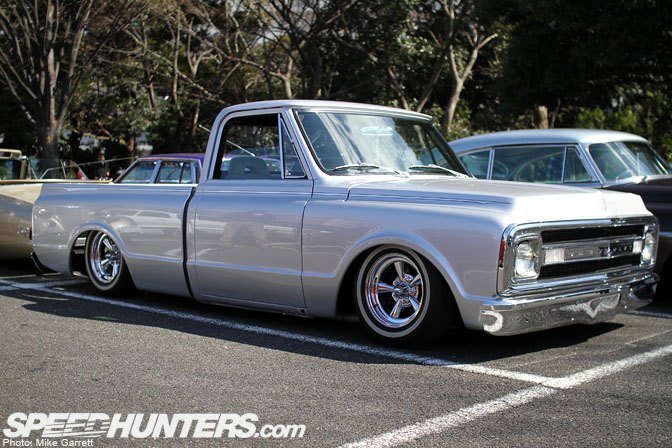 Chevy C10 shaved and bagged on Supremes. Smooth.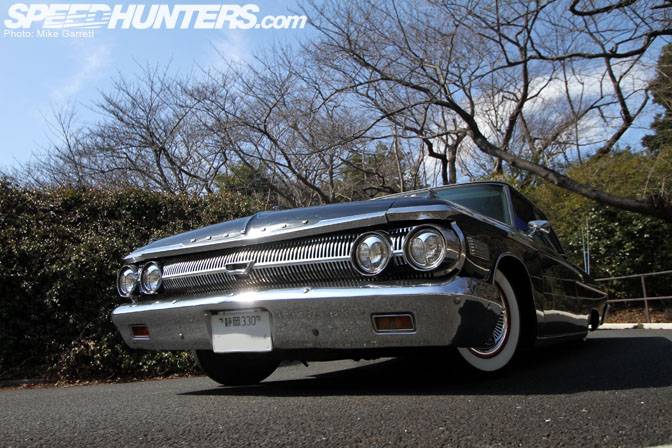 While the cars were authentic enough that you'd easily think you were in the US, the parking lot dimensions were clearly Japanese. Something like this '62 Mercury isn't known for its tight turning radius, so the drivers had to be very careful getting in and out of the lot.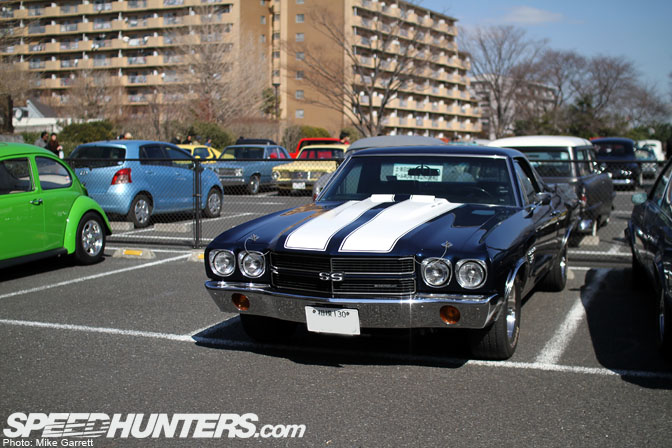 The brutally awesome '70 El Camino SS, and one that's in perfect original condition.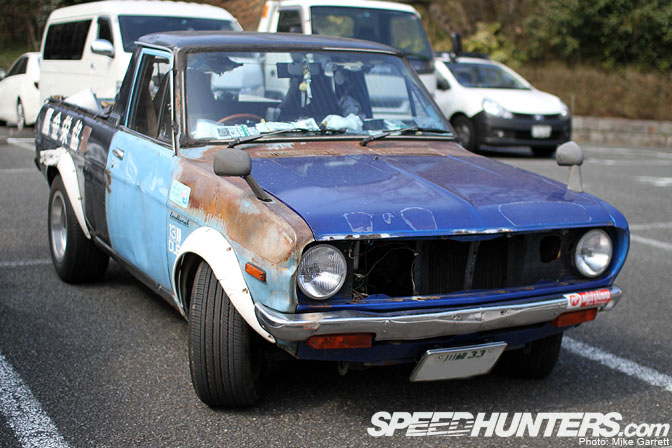 Meanwhile, the Nissan Sunny Truck is what you might consider the homegrown Japanese version of the El Camino. Unlike the Chevy in the previous photo, this one's in far from perfect condition.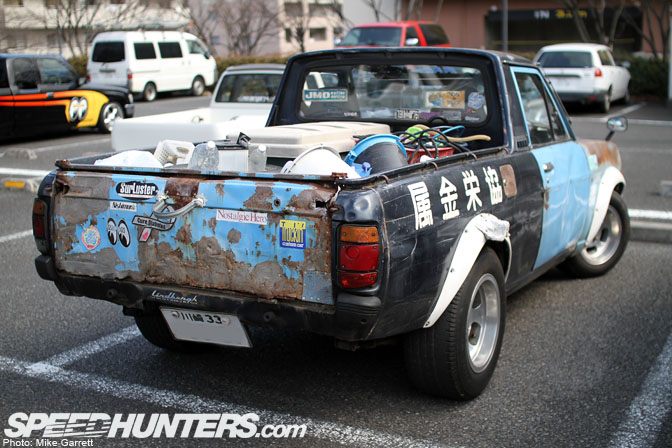 I actually remember coming across this ratty truck in Tokyo back in 2006 – looking exactly the same as it does now. Does it get used? I'd say so.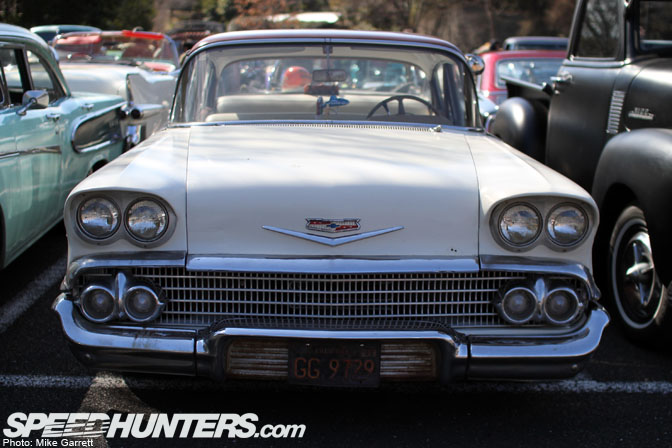 '58 Chevy that looks to be unrestored. Whenever I see car like this in Japan, I always wonder about its history. Is it a fresh import? Or something that's been in the country for a while? In the postwar years before Japan's auto industry took off, American cars like this were plentiful on the streets.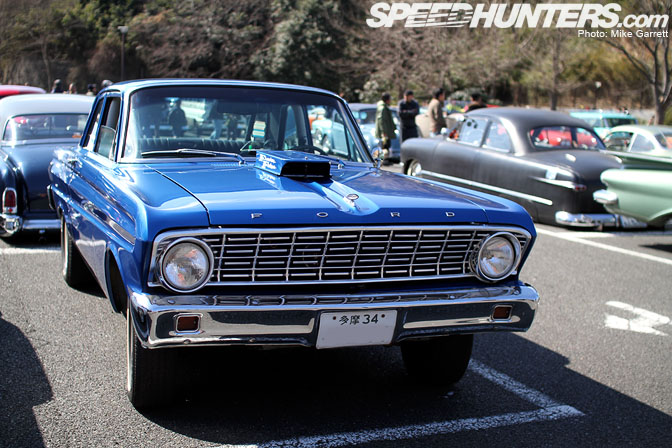 Who doesn't like a properly done Falcon? Yoshio Nakazawa decided to build his "Franken Falcon" in a 1960s drag style.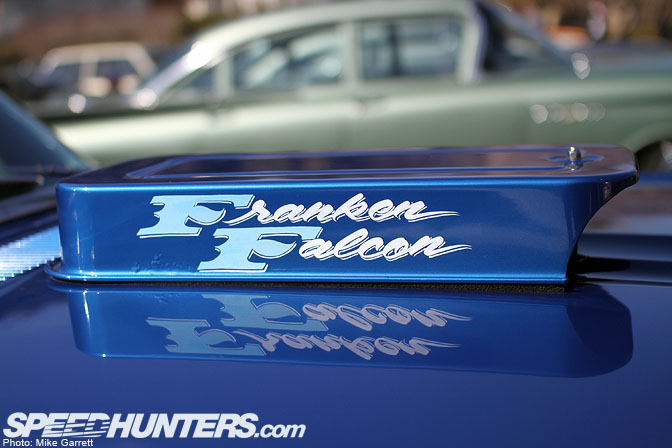 Love that hood scoop!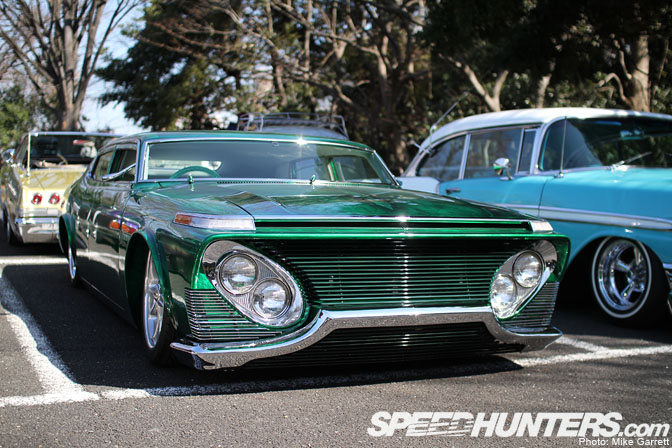 Does anyone remember this chopped and heavily customized Toyota Crown from the 2008 Yokohama Hot Rod Custom Show?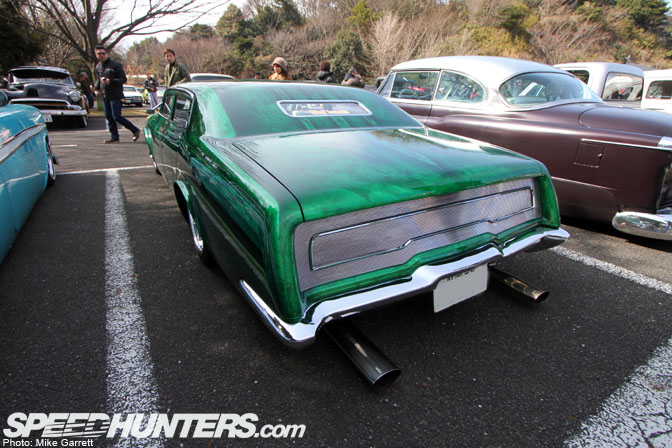 It's a work of art, and an example of just how passionately Japanese custom builders take their craft. Definitely cool to see it out cruising the streets of Yokohama.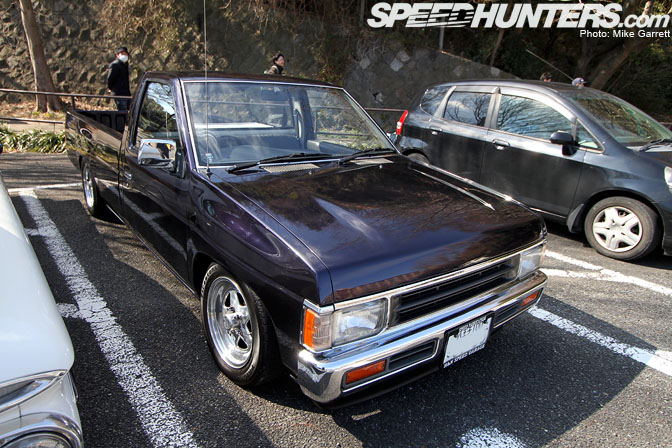 Although minitrucks aren't officially included in the Razzle Dazzle, I thought this Nissan parked outside was nicely done.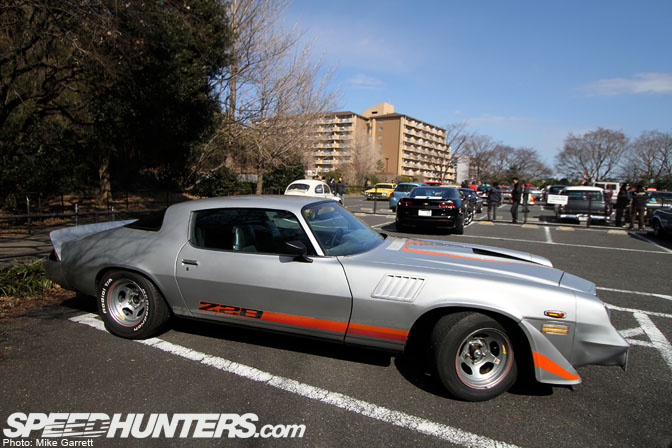 A Z28 looking just like the car a bad guy might drive in a movie from the '80s.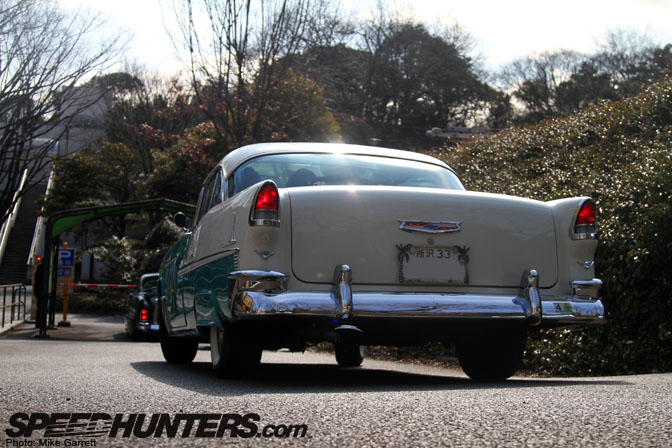 '55 Chevy heading out. With no strict schedule, the cars were coming and going all day. One car would leave the packed parking lot, and another would roll in to take its place.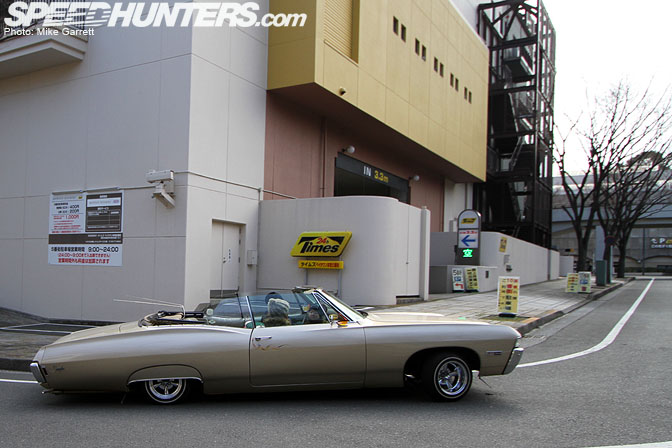 This drop top Chevy was one of the many lowriders on hand.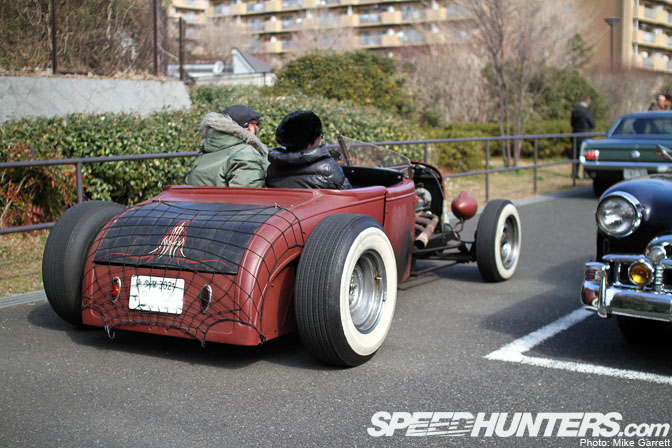 Even with typically cool February temperatures, it was a still a fine day for some open-top cruising. Grab a warm jacket, a hat, and you're good to go. This is why I love winter time in Japan.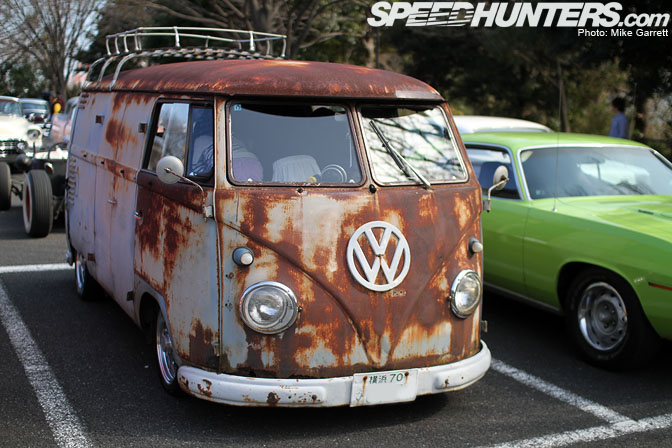 Bitchin' VW Type 2 Transporter. Nothing wrong with a little rust.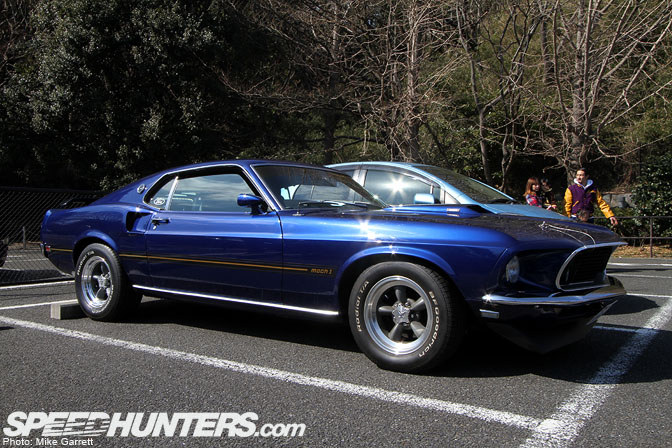 As I was looking at this Mach 1 Mustang, I saw a Japanese family with two small boys around four or five years old. The boys were going crazy over the cars, and seemed to know a lots about them. "Look it's a Mustang! I love it!" I could hear them saying to their mom in Japanese. Very heartwarming to see.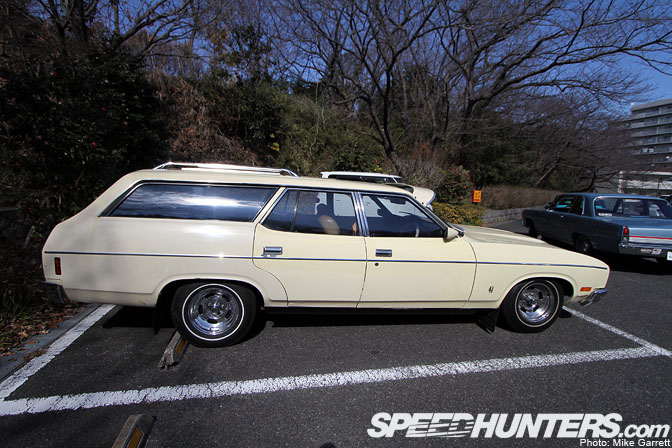 Aussie Ford Falcon wagon. Very cool, and very unexpected in Japan.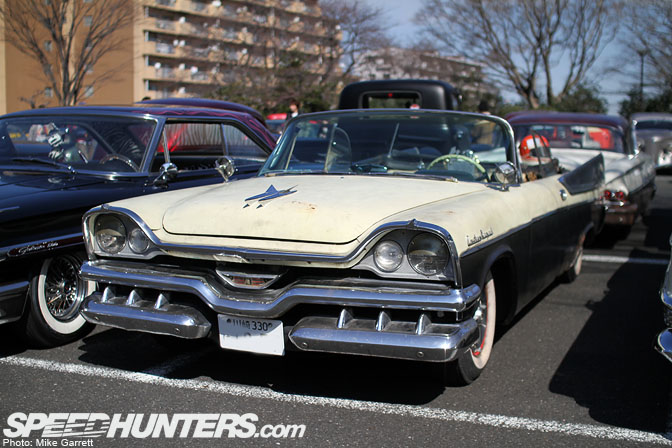 Here's another one of those cool unrestored cruisers – a '57 Dodge convertible in this case.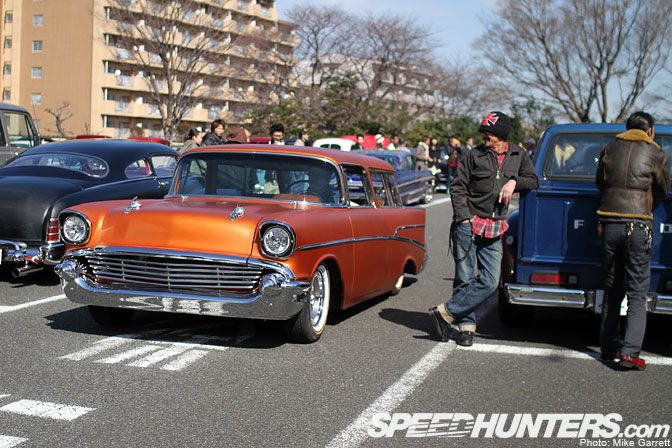 I'll wrap up here, but we're just getting started with the cool cars and good times in Honmoku.
More soon!
-Mike Garrett