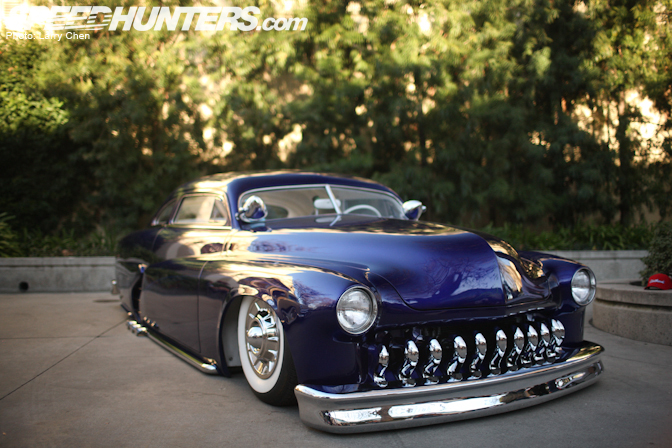 At this time of the year most of North America are putting chains on their tires or scraping ice off their windshields. However the folks in California were rolling their most impressive rod and customs into the Pomona Fairgrounds for the 63rd annual Grand National Roadster show.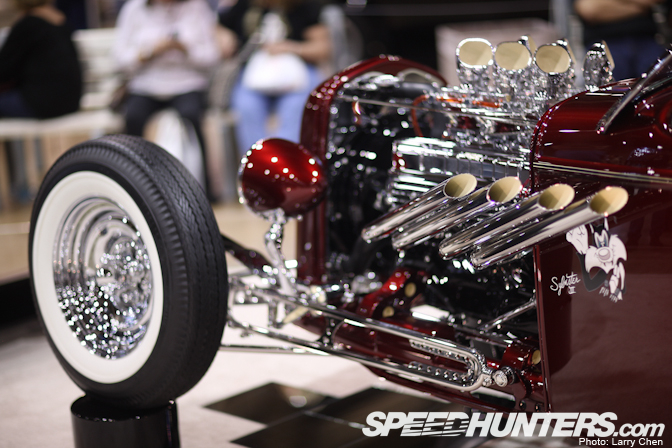 The GNRS event, held on the last weekend of January, drew over 1000
vehicles, including countless cars that have graced the covers of
various custom, hot rod, and lowrider magazines.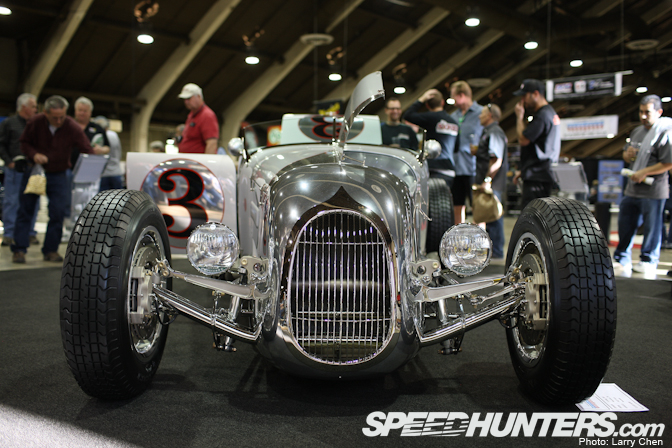 When the Speedhunters team asked me to partner up with Larry Chen to cover GNRS, I couldn't say "hells yeah" fast enough! I'm crazy for all things hot rod, gasser and lowrider, and I usually work behind the scenes on Team Need for Speed (you may remember this article on my 63 Falcon).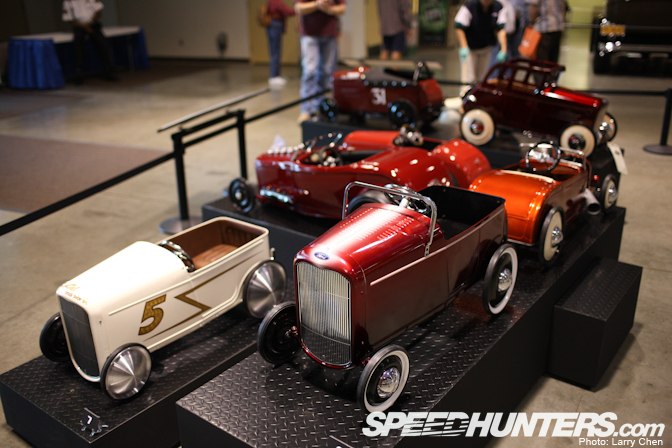 This year's special feature was the 80th anniversary of the Deuce, the 1932 Ford. The organizers celebrated hot rodding's most popular car by having 80 of them on display.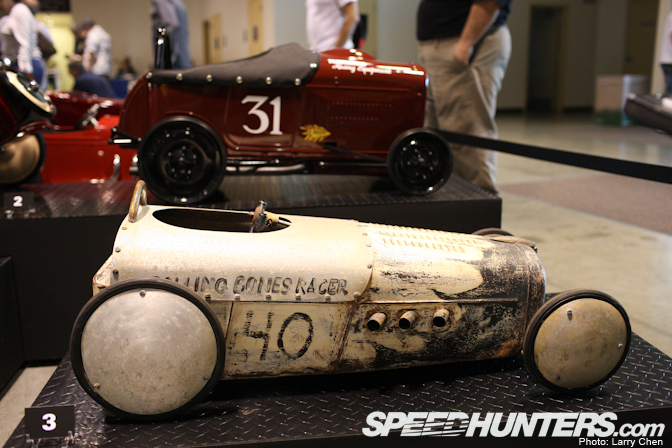 Upon entering the building we came across these customized mini roadster pedal cars.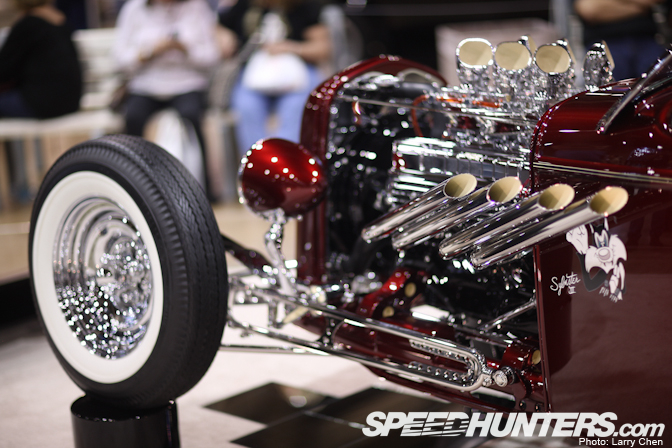 These were done by a variety of well-known customizers like Troy Trepanier, Boyd Coddington and the team at Rolling Bones.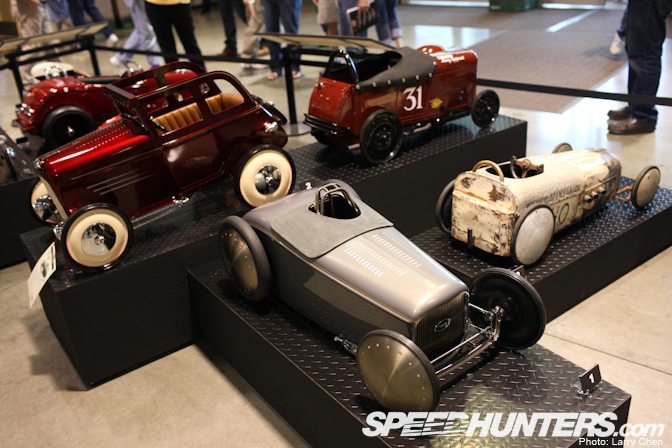 If you want to see the full display you can check it out at the Peterson Museum, when they have Deuce week during Feb 29- Mar 3.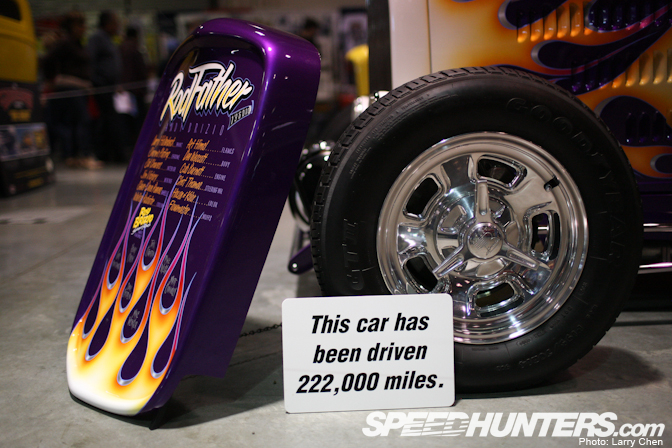 Walking away from the pedal cars we sauntered over to the Rodfather's car.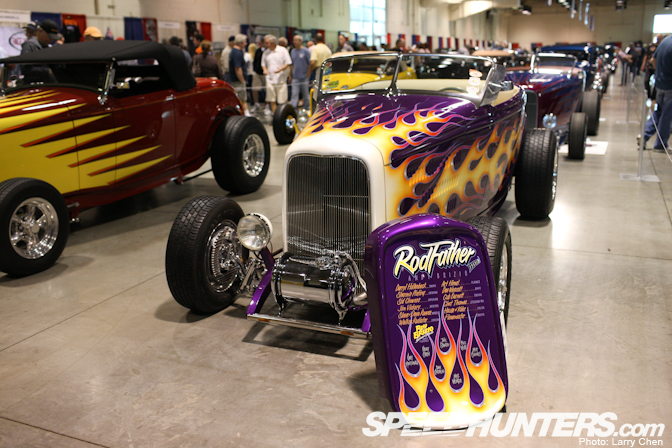 The car may have the same nickname as our own Mr. Chong, but it belongs to the Rodfather of hot rodding, Andy Brizio himself. This roadster is driven, clocking over 200,000 miles as Mr. Brizio liked to show the car at as many events as he could drive to.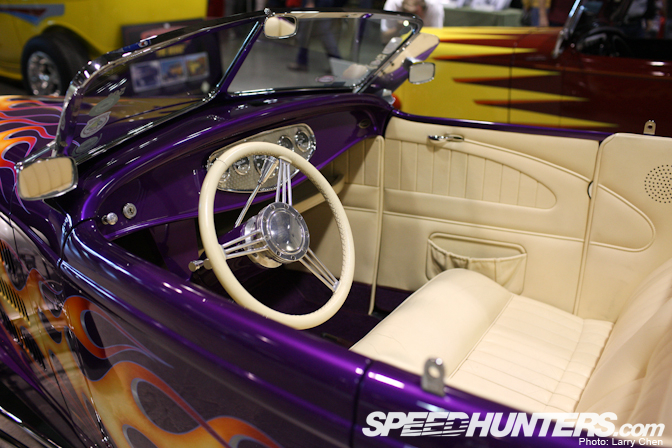 It was built by his son Roy, a master builder in his own right and one of my personal favorites. Both of them were inducted into this year's GNRS Hall of Fame and Legends of Autorama.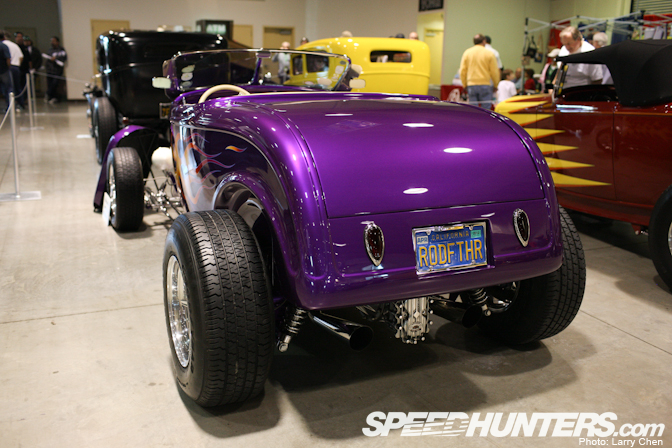 The Brizios are a huge part of hot rodding history, and are definitely worth a Google if you aren't familiar with them. Can you imagine being at that family gathering? Yes please!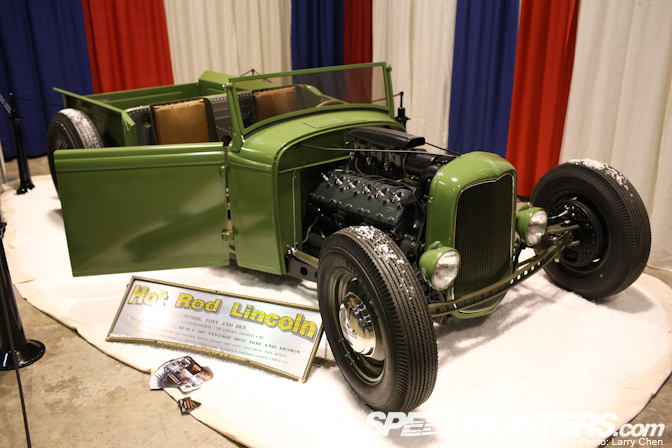 Next up was the Hot Rod Lincoln, a 32 Ford Roadster Pickup.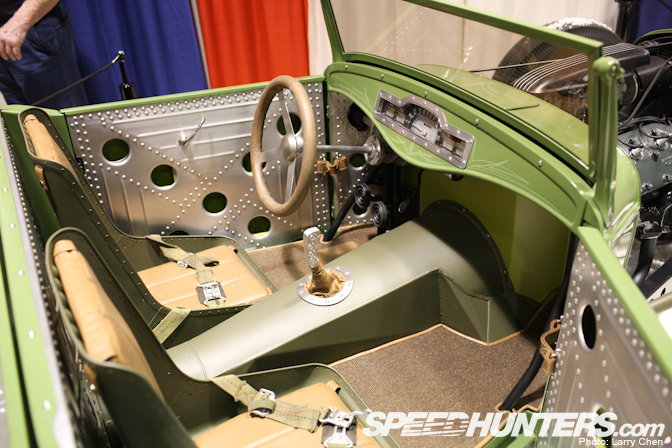 The bodywork on this car is immaculate and echoes the 40's fighter jet influence of hot rodders from back in the day.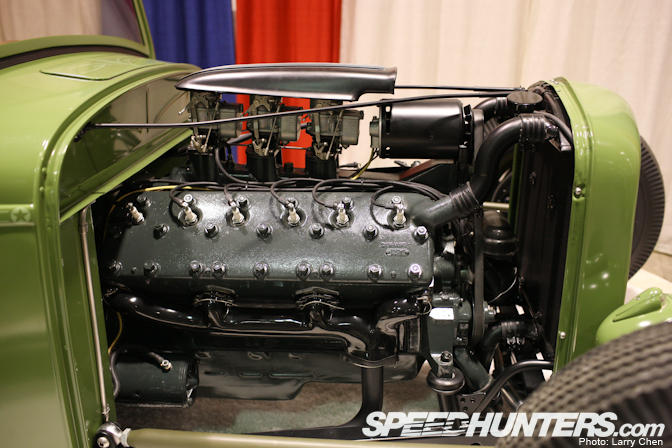 A closer look shows the 1938 Zephyr Lincoln V12.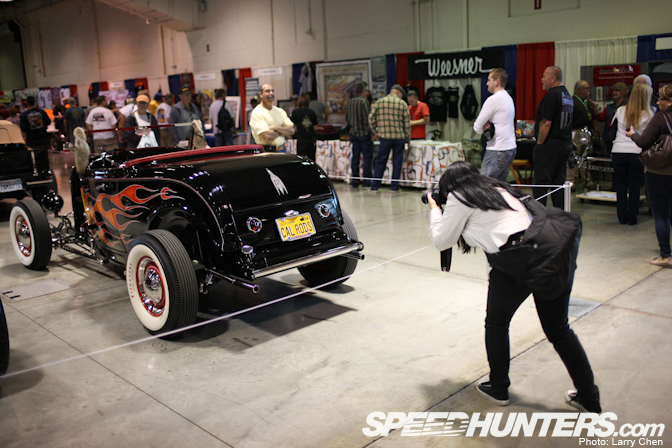 Ah, gee thanks Larry. Does this hot rod make my bum look big?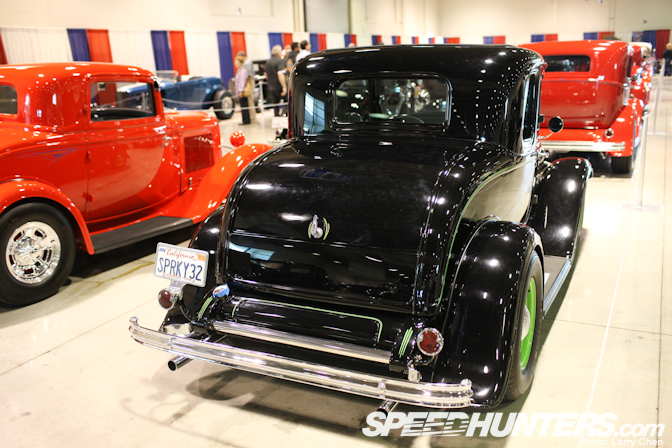 Here's a mildly customed '32 that reminded Larry and I of a certain FD Champion.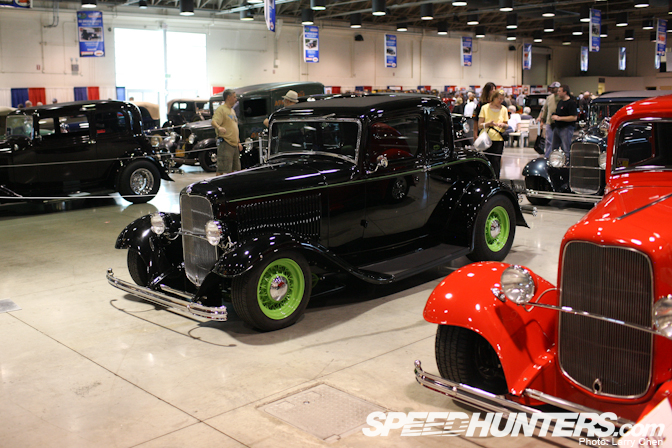 I wondered if it belonged to Vaughn Gittin Sr Sr?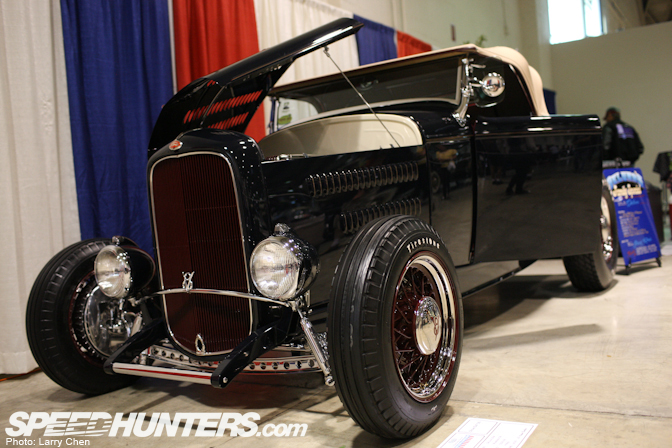 Throughout the massive hall were beautiful examples of the 1932 Ford, some heavily customized and some with just a gentle chop.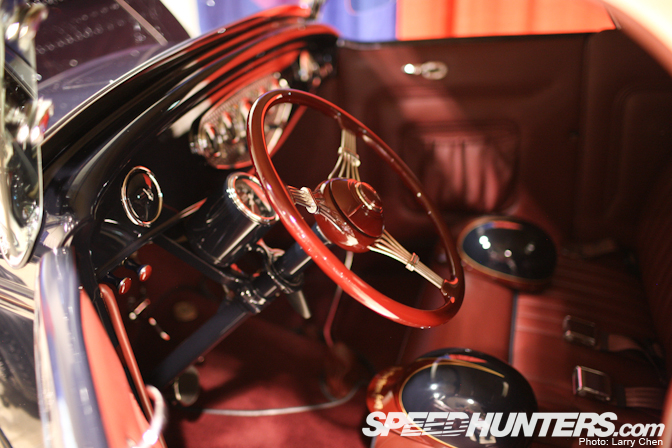 If we had the time we would have dedicated a feature just on the immaculate interiors. The caliber of work on the inside of these cars was just as incredible as their exteriors.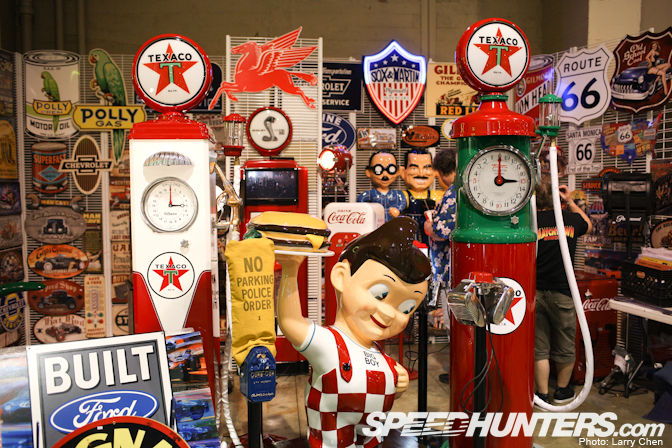 With car shows there are also the vendors. Here's a jam-packed set up of old signage.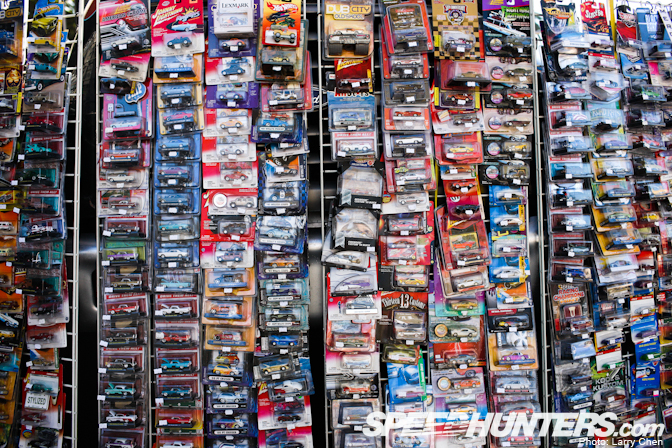 This Hot Wheels display had almost every single vintage car and truck you could think of. But not the one I was looking for, a 1964 Mercury pick up. Let me know if you ever see one!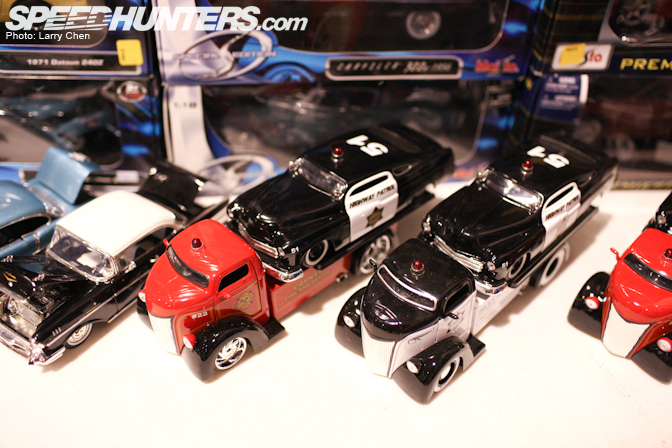 The hauler sets were pretty cool and a taste of what we were soon to see on the show floor.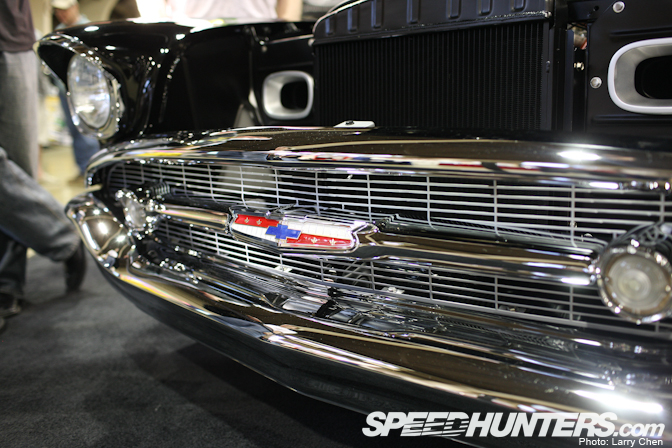 There was more shiny chrome than you could shake a stick shift at!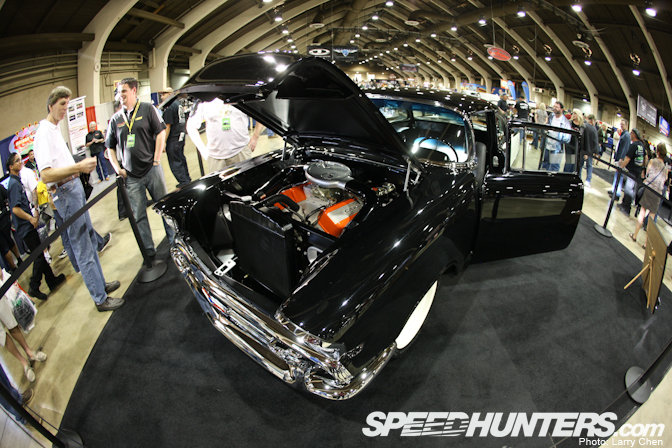 George Poteet's Black Widow tribute built by Woody's Hot Rods. Mr. Poteet is a prolific collector and commissioner of fantastic cars, with a good handful of the cars at the show belonging to him.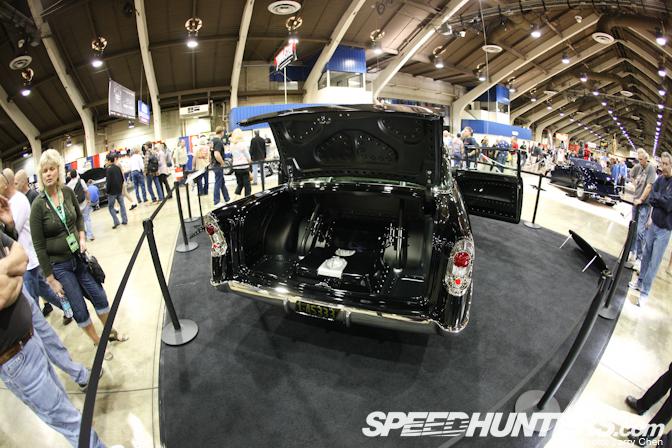 It won this year's GNRS Chip Foose Award of Design Excellence.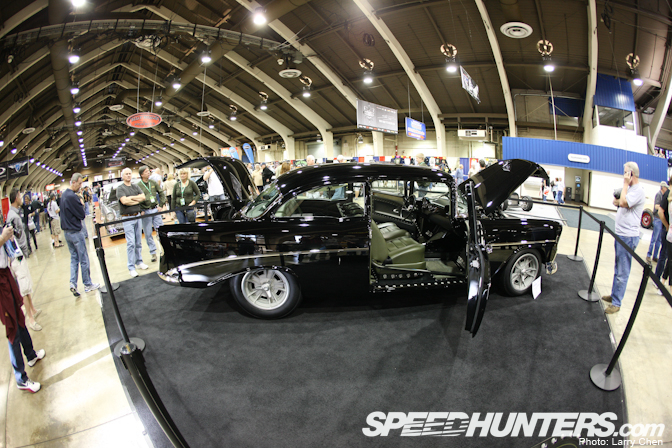 This sweet 56 Chevy is also from George Poteet's collection.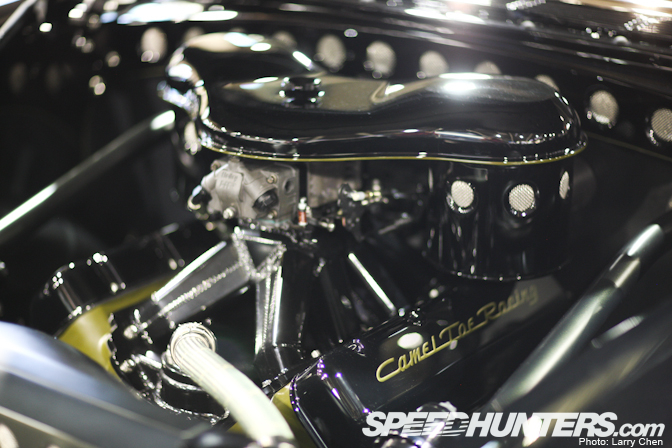 Mr. Poteet also has a racing team, Camel Toe Racing, and they surpassed their goal of 462 miles per hour in Bonneville this past year. Check it out here and yes, that's George in the driver's seat!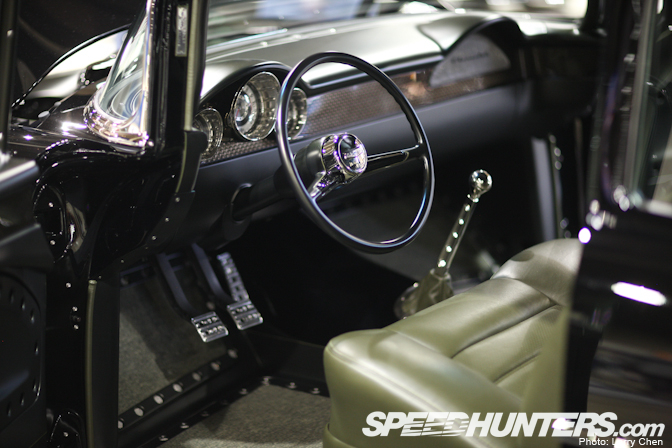 Nice and simple, just drive.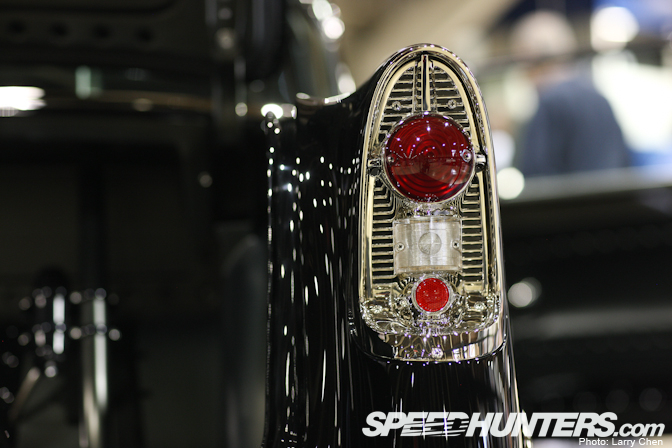 There was no shortage of awesome taillights.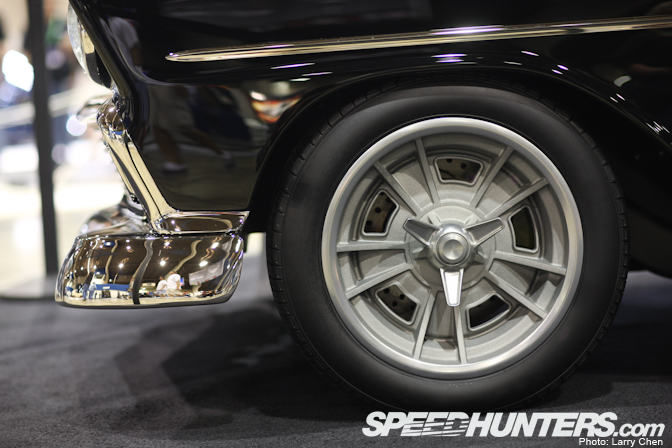 Stance is just as important with these cars as it is with some parts of modern car culture.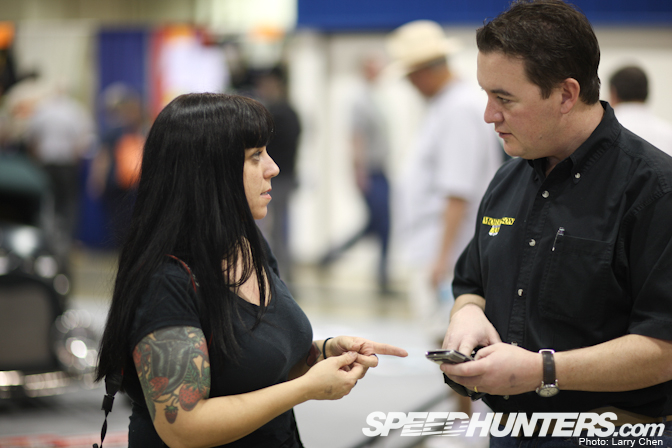 We met up with our good friend Craig Morrison of Art Morrison Chassis. They are the crème de la crème of chassis and you may recall them from the RTR-X build. Craig roamed the floor with us for a while, pointing out other cars with the Morrison touch and chatting about our favorites. The Widow tribute actually sits on a Morrison chassis.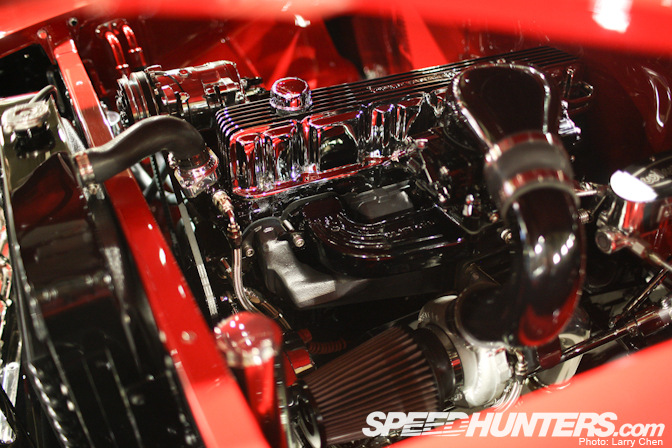 Next we spied a Chevy with an inline six and turbo, a rather unexpected combo. [I was totally drooling - Larry]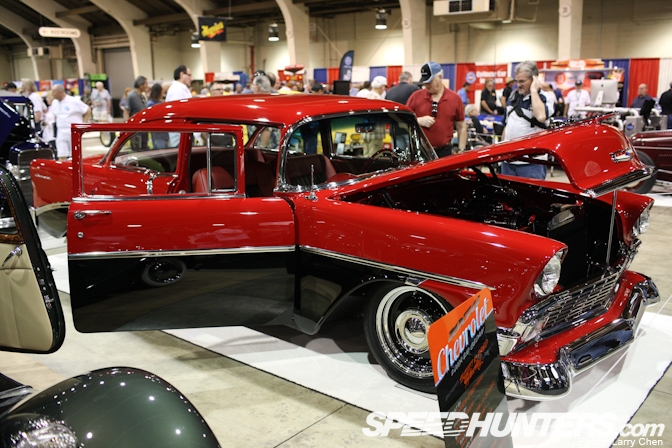 A tidy, mild custom job by Roy Brizio. I'm a Ford girl but I can appreciate a nicely done Chevy when I see one.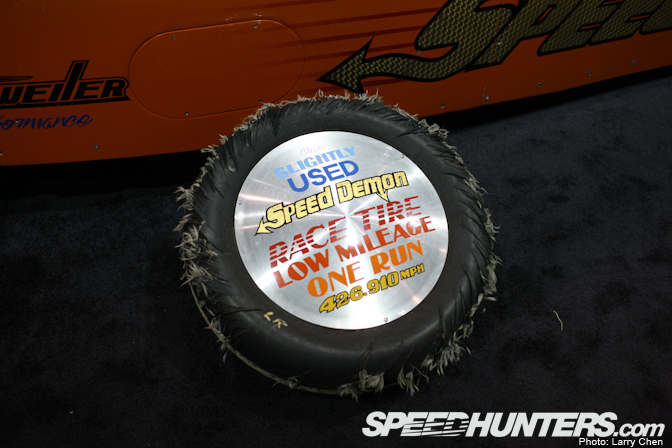 Larry spotted the Camel Toe racing display which had one of the tires that made that 426.910mph journey!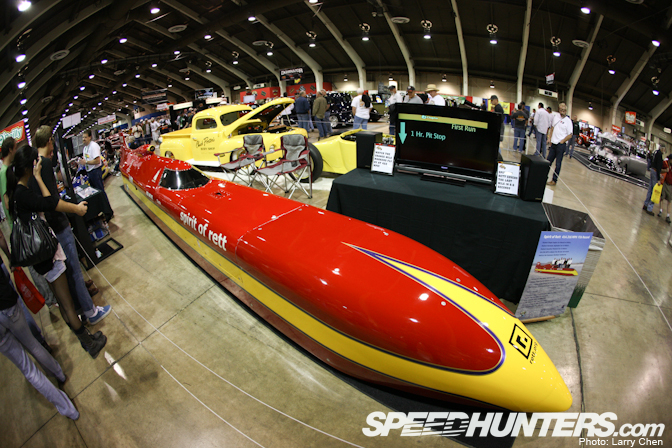 Here we have Spirit of Rett which set the land speed record for a naturally-aspirated, wheel-driven car at Bonneville at 414mph. The previous record had gone unbeaten for 45 years.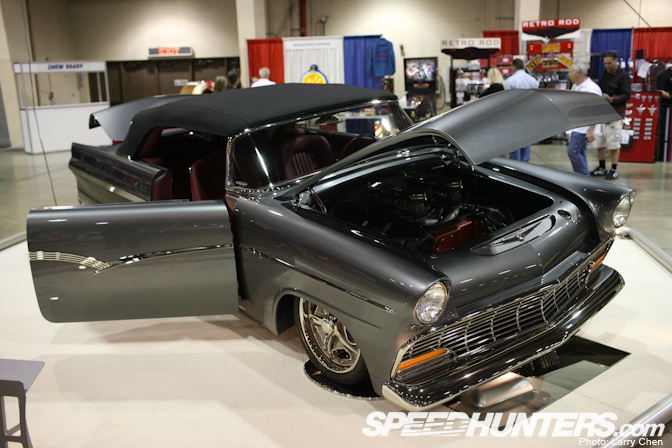 This 1956 Ford Sunliner was the Detroit Autorama's 2011 Ridler award winner.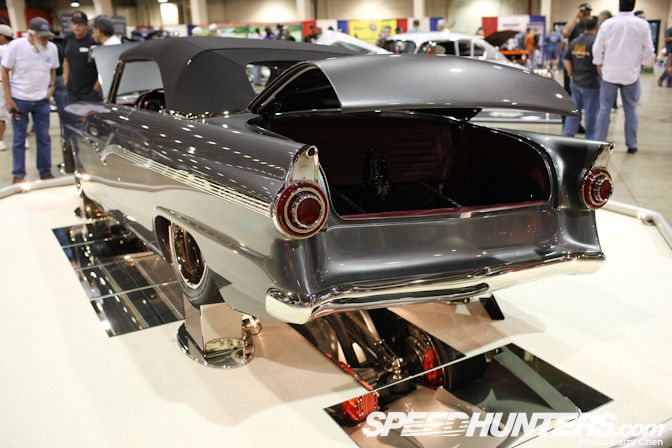 Historically these cars were painted in the pastel shades of the day. I think the gunmetal grey reinvigorates and modernizes this classic.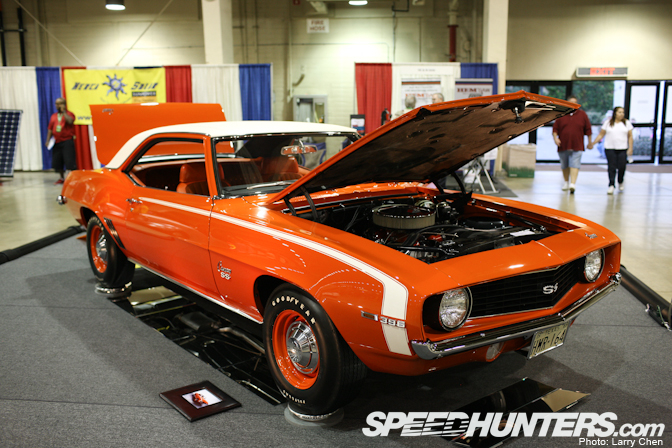 A perfect example of early American muscle, a 1969 Camero SS.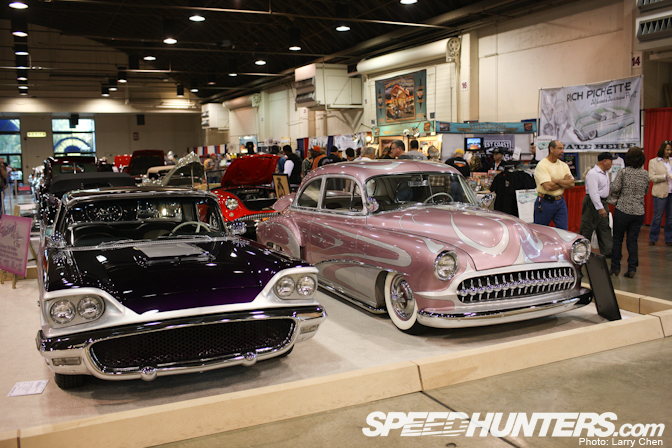 Here are two stunning cars, a one-two punch by two customizing pioneers. The 1958 T-bird on the left had its bodywork done by George Barris and the 1950 Chevy, known as the Grapevine, was painted by Larry Watson. In fact both cars were painted by Mr. Watson.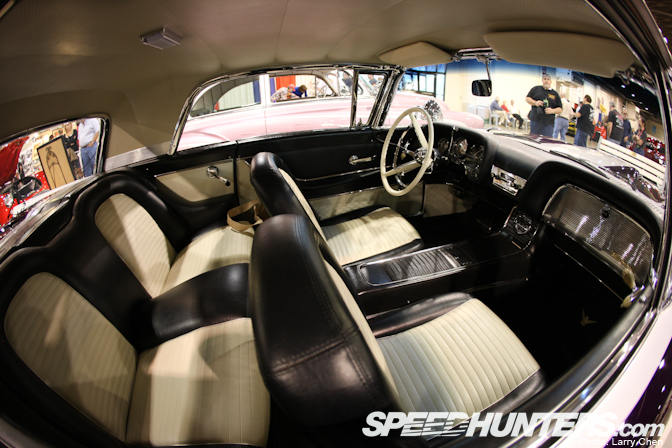 Being from Canada, we rarely get to see historic cars like this in person, so I couldn't believe my eyes! I've had the pleasure of meeting George Barris when he brought his Batmobile up to Vancouver a few years ago. If you aren't aware, George Barris is a legend in the customizing world, and is best known for his TV and movie cars such as General Lee, Munster's Coach, Monkee Mobile, Green Hornet's car, KITT from Knight Rider and a ton of others you've likely seen before.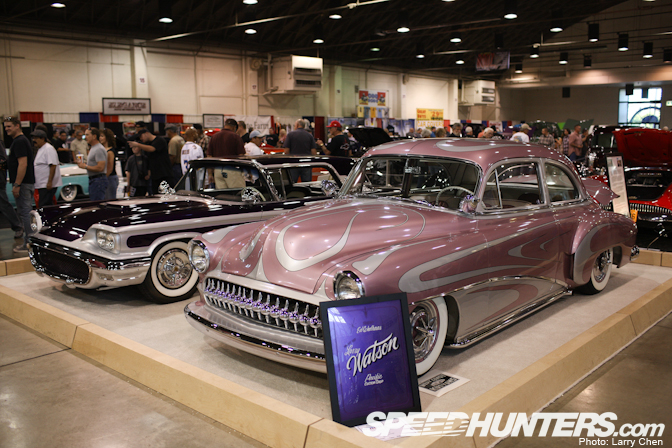 Larry Watson was the creator of the scallop style and lace painting you see on many custom cars today, including the over the top lowriders. These paint jobs may seem trite, but these were the first cars to wear these crazy coats!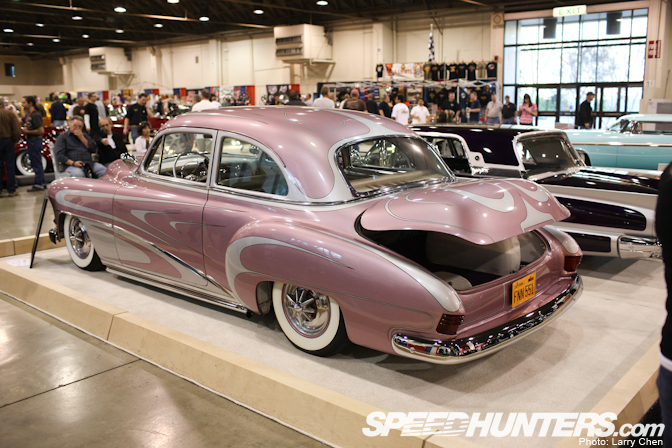 The Grapevine is immaculate in every single detail, inside and out. It was obvious that Watson is a perfectionist.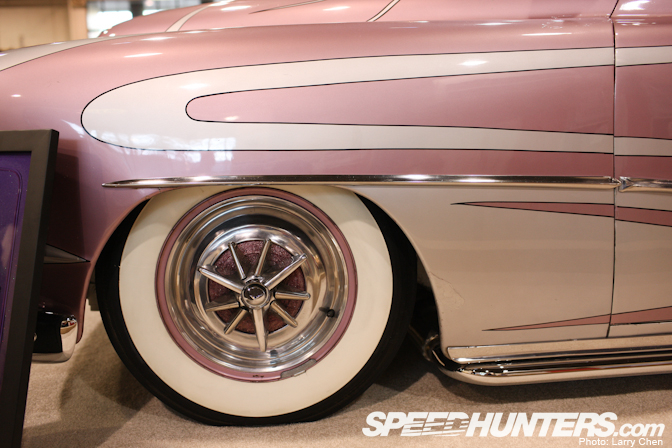 Here's a great example of attention to detail… check out the wheels!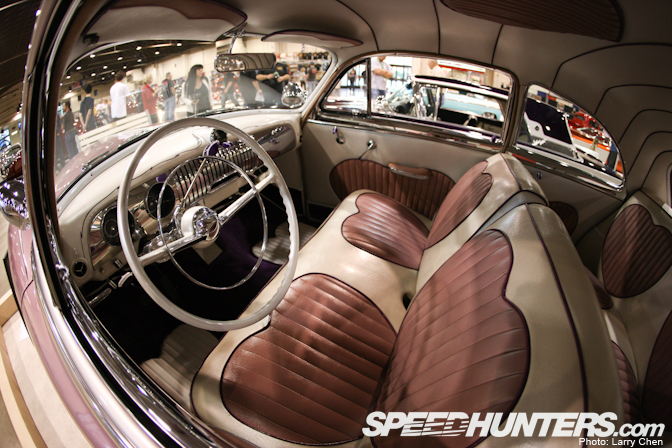 This is the interior. Again, he was the first to go this far on customizing his car. This type of over the top work is still a big influence in customizing today.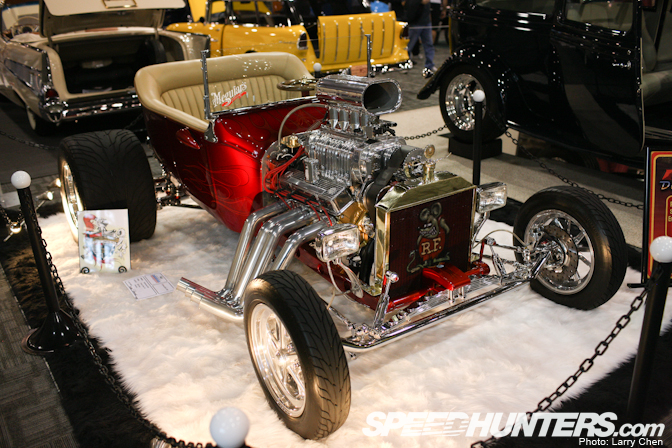 A  classic 1924 T-Bucket, blower, big rear/little front wheels, fat headers, metal flake, flames and Rat Fink. The only thing missing is a grey haired dude in a Hawaiian shirt!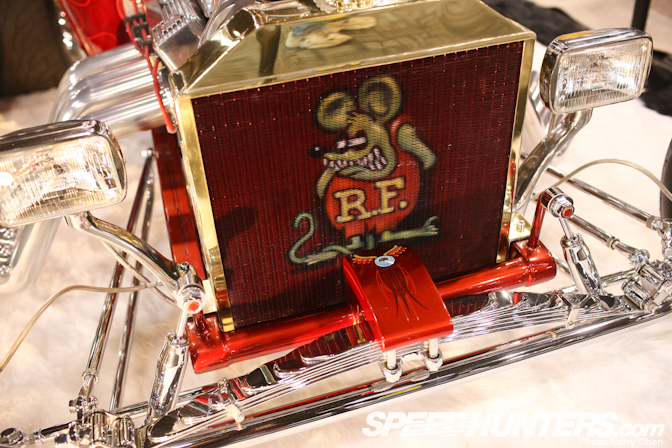 Such a "rad" painting…heh heh…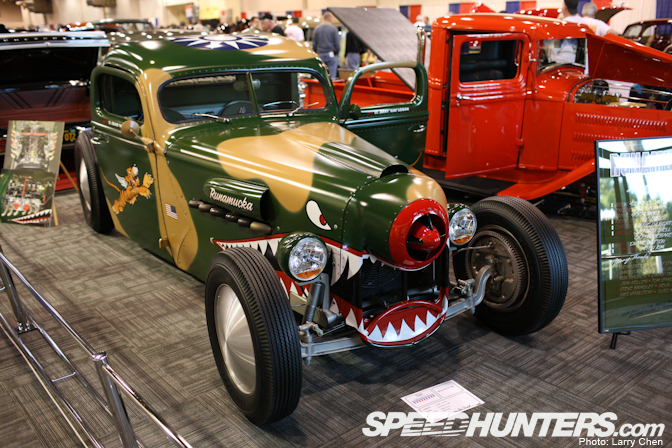 This is the Runamucka, a bit of a Frankenrod, but it gets its point across. The nose is from a '50 Studebaker, the cab is from a '42 Ford pickup and the grille shell is lifted off of a '32 Ford. The paintjob very literally recalls the fighter plane references of the beginnings of hot rodding.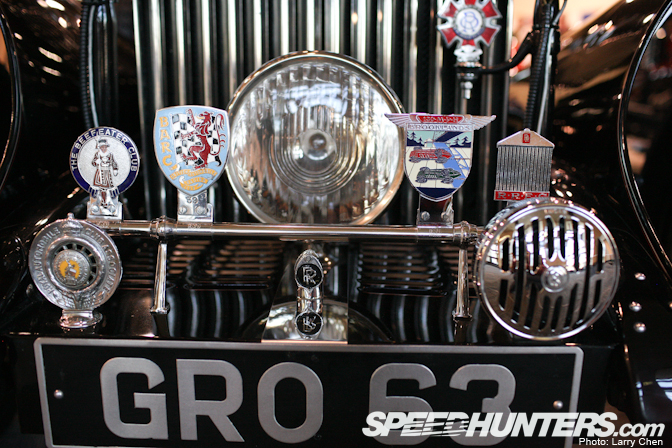 Another auto behemoth here…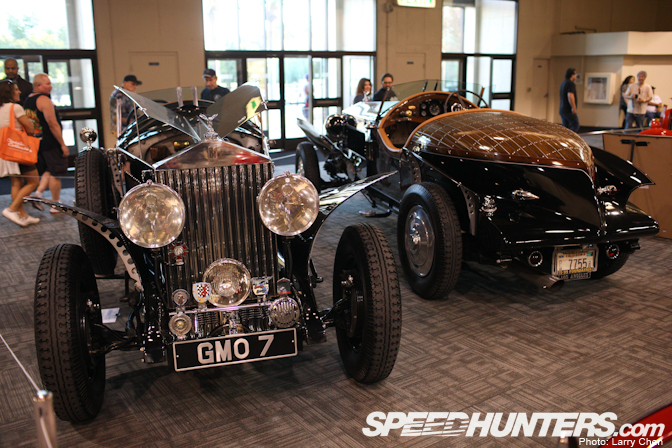 Not one, but two huge Rolls Royce boattail Ghosts. Not sure what year they are, but the woodwork on these was unbelievable!
More to come in part two of our Grand National Roadster Show!
- Melinda
Photos by Larry Chen