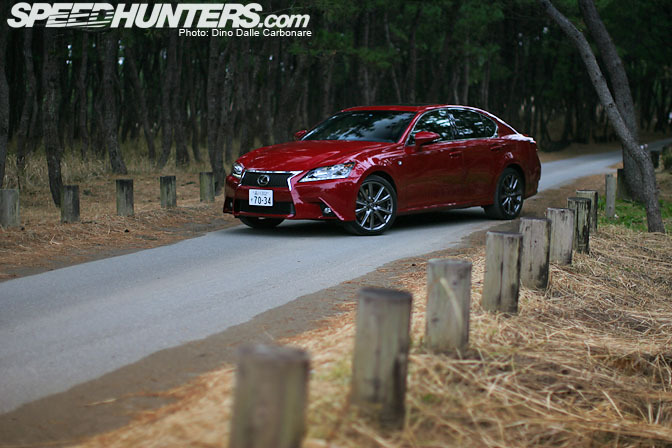 Welcome to the new Lexus GS. It's taken over a million miles of rigorous testing around the world and countless rejections from Akio Toyoda to get to the car you see here. It is in many ways, like the Toyota 86, the result of very tough expectations put in place by Toyoda-san, who since taking the reigns of Japan's biggest car manufacturer has drastically changed, for the better, a company who's true potential was held back by a typically Japanese bureaucratic management.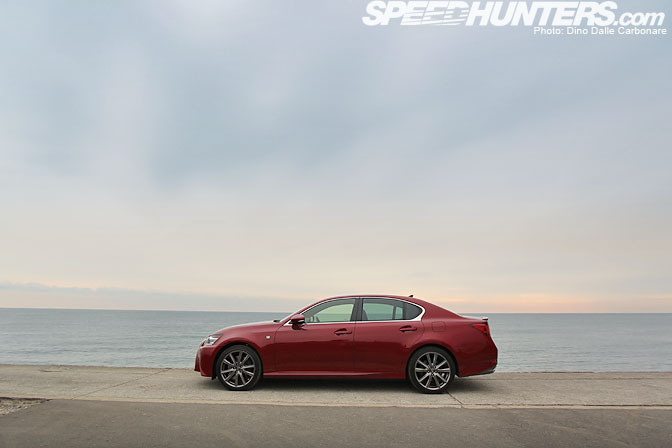 His instant rejection of the GS was quite evident, going so far as to telling the Lexus top brass that if the car wasn't greatly improved it would be axed. How is that for a bit of pressure! If it needed to keep its head high among tough competition from the Germans, it had to be a very special car. To find out if they had achieved this Lexus flew a selected group of the media down to Miyazaki in the Kyushu island of Japan where were we would have plenty of time to get acquainted with a very different, and improved GS.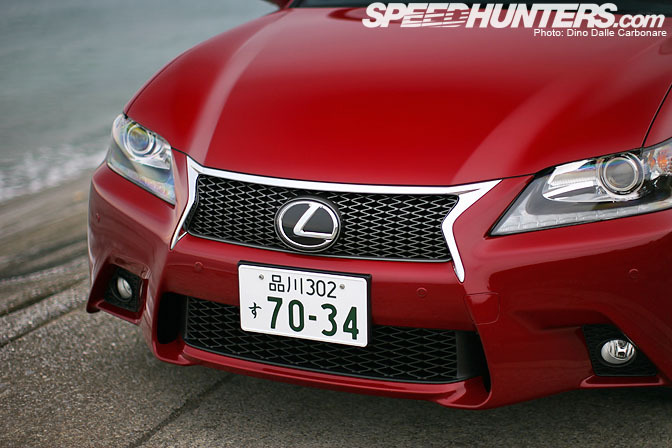 Making a more evident visual impact was a very important point on the agenda. The car needed to be instantly recognizable as a Lexus, even if the typical large "L" badge was to be removed. What once used to take the approval of a panel of six managers is now a much simpler affair, and more daring styling cues are easier to make it through to production. In the next 18-months you will be seeing the "Spindle grille," as Lexus calls it, make its way onto every Lexus model on the line up. Weather you like it or not there is no doubting that it's something distinct and already synonymous with the Lexus brand…I mean we have been seeing the GS since its debut at Pebble Beach last year.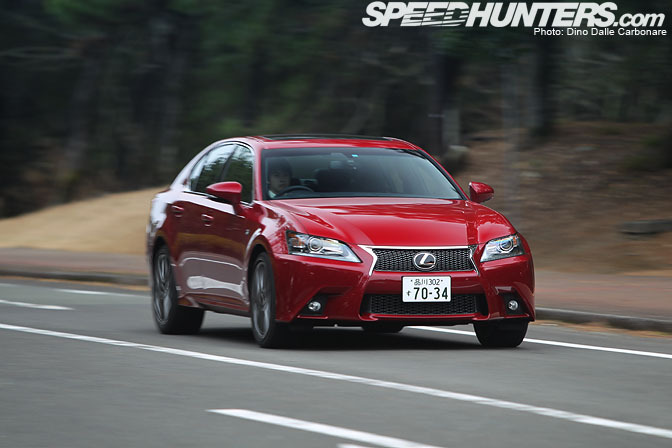 After landing in Kagoshima airport I was given a F Sport version of the GS350 to drive across the tip of Kyushu and over to the coast of Miyazaki. It was a good first chance to get acquiented with the GS and sample it as many owners would, on a gentle highway cruise, allowing its interior to cosset my rear end in luxury as I fiddled with all the electronics.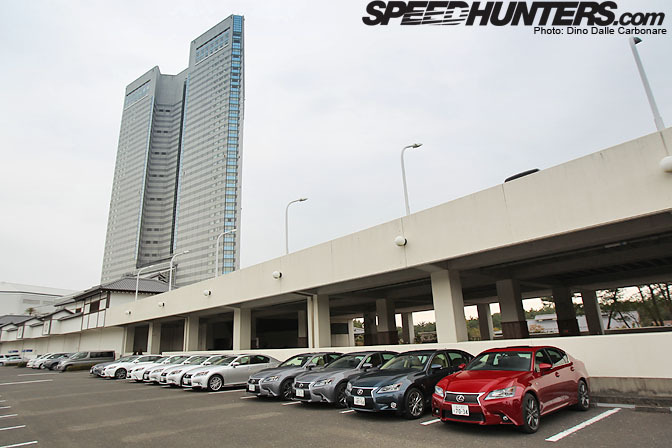 After a top notch feed and a great night's sleep it was back to business early the next morning as a selection of GSs were waiting, lined up outside our hotel.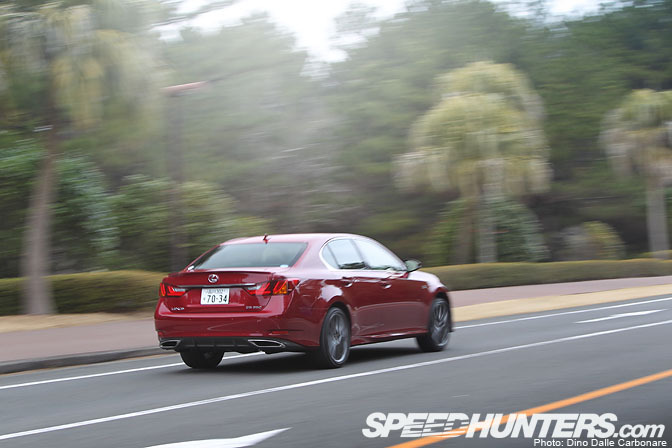 Impressed with the F Sport I drove the previous day I got back into another one, wanting to dig deeper into a chassis that already seemed much improved over the previous generation of the car.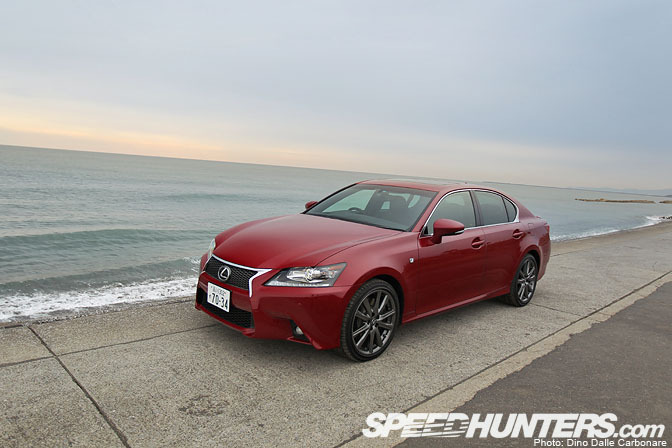 First up it was a quick stop at some scenic places around the hotel to take some shots of the car. Since we were so close to the Pacific coast I thought it would be a pity if I didn't at least grab a couple of images of it against the calm morning water.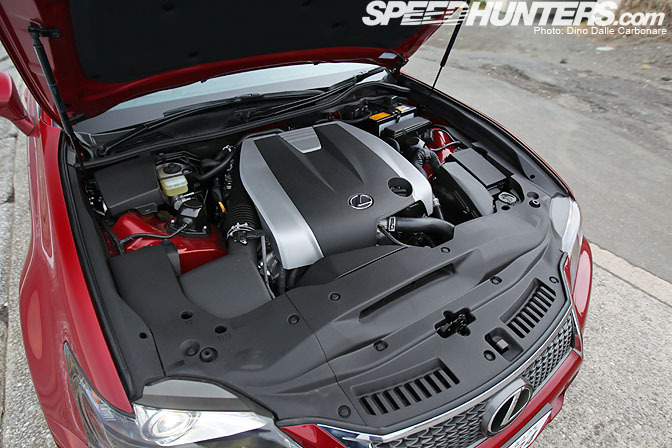 The GS is offered with a choice of three different engines, the 3.5L V6 the dark red F Sport I was driving was fitted with, a smaller 2.5L V6 and from this April the hybrid GS450h. Surprisingly enough the 4.6L V8 has been dropped from the line up, probably in an attempt to boost the popularity and appeal of the hybrid V6 which I will get to drive in a couple of months.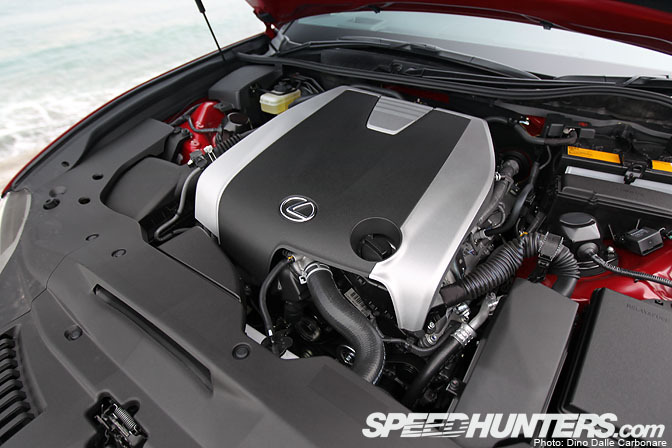 The direct injected 2GR-FSE has gained about 9 PS (8.8 HP) with 318 PS (313.6 HP) now available, more than up to the job of getting the 1,690 kg GS moving, thanks in part to a very accessible torque curve which tops out at 4,800 rpm with 280 lb/ft. One thing I noticed as soon as I floored the throttle was a very immediate response and a great change of tone as soon as the engine goes above 3,000 rpm. With the amazing work Lexus and Yamaha have done in emphasizing the sound of the LFA's V10 and the IS-F's V8, they have obviously learned a lot on how to make their powerplants sound great.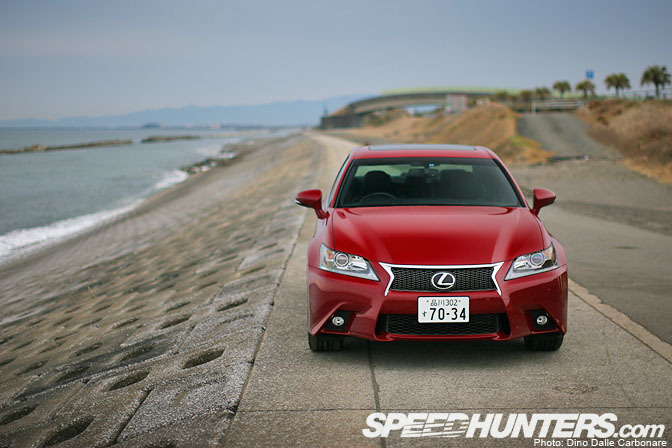 The F Sport gets a more aggressive front bumper from the regular GS350 with a more emphasized lower grille section and aggressive canard-like detailing on the corners. Lexus has always been the manufacturer to push new technology and the GS is packed with it including optional LED headlights (not fitted to the test car), a first for this sector.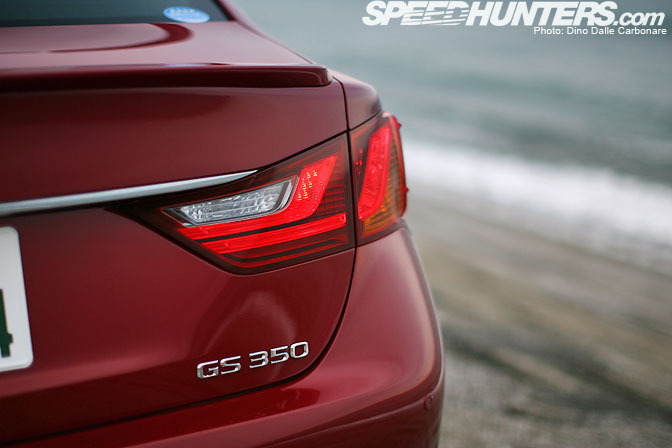 Helping give a more evident family feel, the rear end gets a mature take on the IS's rear and taillights.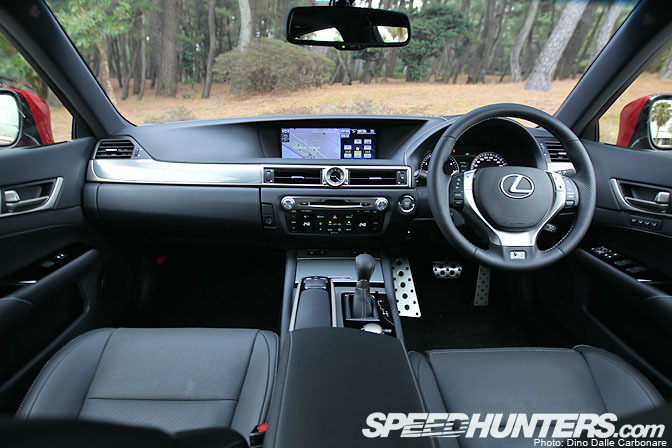 The interior is massive step up in both quality, feel and overall design.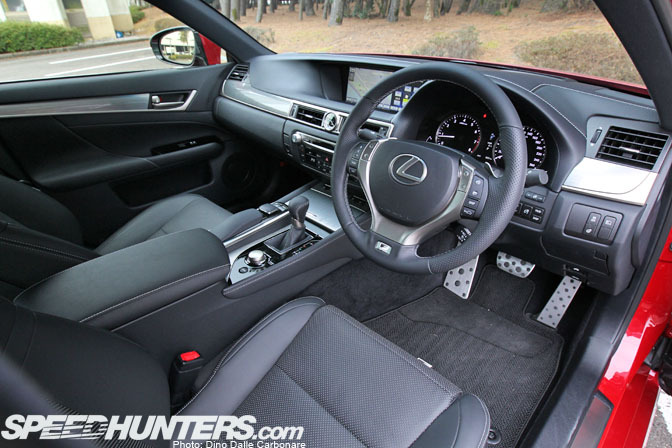 This has always been a Lexus forte, especially the fit and finish department, but now like on the exterior they have made a very evident and recognizable design statement further boosting the uniqueness of the GS.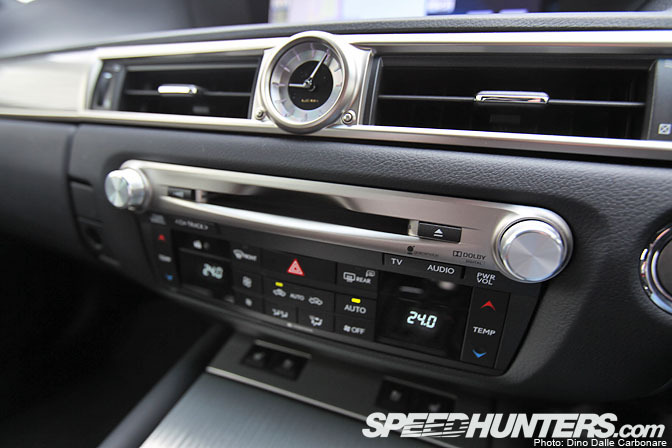 The center console section houses the controls for the two-zone climate control as well as the basic commands for the audio and video entertainment system.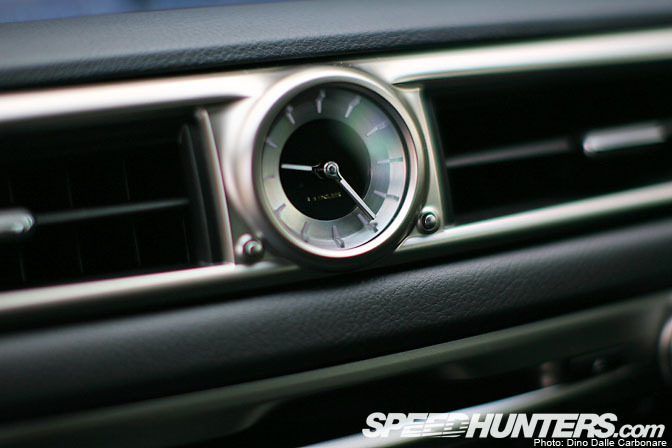 I'm very happy to see the tacky 80's style digital clock replaced with something more fitting! Let's hope this makes it into the rest of the range!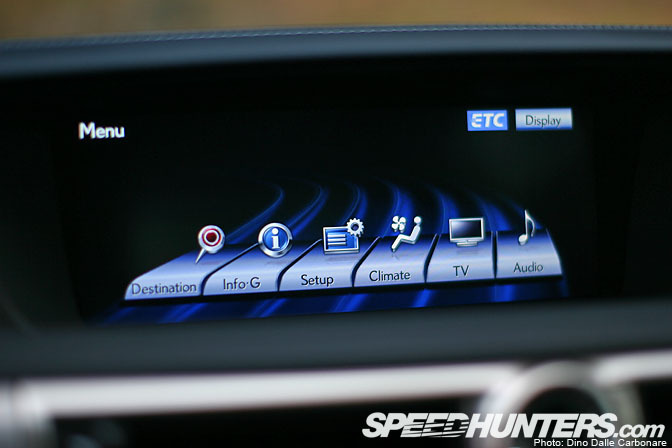 The 12.3 inch screen sank deeply between the upper and lower level of the swooping dashboard is the biggest screen in a mass production car, something BMW thought they might have up until now. The very wide aspect ratio allows the screen to be split into three sections when needed to gain access to as much information as possible, so it's no more bye-bye map while you start to play around with the CD or iPod menus.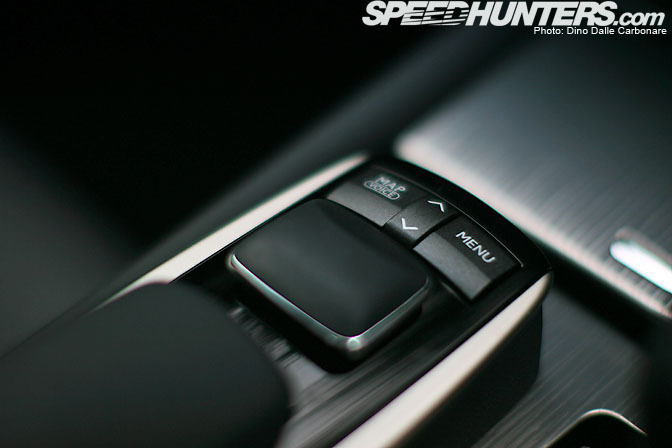 You have to fiddle with this mouse-type controller…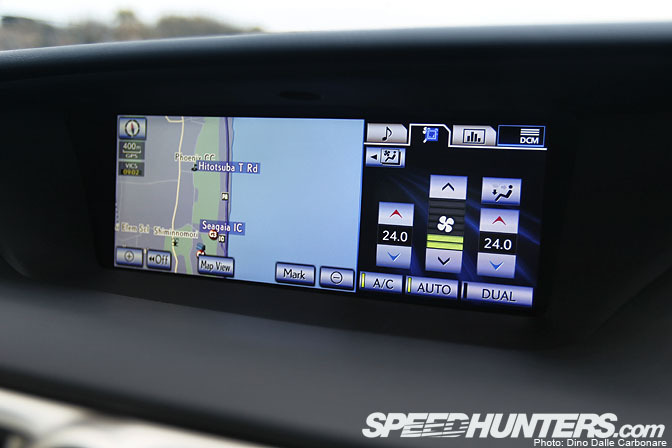 …to select functions and navigate through menus. It did take me a while to get used to it as I found it overly sensitive at times but it almost became second nature by the end of the drive.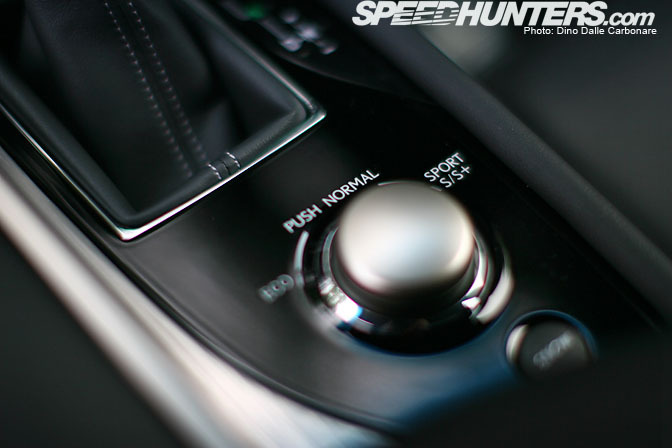 The GS features selectable driving modes, split into Eco, Normal , Sport S and Sport S+. While you can already guess what Eco and Normal do, the Sport S and more to the point the Sport S+ is where things begin to get interesting. While the GS may be happy cruising around town…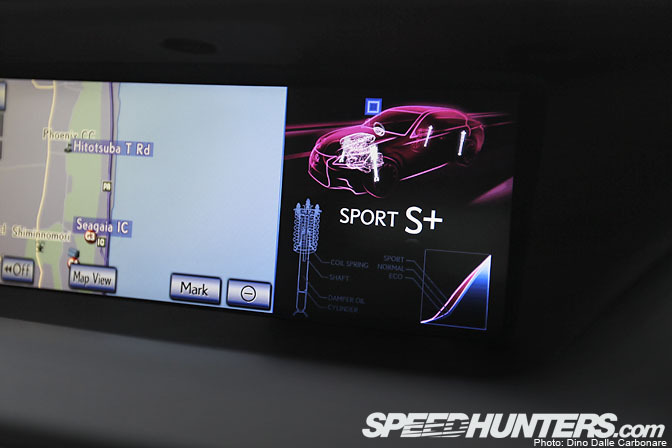 …it's when you engage Sport S+ you truly discover just how good this car is. It's like a Dr. Jekyll and Mr. Hyde type of scenario as the smooth, supple ride is sharpened up, the engine's response intensified…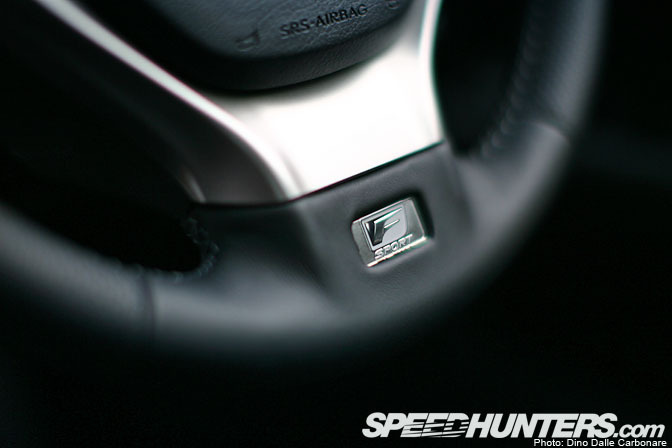 …and the steering comes alive in your hands.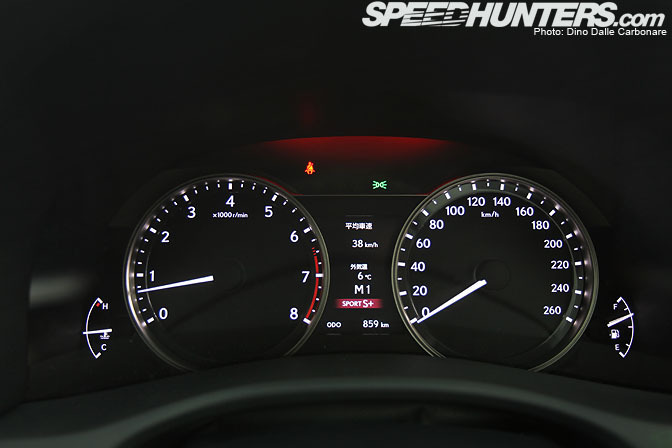 In case you didn't perceive the aforementioned changes you are also subtly and politely reminded that you are in Sport S+ mode with gentle red illumination of the instruments, replacing the usual blue hue of the "Normal" or "Eco" modes. I'll get into what all of this translates into once you hit the right sort roads a little further down…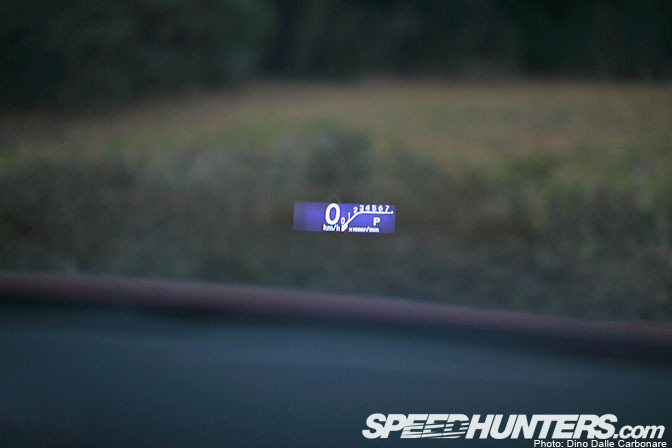 One cool gadget that I really enjoyed was the head up display, customizable to display either the speed readout alone or combined with the rpm counter or navigation instructions. The HUD projection is thankfully adjustable, so for those above, or below, average height can make sure you get a good view of it.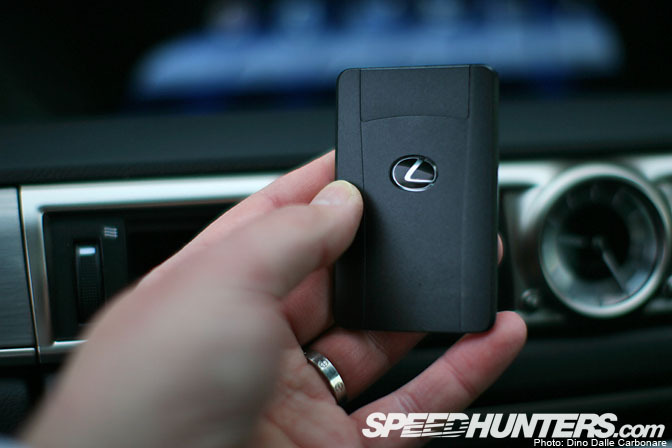 Another cool Lexus touch was this credit card sized key-less entry fob. It's an option but one worth going for as you can just leave it in your wallet…one less thing to fill up your pockets!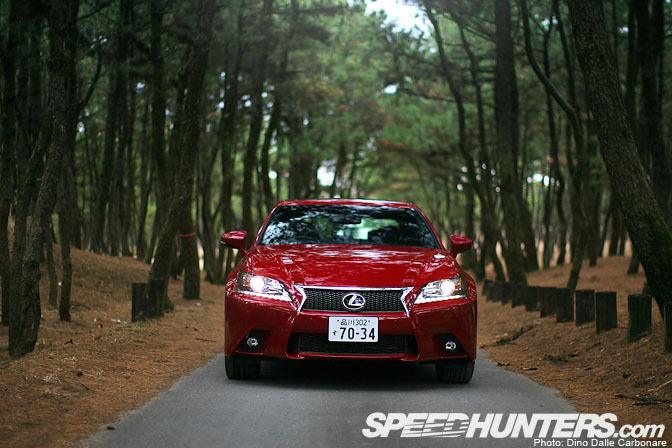 Talking to Karl Schlicht, General Manager of Lexus Product & Marketing Planning, over dinner the night before I couldn't stress enough how many people out there will want to see a GS-F version of the car.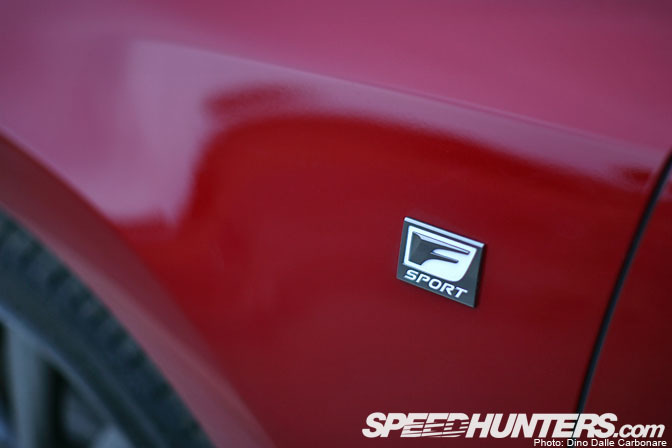 The F Sport is already a very welcome first step, again an obvious input from Akio Toyoda who has made it very clear that enthusiasts will no longer be ignored, but with such a great base it would be a pity if they didn't create a hot version of the car. Karl, while not confirming anything, made it clear that something along the line of the GS-F could be considered. Building brand awareness is what it's all about these days, and a halo model for the range, maybe powered by the LFA's 1LR-GUE V10, would make a superstar out of the GS!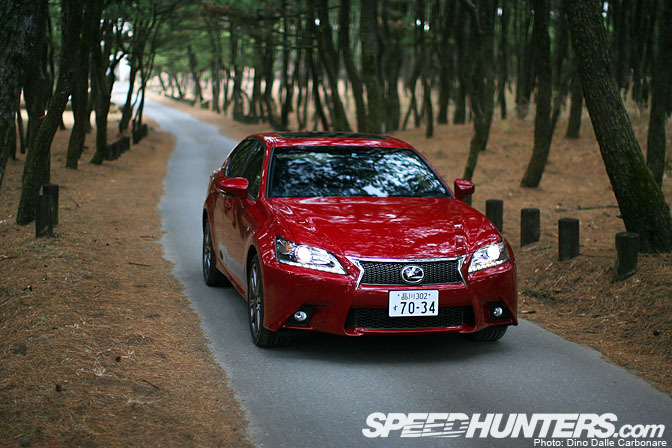 We've seen how mean the Five Axis Lexus GS that Mike spotlighted back at SEMA last year looked…imagine something like that being offered directly from Lexus. The BMW M5 would suddenly become old news!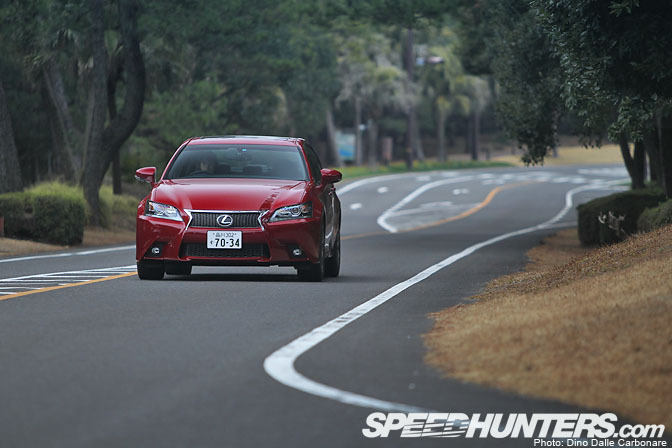 So with the pictures taken care of it was finally time to get some proper driving done. A quick call to the Lexus operator via the G-Link function and my route back to the airport was sent to my navigation system, specially programmed so I could sample some nice mountain roads.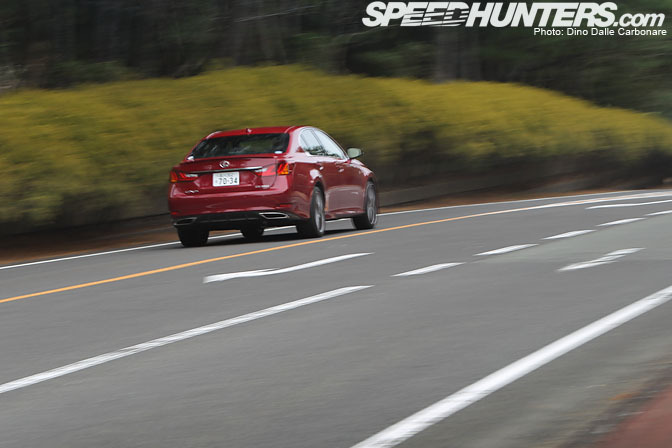 The first part of the journey was a quick blast down the highway…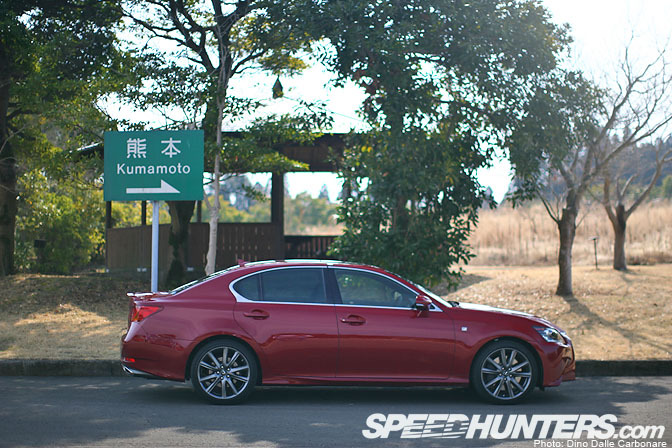 …towards Kumamoto, before exiting and grabbing the scenic route towards Kagoshima airport.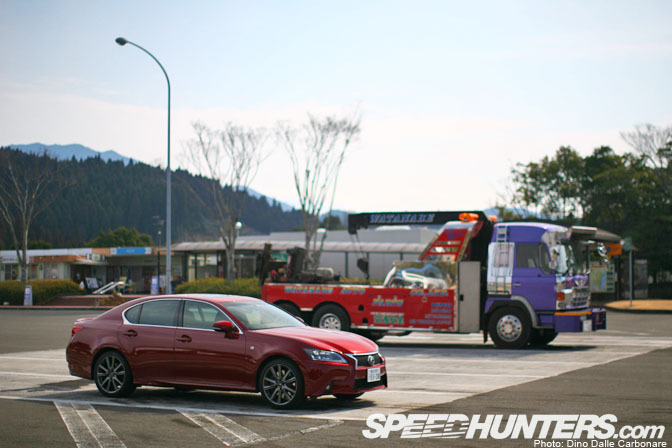 During a quick stop at a Parking Area I couldn't help but grab a shot of the GS next to a dekotora tow-truck!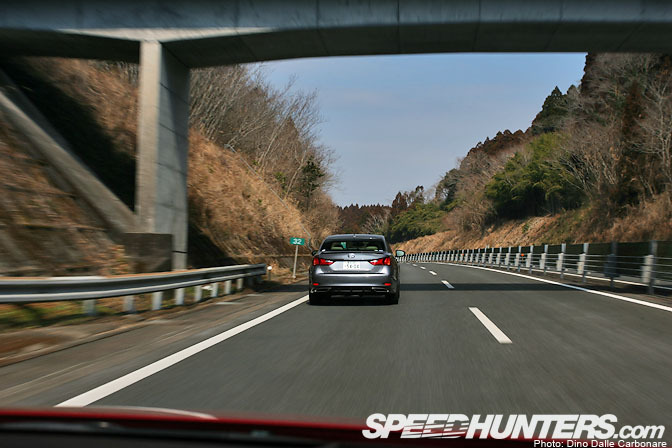 I started following a few Japanese journalists, creating a four-car GS convoy. It must have looked strange to all the other cars we passed.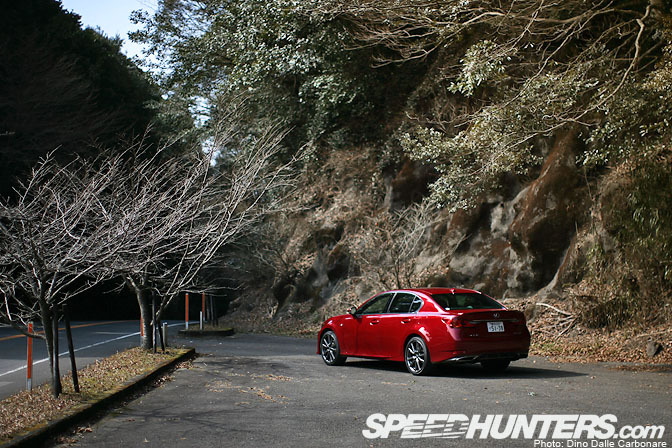 Not before long I was on nice and tight mountain roads, the perfect place to put the GS, and its Sport S+ mode through its paces. The winding roads that snake up Mt. Kirishima took us through some of the nicest scenic spots Kyushu has to offer, but it wasn't the views I was concentrating on. With the six-speed automatic in the fast-shifting manual mode, the GS had become an extremely fun car to drive, light-years away from the previous generation of the car. Toyoda-san might have been strict but it forced the engineers to create a very capable sedan…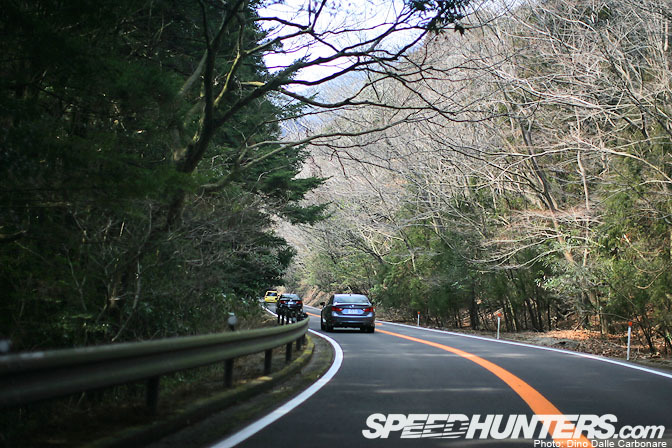 …one that edges you to push harder when you are in the mood. Thanks to a dose of spot and laser welding body rigidity is up by 14% while the track has been widened by 2 inches front and back, something that helps give it a reassuring "planted" feel. The suspension is totally reengineered with lots of aluminum components (for reduced unsprung weight), larger bushing, stiffer anti-roll bars and variable-damping suspension that really works. As soon as you engage that Sport S+ mode you can feel the dampers stiffen up, more information coming in from the chassis, never intrusive because there is still that compliancy as you run over imperfections. The sharper feel of the steering is also something that was a welcome change in this new GS but comparing it to the best out there, it still lacks a finer level of sensitivity and communication. Where a BMW 5-series's wheel loads up mid-corner and feels even more precise the GS still isn't there yet. It's still miles ahead of the usual dead steering feel you would have in an Audi for example, and that goes for the brakes too. There is plenty of pedal feel, allowing adjustability as you really lean on those stoppers.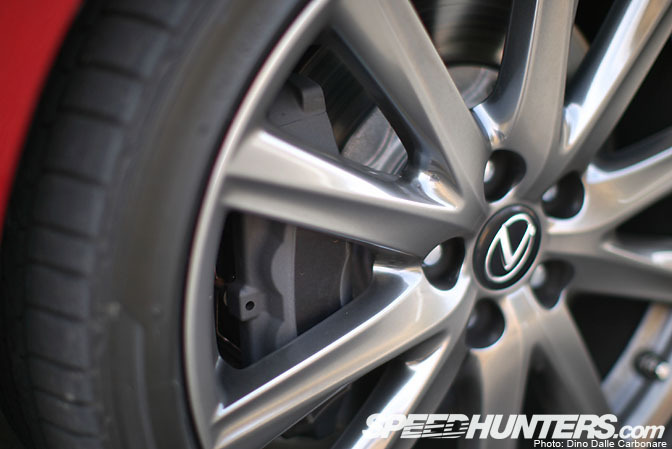 And the F Sport certainly serves up a nice set up with 4-pot front calipers and larger 2-piece discs, light in construction to again help lower unsprung weight. These sit inside 19-inch multi-spoke wheels, 8J front and 9J wide at the rear with Potenza 050A rubber, 235/40R19 fore and 265/35R19 aft. The grip levels were high but the stability control too intrusive at cutting the throttle and keeping the car straigth. It would have been nice to have the car move around a little more under power, especially with such a balanced chassis. Maybe a "Sport S++" setting with a less babying stability control is the answer?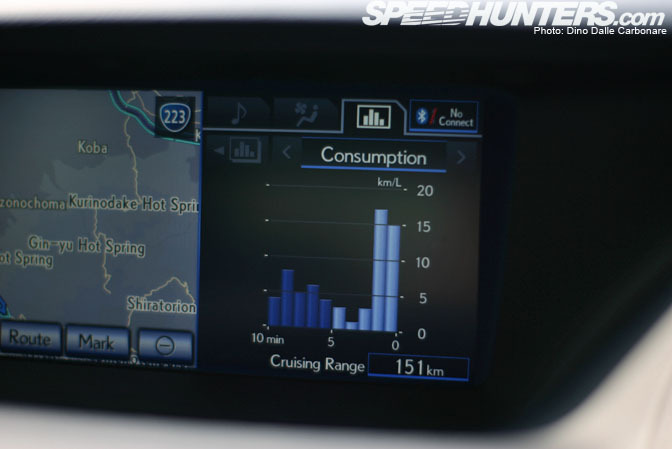 The spirited drive through the mountains didn't do much for the fuel consumption readings which took a big dive towards the 0 mark!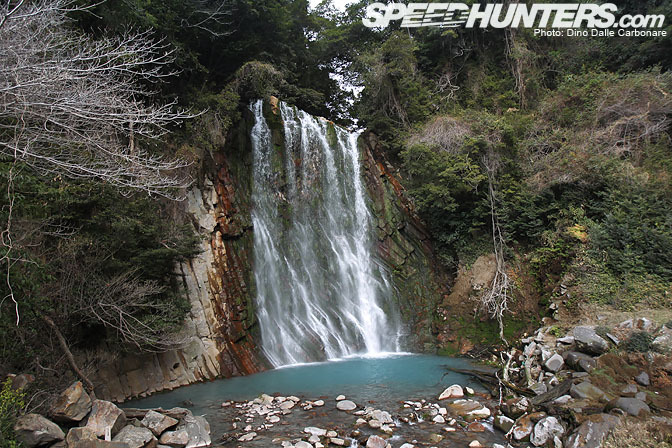 As we got closer to the town of Kirishima-onsen the smell of sulfur was getting stronger in the air. This volcanic area of Kyushu is famous for hot springs and a popular tourist spot. I stopped to grab a quick shot of this natural waterfall which had that unmistakable smell of rotten eggs!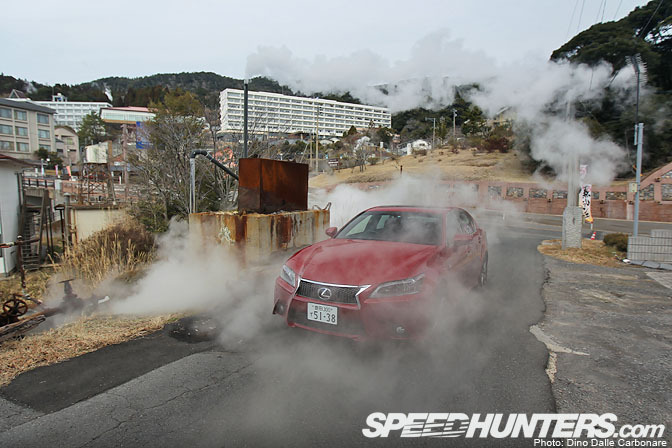 No, I'm not doing a dirty burnout!! Around Kirishima-onsen there are tons of hot springs and it seems the whole town is engulfed in a, somewhat smelly, cloud of steam.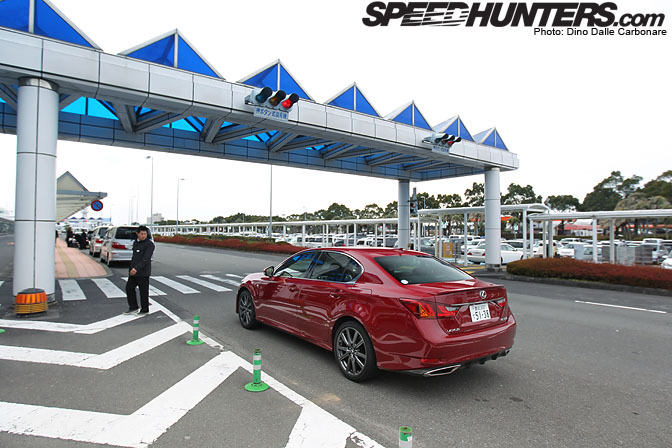 From there it was a short drive down to the airport where I dropped off the GS and grabbed the flight back to Tokyo. The time I spent with the new GS350 has left me pleasantly surprised, happy to discover that Lexus, like Toyota, is changing and improving in every way. This is a car that has a lot of potential and somehow I just can't get that image of a V10-powered GS-F out of my head! 
-Dino Dalle Carbonare