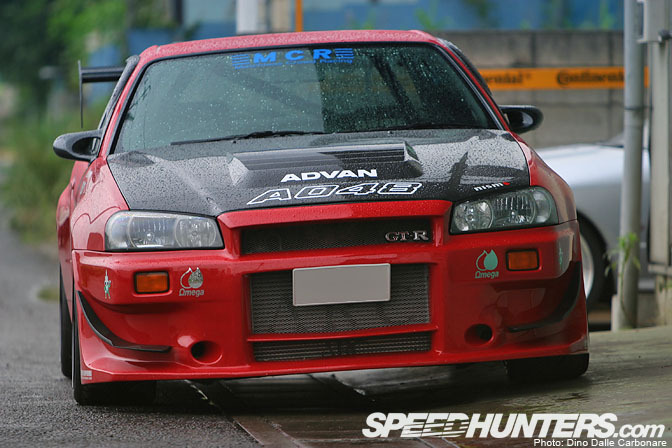 The Game Changers theme we have going on this month has allowed me to go back into my picture library and check out some of the most epic cars I have shot over the years. You will have to be a little patient with me this week as I will be indulging in some R34 GT-R goodness, beginning with the Mine's GT-R we looked at yesterday. I promise I will post something other than BNR34s – eventually! 
It's only right that after looking at the Mine's GT-R we also feature what has always been one of its closest competitors, the MCR R34. Kobayashi-san at Matchless Crowd Racing, much like Niikura-san at Mine's, has always been one to concentrate on the functional side of his cars, but maybe a little more focused towards more extreme on-track performance. Plus what makes MCR different to a lot of other shops out there is that Kobayashi-san has always done his own driving, never using pro drivers for development or time attack sessions. Instant respect right there!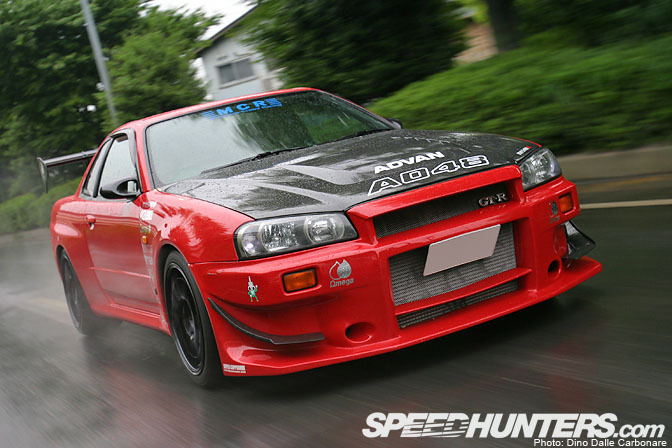 MCR has refined a very unique style, one that is instantly recognizable to those in the scene. Not long after my visit to Mine's I headed to the MCR shop in Yashio, Saitama-ken, to check out their then main shop demo car.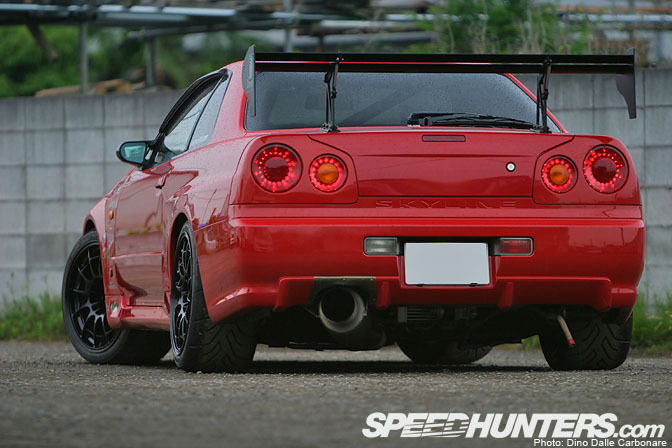 You have probably seen this car battle it out on the tight Gunsai bicycle track that Hot Version uses for its touge battles, and you will know that it can really hold its head high against much lighter and more responsive cars.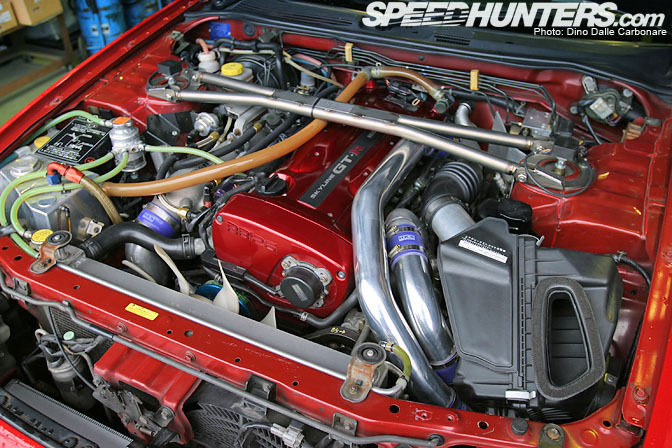 At the time of my visit, Kobayashi-san was experimenting with a little bit more powerful engine set up, the R34's RB26 stroked to 2.8 liters thanks to an HKS Step 3 stroker kit and running HKS GT-RS turbos, bigger than the GT2530s that Mine's have always stuck to.  With this configuration the engine was good for 650HP at 7,800 rpm and a massive 520 lb/ft of torque at a rather high 6,100 rpm. Other interesting modifications to the engine was a then brand new Nismo GT plenum, custom turbo outlet and intercooler piping…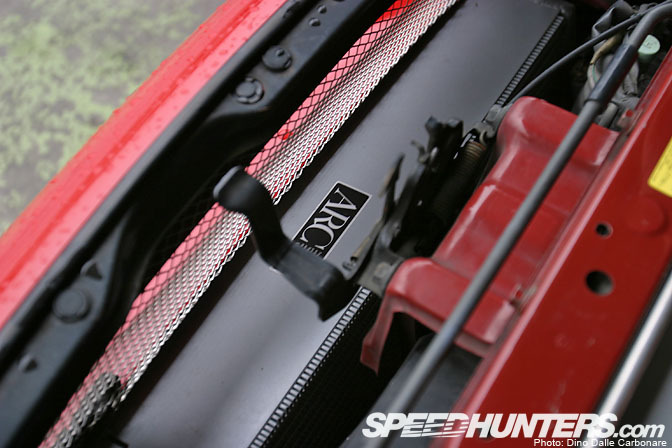 …along with a special high-response ARC intercooler. Fueling was supplied by six 720 cc/min injectors in turn fed by a pair of Bosch external fuel pumps. All of this was handled by an HKS F-Con V Pro piggy-back ECU running MAP sensors. Kobayashi-san turned to Nismo for drivetrain upgrades which included a twin plate Copper Mix clutch and a front LSD.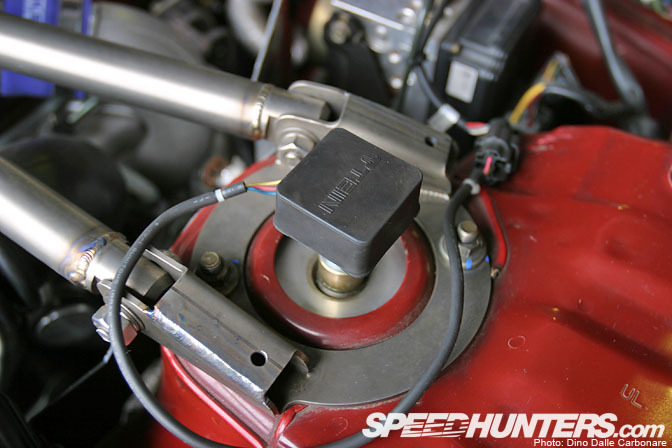 Suspension was courtesy of Tein, adjustable on the fly by these solenoids.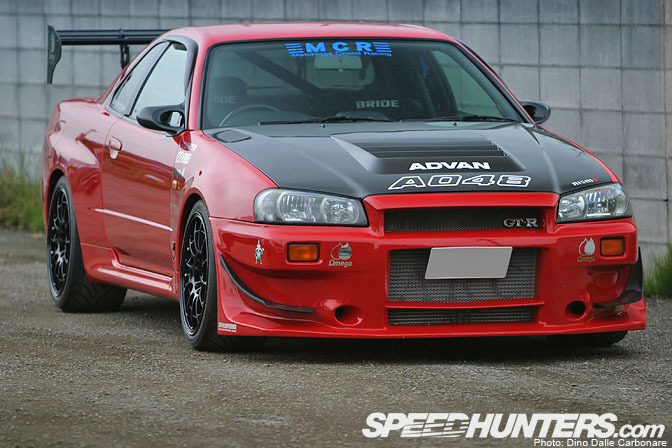 The MCR front bumper is what gives that mean track-racer look to this R34. The bumper is all about function, with an integrated lip spoiler and carbon canards for downforce, two round intakes to feed cold air to the brakes and a large split air dam, the top section designed to match up to the ARC intercooler core, the lower to offer the best flow to the ARC oil cooler. An unpainted carbon fiber Nismo R-tune hood was there to help the engine shed as much heat as possible.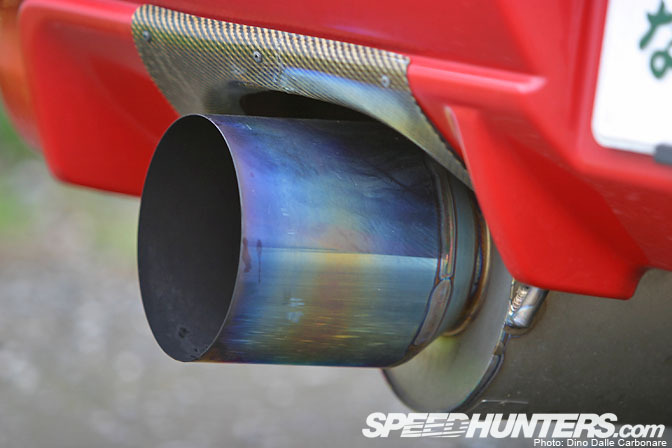 This is probably the loudest R34 I've ever had the pleasure to ride in, mainly because it runs, still to this day, a full 90 mm ARC racing titanium exhaust system!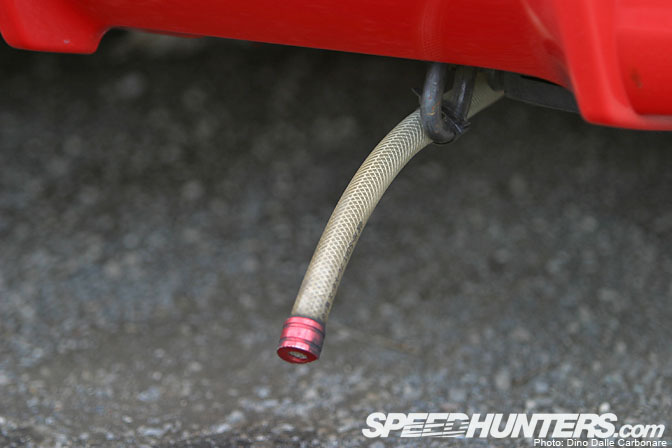 Oil vapors that are collected in the oil catch tank in the engine bay were dumped out the back through this hose. Not really environmentally friendly but common practice back in 2005. This has now been removed of course.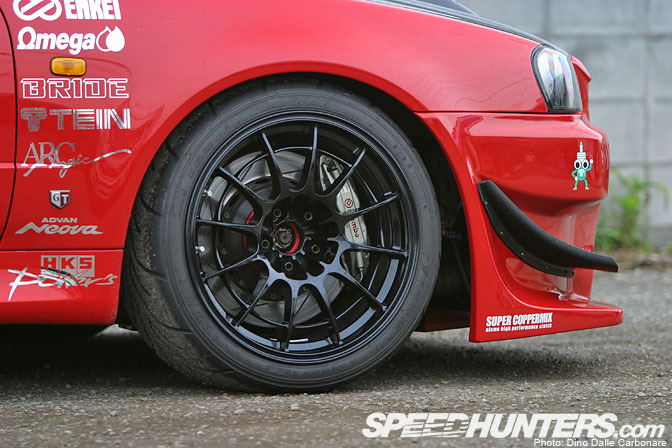 While developing the BNR34 on the Nordschleife back in 1998 Nissan was running Enkei NT03s, so that's probably why Kobayashi has always stuck with these wheels. It's a cool design and still very much modern looking over a decade on. At the time of the shoot the car was on 265/35R18 Advan A048 and running 10.5Jx18" rims all round.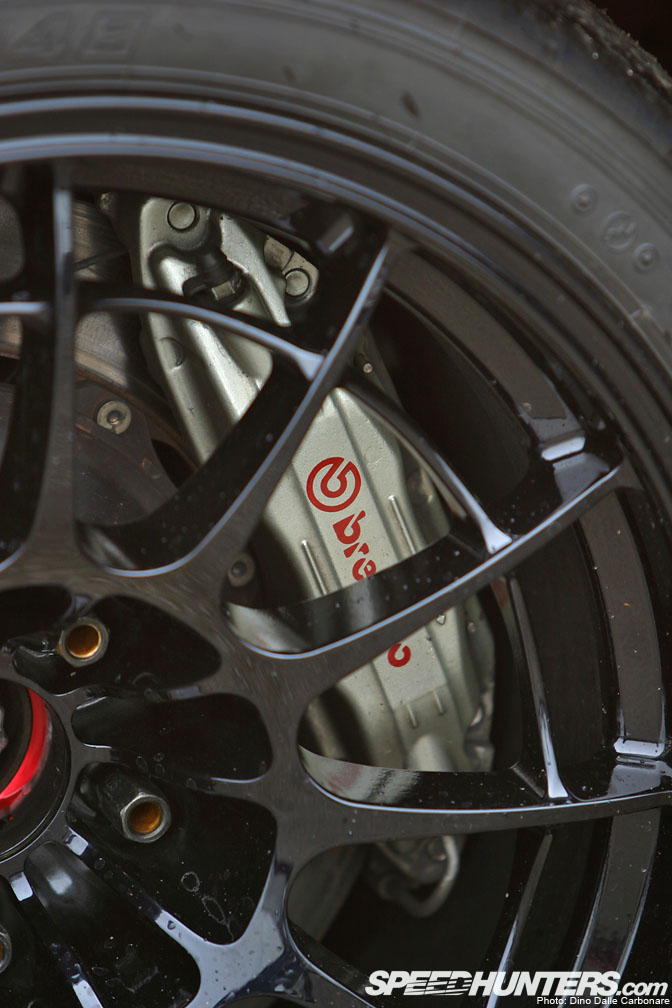 Braking is taken care of by Brembo F50 calipers and 355 mm 2-piece discs with the rear balanced out with Brembo "Lotus" 4-pot calipers and 335 mm rotors.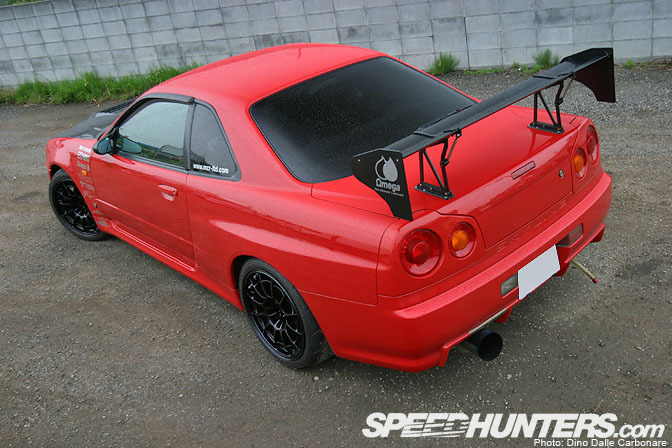 The big ARC aluminum wing is hard to miss!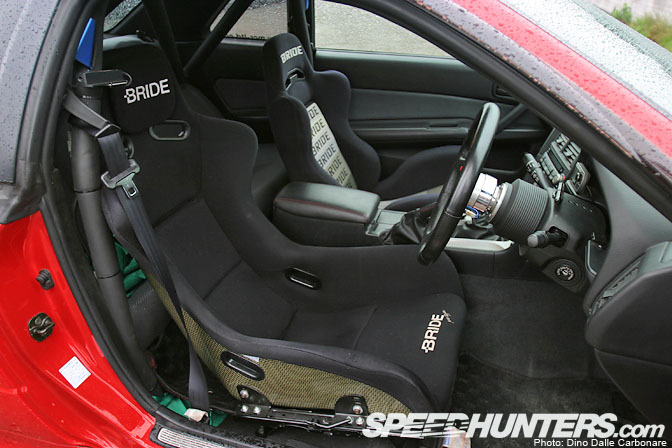 All interior trim is retained as Kobayashi-san has always emphasized the tuned street car theme rather than it being a race car for the street. To stiffen up the chassis and add some safety, a Cusco 5-piece half roll-cage was bolted in place. Bride seats were chosen, a carbon-Kevlar race bucket for the driver side and a more comfortable adjustable chair on the passenger side.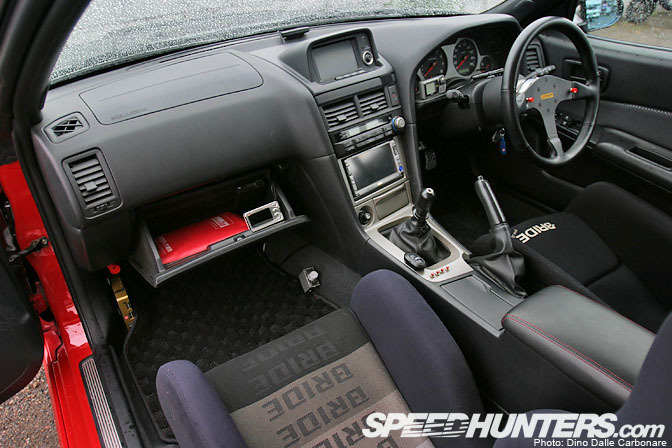 There is even a navigation system fitted, as Kobayashi always drove the car to and from events on the street.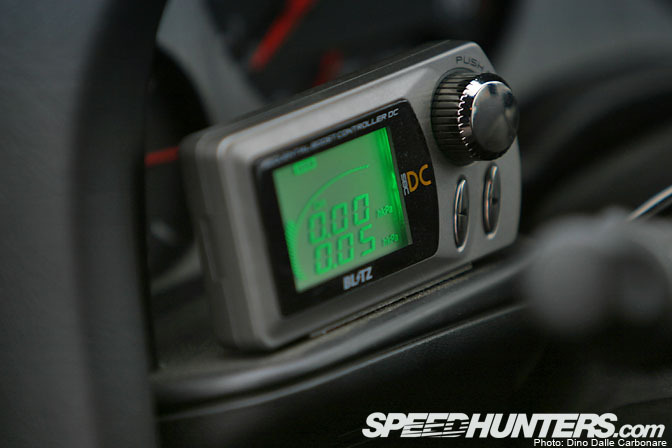 Boost is handled by a Blitz SBC-iD, while other gadgets include an HKS A/F knock amp meter in the glove box and an HKS fuel mixture controller.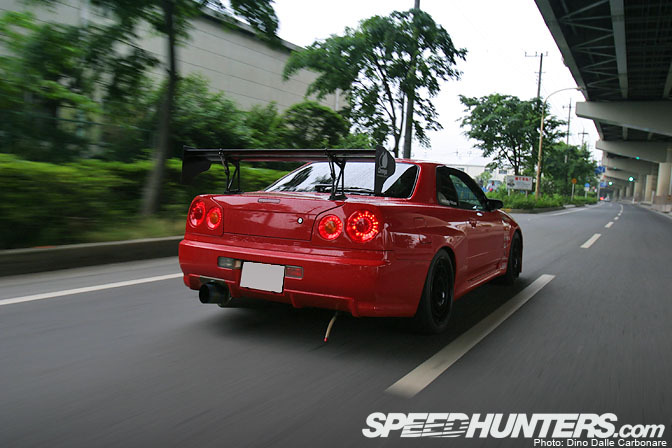 I will never forget the savage acceleration this car unleashed on those couple of wide-open throttle runs Kobayashi treated me to. Back then it was the first time I experienced an HKS 2.8L and GT-RS combination and while being surprised at the towering torque, I wasn't particularly impressed with the lag a large twin-turbo kit like this introduced. Still, on a track like Fuji Speedway this GT-R would have been a hell of a lot of fun. Since then Kobayashi-san has experimented with a variety of set-ups, even going back to the smaller GT2530s. The car, along with the silver street-tuned demo car, are still around even if all development has pretty much shifted to the R35 GT-R and the Z34 370Z. I think Mine's would have never pushed their own demo car so much if the MCR R34 wasn't always on their tail! 
Game Changers features on Speedhunters
-Dino Dalle Carbonare