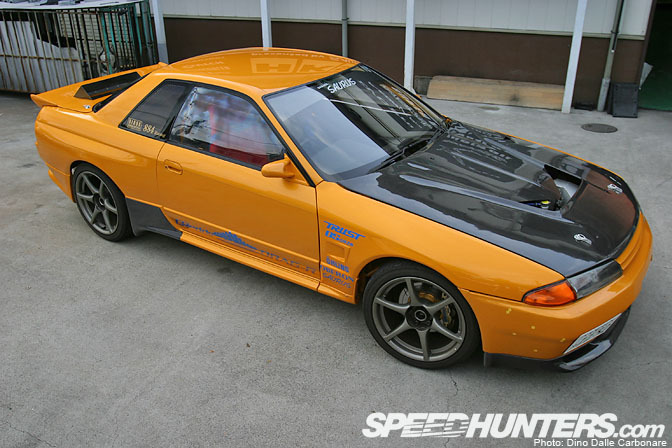 Garage Saurus is one of those names that everyone has heard of. So you might be forgiven if you've been wondering what has happened to them. The owner, Hayashi-san, is still very much active in the Japanese tuning scene, continuing to build crazy GT-Rs and other JDM rides on a daily basis out of the Saurus workshop in Saitama. The reason that he and his cars haven't really been out at events and shows over the years is that well, he has pretty much achieved what he set out to do, and the car you see here was part of that success, proving to everyone out there that when they set their minds to it, 884 Racing (Ha-ya-shi Racing) can achieve anything.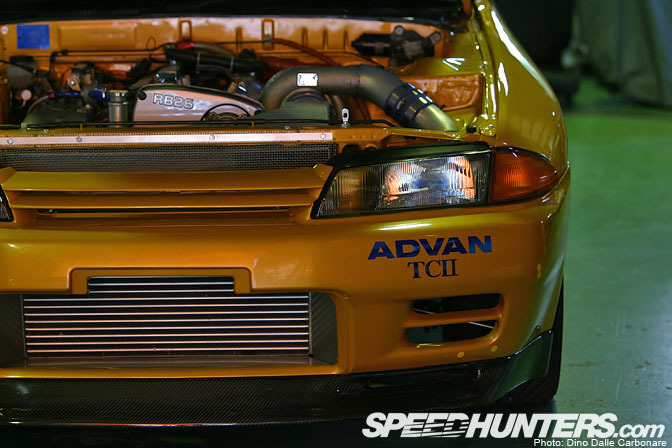 This BNR32 "Drag-R" as it was called, was fruit of some ingenious thinking, and is the perfect car to begin the "Game Changer" theme we have going this month. What made this car special was the way it was built, serving two very different purposes; essentially two cars in one if you will.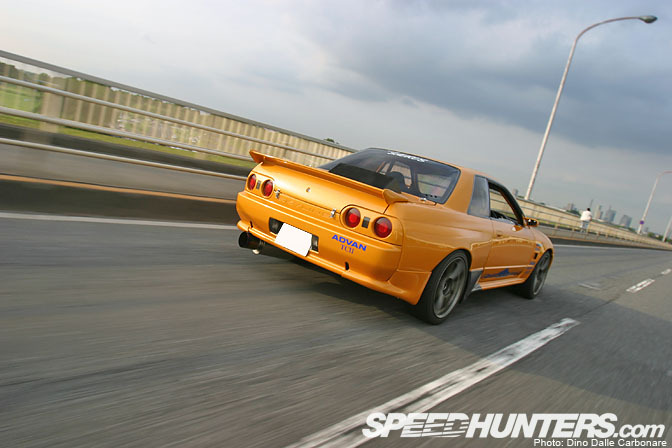 Hayashi-san wanted to show that even if Saurus had always been known as a drag shop, they were more than capable of excelling in other areas too…if they wanted. So in 2004 they set out to create an all-new shop demo car, an accomplished drag racer but at the same time a capable time attack machine ready to compete in the Open Class at the Tsukuba Super Battle that same year.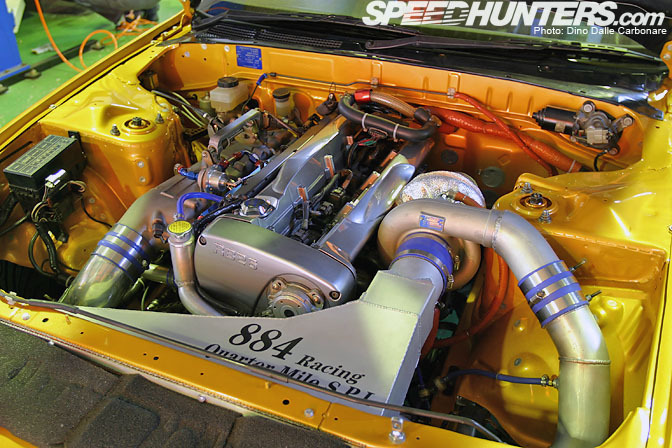 When I shot the car in 2005 it was amongst a conversion from time attack guise back into its drag/street set-up, so under the hood was the high-power RB26, or Engine Number 1. The RB's N1 block had been fitted with a Trust 2.7L stroker kit and mated to a skillfully ported and polished head running complete Trust valvegear and cams. In true Garage Saurus style the chassis was first impeccably prepared prior to the conversion, with a full strip down, plenty of spot welding and a nice fresh coat of metallic orange. As with most of Hayashi's engines, the RB cam covers were painted in light silver, a kind of trademark for the shop.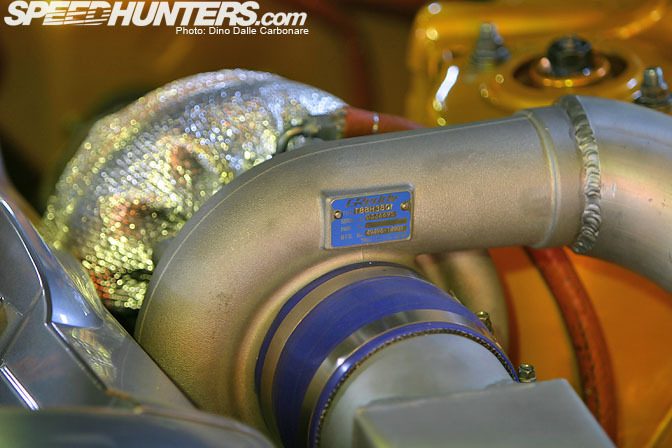 Supplying enough boost to crank out 1080 HP at 9,200 rpm was the Trust T88H-38GK, the biggest turbocharger that Trust has so far produced. This was mounted on a T88 specific GReddy exhaust manifold while spent gasses are channeled away via the 100 mm Saurus custom exhaust. Intercooler piping was welded in most joints, save a couple, to avoid piping coming loose during those savage 9,000 rpm clutch drops at Sendai Hi Land!  Driveline upgrades include an OS Giken sequential transmission and a quad plate clutch to handle the 752 lb/ft of torque that is developed at 6,900 rpm. When in time attack spec this whole engine was lifted out and replaced with another brute – Engine Number 2 – serving up a very different kind of set-up. To help response and mid-range torque at tight tracks like Tsukuba, it was deiced to base the motor around an OS Giken 3L engine, joined by a smaller version of the Trust T88H, the 33D. All of this was good for 780 HP at 7,800 rpm and a strong torque curve peaking out at 5,600 rpm with 665 lb/ft of twist. Not too shabby right? The same OS sequential served up blisteringly quick shifts, while hired gun Nobuteru Taniguchi did his thing at the Super Battle.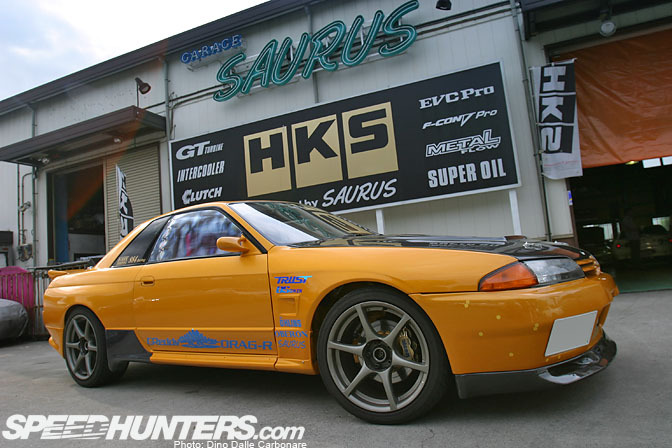 In October 2004, running on Nitto drag radials, this R32 put down a solid 8.7 sec pass during its first shakedown test, bettering it at a later date with a 8.416 sec run. Two months later in Tsukuba at the Rev Speed time attack event it lapped in 56.490 sec, the fastest time on the day. Times have come down quite a lot in 8 years, but believe me in 2004 a street-registered GT-R lapping Tsukuba that quick was unheard of!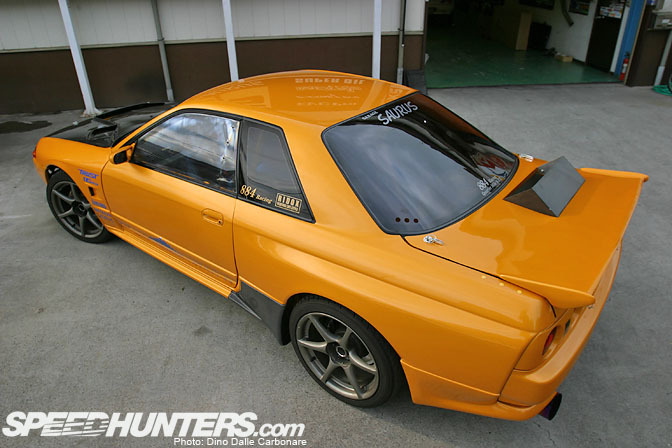 What I really liked about this car, and this goes for most of the cars that roll out of the Garage Saurus shop in Saitama, is the almost stock exterior, spiced up here and there with cool carbon details like the hood and front splitter not to mention the vented front fenders. When I shot the car, a pair of stock BNR34 BBS wheels were thrown on, the thin six spokes allowing the Alcon brakes to show through. Like the engine, the brakes were swapped depending on its use; for drag small 4-pot Grex/Alcon calipers were fitted up front with stock Brembo 2-pots from an R33 GT-R at the rear. For time attack sessions larger Grex/Alcon 6-pots were fitted at the front with the previously mentioned Grex/Alcon 4-pots moved out back. 17-inch Advan Model 6 wrapped in Nitto 555s in 275/40R17 sizes were used for the strip while 18-inch Advan TC-IIs were chosen for Tsukuba, mated to Advan A048 semi-slick in 265/35R18 size at all four corners. The car ran the same Ohlins adjustable dampers for both the quarter mile and the circuit, with obvious changes being made to settings, ride height and spring choice.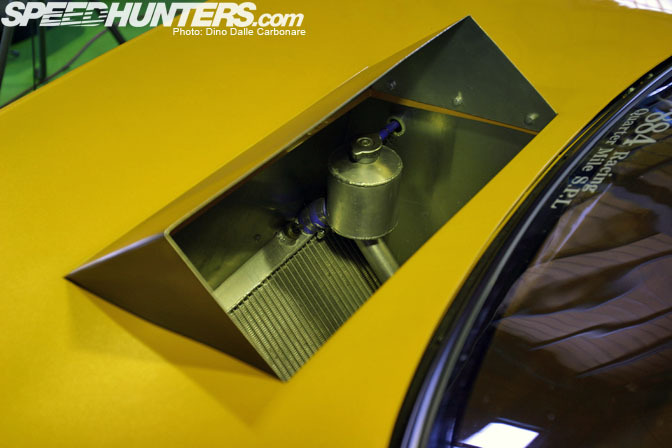 One of the most noticeable alterations to the Drag-R was the rear-mounted radiator, which was fed by an aluminum scoop sticking up out of the drag-spec trunk lid.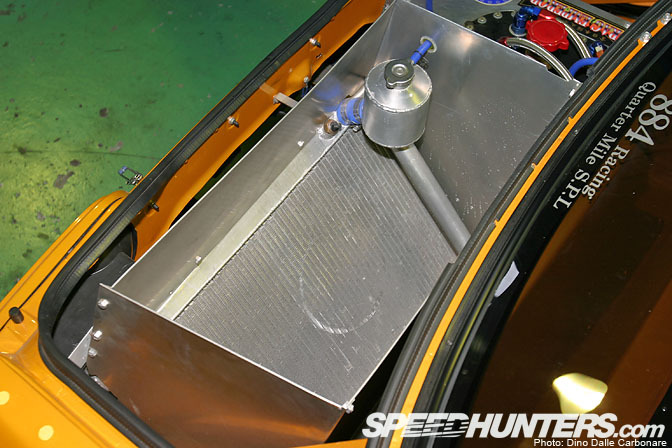 This is what it looks like inside.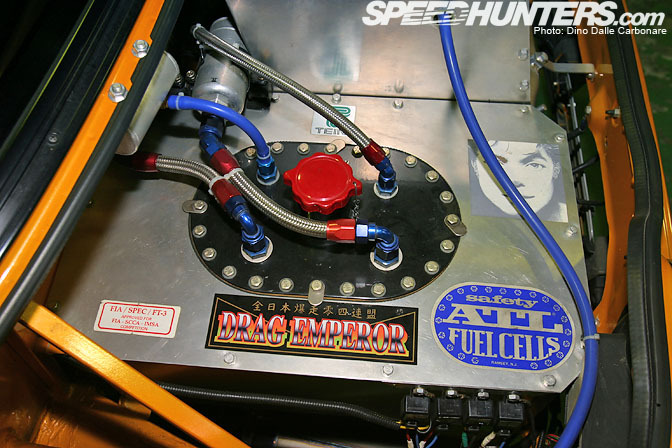 Next to it was the ATL safety fuel tank and fuel system, neatly laid out out of sight.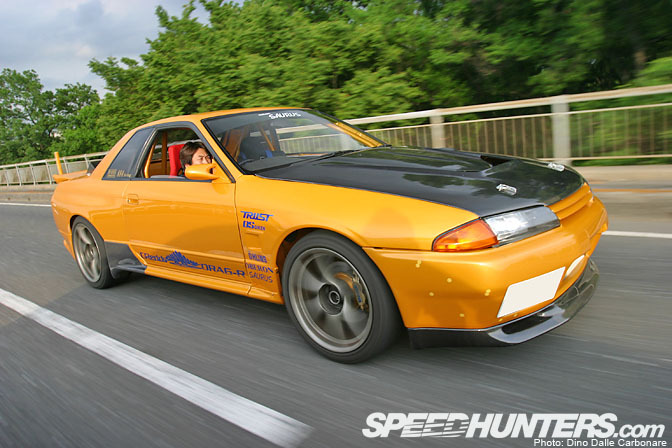 The BNR32 was still road registered at the time so Hayashi-san had no problem agreeing to take it out for a quick blast on the road. He wasn't shy about opening the throttle either!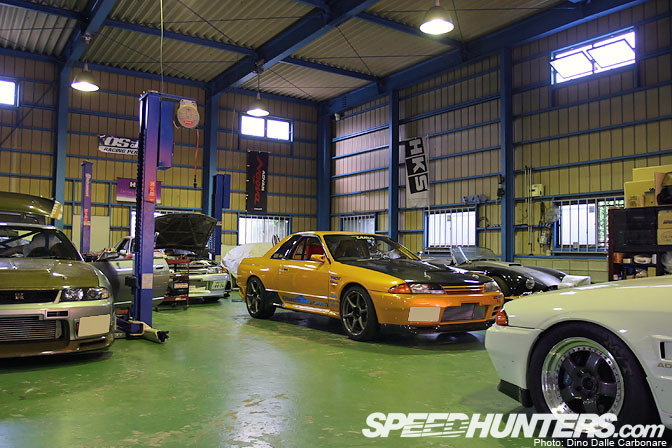 Here is the car sitting in the middle of the Saurus workshop amongst tons of other high-power GT-Rs. This place is nothing short of a tuning Mecca!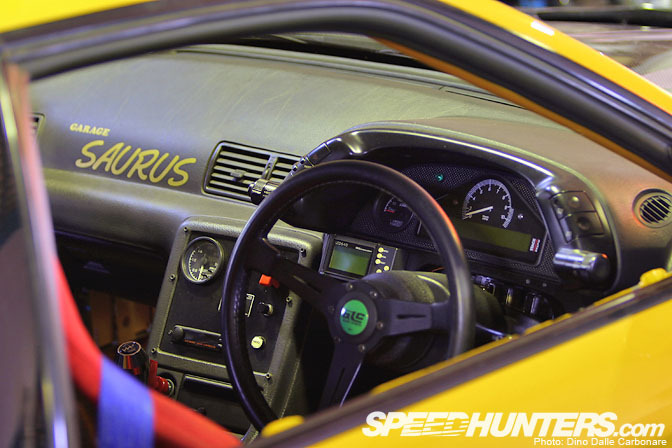 It was great to see that the interior hadn't been ravaged, quite the contrary actually. The whole dash, center console and transmission tunnel trim had been left untouched, joined by obvious upgrades. The stock instrumentation was replaced by a Stack dash…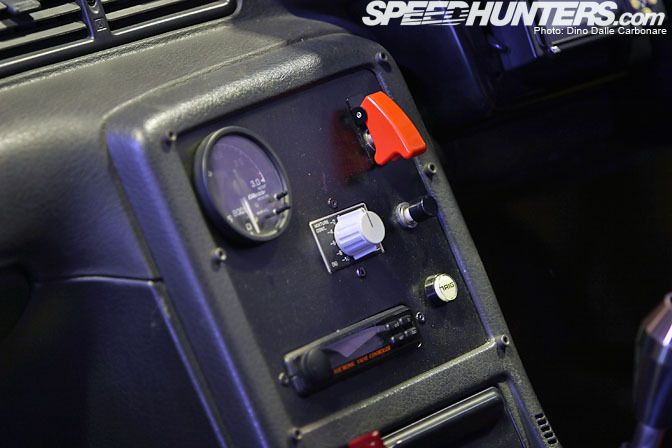 …with a few auxiliary gadgets grouped up in the center console panel where the audio, A/C and stock gauges once sat. Here we can see the HKS EVC Pro boost controller along with its overboost "Trig" button, the GReddy boost gauge, a rotary mixture controller for on the fly A/F fine tuning and the kill switch for the electrics.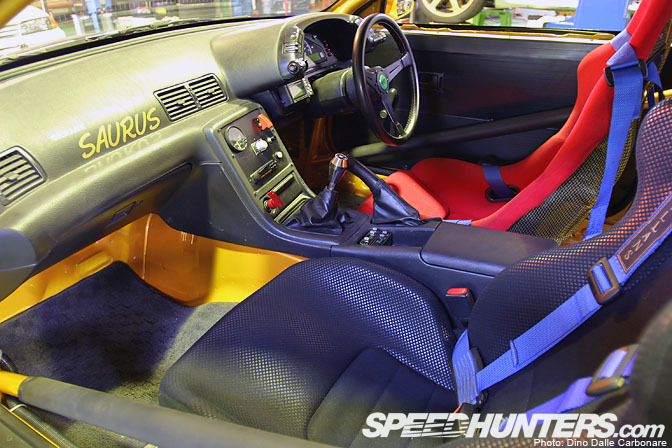 The driver got a nice Bride carbon-Kevlar bucket seat to rest his rear end in, while the passenger side is fitted with a BNR34 zenki seat.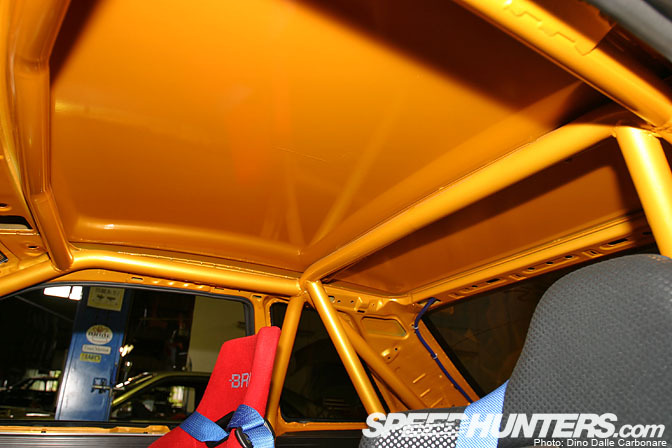 The welded-in roll cage was beautifully constructed and pretty unobtrusive.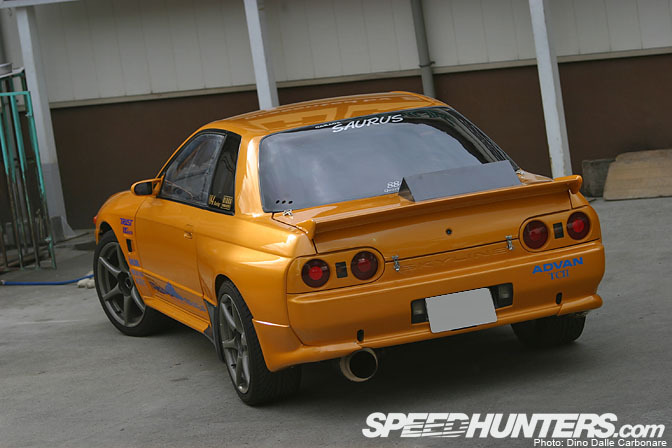 So there you have it, a true legend and quite the game changer! Hayashi-san has always been someone that prefers to prove his abilities as an engine and car builder at the track, and the Drag-R did just that. He showed up to the Super Battle the next year in 2005 with his Silvia, the fastest S14 at the event with a 57.358 sec. That was the last time Garage Saurus competed at Tsukuba. Now that I think about it, that's another crazy car worth featuring!
Game Changers features on Speedhunters
-Dino Dalle Carbonare