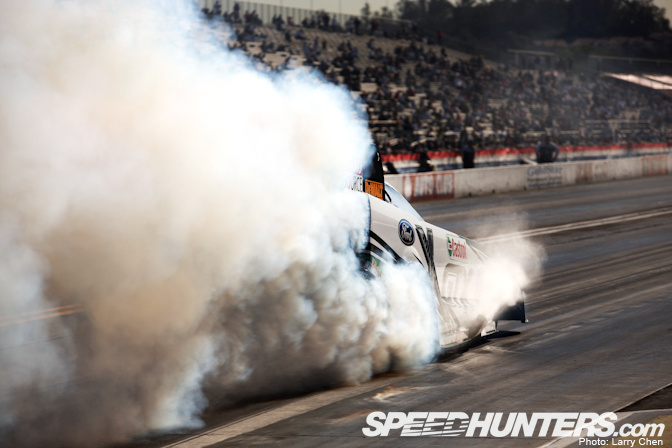 For some of the international Speedhunters' audience, Drag racing is one of those polarizing motorsports where you either love it to death, or you just don't get it. Personally, I think life is too short to hate on any form of motorsport. It's just one of those things you have to experience as a car nut before you become worm food.
NHRA Winter Nationals is the first event out of the 23 round Full Throttle Drag Racing Series. It's being held this weekend at Autoclub Speedway in Pomona, California, which is also the home to the NHRA season finals. The last drag racing event I covered on Speedhunters was the California Hot Rod Reunion back in 2010;  and although schedule conflicts meant I could only attend the qualifying sessions, I was itching to breathe in some smoky burnouts and shoot some 8000 bhp nitro monsters.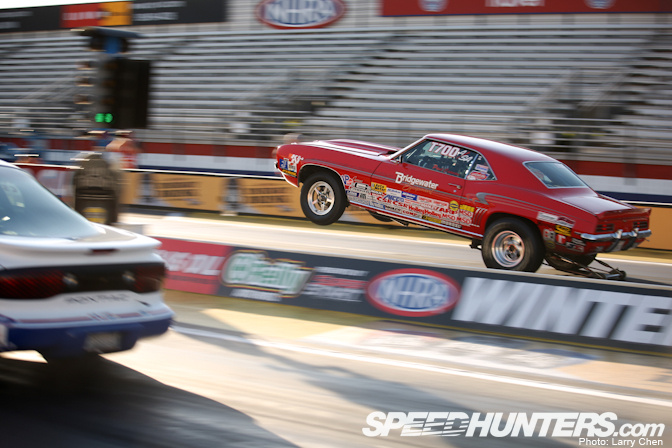 Hundreds of competitors from all over North America filled up ten classes from this '69 Camaro in Stock Eliminator class…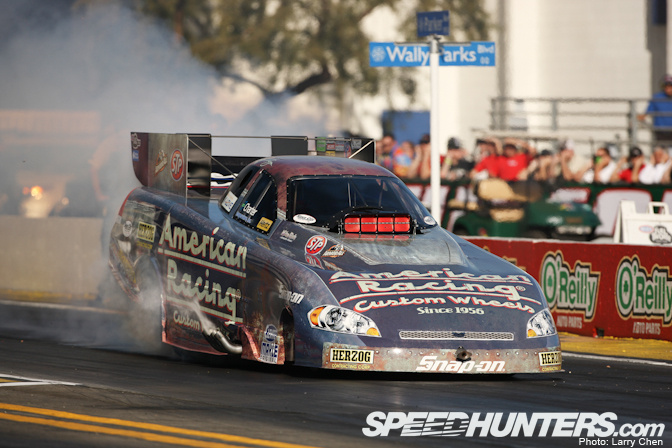 …to this nutty nitro burning, Funny Car.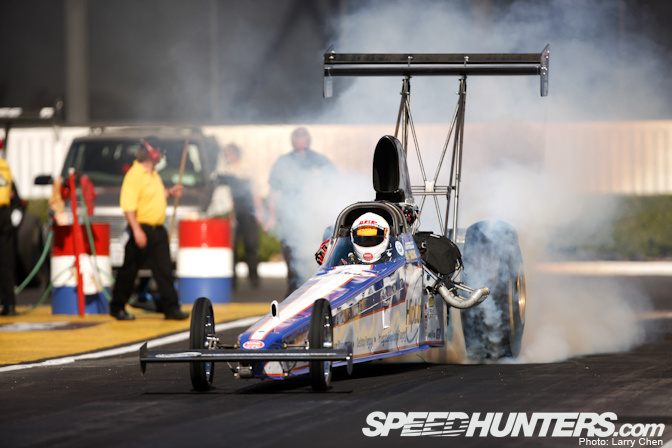 Of course you can't forget about the rails, like this one driven by Garrett Bateman, from Albany, Oregon.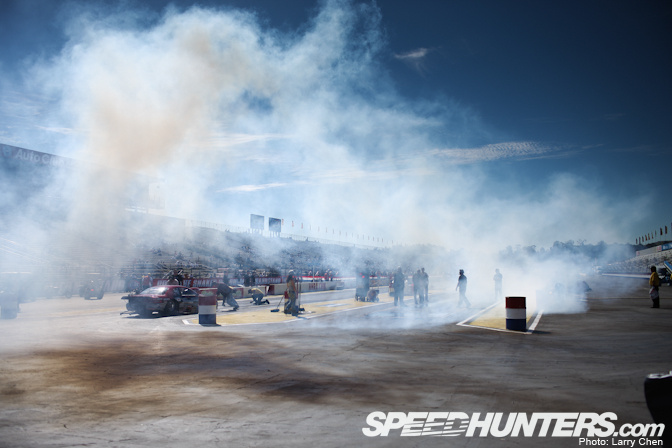 It was a relatively clear day minus the constant clouds of tire smoke pouring from the burnout box area.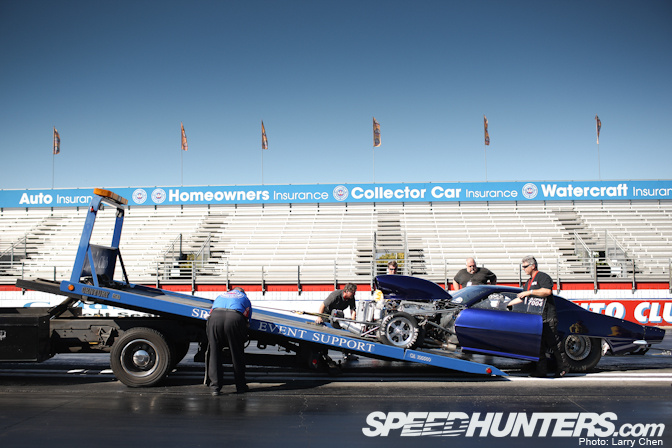 The day started out slow with a few motors spilling their guts all over the track.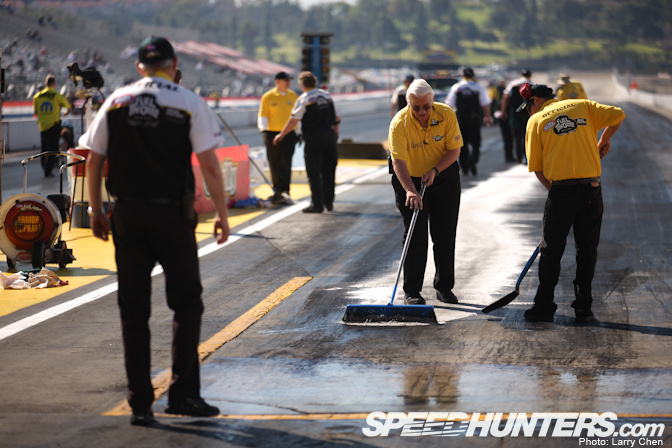 The track officials always worked diligently to keep the event going after an incident.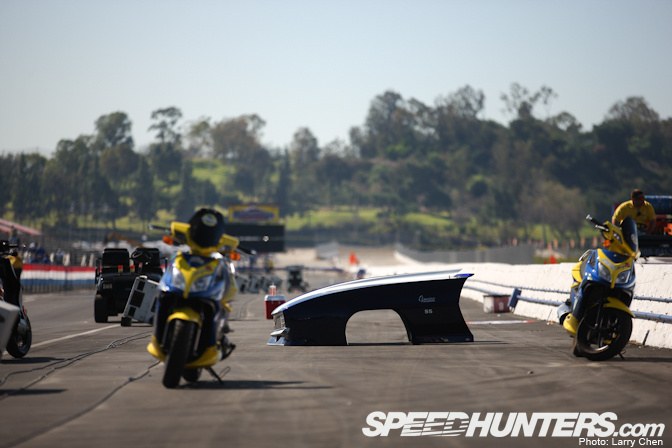 At drift events, bumpers and side skirts littered the side of the track.  At a drag racing event, it could be an entire front-end shell.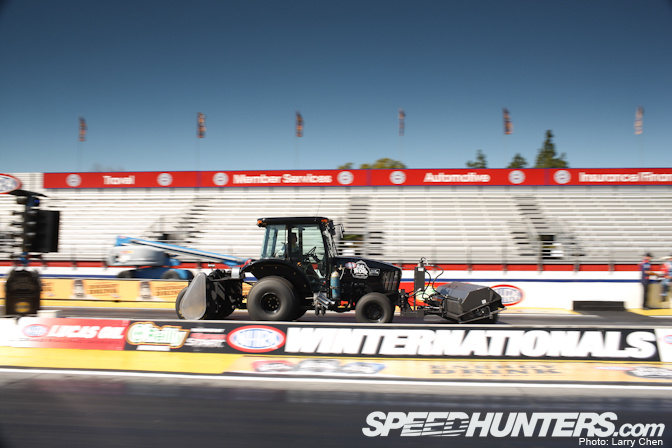 With the help of various machines, the track was clean again.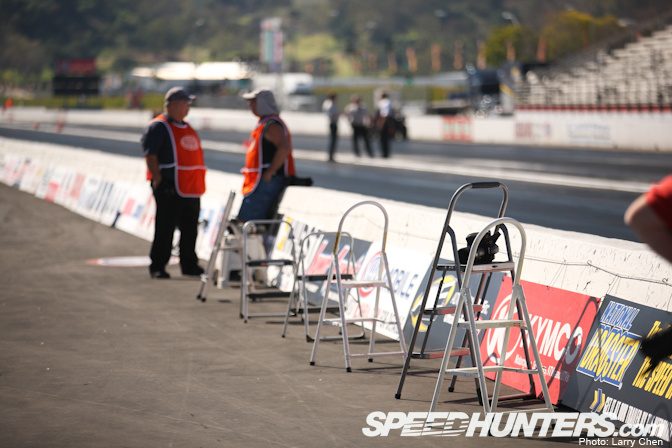 This scene brings me back to my red carpet paparazzi days.  Photographers brought step ladders to get a higher vantage point on the track.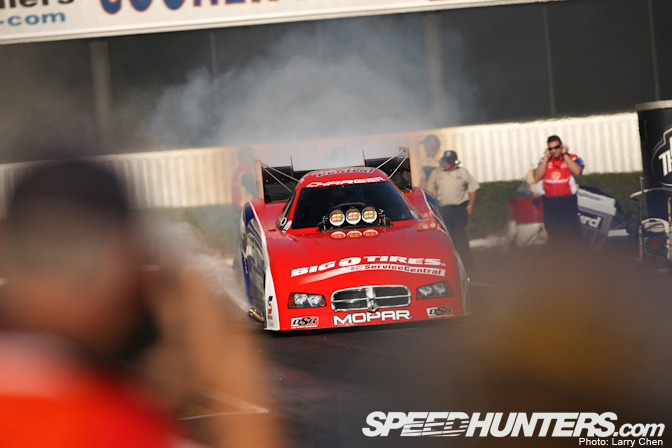 It was insanely crowded. I could immediately see the benefits of bringing a step ladder.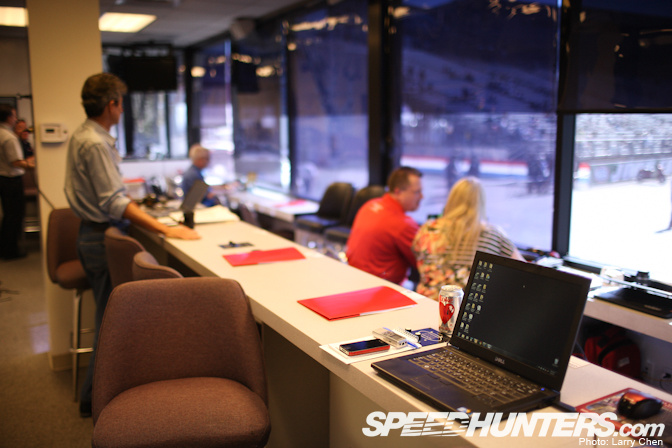 I headed over to the media room to check out the facilities.  Journalist from all over the world were busy updating the minute-by-minute action.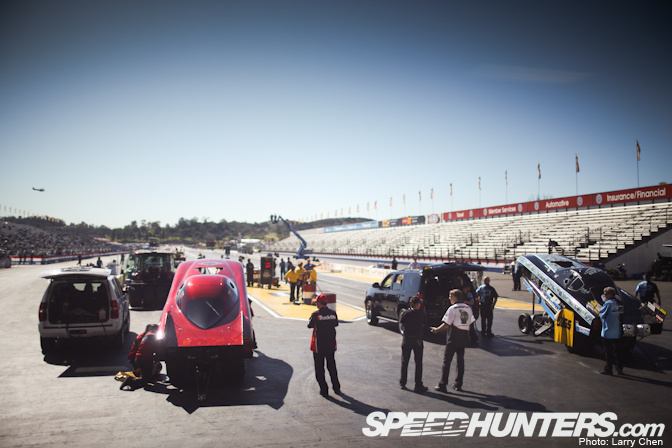 Here is the view from the media room.  It was definitely the best seat in the house.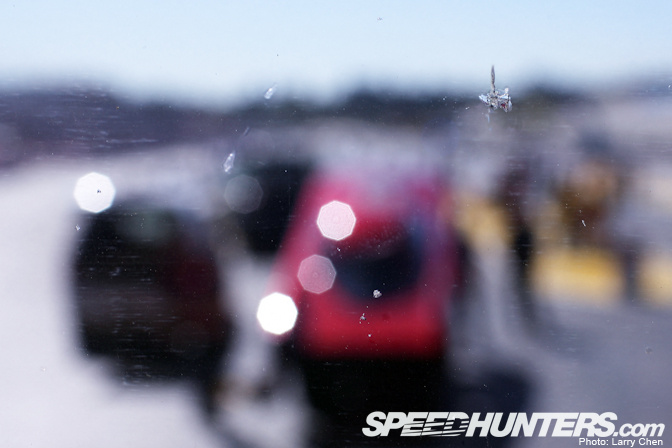 It was also quite dangerous.  Sometimes the loose pebbles in the burnout box would get kicked up by the cars when they did a burnout. They didn't allow photographers to stand behind the cars during a race, and I can see why. I don't know how well my lenses would have held up to a pebble traveling at that kind of speed.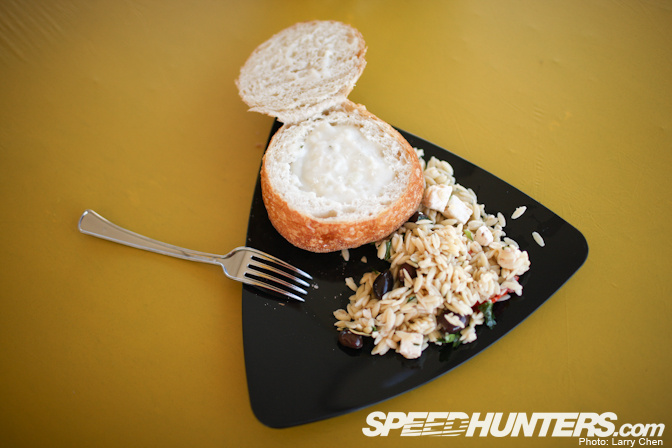 It was time to break for lunch. The clam chowder in my bread bowl kept jiggling from the intense noise of the cars doing their qualifying runs.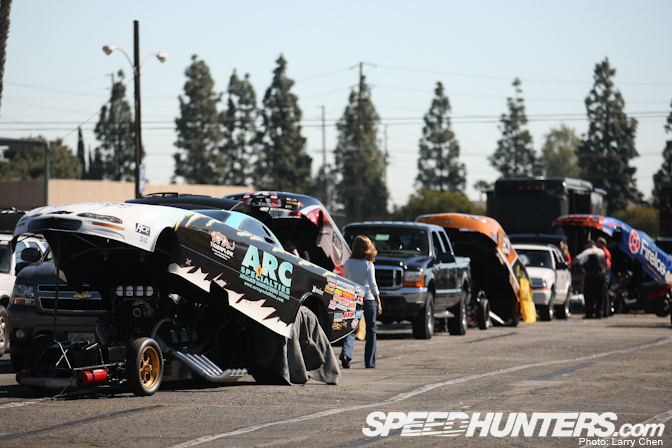 After lunch I decided to check out the long line of funny cars waiting to make their first pass.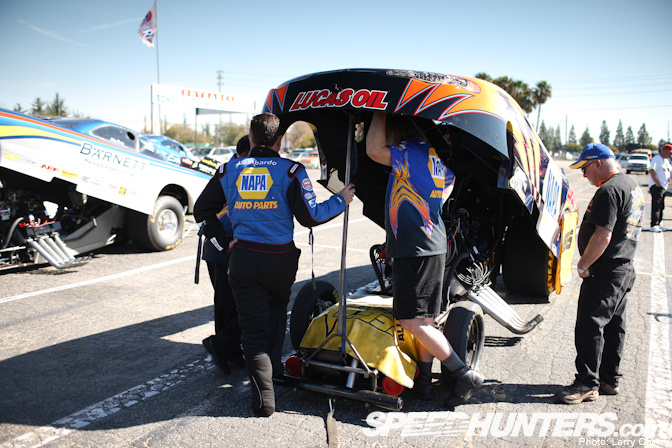 What a clever way to hide from the sun!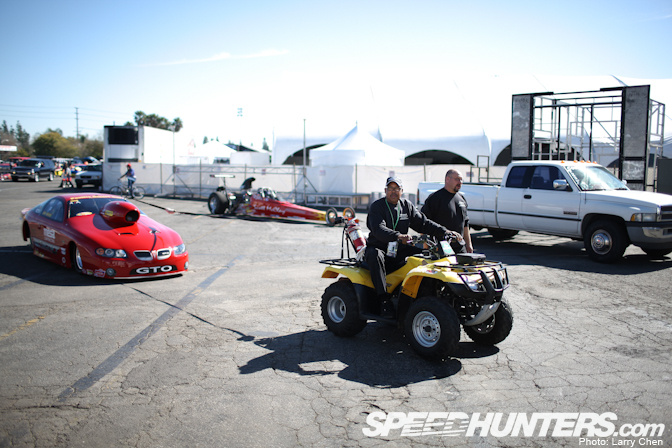 Some of the teams towed their race cars with smaller vehicles.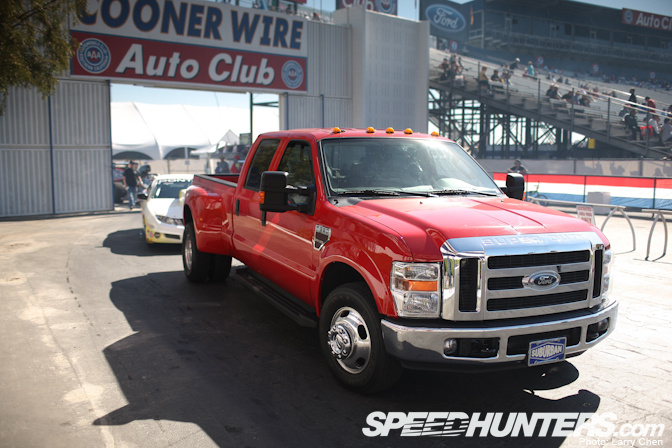 Some of them towed with full size trucks.  I guess it really depends on personal preference.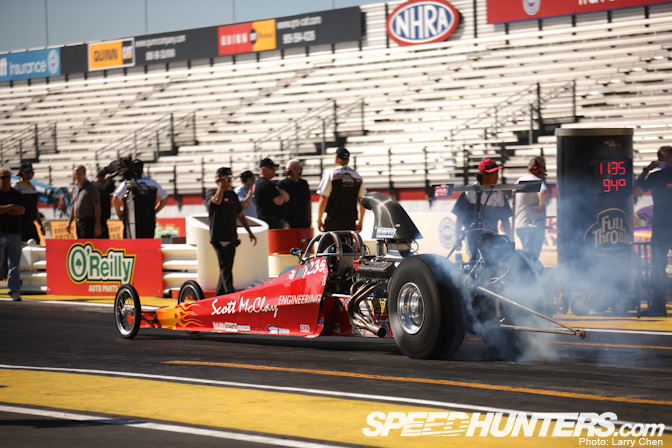 I thought the burnouts were the coolest thing to watch at the drag races.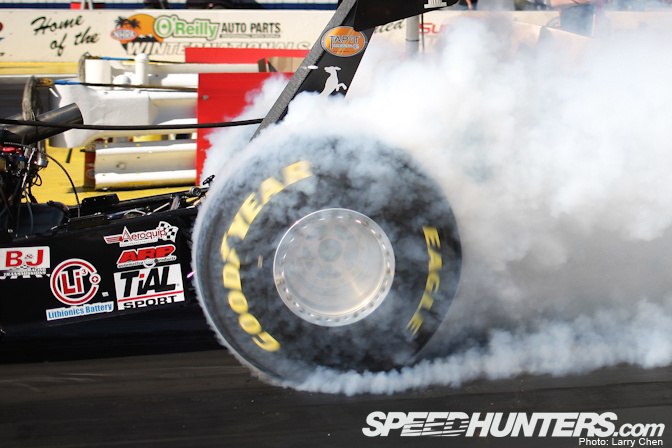 Drag rubber smells different than street tire rubber. It's not as sweet smelling as the tire smoke you would find at a drift event. It may also be the smell combination of burning rubber and burning traction compound.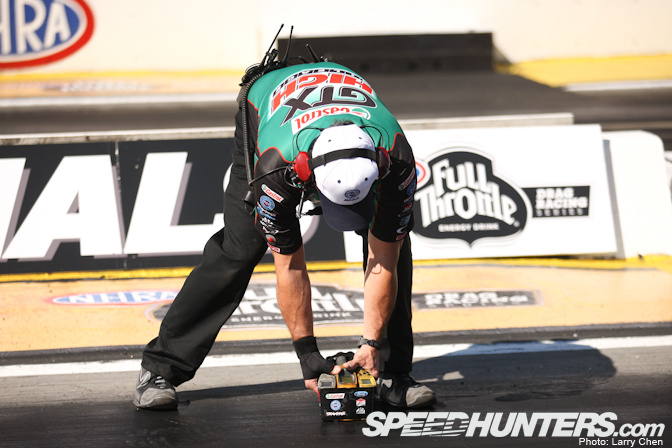 Not one, not two, but three temp gauges taped together. These guys were the real deal and they took their jobs very seriously.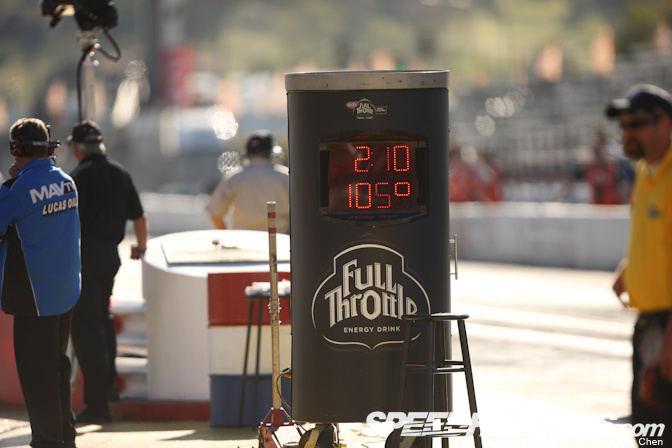 So much for being a "Winter" drag racing event.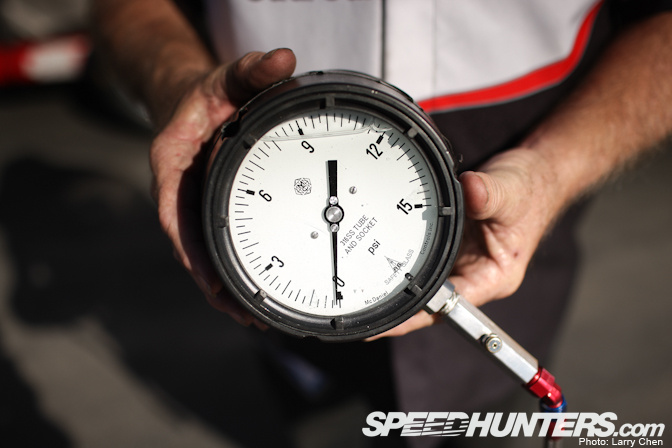 This was seriously the biggest tire gauge I have ever seen. The owner liked it because he said the older he gets the harder it is to read the miniature print that is found on most tire gauges. It is very important to monitor your tire pressure for maximum traction.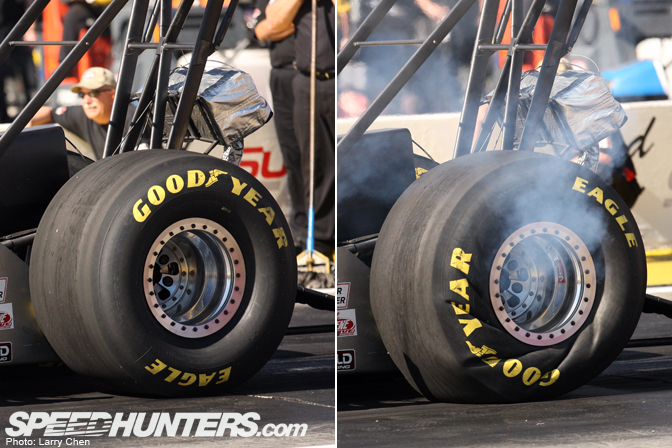 They run pretty low PSI in drag slicks, that way when the cars accelerate the tires crinkle up. This leaves a massive contact patch on the ground.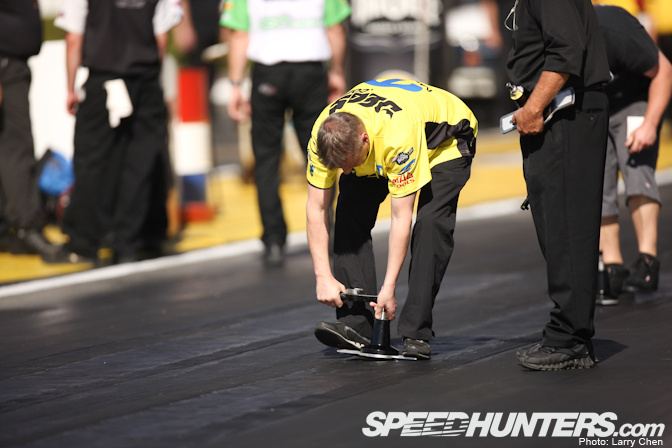 This device is pretty interesting. It's a suction cup made of the same rubber you would find on a drag slick. Attached to it was a torque wrench. With this device you could find out how much traction is on the course.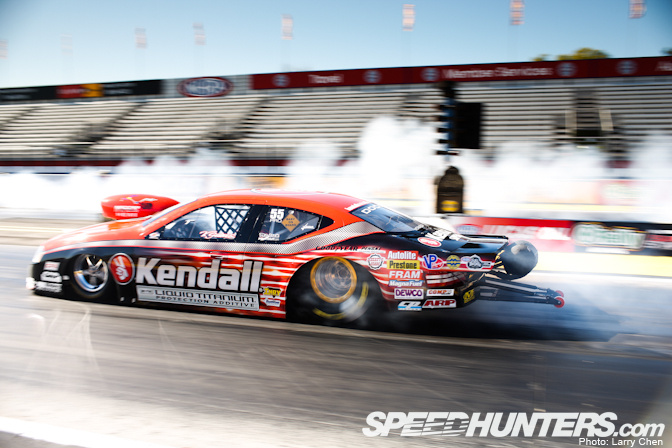 Being at a drag race is unlike any other motorsport. When these cars take off they create a shock-wave that hits you hard in the chest and stomach. I no longer heard my shutter or my thoughts for that matter. I felt every part of my insides vibrate. As the cars passed, a gust of wind and exhaust fumes hit me like a freight train.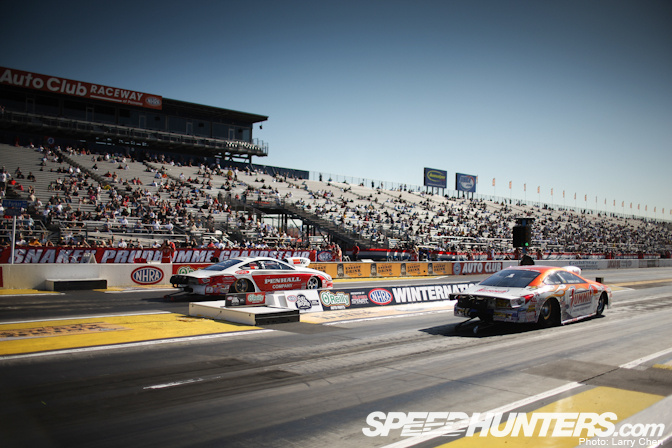 If you think it's not the same watching from the stands think again. I went back to my car to put away a few lenses. I took out my earplugs thinking I was far enough away from the track; boy was I wrong. Every few feet was a car with its car alarm going off; it was so noisy!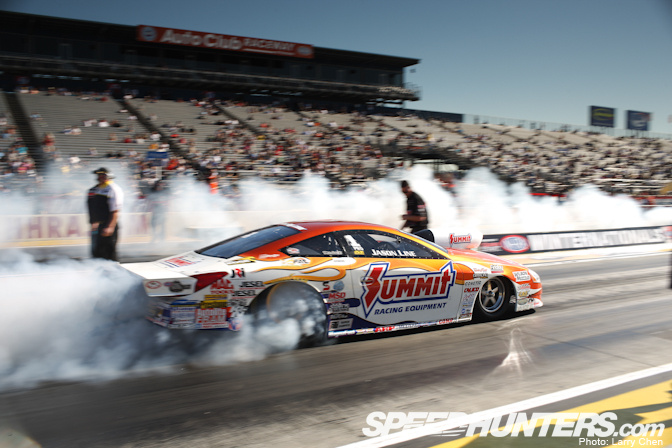 The cars were so loud that my truck shook and rattled as I sat inside enjoying my air conditioning. These drivers must have gotten great sleep at night because there was no nap-time at the track.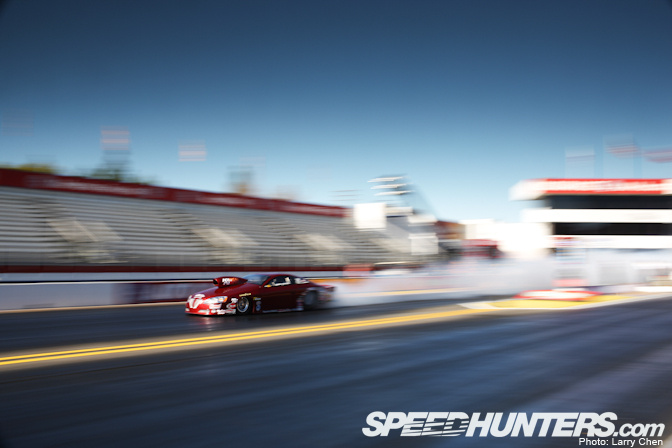 The way these cars accelerate from sitting still is just amazing. It's like watching old time footage that is all sped up.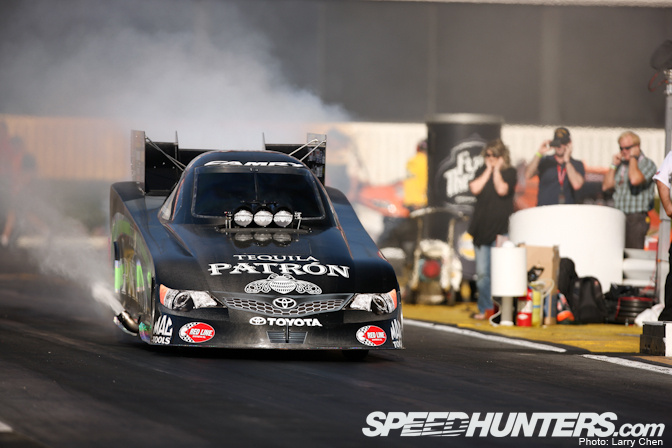 If you have never watched drag racing, it goes something like this: First, the driver does a burnout after driving through the burnout box. The burnout box is just a part of the track that is watered down.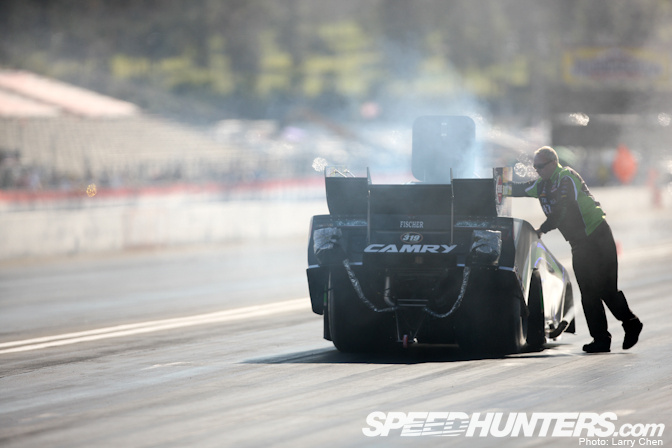 Then one of the team members help guide the driver back to the start line, and if it's a funny car, he opens the hatch to release the trapped tire smoke.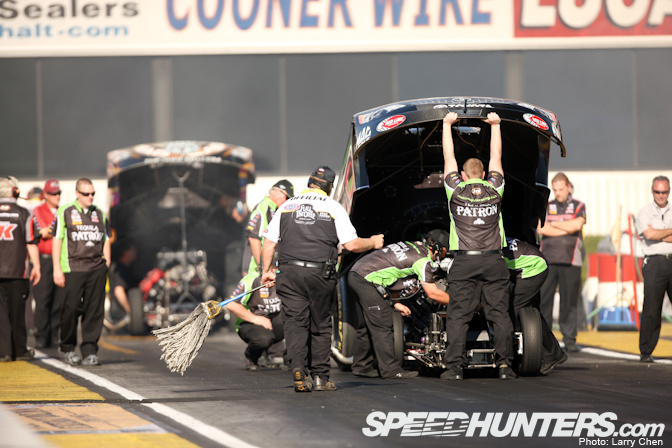 The last minute checks to the motor are made, and any debris that may have been picked up are cleaned off from the tires .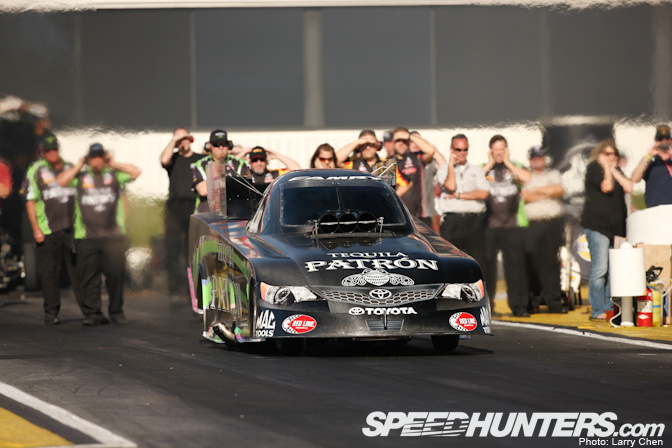 Like an exploding bomb, the car launches from a stand still. The drivers pull up to 5.5g initially and they hit another 5.5g when their parachutes are deployed.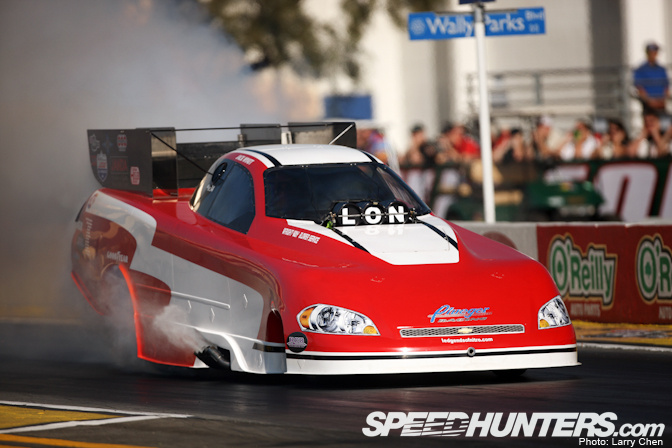 I was surprised to see this very privateer-looking funny car. I guess some guys love the sport so much they are willing to fund it with their own pocketbook.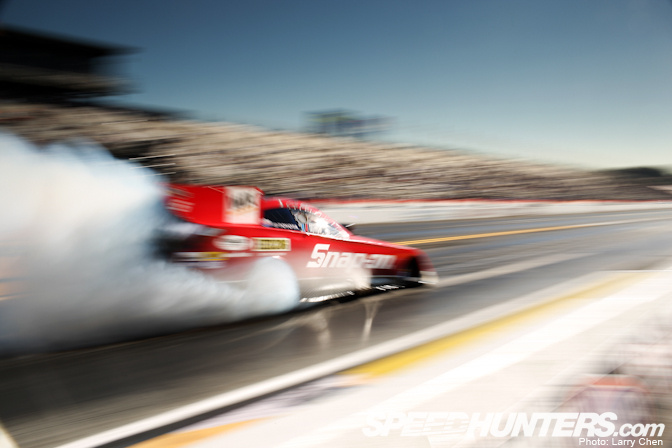 Shooting drag racing was quite the challenge. It had a lot to do with luck. Often times I just started shooting when I thought they were about to go. I got quite a few outtakes. I always told myself not to flinch when they launched.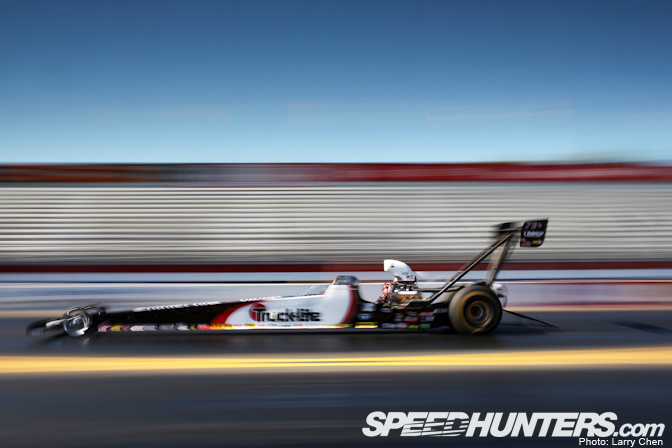 Panning was the most challenging since the cars were not going at a constant speed. They were accelerating very very fast. When the top fuel guys passed me, the camera shook immensely. I felt it
shake in my hands. The action was very hard to watch from this distance because my
eye balls were shaking in their sockets. It was the weirdest feeling in the world.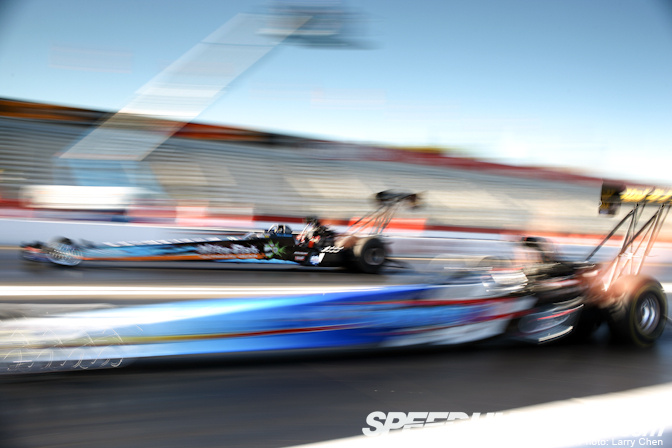 This is kind of what it looks like to the naked eye when you are this close to the action. I was lucky to have a nerdy strap around my chin for my sun hat, even then, my hat almost blew away from the flaming exhaust.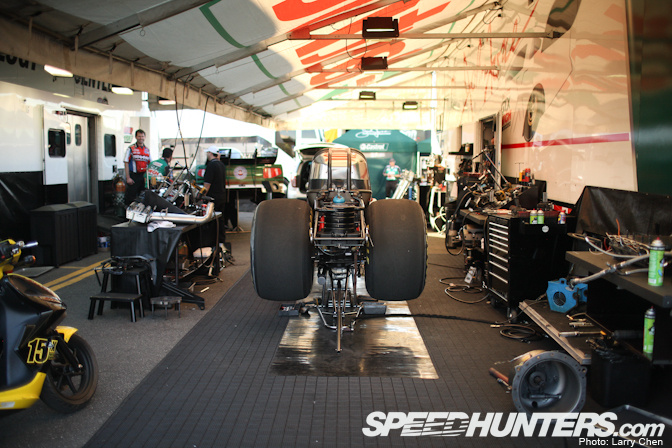 Here's a typical pit setup for one of the professional funny car teams.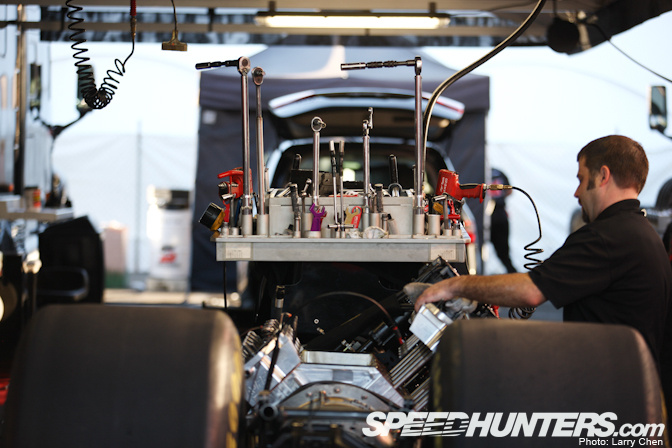 What a nifty way to keep all your most used tools within reach.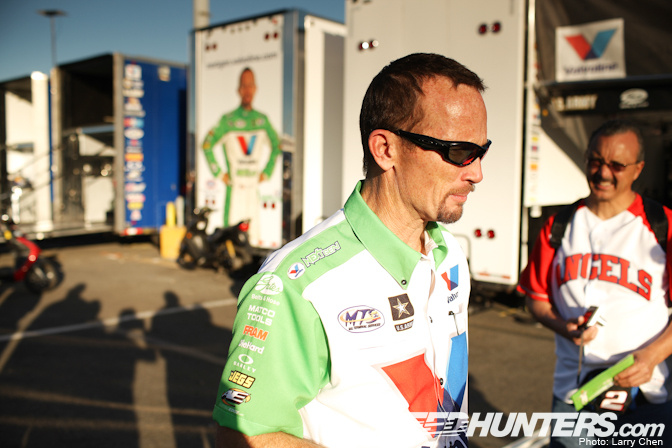 It's really nice to see how down to earth these professional drag racers are. Drivers like, Jack Beckman, just walked around the pits signing autographs for fans.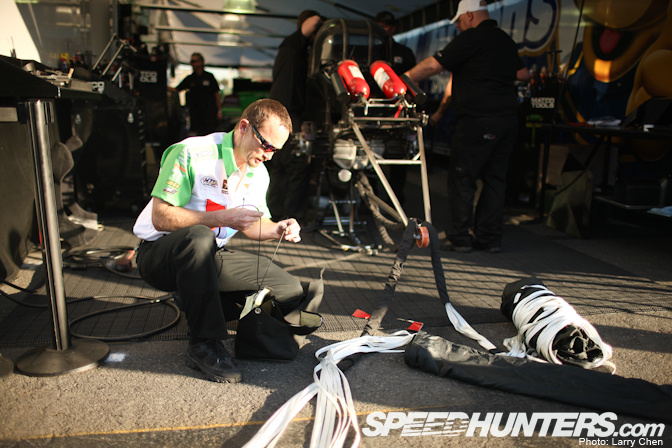 He also packs his own parachute. I would probably do the same if I was in the same situation. Those parachutes are the only things stopping him from flying into a wall of hay bales.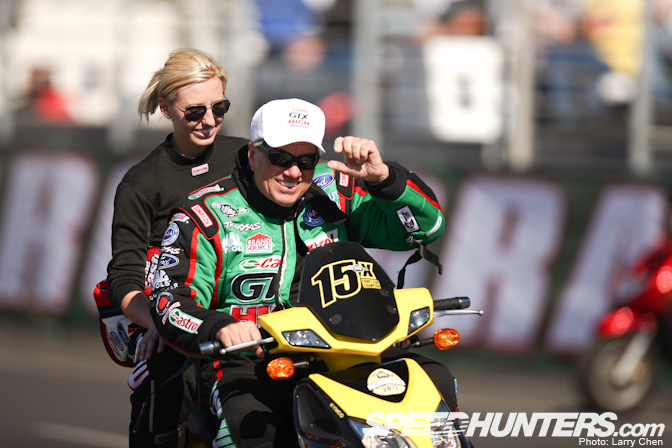 Up first in the funny car class was Courtney Force. The father and daughter duo came out to check the track.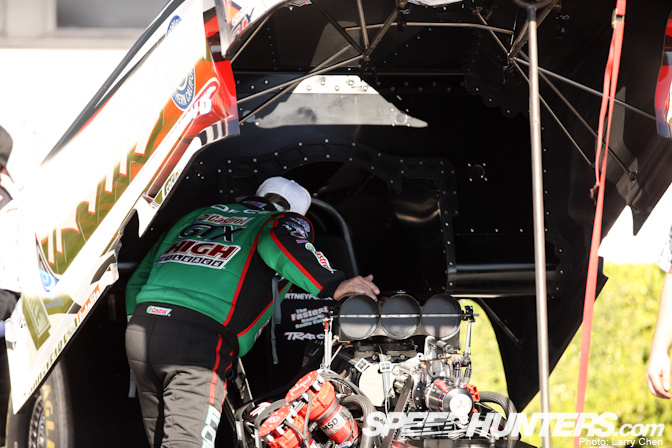 John Force had a few words with his daughter right before her run. I wonder what he said to her.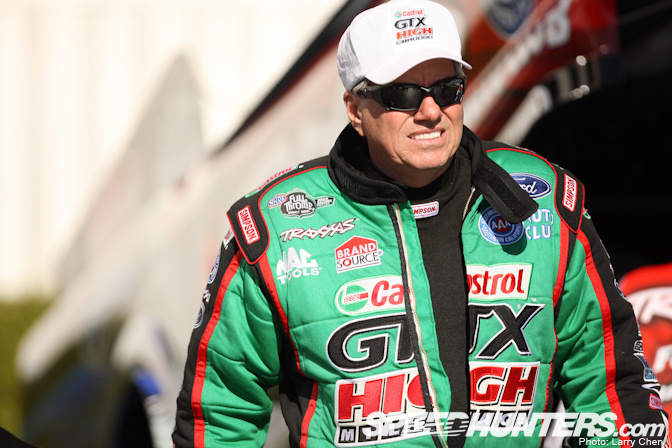 I bet he had some seriously sweaty palms as he watched his daughter approach the burnout box.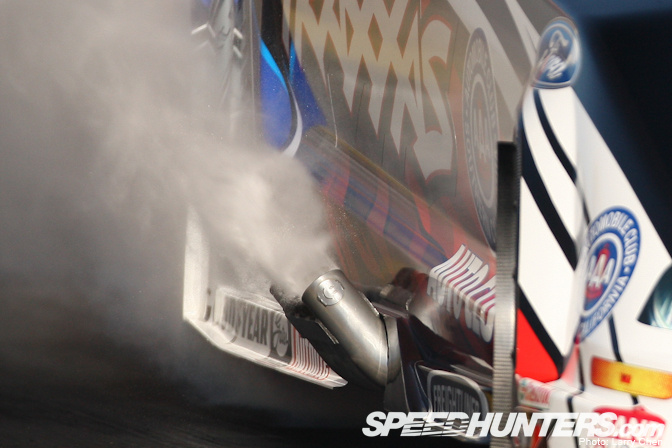 As she started to do a burnout, raw nitro shot out of the exhaust. Apparently, they run as much fuel through the motor as possible to keep it running cool.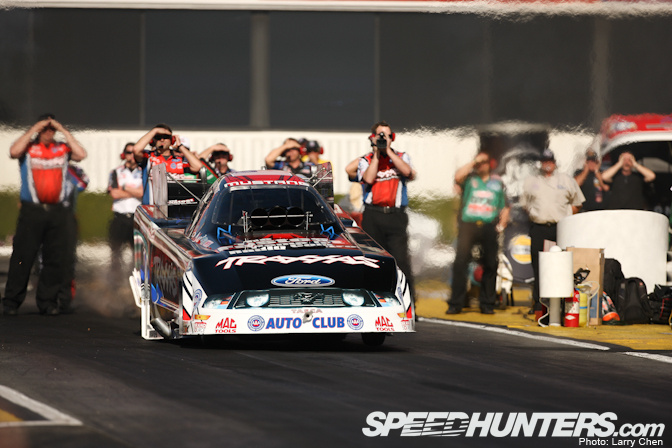 …and she's off…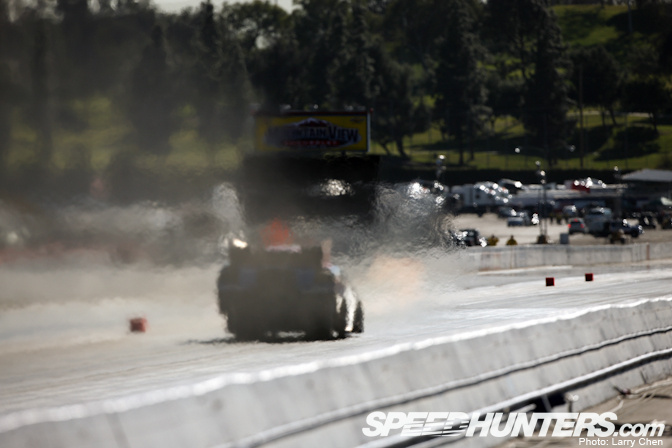 Right before the finish the car got a bit swirly. I noticed not many of the other photographers shoot down toward the finish line. Then I realized you could barely make out a car through that hot exhaust.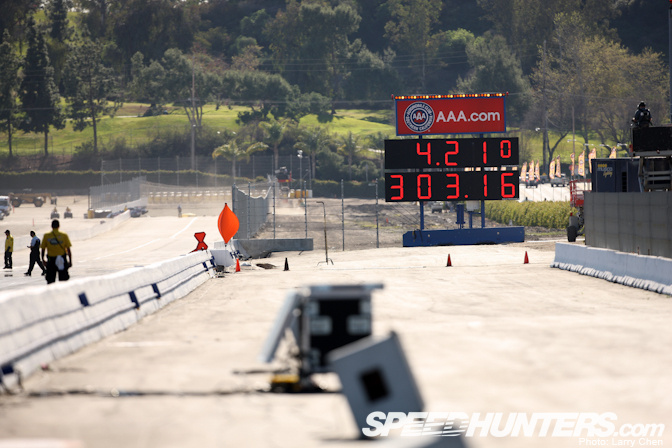 Whatever John said to his daughter worked. She got a great time for the first run of the year.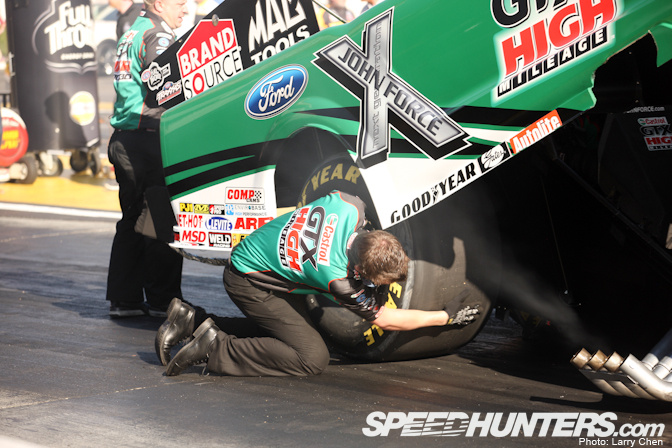 Then it was time for dad to have a shot at it. I don't understand how those guys can handle the nitro exhaust fumes. I tear up just thinking about it.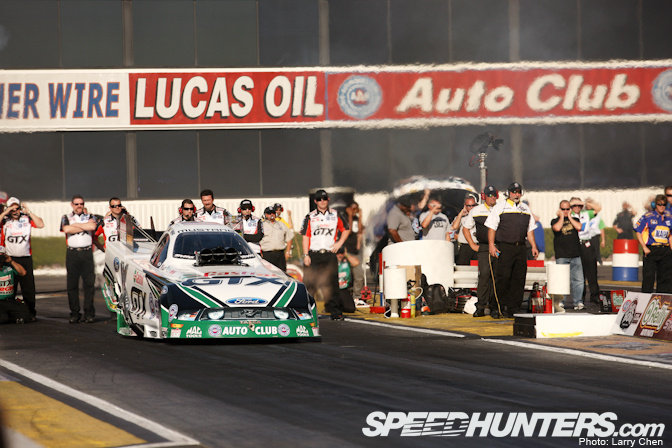 John got a very fast 4.192 seconds at 302.89 mph…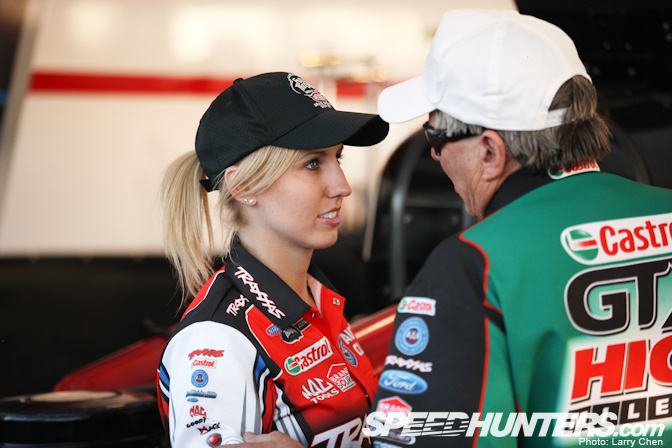 … and ended up edging out his daughter by 0.018th of a second. It was so entertaining to watch these two, I see why they have such a big fan base.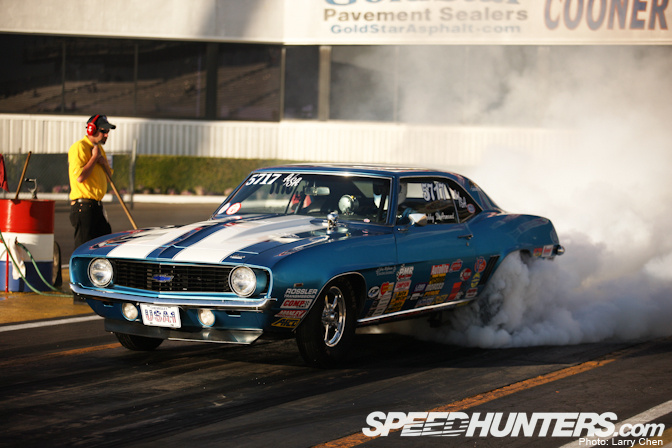 I was a bit sad when the day was coming to an end since I did not get many shots of cars doing wheelies.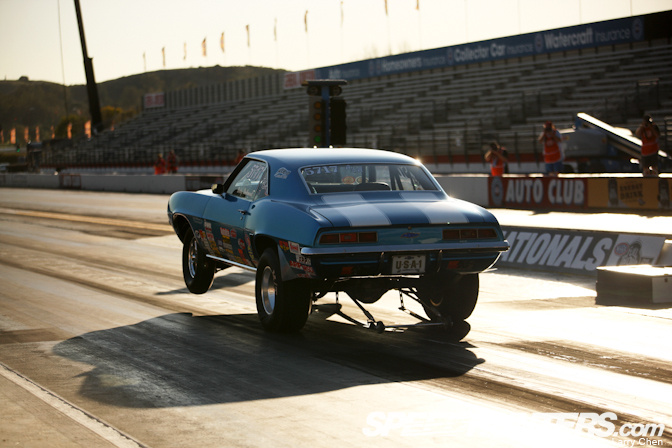 Then the Stock Eliminator cars started to roll out and EVERY single one of those did a wheelie off the line. Amazing.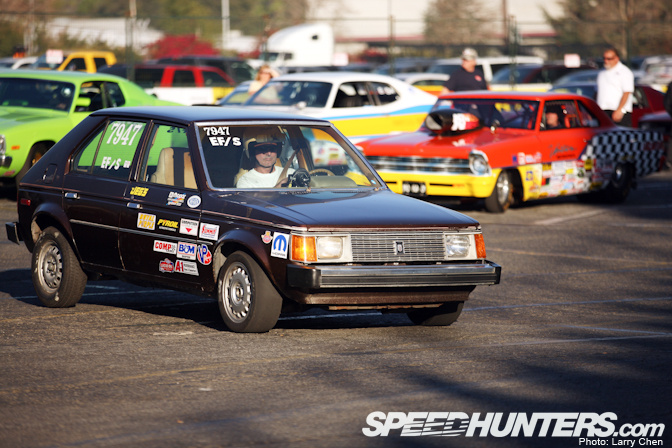 Here was a 1980 Plymouth Horizon, one of the very few front wheel drive cars that were competing.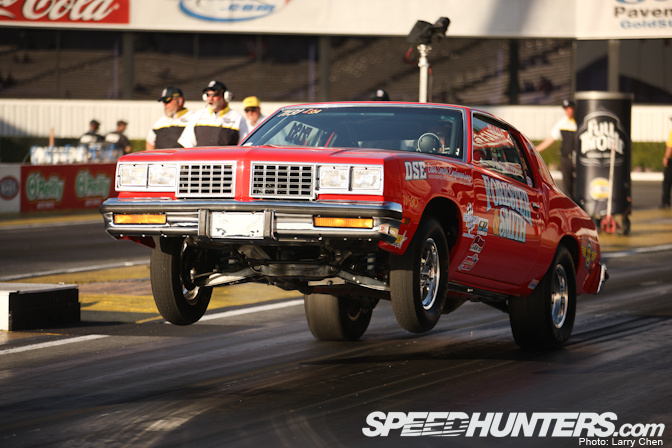 I leave you with a 1980 Oldsmobile doing an awesome wheel stand.
I came away from my first experience of the NHRA Full Throttle Drag Racing Series with a great impression. You never miss any action with a great clear view of the racing from anywhere in the stands. The pits are open so if you want, you can watch the mechanics wrench away during the downtime. But most of all the shear force of the Nitro classes machines just have to be seen to be believed. It's just a great way to spend a weekend no matter how you look at it.
Larry
More NHRA stories on Speedhunters