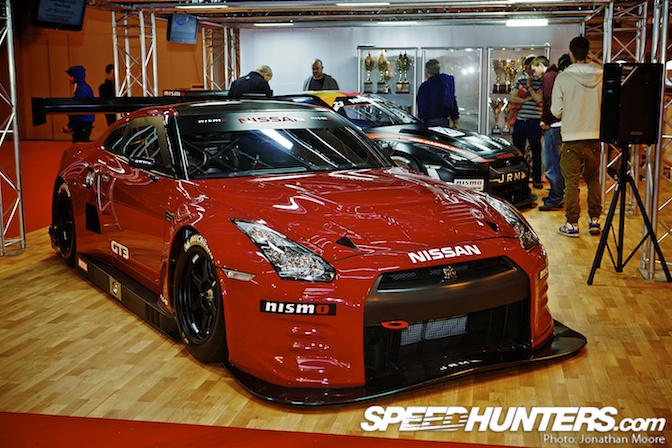 This weekend The International Racing Car show at the sprawling NEC complex in Birmingham becomes the focus of the racing and performance car world. It's where the manufacturers often choose to launch their new models: this year Nissan and JRM officially launched the GT-R NISMO GT3 at the show. The GT3 variant lacks none of the aggression of its now-redundant GT1 big brother – and the official launch was backed up by a JRM GT-R GT3 taking third position on the grid for today's Dubai 24 Hours. Not a bad way to start their campaign.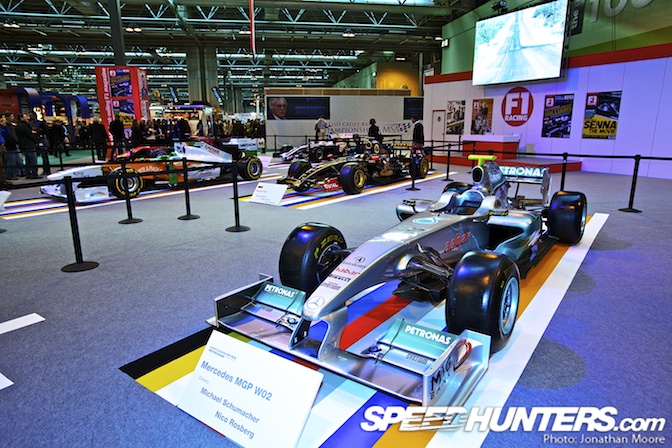 ASI is one of the few places you can get up close to a full grid of Formula 1 cars: since its introduction a decade ago, each year the F1 Racing Grid has displayed all the car's from that year's championship.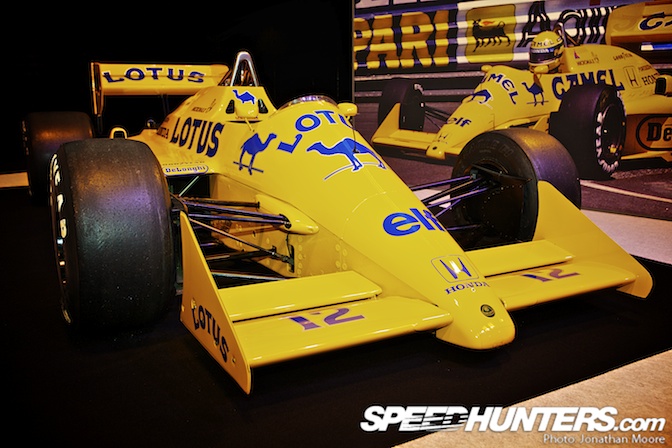 The legendary Ayrton Senna has been allocated a special exhibition space in the main hall, where some of the cars he drove are on display – the second time he's been honoured at ASI. Iconic cars like this Camel Lotus 99T are lined up alongside Tolemans and McLarens – and even his original go-kart.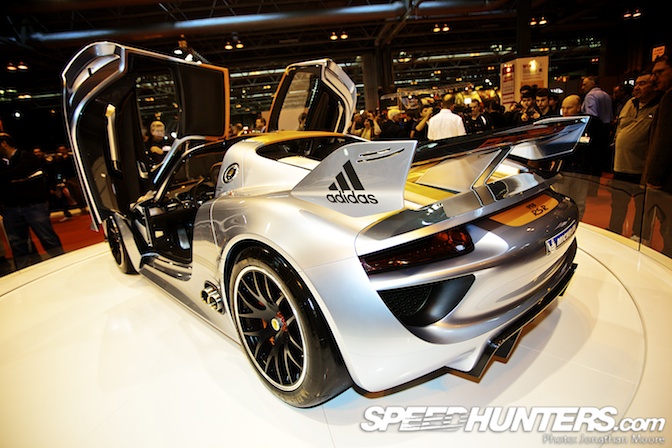 Porsche have mounted their 918 RSR on a revolving stand, truly putting it up on a pedestal. If only they would use it for a proper racing campaign!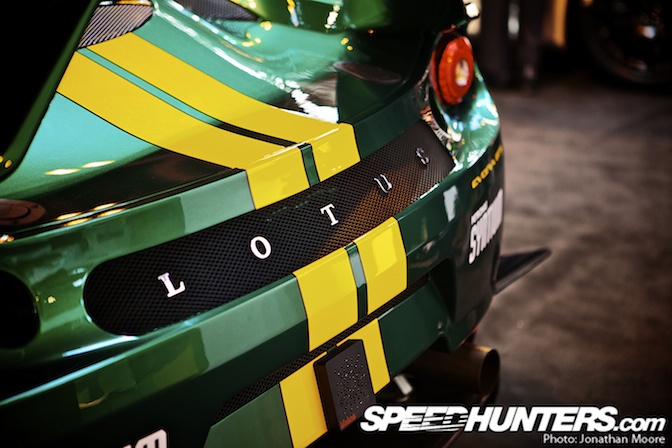 Lotus have a big presence at the show: as well as the two contemporary Lotus-branded F1 cars, the Senna Lotus-Honda and the historic F1 Lotus scattered around the hall, the two eras of the company are also represented: the current sportscar and F1 efforts on the official company stand and then the efforts of Classic Team Lotus, who keep the old Lotus tradition alive through maintaining and most importantly racing old Lotus cars.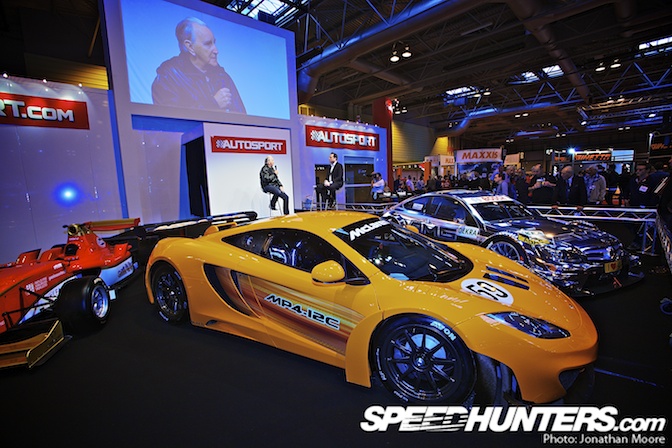 Centre-stage is the main Autosport platform, where drivers past and present are interviewed before the crowds, flanked by the three cars used in last year's McLaren Autosport BRDC Award: an F2 single-seater, McLaren MP4-12C and Mercedes DTM car.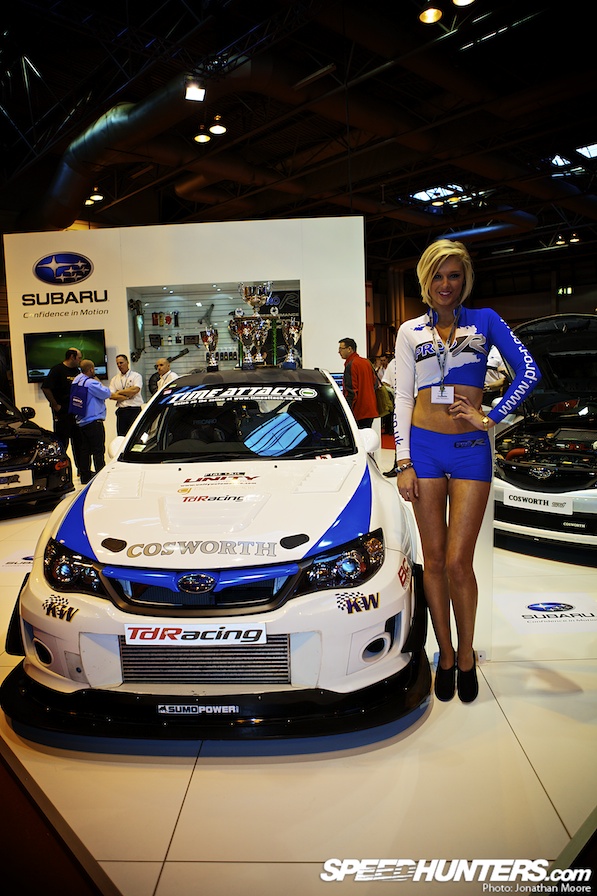 Subaru's stand showed that everything was getting bigger at the Japanese firm.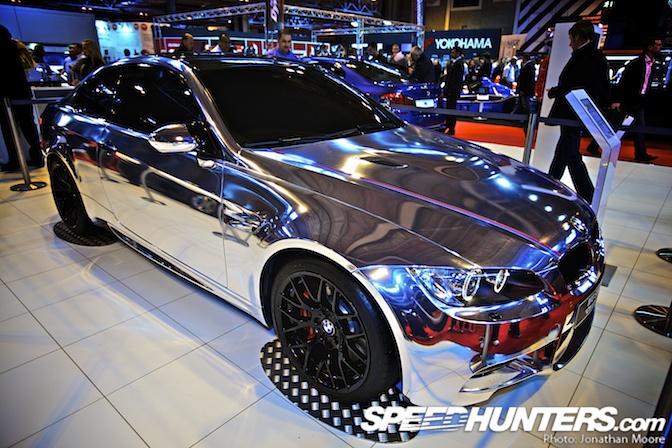 Whilst BMW were getting more… shiny. This is their Chrome Bullet variant of the M3 Coupé.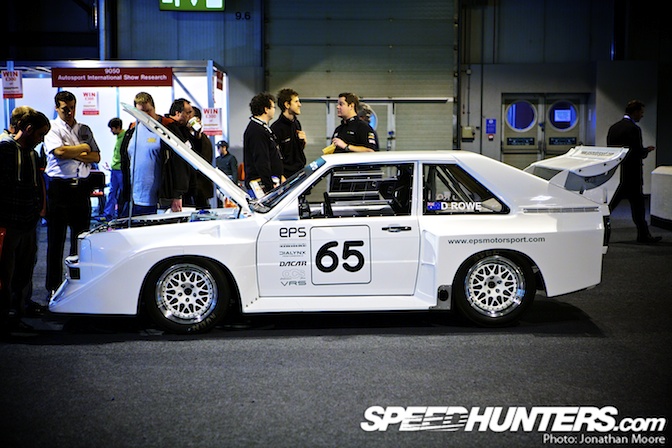 The expected big guns are here of course – Porsche, Prodrive, BMW, Subaru and Lotus all have their big glitzy stands – but ASI is as much about the specialised companies and grass-roots teams as it is the industry behemoths.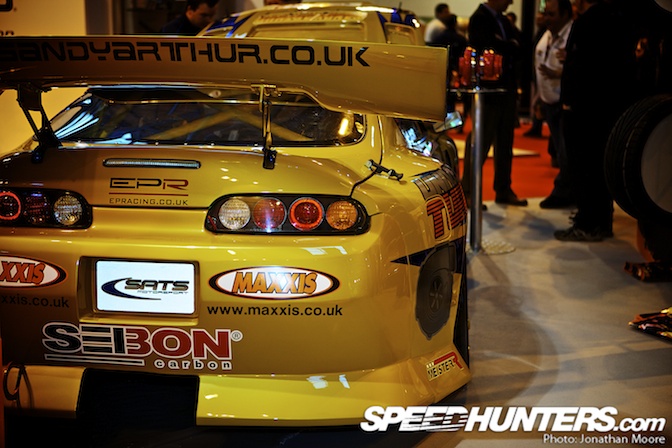 The show is truly cross-discipline: all branches of competition are represented. Formula 1, GTs, touring cars, drift, drag, karting, grass-roots hill-climbing…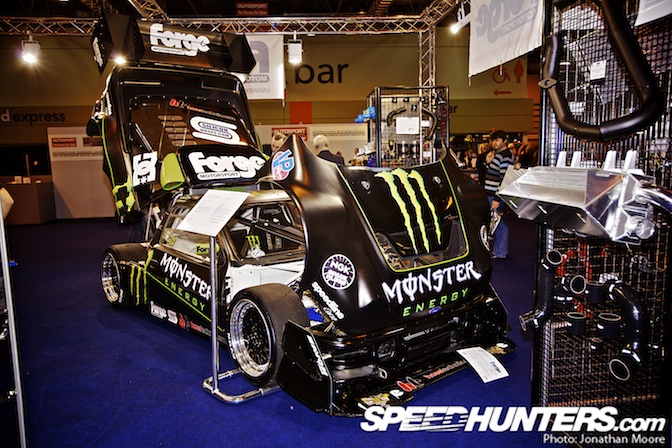 On the latter note, if you want the extreme opposite of grass-roots hill-climb efforts then it's time to visit the Forge Motorsport stand to catch the awesome RS200 they've developed to tackle Pike's Peak. Rallycrosser Liam Doran will be piloting this beast at the 2012 running: we'll be posting a car spotlight on this car with all the facts and figures. Suffice to say that's its 0-60mph time is 1.7 seconds.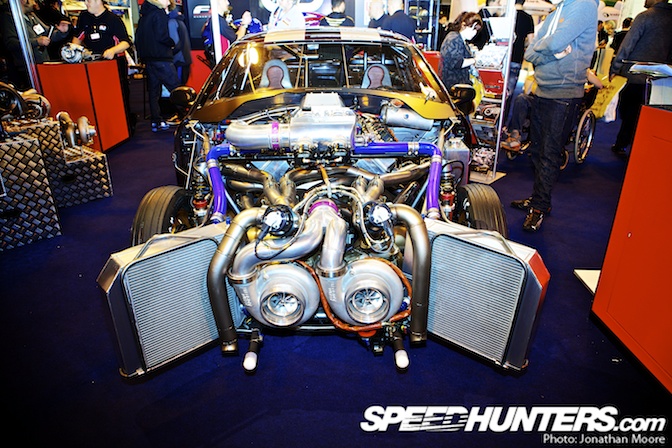 There are plenty of one-offs dotted around: working your way through the rabbit-warren of stands you're constantly stumbling across another stunning car that will stop you in your tracks. Here's the business end a twin-turbo Mustang dragster, showing off just what it normally hides underneath the front body work.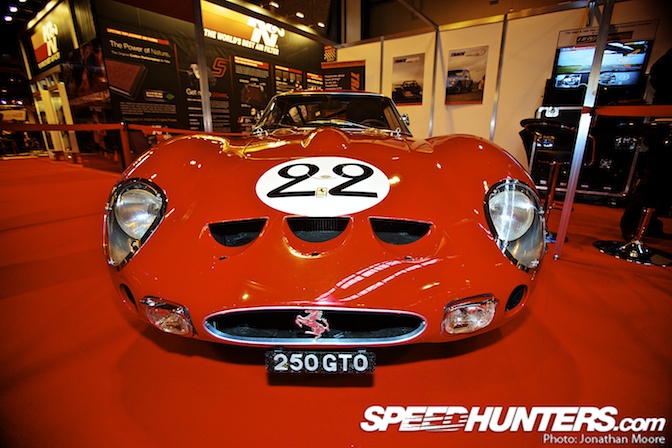 There aren't many places where you can see such variety: the svelte Ferrari 250 GTO belonging to Pink Floyd's Nick Mason…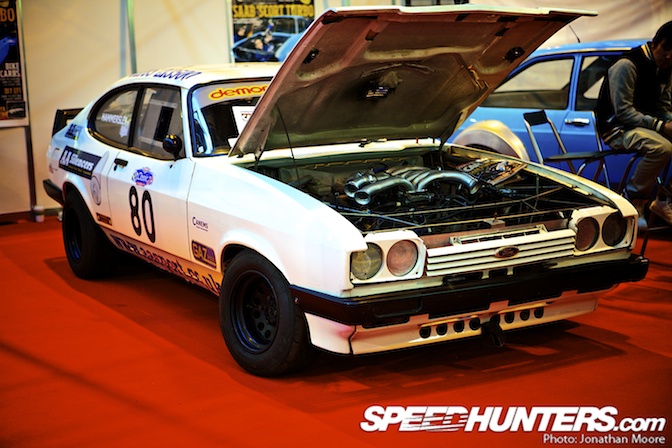 …next to a hot Capri with home-brew injection and a whole lot of extra horsepower.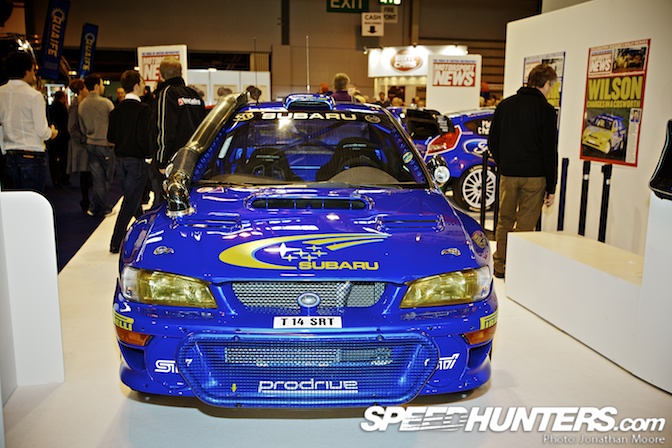 There's plenty for rally fans as well: Prodrive host the British Rally Legends stand, showing off a classic collection of rallying weapons from across the decades.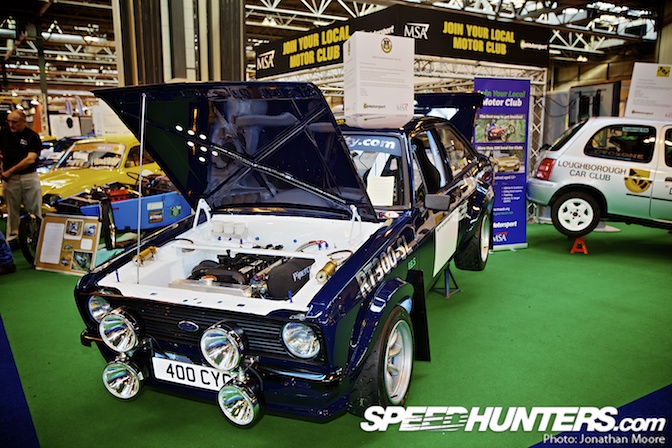 There are more Escort variants at ASI than you can shake a stick at – Paddy would be in seventh heaven. This one is particularly special, displayed on the MSA stand (the MSA govern and promote motorsport in the UK). It's an immaculate new-build for a disabled driver, complete with full hand-controls on the steering wheel.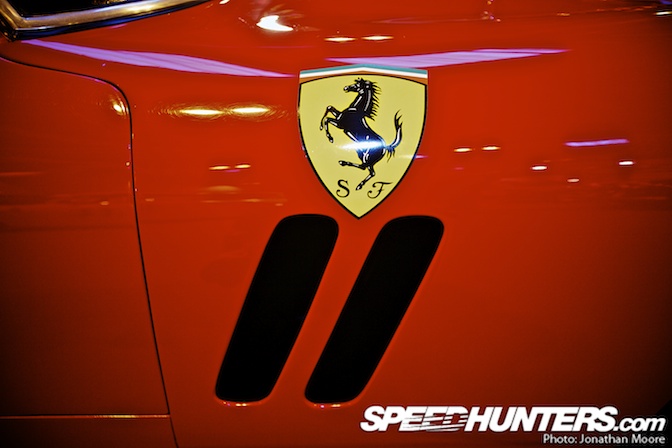 Another place to stop and gawp is the Coys Auction corral. Here a stupendous line-up of metal is crammed in, awaiting buyers with deep pockets – but plenty of passion to boot.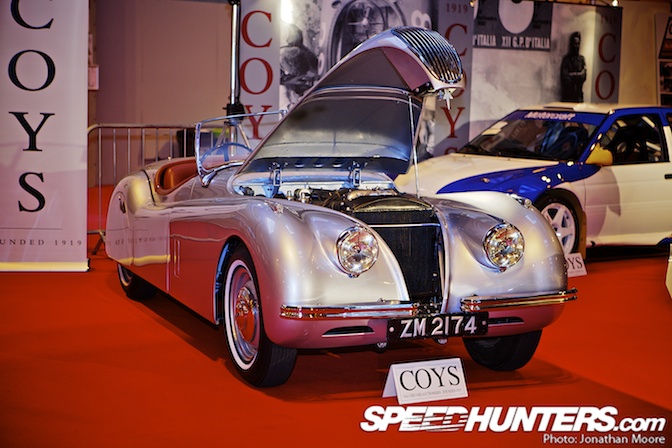 Coys have around 70 cars going under the hammer, including racers and street cars from the last six decades.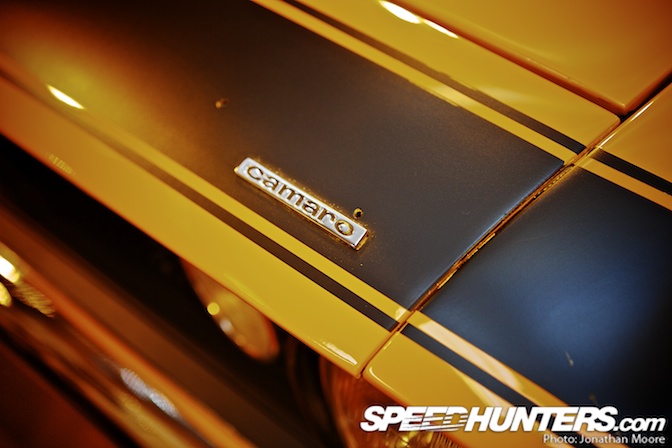 There's an incredibly eclectic mix: shooting the cars was like walking through a minefield. Swinging cameras and hugely expensive cars don't really mix…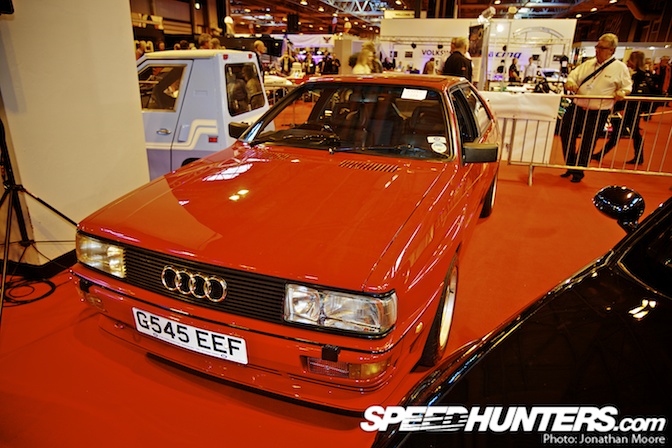 Thoroughbred GT racers are parked up next to modern super cars, next to even more sedate – but still special – road-going material. I'm looking forward to covering this area in more detail!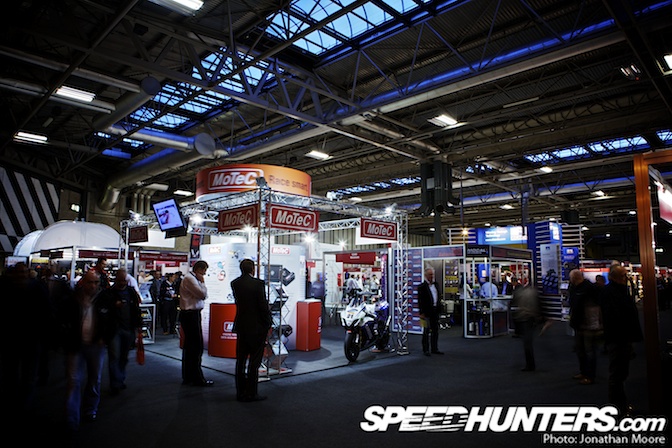 One thing you do need at ASI is a good pair of walking shoes. The NEC is huge, and it's like an extended hike getting round the cornucopia of displays spread across all the halls. Whilst I've been looking at the racers, Ross has been checking out the Pistonheads Show and Live Action Arena, and picking up a bucketload of car spotlights. At this place the problem isn't finding a car to spotlight, it's the difficulty of choosing just which ones!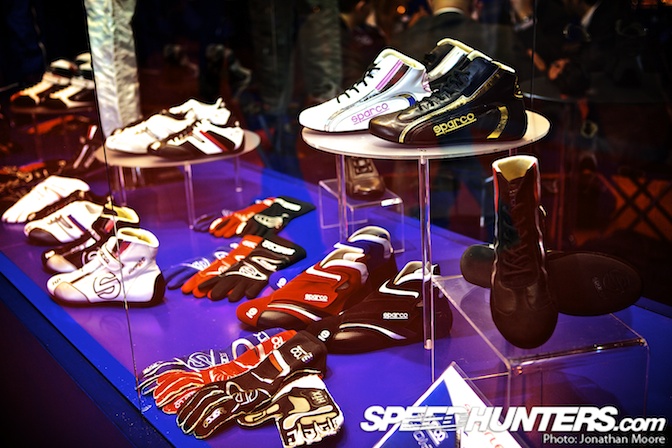 Arrive in jeans and a t-shirt, and you can leave with everything and anything you would need to go racing. Buy the car. Pick up a spares pack. Enlist the team. Bag up your helmet and overalls. ASI is the place where the deals are done for the coming season: all round the halls you can spot drivers, managers and team owners talking in corners, planning their year. The 80,000 visitors and £800 million of business show how big ASI has become.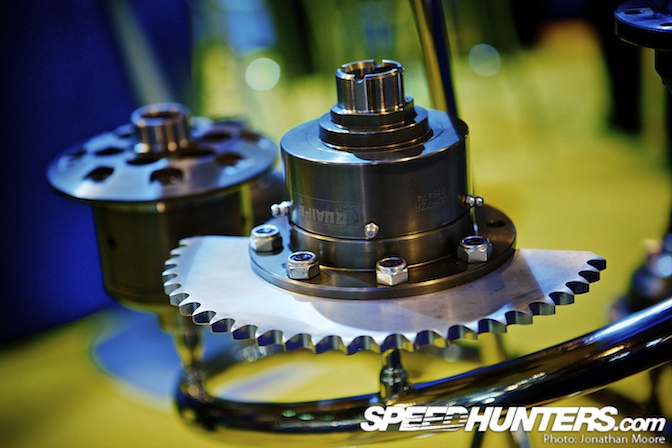 There's also the large engineering hall, where gears, springs, engines and more are all on offer – in some case presented like works of art. So much to look at! Over the next couple of days we'll be tackling each of the main areas, along with posting up plenty of car spotlights and galleries.
Jonathan Moore